DISCLOSURE: I may link to relevant products, companies or helpful info which may be affiliate links, meaning I may earn a small commission. As an Amazon Associate & other affiliates, I earn from qualifying purchases at no extra charge to you. The views & opinions are my own. Please see the disclaimer and privacy policy.
Last Updated on May 6, 2023
50th Birthday Trip Ideas
When approaching this milestone birthday and looking for 50th birthday trip ideas, it is easy to get overwhelmed.
However, I say:
Party!
Plan a huge celebration as you reach your 50 years of life!
If you have a Bucket List, it is most likely filled with exotic places and far-away destinations.
Pick one of those for this 50th birthday trip celebration or take a look at all of the ideas and birthday trip stories listed below. These ideas of birthday celebration places around the world were suggested by travel bloggers and travel content creators.
THIS is how to party for your 50th birthday milestone celebration
Will there ever be a better time to celebrate and go ALL OUT?!
Travel content creators are experienced world travelers who have seen lots of cool destinations. SO….who better to advise you on some 50th birthday trip ideas than those experienced travelers who have many tales to tell from their globetrotting adventures???
Listen to their advice about where to celebrate your milestone birthday & keep a note of their top ideas for the best 50th birthday trips —so that you can plan your own awesome celebration!
Here is an Ultimate List of 50th Birthday Trip Ideas as recommended by travel bloggers, travel agents, travel writers, solo travelers, ex-pats, and world nomads.
Top list of 50th birthday destinations from travel content creators:
Best 50th Birthday Trip Ideas in the UNITED STATES
We will start in the USA, since that is where I am from and we have to start somewhere on our list of the Top 50th Birthday Trip Ideas. The United States is full of amazing destinations.
That is the destination that I chose for my 50th birthday celebration trip — can you guess where??? My destination was super HOT and super exciting!! We will start off the birthday travel stories with that one!
……and two other travel bloggers chose a USA destination as a MUST for your 50th Birthday Bucket List Trip.
LAS VEGAS, NEVADA: HOT Shows and Entertainment
By Michelle from Moyer Memoirs
What better way to start off the 50th birthday trip ideas than the neon lights in Las Vegas, Nevada! Celebrating a 50th birthday in Las Vegas is non-stop fun and entertainment. This was my choice for my 50th birthday party destination!!!
There are so many ideas to celebrate a milestone birthday on and around the Vegas strip. There are zillions of exciting 50th birthday experiences that you can choose from including a variety of Vegas shows, from Cirque, to elaborate production shows, to comedy, to magic, and everything in between. You don't need to gamble in order to have a great time in Las Vegas
One of the shows that I chose to attend with my girlfriends of all ages was Thunder from Down Under to see all the Australian men dance on stage! This was on my 50th Birthday Bucket List and was planned for over a year. Vegas Girls Night Out is a great resource to help plan the perfect Las Vegas birthday vacation. The Shout Out and Shots package that we got during the Thunder from Down Under was fun for my whole group and I was delighted to be announced by the on-stage emcee.
Here is a tip: Make sure to wear your Birthday Banner for extra attention! The hunky guys on the strip will LOVE showering you with congratulatory birthday wishes. Now THAT was a fun photoshoot! Wear your Birthday Banner every time you go out during your birthday celebration in Las Vegas.
---
Need more fun birthday ideas for Las Vegas?
Check out this LIST for more great ideas for celebrating your milestone birthday in Las Vegas:
More Helpful Las Vegas Travel Tips
Never been to Las Vegas? NOW is the time!! You won't run out of things to do or ways to celebrate your milestone birthday. To start your Las Vegas planning, take a look at my Guide to Traveling to Las Vegas for First Timers. That will give you a great starting point!
SEDONA, ARIZONA: Surprise Hot Air Balloon Trip
My 50th birthday was a bucket list dream come true. That July weekend began in Phoenix, Arizona with my husband giving me a few ideas on what to pack in my suitcase. He wanted everything to be a surprise, so we hit the road and headed north.
A couple of hours later we arrived in the picturesque town of Sedona. We pulled into the Artisan Center, Tlaquepaque (pronounced T-la-keh-pah-keh), and parked beneath the Sycamore trees near the banks of Oak Creek Canyon. Our dinner reservation was at Oak Creek Brewery, a favorite casual eatery serving wood-fired fare and delicious micro-brews.
The restaurant was crowded as we walked in, but my husband walked right past the hostess toward the dining room. I thought it was odd, but I followed him because he seemed to know where he was going. We walked past a few booths then I was shocked to see our son, daughter, and son-in-law sitting at the table in front of us! They all lived out of state so this was the best surprise I could have had.
If we had done nothing but hang out together for the rest of the weekend, I would have been perfectly happy. Spending time with the people I love is the absolute best gift of all, but there were still more surprises to come.
That evening my husband announced that we had an early morning appointment and we all had to be out the door before sunrise, by 4:30 AM. What? I honestly had no idea where we were going that early.
The next morning a car was at the hotel to pick us up and drive us through the dark to a dirt road in the middle of nowhere. As we rounded the last curve, we saw a huge woven basket with a metal apparatus on top. The crew of men from Northern Light Balloon Expeditions was carefully rolling out the fabric of a bright green and yellow hot air balloon!
My husband knew that ballooning had been on my bucket list for as long as I could remember and now he was giving me that ultimate gift. As soon as the balloon was set to go, the five of us held our breath and the pilot gently lifted off the ground.
We silently soared above the earth in the crisp, cool air of the morning. The gorgeous red rock formations rose in the distance like ancient fortresses. At times we were high in the sky above other balloons. Later we were low enough to see jackrabbits scurry through the brush. What struck me most was the mesmerizing stillness of the world as we floated along.
After landing, we celebrated with a champagne toast and picnic breakfast. It was one of the most magical and unforgettable weekends of my life.
Here's more from Nancy about travel in the Southwestern U.S.
MAUI: A Hawaiian Paradise
If you are looking for a spectacular 50th birthday bucket list destination, think about going to Maui and celebrating with friends and family in Paradise. Maui has everything you would expect for paradise and an island adventure filled with amazing food and stunning locations.  There are also water and land adventure experiences to keep you active outdoors.
The choices are unlimited and if you are celebrating the big 50, I suggest doing all the best of Maui including fine dining experiences, visiting farmers' markets, sunset sailing with amazing food cruises, staying at an exciting destination vacation spot, or even a luxury home rental, renting a jeep and doing fun road trips to many exciting spots around the island.
Finding your favorite dream beach will be easy with so many gorgeous Maui beaches to explore and enjoy around the island, probably the easiest will be right at the front door of your lodging.
There's really so much to see and do in Maui, check out my post here on the top things to do in Lahaina and surrounding areas for inspiration for your Maui visit. Definitely, a 50th birthday celebration on this island should be at the top of your bucket list of places to enjoy on this special occasion.
Best 50th birthday trip ideas for SOUTH AMERICA
Heading further south, we encounter South America. Full of untamed land and places to see. Making an itinerary that includes South America on your 50th birthday trip will not leave you disappointed at all!
PATAGONIA: Enjoying Glacier Ice Cubes
For my fiftieth birthday, I wanted to go somewhere special.  The problem was that my birthday is in November, which is a terrible month to travel in the northern hemisphere.  The fall color is over and winter hasn't quite kicked in.  So, that left the southern hemisphere.  I had been to Patagonia earlier, so going back there, this time with my husband seemed like the perfect solution.  I couldn't have made a better choice. 
We visited the breathtakingly beautiful Torres del Paine, which I had barely seen the first time around. There are several truly awesome places to stay in Torres del Paine, and holing up in an inn on a tiny island in the middle of a bright turquoise lake with wide-window views of the jaw-dropping Cuernos del Paine over dinner and a glass of wine is my idea of the perfect way to celebrate my fiftieth!
Other highlights include having Pisco sours served over ice cubes chipped off hundred-year-old icebergs that had recently calved from nearby glaciers; sailing past the face of glaciers near El Calafate; and spending hours listening to the cracks and watching ice fall off the face of Perito Moreno Glacier. 
It was also an active trip – proving I've still got it (kind of).  For example, hiking to the incredibly beautiful Laguna Torre.  This is a small lake framed with jagged mountains, with a blue glacier sliding down to the lake and several icebergs floating in the middle.  On another day we hiked up French Valley in Torres del Paine National Park.  The 360-degree views of the mountains and alpine lakes were a true highlight. 
Rather than a large party that's over in one night, we celebrated my 50th birthday every day for the full two weeks we were away over melt-in-your-mouth barbecued Patagonian beef and several glasses of Malbec!
Amazing 50th Birthday Trip Ideas in AFRICA
Africa is full of beautiful people and an amazing array of wildlife. When going on a 50th birthday vacation of a lifetime to Africa, of course, an animal safari will be on the itinerary. Each African country has an opportunity to explore Mother Nature's Greatest Wildlife Show. These travel content creators have explored 3 popular African vacation destinations and have shared their 50th birthday trip ideas.
TANZANIA: Dancing to the African Rhythms
Six months before my milestone birthday I started thinking "what would be a truly jaw-dropping experience". The answer was simple: a luxury African safari. I found an amazing agent, selected the itinerary, and sent a huge deposit, expense be damned! Soon enough, I'm on a flight to Arusha to start what would be an epic trip that will never die in my heart, soul, or memory.
After meeting my guide, Sadiq, we overnighted at an amazing family farm and guest house at the rim of the Ngorongoro Crater. In the morning we descended down into the Crater, where I had a close encounter with my first majestic male lion.
Later, I danced with the Maasai women and was a guest in their Boma. I breathed in the expanse of this wild, unchanged land, and saw the wonders I had long dreamed of. Sadiq drove us on into the Serengeti and we arrived at my first Safari camp.  The Dunia Camp is a novelty in Africa, a camp completely run by women, the most wonderful women I've had the pleasure to meet.
Set up your own Tanzania safari trip to celebrate a milestone by using these helpful Tanzania Trip Itinerary Tips.
The next days were divided between the excitement of daily game drives, chilling in my private tent, and enjoying the company of the other guests and staff in the evenings, always returning to my tent for a night of animal serenade.
I saw sleeping lions, leopards lounging in the Acacia trees, cheetahs hunting, and giant herds of zebra, antelope, giraffe, hippo, elephants, and wildebeest. With every new sighting, my heart leaped and my contentment grew.
And then it was my birthday! Up at the crack of dawn to board a hot air balloon for sunrise over the Serengeti, a surprise my bestie back home had arranged. Just another amazing element to this trip.
After spending the day out in the bush with Sadiq I returned for dinner at the camp but what I didn't know was the entire staff and other guests and guides had planned a surprise party for me with drumming, dancing, singing, homemade cards, and speeches from everyone at the table. They even baked me a cake.
I've never felt so welcomed and enfolded into a group of strangers that were now my friends. The joy that night was palpable! I'm sure we frightened the animals with all our hoopla. It was so memorable.
Over the next two weeks, the experiences mounted. Wildebeest by the 1000's crossing the River Mara. Hippos and crocodiles peacefully sharing a pool. Elephants drinking from an underground river and naughty baboons playing in the trees and stealing food from our table.
I witnessed more of G-d's natural beauty than I could ever have imagined. I left with a happy heart and have been forever changed by the experience on my milestone birthday trip.
NAMIBIA: Self-drive Safari
How do you celebrate in a year when you have a milestone anniversary and 2 milestone birthdays? By going on the trip of a lifetime of course!
We are incredibly fortunate and have had the privilege of traveling frequently and to far-flung places so it was a challenge to think of a destination that would be really different and memorable. We had also found ourselves recently disillusioned with overcrowded, over-touristy and dirty (thanks to the tourists) destinations.
So we looked further for something a bit more unusual and off the beaten track. Africa appealed as we spent our honeymoon there but we wanted something even more unique than *just* a safari. An added complication was that we were traveling with our 7 and 4-year-olds.
Eventually, we settled on a self-drive safari in Namibia and it was the perfect combination of adventure and unforgettable memories. We spent two weeks driving in an enormous circle starting and finishing in the capital, Windhoek.
We covered more than 3000km and saw some absolutely incredible things! We met cheetahs and watched a storm roll in over the red sands of the Kalahari Desert and stood among black, 900-year-old petrified trees in Deadvlei and Sossusvlei. We explored sand dunes that fall straight into the sea in Sandwich Harbour and marveled at shipwrecks off the Skeleton Coast. We discovered the barren lands of Palmvag and saw rock carvings and paintings in Twyfelfontein.
We finished up with the jewel in the crown which is Etosha National Park where zebras and giraffes just cross the road as if they were as common as farm animals! We sat at watering holes and watched, breathless as 40 elephants came to drink and saw a lion cross the road right in front of us. Our accommodation varied from sleeping under the stars in the tents on top of our car (so cool!) to glamping in tented camps. We also stayed in quirky game ranches, bed and breakfasts, and higher-end lodges.
It was one of the best adventurous 50th birthday holiday destinations and we all agreed it was one we will never forget!
KENYA: Spotting the big 5 at 50
Hitting the half-century calls for something special, so when I was planning how to celebrate my 50th birthday there was only one thing for it – a safari in Kenya with the potential to spot the 'big five' as I turned the 'big five-oh'.
We chose a three-stop safari that visited Amboseli (famed for its elephant population), Lake Naivasha (home of the hippo), and the Masai Mara (which needs no introduction).
Days were spent bumping along dusty roads in our jeep as all around us the sights and smells of the African savannah assaulted our senses. Zebras kicked up huge clouds of dust, giraffes munched on leaves from the highest branches of the acacia trees, a lone leopard dragged its kill into the bushes, lions lounged lazily in the long grass, and a pair of cheetahs stalked their prey.
In one of the lodges we stayed in, the staff were obviously aware that one of us was celebrating a milestone birthday. As we finished breakfast and were about to leave for our morning jeep ride, the head waiter came over and asked us to wait for a moment. We heard singing and the banging of drums and a group came dancing out of the kitchen, winding through the other guests before arriving at our table. I'll admit I was partly embarrassed at the razzmatazz but also quite pleased to have a bit of fuss made. A huge cake was brought to the table and my delight was short-lived as the cake was put down in front of my partner!
They knew one of us had a birthday – unfortunately, they chose the wrong one! I let him squirm while they all sang happy birthday and then when we looked at the cake, we had a chuckle. 'Happy Birthday Richard' was written across the top in chocolate icing. How lovely. Except his name is Mark. Admittedly his surname is Richardson so they weren't totally off target and it was a lovely gesture (it tasted good too!). I just hope someone called Richard wasn't left wondering where their birthday cake was!
On the actual day of my 50th, we were up at 4.30 am to go hot air ballooning, setting off before sunrise to watch the daybreak over the plains of the Masai Mara. While the sun came up and bathed the land in a golden glow, we watched thousands of wildebeests on the annual great migration, their bellowing the only noise to drift up and break the silence.
Back on terra firma, we enjoyed a delicious breakfast that had been set up while we were floating over the plains. Under the acacia trees, we were treated to a sumptuous feast – not to mention several glasses of champagne. The perfect start to my 50th birthday trip.
Top 50th Birthday Trip Ideas in EUROPE
Europe was a popular destination choice for fun 50th birthday trip ideas among travel content creators. It is filled with many countries and cultures to experience. Don't be too jealous while you read their tales. Plan one of these milestone celebration trips of your own so that you can experience these amazing destinations for yourself!
BUDAPEST, HUNGARY: Spoiled at the Spas
A milestone like a 50th birthday is a great opportunity to reflect on what you really want. After decades of doing what I needed to do, I didn't always have the luxury of reflecting on what matters to me. I realized that what matters to me are historic spas, really good cake, venerable – if slightly crumbling – hotels, fairy-tale Belle Epoque architecture, and great nightlife. There's a city that excels in all these things – Budapest, the perfect place to enjoy a relaxing girls' weekend of total indulgence and no complicated planning: days spent in spas, afternoons in the famous cafes, and evenings on the town.
We stayed at the historic, fading but grand Gellert. For one thing, it was on the list of location inspirations for The Grand Budapest Hotel. For another, it is connected to the Gellert Spa. That means we could slip on our bathrobes and go straight from our room down the maze of enormous hallways to the spa. For a third, we were directly overlooking the Danube and the Liberty bridge, as vintage yellow trams rolled by. The Gellert – full of character – is a little rough around the edges – some rooms are fabulous, and some very poor. Ours was fabulous.
The Gellert Baths are more like a palace than a spa. These are the most opulent rooms you can be in while wearing a bathing suit. We tried the 37-degree bath; we tried the 40-degree bath, we went into a steam room with steam so dense you bump into people. Then we dowsed ourselves in the shower and braved the 7-degree plunge pool, which was not only thrilling but also gave us enough energy to get out and see the town.
We soaked in the Kiraly Baths too – this famous bath has been spoiling people under its exotic dome since the 16th century. We booked serious massages after the baths, which left us so limp we had coffee at 5 instead of wine – something we would otherwise never do. We also visited the sprawling neo-Baroque Szechenyi baths, with dozens of pools – including outdoor pools where old men soak in hot water while they play chess in the snow.
Every luxurious pastry we had ever heard of, including the three definitive pastries of Budapest – kremes, esterhazy torte, and dobos torte – were even better than we imagined. And so were the opulent settings – Budapest invented café culture, and the way they practice it is an art form. 
For architecture, we were spoiled for choice. Besides the famous ones – the Parliament, the Fisherman's Bastion, and anything by Ödön Lechner – most buildings looks like it would be one of the famous sights of a city. Surrounded wherever we went by beautiful buildings, we didn't need to go sightseeing. This gave us more time for pastry sampling and wine drinking.
Of course, it wouldn't be a trip to Budapest without visiting the 7th district by night. Budapest has incredible nightlife and is famous for the ruin pubs. We went to Szimpla Kert for a cocktail in the ruins of an old building, filled with art installations and nostalgic objects. Then we found a wine bar for dinner and tried excellent Hungarian wines by the glass while sharing some duck confit that was like candy. 
I definitely recommend that you include the 7th district when you are planning a trip to Budapest!
I liked Budapest so much that I later took my mother there on a fantastic mother – daughter holiday, and then went alone a third time. It's now my ideal girls' weekend town and the perfect destination for a relaxing milestone birthday celebration. 
COPENHAGEN, DENMARK: Bucketlist Country #100
As full-time frugal travelers, my husband and I focus on off-the-beaten-path destinations, and a hugely expensive and extravagant getaway for my 50th birthday milestone was neither in our budget nor in keeping with our travel style.
Some might say it was a bit geeky, but my 50th birthday celebration had a specific goal – to reach my 100th country on my 50th birthday. While I don't chase countries, I do keep a tally of how many I have visited (I am also very strict about what constitutes a country, but that is another topic) and I was eager to combine these two landmark events.
A few months ahead of my birthday, I visited Tunisia, my ninety-seventh country, so when planning my birthday trip, the focus was more on how I could achieve my bucket-list moment. My husband and I decided on a trip to three countries I had not yet visited: Ireland, Sweden, and Denmark. All of our 50th birthday holiday ideas would culminate in us arriving in country 100: Copenhagen, Denmark in time for my big 5-0.
My birthday was spent exploring Copenhagen's alternative sights. Street art is one of my passions, and we visited Freetown Christiania to see the art there – it's a self-declared republic within the city, but I didn't count it as country 101! We also went to Grundtvig's Church, an incredible gothic church, with a design that caters to another of my interests, Brutalist architecture.
For dinner, my husband chose a relaxed, informal restaurant that served killer cocktails – the perfect end to my day. True to our budget-traveler ethos, we stayed in a hostel in Copenhagen. But it was a rather posh one with a very cool design and of course, we splurged on a private room with a bathroom!
I didn't want a celebration that would make me feel out of place at my own party, so my 50th birthday celebration wasn't fancy or extravagant – that's not my style. I saw no point in putting on a cocktail dress and high heels when I spend my life in either flip-flops or hiking shoes. Copenhagen might not be the first city that springs to mind as a place for a milestone celebration, but for my 50th birthday celebration trip, it was perfect.
PARIS, FRANCE: Celebrating in the City of Love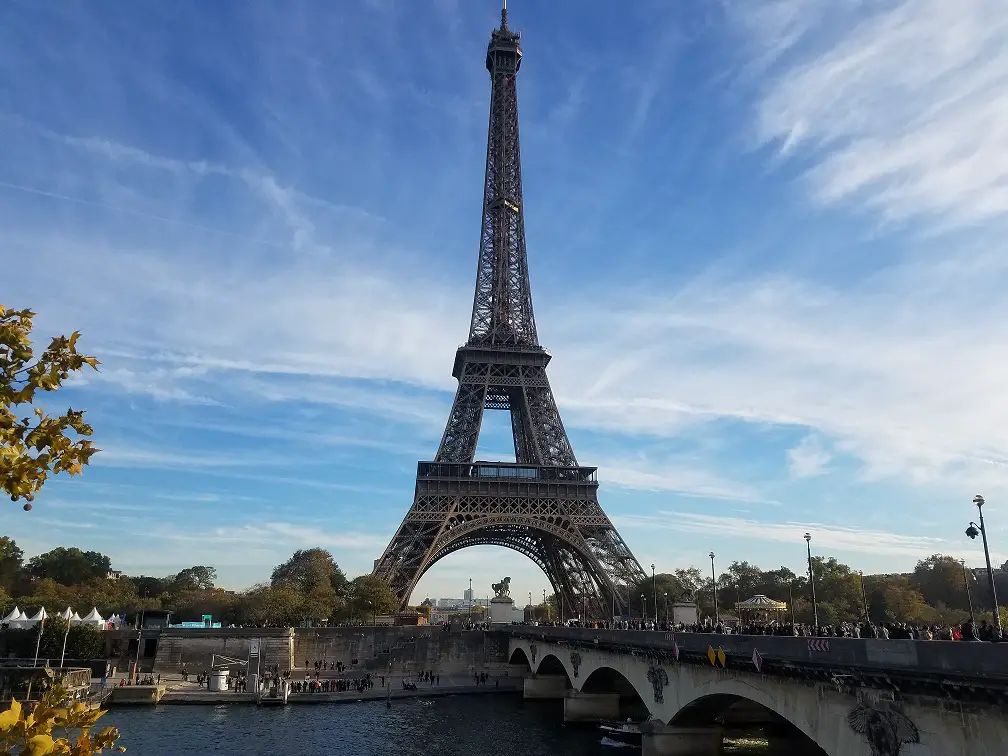 My friend Linda says that I am a Francophile.  I love everything French, so for my 50th birthday trip, my husband took me to Paris!  Since I will be 62 this year, it has will be 12 years ago, but the shine has not dimmed from that magical trip one iota! 
In Paris, we stayed in a small hotel in the heart of the city.  All of our planning was through a travel agency with tours. It was all prepared ahead of time.  We left downtime for touring the city, but the worry of finding our way from place to place was already taken care of.
What did we do that was so special?  We went to the Louvre and saw the Mona Lisa!  We visited Normandy and took a city tour and climbed the Eiffel Tower.  Our guide Francois told us we had been pronouncing our great state of Illinois wrong for years that really it should be said like "Illinwaa".
Probably the most extravagant place we saw was Louis the XVI Palace in Versailles. After reading the history, it was still hard to comprehend the beauty and the luxury of the palace! We also went to the Moulin Rouge but perhaps most glorious of all was Notre Dame! 
I had seen an article in our local paper about a tour with a local guide.  We booked that tour online and enjoyed it immensely.  To do this we had to take a train to meet the guide.  It was our "unplanned" take charge and hit the city tour.  It was fun to see the residential area and have the guide point to the Roman aqueducts and realize just how old the history in Europe is compared to the US. 

Everything in Paris was filled with romance from the bread and tea in the morning to the small room and creaky elevator in our hotel.  The beautiful wooden doors on the old buildings in Paris and the amazing churches are otherworldly.  The people in the city dressed beautifully and seemed very sophisticated to Keith and I who live in rural America. 
Paris was a dream for me that lived up to the hype.  I studied French in school and had fun taking conversational French before my trip.  Would I recommend it if it is your dream, in a heartbeat!
Be prepared for your trip to the City of Love and plan the perfect two-day itinerary for touring Paris. You can see all the main attractions in a limited time if you plan ahead with my Ultimate Guide to Paris for a short trip.
IRELAND: The Ring of Kerry
When I was approaching my 50th year I was determined to go large! As I came up with 50th birthday trip ideas, I wanted to tick off several of the more iconic experiences on my Life List.  I am a party girl at heart & no big milestone birthday celebration would be complete without the chance to have some nights out celebrating with my friends.
And there is no better country to have a good time in than Ireland. And what is the point in going to Ireland & just staying in one place? What resulted was a week's road trip discovering the Emerald Isle along the Wild Atlantic Way in Kerry & Cork. I finished off with a girl's weekend in Killarney, the perfect place for a party!
I have traveled to 70 countries & taken many iconic road trips, but I have to say that when I drove the Ring of Kerry in Ireland, it was one of the most beautiful & fun ones I have ever experienced. If you are interested in stone forts, rainbows, castles, abbeys, cliffs & some of the most spectacular scenery anywhere in the world then look no further!
My partner in crime for the week was Nicky, a friend for over 30 years. Taking this trip together after so long was precious. I had read a lot of information about the Ring of Kerry & how it's possible to complete the 179-mile circuit in a day. But that did not fit with my agenda! We were not in a rush & took 3 days. We meandered off the road regularly, whenever our curiosity dictated. We set to work planning a trip to Ireland!
Plan your own Ring of Kerry 50th Birthday Holiday
After driving the Ring of Kerry, we then moved on to Cork in order to explore the Beara, Sheeps Head & Mizen peninsulas.  In the evenings we enjoyed hearty Irish meals & the obligatory few pints of Guinness (except when we got to Cork & were told it had to be Murphy's!).
In November, Ireland greeted us with very windy days, beautiful sunshine, empty roads & many attractions closed. However, this didn't stop us as we explored a stately home just looking for a toilet & scaled a wall to see the spectacular Mizen Bridge. After all, we had driven a long way for it! We felt like we were naughty schoolgirls again!  
Once we reached Killarney we were joined by another friend, Gemma. The perfect spot for our weekend was the never-ending bar Reidy's. It looked small but we kept walking & discovering new bars with live music & clientele keen for a fun night. We made a lot of new friends, drank way too many expresso martinis, had a great sing-song & we partied like it was 1999…again! What better way is there to celebrate turning half a century?!
FLORENCE, ITALY: A Palazzo, a Piazzale, and a Ponte
Florence, Italy is the ultimate 50th birthday trip idea as it has everything you need to have an amazing time… intriguing history with famous sites, museums and monuments to see, delicious Tuscan food on every street corner, and of course, amazing Tuscan wine! 
On top of that, from Florence you can head off to the beach, head into the mountains or just drive out to the Tuscan countryside to explore the many historical towns and villages rich in history, culture, and locally made foods and wines.
You'll run out of time before you run out of things to do in Florence!
Start your trip with a walk to famous sites such as Palazzo Vecchio (Old Palace), Ponte Vecchio (Old Bridge), and The Duomo (Cathedral), all within a 10-minute walk of each other.
Then take a walk up the hill to Piazzale Michelangelo where you'll enjoy uninterrupted views over Florence.
One hidden gem that few tourists know about is Forte Di Belvedere, an old military fort that today offers guided tours and the restaurant and terrace offer a 180-degree view over Florence (an even better view than from Piazzale Michelangelo).
For accommodations in Florence, you have an almost unlimited range, from a small 30-50sqm AirBnB room or equivalent size room in a hotel, or rent a house in Florence itself or perhaps in Tuscany where you and your friends can all stay together.
Staying in the Historical Center of Florence is advised so that you reduce your walking time to and from sites, restaurants, and bars and so that you can step into the beauty of Florence from your front door.
If you're up for an adventure, consider hiring a scooter (red or yellow!) and take a cruise up into the Tuscan hillside to explore amongst the Cyprus trees and stop off for a meal or a drink, or both. You can either hire direct or take a guided scooter tour into the surrounding countryside.
There are also vintage Fiat tours where you'll be driving cute red, yellow, or perhaps a purple vintage Fiat out into the Tuscan countryside with stop-offs at popular wineries and eateries.
—- If you are interested in hearing about a Tuscany, see the story for a 50th birthday trip idea by travel content creator, Mikaela: ITALY: Tuscany
The nightlife in Florence is whatever you want it to be. Whether you just head to a local restaurant with friends or would like to party to the wee hours of the morning or just hang around one of the many piazzas where people are drinking and socializing, Florence has it all. From local wines to amazing cocktails, you'll never be without a drink.  A delicious snack or meal is only a few steps away day or night.
Be sure to grab a Gelato on Via dei Neri at Gelateria dei Neri… one of the best Gelatarias in Florence… I suggest combining Tiramisu and Caramel!
A 50th birthday trip to Florence will be a time that you'll remember and savor for the rest of your life!  Enjoy even more beautiful photos of Italy on the Its All in Italy Facebook page while you plan your milestone celebration in Florence.
TUSCANY, ITALY: Delicious Homemade Pasta Making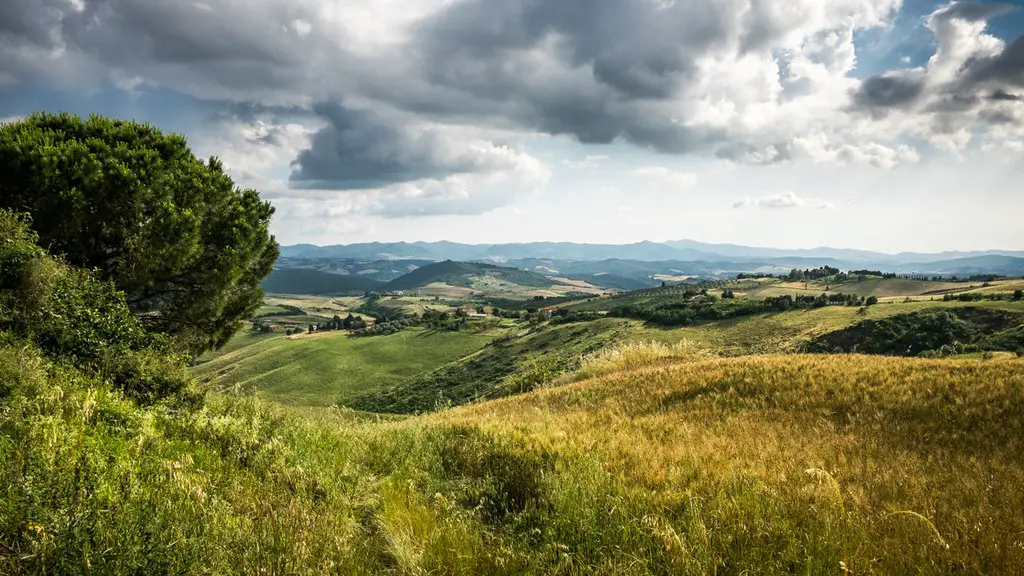 My Dad and I have always loved Italy. I don't exactly know where it started – perhaps because we both love pizza, pasta, and good white wine – but regardless, whenever we talked about the big family vacation we would eventually take, we always came back to Italy.
My Dad was turning 50 the same year I would have my Sweet Sixteen, so it seemed like the perfect summer to turn our Italy dreams into reality.
The first part of the trip was spent traveling around Italy. We stayed in Rome for four days, visiting iconic sights like the Colosseum, and lesser-known sights like Ostia Antica, and then to Venice for a few days.
We also stayed in a fortified town for two nights. This was merely intended to be a stopover but ended up becoming a highlight of the trip. It was amazing to find a modern town where you needed to enter through an opening in the fortress wall.  I'd later learn this occurs throughout Europe, but compared to towns I had experienced in North America, I felt like I was in another world.
For the second part of the trip, we established a home base in the Tuscany region. Here we slowed things down. We took day trips to places like Sienna and Florence. We stayed in a villa with a great swimming pool. When we returned from sightseeing in the afternoon we would walk to the village, my parents getting a beer, and me and my brother getting ice cream.
We took a traditional Italian cooking class at a winery that was over 500 years old so that my parents could learn how to make homemade pasta.  Upon our return home, they ended up buying a pasta maker and ten years later they still make their own pasta for special occasions.
Overall the trip was a huge success – my family and I still talk about it! Now his 60th is coming up and I've got to get planning to get a list of more milestone birthday trip ideas – it'll be tough to top Italy!
GREECE: Greek Family, Isles, and…Sheiks!
Traveling to Greece for a 50th birthday celebration was a terrific trip idea.  Thoughts of my mother's homeland and traveling with my daughter sparked a planning frenzy.  My daughter and I began planning the vacation by watching all of the classic movies filmed in Greece:  from Shirley Valentine to Traveling Pants to Zorba the Greek.  
I had traveled to Greece as a child, teenager, and young adult but it was always obligatory family visits. I wanted this visit to include family but I wanted the dream vacation and the 50th birthday celebration, too. The resulting milestone 50th trip was a 3-week vacation exploring the Greek Islands as well as visiting with family in Athens.
We arrived in Athens and spent a week with family.  The family of many cousins showed us amazing Greek hospitality. There were visits to the Athens Riviera, the Plaka, and day trips to the nearby islands of Aegina and Hydra. Everything you can wish for and more to begin the celebration of a 50th birthday.
Athens is an amazing city and has restaurants and shopping right under the Acropolis. Getting to know her was like getting reacquainted with an old friend and loving all of the bits! Around every corner was a new discovery and an aching to learn and know more. We also loved visiting the nearby islands of Aegina and Hydra but couldn't wait to get to the bigger islands of Paros, Mykonos, Santorini and Ios.
Our first island to visit was Paros, where we stayed at a sweet property owned by a local family. Paros is the perfect island with a little bit of everything. You can chill, shop, eat, party, and explore! Three days were spent exploring the different villages, hanging on the beach, and partying into the evening.
We rented an open-air 4 x 4 for more exploring and took it on a ferry over to Antiparos. We hiked and visited caverns, vineyards, and off-the-beaten-path beaches. And there was a smidgen of hope that Tom Hanks might show his face. This is his island home shared with his beautiful Greek wife.
The next island up was the iconic Mykonos. It was the ultimate party island! Our rented quad got us into trouble several times with stray dogs, fast cars, and lying husbands. Be careful what you wish for! Shirley Valentine was of no help at all!  We lounged at the famous party Paradise Beach. I had a Thai beach massage and looked for my future ex-husband on one of the many yachts in the bay! No luck there but one evening we were treated to dinner and drinks by the crew of a superyacht owned by an Arab sheik. There was zero desire to become part of his harem! But it helps to be celebrating a 50th birthday with a beautiful 19-year-old daughter! 
After 3 days on Mykonos, we took the high-speed ferry to Santorini. The amazing and beautiful Santorini did not disappoint. Our luxury hotel room included its own splash pool overlooking the caldera. The shopping, the restaurants, and the beaches were great. There was a wine-tasting day, a sailing day, and a hiking day. Our sailing day was a favorite. It was an all-day sail with a volcano hike, thermal pools, and a sunset dinner. A milestone birthday memory for sure!
Milestone birthdays can be impactful. My 50th birthday moved me beyond my contented life and inspired me to keep seeking dream vacations. As the founder of Cobblestones and Pomegranates, I now have two tour companies helping others realize their dreams and celebrations of milestone birthdays. I have now made Athens my full-time home. Life is meant to be lived and celebrated—-always —- but, indeed when you reach a milestone! My next celebration is my 60th on the Camino de Santiago. Happy 50th to you! 
Make your own memories in Greece

Awesome 50th Birthday Trip Ideas for ASIA
Asia is massive, the largest continent in the world, and also the most populated. It is ancient and full of rich history, the birthplace of the earliest human civilizations. Nowadays, China is the 4th most visited tourist destination so no doubt is one of the recommendations in Asia for your 50th birthday trip destination.
TAIWAN: Exploring the Unusual Sites in Taipei
Choosing where to go for my 50th birthday celebration vacation was tricky. Out of the blue, the idea of Taiwan came into my head.  Taiwan and the toilet restaurant in Taipei were the reason I started my travel blog– but there was still so much for me to see.  I love anything strange and unusual and there was no shortage of that in Taipei.  – and so, the decision was made and my partner and I spent 10 nights doing as many unusual things in Taipei as I could and celebrating my 50th birthday in Taiwan!
We enjoyed Rainbow Village where the houses are all painted bright colors and Houtong Cat Village which is home to hundreds of pampered stray cats.  A church shaped like a bright blue high-heeled shoe seemed the perfect way to celebrate my big day. 
The whole trip was a whirl of sights, tastes, and memorable experiences – I ate betel nut that made my heart race, got massaged with knives, saw street art that made my head spin and visited an abandoned village of UFO-shaped houses that made me immediately want to start an Airbnb (well except for the little matter of the curse that left them abandoned in the first place.)
Taiwan still isn't on a lot of people's itineraries – but it should be. It's safe and clean. The food is amazing.  My birthday present to myself was a food tour to try Taiwan's most iconic foods in its local surroundings.  If you want to push the boat out, you can visit Mume, the chef is ex-Noma and he uses primarily local ingredients, or Raw, two of Asia's best restaurants. Taiwan also has all the quirkiness of Tokyo, but without the crowds.
I didn't really want a traditional 50th birthday with a posh dinner and a cake – although I did try the infamous cake shaped like a puppy that is huge in Taiwan! Instead, I toasted myself sitting outside inexpensive bars watching the world go by – who knew a cat could sit on someone's shoulders while they drive a scooter!
Sadly, I didn't make it to all the unusual sites that Taipei, Taiwan has to offer – but that just means I can return. Maybe for my 55th birthday!
THAILAND: Relaxing Beaches and Sky Bars
Thailand offers the perfect escape for a big 50th birthday milestone celebration! 
No matter where you are traveling from in the world, if you are visiting Thailand, you will likely be landing in Bangkok. This is a vibrant, bustling city with so much to offer for every budget. Start your 50th birthday trip in Bangkok before heading elsewhere in Thailand. 
Spend your days visiting the temples or trying your hand at a cooking class; we love the Chef Leez or the Silom Thai Cooking School. 
Escape the heat in the afternoons by heading to one of the many shopping worlds. Terminal 21 Bangkok is a unique, themed mall with plenty of boutique stores as well as recognizable brands whilst Central World is a great place to eat fantastic food in modern restaurants. 
Bangkok comes to life after 6 pm. Head to a sky bar for a few drinks and to watch the city from above.  These bars are all over the city, with Octave, Sirocco, and CRU Champagne Bar being some of the most popular.  Cielo, Red Sky Bar, and Sky on 20 offer a more local feel. 
There are also many other beautiful places in Thailand to extend your birthday celebration with a longer vacation. Head down south and relax in a gorgeous resort on an island or head north to enjoy the jungle, nature, and temples of Chiang Mai. 
Pattaya offers a busy night scene with cheap beer and a unique clientele. Krabi and Koh Samui offer both stunning beaches and fun nightlife options while Koh Phangan is the place to go for full party mode – time your visit with a full moon party! 
Phuket is the perfect place to relax and unwind, with the Old Town offering a bit of Thailand culture along with shopping opportunities whilst Koh Lanta is idyllic. Catch a ferry from Phuket and enjoy the stunning national parks and crystal clear water. Splurge on a nice hotel here and take a few day trips to the perfect beaches and bays nearby.  We love Bamboo Bay and Kantiang Bay. 
10 days in Thailand is the perfect way to celebrate your 50th birthday with an exotic trip.  There are so many options to choose from, depending on what type of traveler you are. Plus, there is amazing food, plenty of choices to relax and unwind, and gorgeous hotels to choose from. 
SINGAPORE: Art and History
By Kawamura from My Little Inner Child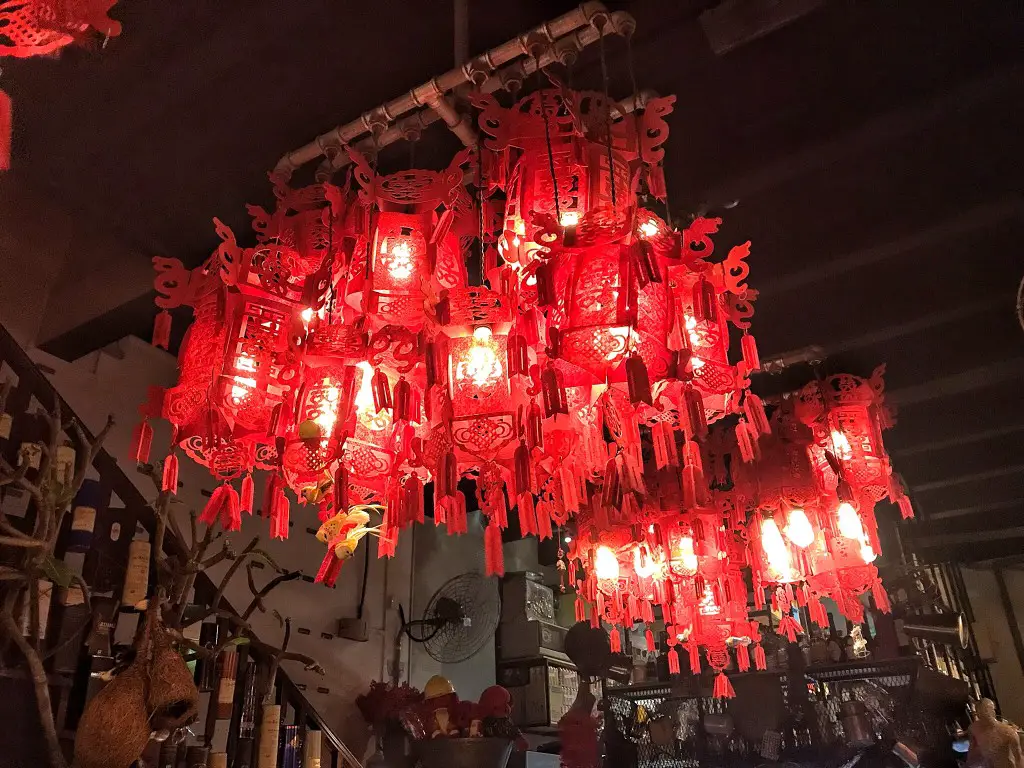 Singapore is known for being an English-speaking country with clean and livable streets to stroll through and a cosmopolitan flair where West meets East. A 50th birthday travel destination would be a perfect fit with the ambiance in Singapore. Additionally, the Harbourfront at the southernmost point of the country welcomes major cruise lines, which are also the go-to means of travel and an ideal milestone birthday gift. 
I was able to craft a Singapore birthday trip for guests of mine based on their interest in art and history.  Their kids were grown up and moved out so they have been spending quality time alone exploring the world.
On the tour day, I picked them up in their hotel lobby in Singapore. I showed them around the Singapore attractions that give visitors a taste of local art scenes and historical sites.
Chinatown is the area where my guests watched a traditional Chinese theater, toured the stunning Buddha Tooth Relic Temples and met meditators, and bought souvenirs for their loved ones. The couple was especially amazed by the Temples that are a living and breathing religious community as well as a well-known tourist spot.
The three of us had a good time tasting Singapore's iconic hawker food at the hawker center complex just opposite the Chinese pagoda. Hawkers, Singapore's food court, usually costs USD 4-5 per dish and USD 1-2 per non-alcohol drink. If you are interested in the world's cheapest Michelin food, you should visit Hawker Chan that won one Michelin star in 2016.  Try their signature chicken rice! You might need to join a long queue, though, but the wait is worth it!
Changi Chapel is a memorial church that pays homage to fallen soldiers during the Japanese Occupation of Singapore in WWII. On a small wooden altar, there are a thousand paper cranes dedicated to lasting peace and restless spirits. A small museum adjacent to the chapel is also a must-see; exhibitions hold letters and documents from the Japanese invaders and the Allied armies alike. Even though this historical monument is far away from the Center, my guests liked peeking into the exhibits and learning about Singapore's wartime history.
Singapore is a year-round tropical country filled with many must-see sites in addition to those mentioned in this short description.  Make sure your itinerary includes the many sites to see in Singapore. It should be at the top of your list for a relaxing, historical, and cultural 50th birthday trip.
CHINA: Walking on the Great Wall
When my ex-husband's girlfriend invited me to travel with her to China for a 50th birthday trip, I jumped at the chance! She had dreamed of this trip for more than 25 years, but family, career, and other responsibilities meant it wasn't possible until the big 50th birthday loomed! The biggest treat of all was going to be fulfilling her long-held bucket list dream of walking on the Great Wall of China on her birthday.
Like a pair of excited teenagers, we sipped a glass of champagne on the outbound flight to Beijing, delighted that we'd decided to upgrade our seats. After years of budget travel, this felt like such a special treat.
The birthday morning dawned, and I surprised her with gifts, a 50th birthday banner, and balloons. It was a great start to a long and exciting birthday weekend. Walking on the Great Wall and fulfilling that dream was emotional. We hugged, shed a few tears, and bought a stupendously expensive beer in a tiny café just before we descended, but it was worth every penny!
We threw caution to the wind and chose to toboggan down from the Wall, rather than take the cable car! What an adrenalin rush that was – 20 minutes on the longest toboggan run in the world! In the afternoon, we had a thrilling, but rather cozy rickshaw ride through the Beijing hutongs (narrow streets, with traditional courtyard houses). Those rickshaws are definitely not designed for well-padded Western backsides!
As a further treat for the next day, we booked the sumptuous Sunday lunch at the Four Seasons hotel.  The wonderful staff at the Four Seasons restaurant couldn't have been more attentive. We had bottomless champagne, the most fabulous food, and they even made special birthday desserts for us!
Next on the schedule was a bit of pampering as we had decided to get a manicure. As soon as the salon manager realised we were celebrating a big birthday, she was quite insistent that we receive a free wash and blow dry!  We were thoroughly spoiled in the hair salon, with much laughter as the manager explained that her staff were enjoying working with our "Western hair". Feeling replete, very relaxed, and rather glam with our "posh" hair, we enjoyed leisurely cocktails on the terrace before retiring for the night.
This was a 50th birthday celebration that just kept giving, and it was quite wonderful. It was 50th birthday travel at its finest! My turn next – we're already coming up with more milestone birthday trip ideas for where to go for my next "round number" birthday!
Top 50th Birthday Trip Ideas in the OCEANIA
The Oceania region is between the Asia and Australia continents and includes Australia, New Zealand, and thousands of islands located in the Pacific Ocean. Of course, the travel content creators chose destinations in this awesome region of the world for 50th birthday trip ideas.
NEW ZEALAND: Road Trip on South Island
For my mom's 50th birthday, I was living in New Zealand on the South Island and we decided the best birthday gift was a 50th birthday Bucketlist trip to New Zealand for a visit! I was in charge of organizing all of our plans including accommodation and activities for the week. I wish she would've had longer than a week to enjoy New Zealand, but we made it work.
We spent her first day in the country celebrating her 50th milestone birthday in Auckland where she had flown in. It also happened to be Super Bowl Sunday in the US, so we found a bar in the city airing the game and called it an early night. The next day we flew to the South Island where the fun really began!
The South Island is absolutely gorgeous with expansive landscapes, large blue lakes, and beautiful mountain ranges. We spent one night in Mount Cook National Park where my mom had splurged on a top-floor room at the Hermitage Hotel where we watched the sunset over the mountains. After a quick morning hike, we headed to Queenstown to enjoy the small ski tourist town.
We drove along the South Island through Central Otago, near Queenstown where there are wine vineyards galore. It was a beautiful day, so we stopped at 3 different vineyards along our route to taste test and purchase bottles of wine for the rest of our road trip.
I really wanted my mom to also experience Fiordland National Park. It is very far south on the South Island, but on a once-in-a-lifetime trip, I knew we had to make it work. So, after a night in Queenstown, we headed down to Fiordland. I had already arranged a boat tour through Milford Sound as well as a tour to see the famous glow worms! Although it was a lot of driving to and through the national parks, we both felt they were totally worth it. Both parks are simply magical and it was one of our favorite activities. You also just never get tired of the beautiful bright blue and green colors of New Zealand.
It was a quick trip, but a 50th birthday full of fun, interesting sites, and beautiful locations. Although I spent a year in New Zealand, my mom's visit for her birthday is one I'll never forget!
AUSTRALIA: Surfers Paradise on the Gold Coast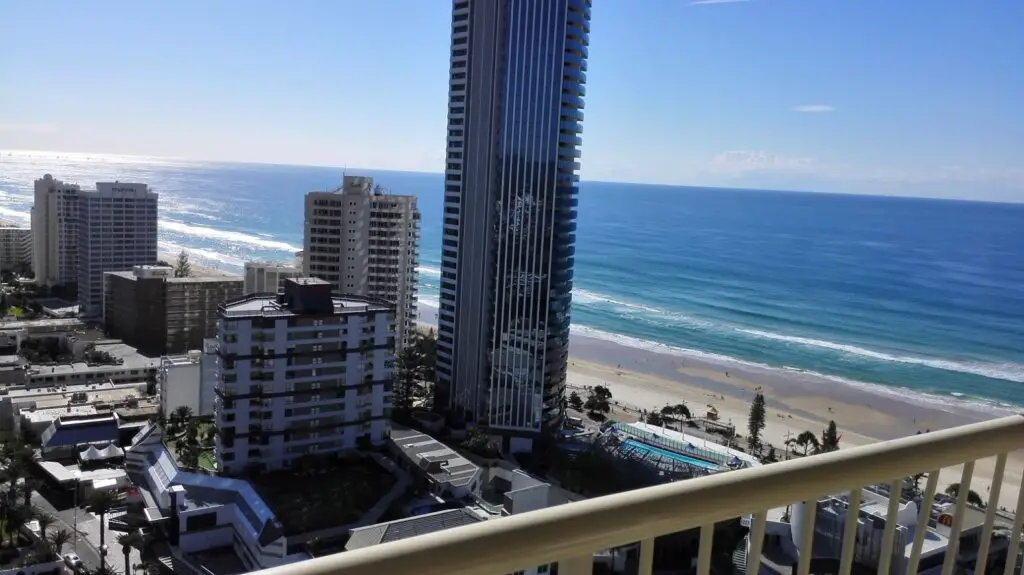 My 50th birthday trip idea is Surfers Paradise on the Gold Coast in Queensland, Australia!  There is an endless list of excellent venue options for a 50th birthday celebration and a choice of hundreds of things to do and places to go to keep you busy and happy over your 50th birthday weekend break! Yes! We're assuming you will celebrate your 50th birthday over an entire weekend. After all, this is a very special milestone in your life and deserves a whole weekend of celebrating.
If you're lucky you might find a great deal for a 5-star hotel in Surfers Paradise or Gold Coast.  It's worth a look. Other recommendations in the 5-star area are Palazzo Versace for total luxury and grandeur, Pepper Soul- Surfers Paradise for beachfront location and uninterrupted sea views, Sheraton Grand Mirage for absolute beachfront luxury, Surfers Paradise Marriott Resort & Spa with its magnificent lagoon, and Hilton Surfers Paradise Hotel right in the center of Surfers Paradise.  If a 5-star option is not in the budget, the QT Gold Coast and Q1 Resort and Spa are good alternatives.
The options for your birthday weekend activities are endless and you are only restricted by the amount of time you have and your budget. A hot air balloon trip over the Gold Coast Hinterland followed by a champagne breakfast is a must-do for your birthday day!

How about renting a car and doing a day trip to some exciting venues? There are also plenty of water options. How about a whale watch cruise, a Gold Coast romantic gondola cruise, a sightseeing cruise, or even a surfing lesson? There are exciting surfing destinations around the world that you can also check out after Australia. Find out where to surf in March for great swells and fewer crowds.
Maybe you would like to select one of the excellent spas for a relaxing massage, a makeover, or some pampering. And if shopping is your thing head out to the modern Pacific Fair or Robina Town Center to select a special birthday present for yourself or head out to Harbourtown Outlet Centre to pick up some bargains. You might enjoy a day at one of the theme parks enjoying some exhilarating rides

There is an endless list of amazing top-class restaurants. There will be a restaurant or two for whatever type of food you desire. We suggest you book ahead though to avoid being disappointed. Check out the Australian Good Food Guide Chef Hat Award winners for starters. And there are plenty of top-class nightclubs and lounge bars in the Surfers Paradise precinct to finish off the night. Have a memorable and fun-filled 50th birthday and make sure that you include Australia on your list of the best holidays for 50th birthday trips!
Take an extended birthday trip while in the area and visit Kangaroo Island in Southern Australia. For details and trip planning advice for this awesome 50th birthday trip idea, visit the Ultimate Guide to Kangaroo Island.
50th Birthday Plans in the CARIBBEAN
Ah, the tropical paradise of the Caribbean Islands where you can lay in the sunshine all day while you are drinking from a coconut. Now THAT is ultimate relaxation! Here are some 50th birthday travel ideas where you can relax your 50 years away… and a little more.
BRITISH VIRGIN ISLANDS: Sailing in a Private Yacht
Picture this.  Pristine palm tree-lined white sand beaches, crystal clear, warm, blue Caribbean waters, tasty and robust umbrella drinks, fresh seafood, and tropical fruits, and the only decision you are required to make in the morning is what swimsuit you're going to wear.  All of this combined makes turning 50-years-old a dream come true.
Sailing the British Virgin Islands on a yacht with a knowledgeable crew sharing their best-kept secrets of the islands, serving 5-star meals you once could only dream of, creating trendy happy hour treats once a day, and James, whose sole daily purpose is to keep your drink full.
Endless activities, including hiking the islands, snorkeling, turtle counting, stand-up paddleboarding, scuba diving, swimming through caves hunting pirate treasure, watching mind-blowing daily sunsets, and floating around sipping Champagne.  

We have spent the past few summers sailing the British Virgin Islands under these dreamy conditions with our family.  Those seven days of bliss even had the teenagers smiling. A 50th birthday party week, I could only guess, is perfection.  Plan your perfect milestone vacation with my travel planning advice, complete with a British Virgin Island Bucket List Check-off List.

Have I convinced you that this is the best way to celebrate 50 years on this beautiful earth? 
PUERTO RICO: Rio Grande
Yaya from The Eclectic Yaya  
If you want a fun and relaxing 50-year celebration, take a vacation to Puerto Rico!  Since I'm only two years shy of hitting the big 5-0 I'm planning two vacations:  One abroad and one in Puerto Rico.  Yes, I am worth it so I will do two celebrations to mark this milestone birthday celebration! —and Puerto Rico is the best place to celebrate 50th birthday!
My best idea for a 50th birthday celebration in Puerto Rico is to head out to Rio Grande and rent a villa for 3 to 5 days with friends.  Rio Mar Village is an upscale luxury complex nestled around the Wyndham Rio Mar Resort in Rio Grande and is one of my favorite places in Puerto Rico. Rio Grande is located about 25 minutes from the airport to the Northeast side of the island and is also home to El Yunque National Forest, where you can enjoy the many hidden natural water slides of Puerto Rico.  When I really want to get away, I head out to Rio Grande for a weekend.
El Yunque National Forest is a great way to spend your time during your 50th birthday celebration in Puerto Rico. You can go on a guided tour of El Yunque Rainforest to find all the hidden treasures like waterfalls and natural slides or just take a guided hike to enjoy the magnificent scenery!
The Wyndham Rio Mar Resort and Golf Club is a 4-star beachfront resort away from the busy lifestyle of San Juan.  Here you can really relax and disconnect with views to Rio Grande beach as well as El Yunque Rainforest.  The resort has two golf courses, tennis courts, a spa, casinos, restaurants, 3 swimming pools, and a beach.  In a nutshell, it has it all and you do not have to do much.  Just bring your swimsuit and suntan lotion and get ready to have fun! 
The other option is to rent a villa located within the surroundings of the resort.  The villas have different views of the beach, the golf course, El Yunque, or all three!!  Rio Mar Villas are a perfect choice.  They are arranged within clusters, so each has a private entry.  There are many to choose from, but I love Ocean Sixteen, which has views of the beach as well as the 16th hole of the golf course.  Renting a villa is less expensive but you do have to put in a little bit more work for things like cooking.
There are many other things to do at Rio Grande.  You can head out to Fajardo and rent a catamaran to Icacos Beach, do a Day Trip to El Yunque Rainforest and Luquillo Beach, or just relax and do nothing in front of the beach.  At night, head out to the Kioskos de Luquillo for dinner and drinks, to the Wyndham hotel in a golf cart, or sit back in your villa with a fine bottle of champagne.
 It's your birthday!!  Do as you please and enjoy Puerto Rico!
CARIBBEAN CRUISE: Disney Christmas Cruise
My bucket list is quite full. However, as a miles and points travel hacker, most of my list can be accomplished for pennies on the dollar. There was one item that eluded my hacking though – a Disney cruise. THAT ONE is definitely one of the most fun birthday trip ideas ever!!
For my 50th birthday, we decided to take the plunge (maybe splurge is a better word) with a 7-day Disney cruise to the Western Caribbean. Since I'm a Disney blogger and a self-proclaimed Disney mom, I looked forward to this cruise for the entire 18 months from when we booked it.
The Disney Fantasy cruise ship did not disappoint! We took a Christmas-themed cruise and enjoyed the lavish decorations, the snow machine on their private island, and the incredible food. I think I had tears in my eyes during embarkation because this had been on my bucket list for so long and it was finally coming true.
My husband, 8-year-old daughter, and I celebrated all week long. Not only was it my 50th birthday, but it was also our 10-year wedding anniversary. Our wait staff went the extra mile for two nights by treating us to special desserts and songs. It was unbelievably heartfelt and an appreciated gesture.
We treated ourselves to a Family Verandah cabin and sat outside watching the vast ocean slide by. Even better, we ordered Mickey ice cream bars from the Disney Cruise room service menu (most items are free) just because we could!
Knowing how special this cruise was to me, my husband bought me a beautiful heart necklace engraved with the Disney logo from Tiffany's on board the ship. A double first for me – the cruise and something from Tiffany's. It was an absolutely magical week on our Disney Cruise.
I'm so thankful we had the chance to experience this bucket-list birthday trip as a family for two very special events. I had a hard time justifying the cost of this trip, but as my husband said, 'If we don't do it for this special occasion, why would we do it any other time?' So, go for it! Cross that item off your bucket list and do it.
So many great 50th birthday trip ideas!
There you have it!!
Which one will you choose?
Make sure you pick a new destination to commemorate this milestone. Be sure to take lots of pictures and tell me all about your 50th birthday party trip!
Save this post for later. PIN IT