DISCLOSURE: I may link to relevant products, companies or helpful info which may be affiliate links, meaning I may earn a small commission. As an Amazon Associate & other affiliates, I earn from qualifying purchases at no extra charge to you. The views & opinions are my own. Please see the disclaimer and privacy policy.
Last Updated on July 31, 2023
Have a blast for 3 Days in Puerto Rico
Spending a long weekend in Puerto Rico? Follow this fun itinerary to enjoy Puerto Rico in 3 days, including multiple different types of activities like a natural rock slide, riding a ferry to a small island, hiking to waterfalls, relaxing on beautiful beaches, and exploring the rainforest.  Puerto Rico has enough to keep any type of traveler entertained.  
Plan your 3 day trip to Puerto Rico with all of my tips contained in this Puerto Rico travel blog in order to experience all that this magnificent island has to offer! I have even added some optional activities on each day so that you can extend your Puerto Rico itinerary into the evening.
---
The Ultimate Guide to Puerto Rico Itinerary:
Do you have 4 days in Puerto Rico?
I have also included an optional extension for a 4 day Puerto Rico Itinerary
---
Three Day Puerto Rico Itinerary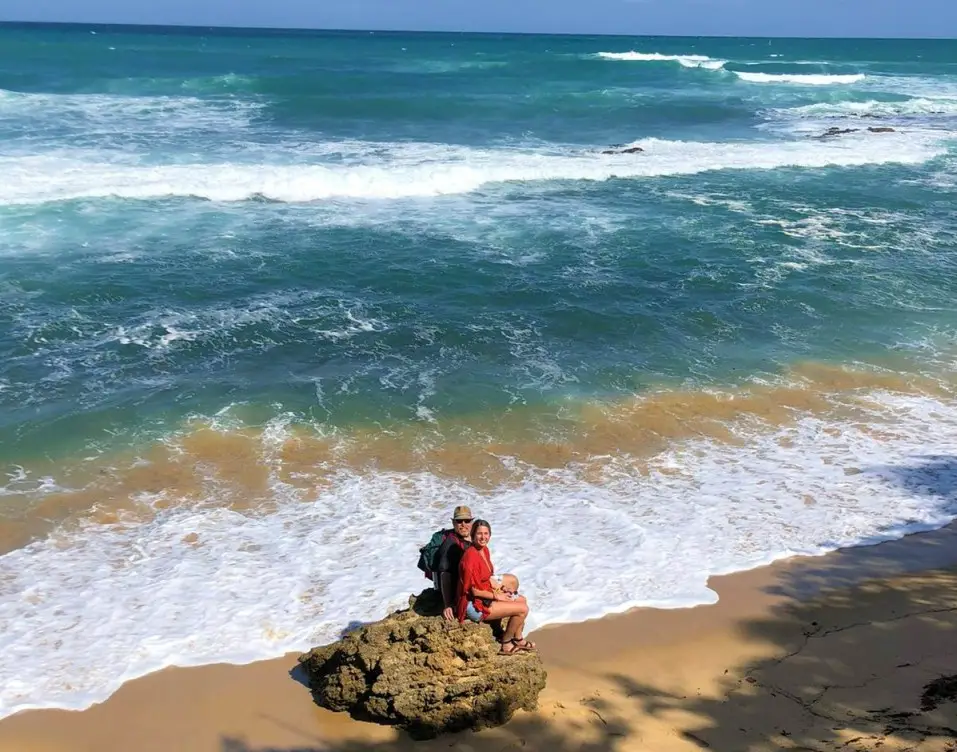 Click on the Table of Contents to jump to your favorite Puerto Rico activities for more details about the 3 day Puerto Rico itinerary.
---
If you are venturing out of San Juan, you will probably need a rental car in Puerto Rico. There are a few day trips that you will want to include on your Puerto Rico itinerary. Getting a rental car and driving in Puerto Rico is easy and I have made a handy guide with tips to make it even EASIER!!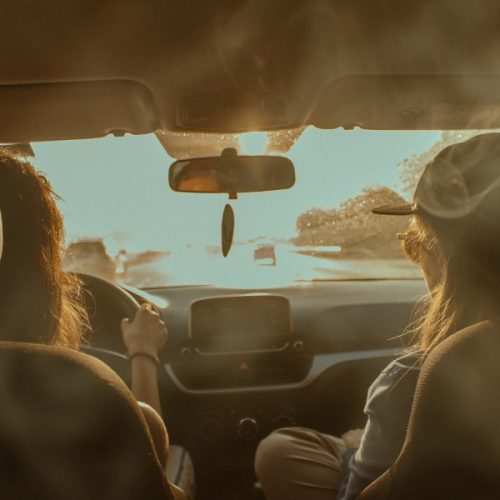 Hit the Road in Style: The Ultimate Guide to Car Rental in Puerto Rico for Your Road Trip
Discover the ultimate guide to car rental options for your Puerto Rico road trip! We cover everything you need to know about car rental in Puerto Rico. Let's hit the road, and explore Puerto Rico to the fullest!
DAY ONE of a 3 day vacation to Puerto Rico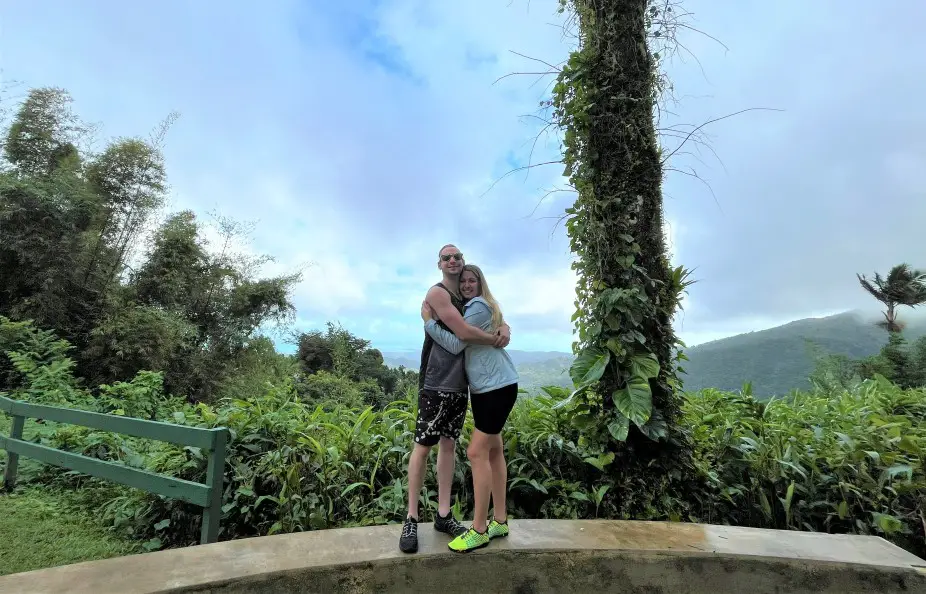 The first day of our three days in Puerto Rico was my personal favorite, as it included natural rock slides, exploring the El Yunque Rainforest, swimming under waterfalls, taking in breathtaking views, relaxing in the hot sun at a beautiful Puerto Rican beach, ATVing, and even bioluminescent kayaking! 
If you follow our Puerto Rico 3 day itinerary, your trip will be filled with just as many fun activities, so grab your pen to write them down to help you fully experience Puerto Rico. 
Spending a Day at El Yunque National Forest in Puerto Rico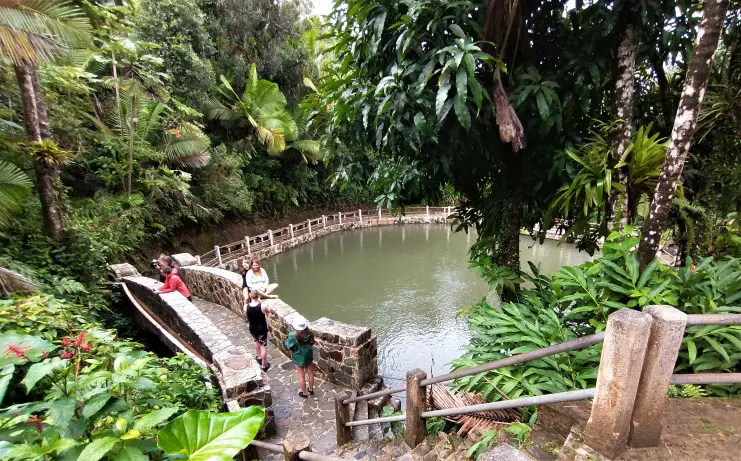 On our first day in Puerto Rico, we went to El Yunque National Rainforest, one of the only tropical rainforests in North America.  It is 28,000 acres, the largest region in Puerto Rico, containing mountain peaks, jungle vegetation, and many waterways.
You MUST include this on your Puerto Rico itinerary. You can tour El Yunque on your own like we did, or choose one of the fun-filled tours to El Yunque Rainforest.
Our visit to El Yunque was over the holiday break and during the pandemic- so we were not required to have a ticket. It was open to all. Normally tickets are required for entry to control the crowds. 
PRO TIP: I would suggest printing out a map of the stops beforehand because when it is not busy season, there is no park staff around to help. Normally, upon arrival, you will find park staff handing out an El Yunque map with all of the interesting stops to see and requesting to see your timed-entry ticket.
Our trip through El Yunque Rainforest 
Rainforest day was the most unique and exciting day because we got to experience waterfalls, natural slides, old towers in the rainforest, and plenty of different exquisite views.
Want even more details about exploring El Yunque on your own?
Read about and follow our detailed El Yunque itinerary with all the best photo stops here: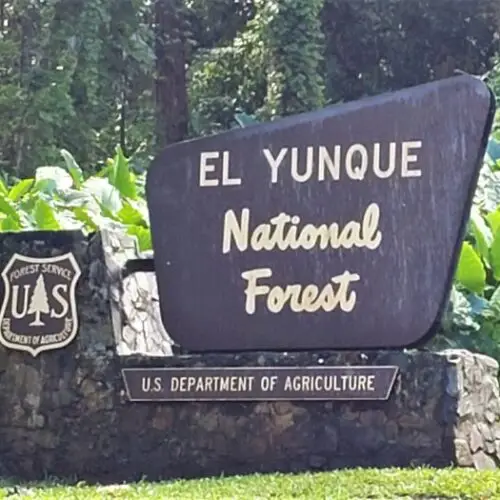 A Fun-Filled Day of Things to do in El Yunque Rainforest in Puerto Rico
There are many things to do in El Yunque Rainforest like hiking the trails and basking in waterfalls and it is a must-see site for your trip to Puerto Rico.  Depending on how many hikes you do, the trip can be all day or a portion of the day.  Visiting El Yunque on your own
---
PRO TIP: Before you start your Puerto Rico road trip and head out to the rainforest, stop at the Puertorrican Bakery for breakfast. I would 100% recommend getting a ham and cheese croissant sandwich and splitting it with someone because they are HUGE! We also got some donuts to eat for a snack later since we wouldn't be eating lunch for a while.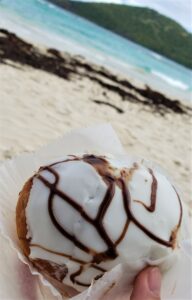 ---
El Yunque Rainforest Tour Options
If you don't want to drive yourself through there are plenty of private and group tours through El Yunque Rainforest in Puerto Rico.  Some of them leave from San Juan, some of them include a hotel pick-up, and some include a hidden waterfall!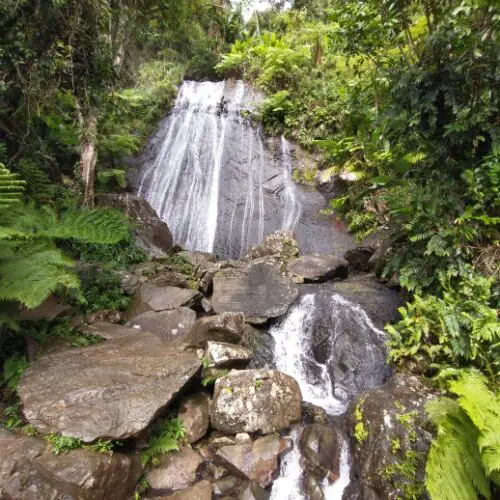 Best El Yunque Rainforest Tours & Puerto Rico Adventures
Here are some of the best and most exciting El Yunque Rainforest Tours. There are many El Yunque tours that you can sign up for in order to see all the El Yunque attractions & hidden gems. Any trip to Puerto Rico should include a day-trip to visit El Yunque National Forest. 
---
Natural Rock Slide: Las Paylas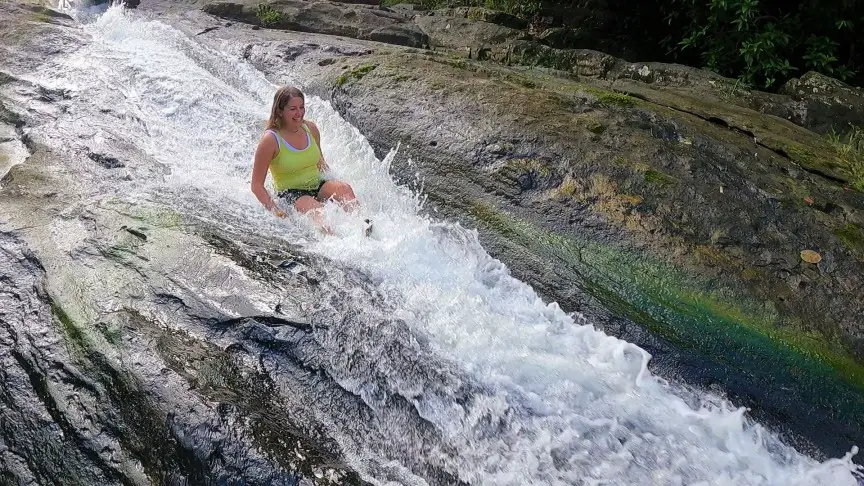 The natural rock slide was by far the best El Yunque Rainforest experience.  It is a must-do on your Puerto Rico travel itinerary! It is in a little town where you have to park on the side of the street at a local guy's house. He will be outside and direct you to go down the muddy hill to the rocks. He accepts donations for parking. 
PRO TIP: Be prepared to get muddy before you even get to the slide!
The natural rock slide was so exhilarating! It was a long, long way on the natural slide to get to the bottom and into the water. I would definitely recommend for everyone to try the entire rock slide- from top to bottom. 
---
We spent a few hours at the Natural Rock Slide and you can read the details and hints about finding Las Paylas, the hidden natural rock slide at our detailed guide: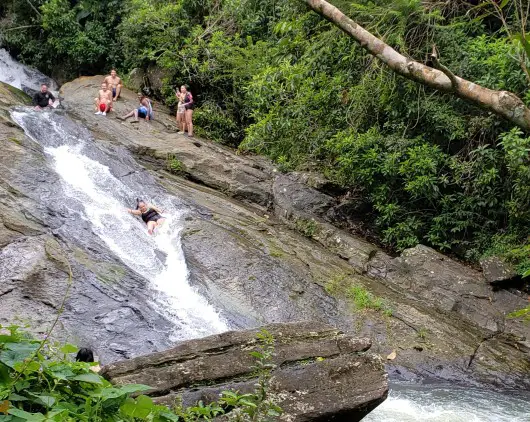 How to Enjoy Las Paylas Puerto Rico: Natural Water Slide in Luquillo
We found Las Paylas, a hidden Puerto Rico natural water slide tucked away on the outskirts of the El Yunque National Forest.  Discover the fun at Las Paylas Natural Water Slide.
OPTIONAL Puerto Rico Itinerary- Day one
There will be time leftover on your first day in Puerto Rico. There are several options for the remainder of your first day if you are wondering what can you do in Puerto Rico in the evening. Keep reading the Puerto Rico vacation blog for some great ideas for activities in Puerto Rico!
Luquillo Beach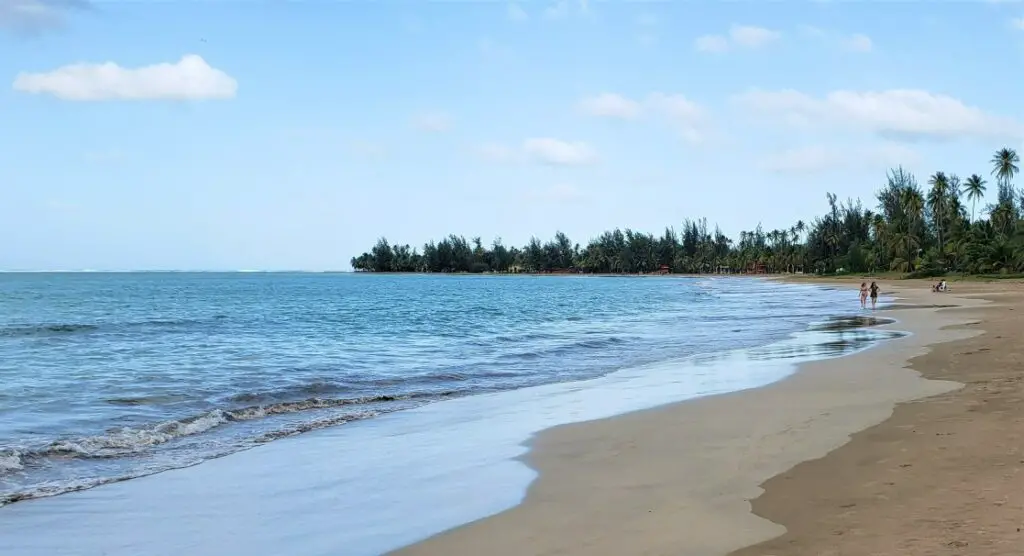 After the exciting experience in the rainforest and on the rock slide, we decided to head to the beach to relax in the hot sun. Luquillo Beach is only a 15-minute drive from El Yunque National Forest. It is known for the many coconut palm trees and miles of soft white sand.
The Luquillo Beach kiosks are a bunch of food kiosks, restaurants, and souvenir shops – with the bonus of a big beautiful beach right behind it all. All of the shops and restaurants were spread out in a row close to the beach – with most of the kiosks providing a beautiful ocean view and fresh air on their back patio. On the beach, there are also public bathrooms with showers, water-based activities available for rent, and beach chairs and umbrellas.
We decided to go to Luquillo Beach after our trip through El Yunque and the Natural Slide. It was rainy by the time we got to the beach so we decided to eat at one of the restaurants called El Jefe Burgers and Mojito Factory. It was very yummy and we were so full so we decided to walk around and shop to burn off the calories we just consumed!
Definitely spend some time relaxing on this beach as the sand is super soft and they have beach chairs and umbrellas available for rent from a vendor that will set up for the day. This is perfect for a relaxing evening after all the hiking through the forest! 
---
Off Road in an ATV through Puerto Rico
Choose a "Ride of a Lifetime" as you race through the lush Puerto Rican forest and countryside in an all-terrain vehicle.  Take command of your own ATV with family and friends or ride solo through the scenic mountains, mangroves, and lagoons with a professional guide.  Some of the ATV tours offer transportation from San Juan hotels and some end the tour at a refreshing Mojito Bar where you will be able to quench your thirst after your exhilarating ride.
Zoom through the landscapes with these popular Puerto Rico ATV Tours:
THE TOP 5 Puerto Rico ATV Tours (w/Prices)
Puerto Rico ATV Tours: Check out Viator's reviews and photos of Puerto Rico tours
THE 10 BEST Puerto Rico 4WD, ATV & Off-Road Tours (with Photos) – Tripadvisor
Top Puerto Rico 4WD, ATV & Off-Road Tours: See reviews and photos of 4WD, ATV & Off-Road Tours in Puerto Rico, Caribbean on Tripadvisor.
---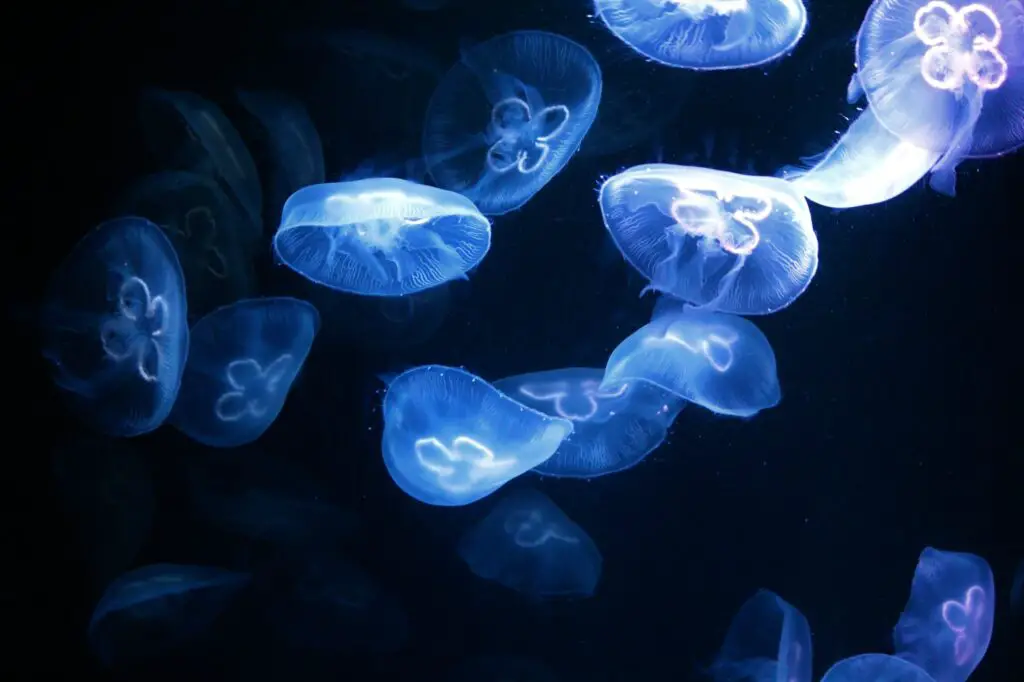 After ALL the activities on day one, you have to finish it off with a blast! Spending the whole day in the water just means that you should spend the night in the water as well. What better way to do that than in a kayak paddling in bioluminescent water?
As someone who loves being around water, kayaking was an obvious yes for me. Even better; it was at night time and we would be able to see the bioluminescent plankton in the water when we moved our paddles or our kayak. It was like glow-in-the-dark kayaking. The Bio Bay Puerto Rico tours are near Luquillo Beach, so it is a good idea to head over there when the sun starts setting. 
Put bioluminescent bay Puerto Rico on your must-see list!
DAY TWO of a 3 day vacation to Puerto Rico
On your second day staying in Puerto Rico, of course, you have to dedicate a day to learning about the history. What better way to do that than walking around the old city of San Juan while admiring and taking pictures of the exquisite historical architecture. There are some great Instagram spots in San Juan Puerto Rico.
Make sure to include a walking tour when you plan your 3 day itinerary San Juan Puerto Rico
Walk around Old San Juan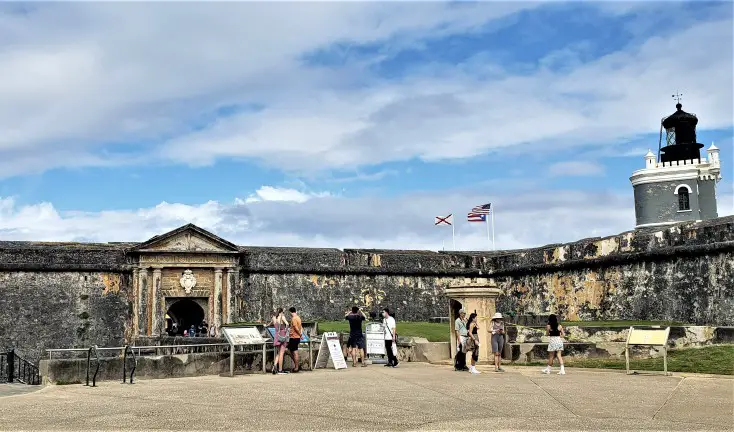 San Juan Puerto Rico is older than any city in the USA and there is a lot of history to explore on this prominent island in the Caribbean.  The old San Juan city has more than 500 years of European history behind it and is a UNESCO World Heritage Site.
The entire city is walkable, so you can walk around old San Juan city in just a day.  Sprinkled throughout the cobblestone streets of old San Juan are historic forts, colorful buildings with beautiful architecture, the Capitol Building of Puerto Rico, many memorials, and even a relaxing beach.
Follow our walking tour of San Juan in this detailed post: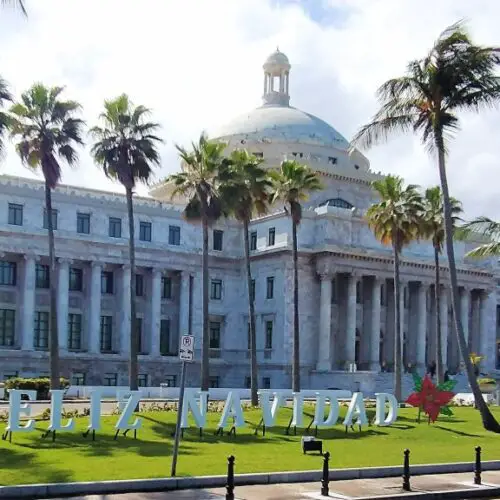 Exciting things to do in ONE day in San Juan Puerto Rico
One day in San Juan Puerto Rico is full of history! The San Juan National Historic Site is a UNESCO World Heritage Site with more than 500 years of European history & historical architecture throughout its cobblestone streets.
---
Don't want to plan your own walking tour of San Juan?
Take a guided tour to see all the sites in Old Town during your trip to Puerto Rico

OPTIONAL Puerto Rico Itinerary- Day two
Salsa Dancing
On this night, a cool experience would be to take a salsa dancing class either by yourself or with a partner! Some of the classes take place outside in a park near Old San Juan. 
Salsa Dance Class in San Juan
Salsa music and dance are a big aspect of the Puerto Rican lifestyle and culture. Learn the basics of it with or without a partner in a 1-hour beginner class! The park where the class is held is very centrally located with on walking-distance many bars and restaurants to have dinner and/or go out at…
Once you have learned the steps, or if you already know how to salsa, there are many local bars and clubs that have nightly salsa dancing at their establishments. Take your dancing buddy and opt for a night out!
Night Out in Old San Juan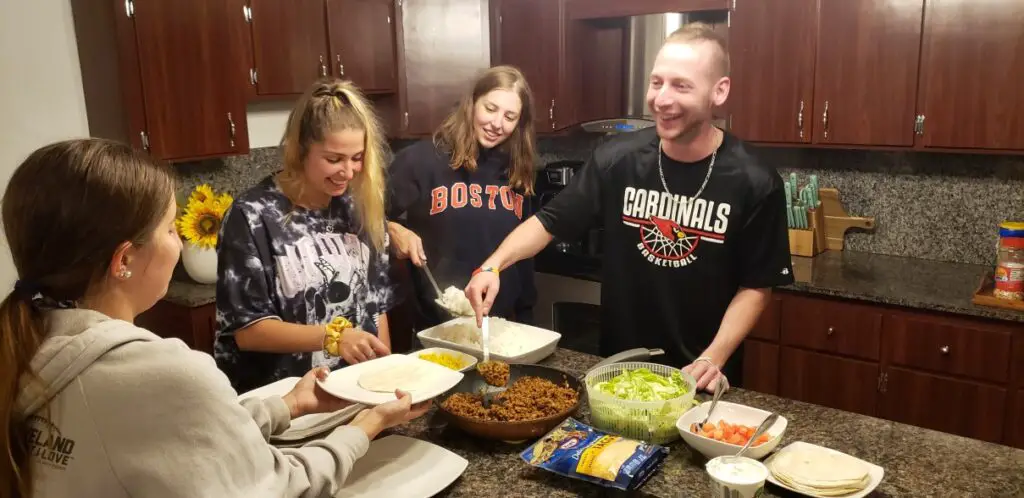 After our first day in Puerto Rico, we headed back to our suite at Fortaleza Suites in Old San Juan. We used our big kitchen to make tacos for dinner.
If you are not too tired from your exciting day, there are still many options for an exciting evening in Puerto Rico. You can find a local Mojito Bar where you can cool down with refreshing drinks. Another option is the dance the night away at one of the local bars, some featuring salsa dancing on certain nights!
It was a long day, so a few of us went shopping at the souvenir shops all around downtown and then went back for the night. It was an amazing, eventful, and unforgettable first day in Puerto Rico!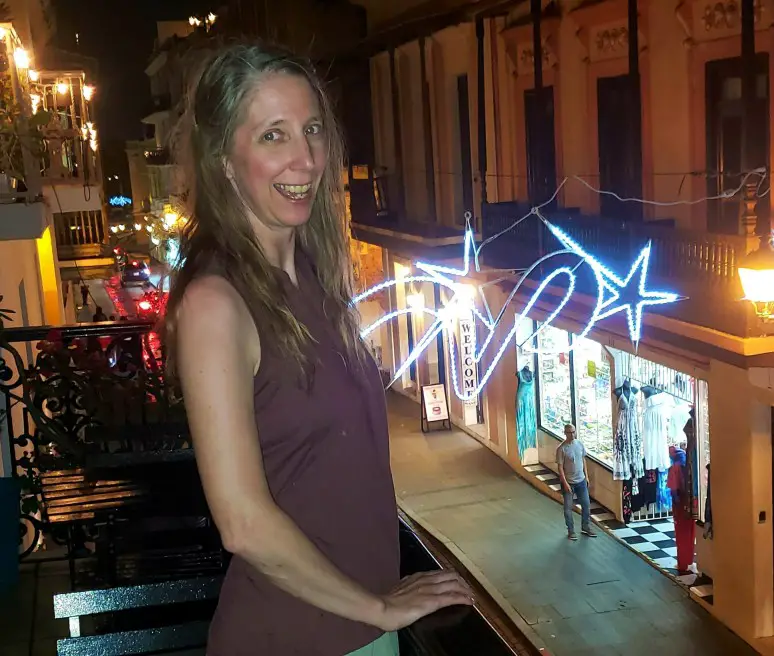 DAY THREE of a 3 day vacation to Puerto Rico
After learning about all the exciting history in San Juan, it is time to relax and enjoy the sandy beach in the sun. Put on your bathing suits and grab your towels - don't forget the sunscreen! - and get ready for a fun-filled day in the water. Pinones Beach is the perfect spot to visit in Puerto Rico to catch some rays and swim with friends and family. Pinones also has some Puerto Rico food kiosks with local food to try.
Pinones Beach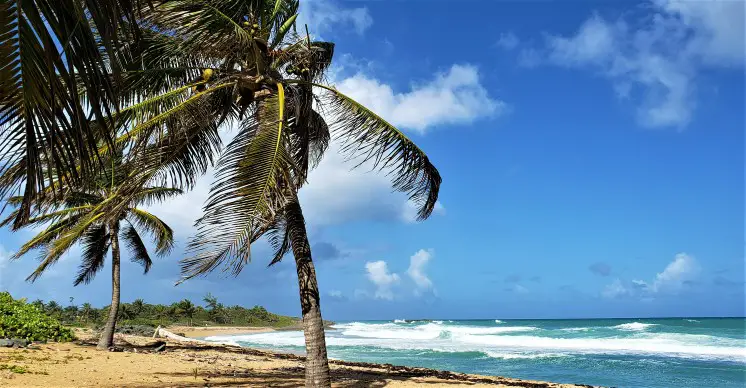 This was your typical palm tree, clear water, soft sand beach - but nothing is wrong about that! What stood out to me at Pinones Beach was the HUGE sandbar that stood out of the water. We swam over to it against the current and we were able to hop onto it and stand completely out of the water. It was perfect for sunbathing because we could lay out in the middle of the water on the sandbar while water was just barely touching our skin. 
PRO TIP: Warning - It is difficult to swim that far out against the current. BE CAUTIOUS with those that aren't good swimmers.
At Pinones Beach, there are plenty of palm trees to lay your towels, and also plenty of open areas in the sun to catch some rays. Pinones beach was pretty big, but it allowed our family to have some privacy and spend quality time together. 
PRO TIP:  There are outhouse restrooms across the street near the food kiosks.
Pinones Beach Food Kiosks: Puerto Rican Food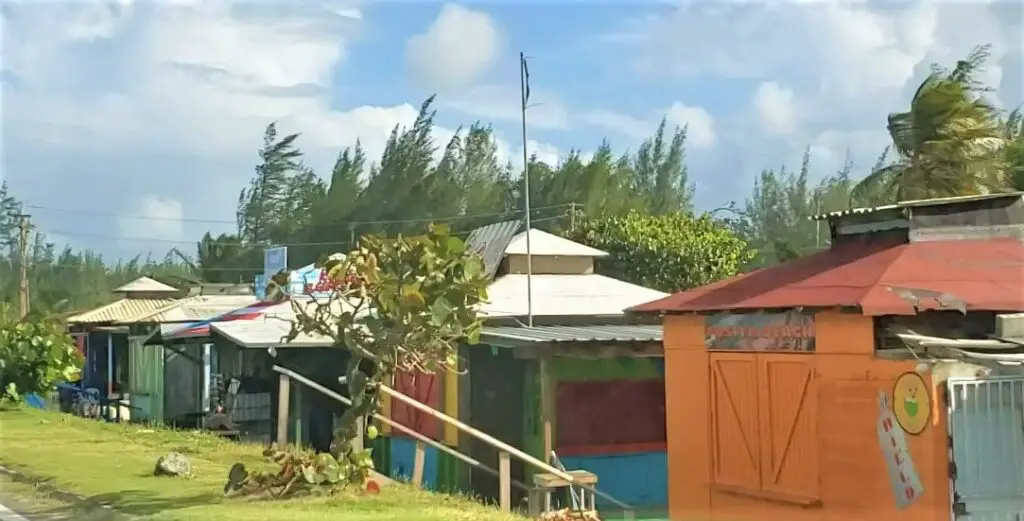 There is easy and free parking at the beach near the Pinones Food Kiosks.  We parked on the side of the street across from the beach, near the Puerto Rican food kiosks. There is also parking right in front of all the kiosks.  When we were there, most of the kiosks were closed because it was during the week. 
We did find one open kiosk when we walked from the beach to get some authentic Puerto Rican food for lunch. 
Everything was in Spanish, and the people working there only spoke Spanish, so the language barrier created a problem for us. We had to use google translate to order our food. My twin sister tried ordering what she thought was loaded fries, but it was actually a coconut!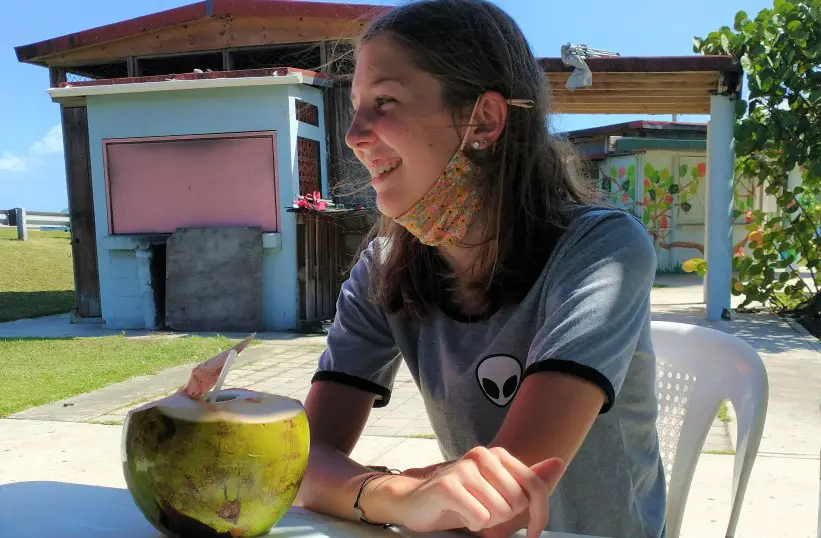 They fried them right up in front of us at the kiosk and we tried a sample of each of the foods.  We, of course, started with piononos!  They were filled with ground beef, plantains, cheese, and a whole lot of flavor.  We also made sure to try some pastellillos, bacalaitos, and alcapurrias!  
---
Want a full description of all the authentic Puerto Rican food we tried at the Pinones kiosks?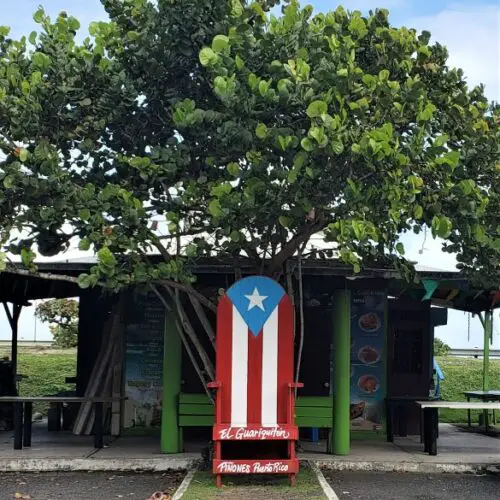 Authentic Puerto Rican Food at the Pinones Food Kiosks
Try authentic Puerto Rican Food at the Pinones Food Kiosks while you hop from food stand to food stand to try traditional food! ---and it is right across from a beautiful beach!!!
Find the BEST tours in Puerto Rico
Day 4 - Puerto Rico in 4 days!
You can explore quite a bit on a vacation with 3 days in Puerto Rico, but if you have even more time to spend, I have an optional activity to add if you are planning a 4 day trip to Puerto Rico. A Puerto Rico 4 day itinerary gives you more time to explore the islands off of the coast of Puerto Rico in order to find even more exciting sites to see. Add this extra day to your trip to Puerto Rico!!!
Ferry to Culebra Island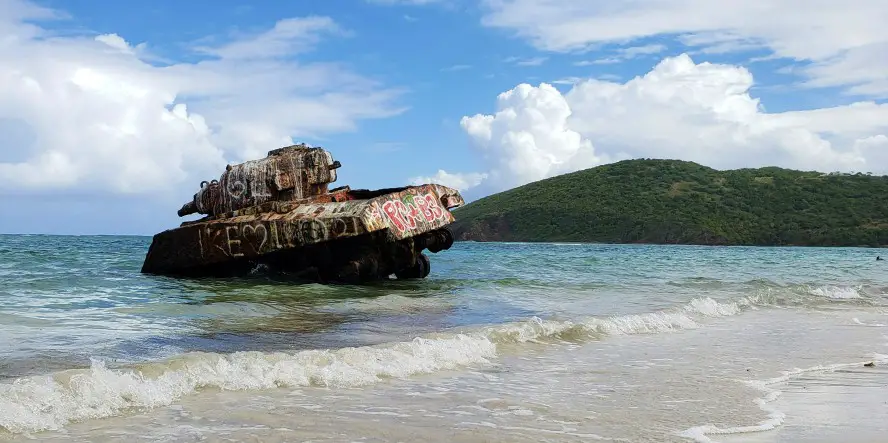 If you have at least 4 days in Puerto Rico, make sure that you add a day trip to Culebra to your itinerary.
Culebra is a small island that is 17 miles to the east of Puerto Rico's main island and is known for its white sandy beaches and the best snorkeling and scuba diving in Puerto Rico.  There is a lot of marine life including cute sea turtles swimming around Culebra's healthy coral reefs. For details and tips about what to see and which beaches to visit in Culebra, read my Culebra Day Trip article linked below.
Add a trip to Culebra to your itinerary for Puerto Rico 4 days!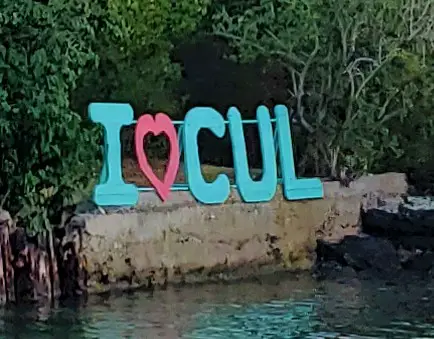 Beautiful Island of Culebra: Things to do on a Day Trip in Puerto Rico
A day trip to Culebra Island: Paradise in Puerto Rico!  You should definitely include all of these Culebra things to do on your Puerto Rico itinerary!  Culebra is a short day-trip from the main island of Puerto Rico.  It is Puerto Rico's least populated town but filled with exciting things to do for vacationers. If
Where to stay for a trip to Puerto Rico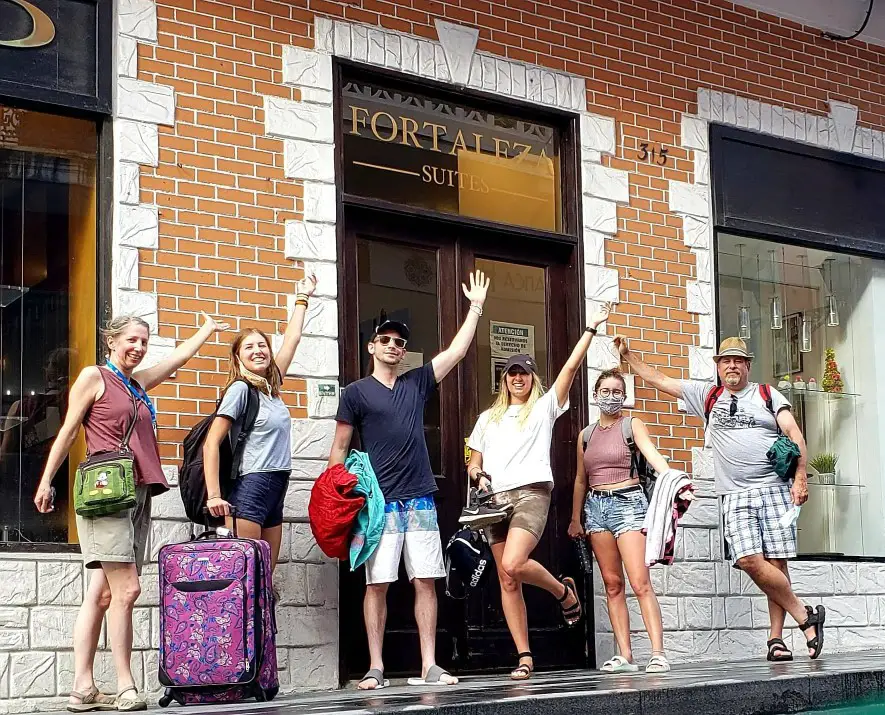 I definitely recommend staying in the heart of the city in San Juan, especially for a weekend trip to Puerto Rico. From that great location, you can plan all of your daily trips around Puerto Rico. It is especially convenient when your tour the capital city of San Juan because you can just walk to all the sites!
Our recommendation for a hotel in Puerto Rico: Fortaleza Suites in Old San Juan
The hotel we chose and would HIGHLY recommend staying at is Fortaleza Suites in Old San Juan. We had a huge suite with a balcony, 2 bedrooms, a loft with another bed, a nice bathroom and shower, a full dining room table, and a HUGE kitchen! The balcony overlooked the downtown streets of Old San Juan with souvenir shops and a few bars. We were able to walk to the grocery store our first night to get a few meals at SuperMax so that we could have a family dinner in our beautiful suite.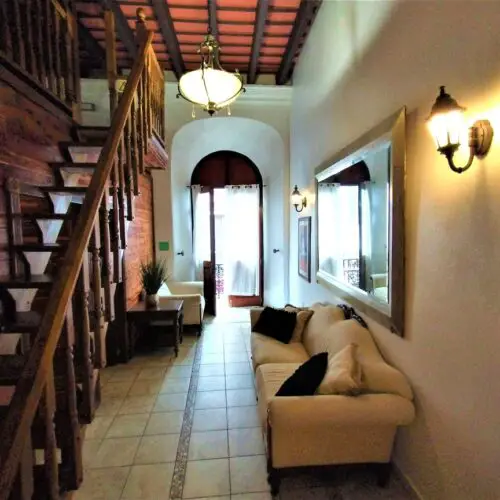 Best Boutique Hotel in Old San Juan Puerto Rico
Fortaleza Suites is a luxury hotel in Old San Juan Puerto Rico located right in the heart of the historical center in this world heritage city. It is perfect for any size family and is located near the cruise port and many historical sites to enjoy.
Check out Hot Deals for Hotels in Puerto Rico
How many days in Puerto Rico?
No matter how many days you spend in Puerto Rico you will have a fabulous time. We kept busy for 3 days in Puerto Rico and you can too if you follow this itinerary! Even if you have 4 days in Puerto Rico, I have added a bonus idea. Use this ultimate guide to plan your itinerary for Puerto Rico. Let me know what other ideas I have missed since there are a lot of other sites to see on this beautiful island.
Planning a trip to Puerto Rico? Pin it for later!