DISCLOSURE: I may link to relevant products, companies or helpful info which may be affiliate links, meaning I may earn a small commission. As an Amazon Associate & other affiliates, I earn from qualifying purchases at no extra charge to you. The views & opinions are my own. Please see the disclaimer and privacy policy.
Last Updated on May 4, 2023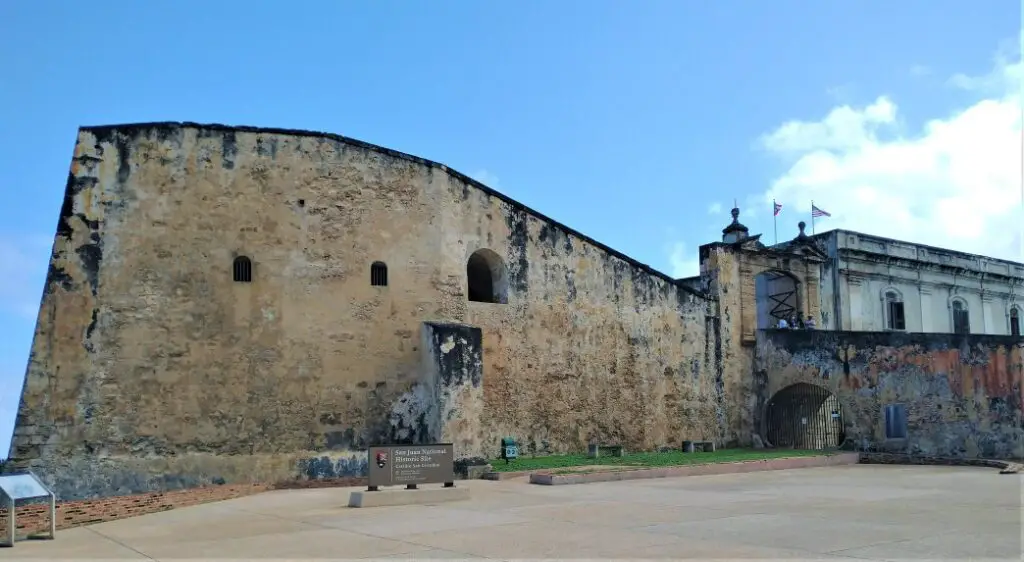 What to do on a San Juan Puerto Rico Vacation!
San Juan Puerto Rico is older than any city in the USA!  Taking that into account, there is a lot of history to explore on this prominent island in the Caribbean.  The San Juan National Historic Site is a UNESCO World Heritage Site with more than 500 years of European history behind it.  It has beautiful, historical architecture throughout its cobblestone streets and is perfect for a walking itinerary to explore San Juan in one day!
Interested in a vacation to Old San Juan? 
Use this handy San Juan Puerto Rico travel guide and Keep Reading!
You won't need a car because you can walk around the entire city and create a nice Old San Juan itinerary and walking tour for your one day in San Juan Puerto Rico by following my tips.
From your home-base in San Juan, you can also do some day trips in Puerto Rico to explore Puerto Rico's only Rainforest, jump in the hidden natural water slides, take a ferry to Culebra Island, and find many other sites around Puerto Rico. For example, many of the tours of El Yunque National Forest provide transportation from San Juan, making it a great home base.
We kept ourselves really busy as our 1 day San Juan vacation was filled with 2 different self-guided walking tours to explore the old town, one in the morning and one in the afternoon.  We also took a short, guided car tour around Old San Juan when the weather turned bad.  We didn't want to walk in the rain!
Follow along to learn all the key sites to see and top things to do while you travel in San Juan Puerto Rico.
Best Activities in San Juan Puerto Rico
Forts in San Juan Puerto Rico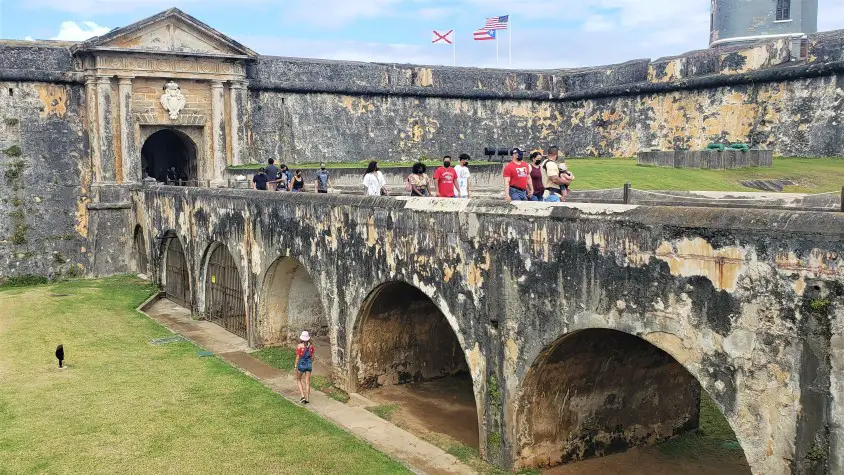 San Juan has a very nice collection of historic forts.  Since the Spanish controlled Puerto Rico for hundreds of years, they spent a lot of money and years constructing forts for protection.
San Juan was where these castillos (fortified buildings in Spanish) were needed in order to defend the San Juan Bay and the much-desired island of Puerto Rico, the foothold for control of shipping throughout the Caribbean.  Today, Puerto Rico is a territory of the US and the forts are National Park Tourist Sites.
---
Castillo San Felipe del Morro: El Morro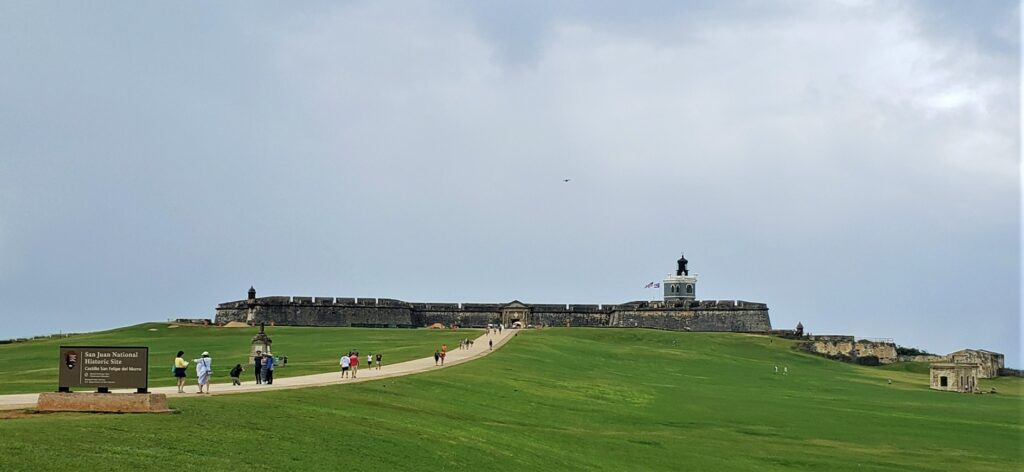 The entrance to El Morro is a beautiful park that is frequented by picnickers and kite-flyers and located at the northwest tip of Old San Juan.  The grassy area is a tranquil and spacious place for families to relax and enjoy the sea breeze while watching the cruise ships sail into the port of San Juan.  There are no visions of the past soldiers marching across the grassy field in a land attack.
Beyond the field and sitting high on the overlook is the El Morro fort.  From its high perch over the sea, the fort was able to defend the city and ward off all naval attacks.  In order to defend the San Juan harbor, Spain built El Morro from the 16th until the 18th century.  It consists of 6 levels containing dungeons, barracks, and storerooms.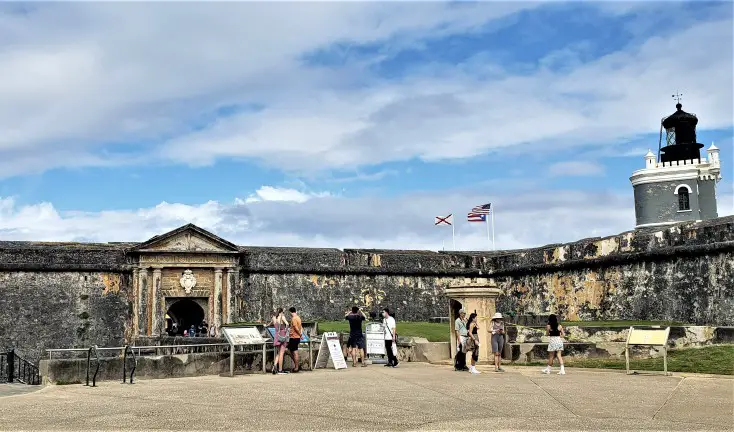 While walking along its ramparts on the 60-foot outer walls you can still see the sentry posts and canons pointed out to look out over the water.  
The view of the harbor is beautiful.  We watched for a while and saw the next Royal Caribbean cruise ship sailing toward the fort and then through the harbor to the port for its next round of passengers.
---
Castillo de San Cristobal: San Cristobal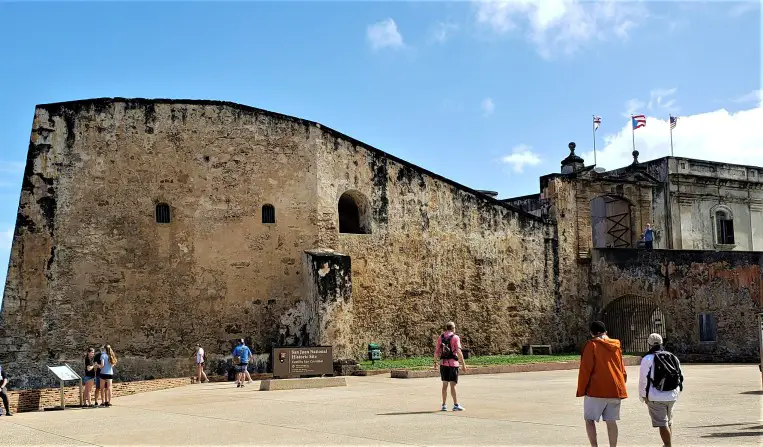 In order to protect the walled city of San Juan from a land attack, the Spanish built San Cristobal over a period of 150 years. With an area of 27 acres, it is the largest fortification in the New World and is now a UNESCO World Heritage Site.
The view of the Old San Juan Coast and up to Condado is gorgeous.  Take a tour to see where some of the Spanish-American War took place and to stand in the Devil's Sentry Box, where legend says that many soldiers disappeared without a trace.
Santa María Magdalena de Pazzis Cemetery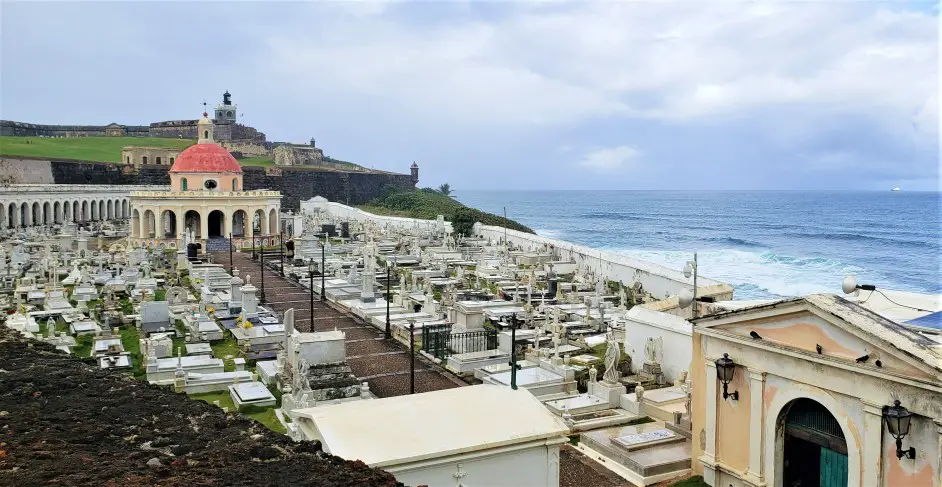 Our mouths dropped when we got our first view of the Santa Maria Magdalena de Pazzis colonial-era Cemetery.  This memorial park is a highly sought-after resting place in Puerto Rico.  It has to be one of the most beautiful cemeteries in the world with one of the most spectacular gravesite views!  The dead are graced by the oceanfront view and the sounds of the families frolicking in the El Morro fortress fields nearby.
Unfortunately, the gates were closed on the day we toured that area, so we could only get views from the city wall gates and from the ramparts off of El Morro.
La Perla: of Despacito fame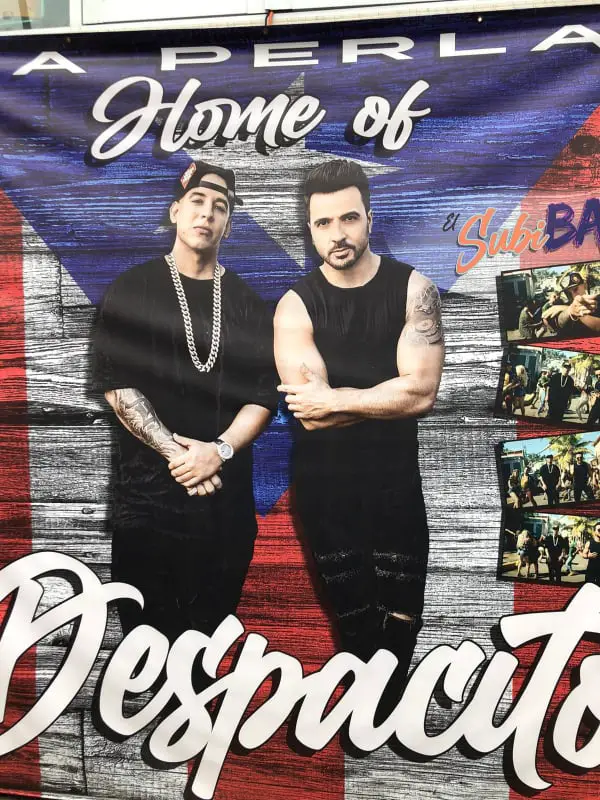 Our next stop was La Perla, however, it had begun to rain, so we only drove through the town in our tour guide's car.  It would have been nice to get out and snap some photos of this colorful town, but I am not sure the locals would have liked that too much.D 2.0
La Perla is a shantytown in the north of San Juan.  It was established in the 18th century as a slaughterhouse and cemetery – since those were forbidden inside the old city walls.  La Perla became the home for former slaves and homeless wanderers.
Puerto Rico's only slum area is colorful and cluttered, with narrow one-way streets and homes stacked upon homes.  La Perla received recognition from being featured in the song, Despacito, due to local musical stars Luis Fonsi and Daddy Yankee and rose to further international fame with the addition of Justin Bieber to the mix.
Old San Juan City Walls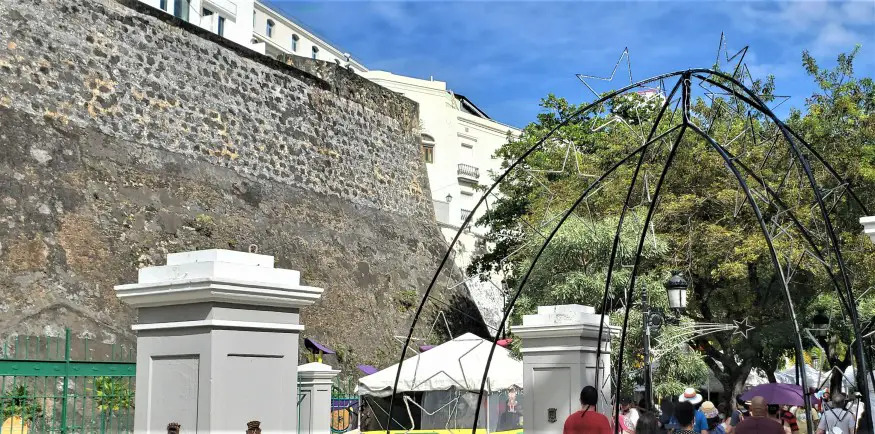 The Spanish began erecting masonry walls around San Juan in the 16th century.  The walls, which were as tall as 100 feet and 50 feet wide at the base, provided the much-needed fortification and protection of the city from attackers.  The city was totally enclosed by the end of the 18th century.  There were 5 city gates providing the only way in or out of the city of San Juan.
Today, the remaining 2 ½ miles of city walls are a part of the National Park System and are maintained by expert masonry workers to preserve the historical look of the walls.
Paseo de la Princesa
The Paseo de la Princesa was not on my original one-day itinerary for old San Juan.  However, the guide knew that I loved markets, and since it was Sunday there was a big one set up on one of the most scenic walkways in the world.  The walkway is lined by the old city wall and ends at the historic San Juan gate.
The promenade, which dates all the way back to the 1800s, has fountains, street vendors, sculptures, and a beautiful view of the San Juan Bay.  On weekends, the entertainment is turned up with live music and even more local vendors selling authentic Puerto Rican goods at their craft stalls in the street market.
La Princesa is located on the walkway.  It is an old prison that now serves as the headquarters for the Puerto Rico Tourism Company as well as housing a unique Puerto Rican art exhibit that is worth taking a look at.  For tourists, they offer maps and informational brochures with city guides
.
Raices Fountain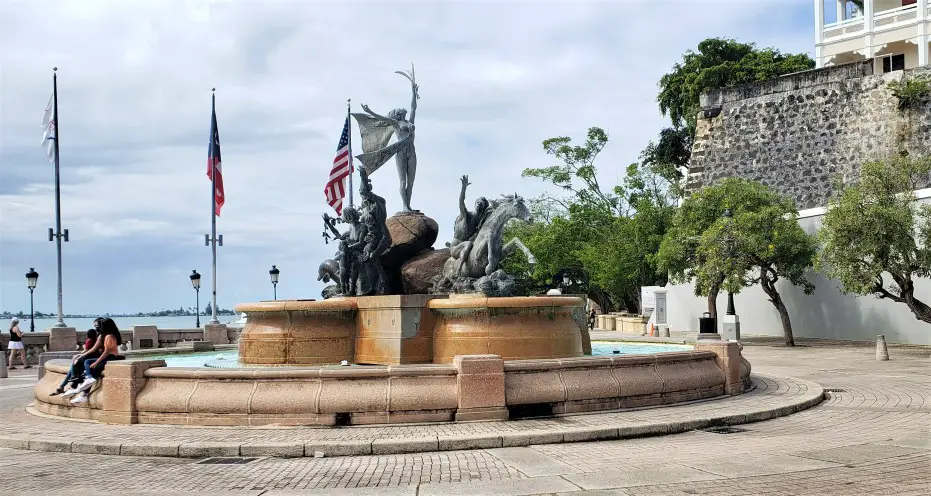 The beautiful fountain overlooking the water at the end of the Paseo de la Princesa is the Raices Fountain.  It is a popular place to watch the sunset over the water.
It was added to the promenade in 1992 to commemorate the 500-year anniversary of Spain's discovery of America in the New World.  The fountain adds an artistic flair to the area while displaying Puerto Rican heritage.  The bronze figures represent Puerto Rico's culture and the European, African, and Taino (the indigenous people of the Caribbean) ethnic roots.
Wander around the colorful streets of Old San Juan for a day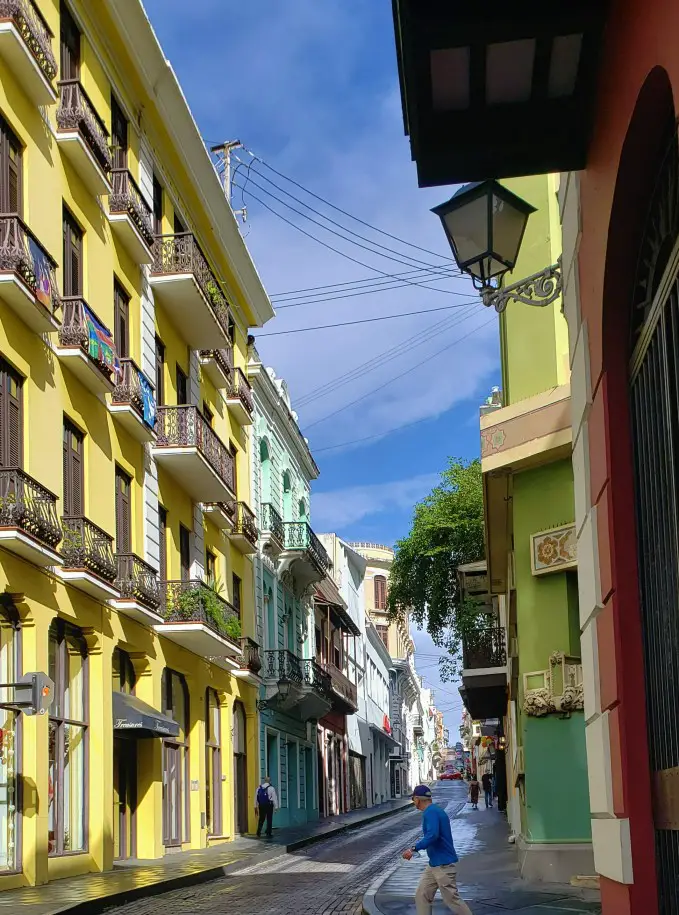 Everything in Old San Juan is vibrant and colorful.  The historic buildings are lively blue, the antique entranceways and pillars are purple, and up on the balcony railings are cheerful yellow flowers cascading down into the streets. 
On your Old San Juan day trip, spend some time exploring the old cobblestone streets and meandering from one shop to another, finding souvenirs and treasures of Puerto Rico and sampling authentic street food.  
Fortaleza Street is the main street in Old San Juan, the most visited street in the capital, and perhaps the street that is the most photogenic and full of life.  We spent many hours on this street since it is where our Old San Juan Hotel was located. It often is often called Umbrella Street for its frequent artistic display of a colorful umbrella canopy.
Want a guided tour of Old San Juan for a stress-free vacation? Try one of these top tours.
El Capitolio – The Capitol Building of Puerto Rico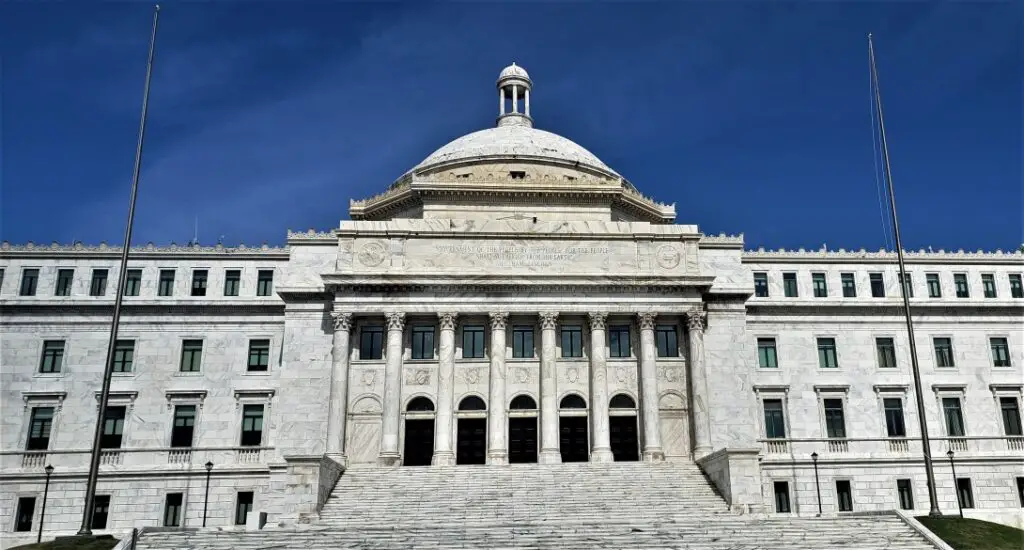 El Capitolio is located in San Juan, the capital of Puerto Rico.  It houses the offices of the senators and representatives.  In the middle of the building, it has a dome on top with a huge rotunda where the constitution for Puerto Rico is displayed.  Guided tours are offered during the day.
It has two entrances with 8 pillars and 7 doors which represent the seven senatorial districts that existed when the building was completed.  Active travelers like my daughters can go to the backside of the building and get their exercise as they run up and down the many steps that lead up to El Capitolio!
Plaza San Juan Bautista
The San Juan Baustista Plaza is located in front of the Capitol.  It is a modern architectural structure that overlooks a nice beach.  The plaza has benches to sit and relax while enjoying the spectacular view of the ocean.
Surrounding the San Juan Plaza are colorful mosaics of the coat of arms of each of the towns in Puerto Rico.  They make a nice display around the Statue of Juan Baptiste.
Statue of Juan Baptiste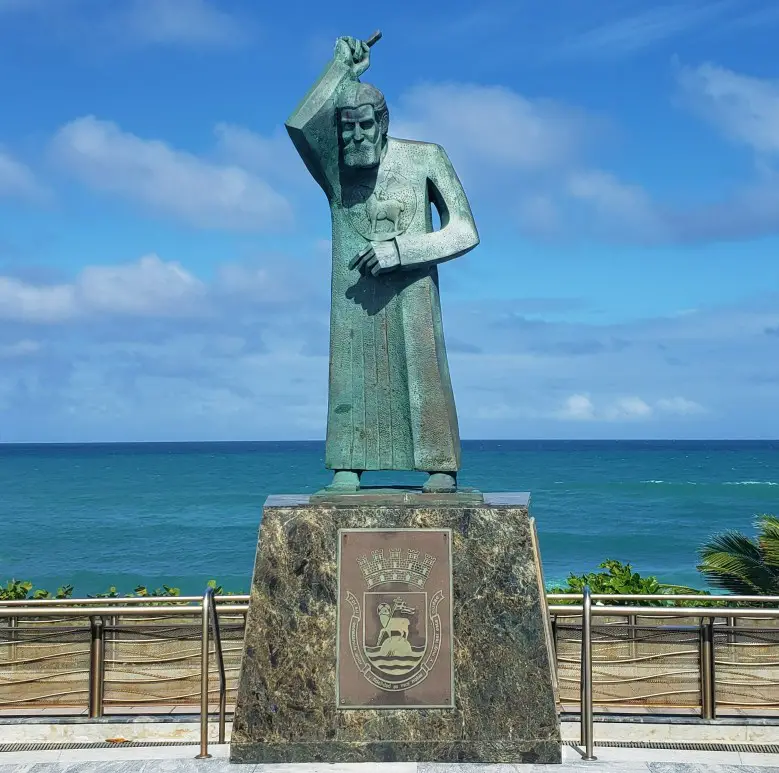 Standing tall at the entrance to Playa Pena and in the middle of the San Juan Plaza is a statue of Juan Baptiste, the patron saint of Puerto Rico.  Christopher Columbus first gave the island the name of San Juan Bautista when he arrived in 1493.  Saint John the Baptist was considered a prophet of God by many faiths and washed the followers of Jesus in the Jordan River.
Playa Pena – Beach in Old San Juan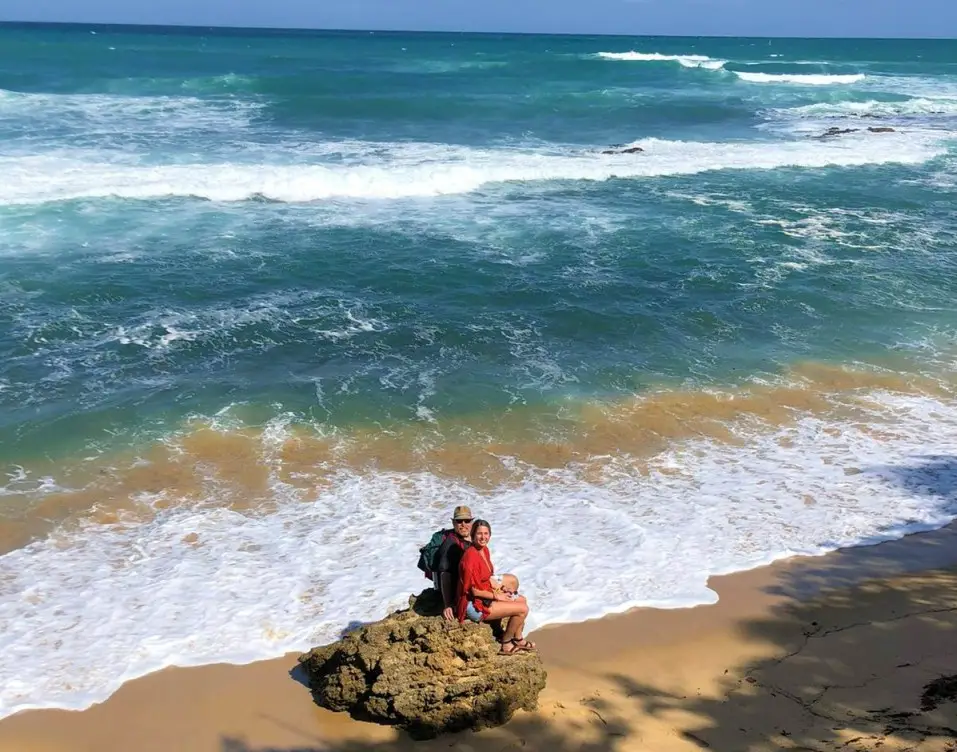 While most people frequent the popular beach resorts at Condado and Isla Verde, few tourists know about Playa Pena.  They would be surprised to know there is a beautiful beach right in Old San Juan.  We found this gem right across from the Capitol Building.  There was a nice overlook at the top where we captured some great photos.  We then accessed the beach by the paved staircase, walked along the fine sand, and perched on one of the many large rocks on the shore. 
The waves were crashing in hard when we were there in the wintertime.  It does have a small natural reef that protects the shore so it might be a good swimming beach in milder summer months.  It is definitely very photogenic and great for catching some Caribbean sun rays. 
Paseo de los Presidentes – Walkway of Presidents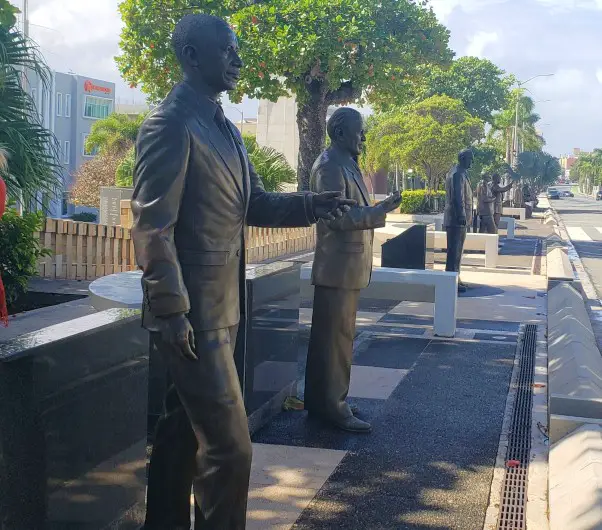 We found the Walkway of the Presidents along the roadway across from the south side of the Capitol Building on Avenida de la Constitucion.  The bronze statues are larger than life.  I know this for sure because they were all taller than my 6-foot hubby! 
There are 9 figures of the presidents who have made official visits to Puerto Rico during their presidency including Teddy Roosevelt, Herbert Hoover, Franklin D. Roosevelt, Harry Truman, Dwight Eisenhower, John F. Kennedy, Lyndon Johnson, Gerald Ford, and Barack Obama.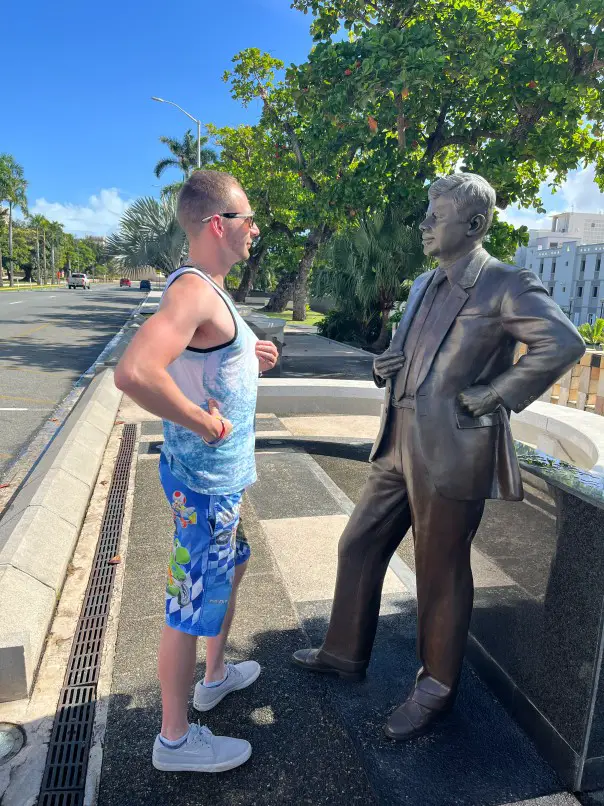 Holocaust Memorial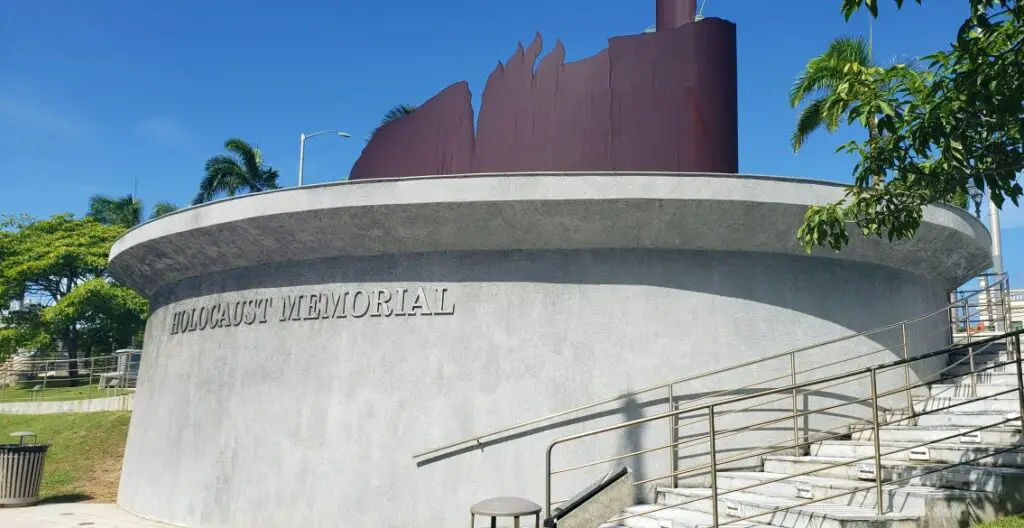 A little further down the road on Avenida de la Constitucion we found the San Juan Holocaust Memorial titled "In the Shadow of Their Absence".  It is a moving memorial that represents those that suffered and lost their lives during that terrible time in history.
Bahia Urbana Waterfront & San Juan Cruise Port Terminal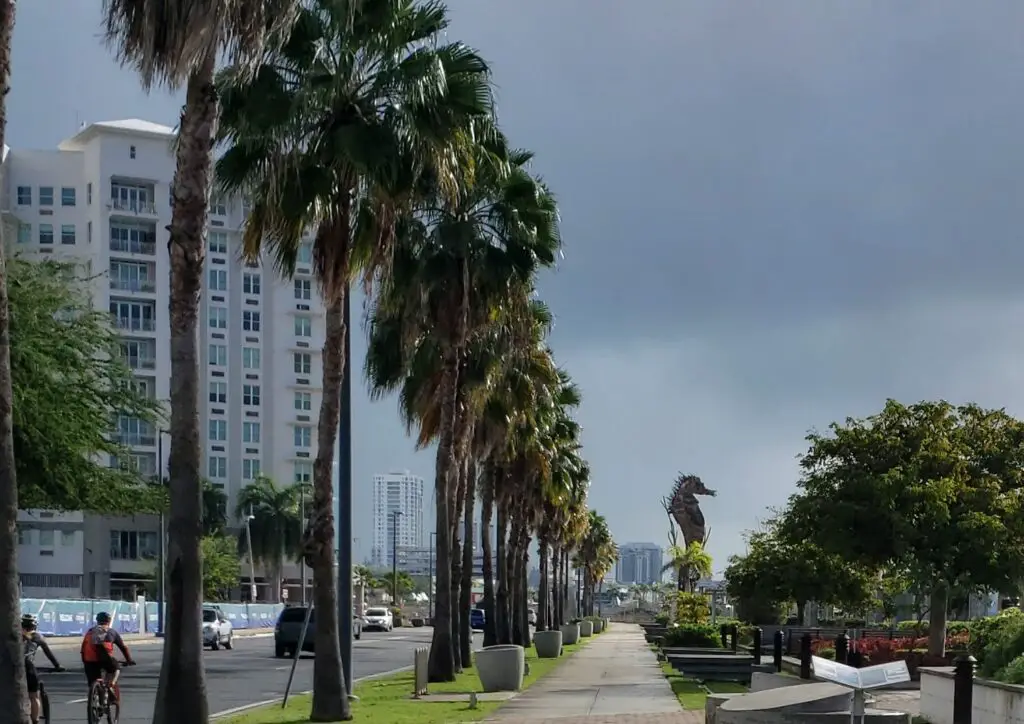 The San Juan Bay waterfront has been redesigned into a magnificent public space with grassy park areas, sculptures, flower beds, an outdoor bar, sandbox, a carousel, fountain, amphitheater, and benches for relaxing and enjoying beautiful views of the bay. 
This is where the smaller cruise ships dock so there are several piers spread out along the promenade.  There is even a dock being used for some watercraft tours.  The area is especially lively on weekends when ships are docked in the ports. I especially loved walking around and seeing all the vendors that set up their stalls to display their wares for the cruisers!
Of course, you should also include a stop in San Juan Puerto Rico at the Instagram-worthy I Heart PR sign that is located on the waterfront. We were able to snap a few photos in between the raindrops!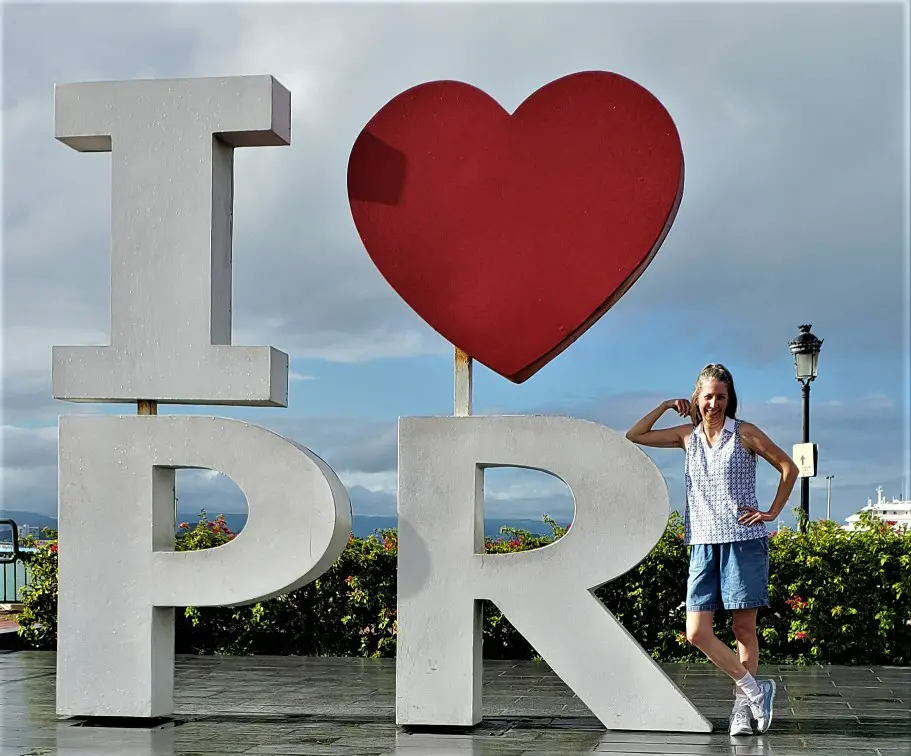 Day Trips from San Juan Puerto Rico
Do you have 2 days in San Juan? Do you have 3 days in San Juan Puerto Rico? Consider adding a day trip! Any of these activities will be fun to add to your San Juan itinerary. Click on each one to see how we added it to our San Juan trip to extend our vacation!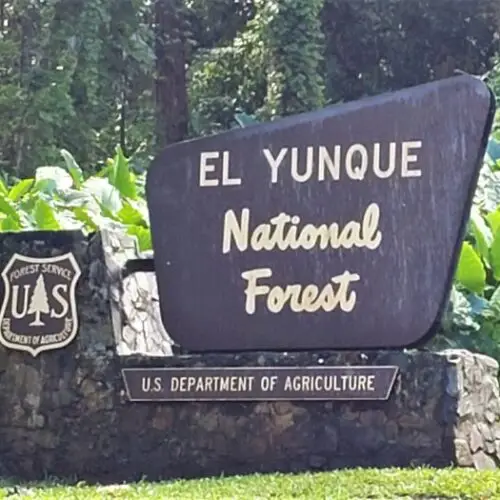 A Fun-Filled Day of Things to do in El Yunque Rainforest in Puerto Rico
There are many things to do in El Yunque Rainforest like hiking the trails and basking in waterfalls and it is a must-see site for your trip to Puerto Rico.  Depending on how many hikes you do, the trip can be all day or a portion of the day.  Visiting El Yunque on your own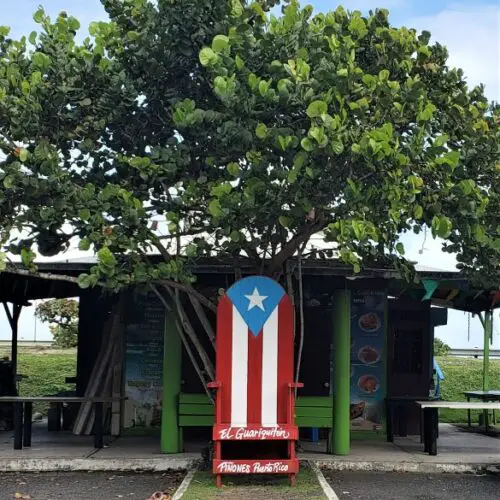 Authentic Puerto Rican Food at the Pinones Food Kiosks
Try authentic Puerto Rican Food at the Pinones Food Kiosks while you hop from food stand to food stand to try traditional food! —and it is right across from a beautiful beach!!!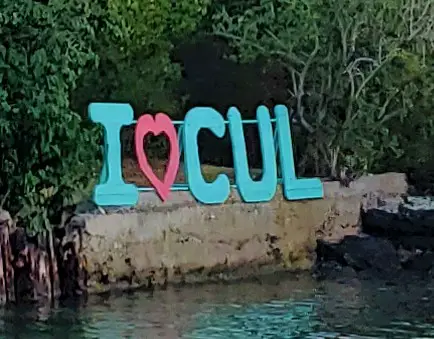 Beautiful Island of Culebra: Things to do on a Day Trip in Puerto Rico
A day trip to Culebra Island: Paradise in Puerto Rico!  You should definitely include all of these Culebra things to do on your Puerto Rico itinerary!  Culebra is a short day-trip from the main island of Puerto Rico.  It is Puerto Rico's least populated town but filled with exciting things to do for vacationers. If
If you are going to take a day trip out of San Juan, you will need a rental car unless you sign up for multiple tours that pick up from your hotel (and there really aren't that many that do that).
I recommend getting a rental car in Puerto Rico. It is super easy to do and driving around Puerto Rico is very similar to the United States. Take a look at my guide for renting a car in Puerto Rico to see all of my handy tips.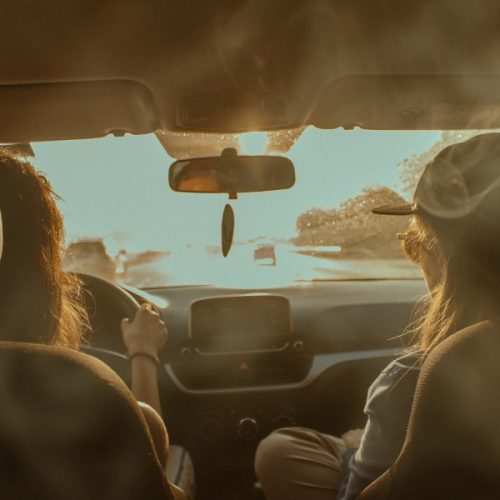 Hit the Road in Style: The Ultimate Guide to Car Rental in Puerto Rico for Your Road Trip
Discover the ultimate guide to car rental options for your Puerto Rico road trip! We cover everything you need to know about car rental in Puerto Rico. Let's hit the road, and explore Puerto Rico to the fullest!
Where to stay in San Juan Puerto Rico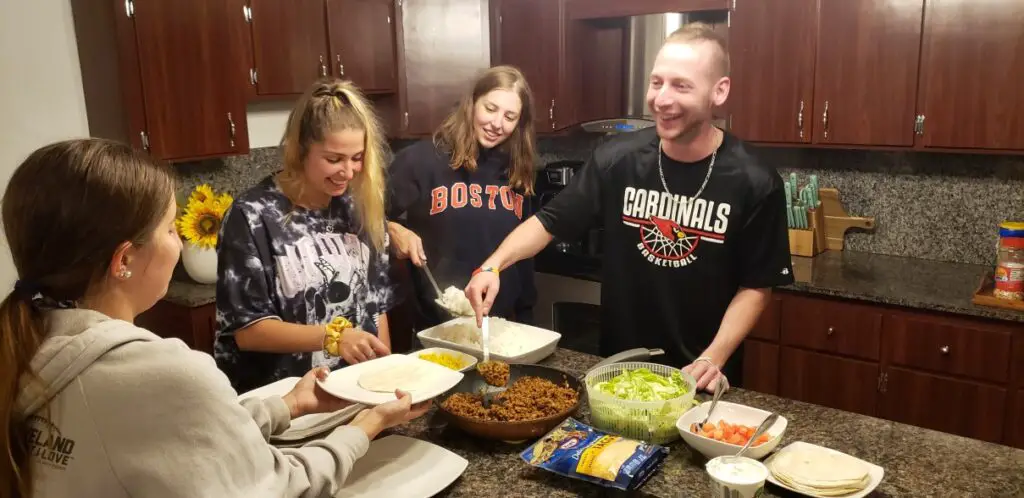 Especially for this part of your Puerto Rico vacation, I definitely recommend staying in the heart of Old San Juan if you are going to spend one day in San Juan Puerto Rico. That way you are able to walk to everything on this San Juan Itinerary List! The old streets are filled with shops, bars, and eateries to keep you entertained between your old town sightseeing.
Most of the accommodations in Old San Juan are historic inns and renovated buildings. If you are traveling to San Juan with a larger family, look into the Fortaleza Suites, located on the popular Fortaleza Street. We stayed there for 2 fun nights before our Puerto Rico Christmas Cruise.
The Fortaleza Suites has four family suites with two or three queen beds and a sofa bed or futon for an extra person. Within the spacious suites, there are also full kitchen and living room areas, enough space for your entire family to have a home-cooked meal like our Taco Night!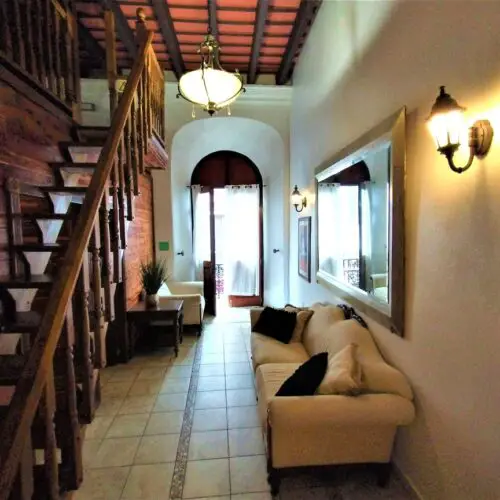 Best Boutique Hotel in Old San Juan Puerto Rico
Fortaleza Suites is a luxury hotel in Old San Juan Puerto Rico located right in the heart of the historical center in this world heritage city. It is perfect for any size family and is located near the cruise port and many historical sites to enjoy.
---
or try one of these HOT Hotel DEALS in San Juan!!!
---
Looking for a different place to stay in Old San Juan?
Try one of these recommended accommodations:
Can you see everything in San Juan in a day?
Old San Juan Puerto Rico has so much to do that you might need to schedule another trip to this amazing destination.  One day in San Juan Puerto Rico will be full of fun activities and a lot of history.
Make sure that you leave time to sample some authentic Puerto Rican food —never leave without trying the local dishes!!
And then GO BACK FOR MORE!!
Traveling for ONE DAY in Old San Juan?
Pin this Post for later!