DISCLOSURE: I may link to relevant products, companies or helpful info which may be affiliate links, meaning I may earn a small commission. As an Amazon Associate & other affiliates, I earn from qualifying purchases at no extra charge to you. The views & opinions are my own. Please see the disclaimer and privacy policy.
Last Updated on June 16, 2022
Getting sick on a cruise & surviving COVID-19!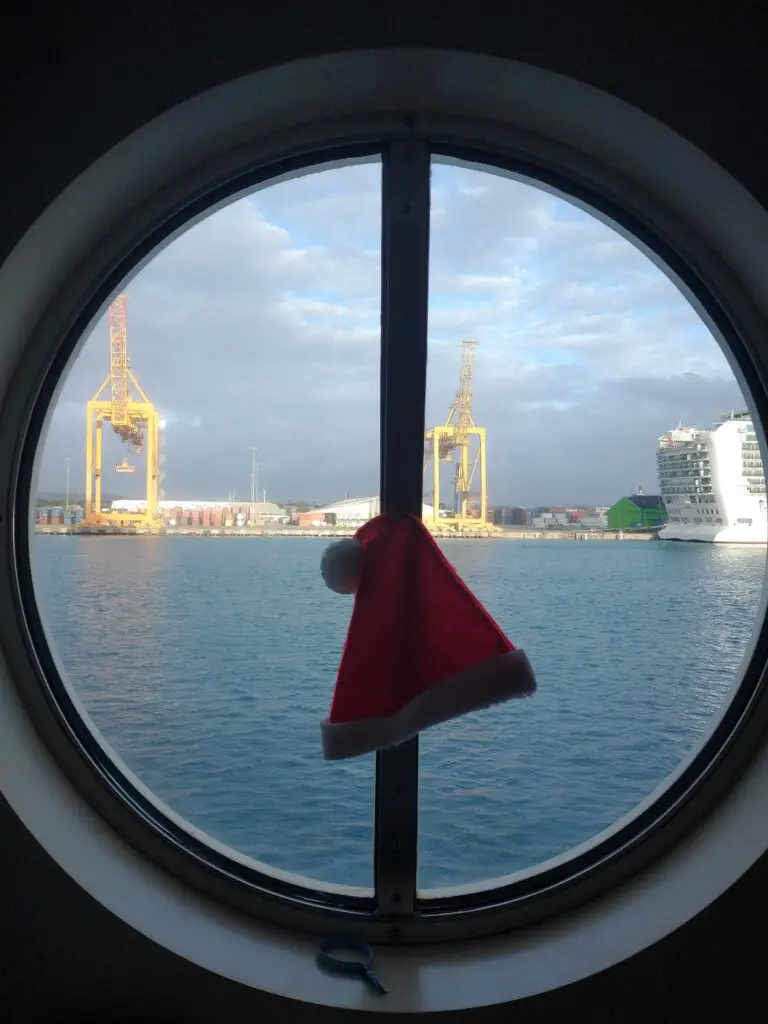 We had good intentions for our holiday cruise, we intended to have a holiday together as a family.  We tempted fate during the pandemic, and we were very aware that things could go wrong.   AND they certainly did as most of the family ended up getting sick on a cruise. 
We were fortunate that our covid cases were mild and we count our blessings for that.  This article in no way is meant to minimize the possible symptoms of this virus.  It is also not a guide for cruising or a guide for the pandemic.  It is more about surviving the QUARANTINE on the ship rather than surviving Covid on the cruise.
Censorship for COVID articles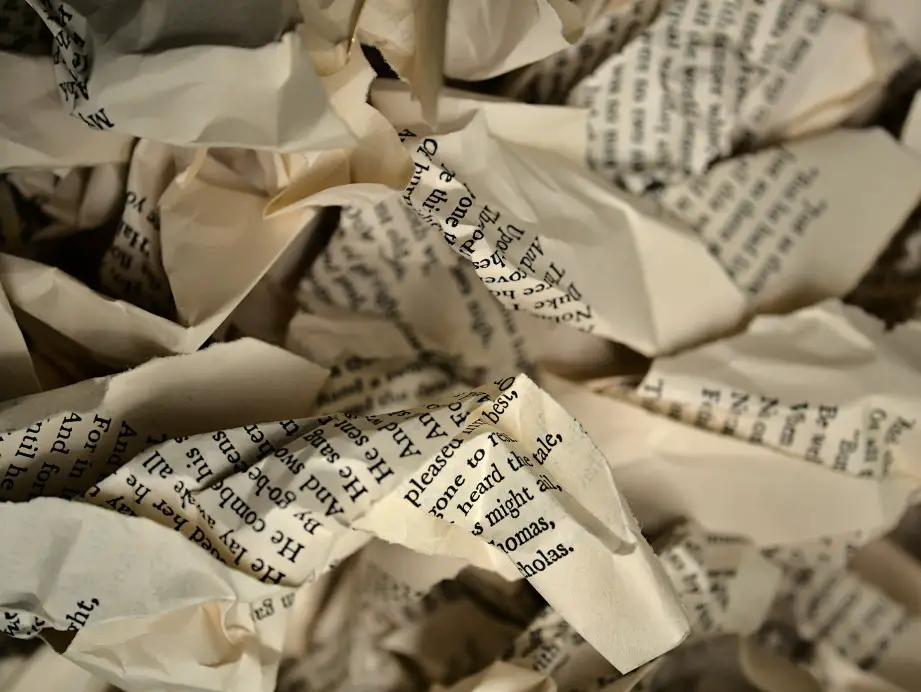 If you know anyone interested in cruising and the effects of the pandemic on cruising, please SHARE this article. 
We are living in an age of Covid censorship.  There is so much misinformation that the social media giants and Google are censoring anything mentioning Covid.  They are prioritizing only the articles from leading health organizations for any search using the word covid. 
This is fine and dandy for scientific and health information, but what about the vacationer that is interested in knowing what REALLY happens when someone tests positive for Covid on a cruise ship and what cruise ship quarantine is like on the COVID ward of deck 2?  I hardly think that WHO and the CDC can speak from personal experience here.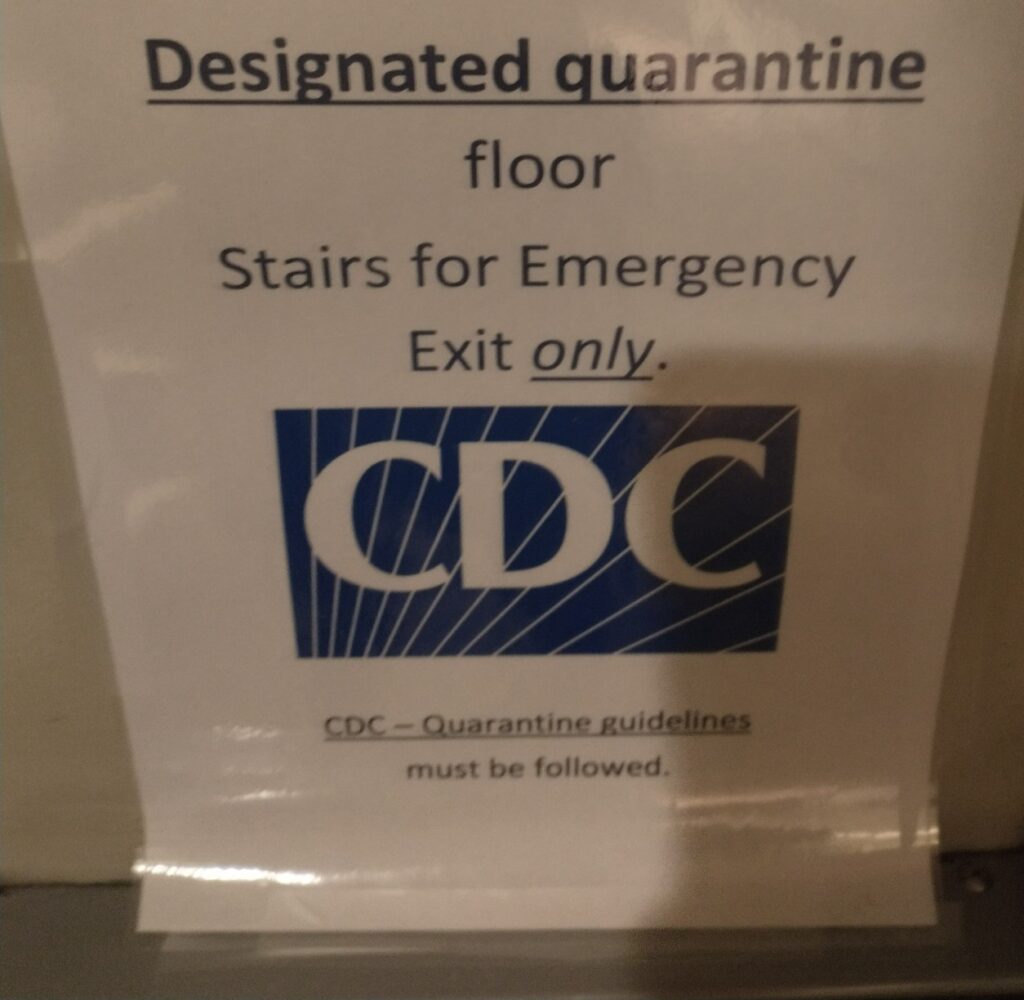 If you are struggling with these questions:
Should I cancel my cruise due to the pandemic?
Will I get sick on a cruise?
Will I be isolated on my cruise ship?
What happens if I have a positive COVID test on a cruise?
I cannot answer the question about canceling your cruise since this is a deeply personal decision where you must weigh the pros and cons.  I can only tell you that we took some risks in taking a cruise during the pandemic.
This is only a story about my family from my point of view. Will I take another cruise during the pandemic?  Probably.  I truly believe that due to all of the cruise ship safety guidelines put in place by the CDC, cruising is a really safe vacation option.
I am just relating OUR STORY and how COVID affected us on our cruise vacation.  
This will be a story for us to tell for ages!
SPOILER ALERT  …..but READ ON to hear how we ended up HERE.
Christmas cruise turns into nightmare for local family stuck quarantining in Puerto Rican hotel
MENTOR, Ohio (WJW) – A Christmas cruise turned into a nightmare for a local family stuck in a COVID hotel in Puerto Rico. "The purpose of the trip was to meet up with my daughter, who i…
---
Cruising during a pandemic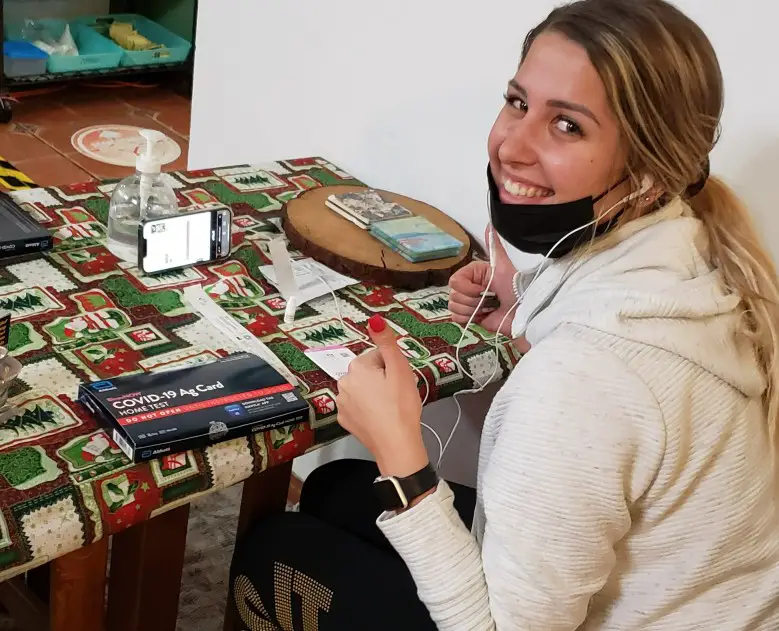 Since there was a rise in Covid cases around the country, I was actually worried that everyone wasn't going to be able to board the ship on embarkation day.  I held my breath as each family member awaited the results of the Covid home test at our hotel in San Juan Puerto Rico.  I secretly wondered how I would be able to leave a positive family member behind!  BUT that second line didn't appear on anyone's test and our vacation began!
---
The vacation plan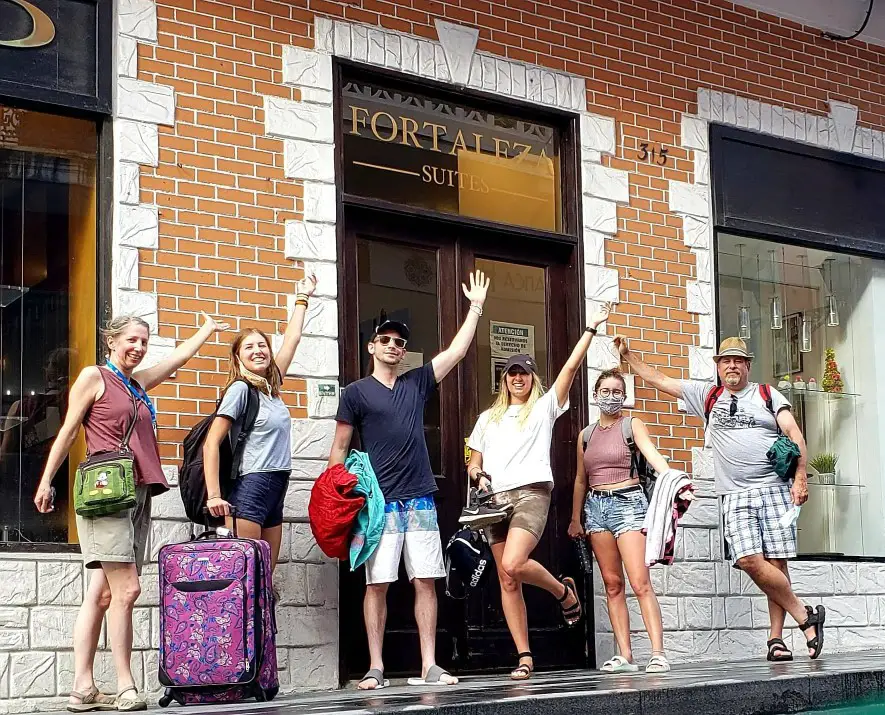 It was a simple plan.  One of our daughters is attending vet school on the island of St Kitts in the Caribbean.  We were meeting her in order to celebrate the holidays all together as a family.  We hadn't seen her since she left for school in the spring and were anxious to finally hug her and share in the joy of the season.
---
The Expectations
We realized that COVID could rear her ugly head at any point during our trip.  Preparing for the unknown was quite impossible.  We all got our vaccines and boosters, purchased travel insurance, packed some home COVID tests, made excursion plans for ports that we hoped were going to be open, and crossed our fingers for the best.
---
The Cast of this Story: My Family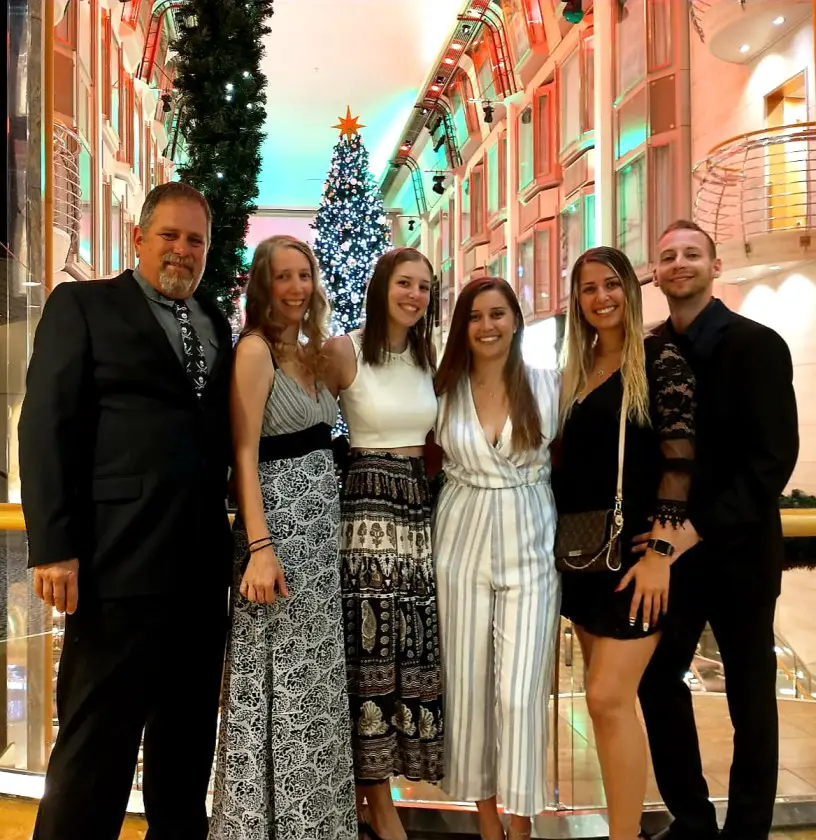 Cabin 1- Deck 10: My husband and I – empty nesters, very excited for the holiday gathering
Cabin 2 – Deck 8:  My oldest daughter and Twin Daughter A, who attends vet school in St Kitts, connecting rooms with Cabin 3
Cabin 3 – Deck 8:  Twin Daughter B and the Boyfriend, GROUND ZERO for Ms Corona
The Covid Christmas Cruise Begins
Sunday, Dec. 19th – Arriving at the ship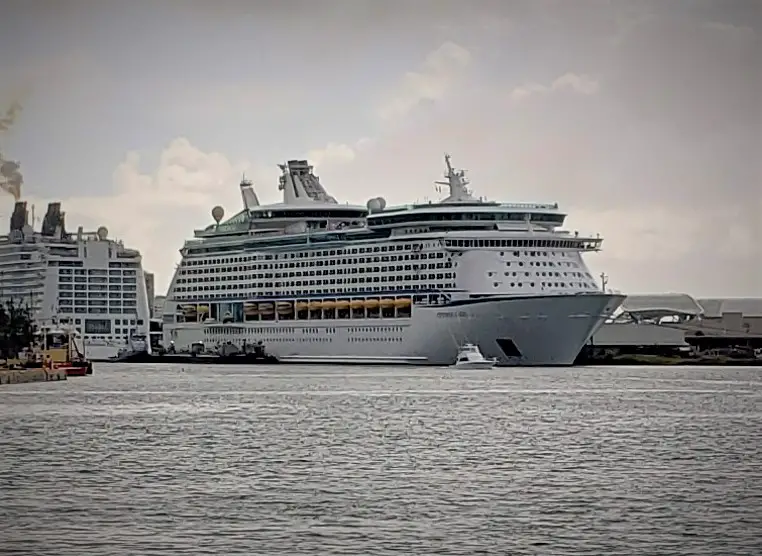 After spending 3 days in Puerto Rico with one day in San Juan, we made our way to the dock to board the Royal Caribbean Explorer of the Seas.  One would never have known there was a pandemic going on from the crowded luggage area and crammed check-in line.
We showed our vaccine cards.  We showed our negative tests.  We showed our passports.  We showed our vaccine cards yet again and we showed our negative tests again!  I don't think I have even seen such scrutinized paperwork!  But that is a good thing!
What we did not go through was a temperature screen.  Did they actually do a body temperature check without us knowing with some unknown fancy scanning device?  I don't know.  That would be a good thing to add to the onboarding protocol though.
I used many helpings of hand sanitizer to get through that check-in line.  Most people were not social distancing in that line.  Perhaps they were anxious to get on board, or else they forgot about the current times of the world as they started their escape to the sea.
Dec. 20th – St Thomas Port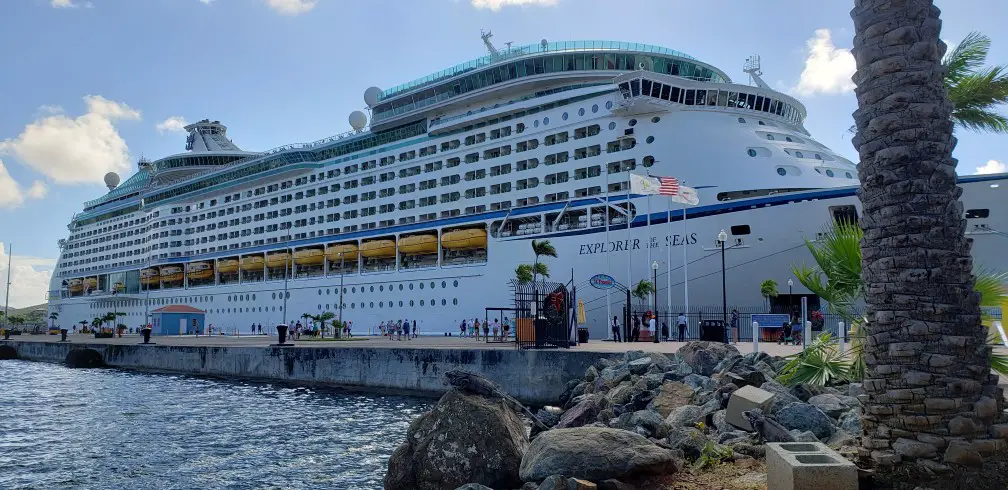 Our first port of call was St Thomas.  It poured that morning.  It was a grim foreshadowing of what was to come.  We got soaked, but we didn't mind too much then because we were on our way to go snorkeling!
After the snorkel, rum punch was distributed all around the little boat.  Drinks were shared, pitchers were passed, fraternizing happened in REALLY close quarters.
Dec. 21st –  St Croix Port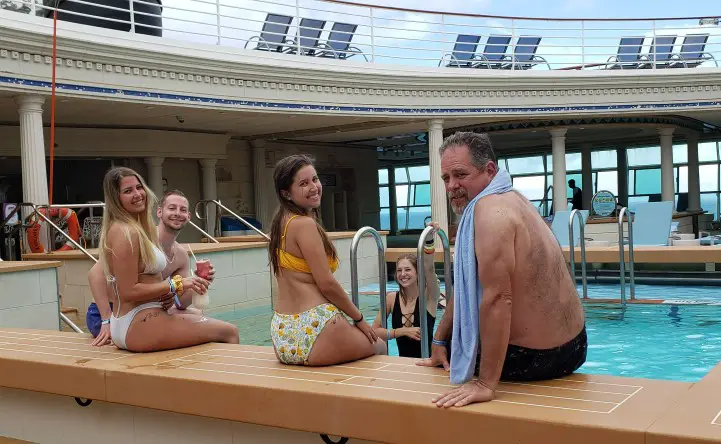 We didn't have an excursion planned at the port.  We strolled casually around the dock area and went back on board to enjoy the Solarium pool which was reserved for vaccinated adults only. 
My daughter, Twin B, ordered a Pina Colada: the typical cruise line drink.  Of course, I had to try a sip, so I slurped it right up using her straw. Yes, the same straw and the same drink.
---
Dinnertime – it all went downhill from here
At dinner, Twin B said that she was feeling weird.  She described to us that her legs felt 'weird' and rubbery.  Well, perhaps she shouldn't drink so much was my thought at the moment!
She and her boyfriend skipped the show and went directly to stateroom 3 to sleep it off. Eureka hit me in the middle of the show.  THIS was what I had dreaded.  It had finally arrived to ruin our vacation.
---
Daughter's Test Result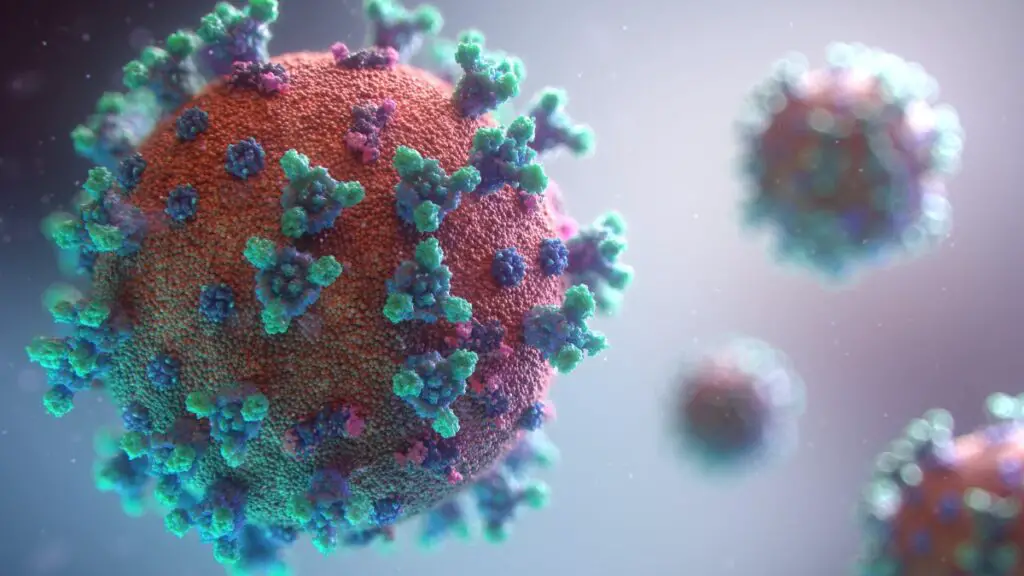 I sat up with a jolt and left the rest of my family in the middle of the show to visit my daughter's cabin.  I continuously knocked on Cabin 3's door until she answered.  "This is your mother and I am not leaving until you answer this door!" I whispered through the cabin door in a panic.  I was on a mission and had come armed with a thermometer.
I told her that if she didn't have a temperature that I would stop over-reacting and leave quietly with my tail between my legs.  No luck. She was slightly elevated…. enough for me to continue to panic.
I walked (very quickly) back to our cabin two decks above so that I could grab a home test kit.  I returned to Cabin 3, gave it to her and left to room, pleading with her to call me in 15 minutes after she got the results. 
Two seconds after leaving the room, I encountered Twin A in the hallway who was just returning from the show.  She was energetic and excited about one of the performances and told me all about it.  I whispered to her and got her up to speed with the situation.  She needed to know her twin's result right now.
It was definitely more than 15 minutes, but I hadn't gotten a message from Cabin 3.  Was the test bad?  Did they start it late and were still waiting?  We knocked on the door and were let inside in silence.  Twin B sat on the bed and looked at me with blank eyes that I could not interpret. 
Then, she looked down in front of her where the COVID test results were laid.  Clear as day were those two lines showing her positive result.  We looked at each other in silence.  Twin A stepped back and covered her fading smile and face with her mask.  More Silence.  More staring at each other.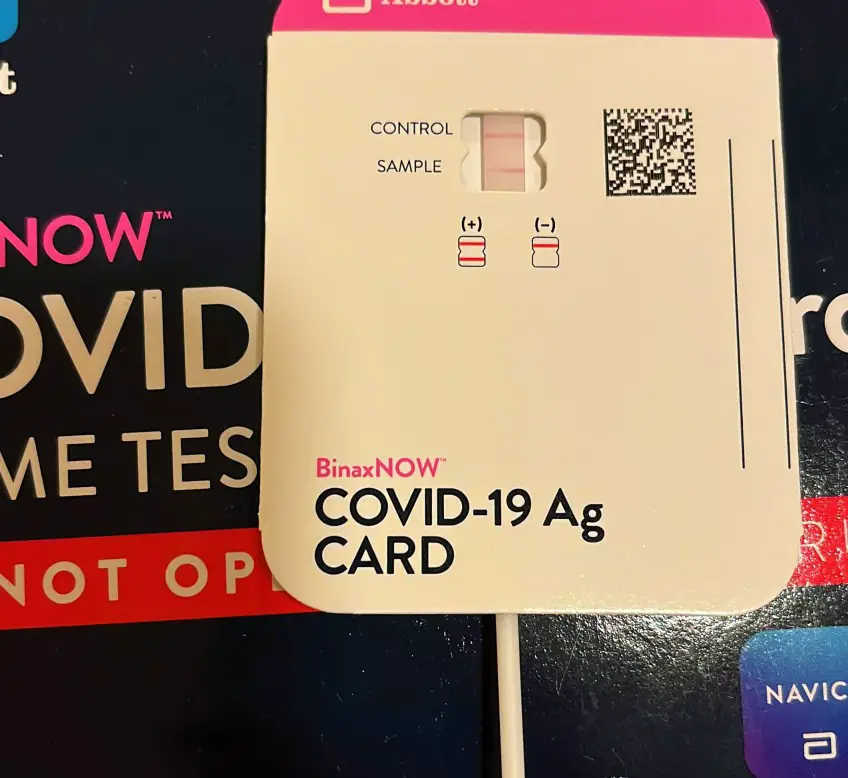 I looked at my daughter, Twin B, and then took my other daughter, Twin A, out of the room and shut the door, still in silence.  That was the last I saw Twin B in person until New Years Day.
---
What to do if you think you have COVID on a cruiseship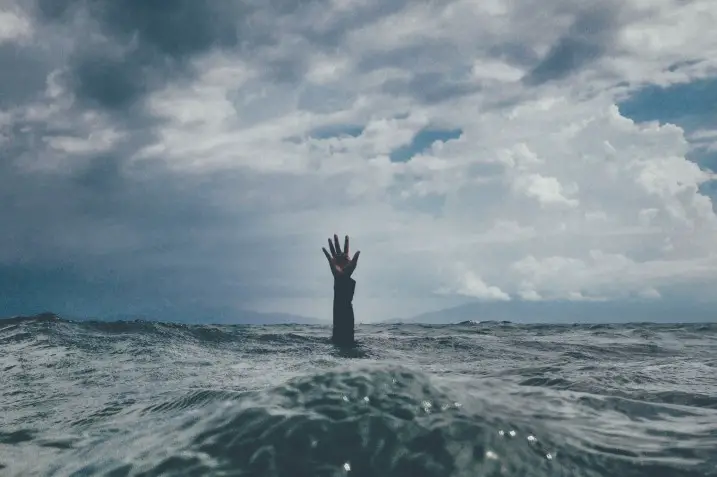 My husband and I sat in our cabin until late that night.  We sat in silence and we stared at each other wondering what to do.  Then we talked it over and contemplated what this test result meant.  It was the end of our family holiday and vacation.  Hopefully, everyone would have mild symptoms since we were all vaccinated.
What to do if we have a positive covid test in our family?  No one knew.  I did not watch any vlogs about this, nor did I read anything from a travel blogger citing their experience and what to do.
I sprang into action and quickly separated the holiday gifts, distributing them to each stateroom with a quiet knock on the door before I ran away.  If we ended up not being together, at least they would be able to have my little gifts with them.
It was now the middle of the night.  We were all contained in our own cabins.  We all decided to call Medical Service in the morning and try to get some rest for the remainder of the night…actually turning into the wee hours of the morning.
Twins A and B did not get much sleep.  They had suffered from separation during those vet school months and were so excited about spending time together.  That night, they camped out next to their connecting cabin doors, hands on the doors, crying, missing each other.
Dec. 22nd :  Cruiseline Responds
What did the cruise line do when we said our daughter had COVID?
We called medical service the next morning at 8 am when the voicemail said they opened.  We were all instructed to remain in our rooms.  Medical came to Cabin 3 in hazmat suits and swabbed Twin B and her boyfriend.  The rest of us were not tested but were only put on the close contact list and told to quarantine. We were all NOT to leave the room under any circumstance.
In retrospect, I should have argued for the testing of everyone.  We all felt healthy though with no symptoms.
After an hour and a half, we learned that both residents of Cabin 3 were positive.  They were to be moved to Deck 2 in order to be isolated.
What happens when you are quarantined for close contact on a cruise ship?
Close contact quarantine is just what it sounds like.  We were not allowed to leave our cabin for any reason.  Security put some sort of lock on the door.  Perhaps to indicate if the door was opened and we were escaping?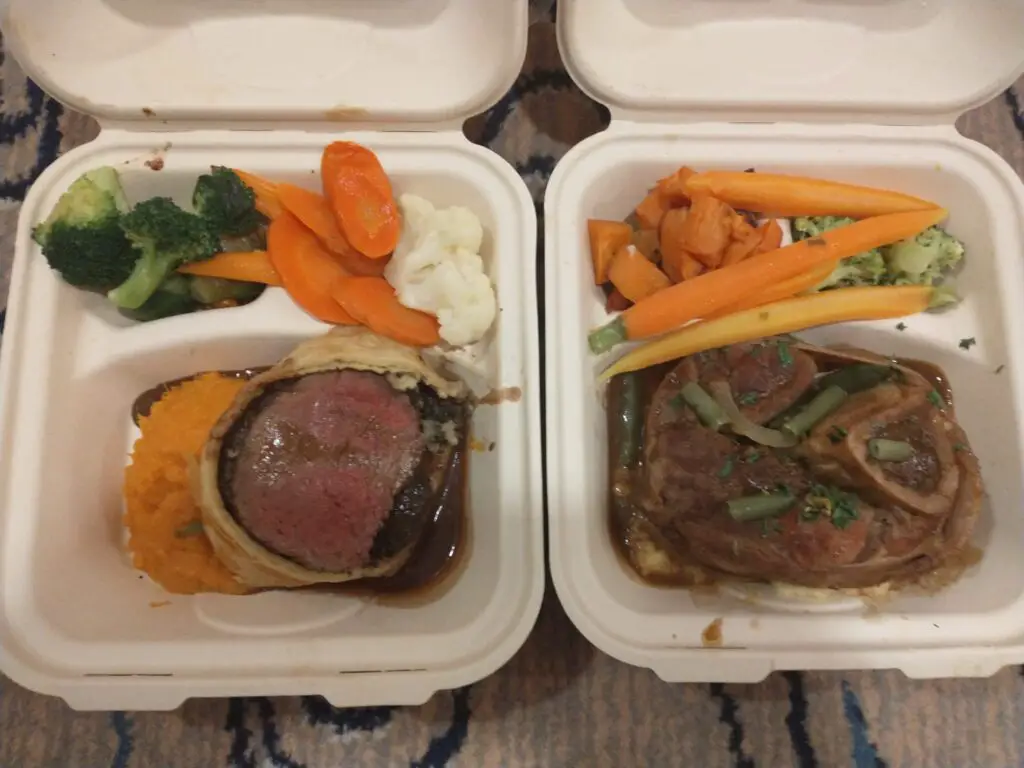 We were granted free room service so that we could eat.  Other than that, we sat around.  We watched TV.  We communicated with the rest of the family via WhatsApp.  The most exciting times of the day were meal times.  We sent dozens of pictures back and forth.  The typical chatter went something like What did YOU order?  Did you like it?  How long did it take room service to bring it?  Room service was MUCH slower on the Covid ward!
Dec 23rd – More family taken away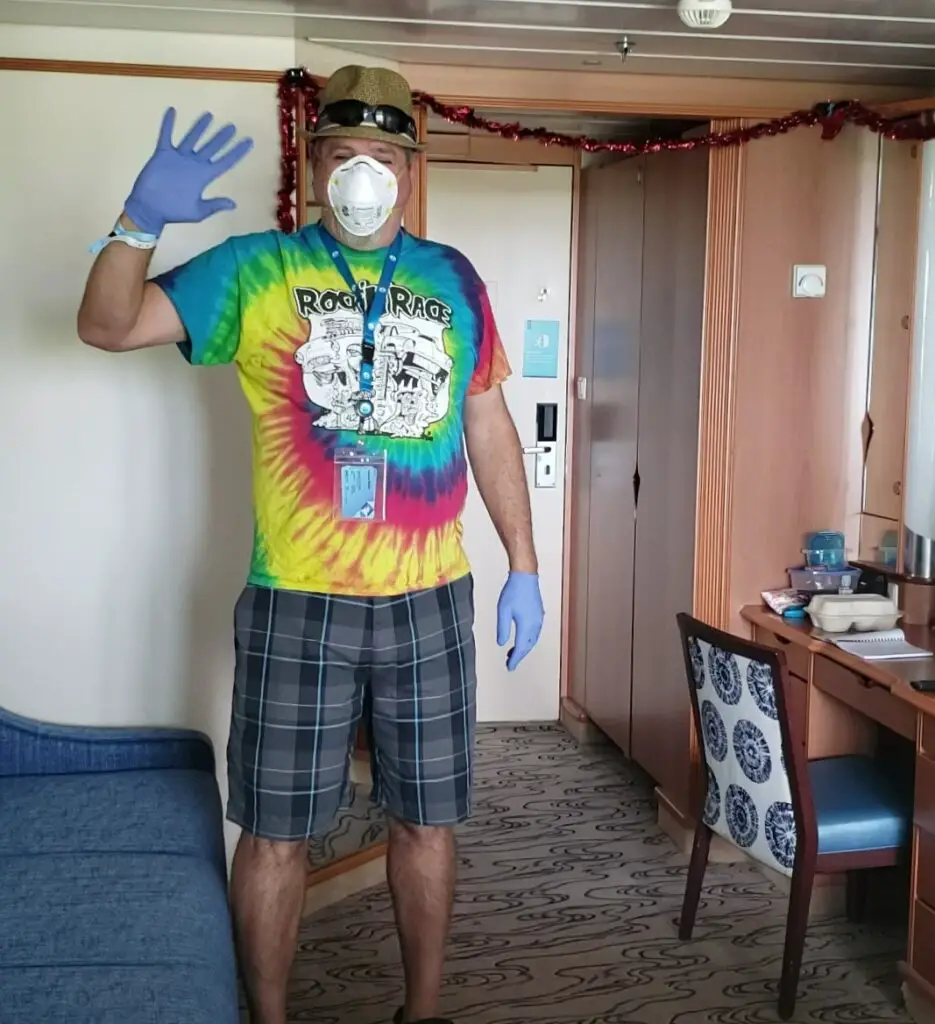 The next day the cruise line tested all the close contact 'victims' at 8 am. Two more family members tested positive, my oldest daughter from Cabin 2 and my husband.  They were also whisked away from me and quarantined in a separate room on Deck 2.  We were starting to take up a lot of real estate on the Covid Ward.
The ship announcement came over the tv explaining that we were missing out port in St Lucia because there were 14 passengers and 16 crew members that tested positive and the port authority would not allow the ship to dock.
The positives now included my husband who shared Cabin 1 with me.  They took him away that afternoon and then came inside my cabin with biohazard suits to disinfect it with some sort of fogging device.  They took all the sheets and towels and replaced them with new ones. I had already spent many nights there though, so it seemed rather pointless.  I felt that my fate was already sealed.  After all, hadn't I taken that sip of Twin B's Pina Colada just the day before? 
I tested negative that morning but was still quarantined. I was alone in my newly sanitized room….waiting…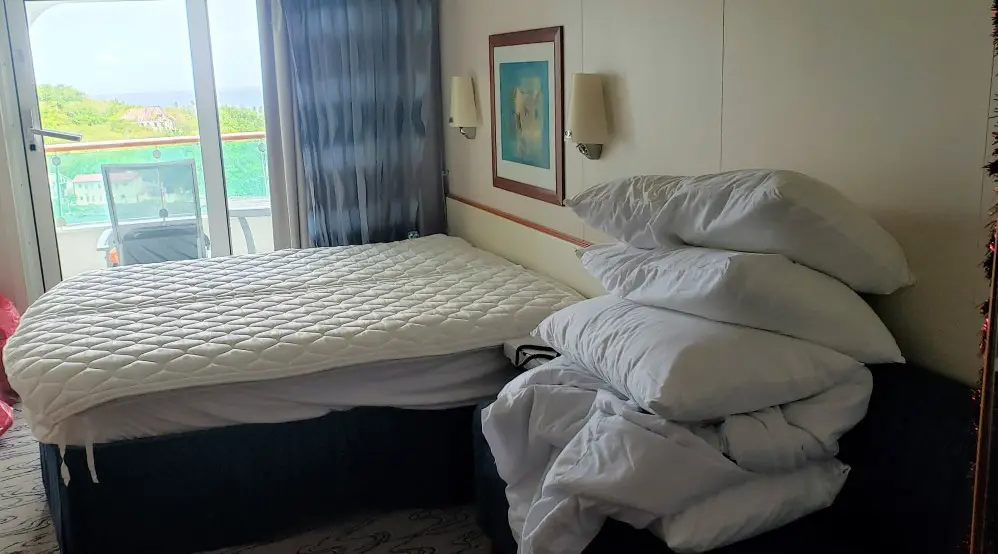 How are COVID positive cruisers handled on a cruise ship?
My family was given N95 masks, official respirators in order to contain the virus, and gloves to wear at all times. They were told us to put their luggage outside of the room so that the biohazard guys could wrap it in plastic wrap…they wrapped each entire suitcase and bag.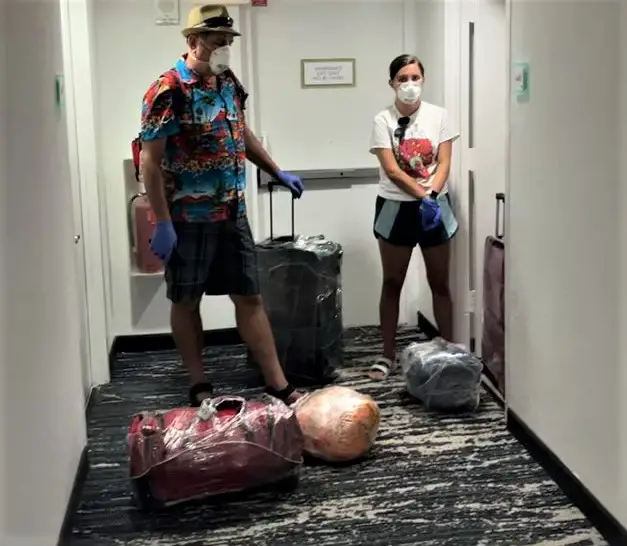 They were moved to the 2nd level on the cruise ship in an elaborate choreographed scheme. While walking down to that level, the hallway of their section of deck 8 was closed down for 45 minutes. Each successive cabin door received a knock on the door and a request for those passengers to remain in their rooms for sanitizing procedures. The biohazard parade of people then went through crew stairways in order to avoid all possible contact with other passengers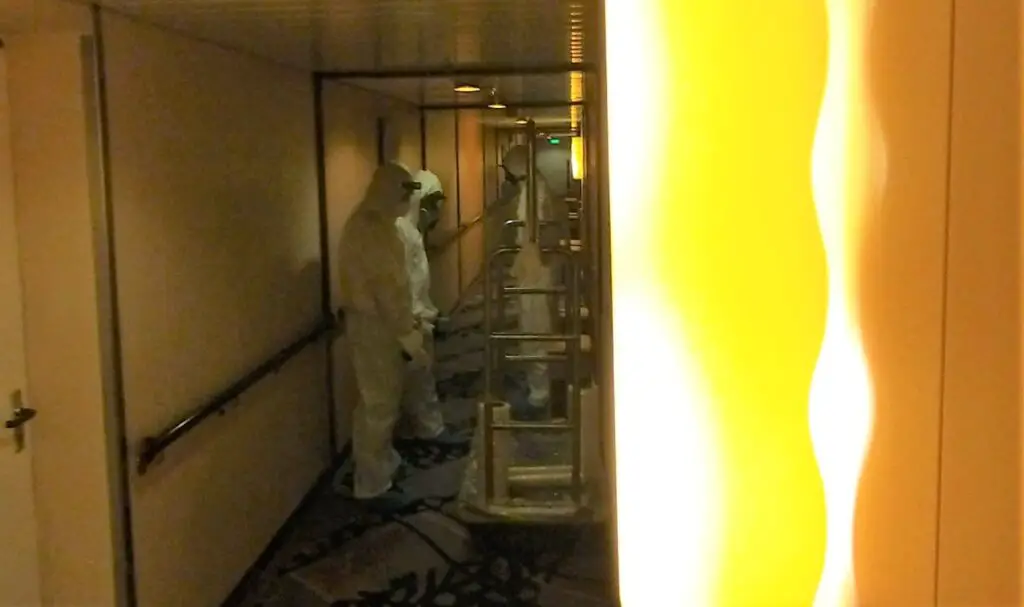 The biohazard suit guys followed my family the entire way, spraying some type of fogger and cleaner everywhere they walked. Deck 2 was the covid zone because it was closest to the medical area in case anyone got really sick from Covid and needed medical attention.
What is the COVID ward like on a cruise ship?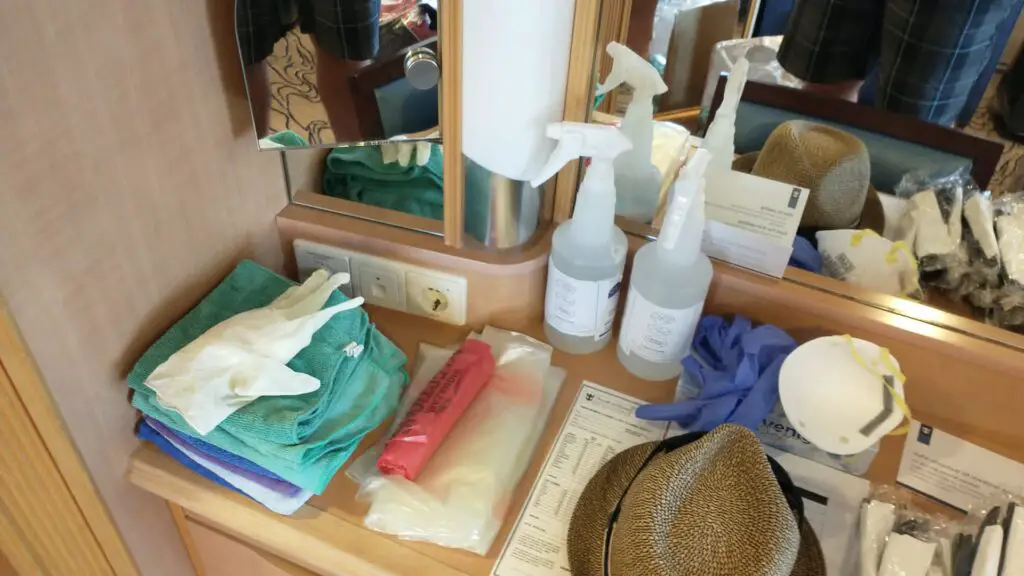 The quarantine rooms on the Covid deck had a bunch of medical supplies including more gloves, masks, towels and bottles of disinfectant spray. There was a 24-pack of canned spring water and a mini-fridge with milk in it. The room had a small porthole window in it, so at least my family could see some daylight outside. Fresh air was definitly lacking.
Guest services called them every day to see how they were doing. They got room service food and drinks throughout the day for all meals. Once the food got to their door, they had to wait for the crew members to call them on the room phone and to let them know that the food was outside. They didn't want anyone in the hallway when the door was opened.
The medical staff came to each Covid room to take some tests to see if they were healthy or symptomatic. The doctor tested oxygen level, heart rate, and took their blood for a base level in case they got really sick. Other than that, no one else was allowed to enter the covid zone. They had a security door on level 2 preventing any other cruise ship passengers from entering that hallway.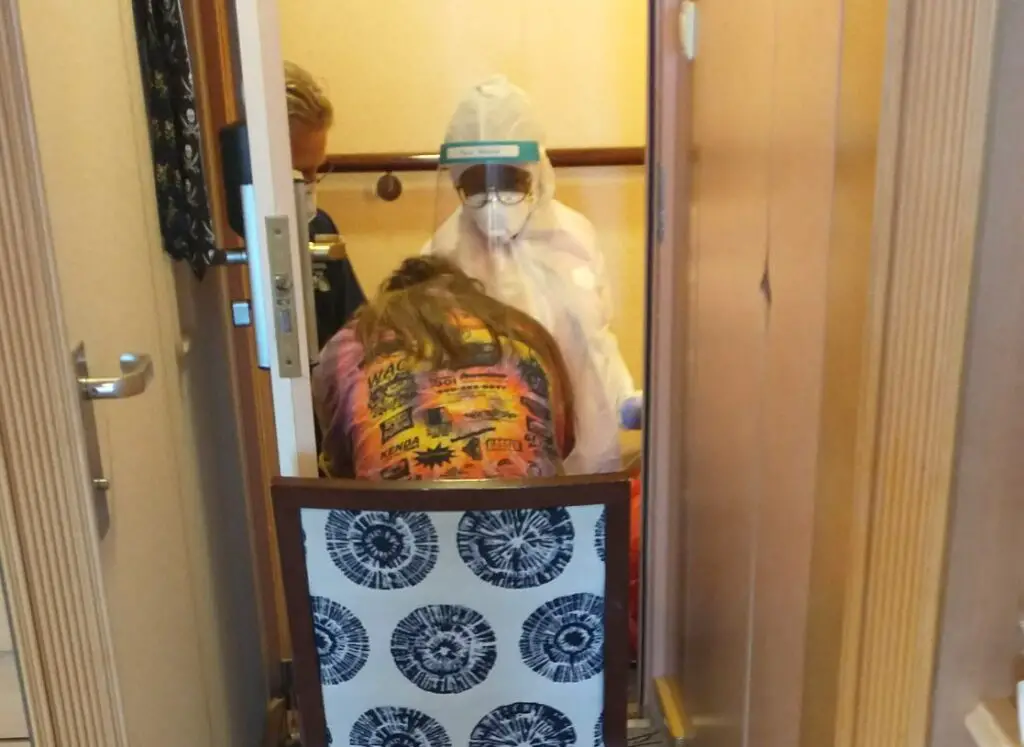 Dec 24th – Wait, do I still test negative for COVID?
Christmas eve and my entire family was quarantined.  The ship was allowed to dock in Barbardos and passengers were allowed to disembark.  Not us.
Twin A, who was the only other negative family member had moved to my cabin.  The cruise line didn't care much about the close contacts anymore….or our whereabouts.  They told her that she could just walk through the ship to get to my cabin.  She had to move her luggage, so she took the elevator too.  She had to wait quite a while for an empty one!
The cruiseline told us that we needed two negative tests in order to be released from quarantine.  Our first test was the previous morning at 8 am.  We waited all day on Christmas Eve for them to retest us.  Nothing.  We called.  They said that they come to our room eventually.  We knew that the positives were taking most of their time.
Finally, in the afternoon, they came to our door to do our second nose swab.  We received our second negative result an hour later.  The nurse told us she had good news and she released us from quarantine. We both cried.
What should we do?
The rest of our family was in isolation and we definitely felt guilty making plans to go on about our day having fun alone.  We couldn't even disembark in Barbados because the all-aboard time was coming soon.  Another port missed by everyone.
Multiple WhatsApp messages from my quarantined daughters and husband demanded that we go ENJOY THE SHIP and take advantage of our freedom. Twin A tried unsuccessfully to deliver ice cream to her Twin B. The security door prevented anyone from accessing Deck 2.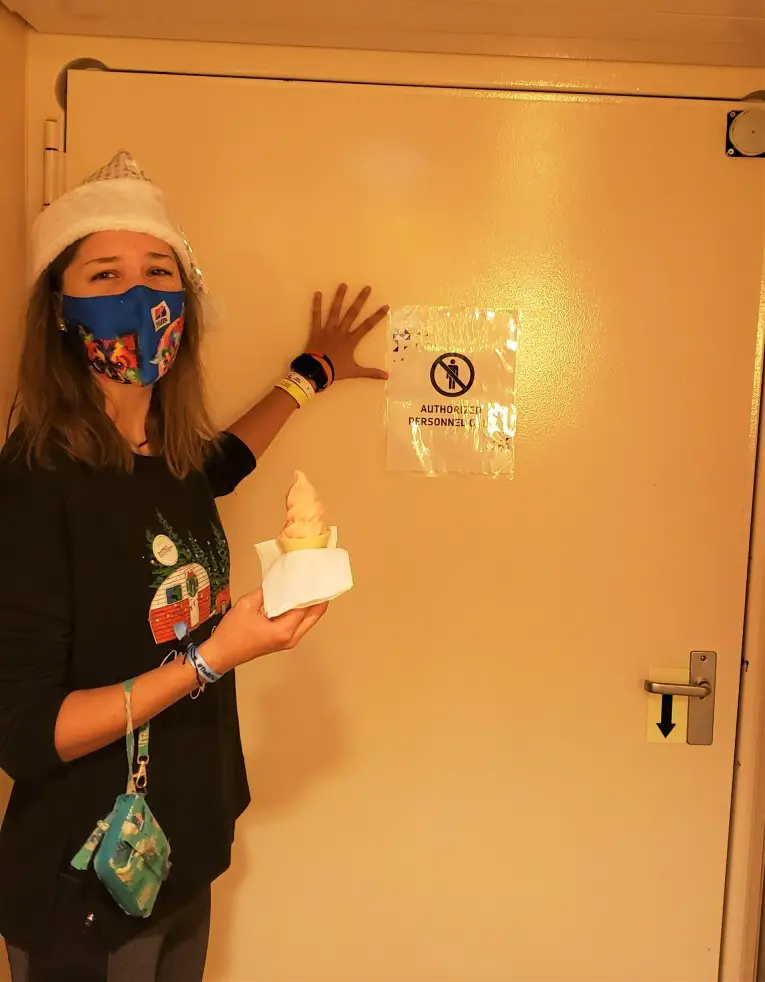 We walked around the ship and tried to pretend that everything was normal.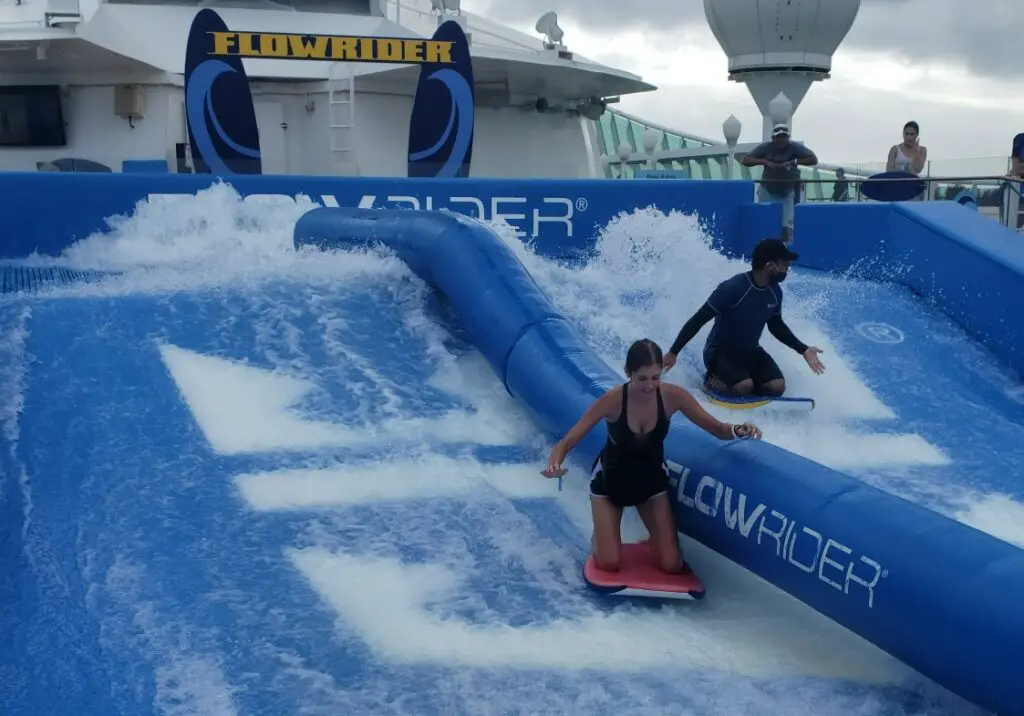 Everything was NOT normal. 
Later that night we walked slowly to our formal dinner.  Our servers greeted us with a friendly HELLO!  And asked where everyone else was.  Did the cruise line not inform the servers that they were in close contact?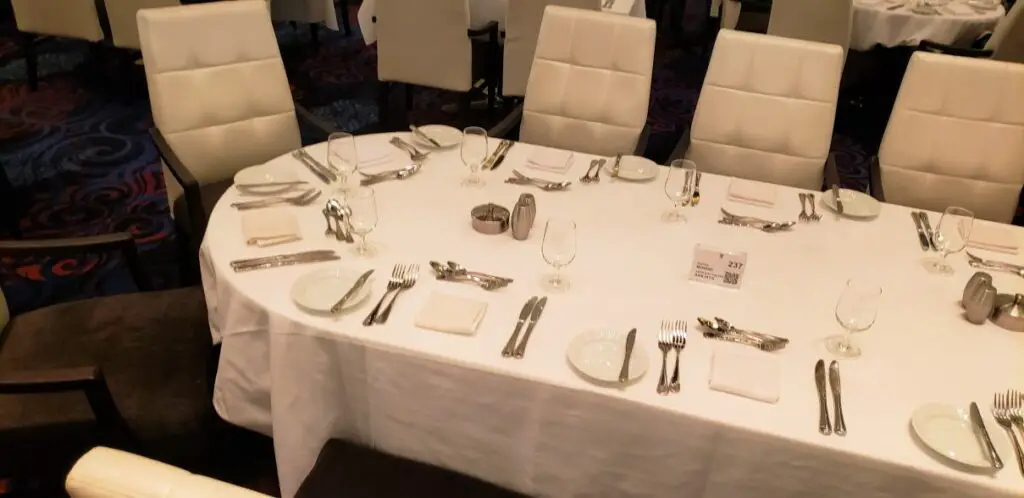 We asked to be moved to a smaller dining table so that we didn't have to look at all the empty seats.  The first answer was no, so I sat down at the big table.  Unintentional tears started to form from all the stress and the realization that the rest of the family wasn't coming to this table.  We were then quickly moved to a smaller table.  I guess a grown adult crying at the dinner table is not a welcomed sight. 
We sent many WhatsApp photos to the isolated family to document the Christmas eve dinner.
Dec 25th – Celebrating Christmas
We were told the night before that we were not docking at our port on Christmas day.  Our ship was again refused entry.  Another sea day to enjoy the ship and pretend all was fine.
I woke up early and walked around the ship alone.  There was an abundance of couples walking around in matching Christmas pajamas that morning. 
Hubby and I had matching pajamas, but we hadn't planned to wear them in public or walk through the atrium.  I didn't know that was a thing to do!  I brought them just to do a quick Christmas photoshoot on our own, but that never happened for obvious reasons.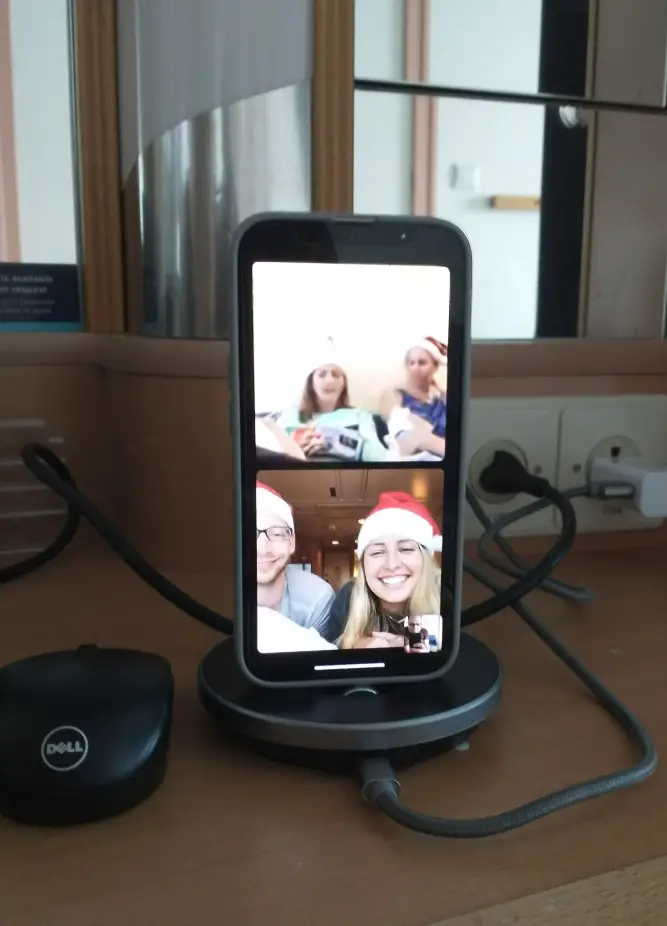 Our Christmas gift exchange took place over WhatsApp.  The ship's wifi wasn't the greatest so there were a lot of communication gaps and frozen faces.  I had gotten all of my daughters Christmas stockings that I have given them on that fateful day of the first positive test result.   Now it was time to go through them.  It was full of travel snacks, travel Advil, and a book full of mad libs.  These came in quite handy during the long isolation!
We did a family Christmas photoshoot, but we were all in separate frames and separate rooms. We all brought formal attire to wear to dinner that night. Some of us had to eat in the cabin….. Happy Holidays!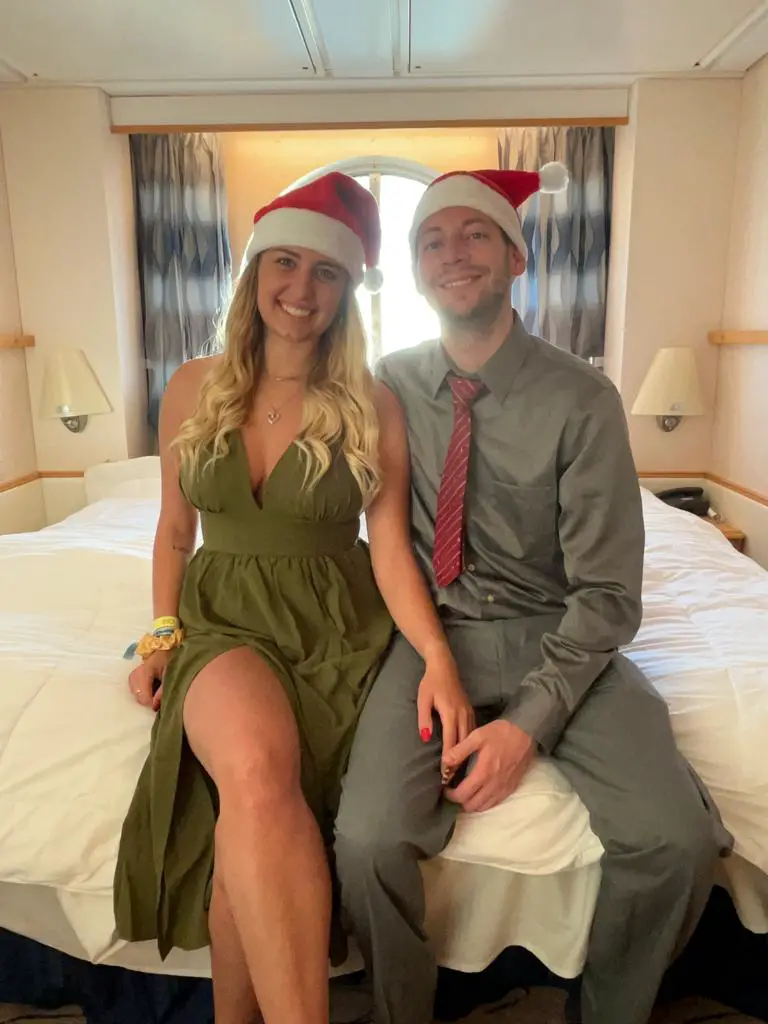 Dec 26th – Disembarking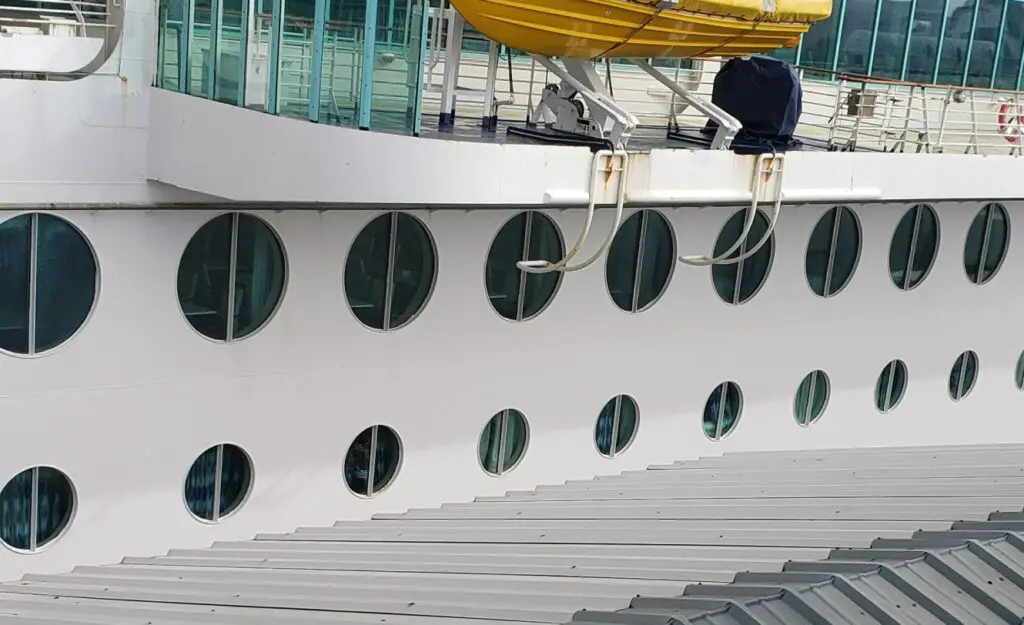 Soon it was the day we were supposed to disembark to Puerto Rico.  Us two negatives took our luggage and waited in a long line to walk off the ship.  The line off the gangway was slow.  They were queuing passengers and not letting everyone go through customs at once. 
While on the gangway we walked to the bow of the ship and waved at our family that was watching us out of their porthole window.  I wasn't sure how long they were going to be quarantined or when I would see them in person.  I waved and silently said Good Bye, but was soon ushered back into the moving line by the crew.
How the cruiseline disembarked the Covid positive passengers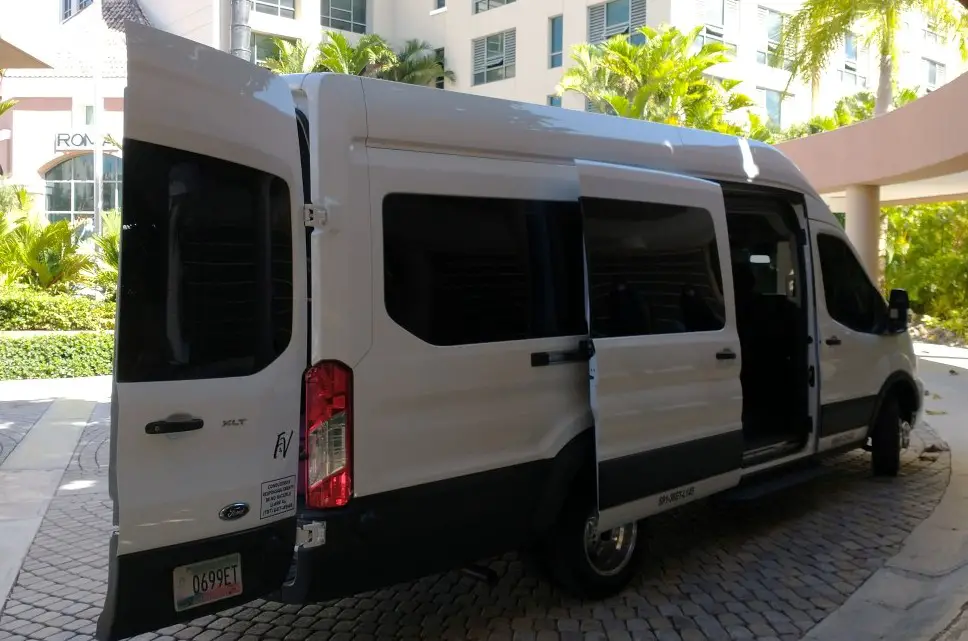 Leaving the ship was no picnic for the Covid passengers.
The family had to again wear the N95 masks, gloves, and have their luggage shrink-wrapped. They waited until all the other passengers disembarked the cruise ship. They were then taken to the lowest level to get off.
They were followed through the corridors by the Hazmat folks, and then greeted by a Puerto Rico official, either police or more likely an immigration agent who asked for their passports.  Oldest daughter had packed hers in the shrink-wrapped luggage, so he did not require her to take it out for fear of contaminating the area with her unwrapped luggage! 
Hubby did not have a passport at all as he had given it to Guest Services way back at the beginning of the cruise.  He has called guest services the previous night to make sure he had it before he was moved off the ship. Moving day and yep you guessed it, no passport.  I can imagine the big stink he made about it! He said that another agent came on board the ship as a sign of force and was getting ready to tazer him! 
They were escorted to a big van where hubby's passport finally appeared. Their personal transport driver, dressed in hazmat gear, took them right to the airport hotel in San Juan, Puerto Rico to continue their quarantine. 
… the rest of December: Quarantined at the port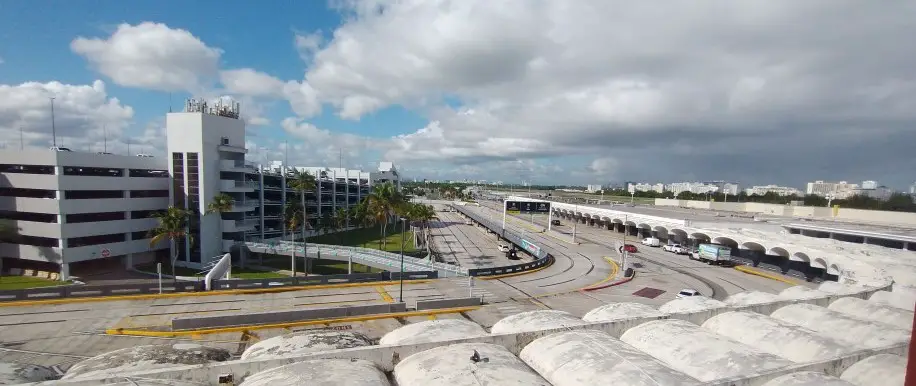 A male nurse met them at the Airport Hotel and took them with their shrink-wrapped luggage to their rooms. They walked past some hotel guests waiting for transportation and then all got on a public elevator.
They ordered room service, not knowing how payment was tabulated.  They were eventually told that the cruise line was covering the room and a $100 per day food allowance for each family member. 
Laundry was an issue as they were supposed to be traveling home by now and were OUT of clean clothes to wear.  In hindsight, they should have asked for laundry service on the ship.  The hotel knew nothing of a laundry service, so they started washing some clothes in the sink with shampoo. 
They were being taken care of by a Royal Caribbean Cares Team that told them the next day that they were out of isolation per the new US CDC guidelines.  Because of the season, the Cares Team arranged business class flights on New Year's Eve. We were all elated and started making plans to celebrate the New Year!
Woo Hoo! Nice payback with a free mini-vacation!  They told the family to keep using the rooms and food allowance until their flight in 3 days, so they got their beach gear and took an Uber to the Carolina beach!   They enjoyed the freedom and the warm water and white sand on their feet!  They spent all day at the beach and the youngsters got a nice sunburn going!  They went to one of the open hotels and ate dinner on a nice open patio, enjoying the fresh air.  Evidently, Puerto Rico had restricted restaurants from serving dinner, so their "lunch" came in to-go containers!  They didn't care since it was fresh and hot from the kitchen, not cold room service food! It was a glorious day for them and their new-found freedom.  
No Fly List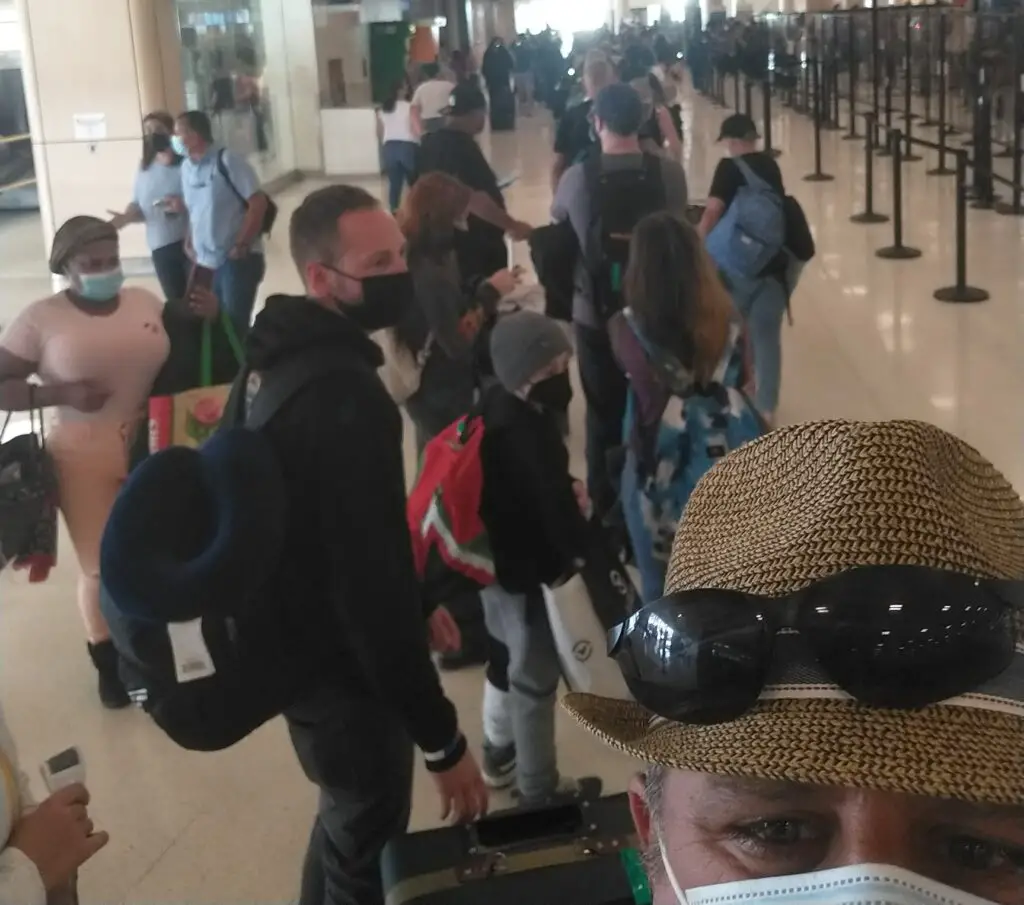 There was definite confusion on everyone's part as to how long the quarantine was supposed to be in the port of San Juan, Puerto Rico.
The next day there was a knock on the door and the hotel manager told them to pack their luggage. They were either to fly home immediately or go to another hotel!  Several family members called the Cares Team in a panic. They now had a specialist assigned to their case and Meriam was a sweetheart that did everything within her power to aid in this difficult situation; however, the corporate system was not up to that task. 
My family was instructed to pack their bags and head over to the departure desk for American Airlines.  Gone were the business class seats and free luggage, but at this point, they did not care. They were all ready for this to be over.  They paid for luggage and checked in.  Well, most of them that is.  Our oldest daughter could not check-in.  After lots of explaining, mostly in Spanish, they were instructed to go talk to the CDC downstairs in the arrival section of the airport.
There was no way hubby was leaving our oldest daughter behind.  We told twin B and boyfriend to go, but they chose to stay behind as well.  The family spent about 4 and half hours in the airport as the Cares Team tried to figure out what the next step was. 
Finally, a complicated call to the Puerto Rico Health Authority informed them that they had not yet fulfilled their quarantine, were to remain in their rooms and were not permitted to fly.  They were all on a Do Not Fly List since Puerto Rico was still on a 10-day isolation protocol and had not yet changed to match the US CDC guidelines. Talk about miscommunication!!  Back to the hotel they went!
The Second Isolation Hotel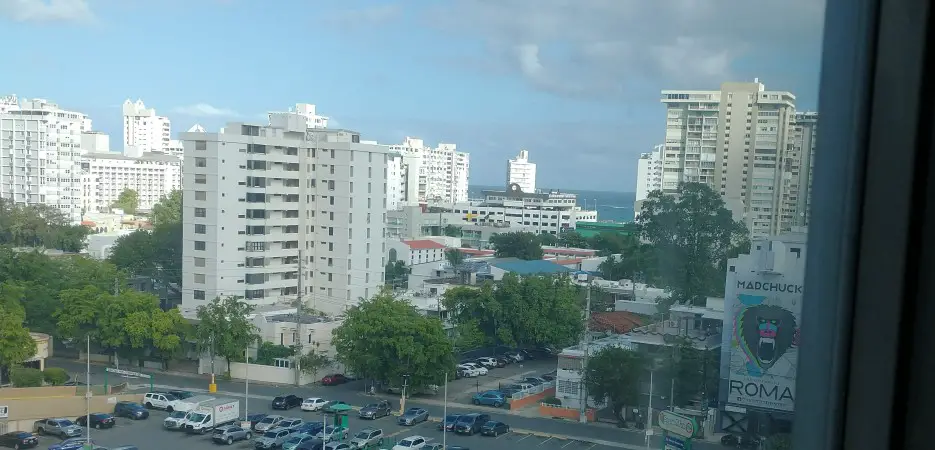 My stranded family was instructed to uber to the Doubletree for their new rooms.  When they arrived, you guessed it, the Doubletree Hotel knew nothing and did not have rooms for them.   This was a really rough day! 
Hubby Loses His Patience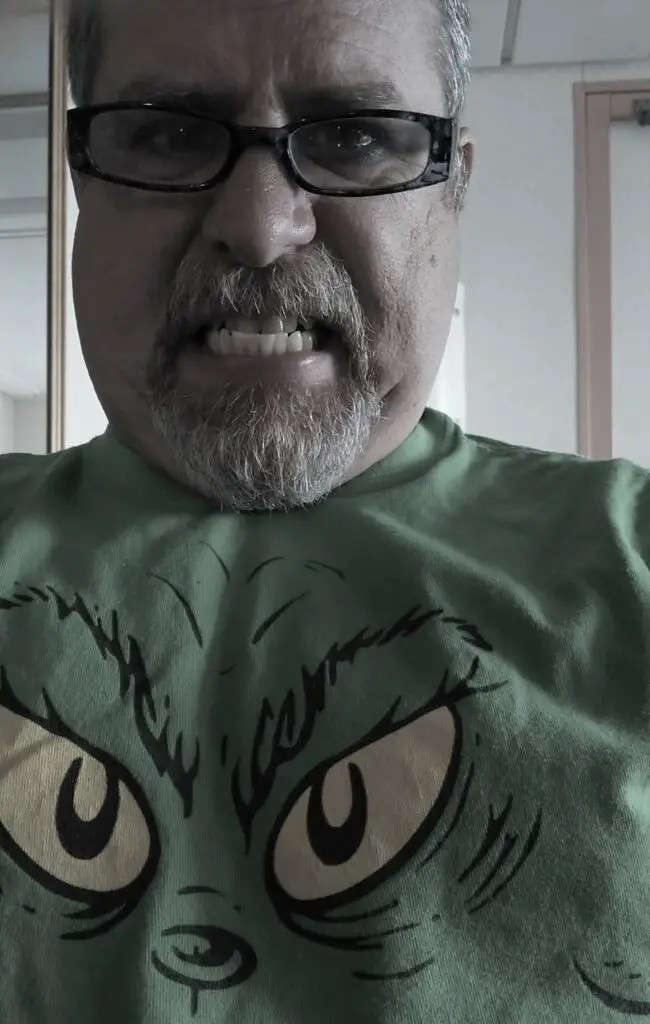 Hubby tells the story to display his ever-mounting frustration!
Mind you I have had it! To this point, I had kept my cool. (Well except for the CDC fellas at the airport that afternoon and the passport dilemma while disembarking!)
Fransico was the gentleman that entered the story with a bang!  As Fransisco approached us he stated that he is the Transport Liaison for the Cares Team for Royal Caribbean!  This is the first person we have seen since we left the ship that has identified themselves as part of the process!  He then begins to tell us that there will be no rooms for us and that the cruise line is no longer required to take care of us since we had broken isolation! 
Yep, I went off right there in the lobby!  I explained that the Cares Team had us in this jackpot and I wanted it fixed now!  To his credit, things started to happen and we all were re-entered into the isolation program and were moved to the top floor into our own suites!  We had to go out the front door and around to the back door and up the freight elevator, but once we each opened our doors, all was good. 
It was a fantastic room with a great view of downtown.  Room service was much better and there was never a need to contact the front desk.  Another perk was Uber Eats would deliver to this hotel, and we got some junk food from the grocery store across the street!
Fransisco called the next 2 days to keep me informed on our status, which was fantastic!  It made things so much better knowing what was going on. 
Jan 1st – New Years Day in Quarantine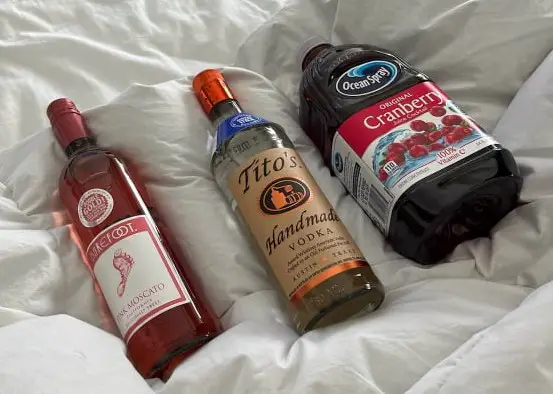 Another holiday that my family spent in Isolation! I sent a wine and spirits delivery to them so that they could celebrate and TOAST to a better year! I had taken a City Tour on my own with a Puerto Rican tour guide and he had volunteered to help! Thank you Edwin from Intrepid Tours Puerto Rico!
We celebrated New Year's Eve on WhatsApp watching the first-ever Spanish countdown on Dick Clark's Rock'n'Eve right there in Puerto Rico!
Jan 2nd – HOME SWEET HOME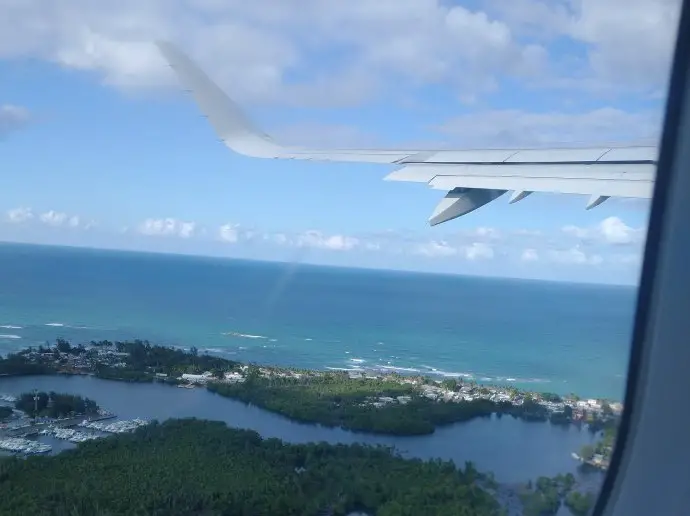 New Year's day came and they were transported to the airport.  They were out of isolation and permitted to use the front door!  They departed Puerto Rico with no issues whatsoever.  They got home at a quarter to 1 am, January 2nd!  I took home my very tired hubby.
Will Hubby Travel During the Pandemic Again?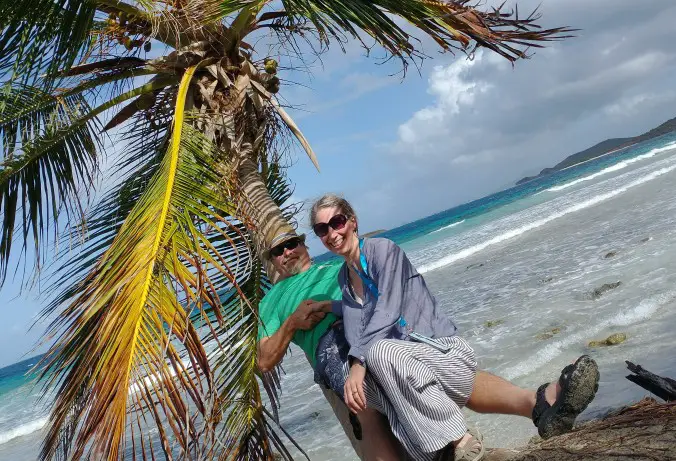 After that terrible experience, I asked my hubby if he would travel during the pandemic again or will he go CRUISING during the pandemic again????
Like my wife has stated, only you can decide to travel during a pandemic.  I for one will pack my bags and go as soon as my wife says we are traveling again!  I am wondering how many days the cruise line is going to credit us for this trip!  No one knows how or why, but it speaks volumes to me that they cared enough about their customers to take care of us after we were off of their ship.  Yes, there were some glitches in their system, but folks on the Cares Team like Meriam and Fransisco and their efforts make me want to be a returning customer.
We did make it to St Kitts after all about a half a year later…. and pretty soon we will be re-doing our COVID CRUISE with the whole family!! Stay tuned to see how that goes!! Will we be successful and have lots of family fun this time on Royal Caribbean????? Subscribe to stay up to date!!
Taking a cruise soon?
Pin this post and share it with others!