DISCLOSURE: I may link to relevant products, companies or helpful info which may be affiliate links, meaning I may earn a small commission. As an Amazon Associate & other affiliates, I earn from qualifying purchases at no extra charge to you. The views & opinions are my own. Please see the disclaimer and privacy policy.
Last Updated on August 28, 2023
TOP 50th Milestone Birthday Ideas in Las Vegas —or ANY Birthday!!
Las Vegas annually ranks as one of the most visited tourist destinations in the world so, of course, there are LOTS of ideas for celebrating 50th birthday in Las Vegas –or any milestone birthday or special event for that matter!!  There are so many activities to choose from that everyone at your party will be entertained from morning until night…. And even into the wee hours of the morning.
I recently planned a birthday trip to celebrate my 50th birthday in Las Vegas with family and friends for a long weekend.  We piled so much into those 4 days and everyone had a fun time!  They can't wait until the next trip!  Sadly, it will not be a 50th birthday trip to Las Vegas, but perhaps there will be another fun milestone birthday to celebrate in Las Vegas.
---
If it is your first trip to Las Vegas, start with my Tips for First Timers in Las Vegas and that will give you some hints and tricks to help you plan.
---
Ways to Celebrate 50th birthday in Las Vegas:
click the links above for the top ways to celebrate a birthday in Vegas
Attractions for EVERYONE to celebrate a birthday in Las Vegas
Shows & Entertainment
Las Vegas is the entertainment capital of the world due to its broad scope of entertainment options.  There are musical concerts, hilarious comedy, acrobatic artistry, master illusionists, and adult shows jam-packed into every theater and venue on the strip each day and night of the week.
Take in a new production or a long-running favorite.  Top entertainers like Elvis, Frank Sinatra, Wayne Newton, David Copperfield, Prince, and Celine Dion have had their names lighting up the marquee at their shows in Las Vegas.  Today, each casino has its own headling entertainment to draw in the tourists.
What show is in Las Vegas right NOW?
See this link for great deals on shows in Las Vegas for your birthday celebration!
---
The Very Best Comedy Show
The huge variety of Vegas shows includes comedy shows.  We chose to go to the Mike Hammer Show at the Four Queens Casino on Fremont Street.  My sides hurt from laughing the whole entire time.  Mike leaves no one out of the show.  If you sit in the back, be prepared to still be a part of the show.  I was on stage assisting with a magic act and my daughter was actually a PART of the ending act! 
Mike Hammer has a nice Meet and Greet after the show, so we stopped by to show our gratitude and grab some photo opportunities.  I highly recommend this show for its comedy. The added bonus is its location on Fremont Street —the next entry on this list of exciting things to do in Las Vegas on your birthday!
PRO TIP: You DO need thick skin to attend this show!  Only go if you want to laugh at yourself, at your guests, and at EVERYONE in the room!
---
Other comedy shows in Las Vegas
---
Fremont Street
Fremont Street is the old Downtown Las Vegas, located a few miles from the strip, and is a feast for all the senses.  Street performers are scattered throughout Fremont Street, playing music and displaying their talents, which are often quite unusual and exotic. 
We had time to explore this interesting part of Las Vegas before we went to the Mike Hammer Comedy Show.  The neon lights of the downtown casinos twinkled brightly and beckoned us inside to try out their slots, eat at the restaurants, order the alcohol, or just wander around and experience the atmosphere.
Fremont Street has a canopy over the top and has an illuminated sound and light show every hour from 6 pm – 2 am, with the premium show Mixology shown twice.  It is considered to be the largest single digital display in the world with music from well-known artists on their nightly Viva Vision Lightshow lineup.
---
Neon Museum
The neon museum is a great place to take your family and friends during your birthday party in Las Vegas.  They have 2 different tours plus a show to choose from.  We chose to visit the Boneyard on a guided tour at night.  It was spectacular to be able to see all the neon signs lit up. 
The guide explained where they all came from, the unique backstory behind each one, who created them, when each one was made, and the role they all played in the history of Las Vegas signage.  We were able to take as many selfies as we wanted.
The Neon Museum is a non-profit organization that was founded in 1996 in order to preserve all the iconic Las Vegas light-up signs.  They work hard to keep these treasures intact while educating visitors about the historical importance of each piece.
---
What on earth is Area 15?
I took my 50th birthday party to Area15 and we were definitely the oldest people in the building.  This entertainment complex is an over-the-top display of modern tech, immersive entertainment, and monumental artwork exhibits that is located just minutes from the Las Vegas strip.  We spent a lot of time in the arcade trying out the pinball machines and skeeballs. 
It has received numerous accolades including: "Best Immersive Art Experience" by USA Today 10Best Readers' Choice Travel Awards
The main attraction is Meow Wolf's Omega Mart which is an interactive walk-through art exhibit that is themed after a grocery store and sometimes compared to a scavenger hunt.
Grab a ticket here and prepare for a great birthday activity!!
Lost Spirits Distillery is located at the entrance.  It has been called a 'Willy Wonka' for adults with its amazing array of tasting rooms for all of the distilled spirits. 
PRO TIP - NEW ADDITION: Liftoff is a new panoramic skyline attraction at Area15 in Las Vegas. It is an imbibe-and-ride experience that begins at the base of the attraction's triple-helix tower in the LIFTOFF Lounge, a full-service bar. After enjoying a selection of beer, wine and cocktails, as well as alcohol-free options, riders will be strapped into LIFTOFF's 16-seat gondola and ascend to the 130-foot summit for a 360-degree beautiful view of the Las Vegas Strip.
Pre-plan & Book your AREA 15 Tour HERE
---
Gambling in Las Vegas
Las Vegas' claim to fame is its gambling institutions in the form of large and luxurious casinos.  They are over 120 casinos throughout the city that are filled with slot machines and card tables of every variety to satisfy every type of gambling need. 
Try out your birthday luck by placing some bets, rolling some dice, betting on a horse, or pulling the slot machine lever.  Ok, most of the digital slot machines don't have levers anymore, so all you can do is press a button!  If you are spending your birthday in Las Vegas, you might have some good luck vibes so try out those colorful digital slot machines!
---
Welcome to Las Vegas Sign(s)
The Las Vegas Sign is iconic.  There are several… no, there are MANY MANY Las Vegas signs all around the strip, but there is only ONE Welcome to Fabulous Las Vegas Sign.
The huge 25-foot-tall sign is located in the middle of Las Vegas Boulevard South and most people consider it the marker for the south end of the Las Vegas strip.
Gather your Las Vegas birthday party guys and gals and grab a selfie for your most fabulous souvenir at Sin City.  The line is usually long, but it goes pretty fast. 
At night, there is often a 'photography helper' there to light up your party for a better photo. Preserve the memories of celebrating your 50th birthday in Las Vegas and put one of these signs on your Las Vegas birthday party itinerary.
There is also a new Welcome to Las Vegas sign located at the north end of the strip near the Stratosphere Hotel and Casino.  There are several cool Instagram photo opportunities there as well as a Las Vegas arch that crosses the boulevard next to the Strat.
The Welcome to Las Vegas store is located throughout the strip at many locations.  They not only have many souvenirs commemorating the iconic sign, but they also have small light-up sign replicas that beckon tourists for additional selfies.  Of course, I obliged!
---
KISS Minigolf at Rio
Much better than a bowling alley and a putt-putt course!  This is KISS Mini Golf!  There are 18-holes custom-designed in 13,000 square feet of KISS-themed attractions, glow-in-the-dark features, state-of-the-art video, and authentic KISS props and memorabilia.  The whole place rocks as a DJ spins KISS tunes and hosts trivia contests with prizes galore.
This fun dedication to the rock legends is located at the Rio All-Suites Hotel and Casino.  To add to the festivities, they even have a special event room to host your birthday bash. Let's not forget that rock and roll gift shop for last-minute gift ideas!
Attractions for the LADIES to Celebrate a 50th Birthday in Las Vegas
Ladies, there are so many Vegas Birthday Ideas for a 50th birthday party in Las Vegas! No matter what your age, your birthday party in Las Vegas will be SPECTACULAR!
Plan a night out with the girls for special birthday trip memories of a lifetime!
Thunder from Down Under / Magic Mike
I was undecided between Magic Mike and the Thunder from Down Under.  I ended up going to the Thunder Show and loved it, but I can't compare it to the other since I didn't go.
The Thunder from Down Under is a male revue that is FULL of refined Australian men.  We definitely saddled up for the night and lost our inhibitions to the cowboys gyrating on stage, leaping onto the counter right in front of us, and yes, even closer, right on top of our seats inviting our admiration of their bodies and holding our hands in places that I can't mention.
Drinks are as plentiful as the men.  In fact, the Shout Out and Shots Package from Vegas Girls Night Out gave our whole birthday party a jello shot or two, AND called out a special Happy 50th Birthday to this Moyer Memoirs Travel Blogger! 
Grab your HOT ticket NOW!!!
Steamy and powerful dances are choreographed to thunderous music in time to the rapid heartbeats of the audience.  No one is left out and I often wondered if perhaps my front-row seat was not the best view of the men dancing their way back and forth on the tables! This was definitely one of the most entertaining ways to celebrate my 50th birthday in Vegas.
---
Shopping Malls on the Las Vegas Strip
Las Vegas is a mind-blowing shoppers' paradise.  There are huge shopping malls right on the Las Vegas strip, outlet shopping centers for amazing finds and numerous luxury brand shops that are packed with well-known name-brand merchandise like Dior, Prada, and Chanel.  Spend some of your birthday cash and take home some lovely souvenirs!
---
Novelty Souvenir Shopping
For all the shop-aholics…Vegas is heaven for us! Walking up and down the strip there is a store for everyone. Some of the most unique and exciting stores that stood out to me were the famous M&M world and Hershey's Chocolate World. I could have spent all day in those stores if I had the time!
In the M & M world, it is a 4 level store- with each level a different color M&M theme. My favorite color has always been yellow, so I spent most of my time on the YELLOW floor. They have so many options for all ages from multiple varieties of candy M&Ms, to soft themed blankets, to mugs for hot chocolate. They even have M&M statues to pose with for a picture! My souvenir was a yellow M&M oven mitt.
Over in Hershey's Chocolate World, there is an abundance of every chocolate you could imagine! We decided to buy multiple different types of delicious cookies to share with our group.
Pro tip: Don't eat a big meal because you will be filled with yummy treats after visiting these awesome novelty stores.
-
Attractions for the GUYS to Celebrate a 50th Birthday in Las Vegas
Dream Racing Exotic Sportscar
Guys, if you are anything like my hubby, there is gasoline in your blood, headlights in your eye sockets, and the chance to drive an engineered racing machine makes you drool.
And drool, he did!  But only for a minute, until he got behind the wheel, and then it was all grins!  Hubby was upgraded to a race-prepped Porsche Cayman S and was able to enjoy the highest-rated driving experience in Las Vegas with Dream Racing at the Las Vegas Motor Speedway.  Where else can you get behind the wheel of an exotic sports car like a Lamborghini or Porche and push the pedal to the floor with no red and blue flashing lights behind you!  This is the ultimate rush of a birthday idea and probably one of the best Las Vegas birthday ideas for men!
After getting your racecar briefing you will get one-on-one training to try out this once-in-a-lifetime experience on the 1.2 mile, nine-turn racetrack to live out your racing dreams!
Reserve your EXOTIC RACE CAR NOW!
This is one of the best birthday surprises in Vegas that you can get for your car-loving significant other!!
---
Here is another RACING Experience option for a fun Las Vegas trip!
---
Machine Guns Vegas
Take some powerful shots as you celebrate your birthday in Las Vegas at this premier shooting range.  Choose a modern machine gun, a historical handgun, or over 40 other firearm options from the Machine Guns Vegas armory like an AK-47, M4, Glock, UZI, and Beretta.
If it is your first time pulling a trigger, they can find a package that will suit your experience.  For those with more expertise, they also have Seal Team 6 and SAS Experience packages with real-life special forces weaponry.
---
Nelsons Ghosttown
If you have an eye for authentic machinery and nostalgic pieces, Nelsons Ghosttown is the perfect destination to reminisce about years gone by.  They have quite a collection of vehicles and collectibles that provides a nice tribute to classic Americana.
They charge just $1 for walking around.  It felt like we were walking around the set of an old movie.  Classic car bodies were parked in the field and old abandoned buildings beckoned us to show them some love.  We obliged, of course, with a smattering of selfies!
Nelson's Ghosttown would be the perfect background for that impeccable 50th birthday snapshot!
---
Marvel Avengers S.T.A.T.I.O.N
How fun would it be for your birthday squad to train to become agents of Marvel's Avengers S.T.A.T.I.O.N. (Scientific Training and Tactical Intelligence Operative Network)? This entertaining and educational experience will bring you into the world of the Avengers.
You will all get to access to a wealth of intelligence files, classified studies, and experiments that explore the history & origin of the Avengers. See Captain America's uniform and shield and Bruce Banner's laboratory. Map the stars to find the location of Asgard and battle Ultron, plus learn how the ins and outs of operating Iron Man's suit.
---
Sports Entertainment in Las Vegas
Celebrate your milestone birthday in Las Vegas at a sports venue!  Attend an NFL game at the new Allegiant Stadium, a beautiful addition to the skyline, or catch an NHL game to watch the Golden Knights.
Las Vegas has some of the biggest boxing matches in the world, so there will be no shortage of entertainment for the fighting venues.
---
For a cheaper venue that might have even more entertainment, try the minor league game!
Cheap Las Vegas Attractions for the Budget Conscious
Las Vegas Strip tours
Each Las Vegas strip casino and hotel is filled with stunning and often unusual architecture.  The designs range from the Italian Renaissance to glitzy-over-the-top displays.  There are floral arrangements, waterfalls and fountains, Instagram-worthy signs, and colorful backdrops.
For your birthday trip to Las Vegas, arrange a walking tour of the Las Vegas casinos and be mesmerized at each stunning lobby and all the displays of grandeur both inside and outside at each location.  The theming of each casino is carried out to extremity, perhaps you will wonder if indeed you are wandering through the quaint Parisian streets or meandering through Venetian alleys next to the singing gondoliers!
Don't want to PLAN the tour? Sign up for a pre-planned tour & have a blast on your birthday in Las Vegas!
---
Mirage Volcano
The volcano erupts in front of the Mirage Resort every hour beginning at 7 pm in an incredible EXPLOSIVE free show.  Be sure to get there early like we did so that you can get a nice unobstructed view.  We arrived 20 minutes early to get the front row at the railing in front of the volcano.
PRO TIP: There are many other Free Shows in Las Vegas! Visit my guide to free activities in Las Vegas to find out more.
The show is a thunderous eruption of volcanic lava that is displayed with 150 jets of fire, red smoke, and accompanying lights.  The exciting show is choreographed to an original rhythmic composition by the Grateful Dead's Mickey Hart and Indian composer Zakir Hussain.  The music has a tribal vibe that is heavy on the drums giving an exotic air to the whole presentation. 
The Mirage volcano is a must-see during your 50th birthday party in Las Vegas.  You definitely need to witness this 120 feet high powerful eruption that entertains the crowd for over 4 ½ minutes of fireballs.
PRO TIP: Don't miss the Mirage lobby! There are picturesque displays there too!!
---
Wynn Hotel & Lake of Dreams
The floral merry-go-round is the centerpiece of the gardens in the Wynn lobby.  It is absolutely beautiful.  Stroll down the middle of the display surrounded by twinkling lights and floral hot air balloons.  We enjoyed looking at the colorful parasols …..even the artistic lights impressed us. 
Outside the Wynn, we found the 3-acre Lake of Dreams, which is a FREE show every half hour after dusk.  Come early to get a good view of the multi-media experience that combines a state-of-the-art sound and light show with colorful puppetry!
---
Bellagio Conservatory & Botanical Gardens
The Bellagio Hotel is well known for its year-round-14,000-square-foot Botanical Gardens which display artwork in the form of gardens and flowers that rotate during each season and add to the beauty around the trees, ponds, bridges, and gazebos. 
Pro Tip:  Make note of the Bellagio Conservatory seasonal exhibits and try not to visit the gardens between seasons, since they will be closed for remodeling for the new display (Lunar New Year, spring, summer, autumn, and Christmas).
The floral showcase is amazingly fancy and larger than life.  Each season the conservatory is closed for two weeks while the horticulturists create the impressive displays with more than 10,000 potted plants and flowers.
Going Green:  The Bellagio Conservatory gets high marks for sustainability by recycling and repurposing their gardens each season by converting most of the used flowers into mulch.
---
Pinball Hall of Fame Museum
What is in the Pinball Museum?  You guessed it: Pinball Machines!  The non-profit museum has 25,000 square feet filled with arcade games and is dedicated to keeping them around for years to come.  The pinballs are all in working order that you can enjoy them for just a few coins.  The older pinball machines are 25 cents and the newer models are 50 cents.
We took the Las Vegas birthday party to the Pinball Museum and had 2 hours of fun for 10 bucks!  You can't say THAT for a lot of the places on Las Vegas Boulevard!
PRO TIP: Free parking and free admission!
---
More Ideas for Free Things to do in Las Vegas
There is no shortage of budget-conscious and free activities in Las Vegas. I have even more ideas in my guide post about all the free stuff to do in Las Vegas. Take a look!!!
---
50th birthday Decorations
Don't forget the 50th birthday decorations to make your birthday party in Las Vegas even more special!  Use the decorations all around your mansion rental or decorate your hotel room to give it a festive atmosphere.
Attractions for the Adventurous to Celebrate a 50th Birthday in Las Vegas
High Roller
This gigantic 550-foot Ferris wheel is the second-tallest in the world! While watching the High Roller from afar, it doesn't even look like it moves because it is so big and slow. This observation wheel carries 28 HUGE enclosed pods that can hold up to 40 people. My favorite part- half of them have a built-in open bar inside. If you purchase those tickets, there is a Happy Hour with a full bar on the High Roller which includes free drinks for your 30-min ride!
We decided to check it out after we ate at Carmine's Italian Restaurant. We had our tickets already so we walked right up to the gate and waited in a short line.
PRO TIP: Buy your tickets online, beforehand, otherwise you will be waiting in a long line to buy your tickets, and then another line to board the High Roller.
The Ferris wheel never stopped moving! It moves at such a slow pace that all passengers are able to board while it is still turning. The doors sealed shut as soon as we rounded the corner to go up in the air. Up, up, and away!
The views were breathtaking... we were looking down upon the lit-up city of Las Vegas. Everything that once looked so enormous didn't seem as intimidatingly big. If you looked directly up or down, you could see the other pods on the Ferris wheel.  My favorite view from the High Roller was watching the Bellagio Fountain show from far away. Seeing the entire city at night was the most beautiful experience and if I ever get the chance, I will do it again!
---
Need more ideas for Adventurous things to do in Las Vegas?
Check out my Guide to Adventure on the Strip which has many more ideas for thrill rides & more for an adventurous Las Vegas vacation.
Book Adventurous Tours for a fun Las Vegas Trip!
---
Need a quick link to other helpful Las Vegas Guides :
Attractions for the Outdoor-Lover to Celebrate a 50th Birthday in Las Vegas
Is there really a place to enjoy the outdoors near Las Vegas? YES! There are several areas near Las Vegas that are natural attractions that should be on your itinerary. They are a great place to celebrate and relax while you enjoy what nature and the great outdoors have to offer.
---
Seven Magic Mountains:
Seven Magic Mountains is a large, free art installation located in Henderson, Nevada, and a short drive from the Las Vegas Strip.  It consists of seven towers of colorful, stacked boulders that are more than 30 feet high, shooting out of the barren desert.
It was created by internationally renowned Swiss artist Ugo Rondinone in 2016 for a two-year exhibit.  It has become so popular and loved, particularly by Instagrammers, that its exhibition has been extended!
Take note of the weather when you visit Seven Magic Mountains.  It was sunset when we stopped and the chill was blowing in, so we had the quickest photo session ever!  We were not able to enjoy the interpretive signage at the installation.
There is a small parking lot nearby that was almost full at sunset and NO restroom facilities at the artistic site.
---
Need more ideas to celebrate your birthday outdoors near Las Vegas while you enjoy the scenes and beauty of nature? Check out my post about all the Natural Attractions near Las Vegas.
Ideas like a National Park, a State Park, and a National Conservation Area are all included on my list!!!!
Foodies Celebrate a 50th Birthday in Las Vegas
No one goes hungry in Las Vegas. 
You will have a difficult time narrowing down all the choices of places to eat and mouthwatering dishes in Las Vegas!  The variety includes worldwide cuisine eateries, celebrity-chef-owned restaurants, adventurous and themed menus, dinner shows, and hidden entrances --- all from fine dining to casual.
Here are some great ideas for all the foodies for restaurants to celebrate and have your birthday dinner in Las Vegas.
---
Food Tours in Las Vegas
Let your guide take you to all the best places to eat on the Las Vegas strip. You will get to taste all the mouth-watering goodies that are available at these secret --and not-so-secret foodie gems in Las Vegas.
---
Buffets in Las Vegas
Las Vegas has long been known for its wide range of buffets with a plentiful variety of good food to choose from and a variety of venues to choose from.  If endless plates of food is your goal and you have limitless time to spend in the buffet line, then THIS might just be your thing.
That 'cheap' Las Vegas buffet is a thing of the past.  To save a little extra cash, try to hit them up at off-peak hours for a discounted rate. Here are some of the best buffets in Las Vegas: 
---
Restaurants in Las Vegas
There are a lot of different restaurants in Las Vegas and I can't possibly list them all here.  Your Las Vegas birthday dinner can be anything from fine dining, to a dinner show, to completely dark at Black Out Dining.  Decide on the atmosphere you are looking for at your Las Vegas birthday dinner and there will be a restaurant that will fit the bill.
I chose casual dining at popular eateries in the Las Vegas
Hells Kitchen
Blackout Dining
I did not try this one, but it is so unique that I had to include it on the list of Las Vegas restaurants for a birthday celebration.  How interesting would it be to have your entire meal completely in the dark?!!?!?  Let me know in the comments if this is your restaurant of choice and how you liked it.
Restaurant NEAR Las Vegas
Pioneer Saloon
One of the most unique places to eat in Las Vegas is a roadside attraction that is a short 30-minute drive to Goodsprings, Nevada. The Pioneer Saloon is the oldest bar in Southern Nevada and it has all the nostalgic feel and charm of the old wild west.
The décor is filled with the history of gunfights and card games in the original stamped tin walls and ceiling, the solid wood bar, the original pot-bellied iron stove, and the bullet holes to prove its history.
Pioneer Saloon originally opened in 1913 as the local gathering center in the mining town of Goodsprings, Nevada.  It is now a historic landmark, and still a favorite watering hole, known most notably for its Ghost Burger.
No reservation is needed. Make a stop here for lunch or dinner!
---
Dinner Shows in Las Vegas
Dinner and a show, couldn't be better! 
What's playing in Las Vegas now? Click the link below!
---
Snacks in Las Vegas
You are not going to be hungry after a meal in Las Vegas, BUT there are still so many opportunities for SNACKS in Las Vegas that you will just have to check some of them out for your birthday treat.
---
Speakeasies in Las Vegas
The new trendy hidden cocktail bars in Las Vegas are replicas of the nostalgic Prohibition-era speakeasies from the 1920s. They have hidden entrances via sliding bookcases, hidden staircases, or movable wall portraits! Some may even require a secret password for entry into their secret lounge.
Details of all the best speakeasies in Las Vegas are listed here, as well as tips on how to find them!
Don't want to uncover the hidden speakeasies on your own? Take one of these Speakeasy Tours and they will lead you right to these hidden Las Vegas gems!!
---
Late Night Las Vegas Activities for the Night Owls to Celebrate a 50th Birthday in Las Vegas
Minus 5 Ice Experience
When vacationing in the desert, the coolest place to be is an Ice Bar!  With three locations around the Las Vegas strip, the Minus 5 Ice Experience is a convenient place to cool off while enjoying a craft cocktail.
Everything in the Ice Bar is made of ice: the tables, the seats, the bar, the glasses!  The frosty environment was quite a unique experience.  I was bundled in a warm fur coat and hat that was a part of my Ice Bar package, so I was able to stay for about an hour before the chill got to me.  Gloves were also provided so that we were able to hold onto the ice glasses without getting frostbite on our fingers. 
PRO TIP: Make sure you wear socks to the Ice Bar, I saw a poor girl trying to put her mittens on her frozen toes!
We sipped our cocktails, admired the ice sculptures, enjoyed the multi-colored LED lights, and took a million photos.  At the end of our experience, we disposed of our ice glasses by demolishing them.  We had a competition for who would be the best at destroying their ice glass by spiking it into tiny bits.  Sadly, I lost!
Ice Bar Locations:
The Shoppes at Mandalay Bay Hotel & Casino
The Grand Canal Shops at Venetian
The LINQ Promenade
Watch our awesome ICE CUP SMASHING!!
---
Night Clubs
It wouldn't be the Entertainment Capital of the World without the exciting nightlife.  There are numerous bars with nightclubs that operate throughout the night featuring the top DJ's and fancy drinks.  The clubs are often multi-level dance floors that can accommodate thousands of party-goers that are interesting in having a wild night.
PRO TIP: For your birthday celebration in Las Vegas, make sure to get on the Guest List. 
We reserved our tickets to Hakkasam Night Club for free entry passes and one free drink using Guest List.  It was a breeze getting through the admission line and into the club where everyone was already hopping with the music and flashing lights.
Go Clubbing in Las Vegas!
---
Stratosphere Skypod
The best views of Las Vegas are from high above and it is even better at night when all the neon lights are glowing.  Go to the top of the Stratosphere to see all the dazzling lights from the Skypod.
---
More Late Night Experiences to make your Las Vegas trip special
Accommodations in Las Vegas
Flamingo Hotel and Casino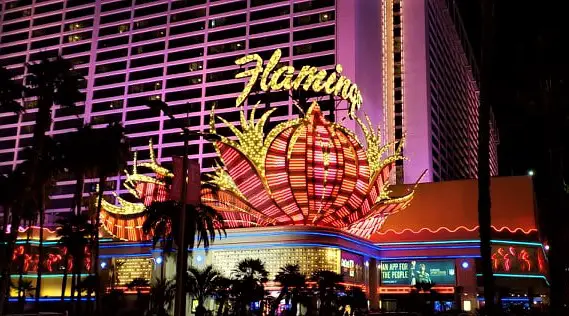 The neon lights of the Flamingo Hotel and Casino in Las Vegas and perfect if you are wondering where to stay in Las Vegas!
We stayed at this hotel in Las Vegas on the first night of my milestone birthday celebration. The Flamingo Hotel has the perfect location for a vacation in Las Vegas since it is right in the center of the strip. It is next to the Linq Promenade which we frequently visited! The Ice Bar, In and Out Burger, and lots of shopping were nearby.
Did you know they had FLAMINGOS at the Flamingo Hotel??

The Flamingo Wildlife habitat has its own population of flamingos and is an idyllic escape from the buzz of Las Vegas. Roam the peaceful and relaxing four-acre gardens, complete with meandering streams, waterfalls, exotic birds, turtles, and fish. With no cost to enter, the habitat is a fun and FREE experience!
---
Check out these HOT DEALS in Las Vegas!
---
Hang out in a Mansion to celebrate your 50th birthday in Las Vegas
The BEST idea that I had to celebrate my 50th birthday in Las Vegas was renting a mansion through VRBO for all of my family and friends to stay in.  This was WAY better than getting 8 hotel rooms because we could all gather in the living room to socialize, have breakfast at the bar at our leisure, and walk right out onto the patio to soak in the hot tub.
My hubby cooked a delicious birthday dinner of baked pasta and garlic bread in our huge mansion kitchen.  This was better than dining in the expensive Las Vegas restaurants because we could all sit together and talk without the extra noise and clatter of other diners.  Better yet, I could get seconds and thirds of pasta just by walking 10 steps to the counter!
How did we manage to stock the fridge for 3 breakfasts, ingredients to cook our 2 big dinners, and even get a birthday cake –resulting in a stress-free start to our vacation?  We used a grocery delivery service!  We pre-planned all our meals and had the groceries and cakes delivered!
Don't worry, we still ate out!  We did leave time to enjoy some Las Vegas food.  Continue reading just a little bit more for Las Vegas birthday ideas for the foodie!
---
Want to plan your own party to celebrate your 50th birthday in Las Vegas?
PIN THIS POST for later
---
KEEP READING: For more great ideas for birthday trips around the world, see my popular post!