DISCLOSURE: I may link to relevant products, companies or helpful info which may be affiliate links, meaning I may earn a small commission. As an Amazon Associate & other affiliates, I earn from qualifying purchases at no extra charge to you. The views & opinions are my own. Please see the disclaimer and privacy policy.
Last Updated on April 7, 2023
Attractions for an Adventurous Trip to Las Vegas
Attention all extreme adventurers! Are you looking for the best thrill rides in Vegas? There are plenty of adventurous things to do in Las Vegas, so here is the ultimate list of those that should definitely be on your itinerary. Vegas thrills come in all heights and speeds, but mostly high, fast, and FURIOUS!!
These aren't ordinary attractions that everyone does after a day of gambling at the casinos. These are for the brave risk-takers that are out for an exhilarating Las Vegas trip adventure! Keep reading for the top Las Vegas thrills to get your heart pounding and take your breath away!
Adventurous Things to do in Las Vegas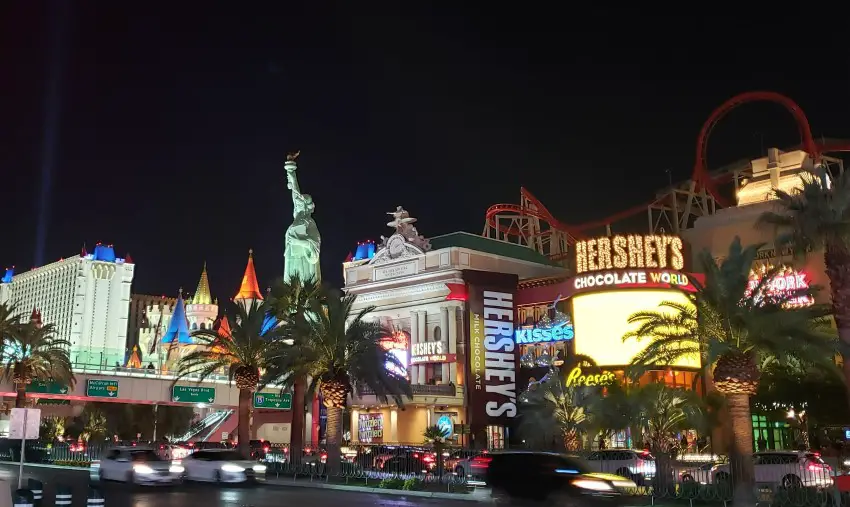 Click on the table of contents to JUMP right to the info for your favorite heart-stomping Las Vegas attraction!
Need a quick link to other helpful Las Vegas Guides :
High Roller: World's Largest Ferris Wheel (well, almost!)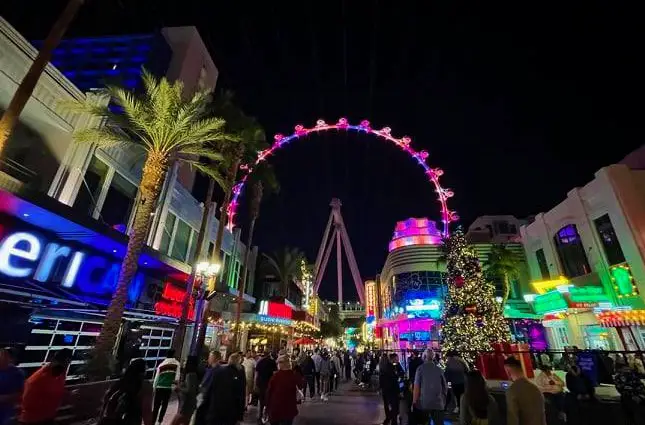 This gigantic 550-foot ferris wheel is the second-tallest in the world! While watching the High Roller from afar, it doesn't even look like it moves because it is so big and slow. This observation wheel carries 28 HUGE enclosed pods that can hold up to 40 people. My favorite part- half of them have a built-in open bar inside; drinks for your 30-min ride!
We decided to check it out after we ate at Carmine's Italian Restaurant. We had our tickets already so we walked right up to the gate and waited in a short line.
PRO TIP: Buy your High Roller tickets online, beforehand, otherwise you will be waiting in a long line to buy your tickets, and then another line to board the High Roller.
The ferris wheel never stopped moving! It moves at such a slow pace that all passengers are able to board while it is still turning. The doors sealed shut as soon as we rounded the corner to go up in the air. Up, up, and away!
The views were breathtaking… we were looking down upon the lit up city of Las Vegas. Everything that once looked so enormous didn't seem as intimidatingly big anymore. If you looked directly up or down, you could see the other pods on the ferris wheel.  My favorite view from the High Roller was watching the Bellagio Fountain show from far away. Seeing the entire city at night was the most beautiful experience and if I ever get the chance, I will do it again!
Zip Lining in Las Vegas
Fly Linq Zipline
3545 S Las Vegas Blvd, Las Vegas, NV 89109 MAP
The Fly Linq zipline is located on the Linq promenade in the center of the Las Vegas strip.  It is easy to get to from anywhere on the strip, so it will be a great addition to your adventures in Las Vegas.
It is the highest zip line on the strip.  Well, it is actually the ONLY zip on the strip, but is unique because the 10 ziplines go directly over the Linq promenade.  It starts at the top of the Linq Hotel and zips you at a speed of 35 mph toward the High Roller Ferris wheel.
It is also fun for the bystanders below on the promenade to watch the zip lines whizz past.  I am sure that it brings many challenges as they dare each other to be the next zip line passenger!
Quick Fly Linq Zipline info
Tickets & Pricing:  tickets start at $54 – SKIP THE LINE HERE
Hours: 2pm – 10pm everyday
Location: Linq Promenade (3545 S Las Vegas Blvd, Las Vegas, NV 89109) MAP
Fly LINQ Zipline at The LINQ, Las Vegas
Try the newest adrenaline-fueled attraction in Las Vegas by soaring down the Fly LINQ zipline. Take in the views from 12 stories above the LINQ promenade on a zipline that begins near Las Vegas Boulevard and ends at the High Roller. Position yourself in a seated position then enjoy the ride with oth…
Slotzilla Zipline
25 E Fremont St #160, Las Vegas, NV 89101 MAP
This zipline, which is made to look like a giant slot machine, is a little bit faster than the Fly Linq zipline.  SlotZilla is located on Fremont Street in Downtown Las Vegas and not on the Las Vegas strip.  If you are staying on the strip, you will need to arrange transportation to get to Fremont street.
There are two options, the zip line and the zoom line.  On the Zip-Zilla Zipline riders are in a seated position 77 feet high under the Fremont Street canopy.  These ziplines go halfway down the Fremont Street Experience (850 feet).   
On the Super-Hero Zoomline, guests ride "superhero-style" all the way down the Fremont Street Experience canopy (1,700 feet) and 114 feet off the ground.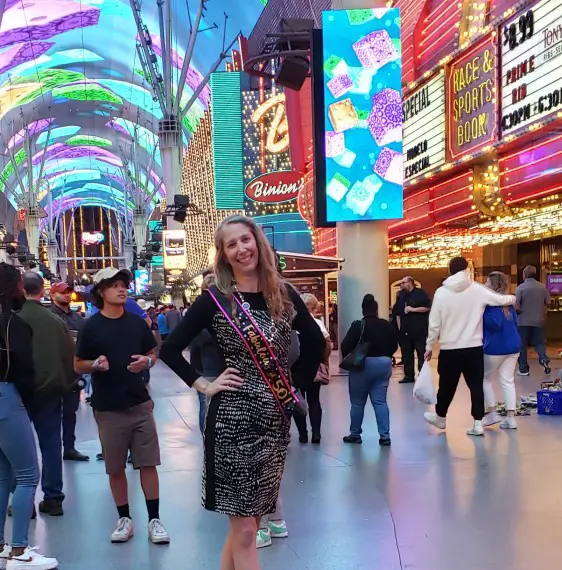 PRO TIP: Fremont Street has a canopy over the top and has an illuminated sound & light show every hour from 6pm – 2am.  It is considered to be the largest single digital display in the world with music from well-known artists for their nightly Viva Vision Lightshow lineup. Do some ziplining under the canopy while hundreds of onlookers stand below, waiting for the canopy show to begin!!
Quick Slotzilla Zipline info
Tickets & Pricing:  tickets start at $35 – BUY TICKETS HERE
Hours: 2pm – 10pm everyday
Location: Linq Promenade (3545 S Las Vegas Blvd, Las Vegas, NV 89109) MAP
Activities at the Stratosphere Hotel & Casino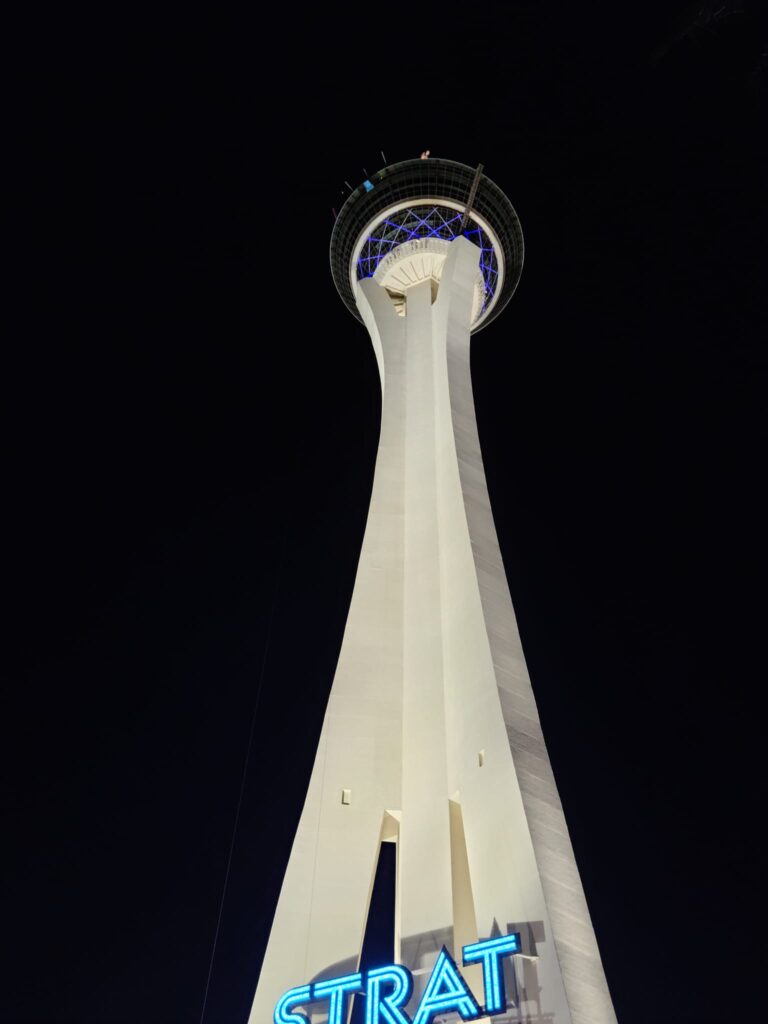 The Stratosphere Casino is the prime spot for adventurous activities on the Las Vegas Strip.  Face your fears on some of the most extreme rides in Las Vegas.  The best thrill rides in Las Vegas are located at the top of the Stratosphere Tower and dangling over the edge!
Oh, and don't forget, you get one of the best views of the Las Vegas strip while you are up there in the Skypod, the highest free-standing observation tower in the United States, waiting to experience all the thrill rides in Las Vegas!
How many rides does the Stratosphere have?
FOUR different exciting activities and the best thrill rides in Vegas!  There is a mini theme park at the top of this observation tower!
---
Get your tickets now for all of these ADVENTUROUS activities at the Stratosphere!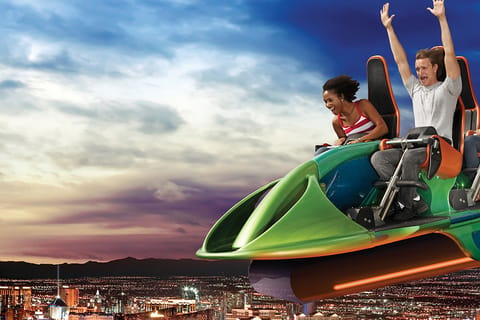 The BEST Las Vegas Tours and Things to Do in 2023 – FREE Cancellation | GetYourGuide
Find Top-rated Things to Do in Las Vegas. BEST Tours and Activities in 2023. FREE Cancellation Policy and 24/7 Customer Service to Help You if Your Plans Change.
Big Shot
Big Shot was the first thrill ride operating at the Stratosphere and it is still a favorite with the adventure-seekers on the Las Vegas Strip!  Big Shot is the 2nd highest thrill ride in the world.
In case you were wondering….  The Highest Thrill Ride in the World is:  Sky Drop atop the Canton Tower in Guangzhou in China
Is there a nice view up there?  Probably, but many times, your eyes may be shut!!  Get your fill of beautiful views of the strip while you are safe on the Skypod viewing platform.
Big Shot takes riders, with their feet dangling in the air, to a height of 160 feet and a top speed of 45 mph.  It then turns around and drops them down to feel the incredible g-forces as they plummet back …..and then are blasted into the air again.
Insanity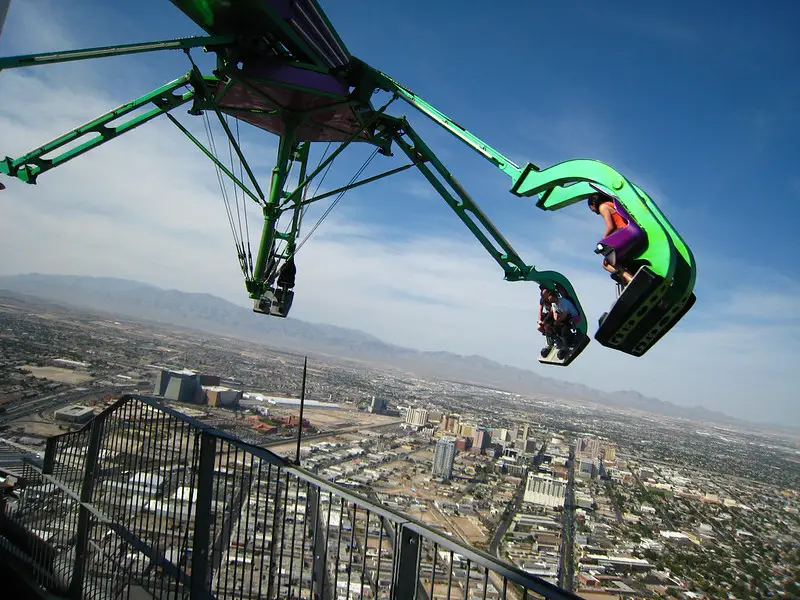 Insanity is like an insane roller coaster at the top of the world's tallest observation tower!  Riders are dangled 64 feet from the edge of the building and whirled at incredible speeds, all while tilted at a 70-degree angle and experiencing powerful g-forces.  It totally seems likely that you will spill out and onto the Las Vegas Boulevard WAY DOWN below.
X Scream
X Scream takes the award for the 4th highest thrill ride in the world.  It has been compared to a teeter-totter on steroids!  This thrill ride ventures off of the Stratosphere Tower and dangles the riders straight toward the ground.  It is not exactly the best view of the Las Vegas strip when your face is looking straight toward the flat pavement from 866 feet above!
SkyJump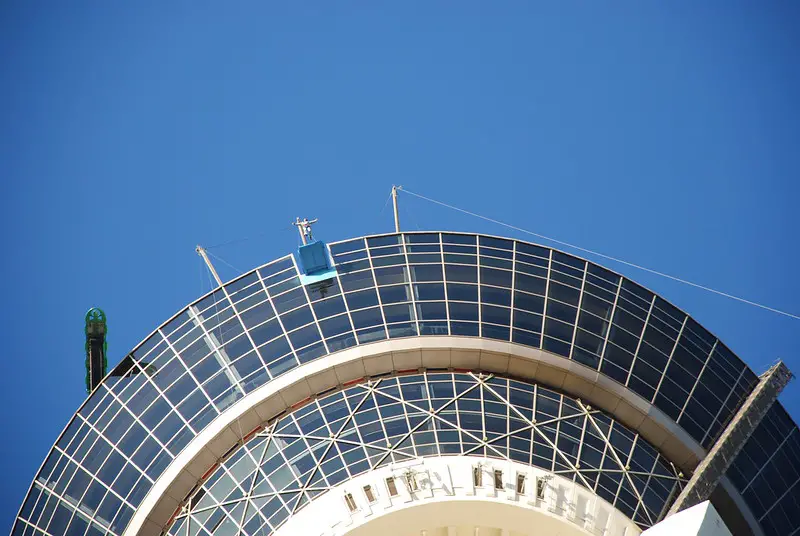 Leap off of the observation deck of the Stratosphere Hotel and Casino on the highest commercial decelerator descent facility in the world.  This bungee jump is a free fall from 855 feet high above toward the landing pad below at speeds of 40 – 50 mph.
Quick Stratosphere Thrill Rides info
Tickets & Pricing:  tickets start at $30 with many options – BUY TICKETS HERE
Hours: 2pm – 10pm everyday
Location: Stratosphere Hotel & Casino, levels 108, 109 and 112 (2000 Las Vegas Blvd.S, Las Vegas) MAP
Atomic Golf – coming soon
Not necessarily an extreme adventure, but definitely fun! 
Atomic Golf is opening soon at the Stratosphere in Las Vegas.  It will have immersive, technology-enhanced golf games and entertainment. 
This is going to be huge! 
If you love golf, mark this one on your Las Vegas itinerary!
Big Apple Roller Coaster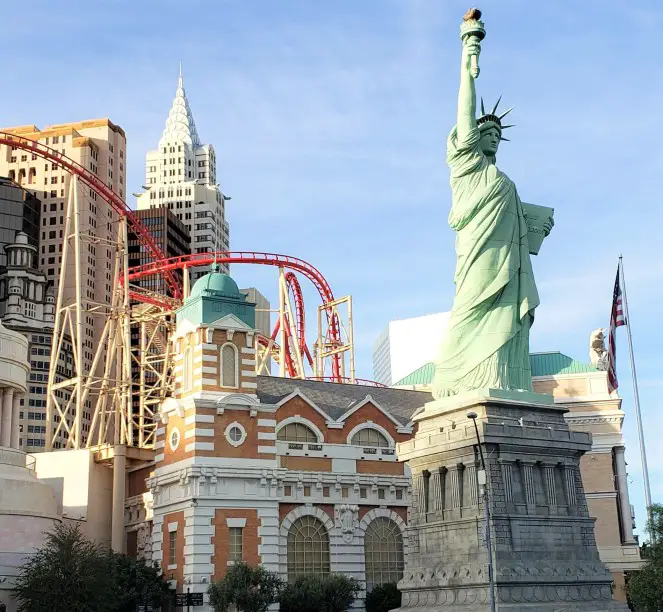 This Las Vegas thrill ride is at the New York-New York Hotel and Casino.  This ride will get your adrenaline going and your heart pumping with speeds up to 67 mph. 
They claim to be the first coaster in the world to have a 180-degree 'heartline' twist and dive with a 203-foot drop.  It is perhaps the most iconic ride on the strip.  As it weaves itself near the Statue of Liberty and around the skyscraper façade of the New York Hotel it is sure to add some excitement to your adventurous vacation in Las Vegas.
Find your way directly to the Big Apple Coaster with this handy map of the New York-New York Hotel.
Quick Big Apple Coaster info
Tickets & Pricing:  tickets start at $19 for daytime ride – BUY TICKETS HERE
Hours: 11am– 11pm weekly and 11am – 12am weekends
Location: New York-New York Hotel & Casino (3790 Las Vegas Blvd.S, Las Vegas) MAP
Bullets and Burgers
Racing and Shooting and Eating! The perfect trifecta!
How much more adventurous can you get?  This Las Vegas activity isn't on the strip, but they offer hotel pickup.  That makes it SO EASY! 
They drive their guests to their compound in the Mojave Desert to begin the off-road racing adventure.  Choose from a Pro Race Truck, a Pro Dune Buggy or a Razor for your wild adventure to go racing around the 1-mile track.
After that, the excitement continues as you choose your weapon and fire it off at the outdoor shooting race.
Finish off your adventure with a tasty American burger and fries to tame your appetite.
Outdoor Shooting and Off-Road Racing Combo
Have a wild adventure in Las Vegas with an outdoor shooting and off-road racing combo. First race around the 1 mile track and choose from a Pro Race Truck, Pro Dune Buggy, or Razor. Then go to the shooting range, and choose from a variety of weapons. After this, you'll be treated to a burger, fries,…
Shark Tank Slide
Golden Nugget Hotel and Casino: 129 East Fremont St, Las Vegas MAP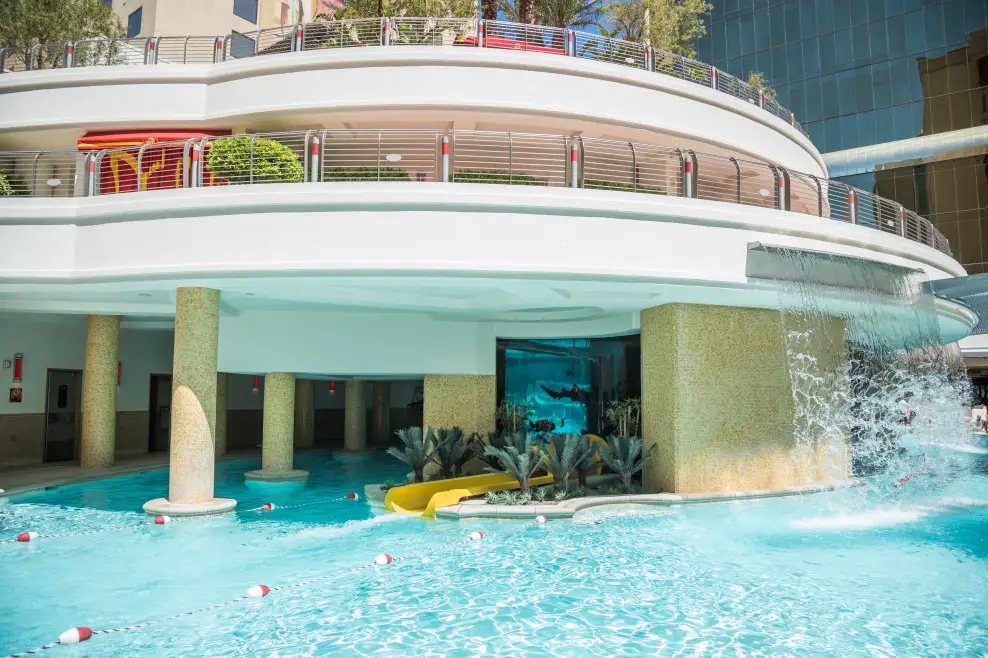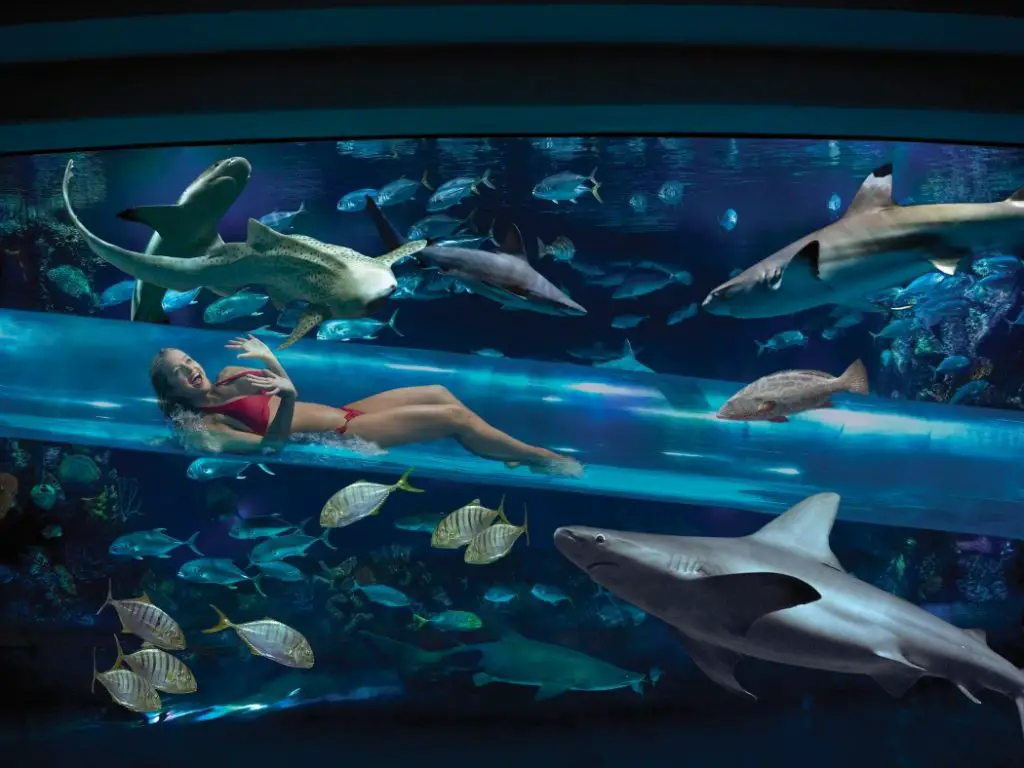 Experience the Golden Nugget's $30 million award-winning pool, complete with a 30-foot waterslide through a clear shark tank.  Sharks will be swimming all around you in a 200,000-gallon tank with only a clear plastic tube as a partition until you spill out at the bottom of the long slide.
Guests can get a day pass to use the pool and try out the slide even if not staying at the Golden Nugget. Be brave and swim up close to those sharks!
Need more ideas for an adventure in Las Vegas
---
Book your tickets now to reserve your spot on the most adventurous rides in Las Vegas. These are thrills that you won't want to miss out on during your Las Vegas vacation. They aren't for the faint of heart, so start getting your guts together.
Have you done any of these adventurous things to do in Las Vegas? Which one was your favorite? Tell me in the comments how you rate them.
Did I miss a great Las Vegas thrill ride? Let me know!
Like this post? Pin it for later