DISCLOSURE: I may link to relevant products, companies or helpful info which may be affiliate links, meaning I may earn a small commission. As an Amazon Associate & other affiliates, I earn from qualifying purchases at no extra charge to you. The views & opinions are my own. Please see the disclaimer and privacy policy.
Last Updated on March 16, 2023
Are you looking for Free things to do in Vegas and cheap Las Vegas activities?
You have come to the right place!
There are a lot of free things to do in Las Vegas this is the ultimate list of all of them! Make this Guide to Las Vegas your handy reference!
With that said, you can still plan your first trip to Las Vegas without breaking your bank and emptying your wallet if you plan ahead.
Follow along for all the best Free things to do in Las Vegas!
---
---
Fun and Free things to do in Las Vegas
Use this Table of Contents to skip to the most important free attractions in Vegas!
Need a quick link to other helpful Las Vegas Guides:
What is FREE in Las Vegas?
Free Trams on the Vegas Strip
The number 1 free thing in Las Vegas is the FREE TRAMS!! This will save your feet!!!
The tram system is different from the official Las Vegas monorail.  There are 3 trams that operate between Mandalay Bay and Treasure Island.  These can help your weary feet if you plan your itinerary around making good use of them. We were able to take the tram from Mandalay Bay to Excalibur after our afternoon at the Las Vegas speakeasy, 1920 Prohibition Bar, so we saved many, many steps!
Use this handy map to navigate the trams and monorails in Las Vegas.
Using the Free Las Vegas Tram System to Get Around – Le Chic Geek
How to travel around the Las Vegas Tram system The monorail system in Las Vegas is expensive and rea
Taking the trams and monorails is one of the best tips for going to Vegas for the first time and preserving your energy!
---
If this is your first trip to Las Vegas, find more Tips for Las Vegas for First Timers in my handy informational guide!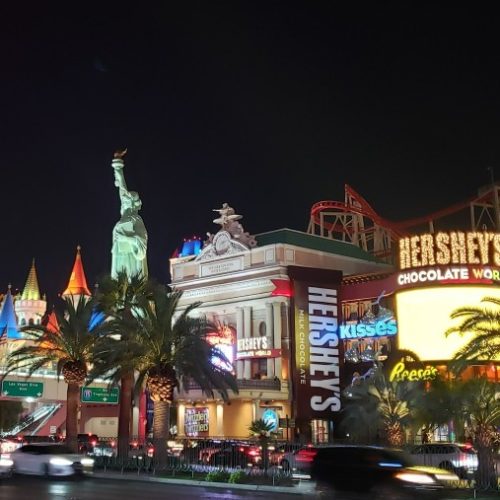 Las Vegas Tips for First Timers: Plan Ahead for a Stress-free Vacation
First trip to Vegas? Looking for Las Vegas tips for first timers? Get these Vegas planning tips before you go. Make this Guide for First-Timers to Las Vegas your handy reference!
---
WHAT TO DO IN LAS VEGAS: Are there any free things to do in Las Vegas?
Why not start with a whole list of interesting things to do that won't cost you a nickel? Just think of all those extra coins you can plunk into the slot machines instead.
FREE THINGS TO DO IN LAS VEGAS
Las Vegas Sign (s)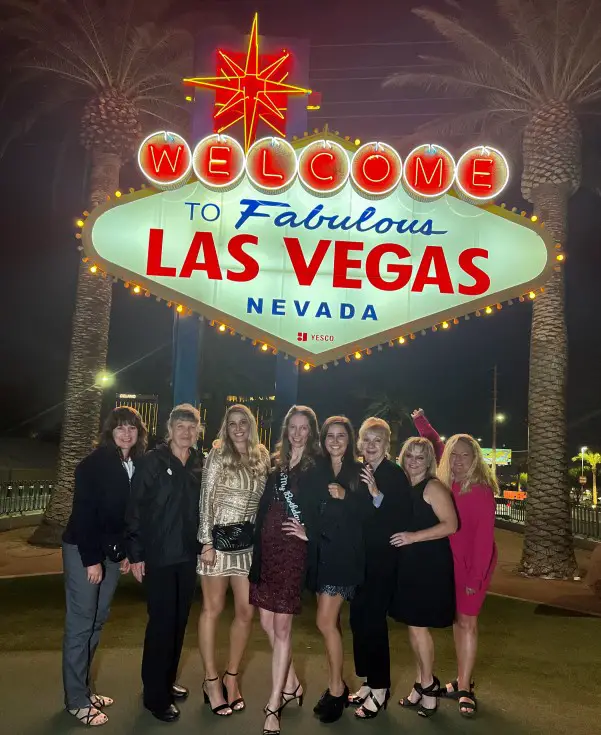 The Las Vegas Sign is definitely a must-do on your trip to Vegas.  There are actually MANY Las Vegas signs all around the strip, but there is only ONE iconic Welcome to Fabulous Las Vegas Sign.
See how many other Las Vegas Signs you can photograph during your trip to Las Vegas!!
The super-large original sign is found in the middle of Las Vegas Boulevard South with ample parking in the middle of the strip.
The huge 25-foot-tall sign is one of the most popular free attractions in Las Vegas and usually has a long line for photos.  Don't worry, the line tends to move fast. I took our group photo here during my 50th birthday party trip to Las Vegas. Everyone was patient and excited about their photos while we were in line.
Las Vegas Casinos – DIY Free walking tour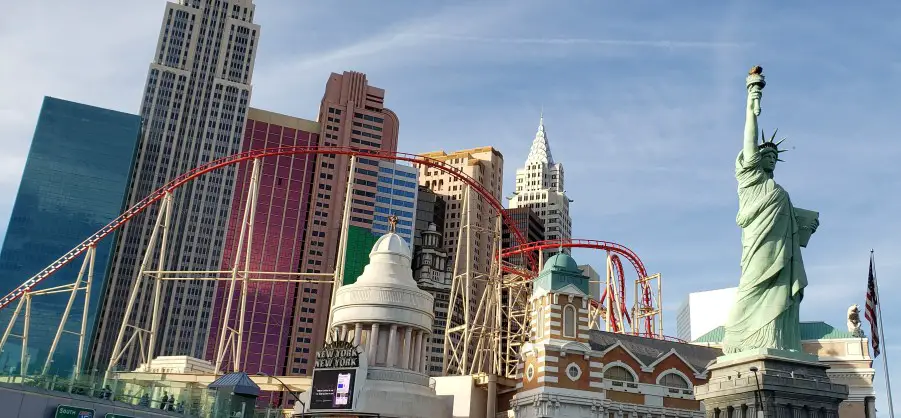 Each Las Vegas strip casino and hotel is filled FREE THINGS TO DO as well as stunning and often unusual architecture.  The designs range from the Italian Renaissance to glitzy-over-the-top displays.  There are floral arrangements, waterfalls and fountains, Instagram-worthy signs, and colorful backdrops —and all FREE TO VIEW!
Arrange your own walking tour of the Las Vegas casinos and be mesmerized at each stunning lobby and all the displays of grandeur both inside and outside at each location.  If you do this on your own and map your own walking route, you can have a FREE WALKING TOUR OF THE VEGAS STRIP!!
The theming of each casino is carried out to extremity, perhaps you will wonder if indeed you are wandering through the quaint Parisian streets or meandering through Venetian alleys next to the singing gondoliers!
Follow the tips below to see what the FREE attractions at each Las Vegas hotel are.
Don't want to plan it yourself? Seek help from these walking tours of Las Vegas.
Free things to do at the Las Vegas Casinos
Here is a handy list of some free things to do in vegas at each of the hotels and casinos:
PRO TIP: Take advantage of Free Drinks!  If you stay and play: Lots of casinos will offer free drinks to those that are gambling.  Enjoy them, but make sure to tip so that they come back with more!
---
---
---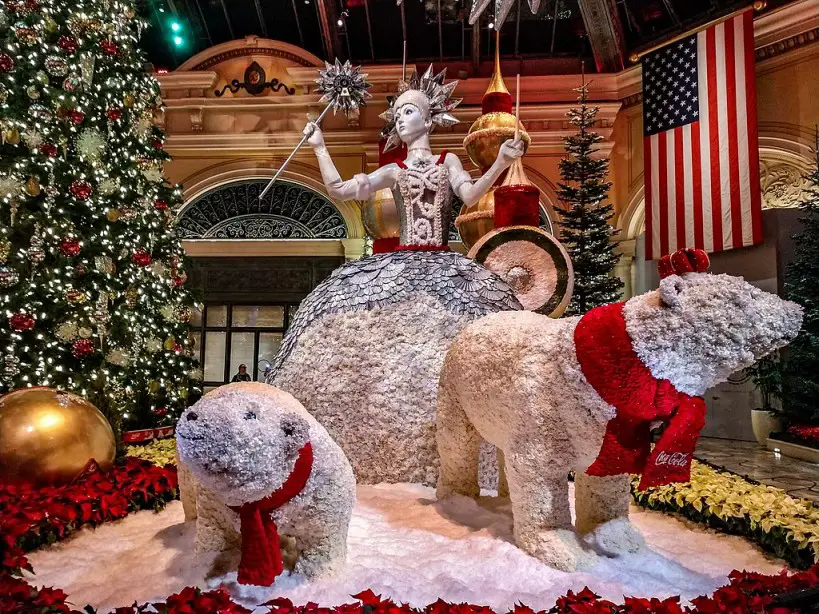 Bellagio has many free attractions to see in Vegas.  These two ideas are some of the best free Las Vegas activities and should definitely not be missed!
Fountains Of Bellagio
They never get old; different songs, different 'choreography', the same beauty. A must-see, stunning array of water, lights, music, and pure creativity. They are fun to see during the day, but at night they are even better with the added bonus of choreographed lights.
When are the Fountains Shows at Bellagio?
These 3 – 5 minute free shows in Las Vegas are every half-hour  Monday – Friday from 3 PM to 8 PM and also every fifteen minutes from 8 PM until midnight. On weekends and holidays, the Bellagio Fountain shows run every half-hour beginning at noon and every fifteen minutes from 8 PM until midnight.
PRO TIP: Find a good spot anywhere around the man-made Bellagio Lake, but be sure to come at least 10 minutes early if you want a spot at the front. The fountains shoot up so high that even if you don't make the front row, you will still have a good view.
---
Bellagio Conservatory and Botanical Gardens
While you are visiting the fountains don't miss the gorgeous indoor gardens. With new themes and floral arrangements for each season, there is always a surprise awaiting you. Breathtaking photo opportunities abound.
PRO TIP: Make sure to look at the Botanical Garden schedule. They rotate their displays, so you want to make sure you don't end up visiting while they are changing the floral decoration as we did. We visited during a DARK DATE! There were still displays for us to see, but it wasn't as stunning as when it is in full bloom with the whole lobby decorated for the season.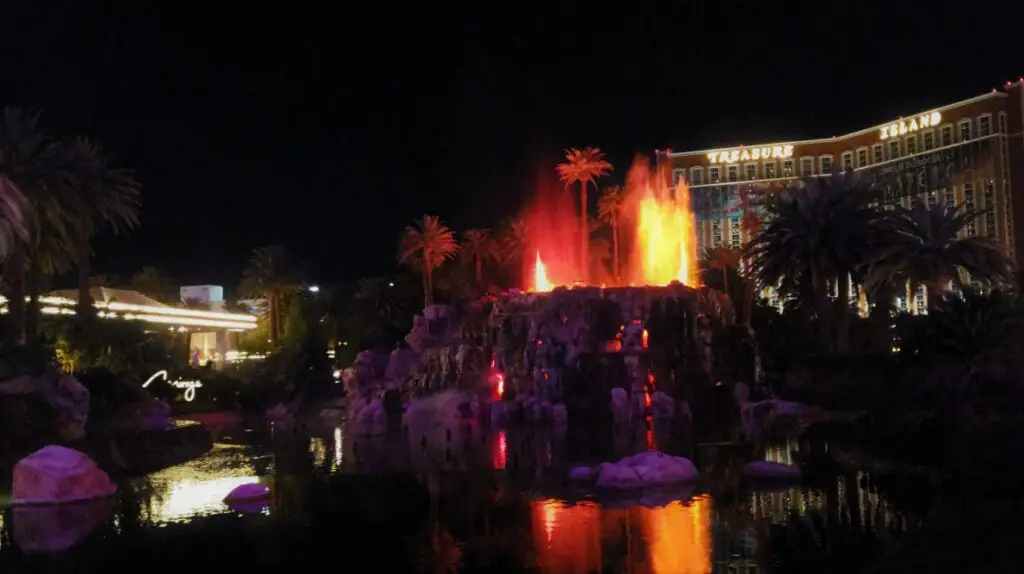 Mirage Volcano Eruption
Hands down, one of the best free Las Vegas show! The thunderous eruption of volcanic lava is displayed with 150 jets of fire, red smoke, and accompanying lights. 
The volcano erupts in front of the Mirage Resort every hour beginning at 7 pm in an incredible EXPLOSIVE free show.  Be sure to get there early like we did so that you can get a nice unobstructed view.  We arrived 20 minutes early to get the front row at the railing in front of the volcano.
The exciting show is choreographed to an original rhythmic composition by the Grateful Dead's Mickey Hart and Indian composer Zakir Hussain.  The music has a tribal vibe that is heavy on the drums giving an exotic air to the whole presentation.
The Mirage volcano is a must-see show in Las Vegas.  You definitely need to witness this 120 feet high powerful eruption that entertains the crowd for over 4 ½ minutes of fireballs and powerful music.
PRO TIP: Don't miss the Mirage lobby! There are picturesque displays and gardens there too–all FREE TO VIEW!!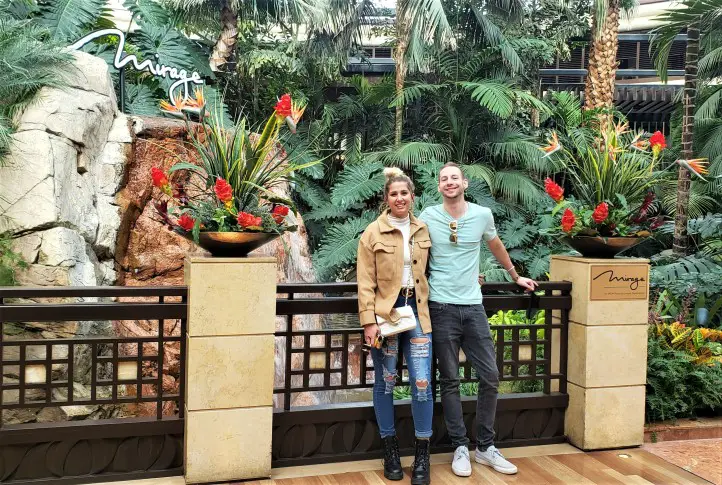 Circus Circus Hotel and Casino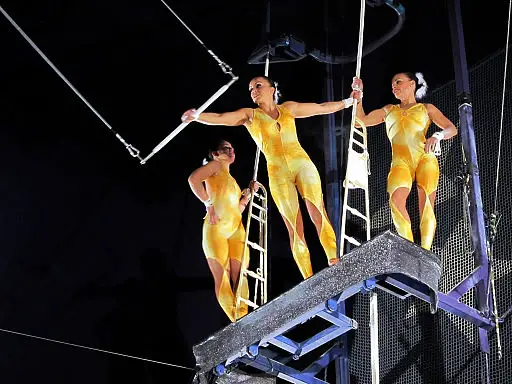 Circus Performance Acts
Children and adults alike will be amazed by the dazzling feats of acrobatics and other oddities on display in the Circus Circus Hotel.
Want to see more circus acts & experience the Circus Circus rides? Get a Ticket to the park.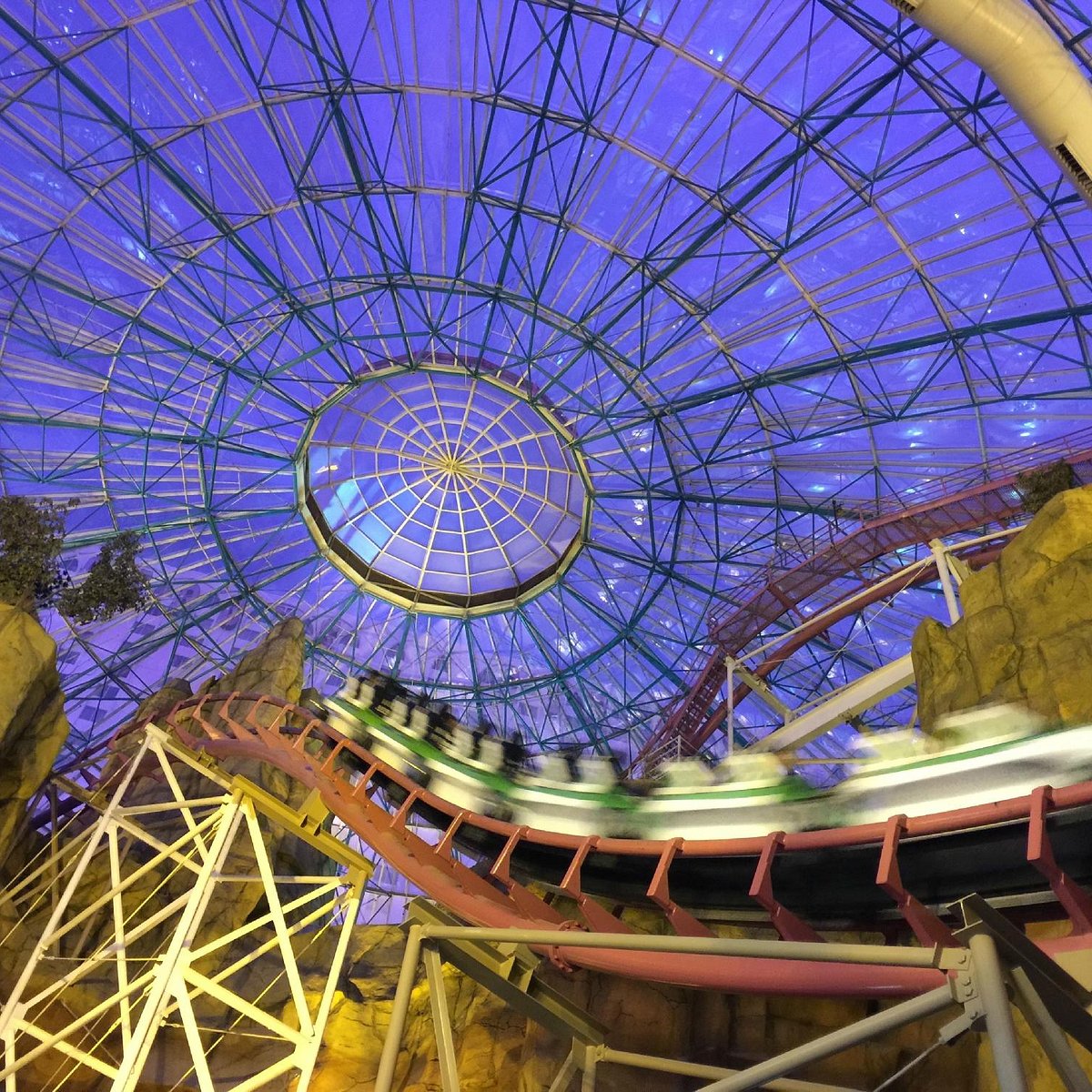 Circus Circus Adventuredome Theme Park (Las Vegas) – All You Need to Know BEFORE You Go
Circus Circus Adventuredome Theme Park3.5AboutLocated at the Circus Circus Resort, the Adventure Dome is a five acre indoor Adventure/Amusement Park for adults and children. There are rides and attractions including, Canyon Blaster, the world's only indoor double-loop, double-corkscrew roller coaste…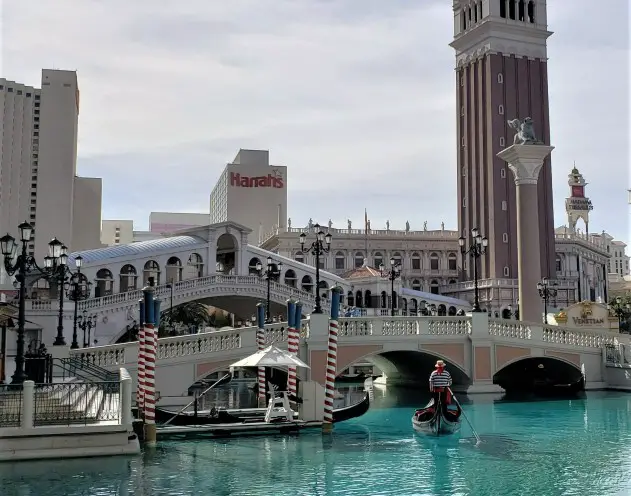 Grand Canal Shoppes at the Venetian
Arguably the most beautiful hotel in Las Vegas, inside and out. Stroll through the magnificent shops while enjoying various performances, including the real Gondola rides floating right past you! The gondola rides are not free, but it is certainly free to stroll through the Venetian piazzas, wandering through streets and enjoying the atmosphere.
Caesar's Palace Hotel and Casino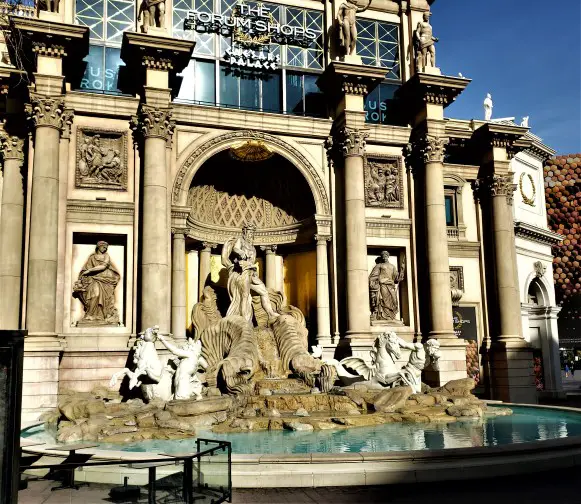 Caesar's Palace Forum Shops
Yes, it is a mall. But it is an adventure also! Spend a couple of hours window shopping in over 160 of the most unique windows you've ever seen, almost like you are walking the streets of ancient Rome as you look at your surroundings. It is referred to as the ultimate combination of luxury retail, an excellent location, and entertaining surroundings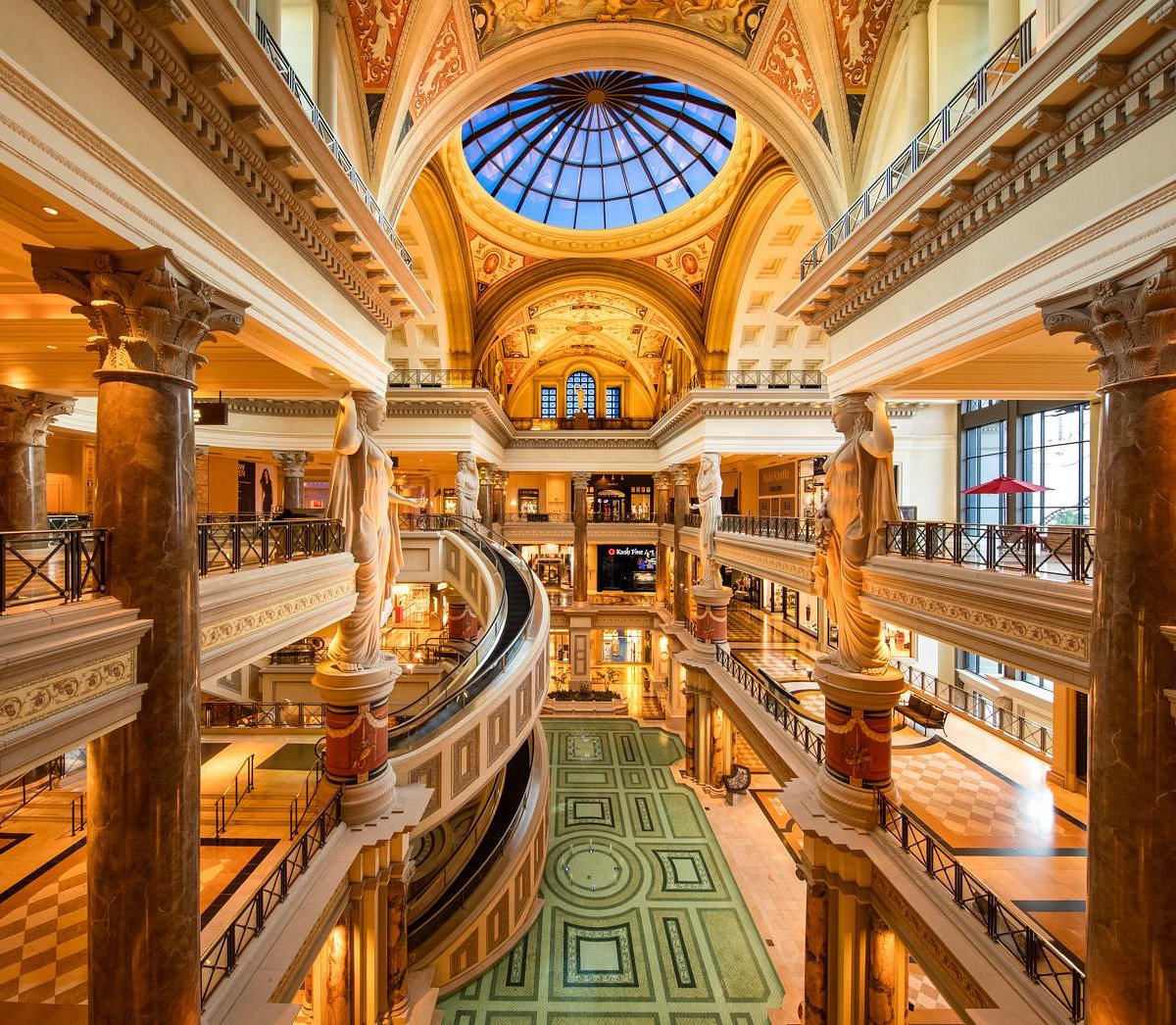 Forum Shops at Caesars Palace (Las Vegas) – All You Need to Know BEFORE You Go
Forum Shops at Caesars Palace4.5AboutThis Roman-themed shopping area features more than 160 upscale shops, including Fendi, Gucci, Dior, Versace, Chanel, and Cartier, plus art galleries and renowned restaurants like Spago and the Palm.Suggested duration< 1 hourTours & experiencesExplore different wa…
---
Rome Replicas
If you haven't made it to Florence, Italy to see the real thing, this 18-foot full-size marble reproduction of Michelangelo's David is a good substitute until you make it there.  It is located at the Appian Way Shops inside Caesars Palace near the Gordon Ramsay Place.
The replica of the famous Trevi Fountain from Rome is located outside the Palace Shopping Center.  Try your luck and test the superstition by throwing a coin into THIS Trevi Fountain to see if you will make a return visit.
---
Cleopatra's Barge
This is actually a lounge at Caesar's Palace.  It is a classic old-time Vegas theme with a centerpiece of an old floating barge like the one that royalty used to float down the Nile River during Caesars' time.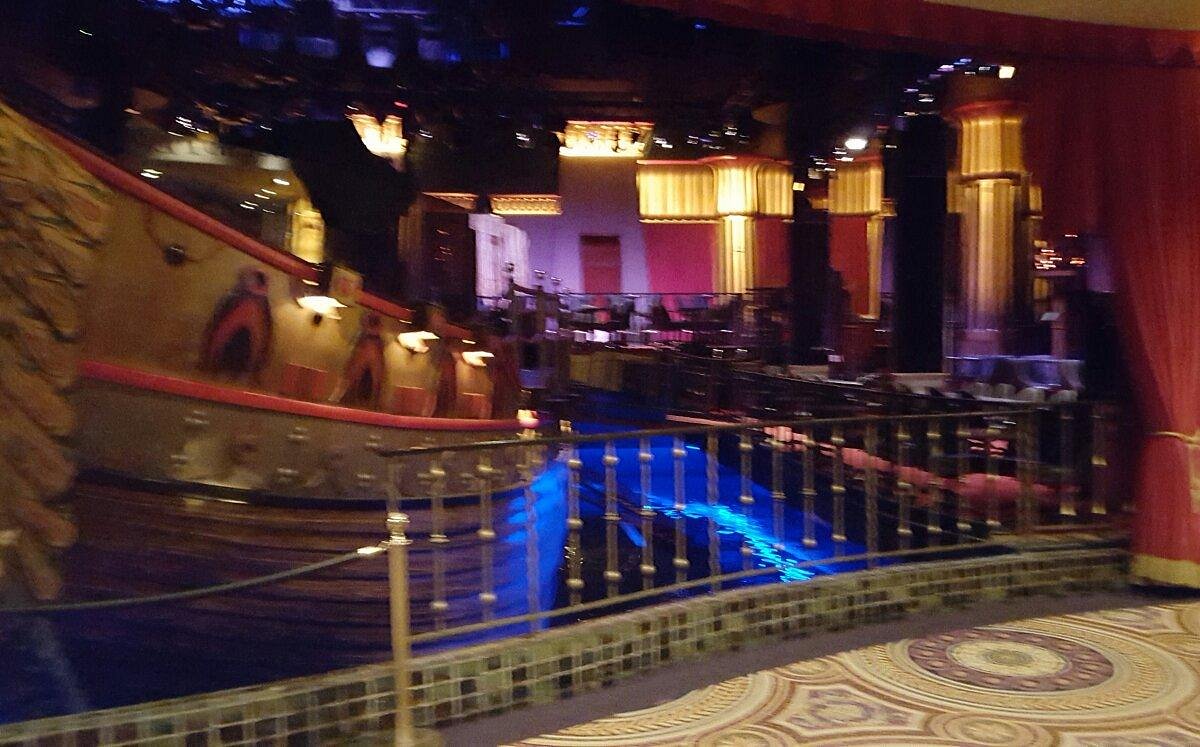 Cleopatra's Barge (Las Vegas) – All You Need to Know BEFORE You Go
Bars & Clubs • Dance Clubs & DiscosAboutA popular lounge in the Caesars Palace hotel, the main attraction is the floating dance floor. A barge that sits in water, where it's lightly rocked by hydraulics. An elaborate re-creation of the Eygptian times.Top ways to experience nearby attractionsThe area…
---
Atlantis Aquarium
In the Great Hall of the forum shops, there is a 50,000-gallon saltwater aquarium full of sharks, puffer fish, stingrays and many other tropical fish swimming by.  There is a diver that feeds everything in the aquarium along with a question and answer session at 1:15 and 5:15 p.m. daily
---
Fall of Atlantis Animatronic Show
The myth of Atlantis is told every hour with special effects, dancing water, lasers, fire, and animatronic statues that come to life.  This 7-minute show is one of the most popular free shows in Las Vegas.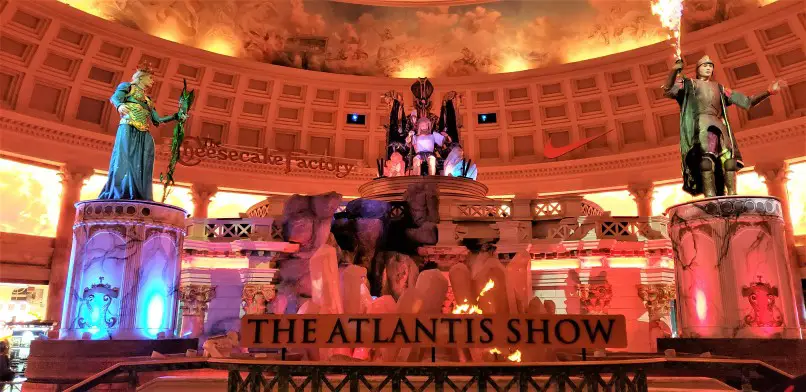 Wynn Hotel Floral Lobby and Merry-Go-Round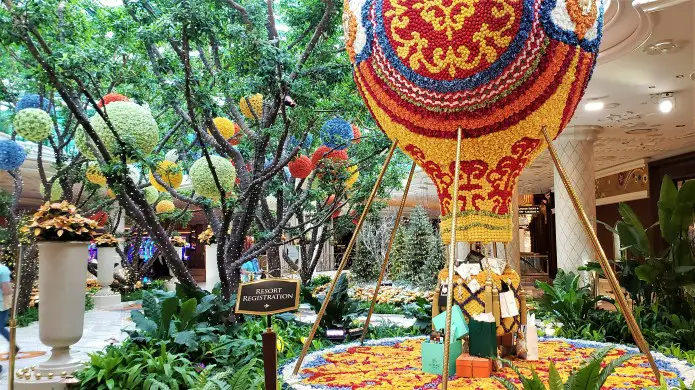 The floral merry-go-round is the centerpiece of the gardens in the Wynn lobby.  It is absolutely beautiful and a must-see free attraction in Vegas.  Stroll down the middle of the display surrounded by twinkling lights and floral hot air balloons.  We enjoyed looking at the colorful parasols …..even the artistic lights impressed us. 
---
Lake of Dreams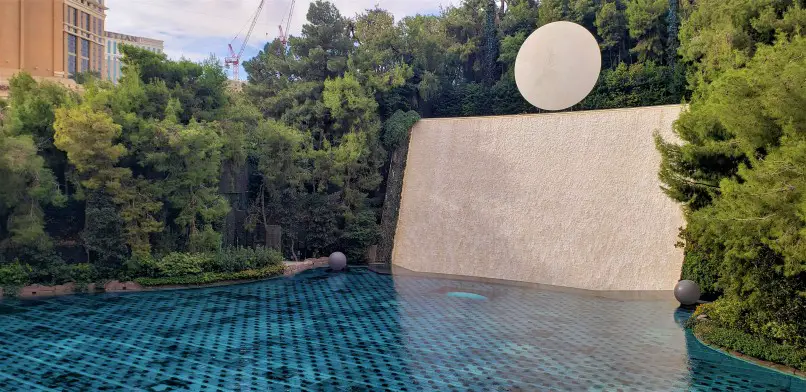 Outside the Wynn, we found the 3-acre Lake of Dreams, which offers one of the best free shows in Las Vegas. This FREE show is every half hour after dusk.  Come early to get a good view of the multi-media experience that combines a state-of-the-art sound and light show with colorful puppetry!
PRO TIP: Add a dinner reservation at the Lake of Dreams on the patio of Lakeside or SW Steakhouse during show time for the best view of the show.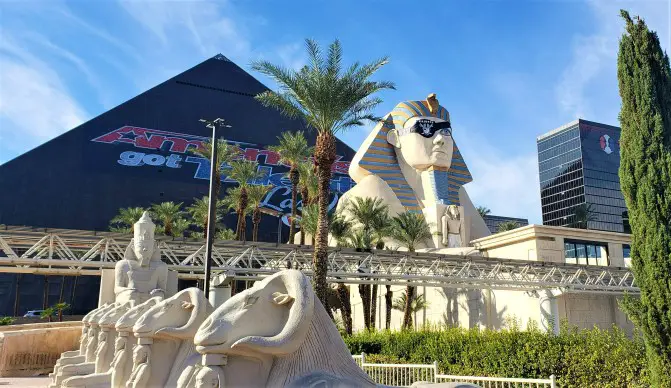 Ancient Egypt comes to the streets of Las Vegas at the Luxor Hotel and Casino. You can see THIS pyramid for free in Las Vegas, unlike the real ones. There is also a large sphinx and many other smaller statues that are perfect Instagram-worthy photos just waiting for your attention.
At night the Luxor Hotel shines a beam straight into the sky. It is said that this beam is so bright that you can see it from space. I haven't been to space yet, so I cannot declare if it is true or not.
Eiffel Tower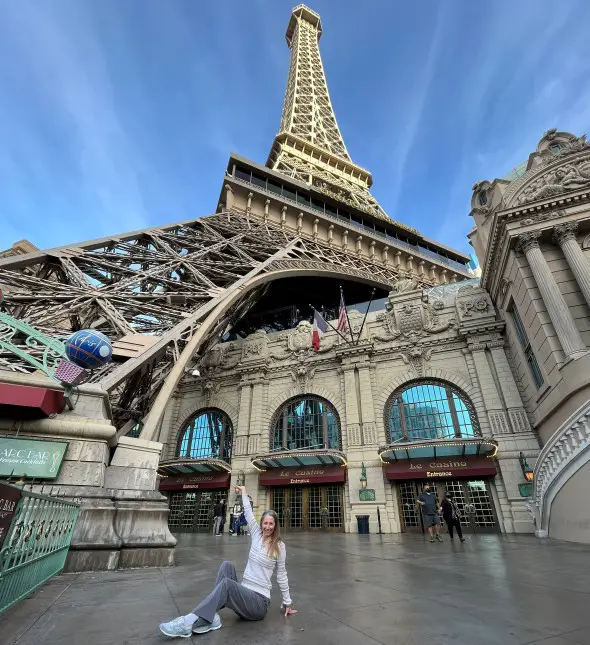 While it is not free to ride to the top of the Eiffel Tower or dine at the Eiffel Tower Las Vegas restaurant, it is certainly free to see it! You can travel to Las Vegas to see this famous Paris iconic structure and pretend you are wandering through the quaint Parisian streets.
---
Eiffel Tower Light Show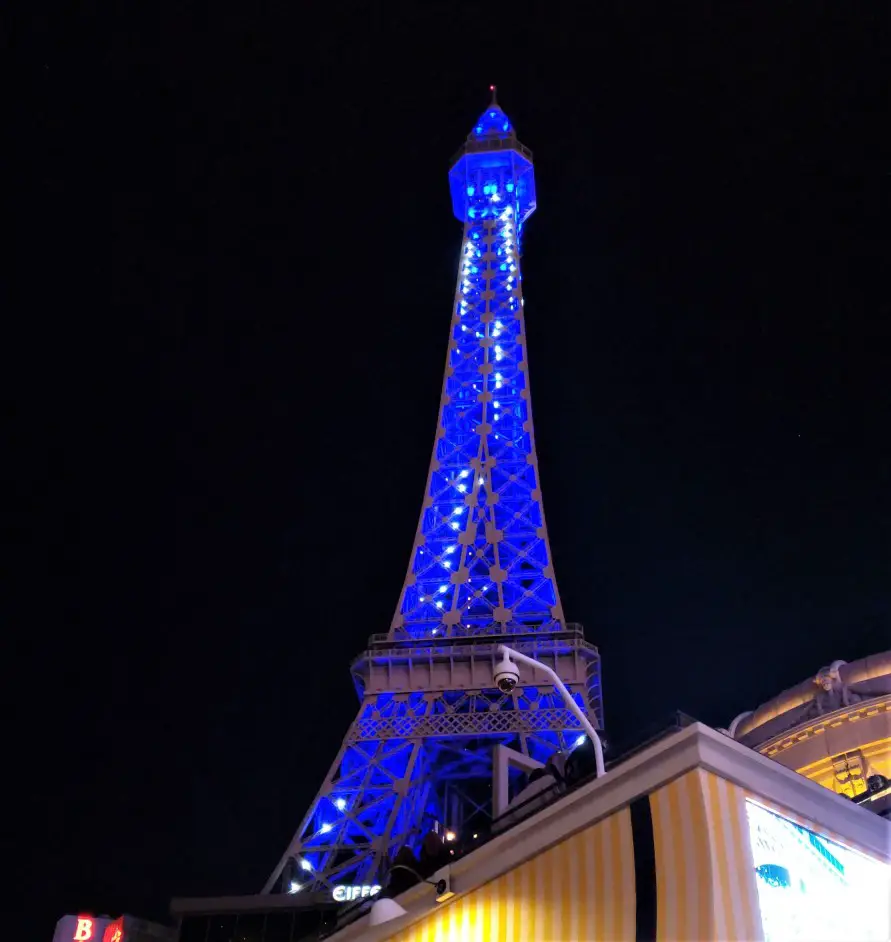 Another one of the best free shows in Las Vegas is the Eiffel Tower light show. The colorful light show runs every night from sunset to midnight with flashing and twinkling lights.
PRO TIP: Time it right and stand in front of the Bellagio Fountains so that you can watch the Bellegio Fountain show and then turn around and watch the light show on the Eiffel Tower. It is the end to the perfect night on the Las Vegas strip.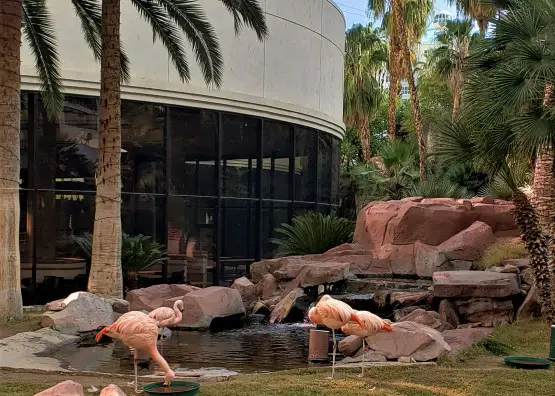 Flamingo Animal Exhibits
Outside the Flamingo Hotel in their courtyard, there are several animal exhibits to enjoy. Some of the furry (and not so furry) creatures you may encounter include penguins, turtles, and flamingos, of course!
Downtown Las Vegas Fremont Street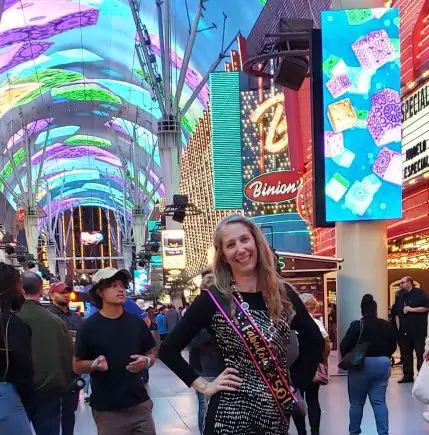 Fremont Street Experience
Filled with various street vendors performing their arts and crafts along with other special events, there is always something interesting to watch in Downtown Las Vegas. The liveliest time to go is after dark.
I think Fremont Street, with all of its street performers and the overall entertaining atmosphere, has the best free experience in Las Vegas. You can wander around for hours looking at everything and never get bored!
---
What is there to do for free in Las Vegas? LOTS! The list is long but I am sure that I missed some. Is there any free stuff in Las Vegas that should be on this list? Tell me in the comments. What is your favorite free activity in Las Vegas?
You can definitely still see Las Vegas on a budget since there are so many free things to do in Las Vegas!
---
Like this post? Pin it for later!