DISCLOSURE: I may link to relevant products, companies or helpful info which may be affiliate links, meaning I may earn a small commission. As an Amazon Associate & other affiliates, I earn from qualifying purchases at no extra charge to you. The views & opinions are my own. Please see the disclaimer and privacy policy.
Last Updated on March 3, 2023
Best Places to visit in Kampala in one day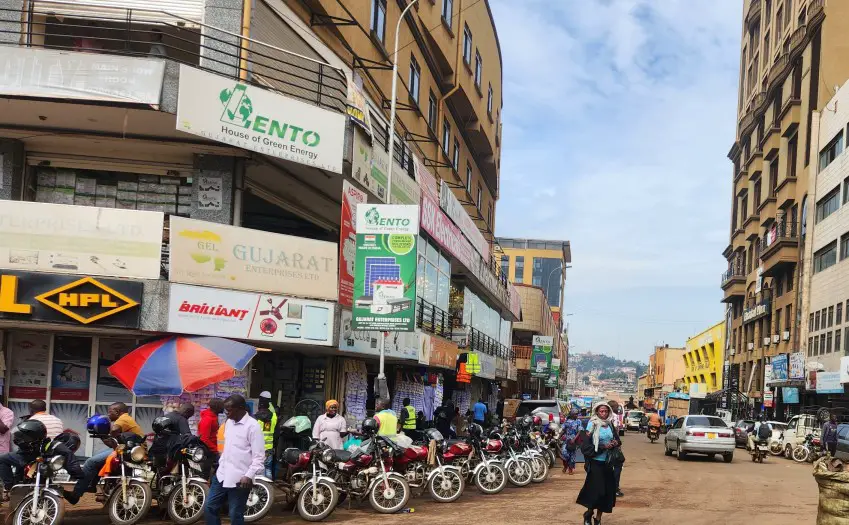 Here is some great advice for how to see Kampala in a day during your ultimate vacation in Uganda! While Entebbe was Uganda's first capital city, when the country gained its independence in 1962, the capital city was moved to Kampala.
Kampala is the largest city in Uganda with a population of well over 1.5 million.  It is also marked as one of the fastest-growing cities in Africa. How can you possibly see the sprawling city of Kampala in 1 day??
Crowded is an understatement.  The city is packed full of people traveling this way and that way.  The roads are a constant traffic jam and getting from place to place is a constant headache.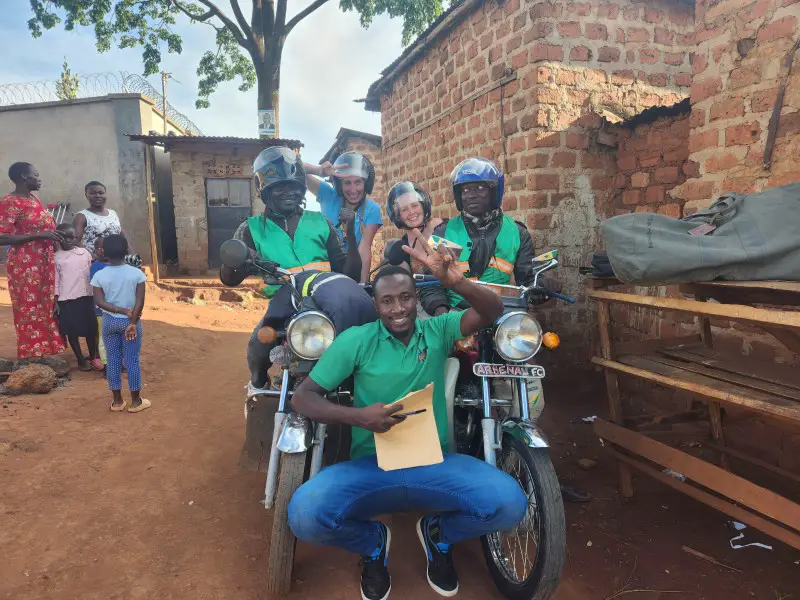 Enter the BODA BODA.  This is the city's solution to its traffic woes.  The boda boda is a motorcycle taxi that is able to weave along in the traffic jam successfully delivering passengers to their destinations. This is the best way to spend one day in Kampala and the best way to go on a city tour of Kampala.
Here is a big list of Kampala tourist places and what we were able to see on our Kampala Boda Tour in Uganda.
Best Kampala Tourist Sites
Click on the heading to jump right to the information for these Things to do in Kampala
Kampala boda boda tours [motorbike tours]. | Uganda
The Kampala boda boda / Motorbike Tour is the best way to explore Kampala's capital city as we show you all corners of Kampala city including slums (ghettos), Religious sites, Markets and a chance to test our traditional local food. The stunning city of Kampala was originally seated on 7 hills but t…
Old Kampala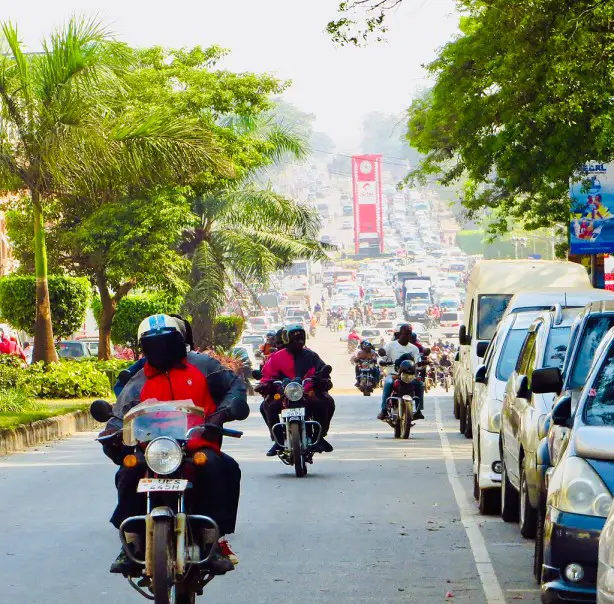 Kampala Hill is referred to as Old Kampala.  It is in the center of the city and is very active.  All Kampala tours will involve going through Old Kampala since you really can't have a Kampala city tour without going through Kampala Hill!.
Taxi Park in downtown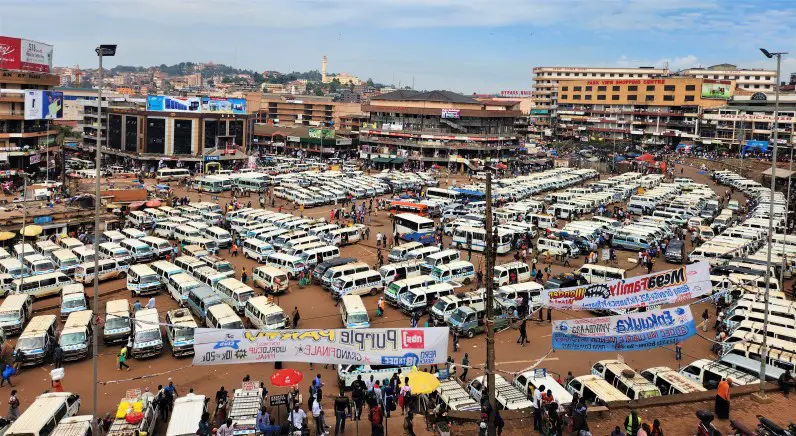 The capital city has many taxi parks where you can see the organized chaos of the city.  The taxi parks are organized, and travelers use the taxis to travel throughout the area.  While it looks like a complicated web of random vehicles parked every which way, the taxis are parked in sections depending on which routes they cover. 
Shree Sanatan Dharma Mandel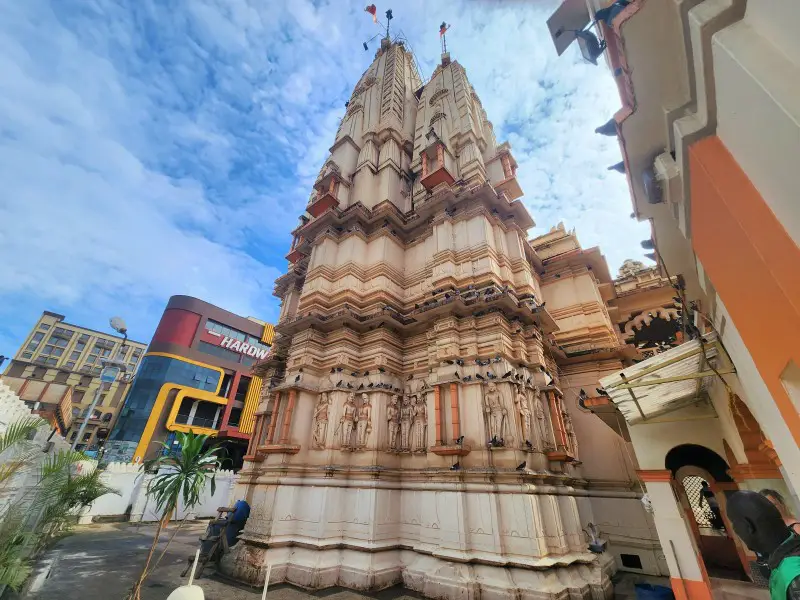 This magnificent Hindu temple was the first stop on our Kampala City Tour.  It was built by the Indian community in 1954 without the help of any iron bars or steel but still towers above the street level.  It was the first Shikha Baddha Temple built outside of India and has been declared a Heritage Site.
It is open every day for prayer service in the morning and evening and is full of beautiful religious Hindu figures.  The temple is surrounded on the same street by a church and a mosque, demonstrating how easily different religions can coexist in Uganda.
The Gaddafi Mosque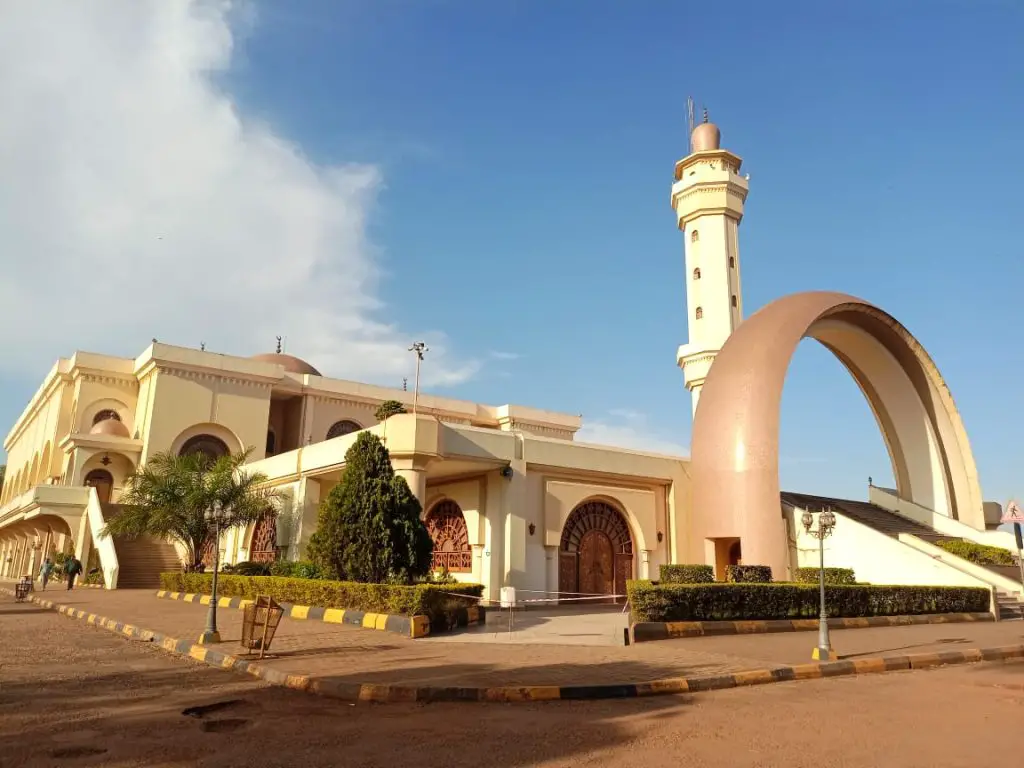 The Uganda National Mosque is located in Old Kampala.  It was commissioned by Colonel Muammar Gaddafi of Libya as a gift to Uganda and is the largest mosque in East Africa, hence the name Gaddafi National Mosque, but was renamed Uganda National Mosque in 2013 following the death of Gaddafi.
The huge minaret has 304 stairs and offers a beautiful aerial view of the city. The view makes the mosque one of the best places to visit in Kampala!
The mosque is open to everyone to add to your Kampala city tour itinerary and enjoy.  Ladies visiting the mosque during Kampala sightseeing must wear a head covering, which can be provided at the entrance, and all visitors must leave their shoes at the door.
Kibule Mosque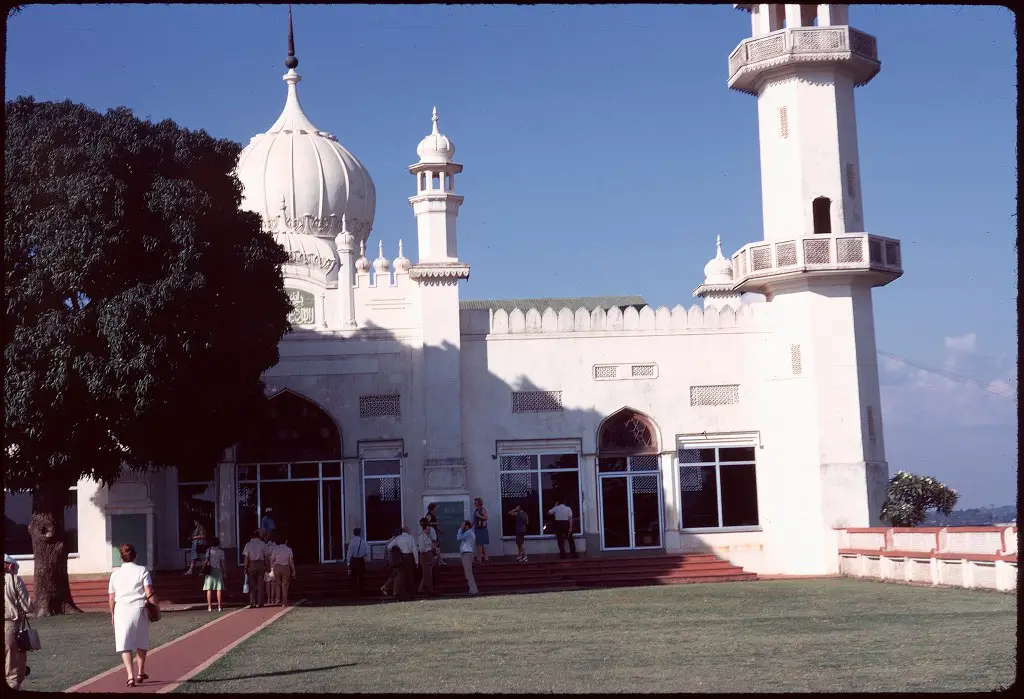 Be sure to include a visit to the historic Kibule Mosque on your Kampala one day itinerary.  It is the oldest mosque in Kampala and sits on a hill overlooking downtown.  Climb the minaret for amazing views of Kampala's city center.  Also make sure to admire the mango tree which is in front of the mosque, but yet much older than the mosque.
It is open to the public between times of prayer.  Women should make sure to cover below their knees, arms, and heads when entering the mosque.
---
Learn more Uganda Travel Tips and what to expect when you are traveling to Uganda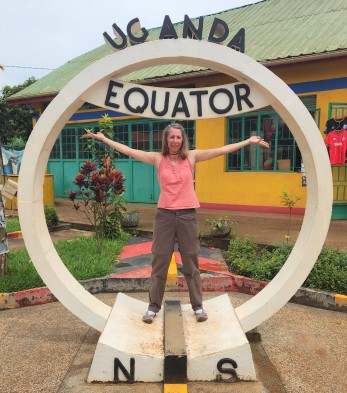 Uganda Travel Tips: What to know before planning a trip to Uganda
Are you planning a trip to Uganda? Use this guide & the Uganda Travel Tips to help plan your Uganda Safari Trip. This guide will tell you what you need to know when planning a trip to Uganda. You will have the vacation of a lifetime on your bucket list trip to Uganda.
The Baha'i Temple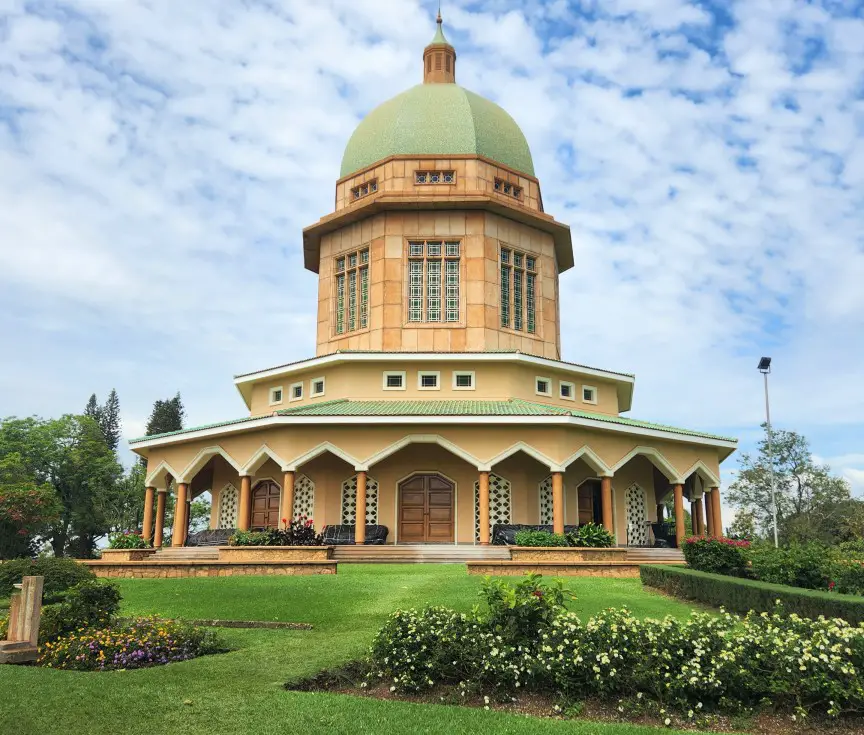 Built in 1961, The Bahai Temple is the first Bahai house of worship in Africa.  It is a rare piece of greenery located in the bustling city of Kampala and has a very peaceful setting on its 22 acres of nature-filled land.
It is high on a hill on a manicured lawn with great views overlooking the city. The lush scenery around the temple makes it top on the list of things to see in Kampala.
The Bahai Faith declares its purpose to unite all races and people in one universal cause.
Kasubi Tombs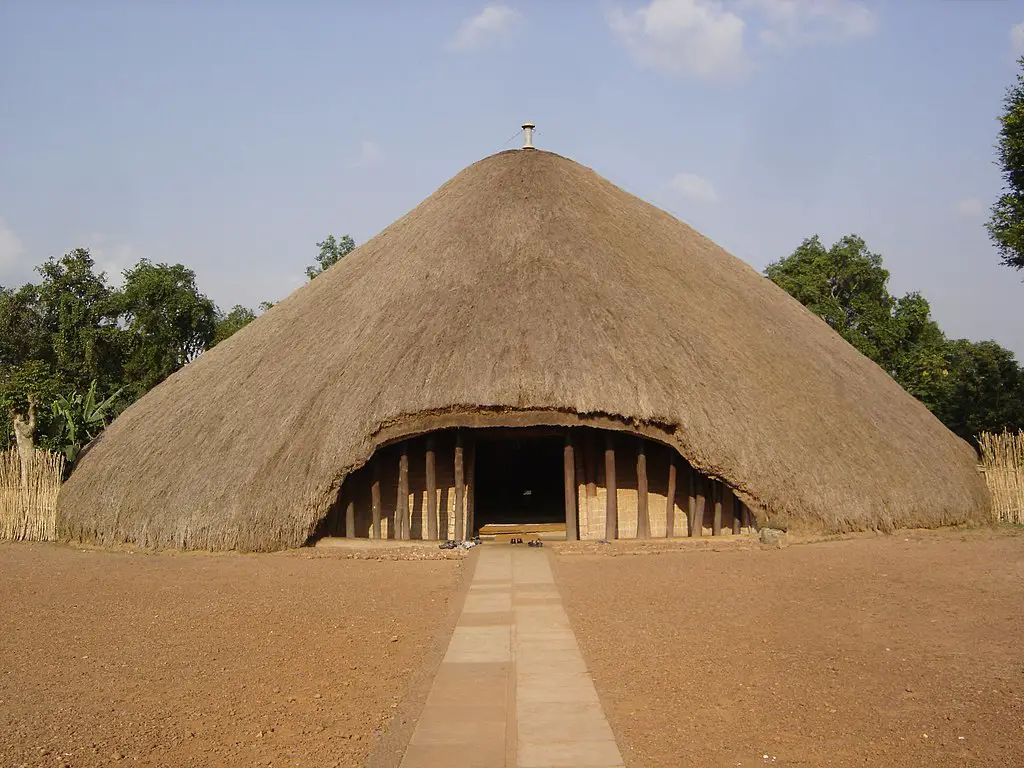 The Kasubi Tombs are a burial ground for the kings of Buganda and the place where the royals frequently carried out rituals of the Buganda culture.  It is an example of traditional architecture and was declared a UNESCO World Heritage Site in 2001.  A devastating fire in 2010 put it on the list of World Heritage Sites in Danger, however, reconstruction has started in hopes of rebuilding the tombs of the kings.
Owino Market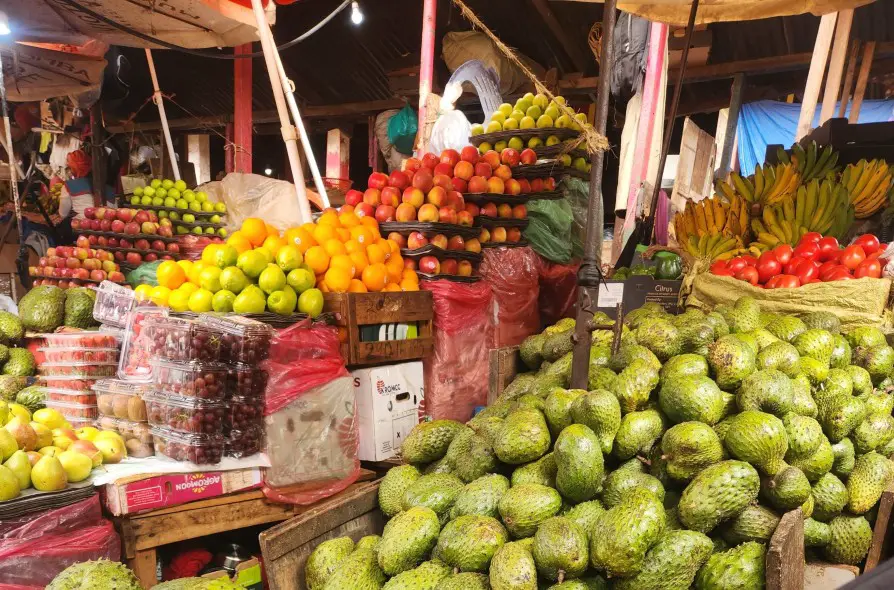 The Owino Market is one of the largest local markets in East Africa with over 50,000 sellers over its 7 acres.  It is known for its selection of second-hand clothing.  Locals, as well as those from neighboring countries, come to the market to stock up on cheap clothing from this market.
It is well organized into many sections like food, clothing, jewelry, and household, so no matter what you are looking for, you can easily find it among the twisting walkways. If shopping and bargaining are your things, make sure to include Owino Market on your list of places to go in Kampala.
East African Craft Village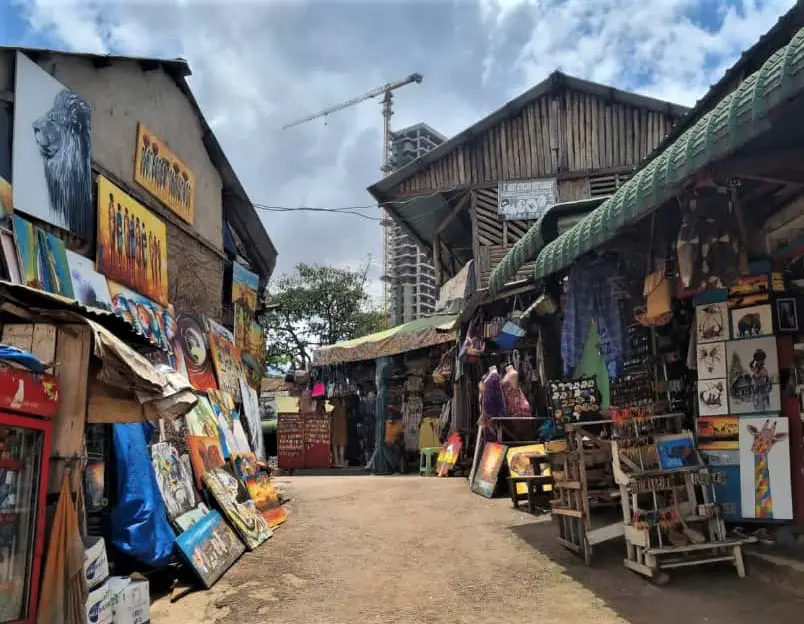 The open-air craft village sells all kinds of African crafts and souvenirs for tourists.  Here you can find beaded jewelry, drums, wooden spoons, African sandals, baskets, paintings, and even typical souvenirs like magnets to take home as a memory of your time in Uganda, the Pearl of Africa.
Makerere University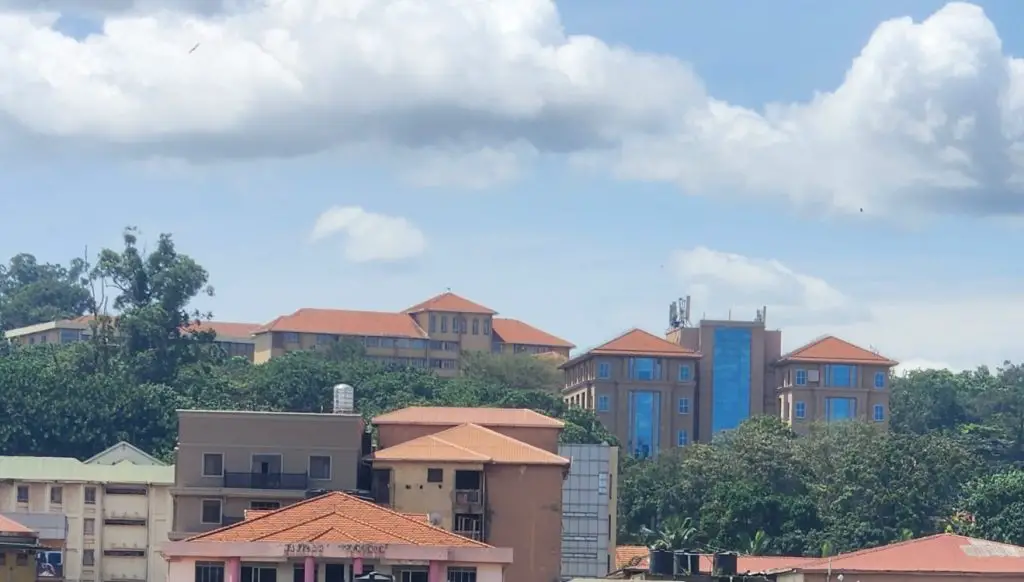 On another hill overlooking Kampala city, is Makerere University, Uganda's largest and oldest university.  It is a part of a leading collaboration in the research of tuberculosis.  Since I am involved in this scientific field, I have many coworkers that have been a part of these studies and have traveled to Uganda to be a part of this research team.
Kampala boda boda tours [motorbike tours]. | Uganda
The Kampala boda boda / Motorbike Tour is the best way to explore Kampala's capital city as we show you all corners of Kampala city including slums (ghettos), Religious sites, Markets and a chance to test our traditional local food. The stunning city of Kampala was originally seated on 7 hills but t…
Independence Monument
Independence Monument is a display of the meaningful history of the independence of Uganda.  The concrete structure towers above the street on Speke Road.  The image is of a strong woman that has been freed from bondage and is lifting her child in the air, symbolizing the jubilant freedom that Uganda gained in 1962 from Britain.
Katunga Slums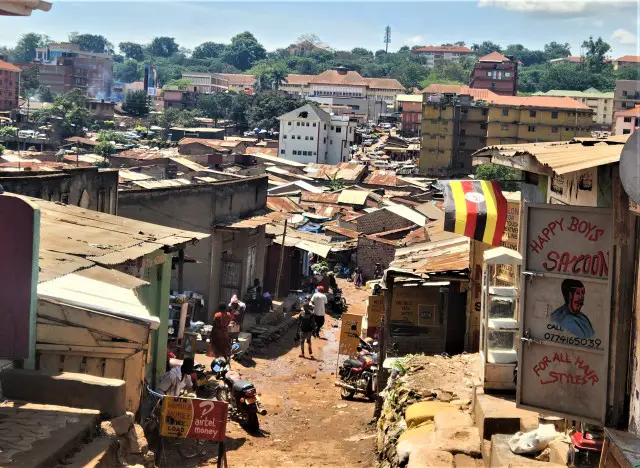 The Katunga slum is one of the largest slums within the city of Kampala.  It is filled with temporary structures built with mud and timber.  The residents survive by doing everything on their own.  There are those that travel to the market to purchase products and then re-sell them in the slums.  There are seamstresses, bartenders, and restaurants. For a small fee, residents can purchase meals.  There is even a movie theater where shows are played on the big muddy wall in the darkness.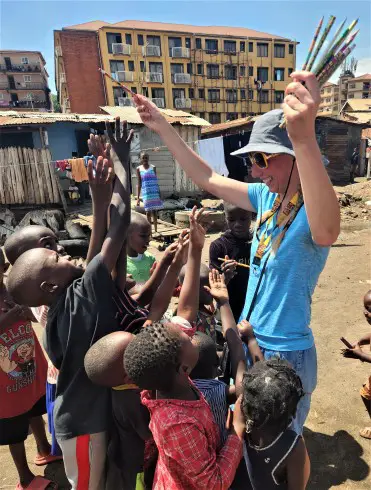 ---
Read more about my visit to the Katanga slum in Kampala at THIS POST: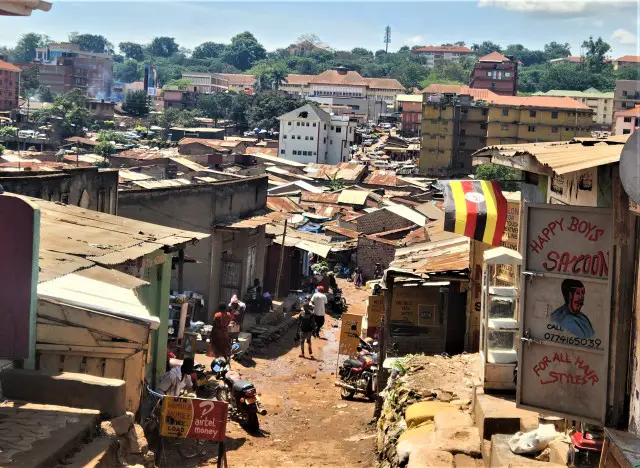 Visiting the Slums in Uganda Africa & Donations to Orphans
Read about donations in Kampala slums in Uganda. We learned about daily lives in the slums of Kampala and made DONATIONS to the residents in the Katanga Slum in Kampala.
Lake Victoria
Lake Victoria can be enjoyed at the beach or on a boat cruise from Kampala.  It is Africa's largest lake, the world's largest tropical lake, and the world's second-largest freshwater lake.  It is not only in Uganda, but also shared with Kenya and Tanzania. Spend some time enjoying Lake Victoria even if you only have one day in Kampala.
Where to eat in Kampala
Fast food at Café Javas
Uganda has its fast food joint called Café Java.  We ate there on two separate occasions and were quite happy with the food and atmosphere.  Sometimes, we needed to have a quick bite to eat and Café Javas was perfect.
The Ndere Centre for a dinner show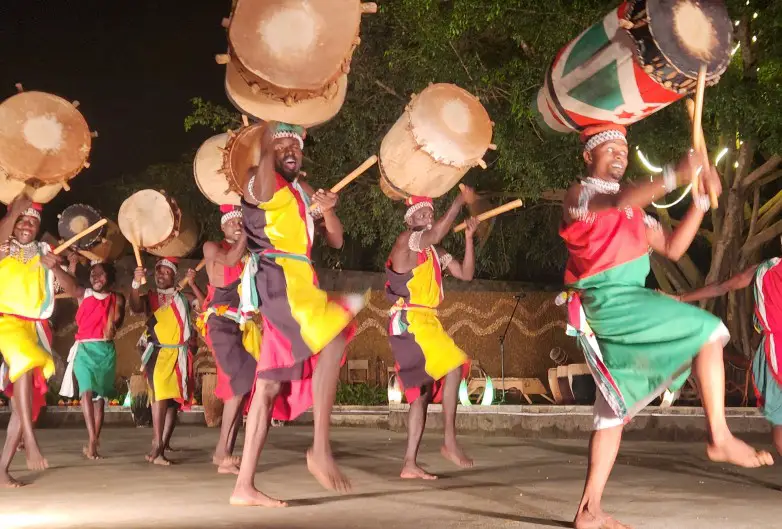 When you want something more elaborate for dinner, I recommend reserving a night at the Ndere Center for dinner and a cultural show.
We went to a very entertaining Sunday evening show and had a great time.
The Ndere Troupe was started in 1984 in order to showcase the Ugandan music and dance through a larger-than-life display by many talented young adults in their traditional outfits.  The rich diversity of Uganda and its local tribes is celebrated through colorful music, invigorating dance, and oral history under the night sky in a beautiful 700-seat open-air amphitheater.
During intermission, we wined and dined on a traditional buffet feast that was fit for the kings of the African Kingdoms!
Visitors enjoy the twitching waistline of the ladies, the balancing of pots on their heads, and the wild variety of traditional musical instruments at the Ndere Center.  Tourists are accompanied by Uganda locals who often return to the dinner show to support to local talent and promote the unity of Africa.
Kampala Day Trips
If you have more than 1 day in Kampala, there are many more options to see the city and surrounding area in Uganda. Day trips from Kampala are a fun option if you have extra time in Kampala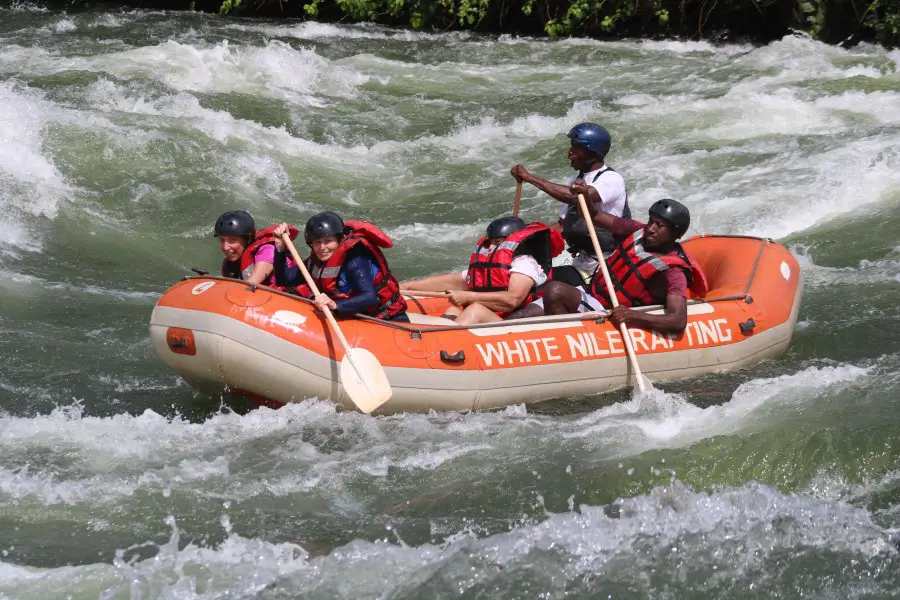 A trip to Africa is not complete without seeing the Nile.  And what better way to commemorate your time in Uganda than a Uganda rafting trip down the grade 5 rapids!!!
The Nile is long and powerful and we went on a half-day trip to conquer her!  White Nile Rafting was the perfect tour organization for us.  They took care of everything.  From the moment we arrived, we were taken care of. 
Take your own rafting trip down the Nile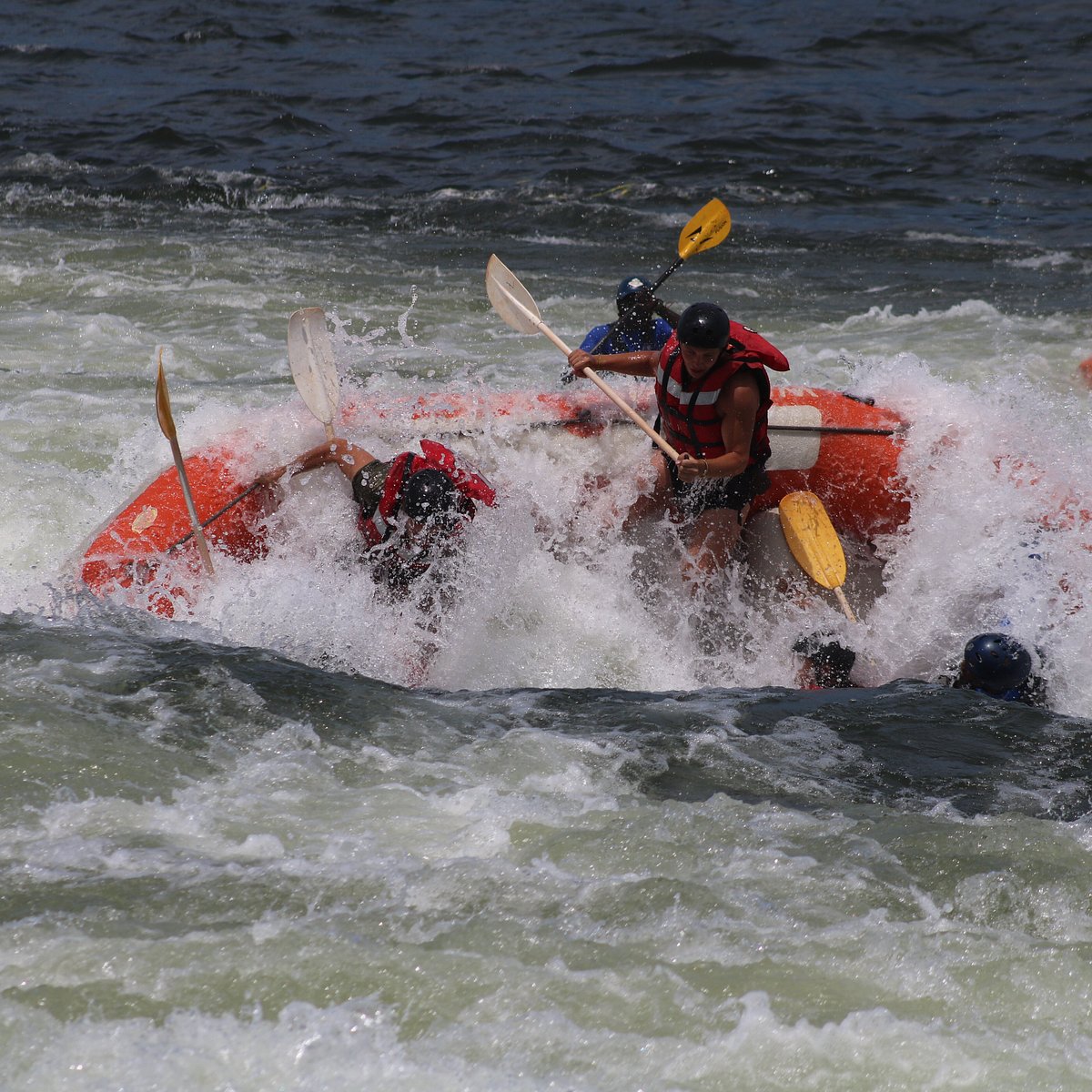 White Nile Rafting Limited (Jinja) – All You Need to Know BEFORE You Go
Detailed Reviews: Reviews order informed by descriptiveness of user-identified themes such as cleanliness, atmosphere, general tips and location information.
We were given a buffet brunch and a safety briefing and then taken down the road to begin our adventure.
The team of White Nile Rafting guides, composed of men of all ages, were expertly skilled and they took pride in our training.  We learned to row forward and backward, fast and slow in a unified team…..somewhat unified, somewhat haphazard!  After we jumped into the water to get acclimated, we practiced flipping the boat, were trained in proper techniques from the rescue kayak, and were hauled back into our raft. 
---
---
See all the details of our whitewater rafting trip down the Nile and see how you can book your own trip.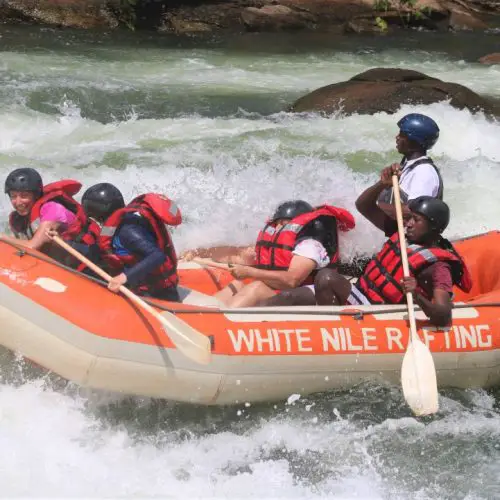 Exhilarating White Water Rafting in Uganda on the Powerful Nile River
The Nile River is big and powerful, making the rapids FUN. These are the tips & hints for how you go white water rafting in Uganda on the Nile River in Jinja
Where to stay in Kampala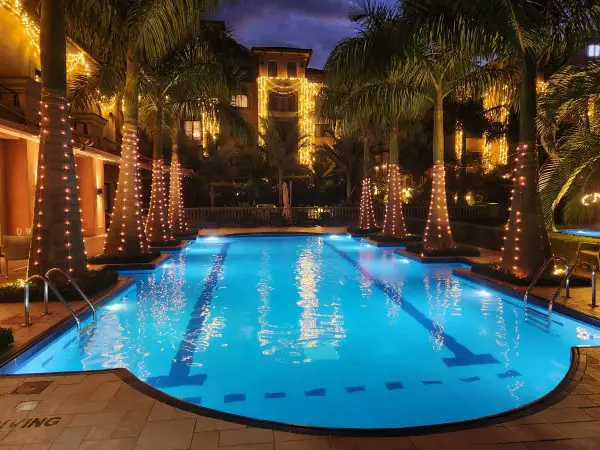 The Mestil Hotel is an oasis in the crowded city of Kampala.  They have gorgeous suite rooms for reasonable prices.  The breakfast buffet is over and above expectations so that you can start your day off with delicious nourishment.
The dinner service is a relaxing meal on the patio surrounded by candlelight and stars while you feast on the savory selection of meals.
Do not pass up the opportunity to stay at the Mestil Hotel! – Book a night at the Mestil NOW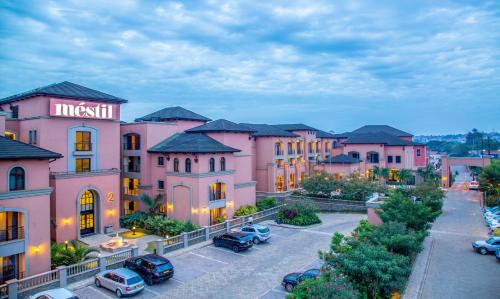 Mestil Hotel & Residences, Kampala – Updated 2023 Prices
Located in Kampala, 1.1 miles from Clock Tower Gardens – Kampala, Mestil Hotel & Residences provides accommodations with an outdoor swimming pool, free…
Other places to stay in Kampala
Like this post? PIN IT for later