DISCLOSURE: I may link to relevant products, companies or helpful info which may be affiliate links, meaning I may earn a small commission. As an Amazon Associate & other affiliates, I earn from qualifying purchases at no extra charge to you. The views & opinions are my own. Please see the disclaimer and privacy policy.
Last Updated on June 5, 2023
Real Life in Uganda Slums
In an effort to continue my quest to be an educated traveler who is immersed in the community and not just a tourist in a foreign land, our tour in Uganda incorporated visits to the impoverished communities and not just the big cities. We entered the Kampala slum city and met with the residents. We learned about their daily lives and what life was like in the slums of Kampala.
Also a part of my Uganda vacation plans was donations to the villages in Uganda. I was able to contribute back to the community in some very special ways. My goal was to make some kids happy and put some smiles on their faces. They appreciated my efforts and I hope I was able to make a difference in some of their lives.
Keep reading to find out some great ideas for donating in Uganda!
Slums in Uganda: Katanga Slums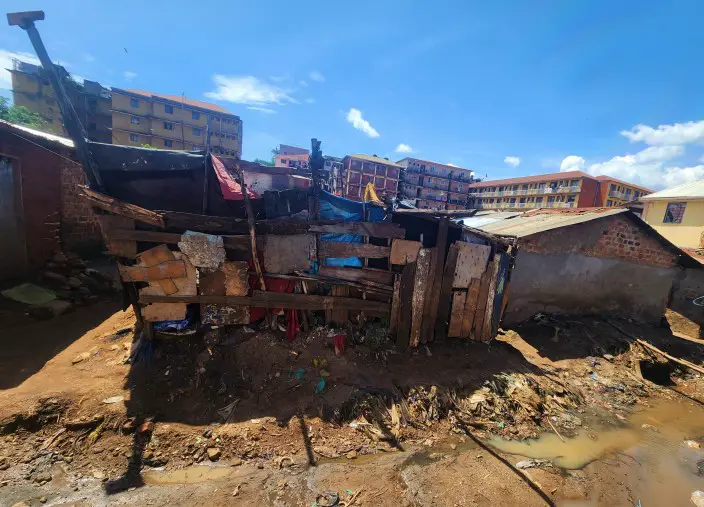 What is a SLUM?
Note: Slum is the word used in Kampala to describe Katanga, so that is the word that I will also use for this area. It is a descriptive word and not a derogatory word used in Uganda. In fact, the tour that I took was called Kampala City and Slum Tour.
The Katanga slum is one of the largest slums within the city of Kampala.  It is filled with temporary structures built with mud and timber.  The residents survive by doing everything on their own.  There are those that travel to the market to purchase products like produce and then re-sell them in the slums.  There are seamstresses, bartenders, and restaurants. For a small fee, residents can purchase meals made by a local woman.  There is even a movie theater where shows are played on the big TV in front of the muddy wall in the darkness.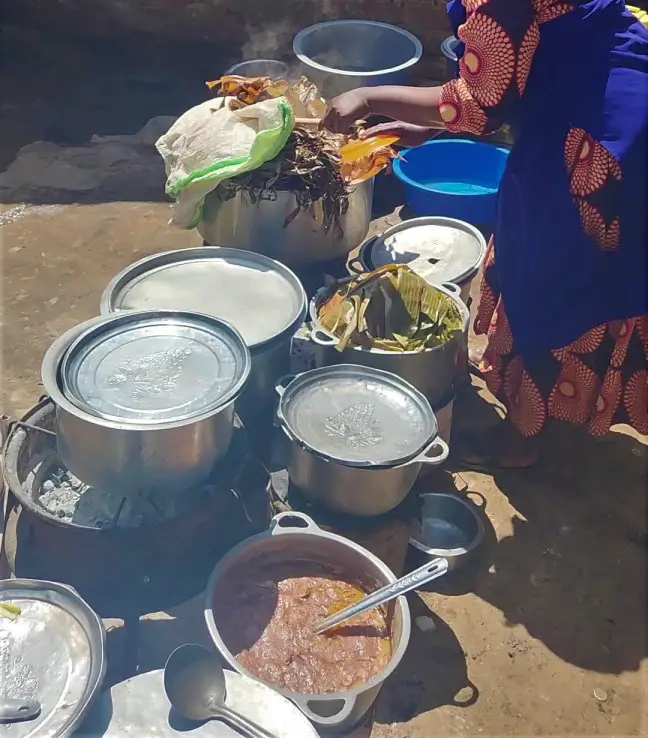 Donations of Pencils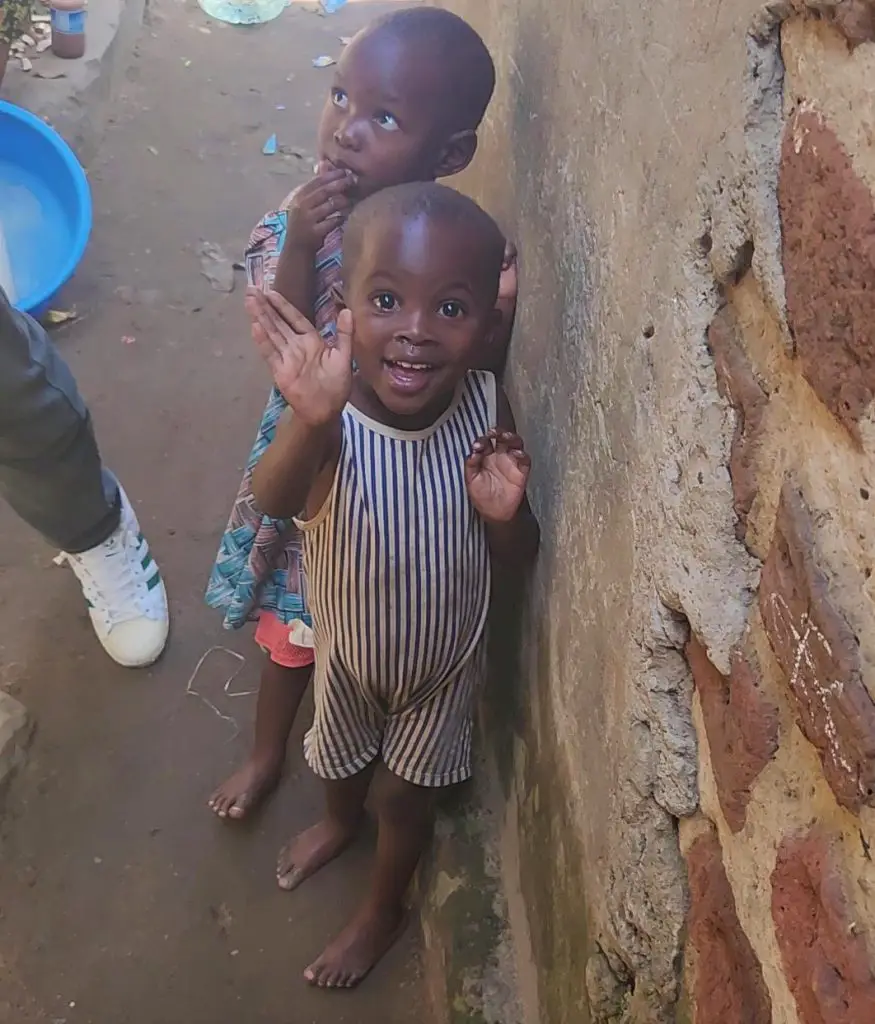 The children are shoeless but full of smiles.  Everywhere I went I heard cries of mzungu where they were calling for my attention to look at them and take their photo. Mzungu literally means 'Wanderer", but is used to refer to a "white tourist". I was told it is not an insult and I did not feel like I was being insulted. It was a way that the kids were calling for my attention and I was, after all, a White Tourist!
I brought a large packet of pencils with me to the slums. The guide was anxious for me to hand them out and did not wait until we were at the end of the tour. I was swamped with little children with their arms raised in hopes of getting a pencil. If I had known that they would be so popular, I would have brought more and carried them all the way to the slum for them.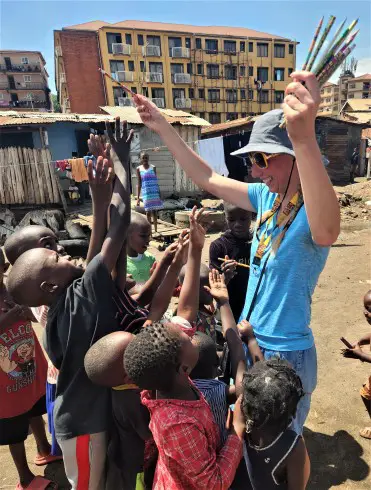 Donations of Clothing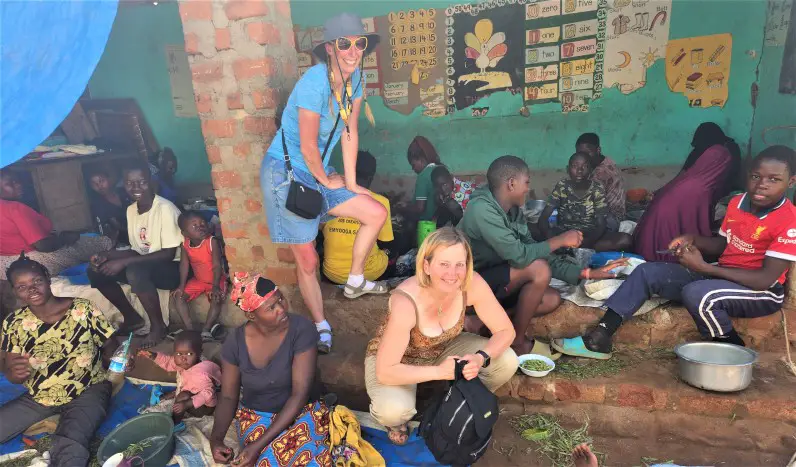 Before I left for Uganda, I had asked one of my guides about a donation. I asked what they would recommend that I bring to the slums. Their answer was clothing. With a limited amount of luggage space, I was not sure how to accomplish this. Perhaps a good idea, was to purchase clothing in Uganda so that the money spent also went to the community. However, I also didn't know how to transport piles of clothing to the slum since we were riding boda bodas to get there.
The plan that I came up with was to just take the clothing from my suitcase, more or less the clothes off of my back, and take them to the slum. I still had some clothes that I didn't wear yet. This way I was able to carry some of those clothes in my backpack and distribute them when we arrived at the slum.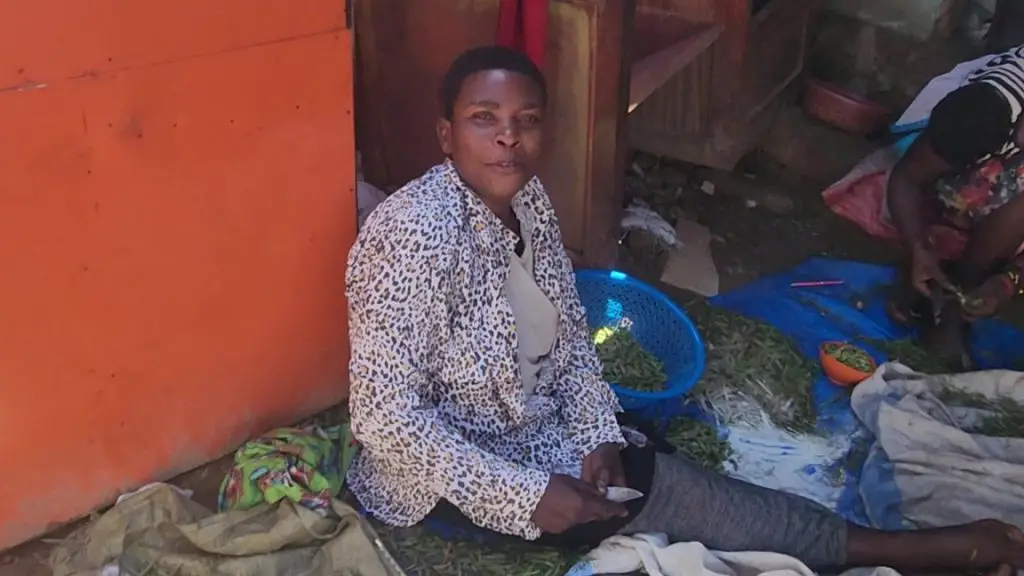 We found a group of young moms who were camped out on a blanket in a small hut area of the slum. I asked them who wanted my clothing and they all raised their hands. There was even a young gentleman there who said he had a wife that would need one of the shirts that I had. I gave my leopard print blouse that I wore on my African safari to a nice young lady.
They allowed me to take a photo of them in their new clothes and they all thanked me.
---
Want to learn about more things to do in Kampala? Check out my detailed City Guide!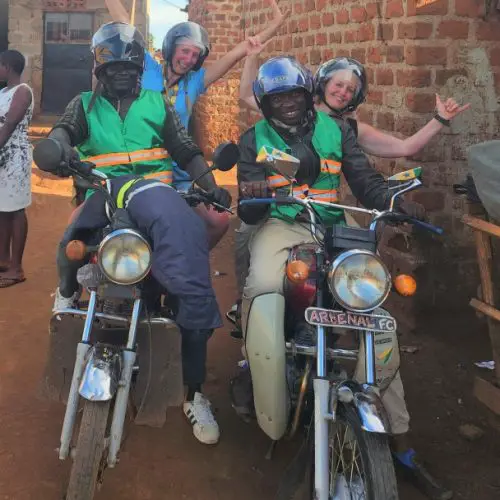 How to Spend a Fantastic One Day in Kampala – City Tour in Uganda
Here is some great advice for how to spend one day in Kampala during your ultimate vacation in Uganda! See the city of Kampala on a boda boda motorbike is the perfect Kampala sightseeing plan.
Polaroid Pictures in the Slum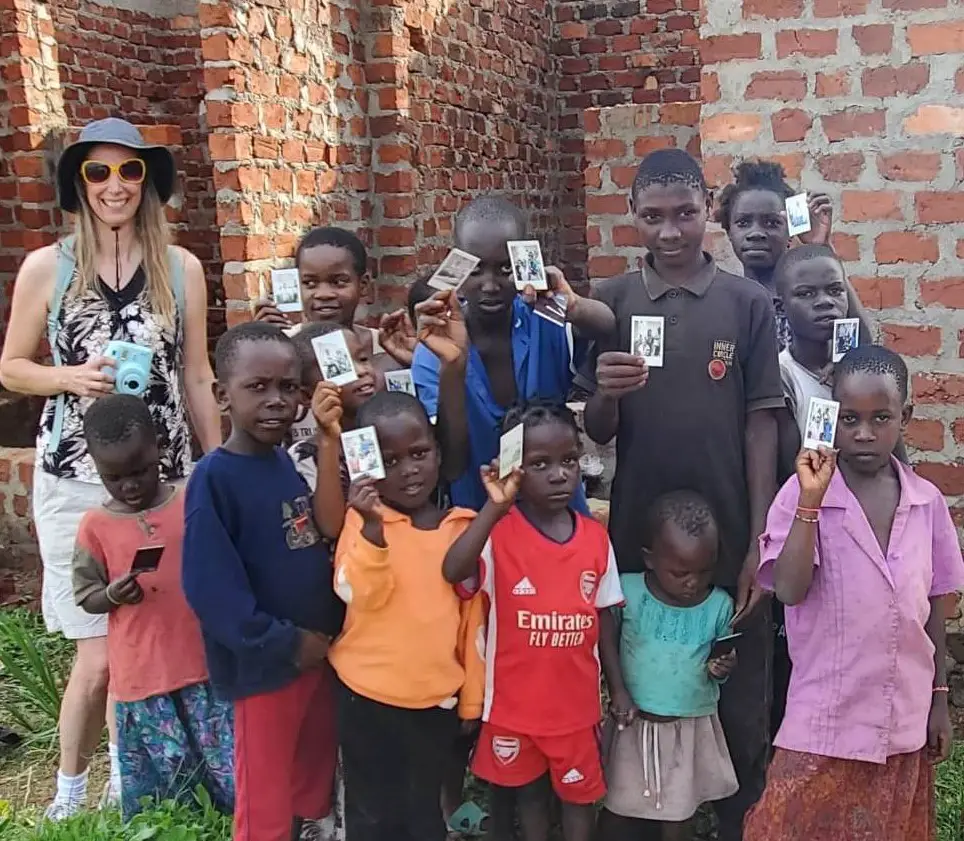 At one point in the Kampala slum, I brought out my Polaroid camera to share with the residents that we encountered. I was able to take pictures of the children with their parents.  They looked at me with mistrust at first. The parents' eyes were on me and that suspicious camera. I had to reassure them that the photo would be theirs to keep and that I wanted nothing in return. It was FREE. I kept repeating the word FREE.
I thought that they would be able to hang these photos up on their walls and that this was something they would be able to treasure. My goal was to leave as many photos of the families as I could.
I took the first photo and looked at the 'blank' picture that the Polaroid spit out. Gently shaking it, I showed them how to move it back and forth until the picture appeared. I looked around me at the children everywhere flapping those little polaroid pictures in the breeze, waiting for their faces to appear like magic. It looked like a swarm of butterflies all flapping about.
After a while, the first little face appeared on the printout, and then the next one… it was then very easy to talk them into more pictures from the Polaroid camera. They now trusted us. They were so happy with their photos that they started telling their friends. We soon had a trail of eager subjects following us through the slum, waiting for their turn to receive their photo gift.
At the end of the 'photography session' we gathered some of the children together so that I could take a picture of them holding up their new Polaroid photos.
U R Beautiful Charity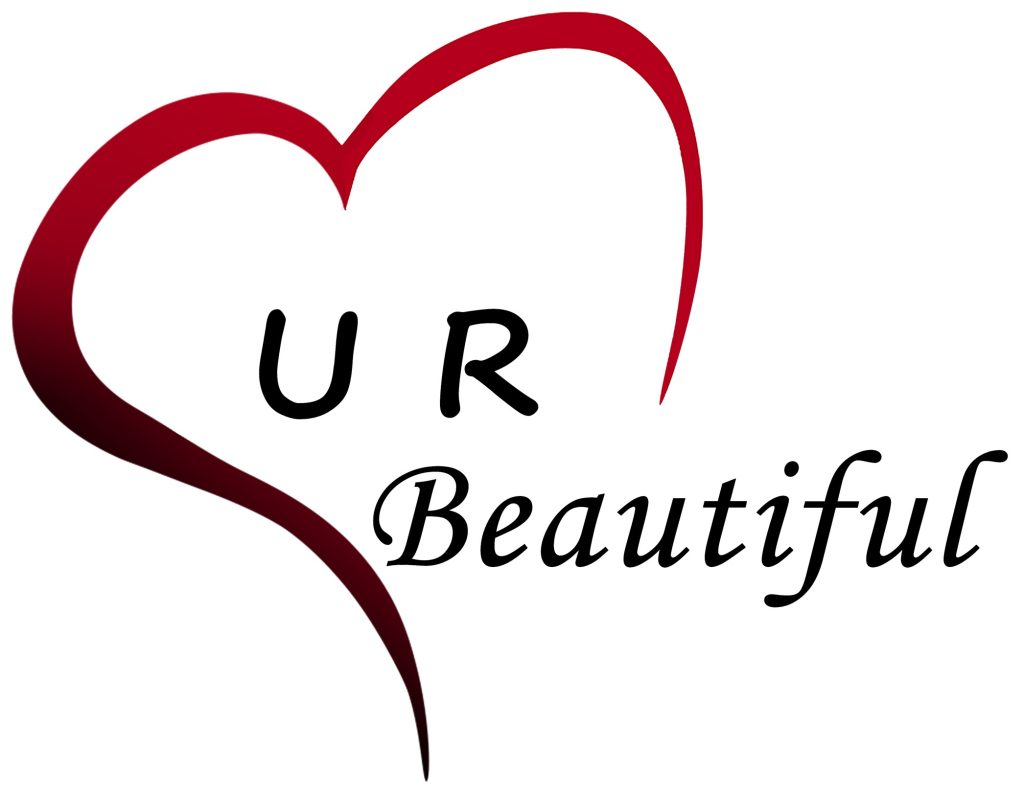 I have a non-profit organization called U R Beautiful whose goal is to promote the happiness and beauty in ALL people.
The idea for my U R Beautiful event in Uganda started a year before it happened and was named TWIRLING TOGETHER. I would be teaching baton to orphans in Uganda! I had a lot of work to do before this actually happened.
The first thing to do was raise some money. The project would involve over five hundred dollars to accomplish. I set to work raising funds. In retrospect, a little more planning ahead would have helped!
The first Fundraiser was at Mentor Cityfest designing tiaras for the little kids to wear. The tiaras were a symbol of U R Beautiful, my non-profit that was funding this event. I did not have the man-power to make this very successful …plus it rained during one of the days, so we did not make much money at Cityfest.
The second and final fundraiser was a Halloween basket raffle. I asked friends and family to donate baskets to auction off. –a big thank you to those that helped!! We put together 11 awesome prizes and sold tickets. This time, we were more successful. The prizes were stellar and the winners were quite pleased.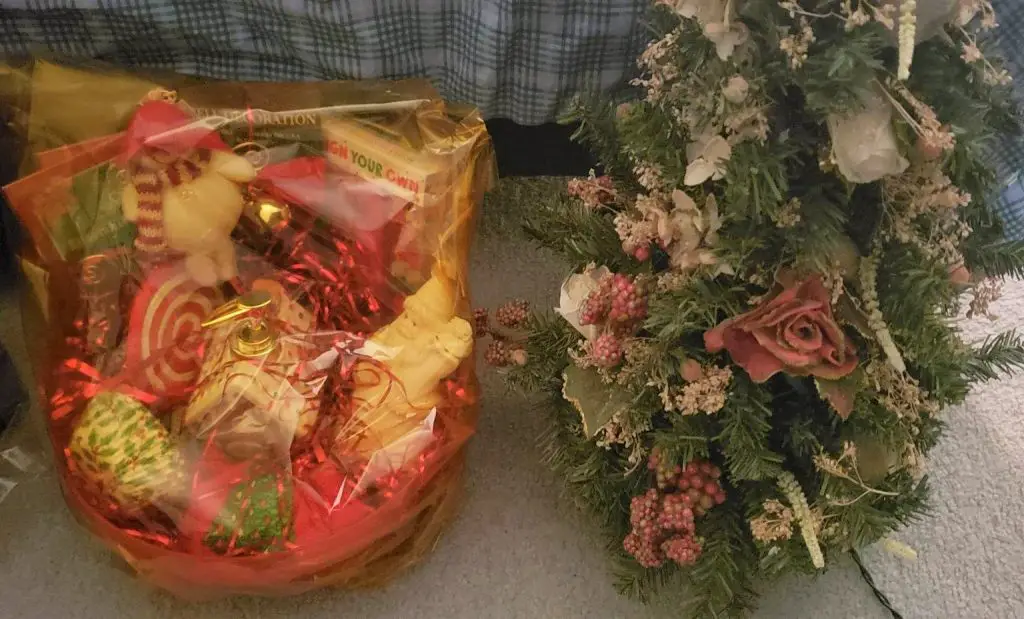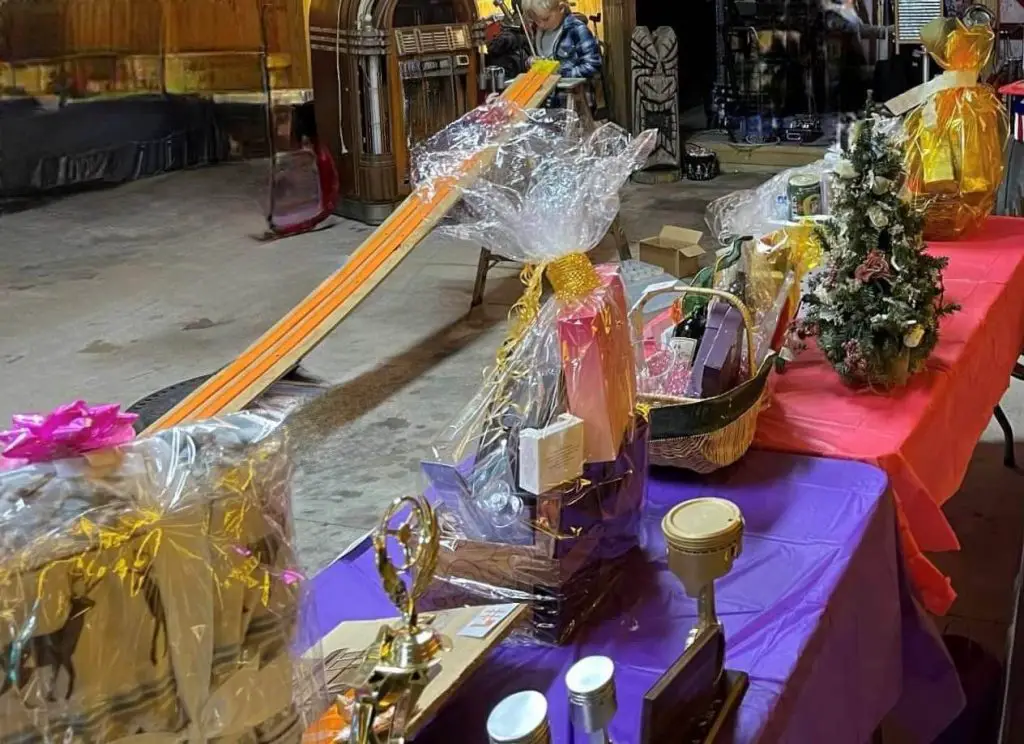 The remainder of the money that I raised was online through social media donation requests. I made a website for the event and was funneling donations through the website quite successfully. Word of mouth on social media was decent. I was not able to break into the baton twirling community though. All of my posts were rejected by those groups. Sadly, only one baton coach knew about my quest to obtain 50 batons.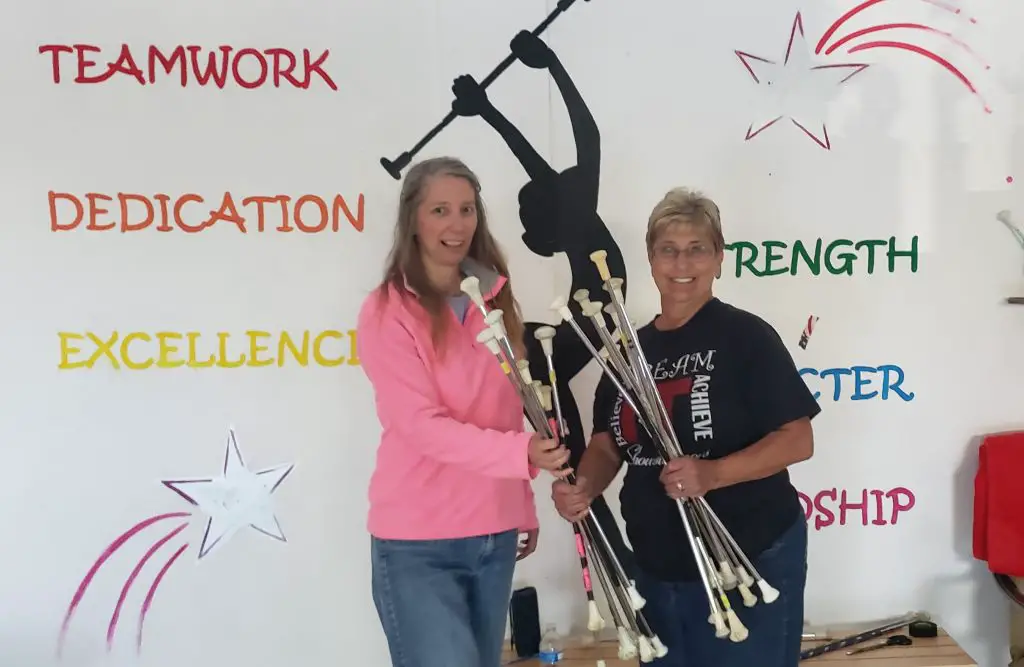 I did succeed in raising enough money and I was able to find 40 batons. Most of the batons were donated by generous twirlers.
---
Orphanage Club Banda
The orphaned kids on the streets of Kampala were rescued by Club Banda Orphanage and they now have a 'home' where they are looked after. The orphanage tries to continue to provide their school fees and basic necessities. They aim to raise the children as good, God-fearing citizens whose lives make a positive impact on their community, the Uganda nation and the world.  Their message is for everyone to live to inspire others, bring a change, and inspire lives.
To change their lives, I decided to go to the orphanage to teach them baton twirling so that they could learn to also love the sport that I grew up with. The sport of baton twirling develops dexterity, hand-eye coordination, body movement, interpretation through body movement, and much more.
The most important lesson that it teaches is to NEVER GIVE UP. When you drop your baton, pick it up and try again…try harder…keep trying…and never give up. This is one of the lessons that I wanted to leave with the kids.
---
The Baton Twirling Class at Club Banda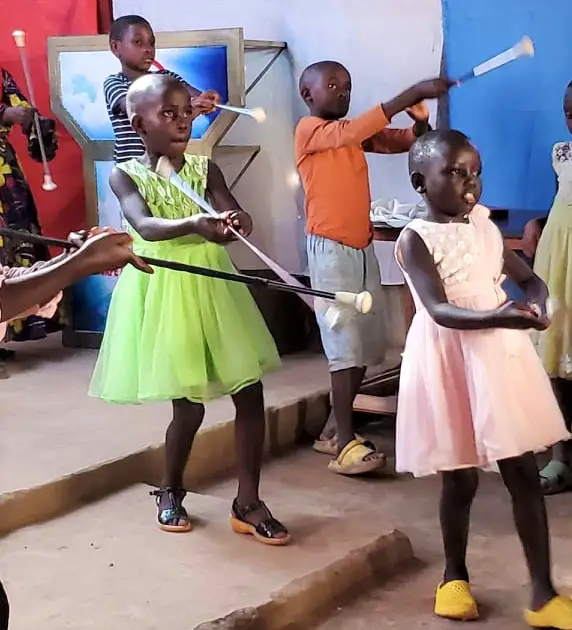 I arrived at Club Banda with my bulging duffle bag full of the 40 batons (Thank you Shamie from Gorilla Walking Safaris for help transporting all those batons to the village. Since I rode a boda boda to get there it was quite impossible for me to carry them all! SOOO many kind and caring people in Kampala who were willing to help at this event!).
It was a packed house, full of kids and young teenagers that were eager to find out how to twirl a baton. The small shack was hot, with a dirt floor and a small raised stage in front. I took the podium and introduced myself and showed them some advanced twirls that they could do if they practiced hard. I spoke slowly so that most of them could understand my English, but I also had a translator, Uncle Denis. Uncle Denis is the founder of Club Banda, the soul of the orphanage, and the man that made this event possible.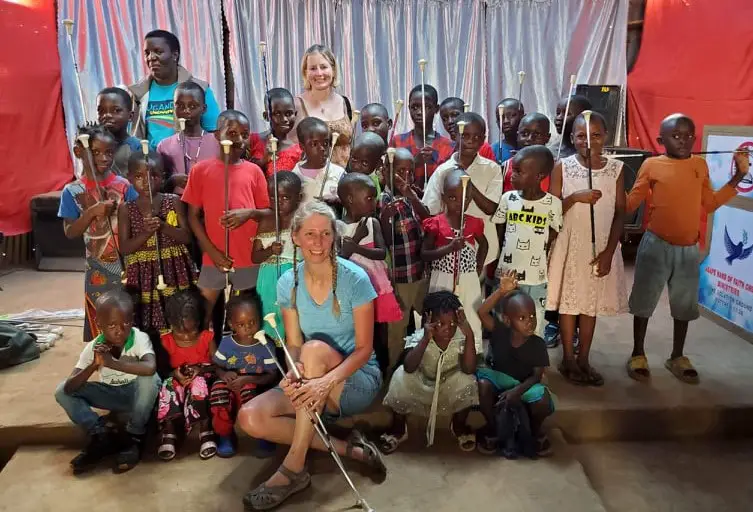 Two of the groups of new twirlers at the orphanage in Kampala Uganda
Now it was the kids' turn to twirl. Since we only had a small stage we couldn't all crowd on it to twirl. We had to take turns. We cycled through 4 twirling sessions. Each time, it was a rush of eager twirlers raising their hands and pleading for their turn. I wanted to make sure that they were all able to participate.
Each session ran through all the basic twirls and ended in a finale of an energetic routine set to Shakira's emotional and inspiring "Try Everything" rendition to complement the theme of Never Give Up and Keep Trying.
Watch the inspiring Instagram post that recapped the event. It will bring emotional tears to your eyes since you now know the backstory.
---
Girls Up Initiative Uganda
I wanted to donate something besides batons to the orphanage. I started talking to non-profits in Uganda to see who wanted to work with me. I had the idea that funding the donations through the locals in Uganda was better than paying someone in the USA for donations and then taking them in my suitcase. In this way, I was directly supporting the Uganda community by channeling the donated money to make the products directly in Uganda.
The time change and the lack of sufficient contact information for many of the non-profit agencies made this a difficult task. Who should I work with?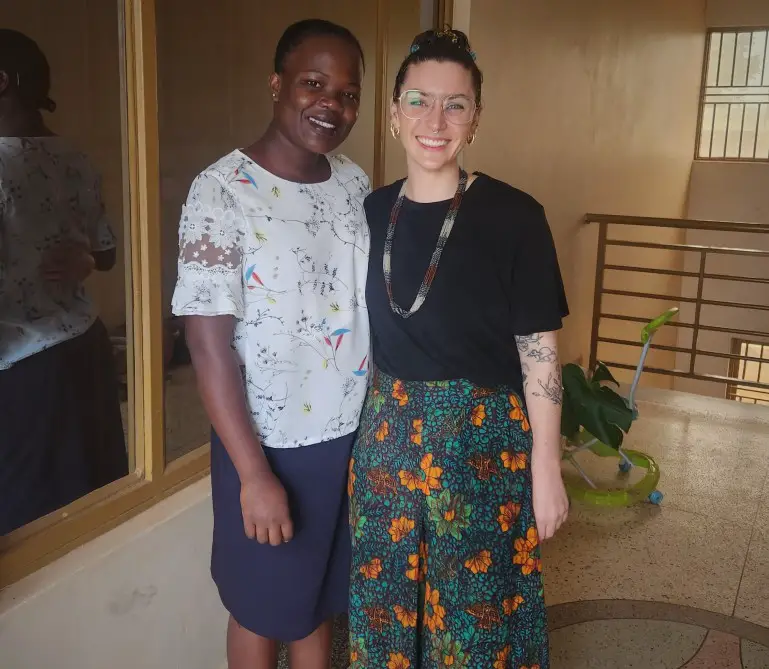 It took a while, but I finally got a hold of Mia at Girl Up Initiative. She was a pleasure to work with.
The mission statement of Girl Up Initiative is to build a vibrant movement of girls and young women through transformative leadership, sexual and reproductive health education, and skills development. Just as men are told to Man-Up, their programs challenge girls to GIRL UP as they provide support and power that comes from having someone believe in you. They empower girls to be leaders, reach their full potential, and make healthy and informed choices by providing girls with the skills, knowledge, tools, mentorship, and support to develop their self-confidence and voice to thrive as leaders in their communities.
THIS was something that I wanted to be a part of!
Our Mission for the Orphanage
We worked together and decided that it would be a benefit to the female orphans to have reusable sanitary pads to promote good female reproductive health and hygiene. This is something that they would be able to use and reuse so that their lives would benefit from them. The Mazuri Designs seamstresses in Uganda would make them.
Mazuri Designs Hub from Girl Up Initiative sells beautiful African clothing and accessories made by local seamstresses. This program offers vocational training in fashion, design, tailoring, and entrepreneurial training for out-of-school vulnerable young women, ages 16-35 years, to build their confidence and create employment opportunities.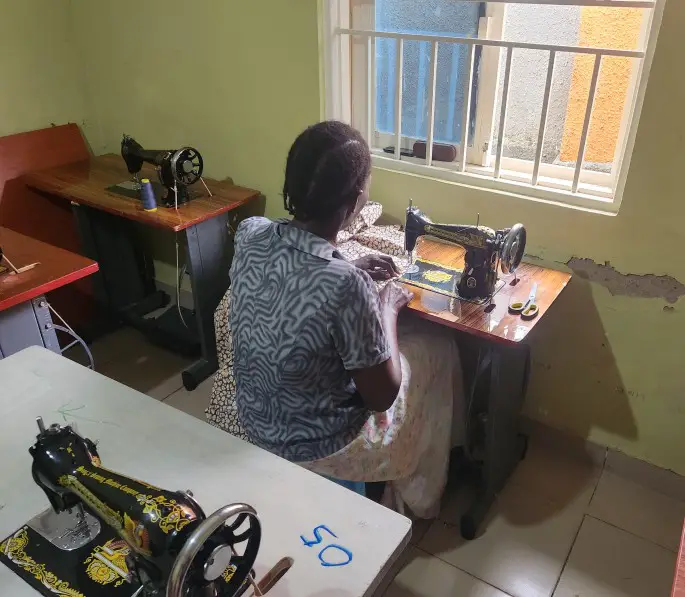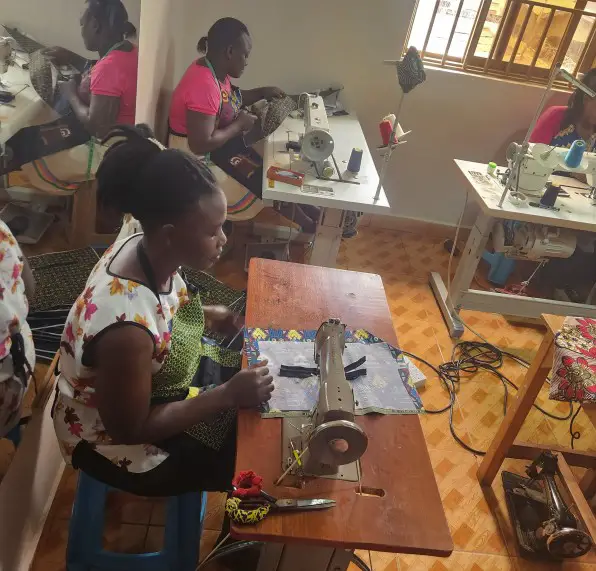 We toured Girl Up Initiative and Mazuri Designs to see some of their students and learn about their programs that support women to become an independent and self-sufficient businesswoman. Many of the women establish their own seamstress business in their community after they graduate from Mazuri.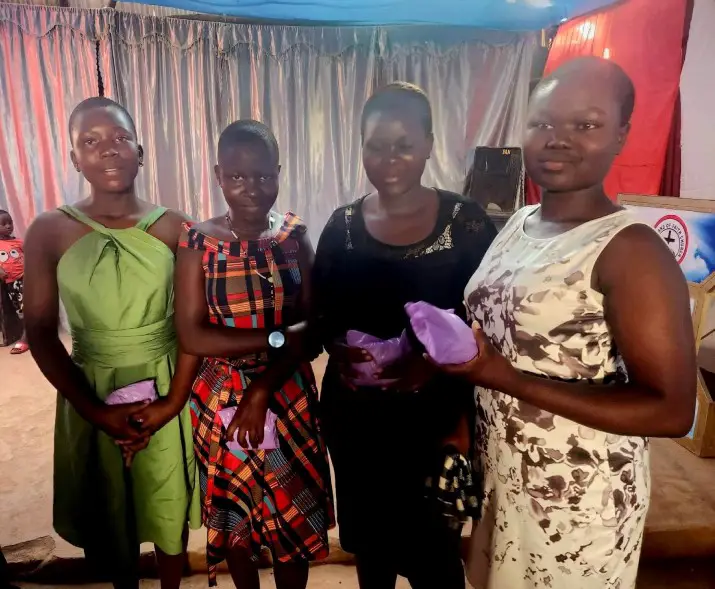 ---
Overall conclusion and impression of the Kampala Slums
Were you inspired to make a change and make a difference in the world? We will be organizing some group trips to Uganda soon. It would be great if you could be a part of these events.
---
Are you interested in seeing Uganda?
---
---
Need more information about what to pack for your trip to Uganda? Take a look at all my tips for what to bring on this bucket list trip to the Pearl of Africa!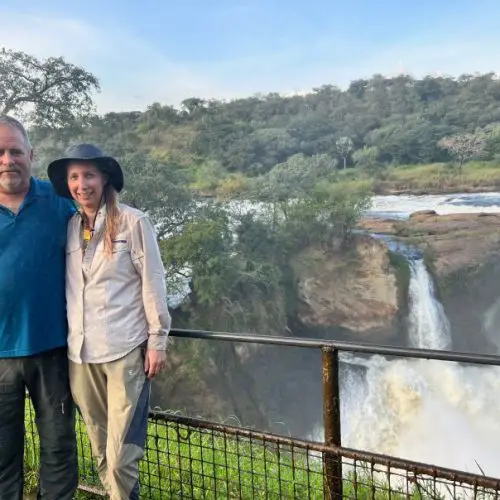 The Easy & Stress-Free Packing List for Uganda
If you are taking a trip to Uganda in Africa, you might be wondering what to pack for a trip to Uganda! Here are my helpful tips & an ultimate Packing List for Uganda based on our experiences!
---
Like this post? PIN IT for later