DISCLOSURE: I may link to relevant products, companies or helpful info which may be affiliate links, meaning I may earn a small commission. As an Amazon Associate & other affiliates, I earn from qualifying purchases at no extra charge to you. The views & opinions are my own. Please see the disclaimer and privacy policy.
Last Updated on June 5, 2023
How to Experience the Nile River: White Water Rafting in Uganda
What to expect during White Water Rafting in Uganda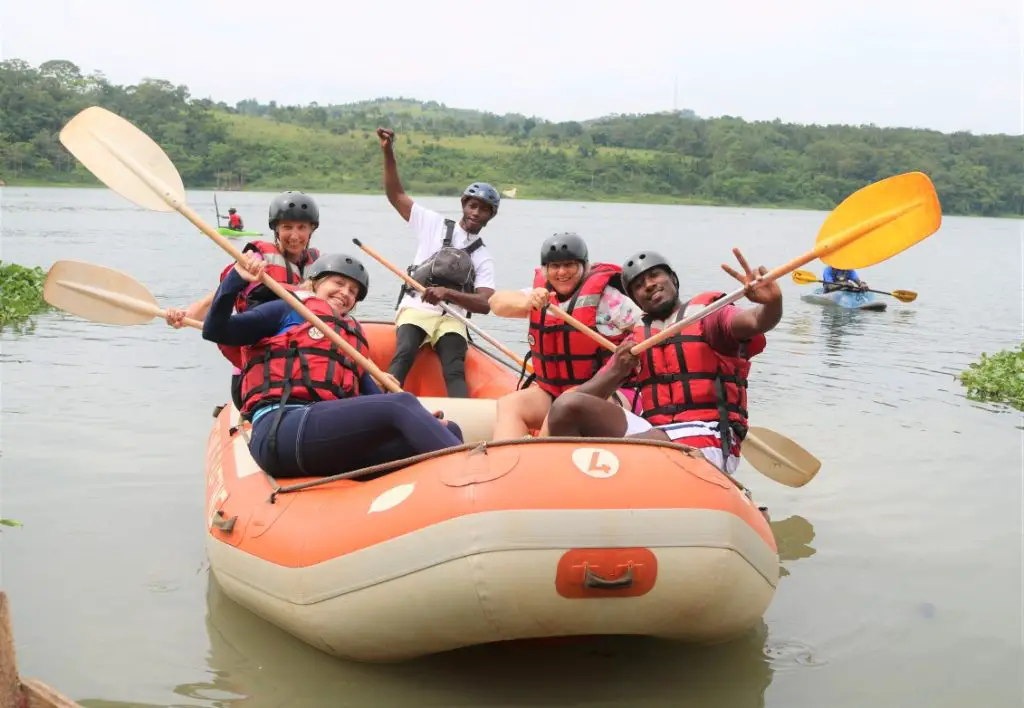 Three women white water rafting in Uganda on the Nile River! 
What could go wrong?  Well, our Kampala City tour guide decided to go with us in order to give a helping hand with the rowing…  and there was a LOT of rowing!  He must have known!
I wasn't sure what to expect. I had gone white water rafting in West Virginia on the New and Gauley rivers. They were class V rapids too, but I had my whole family plus other rowers to help control the raft.
Are there rapids in the Nile River?
There sure are some nice-looking rapids in the Nile River in Uganda. With names like Bad Place, Vengeance, and Bubugo, they were ominous!!  They are class III – VI rapids—we would only do up to class V. Annette and the whole river crew at White Nile Rafting in Jinja couldn't have been nicer and more helpful to us!  We were obviously beginners, and they took the time to teach us and make sure we were all safe while we were rafting on the Nile.
The views and opinions of the white water rafting trip are my own honest impressions and evaluations as a part of our whirlwind tour of Uganda. Use this guide as you are planning your own trip to Uganda.
What is it like to raft the Nile River in Uganda?
Wet!  You will get wet when you raft the Nile in Uganda.
The Nile River is big and powerful.  In fact, the Nile River is the longest river in the world at 4,157 miles long.  Boy did it feel like it while we were rowing!  There seemed to be a long distance between each of the rapids.  The sun beat down on us and we rowed….and rowed…and rowed…
And then the rapids…

---
Here is our Nile white water rafting experience with White Nile Rafting!  And I will end with how YOU can also raft the Nile in Uganda!
Click the TOC heading to jump to a specific section

---
White Water Rafting Trip in Uganda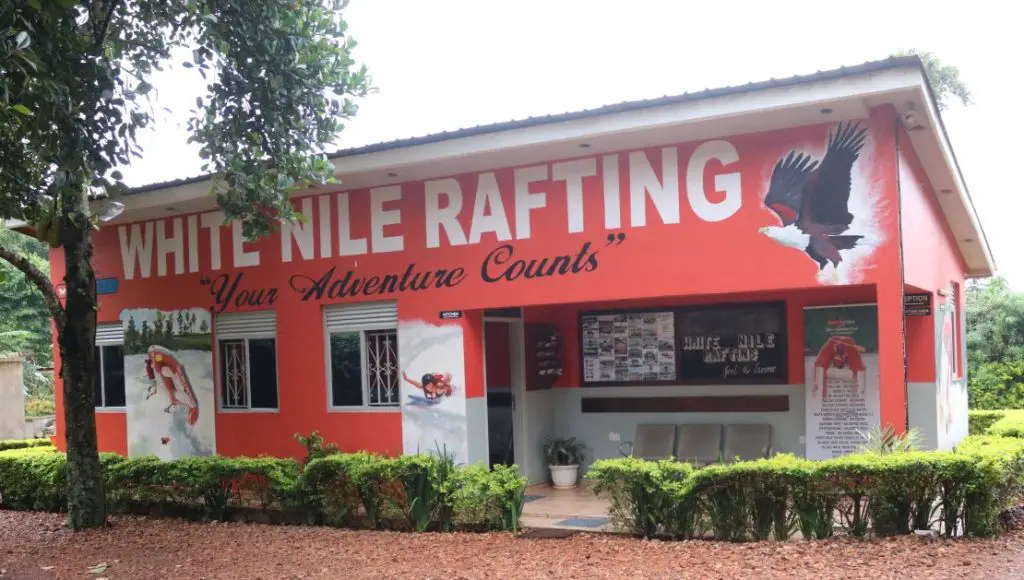 We checked in when we arrived and quickly filled out our paperwork.  Annette asked us for the name and contact information for our next of kin.  What?  Is that necessary?  Rafting the Nile is serious rafting! 
She told us that she never actually had to use that info.  PHEW!
Breakfast was provided before our trip so that we had the fuel for our extensive rowing session!  It was plentiful and delicious.
We then went to lock up our valuables and prepare to meet the mighty Nile River!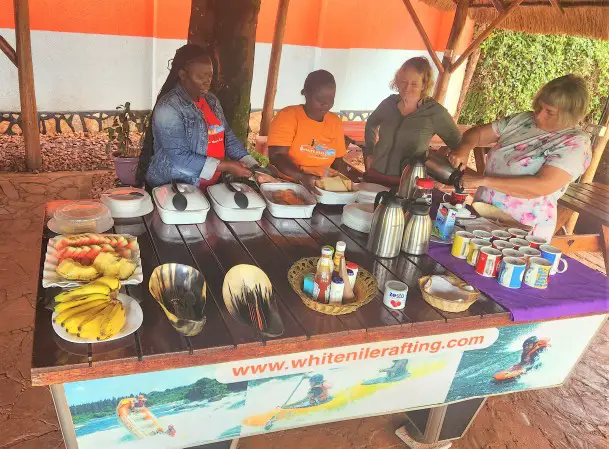 Safety during white water rafting is important!
We chose a company with very high safety standards. We were outfitted with proper life vests and helmets.  They have a large supply of safety gear so that you can get the perfect fit.  Paddles were handed out to everyone.  …and then the group photo showing that we were excited and ready to go rafting on the Nile!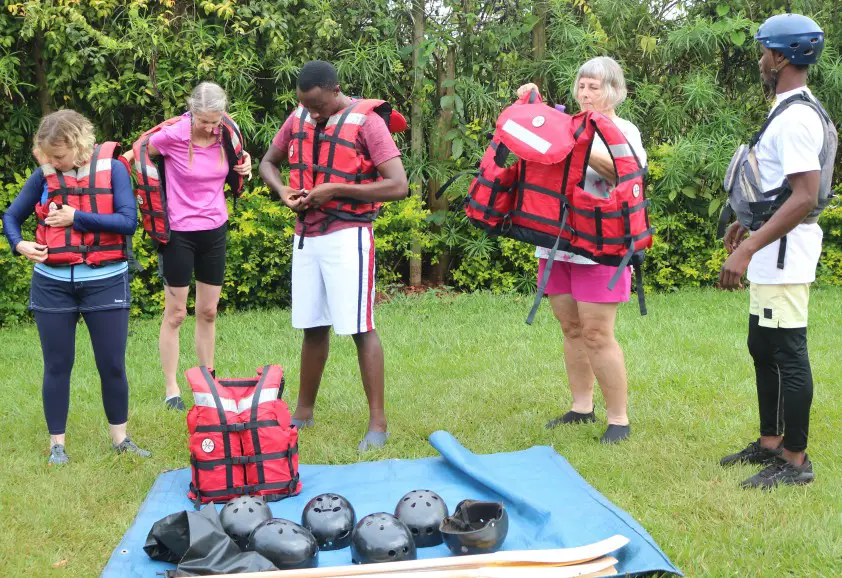 How to preserve your white water rafting memories
Speaking of photos, the videos and photos were all provided to us by White Nile Rafting.  The cameramen had their own kayaks, came along with us on the trip, and filmed all the excitement to provide us with complimentary footage of our whole experience.  This was a nice perk of our rafting package!
This was a nice perk for me which meant I would still get the pictures that I wanted, but I didn't have to worry about bringing my phone and its waterproof pouch and then worry about it floating away in the rapids!
Once we had our gear, we all piled into the back of the pickup truck that was hooked to the trailer with the rafts.  We sat along the edges, facing each other and chatted.  Our guides were all men, mostly young and eager, but there were some older experienced guides too.  John, our guide and leader, participates in rafting competitions around the world!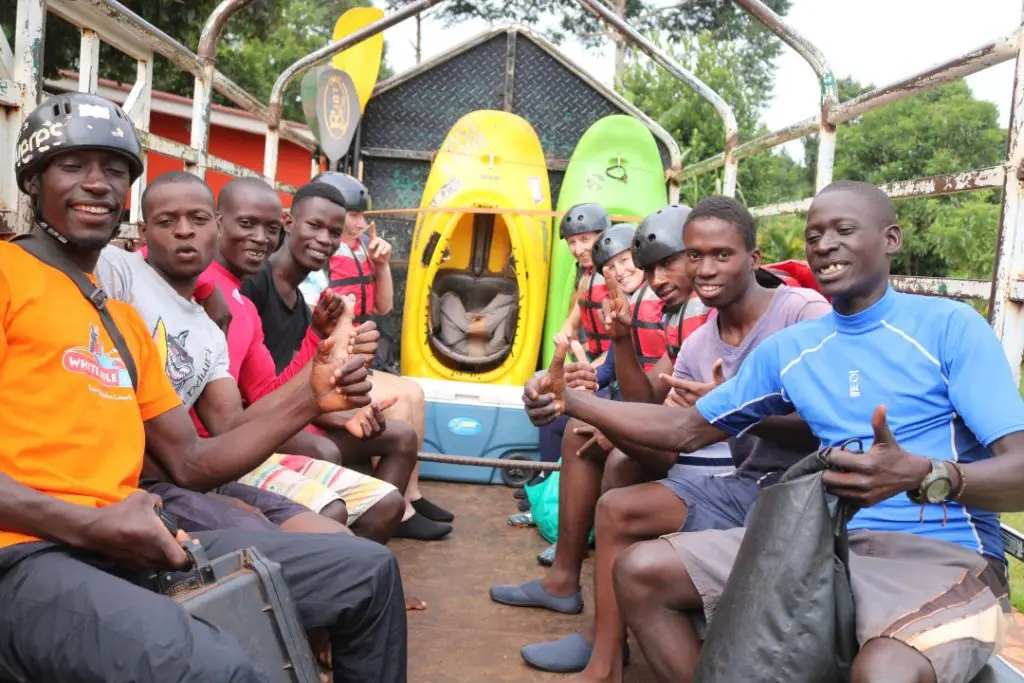 We rode on the bumpy dirt road to our drop-in point, giddy with excitement, but nervous about ingesting large amounts of Nile River water!
Learning to Raft the Nile River
Into the water we went.  Well, our raft went into the water and we went into the raft.  We were instructed how to row, with all our body strength.  I must admit, that wasn't much from wimpy old me.  I was soon moved to the front of the boat! Don't the people in front get the full force of rapids in their faces?
Next, we had to acclimate to the Nile River.  Why?  Because most likely we would soon be IN that river anyway if the rapids had anything to say about it! 
Is rafting the Nile safe?
Don't worry, it is safe.  There are no hippos or crocodiles in that part of the Nile.
We tightened our vests, put down our paddles, and jumped overboard!
It was a little cool because I am a freeze-baby, but I soon got used to it.
Getting back into that raft was the most difficult part of the trip for me… or was it the rowing…I'm not sure. 
I didn't have the upper body strength to do a pull-up into the raft in order to get myself back in, so the guide had to pull me in by my life vest until I was able to throw a leg over the side. Being flexible definitely helps! Maybe I should have done some stretching before my raft trip?
PRO TIP – Wear long shorts or even pants because the ropes on the side of the raft scratch your legs each time you are pulled over the side to get back in.
We then learned what to do if the raft flipped and what to do if we got stuck UNDER the raft. 
We practiced flipping and getting hauled back in by the safety kayakers. 
As we approached our first rapid, we voted. 
"Who wants to flip?" 
Like voluntarily?  Who actually chooses that?? I didn't even know that was a choice!!  Oh, sure, why not!  I was already wet anyway.  The one person that didn't want to flip was transferred to the safety boat to enjoy our show.
We approached the rapid and the guide gave instructions.  We were given a cue to exit the raft once we hit the big rapid and the boat easily took that opportunity to flip up-side-down.  I slowly counted and waited for my life vest to bring me to the surface.  I was still near the rapid when I surfaced, so I just bobbed up and down while still getting pounded by water.  Quickly, the safety kayakers came to grab us.
---

---
Walking around the Nile River class VI rapid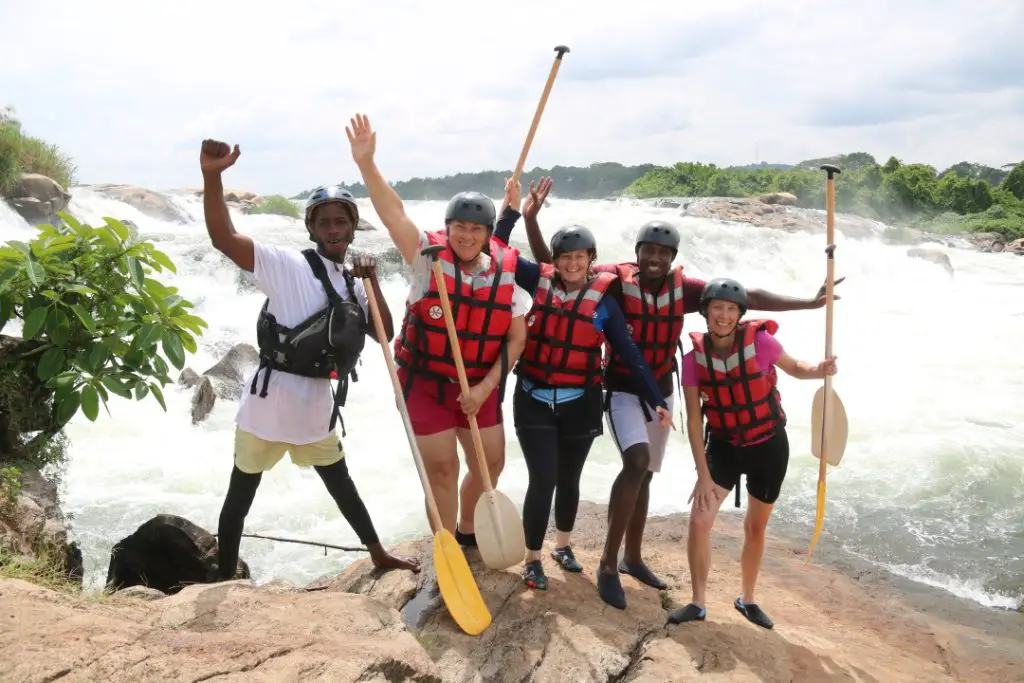 This one was HUGE!  Our wise leader led us on dry ground around the big rapids.  The staff carried our raft and supplies as we walked to the other side.  We stopped for a photo halfway and stared at the sheer power of the Nile as it crashed its way through that rapid.  The professionals in the crew ran that class VI rapid in their kayaks.  Amazing!
No.  This one was not for beginners. This was Itanda Falls.
Snacks on the Nile River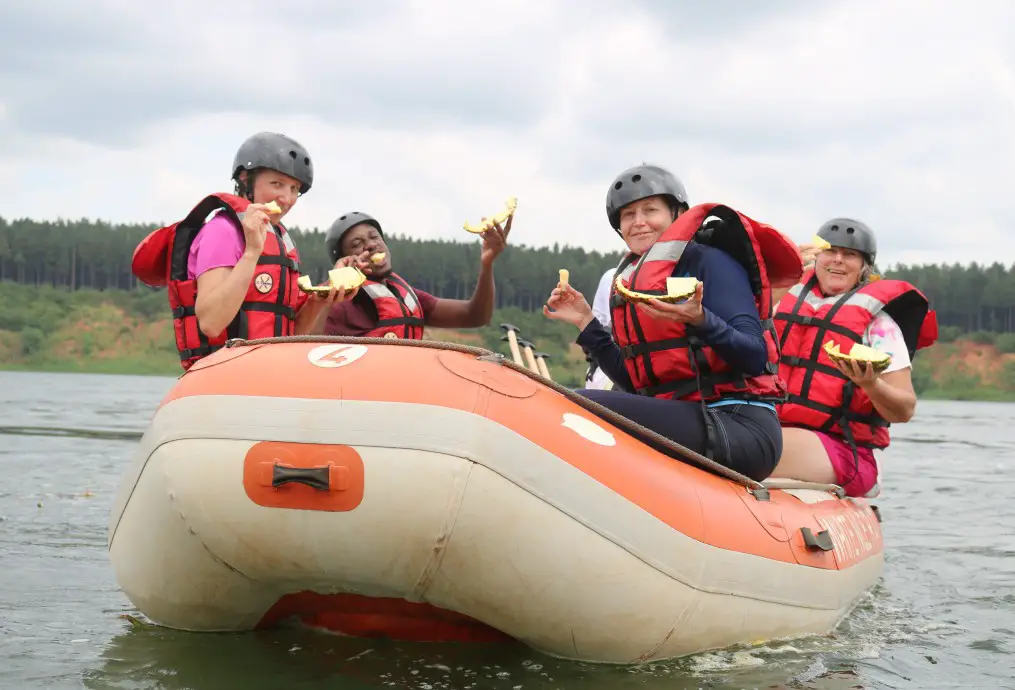 In the middle of our Uganda white water rafting trip we stopped for snacks!  The crew cut up pineapple to pass around.  This was the first time I ever enjoyed pineapple.  I normally do not like it!  Water is always available during the rafting trip, so we replenished with that too.
Our white-water rafting trip included some extra bonus options for tubing or body surfing over the rapids.  We all tried something different.  We even tried rowing the safety boat!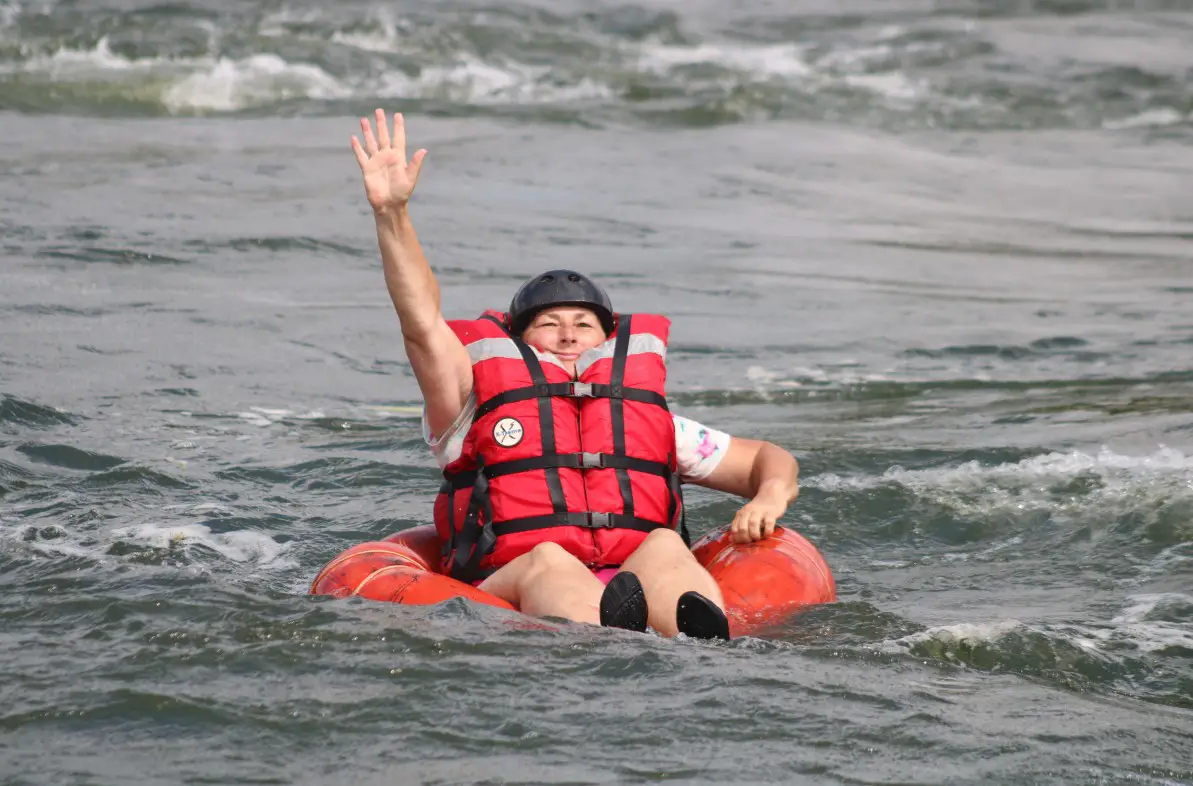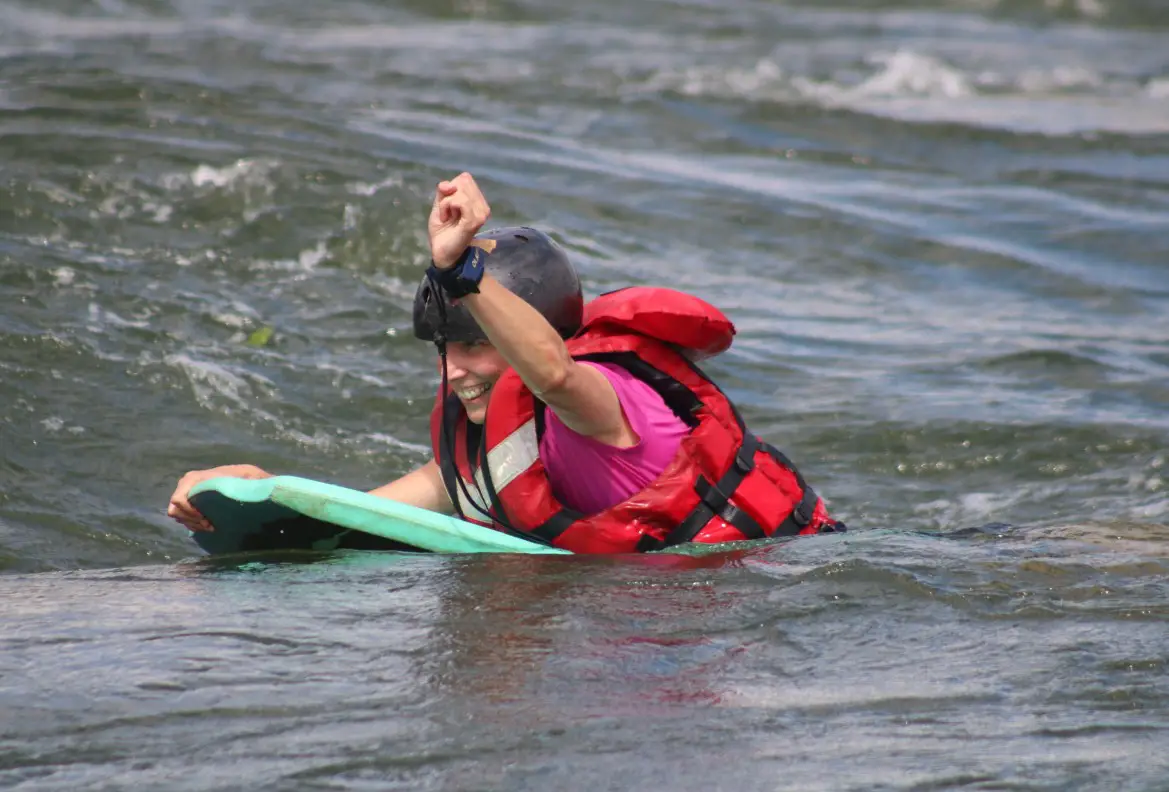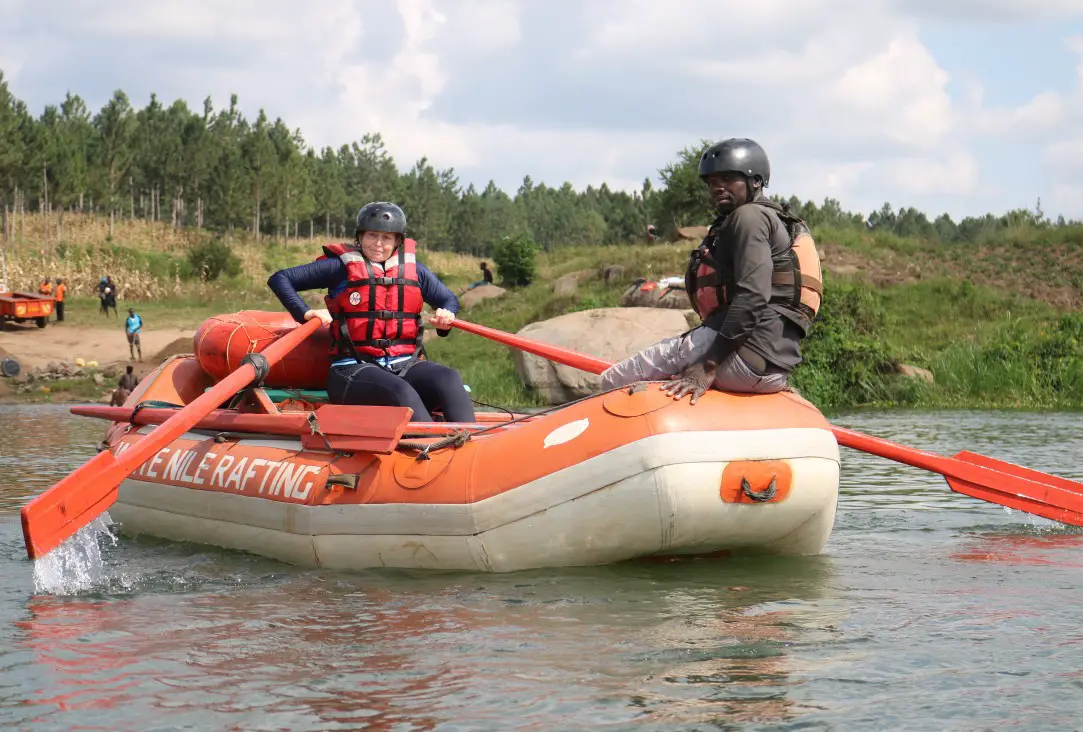 ---
BBQ Buffet after the white-water rafting trip
After our return to the camp, we gathered around to watch the photos and videos of our white water rafting trip. We laughed when we saw how we were thrown from the raft by the powerful rapids… and even harder when we saw Yusuf somehow fall out and on top of the flipped raft, legs pointed to the sky (see that photo in the next section!).
We were also treated to a buffet meal after the rafting trip.  White Nile Rafting prepared a feast!  The grilled meat was beef, but they can also serve chicken and fish depending on special diets.  It was delicious and melted in my mouth.
---
Is white water rafting safe?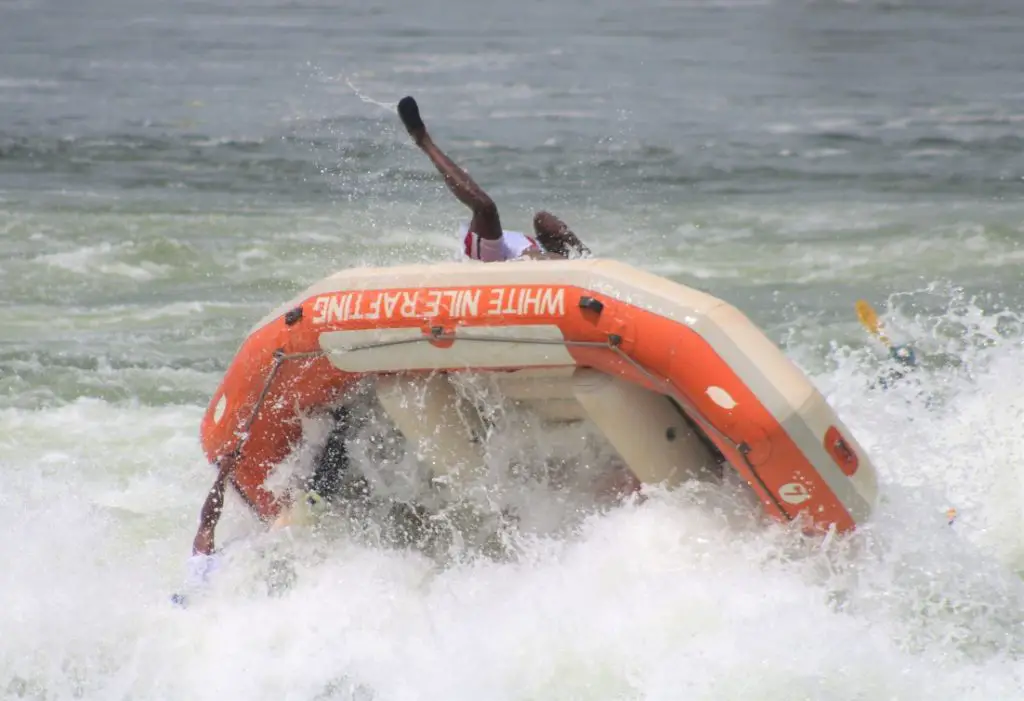 Whitewater safety standards
If you are wondering if white water rafting is safe in Uganda, I can tell you my own impressions. I felt very safe with White Nile Rafting.  We went through extensive safety briefings and practice drills.  They made sure our life jackets and helmets were tight and secure before encountering each rapid.  We practiced flipping the boat and what to do if we are caught under the boat.
There is a safety boat and safety kayakers with every trip.  In fact, the number of White Nile crew on our trip was more than us! 
The minute my life jacket brought me to the surface each time I entered the water, there was always a safety kayak right there, ready to bring me back to the raft.
Our guide always steered us to the safest part of the rapid, clear from any rocks or hazards.
I am not a great swimmer, but I trusted my life vest to make up for my shortcomings and bring me afloat.  After that, the crew was there to take care of me and I felt very safe on this trip while rafting the Nile.

Where to raft the Nile in Uganda
The best place to go white water rafting in Uganda is in Jinja.
Jinja is located an hour north of Kampala, the capital city of Uganda 
PRO TIP:  Due to the horrendous traffic in Kampala, it is advisable to make a day trip to Jinja, stay overnight, and make the trip back the next day.  Our trip back to Kampala took nearly 3 hours during prime Kampala traffic jam time! Again, it is only located an hour away without traffic!

Choosing a company for white water rafting in Jinja Uganda
There are a handful of companies that organize rafting trips on the Nile River in Jinja.  The most important thing to look at when choosing a company to raft the Nile is their safety standards. Your safety is so important, so choose a company that also makes it a priority.
Some of the rafting companies also offer various extras and options like pickup service in Kampala, video packages, full-day versus half-day rafting trips, meals before and after your adventure, or tranquil float trips for the less adventurous. 
In choosing your Nile River white water rafting company, you need to make decisions on the type of rafting trip you want and the extras that go with it.
Important information about white water rafting in Uganda
How much does it cost to whitewater rafting in Uganda?
If you are wondering if rafting packages are wallet-friendly, you first need to determine what kind of rafting trip you are looking for. White water rafting trips in Uganda can range anywhere between $125 – $400 per person depending the company and on how long of a trip you want.  Most companies have half-day, full-day trips, or even a weekend trip.
NOTE: The pricetag of the half-day white water rafting trip that we took from White Nile Rafting was $125 per person with EVERYTHING included (see below in the discussion of options in the white water rafting packages)
What is included in the white water rafting package tour?
The biggest thing to look for in your white water Nile River rafting trip is WHAT IS INCLUDED.  This will affect the pricing so make sure you compare apples to apples.  Choose the rafting company that includes all the bonus extras that you are looking for.
Options to consider when comparing white water rafting companies
Food:  Breakfast before rafting trip, snack on the river, lunch/dinner after the trip
Photography / Videography
White Nile Rafting had all of these important options, so that is the company that we chose!
---
What to pack on a whitewater rafting trip
The rafting company will have a dry bag to bring your important supplies on the raft.
Sunblock.  Make sure it is waterproof, bring it on the raft, and reapply often!  Yes, I got burned!
Personal Medication.  Inhaler, etc.
Water bottle (most companies will provide water, so most likely, not needed)
What to wear while rafting the Nile in Uganda
Water Shoes – You will have to walk around the big rapids on land, so get something you are able to walk in.
Long shorts– I wore spandex biker shorts that dried quickly.  I would suggest even longer pants to protect your legs from rope burn as you are hauled into the raft
Bathing suit – Guys can wear swim trunks.  Ladies, I wore my bathing suit bikini underneath my top layer.
Other items to bring on your Nile rafting Uganda trip
Change of clothes – to change out of your wet clothes
Towel – to dry off (or huddle in if you are cold at the end of the trip). I have a multi-use microfiber light-weight travel towel that has served as a blanket, towel, pillow, and many other functions.
Money – for the tour and for tips
Transfer device – our tour provided free photos, but we needed a device (phone with cord, USB drive) to transfer them to (or else the other option was via email if you didn't have a device).
Lots of energy – get a good night's sleep!  You will need it!
---
Need more information about what to pack for your trip to Uganda? Take a look at all my tips for what to bring on this bucket list trip to the Pearl of Africa!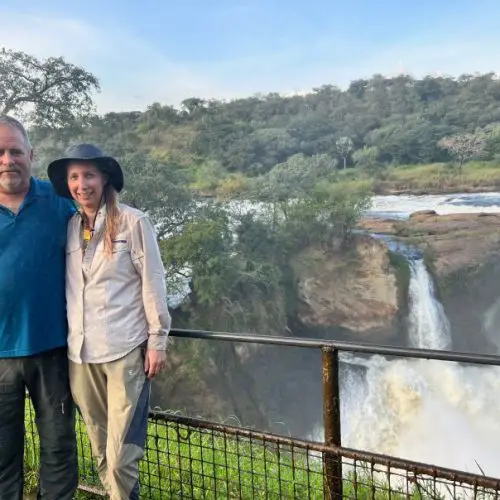 The Easy & Stress-Free Packing List for Uganda
If you are taking a trip to Uganda in Africa, you might be wondering what to pack for a trip to Uganda! Here are my helpful tips & an ultimate Packing List for Uganda based on our experiences!
---
Is rafting the Nile worth it?
There are a lot of common questions that go along with deciding to white water raft in Uganda, particularly if you have never done it before.  It is worth your extra time to search for a rafting company that has very good safety standards.
Is White water rafting fun?
Is white water rafting hard?
In fact, white water rafting is both fun and hard.  It takes a lot of effort to row down the river, especially a long one like the Nile River, but the exhilarating trips through the rapids are quite rewarding!  Even if you are not an adventure traveler, this is something you should put on your Bucket List for Uganda.  You won't regret it!
Like this post?
PIN IT for your next white water rafting trip!