DISCLOSURE: I may link to relevant products, companies or helpful info which may be affiliate links, meaning I may earn a small commission. As an Amazon Associate & other affiliates, I earn from qualifying purchases at no extra charge to you. The views & opinions are my own. Please see the disclaimer and privacy policy.
Last Updated on July 26, 2022
Best Wineries near Niagara Falls
Niagara Falls Canada is world-renowned for its extensive supply of wineries due to its perfect climate for wine-making. Here is a collaborative list of the top Niagara Falls Canada wineries to visit on your next trip to the Falls. This Niagara Falls winery guide will give you hints and ideas of great Niagara Falls wineries to tour and sample. After your Niagara Falls tasting experience, grab a souvenir bottle from your favorite winery for your trip home to extend the Niagara wine trail straight to your house!
For more ideas and things to do in the Niagara Falls area for a weekend getaway, check out my post on Niagara Falls in the Winter and the Winter Festival of Lights. Both ideas are a lot of fun and a very informative guide for your Niagara Falls vacation.
Where is the best winery in Niagara Falls Canada?
Niagara Falls Wineries List:
Peller Estate
Recommended by Christina from Travel2next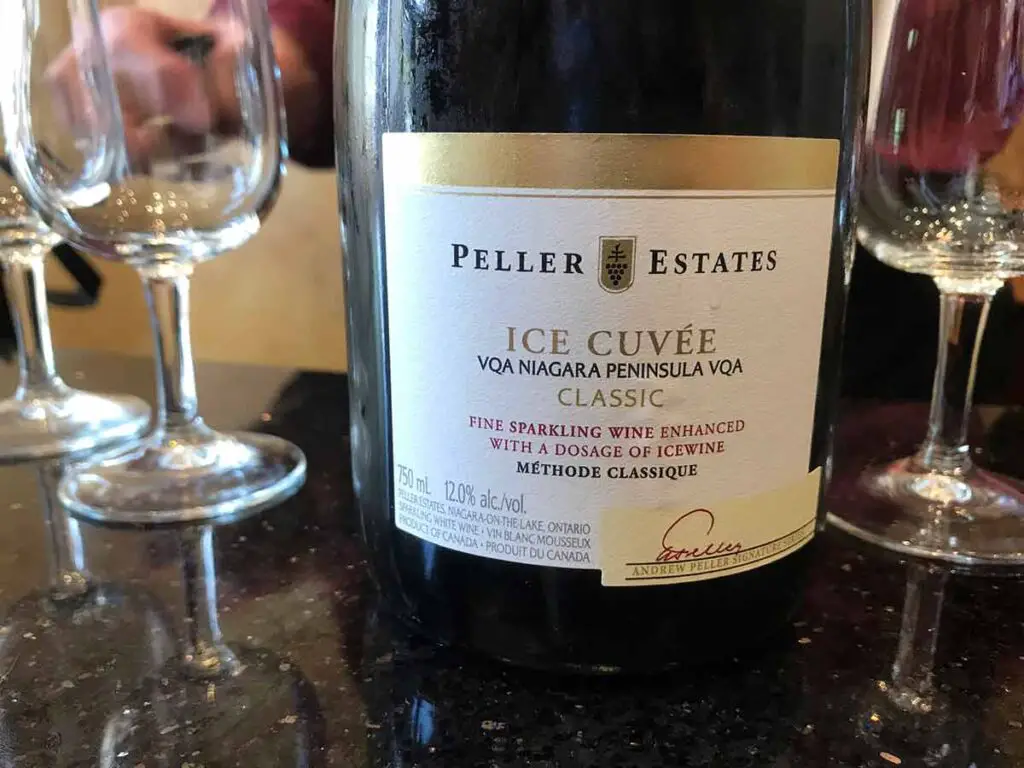 Peller Estates' cellar door is a grand European-style chateau among the vineyards. The winery started in British Columbia and expanded to Ontario and Nova Scotia. Four generations of the Peller family form the team of this family-owned Canadian company. Peller Estates offers unique hands-on learning tours to guests who can stroll amongst the vines, learn to smoke cheese with a blowtorch or rug up to drink Icewine. The winery has a well-stocked shop, where you can buy wine and gifts. And there are two restaurants you can go to for a delicious meal. The Barrel House Grill offers casual dining on the patio while The Winery Restaurant is one of the top restaurants in Niagara Falls for paddock-to-plate dining, excellent service, and wine paired with your meals.
Wine tasting in Niagara Falls is one of the most enjoyable things to do in Canada, especially in winter as Niagara Falls is famous for its Icewine.  A tour of the 10Below Icewine Lounge is unusual because the freezing lounge was built with 13,607 kilos of ice and the temperature is -10ºC, which is the perfect temperature for harvesting Icewine grapes. To make Icewine, grapes are picked in the middle of a freezing Canadian winter and pressed while frozen.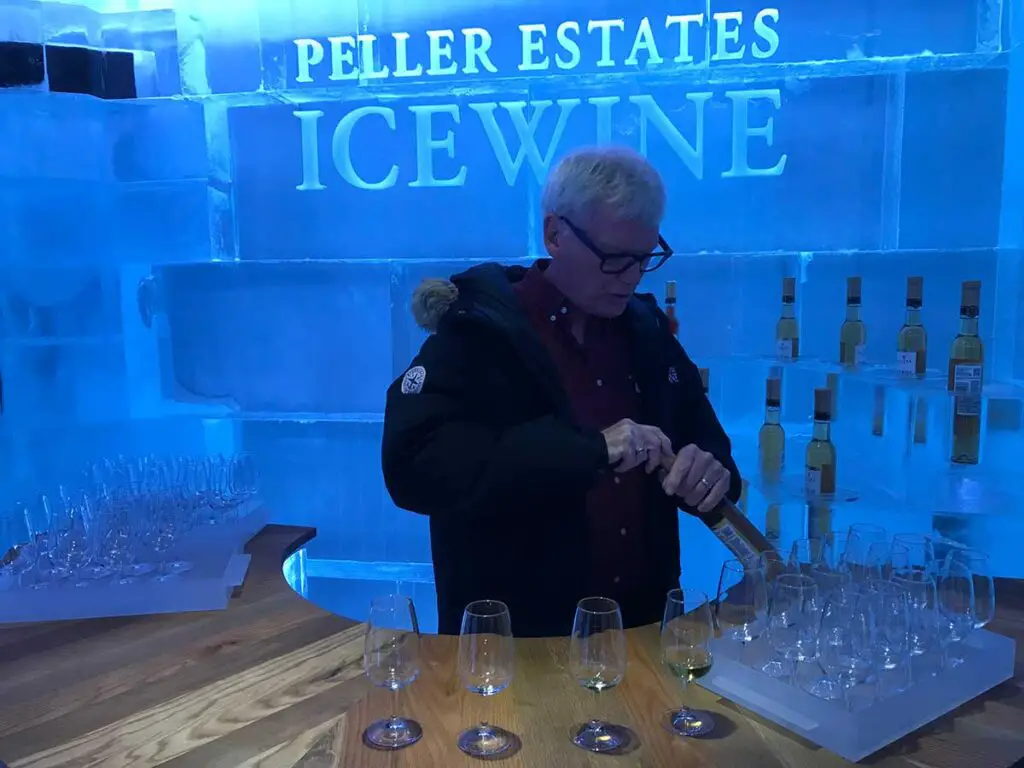 When I visited Peller Estate, I flew in by helicopter and landed on the front lawn like a rockstar. This grand entrance made my visit one of the more memorable experiences on my itinerary in Niagara Falls.  
Due to COVID-19, guests must wear face masks, and if you are dining in or attending a seated tasting, no more than four people are allowed at each table. Everyone seated at the same table must live in the same residence and anyone above the age of 16 must provide information for contact tracing.
Trius Winery
Recommended by Rachael from A City Girl Outside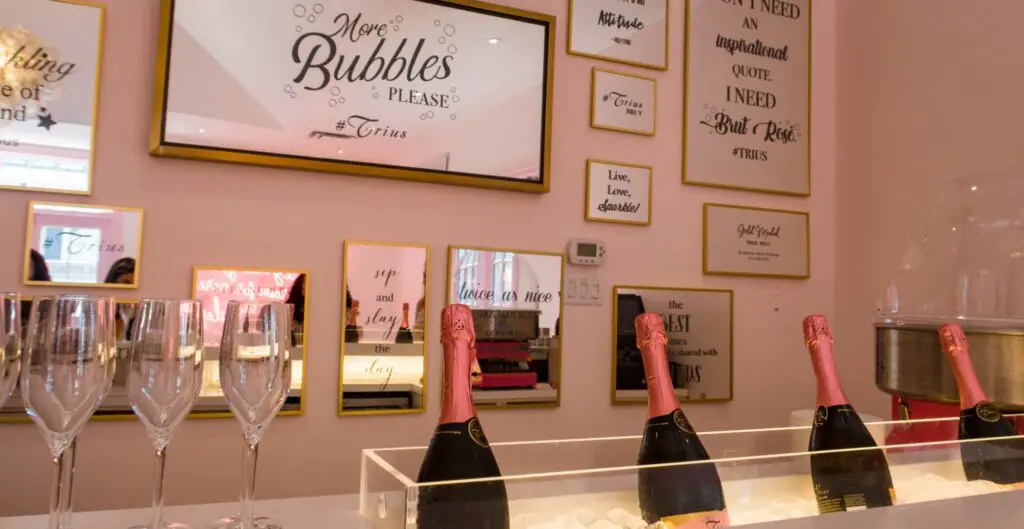 Trius Winery is one of the biggest wineries in the Niagara region. They recently revamped the Trius Instagram Wine Tour at their cellar door in Niagara-on-the-Lake. The winery has been transformed into a pink Instagram paradise. Each room showcases a different varietal within their collection and each room is just as photographable as the next. Upon checking in at this beautifully designed winery, you'll be given your very own wine tasting glass, a mini wine glass adorned with cute slogans such as "Add a little sparkle."
There are many places to take photos before the tour even begins.  The gift shop alone is beautiful. Once the tour starts your guide will bring you to the first stop where you'll get to sample a rosé varietal. This room features walls adorned with roses of all shades of pink. There are a few couches to sit and sip while you enjoy the panoramic views of the vineyards below.
The second stop brings you to the Aroma Station where you'll get to smell different aromas and have a guess at what they might be. This stop is in one of the wine cellars of the vineyard and here your tour guide will go into more detail about the wine making process. We also got to witness our guide demonstrating the art of "Sabering" the champagne bottle. The cellar is where you'll get to sample some of Trius' award winning reds, such as the iconic "Trius Red."
The tour ends with what is probably the funnest wine tasting room I've ever set foot in, the sparkling house, featuring photo ops in the bubbly bathtub and the cork chairs and swings. The final wine of the tour is a full glass of sparkling brut rosé adorned with some freshly made pink candy floss to sweeten the taste.
Trius Winery has many awards under its belt and has brought such a fun and immersive experience to wine tasting. This tour would be perfect to include in a girls' trip, bachelorette parties, or milestone birthday trip celebrations.
Due to COVID, tours are limited to four guests, and dining is limited to four per table as long from the same household. You are also required to remain seated when dining.
Konzelmann Estate Winery
Recommended by Jarrod from Ramble Around The World

Niagara Falls is located amid the Ontario wine country that's filled with rolling hills and more than 100 vineyards. While there are more than enough wineries to choose from to keep you busy for years, only a select number of them are open to the public and conduct daily wine tours.
One of the most unique in that category is Konzelmann Estate Winery in Niagara-on-the-Lake. While the Niagara Falls region has many wineries located on Lake Ontario, Konzelmann is the only lakefront winery that's open to the public.
The winery offers two 45-minute tours, giving you the three-season option to enjoy a walk through the vineyards and cap it off with a structured wine and cheese tasting or a winter option that's capped off with its famous ice wine around a fire pit. Each will set you back $23 to $31 USD.
It also offers a 25-minute seated wine tasting tour for just $8 and a wine-with-junk-food extravaganza for $16. Konzelmann Estate also offers an 85-minute private estate cellar experience, a blind tasting experience accompanied by a tour of the winery, and a public VIP tour of the winery and cellar, the latter two each lasting 45 minutes.
Getting to Konzelmann Estate Winery from Niagara Falls is a breeze, but you'll have to rent your own vehicle from Buffalo or one of the nearby airports.
Due to Covid, the three wine tours are temporarily not running.
Reif Estate Winery
Recommended by Taryn from Chasing Trail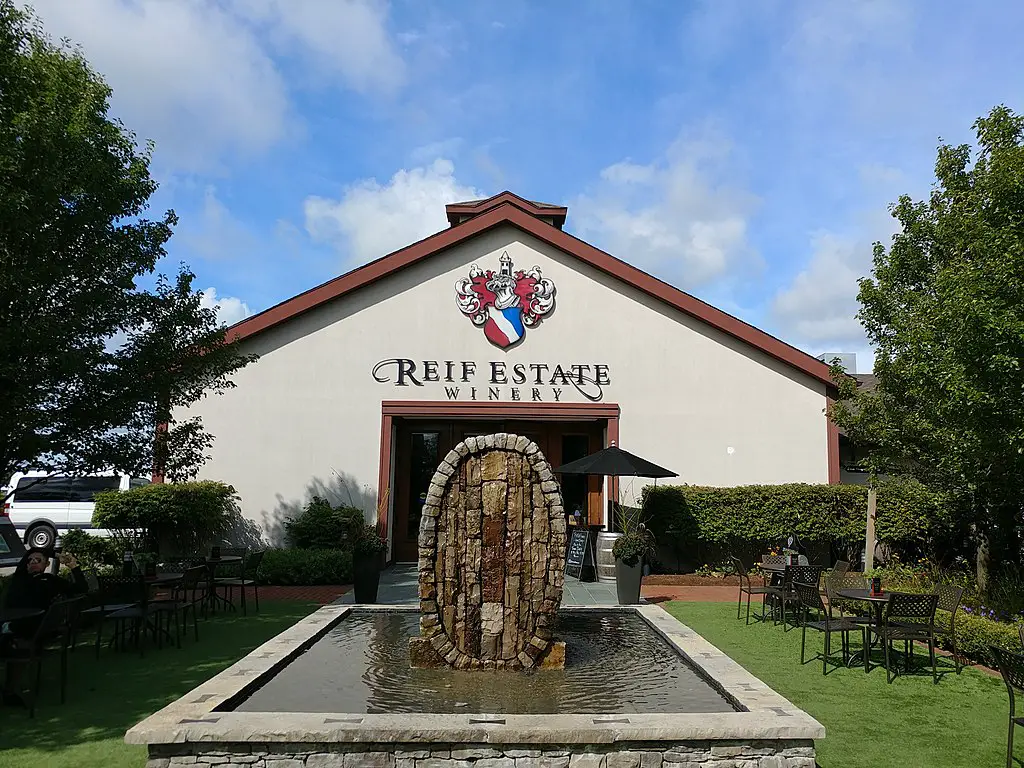 The Reif family has been in the winemaking business for an astounding 13 generations, beginning in Germany's famed Rhine River Valley. Ewald Reif bought the winery's original plot of land in Niagara-on-the-Lake in 1977, bringing the family tradition to North America. The first vineyards were planted that same year and still consistently produce award-winning wines today. 
Reif Estate Winery was one of Niagara-on-the-Lake's founding wineries, officially established in 1982. It has been instrumental in developing the fertile area into a world-renowned wine region, operating on the philosophy that "great wines start in the vineyard." To that end, Reif Estate Winery is best-known for producing sun-loving grape varietals including cabernet sauvignon, chardonnay, and riesling. 
Visitors to Reif Estate Winery experience not only impeccably-maintained grounds, but also tasting experiences focused largely on education. Every host is incredibly knowledgeable about the Reif family's history and traditions, the winemaking process, and different varietals. Choose from seated or blind tastings, vintage and reserve tastings in the Winemaker's Loft, walking tours, and even an ice wine experience. For families who do everything together, Reif Estate Winery is also child-friendly and even provides grape juice for little ones. 
One of the most unique features at Reif Estate Winery is the sensory wine garden. Pairing flowers, herbs, and aromatics, the garden provides guests a complete sensory experience to complement wine tasting. For example, the sauvignon blanc section features roses alongside coriander and honeysuckle. The garden is open May through October and there's an outdoor kitchen where guests can purchase charcuterie and other light bites. All Reif Estate Winery tasting and tour experiences are available year-round, with the exception of the wine garden.
In light of the COVID-19 pandemic, protective face masks are required indoors and reservations are strongly recommended, although the winery will accommodate walk-ins if space allows. There is a beautiful outdoor patio with plenty of heaters and seating with plenty of space between parties.
Small Talk Vineyards
Recommended by Sarah from In Search of Sarah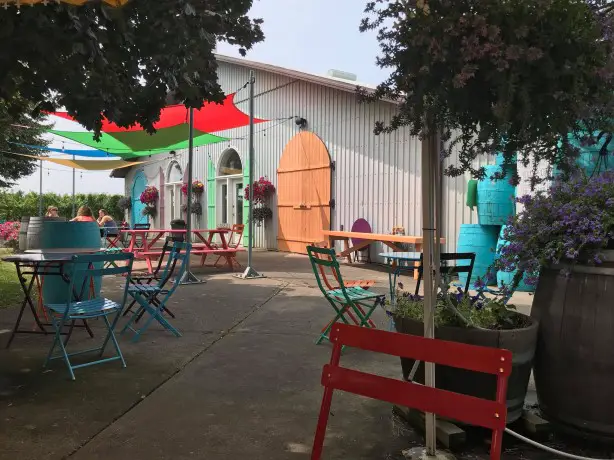 Located 20 minutes from Niagara Falls in the charming Victorian town of Niagara-on-the-Lake, Small Talk Winery is a vibrant feast for the eyes that makes for a fun visit year-round. No other winery in the region is as bright and quirky as Small Talk. They pride themselves on being the most colorful and happy place in Niagara Wine Country, and it's hard not to smile once you arrive. Not only do they produce wine, but they also produce cider, and some of the best around, too!
From popular baby goat yoga classes to trivia nights, wine-filled watercolor painting classes to wagon rides through the vineyards there is something for everyone. There is a big sense of community at Small Talk Vineyards; every summer there is a craft market on weekends featuring local artists.
Relax outside under the shade of their trees and colorful canopy while you make your way through a wine and cider flight. During the warmer months, be sure to try their seasonal ciders including peach, blueberry maple, and pink lemon!
Their Shiny Apple Cider and Shiny Apple Rosé can be found at the LCBO. During the warmer months, tastings are accommodated on their patio, but no reservations are required.
Niagara-on-the-Lake is known for its abundance of wineries, but there are plenty of other things to do in this enchanting town, too!
Due to COVID, their indoor tasting room is closed for the season, but you are still able to purchase at the winery.
and there you have the TOP 5 Wineries near Niagara Falls Canada
Be sure to check them out and put them on your itinerary as you tour the Falls area. It is always a good time to visit a winery. You don't need a sunny day and you don't need nice weather. You can always including visiting a winery in winter on your Must-See list and this guide to the top Niagara Falls Canada wineries will come in handy for your Niagara Falls vacation planning as you drive around in search of great wine-tasting experiences.
Like this post? PIN IT for later