DISCLOSURE: I may link to relevant products, companies or helpful info which may be affiliate links, meaning I may earn a small commission. As an Amazon Associate & other affiliates, I earn from qualifying purchases at no extra charge to you. The views & opinions are my own. Please see the disclaimer and privacy policy.
Last Updated on July 6, 2023
About Hiking at Red Rocks Colorado
Once considered one of the seven wonders of the world and containing over 640 acres of geological wonders with a panoramic view of Denver, there is plenty of hiking at Red Rocks Colorado.  Red Rocks Park is owned by the city of Denver and was opened in 1941. 
Its centerpiece is Red Rocks Amphitheatre –or Red Rocks Amphitheater if you do not prefer the English spelling. 
The park is filled with miles of Red Rocks hiking trails and amazing natural red rock formations, while staking claim to being the only naturally made outdoor amphitheater in the world with perfect acoustics. The trails are plentiful, making hiking near Red Rocks Park an excellent choice for your outdoor Denver itinerary and all your adventures in Colorado.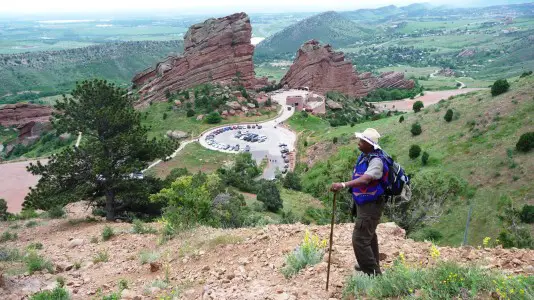 Where is Red Rocks Amphitheater in Colorado?
Red Rocks Park & Amphitheatre:
18300 W. Alameda Parkway
Morrison, CO  80465
How close is Red Rocks to Denver?
Red Rocks Amphitheatre is in Morrison, Colorado, 15 miles to the west of Denver.  Just a quick drive on I-70 to exit 259.
---
How to see Red Rocks in Colorado
Don't want to go to Red Rocks Amphitheatre on your own?
Take a tour that includes sightseeing at Red Rocks Colorado to appreciate this massive amphitheater and all the hiking trails near Red Rocks Amphitheatre that surround it!
---
Other activities near Red Rocks Colorado
---
Where to park while hiking at Red Rocks Amphitheater Colorado
There are several parking lots on the lower level and one at the top of the amphitheater.  I suggest driving through the red rock arch and parking at the top for overall views and pictures of Red Rocks Amphitheatre in Colorado and then moving down to the lower lots to get photos from the bottom. Some of the Red Rocks hikes begin on the lower levels.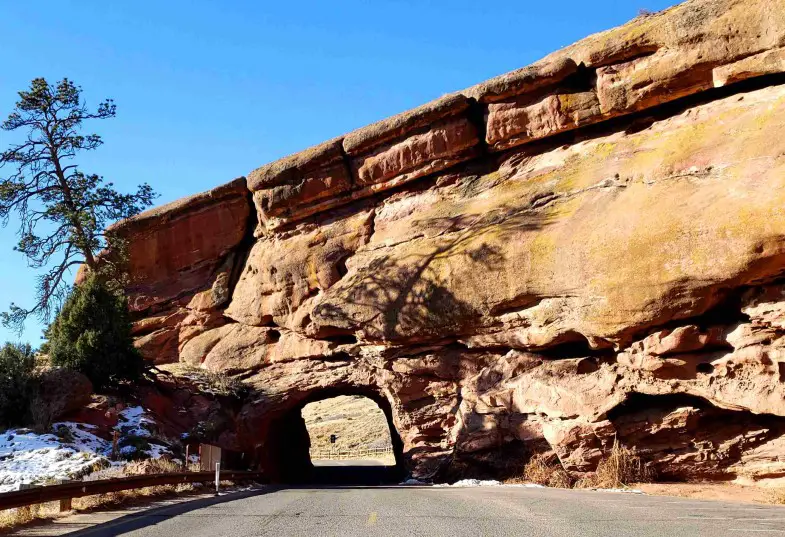 Best Things to do at Red Rocks Park in Colorado
The park is open all year for tourists to enjoy for FREE from dawn to dusk.   Except for a few things, a lot of these Red Rocks Park itinerary suggestions are also things you can do in Red Rocks Colorado in winter.  The red rocks are a sharp contrast to the white snow in the winter or the deep green shrubbery in the summer.
Tip number one is to do some Red Rocks Hiking!
Trails for Hiking at Red Rocks Colorado
Can you hike at Red Rocks? Absolutely!!!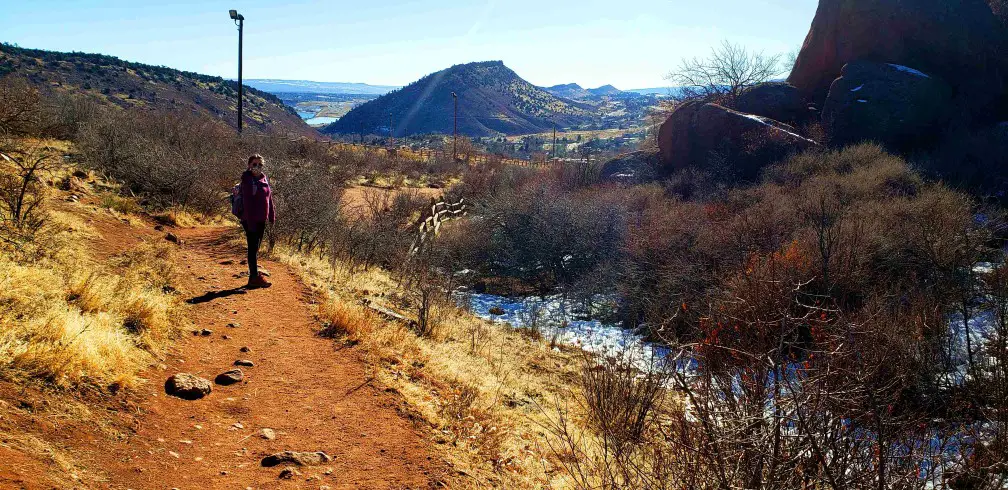 My daughter and I really enjoyed our Red Rocks Hike. It was a winter day, but the temperature was mild. We didn't even need warm coats!
There are two main Red Rocks trails in Red Rocks Colorado that provide access to the beautiful landscape and breathtaking views of the sandstone red rocks that surround the amphitheater.  To the delight of the animal-lover, the trails at Red Rocks boast rabbits, prairie dogs, fox, and mule deer, so walk quietly and keep alert for the wildlife.
RED ROCKS HIKING TRAIL MAP
Consult the Red Rocks Park Map for trail details about all the trails
for the best hikes in Red Rocks Colorado!
Trading Post Trail at Red Rocks Colorado is a 1.4-mile circular trail that takes tourists close and personal with the park's notable rock formations. It is a moderate trail that travels across sandstone and jumbled rock bits It will take approximately 1 – 1 1/2 hours to hike through this red rock trail.
The Red Rocks Trail at Red Rocks Park is another moderate trail and one of the best hikes near Red Rocks Amphitheater. It is a dramatic 6-mile hiking trail that takes about 3 hours to hike, connecting with Dakota Ridge Trail and Mathew Winters Park.
---
Denver is a great destination for outdoor adventurers since there are many hikes near Denver. For those who love hiking, check out this gift list for hikers and pick out some essential hiking supplies for your next hike. Perhaps your next hike will be on the Red Rocks Amphitheatre hiking trails in Colorado!
Visiting Red Rocks Amphitheatre
The amphitheater is enclosed on each side by gigantic sandstone rock formations that frame each side of the seating area and rise to a height that is higher than Niagara Falls.  These 300-foot mega-rocks, called Creation Rock and Ship Rock (or previously called Titanic Rock), form the outdoor amphitheater, making Red Rocks the most unique natural stage setting in the world and attracting many visitors filled with curiosity and awe.
After you finish hiking Red Rocks Colorado, make a stop to enjoy the beautiful amphitheater!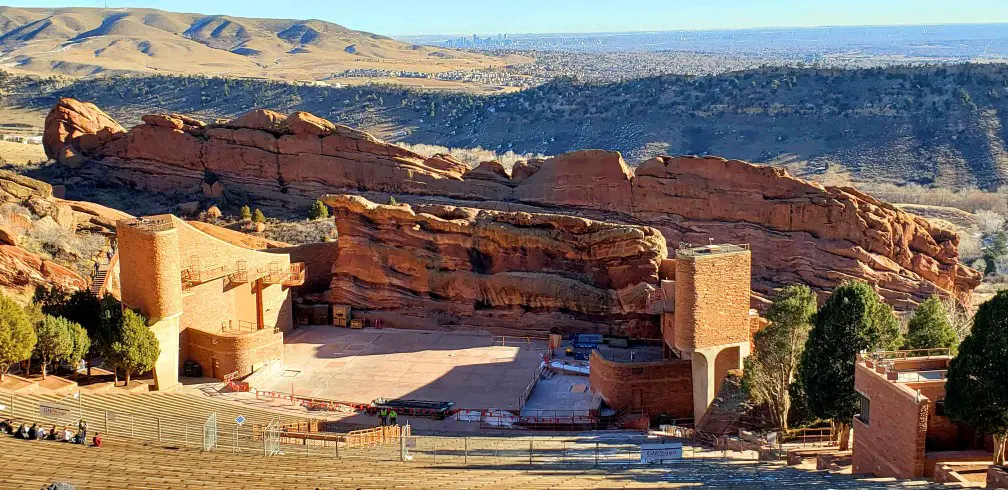 Exercise at Red Rocks Amphitheatre
In addition to all the Red Rocks Amphitheater trails, a 'Stair Master' contained in a beautiful natural setting can elevate your exercise routine to a new level.  Hike to Red Rocks Amphitheater by starting your hike down at the bottom with 380 steps from the lower level to the top level in the amphitheater.
Save your breath and breathe slowly on the stairs! The elevation of nearly 6,000 feet makes 'doing the stairs' even tougher. 
Sports teams and exercise enthusiasts flock to the amphitheater to take advantage of the seats and hundreds of steps.  They walk, run, and race up and down the stairs to improve their endurance and strength.  As for myself, I was happy to just plop down on a seat to enjoy the view after I walked up half of the stairs from the lower level.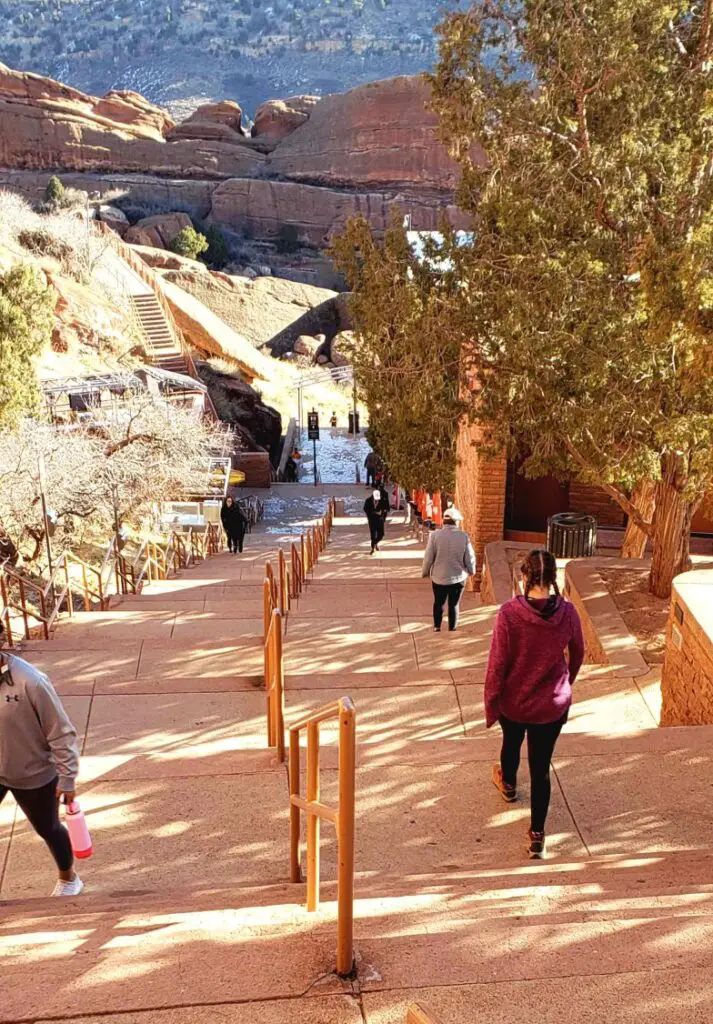 Yoga on the Rocks 2023
**Yoga at Red Rocks 2023 STARTS in JUNE.**
Those seeking a more relaxed muscle workout can opt for 'Yoga on the Rocks.'  This option is only available in the summertime when the sun warms the air around the Red Rocks amphitheater.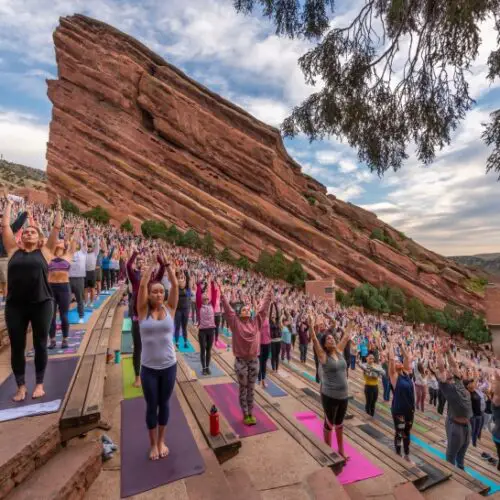 Experiencing Outdoor Yoga At Red Rocks Denver
Head outdoors for the best yoga in Denver. Include Yoga at Red Rocks Amphitheater in Denver, Colorado for a unique and phenomenal outdoor yoga experience.
During normal times, there are 2,000 participants.  It is such a spiritual journey to assume the yoga body positions with controlled breathing in such a beautiful setting among the Red Rocks in Colorado!
Film on the Rocks
**Film on the Red Rocks 2023 STARTS in early summer.**
Another summer event is 'Film on the Rocks' at Red Rocks Amphitheatre.  This event began in 2000 to the delight of the locals and tourists alike.  It starts with a concert or a comedian in the early evening daylight and ends with a showing of a popular movie by the time the sun sets to create an eerie movie atmosphere in the natural red rocks amphitheater.  Previous shows included 'Grease' and 'Deadpool,' so there is definitely a chance that your favorite genre will be playing soon.
Look for the new schedule of films coming out at the start of the summer.
Where is the Red Rocks Park Visitor Center
Located at the top level of the Red Rocks Park Amphitheatre, the Visitor Center is also made of red rock so that it complements its natural surroundings.  The Visitor Center details the history of the park as well as highlights from the various performers that have taken the amphitheatre stage since it opened in 1941.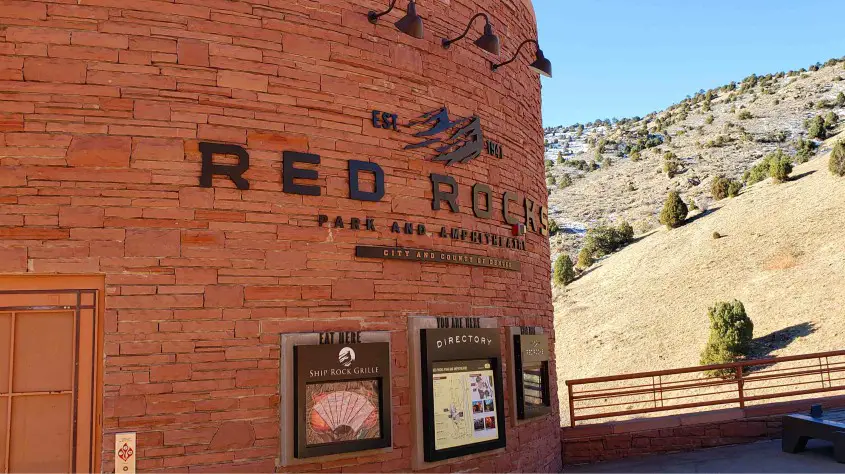 ---
There are retail stores, a small restaurant, and restrooms located at the top level of the amphitheatre in the Visitor Center.  The only restroom facilities were port-o-potties installed in the lower parking lots.
Concerts at Red Rocks Amphitheatre
The open-air Red Rocks amphitheater has perfect acoustics and is an ultimate accomplishment for any performance act. Thousands of musicians from every genre have graced the Red Rock Colorado stage. 
Attending one of the concerts at Red Rocks Amphitheatre in Colorado is an ultimate bucket list item.
Of note is that in 1971, after a rowdy Jethro Tull concert at Red Rock Colorado that included tear gas and police control, the mayor banned all future rock-n-roll concerts at that location.  Now THAT must have been an exciting event! 
Luckily the ban was eventually lifted and further concerts by famous legends like the Grateful Dead, Jimi Hendrix, and many, many others could jam on the sandstone amphitheater stage surrounded by the Rocky Mountains and gigantic red rocks landscape.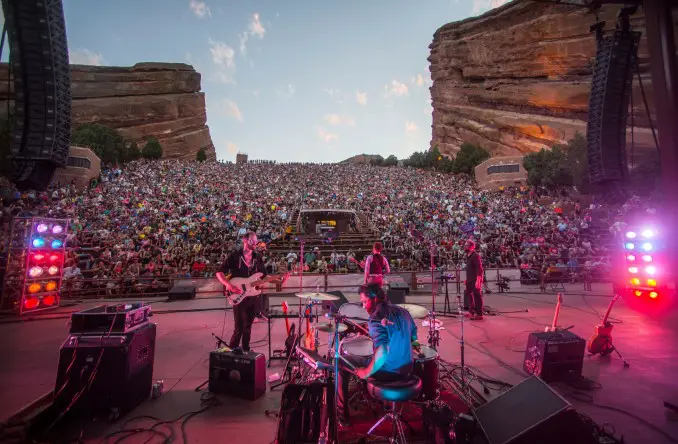 Where to stay at Red Rocks Park Denver
If you are wondering where to stay when you visit Red Rocks Park and Amphitheatre in Denver, check out my post about the Best Boutique Hotel in Denver. The Curtis Hotel is full of fun and extras to make your stay enjoyable and it is just a short drive from the park so it is the perfect location for your day trip to the park.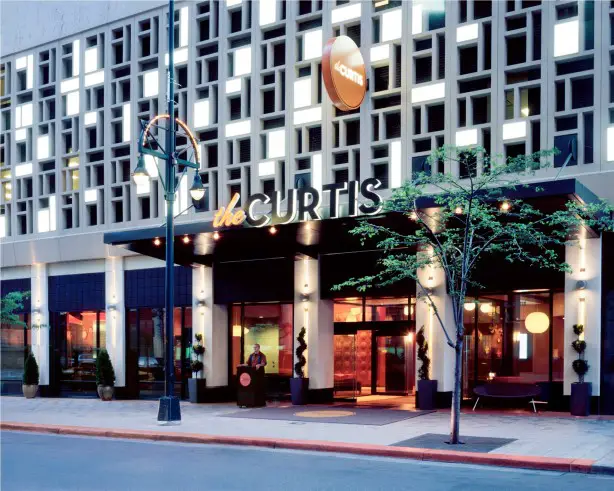 Best Boutique Hotel in Denver: Curtis Hotel review
The Curtis is the best boutique hotel in Denver near downtown. It has that quaint feeling with added unique artwork and theming to enjoy throughout the hotel.
---
Other fun things to do near Red Rocks Park Colorado
Colorado Springs is just an hour's drive south of Denver. There are a lot of fun things to do in that city and Pikes Peak is one of the best. Don't miss out on hiking, biking, or driving to the summit of America's Mountain. Get all the tips and info you need for this Bucket List trip up to the summit of Pikes Peak.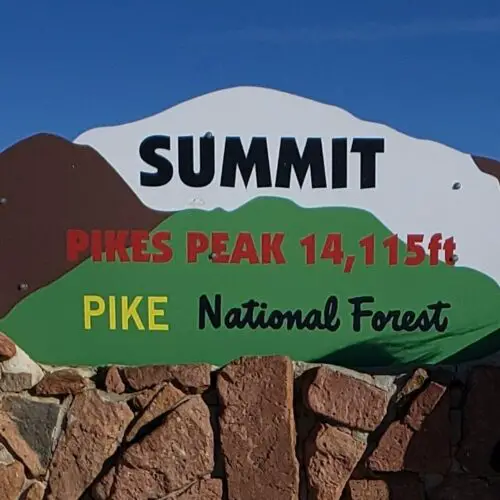 DRIVING PIKES PEAK: TIPS FOR REACHING THE SUMMIT
Enjoy Colorado beauty as you drive up Pikes Peak to view snowcapped mountains. Driving Pikes Peak should be on your bucket list so use these Pikes Peak tips!
---
Like this post? PIN IT for later