DISCLOSURE: I may link to relevant products, companies or helpful info which may be affiliate links, meaning I may earn a small commission. As an Amazon Associate & other affiliates, I earn from qualifying purchases at no extra charge to you. The views & opinions are my own. Please see the disclaimer and privacy policy.
Last Updated on February 25, 2023
Spending 24 Hours in Denver: Enjoying the Outdoors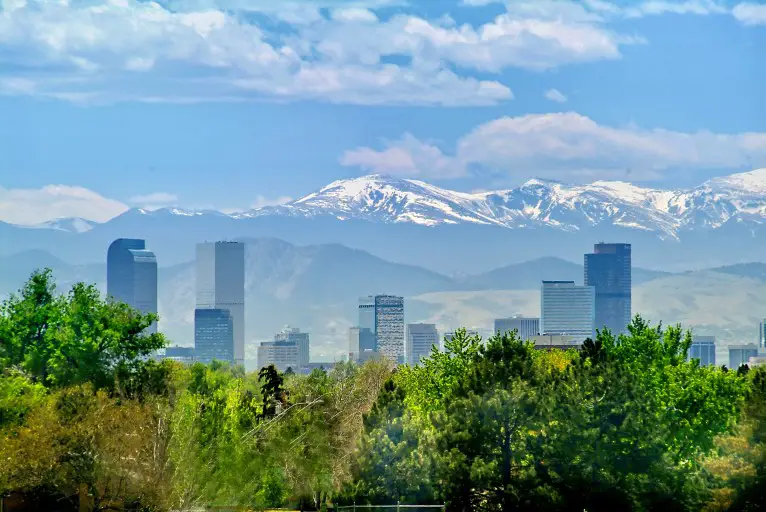 Denver is the perfect place to spend a lot of time outdoors and a great destination for a weekend trip.  Even if you are only in Denver for a day, there are a ton of things to do.  Recently, I took a mother-daughter trip and we spent 24 hours in Denver, Colorado. 
All of our time was spent walking around Denver.  We had a rental car, but we only used it to go get ice cream!!  –You will see that delicious ice cream suggestion at the end of my 1 day in Denver itinerary list.  Make sure you don't miss out on it!
---
Get your own rental car for day-trips from Denver
---
What to see in 1 day in Denver:  Sites in Downtown Denver
Popular Sites to see on a one day trip in Denver:  Click on each site for details.
, ,
Short on time in Mile High City? 
Make sure to hit these destinations on your 1-day Denver trip!
How to start your Denver one day tour: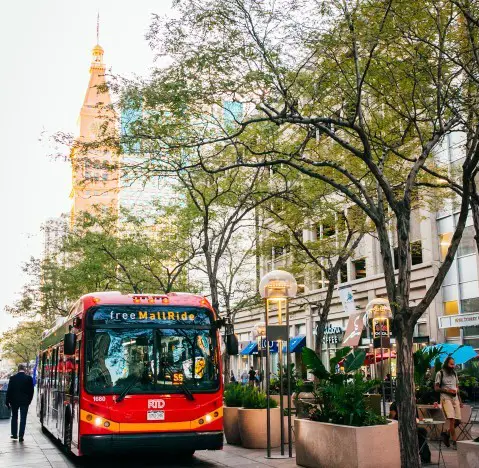 It is a very walkable city, so if you only have 1 day in Denver, you can still see a lot of very cool sites if you plan your 24-hour itinerary well ahead of time.  My daughter and I were very impressed with the number of things to do in Denver and the ease of seeing everything.  —we REALLY LOVED the Free shuttle up and down the 16th mall and used that quite often.
Denver on a Budget
Speaking of the free shuttle— There are so many cheap things to do in Denver. We didn't realize how many there were and ended up really doing our 1 day tour of Denver on the cheap!!
Follow along on our adventures as we tour Denver in one day.  Even in winter, we were able to cross everything off of our list!
What to do in Denver for a day
Start at SNOOZE for breakfast
2262 Larimer St., Denver, CO 80205    MAP
Open weekdays from 7am – 4pm
Is there a better way to start off your Denver walking itinerary than with a large, delicious breakfast? 
Snooze Eatery seated us in the outside area of their restaurant due to the pandemic. They greeted us with extra-friendly service the whole morning and hooked up some cozy warm heaters so that we were toasty warm during our meal. This was a great start to our one day trip in Denver!
Snooze has many locations, but we chose the one near RiNo so that we could continue with our walking itinerary plans afterward.  I chose to chow down on OMG French Toast and my daughter had the Snooze Classic. 
They have a large menu to choose from so the choice was difficult.  I chose the perfect dish because those OMG French Toasts were just as the name implies.  I exclaimed OMG as they just melted in my mouth with sweet goodness!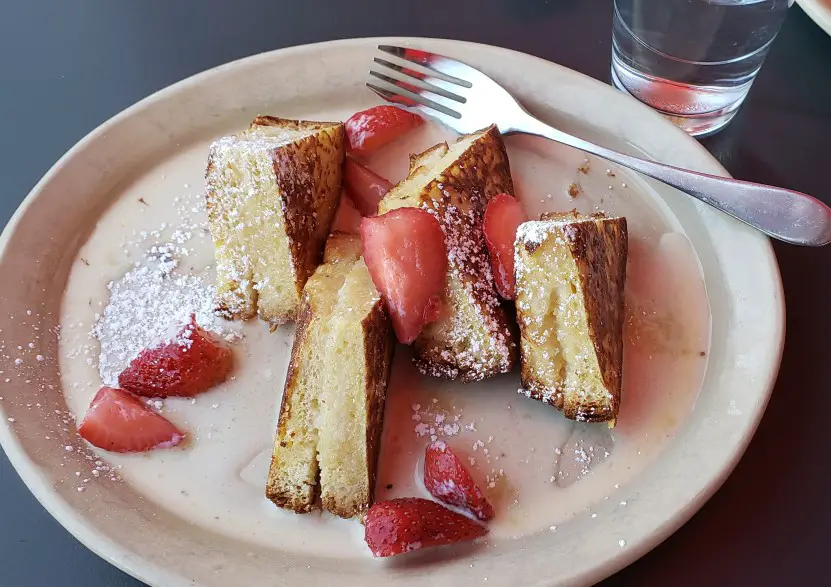 Begin a 1 Day in Denver Itinerary
We managed to roll out of our seats with full bellies having our goal in mind to see a lot of Denver in 1 day. We began our 24 hours in Denver with a walking tour in the RiNo district. 
Our plan was to get our fill of this artsy neighborhood in the morning and then head back toward downtown for the afternoon. Denver has seven different art districts, with RiNo being super close to our downtown Denver Curtis boutique hotel so we could walk to it.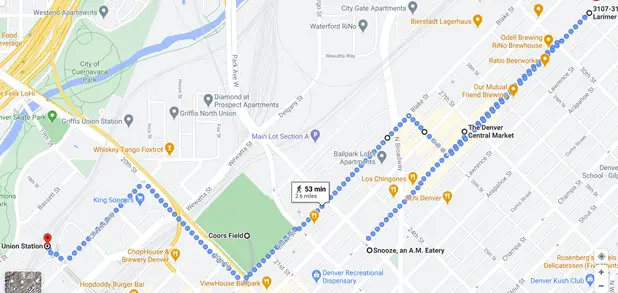 One Day in Denver Things to Do
–RiNo– River North Arts District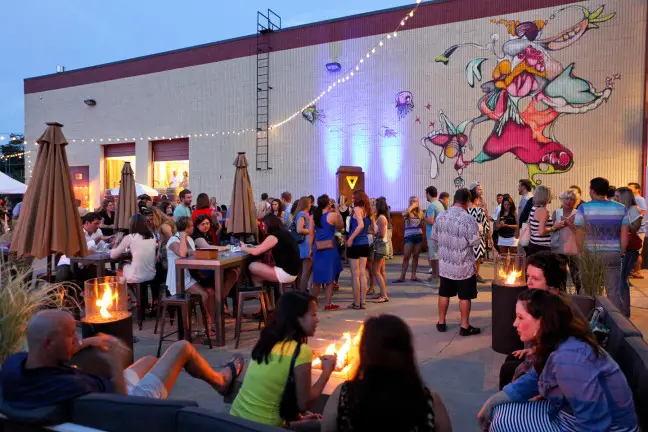 The River North Art District is a vibrant neighborhood near downtown Denver which is called RiNo for short and has embraced creative rhino arts and logos all around the area. It is key to the arts and culture scene in Mile High City and is home to street murals, jazz bars, experimental galleries, rockabilly microbreweries, innovative food halls, and working art studios.
Make sure to include RINO on your Denver sightseeing itinerary so matter how long you stay in the city!
"Love This City" Mural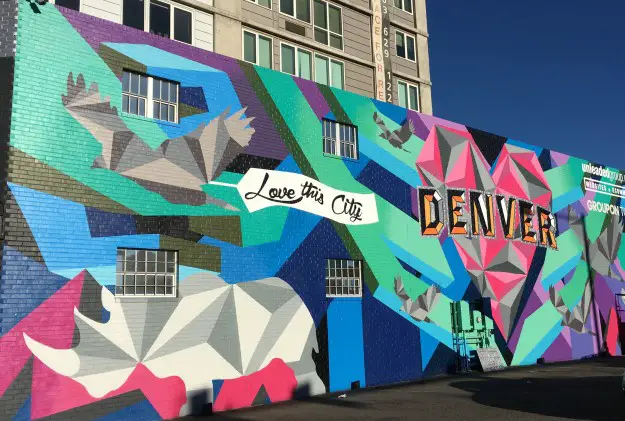 I love Denver!  This is the perfect place to start your Denver Street Art Tour.  It is very close to Snooze, so after you finish your delicious breakfast go around the corner and walk 2 minutes to Broadway / Arapahoe / Park Avenue West and admire your first artwork.  Such colors!
RiNo Street Murals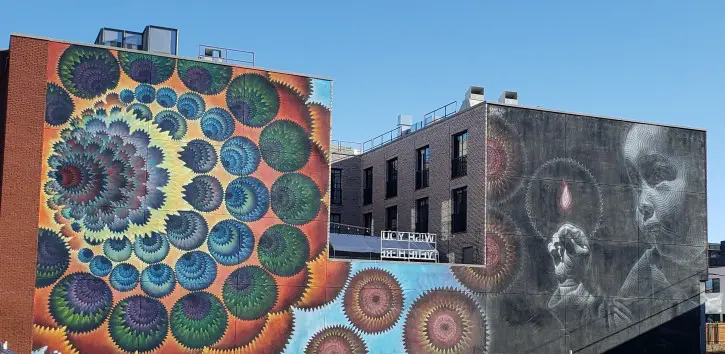 Street murals are found EVERYWHERE in the RiNo district on each building and around every corner.  We spent over an hour walking around RiNo.  Just when we thought we had seen the best, another one popped up on the next restaurant or hidden in an alley, and it is better and bolder than the one before.  
I had a list of addresses with me, but it really wasn't needed.  All we had to do was walk down Larimer Street and we were able to see some mega-colorful street art.  Even the crosswalks, dumpsters, construction barriers, and sidewalk posts were graced with artwork!
This is the perfect spot to start your Denver 1 day trip.  Wander along the streets and immerse yourself in these creative artworks.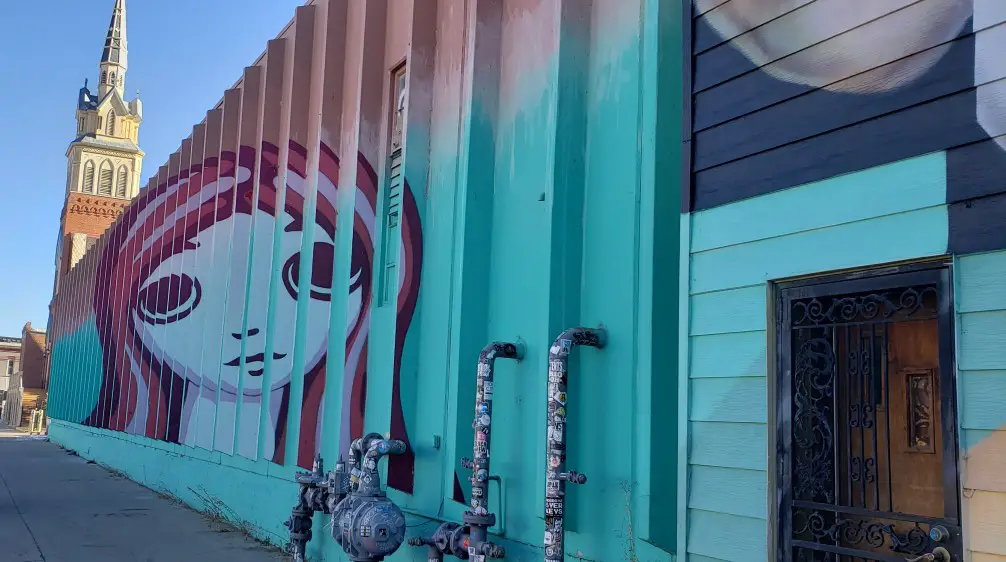 Enjoy the street art that you are seeing at the moment!  Some of the most popular street art may be gone the next time you visit. 
Each year in September, the city holds an art festival called CRUSH WALLS  which brings in international artists and spectators, as well as local talent and on-lookers.  During this event, the street murals are 'crushed,' painted over and repainted into another outstanding design to give a different artist a chance to literally make a mark in the art scene. This keeps the colorful street art designs fresh, new, and exciting each year.
I had many favorites from our 2020 Mother-Daughter 24-hour trip to Denver
2669 Larimer Street   MAP
open 8 a.m. to 8 p.m.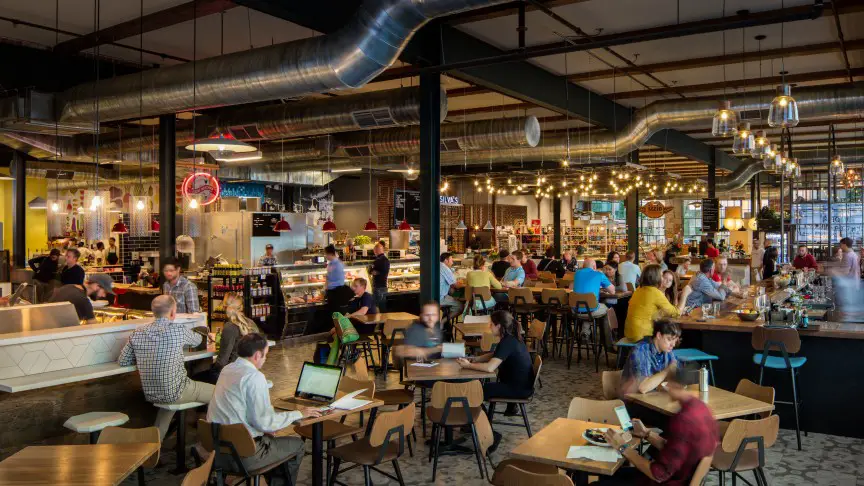 At the end of our street mural tour, we stopped by the Denver Central Market, a gourmet marketplace located in the middle of RiNo on Larimer Street.  This is a great stop for a snack early in the day and a great place to add to your list if you want to DO Denver in a day.
The local vendors include sections for gourmet pizza, sandwiches, fish, bakery, coffee, chocolate, most with carry-out service, or you can dine on the dark wooden tables in the Market.  There is also a bar for pre-dinner cocktails as well as retails outlets selling everything from bread to spices.
Right next door to the Denver Central Market, there is an art alley with flashy murals and outdoor seating.  Don't forget to take a peek at the alley BEHIND the Market for more great artwork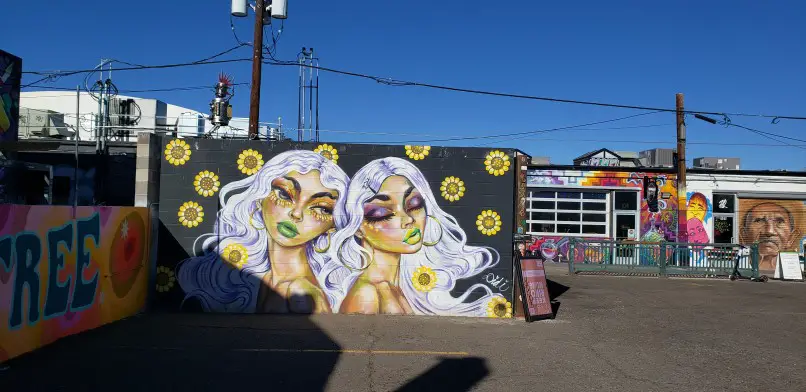 –LoDo–Lower Downtown
Another Denver neighborhood and another spunky abbreviation.  LoDo, Lower Downtown, is one of the oldest Denver neighborhoods and is a hip historic area and hangout for tourists, drinkers, and all-around party-going happening crowds at the city's most popular restaurants, bars, and shops.
Coors Field
2001 Blake St, Denver, CO 80205   MAP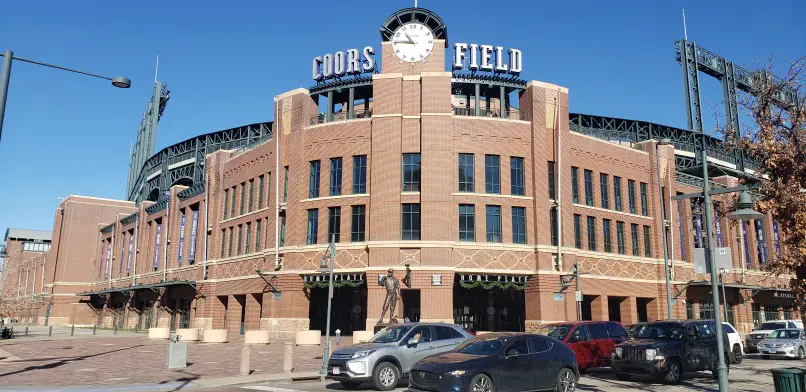 We continued walking toward downtown Denver from RiNo, and soon encountered the huge Coors Field. 
It is the baseball stadium and home to the Colorado Rockies since 1995.  It was built with a $300 million price tag and named for the Coors Brewing Company which purchased the naming rights.  Due to the high elevation in the Mile-High City, the ballpark is a hitter's park, so the outfield fences were constructed further from home plate.
(Note: Golf balls also go further and alcoholic drinks are stronger in the thin mile-high air!)
Union Station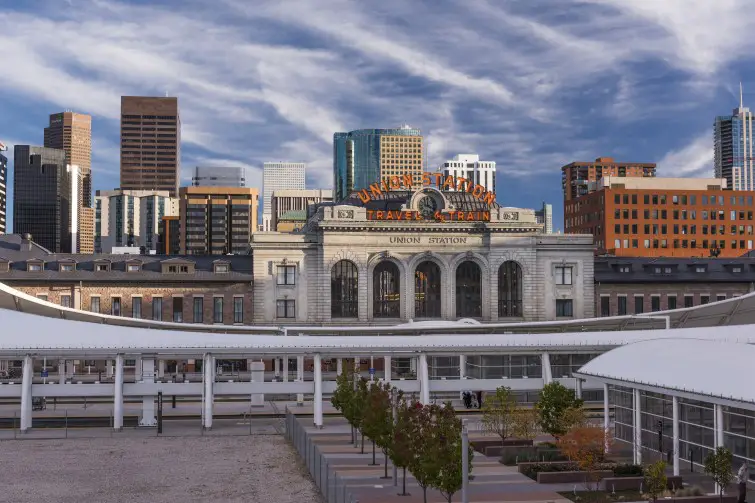 We certainly were not hungry yet after our filling breakfast at Snooze that started us on our 1-day walking tour of Denver.  However, if you got a later start and missed breakfast, you have another opportunity to try this eatery.  Union Station has a Snooze on the ground floor with outdoor seating.
Every big city seems to have a Union Station and Denver is no exception. 
Union Station is a beautiful historic building inside and outside.  It has been renovated and re-opened in 2014.  It is Denver's transportation hub, a hotel, as well a plaza for shops and eateries.  We walked through the station, browsed around some of the shops, and reminisced as we walked past the enticing smells from Snooze.
It is a grandiose structure looming high at the corner end of the 16th street mall.  Trains and busses all stop here, making downtown Denver, and especially the LoDo area, an easy-access destination.  The free 16th street Mall shuttle also stops here.  The Grand Hall is a large open space inside Union Station which exemplifies the historic nature while also incorporating modern elements.
Tattered Cover Bookstore
2526 East Colfax Avenue | 1628 16th Street  | 7301 South Santa Fe Drive, Littleton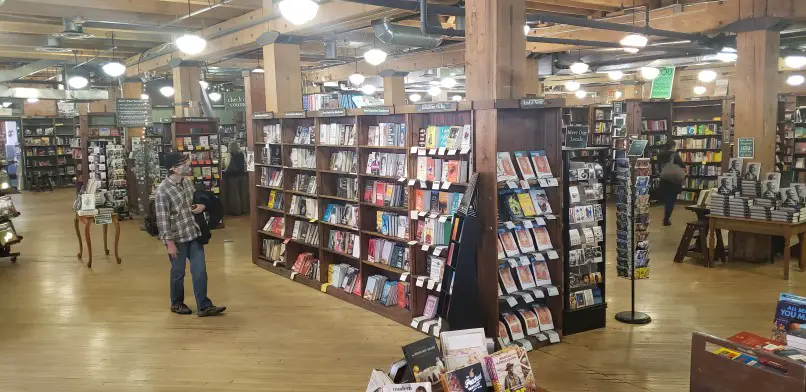 Tattered Cover Bookstore is one of the largest independent bookstores in the U.S. and opened in Denver in 1971.  There are many locations around the city depending on your walking itinerary route.  We visited the branch that was right across from Union Station.  This one has moved to a McGregor Square location, but can still easily fit into the 1-day Denver itinerary after a visit to Union Square.
Take some time to visit the expansive collections that they house and find that unique piece to keep you occupied on your trip home.  Perhaps there will be a book signing when you stop in.
Options for a 1 Day Itinerary Denver – Part 2
After we finished at the bookstore we decided to head to the other side of the 16th street mall to start the second half of our self-guided 1-Day in Denver Tour.  So far, everything that we had visited was free and we planned to continue doing all the cheap fun things to do in Denver CO!
We visited Denver in the winter and it was a little chilly, so we opted for the free bus.  It took us completely down 16th street and dropped us off at Civic Center Park where we continued our 24-hour Denver walking tour.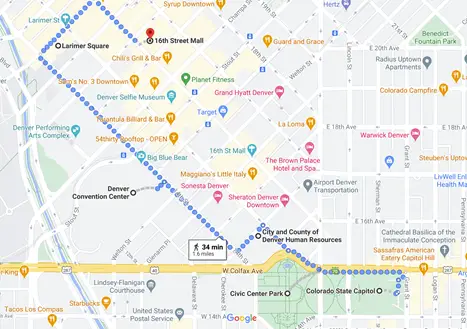 Denver Civic Center
101 14th Ave, Denver, CO 80204   MAP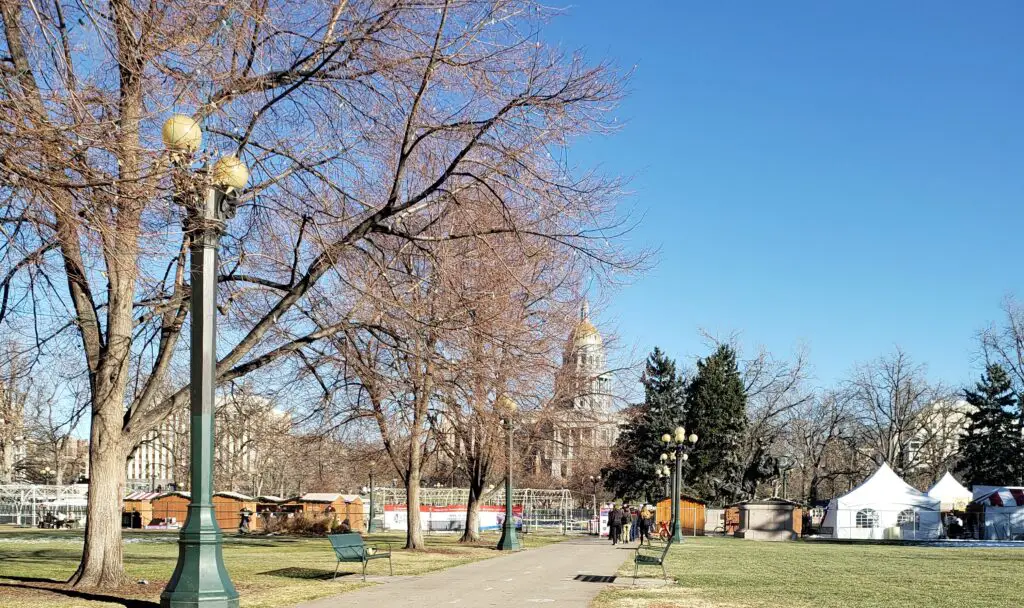 This beautiful park area is Denver's prime green space and public gathering area.  It is full of green lawns, flower beds, fountains, and statues among its 25,000 square feet of park space. 
There is a Greek amphitheater that plays host to live performances while the weather is nice.  Civic Center Park is bookended by the state Capitol and City Council building and is surrounded by many other government and cultural buildings.
We visited Civic Center Park in December while the Christmas Market was going on and enjoyed the festivities as well as the I Love Denver Sign placed at the entrance to the market.
Colorado State Capitol
200 E Colfax Ave, Denver, CO 80203    MAP
Open: 7:30 AM – 5:00 PM weekdays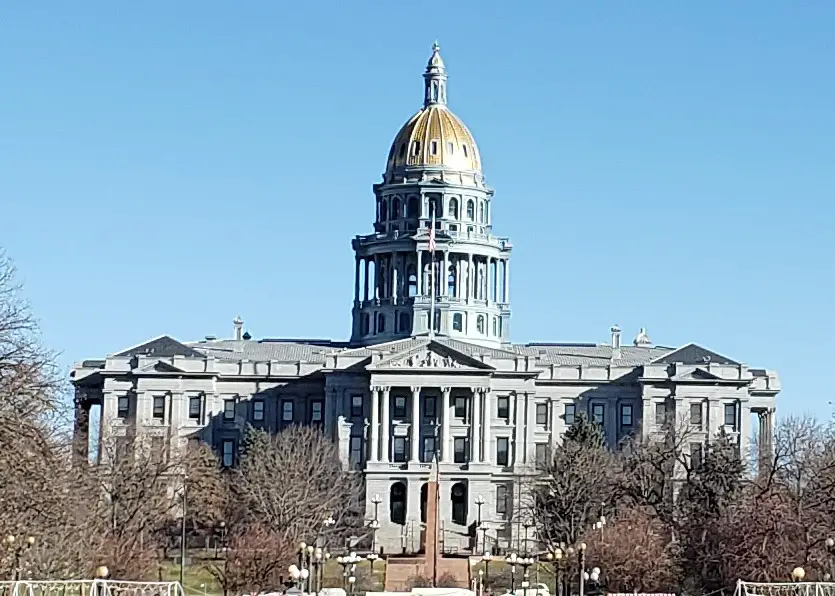 The Colorado State Capitol with its golden dome normally welcomes 300,000 visitors annually, who walk through the historic Statehouse learning about the General Assembly and who admire the Colorado heritage throughout the building.
It was built in 1894 to resemble the United States Capitol in Washington DC and is constructed of white granite.  Inside, the halls are lined with painted portraits of each of the U.S. presidents while the many stained-glass windows throughout the building depict scenes from Colorado history.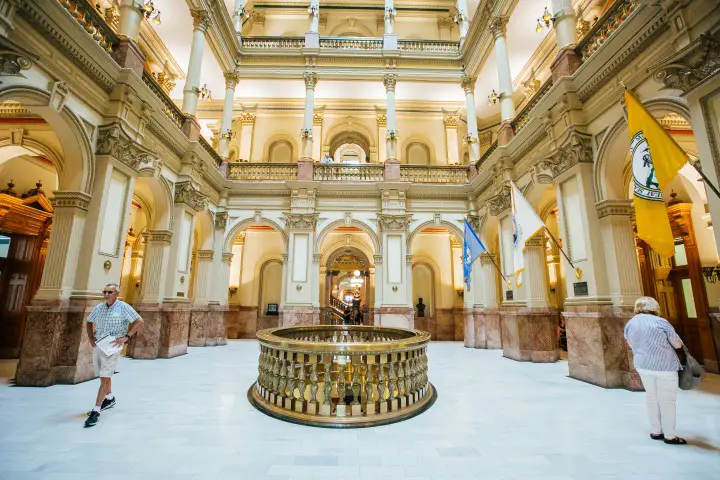 .
Free public tours are offered selectively between 10:00 AM 2:00 PM, Monday through Friday on most days. 
Use the map of the Capitol to take a tour from the comfort of your computer chair.
The Mile High Step
At the Denver State Capitol Building
200 E Colfax Ave, Denver, CO 80203    MAP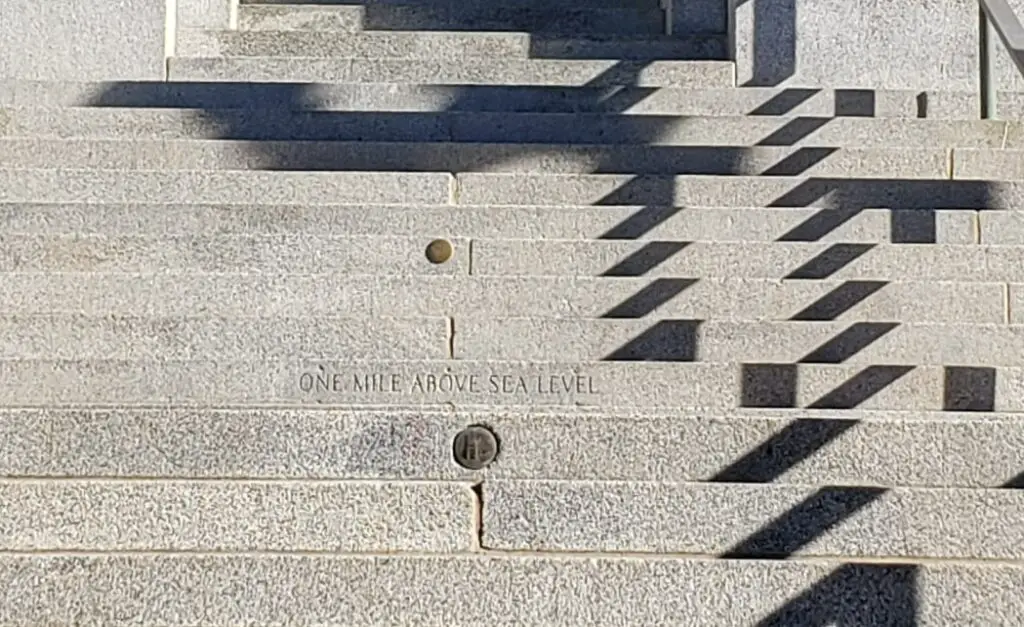 This site was fenced off for construction while we were touring, but normally, visitors can STAND on the Mile High Step which is engraved and located on the 13th step of the stairway on the west side of the Denver State Capitol Building.
The Mile High Step is exactly one mile above the sea level, like most of the city of Denver, hence the Mile High City nickname.
City and County Building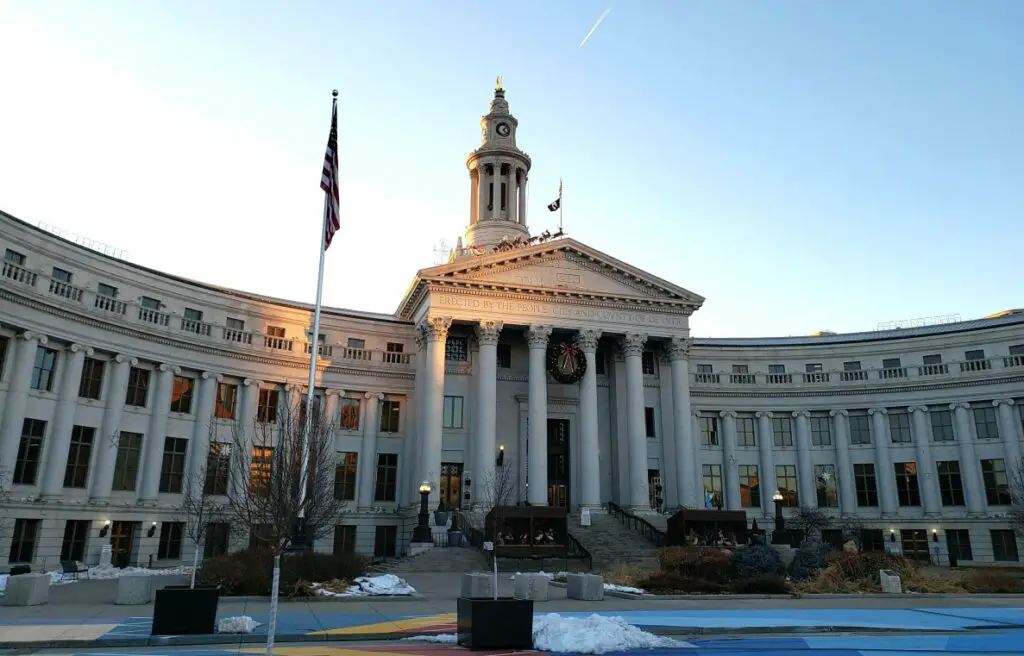 We were able to see this huge building from the Capitol steps, but then we walked closer to get a better view.  The City and County Building is home to the Denver city council and is huge and unmissable. 
Wintertime views are extra special because there is a holiday light and music show that is spectacular.
Grab a tour of Denver to have all the history and stories of the city included as you see the sites in Mile High City.
–Indoor sites to see in Denver–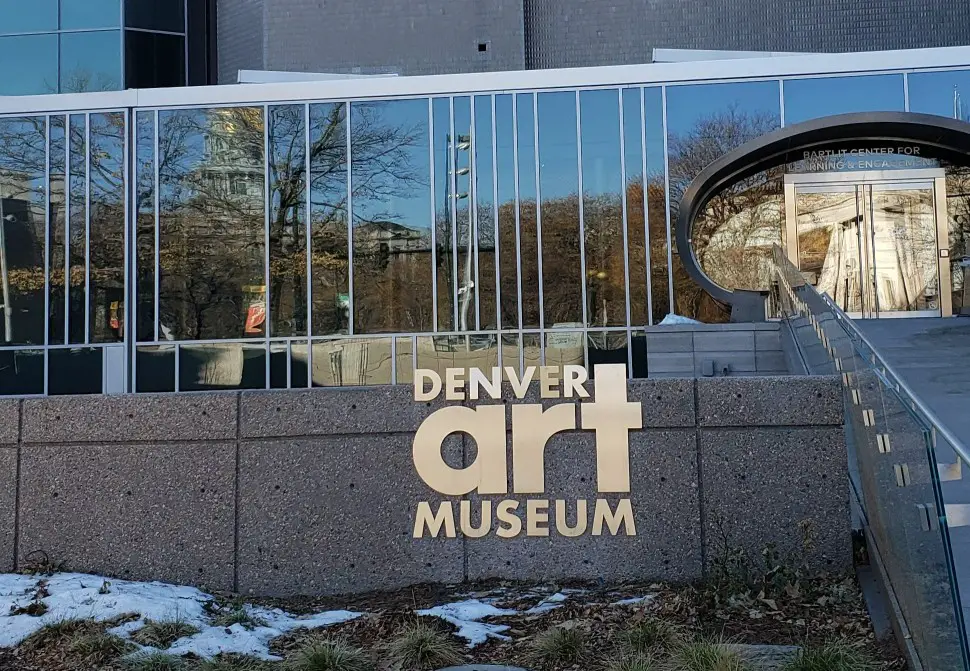 If you only have one day in Denver, you probably will not have time for all the indoor activities, museums, and tours that the city has to offer.  Come back to Mile-High City and spend more time exploring the Denver Art Museum, the Molly Brown House, the Denver library, and the Denver Mint.  These are also good suggestions for a day in Denver with bad weather!
Explore indoor activities as well as Holiday Events in my Guide to Denver Colorado in the Winter.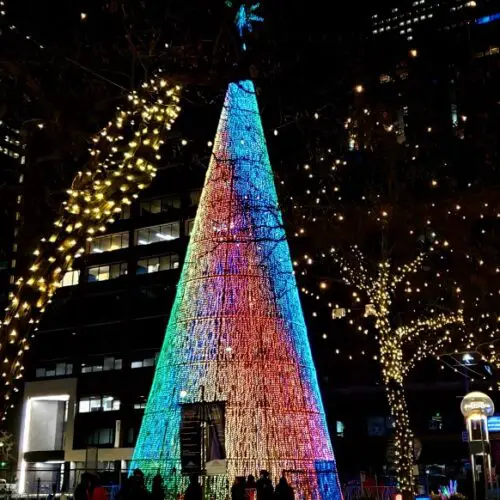 Guide to Denver Colorado Winter Activities
There are many fun things to do in Denver Colorado in the winter. Use this guide to winter in Denver Colorado with this list of 30 Denver Colorado winter activities, Christmas lights, festivities, and holiday shopping.
---
Other Activities to explore Denver
Convention Center 
700 14th St, Denver, CO 80202   MAP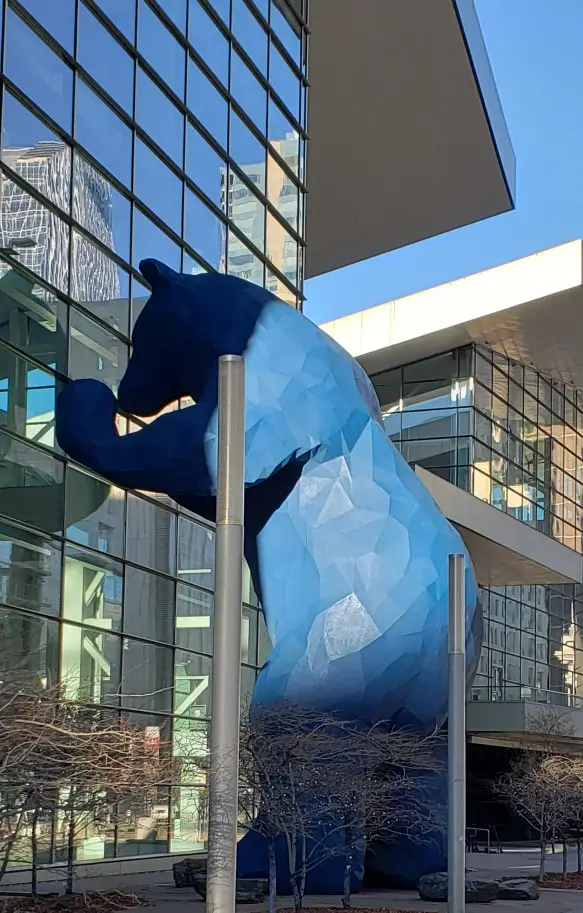 The Big Blue Bear at the Convention Center is worth a stop even if you aren't attending a convention in the Mile High City.  The Bear is forty feet high and peeks into the Convention Center from the outside. 
We stopped here and couldn't resist snapping some photos of the cute, blue guy!
Larimer Square
1430 Larimer Street  MAP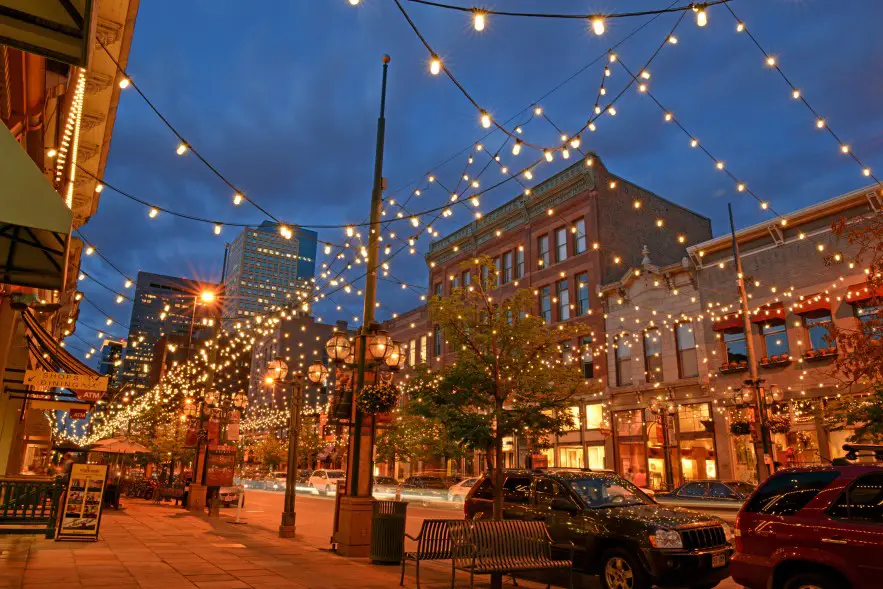 Larimer Square is not really a square, but a block-long street lined with cafes, restaurants, boutiques, clubs, wine bars, and comedy clubs.  The vibe is distinctly Mediterranean as eateries serve everything from French to Italian cuisine under the twinkling lights strung down the street among the outside dining areas. 
This historic district is Denver's origin and has been overhauled into one of the best social areas with the most amazing ambiance in all of Denver. Make sure to plan some time to walk around Larimer Square.
16th Street Mall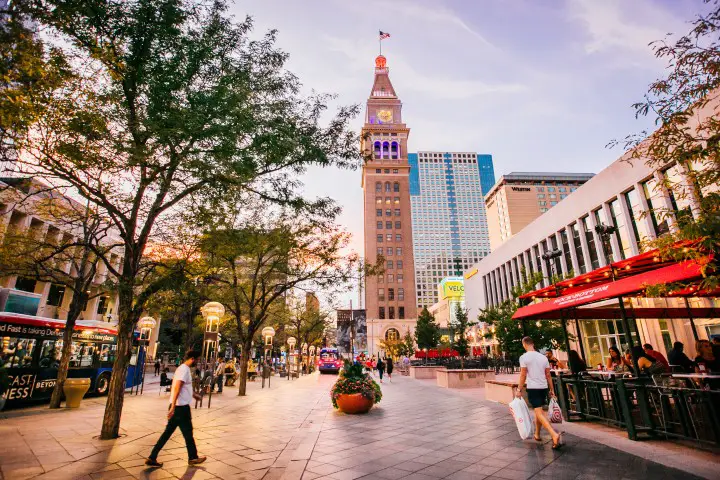 We spent hours walking along this street, window shopping, and enjoying the many eateries.  A leisurely walk along the 16th Street Mall can be done first, last, or all throughout your 1-day in Denver itinerary.  It is centrally located and easy to navigate due to the free electric shuttle that goes up and down the pedestrian street.
The 16th Street Mall is a mile-long outdoor shopping complex filled with over 300 retail outlets and numerous cafes and bars, many with outside dining terraces that are perfect for people watching while you are dining. 
Of course, the mall is also filled with street performers who will be very eager to display their talents for you.
It was particularly beautiful during our December trip when they had holiday lights, displays, the Mile-High Christmas Tree, and many festive performances along the Mall.
I Heart Denver store
500 16th Street #264  MAP
One particularly popular store at the 16th Street Mall is the I heart Denver Store.  They specialize in —Denver Souvenirs!  We did purchase our allotment and managed to fit them into our suitcase for the trip home.
Little Man Ice Cream
2620 16th Street  MAP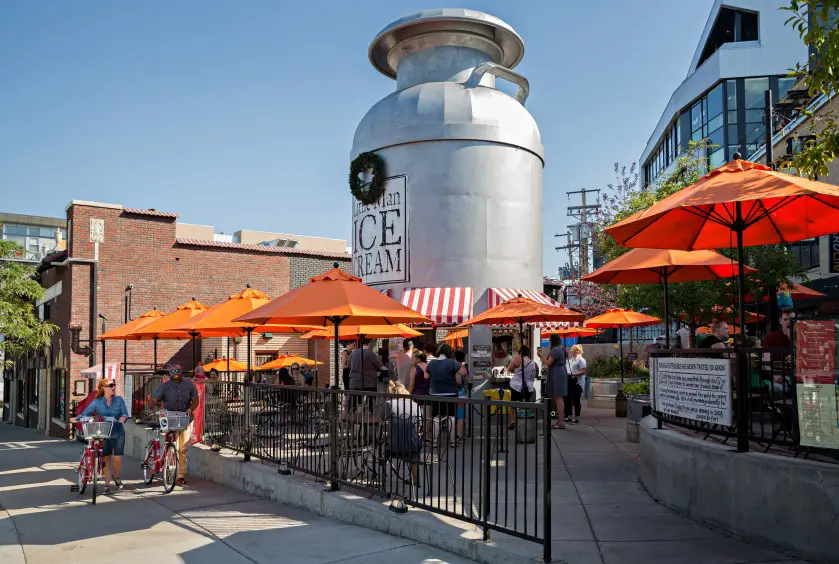 This is the only activity that we didn't walk to, but an uber in Denver is super easy too.  Little Man Ice Cream is a short drive from downtown Denver and is one of the most popular spots in the city —not just because of the yummy ice cream that they are serving.  This is a great photo location and they often have live music playing on nice evenings.
Denver Scavenger Hunt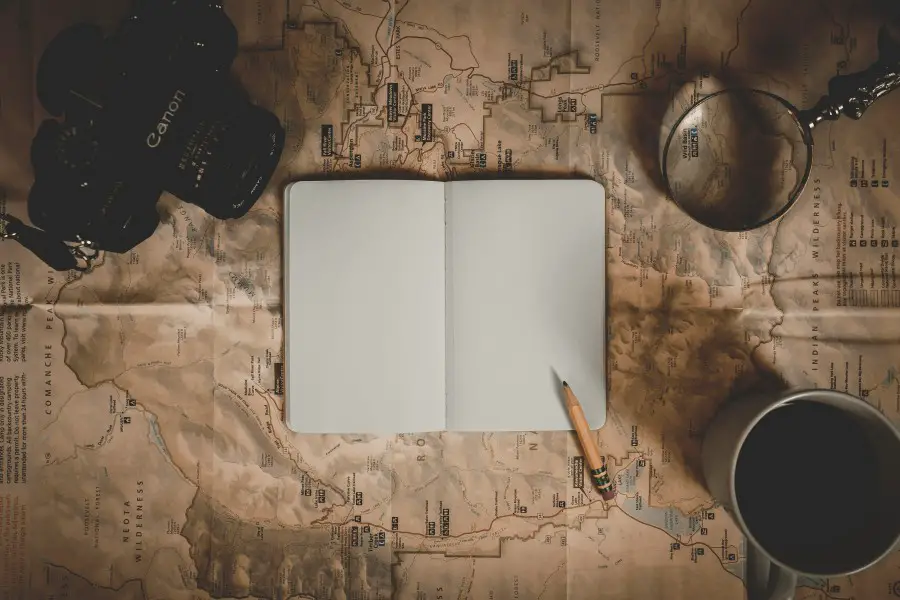 This cool activity in downtown Denver will take you all around LODO to see the sites that I described on my Denver 1-day itinerary plan. 
Play with family and friends, or wander around the city on the Scavenger Hunt on your own.
–Day Trips from Denver–
If you have more than 24 hours in Denver, there are several great day trips from the city.  We were fortunate enough to have a few extra vacation days and were able to visit and hike at Red Rock Amphitheatre near Denver as well as drive to many sites in Colorado Springs.
Red Rock Amphitheatre
18300 W. Alameda Parkway, Morrison, CO  80465  MAP
Just a short drive from Denver, the Red Rock amphitheater is an amazing sight to see with its massive red rocks framing the amphitheater.  There is also Hiking at Red Rocks Colorado right near the amphitheater, so make sure to include it if you have more than 24 hours in Denver.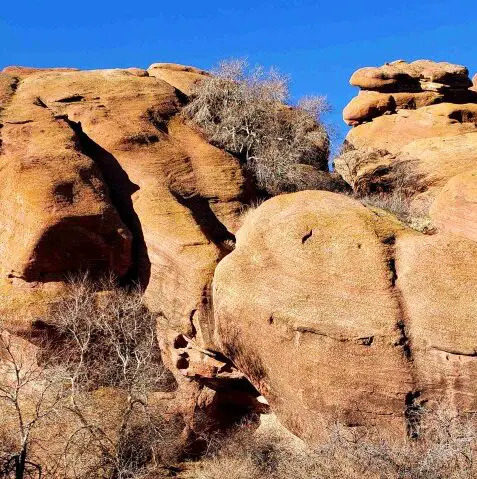 Hiking at Red Rocks Colorado near Red Rocks Amphitheater
The trails are plentiful, making hiking at Red Rocks Park an excellent choice for your outdoor Denver itinerary and adventure in Colorado. It has a panoramic view of Denver, spectacular red rock formations, and hiking near Red Rocks Amphitheatre.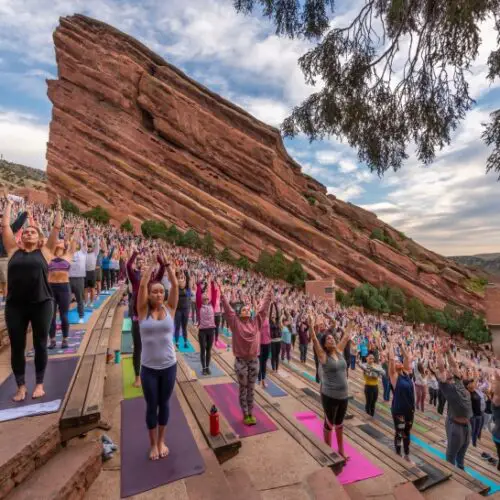 Experiencing Outdoor Yoga At Red Rocks Denver
Head outdoors for the best yoga in Denver. Include Yoga at Red Rocks Amphitheater in Denver, Colorado for a unique and phenomenal outdoor yoga experience.
---
Plan your trip to Red Rocks Amphitheatre!
Colorado Springs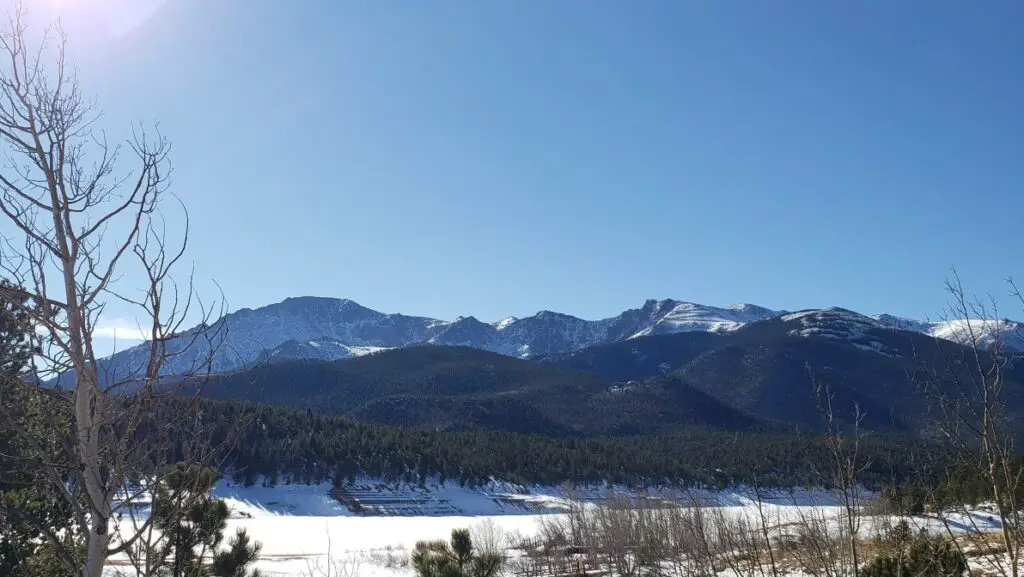 Colorado Springs is a perfect one day trip destination from Denver due to all the active hiking, adventures, and sites that this city has to offer.
Definitely make sure you put driving up Pikes Peak on your Colorado Springs itinerary.  After you are done visiting America's Mountain, make a stop at the Garden of the Gods, a National Natural Landmark.  Other sites include Manitou Cliff Dwellings and Helen Hunt Waterfalls among many others.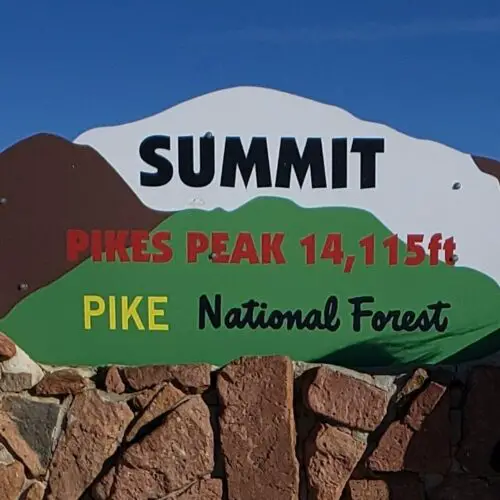 DRIVING PIKES PEAK: TIPS FOR REACHING THE SUMMIT
Enjoy Colorado beauty as you drive up Pikes Peak to view snowcapped mountains. Driving Pikes Peak should be on your bucket list so use these Pikes Peak tips!
Rocky Mountain National Park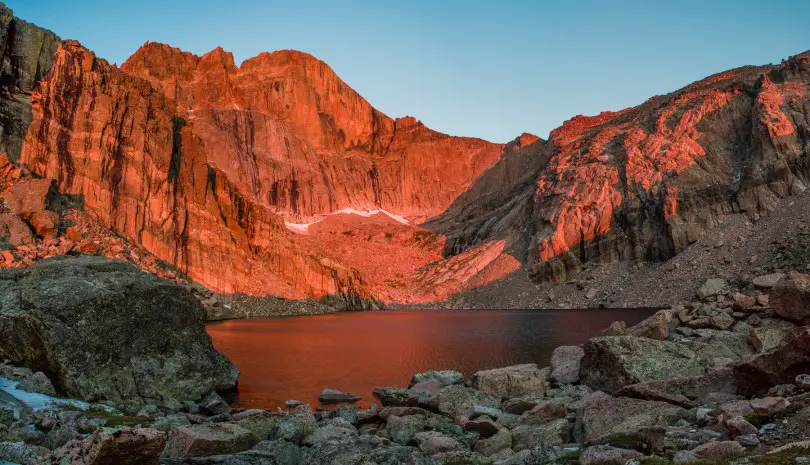 Rocky Mountain National Park is nearly 415 square miles of federal land encompassing mountains, alpine lakes, 300 miles of hiking trails, wildlife, wildflowers, and wooded forests.  If you have more than 1 day in Denver, make sure to hit this national treasure of a park. The park is huge and will take some time to explore, so plan accordingly.
---
Whether you are interested in a short hike or a longer adventure, make sure to plan some time at Rocky Mountain National Park.
International Church of Cannabis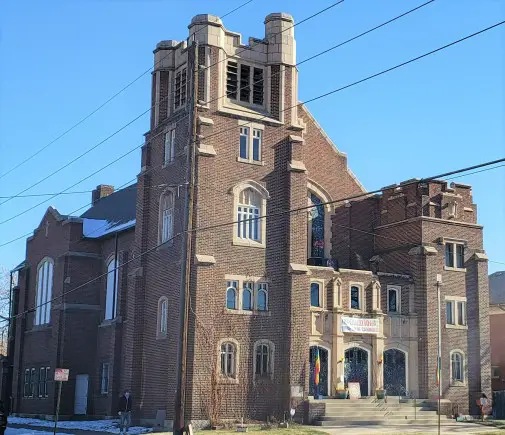 I am not sure if this is worth going out of your way for, but it was definitely a unique stop since it was on our route. 
The International Church of Cannabis is a religious organization that uses cannabis to elevate its members to a higher understanding of self.  The use of cannabis is restricted to members and not allowed during the hours that the church is open to the public.
The 'lobby' is crammed full of nostalgia in the form of games, arcades, and entertainment.  We definitely spent a good half hour just looking around at all the little gems from the collection.
The 'world-famous' Light Show and Meditation at the International Church of Cannabis is actually pretty cool and relaxing.  They don't allow any filming during the show, but we were allowed to take photos of the room afterward.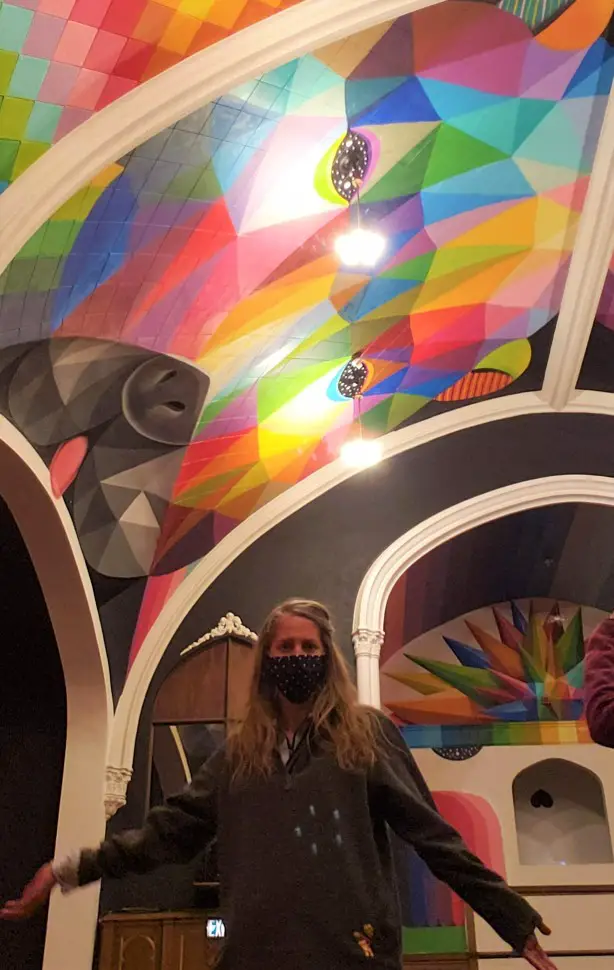 Where to stay in Denver
I definitely recommend checking out the Curtis Hotel as the best little boutique hotel in Downtown Denver.  It is hyper-themed on each floor and visually entertaining.  It is within walking distance of the 16th street mall and perfect if you plan the 24 hour Denver itinerary that I have outlined.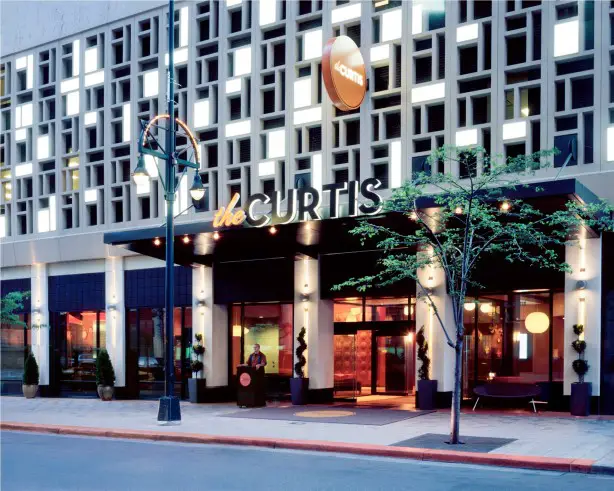 Best Boutique Hotel in Denver: Curtis Hotel review
The Curtis is the best boutique hotel in Denver near downtown. It has that quaint feeling with added unique artwork and theming to enjoy throughout the hotel.
---
Other ideas for accommodations include these hotels and VRBOs.
Enjoy the Mile High City!!
Hopefully, all of these ideas will keep you busy during your 24 hours in Denver. That is not a lot of time to explore this exciting city, but if you follow this ultimate guide you will be able to see quite a bit in your 1 day in Denver and it will tempt you to come back to explore more of what Mile High City has to offer.
Like this post? PIN IT to come back later for planning!