DISCLOSURE: I may link to relevant products, companies or helpful info which may be affiliate links, meaning I may earn a small commission. As an Amazon Associate & other affiliates, I earn from qualifying purchases at no extra charge to you. The views & opinions are my own. Please see the disclaimer and privacy policy.
Last Updated on July 2, 2023
Tips on How to Do Outdoor Yoga At Red Rocks Denver
The beauty of yoga is that you can do it anywhere, anytime. Tired of the studios? Head outdoors and take your practice to an open space and connect with nature. And if you're looking for a unique and phenomenal outdoor yoga experience, you have to include Yoga at Red Rocks Amphitheater in Denver, Colorado on your Bucket List Itinerary.
Before you set off for the best yoga in Denver to join yogis from around the world, you need to be prepared to make the most out of this event. In this post, you will learn more about the Red Rocks Yoga event and also get a list of things to do before you go to the Red Rocks.
2023 Update: EVENT HELD EVERY SATURDAY AND SUNDAY IN JUNE and JULY!!!
---
What Is Outdoor Yoga at Red Rocks?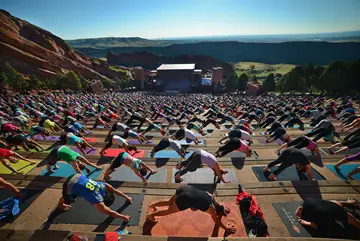 Yoga on the Rocks is an annual event that takes place in the summer in the Red Rocks Amphitheater, which is located 15 miles west of Denver. The spectacular setting of the amphitheater easily makes it the state's iconic venue for music entertainment.
But besides having the best acoustics for live music, Red Rocks is also a wellness venue. Imagine early in the morning, the feel of the summer sun, the fresh air of the outdoors, and the stunning views of the mountains as you go through one hour of calming, inspiring, and invigorating yoga practice. That's what you get when you do Yoga on the Rocks.
---
Taking Your Yoga Practice Outdoors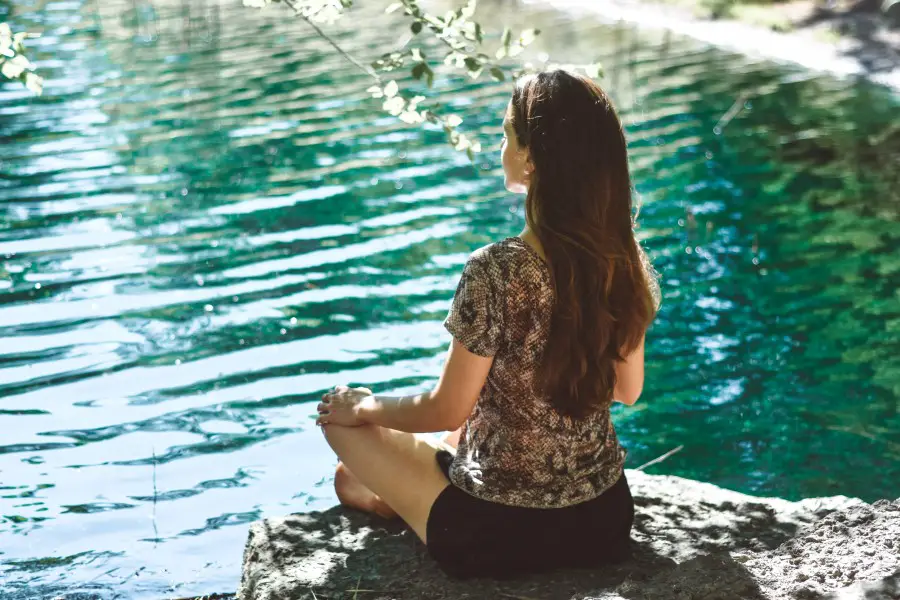 Doing yoga outdoors can bring plenty of health benefits, as backed by science. These include decreased stress and anxiety levels, lowered blood pressure, and an improved sense of concentration. Participating in Yoga on the Red Rocks can be a great opportunity to do things differently for your yoga practice.
Not only that, but the beautiful scenery can bring a sense of well-being and boost your energy. Pair that with the scene of hundreds of yogis gathering together at Red Rocks to attain the same purpose – the harmony of the mind and the body – and you'll have an experience like no other.
New to Yoga?
If you haven't done yoga outdoors, however, the first time might be awkward for you. Knowing you'll be around other yogis as well, I get it if you might even feel self-conscious since you're in a new environment. But take this as another opportunity for you to step out of your comfort zone and discover a new way to practice and foster your love for yoga.
---
How to Prepare for Yoga at Red Rocks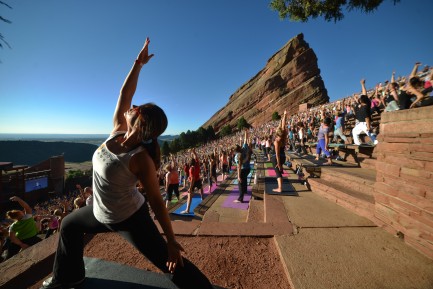 Before you set out for the best yoga in Denver, it's a good idea to prepare yourself for the event so you can be mentally and physically prepared. Also, there are now Covid-19 restrictions in place and things are different now than before so it would be good to know what to do beforehand.
1.    Getting your tickets
Printing out tickets is a must for you to join the event. Your ticket will be scanned at the entrance. At this time, since Denver is following Covid-19 guidelines, event tickets are only sold online. Drop-in sales are no longer allowed so make sure you have your online ticket.
2.    Bring Your Essentials
This may be obvious but this will only serve as a reminder. Since you'll be doing your yoga outdoors, you should take into account the environment. In this case, it's an open space and you're exposed to the sun so you will definitely need protection like sunscreen and sunglasses. Don't forget to bring your water bottle to keep yourself hydrated throughout the practice. I recommend getting the big ones so you can have enough and then some after all the activity from Yoga at Red Rocks
Of course, don't forget to bring your yoga mat, or any other yoga accessories if you prefer. If you haven't decided on the type of yoga mat you want to bring or if you are planning to get a new one, you can check out my complete guide on buying a yoga mat.
Another tip would be to bring extra layers, especially if you come in early. It can get pretty chilly in the morning, even if it's summer. Just in case, you want to savor the moment early on, bring something to warm you up before the morning sun does.
Make sure to bring the appropriate undergarments too. There are good yoga-dance bras that will make your yoga training a breeze.
3.    Show up early
Yoga on the Rocks usually starts at 7 a.m. and runs for an hour. Doors open as early as 6 a.m. so it's a good idea to get there early. Usually, the venue can hold thousands of people and since the event is so popular, you can imagine how many participants there will be.
PRO TIP: You need to arrive early just so you can have enough time to park (if you drive) and find your own comfortable spot.
Get PARKING & OTHER TIPS on hiking Red Rocks Amphitheater
4.    Pack some snacks
There are only a few options of snacks sold at the venue, so you might want to pack your own, just in case you need to munch on something. This should replenish your energy after an hour-long outdoor yoga session in the summer.
5.    Prepare for Rain or Shine
The weather can be unpredictable in Colorado. It could rain or it could get too hot; winds may even blow strong or there could be hail, so prepare yourself for any changes in the weather.
---
What To Expect at Outdoor Yoga at Red Rocks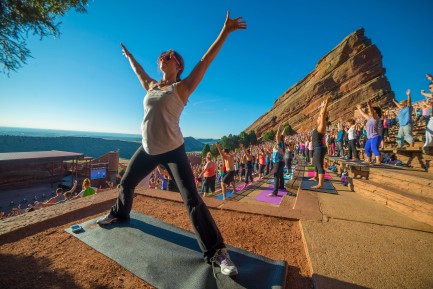 Yoga on the Rocks is an open-to-all event. This means beginner and experienced yogis are welcome. Instructors are very much aware that the participants come from different backgrounds and have different levels of yoga experience.
If you're new, don't worry about the more difficult poses since the teachers are also willing to make adjustments so that everyone can enjoy the session. A lot of beginner yogis have reported their satisfaction with the event, since they can feel the harmony. There is no judgment and there is no feeling of intimidation here with your little experience.
In a large amphitheater, it's also easy to hear each other since the teachers are using microphones. You can also see clearly what's going on even from afar because of the TV monitors put in place.
SIGN UP INFO
Visit the official site and sign up for email updates.
Don't Forget to Have Fun
Maybe you joined outdoor yoga to develop your practice but as you do so, don't forget to relax and have fun. It's easy to join the session at the Red Rocks while paying a low price. Make the most out of it and explore the best yoga in Denver.
---
After-Class Tips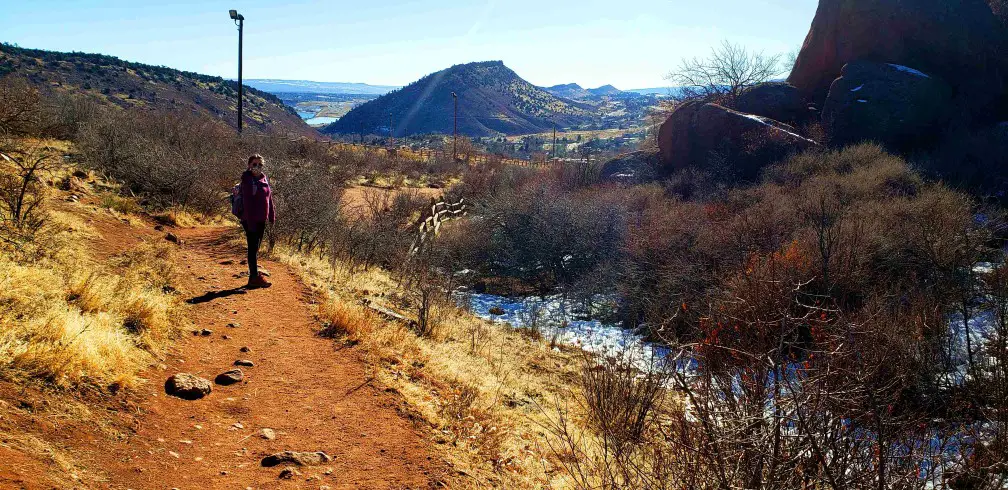 I know it's Yoga on the Rocks but that's not the only thing you should be doing when you're visiting the location. There are plenty of nice hiking trails around the venue so don't pass up the chance to explore them. After the class, you can stick around and go on a mindful hike or stroll. You can wander through the meadows and just enjoy the sight of native wildflowers.
Learn about Hiking at Red Rocks Park with this informative guide: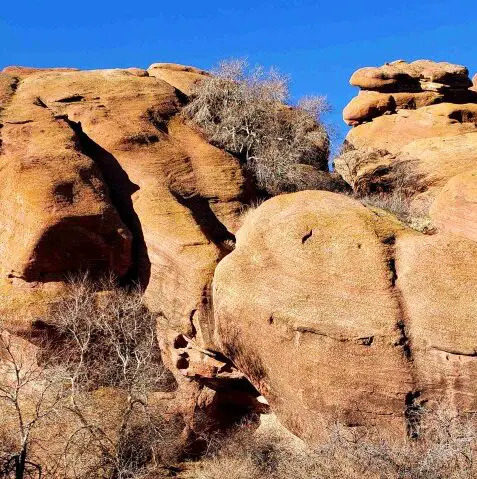 Hiking at Red Rocks Colorado near Red Rocks Amphitheater
The trails are plentiful, making hiking at Red Rocks Park an excellent choice for your outdoor Denver itinerary and adventure in Colorado. It has a panoramic view of Denver, spectacular red rock formations, and hiking near Red Rocks Amphitheatre.
Be on the lookout for wildlife as well. The common ones you can spot while hiking along a trail are red foxes, mule, prairie dogs, and even rattlesnakes – although you might want to avoid any close encounters with the snakes.
You can also plan out a picnic after your yoga session. It's summer in Colorado, so you'll have the blue skies, the warm weather, and the gorgeous flowery grounds as the perfect picnic spot for a mindful moment.
Meanwhile, if you'd rather leave the area and explore the city instead, you have plenty of options too. You'll be near Denver, Boulder, or Golden and each of them offers various types of Colorado adventures you might be interested in. Whichever you choose, you can have fun things to do such as visiting museums and historical sites, stopping by eateries, and wandering around the shops.
---
Final Words about Red Rocks Yoga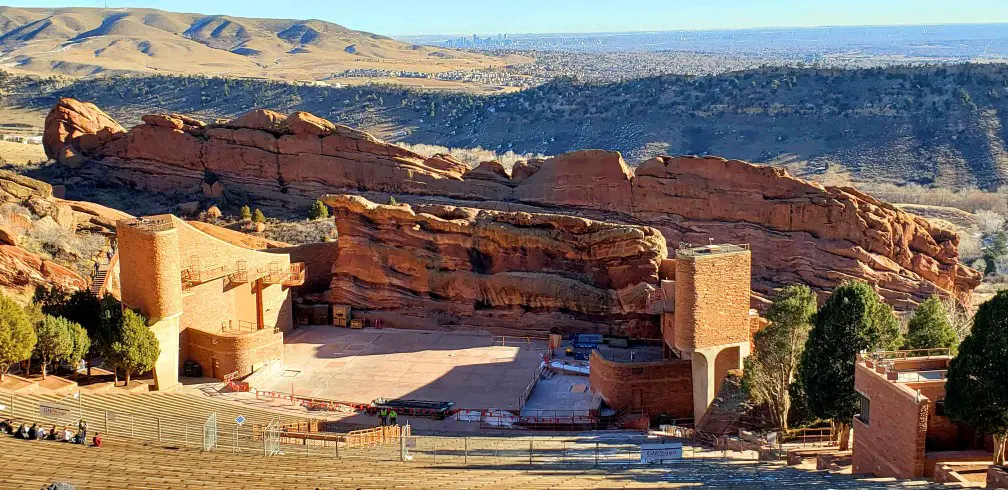 If you haven't visited Red Rocks Amphitheater and Park, it's definitely something to add to your list of things to do in Denver. You're in for a real treat if you do, especially if you love yoga. But whether or not you have a regular yoga routine, it doesn't matter. An outdoor activity at the Red Rocks is already an experience that will not disappoint.
---
Guest Post by: Lucile Hernandez Rodriguez from Lucilehr
Lucile Hernandez Rodriguez is a Registered Yoga Teacher, Blogger, and Mindful Business Advisor. She shares actionable advice on Mindfulness, Yoga, and Travel on her blog, lucilehr.com.
Get in touch with her on Instagram, Facebook or Pinterest!
---
Like this Post? Pin it for later!