DISCLOSURE: I may link to relevant products, companies or helpful info which may be affiliate links, meaning I may earn a small commission. As an Amazon Associate & other affiliates, I earn from qualifying purchases at no extra charge to you. The views & opinions are my own. Please see the disclaimer and privacy policy.
Last Updated on February 3, 2023
What is Pikes Peak?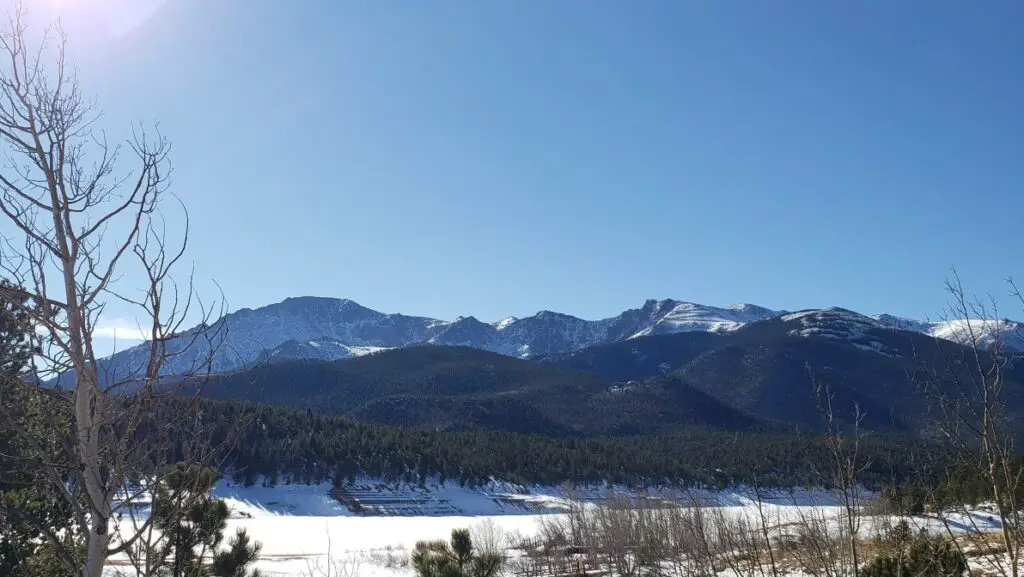 The beauty of Colorado is at its peak at the summit of Pikes Peak.  Driving Pikes Peak should definitely be on your bucket list. This landmark was the inspiration for some of the lyrics of "America the Beautiful" and rightly so!  After you drive up Pikes Peak summit, you can view snowcapped mountains surrounding you on the lower mountains and enjoy a bird's eye view from an altitude of more than 14,000 feet above the sea.    It is a serene and picturesque view at America's most visited mountain summit frequented by half a million visitors each year.  Pikes Peak is one of the only mountains where you can actually drive to the summit making it easily accessible for everyone. 
Where is Pikes Peak?
Pikes Peak Colorado Directions
---
Pikes Peak is located in Cascade, Colorado in the Pike National Forest.  It is the backdrop for Colorado Springs and is the highest point in the southern Rocky Mountains in North America. 
It is in a category of mountains over 14,000 feet high and one of the 53 '14ers' in Colorado.  It is one of the top mountains in the United States and definitely the most famous and most attainable '14er.'
The entrance to Pikes Peak Highway, the 19-mile breathtaking Pikes Peak Drive to the summit, is a few miles west of Colorado Springs on US-24 and 1 hour south of Denver.
---
How to get to the Pikes Peak Mountain
I was a little nervous about driving to the summit of Pikes Peak on my own in a rental car. It is, after all, such a big mountain and I was going to be doing this in December! I did oodles of research beforehand on how to get to Pikes Peak Mountain so that I was prepared for this once-in-a-lifetime experience. I would love to share my Pikes Peak tips with you.
Actually, NOTHING can prepare you for the absolute beauty and enormous SIZE of the mountain, but I will do my best. Pikes Peak is a popular tourist attraction, and quite possibly the largest in Colorado. DON'T pass up the chance to reach the summit and pat yourself on the back after your achievement — like I did.
---
Pikes Peak Directions and Distance
| | | |
| --- | --- | --- |
| City in Colorado to Pikes Peak Entrance | Miles | Time to drive to Pikes Peak |
| Distance from Denver to Pikes Peak | 83.8 | 1:30 |
| Distance from Estes Park to Pikes Peak | 146 | 2:46 |
| Distance from Colorado Springs to Pikes Peak | 13.9 | :27 |
Distance to get to Pikes Peak Highway Entrance (per Google Map)
---
---
Use this helpful FREE map of the Pike Peak Highway to find the highlights, parking lots, visitor's center, restrooms, and food.
---
Pick up these helpful guides before your trip to help with your planning
---
---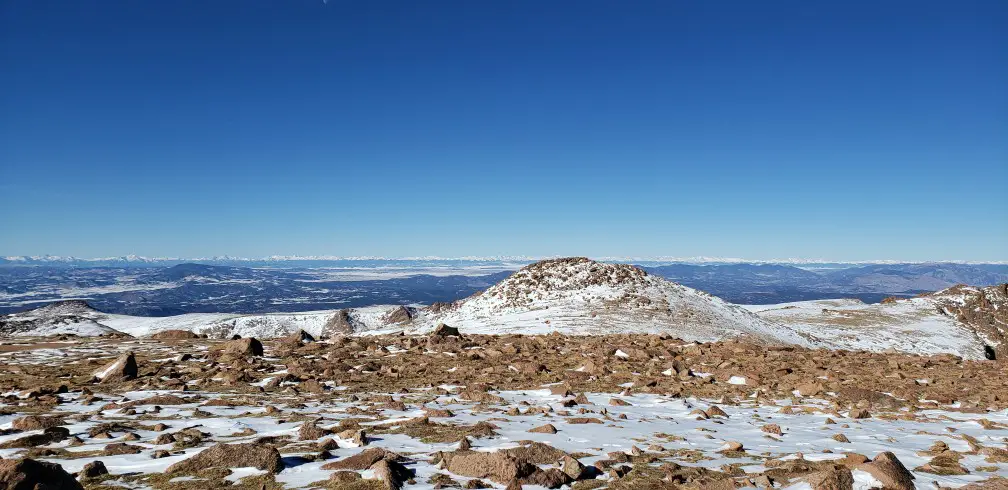 Pikes Peak summit is accessible by driving Pikes Peak Highway.  The road to Pikes Peak is toll road is operated by the city of Colorado Springs and the Pikes Peak drive is 19 miles one way with an estimated 162 turns and switchbacks.
There are many ways to reach the Pikes Peak summit depending on your interests, time, and fitness level.  One of the most popular ways visitors reach the summit is by simply driving Pikes Peak Highway, but other methods are hiking, biking, riding the Cog Railway to the summit, or taking a guided tour that will make all the arrangements for you.
---
Driving Pikes Peak in winter (and other times!)
Driving a car through Pikes Peak Highway and to the summit is the most popular and the best way to take in the magnificent mountain views.  You can travel at your own pace by slowly stopping at pull-offs along the way or by-passing those and driving straight to the top.  There are options for many outdoor activities along the mountain highway, so you can make a day of it, but at a minimum, you will need at least 3 hours to safely drive up Pikes Peak and back down.
---
Should You Drive Up Pikes Peak?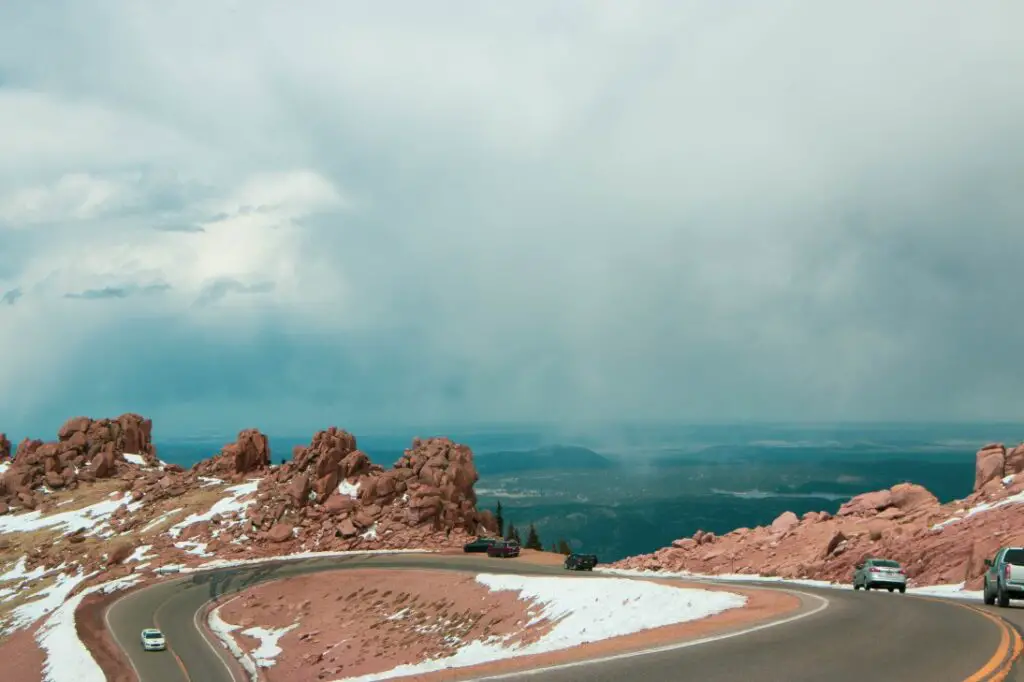 The famous Pikes Peak Highway has been traveled by every type of transportation possible.  Old-fashioned Model T antique cars, motorcycles, and small sedan Budget rental cars have made the trip safely, so you can enjoy a Pikes Peak scenic drive too.
However, if you ARE afraid of heights, driving Pikes Peak yourself might not be the best option.  The mountain is high and there are spectacular views right off the edge of the mountain.  It can sometimes be scary to look over that edge, so if you won't be able to focus on the roadway in front of you, perhaps you should make another choice for your mode of transportation.
How Long Does it Take to Drive Up Pikes Peak?
The drive will take about 3 hours, not including the long photo stops.  Take your time and follow some important driving guidelines.  You will receive a Pikes Peak driving guide at the tollgate entrance. 
---
Tips for Driving Pikes Peak Highway
Fill up with gas before you drive up Pikes Peak.  Rangers recommend at least half a tank before you reach the toll plaza.  There are no gas stations along the 19-mile highway and you will use extra fuel while you climb the steep incline.

Don't pass on curves or double yellow lines.  In fact, I made sure that I didn't pass at all when I was driving Pikes Peak Highway.  There are often no guardrails and limited visibility on turns, so I stayed away from the passing option. Uphill traffic has the right of way, so when there are tight spots, let them go first.  Also, don't get nervous when cars are behind you.  I actually solved this easily.  When there were cars in line behind me that made me uncomfortable, I simply pulled over at the next pull-off and let them pass.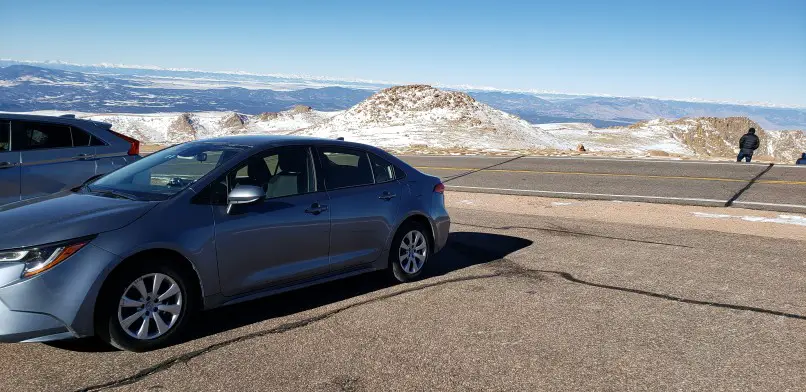 Don't speed.  The speed limit on the highway is 25 mph.  There is no reason to rush and speed, compromising safety.  Take your time and enjoy the adrenaline rush of driving this famous mountain.

Keep your eyes on the road.  The view is spectacular, but don't let that distract you from driving.  There are numerous pull-off spots and small parking lots on each side of the road.  Use one of those to stop for pictures and to take in the beauty.  If you MUST photograph while driving, ask your passenger to take the snaps.

Another reason to keep your eyes on the road: roadblocks!  There may be other drivers traveling at a slower speed (those not as comfortable with the mountainous terrain), rangers plowing in order to keep the roadway clear, or maintenance equipment keeping the roadway looking good.  Keep a safe distance from the car in front of you and watch for those roadblocks.

It is advised not to use the air conditioner while driving uphill.  We were during the winter, so we chuckled at that tip, but if you are there in the summer, open the windows and enjoy the mountain breeze rather than run the air conditioner and risk your engine overheating from all the stress and work you would be putting on it.

Downshift, Downshift, Downshift!  Use your vehicle's lowest gear to travel down the steep incline on your way down the mountain.  I had a rental car and had to use the instruction manual and google to figure out how to do it, but it worked.  The lower gear slowed the car down while we were coasting and decreased the amount of time we needed to use the brakes…which brings me to the next point.

Don't ride your brakes.  You WILL overheat them on the 19-mile journey if you apply them the whole way down.  The rangers suggest pumping them in quick strong bursts in order to slow your speed (in addition to the downshifting mentioned previously!).  There is a Brake Checkpoint on the way down the mountain for rangers to inspect your brakes.  If you start to smell them, lay off the brakes and pull over at the next safe parking area. Overheating the brakes will cause brake failure which is not a good thing when driving down a tall mountain.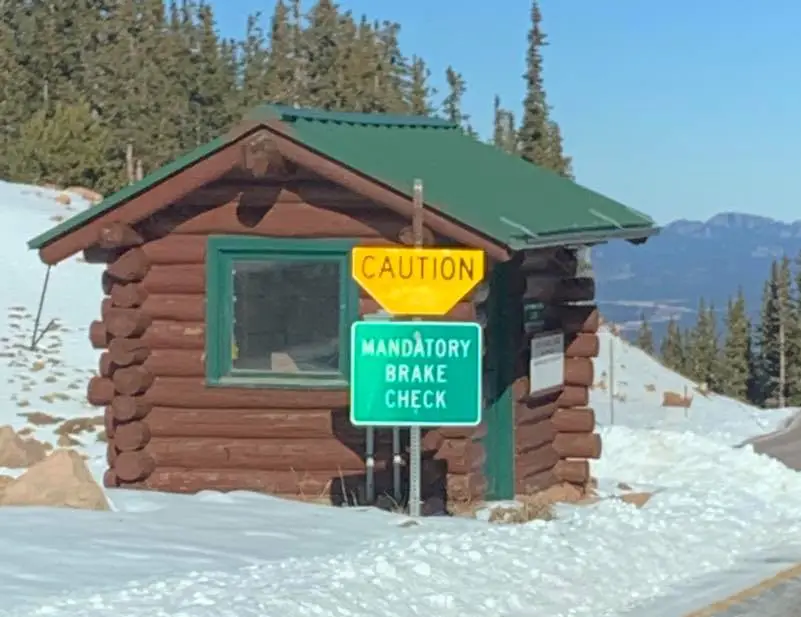 When in need of help, contact a ranger at 719-684-9138.  Personnel are always on duty patrolling the roadways and will attend to you. 
Special Note:  If you are driving your own car and it is on the 'older' side, have your brakes checked and your brake fluid flushed.  This is preventative maintenance to help your brake system work to optimum performance while you are driving down the huge mountain. 
---
Is the road to the top of Pikes Peak open?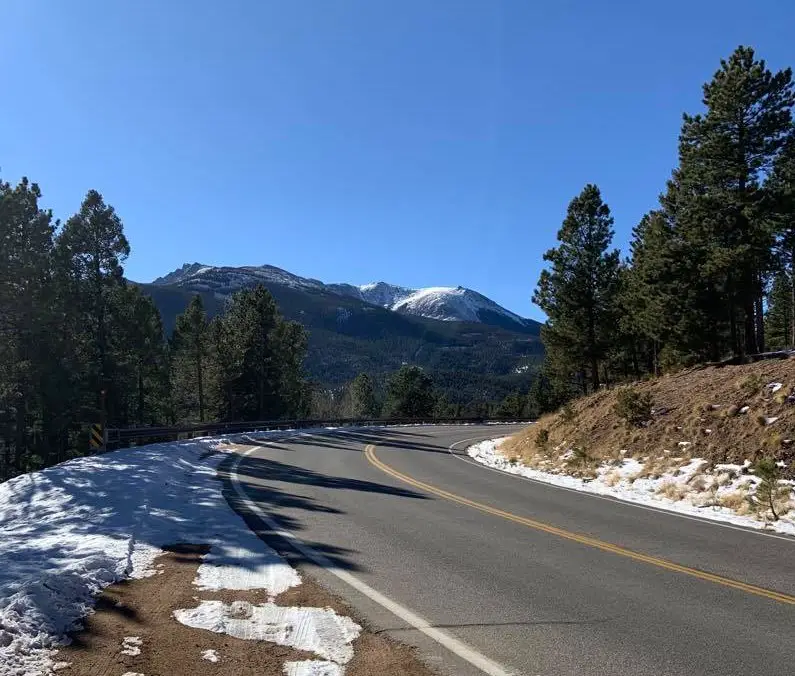 The Rangers plow often and will close the road when they can't.  They make sure that there are safe driving conditions all the way to the Pikes Peak Summit.  In fact, when I was driving to the top during a winter trip, a ranger pulled off to the side to join me at a photo stop in order to ask me how I was managing on the road with my small sedan.  Quite fine, thanks to her plowing efforts!
However, during a bad winter storm, it is common for the road to the Pikes Peak summit to be closed. For up to date weather and road conditions, check first and call 719-385-7325
---
Other ways to reach the Pikes Peak Summit
Pikes Peak Cog Railway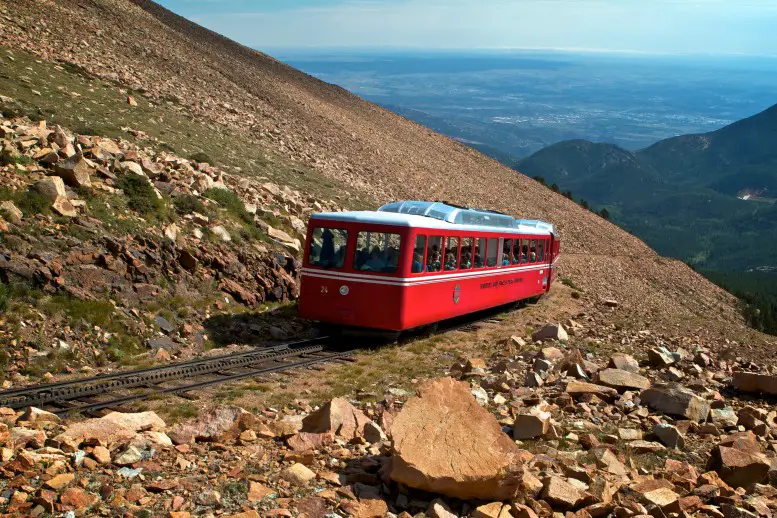 The Broadmoor Manitou & Pikes Peak Railway is one of Colorado's top attractions. It was originally built in 1891 as an alternative to reach the Pikes Peak Summit and is currently undergoing a $100 million renovation on its 9 miles of tracks, train cars, and depot. It is the highest-altitude railway in the USA and the world's highest cog train. Imagine all the difficulties of getting construction vehicles up the mountain and doing all the construction work at such a high altitude and extreme temperatures!
Reopening plans are set for May 2021, in time for the 150-year anniversary celebration for the city of Colorado Springs. The newly renovated Summit Visitor Center (discussed below) and Cog Railway will help tourism recover in the Pikes Peak area. The railway is a great way to reach the Pikes Peak Summit in style without the worry of driving yourself. You can sit back in the train car, enjoy the scenery and take a million pictures!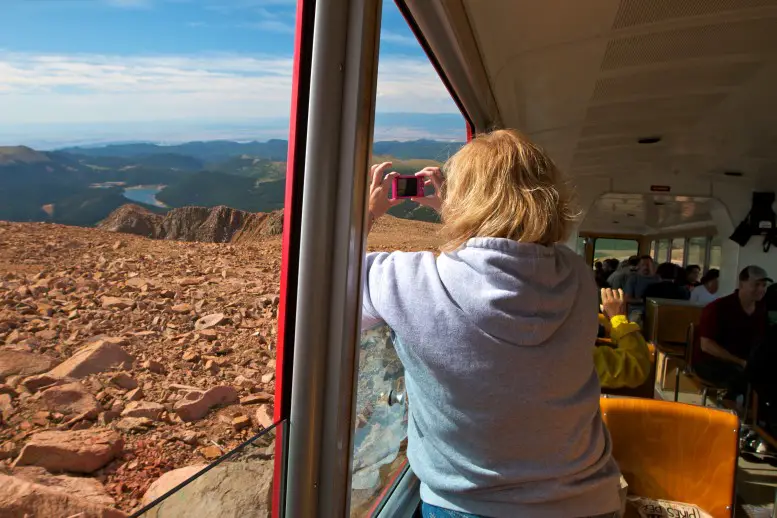 ---
This is the option for you if you want to experience Pikes Peak Highway, but not have the worry of keeping your eyes on the road the whole time.  There are tour companies that specialize in tours to the Pikes Peak Summit and can drive you up the mountain while you relax in the passenger seat and look out the window to admire the views.
---
Find More Great Tour Ideas for Colorado Springs
---
If you have more time to vacation in Colorado, Denver is a great city to explore. Here are some ideas to help you plan the perfect Denver itinerary.
---
Hiking Pikes Peak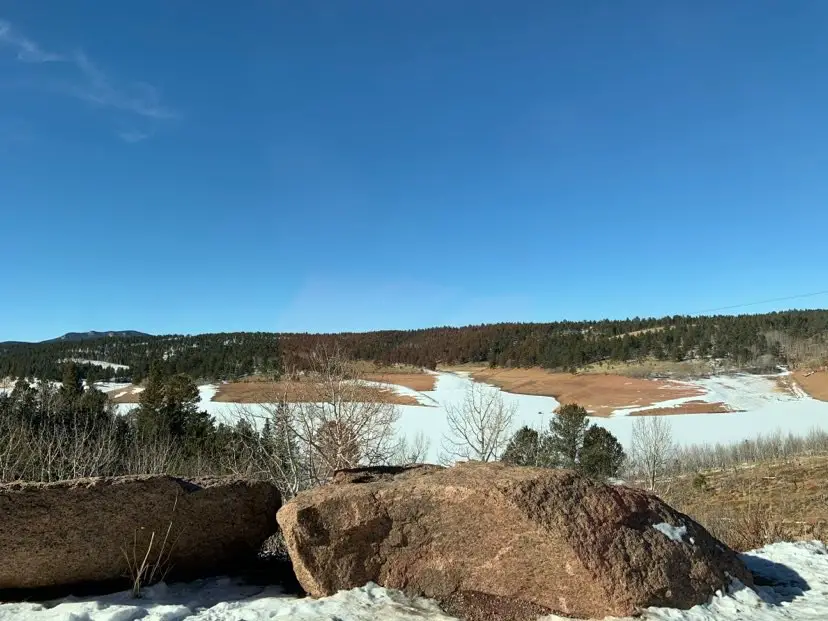 Hiking up Pikes Peak is not for the amateur.  The hike starts from Barrs Trail in Manitou Springs and is 13.5 miles long with an elevation gain of 7,400 feet to reach the summit of the 14er mountain.  Although it is considered by many to be the easiest hike of the 14ers, the overall elevation at the Pikes Peak summit is over 14,000 feet so make sure you are ready for a strenuous hike at high elevation.  It takes between 6 – 8 hours one way so make sure you bring a large supply of water with you and then have a plan for the way back down the mountain.
---
Biking Pikes Peak
Another adventurous way to travel Pikes Peak is biking.  The biking outfitter will take you, your mountain bike, and your safety equipment to the summit.  From there, you will feel the thrill as you sail on 2 wheels all the way down the 14er mountain!  The guides will make sure you are familiar with shifting gears before they release you for the 4 – 5 hour ride of your life!
TIP: Call 719-633-6399 for reservations.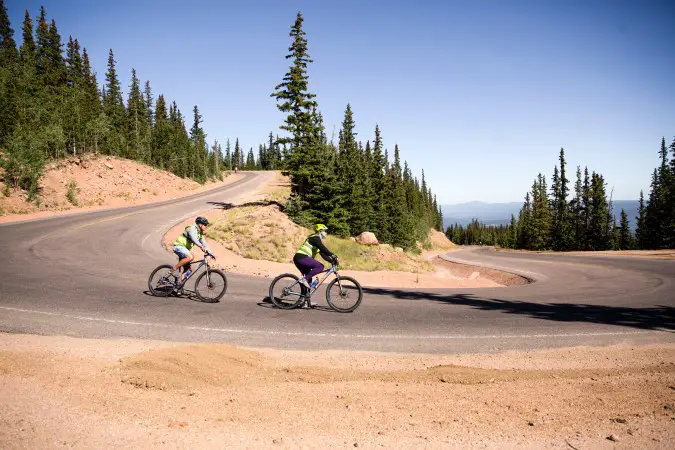 ---
What to See when driving Pikes Peak
This is a handy addition to your DRIVING PIKES PEAK SUPPLIES: Make sure you get your audio tour guide. It has interesting history and facts about the mountain and surrounding area that you can listen to on your Pikes Peak scenic drive.
Mile Marker 0: Entrance Gate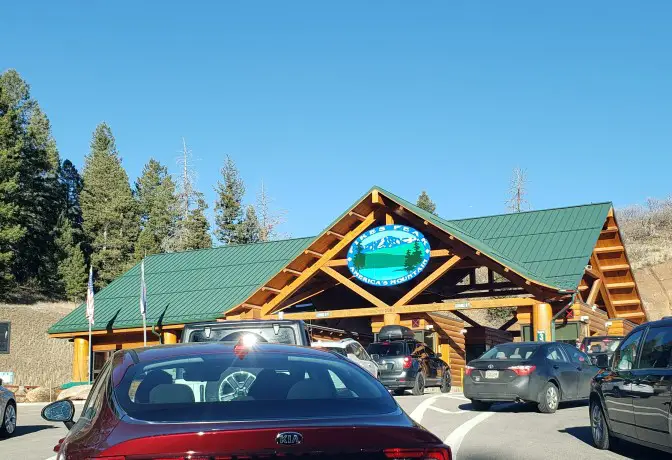 The toll plaza to access Pikes Peak Highway is at a starting elevation of 7,800 feet at the entrance.  The park rangers will collect your toll and give you a pamphlet with driving pointers.  Enter the highway and start your ascent to the summit!
Mile Marker 3: Crow Gulch Picnic Grounds
The first picnic area is located right after mile marker 3.  There are restroom facilities and ample parking at Crow Gulch.  We actually used this picnic area for our lunch break at the end of our drive up Pikes Peak.  It was a great way to relax after all the tension from worrying about my brakes while driving down a steep mountain.
Mile Marker 4: Big Foot Sign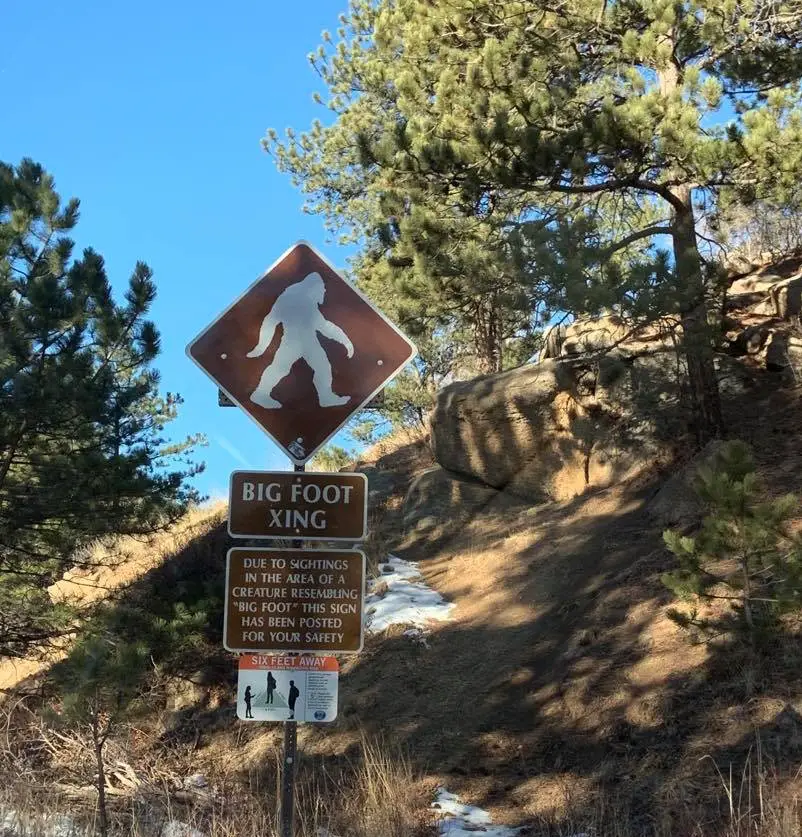 Shortly after the Crow Gulch Picnic area, you will encounter the BIG FOOT SIGN before mile marker 4.  If you don't catch a glimpse of the large hairy creature, you will at least be able to see the sign.  There have been multiple sightings of Big Foot on Pikes Peak throughout recent years.
Mile Marker 6: Crystal Reservoir Visitors Center
The Crystal Reservoir Visitor Center is at mile marker 6.  This is a great place to stop and stretch your legs.  There is food, a gift shop, restrooms, first aid, and picnicking areas.  If you are touring in the summer, it is a good place to purchase bait for fishing or rent paddle boats. 

There are also helpful signs posted that point out the names of the mountain peaks in the backdrop.  Using these signs, we were able to pick out Pikes Peak and take awesome selfies to show exactly WHICH mountaintop we drove up!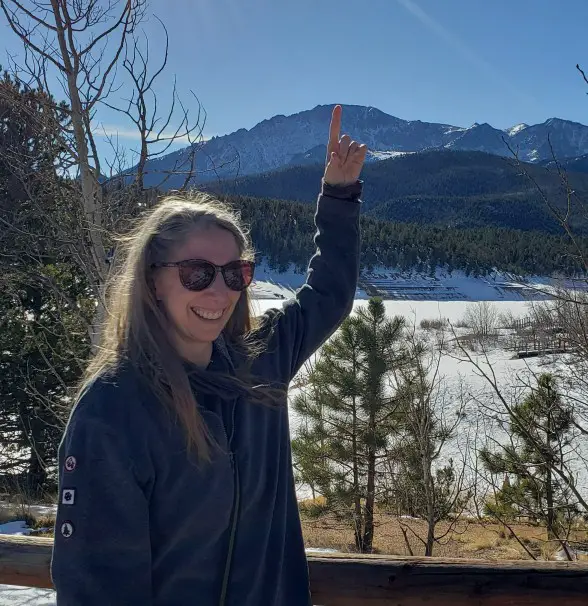 Mile Marker 7: Pikes Peak Hill Climb Start Line
The Broadmoor Pikes Peak International Hill Climb (PPIHC) is also known as The Race to the Clouds and is currently sponsored by Gran Turismo.  It began in 1916 and is America's second-oldest auto race according to PPIHC.  The invitational auto race is held annually on the last Sunday in June.  The track is a portion of the Pikes Peak Highway beginning at mile marker 7 and racing up to the summit after 12.4 miles and 156 turns.  It has grown into a huge international event that attracts the best drivers –and spectators– from around the world.
Mile Marker 9: Halfway Picnic Area mile marker
Halfway up to Pikes Peak, you will find the Halfway Picnic Area between mile markers 9 and 10.  There are a lot of picnic spots with grills to stop for lunch and a break in the driving action.  There are restroom facilities located here too.
Mile Marker 12: Pikes Peak Ski Area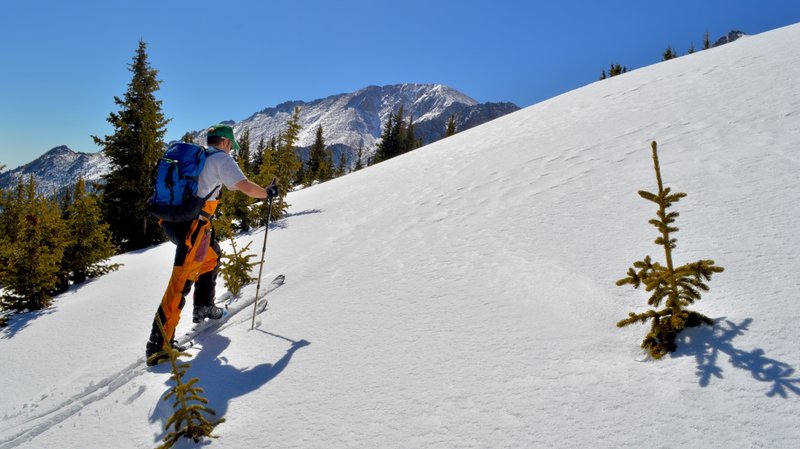 The Old Pikes Peak Ski Area Ski Ascent, Cascade-Chipita Park, Colorado
Easy low-angle terrain for practicing your turns and avoiding avalanche danger. Near Cascade-Chipita Park, Colorado.
The Pikes Peak Ski Area is located near mile marker 12.  It closed in 1984 but backcountry skiing is still available if you are touring in winter and are interested in this kind of adventure.  This area allows for a lot of low-angle skiing.
Mile Marker 13: Glen Cove Inn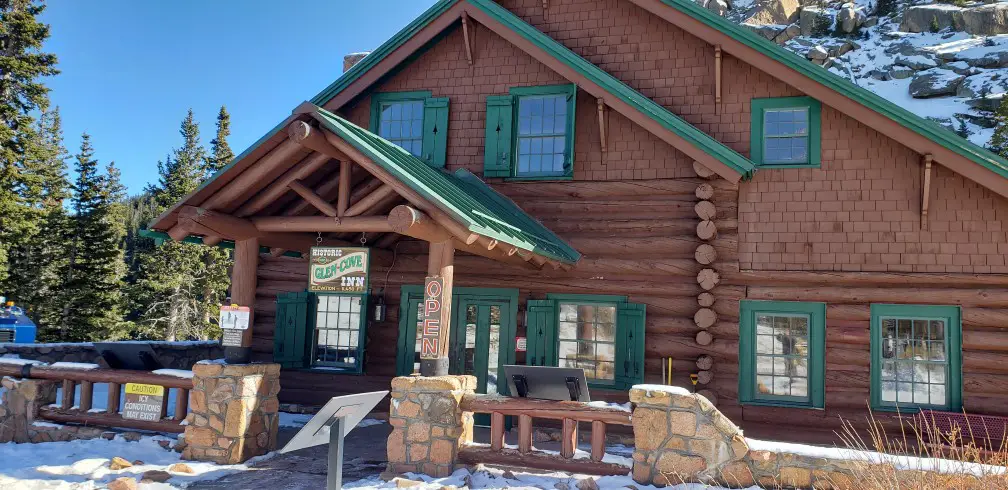 The Glen Cove Inn is a gift shop and concession area found at mile marker 13.  It is cute little shop with a small selection.  Most of the items here are also found at the top in the summit store, but it is still a nice place to stop, stretch your legs and take in some more beautiful scenery.
Mile Marker 16: Devils Playground
Devil's Playground is a popular resting stop on the drive up Pikes Peak.  It is a common starting point for those that want to hike up the 5.5-mile back country trail near Woodland Park to reach the Pikes Peak summit on foot.  There is a large parking lot here as well as a shorter hiking trail that leads to some great views of rock formations, the highway, and the valley.  It's name originates from being one of the most electrically active zones in the world with thousands of lightning strikes a year, perhaps caused by the one and only devil himself.
Mile Marker 17: Bottomless Pit, Switch Station, and Bighorn Sheep Pullout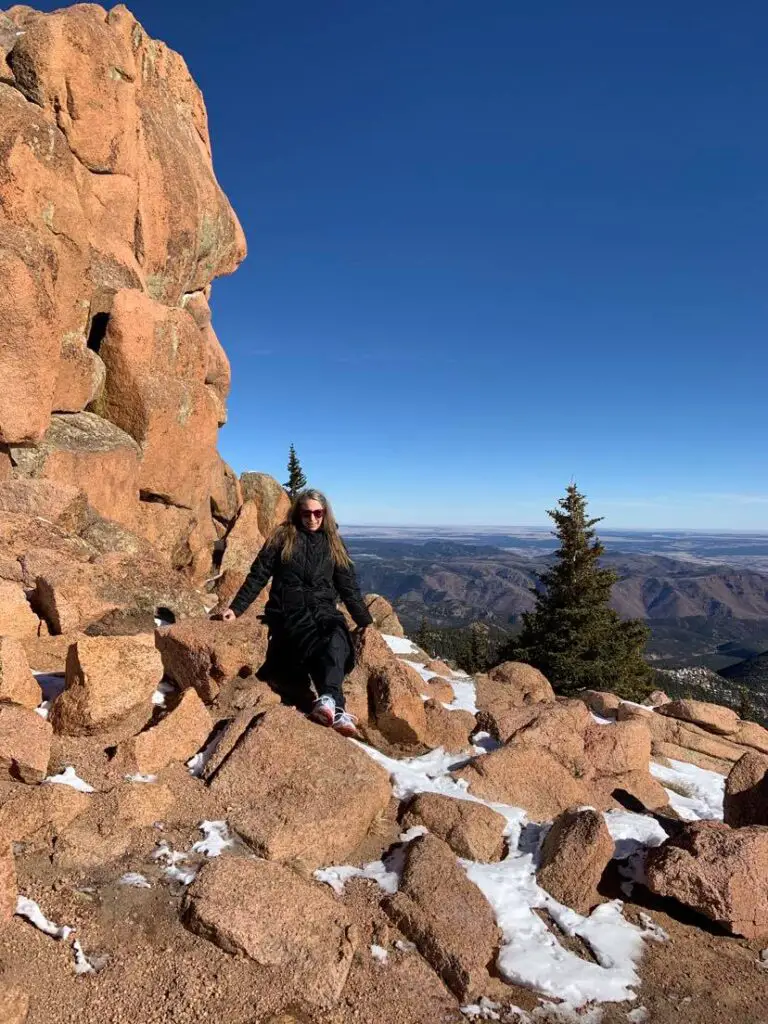 We stopped many times between mile markers 17 and 18 on our Pikes Peak scenic drive.  These pullouts are large enough to accommodate many vehicles and all have spectacular views of the surrounding mountain ranges.  We actually enjoyed the views from these pullouts better than the summit because there was a lot less wind and the views were prettier.
---
What happens after you drive up Pikes Peak?
The Summit at Pikes Peak
Visit the newly-constructed Summit House at the summit of Pikes Peak.
During the construction, there was limited parking at the summit and a lot of the views were obstructed by equipment.  We did not enjoy the summit very much when we were there because of the construction.  We drove down the mountain for the next scenic view and it was much better and prettier. It will be wonderful when the new Summit Visitor Center opens with all its new indoor exhibits and outdoor trails around the summit!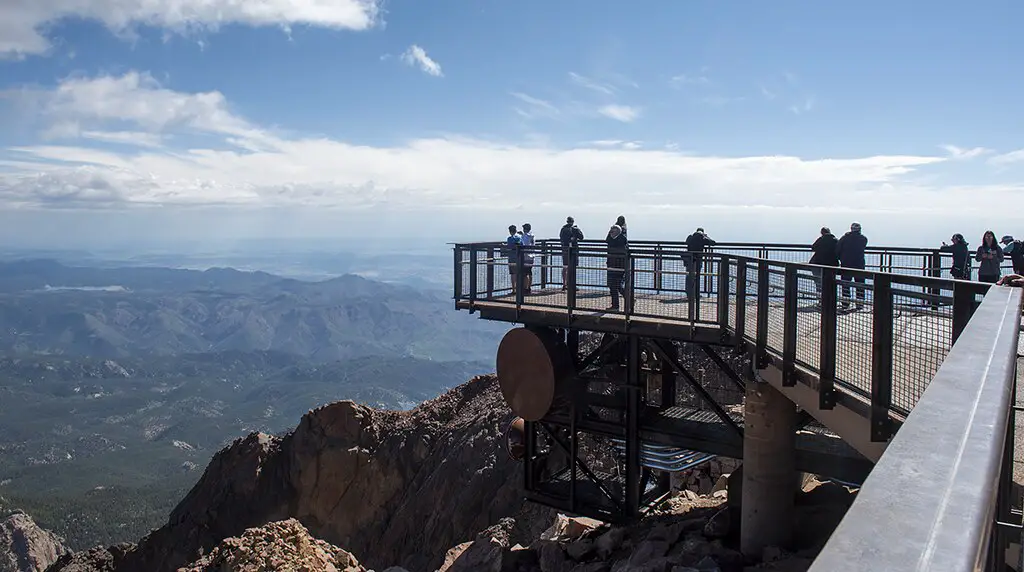 Try a Pikes Peak Summit Donut
Be sure to try the donuts that are made hot and fresh daily by the Donut Robot that can produce 700 donuts per hour (a new Robot will be unveiled and housed in the new summit house once it is completed).  They have developed a special recipe that allows them to bake these special donuts at a high altitude and THIS is the only place in the world that this high altitude feat occurs.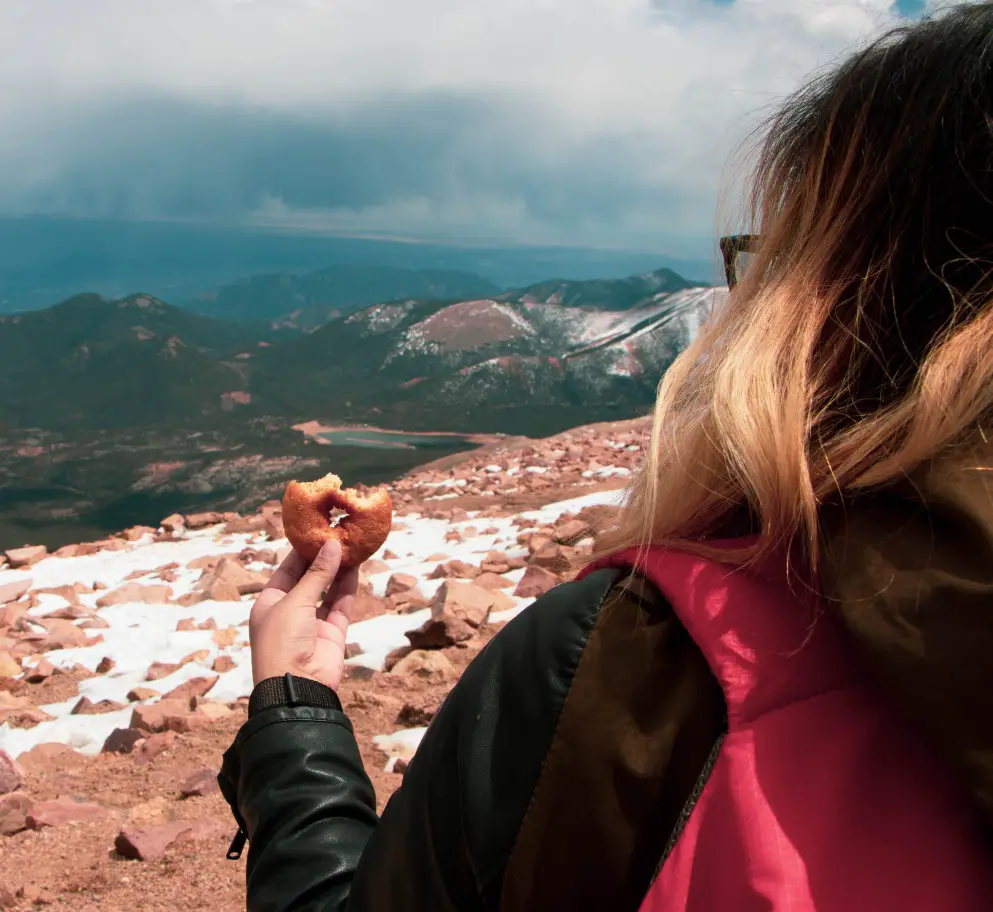 The donut recipe is a closely guarded secret, but they are thought to contain flour, sugar, evaporated milk and fried to make them crispy.  They can only be consumed at the high altitude, so enjoy your donut only at the top of Pikes Peak!  The moment they are taken to a lower elevation, they will collapse.
---
General Tips for visiting Pikes Peak Mountain
Dress warm and definitely bring a jacket.  It's cold and windy at the top of Pikes Peak –like 30 degrees colder!  I even brought my winter mittens and was very happy that I had them.  Also, plan for a change in the weather.  At the summit you will be higher than rainclouds, so even if it is cloudy and rainy at the bottom, you still might have a sunny clear view at the top of the mountain.  On the way back down, be prepared to encounter that weather again and be wary of thunderstorms.
Be careful of the intense sun at the high elevation.  Wear a hat and sunscreen to protect yourself from the harmful sun rays, especially if you will be doing a lot of hiking.
Lastly, at this elevation altitude sickness is a real thing because there is less oxygen in the air, approximately half of the amount of oxygen found at sea level. Common side effects are headaches, dizziness, nausea, shortness of breath, and fatigue.  Stay hydrated to ward off the effects of the elevation. If you start experiencing symptoms of altitude sickness, head for a lower elevation right away and hopefully the symptoms will resolve.  Remember to call the Ranger station at

(719) 684-9138

for any emergencies.
---
Important information for driving Pikes Peak
Please call 719-385-7325 for the most up-to-date road conditions.  
Pikes Peak Gate Hours
Pikes Peak Hours: The Pikes Peak Highway is open year-round, as weather permits.
| | | | | |
| --- | --- | --- | --- | --- |
| Dates | Uphill Gate Opens | Uphill Gate Closes | Summit Closes | Downhill Gate Closes |
| May 26 through September 4 | 7:30 a.m. | 6 p.m. | 7 p.m. | 8 p.m. |
| September 5 through September 30 | 7:30 a.m. | 5 p.m. | 6 p.m. | 7 p.m. |
| October 1 through Memorial Day | 9 a.m. | 3 p.m. | 4 p.m. | 5 p.m. |
Please call (719) 385-7325 to confirm in case of inclement weather or changes in the Pikes Peak Highway hours.
---
Cost for Driving Pikes Peak
These rates could change. To confirm the current Pike Peak entry cost please check the Pikes Peak website here.
Toll fees for driving Pikes Peak Highway:
| | | |
| --- | --- | --- |
| Description | May 1 to Nov. 30 | Dec 1 to April 30 |
| Per Person (ages 16 & older) | $15 | $10 |
| Per Person (ages 6-15) | $5 | $5 |
| Family Plan (up to 5 passengers) | $50 per vehicle | $35 per vehicle |
Cost to drive up Pikes Peak Mountain
---
Where to stay near Pikes Peak?
Colorado Springs is within easy driving distance to Pikes Peak and there are a lot of nice hotels and AirBNBs located in that city. Reserve your Colorado Springs Room.
I can personally recommend the Hotel Elegante. We stayed there for 3 nights, got the meal plan (since the pandemic had all the Colorado restaurants closed) and enjoyed our stay.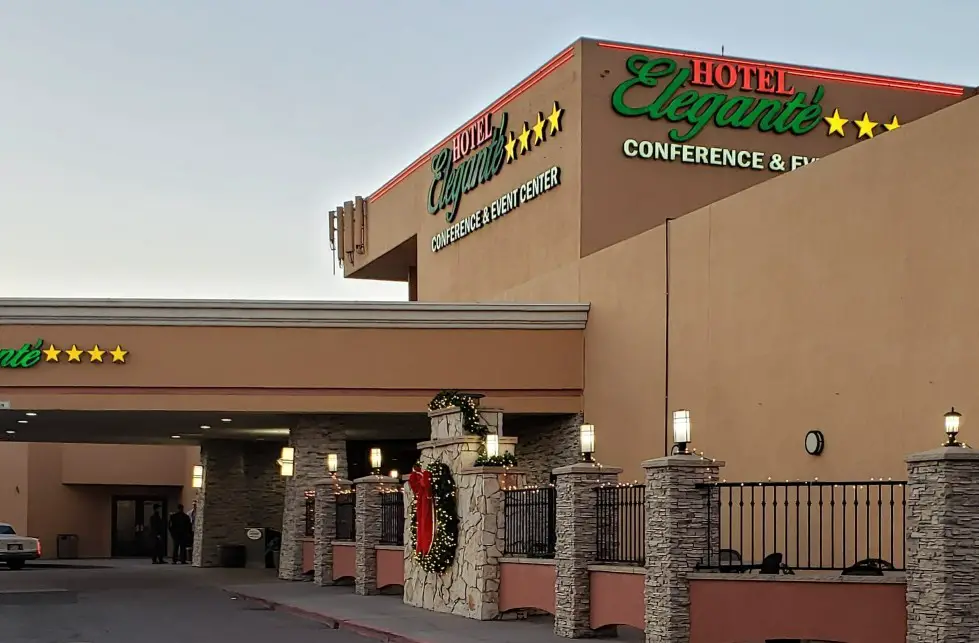 ---
Visit and drive up Pikes Peak Mountain!
Make your plans now to visit Colorado Springs and witness the magnificent Pikes Peak for yourself. Even if you do not drive Pikes Peak yourself, be sure you take the new cog railway to the submit or take a guided tour. You do NOT want to miss out on the gorgeous views!
---
Like this post? PIN IT for later.