DISCLOSURE: I may link to relevant products, companies or helpful info which may be affiliate links, meaning I may earn a small commission. As an Amazon Associate & other affiliates, I earn from qualifying purchases at no extra charge to you. The views & opinions are my own. Please see the disclaimer and privacy policy.
Last Updated on September 11, 2023
Get away for a Weekend in Shipshewana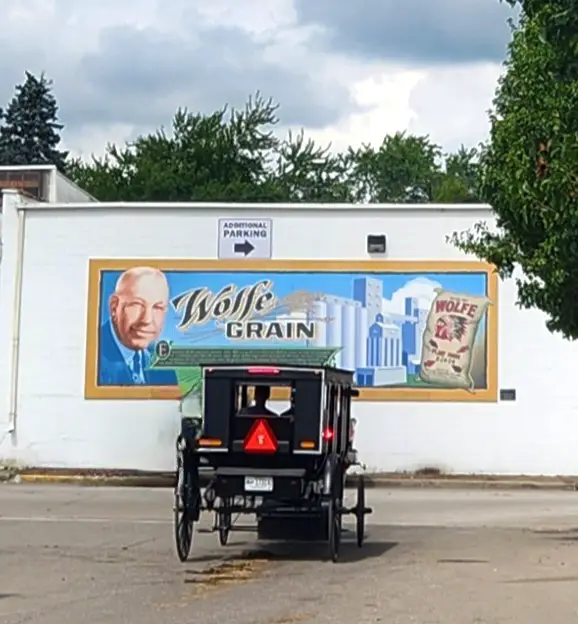 Explore the charming small town in Amish country
Nestled in the picturesque countryside of northern Indiana, Shipshewana is a charming town brimming with unique experiences and cultural richness. Known for its strong Amish heritage, this destination offers an array of activities that transport visitors to a simpler time.
Shipshewana has a population of only a little over 850 people and is located in LaGrange County –which has the THIRD LARGEST AMISH POPULATION in the United States
In this article, we'll explore a diverse range of things to do in Shipshewana, from exploring traditional markets and enjoying Amish cuisine to experiencing the tranquility of rural life and taking in the rich cultural history of the region. We spent a long weekend in Shipshewana and after all of our exploring, we will share with you what we found out as the best things to do in Shipshewana!
The BEST THINGS TO DO IN SHIPSHEWANA!
Click the Table of Contents to skip to some of your favorite THINGS TO DO IN SHIPSHEWANA
---
A special thank you to the LaGrange County Convention & Visitors Bureau and Visit Shipshewana for sharing their community with me.  As always, the opinions are my own.
Begin your Shipshewana Itinerary here!
Menno-Hof
Where is Menno-Hof: 510 S Van Buren St. MAP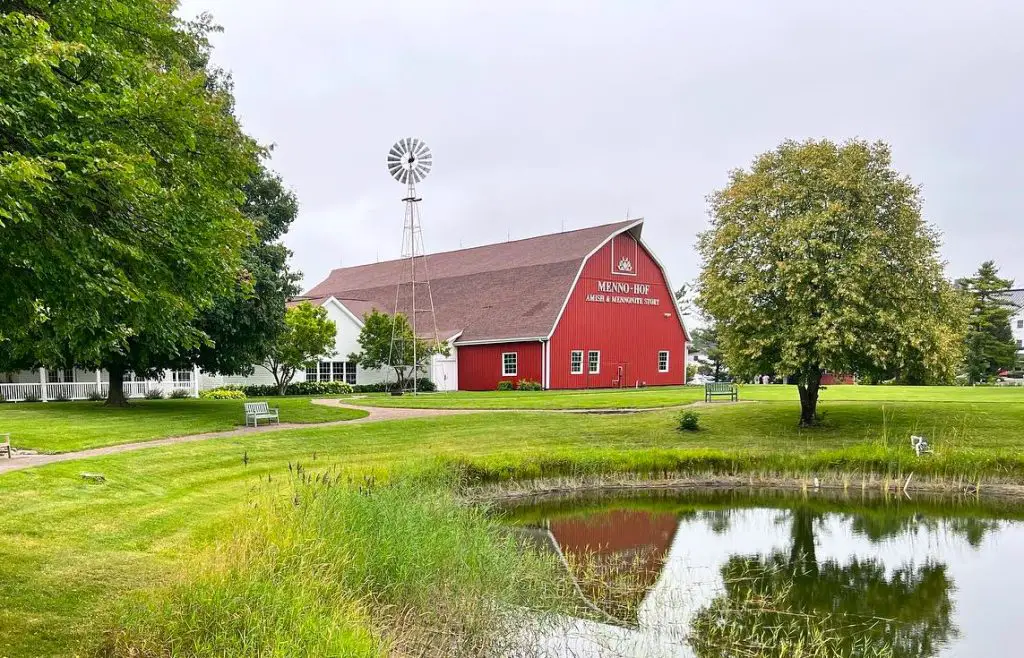 AMISH HISTORY LESSONS at the museum!
This is the first place to stop for any Shipshewana itinerary.  While here, you will be taken on a journey to see and hear the Amish-Mennonite story.  It is here that you will get an introduction to the faith and life of the Amish and Mennonite residents that reside in the Shipshewana area.
They embrace a 500-year-old religious tradition embracing the simple living and Christian service.
There are multimedia presentations and hands-on displays.  Our tour guide started us off with the history of the building of the Menno Hof Museum as a combined effort of the community.  We followed him through the 16th century courtyard where Anabaptism began and through a dungeon where they were persecuted for their faith. 
They didn't teach any of this in our schoolbooks, so it was eye opening to learn how persecuted they were for their faith, yet how strong they held to their beliefs then and now.
TIPS: 
The center says to plan for an hour, yet we needed more time and felt rushed, so give yourself extra time to let it all sink in. 
It is AIR CONDITIONED!  Enjoy the break from a hot Shipshewana summer day!
Ask lots of questions.  The guides are very knowledgeable and love to share their faith and history with guests.
The Blue Gate
The Blue Gate has many popular attractions in Shipshewana.  They have a new performing arts center, a theater, a restaurant, and a bakery.  We tried ALMOST all of them!  We saw an Oldies Show at the Performing Arts Center, had dinner at the restaurant and then followed it up at the Bakery with the most delicious piece of peanut butter pie that I have ever had!
The Blue Gate Performing Arts Center
Where is it: 760 S Van Buren St. MAP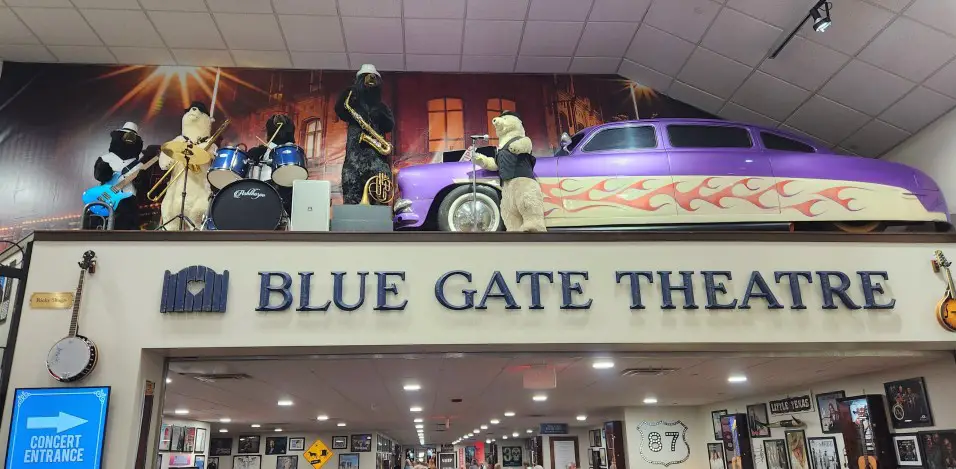 NOSTALGIA GALORE!
Before you even walk into the Blue Gate Theatre, you will be amazed by all the paraphernalia on all the walls. There are actual cars and parts, advertising signs, boatloads of guitars and autographs from the performers that have played there, and much more.
PRO TIP: Definitely arrive early so that you can look around and enjoy the lobby of the Blue Gate before your show begins!
We saw Dick Fox's Golden Boys:  Frankie Avalon, Fabian, and Lou Christie.  Those guys are all over 80 years old!  Their hits were in the 50's but they are still touring!  Although we were the youngest people in the audience, the show was very entertaining.  The guys made fun of their age.. and each other, so we laughed along with them.
There was a large screen at the back of the stage, so they showed the history for each of the artists, how they came to their fame, and their popular hits.  I had only heard of Frankie Avalon, so it was a nice music history lesson that taught me about the other 2 performers.
The sound system at the Performing Arts Center was excellent.  Lou Christie was the best and we enjoyed bebopping along to his doo-wop songs.
There were 2 large screen TVs on each side of the stage so that they could zoom in and show every wrinkle on the old guys!
The Blue Gate Restaurant and Bakery
Where is it: 105 E Middlebury St. MAP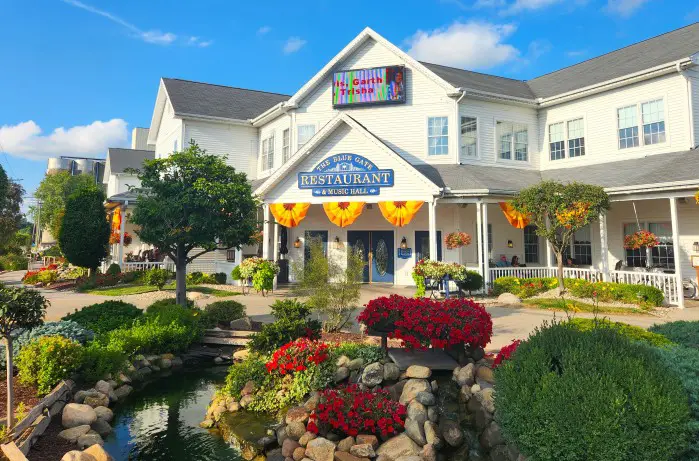 We stopped at the Blue Gate Restaurant for their Amish Mennonite cooking.
MORE on that delicious endeavor in the WHERE TO EAT IN SHIPSHEWANA section of this Shipshewana Indiana Things to do guide but I also wanted to make sure to include it in the main section so that you DON'T MISS IT! 
The Blue Gate Theater
Where is it: 195 N Van Buren St. MAP
We did not see a show at the Blue Gate Music Hall because we couldn't fit it into our jam-packed Shipshewana itinerary.  The Blue Gate is definitely the top entertainment destination in Shipshewana and a well-known name in the Midwest. 
In addition to the famous musicians at the Performance Hall, at the Blue Gate Music Hall they have world-class musicals including AMISH musicals!!  Be sure to check out the Blue Gate Schedule when you are planning to visit Shipshewana.
Davis Mercantile
Where is it: 225 N Harrison St. MAP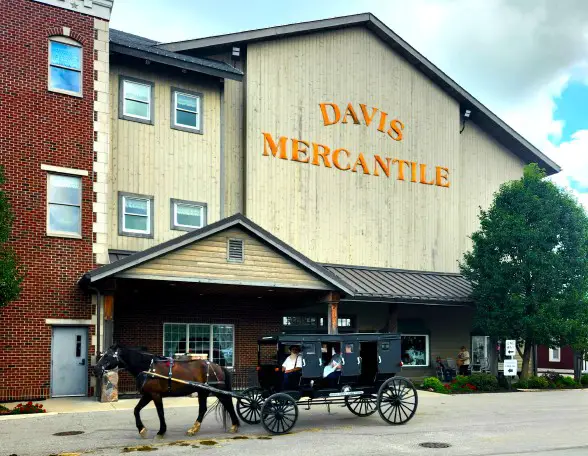 Davis Mercantile is the shopping mall centerpiece of Shipshewana. 
The complex dates back to 1891 when several buildings were assembled to accommodate those who were traveling through the little town.
In 1982 the Miller Family purchased the complex and built it up into a travel destination!  However, in 2004 a devastating fire destroyed everything.
The town came together for an old-fashioned barn raising and rebuilt the Mercantile into its current glory.
Shipshewana Shopping Mall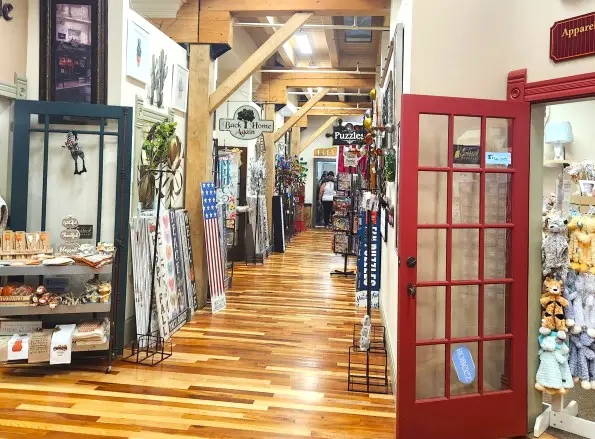 The shopping mall is filled with 4 floors of unique stores, boutique shops, Amish-crafted furniture and handmade items.  There are braided rugs and candles in one shop, solid wood handcrafted furniture in another, a shop filled with locally made signs, and even one music shop with hammered dulcimers and acoustic instruments.  –What more can you ask for in a mall?  They seem to have it all!
Jojo's Pretzels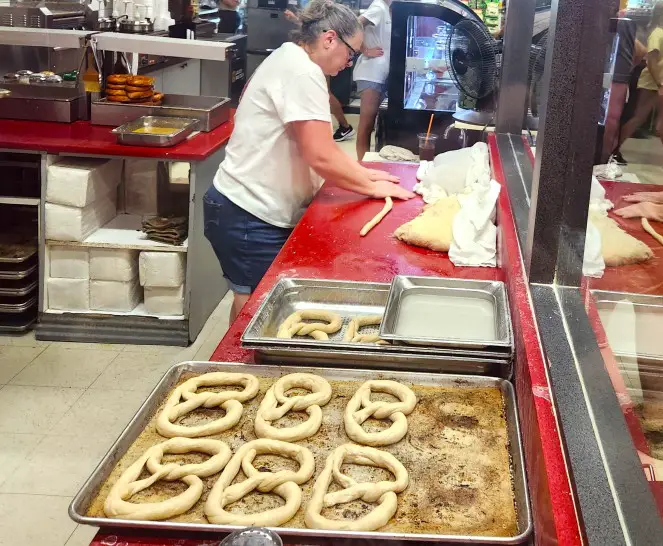 I didn't list Jojos the Food in Shipshewana Section below, but I probably SHOULD HAVE! 
Jojo's Pretzels is famous not only for their pretzels, but also for their glass display counter where you can watch all the pretzels from the original pretzel shop in town being handmade.  It is quite impressive how fast they roll out the dough, shape it and then bake it.
Shipshewana Carousel Co.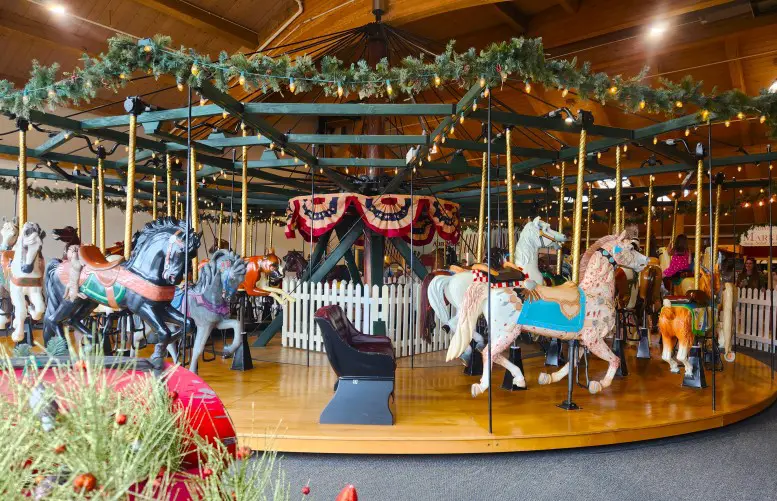 Take a nostalgic ride on a beautiful horse! 
When they rebuilt the Davis Mercantile after the fire, the owner wanted something special to cater to the families that were traveling through Shipshewana.  A carousel featuring hand-carved farm animals was put on the 3rd floor! 
–Do this before your actual Amish Horse and Buggy Ride —in the next section!!
Nearby Attractions in Downtown Shipshewana
Harrison Street Shops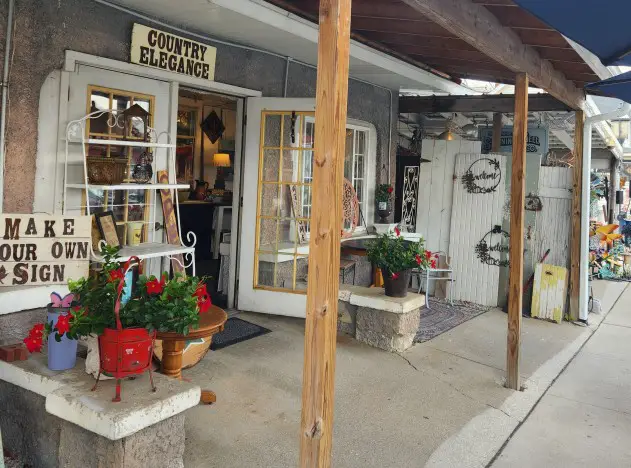 The Harrison Street shops are located right outside of Davis Mercantile.  They are small shops with unique gifts and home decor. 
BUT our favorite shop was a little walk away from Harrison Street and down an alley.  We enjoyed looking through all the antiques at Cherry Pickers.  They are professional 'pickers' and you can tell from the stock in their shop that they are very good at it!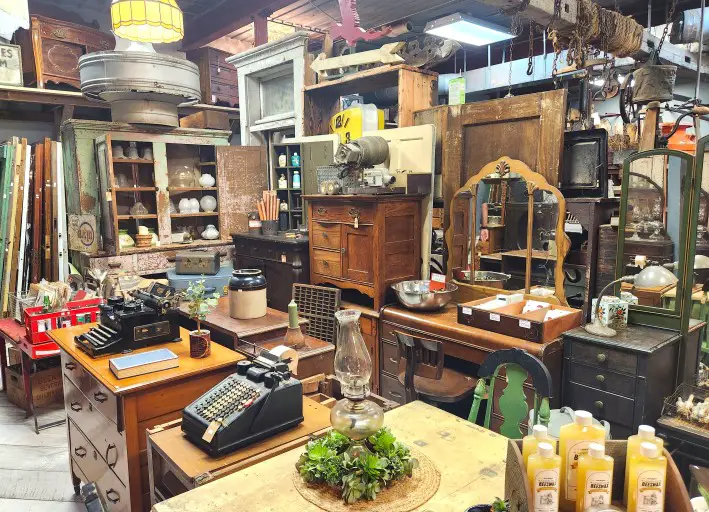 There were old mirrors lying every-which-way, large barrels of old porcelain door handles, and huge antique doors and mantles placed around the narrow walkways.  There was eye candy galore for those that love to remodel old-fashioned pieces or for those that just love a good old sign to hang on the wall.  We could have spent lots more time in that shop, but our Amish Buggy Ride appointment was coming up!
Amish Buggy Ride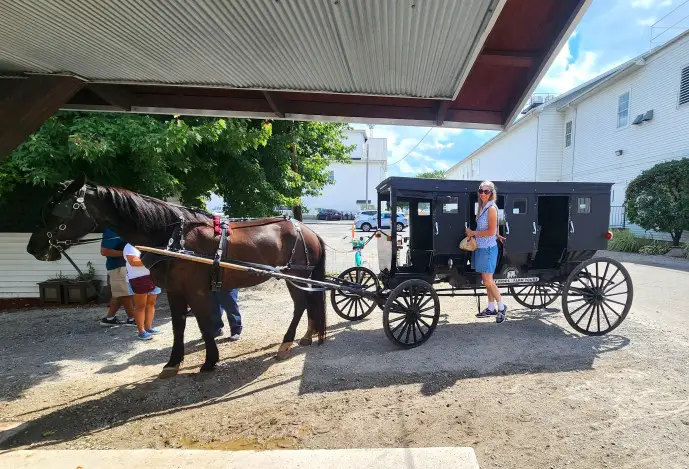 Shipshewana tourism is known for the Amish tours. There are several places to get an Amish Buggy Ride in Shipshewana. We chose Buggy Lane Tours on the Boardwalk in the Harrison Street Shop complex and right near the Davis Mercantile.  This buggy company looked more authentic since it was a typical black Amish buggy. Ours was driven by our Amish driver, Perry, and pulled by our horse, Stormy.
Our Clippity Clop Ride circled the town of Shipshewana and passed by Amish and Mennonite homes in a relaxing buggy ride as we chatted with Perry.  We even passed Perry's brother who was doing a tour in a white buggy for the 'Other Company' as he called it!
E & S Sales Bulk Foods
Where is E&S Sales: 1267 N, IN-5 MAP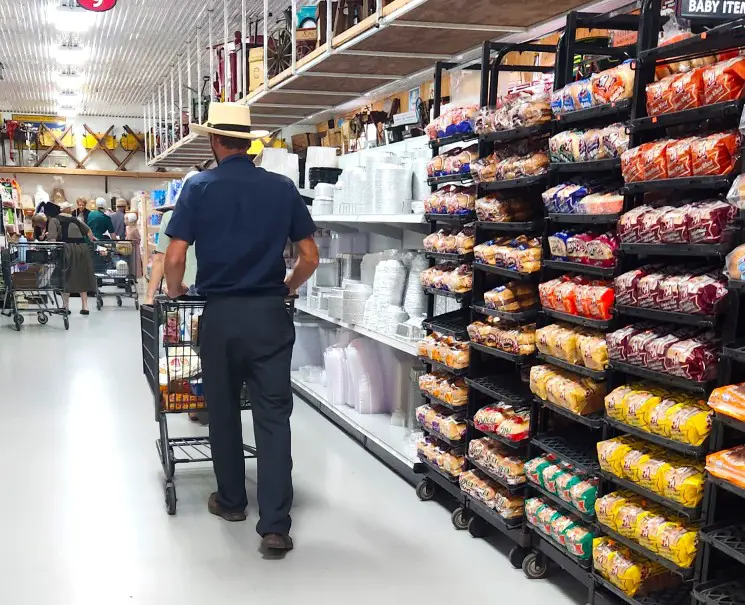 Shop at the Amish grocery store!
Shipshewana has a bulk food store, E & S Sales, where you can stock up for your trip through the countryside in Shipshewana.  This isn't just an ordinary market.  At this market in Amish Country, you will find extra-ordinary foods and goods inside –some that you can't find anywhere else. 
In fact, we stopped there before our trip home to purchase some milk from Stutzman Dairy Farm (read about our fun tour of the Amish Dairy Farm in an entry below!) and some homemade Amish noodles.
They have BULK food and bulk VARIETIES! Just the nut aisle will amaze you with all the different nutty choices!
Out front in the large parking lot, dozens of horses and buggies are parked, awaiting their owners' return.  Grab a cart and walk through the aisles of the bulk food store alongside the local Amish who are doing their daily shopping with their kids in bonnets walking calmly beside them.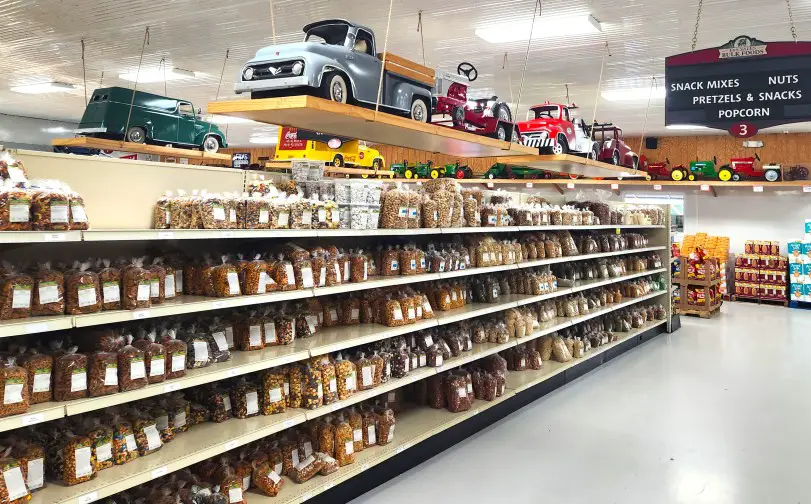 PRO TIP:  They aren't open on Sundays and in the evenings, so get your shopping done early in the day.  Also, like most Amish businesses, they don't take credit cards, only CASH and checks.
ANOTHER PRO TIP:  Bring a cooler along on your trip to Shipshewana in case you want to take home one of the 75 varieties of cheese that are sold at the market!
NOTE: For nostalgia lovers, there are dozens and dozens of old-fashioned pedal cars on display over all of the shelving units at the Bulk Food Store. THAT is another amazing thing to see when you stop there!
Yoder Popcorn
Where is Yoder Popcorn: 920 North SR 5 MAP
A stop at Yoder Popcorn is a must-do when you Visit Shipshewana! They have FREE SAMPLES for you to munch on while you stroll around the shop!!
They even have a chart that shows which types of popcorn they have and what they look like when all popped up!
Yoder Popcorn was started in 1936 on an Amish family farm.  Today, Rufus Yoder's great niece, Sharon, and her family operate the Popcorn Shoppe with the same quality of popcorn that has earned it its excellent reputation! 
–We bought our supply of popcorn for the next year at Yoder Popcorn Shoppe! Movie nights, here we come!
Shipshewana Wall Murals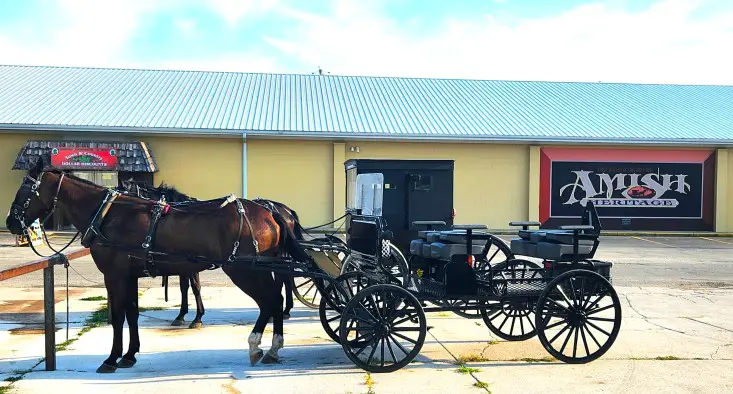 Grab your map of Wall Murals in Shipshewana
In 2014, The Walldogs came to Shipshewana for a week to paint 16 historical murals throughout the town.  They depict the history of the community and the important businesses and people that had an influence on making Shipshewana the unique small town it is today.
Have you traveled to another city that was visited by the The Walldogs?  They are a highly skilled group of mural artists that travel to small towns across the country to create murals to tell stories of local history.
Take a tour of all the murals in Shipshewana.  There are quite a few in downtown Shipshewana that you can see while visiting Davis Mercantile and the nearby shops.  Others are within a short driving distance.  They are great for selfies!!!
Shipshewana Flea Market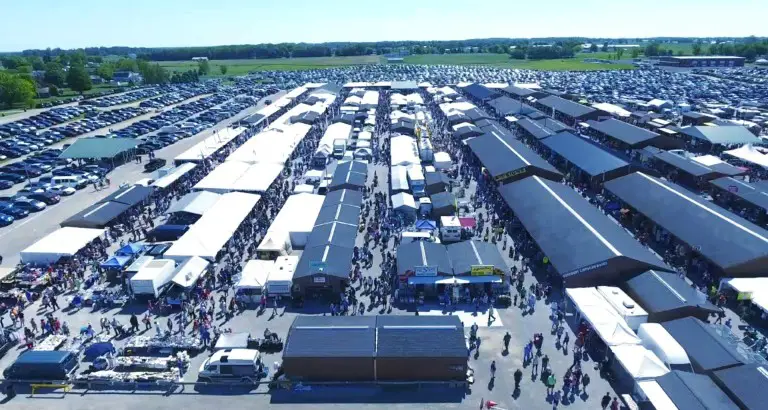 The Shipshewana Flea Market is a bustling and iconic open-air market located in the heart of Shipshewana, Indiana. Spanning over 40 acres, it hosts hundreds of vendors selling an eclectic mix of goods, from handcrafted Amish furniture to antiques, artisanal foods, and unique crafts. With its lively atmosphere and Amish heritage, it's a must-visit destination for those seeking an authentic and diverse shopping experience in the Midwest.
Flea Market shopping at Shipshewana vendors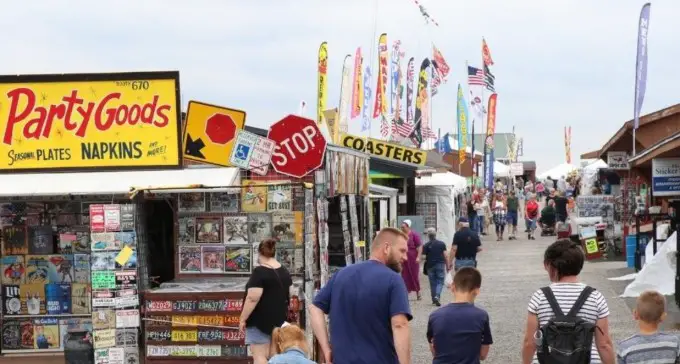 Wander through the world-famous Shipshewana Flea Market and visit the nearly 700 booths while enjoying the fresh outdoors in the open-air market.  There are vendors selling everything from home décor, antiques and collectibles, garden items, clothing, tools and everything else under the sun.
FREE ADMISSION (and parking is just $5).  The Flea Market is open Tuesdays and Wednesdays from May through September.
There are some special weekends for extended markets, like Memorial Day and Labor Day.  Find out all the year round events at the Shipshewana Flea Market Calendar of Events.
Place a bid at the Shipshewana Auctions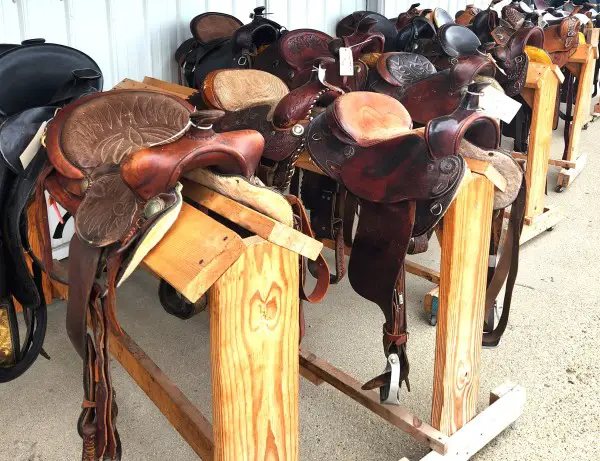 If you stop on a Wednesday, make sure you visit the Auction Building where many auctioneers are all selling antiques and collectibles.
Livestock auctions are the place to be if you are a farmer in the market for cattle, sheep or pigs.  The livestock auctions are Wednesdays and just horses are on Fridays.  We stopped at the flea market on a Friday and heard the auctioneers calling out all the bids for that day's horses!
Murals at the Flea Market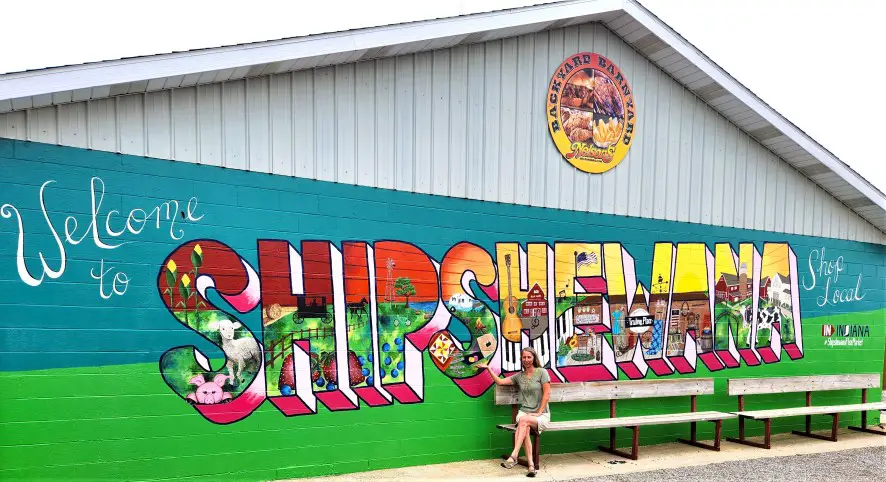 The Flea Market even has a wall mural scavenger hunt! 
Find all the cool murals throughout the market and take some cool selfies!
Pumpkinville Nature Trails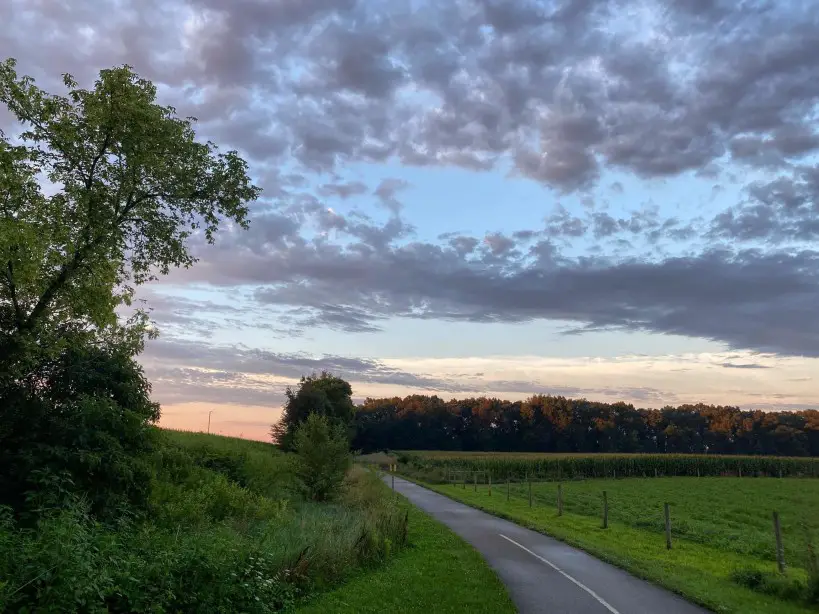 GET A MAP OF PUMPKINVILLE TRAIL
The Pumpkinville Nature Trail is a 16.5-mile trail that goes through Shipshewana and connects to Elkhart, Goshen, and Middlebury.  It is on the site of the former Pumpkinville railroad.  It is a flat, paved trail through the Indiana countryside that is great for joggers, bicyclists, walkers and skaters.
Along the trail you will encounter 7 wooden bridges, 2 Amish schools, 1 Chief Shipshewana Memorial, 1 tunnel, and 31 species of wildflowers! 
Need a bike?  There are even bike rental locations in Shipshewana so that you can enjoy this great trail!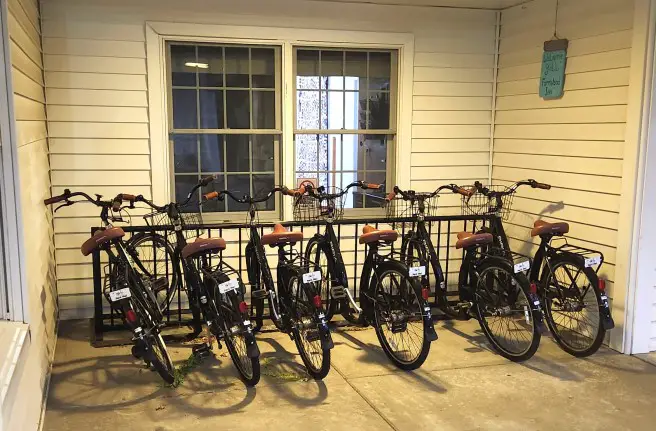 Off the Beaten Path Amish Tour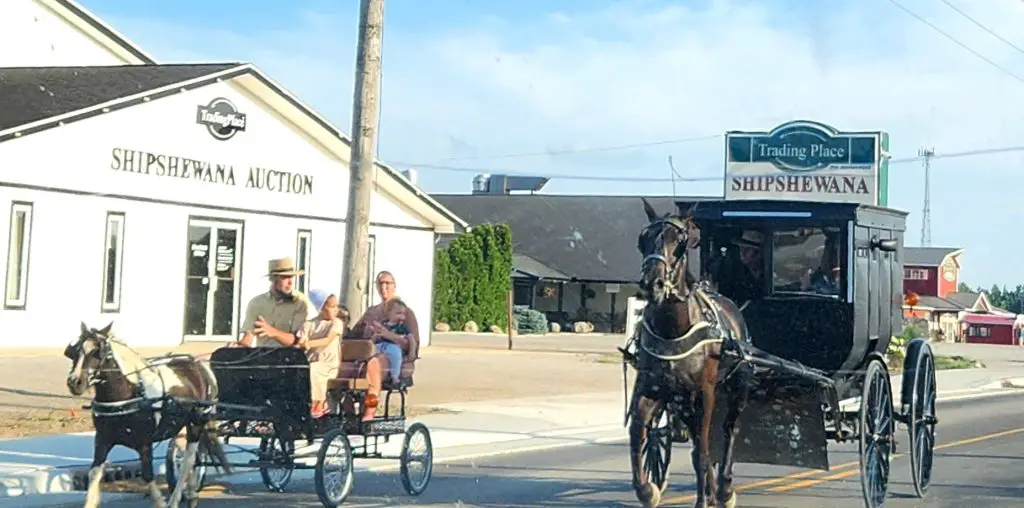 Meet the Amish!
Most people come to Shipshewana to experience the Amish culture, so what better way than to take an Amish tour!  With the Off the Beaten Path tour in Shipshewana you can go at your own pace and choose your own stops throughout Amish country. 
Grab a map with all the Amish shops and bakeries and hit them as you drive around Shipshewana.  Take in the local Amish culture throughout the county and TAKE HOME a unique Amish souvenir that was handmade by the artisans after you chat with them in the shop.
AND THEN grab some locally grown produce from an Amish farm, a jar of harvested honey, and delicious baked goods from the Amish bakery. 
PRO TIP:  Take a cooler on your Amish tour so that you can store your perishables.
COMING SOON- In-Depth review of our OFF THE BEATEN PATH AMISH TOUR in Shipshewana
Stutzman Dairy Farm
Where is Stutzman Dairy Farm: 1360 N 850 W MAP
Milk a Cow!
Our first stop on our Amish tour was at the Stutzman Dairy Farm. It is a 6th generation Amish family farm that gives tours for $15pp if you make a reservation.
While here we were given a tour from Velda who showed us all around the family farm.
We saw 12 cows eagerly file in on one side of the parlor to be milked, the milking process, and then we saw them file out after they were done.  Eventually they wandered back to their barn to grab a bite to eat.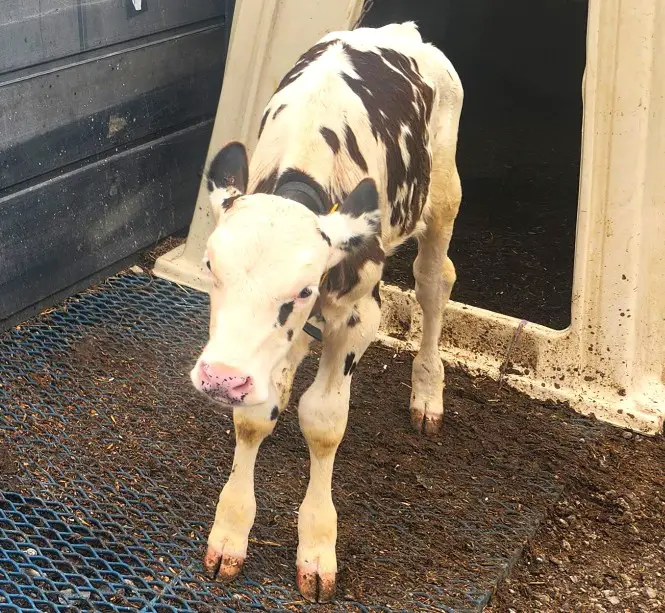 All the calves were kept out back. They all got very excited when we walked near them because they thought we were there to feed them! The calves were bottle-fed for 60 days and then sent out to join the herd. 
COMING SOON: An upcoming article about our Off the Beaten Path Amish Tour with more details about our Stutzman Dairy Farm Tour
the milk processing
the milk flavors that have won AWARDS,
Stutzman gardens
& lots more at the Stutzman Dairy Farm
Quilt Garden Trail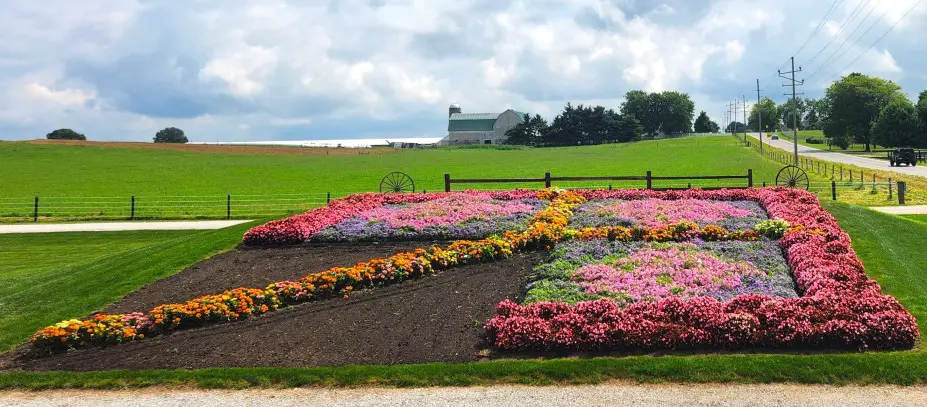 Grab your map to the Quilt Gardens in Shipshewana
What are the Quilt Gardens in Shipshewana?  They are an artistic combination of quilting, gardening and wall art located throughout the communities of Bristol, Elkhart, Goshen, Middlebury, Nappanee and Wakarusa! 
You can self-drive the Heritage Trail to find all the Quilt Garden stops of beautiful flowers arranged in a quilt display, as well as the humongous wall murals throughout the countryside. 
PRO TIP:  Take this one-of-a-kind tour in the summertime when the flowers are blooming!  There aren't any quilt garden blooms to look at in the winter!
Michiana Events Center (MEC)
Where is the MEC: 455 E Farver Street MAP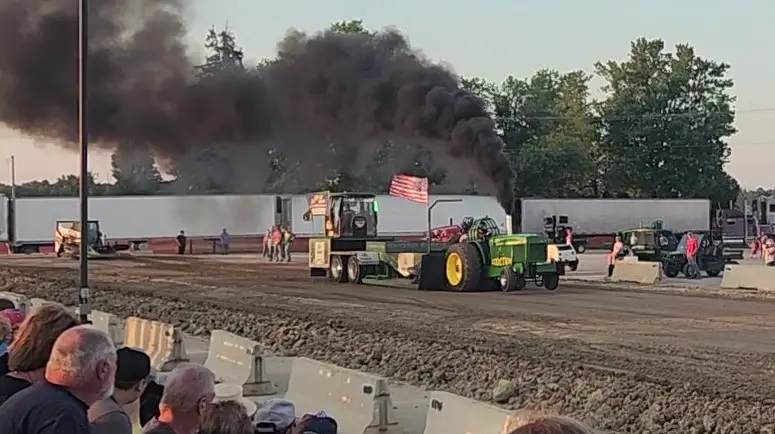 The MEC large event center is in the main area of Shipshewana.  Some of the events that you can see here are tractor pulls, professional bull riding shows, circuses, rodeos, auto shows, craft fairs and much more!  You never know what fun show will be happening at the MEC.  Make sure to check out their schedule when you are planning your Shipshewana itinerary.
During our weekend in Shipshewana, we were able to attend a tractor pull at the Michigan Events Center.  I had never been to one before, so it was an interesting learning experience.  The audience really got into it! The MEC was close to our Farmstead Inn where we were staying, so we just walked across the street to attend the tractor pull. So convenient!
Places to go: a Short Drive from Shipshewana
Cooks Bison Ranch
Where is Cooks Bison Ranch: 5645 E. 600S. Wolcottville, IN MAP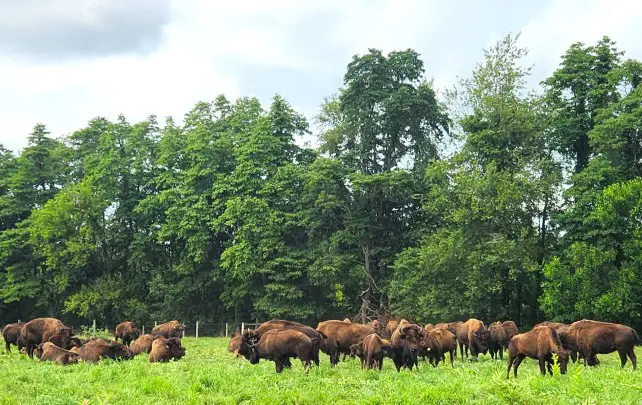 Cooks Bison Ranch is a unique experience and thing to do in Shipshewana.
It is actually a short drive from Shipshewana but worth it, especially if you are an animal lover.  At the ranch, you can take a wagon ride tour to the pastures to see and feed the bison.
Erica is one of the owners and is a former school teacher.  She is well educated about their bison herd and loves sharing the knowledge with visitors and educating them about what it takes to raise the bison.
The bison seem like gentle giants and they meander toward the Treat Wagon in search of the little pellets.  They have sand-paper tongues that seem to wrap around your hand to grab the treat.  Often, the treat would fall to the ground before that long tongue had a chance to grab it!  They would then become a little hoover vacuum cleaner and make sure to vacuum up every last treat.
There were quite a few baby bison while we visited.  I tried to make sure to throw a few treats in mom's direction to distract her so that I could hand-feed the babies!!
PRO TIP:  Reservations are required, so call ahead  260-585-0005
Springfield Acres
Where is Springfield Acres: 8110 E. Hwy 20, LaGrange, IN MAP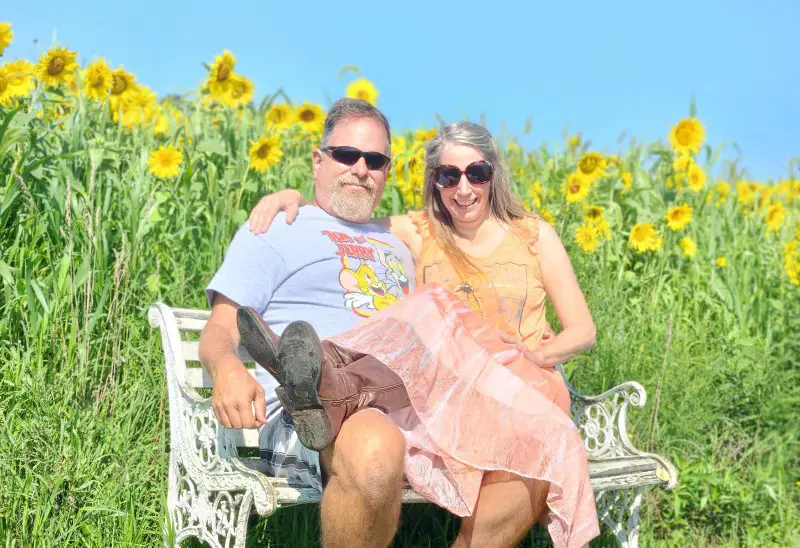 "There is something new blooming in Brushy Prairie"
Springfield Acres is just a short drive from Shipshewana and a great road trip to add to your Shipshewana weekend itinerary.  They have recently opened their sunflower field and pumpkin field to the public to pick.  The U-pick hours are in the evenings during the week and all day on Sunday.
We were there in August –so it was SUNFLOWER SEASON!!  We had a great time strolling through the sunflower field and taking photos.  I have always loved the yellow blooms and this year's crops were cute little blossoms that looked so happy as they pointed toward the warm sunshine.
They have big plans for next year including some extra special springtime U-Pick dates!
Check out the hours for Springfield Acres.
---
Wondering what to wear to Springfield Acres? Check out my helpful tips for visiting a sunflower field!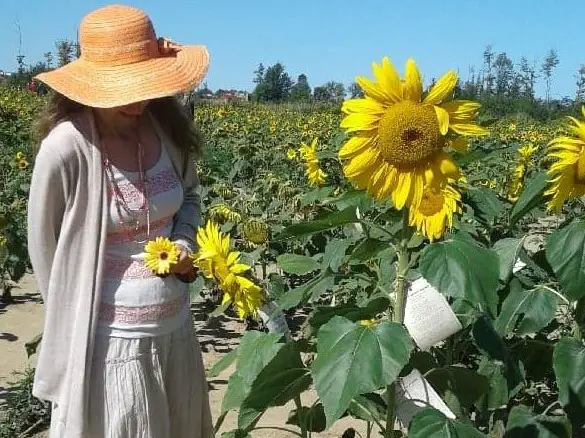 Cute Outfits to Wear in a Sunflower Field
Plan ahead with these outfit ideas for what to wear for sunflower field pictures and a handy list of perfect outfits to wear in a sunflower field for a perfect photoshoot.
Where to Eat in Shipshewana
Shipshewana, Indiana is a culinary delight for foodies, offering a rich tapestry of Amish and Mennonite-inspired dishes. Visitors can savor hearty Amish classics like fried chicken, homemade noodles, and pie that will melt in your mouth. —note we enjoyed that exact experience at the BLUE GATE RESTAURANT and I suggest that you don't leave Shipshewana until YOU DO TOO!
Keep reading for our suggestions for the best Shipshewana restaurants!
Additionally, the town's bustling farmers' markets showcase fresh, locally grown produce and artisanal cheeses, making Shipshewana a must-visit destination for those seeking authentic Midwestern flavors and a FULL BELLY!
Blue Gate Restaurant
Where is the Blue Gate Restaurant and Bakery: 195 Van Buren St., Shipshewana MAP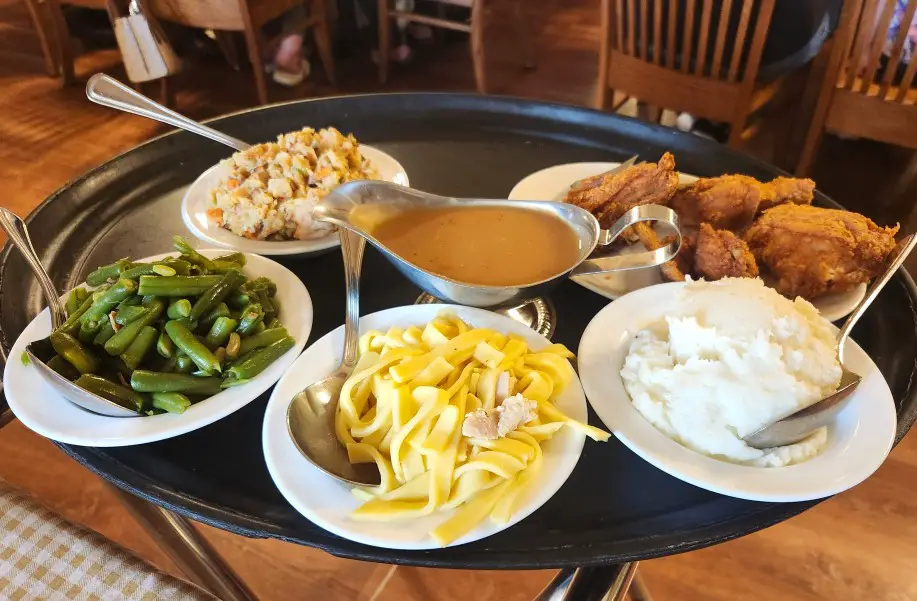 We skipped lunch before going to the Blue Gate Restaurant because we knew there was going to be a lot of great food!
Everyone recommended the Blue Gate Buffet.  However, when we arrived for dinner at 5:30pm, there was a 25-minute wait for the buffet, but the dining room had seats immediately.  What should we do????
We chose to sit in the dining room and skip the buffet.  Much to our delight, they had an all-you-can-eat selection which included everything that they serve in the buffet!!!  AND we could sit quietly at our table-for-2 while the waitress brought our food to us instead of trekking through the buffet line! 
Seemed like we ended up with the better option after all!!
We enjoyed everything on the menu.  The Amish cooking was delish.  We had fried chicken, Amish noodles, corn, beans, meatloaf, stuffing, and potatoes.  Hubby had room for rolls after dinner.  He tried the apple butter and sweet peanut butter on the rolls and proclaimed that it was so sweet and yummy that it was his dessert!
We chose peanut butter pie for the 'real' dessert but didn't have room for it.  Our awesome server packed it up for us to take home and enjoy later.  I ate mine the next day and it was the BEST peanut butter pie ever!!
Blue Gate Bakery
The Blue Gate Bakery is located right next to the Blue Gate Restaurant.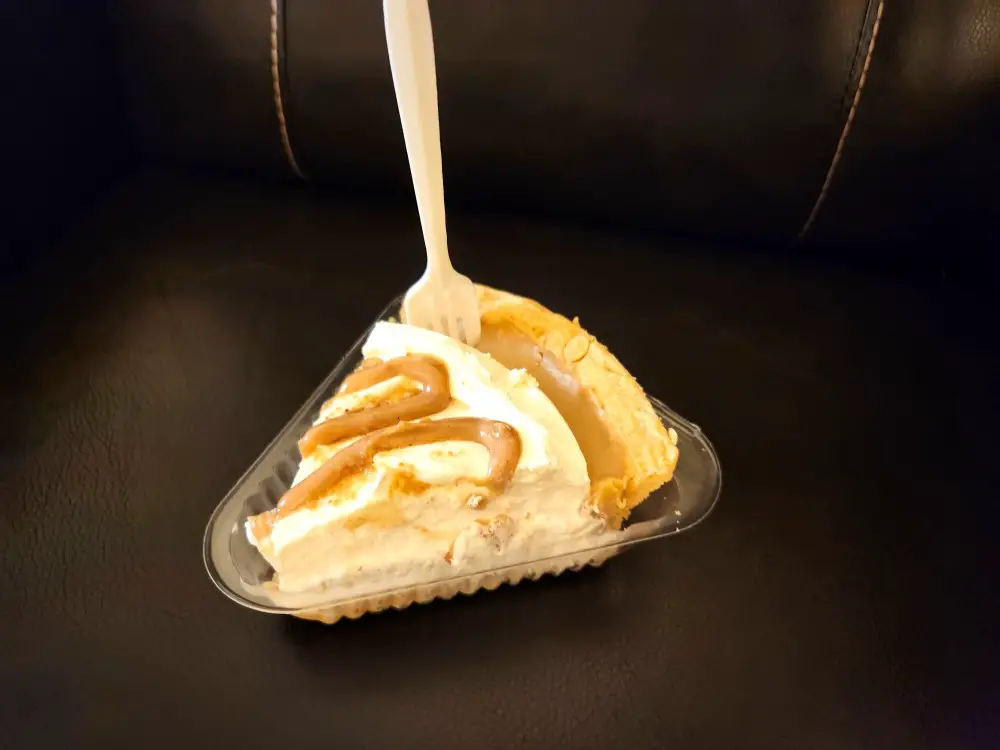 We walked through the bakery after dinner and even though our bellies were over-full from dinner, we were still drooling.  If we had a cooler, we would have purchased some goodies –like more peanut butter pie to take home!
Sadly we left the bakery with only some souvenir gifts for family and friends and nothing for ourselves….
PRO TIP:  BRING A COOLER!!  How many times have I said this in this article?!?!!?
Rise and Roll Bakery
Where to find a Rise and Roll Bakery: Locations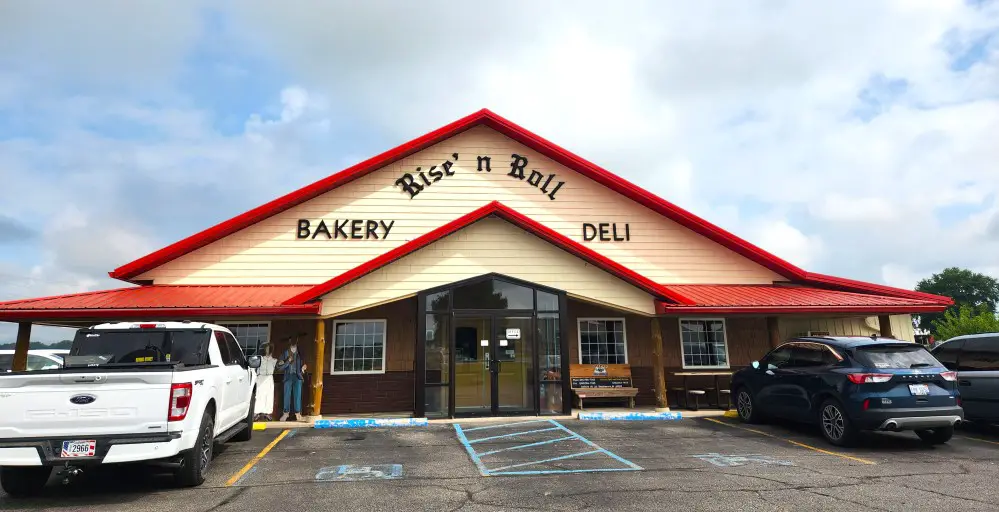 The Rise and Roll Bakery is a franchise, but it began as a small Amish bakery, using no electricity.  Today, they still preserve the quality of the baked products and serve up the bakery in the old-fashioned way -without preservatives.
They are famous for their addictive cinnamon and caramel donuts.  We tried a box and will throw our vote in to say that they are definitely tasty –and addictive since we finished that box really quickly!!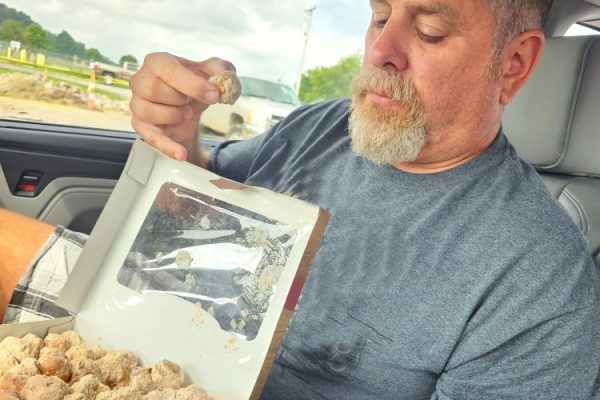 Auction Restaurant
Where to find the Auction Restaurant in Shipshewana: MAP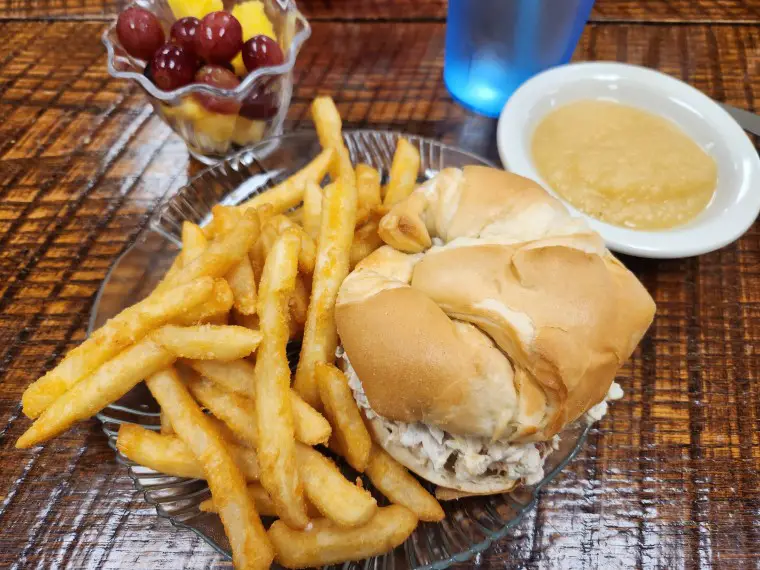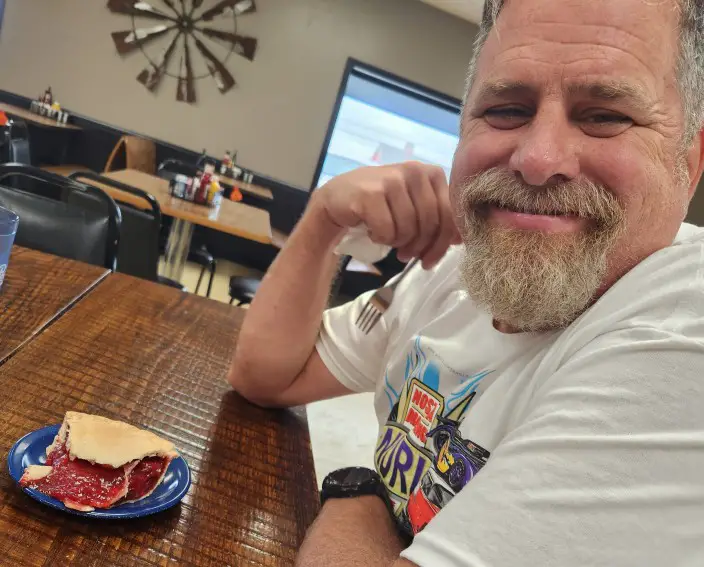 The Auction Restaurant is located right next to the Shipshewana Flea Market property.  Make sure you eat at least one meal at this cozy restaurant. They serve Amish-style home cooking, and it was delicious.  We finished it off with a piece of home-baked pie!
Where to Stay in Shipshewana
Shipshewana, Indiana offers a range of charming accommodation options that capture the essence of Amish country living. There are comfortable hotels and inns in the heart of Amish country with convenient proximity to the town's attractions and events, ensuring a comfortable and memorable stay in this picturesque Midwestern town.
Farmstead Inn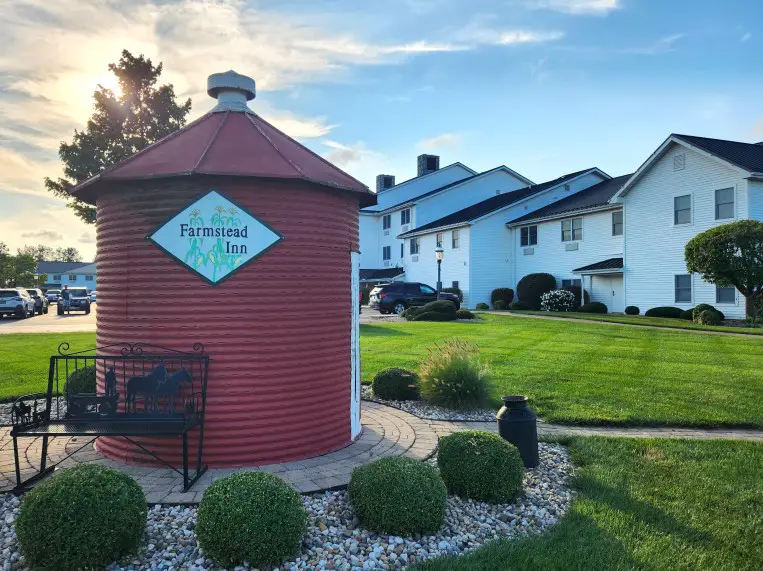 We stayed 3 nights at the Farmstead Inn.  We loved the rustic charm and farm theme, with Amish quilts and nostalgia adorning all the walls.  We especially enjoyed the pool –with hot tub located in the silo!  The Farmstead is located close to many of Shipshewana Indiana attractions in downtown, so it is very convenient.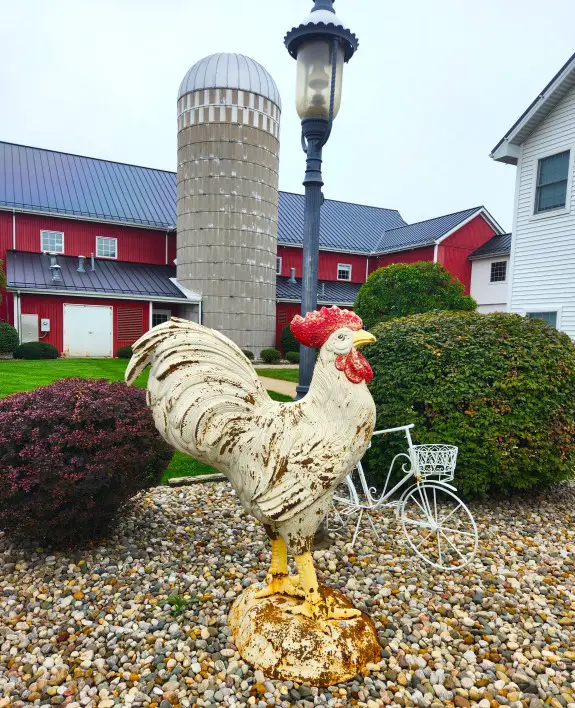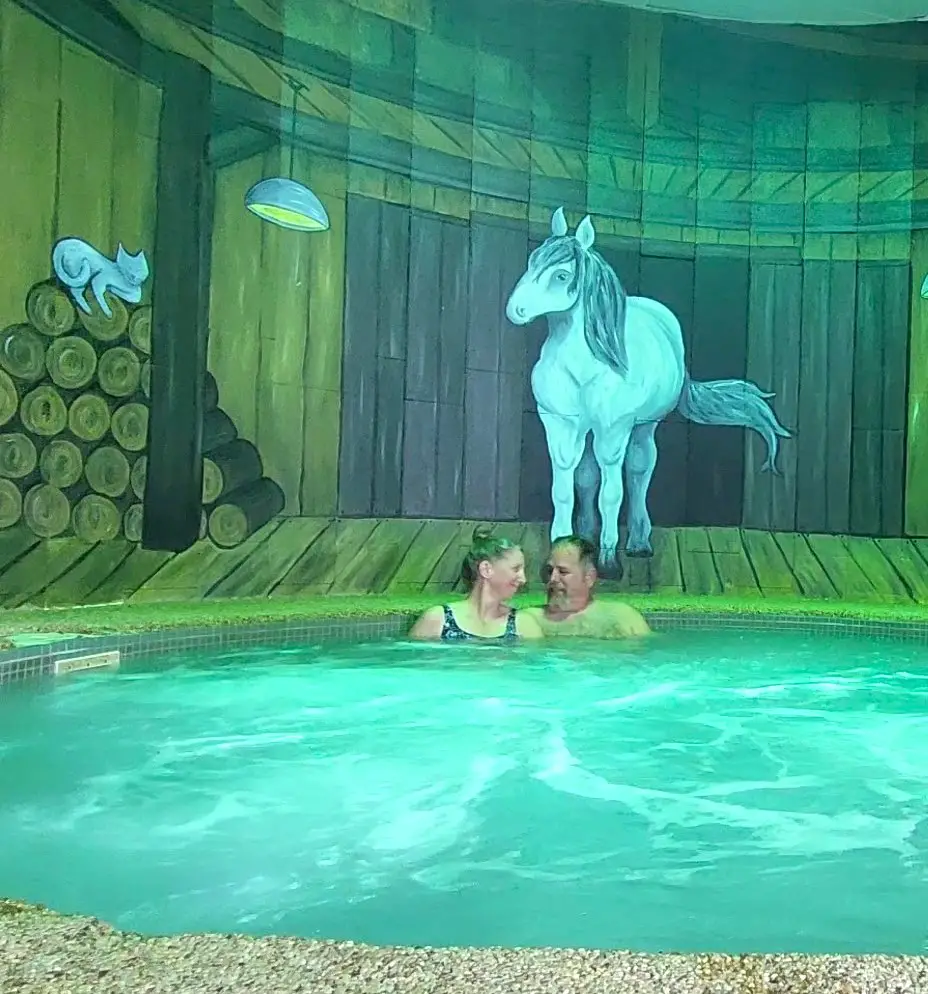 ---
Blue Gate Garden Inn
The Blue Gate Garden Inn in Shipshewana offers guests a tranquil and inviting retreat in the heart of Amish country. With its charming gardens, cozy rooms, and warm hospitality, it provides a delightful atmosphere for a relaxing stay. Guests can also enjoy easy access to the town's attractions and the renowned Blue Gate Restaurant, making it a convenient and comfortable choice for exploring all that Shipshewana has to offer.
We only stayed at the Farmstead Inn, but the Blue Gate Inn looked equally inviting and nice!
Book the Blue Gate Garden Inn NOW
Conclusion about all the fun things to do in Shipshewana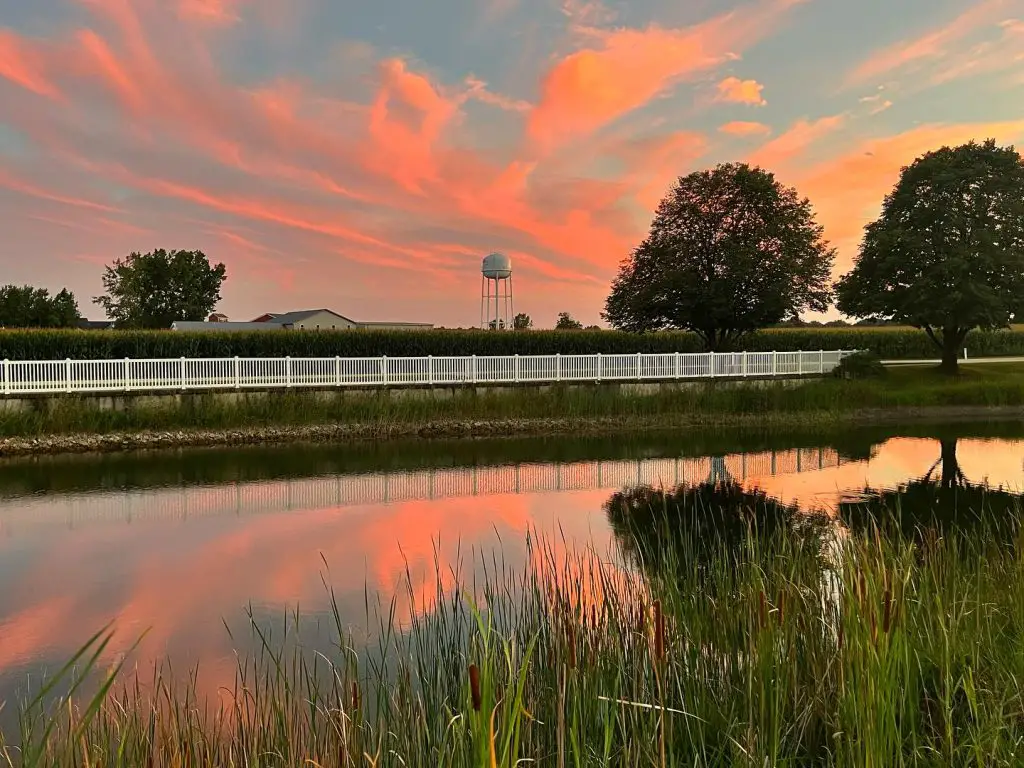 Shipshewana, Indiana, is a hidden gem.
It a small town that offers a unique blend of cultural richness and timeless traditions. From exploring the vibrant Shipshewana Flea Market and savoring Amish cooking to immersing oneself in the serenity of rural life and appreciating the town's rich history, the things to do in Shipshewana offer a diverse range of activities that captivate visitors of all interests.
Whether you seek a peaceful vacation, or an enriching cultural experience, Shipshewana's charm and hospitality make it an unforgettable destination for anyone looking to create lasting memories in the heart of Amish country.
Like this post? Pin it for later!