DISCLOSURE: I may link to relevant products, companies or helpful info which may be affiliate links, meaning I may earn a small commission. As an Amazon Associate & other affiliates, I earn from qualifying purchases at no extra charge to you. The views & opinions are my own. Please see the disclaimer and privacy policy.
Last Updated on July 5, 2023
There are numerous things to do in Abilene Kansas and any roadtrip through the Midwest USA, should include a weekend in Abilene Kansas.  Your Abilene itinerary will be jam-packed for history buffs, art lovers, outdoor hikers, and those that are fond of finding that unique roadside attraction to add to your social feed!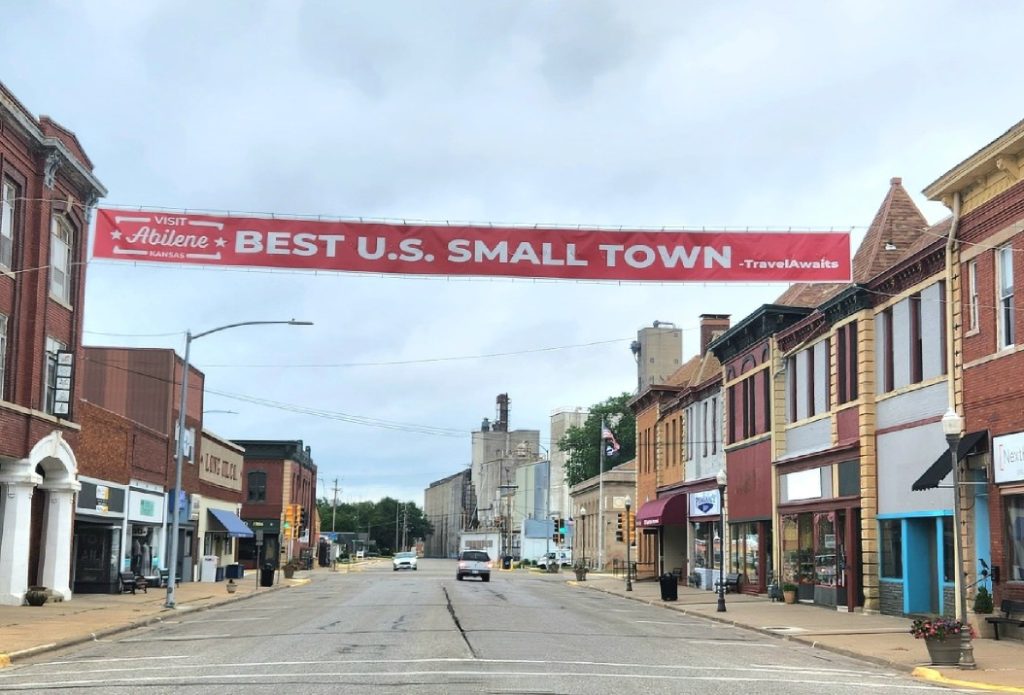 Abilene is one of the cutest small towns in the US.  I spent a weekend in Abilene Kansas and was able to explore the small town –mostly on foot! It was very friendly and easy to get around this cute little town.
And you don't need to just take MY word for it, they have won many awards that say so!
#1 Favorite U.S Small Town

TravelAwaits
Best Promotion of a Historic Place

True West Magazine
Destination of the Year

Midwest Travel Network
#2 Best Historic Small Town

USA Today
---
A special thank you to the Abilene Convention & Visitors Bureau for sharing the small town of Abilene, Kansas with me.  As always, the opinions are my own.
Click on the Table of Contents to jump to one of your favorite Abilene Kansas tourist attractions!
History of Abilene Kansas
Abilene is 150 miles west of Kansas City.  It is a short day trip and an excellent weekend getaway town.  The wild town was booming in the late 1860s with cowboys and herds of longhorns.  The cattle were great for their economy.  A Kansas Pacific Railroad was built through Abilene in 1867 to make the town a cattle shipping center.  It prospered for a while and become one of the wild west frontier towns.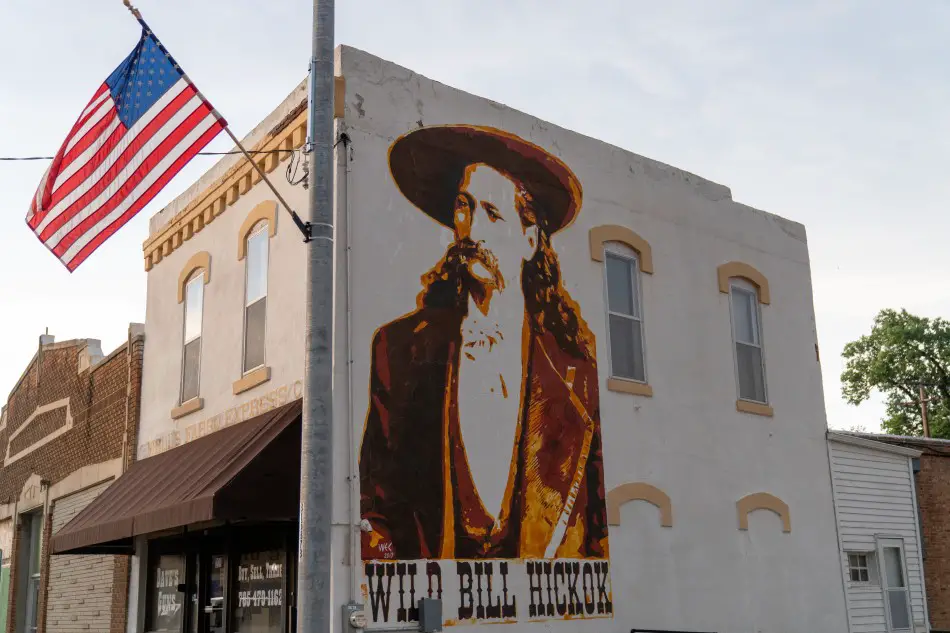 Into the picture, came lawless gunslingers that needed to be kept in place.  Wild Bill Hickok became the most famous marshal of Abilene. He enforced the law with his two pistols, quieting the renegade cowboys of Abilene to a dull roar, and turning Abilene into the cute small town that it is today.
Presidential Influence in Abilene Kansas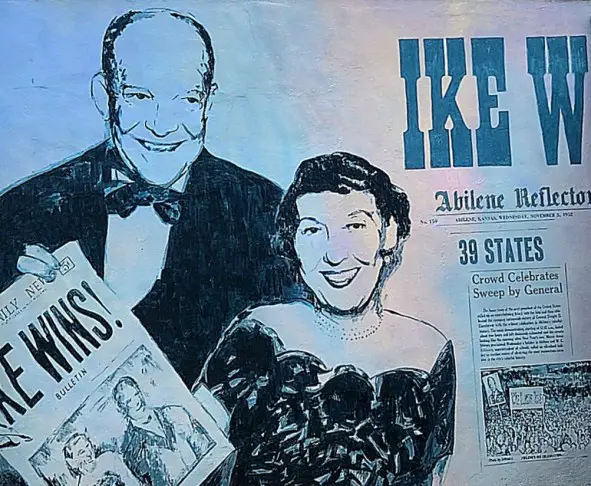 Abilene's icon is Dwight D Eisenhower, who served as the Supreme Commander of the allied forces in Europe during World War II, and later became the only 5-star General who was elected as President of the United States.  "I Like Ike"  was the catchy campaign slogan that won him the seat as the 34th president of the United States.
Ike grew up in Abilene (NOTE:  you can even tour his Boyhood Home – It's on this list!) and was very fond of the small town.  In a 1945 homecoming speech, he told the audience:
The proudest thing I can claim is that I am from Abilene.

Dwight D Eisenhower
Things to do in Abilene Kansas
Eisenhower Presidential Library and Museum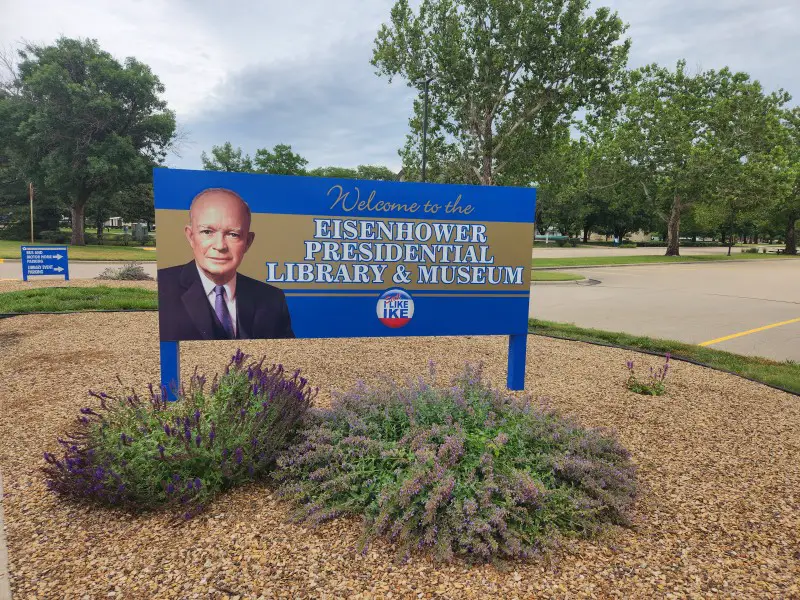 Of course, the first stop on any Abilene Kansas itinerary should be the iconic Eisenhower Presidential Library and Museum so that you can become acquainted with Abilene's favorite president!
There is a long list of things to discover at the Eisenhower Site in order to explore his life and legacy.  Make sure you stop at the presidential library, museum, boyhood home, visitors center, Ike statue, Pylons, and Place of Mediation.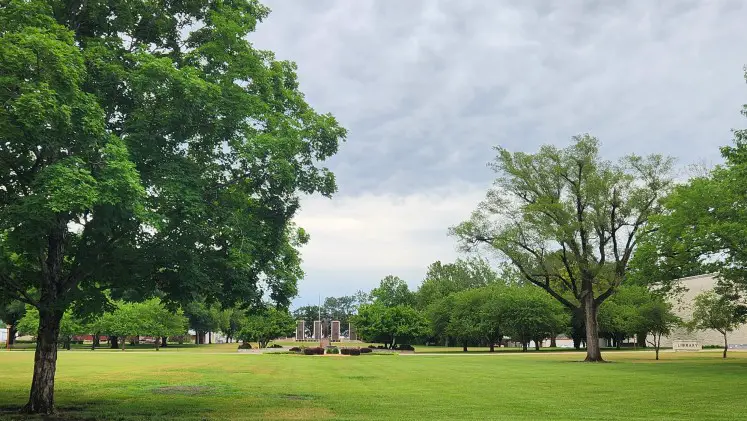 PRO TIP:  Get there early in the day like I did, and you can stroll around the grounds with no crowds.  I passed only an occasional jogger and one dog-walker and I even had the Eisenhower Statue all to myself!  The grounds are large and scenic.  It will be a relaxing start to your history-filled weekend in Abilene.
Eisenhower Museum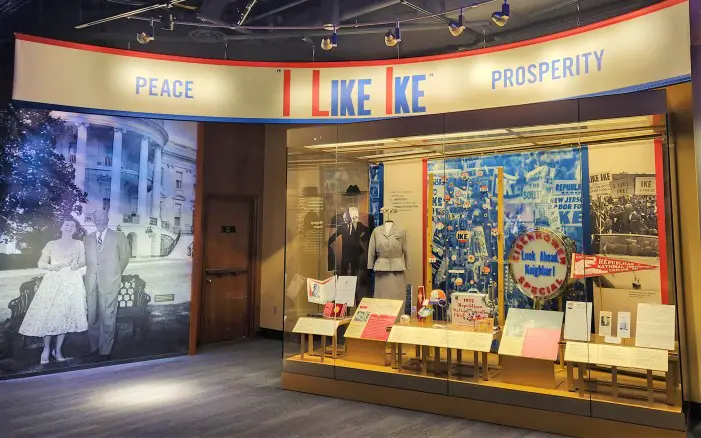 The museum is overflowing with the history and artifacts related to Dwight D Eisenhower's life.  Here the stories, often in Ike's own words, see videos that bring the WWII era to life, walk in the president's shoes and experience this deep dive into this historical era.
The Eisenhower Presential Library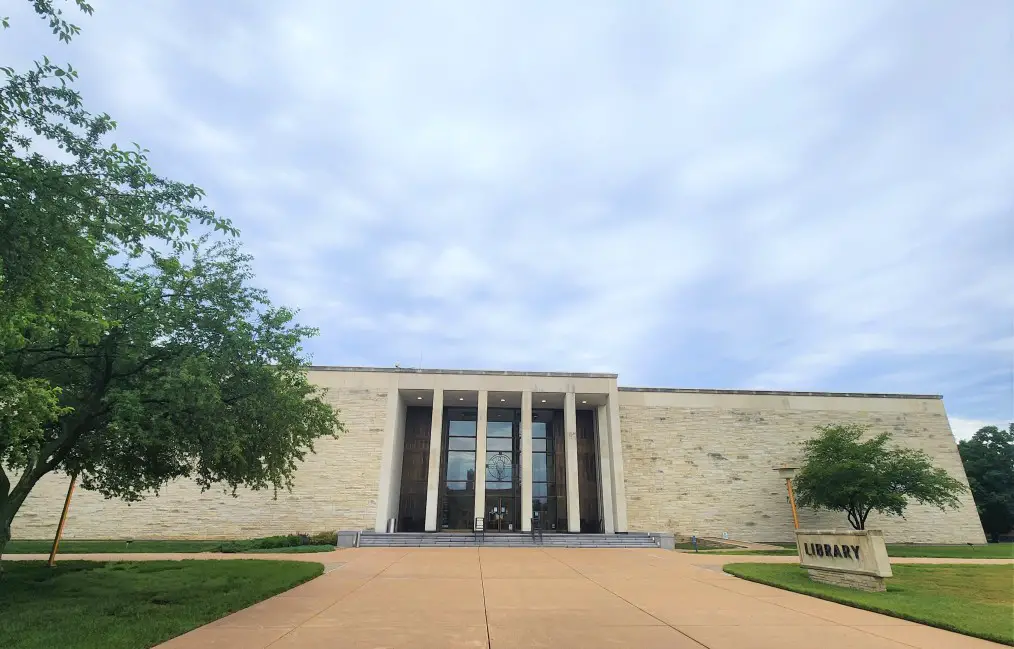 The Eisenhower Presidential Library houses 26 million pages of historical records and papers and 335,000 photos among a vast array of other archival records.  Scholars and historians use the library for researching genealogy, essays, theses, and many other historical projects.
The second floor houses temporary exhibits.  I was able to browse through a women's suffrage exhibit when I visited. 
Boyhood Home of Dwight D Eisenhower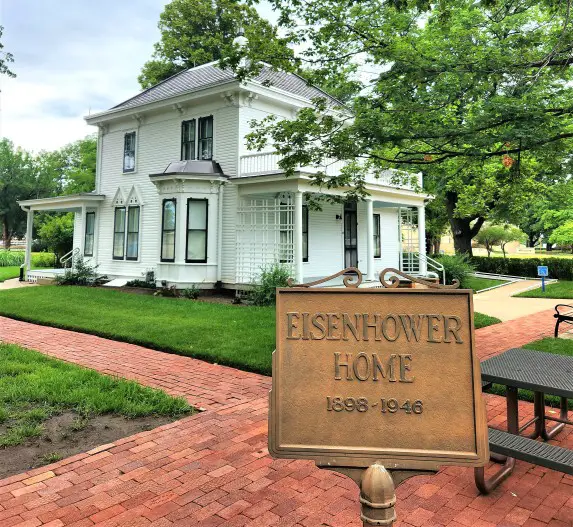 The large Eisenhower Estate is now the property of the National Archives and Records Administration and is open for tours to the public, including Ike's boyhood home.  He grew up there with his 5 brothers from 1898 until 1911, when he went to West Point at age 20.
The small 19th-century home was located on the 3-acre estate with a large barn, chicken house, orchard, strawberry patch, smokehouse, outhouse, and a very large garden that the boys each had a plot in.
Tours of the house began in 1947, the year after Ike's mom, Mrs.Ida Eisenhower's, death.  The house is small, so tours are limited to 10 people each half hour.  Tickets must be purchased on-site at the visitor's center when you arrive at the Eisenhower Museum.
I was amazed that all the furnishings in the home were original to the home.  Care was taken to make sure that everything was preserved as Ida left it in 1946.
The Eisenhower Statue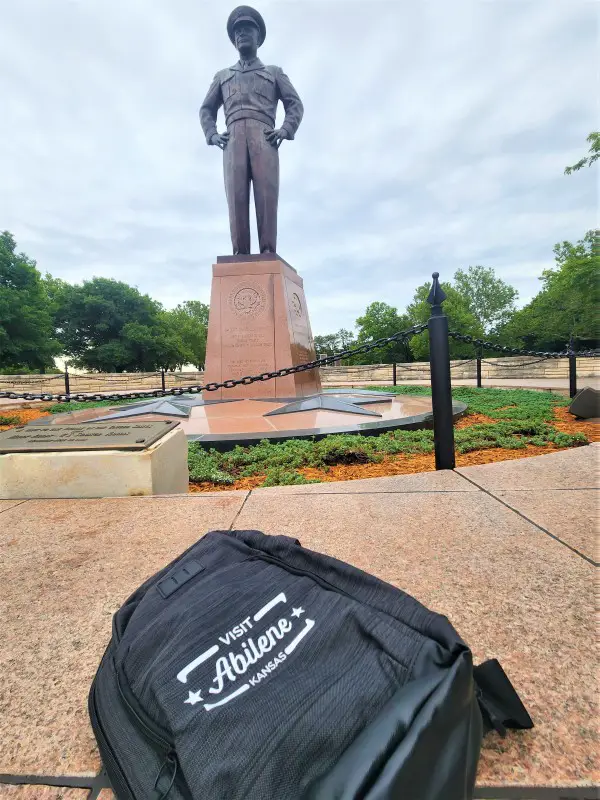 Don't forget to stand like Ike!
Ok, so I wanted to smile during my pose, but I still got my selfie with the 11-foot bronze statue of General Eisenhower.  It is quite a massive statue in the middle of the Eisenhower Museum complex.
Its base has different quotes from Ike's many careers as President of the United States, Supreme Commander of the Allied Forces, General of the Army, and many others!!
Pylons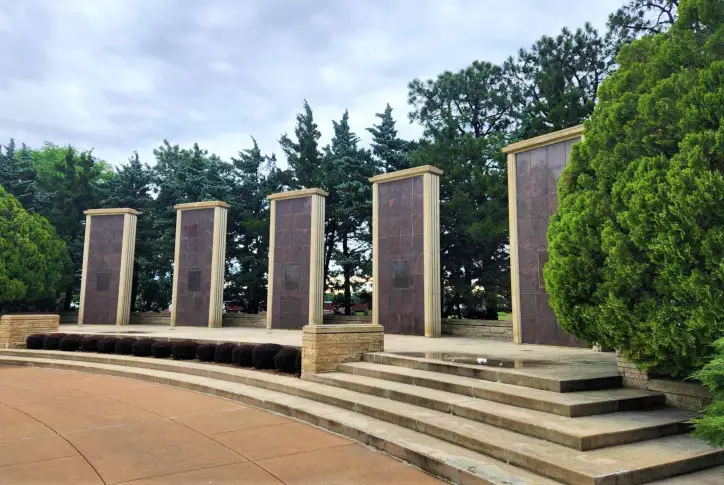 The five pylons are inscribed with phrases and quotes from Eisenhower's illustrious life.  They were created in 1956.
Place of Meditation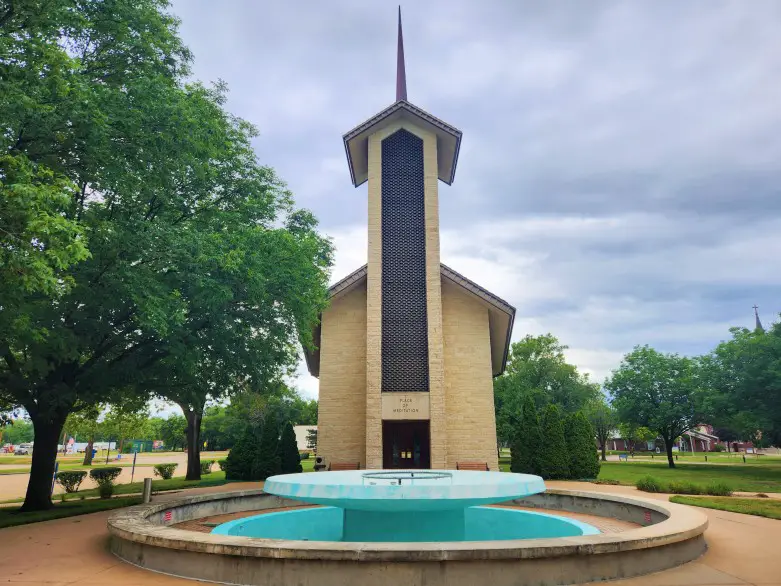 This little chapel on the Eisenhower Museum complex is the final resting place of former president Dwight D Eisenhower, the first lady, and their first-born son, young Doud Eisenhower.  It is a peaceful place of Meditation surrounded by beautiful stained glass windows
Eisenhower Park and Rose Garden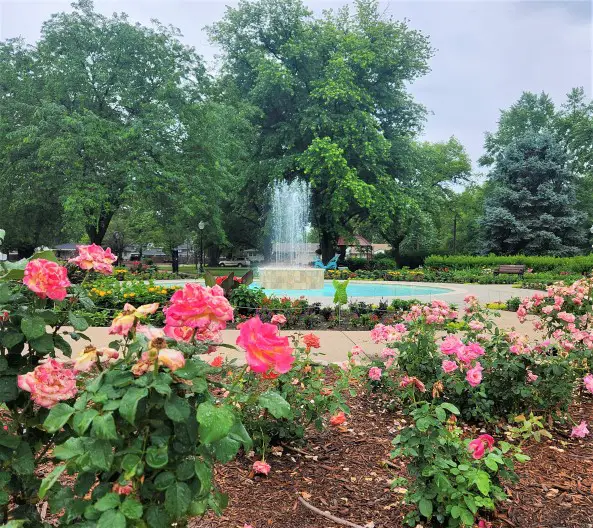 The Abilene City Park Historic District includes Eisenhower Park, a stadium, a municipal pool, a playground, and a beautiful rose garden.  In addition to the colorful flowers, there are picturesque arches, gazebos, a fountain, and a giant Belt Buckle (see below!).
…There are also several tanks parked next to the Rose Garden that fit well into the history theme of Abilene!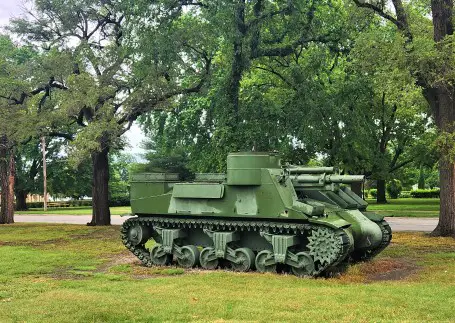 Abilene & Smoky Valley Railroad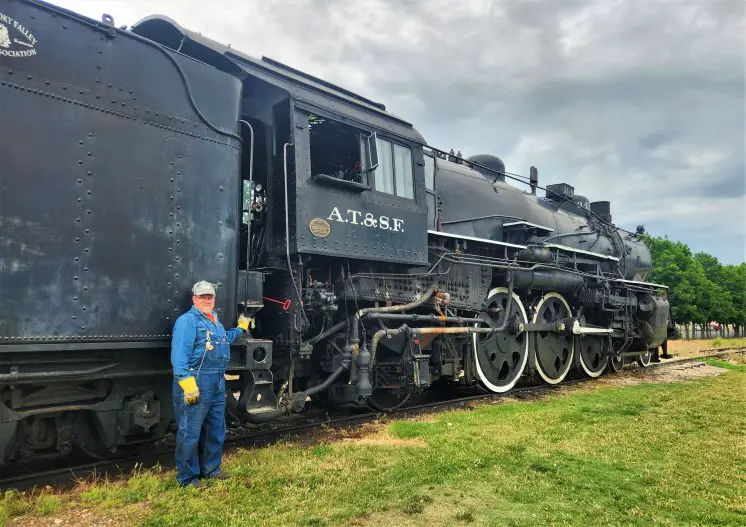 The Abilene and Smoky Valley Railroad is a heritage railroad that is dedicated to preserving the legacy of the railroad industry, particularly the history of the railroad in Abilene Kansas.  It is a living history museum and not just a train ride. 
While on the train, I was able to interact with some of the many volunteers that help at A&SVR, like engineer Todd Walter, and Steve Smethers, the very informative docent. I was able to learn the history of the Santa Fe 3415 and the only steam railroad in Kansas.  Guests are able to ride in antique passenger cars like a wooden coach that was manufactured for the Missouri-Kansas-Texas railroad in 1902.
Make sure to add the Abilene Smoky Valley Railroad to your Abilene Itinerary in Kansas!  It is at the top of the list of America's best stream train rides, so you don't want to miss the experience.
See my in-depth review of A&SVR- COMING SOON
Old Abilene Town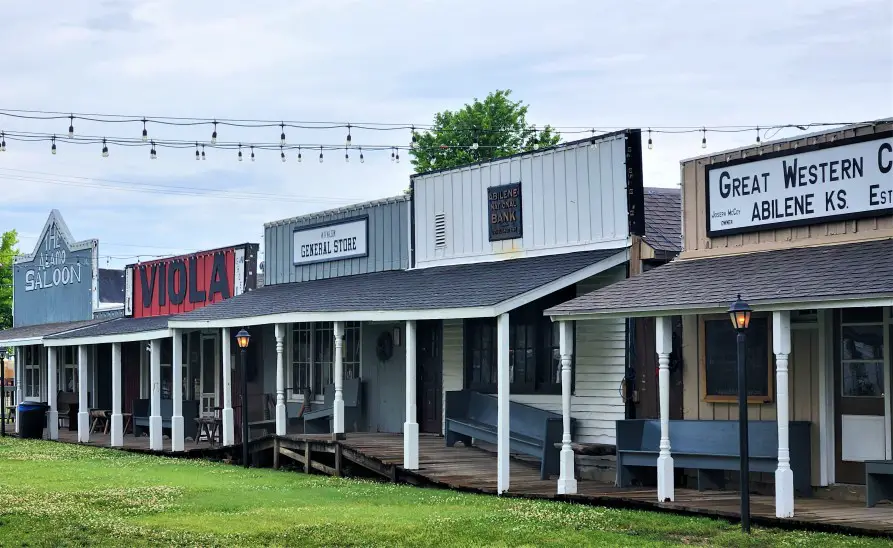 The Abilene Smoky Valley Railroad trip boards at Rock Island Depot and begins in Old Abilene Town.
Old Abilene Town is a historical representation of the old west.  There are old western buildings, gunfights, cancan dancers, country music, and cattle drives at Old Abilene Town. 
The town was an eerie ghost town and dead quiet when I was there, so perhaps it is hopping with activity during more of the peak season. 
Abilene & Smoky Valley Train Dinner Ride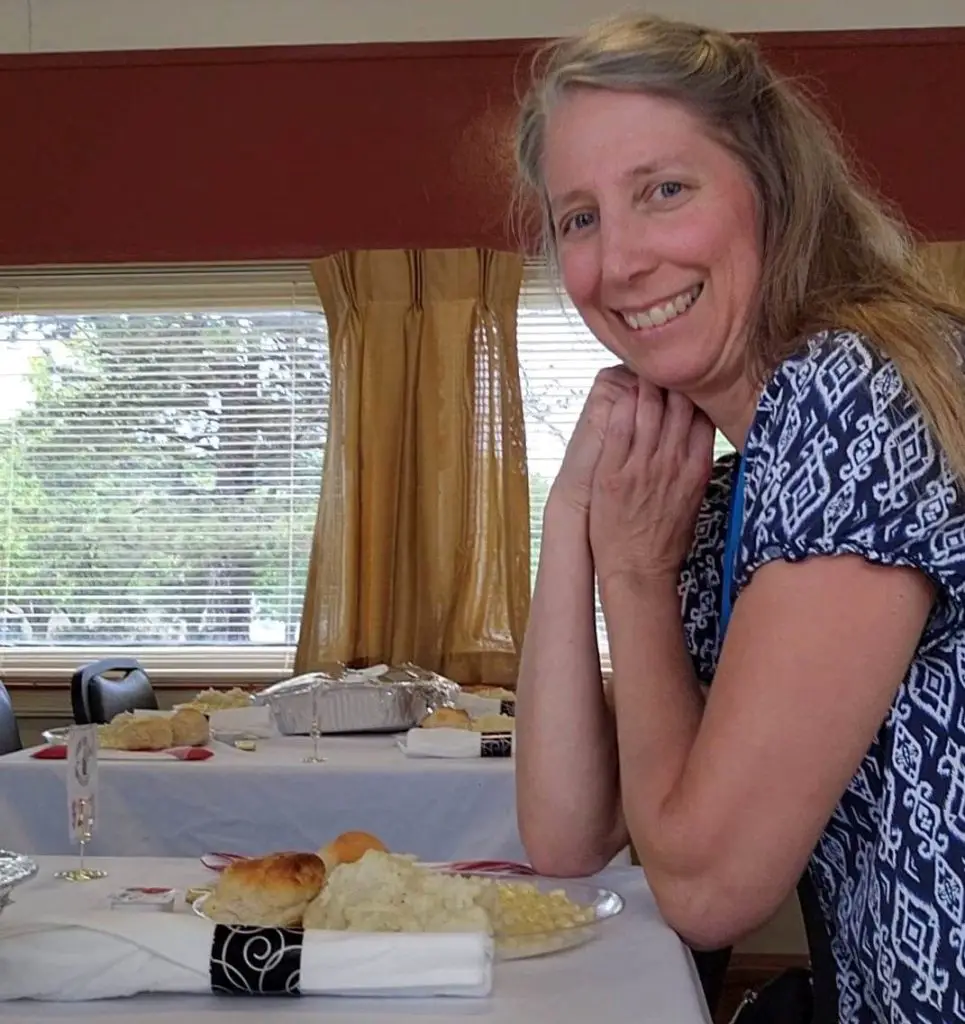 Railroad dining cars are an old-fashioned tradition that is brought back to life by Abilene & Smoky Valley Railroad.  The special dinner trains are occasionally offered which feature some of Abilene's area restaurants and famous Kansas home-cooked specialties.
The dinner train that I rode with 103 other dining guests provided the famous Brookville chicken provided by Legacy Kansas Restaurant.  My hungry tablemates and I enjoyed the chicken and sides while the countryside rolled by.
See my in-depth review of A&SVR Dining- COMING SOON
Dining Car tickets are $80 per passenger and can be purchased through the A&SV website.
Hoffman Grist Mill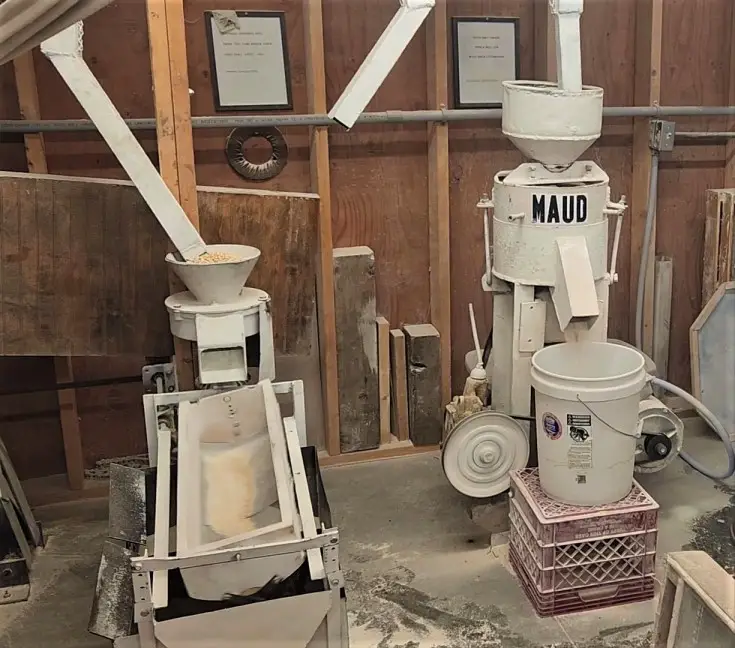 The Abilene and Smoky Valley Railroad makes a stop in Enterprise Kansas at the Hoffman Grist Mill.  Here, next to the Smoky Hill River, guests can see the flour being processed at the mill and purchase some flour products that are produced similarly to how it was originally made in the 1800s.
Greyhound Hall of Fame Museum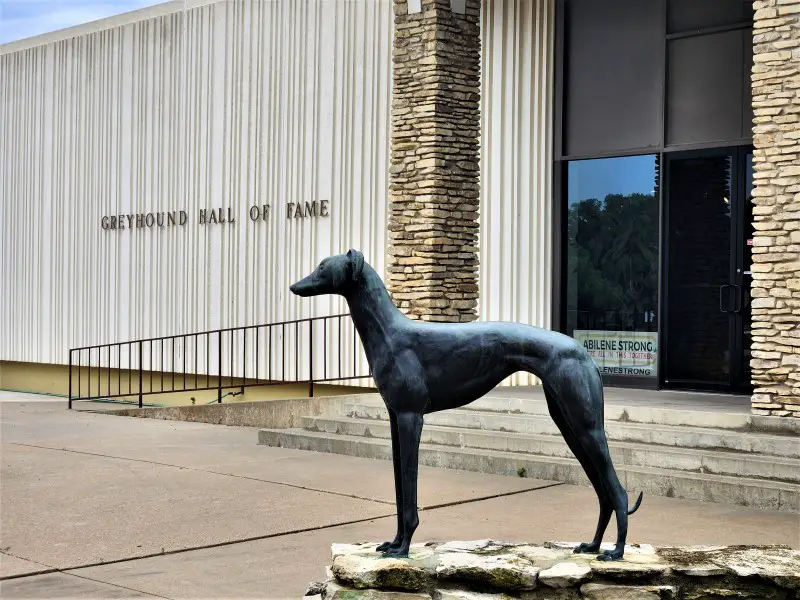 Such a fun museum where visitors can interact with retired racing greyhounds in addition to learning the history of greyhound racing that started in the 1920s.  These incredible creatures can run at speeds up to 45 miles per hour! The museum is dedicated to the history of the sport as well as the dogs and men who are the champions that have been inducted into the hall of fame.
While this museum has free admission, they depend on and appreciate donations.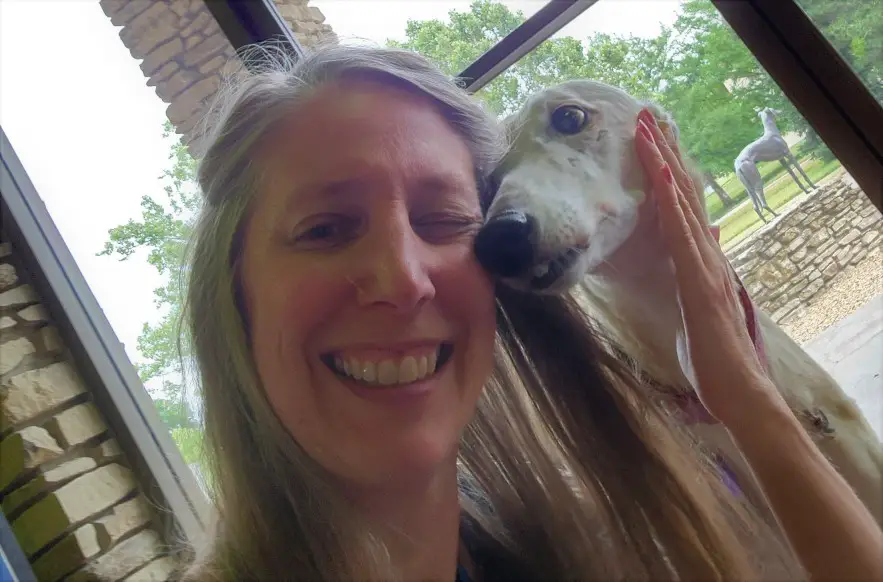 Dickinson County Heritage Center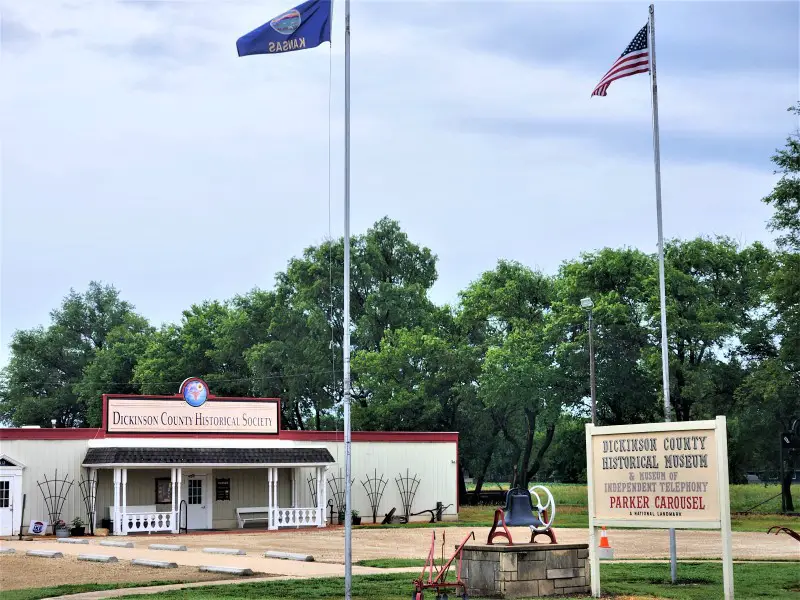 History-lovers: don't pass up the Dickinson County Heritage Center.  Abilene became a booming Cowtown in the 1860s.  Learn the key historical facts behind this town's growth and the Abilene residents that made it happen!
C.W. Parker Carousel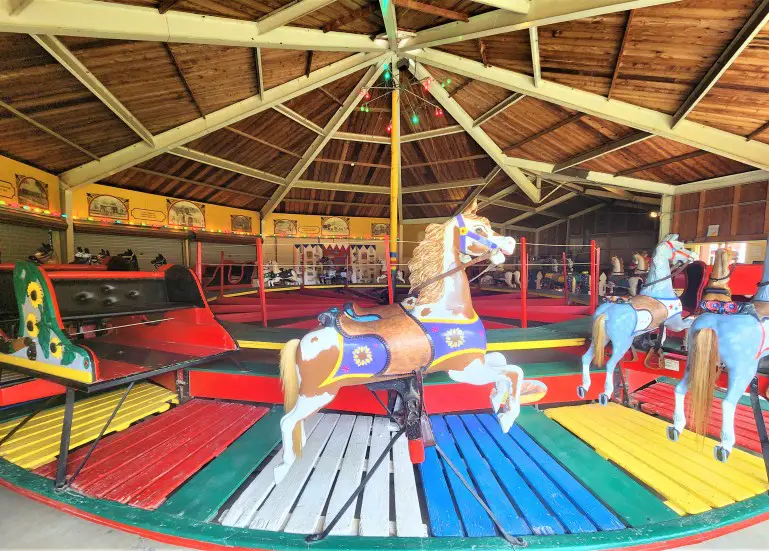 After you walk through the Dickinson County Heritage Center, make sure to take a spin on the 1901 Parker Carousel located out in one of the back buildings.  It is one of the oldest operational C.W Parker carousels known to exist.  It is hand-carved and features 24 individual beautiful horses that ride to the delightful amusement park music from a 1904 Wurlitzer Band Organ.
The creative design on each of these horses makes the carousel one of the top things to see in Abilene Kansas for artists!
Seelye Mansion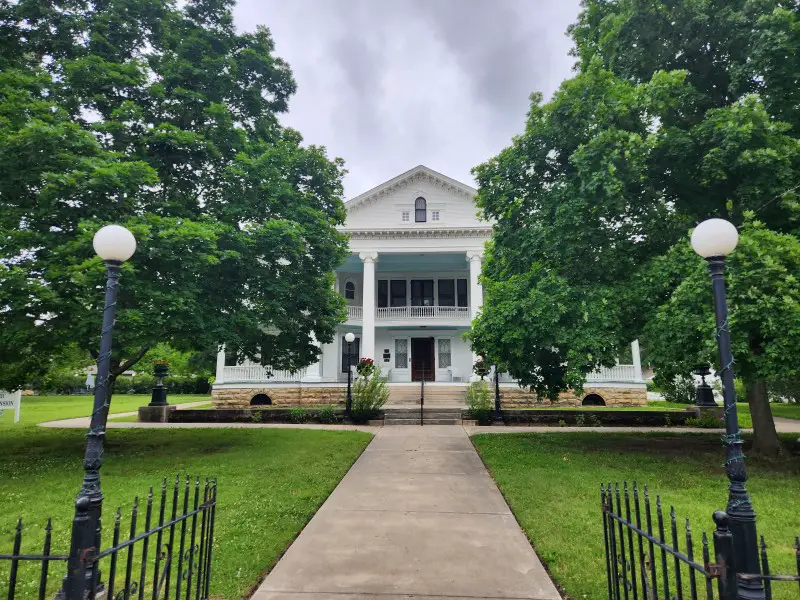 This magnificent house is a mansion from 1905.  It was built by the Seelye family that earned their fortune from the patent on Dr. Seelye's medicines.
PRO TIP:  Don't wait until Sunday to tour the Seelye Mansion on your weekend trip to Abilene.  The mansion opens late in the day, so you might run out of time on your itinerary like I did!!  Did you notice that my photo is only from the outside of the mansion???
Downtown Abilene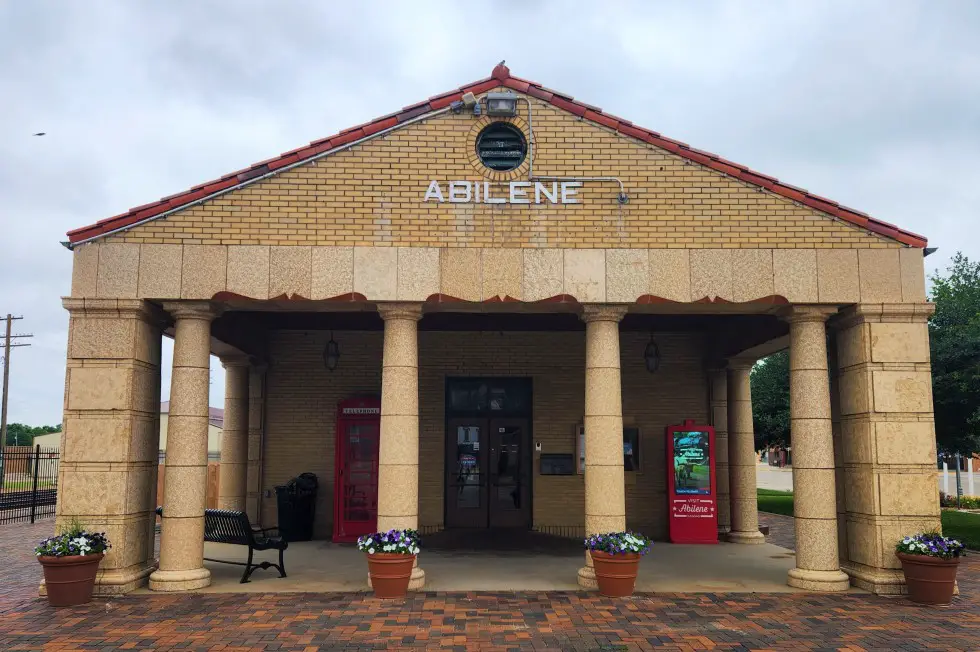 Downtown Abilene is a historic district in Abilene Kansas.  It is full of historic buildings, unique architecture, and colorful street art murals. 
Each street I walked down and everywhere I turned there was something unique to see.
Even the Abilene Visitors Center was interesting!  It is housed in the 1928 Union Pacific Railroad Depot!
Murals in Abilene Kansas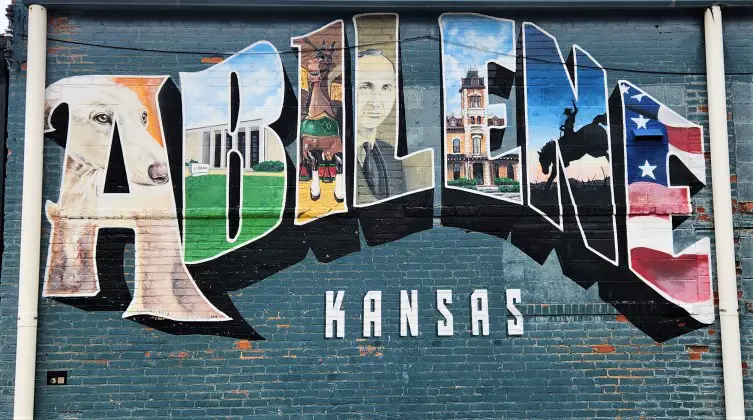 The small town of Abilene has a large supply of wall art throughout downtown.  If you take a walking tour through the downtown street you will find lots of this artwork to appreciate and photograph. 
One of the most popular street murals in Abilene is the ABILENE MURAL.  The graffiti artist made it to look like a postcard, with each letter in the city's name depicting a part of Abilene's history. 
I = Parker Carousel horse which is a part of the Dickinson County Heritage Museum
L = C.L. Brown who founded a couple of energy and phone companies
E = Lebold Mansion, home of the founders of Abilene
N = Abilene cowboys that brought longhorns to the city
E = USA flag
Here's a guide to the top 5 Abilene Kansas murals you'll find when you visit Abilene in America's Heartland.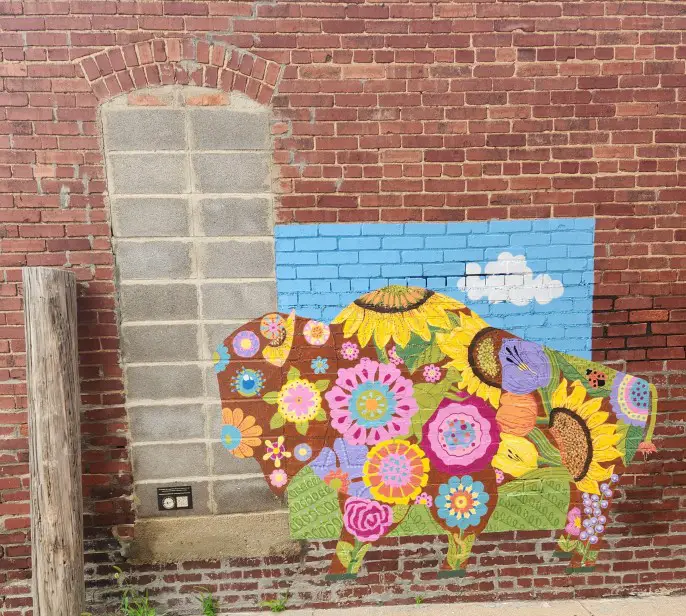 Cowboy Boots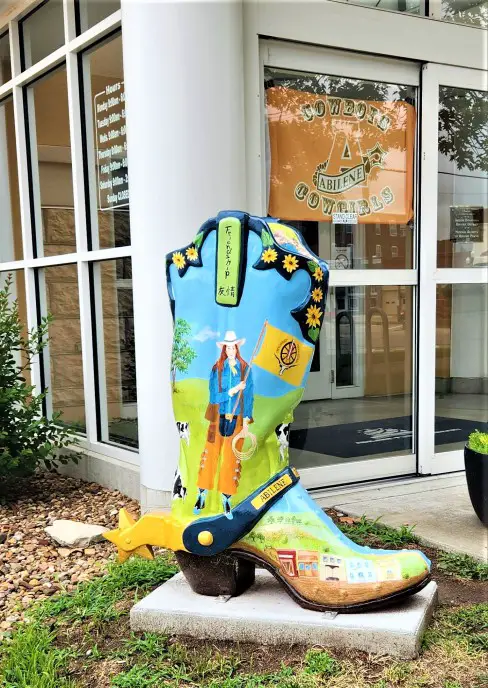 Abilene was once a lawless cattle town and is now one of the West's premiere destinations.  After all, it was named a TOP 10 TRUE WESTEN TOWN OF THE YEAR by True West Magazine!
There is a whole Cowboy Art Trail, including 10 cowboy boot works of art, throughout the city to pay homage to its rootin' tootin' cowboy days.
It is a fun scavenger hunt to try to find all the boots or you can cheap and use this handy guide to locate them all.
Where are the Cowboy Boots in Abilene?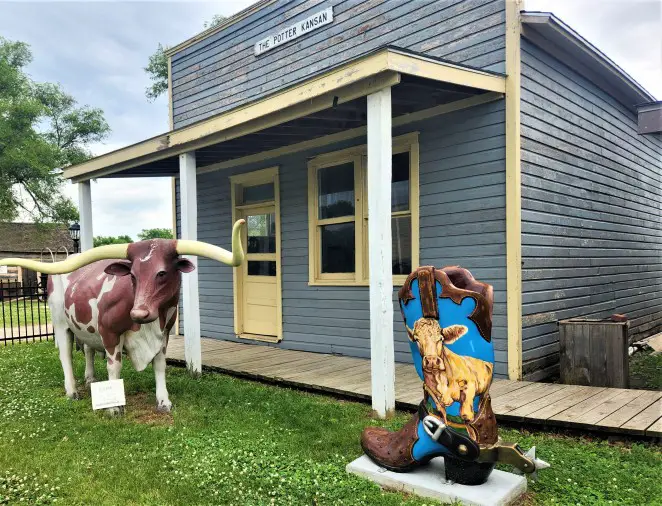 Little Ike Park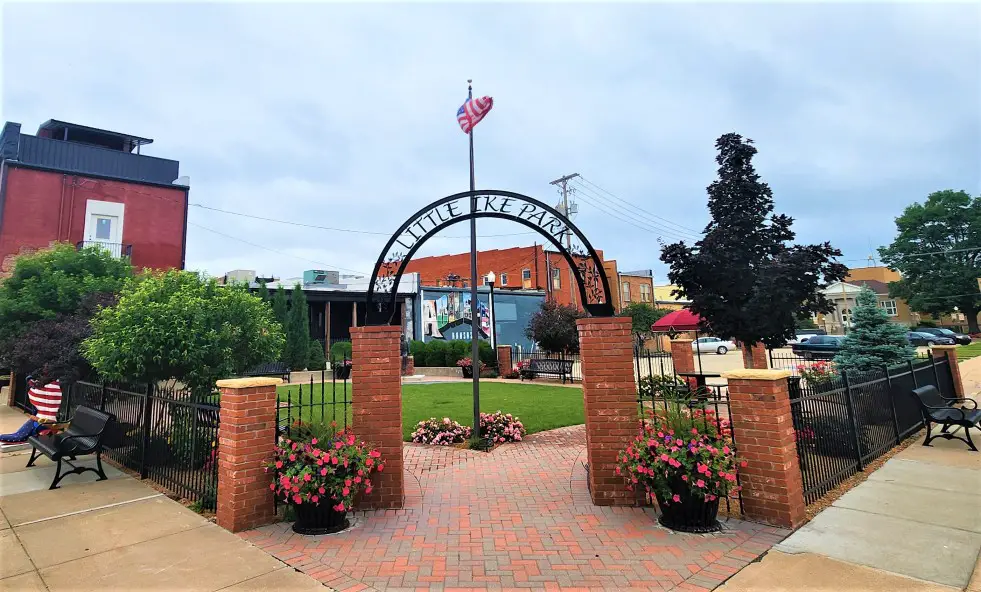 Located right in the middle of downtown Abilene and next to the Abilene Mural, there is a small park dedicated to young Eisenhower.  There is a statue of Eisenhower as a boy in the middle of a relaxing garden.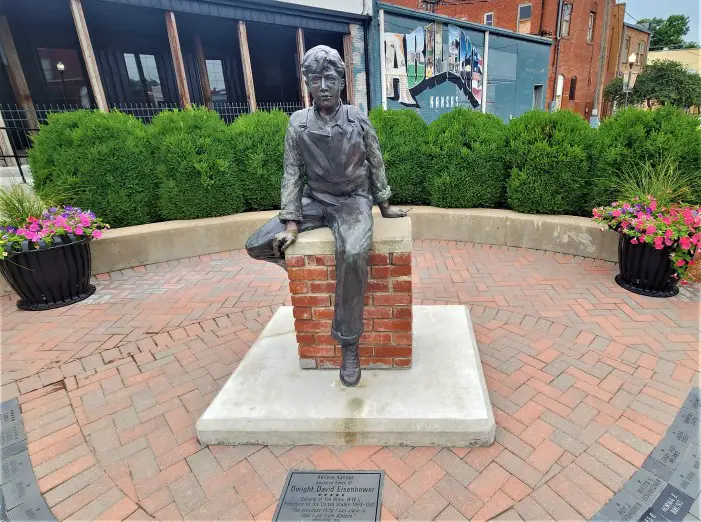 Antiques & Shopping in Abilene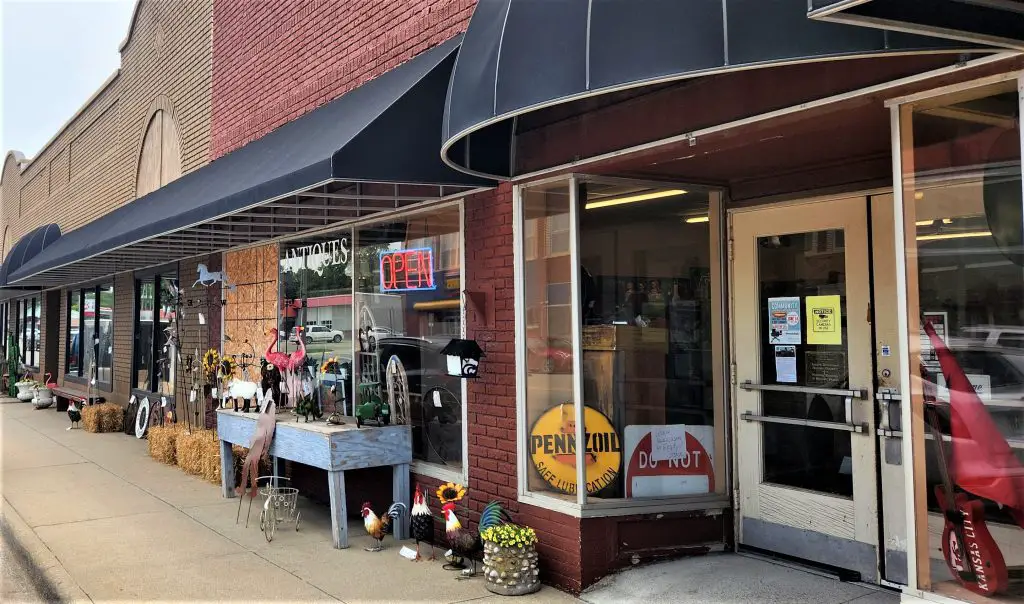 There are quite a few antique stores in downtown Abilene, Kansas.  They are open year-round and have a large variety of fun nostalgia to look through.  One of the largest shops is the Abilene Downtown Antique Mall.  The mall has over 7500 square feet of shopping at antique booths inside and it is fun to walk around and look at the wide selection.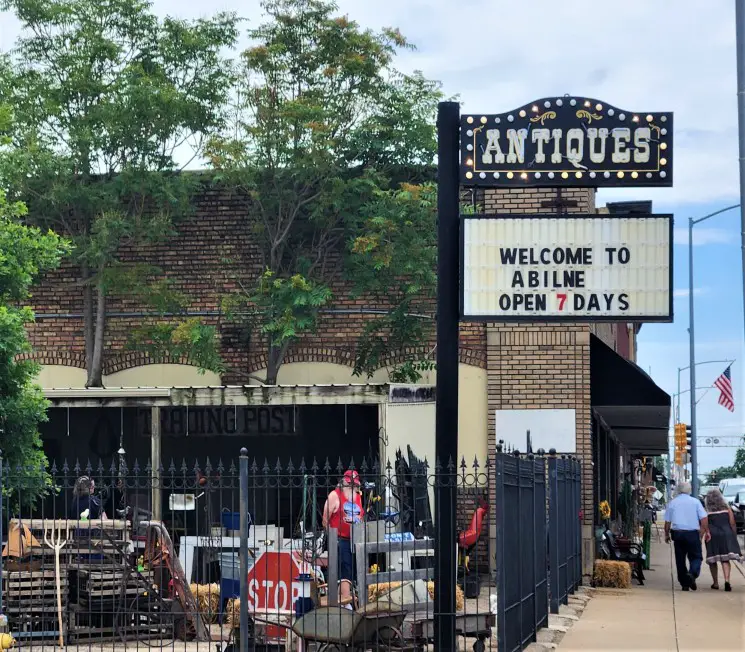 If you stop in Abilene for a weekend in May, try to plan a visit to the Abilene Antique Fest.  It features lots of outside booths and four antique malls. Shoppers can browse the antiques and re-purposed items from more than 100 vendors around the small town of Abilene.
There are also many specialty stores in Abilene where you can shop for a truly unique souvenir from Abilene to bring back home
Jeffcoat Photography Studio Museum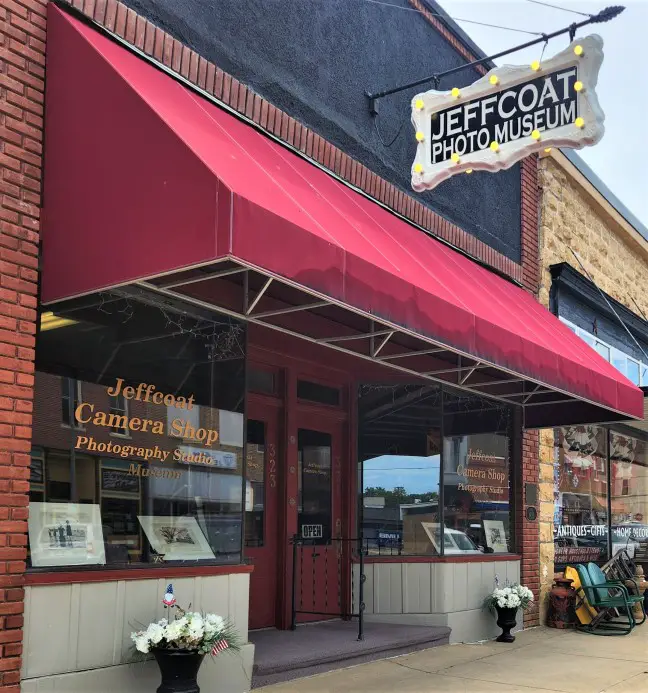 The Jeffcoat Photography Museum is a small museum with a storefront right in downtown Abilene.  The Jeffcoat family has owned the photography business for three generations and has photographed all the people, places, and events all around the small town of Abilene.
They saved everything!  There are negatives from all the photos they have taken, as well as an extensive collection of camera equipment that they used over the many generations of photographers.
The museum is free.  Take a look at the old camera in the back that was used to photograph many people in Abilene, including Dwight D. Eisenhower!
Great Plains Theater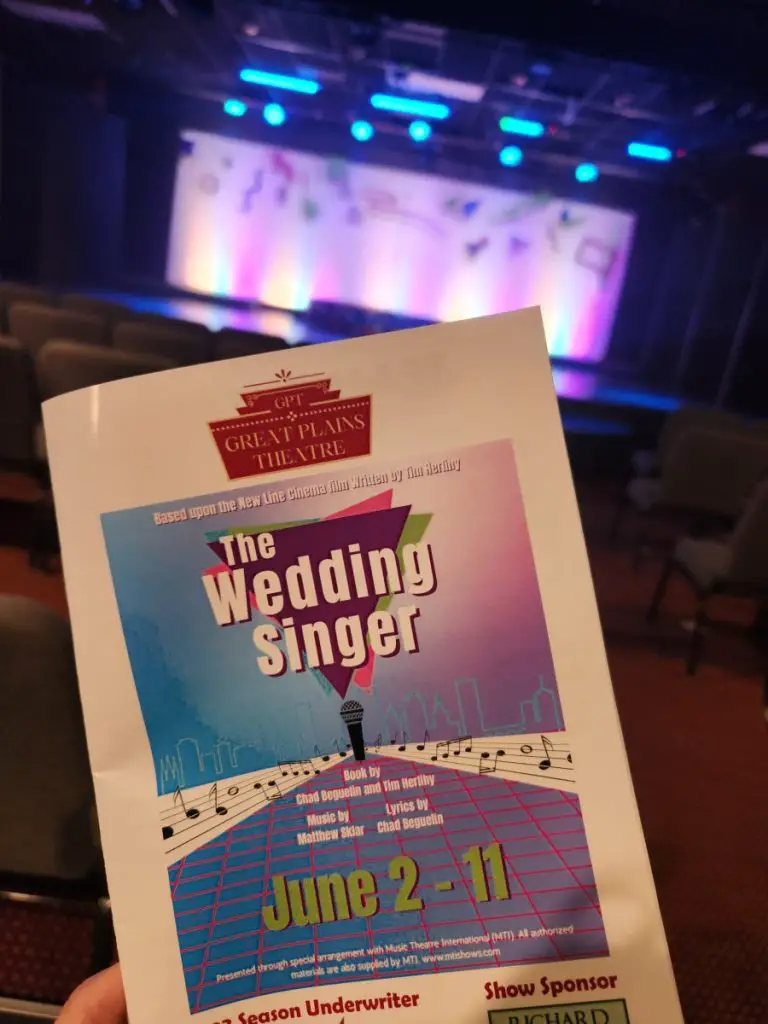 Great Plains Theatre is a professional theater with a family-friendly atmosphere.  A visit to the theater is even a great thing to do in Abilene on a rainy day.  They have matinees and evening shows to add to your Abilene itinerary.
I was able to catch a matinee performance of The Wedding Singer.  I laughed and cried throughout the whole performance.  I had never seen the show before and really enjoyed it!
Roadside Attractions in Abilene
Every great small town should have its fair share of roadside attractions and the small town of Abilene is no exception! There are several roadside attractions in Abilene Kansas that are worth a quick stop and a declaration of "I've Been There!!"
World's Largest Belt Buckle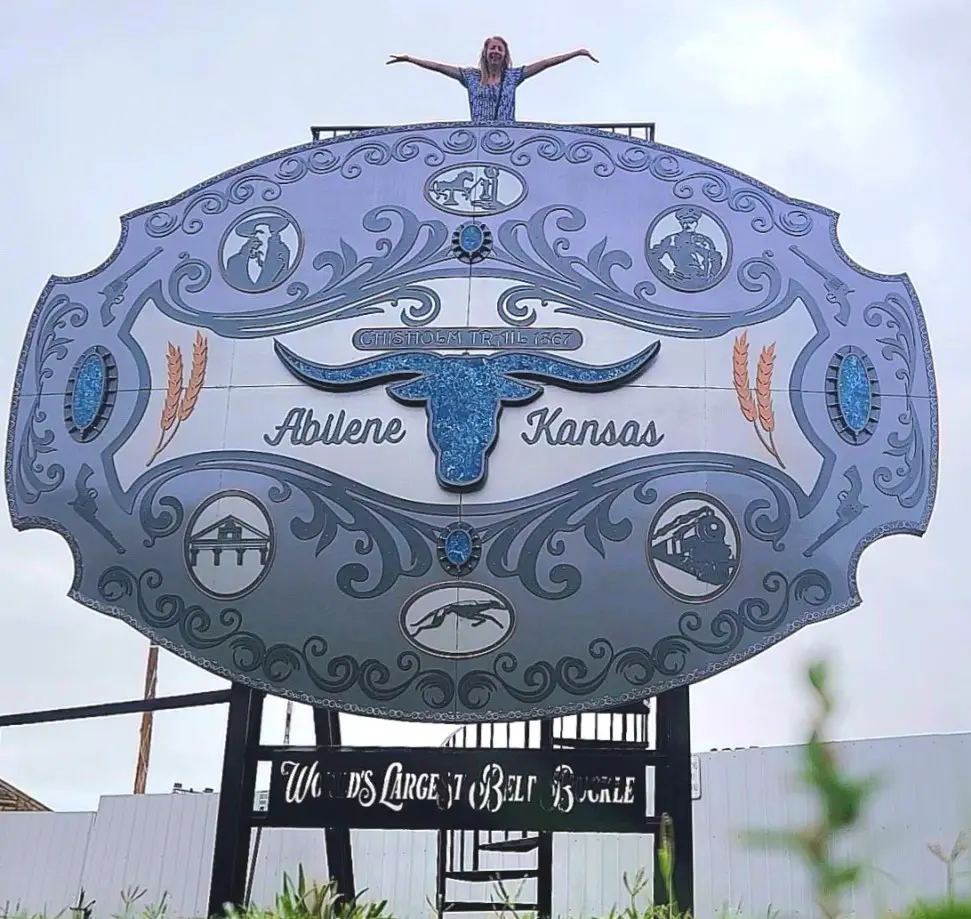 The World's Largest Belt Buckle is located right next to Eisenhower Park. There is even a giant staircase up to the top, so you can snap your favorite photos "wearing the buckle" at over 19 feet high!
Big Spur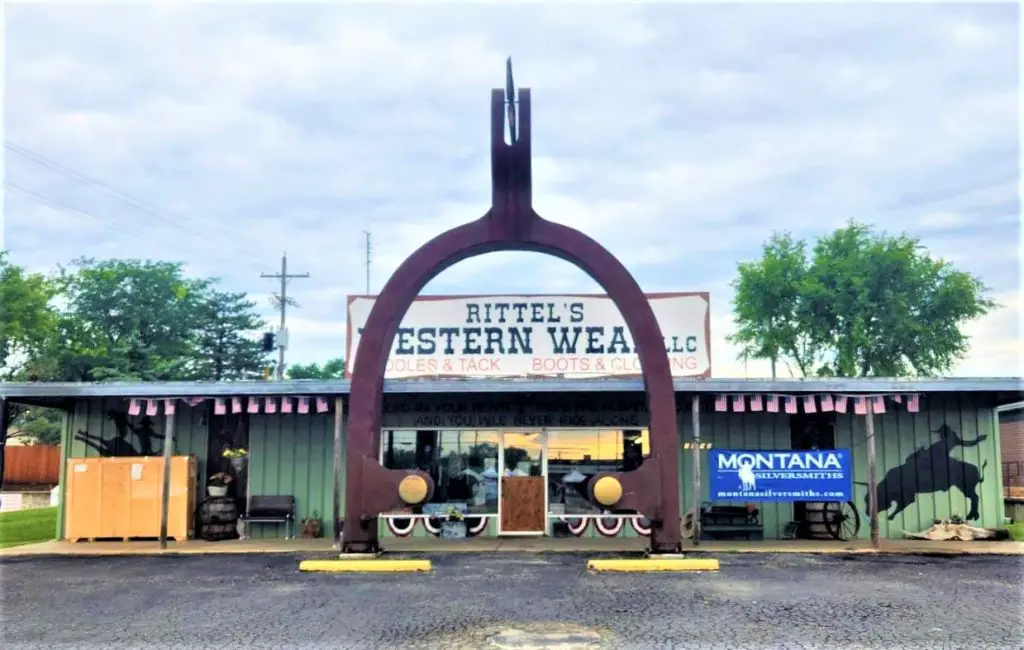 I also stopped at the Big Spur on my most recent trip to Abilene. The Big Spur was once the world's largest too!!! At 28 feet high, it was eventually knocked off the Guinness Book of World Records in 2017.  It's even too extra-large to fit the large painted cowboy boots that are scattered around Abilene!
You can find it located outside of Rittel's Western Wear store at 1810 North Buckeye Avenue, Abilene, KS.
Tornado Alley Bowling Alley Sign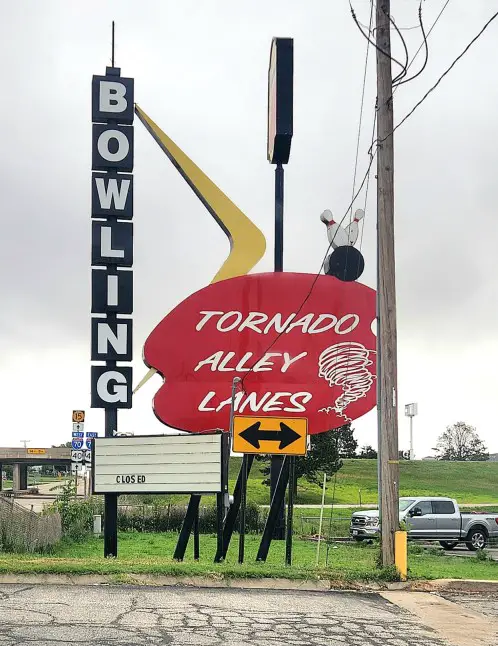 Closed for business, but still up for all to see!  The Tornado Alley Bowling Alley Sign is a cute roadside attraction in Abilene Kansas and a reminder that Kansas is the heart of Tornado Alley and one of the most active tornado regions in the world!
Big Sinclair Dinosaur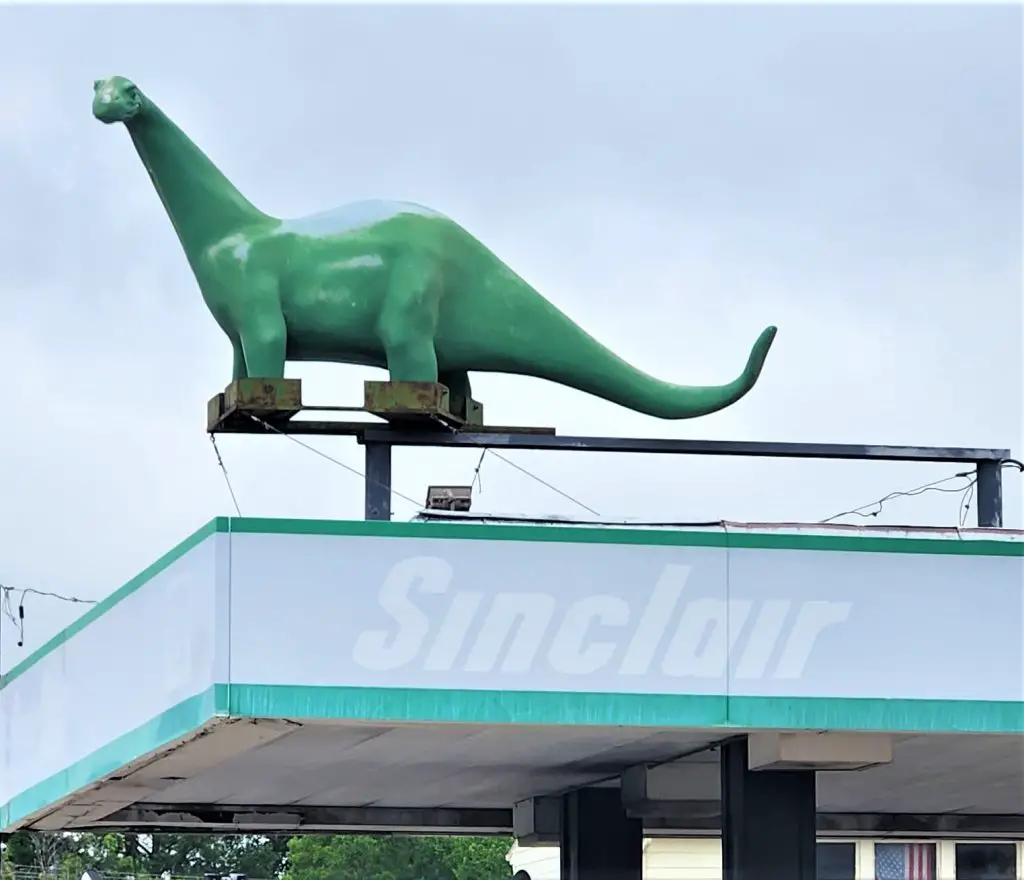 Placed prominently on the top of the roof of an old Sinclair station, this very large dinosaur sits and waits for all to capture a photo or two!  He is big, green, and 15 feet long!
The station is now an automotive shop called John's Service car repair, but the dinosaur is still there at 425 N Buckeye Ave, Abilene, KS 67410.
What to do in Abilene Kansas!
On your road trip through the Midwest, make sure you include a weekend in Abilene Kansas.  The number one stop should be the Eisenhower Presidential Library and Museum, but there are many other things to do in Abilene Kansas that will fill up your itinerary and keep you busy no matter what your interests are.
Have you already been to Abilene and seen the sites? Did I miss anything interesting in Abilene?  Let me know in the comments!
Like this article?
Pin it for later for all these ideas!