DISCLOSURE: I may link to relevant products, companies or helpful info which may be affiliate links, meaning I may earn a small commission. As an Amazon Associate & other affiliates, I earn from qualifying purchases at no extra charge to you. The views & opinions are my own. Please see the disclaimer and privacy policy.
Last Updated on August 30, 2023
Adventure Guide to Puerto Rico!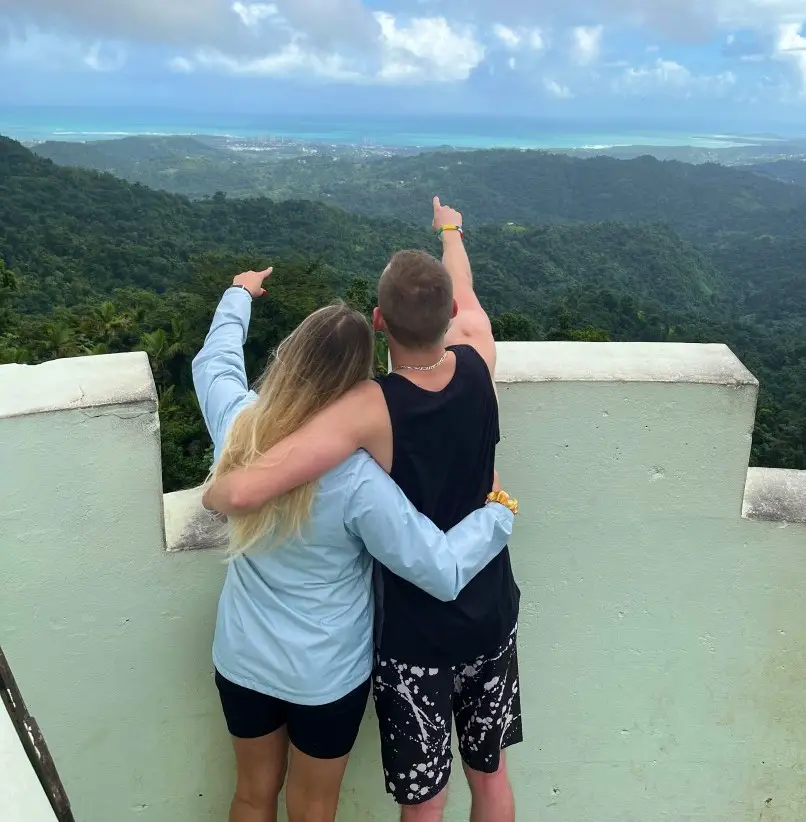 Welcome to a world of adventure nestled within the captivating landscapes of Puerto Rico. This Caribbean gem offers an array of thrilling experiences that are bound to ignite your spirit of exploration and leave a lasting memory.
From the lush peaks of El Yunque to the sandy beach shores, and aqua marine blue water, Puerto Rico's diverse terrain invites adventurers to embark on a journey of adrenaline-pumping activities that seamlessly blend with the island's rich culture and history.
Whether you're drawn to the rush of zip-lining, the underwater wonders of snorkeling, or the allure of a natural slide in a tropical rainforest, Puerto Rico has something extraordinary for every daring soul. So, fasten your seatbelts as we dive into the realm of adventurous escapades that await in this tropical paradise.
Click on the TABLE OF CONTENTS to skip to some of the BEST ADVENTUROUS THINGS TO DO IN PUERTO RICO
ADVENTUROUS THINGS TO DO IN PUERTO RICO
Natural Slide in Puerto Rico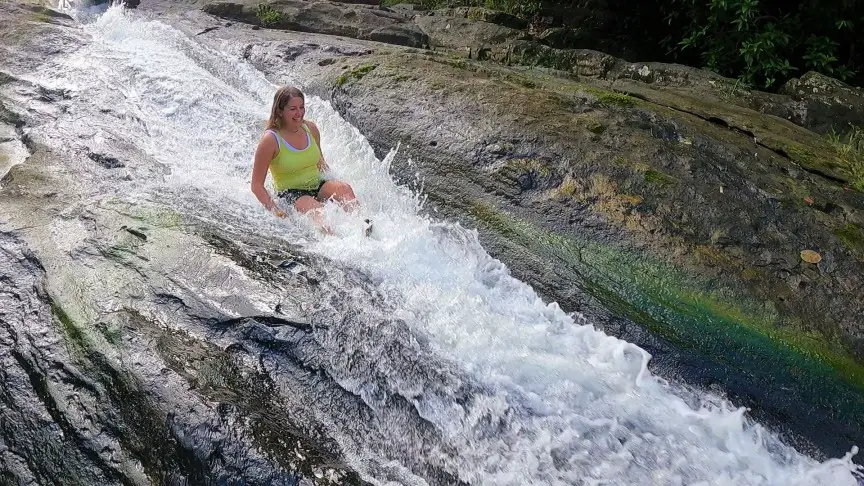 MOST ADVENTUROUS ACTIVITY IN PUERTO RICO
The most exciting and adventurous thing to do in Puerto Rico is to go zooming down a natural slide waterfall.  They are found in many areas of the island, but the most popular one (s) are in El Yunque National Forest, like Las Pailas.
Need more info on how to find the natural slide so that you can experience all the adventure in Puerto Rico? See my detailed guide!!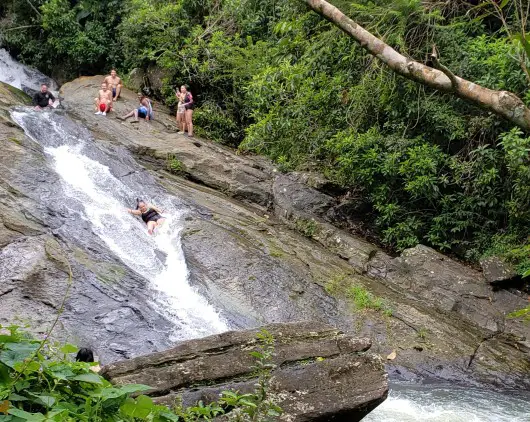 How to Enjoy Las Paylas Puerto Rico: Natural Water Slide in Luquillo
We found Las Paylas, a hidden Puerto Rico natural water slide tucked away on the outskirts of the El Yunque National Forest.  Discover the fun at Las Paylas Natural Water Slide.
---
Hit the hidden gems of Puerto Rico with one of these excursions to the waterfalls and water slides in El Yunque
---
Adventurous Hiking in Puerto Rico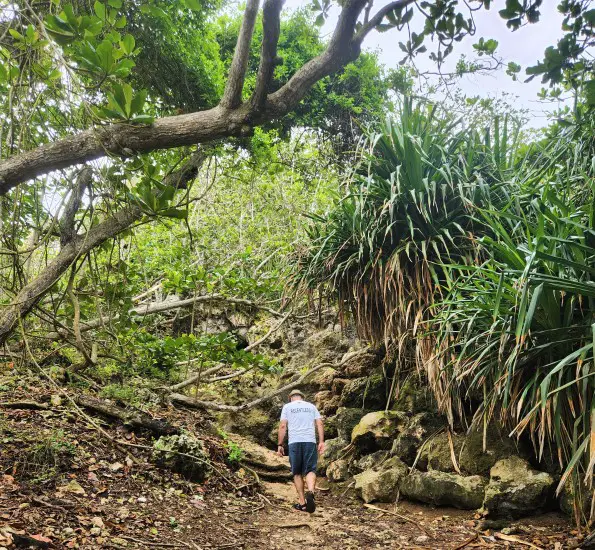 Puerto Rico is a hiker's dream with all its varied landscapes.
In addition to the natural slides, there are many hikes throughout El Yunque National Forest and throughout Puerto Rico for the adventurous hiker! We found some really cool hikes at almost every destination we stopped at!!
For all that there is to do in this amazing rainforest, see my in-depth guide to touring El Yunque National Forest.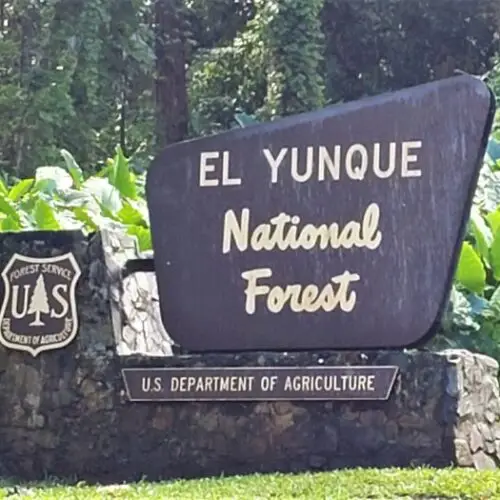 A Fun-Filled Day of Things to do in El Yunque Rainforest in Puerto Rico
There are many things to do in El Yunque Rainforest like hiking the trails and basking in waterfalls and it is a must-see site for your trip to Puerto Rico.  Depending on how many hikes you do, the trip can be all day or a portion of the day.  Visiting El Yunque on your own is easy.  Follow along in this guide and I will give you all the tips and point out the most important El Yunque attractions not to miss! Explore all of these FUN things to do in El Yunque Rainforest! What is El Yunque Rainforest? El
---
Don't want to tour El Yunque on your own?
El Yunque is easy to explore on your own.
However, if you don't have a rental car in Puerto Rico and you want to take an excursion to this beautiful natural area, check out these great tour ideas for El Yunque Rainforest.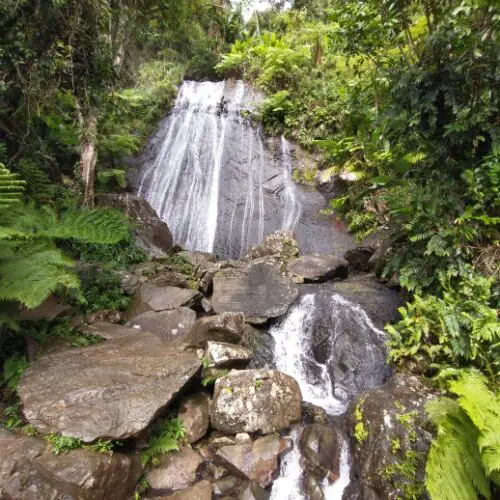 Best El Yunque Rainforest Tours & Puerto Rico Adventures
Here are some of the best and most exciting El Yunque Rainforest Tours. There are many El Yunque tours that you can sign up for in order to see all the El Yunque attractions & hidden gems. Any trip to Puerto Rico should include a day-trip to visit El Yunque National Forest. 
Cave Exploring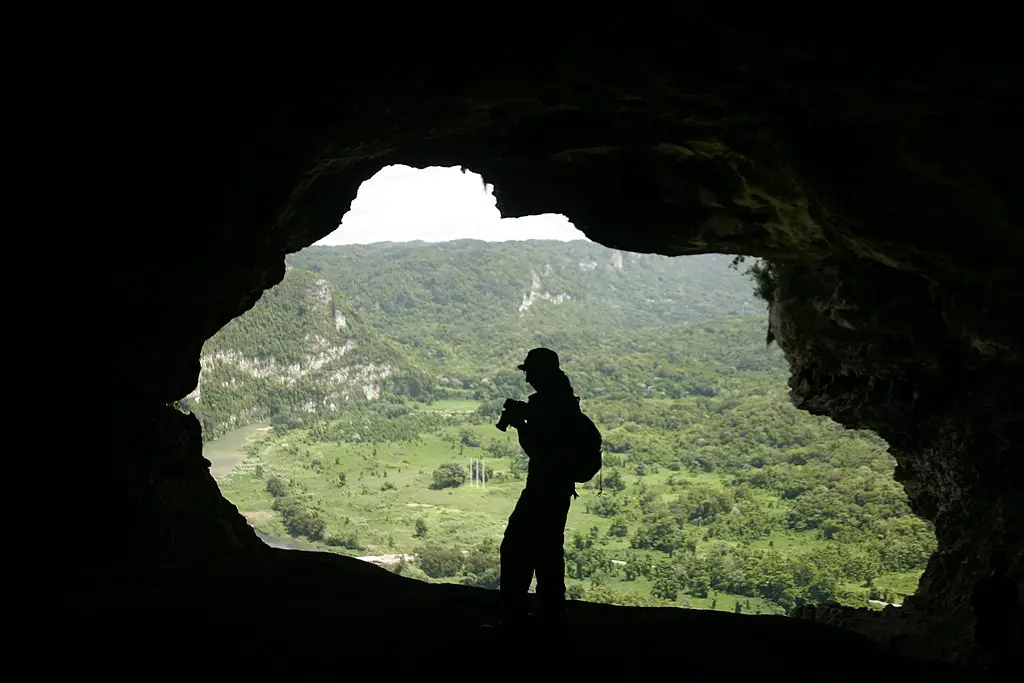 SPELUNKING!
Exploring the caves in Puerto Rico is a fun adventurous activity! There are few places that you can go to get a tour and get the most out of your visit.  Camuy Caverns or Cueva Ventana are some of the best caves to explore in Puerto Rico.
Cueva Ventana is in Arecibo which is an hour from San Juan and is a great Instagram spot in Puerto Rico because of the view out of the cave.  While you can explore these caves on your own and without a tour guide (which also means this is a FREE ACTIVITY IN PUERTO RICO!!), you will still need to arrange transportation, unless you have already rented a car in Puerto Rico.
Try one of these guided Puerto Rico Cave tours for some adventure!
ATV Adventure in Puerto Rico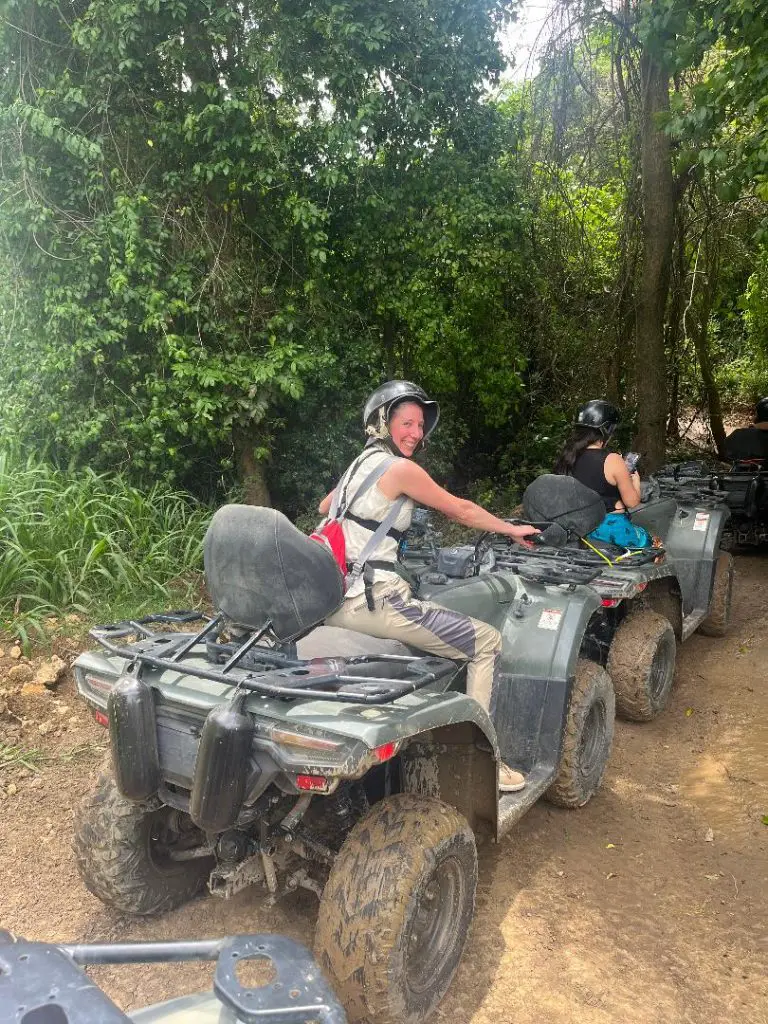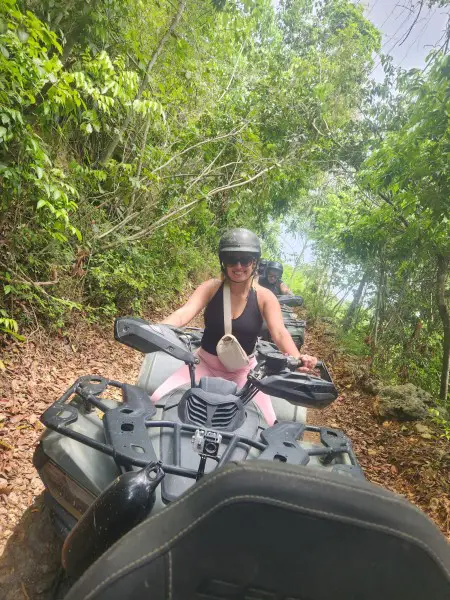 DRIVING THROUGH THE MUD IN THE RAINFOREST IN PUERTO RICO
We took an ATV tour during our last trip to Puerto Rico.  I highly recommend this as an adventure in Puerto Rico.  It was more demanding than I thought.  It took a lot of strength to keep my ATV on course through all the ruts going through the rainforest.
It was hot and dusty.  I recommend pants for protection against nature, the sun, and anything else that might come your way.
Our tour provider gave us all wet wipes, soap and a sink after we got back.  They offered a hose for those of us that got really muddy.
Try one of these ATV tours for a heart-stopping ride through the Puerto Rico scenery!
Kayaking and Tubing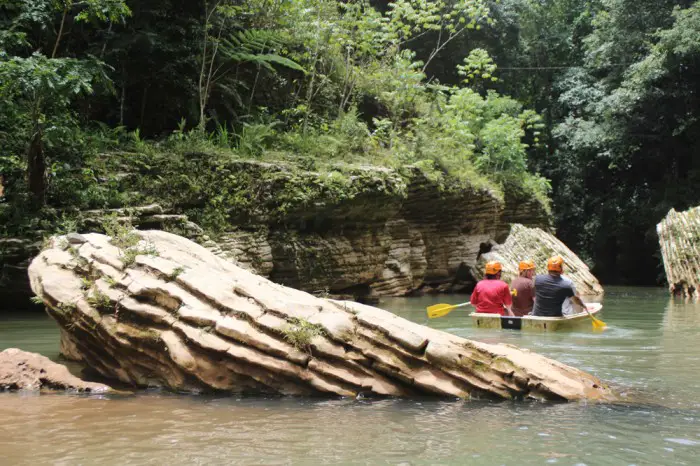 Kayaking and tubing depend on the weather. 
Unfortunately, our cave tubing excursion got cancelled due to very bad rainy weather, so I did not get to experience this tour for myself. The rivers get high and dangerous during rainy weather.  I had planned to cave tube through the Tanama River in Utuado.  SOMEDAY I will check it off of my bucket list!! Even with our 3-day Puerto Rico Itinerary, we still could not reschedule the tubing tour. 😥
Make sure you plan one of these adventurous Puerto Rico trips for yourself!!
Kayaking options are endless.  You can rent kayaks and explore Puerto Rico's San Juan Bay
There are even some nighttime Puerto Rico adventurous activities to add to your itinerary.
You can take an evening kayak trip in Condado Lagoon to see the view of the lit-up city. Another option is a bioluminescent kayak trip in one of Puerto Rico's glowing bays.  You will get to kayak over the glowing algae for a truly magical night.
Which of these Kayak Trips will satisfy your adventure bug?
Need more info & things to do in Puerto Rico?
Getting around Puerto Rico
Where to stay in Puerto Rico
(our recommendations based on our trips and stays in Puerto Rico!)
---
Other great choices for accommodations in Puerto Rico:
Mountain Biking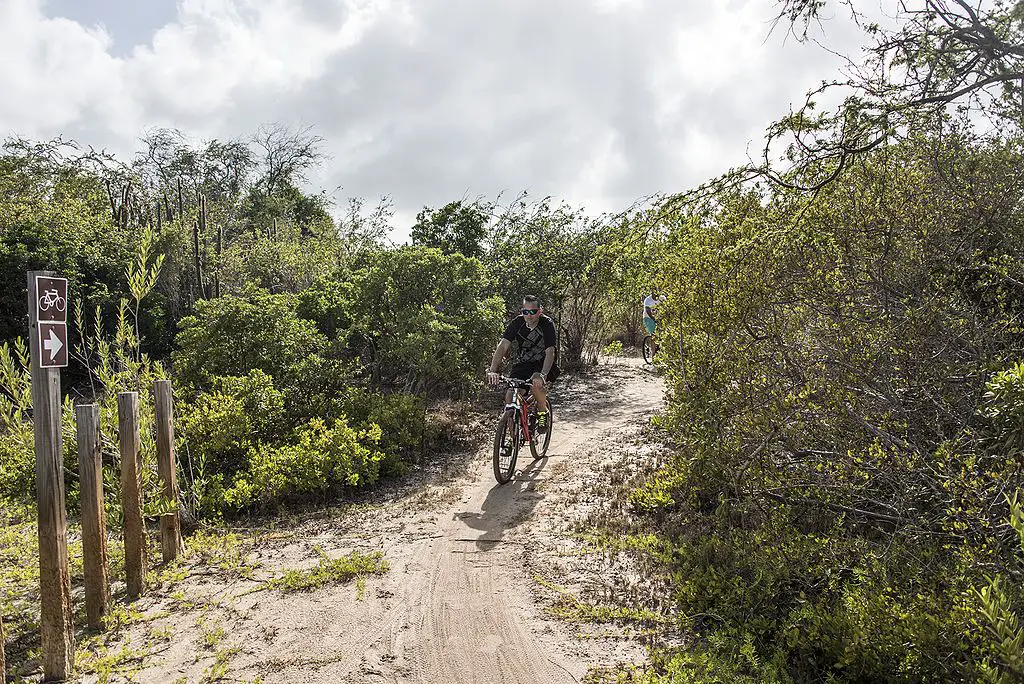 Outdoor adventure in Puerto Rico with some of the best views!
Mountain biking in Puerto Rico offers an exhilarating blend of natural beauty and challenging terrains, creating a paradise for outdoor enthusiasts and adrenaline junkies alike. With its diverse landscapes ranging from lush rainforests to rugged mountainsides, Puerto Rico provides an incredible array of trails that cater to all skill levels. Riders can venture through dense tropical foliage, conquer steep inclines, and revel in the rush of downhill descents.
The island's warm climate ensures year-round biking opportunities. Whether navigating the technical trails of El Yunque National Forest or exploring the exhilarating paths of Toro Negro State Forest, mountain biking in Puerto Rico promises a thrilling adventure amid breathtaking scenery.
Ziplining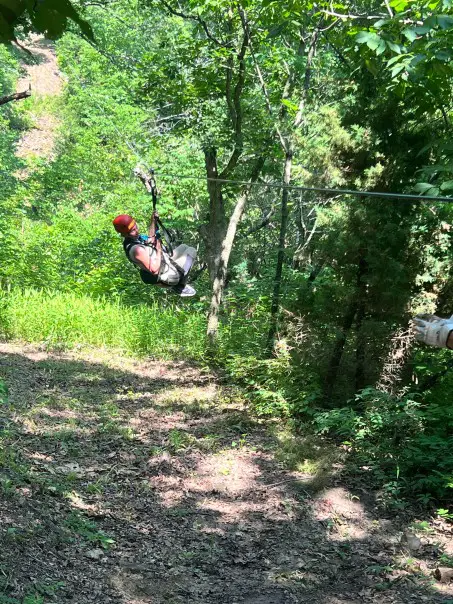 Soar like Superman!
Puerto Rico is home to one of the longest ziplines in the world.  It is appropriately named "THE MONSTER" and located at Toro Verde.  The zipline whisks you through the trees for a bird's eye view of the rainforest for 1.57 miles and an amazing 2 minutes of flight from one end to the other.
For those seeking a little LESS adventure, there are a few other ziplines throughout Puerto Rico that do not boast any world records!
Try out these Ziplines in Puerto Rico!!!
Scuba Diving and Snorkeling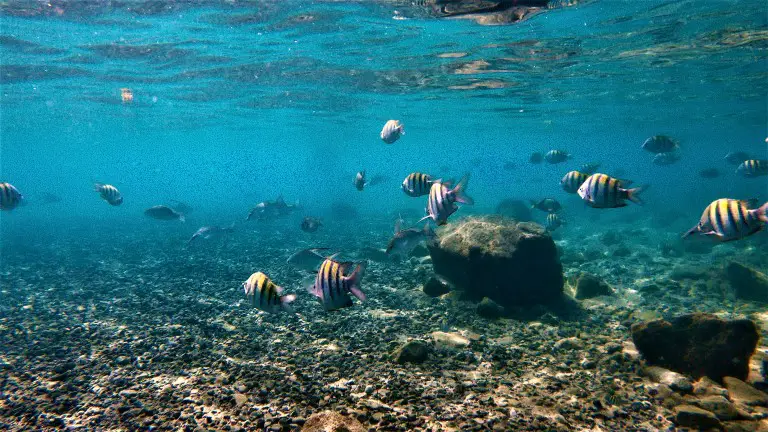 ENJOY THE ADVENTUROUS WATER ACTIVITIES IN PUERTO RICO
Puerto Rico has stunning coral reefs full of diverse and colorful marine life. When going scuba diving in Puerto Rico, you'll be welcomed into the water by vivid coral formations, rustling sea fans, and a unique aquatic landscape. The reefs crackle with life, with an abundance of tropical fish swimming around corals.
Diving and snorkeling are unique adventures in Puerto Rico like no other!
Puerto Rico has hundreds of miles of coastline and dozens of islets and cays, making it an intriguing Caribbean destination  for the adventurous scuba diving traveler. Whether you're a first-timer or a seasoned diver, you can't pass up the opportunity to scuba dive in Puerto Rico's beautiful waters.
For experienced divers, Desecheo Island, Mona Island, or the Wall at La Parguera are good spots for advanced diving through Spanish shipwrecks and coral reefs. If you've never taken a dive, try a simple shore dive in on one of Puerto Rico's islands like Vieques' Mosquito Pier or Culebra for an easy dive to introduce you to Puerto Rico's ocean life.
---
Need even more info and tips on Scuba Diving in Puerto Rico? Try my helpful guide!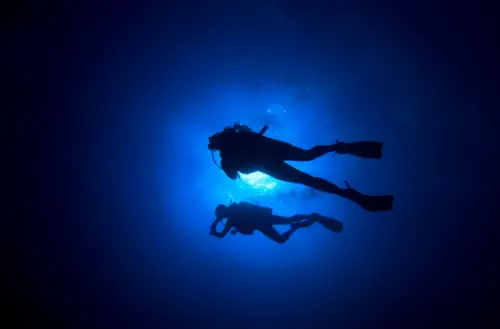 Finding the BEST Scuba Diving in Puerto Rico
When going scuba diving in Puerto Rico, you'll be welcomed into the water by amazing underwater beauty. Find out the BEST PLACES for Scuba Diving in Puerto Rico and have tons of fun on this Caribbean island.
Surfing and Flyboarding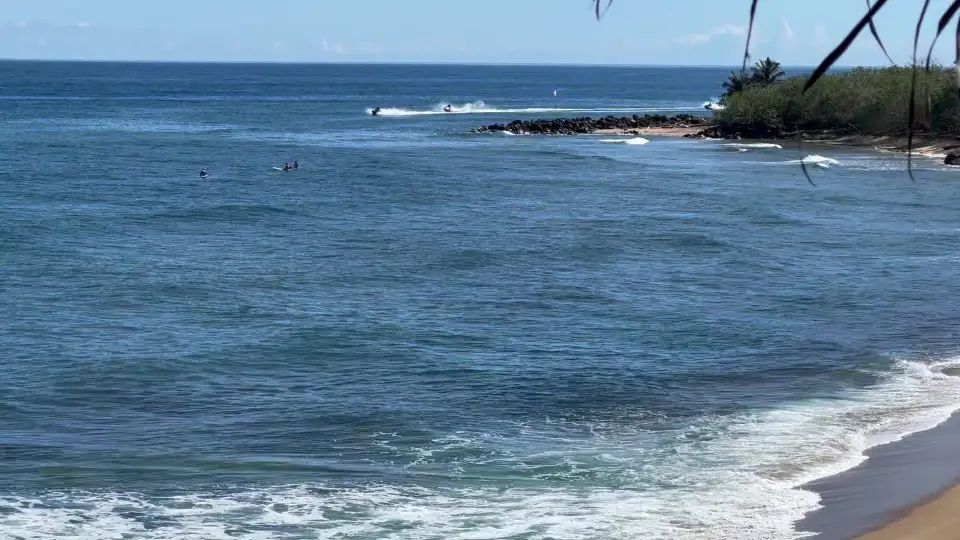 RIDING THE SURF IN PUERTO RICO
Rincon is the best-known surfing spot in Puerto Rico but all the main island beaches offer at little bit of the surf.  The warm tropical waters of Puerto Rico make it one of the top surfing destinations in the world.
Flyboarding is one of the newer adventurous activities in Puerto Rico. We saw someone attempting to flyboard at Luquillo Beach when we were there, but you can try it out on almost any beach.
You need good balance if you are going to try flyboarding.  The water jets propel you up in the air while you 'surf' on the fly board –simulating 'FLIGHT' and kind of like the late-great Iron Man.
Try these adventurous water activities in Puerto Rico
Other Adventurous Activities in Puerto Rico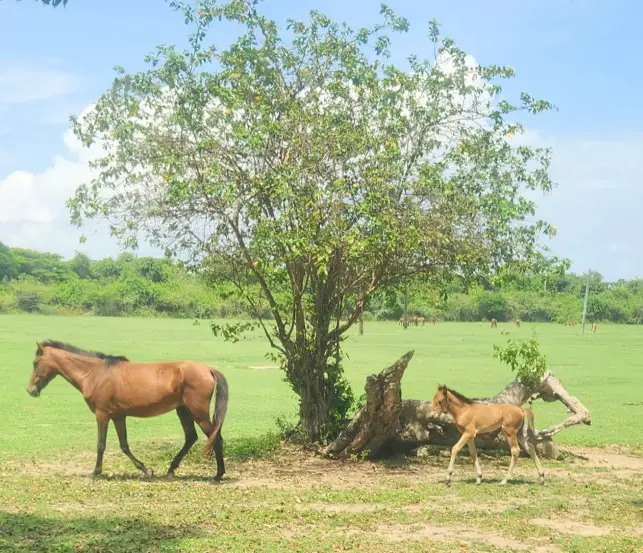 There are many other adventurous activities in Puerto Rico! Whether you are pending a day in Old San Juan, or one of the islands in Puerto Rico like Culebra or Vieques, adventure awaits you!!!
Horseback riding through the island is just one of the many more adventures that you can have when you travel to Puerto Rico.
Did I miss your favorite activity? Which adventures will you be having during your next Puerto Rico vacation?
Final thoughts about ADVENTUROUS ACTIVITIES IN PUERTO RICO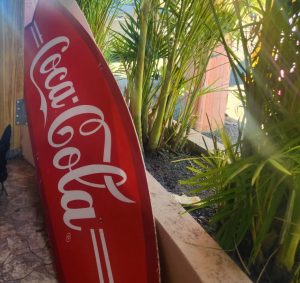 You can't help but be captivated by the sheer diversity and excitement that this tropical paradise in Puerto Rico has to offer. From the lush rainforests of El Yunque where exhilarating hikes lead to hidden waterfalls, natural waterslides, and panoramic vistas, to the crystal-clear waters that invite snorkelers and divers to explore vibrant coral reefs and underwater caves, Puerto Rico is a playground for the active soul.
The island's rugged terrain also beckons to adrenaline seekers, with opportunities for zip-lining through lush canopies, tackling kayaking, tubing or surfing, and even trying the exhilarating sport of flyboarding along its scenic coastlines. Amidst all these heart-pounding activities, there's a palpable sense of connection to nature and an authentic island spirit that infuses each adventure with a unique charm. Puerto Rico, with its blend of adrenaline, natural beauty, and cultural richness, truly stands as a testament to the endless allure of adventurous exploration.
Plan some Adventure in Puerto Rico: PIN THIS POST for later!