DISCLOSURE: I may link to relevant products, companies or helpful info which may be affiliate links, meaning I may earn a small commission. As an Amazon Associate & other affiliates, I earn from qualifying purchases at no extra charge to you. The views & opinions are my own. Please see the disclaimer and privacy policy.
Last Updated on April 28, 2023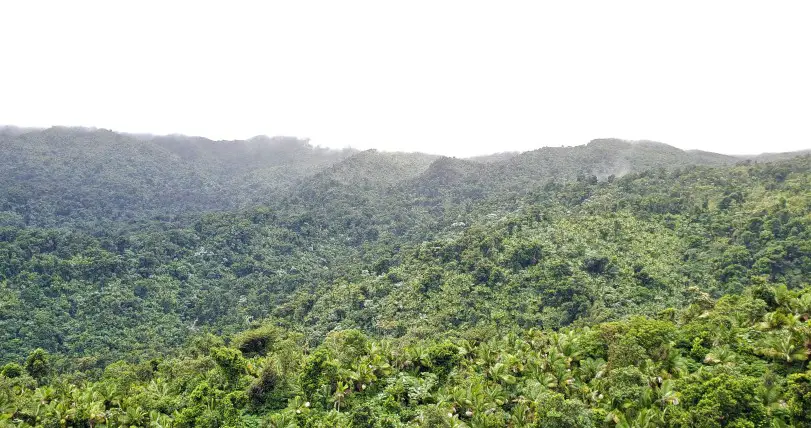 There are many things to do in El Yunque Rainforest like hiking the trails and basking in waterfalls and it is a must-see site for your trip to Puerto Rico.  Depending on how many hikes you do, the trip can be all day or a portion of the day.  Visiting El Yunque on your own is easy. 
Follow along in this guide and I will give you all the tips and point out the most important El Yunque attractions not to miss!
Explore all of these FUN things to do in El Yunque Rainforest!
What is El Yunque Rainforest?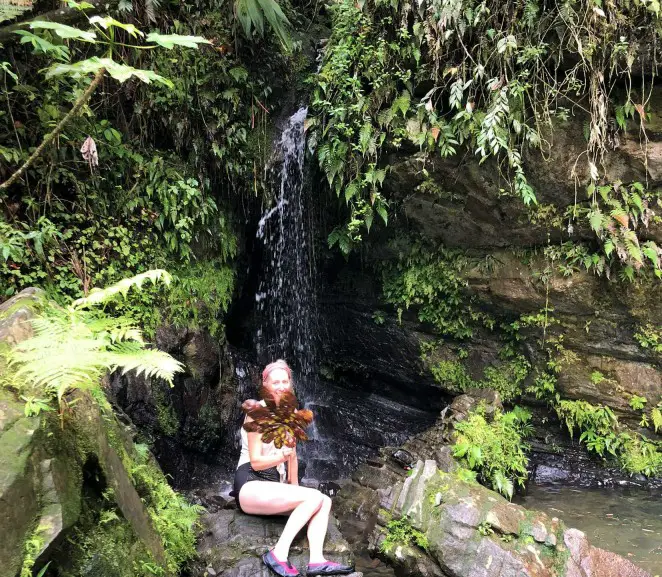 El Yunque Facts:
El Yunque National Forest is one of the few tropical rainforests in North America, the only tropical rainforest in the US Forest System, and one of the smallest known rainforests ever. It was formerly known as the Caribbean National Forest but was changed to El Yunque in 2007. It is the largest Puerto Rico rainforest with 8 major rivers that supply water to 20% of the Puerto Rican population.
Do you love birds?  El Yunque is perfect for birdwatching since it has over 50 bird species like the Puerto Rican parrot, green mangos, green heron, mangrove cuckoo, and woodpeckers
Lovers of flora and fauna will delight in the 28,000 acres of the El Yunque Forest with its 240 plant species that are found only in Puerto Rico.
Tips for Spending a Day at El Yunque National Forest in Puerto Rico
How much does it cost to enter El Yunque? Normally tickets for El Yunque National Forest are required for entry so that they can control crowds. They are just $2 and can be bought ahead of time at the website online.
Is El Yunque Free? Our visit to El Yunque was over our holiday break and not peak season, so we were not required to have a ticket. It was open to all and we drove right in to begin our El Yunque Rainforest tour on our own!
Start your El Yunque hiking and touring early to avoid the crowds.  It opens at 8 am on most days and the later it gets in the day, the more people will find their way to the rainforest.  Tours through El Yunque start later in the morning too, so you will want to get a head start and see the main sites before the big tours cause congestion.
The rainforest sites are all along the main road 191 so they are easy to find and well-marked with signs.  However, it is nice to have a map in order to pre-mark your priority stops so that you don't miss any.
Maps are given out at the entrance, except during non-peak times when park officials are not manning the gates. These maps are great guides for how to visit El Yunque National Forest and will have all of the main sites, hiking trails, and parking areas marked off.
Print out a map of the El Yunque National Forest stops beforehand when it is not busy season.
CHECK THE CURRENT EL YUNQUE MAP FOR CLOSURES
When we toured El Yunque National Forest on our own there were a lot of closures.  The visitor's center was still closed from the hurricane. The Mt Britton Tower was closed to the public and several hiking trails were closed.
BRING FOOD AND DRINK SUPPLIES
We passed only 2 small gift shops throughout our self-drive trip through El Yunque Rainforest, so food and drink are very scarce. 
We came prepared with our own bottled water and donuts that we bought at the Puertoriccan Bakery before we started our tour.
There are opportunities to jump in swimming holes, wade through streams and walk under the best waterfalls in El Yunque.  Be prepared with water shoes and swimming suits so that you won't be left out of the fun.  Trails are often muddy too, so make good choices for your footwear!
BE PREPARED FOR THE WEATHER
Let's remind ourselves that it is called a RAINFOREST, so it will often be wet and rainy. I think it rained on us about 4 times during our half-day visit.
BUT also bring sunblock for those moments that the sun peaks out and the rays come down through the trees.  Reapply a new batch after taking a dip in the El Yunque waterfalls!
Bring insect repellant to ward off those little buggers that are flying around in the forest waiting to land on you.
There are no large animals in El Yunque Forest like there are in the Amazon Rainforest in South America, but you can still enjoy smaller wildlife and tons of green foliage. The El Yunque animals consist of lots of birds, frogs, lizards, bats, and BUGS -don't forget to bring your bug spray!
Best sites to see at El Yunque National Forest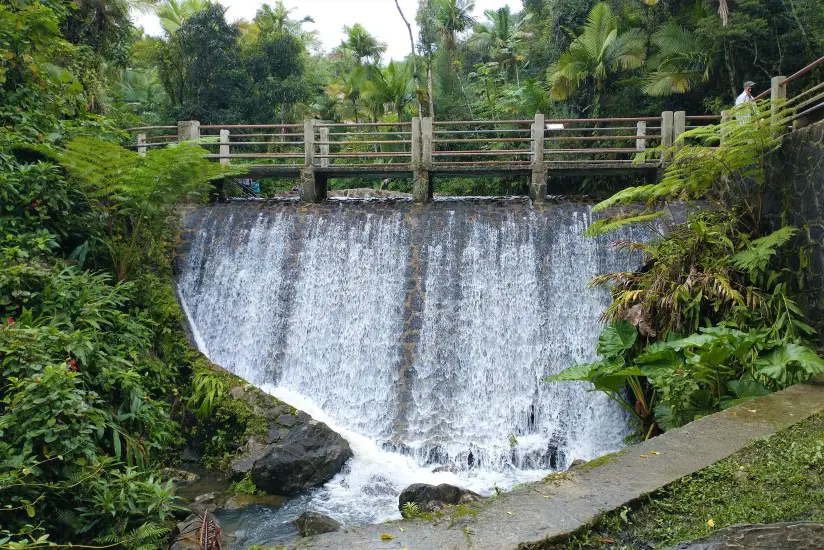 If you are wondering what to do in El Yunque National Forest, you will NOT run out of ideas! First, use this list to stop at these amazing photosites in El Yunque National Forest!
There are many sites to see and things to do in El Yunque National Forest, but if you hit these main ones, you will have seen the best.  El Yunque is very unique with its variety of attractions like waterfalls for the swimmers, trails for the hikers, and towers for those that love to appreciate a bird's eye view of the forest!
There are several stops in the rainforest but it is also important to look out of the window at the scenery along the winding road.  Route 191 goes all through the National Forest and these stops (and parking lots) are often right along the side of the main road.
La Coca Falls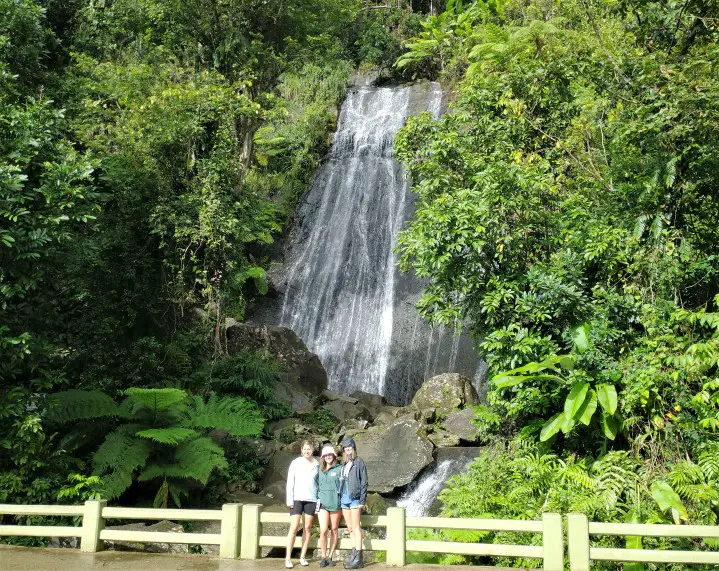 The first stop is La Coca Falls on the tour of El Yunque Rainforest. It is a beautiful waterfall from the top of the rainforest to the bottom. 
It is right off the main road so you can drive right by it. Parking will be in a pull-off area right on the side of the road. Make sure you snap a bunch of pictures here!  
PRO TIP: They did have porta potties here, but they were locked when we were at this stop.  If the potties here don't work out, there are some larger restrooms with running water further down route 191 by Bano Grande.
Yokahu Tower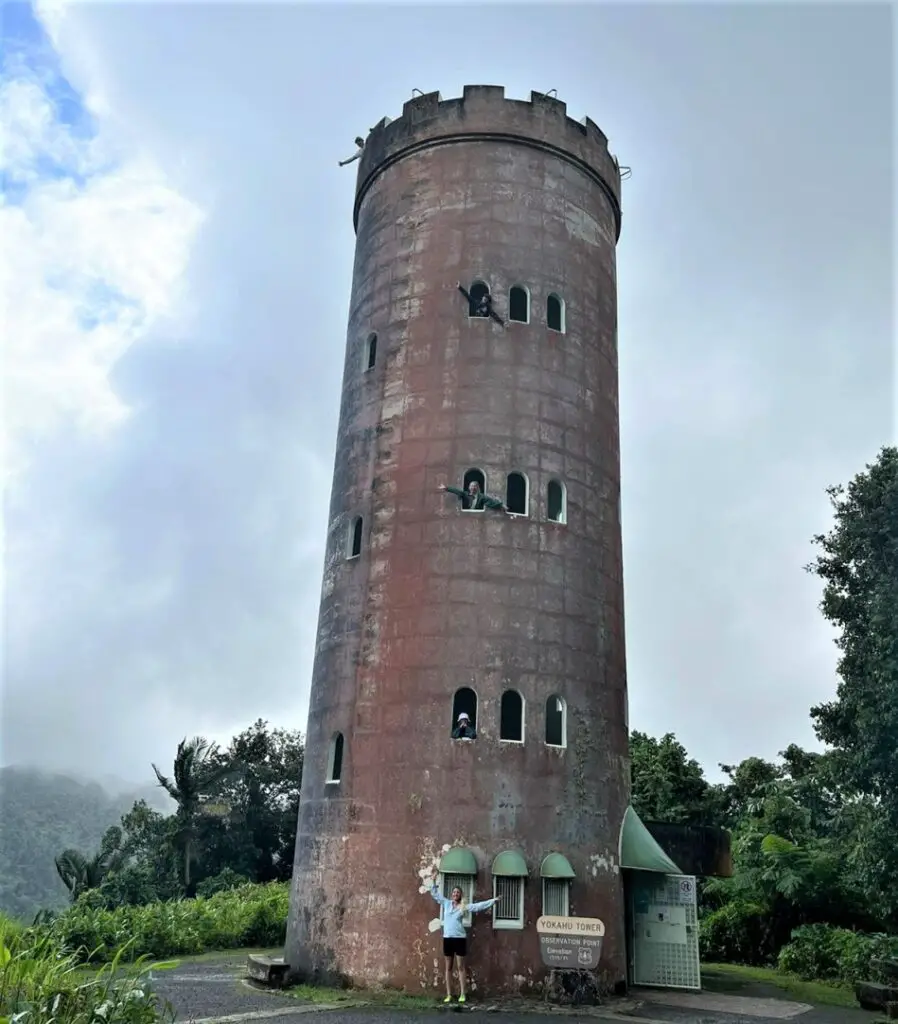 Our second stop on our El Yunque Rainforest Tour was a tall tower that has 5 different stories with an elevation of 1,575 ft, which was the tallest one in the rainforest. Our family of FIVE all climbed to a different level of the tower for our family selfie picture.
This tower was built in the early 1960s by Frank Wadsworth, Forest Supervisor, to provide multiple views from every different angle. Yokahu Tower is important because it is the tallest one built in the rainforest, and its creation led to a redevelopment of El Yunque Rainforest.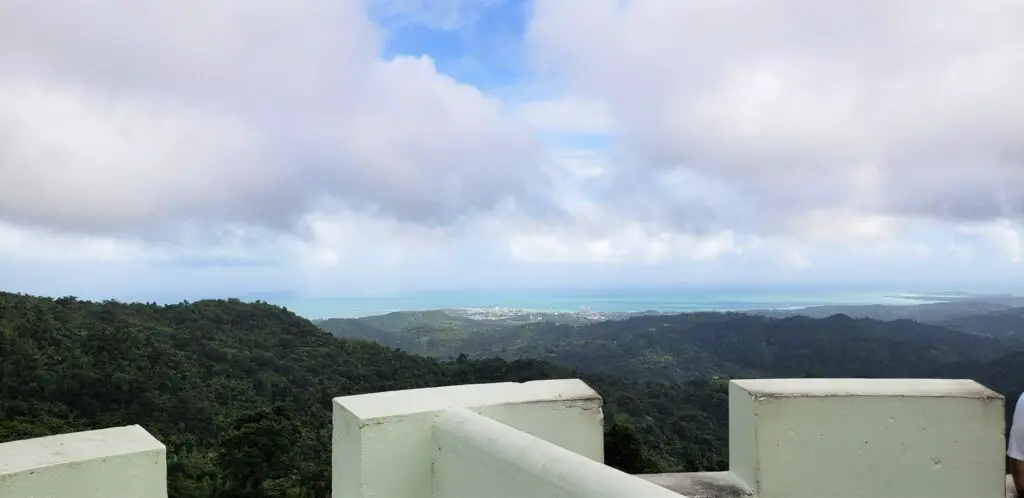 PRO TIP: It is very windy once you get to the top, –HOLD ONTO YOUR HAT!– but the views are astonishing. It sure is a climb to get up there, but totally worth it!!
Juan Diego Creek (Quebrada Juan Diego)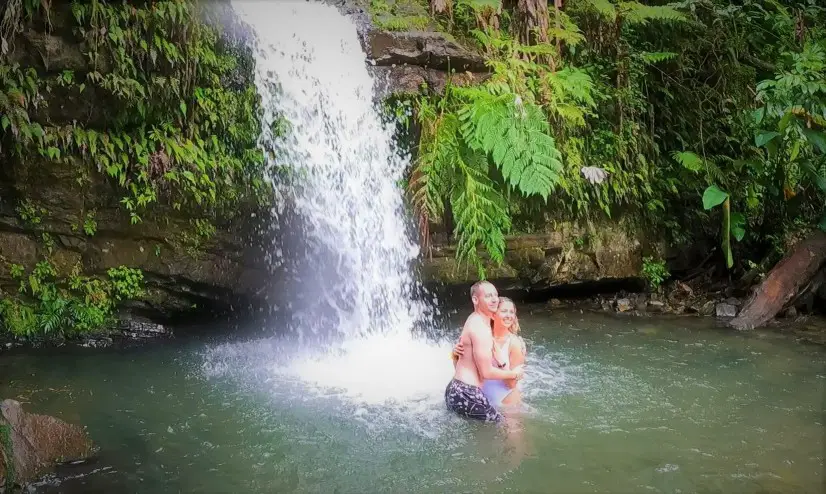 While wearing our water shoes, we hiked up a bunch of stairs and through the path in the rainforest until we reached a loud waterfall with a pool of water in front. The hike was short and easy to follow, but I imagine that it is often muddy; with more swimming pools and waterfalls along the trail but we just stopped at the first one. 
A bunch of people were in their bathing suits swimming under the waterfall or walking in the water along the rocks. It tends to get crowded here due to all of the tour groups, especially in the afternoon heat. We all took a turn going under the beautiful COLD waterfall and took some pictures in front of it. 
PRO TIP: The water from the waterfall comes down hard so be prepared to lose your balance – or your go pro!
Bano Grande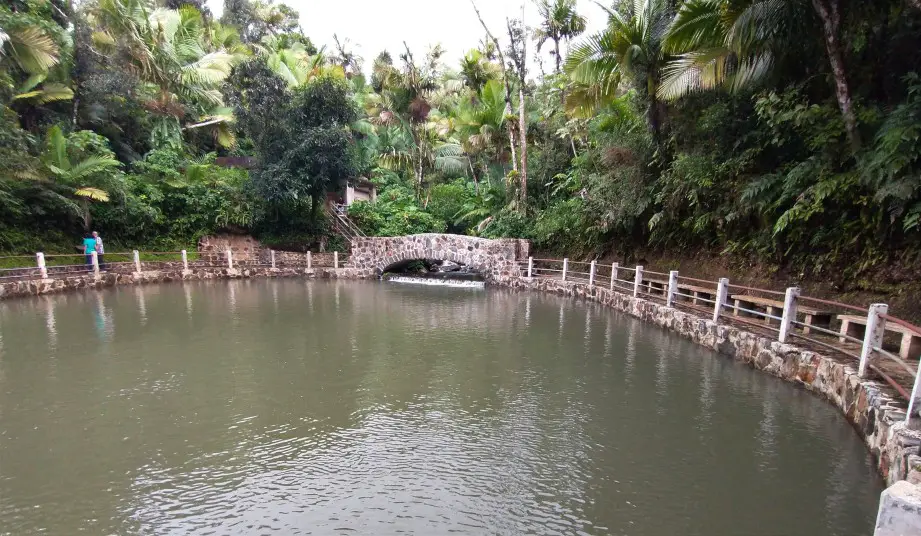 Bano Grande has a big natural pool that is not meant for swimming, rather viewing the scenery and walking across the beautiful stone bridge. There is no waterfall here, but stop to admire the natural pool of water from the bridge and take a few photos from afar.
The pool was made using stone masonry and it was one of the two public pools built in the forest. It tripled the size of the other pool, Bano de Oro.  Bano Grande turned out to be the most popular stop in the rainforest for around 30 years. The pool was the deepest pool in Puerto Rico, built with a depth of 16 ft.
El Yunque Hiking Trails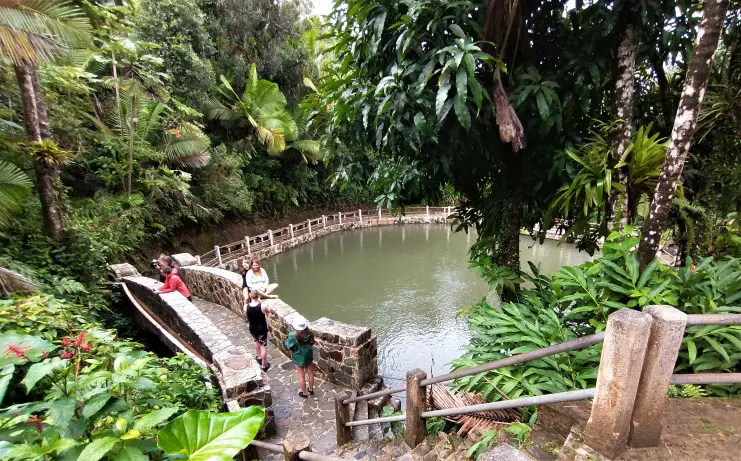 There are several hiking trails in El Yunque National Forest with some of the best hiking in Puerto Rico.  If you are an avid long haul adventurer or just a short wanderer, there are trails that will be the perfect length for you. Some of the trails lead to the best views of El Yunque Rainforest that you can hope for.
Don't forget one of my first tips for visiting El Yunque and be prepared with appropriate shoes to wear on the wet El Yunque hiking trails!
PRO TIP: Make sure these trails are open before planning your hike through El Yunque National Forest.
The trails are listed in order of occurrence from the entrance to El Yunque National Forest
Are you ready for that MAP of El Yunque Forest that I mentioned earlier?
Here is the link for it again in case you missed it! Map of El Yunque Hiking Trails too!
This El Yunque hiking trail is off a side road, on Road 988, just after the Visitors Center Road.  This half-mile-long hiking trail is good for those that want a quick and short hike since it is only about 20 minutes to the Las Damas pool at Mameyes River, a gorgeous crystal pool made by nature herself, complete with a rope swing to enjoy. 
La Coca Trail is a longer trail that is located across from La Coca Falls.  Most often, this 1.8-mile steep trail gets quite muddy as it crosses many streams and river crossings.  The payoff at the end of this 1 ½ hour challenging hike is another natural pool to enjoy.
Stay on the trail and watch for the markers.  This is the El Yunque trail where most hikers get lost!
This hiking trail is a short ½ mile hike through the rainforest to enjoy nature and birding.  This is probably the easiest hike in El Yunque Forest.
The Mt Britton Trail is a 1.3-mile hike through Cloud Forest that leads to Mount Britton Tower.  After a 45 minute hike and climbing to the top of the stone tower built in the 1930s, you will be rewarded by a scenic view of the Caribbean Sea, the Atlantic Ocean, and miles and miles of forest.
The trail has three covered rest areas and connects to the El Yunque Peak Trail.
It is a challenging hike of 2.4 miles from the trailhead to El Yunque Peak, one of the highest point in El Yunque Forest.  Once at the top, you will be surrounded by clouds and the views will make the hour-long trek uphill through the forest worth the effort!
Las Playas Hidden Natural Slide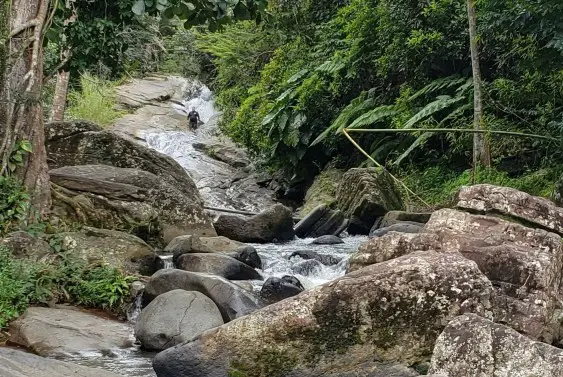 The site is not exactly in El Yunque but on the outskirts.  It is a hidden natural water slide called Las Paylas where you can slide down the natural rocks with the running waterfall.  It is so much fun and just a short drive from El Yunque National Forest.  It is worth it to go on the hunt for this hidden gem.
Find out all the tips for visiting Las Paylas at my Puerto Rico Water Slide post! —The first tip is that it is also spelled LAS PAILAS! Read on to find out more.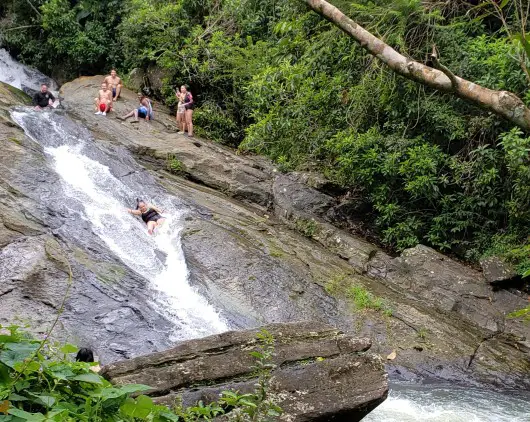 How to Enjoy Las Paylas Puerto Rico: Natural Water Slide in Luquillo
We found Las Paylas, a hidden Puerto Rico natural water slide tucked away on the outskirts of the El Yunque National Forest.  Discover the fun at Las Paylas Natural Water Slide.
How to Get from San Juan to El Yunque Rainforest
El Yunque National Forest is located in the Rio Grande area in the northeast of Puerto Rico. Getting to El Yunque National Forest from San Juan is easy and takes about a 45 minute drive in your Puerto Rico rental car from your San Juan Hotel to the entrance of El Yunque Rainforest.
We used google maps on our phones and it got us right where we needed to be to start our self-drive tour through El Yunque National Forest. 
How to get to El Yunque National Forest
The traffic to get from San Juan to El Yunque Rainforest will be busier and it will take longer in summer when there are more tourists in the area. If you visit during the off-season and slightly colder months- it should take less time.
We had a rental car and it was easy to drive to El Yunque National Forest.  Here are some tips for easily renting a car and driving in Puerto Rico: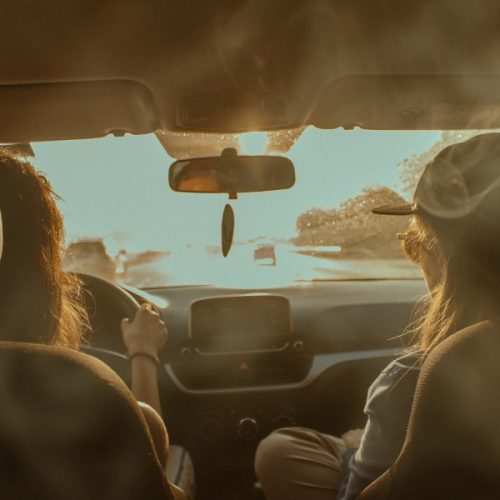 Hit the Road in Style: The Ultimate Guide to Car Rental in Puerto Rico for Your Road Trip
Discover the ultimate guide to car rental options for your Puerto Rico road trip! We cover everything you need to know about car rental in Puerto Rico. Let's hit the road, and explore Puerto Rico to the fullest!
---
More time in Puerto Rico? Use my Ultimate Guide for Planning Tips!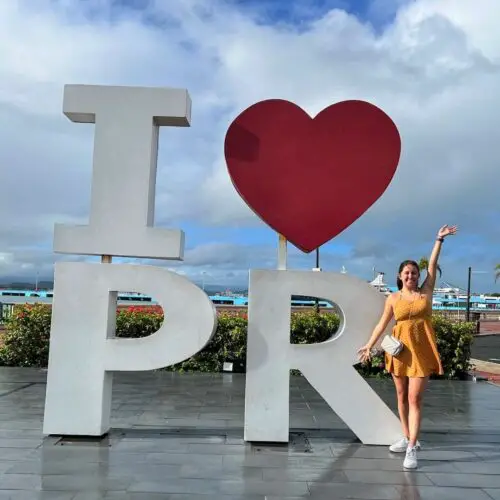 Ultimate Guide for 3 Days in Puerto Rico
If you are spending a long weekend in Puerto Rico, follow this ultimate guide to enjoy Puerto Rico in 3 days. If you have more vacation time, you can spend 4 days in Puerto Rico and add a bonus day to your Puerto Rico itinerary!  
however, if you don't want to drive yourself, there are many tour options—-
El Yunque Rainforest Tour Options
Can you go to El Yunque without a tour?
You sure can! We did everything on our own while visiting El Yunque National Forest!
However, if you don't want to drive yourself through the Rainforest or you don't have a rental car, there are plenty of private and group tours through El Yunque Rainforest in Puerto Rico.  Some of the Rainforest tours leave from the old San Juan, some of them include a personal hotel pick-up, and some include a hidden natural waterfall!  
Best Tours of El Yunque National Forest
Need more info & things to do in Puerto Rico?
Getting around Puerto Rico
Where to stay in El Yunque National Forest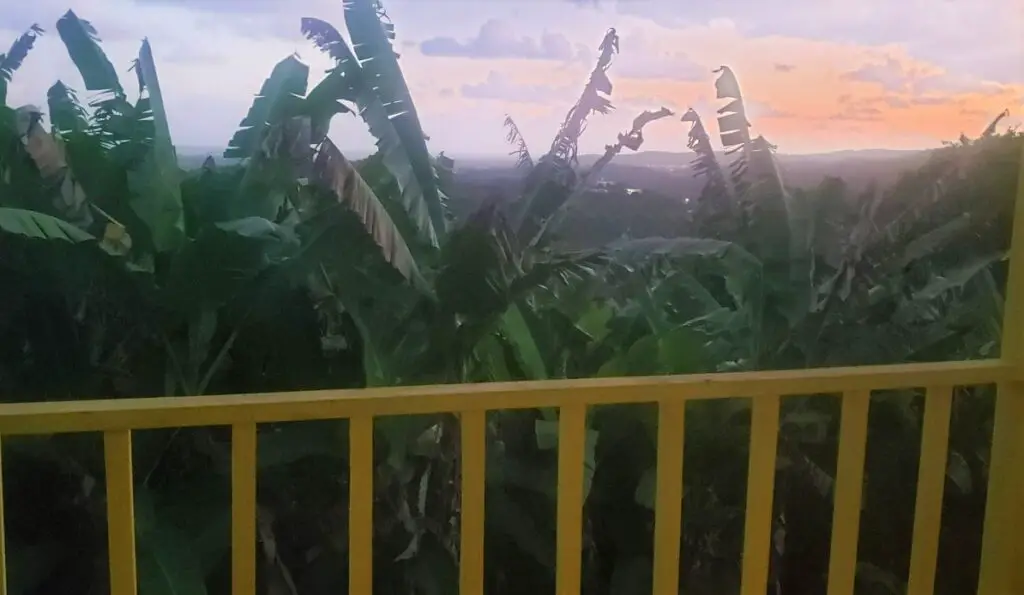 There are a few accommodations near El Yunque National Forest.
If you want our personal El Yunque Hotel recommendation, we found a super cute rustic inn that was located in the heart of the rainforest. The drive to get there was quite an experience and we wondered what on earth we were getting into by driving into the forest! There was no need for our white noise app THAT night, since we drifted off to sleep to the sounds of nature and awoke to the sounds of chirping birds.
Want to stay at the La Casa De Vida Natural in the middle of the Rainforest?
La Casa de Vida Natural, Rio Grande – Updated 2022 Prices
Located in Rio Grande, 16 miles from Fajardo, La Casa de Vida Natural provides a garden and free WiFi.
CONCLUSION ON VISITING EL YUNQUE NATIONAL FOREST
There are many things to do in El Yunque Rainforest. If you just drive straight down the main 191 Road you will find most of them. There are many hiking trails, waterfalls, and scenic views throughout the forest for you to enjoy. Visiting El Yunque on your own is easy by following the map and all of my tips above. Or go the easy route and BOOK A GUIDED TOUR OF EL YUNQUE RAINFOREST!
Enjoy your time in Puerto Rico at this beautiful Rainforest Destination and then make plans to explore the rest of Puerto Rico!
Like this post? PIN IT for later