DISCLOSURE: I may link to relevant products, companies or helpful info which may be affiliate links, meaning I may earn a small commission. As an Amazon Associate & other affiliates, I earn from qualifying purchases at no extra charge to you. The views & opinions are my own. Please see the disclaimer and privacy policy.
Last Updated on July 31, 2023
Puerto Rico is home to stunning coral reefs that are full of diverse and colorful marine life. When going scuba diving in Puerto Rico, you'll be welcomed into the water by vivid coral formations, rustling sea fans, and a unique aquatic landscape. The reefs crackle with life, with an abundance of tropical fish swimming around corals.
It's as if you were in a different world of beauty and peace.
Diving and snorkeling in Puerto Rico is a unique adventure like no other. Dive shops with skilled employees can help you plan boat trips, lessons, equipment, and tank rentals. For experienced divers, Desecheo Island, Mona Island, or the Wall at La Parguera are good spots for advanced diving. If you've never dived, try a simple shore dive in Vieques' Mosquito Pier or Culebra for an easy dive to introduce you to ocean life.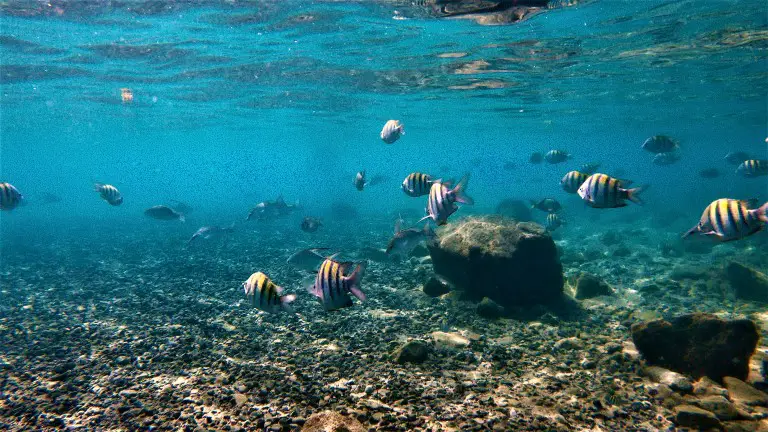 🤿Guest Post by Kanupriyaa Choudhary-Legha who knows all about the Best Diving Spots in Puerto Rico
➡️Check out all you need to know about scuba diving in Puerto Rico
Best Time for Scuba Diving in Puerto Rico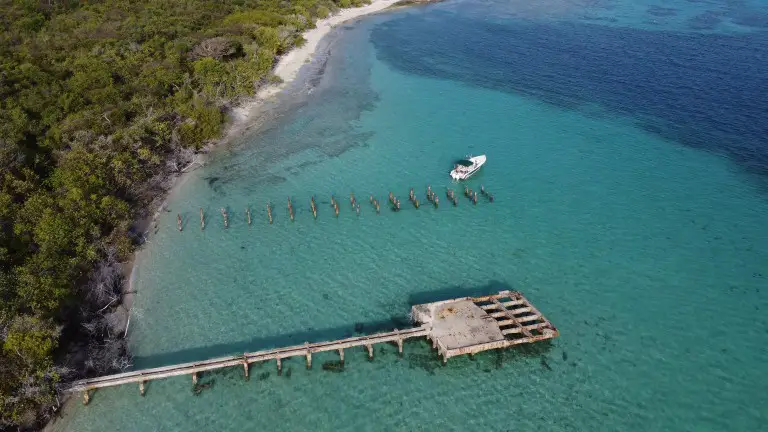 The best time to dive in Puerto Rico is in the winter or the summer before the hurricane season. December to May has the best visibility in water without the concern of the weather turning or hurricane alerts that might cancel scuba trips. Keep reading to find out the BEST PLACES TO SCUBA DIVE IN PUERTO RICO!
Top Dive Sites in Puerto Rico
Puerto Rico has hundreds of miles of coastline and dozens of islets and cays, making it an intriguing Caribbean destination for the adventurous scuba diving traveler. Whether you're a first-timer or a seasoned diver, you can't pass up the opportunity to scuba dive in Puerto Rico's beautiful waters. Many of the better locations are outside San Juan and provide an excellent opportunity to venture out and see the rest of the island.
Here are some of the top Puerto Rico dive sites.
Desecheo Island

Candyland

Las Cuevas

Tres Palmas Marine Reserve
La Parguera

Efra's Wall

Black Wall

Escambron Marine Park
Culebra Island
Vieques Island
Crash Boat Beach
Mona Island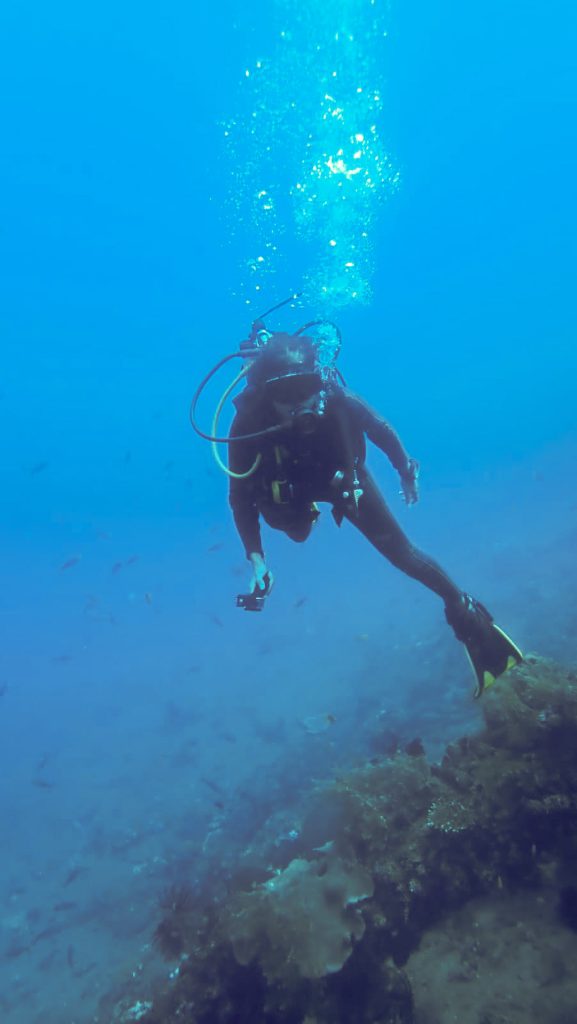 Try some of these options for Puerto Rico Scuba Diving:
Desecheo Island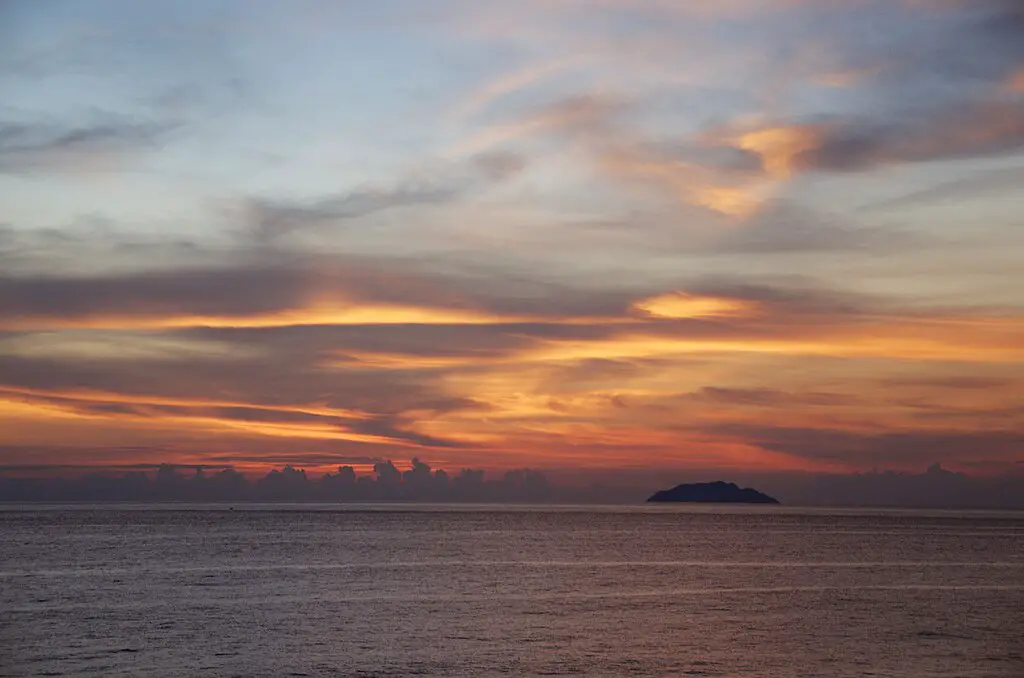 Desecho Island is located off the western coast of Puerto Rico about 10 miles out. The island is surrounded by vibrant coral reefs and is known for its pristine waters and abundant marine life. It is known for having some of the best scuba diving in Puerto Rico.
The US government left some live ammunition here after testing in the 1960s so no one is allowed to get out of the water and onto land here but you are allowed to snorkel and dive the waters around it. It has various types of diving, like wall dives, caves, and underwater canyons. Divers can see barracudas, rays, and even whale sharks if you're lucky. This island is known for having sudden very strong oceanic currents that are dangerous. Diving shops allow beginners to dive here but I do not recommend this.
Candyland
Candyland has giant sea fans, corals, and salad sponges. The name is given because of the huge amount of healthy coral that exists in this area away from human interaction. The slope here gradually descends down to 25 meters.
Las Cuevas
There are lots of stone arches and caves that form passages under the island here. Divers love to explore this area by going into these big caves. You can find rays, barracudas, and parrotfish here. This is an advanced dive because you have to go into the caves where the visibility might not be great and currents can be dangerous. 
Tres Palmas Marine Reserve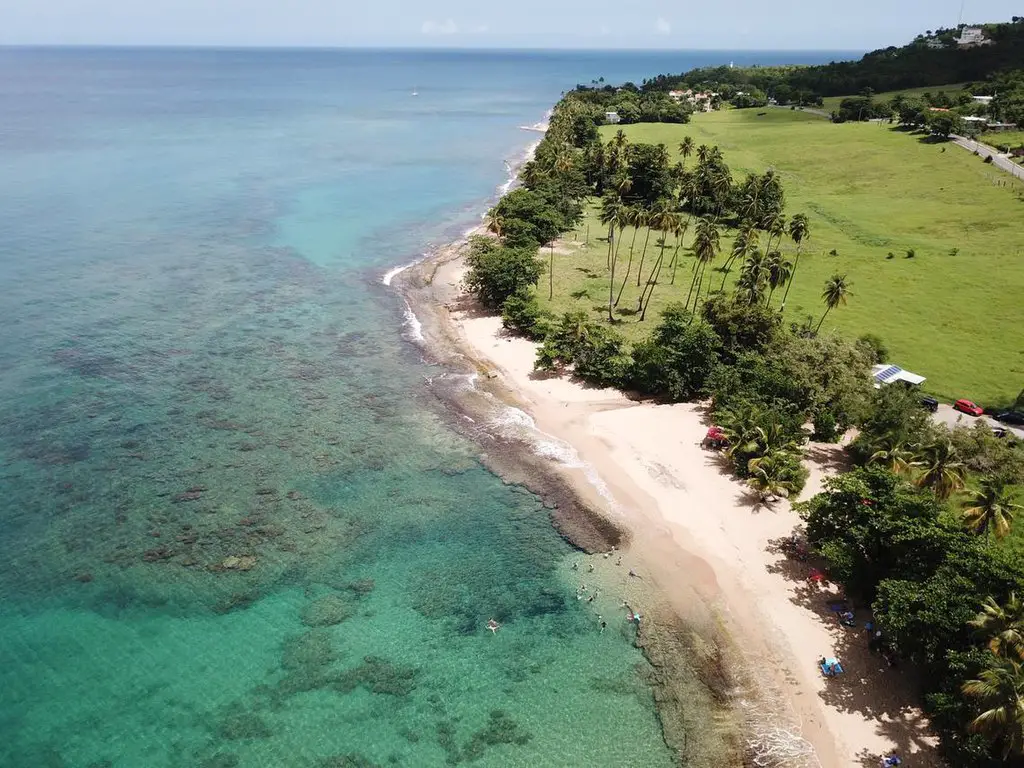 One of the most pristine dive sites in Puerto Rico is on the western shore near the town of Rincon. The diving in Rincon is amazing because the ocean around the town is a protected marine reserve. Tres Palmas Marine Reserve has calm waters and excellent visibility during the summers which makes this a great dive site.
At Tres Palmas, you can see lots of butterflyfish, parrotfish, and angelfish. Even snorkeling here is a really fun activity because there are fish everywhere. One of the best things to spot here are turtles swimming near the ocean floor. If you are lucky you can even spot some Eagle Rays and reef sharks here. 
Since it is very easy to get from San Juan to Rincon most people spend at least a couple of days in Rincon scuba diving and snorkeling. It is a great addition to your Puerto Rico itinerary if you add a couple of days on the west coast of Puerto Rico. 
La Parguera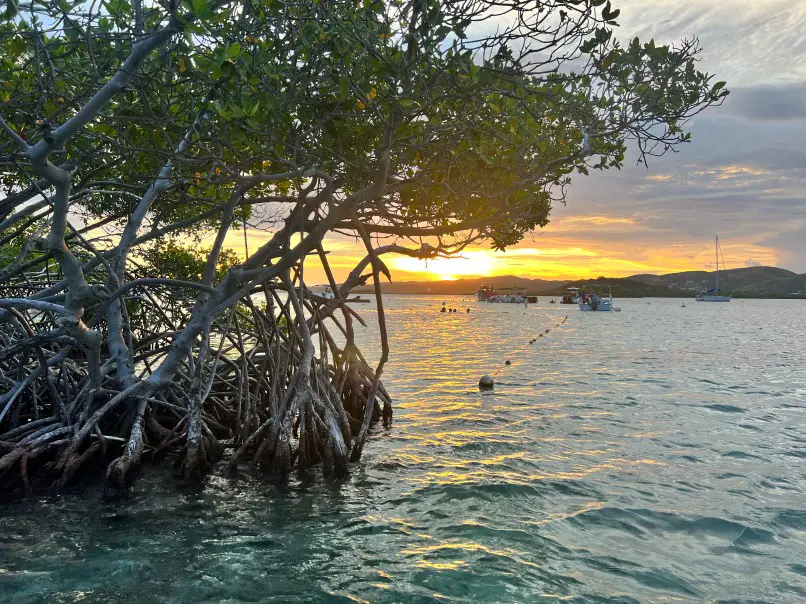 La Parguera is situated in the southwest corner of Puerto Rico. There is an extensive reef system with shallow and colorful coral gardens filled with marine life. The nearby Guanica Biosphere Reserve has a unique underwater cave system and dramatic wall dives which makes scuba diving here very interesting. 
Black Wall
The Black Wall is a diving site off the coast that takes 45 minutes to reach each way by boat. Since the site is away from the mainland the coral is very healthy and thriving. You can expect to see tube sponges, gorgonians, and even black coral orchids which are rare. There is plenty of ocean life here such as sharks, eels, turtles, and tropical fish.
Escambron Marine Park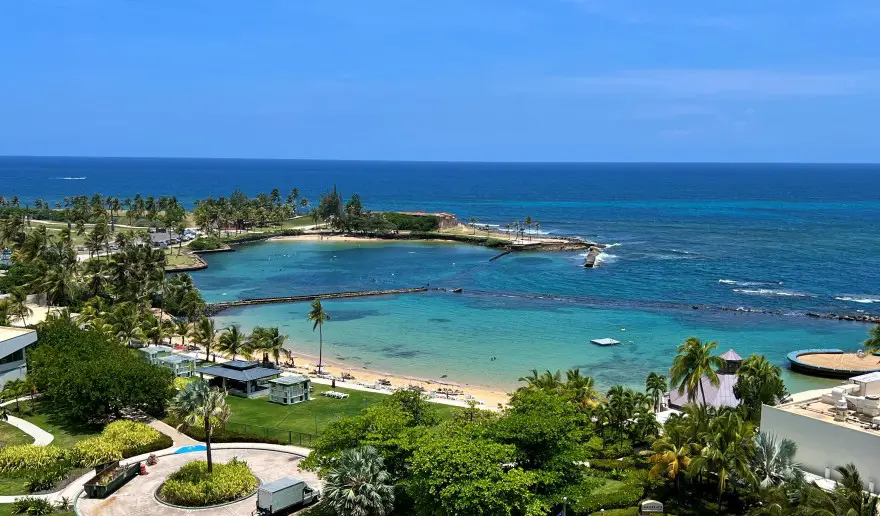 Escambron Marine Park is located inside the capital which makes it easily accessible to divers who wish to go scuba diving in Puerto Rico without getting too far from the historic old town of San Juan. It is in the compound that includes Escambron Beach and Balneario de Escambron. A system of artificial reefs was made from sunken military tanks and concrete structures. It has been set up in the park to provide a variety of marine species with habitat. The reefs can be explored by divers who sometimes even find turtles here.
Snorkeling is also very popular here because the depth of the structures isn't too deep. You will find lots of families on the beach here during the day since Escambron Beach is a very popular hanging spot for the locals. 
Culebra Island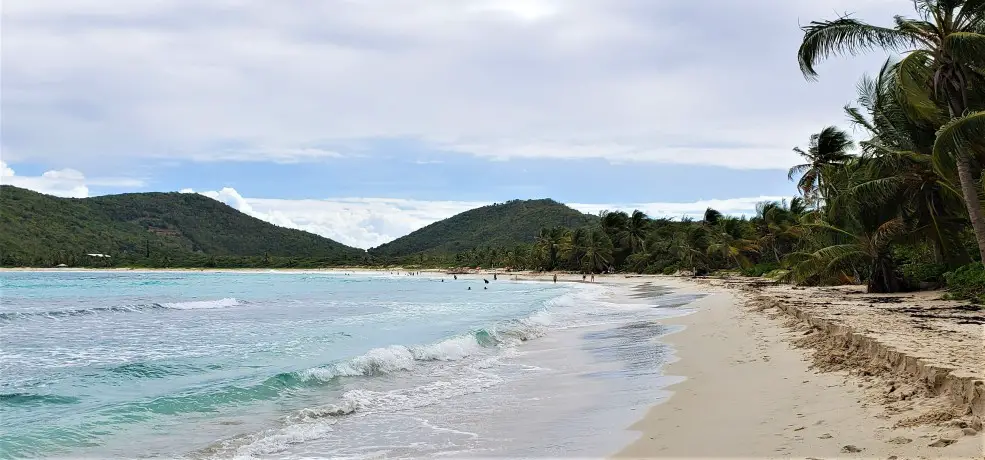 Culebra is a little island east of Puerto Rico that offers stunning beaches and wonderful diving sites. There are multiple underwater formations you can explore while diving here. Some of them are deep drop-off walls, tunnels, caves, shallow coral reefs, and even a sunken boat wreck.
These Puerto Rico dive sites are shallow and it's a good place for beginners to go on their first dive. The boat Wit Power is also a very exciting shipwreck where you can see abundant marine life. Some other famous dive sites around the island are off the coast of Carlos Rosario Beach and Flamenco Beach. The Geniqui Caves are for advanced divers that are looking to explore darker caves using torches for creatures that prefer the darkness. 
Vieques Island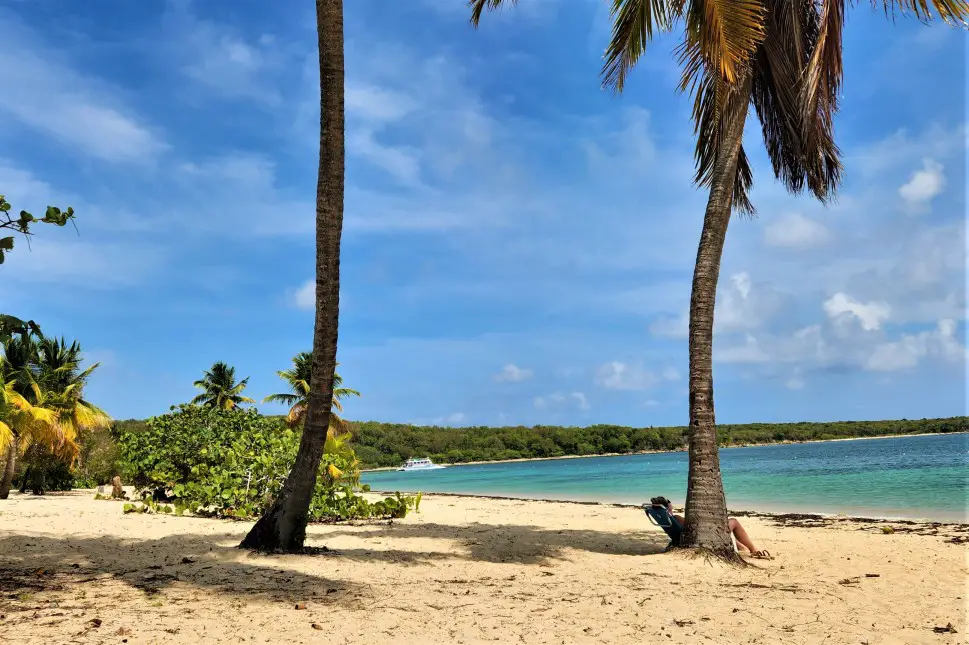 The island of Vieques, which lies off the eastern coast of Puerto Rico, is known to have excellent beaches and a rich marine ecosystem. Divers in Vieques can explore healthy reefs, meet sea creatures such as nurse sharks, eagles, rays, and barracudas, or even visit one of the world's most beautiful bioluminescent bays called Mosquito Bay on kayak tours.
This island is also known for being home to manatees which are harder to spot elsewhere while scuba diving in Puerto Rico. There is so much healthy coral here that you can choose between 16 dive sites! Some famous Puerto Rico dive sites are also here, namely Doughnut, Mosquito Pier, and Blue Tang Reef. 
Crash Boat Beach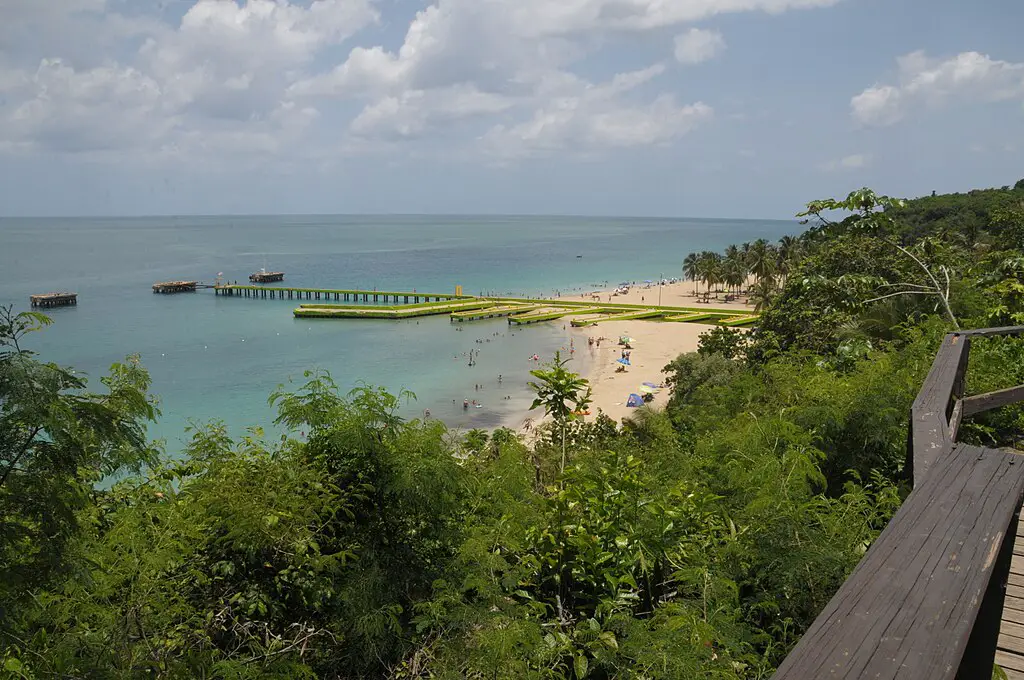 The western city of Aguadilla is a favorite place for locals and tourists to take a simple shore dive at Crash Boat, one of the finest beaches in Puerto Rico. The drive is simple to do once you easily rent a car in Puerto Rico.
There's also an old navy pier, which is just across the beach. There is an entire world of coral reefs, fish, and turtles that divers can explore with minimal currents and good visibility. The nearby Aquatica Dive and Surf offers guided scuba diving lessons and tours of the Crash Boat. They are situated at El Natural Beach near Shacks Beach in Isabela, where you can rent equipment to dive or snorkel as well.
Mona Island
The island of Mona lies in the middle of Puerto Rico and the Dominican Republic. It is an isolated, unpopulated island 45 miles away from the coast. Mona Island, also known as the Galapagos of the Caribbean, is an ecological reserve and a prime scuba diving destination with more than 150 feet of visibility.
Reaching this isolated place where the Atlantic Ocean meets the Caribbean Sea takes 50 nautical miles by boat from Puerto Rico which is 6 hours so you cannot do this dive in a single day. You have to book a 2-3 day trip where you go to the island, stay there overnight, dive, and then come back to Puerto Rico. For the ultimate scuba divers that are looking for locations that are rarely explored, this is the best place for scuba diving in Puerto Rico.
There is a stunning diversity of ocean life, such as giant coral, sea turtles, dolphins, and whales during winter, and dozens of fish species in its undisturbed waters. Divers can explore underwater caves, vertical walls, and deep drop-offs that offer exciting diving experiences.
Best Time for Diving in Puerto Rico
December to May is the optimal season for scuba diving in Puerto Rico. The most suitable weather and visibility for diving is available during this period. During this time, the water temperature ranges from the mid-70s to the low 80 degrees Fahrenheit, making it suitable for diving without the need for a thick wetsuit. 
The visibility of the water is at its best in winter months from December to February, when it tends to reach a maximum height of more than 100 feet. This provides an excellent opportunity for exploring the vibrant reefs and marine life found in Puerto Rico. In addition, the winter season is an excellent time of year for observing migratory whales such as humpbacks that make their way across the water channel to the west of Puerto Rico.
Before organizing your vacation, make sure to check the local weather and diving conditions, and speak with local dive operators who can give up-to-date information on the diving areas and current circumstances.
Need more info & things to do in Puerto Rico?
Getting around Puerto Rico
Do you need a wetsuit in Puerto Rico?
No, you do not need a wetsuit when scuba diving in Puerto Rico. The water is very warm and you can dive with whatever you feel comfortable in.
FUN Scuba Diving Tours in Puerto Rico
Fajardo 2-Tank Scuba Dive for Certified Divers Only
See Puerto Rico's sea life up close on this guided excursion for certified divers in Farjado. Get up close to fish, turtles, rays, lobsters, crabs, and coral formations at you swim 15-80 feet (6-30 meters) under the water. All guides are this tour are PADI certified, and the operator has received a…
Experience Scuba Diving / NO certification Needed
Scuba dive Rincón's tropical coral reefs without the expense and time commitment of a full course when you book this Professional Association of Diving Instructors (PADI) Discover Scuba Diving experience. Learning from a PADI instructor, you'll master the basics of scuba diving theory and equipment…
Beginner SCUBA Diving in Old San Juan
Discover the magical world of SCUBA with our certified, professional crew of PADI SCUBA instructors. (Yes, you can! This is a beginner & non-swimmer-friendly experience.) It's our goal to share our passion for the marine world with others through SCUBA. We often dive with green sea turtles, octopus,…
Diving Schools in Puerto Rico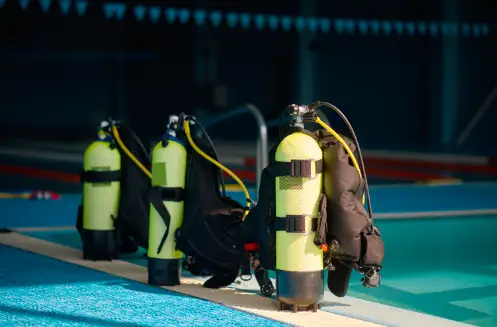 Scuba diving in Puerto Rico can be a great adventure when done safely and properly with good schools. Puerto Rico has various diving schools with diving certification courses. Out of those, below are some of the best diving schools which offer excellent and secure facilities to learn scuba diving from certified and experienced experts. 
Pure Adventure Diving School
Pure Adventure School operates with highly trained professionals, and elite instructors who will be there with you right from the shore all the way until you come back to land. For more details visit their website.
Open Water Diver Course
30% Discount on the extra Boat Dives
3 days (minimum) of instruction
Flexible Schedules to accommodate your stay in Puerto Rico
Classroom and contained water instruction
Scuba diving gear (wetsuit extra) throughout the dive sessions
4 Scuba Dives (includes 2 boat dives / accompanied by diver instructor)
Rate per diver student: $420
PADI Crewpack (books & learning materials) $49.
Advanced Open Water Course
Flexible Schedules to accommodate your Puerto Rico trip
2 days (minimum) of instruction
2 Shore dives & 2 boat dives (Basic Advanced Skills, plus your choice of three specialty skills)
Certification Card on completion of the course
30% discount on the extra boat dives
Rate per Advanced Open Water student: $245
Rincon Diving School
Rincon diving school has certified professional dive masters and instructors who are well-experienced in teaching scuba diving. They have underwater tours in Rincón that go to magnificent dive sites like Tres Palmas Marine Reserve and beautiful reef formations on the south coast of Puerto Rico. For more details visit their website.
Discover Scuba Diving Course
Price: $129 per person
Availability: Daily, year-round
Duration: 3 – 4 hours
Group size: Maximum 4 people per instructor
What to bring: Swimsuit, Towel, Reef-safe sunscreen
Age limit: Minimum 10 years old
Open Water Diver Course
Price: Open Water students (5 confined water sessions & 4 open water dives): 1-person booking – $600, 2+ people in the same group – $525 per person
Availability: Daily, year-round
Duration: Scuba diver certification – minimum of 2 days, Open water certification – minimum of 3 days
Group size: Maximum 4 divers per instructor
What to bring: Swimsuit, Towel, Reef-safe sunscreen
Age limit: Minimum 10 years old
Advanced Open Water Course
Price: $475 per person (5 open water dives including Deep, Navigation + 3 additional Adventure Dives)
Availability: Daily, year-round
Duration: 2- 3 days to complete the required dives
Group size: No minimum or maximum
What to bring: Dive certification, Swimsuit, Towel, Reef-safe sunscreen
Age limit: Minimum 10 years old
Diving Certifications in Puerto Rico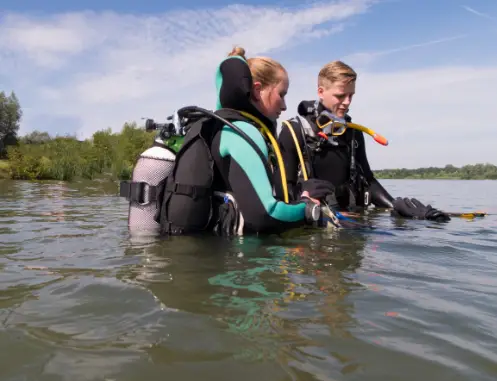 There are multiple levels to diving and if you want you can even get PADI certified. This means that you can rent equipment and go diving alone once you get certified. The information for the courses is listed below.
Discover Scuba Diving Course
Learn about essential diving equipment & how to use it.
Master basic skills such as mask clearing and regulator recovery.
Get small-group instruction from your PADI-certified instructor.
Practice your skills in shallow water close to the beach.
Carry out an open-water dive on a shallow ocean reef.
See lots of marine life such as angelfish, parrotfish, sea turtles, and manta rays.
Open Water Diver Course
In this course, you will get the training you need to be a confident diver with all the skills and knowledge required to perform your own dive with a dive buddy. After learning all the fundamentals of scuba diving and completing the dives required by the course, you will be awarded an Open Water Certification that allows you to rent equipment and dive at any place on Earth.
Learn how to be a confident and skilled diver and manage common problems
Find out how to respectfully approach marine life
Choose between Open Water / Scuba diving certifications
See lots of sea life including coral reefs, sea turtles, and tropical fish
Advanced Open Water Diver Course
This course includes learning specialty skills on dives like wreck dives, night dives, underwater naturalists, peak performance buoyancy, fish identification, deep diving, drift diving, search and recovery, underwater photography, and boat diving. Developing navigation skills underwater, and diving deep (below 60ft) is also included in this package.  
Gain your advanced open-water PADI certification.
Make specialty dives and learn about different diving environments.
Learn how to prepare for deeper dives; below 18m/60f.
Focus on refining navigational and buoyancy skills.
Conclusion on scuba diving in Puerto Rico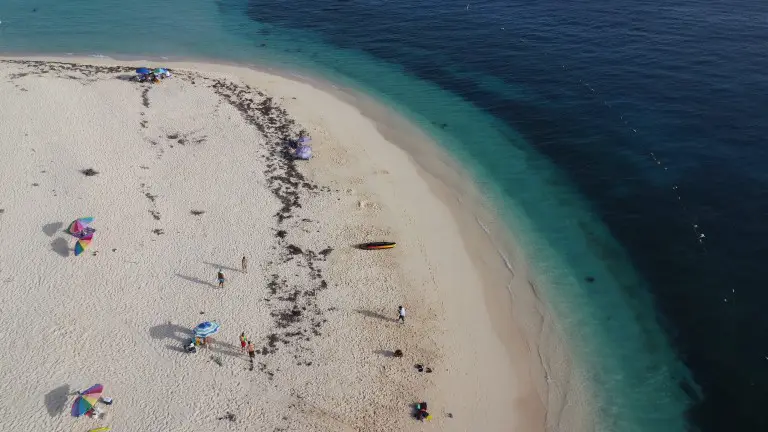 Scuba diving is a thrilling experience in the crystal blue waters of Puerto Rico. It is an island paradise for divers at all skill levels because of its diverse marine ecosystems. Puerto Rico's coral reefs, with their vivid colors and abundant variety of marine life, are among the most beautiful in the world. 
Diving in Puerto Rico is a feeling of being immersed in the new world, from visiting underwater caves and canyons to encounters with marine turtles, reef sharks, or even manatees. The Antillean Manatee is an endangered species so you will be hard-pressed to find many dive sites in the world where you can spot them. Scuba diving in Puerto Rico is a memorable adventure in a stunning aquatic world. Whether you explore the lively reefs, discover the underwater caves, or encounter magnificent sea creatures you are sure to have fun.
Puerto Rico has many dive sites that are suited for kids as well so the little ones can also discover the underwater wonders. Divers of any level can safely experience Puerto Rico's fascinating underwater wonders, with several diving outlets and trained guides at their disposal. Have a wonderful time diving!
Like this post? PIN IT for Later!