DISCLOSURE: I may link to relevant products, companies or helpful info which may be affiliate links, meaning I may earn a small commission. As an Amazon Associate & other affiliates, I earn from qualifying purchases at no extra charge to you. The views & opinions are my own. Please see the disclaimer and privacy policy.
Last Updated on July 6, 2023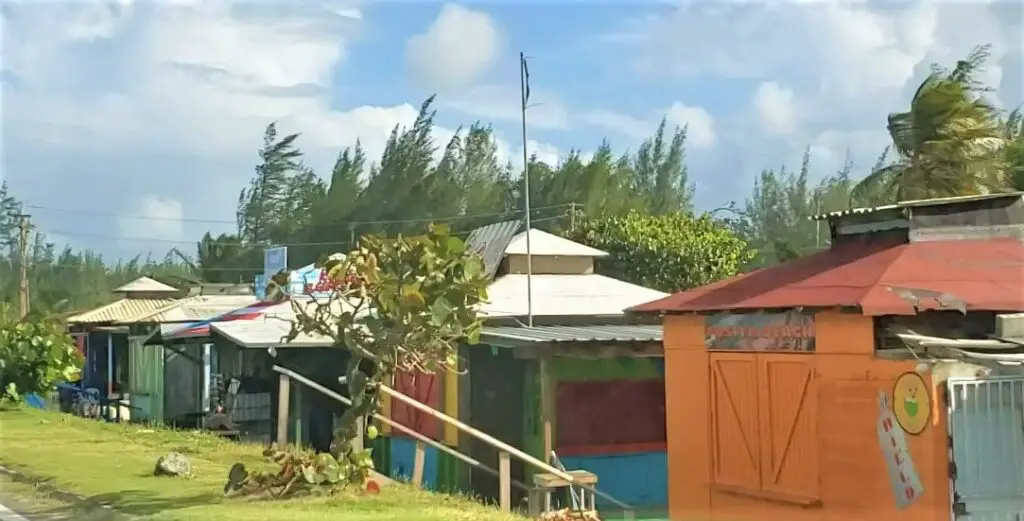 Where to get good Puerto Rican Food!
Everyone knows about the Luquillo Food Kiosks in Puerto Rico as a great place to get street food in Puerto Rico… Did you know that there is another group of Puerto Rico food kiosks that is just as fun and authentic with local food and flavors in Piñones Puerto Rico? 
Try some authentic Puerto Rican Street Food at the Pinones Food Kiosks while you hop from food stand to food stand to try each Puerto Rican specialty! BONUS: It is right across from a beautiful beach!!!
Where is Piñones, Puerto Rico?
Pinones is close to San Juan and a few minutes from Isla Verde.  Pinones is a beautiful area that has no high-rise buildings or traffic lights and is far-removed from the busy tourist area.  It is meant only for relaxing, catching the sea breeze, and….sampling authentic Puerto Rican food since it is also famed for its food kiosks!
Just how far is Piñones from San Juan? It is a scenic forty-minute drive from San Juan.
Directions to Piñones
Take route 26 east to Route 187 east and cross over the bridge over Boca de Cangrejos.  It runs along the Atlantic coast on the north end of the Puerto Rico island.
Get a rental car in Puerto Rico and make it a day trip to enjoy Pinones and some of the best food kiosks Puerto Rico has to offer!
Here is a Pinones map:
---
When to go to Pinones Puerto Rico for authentic Puerto Rico street food.
Weekends are hopping at Pinones and almost all the kiosks are open.  It gets really busy as the locals come out on the weekends, so be prepared for crowded parking and traffic jams on PR 187.  It is only a two-lane road and can often be slow-moving.
PRO TIP: Some of the kiosks that offer Piñones Puerto Rico street food are closed on Monday and Tuesdays. In fact, we visited on a Monday and there was only 1 kiosk open.  That didn't worry us!  We were able to sample each Puerto Rican street food from the one kiosk! That cook made us everything and we were able to sample all the kiosk food!
---
Puerto Rico Street Food at the Kiosks in Pinones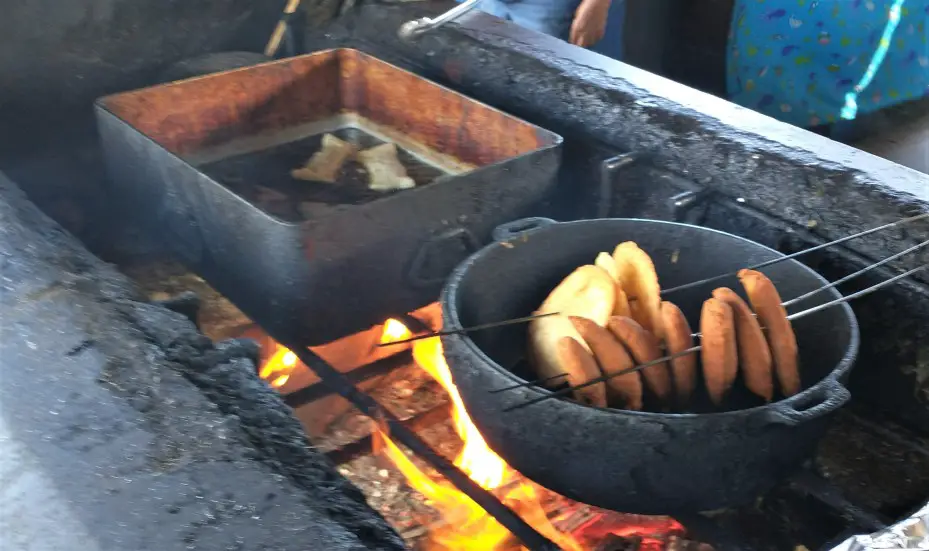 If you are wondering what is Piñones food, I have a great list of kiosk specialties and what the choices might be for street food in Puerto Rico!
Here are some of the authentic Puerto Rican foods that you can find and try at the kiosks in Pinones. They are also available at street vendors throughout Puerto Rico.

There are a lot more traditional Puerto Rican street foods, but these are the ones that we were able to try when we stopped at the kiosks in Pinones!
---
PIONONOS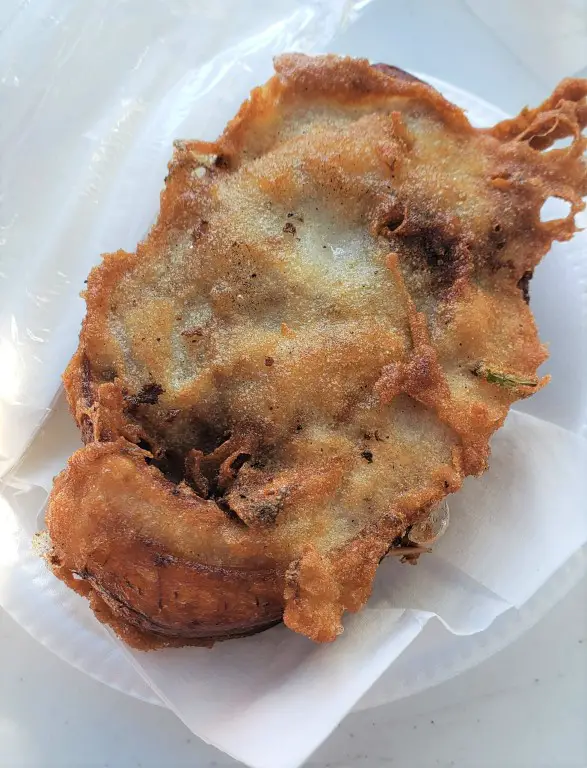 I confused the name of the location with this authentic food, but they are two different words!  Piononos are bite-sized snacks made from plantain slices.  They are fried and often stuffed with ground meat.
---
PASTELLILLOS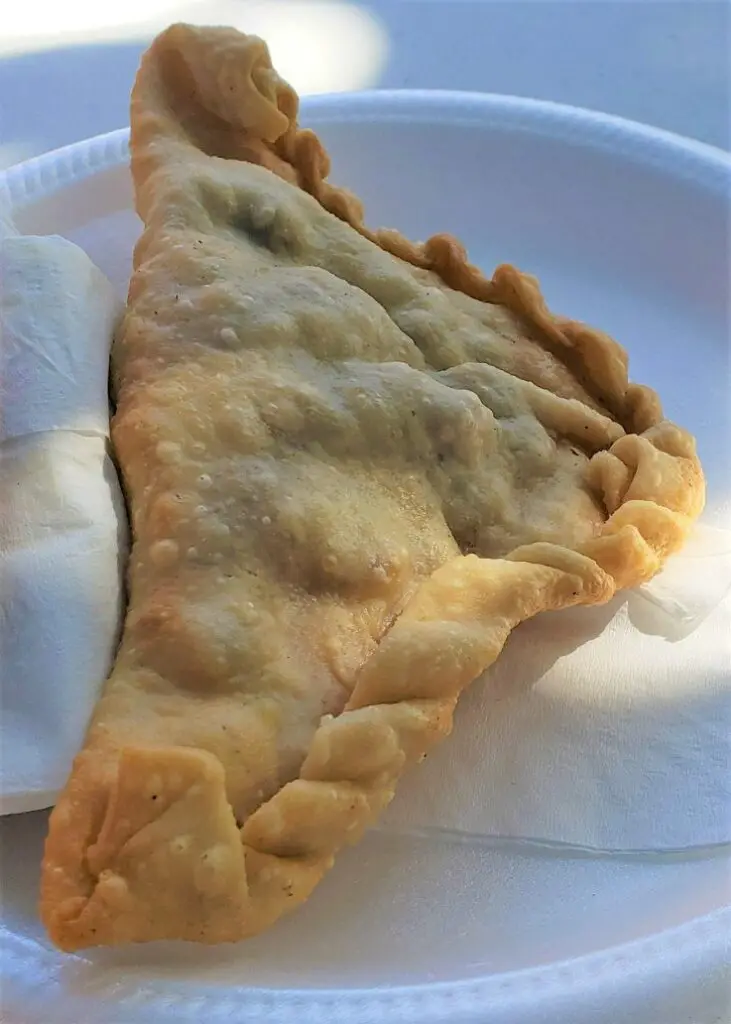 Pastellillos are flavorful turnovers that are deep-fried and filled with chicken, beef, often cheese and tomato sauce, and sometimes potato.  Think of them like a classic Hot Pocket made with a thin dough!
Empanadas versus pastellillos
Puerto Rican pastellillos are generally similar but not the same as their larger Spanish cousins, the empanadas.  In addition to their smaller size, the edges of the pastellillos are crimped, while the edges of the empanadas are rolled with the thicker dough.  You can use the size and shape to judge the difference, but probably won't be judged if you call them by the wrong name!
---
BACALAITOS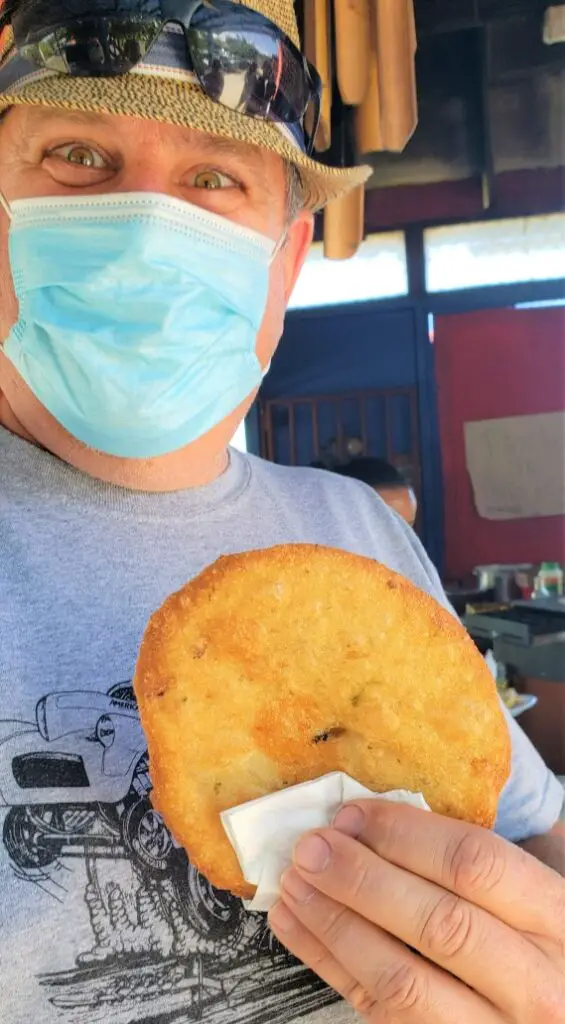 Bacalaitos are cod fritters.  They are a traditional Puerto Rican food served at parties and all throughout Puerto Rico along the roadside like the Pinones food stands.
They are flavorful pancakes that are light and fluffy and full of Puerto Rican heritage.  The key trick of the chef is to soak the cod overnight in water to remove the salty taste in order to result in the delicious bacalaitos taste!
---
ALCAPURRIAS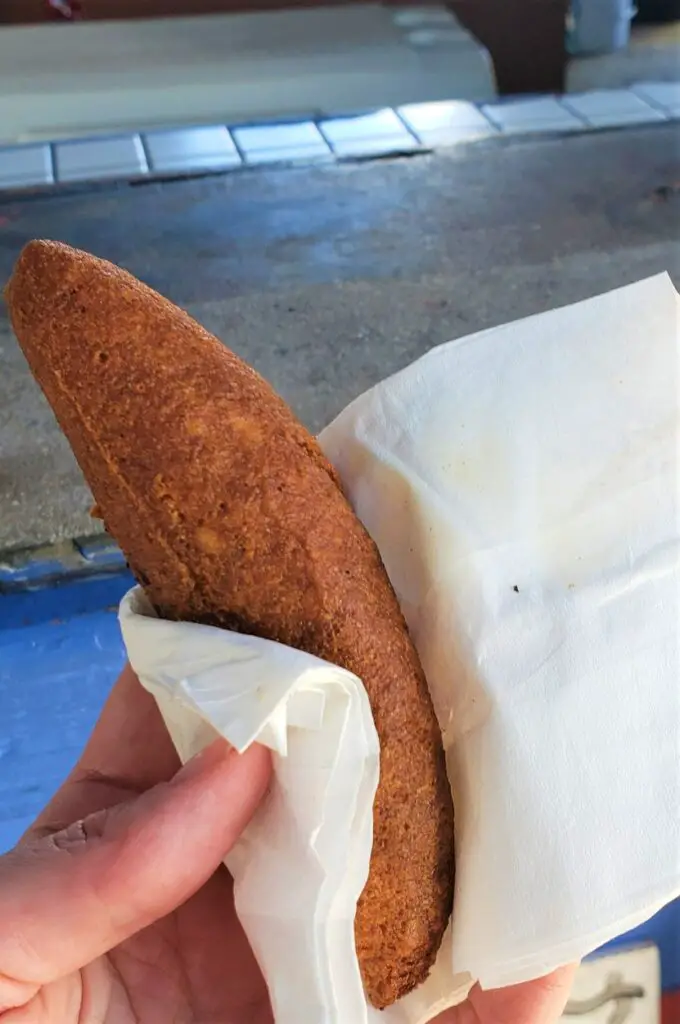 Alcapurrias are stuffed and fried fritters that can be purchased at the beach kiosks in Pinones and any other street vendor in Puerto Rico!
The dough is made of plantains or yuca and it is stuffed with a savory blend of ground meat and tomato sauce.  More variations include adding peas or other vegetables to the filling. They are then formed into long finger-like shapes and deep-fried until they are crispy.  Appropriately shaped for this finger-licking good finger food!
---
AREPAS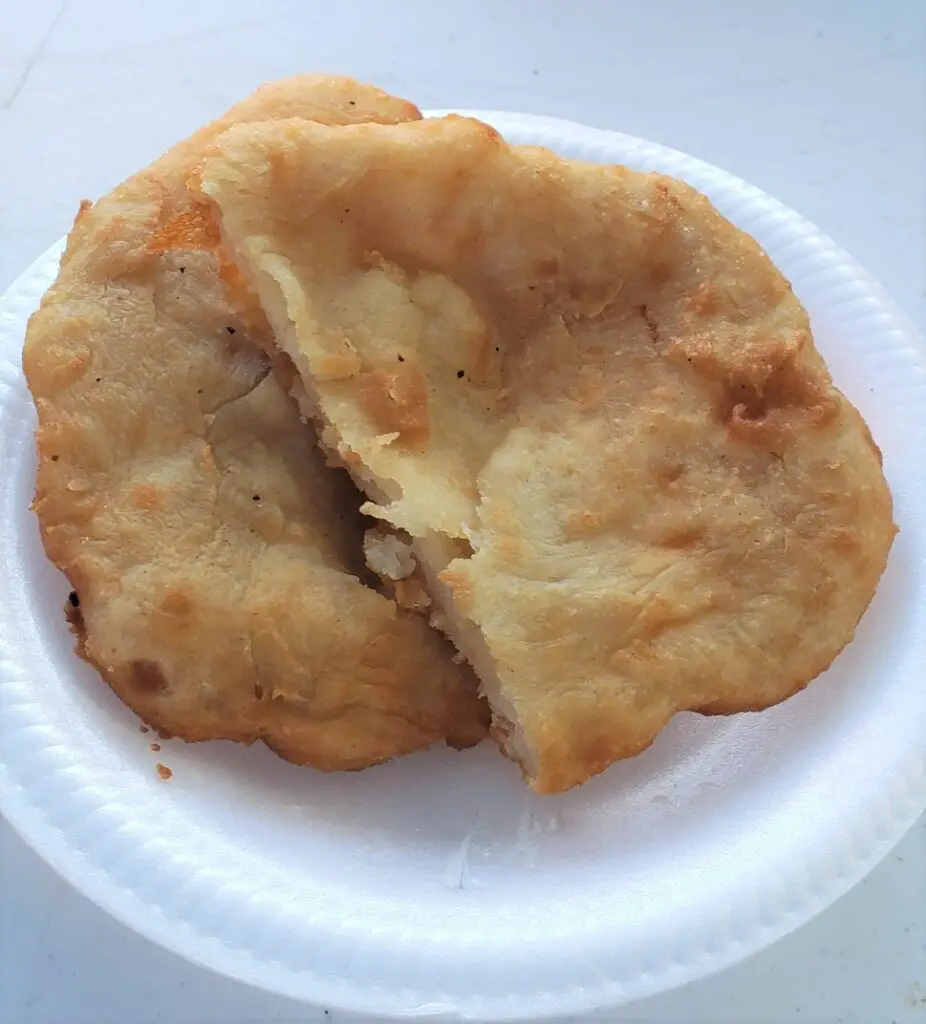 Arepas are a simple refried bread made with wheat flour.  They are occasionally stuffed, but our kiosk had basic, unstuffed arepas.  Definitely still a great snack!
---
COCONUT WATER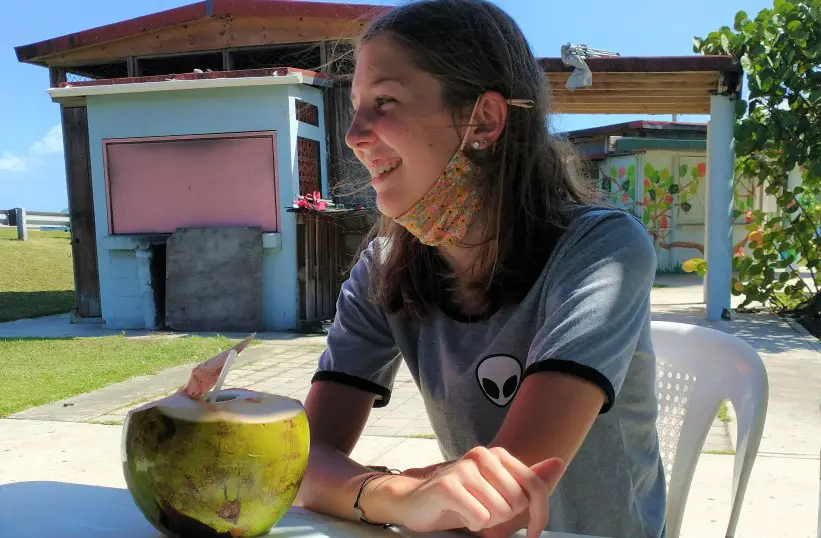 It isn't a trip to the Caribbean if you don't have a tropical coconut with a straw to enjoy its goodness! Take your coconut to the beach and relax on the sand with your refreshing drink! It will go great with all the other pinones street food mentioned here.
---
Need more info & things to do in Puerto Rico?
Getting around Puerto Rico
---
Other Tips for Pinones in Puerto Rico
Nature Trail & Boardwalk in Pinones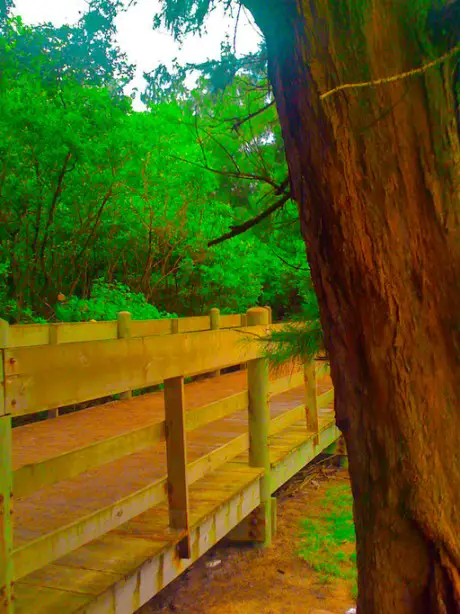 There is a 6-mile boardwalk in Pinones that runs along the ocean and the beach and into the largest mangrove forest in Puerto Rico, separate from El Yunque National Forest.  This flat nature trail is open to hikers and bikers. SIDENOTE: Make sure you leave time in your schedule for some guided tours of El Yunque Rainforest since it is so beautiful. You will definitely enjoy it!!
No bike?  You can rent adult or child-size bikes from CicloNatura in the COPI building that is located just after the bridge at the entrance to Pinones.  The rate is $5 per hour and they are open every day from 9am – 5pm.  Try out a tandem bike with your significant other and enjoy the Pinones State Forest and the Pinones Boardwalk together to enjoy the flora and fauna!
---
Visit the Pinones beaches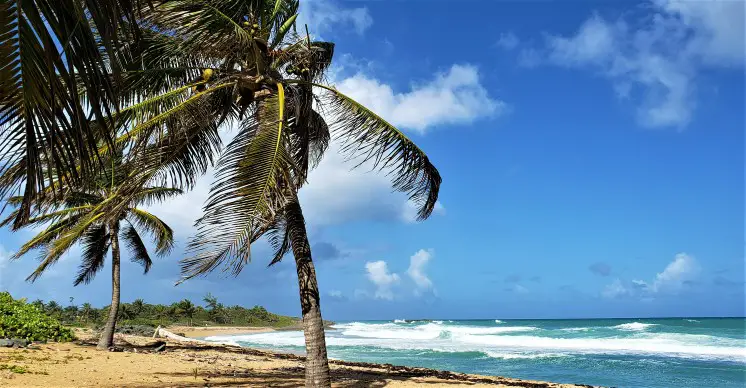 The beaches in Pinones are not touristy like the other beaches in Puerto Rico or Culebra Island.  There are no lifeguards, showers, or parking areas.  Still, they are sandy pieces of paradise that are often uncrowded so that you can enjoy the solitude and ocean breeze all at once while you soak in the Caribbean sun.
They DO have beach chairs to rent and they have a rustic restroom at the food kiosks.
The waves are sometimes quite rough and there are a lot of rocks.  There is a break wall in one area a bit far from the shore that provides a very nice area for swimming if you can brave the rough water to get there.
Free parking is available at the food kiosk area or along the side of the road.
---
Book these other fun activities in Puerto Rico
Pinones in a nutshell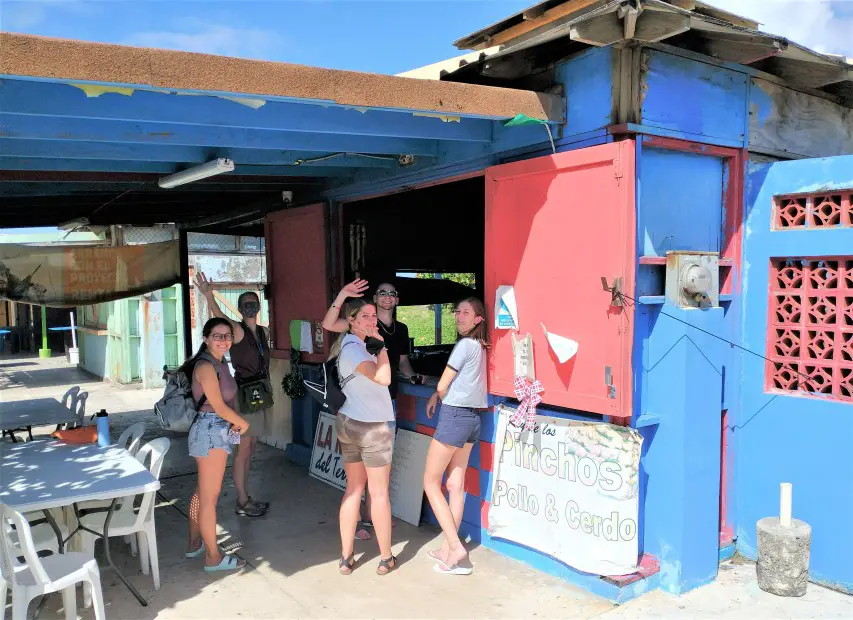 So that is what Pinones Puerto Rico is all about.  You can enjoy tons of local flavors and authentic Puerto Rican food at the Pinones food kiosks like we did and then relax on the other side of the road at its quiet beaches and sandy shores.
---
Like this post? Pin it for later!