DISCLOSURE: I may link to relevant products, companies or helpful info which may be affiliate links, meaning I may earn a small commission. As an Amazon Associate & other affiliates, I earn from qualifying purchases at no extra charge to you. The views & opinions are my own. Please see the disclaimer and privacy policy.
Last Updated on June 22, 2023
30 Fun Activities to do in Denver in Winter – including Holiday activities in Denver!
Cold, crisp air, but fresh, outdoor scenery!  There are so many fun things to do in Denver Colorado in the winter, so make sure you leave plenty of time on your vacation itinerary to spend winter in Denver Colorado!  
You might shudder to think of the cold, but the 30 Denver Colorado winter activities listed in this guide will have you wishing for more.
Don't worry, I have also included some indoor activities so that you can warm up from the chilly Denver winter weather.
To finish off the list of Denver winter attractions, I have included many Denver Holiday activities taking place during this festive season.  They are full of lights and Christmas cheer!  From holiday shopping markets to holiday light displays, the Christmas activities in Denver are high on spirit and fun!
Make sure to include Denver on your Colorado road trip, even in the winter!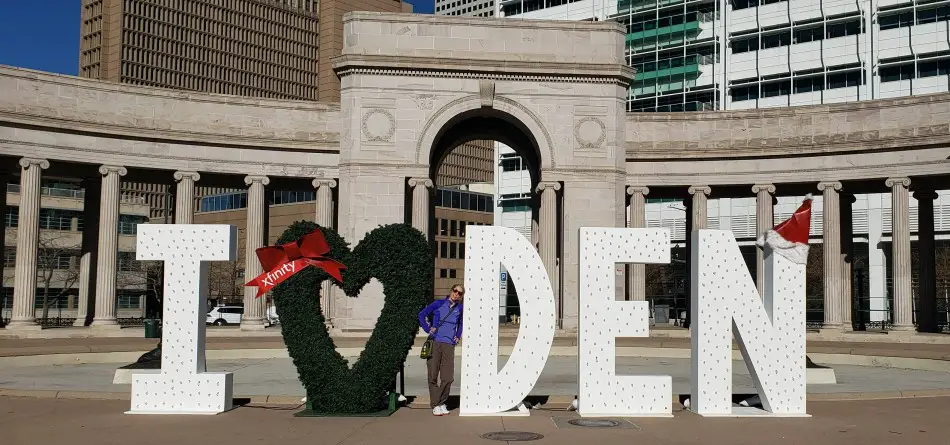 30 Things to do in Denver during winter
What to do in Denver Colorado in Winter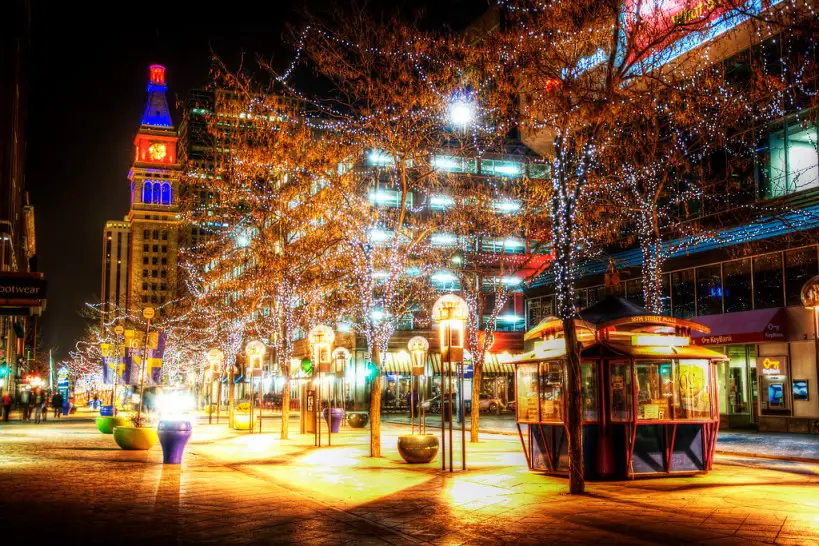 Outdoor Denver Colorado winter activities
Denver is a great city to experience outdoor activities, even during the colder weather.  Winter is a great time to vacation in Denver to see all the sites in the Mile-High City.
There are so many winter activities in Denver Colorado!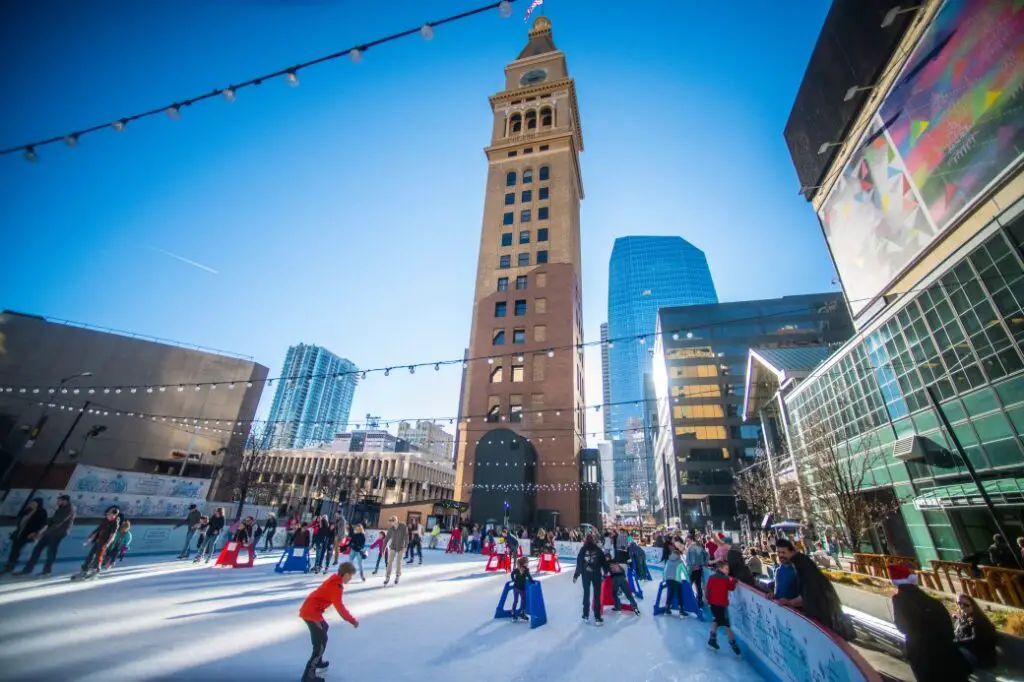 Walk around Downtown Denver Colorado in the winter
Denver is a walkable city and planning a city tour in the winter is a MUST-DO!  Not only will you see the city's main attractions, but you will see them all 'done up' in their holiday decorations!
First up on the tour of winter activities Denver style:
Walk around the RINO art district including all the street art.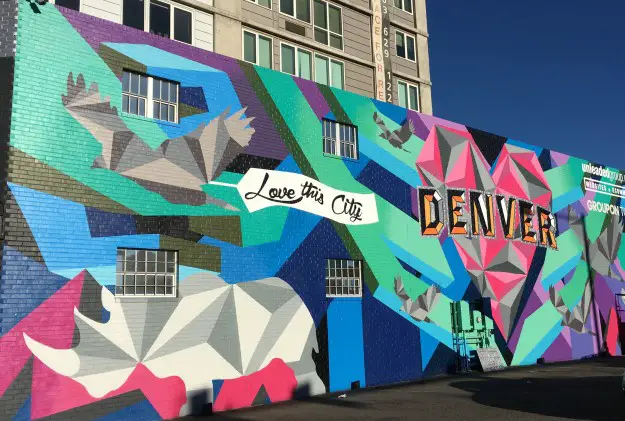 RINO is the River North Art District, a vibrant neighborhood near downtown Denver.  It is the key to the arts and culture scene in the Mile High City and is home to street murals, jazz bars, experimental galleries, rockabilly microbreweries, innovative food halls, and working art studios.
We enjoyed our stroll through RINO on a street art tour in December.  You can go on a mural hunt on your own, or go with a pro and book a tour so that you don't miss any of the good artwork!
If you don't have much time in the city, this post shows how we began our 1-day itinerary in Denver as we went site-seeing in RINO in Denver in December! There is so much street art to see in Denver.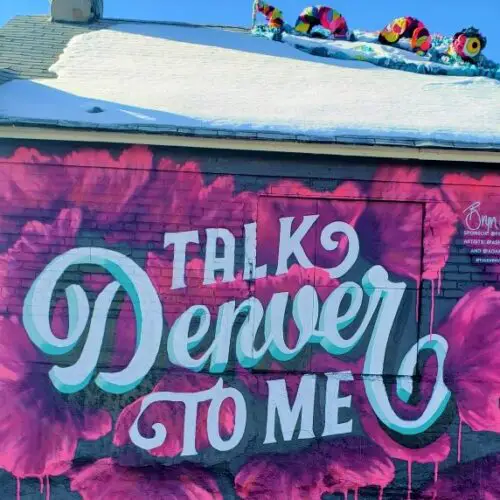 24 Hours in Denver: CHEAP Itinerary for 1 Day in Denver Colorado
One day in Denver is best spent outside walking around downtown. If you are only in Denver for 1 day, there are tons of FREE things to do for 24 hours in Denver. Make the most of the short time in the city and plan ahead with these ULTIMATE TIPS.
Ice Skating in Downtown Denver
Location: 1601Arapahoe St., MAP
Ice skating is a popular winter activity in Denver Colorado.  In fact, there is a FREE ice skating rink right in downtown Denver at Skyline Park.  Skaters can glide across the ice among the downtown sites and buildings.
It is open every day during the winter and offers skate rental for those that don't have their own pair of skates.  Remember to dress warm, since it is outdoors in the Denver winter weather!
Indoor Denver Colorado Winter Activities
Denver Art Museum
Location: 13th Avenue Between Broadway and Bannock Streets, Denver, CO 80204 – MAP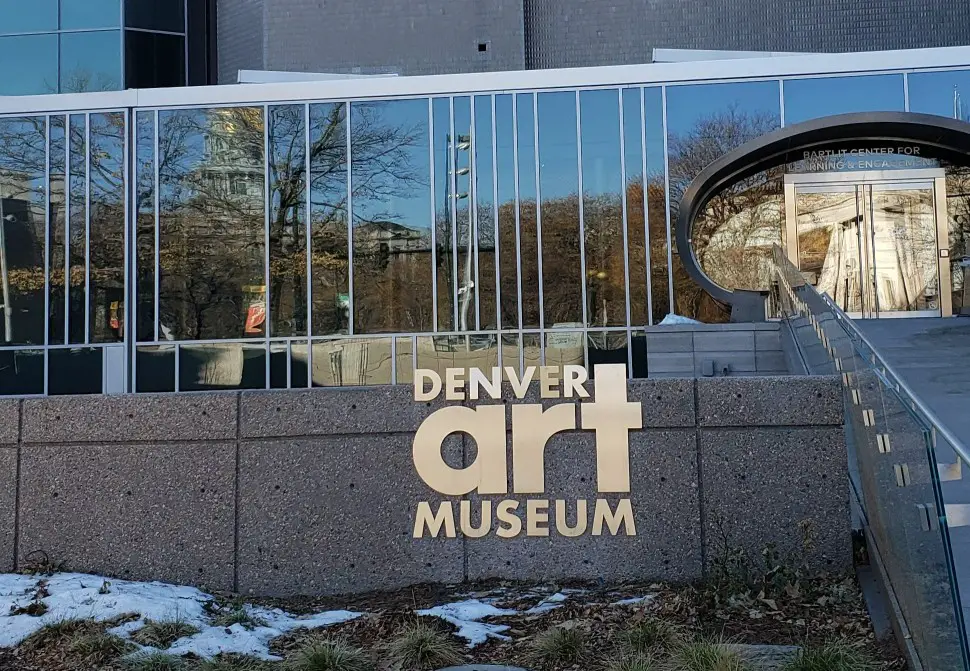 The Denver Art Museum building, located in the Civic Center area of downtown Denver, is a work of art itself.   After admiring the outside architecture, head inside for a Denver winter activity where you will find that there are almost 70,000 works of art from around the world and throughout history.  It is one of the largest art museums in the western half of the country and is particularly known for its collection of American Indian art.
They have a rotating schedule of special exhibits at the Denver Art Museum. When we visited the Denver Art Museum in the winter, the traveling exhibit was a phenomenal Light Show featuring artwork of all sorts of lamps, lights, and different perspectives of illumination.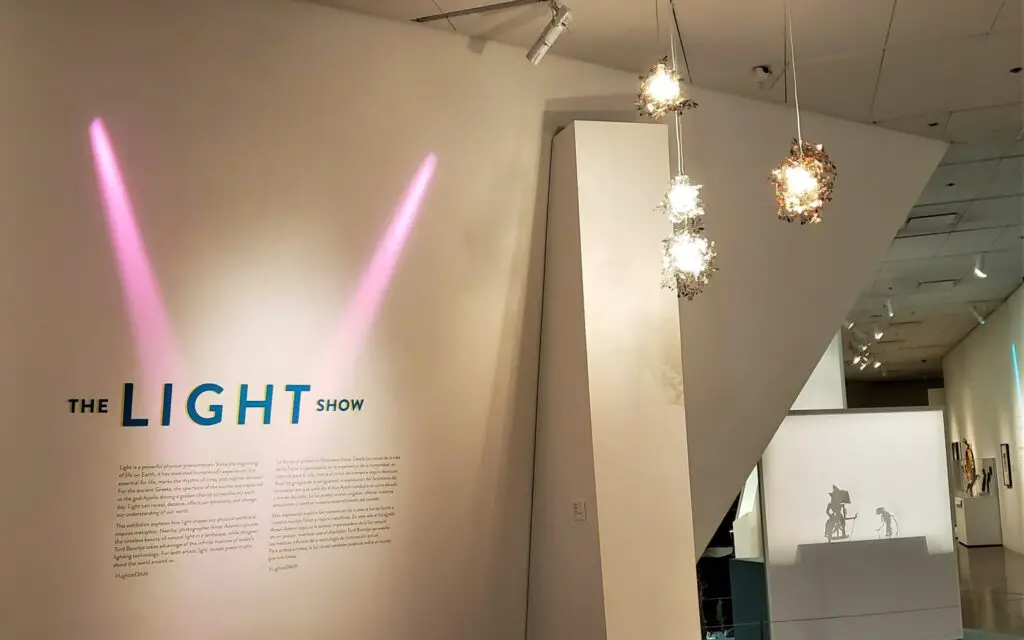 Location: 1340 Pennsylvania Street in Denver, Colorado – MAP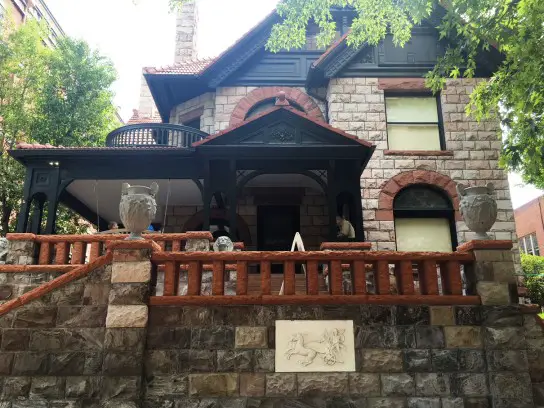 The Molly Brown House is located near the Denver Art Museum.  Molly Brown was a human rights activist who achieved success at the discovery of gold in her husband's mine in 1893.  After surviving through the sinking of the Titanic in 1912, she was dubbed the Unsinkable Molly Brown.
Her newfound fame helped her further promote the issues of women's rights, literacy for children, and many other issues that she fought hard for.
The Molly Brown House Museum, located at her former home, preserves the history of her life and Denver at the time.  It is a Denver landmark and is on the National Register of Historic Places. 
---
Try these other fun activities in Denver
Denver Library
Location: 10 W. Fourteenth Ave. Pkwy. Denver, Colorado MAP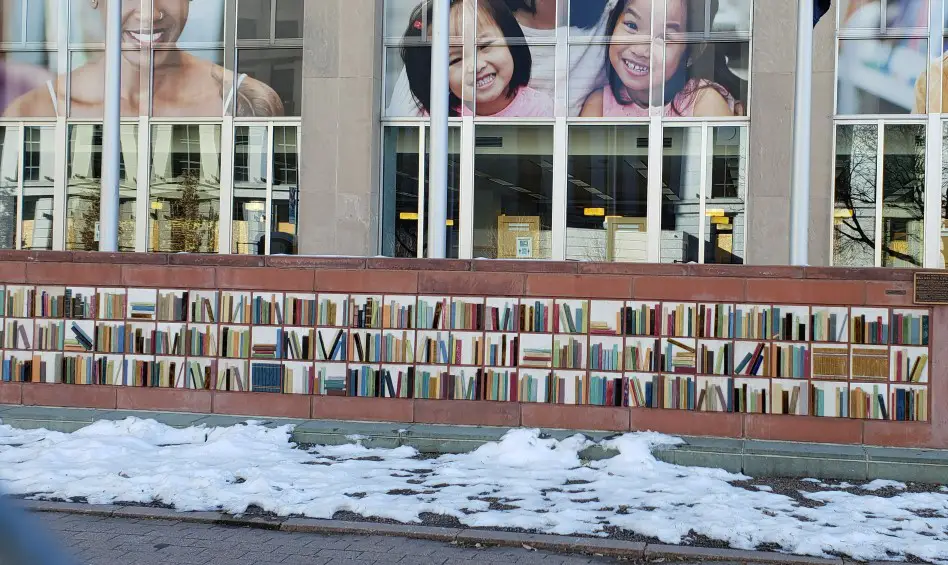 For some reason, I always like to stop in at city libraries.  There is a calm relaxing atmosphere in the libraries and this one is no exception!
US Mint
Location: 320 W. Colfax Avenue, Denver, Colorado 80204 – MAP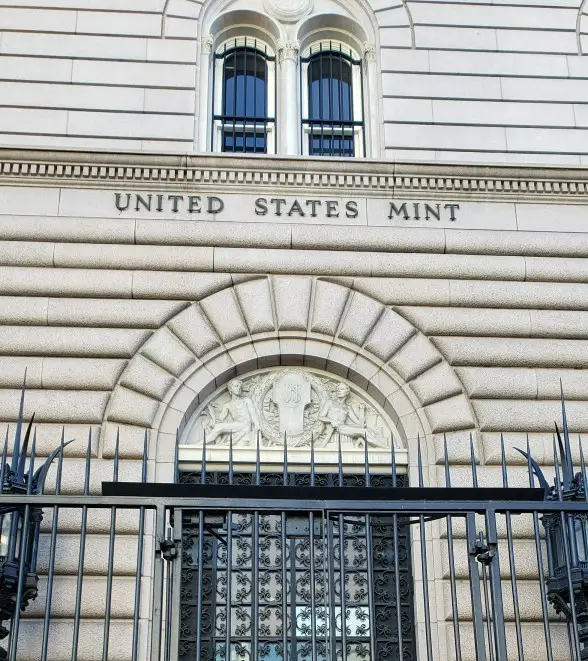 The Denver Mint offers free tours year-round. Since it is an inside activity, a money-making tour of the US Mint is a great thing to do in Denver during winter! 
The tour tickets are pre-sold on a very limited basis.  You can preregister for tickets online. Tours are available Monday – Thursday, excluding federal holidays at 8 a.m., 9:30 a.m., 12:30 p.m., and 2 p.m.
The tour includes a history of the US Mint as well as an introduction to how coins are produced.  If you are lucky, you will get to see the actual production of the currency being made.
All participants receive an uncirculated penny or penny blank!
The Denver Mint building itself is one of the most historic buildings in Colorado and is listed on the national historic register.  It is modeled after a Renaissance Palace located in Florence, Italy. So, while you are learning how to make money, don't forget to appreciate the beautiful money-making building!
Colorado State Capitol
Location: 200 E Colfax Ave, Denver, CO 80203 –  MAP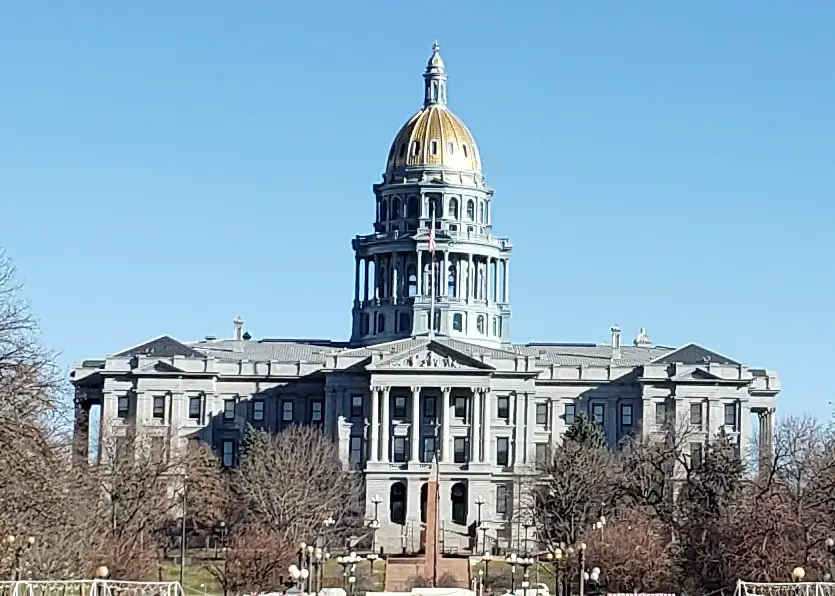 The Colorado State Capitol is in Denver.  It is a grand structure that was built in 1894 and modeled after the US Capitol Building.
This is a great stop on your Denver winter itinerary to warm up on a tour through the historic statehouse which includes a visit to the golden dome observation area. The free 1-hour tours are offered on most weekdays during select hours between 10 am and 2 pm.
Capitol tours are limited to 20 people on a first come, first served basis.  All tours begin at the Visitor Information Desk, north side, first floor. 
However, there are 99 steps to climb to the observation dome with no elevator available.  They do offer an on-site video tour for visitors that cannot make the climb.
Union Station
Location: 1701 Wynkoop Street –  MAP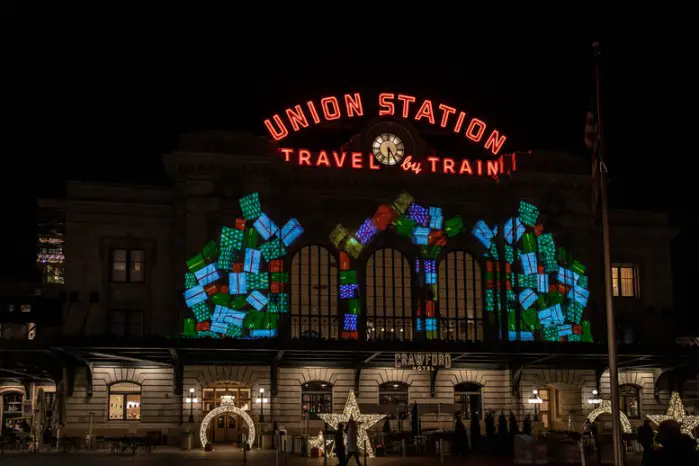 Grab a warm coffee at Union Station, populated with many shops and eateries. 
This huge historic building is located downtown and is Denver's transportation hub.  Trains, buses, and the free 16th street shuttle all stop here, making it a great place for an intermission from your wintertime tour of Denver before setting off on your next destination. 
It is beautifully decorated inside and out during the holiday season.  It had a twinkling archway at the entrance and a huge Christmas tree in the Grand Hall when we made our stop at Union Station.
Tattered Cover Bookstore
Location: 2526 E Colfax Ave, Denver, CO 80206   MAP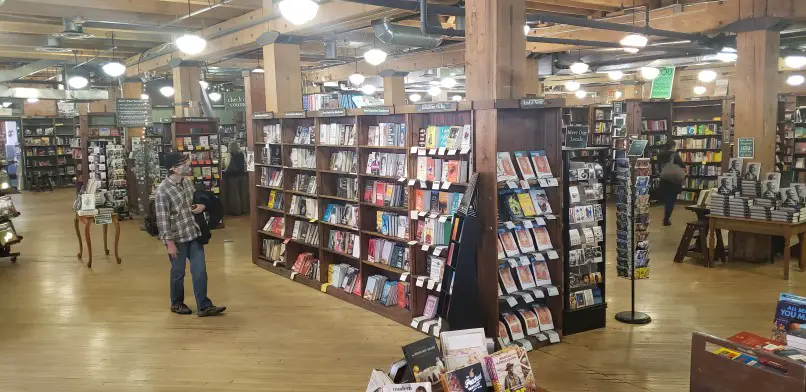 During our 24 hours in Denver in December, we visited the Tattered Cover Bookstore to warm up.  My daughter looked for new releases as she browsed through the aisles of the independent bookstore.  I found a comfy couch to relax in and perhaps my eyes shut for a few winks. 
Tattered Cover Bookstore is the largest independent bookstore in Colorado!
The location in Union Station is tiny and they have since closed the huge store that we went to across from Union Station.  However, they still have 8 locations throughout and around Denver that would be great to stop during a winter trip to Denver.  Check out their enormous collection of books and choose one for your trip home!
Denver Scavenger Hunt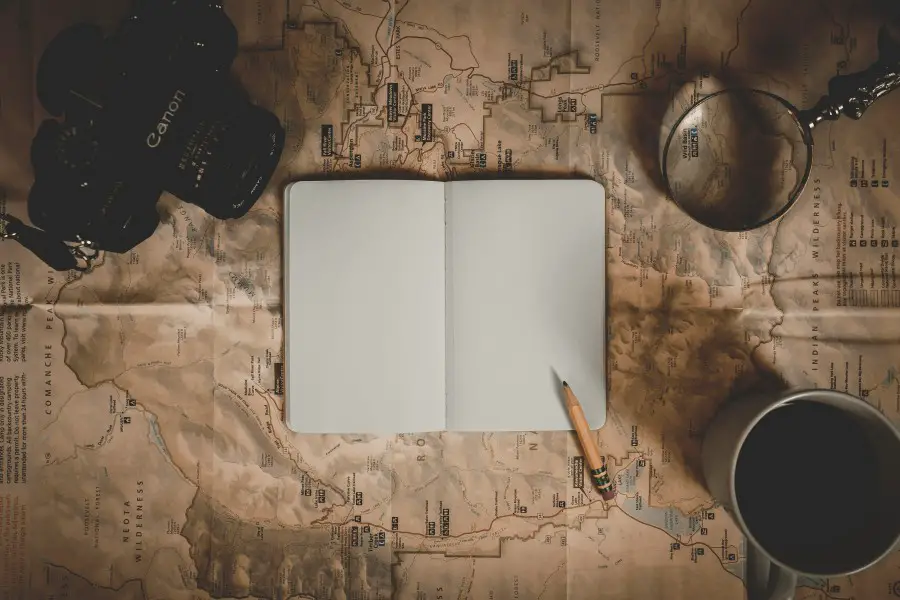 This cool activity in downtown Denver will take you all around LODO and is a great way to introduce yourself to the city.  Why not a friendly scavenger hunt of the popular Denver sites with friends?!
Play with family and friends, or discover Denver on a Scavenger Hunt on your own.
Winter things to do in Denver during the Christmas Holidays
Denver comes alive with Christmas lights in December.  There are many places to see holiday lights in Denver.  These festive decorations are spread all throughout the city for your enjoyment! 
If you are wondering where to see Christmas lights in Denver, here are just a few places that you should definitely include on your Denver winter itinerary if you are visiting Denver during the holidays.
Holiday Spirit at the 16th Street Mall
Location: 16th Street Mall – MAP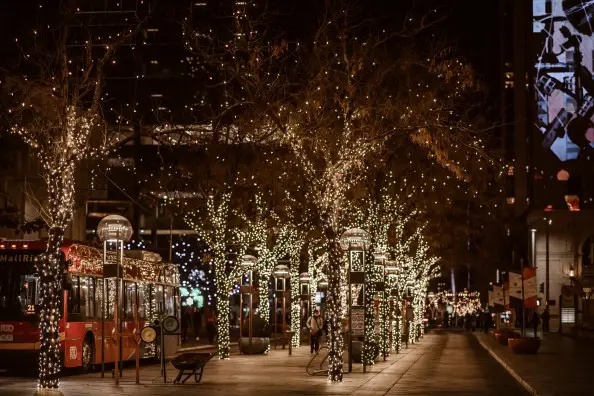 The 16th Street Mall is a mile-long outdoor shipping complex with retail shops, cafes, and bars.  It is centrally located in downtown Denver and easily navigated due to the free electric shuttle that runs up and down the pedestrian street all day.
During the holidays it is festively decorated with lights and street performers and should definitely be on your list of things to do in Denver Colorado during December.  The highlight of the display is the Mile High Tree.  It is not really a mile-high, but still super tall at 110 feet featuring a light and music show. 
After wandering around the 16th Street Mall for a while, we eventually found the Mile High tree at the intersection of 16th street mall and Welton during our winter trip to Denver.
The Mile High Tree is on Display: Nov. 18–Dec. 31, 2022.
Another holiday delight is the images projected on the Arapahoe side of the Daniels & Fisher Tower.  The rotating images are designed by local artists and enhance the holiday atmosphere of the 16th street mall!
Iconic Christmas Lights at Larimer Square
Location: Larimer Square – MAP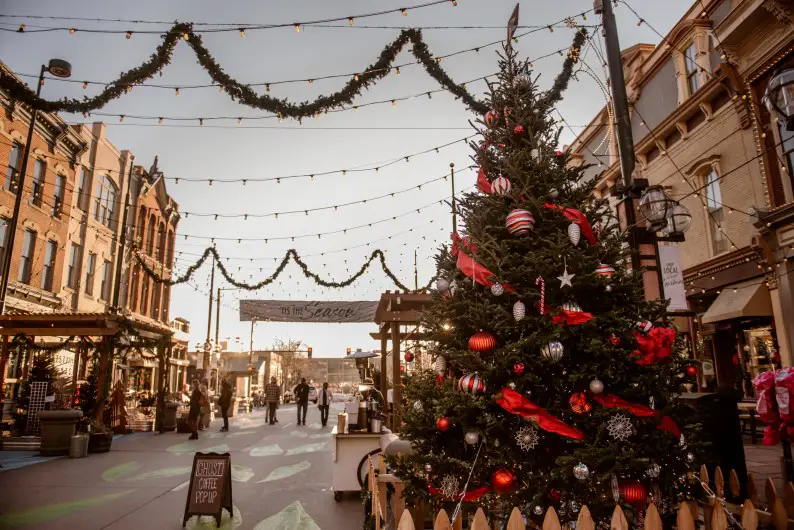 Larimer Square has been declared one of the best social hang-outs in Denver and is the city's oldest commercial area.  The block-long street is lined with cafes, restaurants, comedy clubs, boutiques, and wine bars.  It is an exceptional ambiance in any season, but even more so in winter when the holiday lights enhance the holiday shopping experience.
The Larimer Square Holiday Market is open before the holidays to get all your shopping done in one stop for everything from gourmet kitchen treats to whimsical art-inspired gifts to handmade jewelry and much more for everyone on your shopping list.
Stop in at a pop-up heated bar with live entertainment and holiday-themed cocktails to make your evening complete!
Denver Parade of Lights
Location: Throughout downtown Denver and the 16th Street Mall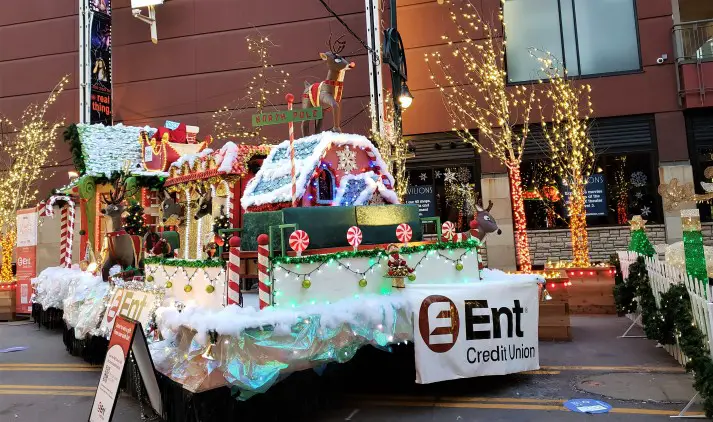 This popular holiday Denver festival is full of colorful lit-up floats and enormous balloons, entertainment groups, vibrant holiday costumes, and of course, the big jolly man himself.  This is a great way to see Christmas lights in Denver.
The parade is usually 2 miles long, however, when we were there during the pandemic, the floats were placed throughout downtown and along the 16th street mall.  We were able to walk up to them for festive photo opportunities.
See the live parade on December 3rd, 2022 at 6:00pm and check out the floats displayed along the 16th Stree Mall throughout the month of December.​
Christkindlmarket
Location: 101 W 14th Ave, Denver, CO 80204 – MAP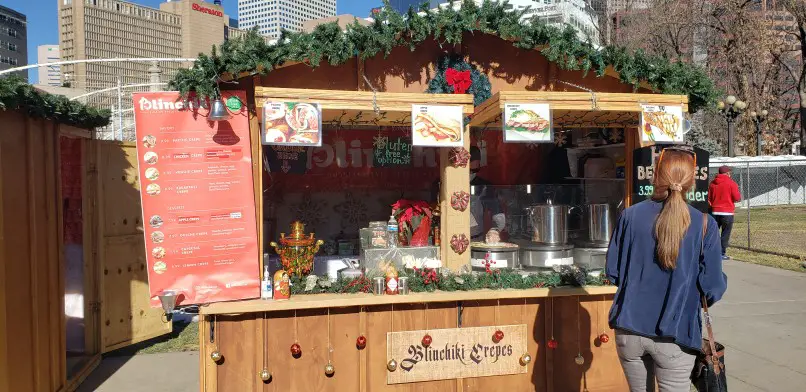 The Christkindl Market in Denver is the closest that I ever got to a European Christmas Market!  It is a great place to do some Christmas shopping for authentic German and European treasures sold by local Colorado merchants and international vendors.   –or shop for treats for yourself!   For myself, I bought a German ceramic house.
There are also many food vendors with everything from Bavarian pretzels, Goulash, and many other food items as well as European holiday drinks like authentic Glühwein, Bavarian-style Biers, European coffee, or hot chocolate.
The Greek Theater stage hosts local bands and dancers performing both traditional and modern takes on German Polka songs, blue grass, and more!
It is open from November 18th until December 23rd, 2022, and has recently been moved to Civic Center Park. Mark this down if you are vacationing in Denver at Christmas season.
Lights on the City and County Building
Location: 101 W Colfax Ave, Denver, CO 80202 – MAP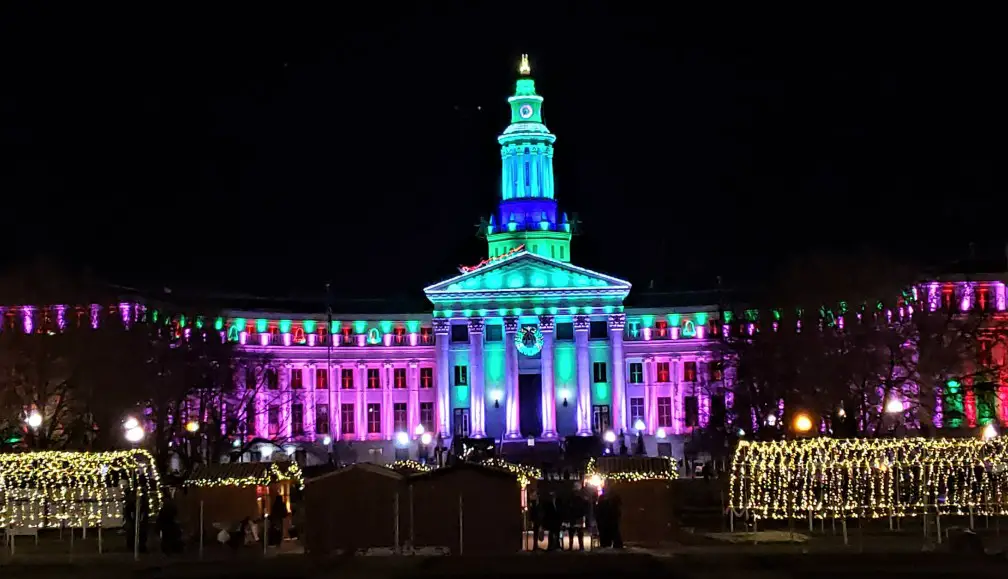 The City & County Building is known for its extravagant holiday lighting display in Denver.  The lights are on display in the evening with a light show most nights throughout the holiday season.
Each night, at 5:45 p.m. and 6:45 p.m., an interactive holiday show will occur for about 8 minutes. The light and music shows will not play on Mondays because of City Council meetings, but the static light display will still shine.
Places near Denver for Holiday Festivities & Lights
Location: 100 Fillmore St, Denver, CO 80206 – MAP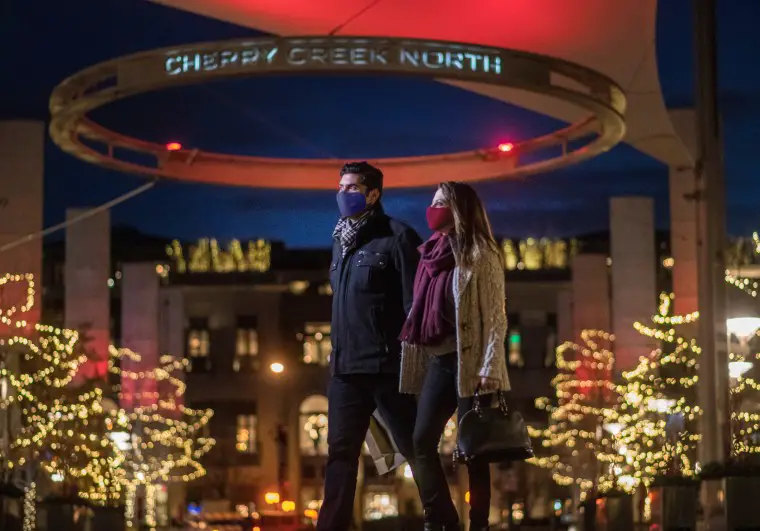 During the joyous holiday season, the Cherry Creek Shopping Center presents a one-stop-shopping experience called the Cherry Creek Holiday Market.  During this festive outdoor event, there are local retails and designers all offering unique gifts in order to make Cherry Creek your one-stop holiday shopping experience.
There are also plenty of holiday backdrops for fun selfies, live music from local groups, themed cocktails, and a festive atmosphere.
Location: 300 Steele St, Denver, CO 80205 – MAP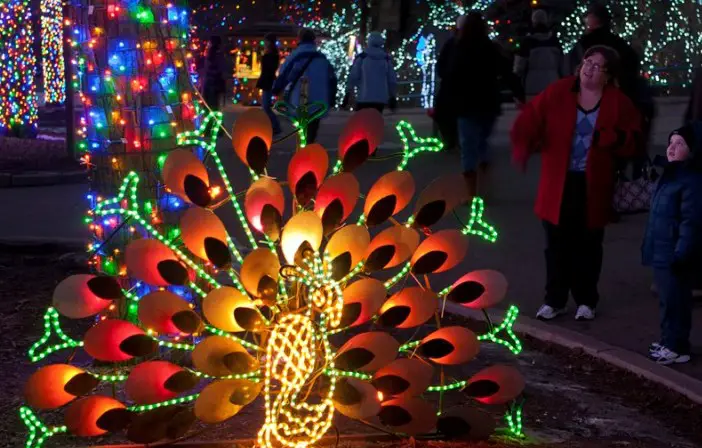 The month-long celebration at the zoo features 2 million LED lights over 80 acres, making it a huge holiday display like no other.  The zoo has the wildest holiday gathering that comes alive with its twinkling lights when the sun goes down, so plan to spend the evening wandering through the winter wonderland at the zoo.
Location: 1007 York St., Denver, CO 80206 – MAP
The family-friendly holiday tradition at the Denver Botanic Gardens is an escape from the Denver winter as you wander through the tropical conservatory with orchids, palm trees, and South American flowers.  OR be amazed at the chilly winter wonderland in the outdoor gardens with frozen leaves and icicles adorning the trees.
There are amazing light displays with sound-activated, animated LED lights.  Take a trip around the world looking at nature's masterpieces decorated with festive lights while you sip warm drinks and stroll through the gardens.
Location: Mile High Station 2027 W. Colfax Ave., Denver, CO 80204 – MAP
If you visit Denver in January, make sure to enjoy some craft brews at the Winter Brewfest which is held a few weeks after Christmas in Denver.  This year it will be held on January 22, 2022.  Colorado is home to Coors, Blue Moon, and many other microbreweries and nano breweries.
Lots of free samples and seasonal brews make this a very popular winter attraction in Denver!  Along with all the craft beer from local and national breweries, you can also enjoy food trucks and live music.
Since this event is held after the holidays, you can include it on your list of things to do in Denver Colorado in January!
NEARBY Denver Winter activities
There are a lot of things to do near Denver Colorado in the winter.  After you are done touring the city, take a drive outside of town to explore the other areas that are also great Denver winter destinations and winter day trips from Denver.
Hiking at Red Rock Amphitheater
Location: 18300 W. Alameda Parkway Morrison, CO  80465 – MAP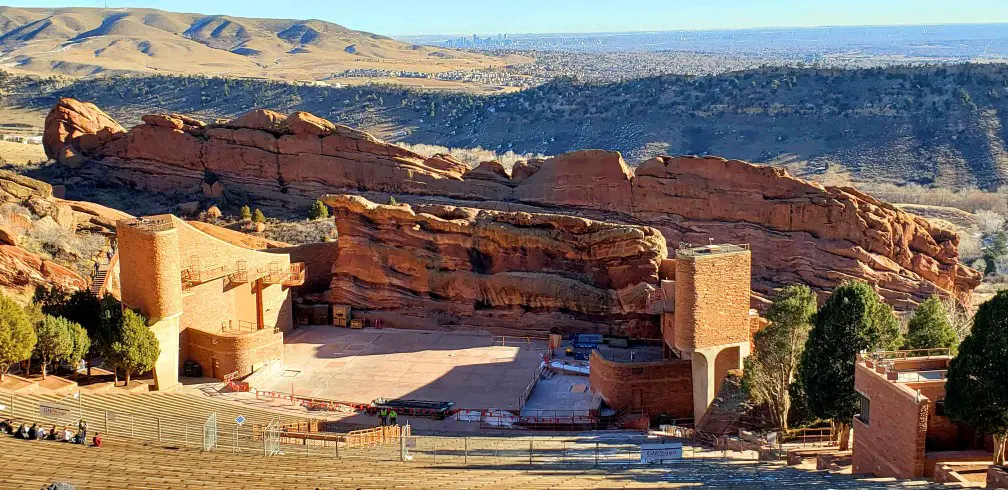 Hiking along the trails at Red Rocks Amphitheater is a must-do activity and should be on your list of things to do in Denver in winter.  The Amphitheater is an amazing place to visit, even in the winter, to see the mammoth-size rocks surrounding the theater and the view of the city of Denver in the distance.
The trails below the stadium are some of the great winter hikes near Denver since they circle through the red rocks and will allow you to get views of those huge boulders from all angles. 
Add Red Rocks Amphitheater to your Denver Winter Itinerary List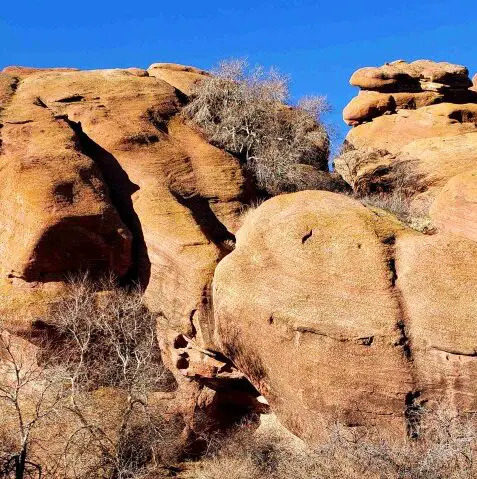 Hiking at Red Rocks Colorado near Red Rocks Amphitheater
The trails are plentiful, making hiking at Red Rocks Park an excellent choice for your outdoor Denver itinerary and adventure in Colorado. It has a panoramic view of Denver, spectacular red rock formations, and hiking near Red Rocks Amphitheatre.
Location: 18300 W. Alameda Parkway Morrison, CO  80465 – MAP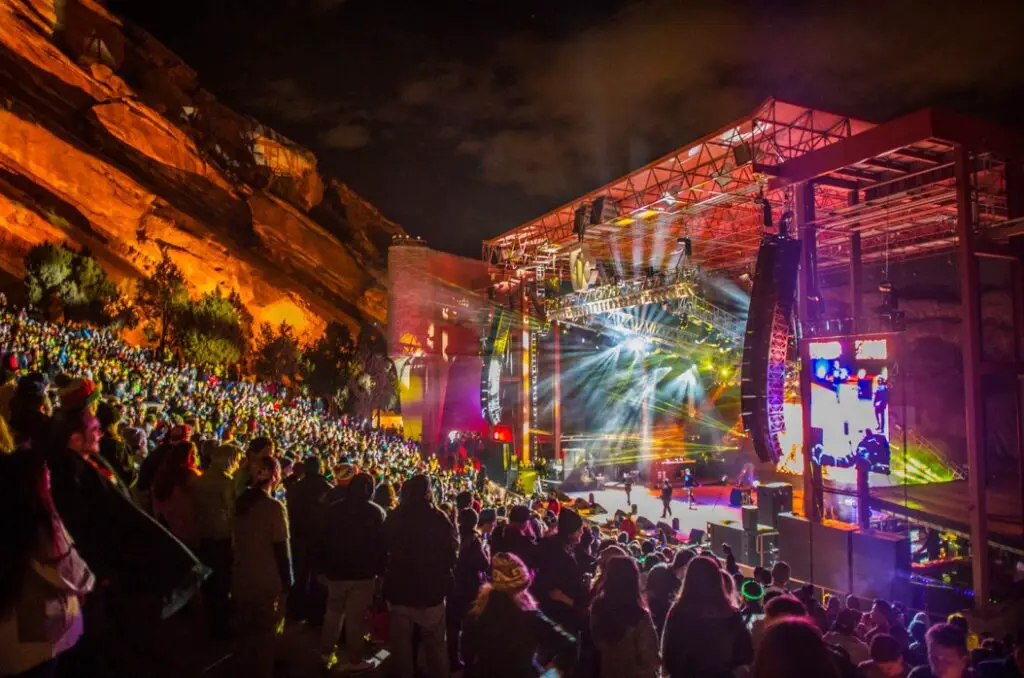 Red Rocks Amphitheater is usually closed for events in the winter months, but there is one special music festival that is held in the winter featuring hip-hop and electronica artists from across the country.
During this community event, everyone is on their feet and dancing to the music, so the cold Denver air makes no difference.  Make sure to wear a warm winter coat though since an active snowfall just adds to the glamour of the event and it has been known to go down to below-freezing temperatures!
Location: Dillon Town Park, 120 Buffalo Street, Dillon, CO 80435  – MAP
Ice artists create the Dillon Ice Castle's LED sculptures, small carved ice tunnels, ice slides, frozen thrones, fountains, endless ice towers, and all things ICE!  The Dillon Ice Castles are one of the best places to visit in Denver Colorado in winter because it seems like a fairy-tale city!
Visitors are able to walk through the 25 million pounds of sculpted ice.  The twinkling lights embedded into the ice make a night visit even more special when the castle ground starts to glow in different colors in the darkness.
Rocky Mountain National Park
Location: Estes Park, Colorado  – MAP
If you are going to Denver Colorado in the winter, you should also add a stop to Rocky Mountain National Park. It is nearly 415 square miles of federal land encompassing mountains, alpine lakes, 300 miles of hiking trails, wildlife, wildflowers, and wooded forests.  It is beautiful in all seasons, including winter!, Make sure to include this national treasure of a park in your Denver winter itinerary.
Whether you are interested in a short hike or a longer adventure, make sure to plan some time at Rocky Mountain National Park.
Pikes Peak
Location: Colorado Springs, Colorado  – MAP
Driving Pikes Peak can be done in any season, including winter!  From the summit, you can view the snowcapped mountains surrounding you from your peak at 14,000 above sea level.  Pikes Peak is one of the few mountains that you can drive all the way to the summit.  The rangers do a very good job at keeping the roads clear and safe. 
Make sure to take note of my tips for driving Pikes Peak: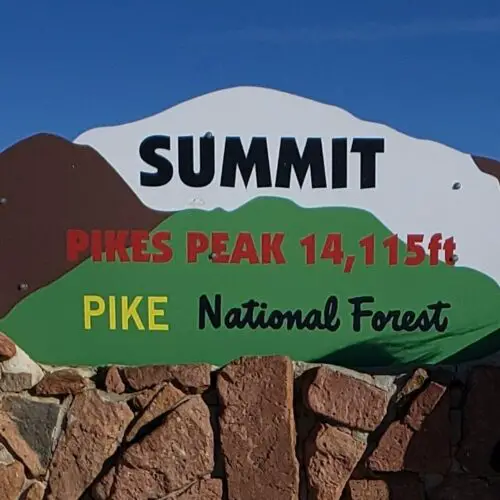 DRIVING PIKES PEAK: Tips for reaching the summit
Enjoy Colorado beauty as you drive up Pikes Peak to view snowcapped mountains. Driving Pikes Peak should be on your bucket list so use these Pikes Peak tips! This is one of the only mountains where you can enjoy driving up to Pikes Peak summit making it easily accessible for everyone.
Garden of the Gods
Location: Colorado Springs, Colorado  – MAP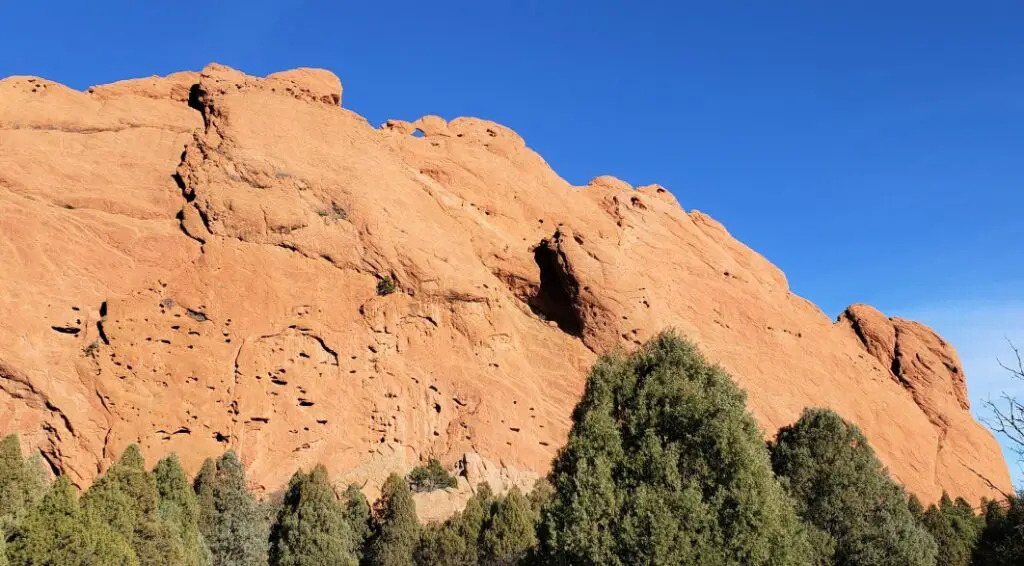 After you are done enjoying the fresh brisk air on America's Mountain, plan another outdoor stop at the Garden of the Gods, also in Colorado Springs.  This is a National Natural Landmark and is filled with deep red rocks and pink sandstone rock formations to climb around and photograph. 
There are 15 miles of Garden of the Gods hiking trails for families and active vacationers to enjoy, or for the more adventurous, rock climbing is a very popular activity. 
Being able to see the red rocks with a sprinkling of snow makes a day trip to the Garden of the Gods one of the great things to do in Denver during winter.
Location: 29612 Upper Bear Creek Road, Evergreen, CO 80439  – MAP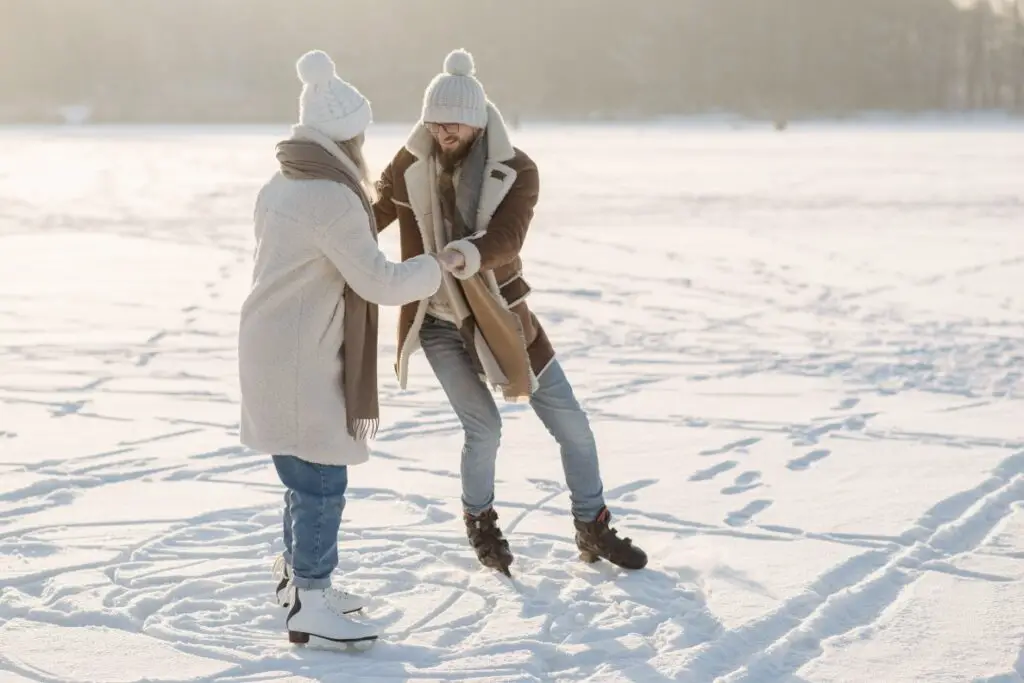 At over 8 acres, Everygreen Lake is the largest maintained outdoor ice rink in North America.  It is a part of Dedisse Park which is owned by the city and county of Denver, located about 30 miles southwest of the city and makes the list for outdoor things to do in Denver during the winter.
With alternating hours depending on the day of the week, there are options for day and night skating from December until March depending on the weather.  Skate rental is available.  Parking is limited, but there is a shuttle from the nearby Wulf Rec Center.
There are even organized hockey and broomball leagues.  If you have come to Evergreen Lake with a group of friends you can rent your own broomball equipment, a fun winter activity close to Denver!
Ice fishing is another one of the popular things to do in Denver in the winter when the 40-acre lake freezes over.  Trout is a popular catch.
Location: 29612 Upper Bear Creek Road, Evergreen, CO 80439  – MAP
Don't miss out on this holiday celebration at Evergreen Lake held in the month of December.  It is a nice holiday activity near Denver filled with giant ice sculptures depicting classic Christmas stories throughout the park.  As the sun sets, the sculptures become illuminated with colorful holiday lights.
This is one of the best Christmas things to do in Denver Colorado so make sure to include this holiday activity on your list of what to do in Denver in December!
Location: 3051 S Rooney Rd, Morrison, CO 80465  – MAP
If you would rather view colorful holiday lights from the warmth of your car during the chillier months during the winter in Denver, visit the Christmas in Color displays. With all of its beautiful decorations, it is one of the best places to visit in Denver in winter because you also get to stay out of the cold weather!
This winter activity is located at Bandimere Speedway in Morrison, which is just west and a quick drive from the city of Denver.
The drive-thru holiday event showcases snowmen, giant candy canes, and millions of twinkling lights, all synchronized to festive holiday music.
Location: 9650 N. Sheridan Blvd, Westminster CO 80031  – MAP
During the holiday season, the three mini-golf courses at Adventure Golf Raceway are transformed into spectacular festive displays with 100,000 interactive lights.
This is one of the best things to do in Denver Colorado in winter because not only can you enjoy the holiday-themed immersive light displays, but you can also enjoy a mini-golf game under the twinkling lights!
They also have holiday-themed food and of course, HOT COCOA to warm you up!  There is some spiked hot cocoa for the adults that need the added kick.
Where to eat in Denver Colorado in winter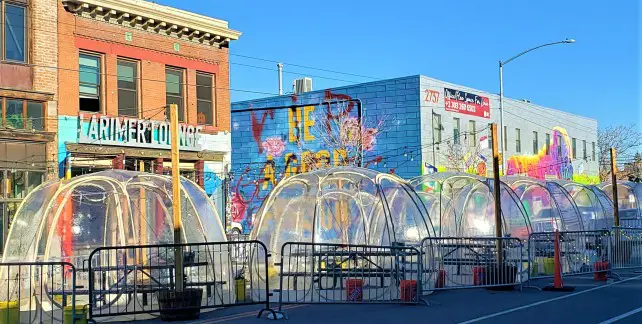 Make sure you try out the dining in the outdoor domes when you eat out during your trip to Denver in the winter.  They are really cool and allow you to experience the outdoor Denver weather while you dine in the warmth of your own bubble!
Winter Weather in Denver Colorado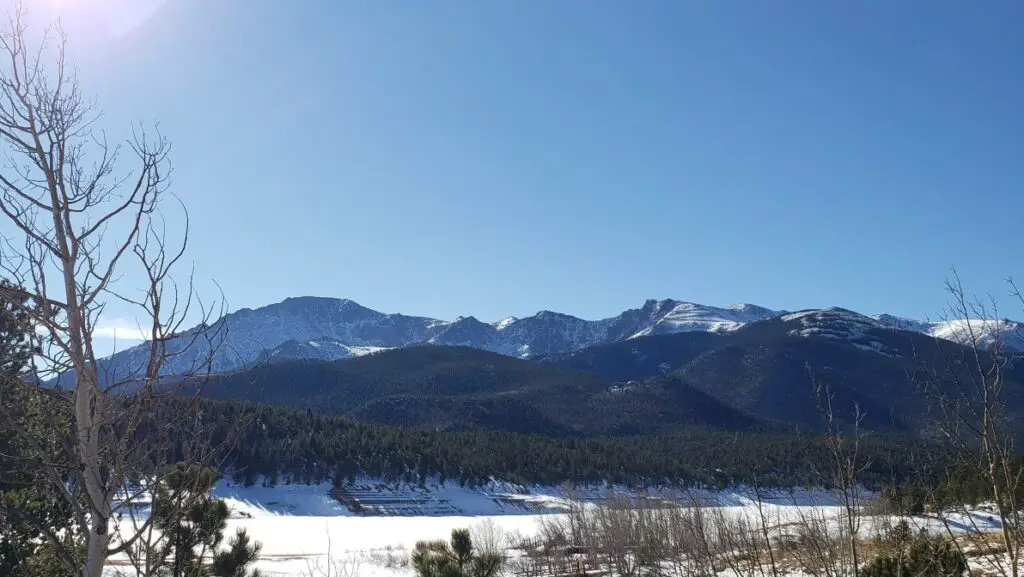 The Denver Colorado winter weather variable.  During our trip to Denver in December, it was warm enough on one day to wear shorts and a top –although we didn't bring any!  Other times the Denver winter weather is chilly and snowy so that you will definitely need a winter coat and mittens!
Plan for a wide range of Denver Colorado winter temperatures!!
Where to stay in Denver Colorado
If you are wondering where to stay on your winter trip to Denver, you MUST try out this new boutique hotel with theming on each floor! 
Wouldn't it be a real treat to stay in the Jimmy Buffet Suite at the Curtis Hotel in Denver?!?!  Or the Games Floor with PAC MAN throughout the hallways???  Don't even THINK of what could be lurking on the HORROR Floor –appropriately located on FLOOR 13!!
Take a look at what this hotel has to offer for their theming and their super cool lobby and then make your reservations today for a fun Denver Colorado winter vacation!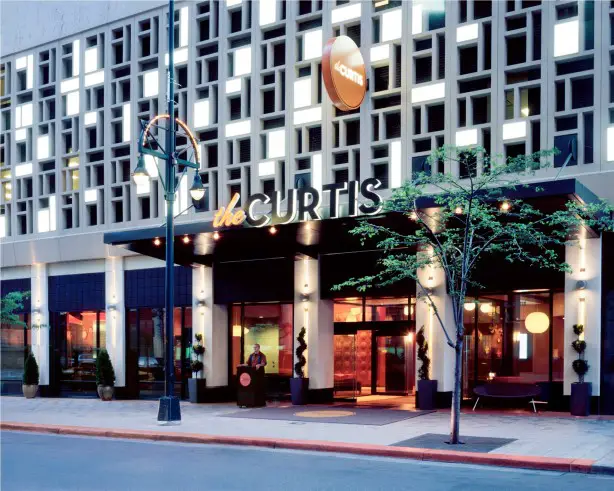 Best Boutique Hotel in Denver: Curtis Hotel review
The Curtis is the best boutique hotel in Denver near downtown. It has that quaint feeling with added unique artwork and theming to enjoy throughout the hotel.
---
Not in the mood to stay in a place with so much fun and excitement on each floor? 
Try one of these more classic hotels.
How many things to do in winter in Denver??
So as you can see, you can keep quite busy if you take a trip to Denver Colorado in the winter. There are many holiday events to choose from with festive lights and shopping galore. You will not run out of choices of things to do for Denver Colorado winter activities!
BOOK A TOUR! Choose from this great selection of tours in Denver in the winter:
Like This Post? PIN IT for Later!