DISCLOSURE: I may link to relevant products, companies or helpful info which may be affiliate links, meaning I may earn a small commission. As an Amazon Associate & other affiliates, I earn from qualifying purchases at no extra charge to you. The views & opinions are my own. Please see the disclaimer and privacy policy.
Last Updated on January 21, 2022
Peru – Food to try before you leave!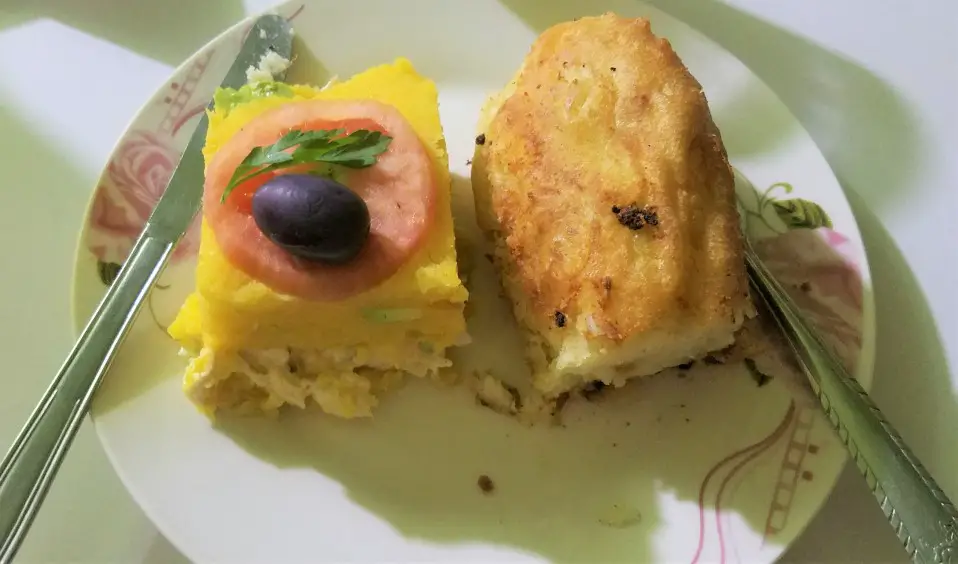 Peru is a gastronomy paradise and one of the world's leading culinary destinations. This South American country has so many dishes and street foods on the list of Must-try Food of Peru that you will surely gain a few pounds during your visit. Prices are often reasonable so that you can try some samples of popular Peruvian food for meals and snacks. The traditional Peruvian food is served in restaurants throughout the country for the enjoyment of travelers looking to experience foods from Peru that exhibit aspects of the country's culture and culinary creativity.
List of the Best Peruvian Dishes and street food
---
Sample Peru Traditional Food on these tours from Cusco!
Must-Try Food of Peru
While on our 2-week vacation in Peru, we did a great job of sampling some of the traditional foods of Peru and discovering what to eat in Peru. We were welcomed into a Peruvian home for an authentic food cooking class and later in the week, we became a part of a rural Peruvian community that showed us how authentic chicha was made in their homes.
We dined in small local restaurants in Ollantaytambo as well as popular fine dining restaurants in Cusco. In this way, we had quite a large sampling of the delicious Peruvian food and became acquainted with the typical food in Peru.
Sadly, because we only had one day in Lima Peru, we had little time to enjoy the culinary delights in the food capital of South America and one of the top gastronomic capitals of the world.  Lima plays host to Mistura, the most important food fair in Latin America.  In the city, you can find top restaurants and street vendors with unique cuisine and traditional Peruvian dishes.
---
Main Peruvian Dishes
Ceviche: national dish of Peru
Ceviche has become the national dish of Peru and is extremely popular.  Everyone interested in trying authentic Peruvian food should definitely try some local ceviche. Traditional ceviche is raw fish marinated in citrus, chili, and onions.  This dish is served at any Peruvian restaurant in the country.
---
Lomo Saltado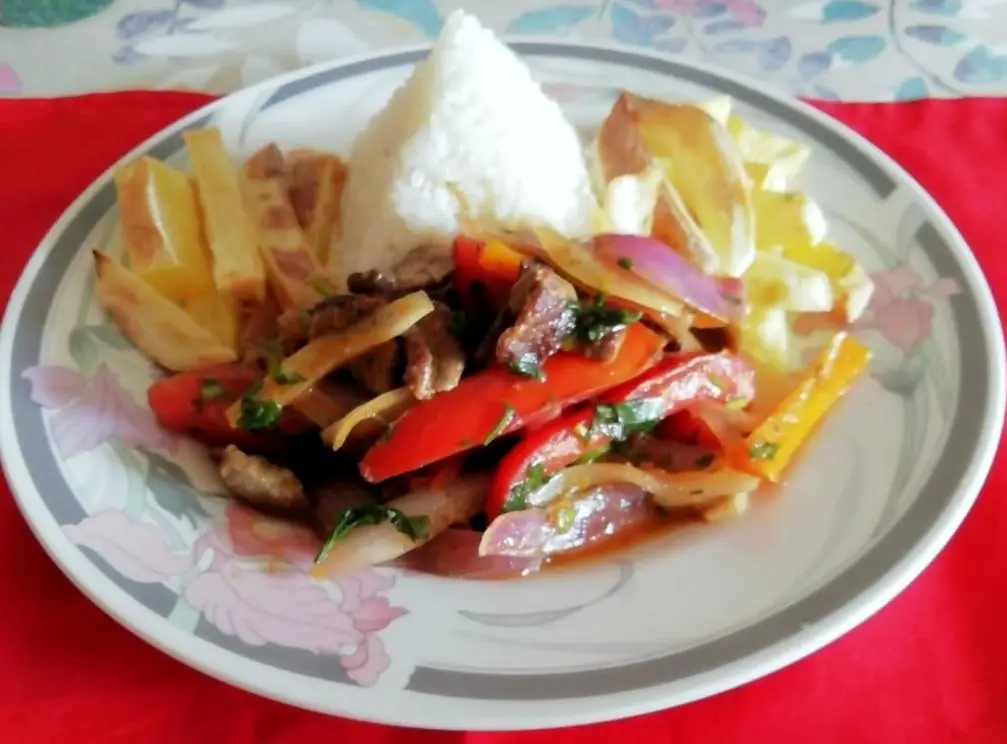 Many Peruvian foods have an Asian influence due to a very high Asian immigration in the 19th century.  Lomo saltado is a Chinese stirfry of marinated beef (or alpaca meat) and vegetables, mixed with rice and served with thick fries.
Although it does has an Asian flair to it, it is still considered on the list of the authentic must-try food of Peru. Make sure to order a dish of lomo saltado at a local Peruvian restaurant.
---
Cuy: Peruvian guinea pig dish
Considered a delicacy by Peruvians, guinea pig is consumed on special occasions.  In rural areas, they are skewered and sold on the streets, however, in the fancy restaurants, they are incorporated into fancy dishes.
---
Coca
Yes, coca can be processed into cocaine, but the coca leaves are quite harmless.  They have been used by Peruvians for years to combat the effects of high altitude.  Drink it boiled in a tea, or chew the leaves like gum. Just make sure to consume all your coca in Peru because it is illegal to bring it back to the US and there are many drug-sniffing dogs checking out the travelers' bags in customs.
---
Quinoa: nutritious food from Peru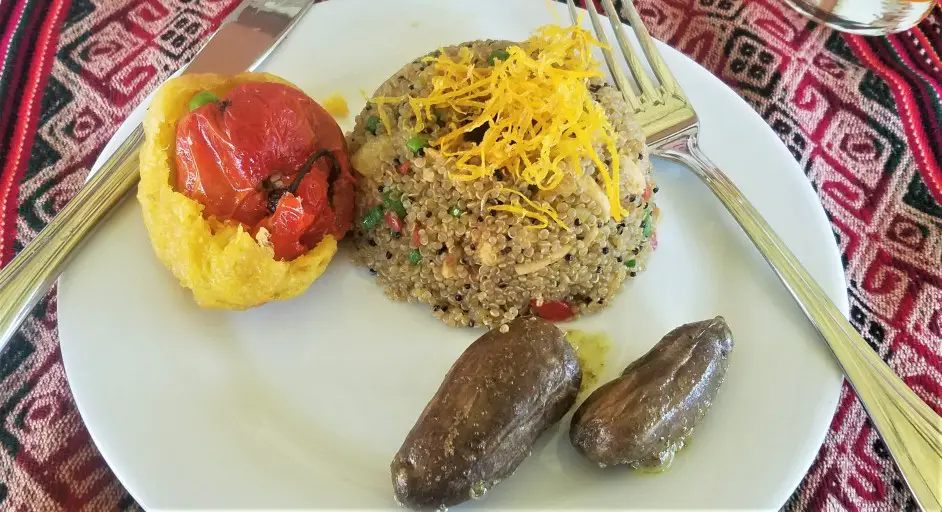 Quinoa is a nutritious grain filled with protein, vitamins, and minerals.  It is a common breakfast food of Peruvians and you will often see many vendors wandering through the streets in the mornings pedaling breakfast quinoa with fresh fruit.
We had our first taste of quinoa at Parwa Restaurant on our way to Ollantaytambo. It was a smooth rice dish that was full of rich flavors. I highly recommend a stop at the buffet from this community restaurant for anyone traveling through the Sacred Valley.
---
Sanguche de chicharron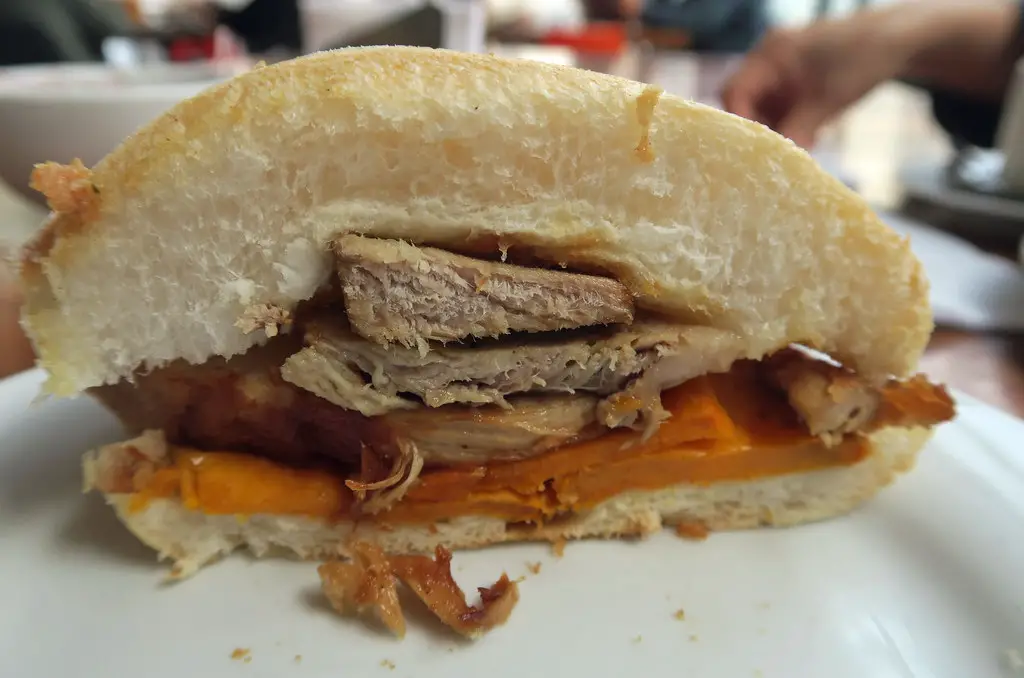 An unhealthy sandwich choice, but still yummy, the sanguche de cicharron is a warm bread filled with pork and sausage that has been fried in pork fat. The popular Peruvian street food resembles a hamburger but uses shredded pork belly instead. There is usually a side of onion rings, olives, tomatoes, and cucumbers.
---
Anticucho: popular street food in Peru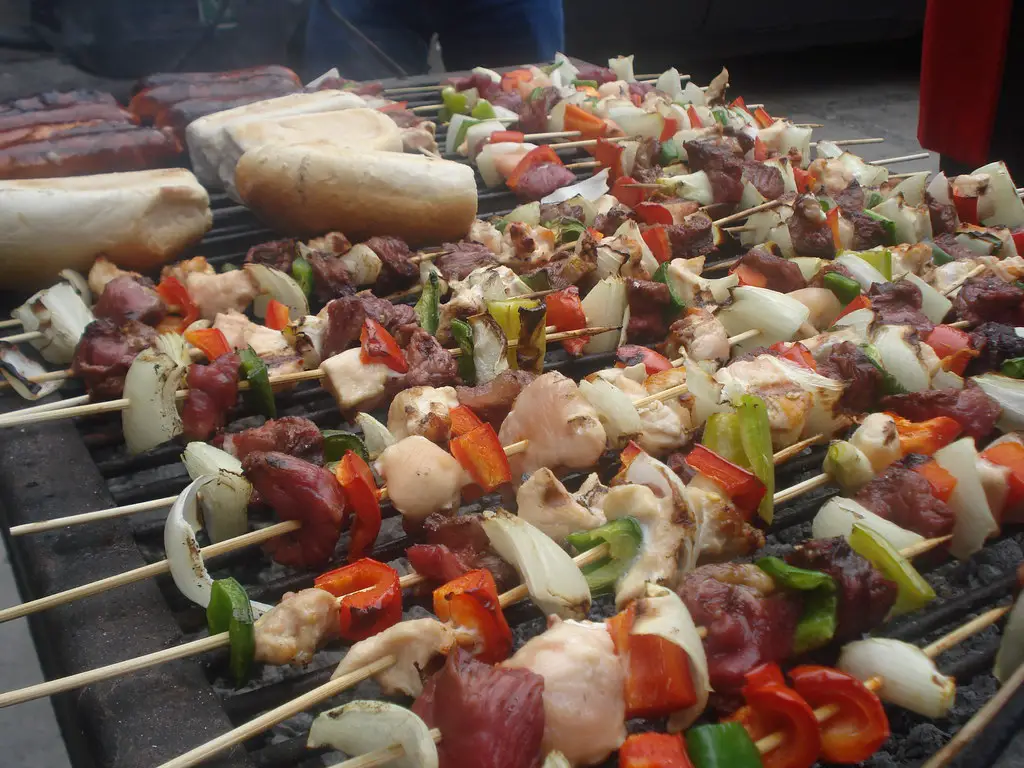 This casual Peruvian snack is grilled beef heart on a skewer like little shish kebabs and is definitely on the list of top 10 foods in Peru.  The organs are alternated with slices of potato – of course, it's Peru, the potato capital – and onion, drizzled with citrus.
---
Alpaca Meat: traditional Peruvian food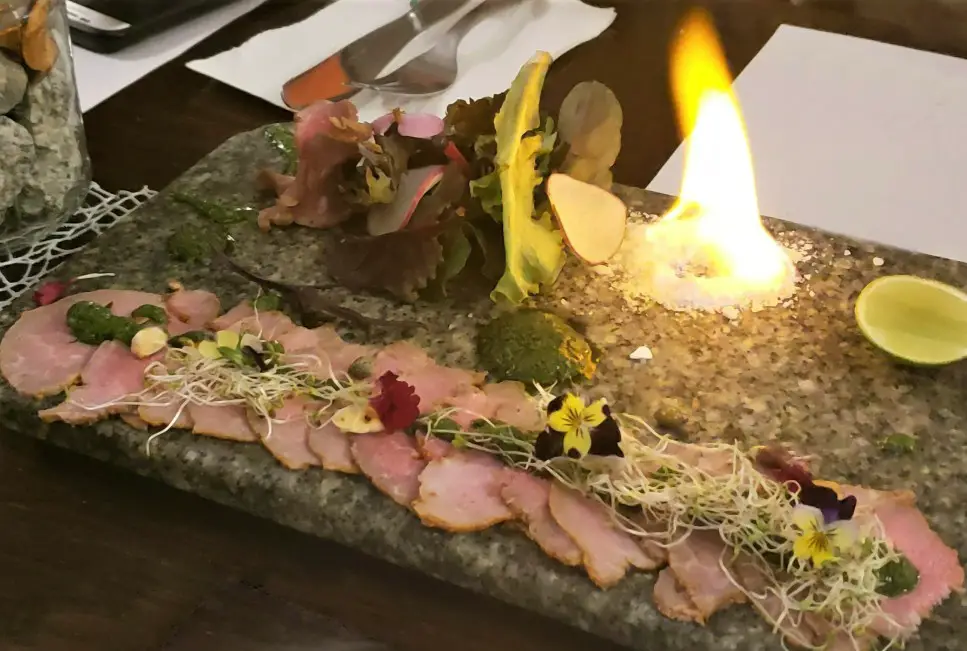 Alpaca is a popular meat in Peru. Peruvians cook it in all types of dishes and serve it in different ways. In Aquas Calientes, we had little alpaca deli meat slices accented with Flames!
Alpaca is tender, sweet, and high in protein while also low in fat, cholesterol, and calories so it is a great way to eat healthy when traveling in Peru! It is a good substitute for beef and pork and is on the menu in almost every restaurant in every city in Peru. Some even declare that it is tastier than beef steak and beef burgers!
Another type of alpaca to try when checking off your Peru Food Bucket List is dried alpaca. This is similar to the jerky that you find in other parts of the world.
---
Causa: authentic dishes from Peru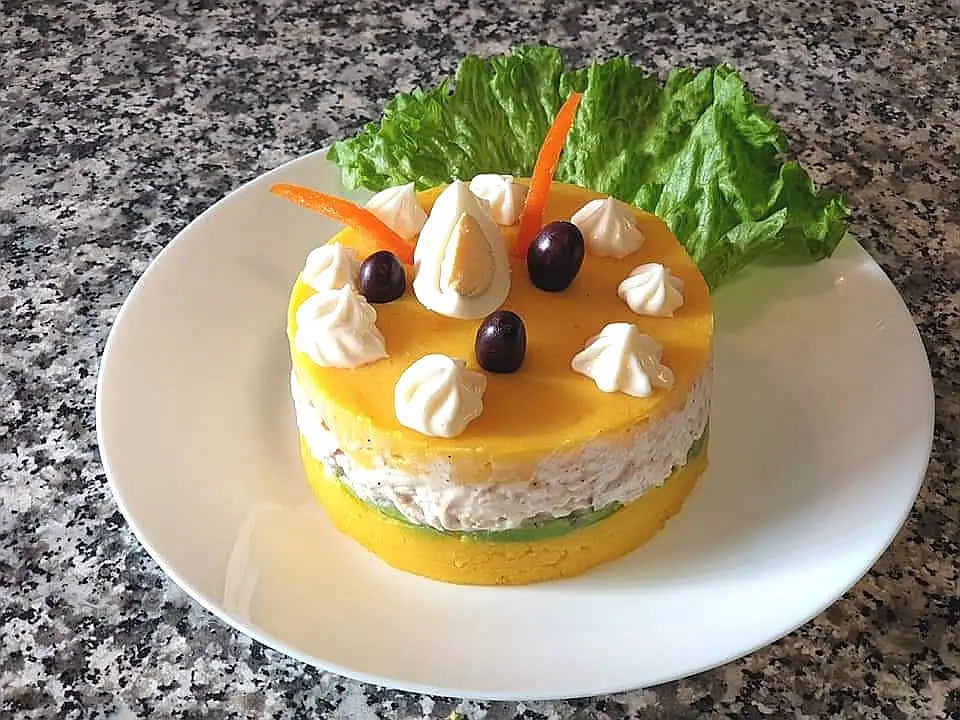 A bright potato specialty layered with chicken, seafood, avocados, and mayo, this delicious tower separates itself from other Peruvian side dishes with its artful presentation.  Yes, another potato dish.  Potatoes are so important in Peruvian cuisine!
Causa is definitely a famous food in Peru and is served as an impressive cold starter, similar to the American potato salad. After the seasoned potatoes are layered, the 'potato cake' is often topped with olives for decoration. This is definitely one of the top 10 Peruvian dishes.
---
Aji de Gallina
Aji de gallina, a Peruvian curry or Peruvian chicken stew, is a popular Peruvian food. It is made of shredded chicken covered with a thick, mild sauce and served with white rice or potatoes. It gets its mild taste from the aji amarillo, yellow chili pepper, which is grown in South America, and used in many popular Peruvian foods for its authentic taste.
---
Arroz con Pato
Peruvians prefer duck for this signature entree of arroz con pato. The browned duck is very tender and delicious The accompaniment is a rice dish that contains peas, garlic, and pepper, with a seasoning of lime juice making it a tasty side dish for the duck.
---
Papas a la Huancaina
Papas a la huacaina is a popular Peruvian street food, a delicious appetizer, a holiday food tradition and a picnic staple throughout Peru.
The main food ingredient of Peru is potatoes, so of course, that is what papas a la huancaina starts with. The boiled potatoes are thinly sliced and covered in a rich, creamy huancaina sauce. The sauce consists of white cheese, aji amarillo (the yellow Peruvian pepper), and evaporated milk. It is served cold, over a bed of lettuce and topped with a soft-boiled egg.
---
Papa Rellono: our homemade Peru food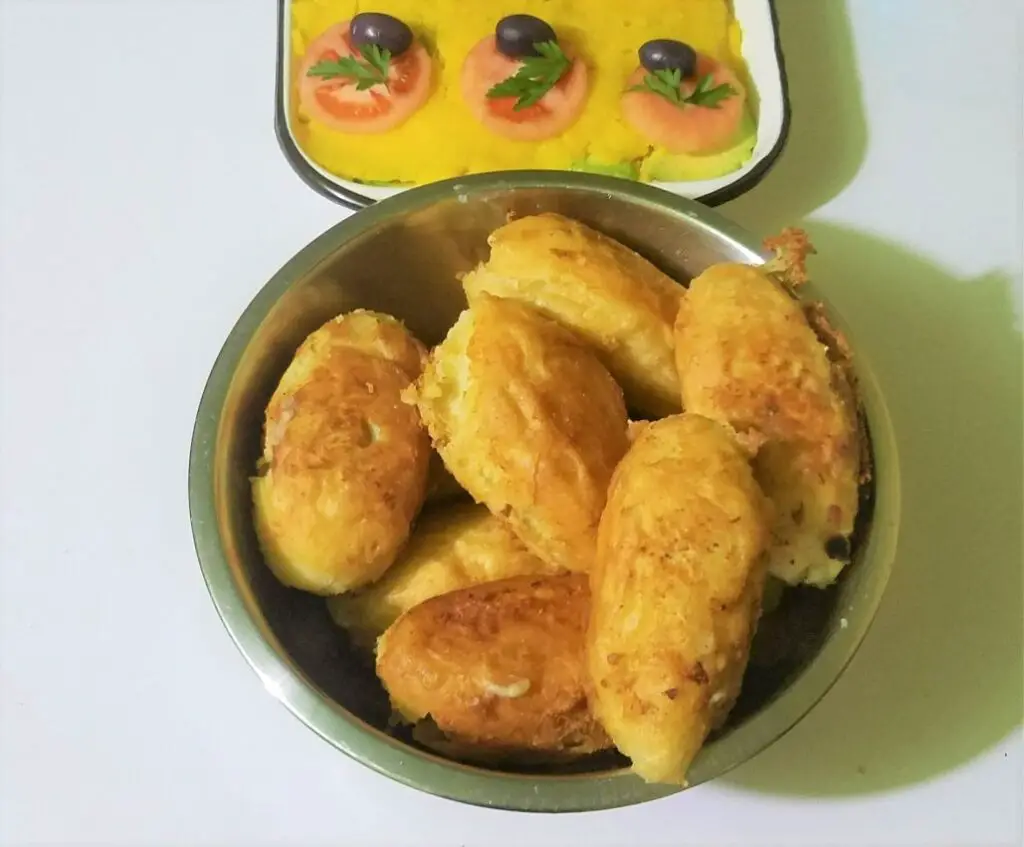 Papa rellena is common street food in Peru. They are small balls of mashed potatoes that are stuffed with meat, tomatoes, spices and then fried to have a crispy coat.
We made papa rellena at a cooking class in Ollantaytambo. We mashed the potatoes by hand and then rolled and stuffed them. Our Peruvian host then fried them in her big pot. They were absolutely delicious. Experiencing local food on vacation is the way to go, but being able to be a part of the cooking was an extra special treat that we will always remember.
---
Tiraditos: traditional food of Peru influenced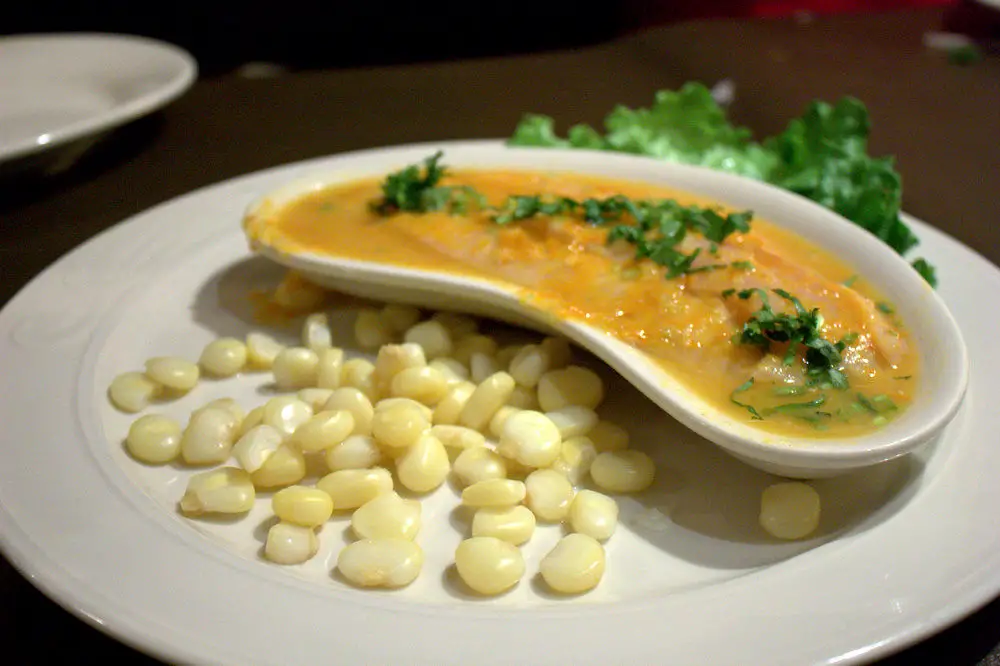 Tiradito reflects the Asian influence on Peruvian food culture. It is made of thin raw fish slices and topped with spicy citrus sauce before it is served. While similar to ceviche, tiradito is not cured before serving so it is a little different. Fresh tiradito is on the menu at any Peruvian seafood restaurant.
---
Peru Desserts
Tres Leches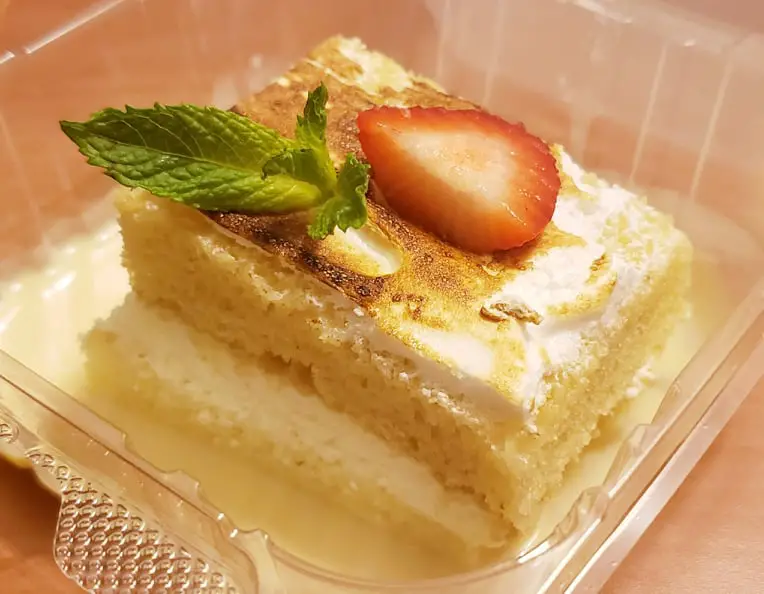 I am always too full from the good Peruvian dinner! I had to take my Tres Leches dessert, which was decorated with a little strawberry on top, in a to-go container!
This rich Peruvian dessert is made from three milks and is appropriately called Three Milks in Spanish! The light spongey cake is soaked in condensed milk, evaporated milk, and heavy cream to result in a delicious treat that delights almost everyone.
---
Peruvian Rice Pudding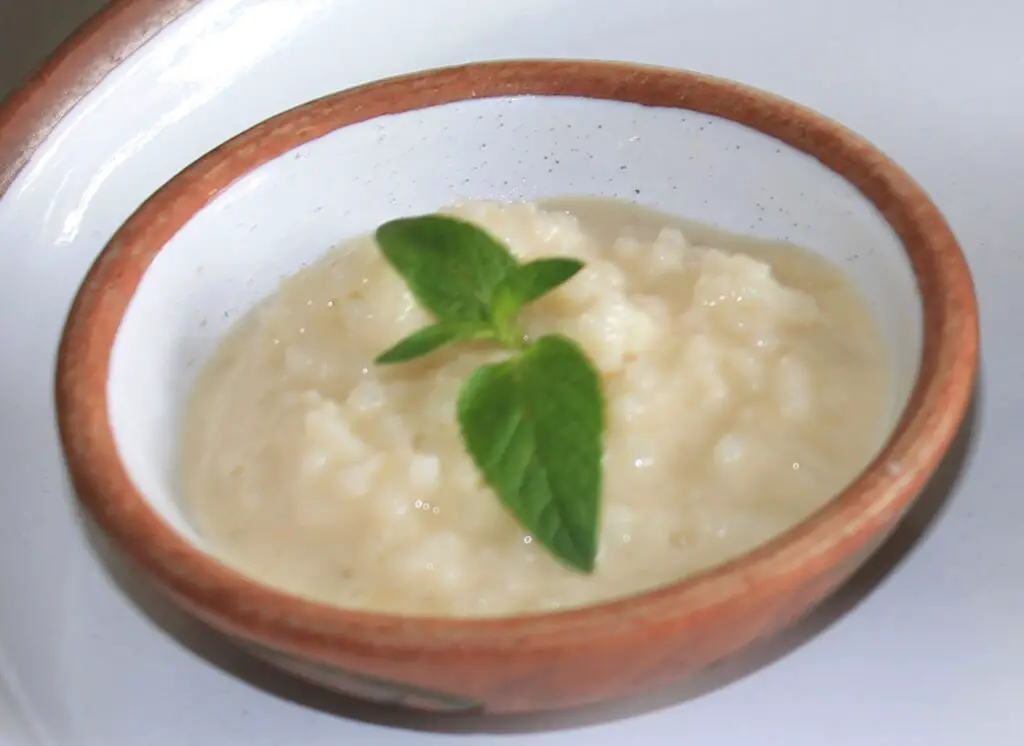 Arroz con Leche is a popular Peruvian dessert that everyone seems to love. It is a Peruvian rice pudding that can be served hot or cold. It is easily made with rice and milk to produce a sweet dessert.
---
Picarones
These delicious fried doughnut sweets were purchased from a food cart at the Magic Water Circuit during our one-day itinerary in Lima.  I could only eat one since they are super-duper filling, perhaps the most filling of the Peru desserts.  They are made from mashed sweet potato and squash, topped with cinnamon and sticky syrup, and sold by street vendors and shops throughout Peru.
Peru Drinks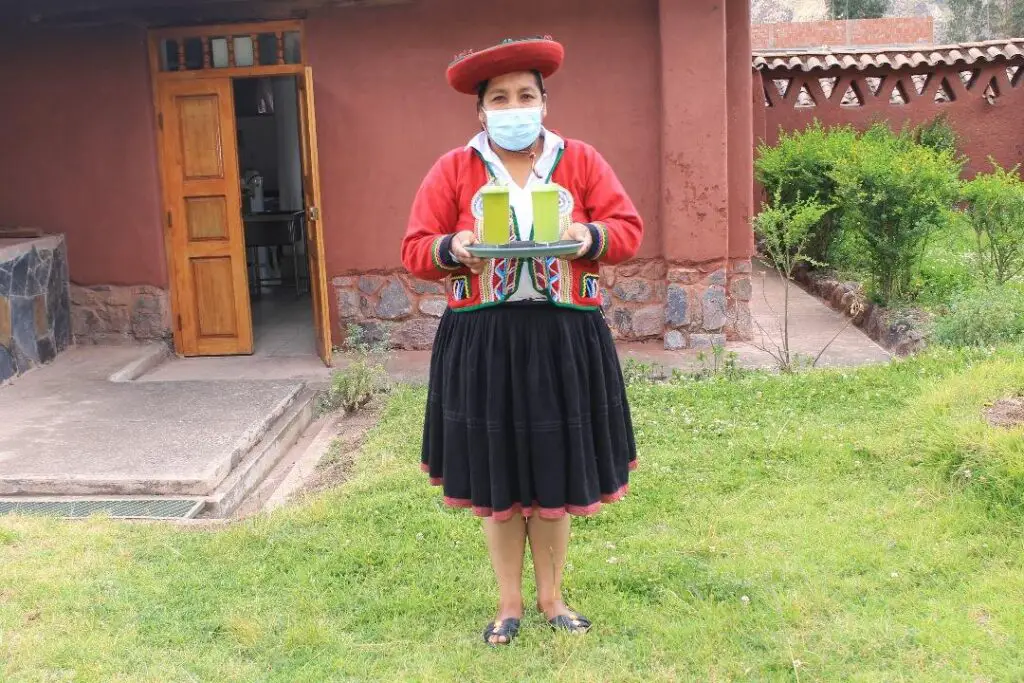 What do they drink in Peru?
Try some of the local beverages in Peru. Peru's most popular drinks are made from local and available ingredients like fresh herbs, corn, and fruit. Many of the Peruvian drinks find their origination back to the time of the Incas.
---
Pisco Sour
Peru's national cocktail is a 60 – 100 proof brandy distilled from grapes in the Inca region and consists of a blend of pisco, egg white, lemon juice, and Angostura bitters.  It is used as a Welcome Drink for guests. Any bar in Peru will be serving this tart drink.
It is such a popular drink that Peru has made two holidays for it! The first Saturday of February is Pisco Sour Day and the fourth Saturday of July is Pisco Day!
These holidays are celebrated throughout Peru, but especially in pisco-producing areas of the country with fairs, vineyard tours, concerts, and perhaps even a free tasting session or two.
---
Don't leave without getting a taste of Pisco Sour, a classic Peruvian drink!
---
Coca Tea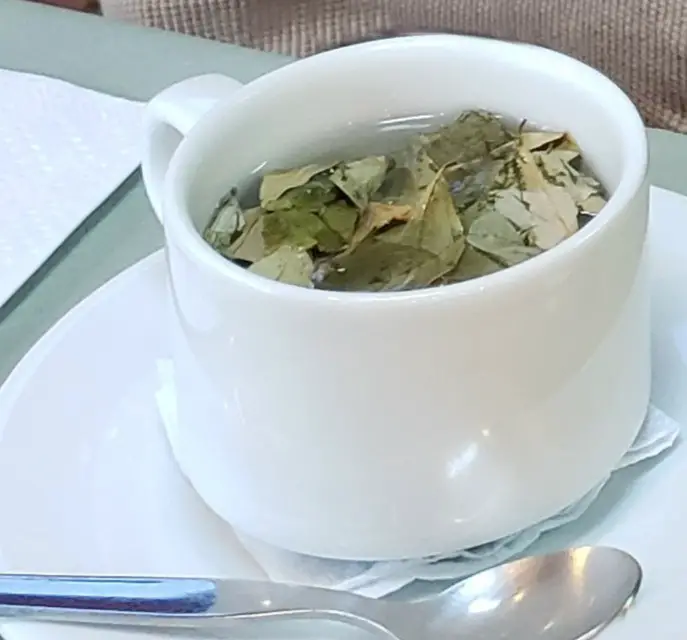 Mate de coca is a Peruvian tea drink made from the plant leaves of the coca plant. The leaves are dried and usually, the whole leaves are put into hot water to make the greenish-yellow herbal tea. Pre-Incans used coca leaves for fatigue, pain, and altitude sickness, and this popular remedy is still used today all over Peru.
The alkaloids from the coca leaves are the main ingredient for cocaine and are mild stimulants. SO, while mate de coca is legal in Peru, it is not always legal in other countries. One cup of Coca Tea contains several milligrams of cocaine which will definitely result in a positive drug test.
---
Inca Kola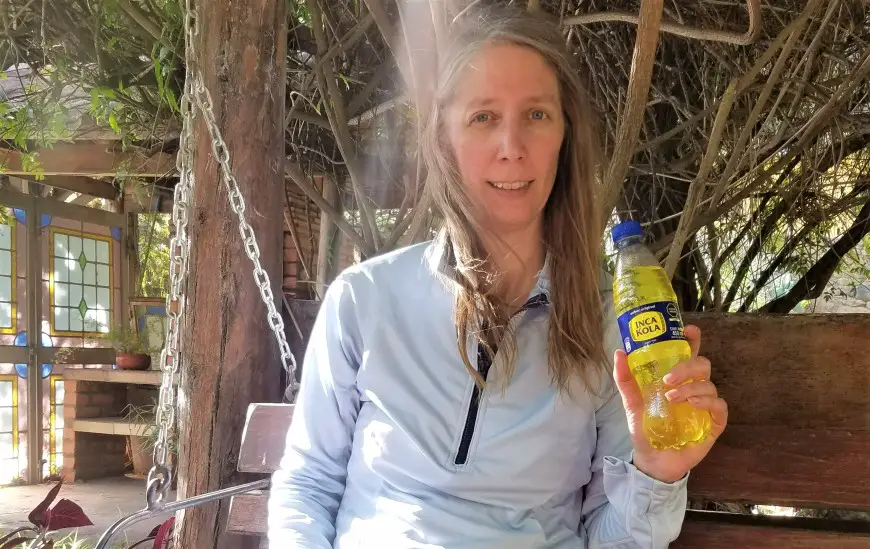 This golden yellow carbonated drink is Peru's most popular soda. The 'Pride of Peru' was originally created in Lima, Peru and now outsells Coke in the Peruvian nation. The secret ingredients result in a sweet bubblegum flavor that seems to go nicely with most of the popular Peruvian cuisine.
After a long day of touring the ruins in Ollantaytambo, it definitely was a refreshing treat for me!
Inca Kola is now sold worldwide. It can even be purchased online to ship to your doorstep so that you can enjoy this Peruvian drink without a trip to Peru!
Get your own supply of Inca Kola!
---
Limonada Peruana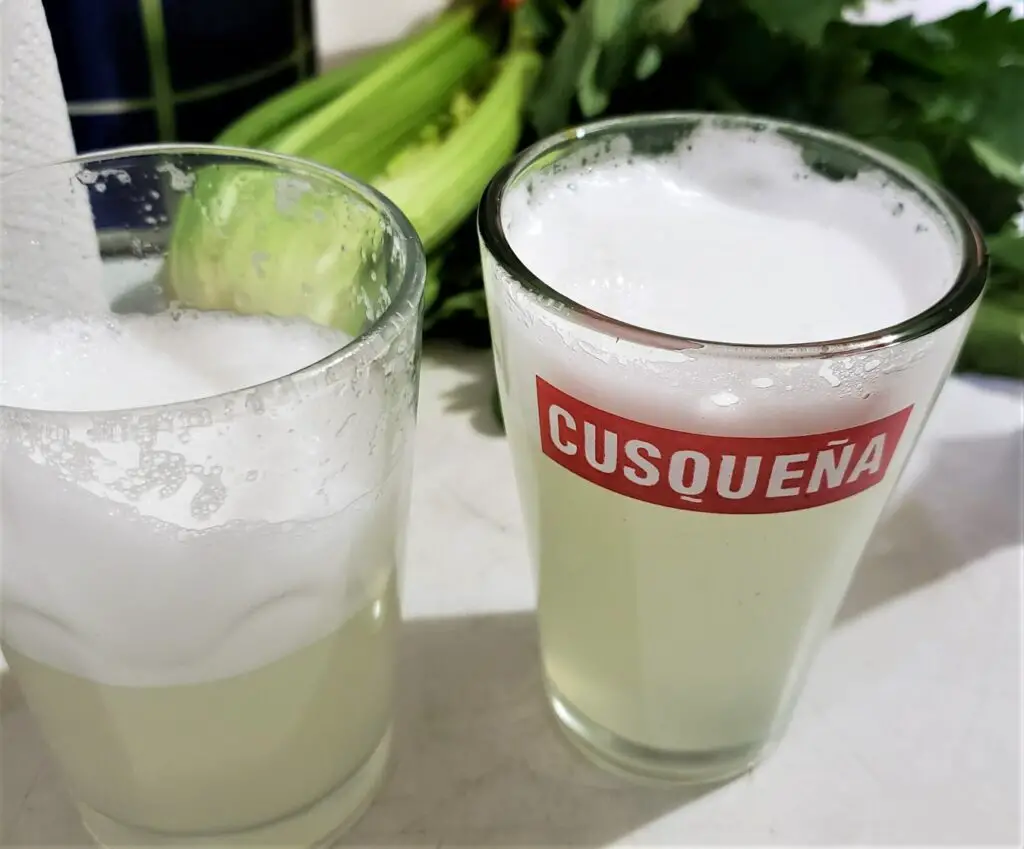 Limes are more plentiful in Peru than lemons, so Peruvians make this classic lemonade drink with the small native Peruvian limes, adding in brown sugar for taste. Limonada Peruana tends to be more tart than the typical American sugary lemonade, but equally refreshing on a hot afternoon in Peru.
---
Chicha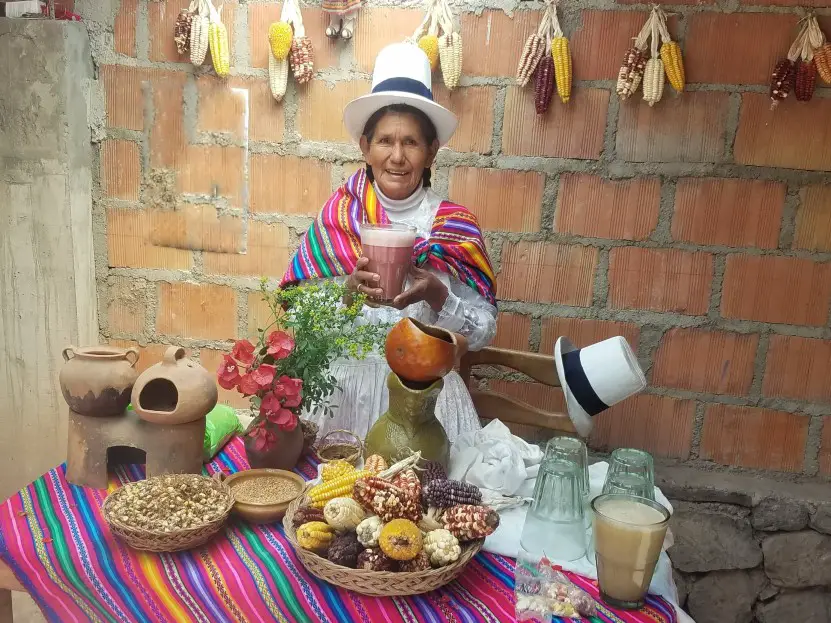 Chica drinks are types of drinks in Peru that are usually made with maize and can either be fermented (alcoholic) or nonfermented. They are traditional Andean drinks dating back before the Incas, but are still widely popular and considered to be iconic Peruvian drinks. Chicha de jora and chicha morade are the most well-known.
Chicha morada is the mocktail chica. It is non-fermented with purple maize. The dried purple Peruvian corn is accented with cinnamon and clove spices to make a fruity and sweet drink.
Chicha de jora is fermented from yellow corn and malt sugars to have an alcohol content of 1 – 3%. The pale yellow chich de jora has a sour aftertaste similar to hard apple cider. It is considered to be the drink of Inca nobility and is still used in religious celebrations today to honor the Incas.
Chicha can be found all over Peru, but in particularly small shops called chicherias. It is often made by family-run businesses, served in the back room of a local house, or distributed out of buckets at a stand on the street. Chicherias will post a red flag over the door to signal when a fresh batch of chicha is ready to be served.
---
We learned how to make chicha in Media Luna. It is a short trip from Ollantaytambo and a day-trip from Cusco.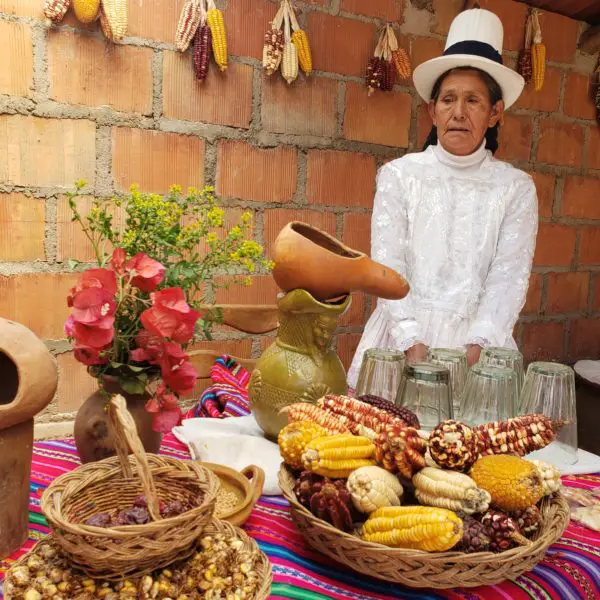 A Window into the Sacred Valley Customs in Media Luna
Media Luna: Sacred Valley Customs and Day Trip from Ollantaytambo Media Luna is a small town, composed of 145 families, nestled in the Sacred Valley of the Incas, near Urubamba, Peru. The Media Luna Tourism Circuit that we participated in included four workshops designed to promote local customs and traditions and was presented by the
Like This Post? PIN IT for Later!
For More Information about PERU destinations:
For a guide to take with you to Peru: