DISCLOSURE: I may link to relevant products, companies or helpful info which may be affiliate links, meaning I may earn a small commission. As an Amazon Associate & other affiliates, I earn from qualifying purchases at no extra charge to you. The views & opinions are my own. Please see the disclaimer and privacy policy.
Last Updated on February 5, 2022
What to do when you travel for one day in Lima Peru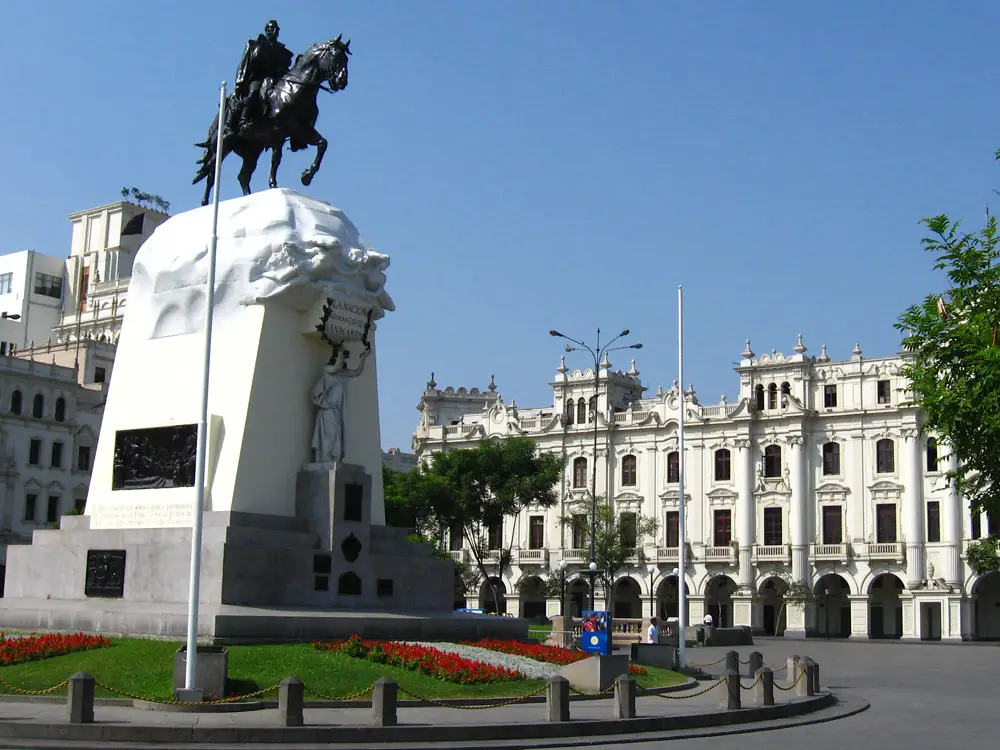 Lima, Peru is the capital, the largest city in Peru, and the most popular first stop for any Peru vacation since this is where the main international airport is. Most travelers use this airport to fly into the country and then hop onto a domestic flight to reach their final destination. HOWEVER, make sure that you make time to spend at least one day in Lima Peru before you jet off to other areas of the country. There is so much to do and experience in this city that it may be difficult to complete your Lima One Day Itinerary!
Do you have a long layover in Lima? Step out into the city and try some Lima Peru day tours since they will be full of culture and great food!
Where is Lima, Peru?
Lima overlooks the Pacific Ocean and has numerous resorts and beaches along its coastline.  Lima is a terrific tourist destination itself and has a lot to offer, so don't be too quick to board back on that plane for another Peruvian city!
About Lima Peru
Lima is the capital and the largest city in Peru.  It has an international airport, Jorge Chávez International Airport, so many Peru travelers pass through Lima for a day before continuing on a domestic flight to visit Machu Picchu or other vacation destinations around Peru. 
---
Now, let's get into the Lima Peru Must-See Sites!
Travel 1 day in Lima Peru: Itinerary
What to do in Lima Peru for a day?
Believe it or not, MOST of these are all free things to do in Lima. We didn't have much time, so we opted to spend a quick and cheap one day in Lima Peru! The only thing we ended up paying for was the Magic Water Circuit tickets. We could have done it without a tour, but we were worried about making it in time for our flight home, so we hired a guide for the Magic Water Circuit! It made it a lot more interesting and he even told us the BEST place to stand for photos!
All the best tours in Lima!
1 day Itinerary in Lima Peru: Must See sites:
This amazing open-air shopping center opened in 1998 and was built right into the cliff overlooking the beach. It is very commercialized and will have many shops that the tourist will recognize from back home. There are many high-fashion shops, discos, a bowling alley, eateries serving anything from ice cream to crepes, sit-down fancy restaurants, and even a 3-D cinema –all with a spectacular view of the sea! There is even a Peru-Rail office, for those looking for information and tickets to visit this Wonder of the World by traveling from Lima to Machu Picchu in one day.
---
Also known as the cat park, Kennedy Park is located in the Miraflores District of Lima and is home to about 100 stray cats.  To the animal lover's delight, they lay around the grass, perch among the statues and stroll down the sidewalks –cats of every variety, breed, and size.  Most of them love the attention of wandering park sight-seers.  They are fed well and taken care of by a volunteer group that oversees the spaying and neutering of the community.  I saw many bowls of food and water that were still filled to the rim and many fat, lazy cats chilling nearby. 
There are other sights to see besides the felines.  Kennedy Park is a common gathering place for the locals.  There is often song and dance going on.  When we were there, the locals seemed to be having a singing duel –street style.  We don't speak Spanish, but still enjoyed the ambiance and energy of the face-off.
Cats and humans aside, Kennedy Park is still well maintained.  The droppings of both of those species are cleaned up often so the park is free from human trash and pet waste to keep the grounds beautiful.  A walk down the sidewalks takes you past cultured greens, flowers, fountains, and street vendors selling local street food to tempt your palette.  This is a nice spot for an impromptu picnic!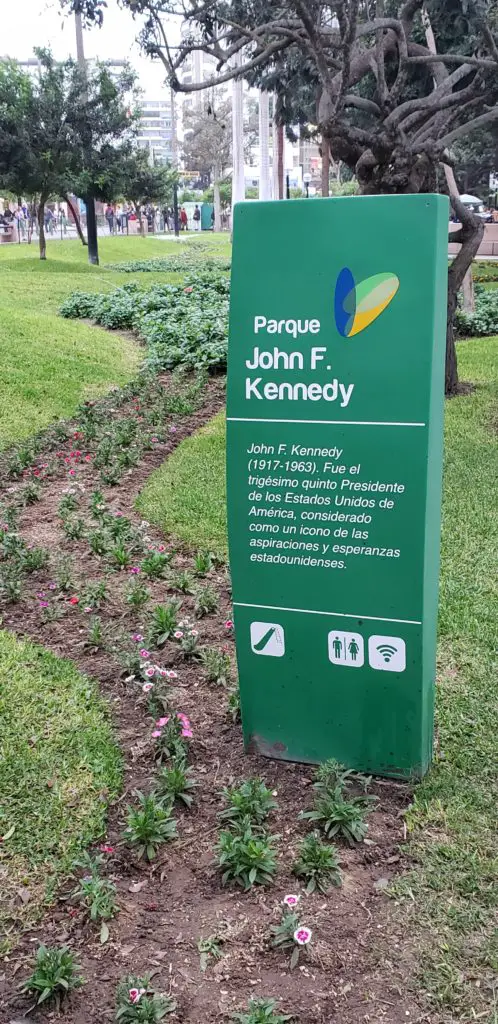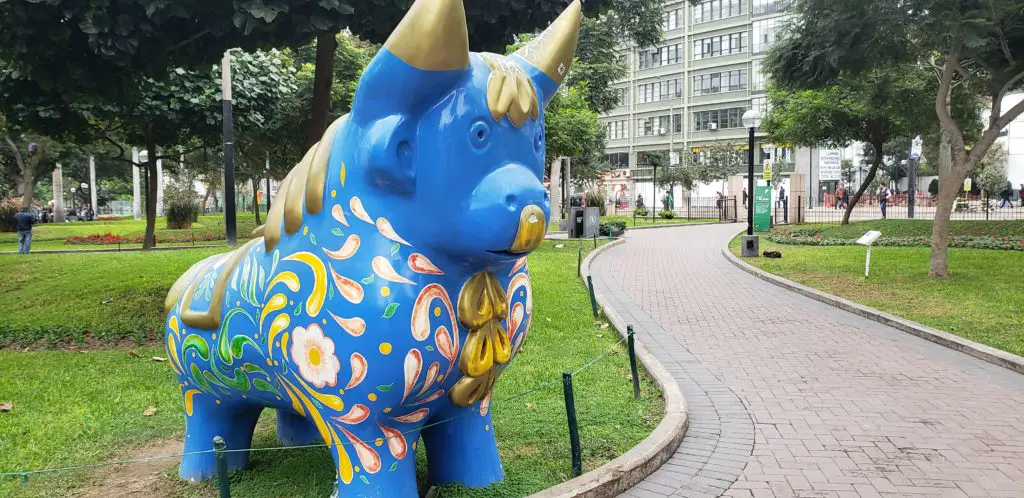 ---
More Shopping in Lima!!
If you have had enough shopping at the chain stores in Larcomar mall, there are plenty of souvenir shops around to get your fix of llamas and other Peruvian merchandise.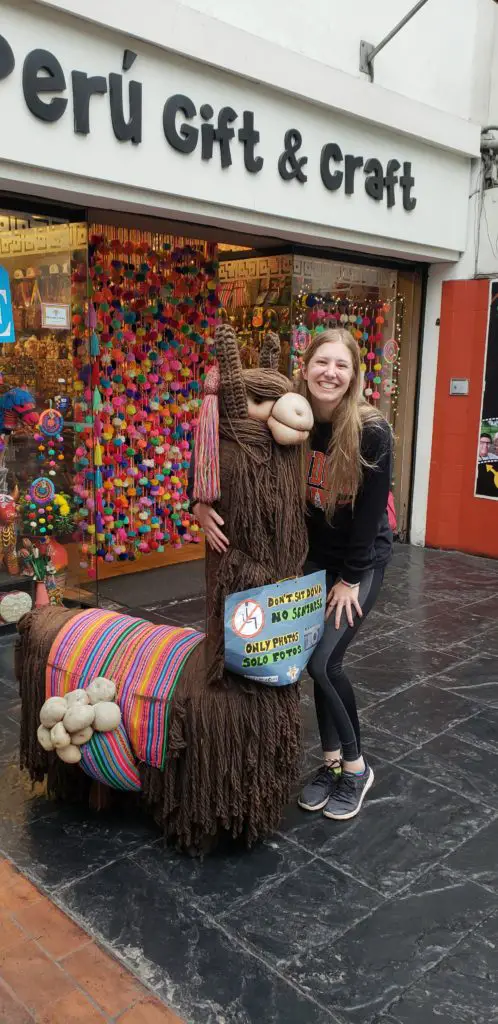 Create the Ultimate Shopping Experience during your 1 day in Lima Peru
---
Get your hair done
Now I KNOW this isn't on your must-see list! But we thought, hey, since the rates are low in Peru, why not treat ourselves!!????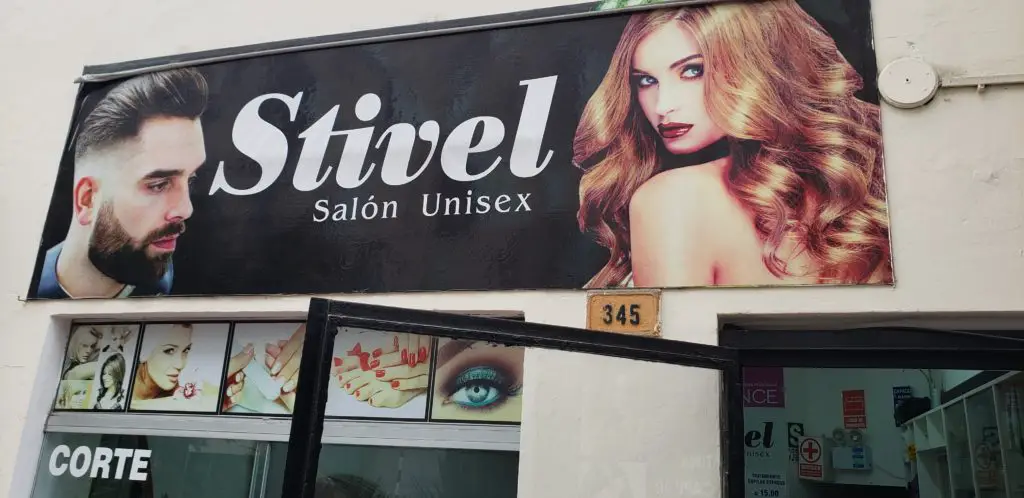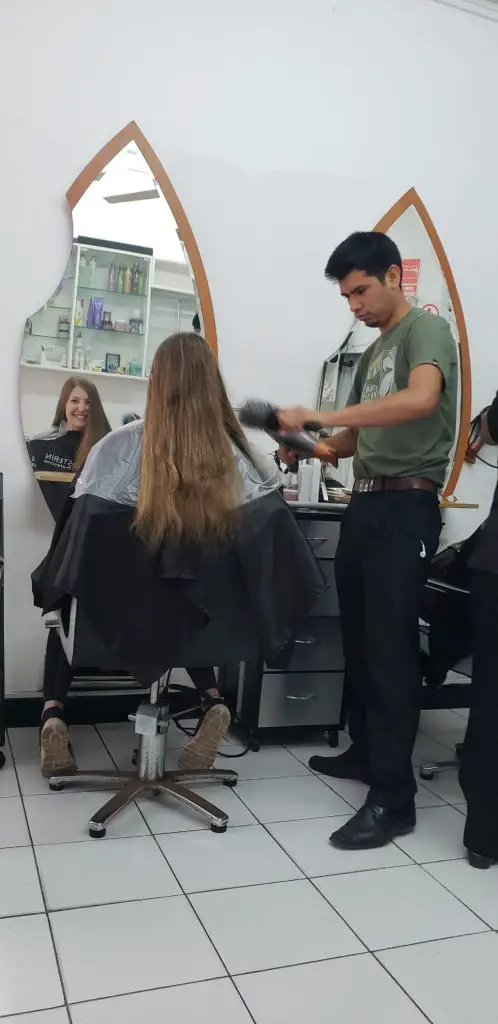 ---
Magic Water Circuit
The Circuito Magico Del Agua, Magic Water Circuit, is located in the Parque de la Reserva and is the Guinness Book of Records' largest water fountain complex in the world. This is a definite Lima Peru MUST-SEE! There are 13 water fountains artfully displayed in two park sections with a tunnel under the freeway connecting the halves. The fountains are colorful, musical, interactive for the young kids, and beautiful. Many Peruvian young ladies come to this location for their quinceanera and there are oodles of flower shops lining the adjacent street in just the perfect location for providing the goods for date night.
The park is popular among the locals since it is free admission until 3 pm in the daylight. The ticketed admission is 4 PEN (approx $1.50) from 3 – 10 pm, so it is still a reasonable cost. It is popular with the kids, especially on hot summers when they can run in the water displays to cool off! But you MUST come at night to see all the lit-up fountains!
Another reason to visit the Magic Water Circuit at night —-There is a water show each night at 7:15, 8:15, and 9:30 pm which displays lasers, colorful illuminated fountains, and a presentation of Peruvian pride and local history. Get a good spot to view this show as it often gets crowded.
---
Book a tour so that you DON'T MISS this amazing site in Lima Peru
---
Lima Casinos
To satisfy your gambling desires, there are three big casinos in the Miraflores District which are high quality and professionally run.  Gambling is legal in Peru, so Lima has its fair share of it for those 18 and older.  They offer slots, roulette, poker, blackjack, baccarat, and bingo.  They are open all night, but by law, the poker can't start until 6 pm.  Other gambling action usually starts heating up after 9 pm.  All casinos are smoke-free so that you can breathe easily while you empty your wallet.  They will accept your hard-earned cash in Peruvian or US currency, and they also take credit cards with ID.      
This casino is the nicest and largest in Lima and is regarded as the heart of Peruvian Poker.  They also have slots, video gaming, over 50 table games, and a very large poker room.  Karaoke and live shows are also a part of this casino's entertainment selection.
Majestics Casino
This casino is located inside the JW Marriott Hotel and has many slots and gaming machines that will accept US and Peruvian currency.  It has many other gaming tables as well as VIP rooms that feature Roulette and Texas Hold'em Poker.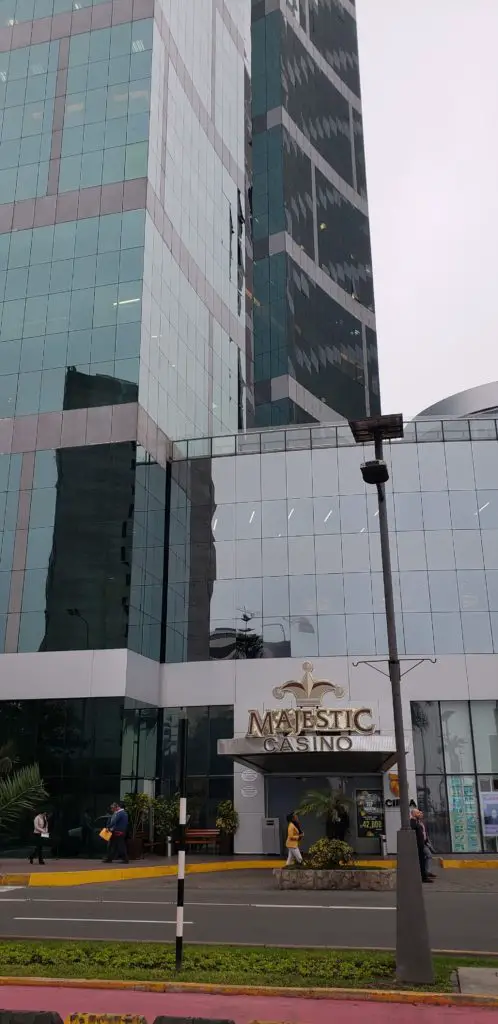 This spacious casino claims to be the Las Vegas-style casino of Peru.  In addition to all the regular slots, video gaming, and table games, it also broadcasts national and international sporting events on its wide array of large-screen TVs.  To make a complete Vegas-style casino, it also offers live shows as entertainment.
Where to stay in Lima
There are 43 different districts in Lima; 30 of these are in the urban area and the remaining 13 are spread out among desert and mountains.  Each municipal district has its own individual character comprising the 10 million citizens of Lima.  There are 5 districts that are considered safe bases for Lima tourists.  These five districts are located near each other, thus making visits among them easy and walkable during your one day in Lima. There are free things to do in Lima that are easily accessible from many of these neighborhoods.
Take a tour of the Lima Peru neighborhoods
---
Miraflores is the most popular tourist district and where we decided to book our hotel overnight stay.  It is centrally located, full of tourists, bars, cafes, and restaurants, and safe to walk around.
Barranco is Lima's Bohemian district, beginning from the turn of the century when it was full of artistic types.  There are still many bars scattered about the colorful streets offering the best place to listen to live music.
This is the historic downtown area that is full of many attractions and beautiful architecture.  It still has a slightly seedy reputation, so many guidebooks still do not recommend staying in Central Lima.
For upscale restaurants, chic boutiques, San Isidro is the place for you.  It is filled with cocktail bars and swanky hotels and is considered the safest district.
Pueblo Libre
This is the less touristy district and is filled with parks.  It has a relaxed, residential atmosphere.
---
How far is Lima from the airport
Arriving at the Jorge Chávez International Airport is bewildering and scary.  It is crowded with people of every nationality looking for their transportation and millions of taxi drivers hounding you because they want to 'help you.'  The taxi drivers are hustlers and will do anything to get your business.  It is suggested to arrange your transportation with a reputable company before your arrival for your one day in Lima Peru. 
The airport is only about 12 miles from Lima city center, but this can take as much as 45 minutes to an hour in travel time.  This can cut into your touring time when you only have 24 hours in Lima. Plan to travel at off-peak hours. Gridlock is very common during rush hour.  On the other hand, this allows street performers and vendors to peddle to the stationary drivers and adds to the chaos that is traffic in Lima!
Where to stay on a very short layover in Lima
The Airport is located in the Callao district, which is Lima's most unsafe area.  If you have a short layover and do not wish to venture into the Lima districts, there is a safe hotel on the airport grounds. 
This hotel is located right onsite at the airport, but it is on the pricey side. We used our Wyndham rewards points so it didn't actually cost us anything. We had a very early flight the next morning, so we wandered down to the complimentary breakfast buffet –which was very good— and walked across the crosswalk to check-in for our flight. Extremely Convenient!
How to get to Lima from the airport
Arrange for a private transportation pickup and delivery to your hotel for personal service. They will be waiting at the Arrivals Gate at the airport with a sign. This method is SUPER EASY!!
This is a new option for travelers to get to Miraflores.  The large 40-seat bus leaves the airport every hour (every half an hour at rush hours).  The bus is equipped with TVs, toilets, wifi, ample luggage storage, and reclining seats.  Tickets can be purchased online or at the airport for $8 one way or $15 roundtrip.
There are hundreds of taxis operating the route from the airport to Miraflores for a flat rate of 60 – 70 soles (around $20 USD, but you will need to use Peruvian cash currency).   Tips are not necessary unless the driver carries your bags.  Taking an official taxi is relatively safe, however, the drivers usually only speak Spanish.  Make sure it is an official taxi from Taxi Green or Taxi 365.  There are official desks inside the airport at the arrival halls.  Hailing a taxi from the street is not advised and is very dangerous to do in the area that the airport is located in.
Hotel Shuttle
We booked the El Patio Hostal in Miraflores and the hostal arranged the transport.  We just looked for the guy at the arrival gate with our name on a sign.  Super Easy!  This way, we didn't have to worry about negotiating with anyone in Spanish because it was all prearranged.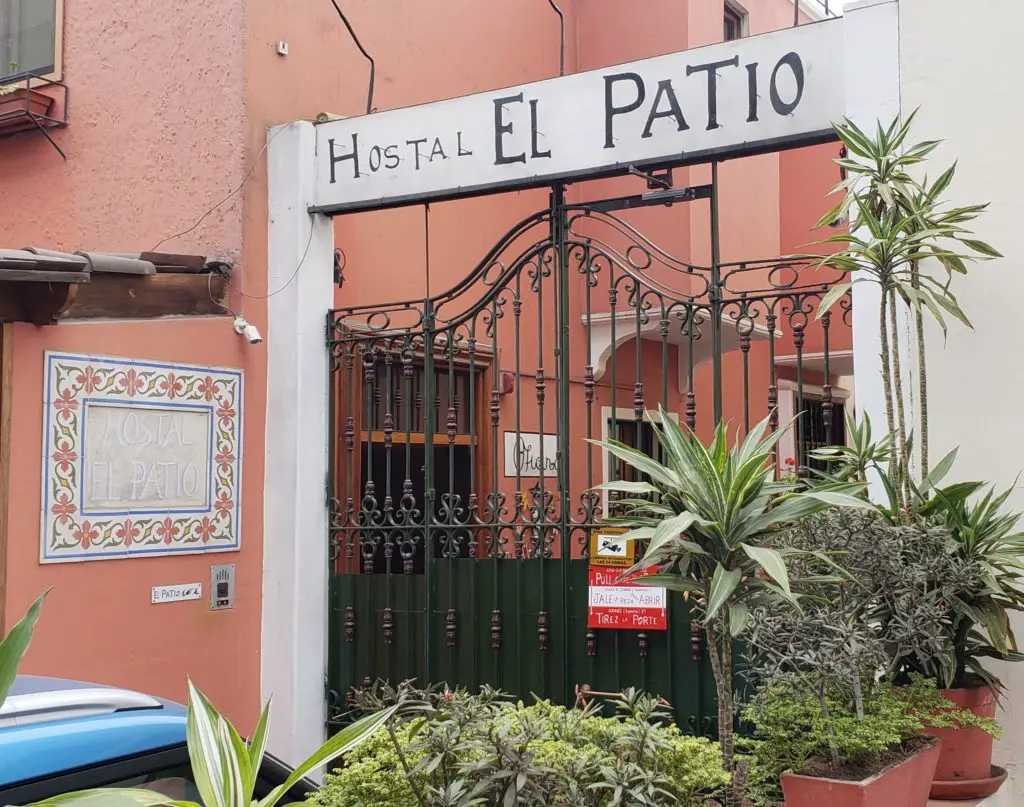 Taxidatum is a very reputable company.  We used them extensively in Peru when we traveled to Cusco and Ollantaytambo.  They also do airport transports in Lima.  Taxidatum can be reserved ahead of time and will be waiting at the airport arrival gate for your transport in the Lima districts.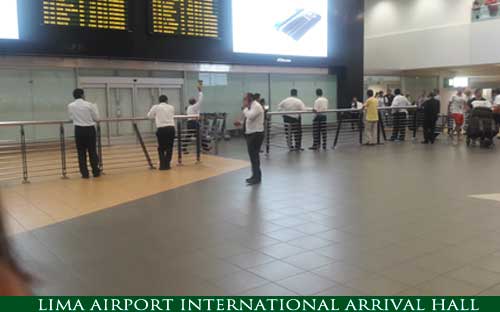 Uber is not licensed in Lima, so any Uber drivers are banned and will not have a permit to get through security to enter the airport for a pickup.
Where to stay with 24 hours in Lima
All our exploring was in the Miraflores section of Lima. We chose a hotel in this district and were able to walk to all the popular destinations. The streets were crowded with locals and tourists and we felt just as safe as we would in any big city.
El Patio Hostal
El Patio is a reasonably priced and safe hostel in Lima. It is decorated really nicely in the courtyard with greenery all around. The desk staff was super helpful in making sure we had breakfast and a taxi ride ready at an early hour so that we could catch the Cruz del Sur bus at 4 am bound for Paracas.
Must-Try Food In Lima Peru
Sadly, because we only had one day in Lima Peru, we had little time to enjoy its culinary delights. 
Lima is the food capital of South America and one of the top gastronomic capitals of the world.  Lima plays host to Mistura, the most important food fair in Latin America.  In the city, you can find top restaurants and street vendors with delicious eats that you must try.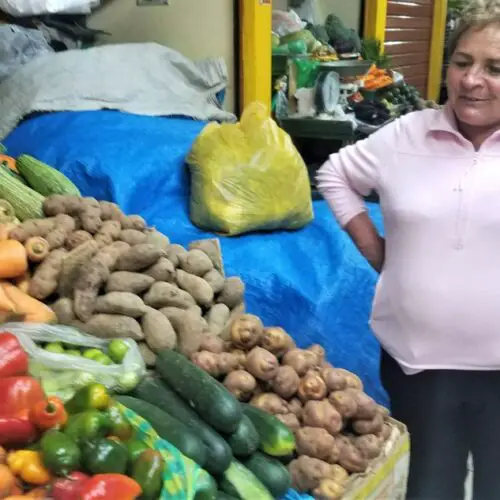 Delicious Must-Try Food of Peru
Peru is a gastronomy paradise with a long list of Must-try Food of Peru. The traditional Peruvian food is served in restaurants and streets throughout the country for an experience in the country's culture, authentic Peruvian food & culinary creativity.
Get your fill of authentic Peruvian food and traditional Peruvian dishes.
---
Don't leave without putting a taste of Pisco Sour on your 1 day Lima itinerary!
---
Day Trips from Lima, Peru
Once you are all fueled up with all the yummy Lima culinary delights and you have seen all the sights that this capital city has to offer, only THEN should you venture onward.  There are several day trips that you can take and the next article will highlight two of the most popular.  Lima is a beautiful city that should be explored, so don't cross it off of your list until you have at least spent at least one day in Lima Peru!
Like This Post? PIN IT for Later!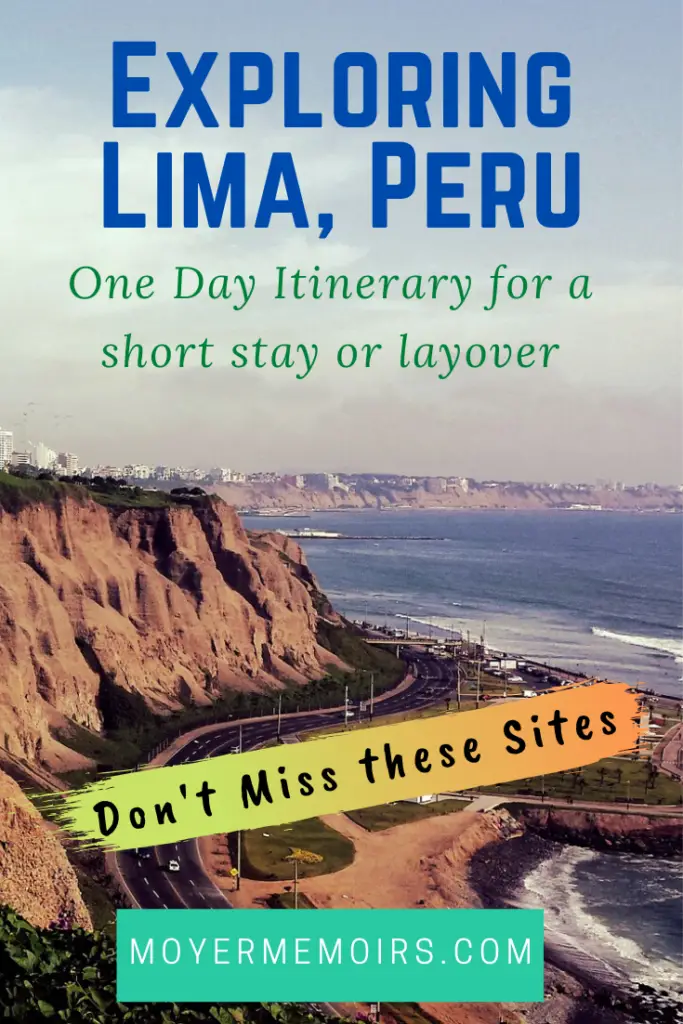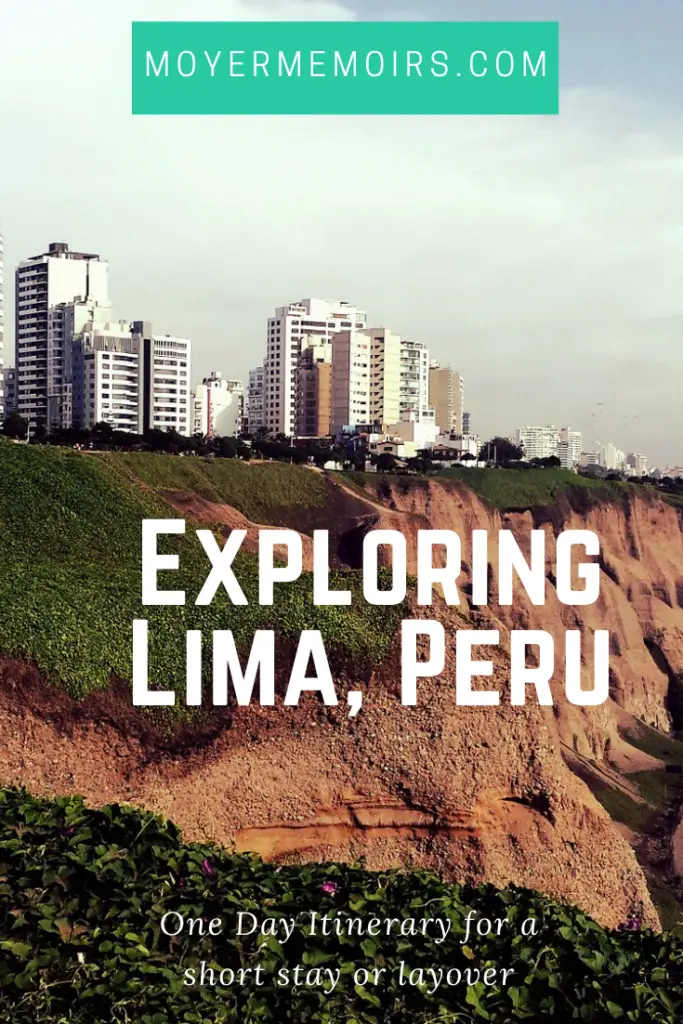 For More Information about PERU destinations:
For a guide to take with you to Peru: