DISCLOSURE: I may link to relevant products, companies or helpful info which may be affiliate links, meaning I may earn a small commission. As an Amazon Associate & other affiliates, I earn from qualifying purchases at no extra charge to you. The views & opinions are my own. Please see the disclaimer and privacy policy.
Last Updated on February 5, 2022
Don't-Miss Attractions for day trips from the Capital City of Lima Peru
I took a mother-daughter trip to Lima and we extended the trip with a day trip from Lima to Paracas and Huacachina for some high-energy and entertaining activities.
Need help planning your itinerary in Lima? Read the article below for itinerary ideas for

travel one day in Lima Peru

.
Day Trip to Paracas
Where is Paracas
Located on the western coast of Peru and just 4 hours south from the capital city of Lima, Paracas has a lot to offer a tourist.  It is a beach town that is sunny all year.  – No kidding!  It is a desert here and hardly ever rains. 
ACTIVITIES IN PARACAS
Ballestas Island is nicknamed "Poor Man's Galapagos." Since many a traveler cannot afford an expensive trip to tour Galapagos Island, this is a great alternative to see a lot of marine life.  Take note, even though I went on this Ballestas Island Tour, I still refuse to take Galapagos Islands off of my Bucket List!
The Ballestas Island tour is only by small boat around the island so that tourists are able to view sea lions and tons of birds from their seats on the boat –some people get to see penguins too, but not us!   Perhaps we saw one penguin in the distance but he waddled away so quickly we couldn't get a picture and are now not sure if he was real or just a figment of positive and hopeful thinking.
The best time to tour the rocky Ballestas Islands is a spring-like month like March when you will be able to see the baby sealions on maternity beach.  Other times of the year, you can still see all the adults bathing on the rocks and swimming in the ocean water. 
The amount of birds here is ridiculous.  The trail of birds in flight went on forever.  Our boat driver took us close to (and under) a popular bird roost and told us to cover our heads!!  Luckily no one was hit! 
Every 5 years, the locals collect a 4 meter thick layer of guano (bird droppings) from the island to use as fertilizer.  There is definitely a large enough supply of guano and it is very stinky when the boat pulls up close to a large pile of it!
The tour is bilingual and lasts about 2 hours.  Take warm clothes because the boat ride to the island is windy and can be a bit chilly.  There are many tour operators that can take you on these tours offered at 8am and 10am.  During peak tourist season you can book ahead for $15 per person.
Candelabra
Placed on the side of a cliff overlooking the Paracas Bay, is a giant geoglyph in the shape of what appears to be a candelabra that is visible for miles.  It is similar to the Nazca lines and no one knows how it was formed and etched into the desert cliff.  There are theories that it was created as early as 200 BC.  Of course, there is also the theory that aliens created it!  The candelabra lines are cleared by the desert winds so that they are always clearly visible.  Most of the Ballestas Island tour boats pass by for photo opportunities.
Paracas National Reserve
The Paracas National Reserve is one of the largest desert reserves in the world and was established in 1975 as a protected natural area for the conservation of marine wildlife and birds in the Paracas area.  The Ballestas Islands are a part of the Reserve.  The over 2,000 square mile refuge is home to Humbolt penguins (the only species of penguin in Peru), many sea lions and millions of birds, including the pink flamingo.  It is not recommended to tour the desert area of the Reserve on your own due to frequent desert sandstorms and multiple unpaved and treacherous roads.  There are many organized tours that can help you see all the life contained in this Reserve for around $15.
Don't forget to plan some time at Machu Picchu, one of the Natural Wonders of the World, before you leave Peru.
Day trip to Huacachina
Where is Huacachina
Huacachina is a desert oasis town 5 hours south of Lima.  This little city has a palm-tree-lined tiny lagoon in the middle and is completely surrounded by sand dunes.  It sort of smells here, so we stayed 10 minutes down the road in a little hostel in Ica.  Huacachina offers action-packed adventures on the dunes, so it is very popular among the young adults.  I, too, enjoyed it, so it can also be enjoyed by the slightly older crowd!
ACTIVITIES IN HUACACHINA
This activity is a double thrill ride provided by many companies based in Huacachina.  There is a large parking lot of dune buggies gathered in a traffic jam at the far end of the Huacachina oasis.  Your tour group will meet in the city and proceed on foot to the traffic jam to begin your tour. 
You are belted with a lap belt into a 4-wheel dune buggy and zoomed up and down the sand dunes at break-neck speed.  The drivers try to get a scream out of you by accelerating as they reach the crest of the dune and lift you off of your seat as they tip over the edge and begin the descent down the giant dunes. –not a smooth ride at all so hold on tight! 
We wore face protection so that we didn't inhale or ingest any flying sand while we were laughing and screaming.  Don't worry if you didn't bring any, there are street vendors that plant themselves at the tour meeting point to gain any last-minute customers.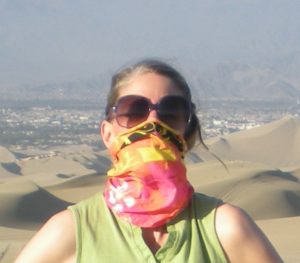 They will have large supplies of buffs (a tubular bandana that you can wear around your neck and stretch it up to cover your nose and mouth –and perhaps even your hair!) and sunglasses that you can bargain for.  You can also be prepared and bring your own buff in order to avoid the street haggling.
Be prepared and bring some sand protection!
Our first stop was to take picturesque photos.  I was not the oldest person on this sand duning adventure, but most of them were young millennials and they were in Instagram heaven.  They all climbed on the dune buggies to strike the perfect pose for their followers. 
and here is our Instagram pic!  –On the ground.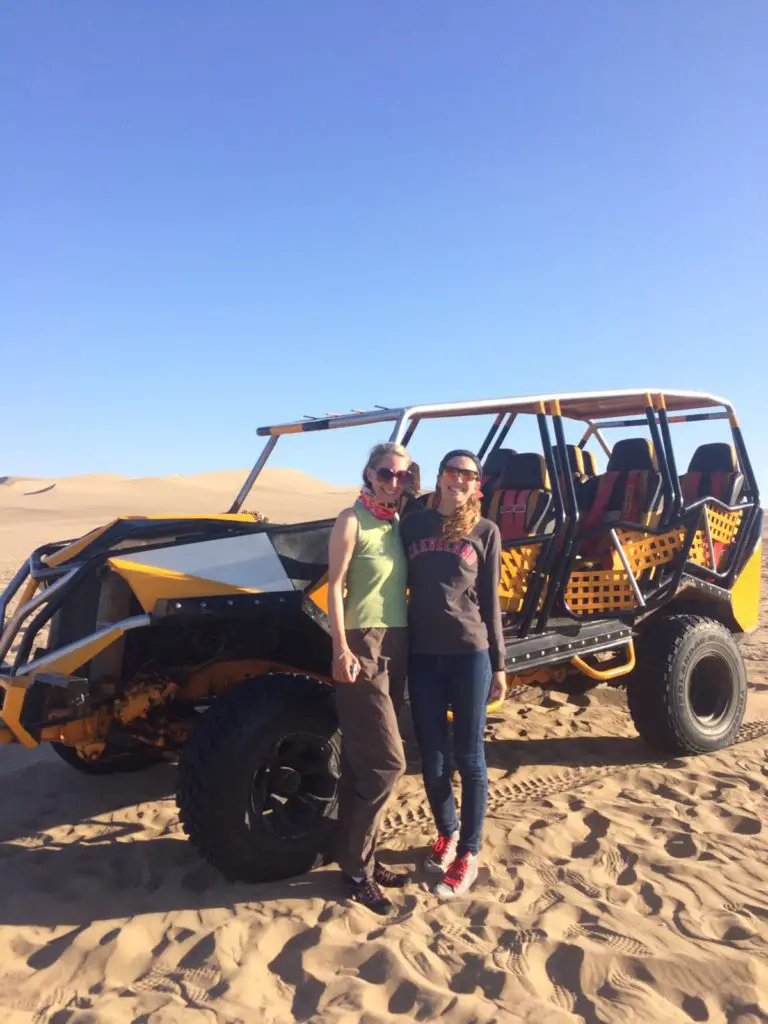 NOTE:  Take protection for your phone or camera.  My daughter had her phone in a Ziploc baggie and that worked well.  I did not use protection on my old camera… but it was old and I knew I would kill it, so I had an extra camera with me.  When my ancient camera lens was full of sand and would no longer turn on, I took out camera number two.  Perhaps I should have just implemented the baggie method myself!
After everyone filled up their memories with zillions of pics, we loaded back into the dune buggy.  Next was the scary sand boarding.  Now I have never surfed or snowboarded or anything of the sort.  I was a little bit afraid of what I had gotten myself into, but I had promised my daughter that I would go with her, so I guess I couldn't chicken out.  How would that look? 
Instructions were given quickly in 'almost' English.  The guides then got out the boards and waxed them.  WHAT FOR?!?!?!  I didn't mind if my board went super Amish-buggy speed slow instead of racecar fast.  Can I have an unwaxed board please?  There were no safety belts or other protection for this thrill ride, you had to simply rely on the strength of your arms to hold you on that board and keep yourself balanced.  Oh, and did I mention that we started on the BIGGEST HILL!!???
My daughter went first.  They uttered reminder instructions in Spanish at the peak of the hill which she did not understand.  Zoom! Down she went; headed straight for the rest of the tour group that was gathered at the bottom.  You are also responsible for your own brakes by digging your feet into the sand.  "Brake, Brake, Brake!" I thought as she sailed closer to them… ok, I even said it out loud because you can hear me on the video.  She did remember to brake and she jumped up with enthusiasm. 
Oh great!  My turn!
I faced my fate and plopped down on my board on the top of Mount Everest.  It looked even taller when I was lying flat, face-first down the hill.  I pulled my buff up to cover my mouth in case I had to scream.  I didn't want to ingest a meal of sand.  Now or never.  I gulped, hung on to the straps with all my might, and prayed that I could keep this board going straight down so that I didn't flip. 
Somehow I managed to succeed.  Braking with my feet at the bottom, sand went everywhere, into my pockets, into my shoes, into…well everywhere. 
After the big one, the next two smaller hills were a piece of cake!  Not everyone managed to keep their boards going straight, some flipped.  There were a few brave souls that sand boarded standing up and survived to the bottom with no catastrophes!  It was fun watching everyone else to see what their fate would be as they raced down the sand dune. Not everyone was successful.
WINERY TOURS
Ica is located 10 minutes from Huacachina and is filled with so many wineries that it has the honor of being the main location in all of Peru for the production of red wine.  They give wine tours throughout the day, giving instructions on how to make their regional wines, usually, and more importantly, ending with a tasting.  The popular national drink of Peru is Pisco, a grape brandy that has been made since the time of the Spanish invasion.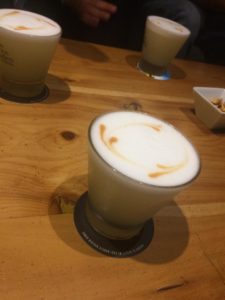 The Nitty Gritty Details for Lima Day-Trips:
How to go on the Day trips from Lima
How to get to Paracas and Huacachina
There is no airport near Paracas or Huacachina so the only way to get there is by driving.  You can rent a car or take a bus ride.  There are several bus companies that operate a route from Lima to Paracas, some budget, and some more expensive.  We chose budget and cruised for nearly 4 hours on Cruz del Sur.  Tickets are available online for this bus line ahead of time, or you can take your chance on a seating arrangement and buy tickets at the terminal
Cruz Del Sur Bus Transportation
The Paracas tours start early in the morning, so we had to get an even earlier start in Lima.  4AM to be exact!  We left the bus station in Lima at 4AM.  I got the $21 upgraded seats for this route so that we could recline and sleep on the way there.  Cruz del Sur is usually a double-decker bus.  Upgraded comfy reclining seats are on the first floor and the other riff-raff seats are on the top deck—which by the way are also SUPER comfy seats (we booked those on the next leg of our trip)!
These upgraded seats included blankets, dark window curtains and breakfast as well as a wake-up call from the hostess once we arrived at our destination.  The bus station is a short, scenic walk from town, so we were able to stroll in to meet our tour group at 7:30am.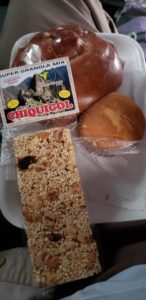 After our Ballestas Island Tour, we took another Cruz del Sur bus trip to Ica. This time I did not upgrade since it was only a short ride so our seats were up top.  The seats were only $3 each and they were just as comfy!  I wasn't in the seat next to my daughter and I had pre-translated a Spanish phrase to ask to switch seats, but there were hardly any passengers, so we just re-seated ourselves.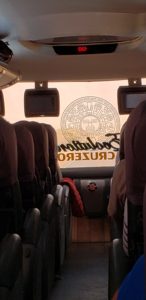 Accommodations in Ica
We chose to bunk in Ica rather than Huacachina –and I am glad about this because Huacachina smelled!  Our hostel was Hotel Los Flores and I have nothing but nice reviews for it.  Highly recommended.  It is cute, the rooms are perfect and the service was outstanding.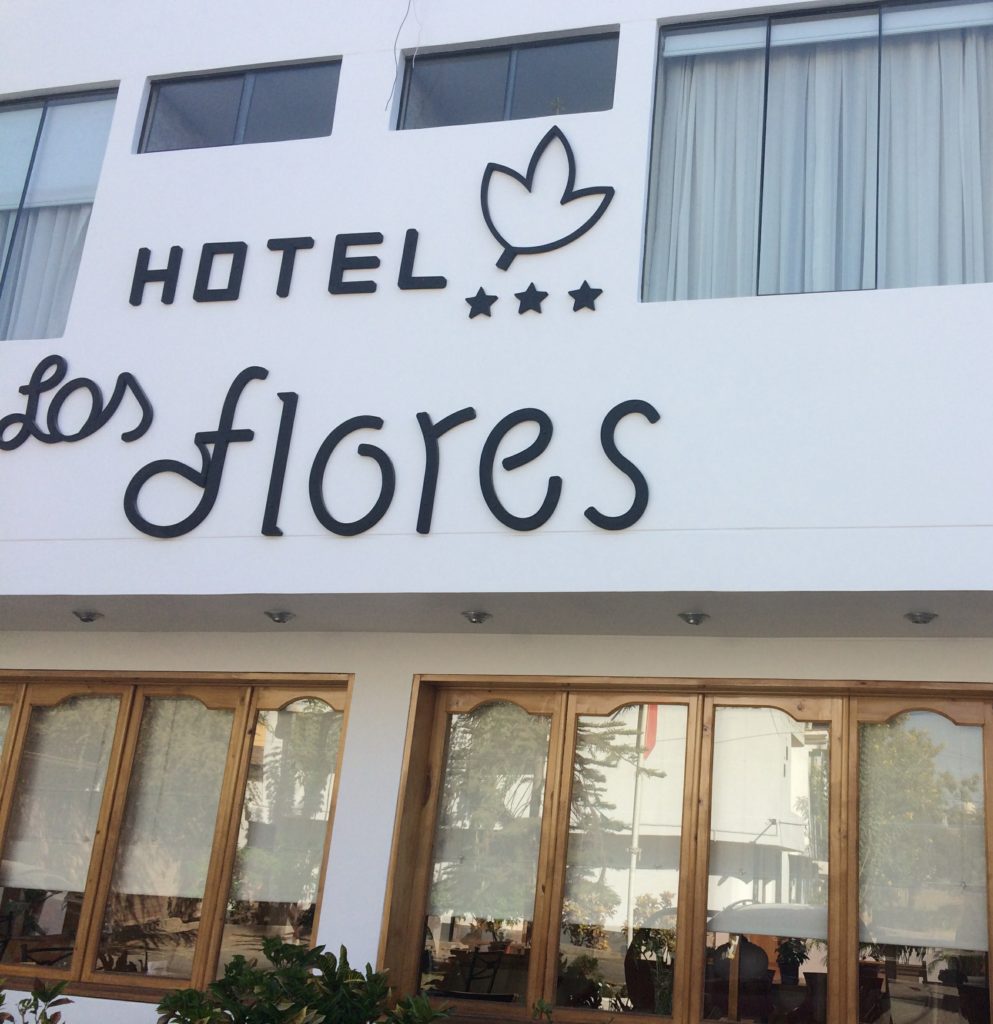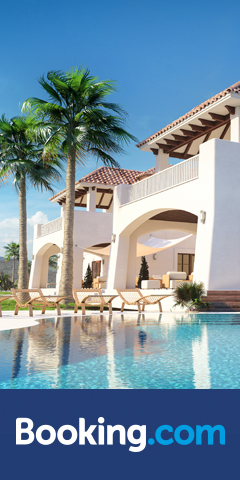 Book a room at Los Flores Hotel in Ica.
How to Get to Huacachina and Back
The taxi ride to Huacachina is only 7 – 10 soles and 10 minutes.  It is easy to find a taxi as they are all over the place waiting for a customer. 
Special memories on this vacation
I love that my adult daughters still don't mind vacationing with their mom. I treasure each and every trip that I take with them. Now, as an empty-nester, I don't get to see them as often, so these trips are even more special and this one with Marilyn was no exception. I hope there are many more trips to come with all my daughters!
Like this post? PIN IT for later!
Interested in more information about Peru:
For a guide to take with you on your Peru trip: