DISCLOSURE: I may link to relevant products, companies or helpful info which may be affiliate links, meaning I may earn a small commission. As an Amazon Associate & other affiliates, I earn from qualifying purchases at no extra charge to you. The views & opinions are my own. Please see the disclaimer and privacy policy.
Last Updated on August 25, 2023
One Day in Palermo, Full of history and Food
Our ship docked for one day in Palermo and we had just a short bit of time to explore all this great Sicilian city has to offer. There is so much to see on a 1-day tour of Palermo that the architect-lovers, the history-buffs, and the foodies will all agree that Palermo should be on your Bucket List!
Follow along on our Palermo one day trip!

WHY PALERMO?  Before we begin our Palermo walking tour, first a History Lesson
SICILY IS RICH IN HISTORY
Sicily is the largest island in the Mediterranean Sea and is generally considered a safe vacation destination nowadays.  The island is surrounded by beautiful blue waters that line its coastline and pristine beaches.  Spending one day in Sicily is like spending a day in paradise!
Throughout history, its strategic location has led to many cultures occupying its shores in hopes of dominance.  It has developed a rich European history due to the many people cycling through including Greeks, Carthaginians, Romans, Byzantines, Arab Muslims, Normans, Germans, Angevins, and Spanish until Sicily finally unified with Italy in the 1800s. 
What other region has such a rich and diverse history?  You can see only traces of all its ancient ancestors in the architecture that still exists around the island. Unfortunately, many of the historical buildings have been destroyed.
DESTRUCTION AND THE MAFIA'S RISE TO POWER
Not long after the unification, there was a widespread revolt against it.  The capital city of Palermo was key in the revolt.  Italy tried to restore order by instituting military rule and bombing much of Sicily and the capital.  It was during this time that the Sicilian organized crime network known as the mafia began to rise to dominance in Sicily.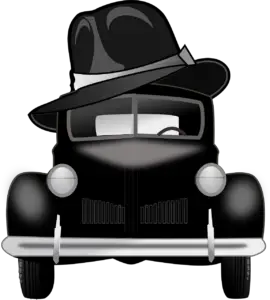 Mussolini took power in Rome in 1922 and tried to crack down on the mafia who threatened his influence in Sicily.  During the subsequent world wars, while Sicily was on the side of Mussolini, the mafia partnered with the allied forces against the dictator.  Following 6 weeks of heavy bombing, the allied invasion of 1943 freed many mafia prisoners and caused much damage to the old capital of Palermo while the mafia grew again in strength.

ESTABLISHING ORDER IN SICILY
It wasn't until 1984 that the Italian government started to implement anti-mafia laws and prosecute its leaders.  Highly regarded magistrates against the mafia were tragically murdered in 1992 and this was the turning point that broke the mafia's code of silence and caused their final downward spiral.  
SICILY TODAY
Today, residents of Sicily refer to themselves as Sicilian rather than Italian even though they are a part of the Italian country.  They have run the mafia out of their region and have returned order to Sicily.  There are many places to eat, sleep and shop that are run by these proud Sicilians, freed from the controlling violence of the mafia.
There are many off-the-beaten-path destinations all around Sicily. The lesser-known spots are more authentic with fewer tourists running through them. We started our introduction to Sicily with a tour of Palermo. It is more popular, but we really didn't encounter crowds of tourists.
WHY PALERMO?  Now for the ANSWER!
Palermo, founded way back in 734 BC is now the capital of the autonomous region of Sicily.  It is the cultural and economic capital and is rich in history, culture, art, music, and food.  It has many UNESCO world heritage sites, making Sicily the region with the most sites in all of Italy.  You will not be short on things to see in the form of architecture in this city.  While a lot was destroyed by bombs and mafia, there is still a lot for tourists to oogle.  While still recovering from the bad press of the mafia era, Palermo is slowly developing a tourist market and loves to entertain them since they are very proud of their Sicilian heritage. 
TOURS IN PALERMO
You will be welcomed with open arms when taking a shore excursion in Palermo.  The cruise ship docks right at the base of the city.  Our tour guide, Domenico Aronica, met us right in front of our MSC Meriviglia ship and we started our Walking Tour of Palermo.  He was eager to show us all the things to do in Palermo and is a big supporter of this Palermo travel blog!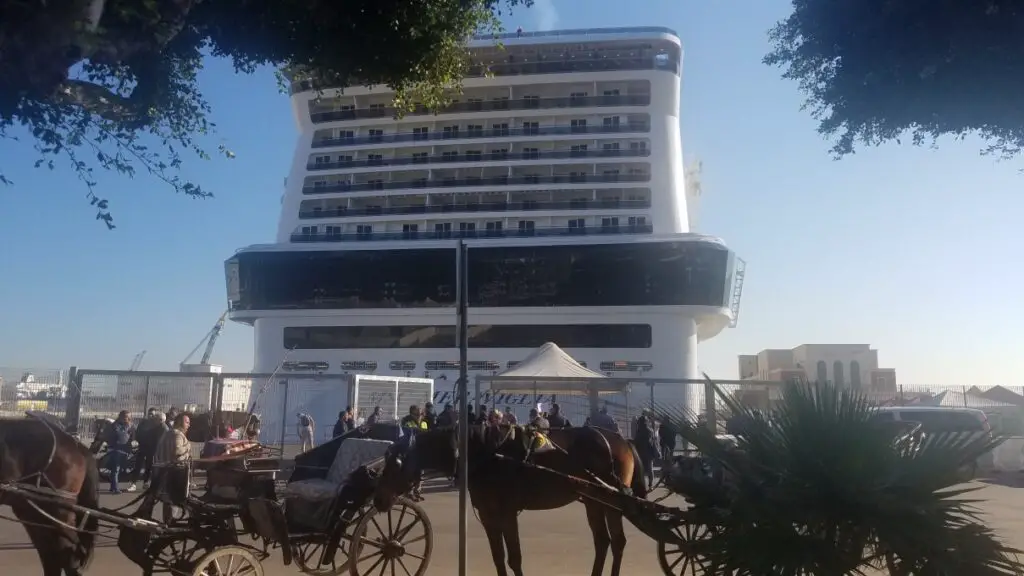 Our private tour lasted 3 hours and covered the main must-see sites of the capital city.  We walked nearly 10 miles that day throughout and around Palermo. I highly recommend this Palermo itinerary when you are able to visit Palermo in one day. It is an excellent orientation to the city. Domenico is an excellent photographer and publisher of many books featuring Palermo. He will be able to help you create a beautiful vacation photo album of Palermo and educate you about the Sicilian sites you are seeing!
WALKING TOUR OF PALERMO
---
Try one of these tours in Palermo to do everything the city has to offer!
---
Palermo City Guide
We started right out on our tour of Palermo in a day and Domenico led us through the historical center of Palermo so that we could see what Palermo had to offer. Since our cruise ship was in Palermo for 1 day, we had only a short time to spend in this interesting city. He was very friendly and knowledgeable about his city. His tour was full of history as well as sarcasm and jokes. Just the perfect blend for us!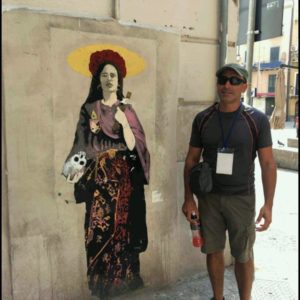 Among the many bombed-out buildings, there were also architectural wonders and historical buildings that were left untouched.  We had a Romeo and Juliet moment in a beautiful old abandoned office building.  After that, we turned the corner and there was an old dilapidated framework that couldn't be identified.  It was amazing how such masterpieces could remain untouched, and then right adjacent there were fragments of bombing and mafia wars that have not been repaired or restored.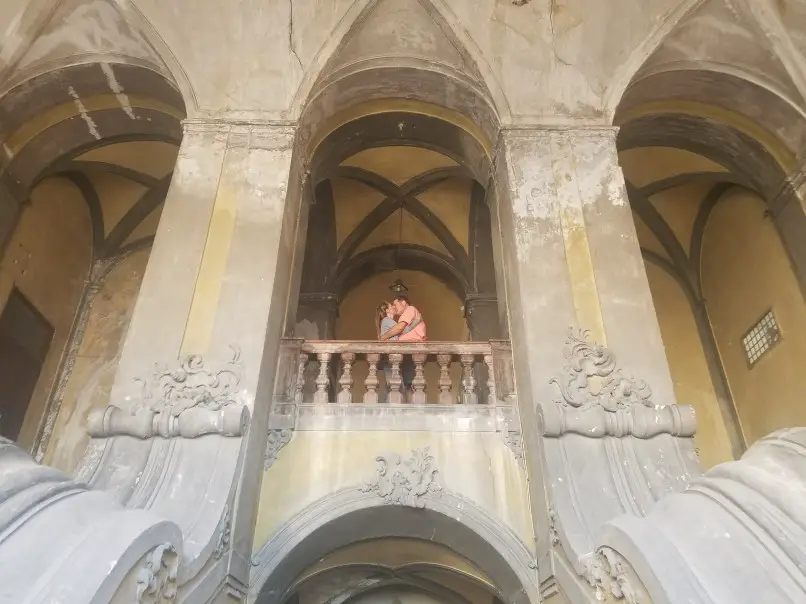 SAINT ROSALIA – the patron saint of Palermo
Walking along the streets and alleys we saw shrines everywhere; murals and sculptures of the Palermo patron Saint Rosalia.  They were built into walls, in the middle of an alleyway, anywhere that they could fit into the community. Take note of this Palermo travel tip to take a peek down each alley to discover more unique Saint Rosalia shrines!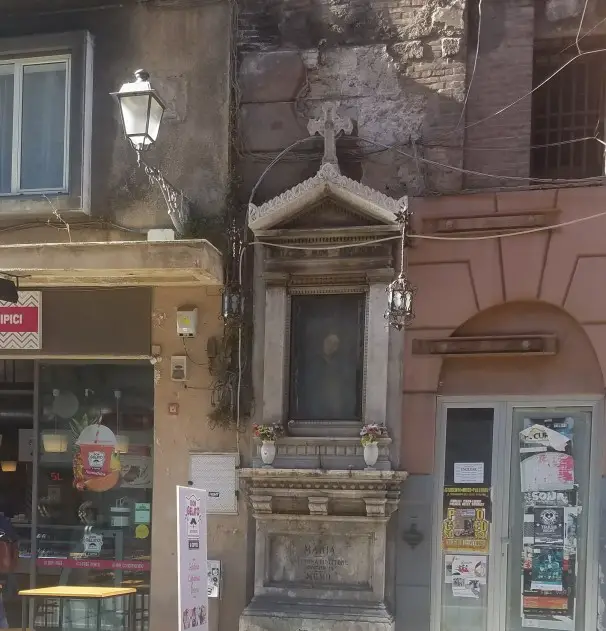 According to the legend, in retirement, Rosalia took to a hermit's life in a cave on Mount Pellegrino in Palermo where she died in 1166.  In 1624 a nasty plague overtook Palermo and Rosalia's apparition appeared to two citizens of the city.  Her instructions were to rescue her bones from the cave on Mount Pellegrino and carry them in a procession throughout the plagued city.  After three processions, the plague was wiped out, Rosalia was venerated as the patron saint of Palermo and a sanctuary was built in her hermit cave.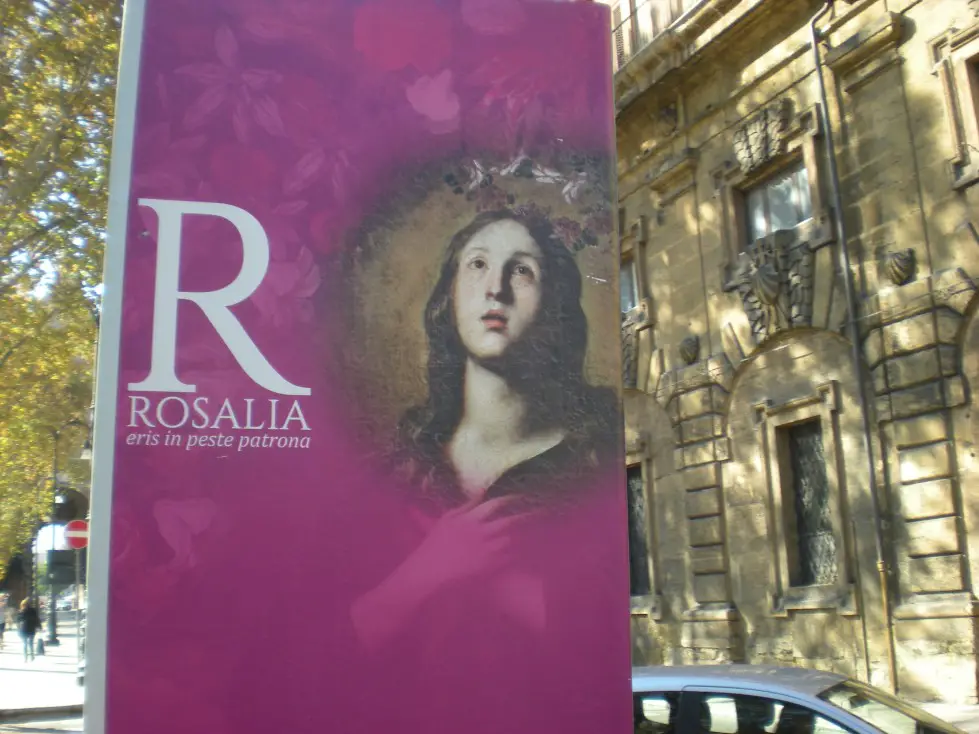 ---
If you have MORE vacation time, after you spend your one day in Palermo, you can tour the rest of Sicily with the PERFECT ONE-WEEK SICILY ITINERARY. There is so much to explore on the largest island in the Mediterranean Sea.
Need a place to stay? There are many places to stay in Sicily. Find the perfect spot for your vacation in Sicily!
---
Teatro Massimo
Teatro Massimo is the largest opera house in Italy, the third-largest in all of Europe, and one of the largest buildings in Palermo.  This huge structure with 1,300 seats in its stunning auditorium reopened in 1997 after 25 years and hosts more than 130 music and dance events throughout the year with its awesome acoustics.  The exterior is just as grand, is often compared to a palace that towers over its surroundings, and features giant pillar columns with a grand staircase to the entrance.  If you recognize it, you have probably seen it on the big screen in Godfather 3.
Perhaps the best thing to do in Palermo is to attend an event or take a tour of Teatro Massimo in order to appreciate the acoustics of the hall.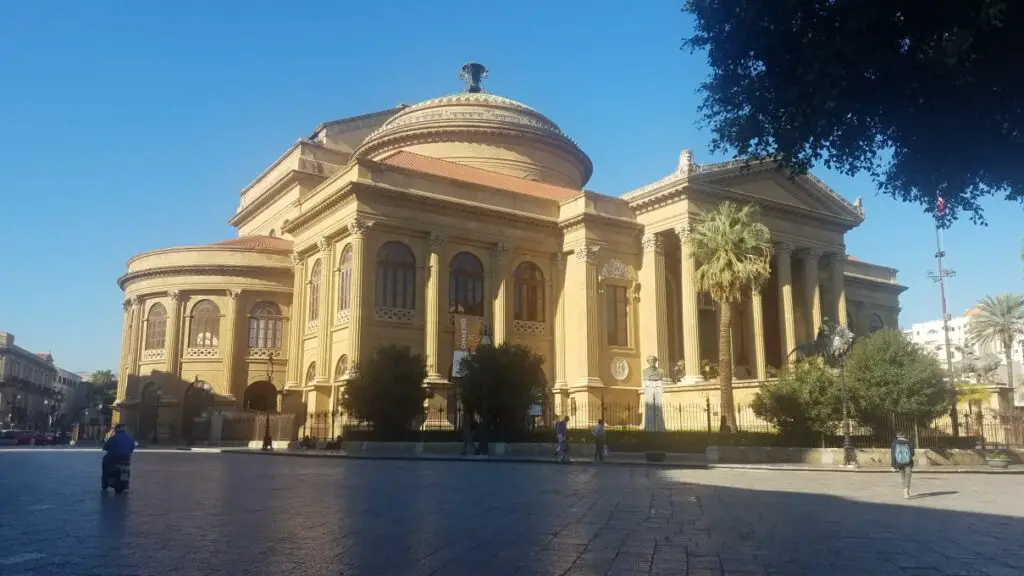 Quatro Canti
In the heart of the city of Palermo is an intersection with 4 sculptured corners called Quattro Canti, located in an open square called Piazza Vigliena in the old historic district.  The four Baroque buildings were constructed in 1608 with famed architecture and marble columns reminiscent of the Renaissance fountains in Rome.  The lower levels have fountains that rise to the second floor.  The third and fourth floors contain statues of the four seasons, the four Spanish kings, and the patronesses of Palermo, including Saint Rosalia, in curved indents. On top of each quarter is the statue of the eagle, the symbol of Rome, which reflected the period of Roman domination and now also the symbol of Palermo.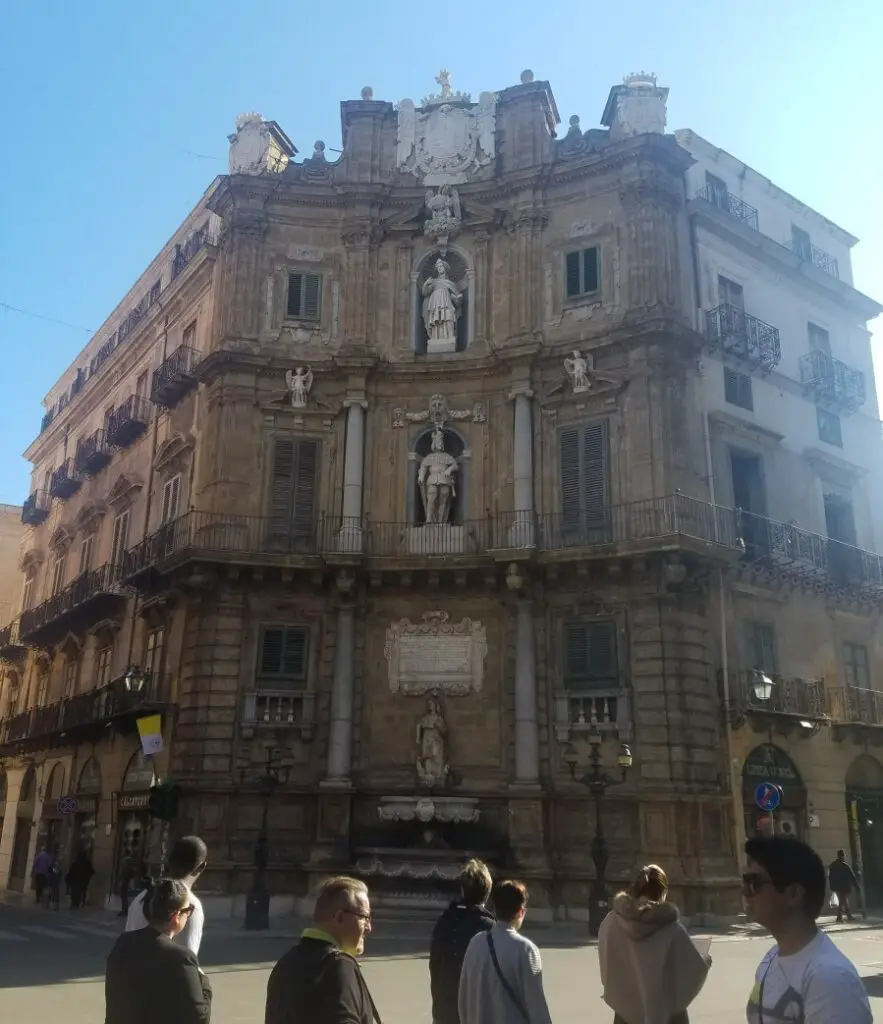 We looked at the apartments on each of the four corners and drooled. Domenico mentioned that a 1 million dollar winning lottery ticket could possibly buy one of those apartments and he could help us find a place to purchase such a ticket!
Fontana Pretoria
Also known as the Fountain of Shame, this fountain of naked statues is located in the center of the historic district.  It was created in 1554 in Florence by Francesco Camilliani, but was moved to Palermo a few years later.  This scandalous fountain was too much for the people of Palermo and they were appalled at the indecency of the statues.  They vandalized the sculptures and broke off all the naked male appendages!  The Pretoria fountain remains in Palermo today for all to appreciate its shamefulness, minus a few anatomical parts for the men.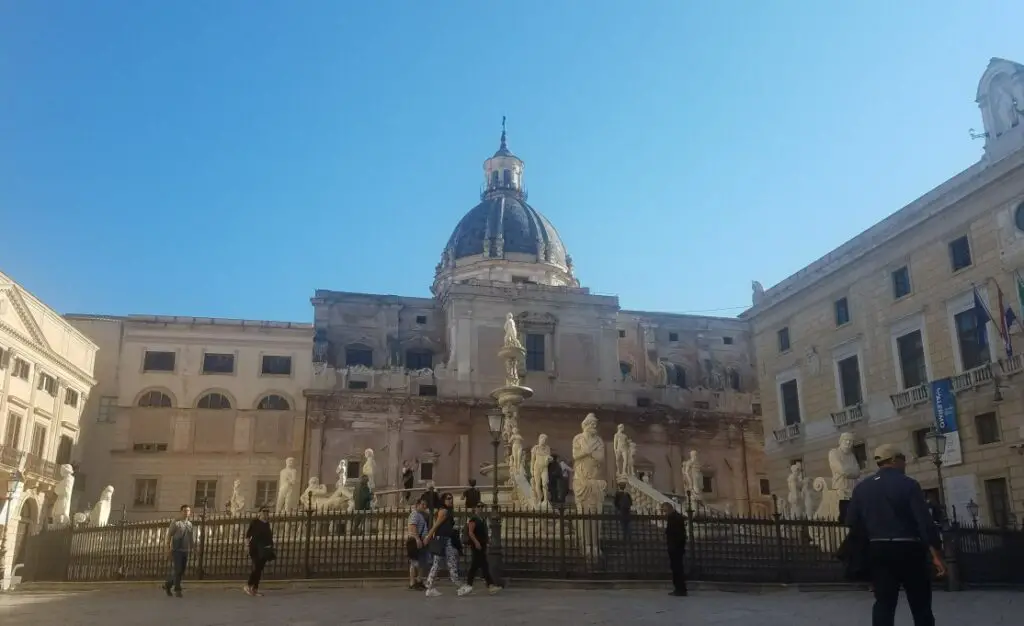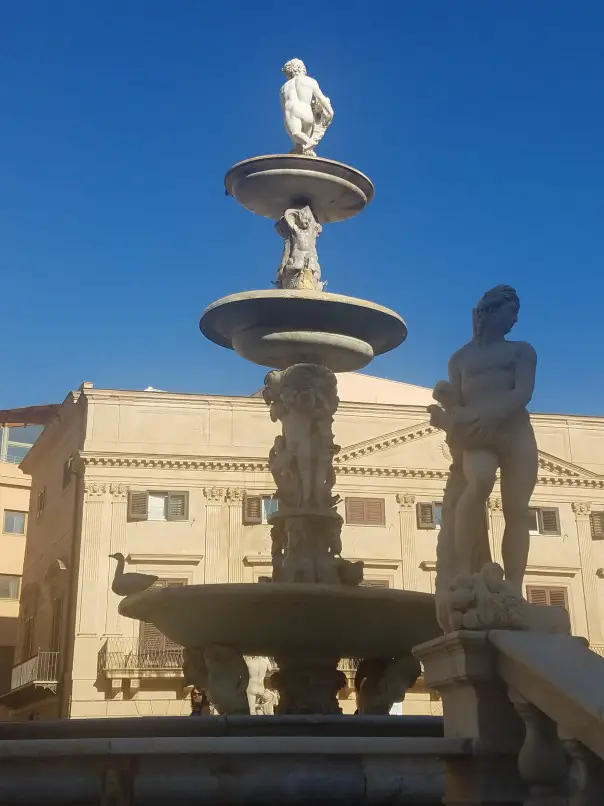 Whether it was just a joke from our tour guide or not, I was told that it was good luck to touch that butt of one of the statues on the Pretoria Fountain! I wasn't taking any chances and decided to give it a rub— I don't think I was the only one duped into this superstition.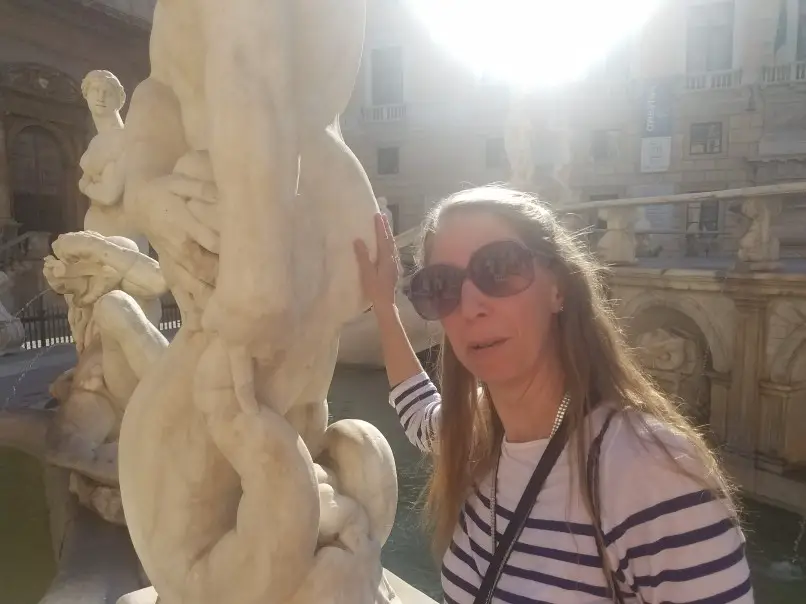 We had lots of good luck on our Palermo trip –but Alas, no winning lottery ticket to buy the flat on Quatro Canti!
---
Tour this beautiful fountain and other amazing sculptures around Palermo with this tour:
---
FOUR BEAUTIFUL PALERMO CHURCHES
Palermo has a wide variety of churches, chapels, and cathedrals from Baroque and Gothic to Arab-Norman-Byzantine style.  Domenico guided us through the city so that we were able to tour and photograph 4 beautiful examples that were located in the historic center of Palermo. Even if you are in Palermo for 1 day, you can still see these architectural beauties!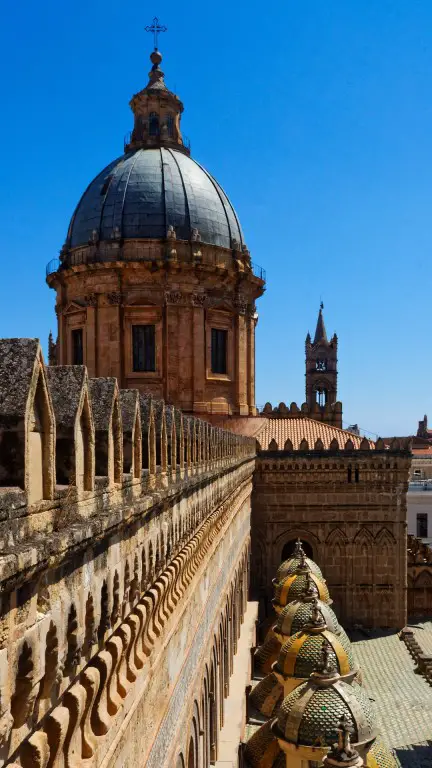 Santa Caterina
Saint Catherine's church is located in the Palermo historic district and is an exceptional example of Sicilian, Baroque, Rococo, and Renaissance architecture.  This church miraculously escaped harm from bombing and features original frescos throughout the ceiling.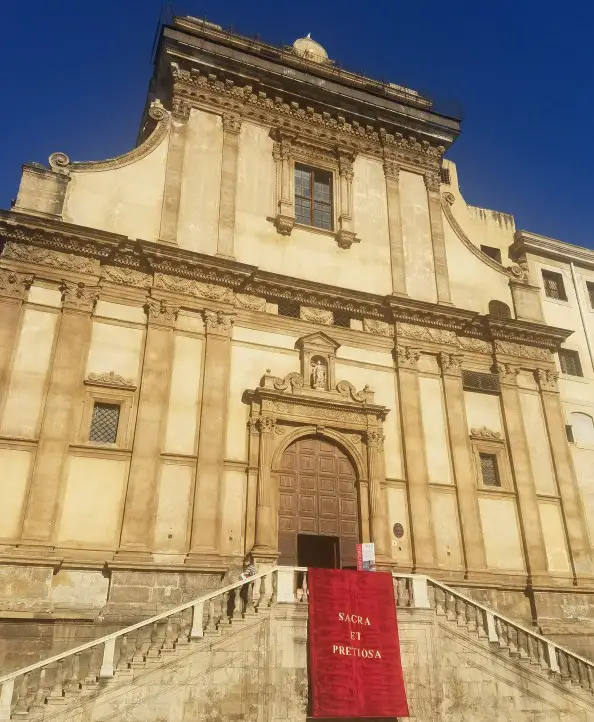 The pillars are a smaller version of the pillars in St. Peter's Basilica in Rome made by Bernini.  The spiral pillars were made from one piece of marble from the west coast of Sicily and symbolize the ascent to heaven as they make their turns toward the beautiful ceiling.  We wondered how these columns were transported here to Palermo and our ever-knowledgeable tour guide hinted that he thinks that Captain America assisted them while he was living in Palermo back then.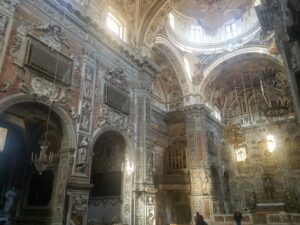 Santa Maria dell'Ammiraglio (La Martorana)
La Martarana, located in the Piazza Bellini, next to the Pretoria Fountain and the Quattro Canti Square, is an amalgamation of many different styles due to the conquests of different cultures throughout the years.  The main dome features a gold mosaic of Christ and the ceilings and arches feature colorful frescoes and more gold mosaics.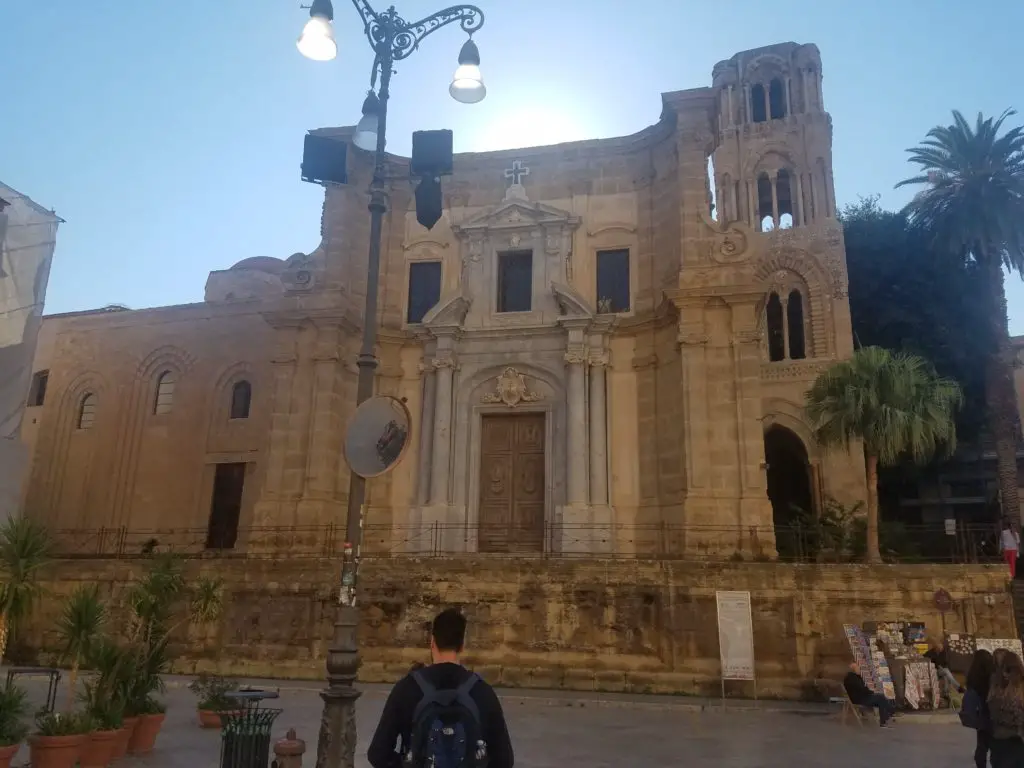 All the pillars are different from each other because they are real columns taken from many Roman palaces 2,000 years ago.  This church became a convent of nuns in 1600 when the blue tabernacle with incredible mosaics was added.  You will be stunned, just as I was, by all the ornate work on every surface.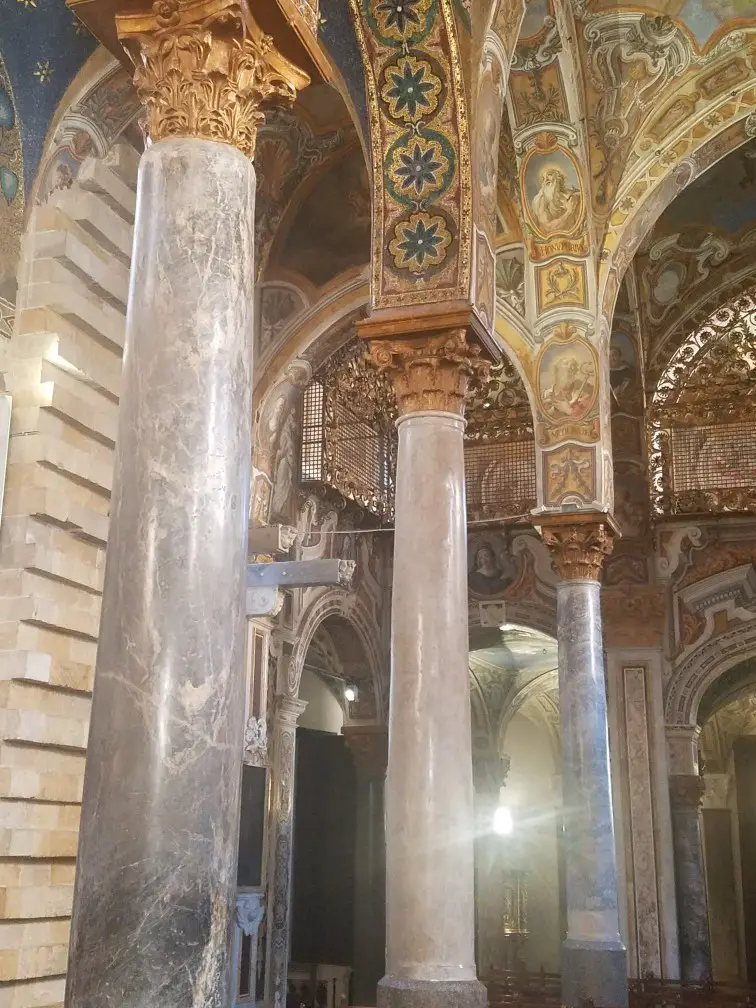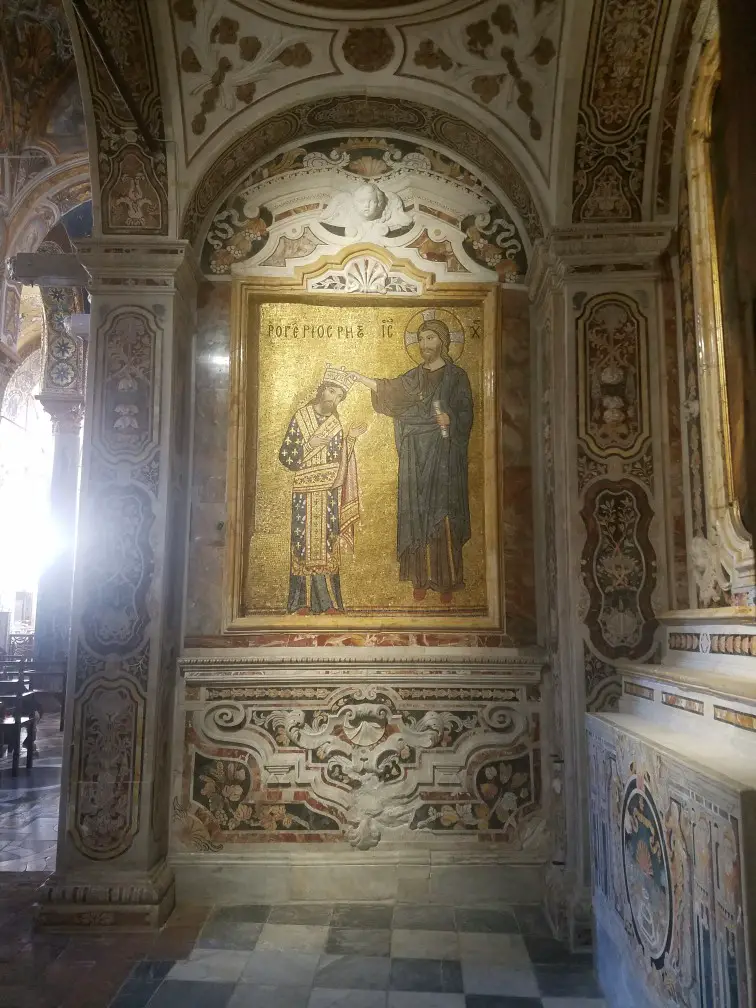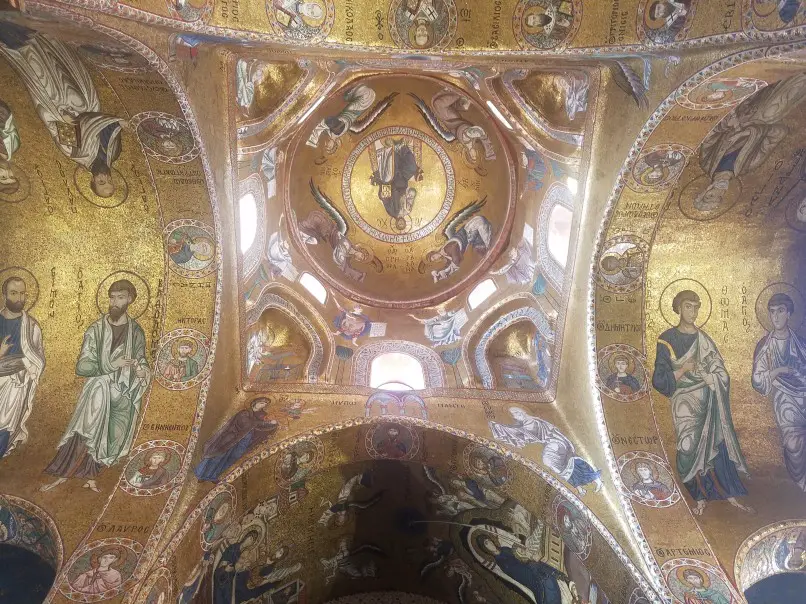 The Palatine Chapel
The Palatine Chapel is a mixture of Byzantine, Fatimid, and Norman architecture, originally constructed in the 12th century.  Every inch of this chapel seems to be covered in Byzantine golden mosaics and colorful artwork.  The southern Palermo marble workers covered the floors and walls with gorgeous marblework.  The crown jewel of this chapel is the woodwork art featured on the ceiling and even some Arabic script.  The architecture is a muqarnas which is an ornamental vaulted ceiling commonly used in Islamic architecture.
Palermo Cathedral 
The Palermo Cathedral is dedicated to the Assumption of the Virgin Mary and, similar to the other religious buildings in Palermo, is composed of many architectural styles due to many influences over the years of cultural domination changes.  Each restoration of the cathedral added a touch of the current regime's style to the complex.  There exterior features a large basilica and a tall renaissance clock tower.  The side entrance features ornate columns and detailed frescos.  This building has served time as a mosque and a crypt and currently houses royal tombs. 
More things to do in Palermo Sicily
Tradesmen alley
After we had finished touring all the religious buildings, our Walking Tour of Palermo took a detour down an alley and we visited the metal fabricators' shops.  They were welding, loudly hammering steel in all different formations, and using large pieces of equipment and machinery that I cannot name.  My hubby was in heaven watching all this hands-on work. I would definitely recommend taking a detour down this alley and adding it to your Palermo one-day itinerary.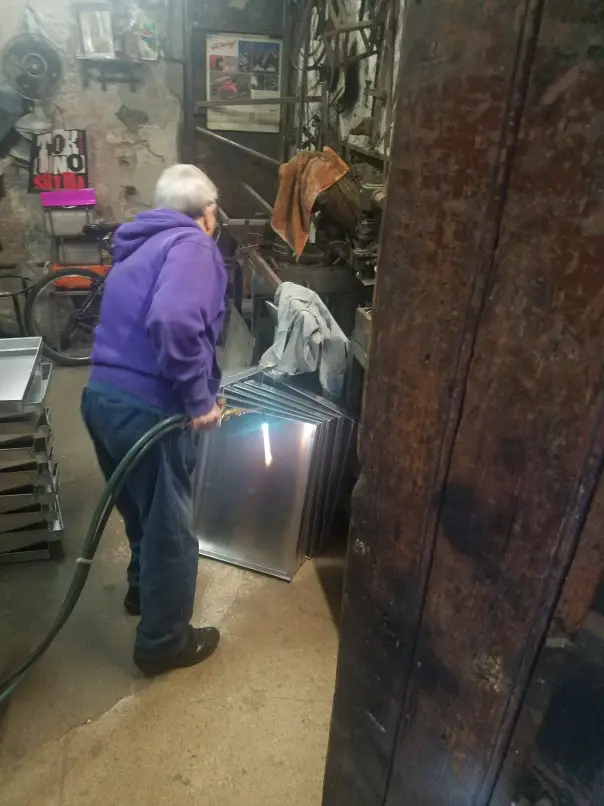 It is in these shops that the special giant steel vat that is used to cook spleen is made.  Spleen, pani ca meusa, is a street food in Palermo and only those with a strong stomach should attempt that food tasting.  I, however, had to pass on trying the spleen.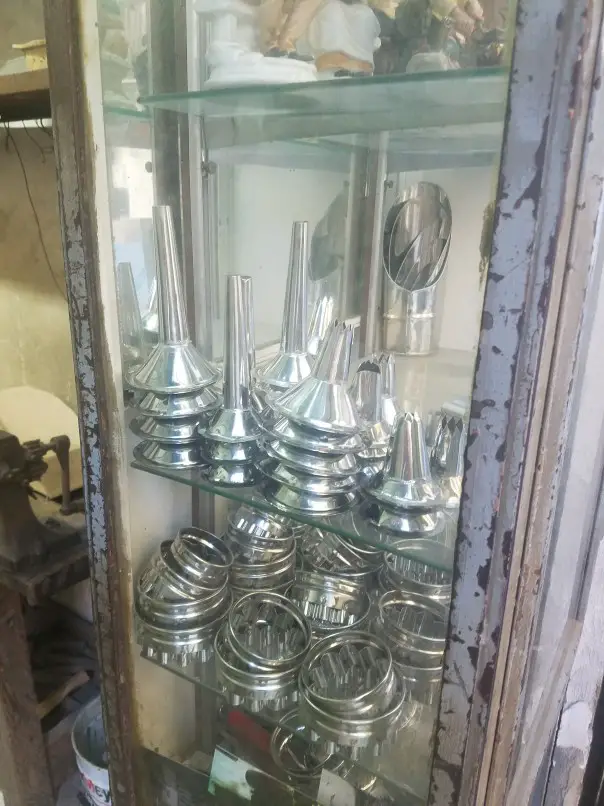 ---
Markets are a great way to sample city life and get a taste of the typical street food and Palermo is no exception since there are several food markets that operate daily in the center of the city.  Street vendors and store shops are eager to let you purchase their delicious fruits, vegetables, cakes, and other yummy delights. We were glad we stopped at the market during our 1 day in Palermo.
At the end of our Palermo walking tour, Domenico took us to a market that was vibrant with colorful fruits and hopping with Palermo shoppers. He knew everyone and we could feel how close-knit the community was as he chatted with all his Sicilian friends as we made our way through the market. He bargained with the vendors so that we could try some of the street foods and different fruits. It was all included in our tour and was quite a feast for us.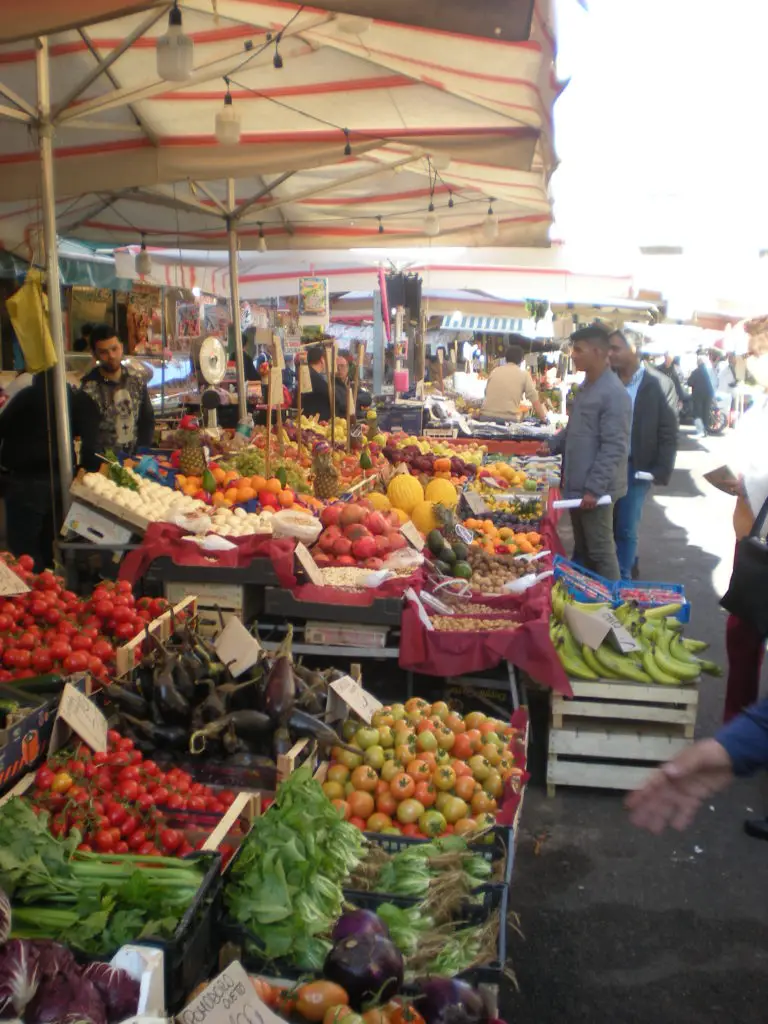 Arancini Balls
Our first street food sample was arancini, Italian rice balls. It was warm and full of flavor. I could have eaten a couple more of them.  In Palermo, they are made from saffron-flavored rice molded into round balls and fried around meat or vegetables and tomato sauce.  
Interested in trying out Arancini at home? We tried our own recipe and loved it! Read about it in this post that includes a step-by-step video.
---
Cannoli
Cannoli are another Sicilian creation. They are Italian pastries of fried dough rolled into a tube and filled with a thick, sweet filling containing ricotta. On our food tour though, we opted for the ice cream filling and our taste buds were elated!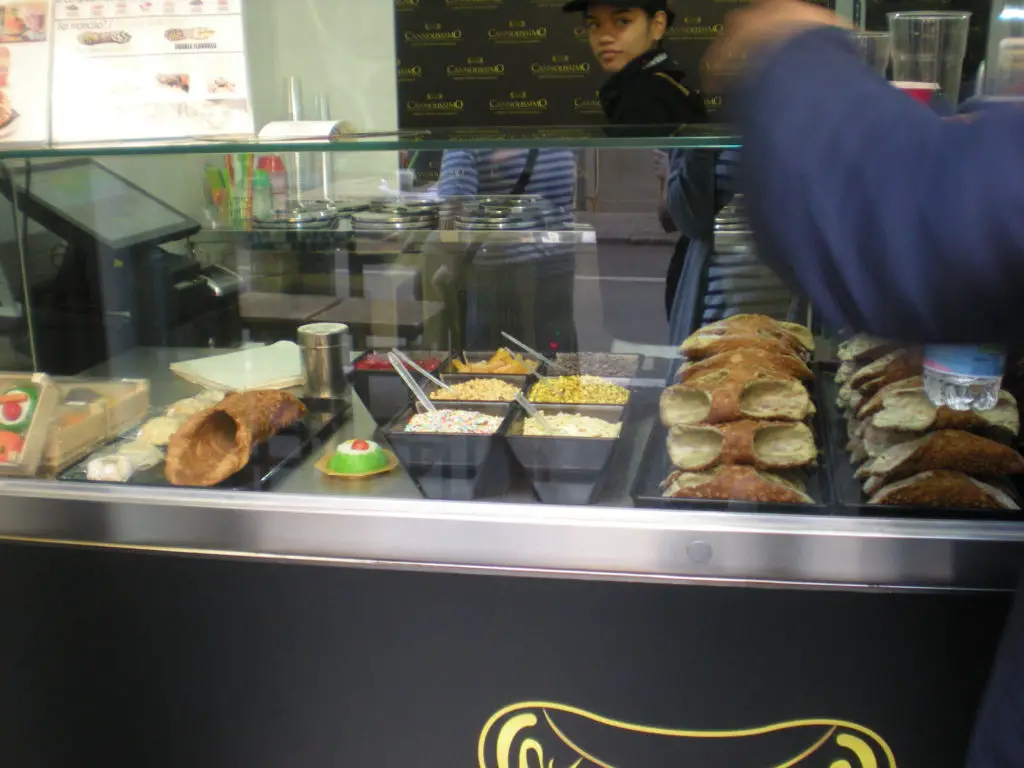 ---
Make your mouth water with this Ultimate Guide to Palermo Street Food Markets made from our visit to the market on our one day in Palermo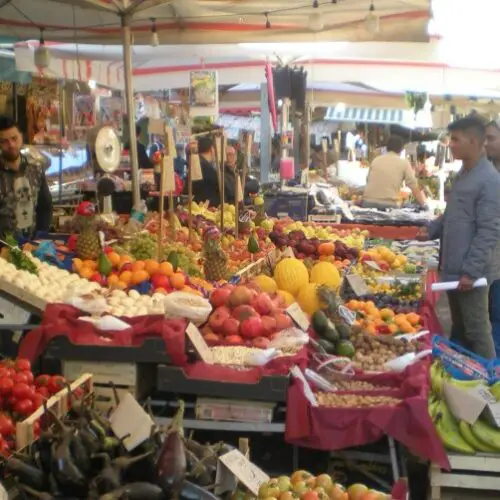 Delicious Shopping at the Palermo Street Food Market
Enjoy the food at the Palermo street food market! The market stalls are famous for the variety of authentic Sicilian street food, rich in color & taste.
---
Negozio Argento (Puppet Store)
On our last stop on our Walking Tour of Palermo, Domenico took us to the Argento family puppets' workshop. Their family members have been puppet masters since 1893 and the art and history of the Sicilian marionettes have been handed down for 5 generations. We stayed for a while to watch the manufacturing of the marionettes in the workshop and then purchased one for a souvenir. The family also performs many original Sicilian stories in their puppet theater in front of the Palermo Cathedral. This would have been a fun thing to do in Palermo, but sadly, we did not have enough time in our short Palermo trip to include the puppet show on our itinerary.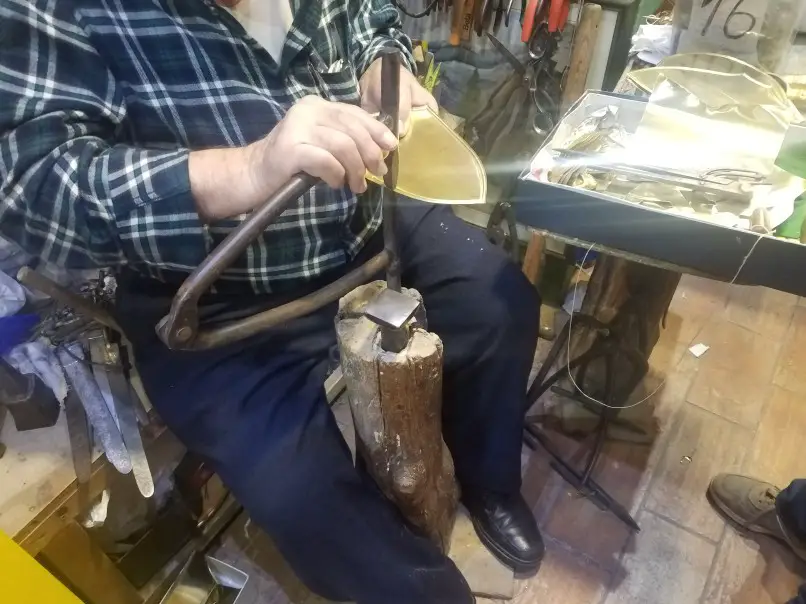 Ending our Palermo Tour
We left our friendly tour guide and walked around the city on our own. It was amazing that there were so many places to visit in Palermo. We came upon some more cool architecture that was just calling to us for a photograph. There seems to be something interesting in every inch of Palermo!
Royal Palace
The Royal Palace, also known as the Norman Palace since they were the first royal occupants, was the palace of the Kings of Sicily, created in the 9th century. It is one of the oldest royal palaces in Europe!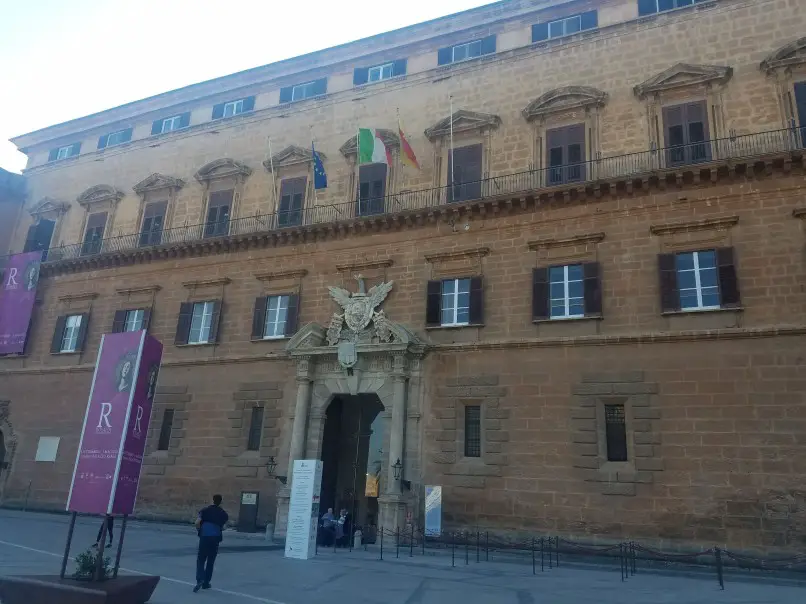 Porta Nuova
We wandered beside the Royal Palace and through a beautiful arch. This is the monumental city gate of Palermo and was built in the 15th century. There are sculptures on one side and a beautiful arch on the other.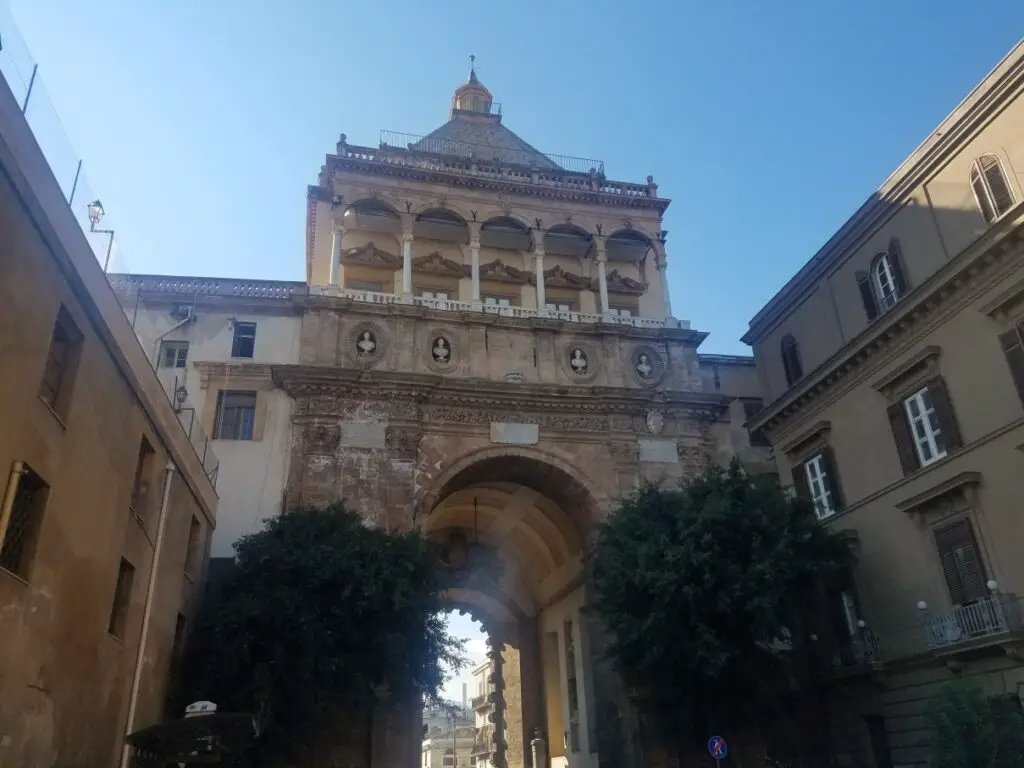 Beyond the Arch
Once we passed through the arch it seemed that traffic doubled. The amount of bombed-out buildings that haven't been repaired yet also increased. We walked back to the other side of the arch and discovered that the school must have let out since the pedestrian street was crowded with school children.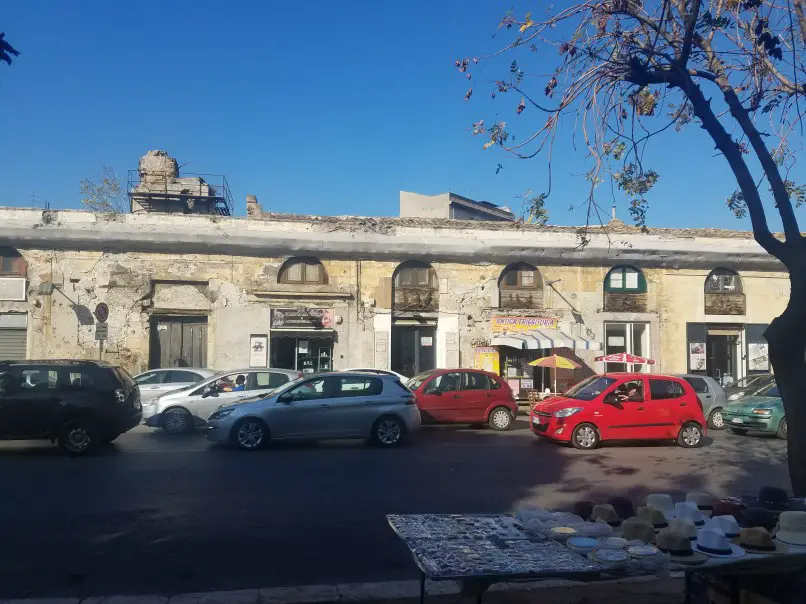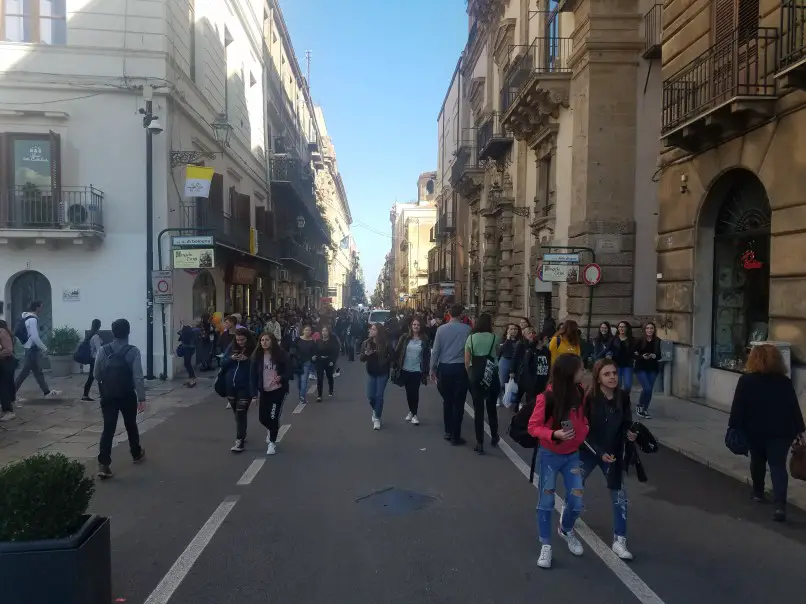 We slowly followed the road that led back to our cruise ship and had to say goodbye to Palermo. It was a city full of new experiences and sights for us. We enjoyed our quick one day in Palermo and our walking tour of the best sites.
I hope you also enjoyed your trip to Palermo Sicily through photographs. Would you enjoy touring this city and adding to its tourism?
Do you have a vacation to visit Palermo in one day? Save this post!!
Like this post? PIN IT FOR LATER!