DISCLOSURE: I may link to relevant products, companies or helpful info which may be affiliate links, meaning I may earn a small commission. As an Amazon Associate & other affiliates, I earn from qualifying purchases at no extra charge to you. The views & opinions are my own. Please see the disclaimer and privacy policy.
Last Updated on May 4, 2023
There are a lot of choices at the Palermo street food market stalls.
The markets in Sicily are famous for their variety of authentic and unique Sicilian street food, in particular in the capital city of Palermo.  The markets are a great way to get a taste of the typical Palermo street market food.  The street vendors shout at you –or sometimes sing in melodic phrases– to get your attention with dramatic gestures as you pass by their colorful tent awnings to let you know that their dish is the best bargain and tastiest in the market. The vendors banter back and forth, laughing, and getting along with each other as family. The Palermo street food markets are full of life, smells, tastes, vibrant colors, and the soul of the city of Palermo.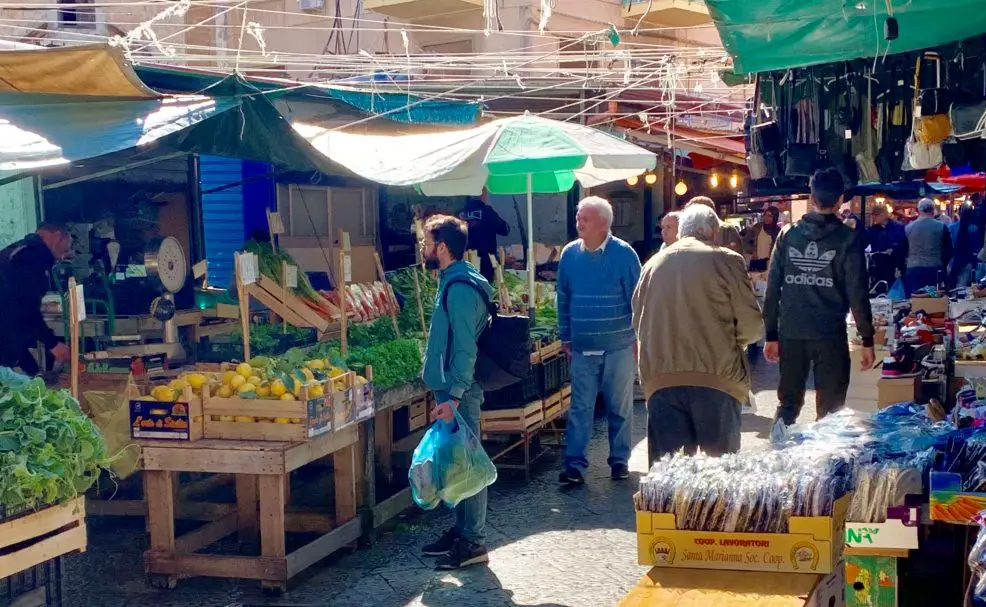 Typical Sicilian market foods are not for a long relaxing meal in a piazza as in other parts of Italy.  Rather, the Palermo street food is nibbled on while the Sicilians fraternize with friends as they walk from vendor to vendor along the old cobblestone Palermo streets.  The Palermo food market is a great representation of the markets in Sicily with a delicious mix of culinary delights from Arab, Spanish, and Norman backgrounds brought together in the street food capital!
We took a one-day tour of Palermo that included a visit to a Palermo street food market and enjoyed it a lot. We were able to taste many of the samples from the Sicilian vendors that were calling to us from their stalls and ended the tour with very full stomachs!
---
Take your own Street Food Tour in Palermo
---
Where are the Palermo Street Food Markets?
Map to the Palermo Street Food Markets
Palermo street food markets are an array of sights and sounds with everything under the sun available to the shopper.  There are two main authentic outdoor markets in Palermo.  The larger Ballaro Market is located near the Martorana Church and Quattro Canti and the Capo Market is located behind the Massimo Theater.  The markets are open every day from 7 am until 5 pm, except for closing early on Wednesday at 2 pm.
To learn more about the great architecture and historical buildings like the Massimo Theater in Palermo, Sicily, follow along on our one-day in Palermo as we tour this beautiful city.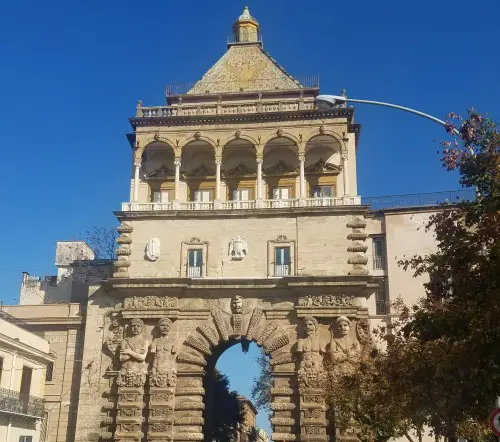 How to Spend One Day in Palermo Sicily
There are a lot of architecture & sites to see on a Palermo Tour in Sicily. Palermo is slowly developing as tourist market & is proud of its Sicilian heritage.
---
Must-try Palermo Street Market Foods
Let's start with the main dishes from the Palermo street food market that will fill you up but still have you craving for even more delicious Palermo street food!
---
MAIN DISHES YOU HAVE TO TRY IN PALERMO
Pani Ca Meusa: Spleen Sandwich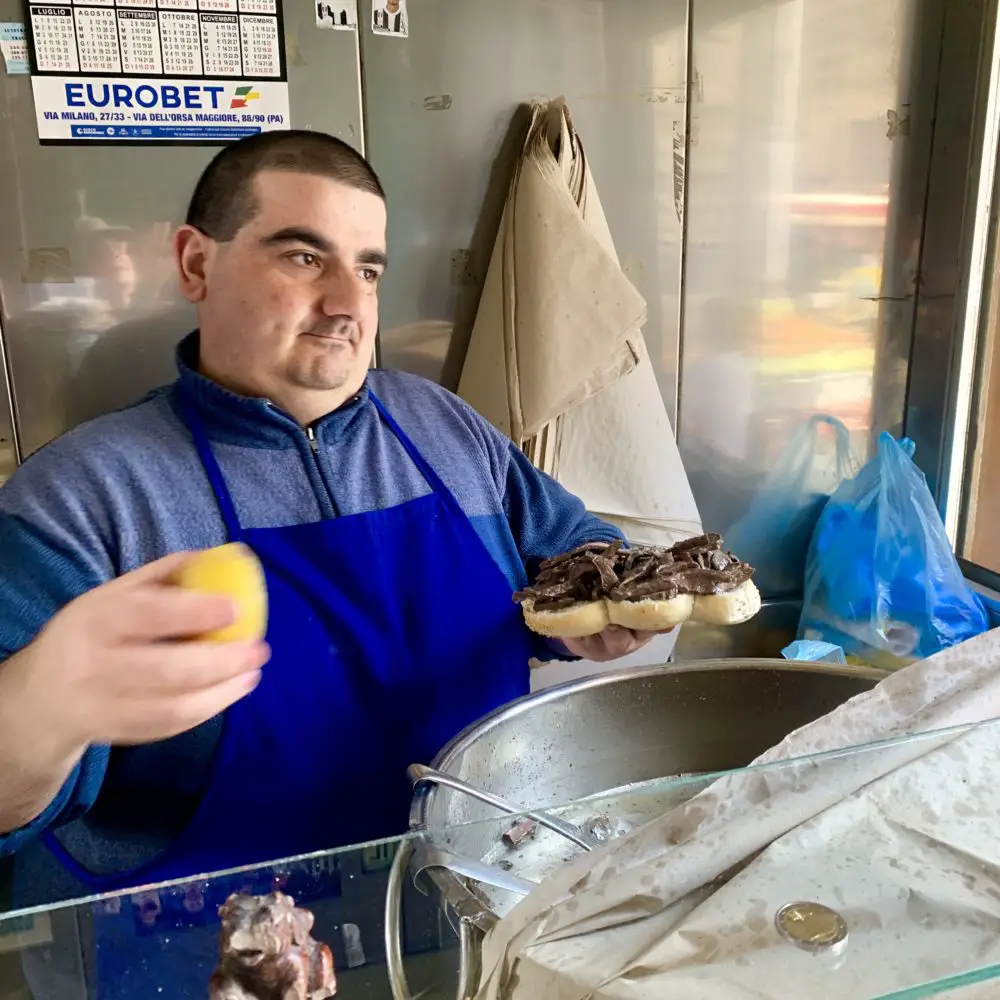 The spleen sandwich.  This is the ultimate initiation to iconic Palermo street market food and is a must-try for any 'foodie'.  It started as a poor man's recipe in the 15th century to use the less desirable animal parts and is now sold throughout the market by street vendors and popular delis.  It has become one of the most beloved local food dishes.  It is made from chopped-up veal or calf lung and spleen that has been boiled and fried in fat and then placed in a bun for a unique sandwich with rich and bold flavors.  The meat topping is often a squeeze of lemon or a helping of shredded cheese. 
TIP: Order married (maritatu) or single (schettu), meaning with or without the CHEESE!
---
Stigghiola: Roasted Intestines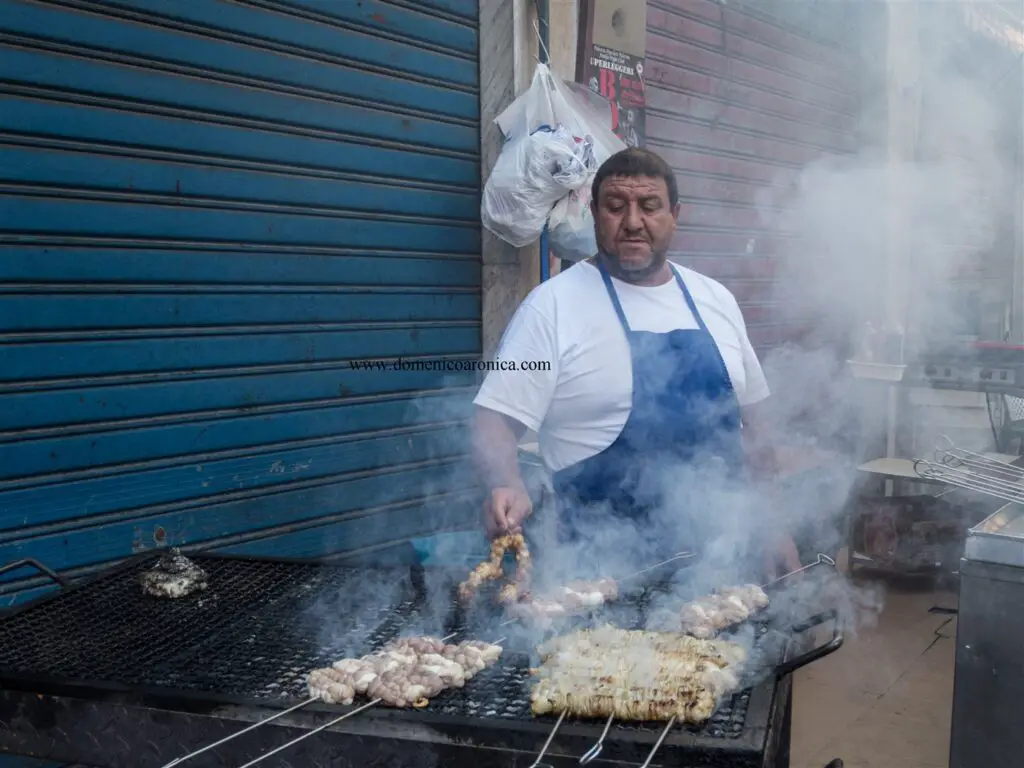 Stigghiola is an authentic local specialty food of the Palermo Street Market.  It is a kebab of intestines that is skewered, wrapped around onions or leeks (sometimes braided with the green leeks to add to the overall aesthetic of the kebab) and grilled to a crisp over a fire.
---
Frittola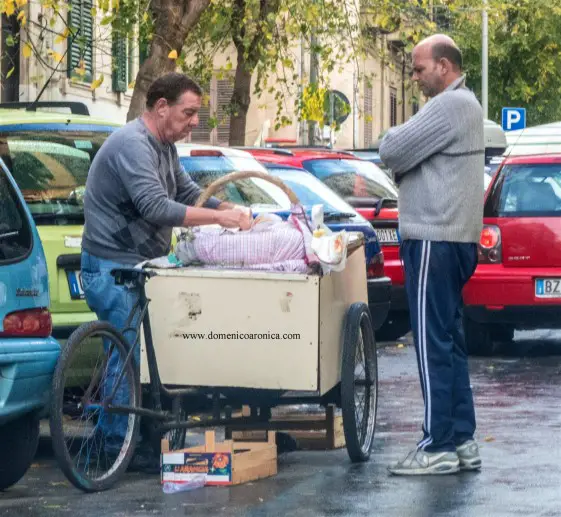 Frittola is definitely a traditional Sicilian street food that is popular along the streets of the Palermo markets.  It is made from the leftover scraps from calves, typical of Sicilian food philosophy that nothing goes to waste.  The little pieces are boiled and then fried to make them crispy.  They are served in a paper cone to eat by hand, reminding me of a serving of popcorn.
---
Pasta con le Sarde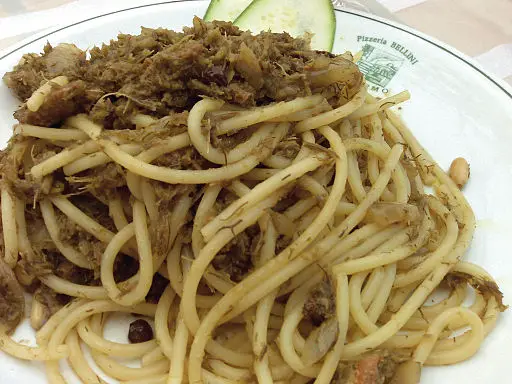 This traditional dish is a popular Sicilian street food in the capital city of Palermo, although it is found all over the island in the markets in Sicily. It is a serving of long, thin pasta with sardines and anchovies.  Fennel grows in the wild on the island and is often cooked with this dish of pasta and seafood. The sardines are most often fried and then chopped and mixed with toasted breadcrumbs so that the fish sticks to the noodles, a unique Sicilian pasta dish.
---
Sfincione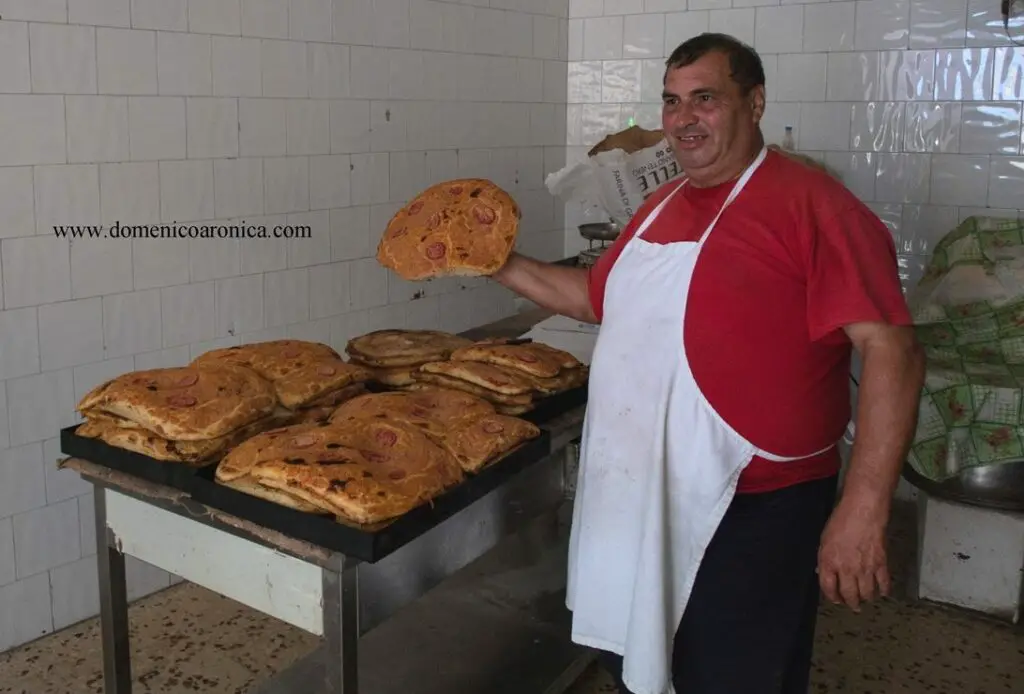 A thick Sicilian pizza is the Sfincione.  Its crust is like a sponge, up to 1 inch thick, and resembles a thick piece of bread more than a piece of pizza.  It is cut and served into dense and chewy rectangular pieces.  The essential ingredient is the tomatoes and optional toppings can include onions sauteed in olive oil, cheese, or anchovies.  Some sfincione is topped with a crisp layer of breadcrumbs.  Surprisingly, it is sold in bakeries rather than pizzerias in Palermo.  AND of course, you can find it at the food trucks in the Palermo street market.
---
Pani Cunzatu: Seasoned Bread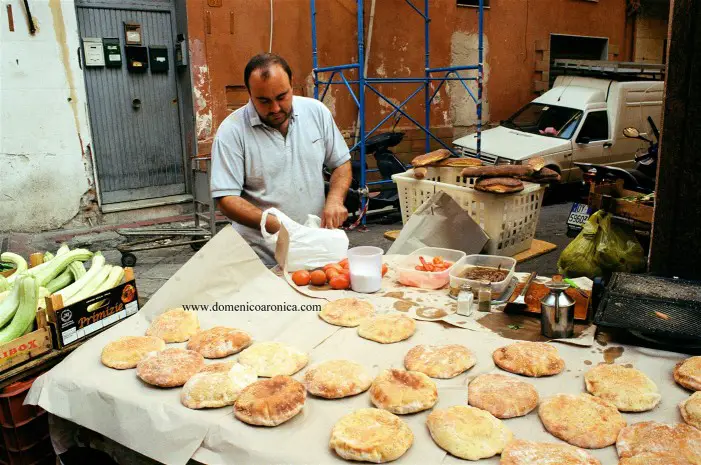 This Palermo street food is found at the market but can vary a little from region to region. This Sicilian cuisine is considered a Sicilian 'poor man's meal' due to its basic ingredients.  It is simply a bread flavored with seasonings and spices.  Over the years the recipe has evolved to include the addition of sun-dried tomatoes for extra flavor and a stuffing of anchovies, tomato, oregano, olive oil or olives.
---
Panella, Pane e Panelle, Pane and Panelle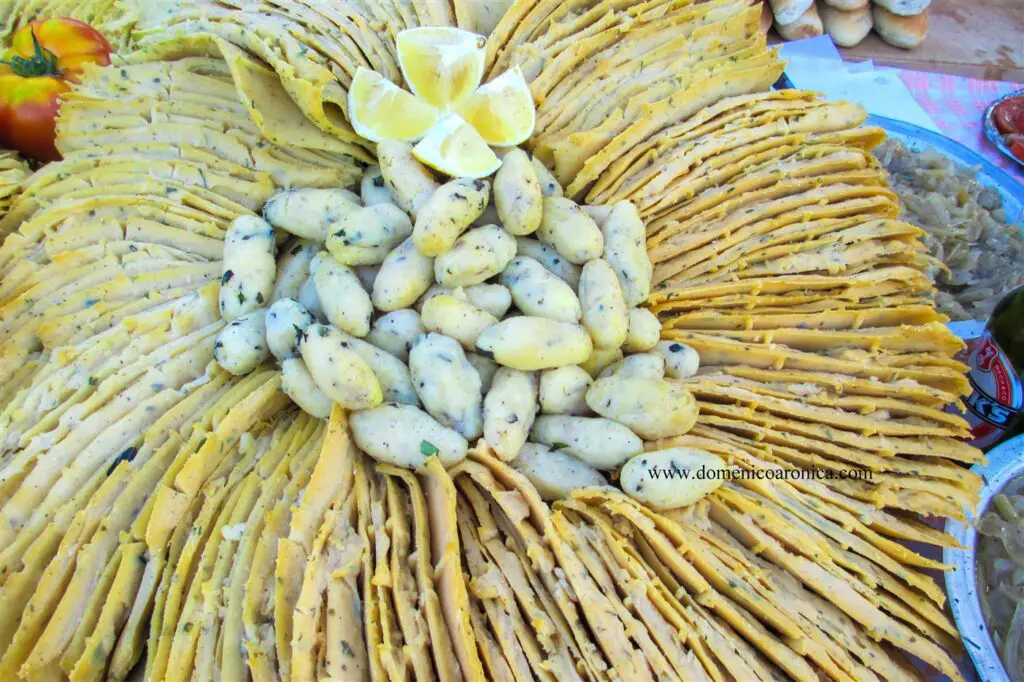 Spelled numerous ways, but all meaning the popular Sicilian fritters. Panelle is next on my list to attempt to make at home –since we can't travel to the Palermo street food market to get some right now. 
Panelle is a delicious pancake-type food made from chickpea flour and fried in oil.  They are incredibly filling for such a skinny flat pancake! The origin of panelle is thought to be from the Arab domination of Sicily in the 9th and 10th centuries.
---
Cazzili: Potato croquettes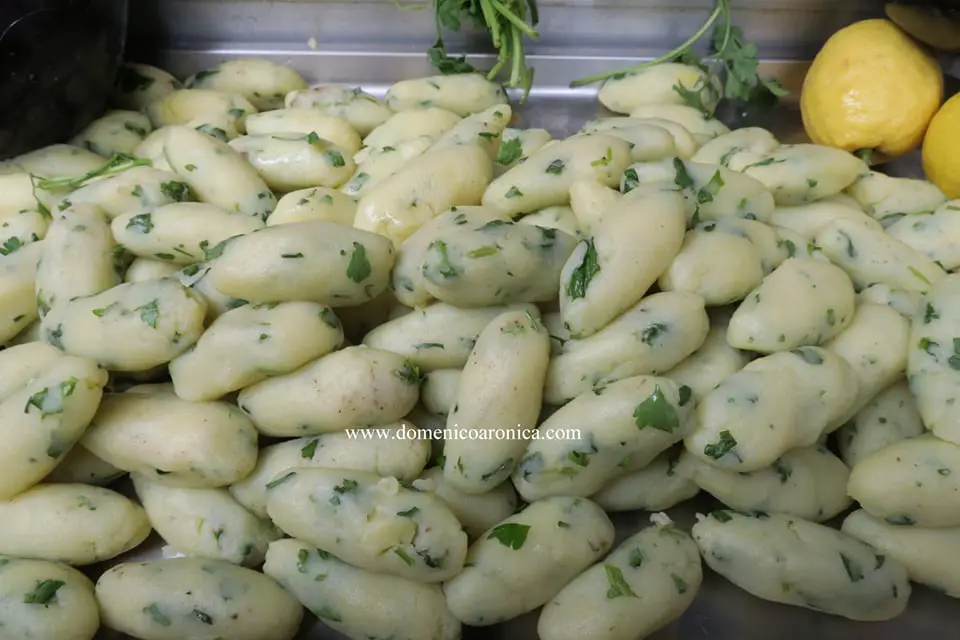 Potato croquettes, cazzili, are just as the name implies, elongated potatoes, with some salt and parsley.  They are still full of taste and a must-try on the list of street food in Palermo.  Most cazzili are served with panelle or inside a bread to make a fluffy sandwich.
---
Arancini – Rice Balls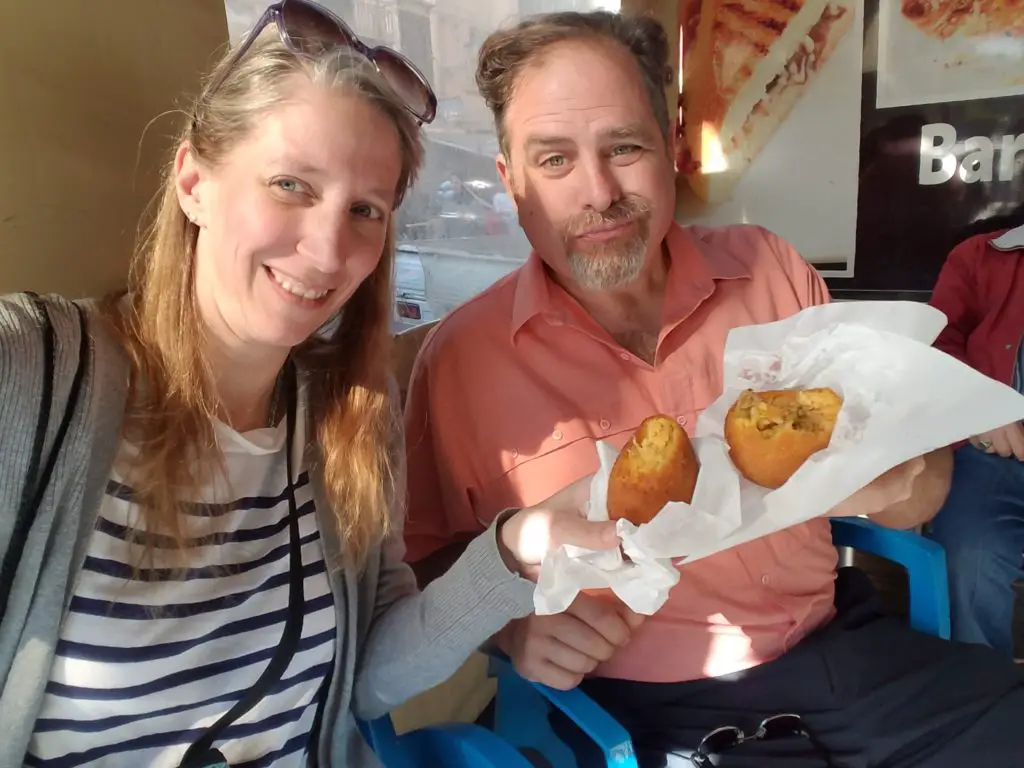 Arancini is our favorite Palermo street market food.  They are Italian rice balls that are coated with bread crumbs, filled with meat or vegetable, cheese, and tomato sauce, and then fried for a crispy coat.  They are a cheap snack and are sold everywhere by the vendors in the markets.
We tried our hand at cooking our own arancini when we returned home. It wasn't as good as the street food, but it was worth it and we snacked on the rice balls and reminisced about strolling through the Palermo street food market. Try making your own Arancini and enjoy the smells and tastes of Sicily in your own kitchen!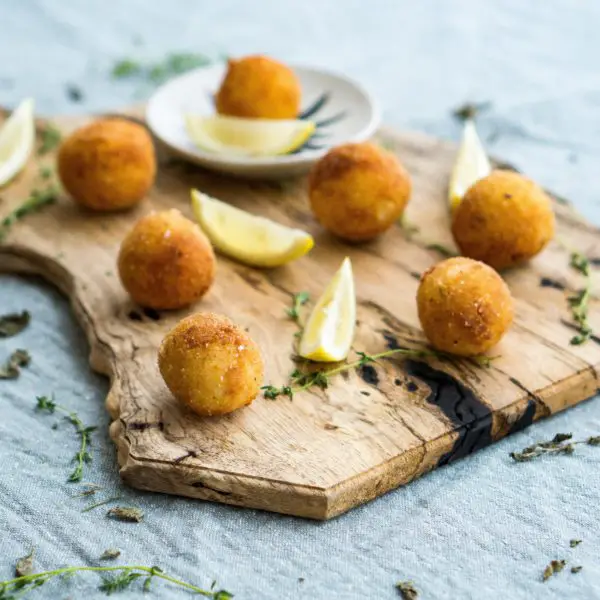 Easy Arancini Recipe: Make Sicilian Rice Balls at Home
Make this easy Sicilian arancini recipe at home. Arancini, called arancine in some parts of Sicily like Palermo, are Sicilian rice balls that are easy to make from home and will allow the smells of the Sicilian market to drift through your kitchen.
---
FISH AT THE PALERMO STREET MARKETS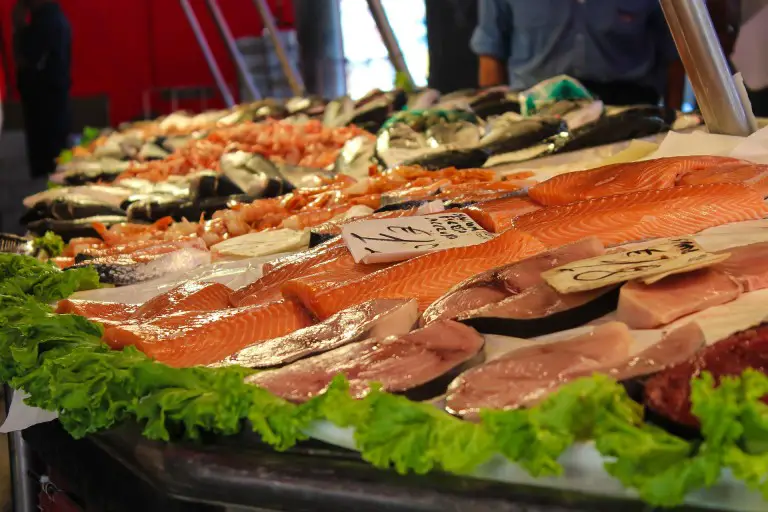 Since Sicily is a large island in the Mediterranean Sea it is not surprising that seafood is so prevalent in restaurants, households, and markets in Sicily.  The selection of available seafood varies by season, but popular fish stalls often have a variety of tuna, sea bass, swordfish, clams, squid, octopus, mussels, sardines, and anchovies.
---
Red Tuna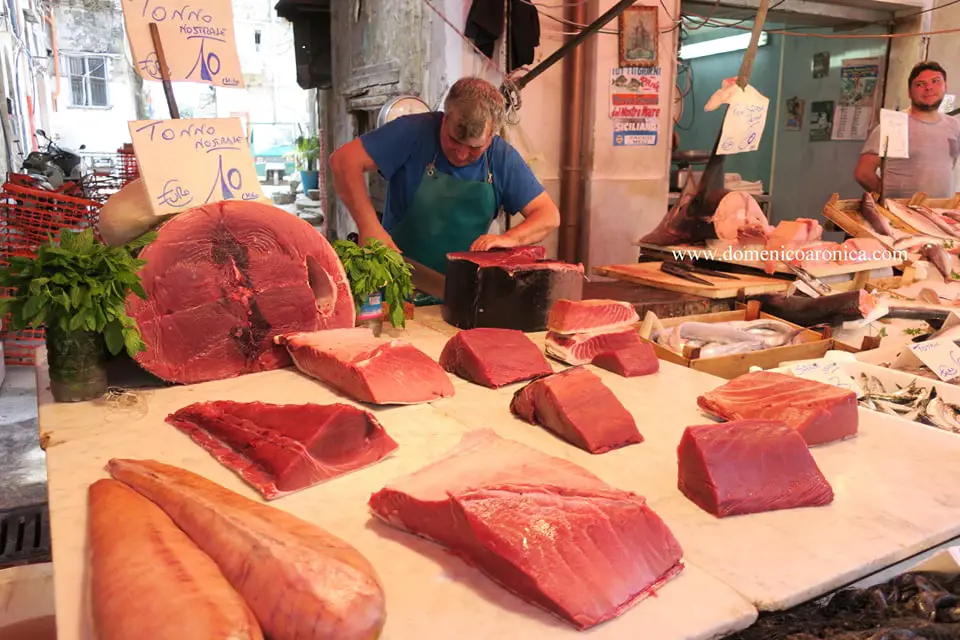 Sicily offers the best tuna in the world.  The fresh tuna is available in the spring of May and June when the large red tuna comes to the warm waters surrounding the island to deposit their eggs. It is typically served as grilled steaks or sausage or marinated with onions.
---
Baccala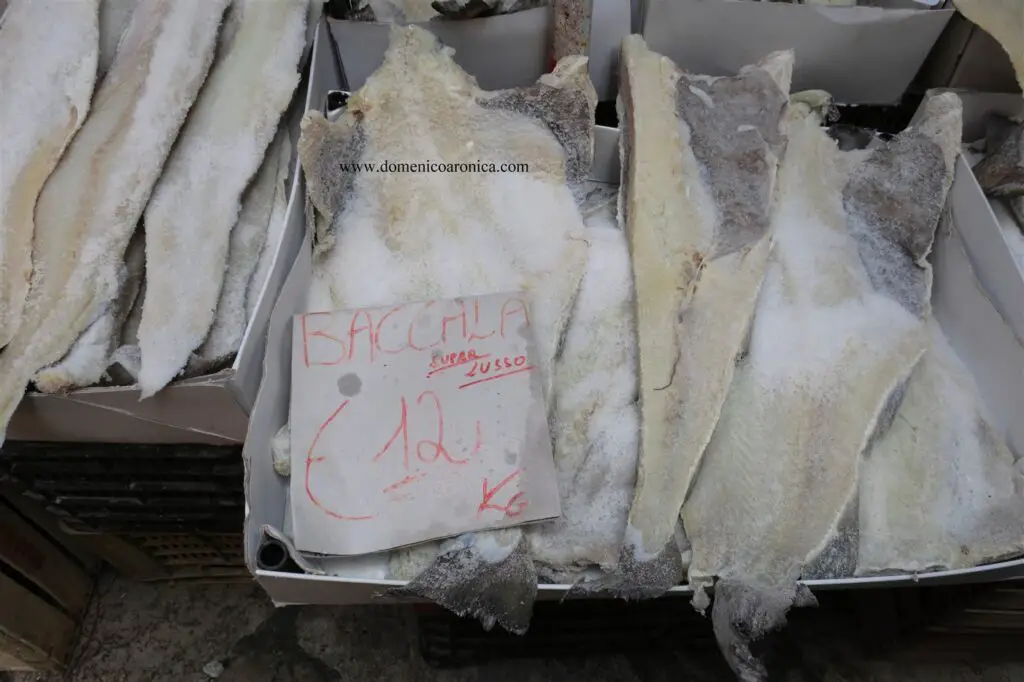 Baccala is a codfish that has been preserved by salt and then dried. As another poor man's food, this was a staple in the days before refrigeration.  The resulting slab of fish is flakey, slightly chewy, but somehow not fishy in taste.
---
Do you love all the Palermo Market Images????
Get your own coffee table book about the Palermo Markets. Each book contains high-quality photos and is signed by the Sicilian photographer, Domenico Aronica. He was born in Palermo and has been shooting the scenes in Palermo for many years in addition to being a licensed tour guide for the city.
---
FRUITS AND VEGETABLES AT THE PALERMO STREET FOOD MARKETS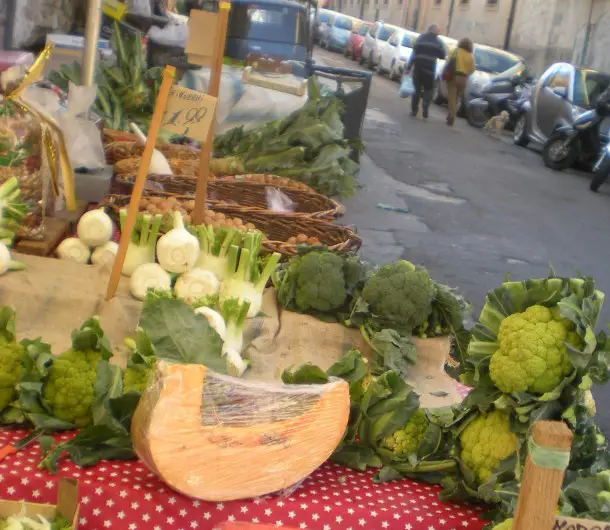 The fruits and vegetables in the Palermo markets are almost all grown locally.  More than half of Italy's citrus farms are located on the island of Sicily, so oranges and lemons are plentiful and found at numerous stalls in all the markets.  Vegetables like tomatoes, zucchini, olives, garlic, peas, beans, and chickpeas are also locally grown.  The produce will be stacked high in box after box, especially in the summer when this tropical paradise is bursting with a large selection of unique fruits and vegetables.  We saw many variations of fruits that we had never seen before!!
---
Blood Orange from Etna Mountain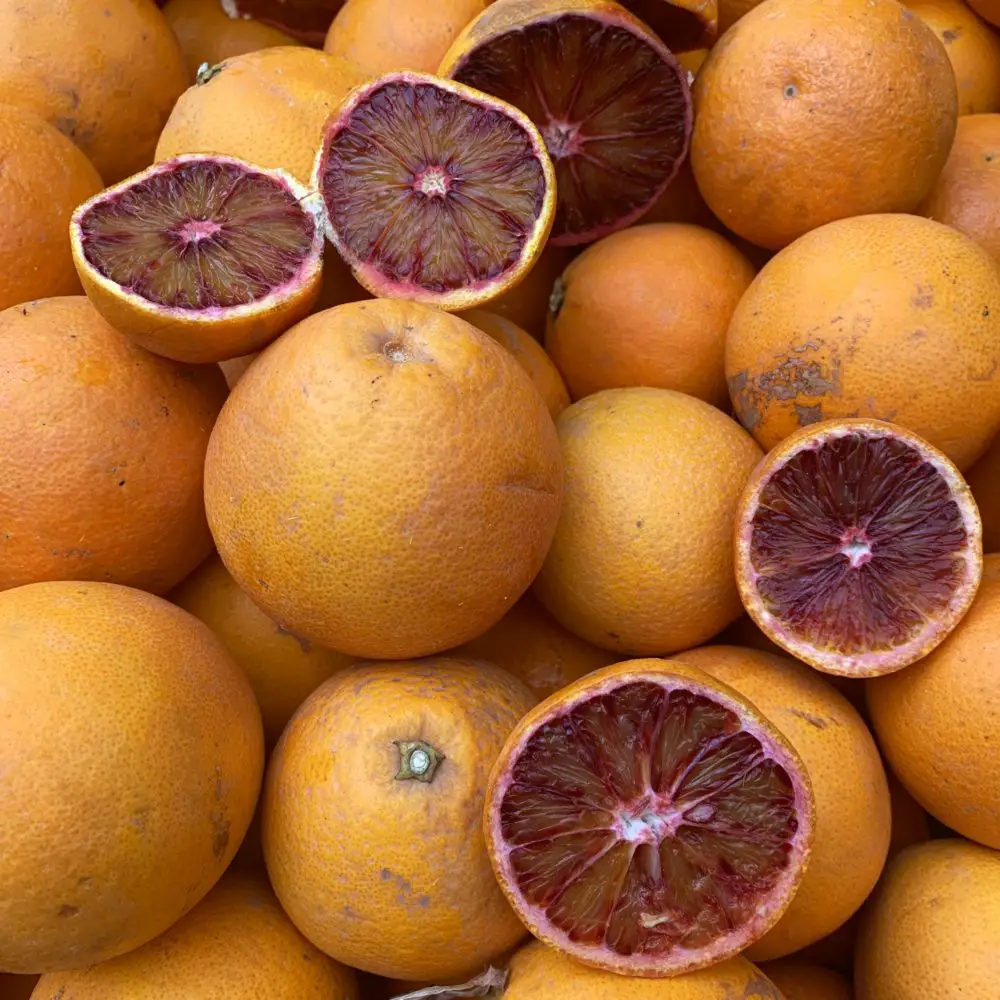 Oranges are popular in the Palermo street food markets.  Lots of them are grown in fertile soil in close proximity to Mount Etna, an active volcano in Sicily.  These 'blood oranges' are unique because the temperature variations caused by the volcanic mountain cause the pulp of the orange to be red and juicy.  They have an extremely high percentage of vitamin C, making them one-of-a-kind and super healthy!
---
Cucuzza Longa: Super long green zucchini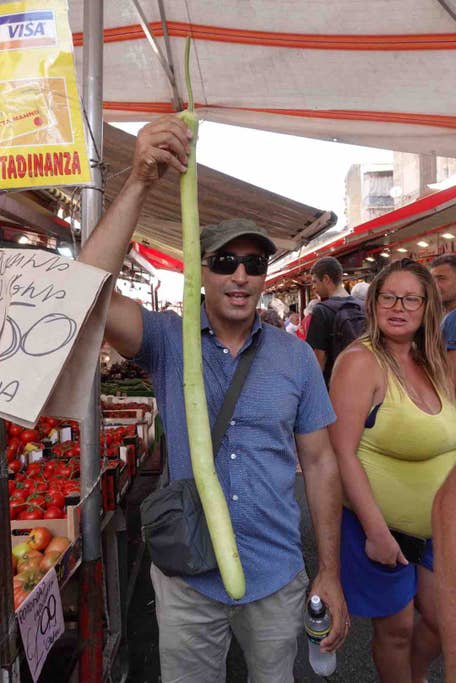 This comical vegetable can grow as long as 6 feet.  The zucchini is long and snake-like, hence its nickname: the Sicilian snake.  It is the tender, spongy fruit of the tenerumi (discussed below) and is often cooked with tomatoes, potatoes, and onions.  I am sure that this elongated vegetable will draw your attention when you see it in the market stalls!
---
Tenerumi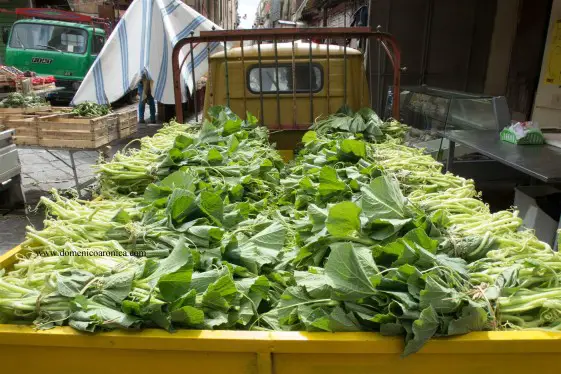 These green leafy plants found all over the Palermo markets are called Tenerumi.  They are the leaves and shoots of a zucchini squash plant that are cooked and eaten with many pasta and zucchini dishes.
---
Prickly pear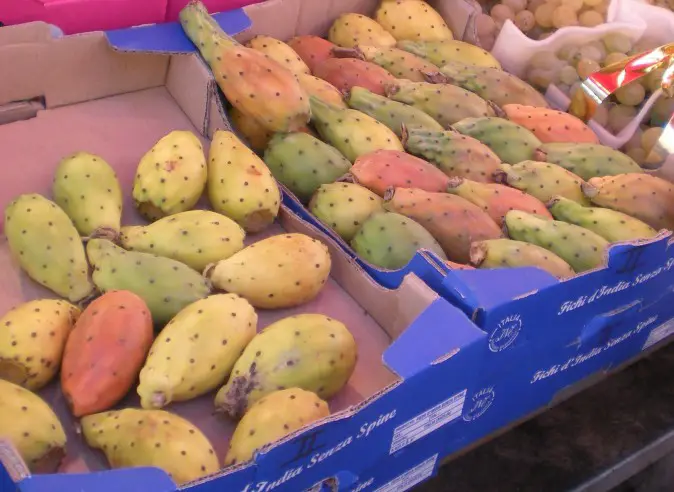 This weird variation of a pear grows on a cactus and is covered in tiny prickly spikes with sun-dried prickly pear flowers. The flesh is sweet and full of seeds.  It is full of so many seeds that you can't possibly spit them out.  The seeds are edible so they pack a little crunch in each bite of the pear. It is recommended to only eat 2 or 3 of these little pears.  I found it to be such a weird combination of sweet fruit and crunchy seeds!
---
Pomegranates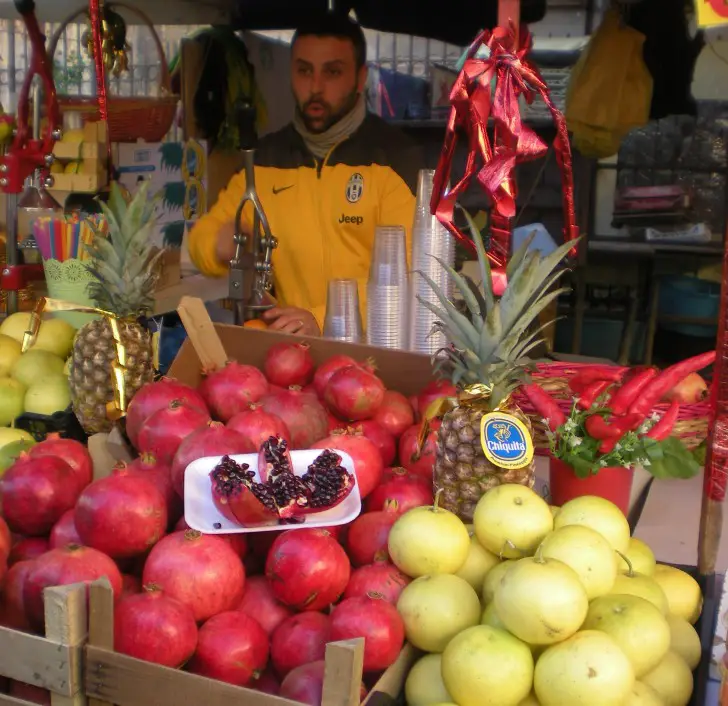 Pomegranates are native to Asia but have spread throughout the Mediterranean, including Sicily.  They are rich in fiber, vitamin C, and potassium. Many vendors not only sell the fruit but will squeeze it into a delicious juice.  Everyone knows that pomegranates are a healthy food to eat that will ward off sickness. 
HOWEVER, the added benefit of pomegranates is that it is thought to also be an aphrodisiac!
---
DESSERTS IN PALERMO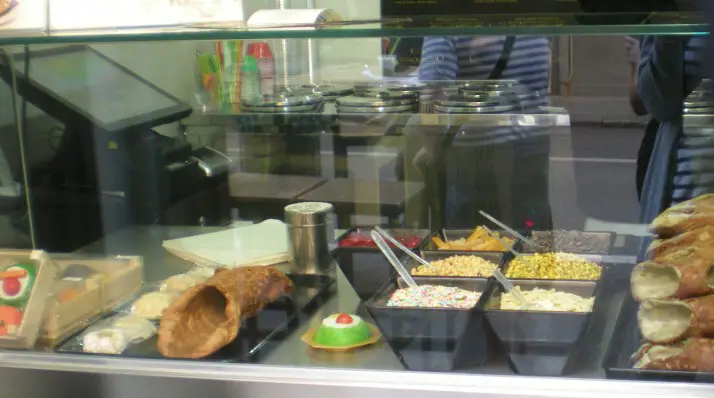 The Sicilian desserts that are available at the Palermo street food markets are a variety of traditional desserts that come in an array of flavors, colors, and aromas to astound all of your senses.  They represent the fusion of nationalities that have become blended in Sicily.  The desserts are quite popular for religious holidays and festivals.  The most popular desserts feature ricotta, which seems to be a common theme among the Sicilian specialty desserts.
Cannoli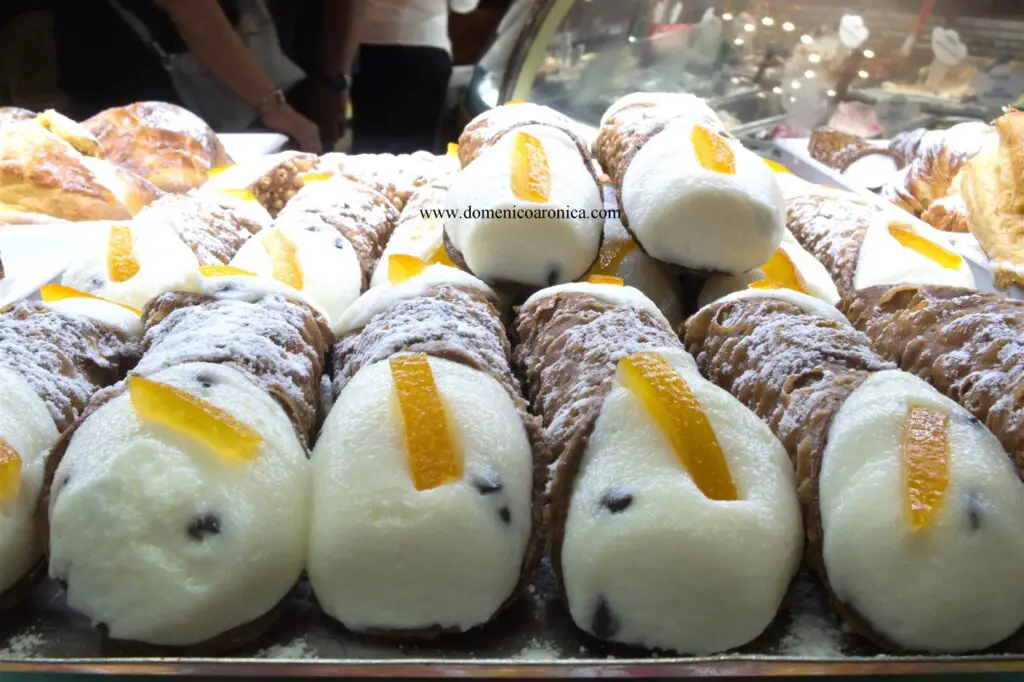 Cannoli are a Sicilian creation of fried dough rolled into a crunchy tube, filled with a thick, sweet filling of creamy ricotta.  They are an iconic dessert that has been copied around the world.  On our Palermo one-day tour, we opted for the cannoli filled with ice cream.  I absolutely enjoyed the mix of the brittle outer shell along with the sweet ice cream filling.
---
Brioche con Gelato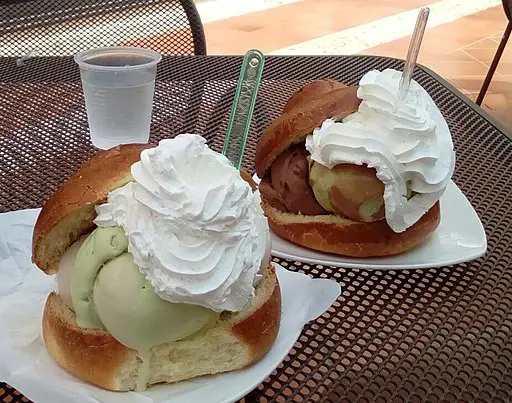 This delightful goodie is a Sicilian ice cream sandwich.  It is a brioche bun that is stuffed full of ice cream or gelato and sometimes topped with some whipped cream.  Sicilians typically consider this a breakfast food.  The creamy filling slowly melts into the surrounding bread, making even more delicious bites.
---
Gelato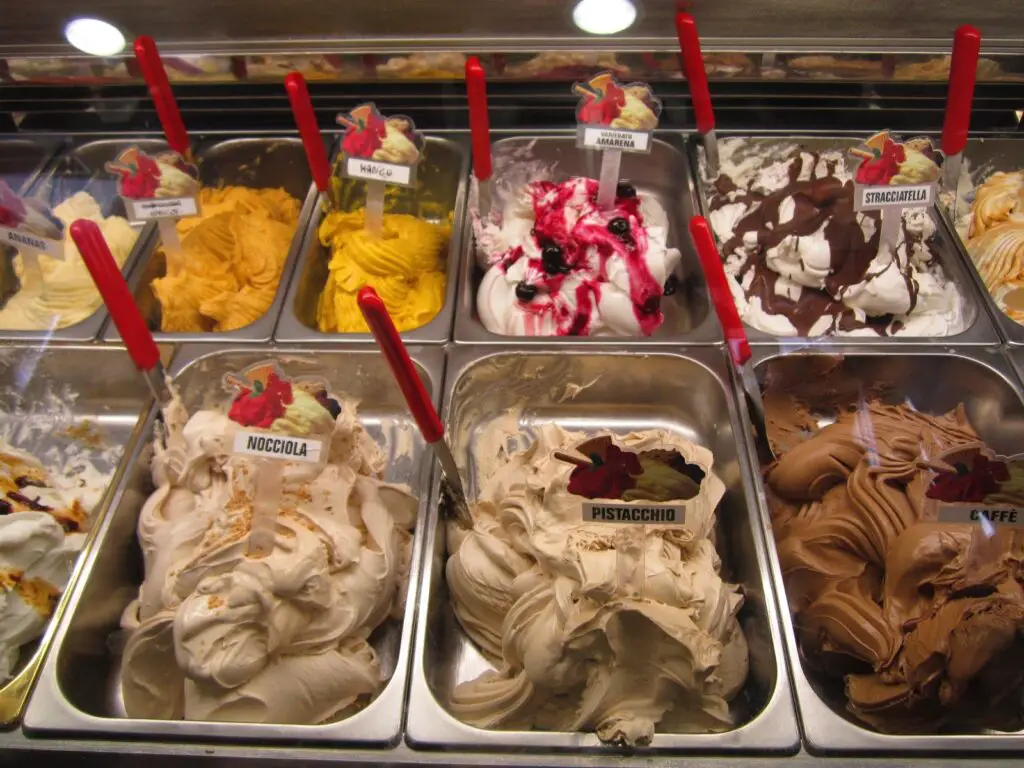 The Sicilian gelato is silky and delicious.  The ingredients are milk and corn starch rather than eggs or cream.  This prevents any crystallization and results in a very creamy gelato that is actually leaner.  Does that mean we can now eat double of this mouth-watering dessert?
---
Granita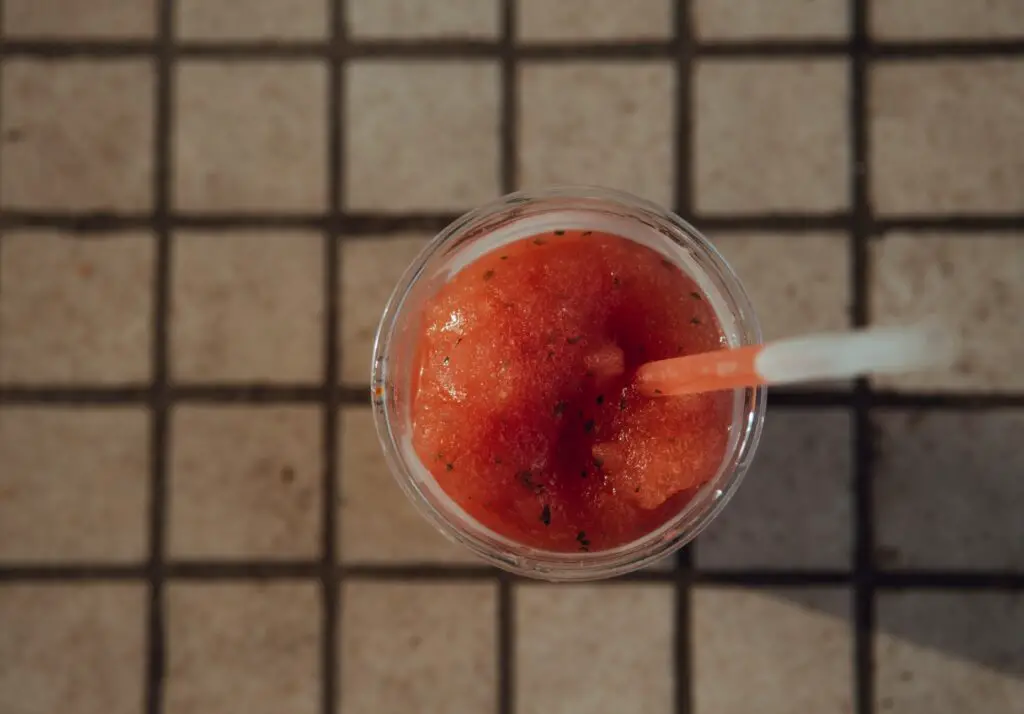 Continuing on the cold dessert theme, the granita is a semi-frozen Sicilian dessert.  Its origins date back to the Arabs who harvested the snow on Mt. Etna, brought it down the mountain, and flavored the ice with fruits, juices, and edible flowers.  Today, there are many flavors of granita; almond being the most requested and lemon the most traditional.
---
Cassata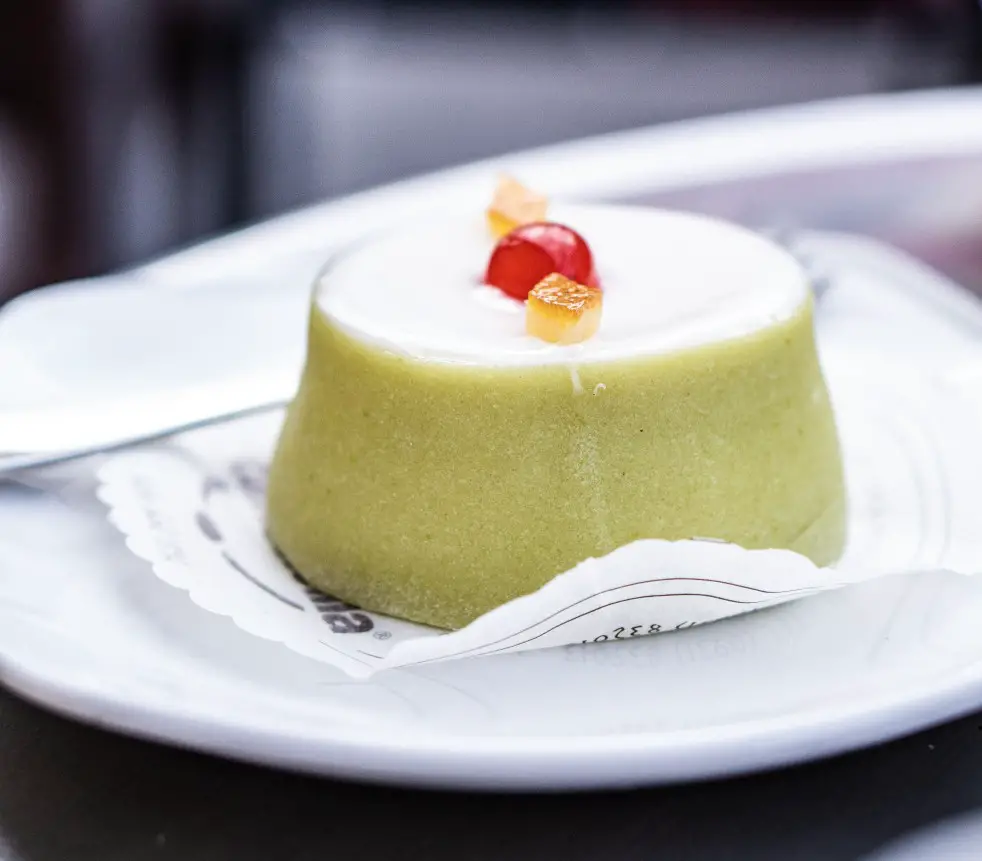 A Sicilian cassata is a sponge dessert with ricotta cheese and pieces of cherry on top. It is an authentic masterpiece that makes mouths water!
---
Take these great TOURS during your trip to Palermo
---
DRINKS IN PALERMO
Caffe
Coffee is brought to Palermo from Brazil.  However, Sicily is known for roasting and coffee enjoyment!  The caffe corretto consists of an espresso shot with liquor or brandy. 
Cremino or crema di caffè is a delicious cold sorbetto made with coffee, sugar, ice, and chocolate. An absolute must-try!
---
Autista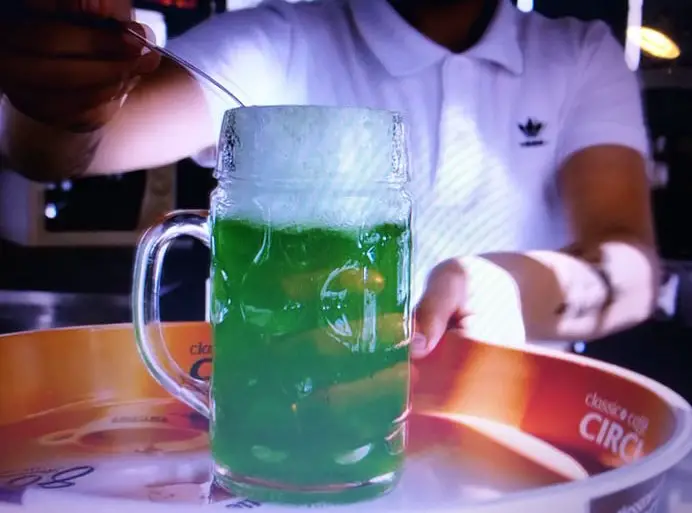 This digestive drink could be made with green or orange mandarino and sparkling soda. The baking soda is added as a final ingredient to make it bubble up like a volcano.  It is great to drink after indulging in an authentic Palermo spleen sandwich.  The object is to drink the whole cup before it bubbles over so that most of the bubbling goes on in your stomach to settle the acids and aid digestion.
---
Final thoughts about the Palermo Street Food Markets
No matter what, you are sure to find something up your alley at the Palermo street food market. The vendors are friendly and would love to introduce you to their produce or special dish.
Which one are you craving? I know I am craving some arancini right about now.
---
Like this post? Pin it for later!