DISCLOSURE: I may link to relevant products, companies or helpful info which may be affiliate links, meaning I may earn a small commission. As an Amazon Associate & other affiliates, I earn from qualifying purchases at no extra charge to you. The views & opinions are my own. Please see the disclaimer and privacy policy.
Last Updated on July 25, 2022
Jump to Recipe
What are Arancini and Arancine?
Arancini, called arancine in some parts of Sicily like Palermo, are Sicilian rice balls that are said to date back to the 10th century and are now a popular street food served throughout Sicily. This Sicilian food is made with different ingredients depending on the region of Sicily, each one being proud of its heritage.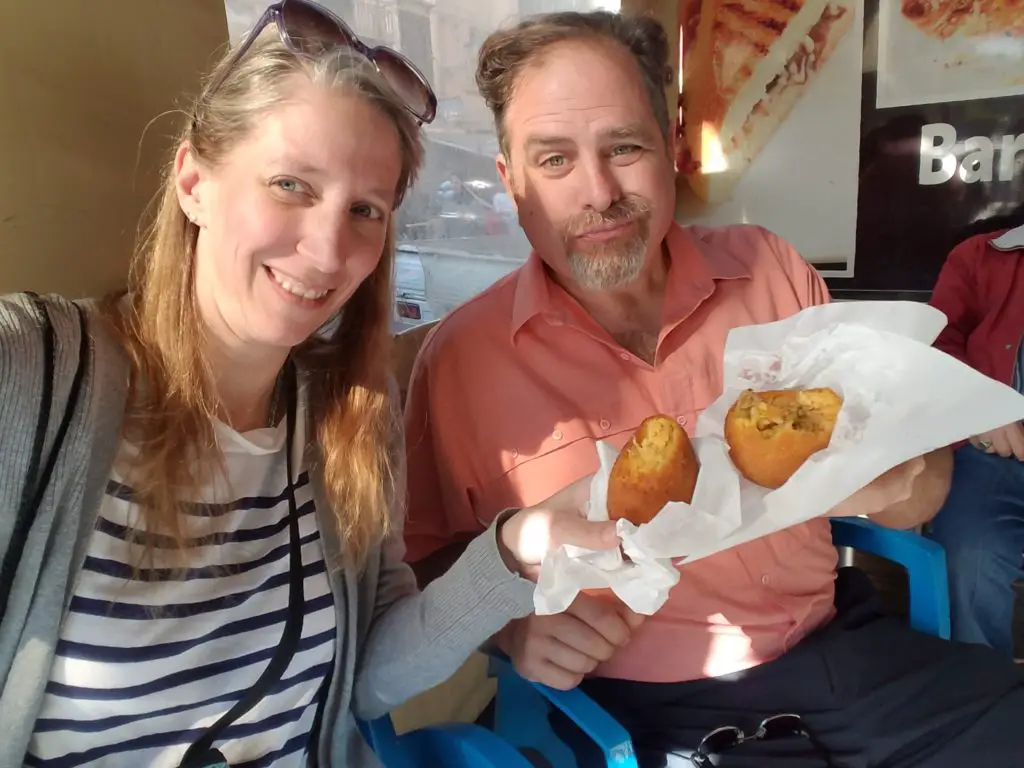 We enjoyed our samples of arancini during our DAY-TRIP VISIT TO PALERMO, SICILY, and wanted so much to recreate just a little bit of it. Our homemade arancini were not the traditional deliciousness that you can only find in the Sicilian street markets, but still, a nice little recipe to remind us of our trip, full of history and gastronomy delights!
Italy is filled with many gastronomic delights. It is helpful to know some Italian food facts before any food excursions are tackled!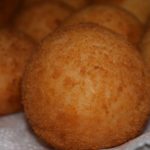 Print Recipe
Arancini Rice Balls
Make this easy Sicilian arancini recipe at home with fun video. Arancini, called arancine in Palermo, are Sicilian rice balls that are easy to make from home.
Servings:
24
medium rice balls
Ingredients
Filling (of choice) for Arancini
1

lb

meatloaf mix

2

eggs

1

onion

1

garlic bunch

½

cup

breadcrumbs

1

tbsp

olive oil
Arancini Rice Balls
½

pkg

shredded mozzarella

(or cut fresh mozzarella into cubes)

2

cups

Aborio Italian-style rice

risotto rice

1

vegetable bouillon cube

or Raman beef spice pack!

1

tsp

vegetable oil

1

pkg

breadcrumbs

or homemade

2

eggs

1

small bowl of water

vegetable oil for frying
Instructions
Prepare the Filling for the Arancini rice balls
Choose filling and prepare
Prepare the rice
Prepare rice according to package

Spread in pre-frozen glass dish
Stuff the Arancini
Flatten a portion of rice in wet hands, place filling in, and form ball

Dip ball into eggs and coat with breadcrumbs
Cook the Arancini
Heat pan of oil to 150° C and fry approx 2 mins each until brown
Video
Details for making Arancini Rice Balls
Prepare the Filling for Arancini Balls
We made meatball arancini.  You can stuff the arancini with whatever you desire.  (Before you begin, put a large glass pyrex dish into the freezer for later).  Blend eggs, breadcrumbs, and minced onion and garlic into the meat.  Form the meatballs and brown them in olive oil. Add spaghetti sauce.
Prepare the Rice
Freeze a glass pyrex dish (for later).  Boil rice and oil according to Aborio Rice package directions (approx. 15 mins).  Put rice into the prepared frozen pyrex dish, spread it out in the dish, and allow to it to cool on the counter.
Stuff the Arancini
Prepare the 2 eggs in a wide bowl by beating them.  Add the breadcrumbs to a separate bowl.  In the third bowl, put a cup of water for your hands.
Once the rice has cooled, prepare the arancini by dipping your hands in the water bowl before picking up a small portion of rice.  Flatten the rice into a patty in your palm and then form a dent in the middle of the rice patty to place the filling in:  cheese and meatball with sauce.  Place more rice on top of the filling and then form the entire mound into a ball.  Wet your hands consistently to make sure the rice sticks together and holds.
Dip the ball into the egg bowl, making sure to cover the whole thing.  Dip it next into the bread crumb bowl to coat the entire arancini.  It works better if you sprinkle the bread crumbs over the ball instead of rolling it.
Cooking the Sicilian Arancini
Heat up a pan of oil to 150 degrees C.  Deep fry the arancini in the pan.  Turn them once or twice so that they turn golden brown on all sides (approx. 2 min each).  Be careful, the more you touch them, the more likely they are to fall apart until they are crispy.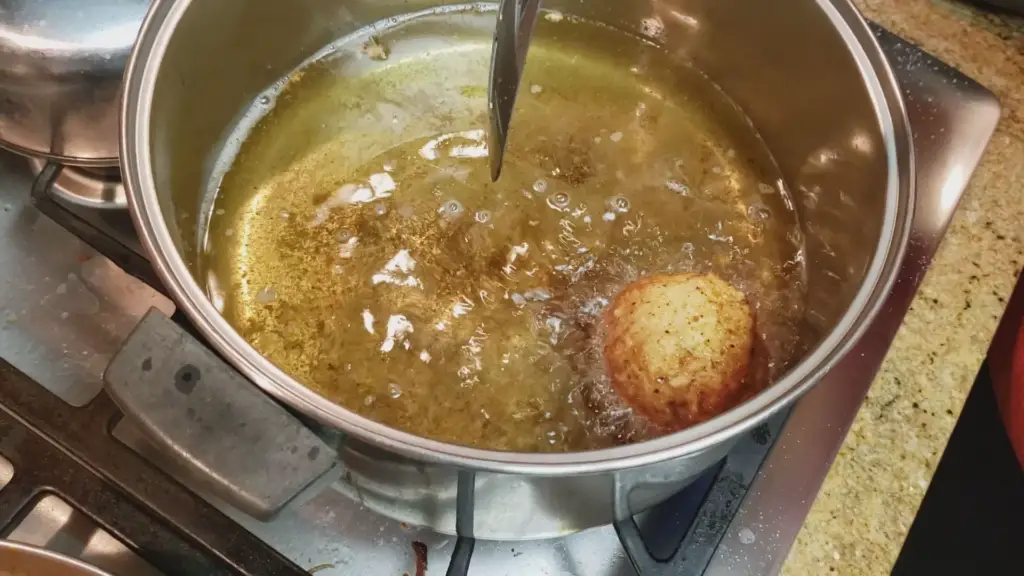 The arancini come out crispy and hot, so serve them right away. If you stuff them with cheese your arancini will be filled with a medley of wonderful melted flavors waiting to burst out. They are meant to be served as appetizers, eaten with your hands and sometimes dipped in sauce for the added kick of flavor. We ate ours as a main dish without any extra sauces because we wanted to enjoy and appreciate the full flavor of the arancini while dreaming of vacations to the beautiful island of Sicily!
Enjoy your home-cooked Arancini! DELISH!
Now that you have satisfied your Wanderlust by cooking arancini rice balls from Sicily, make some other plans to travel virtually. There are many ways that you can travel and see the world without leaving home. Get this AWESOME LIST OF TRAVEL ACTIVITIES WITHOUT TRAVELING and let the vacationing from home continue on and on and one!!!
Try one of these foreign recipes from a collaboration from travel bloggers around the world that submitted their top recipes!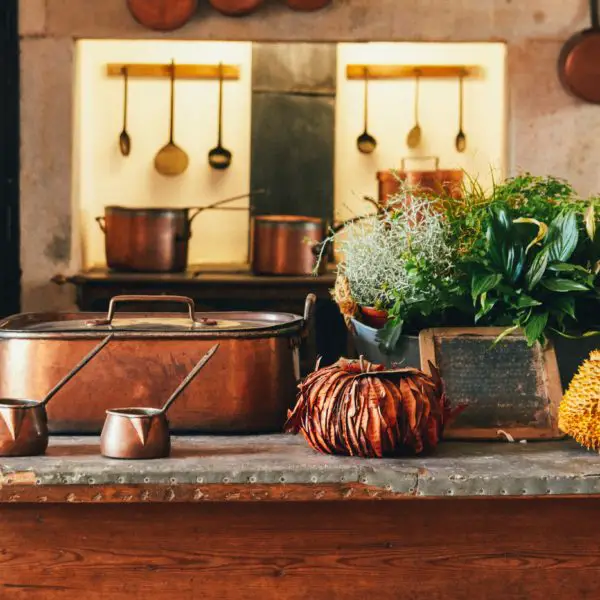 16 Awesome Foods from Around the World to Satisfy Wanderlust without Traveling
Big awesome list of foods from around the world that you can cook at home to allow the wonderful aromas of these foreign dishes to drift through your kitchen! Travel without Traveling!!
PIN IT! Like this recipe? PIN IT for LATER