DISCLOSURE: I may link to relevant products, companies or helpful info which may be affiliate links, meaning I may earn a small commission. As an Amazon Associate & other affiliates, I earn from qualifying purchases at no extra charge to you. The views & opinions are my own. Please see the disclaimer and privacy policy.
Last Updated on February 21, 2023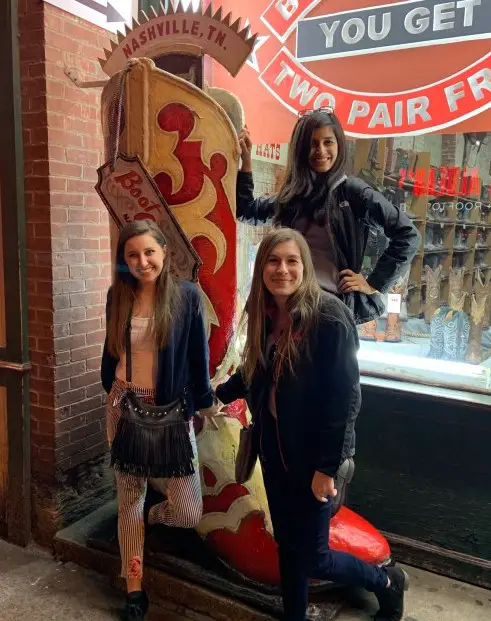 How much can you do on a Nashville Weekend Trip in Tennessee?
Can you do Nashville in a weekend and do all that Music City has to offer on a weekend trip to Nashville?  Certainly not, but you can give it a good try and you will not be disappointed by how much you can see and do in the city on such a short trip.  PLUS, this means that you can come back and schedule ANOTHER weekend getaway to Nashville to do even more fun things.
If you are wondering how to spend 2 days in Nashville, wonder no more!  There are SO MANY FREE activities in Nashville that you can even do your Nashville getaway on a budget!  There is free music to listen to, free art to appreciate, free parks to wander around, and museums and other sites that are also FREE in Nashville.  What are you waiting for?  Take notes and then start scheduling your next weekend trip in Tennessee to this great City of Music!
SKIP ahead to your favorite FREE ACTIVITIES in Nashville:
Listen to FREE MUSIC all around Music City
It is called MUSIC CITY after all!  So wouldn't you know it, music is EVERYWHERE!  There are all kinds of places around the city to enjoy the music scene and here are some suggestions of where to hear those FREE tunes on your Nashville weekend trip!
What is Honky Tonk Highway?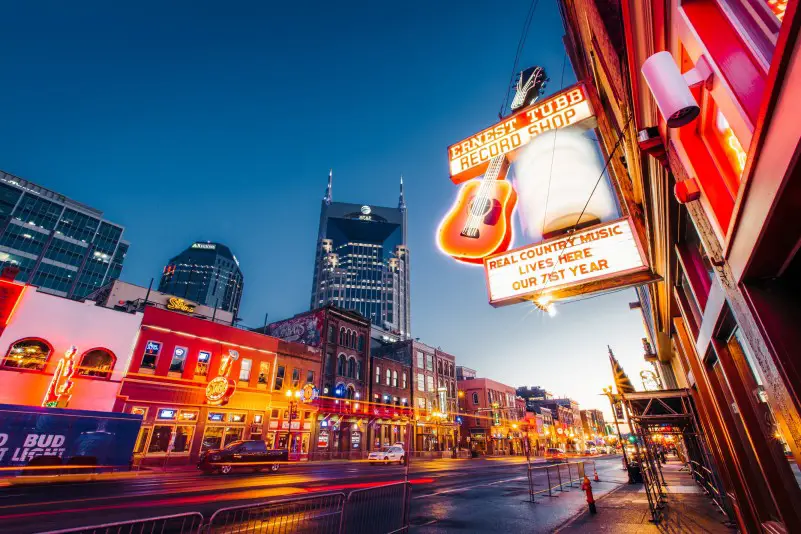 Honky Tonk Highway is the center of entertainment in Nashville.  The long stretch of glittering lights on both sides of Broadway Avenue illuminates the honky-tonk establishments, each one containing its own stage, cold beverages, and nightly live entertainment leading way to a party that is sure to be a memorable night on your Nashville weekend itinerary.
The free entertainment starts in the early afternoon for families to enjoy and turns to an older crowd as the night goes on…and on…often until 3am.  There is NO COVER CHARGE.  The bands are free to listen to for the honky-tonk guests, but they play for tips, so make sure you add to the tip jar and are gracious on your way out.
---
Honky Tonks on Broadway in Nashville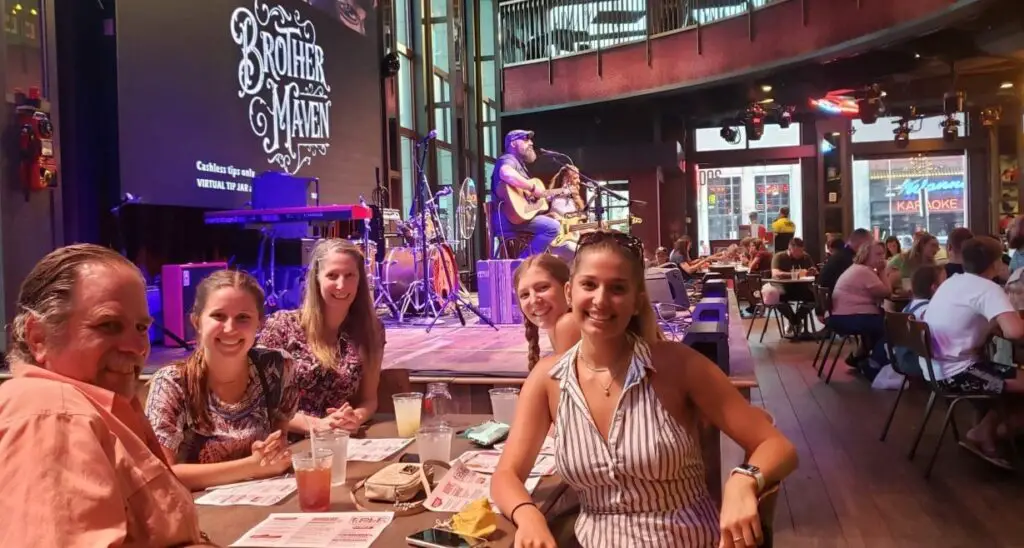 This multi-level entertainment venue inspired by Blake Shelton's breakout hit, "Ol' Red." features a two-story bar and restaurant, stage, dance floor, and retail space. The second level is a wrap-around balcony that overlooks the stage, not a bad seat in the house.  The entertainment is chosen by Opry Entertainment, so there are a lot of up-and-coming country stars.
We dined on burgers, wings, and cornbread at Ole Red on our weekend trip to Nashville while we enjoyed the ambiance of the stage performance from Brother Maven.  It was great entertainment and loads of fun when they broke out into Sweet Caroline the whole room joined in! It was great entertainment.
---
Want someone to plan your Nashville bar-hopping to the honky-tonks for you? Check out these fun ALL-INCLUSIVE bar tours!
---
              Jason Aldean's Rooftop Kitchen + Bar– MAP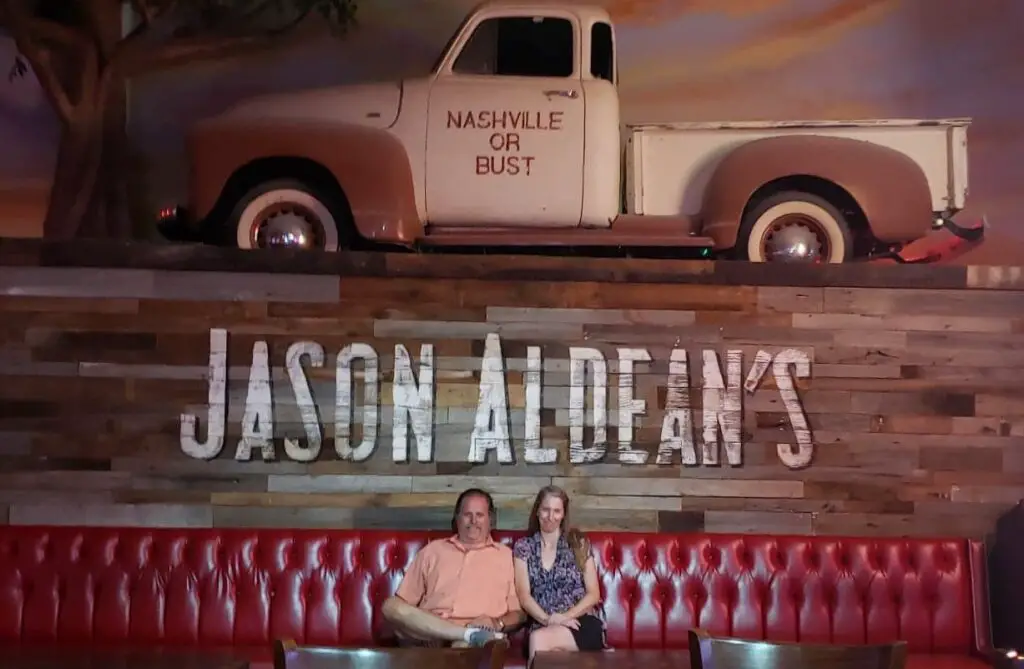 Featuring one of the largest scenic rooftop patios on Broadway, Jason Aldean's is a great place to spend some time during your weekend trip to Nashville.  The place is packed with nostalgia and neon lights throughout its multi-level bars and restaurant.  The menu was created by the country superstar Jason Aldean himself.  This honky tonk is a great place for celebrity sightings on and off the stage since there is an iHeart Media Studio that regularly brings in top talents.
---
              Kid Rock's Big Ass Honky Tonk & Rock 'n' Roll Steakhouse– MAP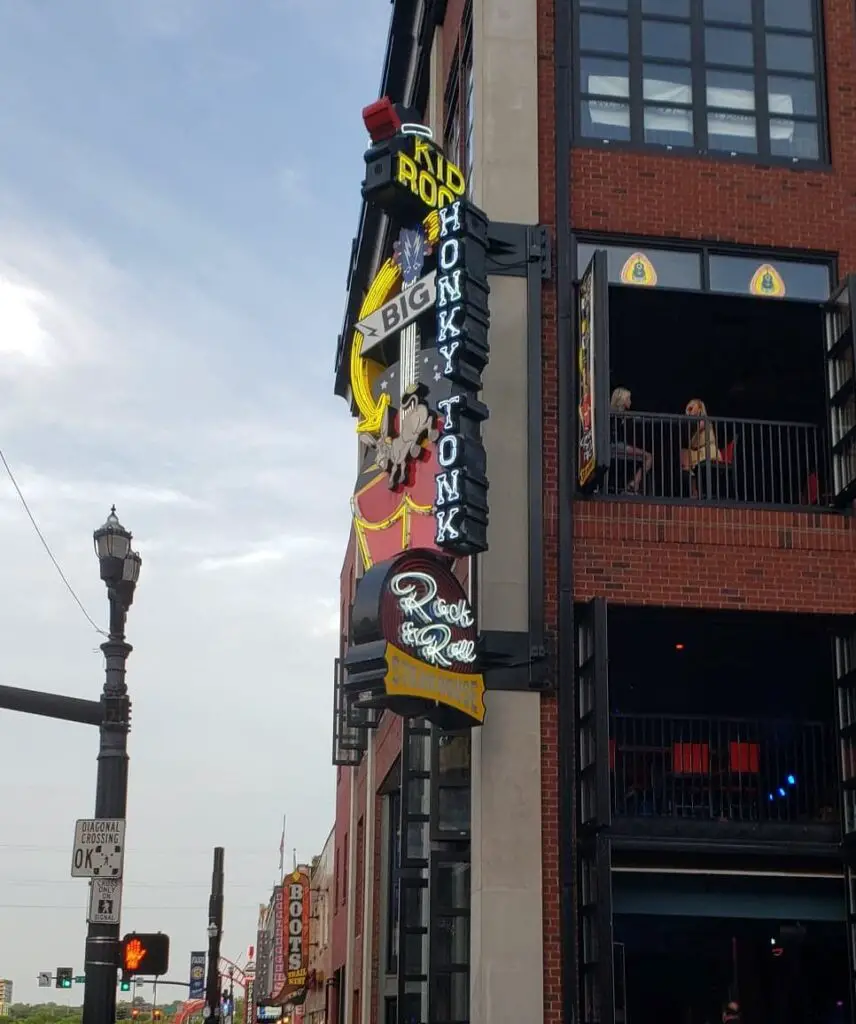 Kid Rock's Honky Tonk is billed as the biggest and baddest around, with five floors, four stages, and six bars, including a huge sky-high 5th story rooftop bar with a beautiful view overlooking the city.  Performers grace the 2-story main stage daily, while guests dine on the delicious Tomahawk Ribeye signature dish.  Large screen televisions adorn the walls on every floor to complete the total entertainment package of this grandiose honky-tonk bar.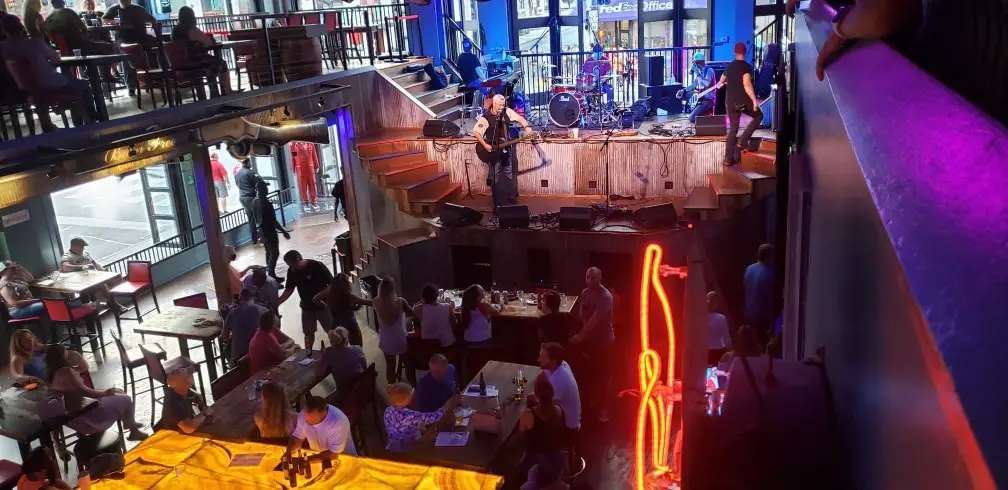 ---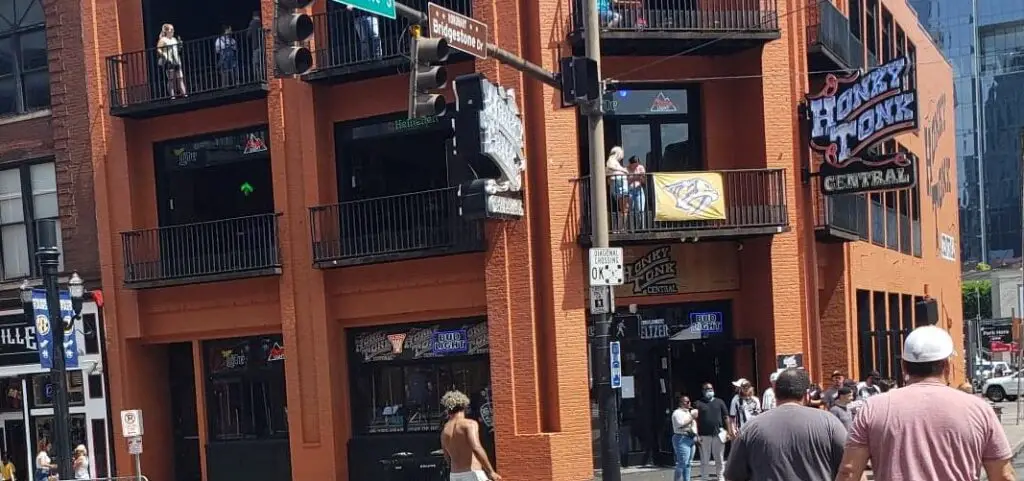 Honky Tonk Central is one of the biggest and loudest venues with three stories of entertainment and food.  Each floor has its own walk-out balcony with views of Broadway.  What a better way to cap off a day in Nashville than hanging out on the Honky Tonk Central balcony watching the glittering neon lights and listening to the country music sounds on the main stage.
---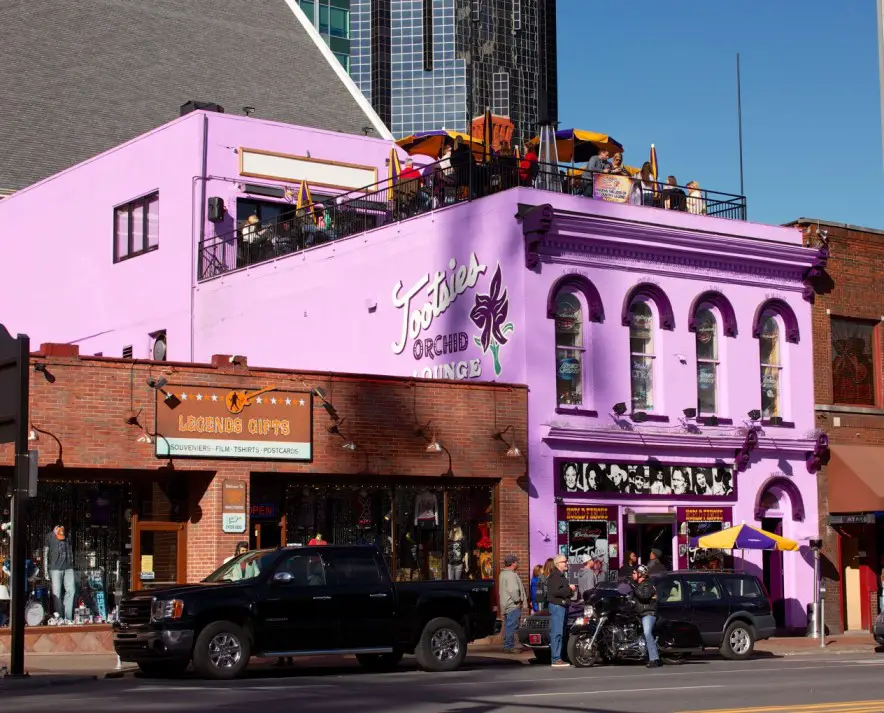 Tootsie's Orchid Lounge is the cornerstone of Honky Tonk Highway and was named because of its orchid hue facade.  Willie Nelson got his first songwriting job after singing at this original honky-tonk bar.  Visitors today can enjoy spirited music while being surrounded by walls of photos of the country music legends who have graced the Tootsie's stage at one time.  This honky-tonk has four levels and a rooftop lounge, but space is always jam-packed.
---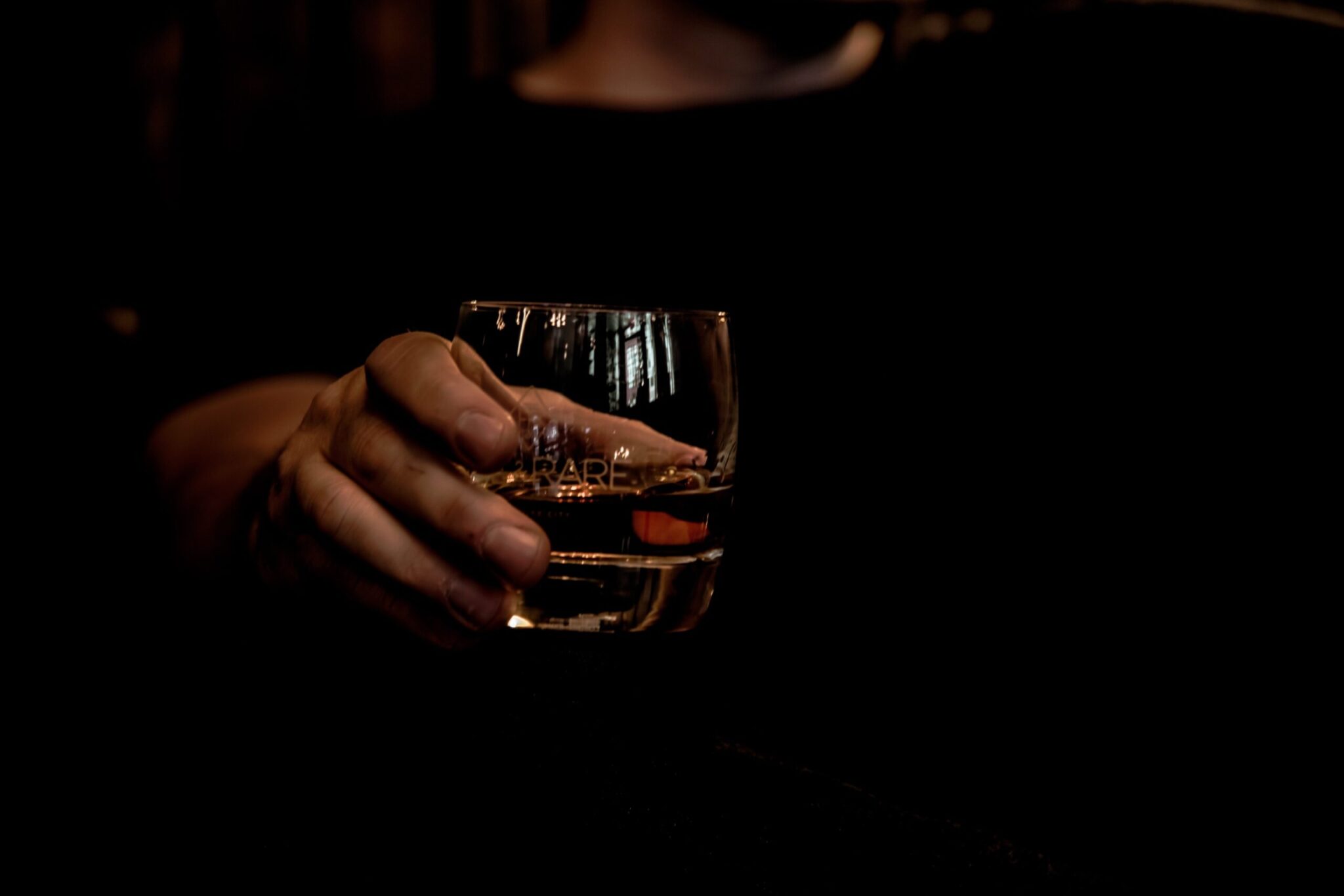 In the middle of everything and among all the neon lights on Honky Tonk Highway, Whiskey Bent is a great place for an authentic Nashville experience. There is a built-in stage for live performances and, of course, the largest selection of whiskey around!
---
Free Music on Lower Broadway and Beyond
Even further on Broadway are the lower-side Nashville honky-tonks and listening rooms that play the music on and on. Choose a few from this list to put on your Nashville weekend itinerary.
              Jimmy Buffet Margaritaville– MAP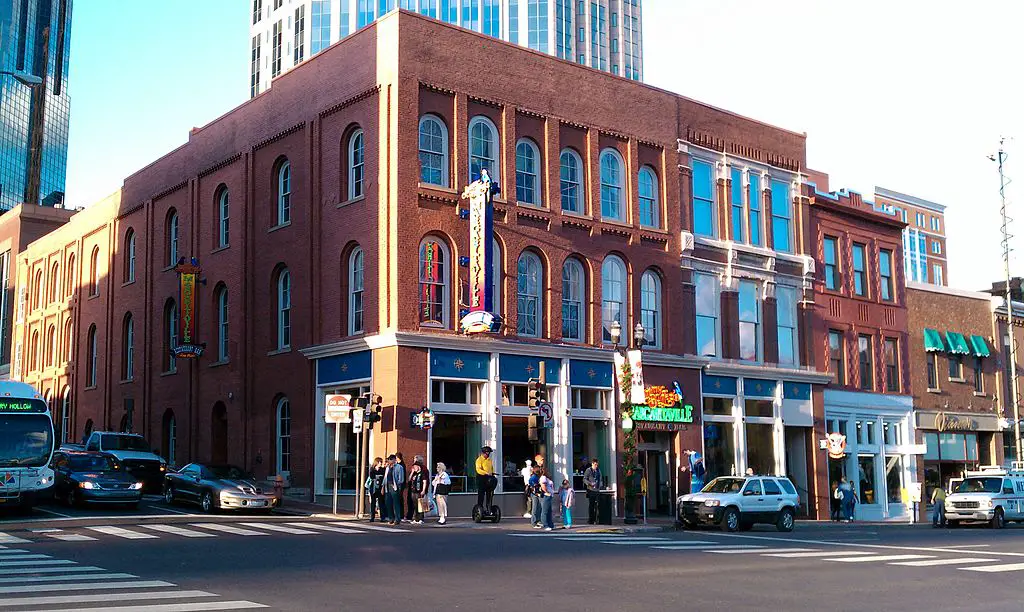 Everyone knows about Margaritaville.  Nashville is no exception.  There is a honky-tonky Margaritaville on Broadway that offers the authentic Nashville experience.  Enjoy great southern food in this restored historical building while enjoying some free honky-tonk music as you party in the heart of downtown.
---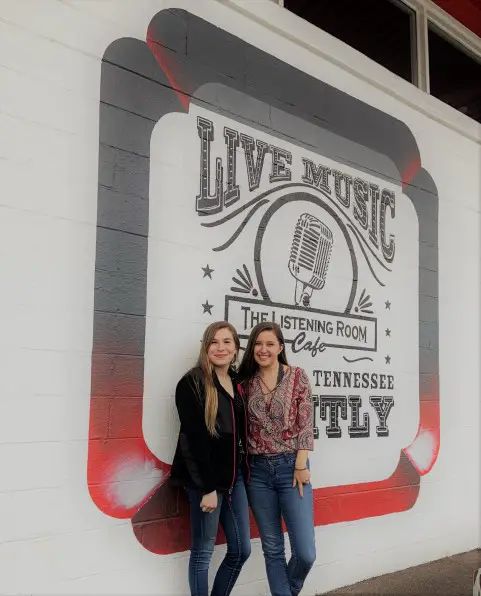 The Listening Room is the premier café to hear the up-and-coming artists of Nashville as well as the songwriters responsible for the top hits.  The music is the main feature and not just background noise for diners and is one of the best sounding rooms powered by BOSE.  Make a reservation here to delight your palate and your ears!
---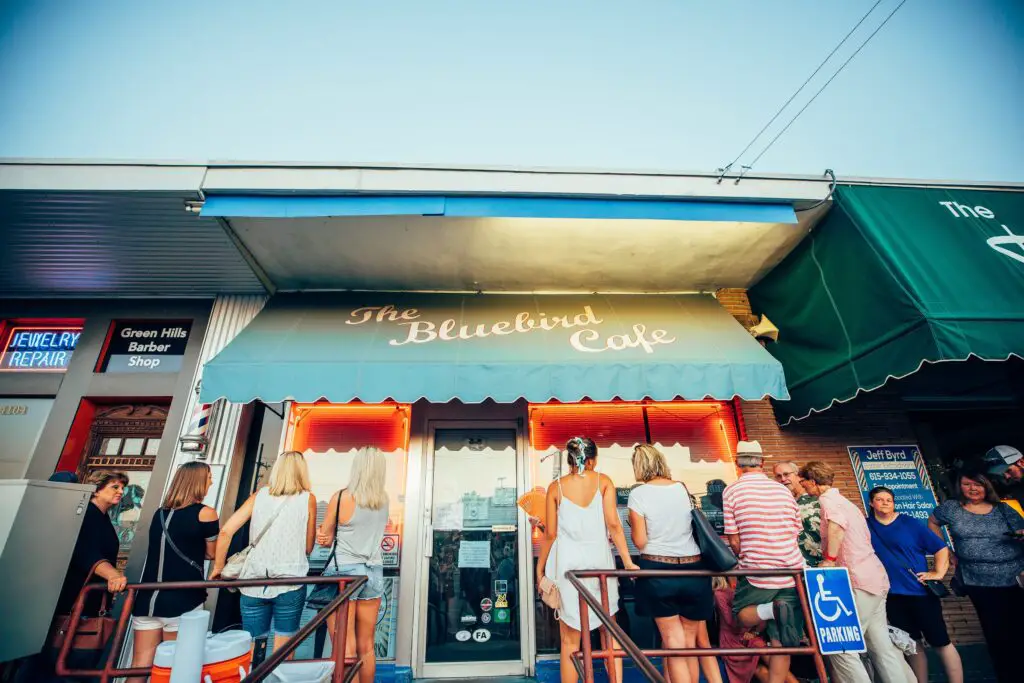 Located further from Honky Tonk Highway, the Bluebird Café features original music in an intimate setting rather than the typical cover songs.  There are two shows each night throughout the week with live music from new songwriters as well as well-known artists.  Be sure to make a reservation and include a stop to appreciate the listening room in the Bluebird Café.
---
Pedal Bars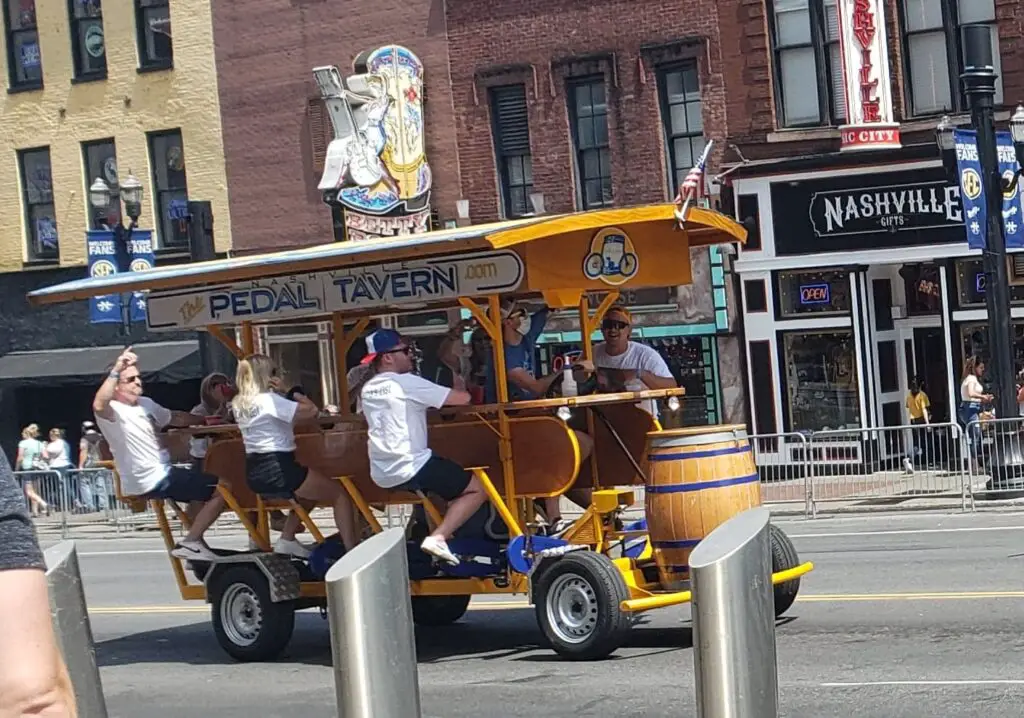 Stop and watch all the Pedal Bars going down Broadway! What are the Pedal Bars in Nashville? They are human-propelled bars on wheels driving down Honky Tonk Highway as they sing, drink, and pedal! I had never seen anything like this so it was quite a sight to see these 'parties' ride past. They were all quite a spirited bunch!
or take a ride on a TRACTOR Bar!!!
Nashville's Biggest & Wildest Party Public Tractor Tour (Ages 21+)
Experience Downtown Nashville on this unique 75-minute Public Party Tractor Tour with its own onboard dance floor and DJ. Your group's professional tractor driver will take you on an amazing journey through Music City as you enjoy music, a light-up dance floor, and more while you see the city fr…
---
Symphony under the Stars

Nashville's symphony orchestra normally performs in Schermerhorn Symphony Center.  In the warm month of June, they host free community concerts in the Nashville parks, like Centennial Park.  This FREE Symphony Under the Stars musical event includes classical and popular tunes played by the symphony while park-goers relax in their lawn chairs while picnicking in the park.
---
Enjoy the FREE MUSIC at a WINERY
AND perhaps order a glass for yourself.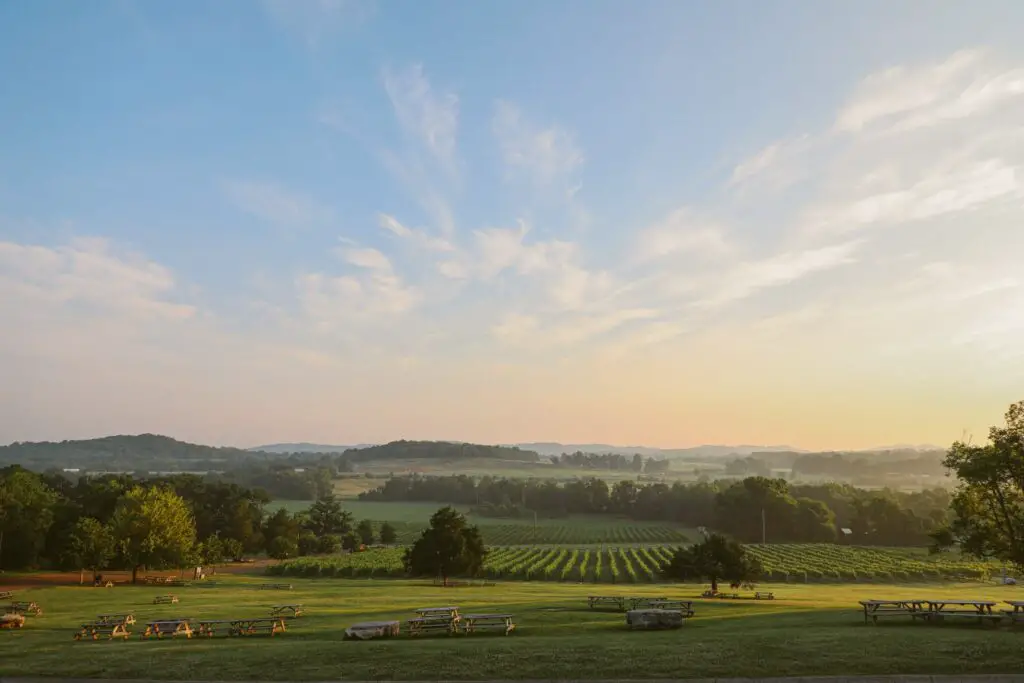 The Arrington Vineyards are owned by country music artist Kix Brooks and are located on 95 acres of endless vineyards with gorgeous views.  You can hear live music while taking in the beautiful sunsets, spirits, and award-winning wines.
The live music series "Music in the Vines" is set to kick off April 3rd featuring a jazz band and bluegrass band every weekend until October. They also have "Food Truck Fridays" beginning in May which will feature a couple of food trucks each Friday as well as the onsite food vendor Simply Living Life and a jazz band. 
---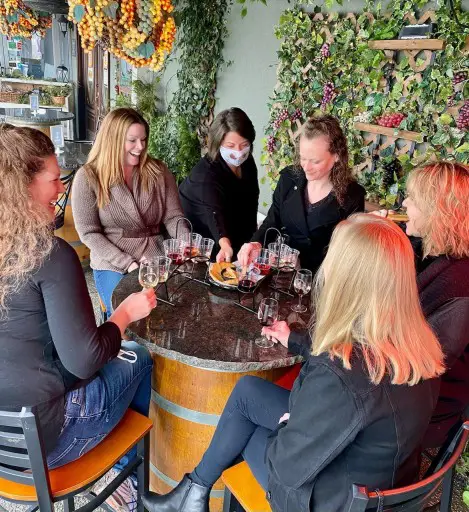 Summer Crest Winery was opened in 1997 by two brothers expressing their passion for their Tennessee county.  It grew with an expanded wine list and has earned the respect of wine connoisseurs.  Entertainment on the lawn is provided by the winery during the summer months isn't the only bonus.  There are antiques, classic cars, and boutique shopping! Patrons can enjoy drinks and snacks on the patio or in the chandelier room. On the weekends, there are expanded food options, including flatbread pizza.
---
Relax in the PARKS all around Music City
Opryland Resort Gardens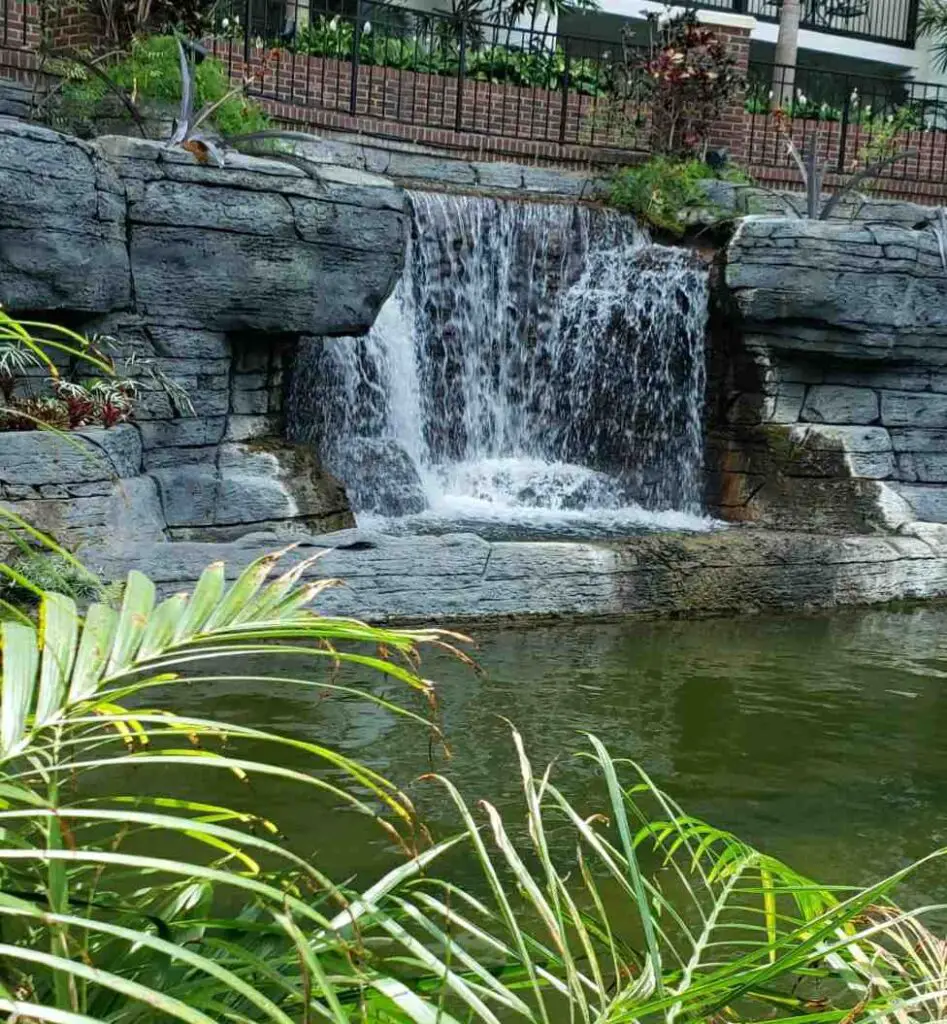 Opryland Resort Gardens are located at the Gaylord Opryland Hotel in Nashville.  It is full of 9 acres of lush gardens, waterfalls, gazebos, a river, and walking paths to wander around this indoor natural paradise for free.  This is a perfect idea for days with less-than-ideal weather for outdoor touring.  We spend nearly 2 hours taking in the scenery here and watching the water shows at the fountains.  Bring your picnic inside the atrium and you can still dine next to beautiful greenery as you watch the riverboat float by.
---
Music City Walk of Fame Park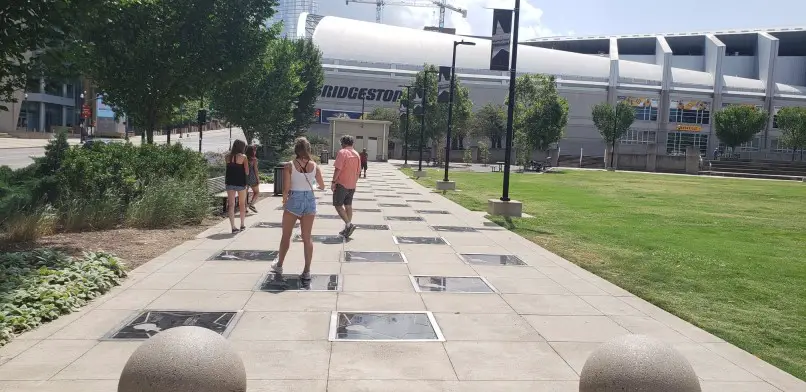 The Music City Walk of Fame Park is located in Downtown Nashville between the Country Music Hall of Fame and Bridgestone Arena.  It was created in 2006 by the Nashville Convention and Visitors Bureau to honor artists with significant contributions to Nashville's musical history and other great achievements in the music industry.  Similar to the Walk of Fame in Hollywood's commemoration to the great artists of the cinema, you can walk through the Music City Walk of Fame Park to admire the stainless steel 'starred' plaques embedded in the sidewalk and reminisce about the great music artists' contribution to that industry.
---
Centennial Park and Gardens –

MAP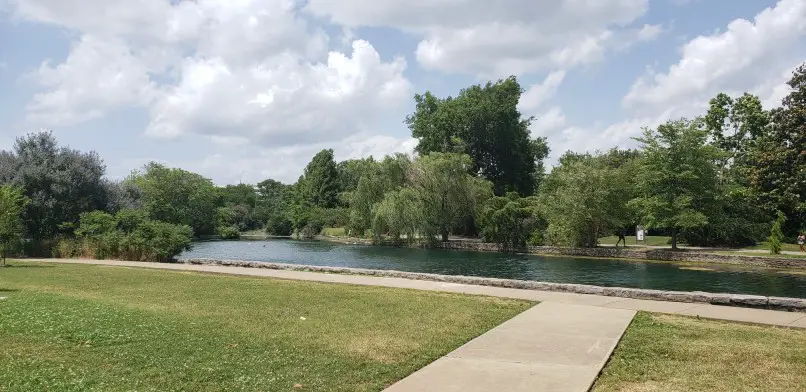 This park is packed full of interesting things to do and see throughout its vast expanse of shady trees and lush green lawns. On its 132 acres, you will find a one-mile-long hiking trail, Lake Watauga, the man-made lake filled with aquatic life and ducks, historical monuments, a sunken garden for quiet meditation, a music pavilion for concerts and theater performances, an arts activity center, sand volleyball courts, a children's playground, a dog park, an events shelter and the Centennial Sportsplex.  Many fun events are held in this park with thousands of visitors for craft fairs, local festivals and Shakespeare in the Park performances.
Other Interesting Areas of Centennial Park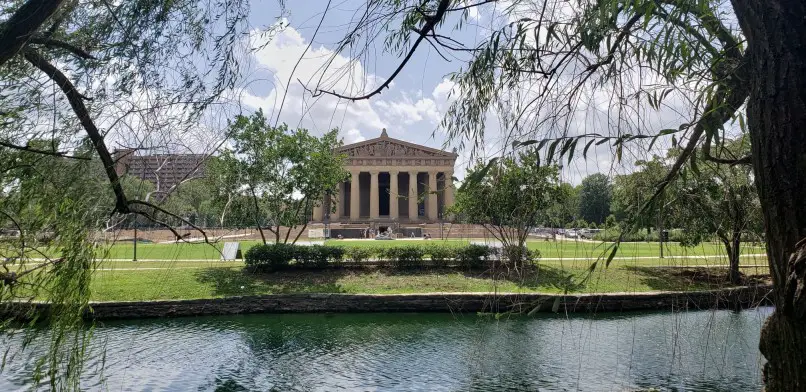 The centerpiece of architecture in Centennial Park is the Parthenon, a full-scale replica of the ancient Greek temple.  It was built for the Centennial Exposition to celebrate Nashville as the 'Athens of the South' and is now an art museum for many traveling works of art.  While the park is free to picnic in and the Parthenon is free to admire from the outside, the museum has an admission charge.
If you choose to enter the museum to appreciate the artwork in the Parthenon, you will encounter the sculpture of the Greek goddess, Athena, which was constructed in 1990. 
At 42-feet tall, it is the tallest indoor sculpture in the western hemisphere.  The sculpture also features other Greek mythology subjects like Zeus, Apollo,  Poseidon, and Medusa.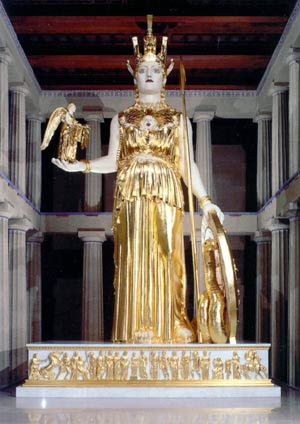 A portion of the USS Tennessee, which fought in the Spanish-American is located at the entrance to the park. There are also locomotive displays, Civil War cannons, and a Korean War Air Force jet.
The Metroparks has partnered with the Nature Conservatory for an interactive display throughout the park called 'If Trees Could Sing".  QR codes are displayed as signage on 18 trees.  Once scanned with a smartphone, the codes take visitors to websites that feature Nashville artists telling stories or singing about the plants, trees, and flowers, offering a creative way to interact with nature.
How to Get to Centennial Park
Parking can be crowded and navigating to Centennial Park can be a hassle during the busy tourist months.  The Nashville Trolley Tours are a convenient way to see Centennial Park and all of Nashville. 
With stops for more than 100 attractions, including Centennial Park, it is a very comfortable and easy way to tour see the sites around Nashville stress-free.
---
Bicentennial Capitol Mall State Park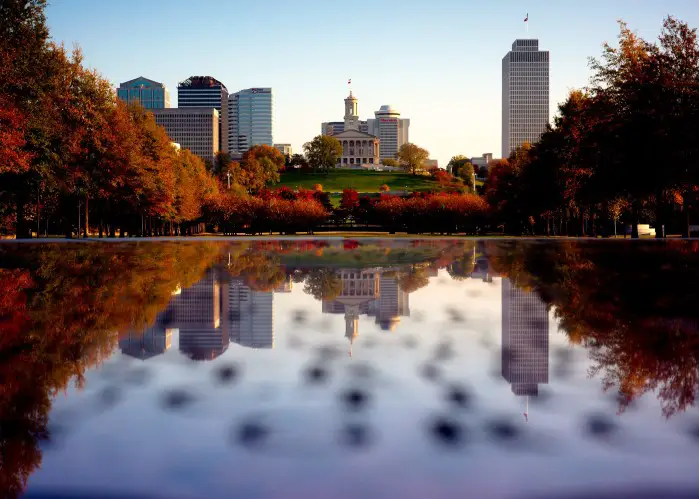 Located near the Capitol in downtown Nashville, the Bicentennial Capitol Mall, patterned after the National Mall in Washington DC, is a tribute to Tennessee's bicentennial celebration for admission to the Union in 1796 as well as the history and beauty of the state.
The 11-acre park features a huge 200-foot granite map of Tennessee as well as walkways, fountains, and other displays dedicated to presenting the history of the state.
The map of Tennessee is the largest and most accurate geographical representation of the state.  The huge granite display includes all the cities, counties, rivers, and highways in Tennessee.  Also in this plaza, there are several smaller granite maps, which have more detailed information about geology, early settlers, and the music history of the state.
The Rivers of Tennessee Fountains is a collection of spray fountains that commemorate all the state's major bodies of water.  There are plaques with inscriptions of details about each lake, river, and tributary.  The fountain is great to visit and cool off in during the Tennessee heat.
A 95-bell Carillon surrounds a Court of Three Stars, symbolizing the Tennessee state flag.  The bells are housed in Greek-style columns and represent the state's 95 counties.  During each quarter-hour, they play a portion of the musical melody of the Tennessee Waltz and the entire song is played at the top of the hour.
There are several memorials and monuments throughout the park.  The largest is a World War II Memorial which is an 18,000-ton black granite globe.  Seemingly suspended by water, the globe is surrounded by pillars that display important war images and a description of how they played a role in the state of Tennessee.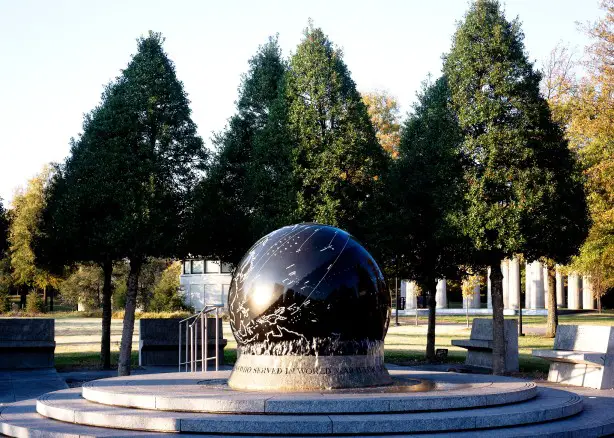 ---
The Warner Parks
The Warner Park Historic District are two public parks in Nashville composed of the Edwin Warner Park and Percy Warner Park.  They span more than 3,100 acres of forests and fields and receive more than a million visitors each year who enjoy the Nature Center, dog park, scenic hiking and biking trails, equestrian center and horse trails, and golf course.  The parks are listed on the National Register of Historic Places and are a nice place to unwind after a hectic day touring the sites of Music City.
---
Riverfront Park –

MAP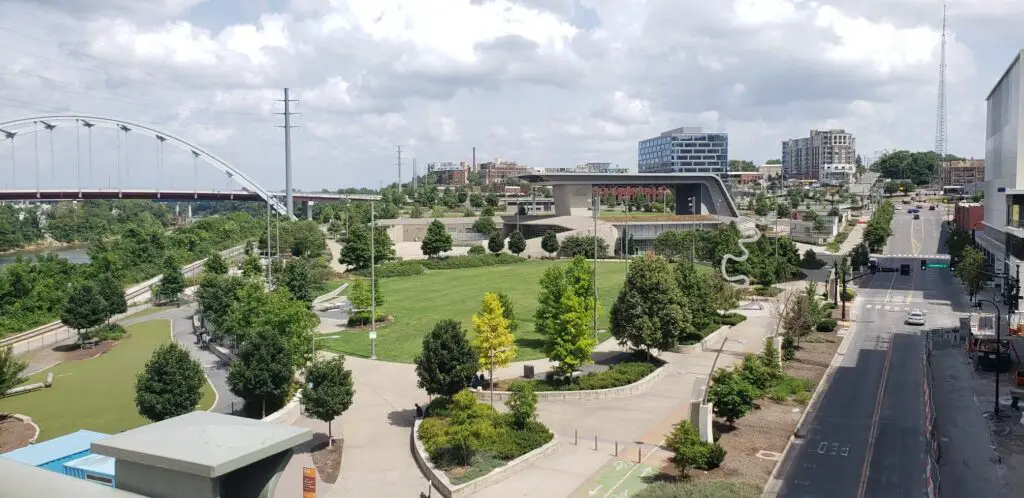 Riverfront Park is on the bank of the Cumberland River in Nashville and a short walk from all the excitement on Broadway.  There are plenty of places to sit, relax and take in the gorgeous views of the river. 
Several of Music City's most popular concerts and events take place in this urban park setting.  Not-to-mention the other fun features like the huge 13,000 square-foot dog park, game boards for chess, basketball courts, and workout area.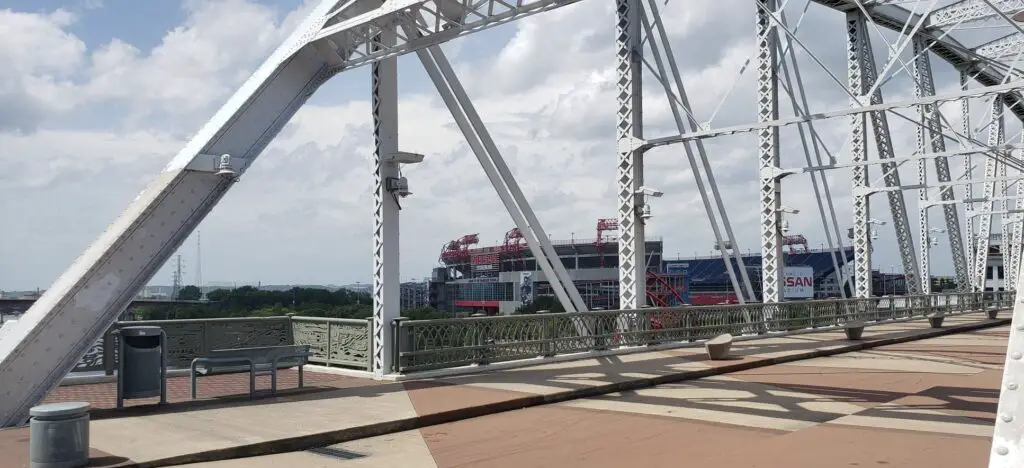 The John Seigenthaler Pedestrian Bridge, previously called the Shelby Street Bridge, spans the Cumberland River at 3,150 ft and is one of the longest pedestrian bridges in the world.  It allows traffic from downtown to Nissan Stadium and the residential suburbs of East Nashville.  It is located near Riverfront Park, so make sure to plan a walk along this bridge to not only capture images of the park but terrific photos of the city of Nashville.
BE WARNED: It is a long walk up the bridge. I needed to sit a minute on the bench and admire the sights a little bit. Not because I was too winded, I was just admiring the view!!
The popular John Seigenthaler Pedestrian Bridge has become a Nashville landmark and has made an appearance in many country music videos like "Save a Horse (Ride a Cowboy)" and Dolly Pardon's "Together You and I"
---
Sevier Park- 

MAP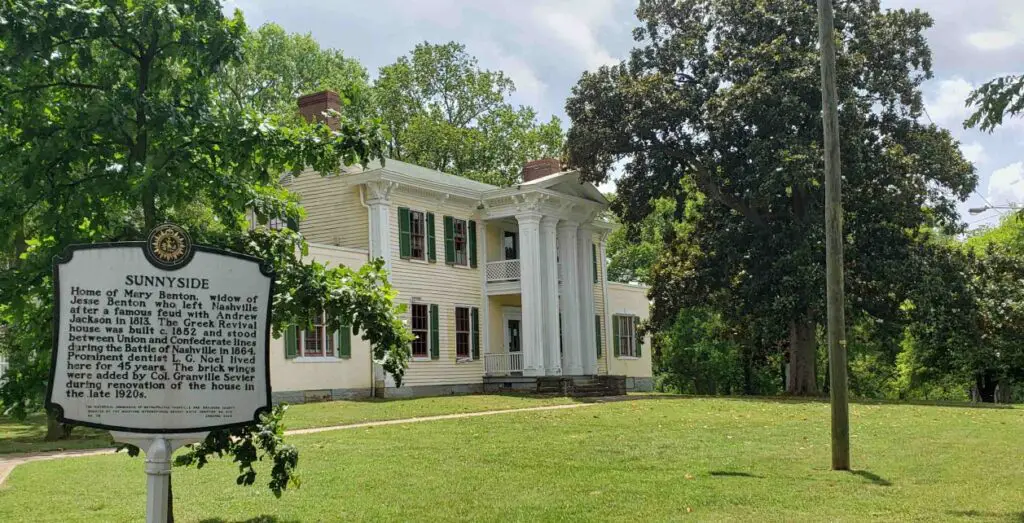 This cute little park was a nice discovery on our tour of the 12 South Avenue area in Nashville.  We were able to wander around and hike some trails during our Nashville weekend trip.
Sevier Park is very large and surrounded by walking trails and beautiful scenery.  On Tuesdays, they hold a Farmer's Market featuring locally grown produce, meats, bakery, food trucks, live music, and a fun, family atmosphere. 
At the center of the park, Sunnyside Mansion stands tall.  Long ago, it was a mansion that was involved in the Civil War, but today it serves as the Metropolitan Nashville Historical Commission.
---
After you are done exploring the Nashville parks, there is a lot of hiking near Nashville. Find some of the best hiking trails in the country in the great state of Tennessee. Explore nature and take in some beautiful scenery on an outdoor hiking adventure. –and once again, another Free activity in Nashville!!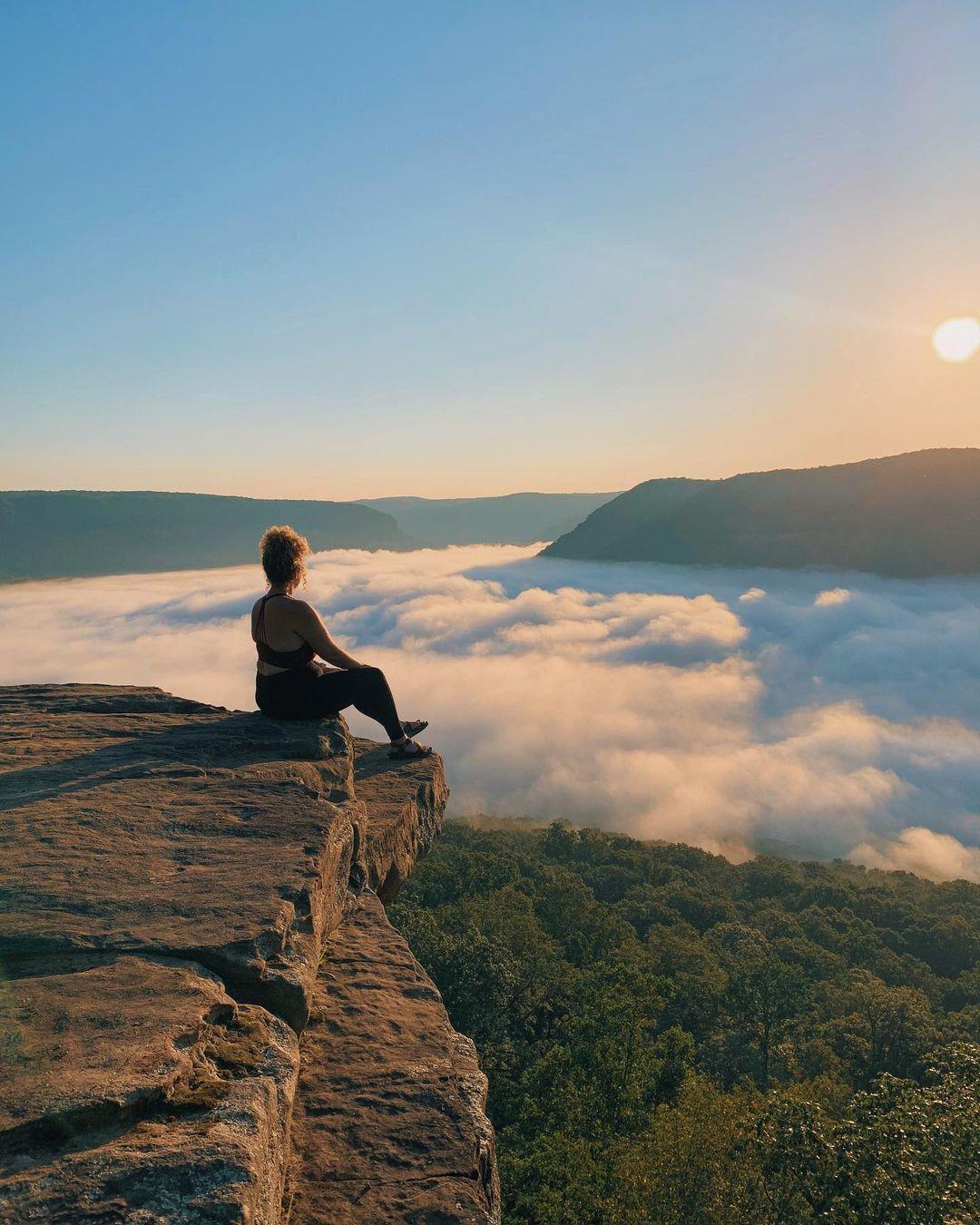 27 Beautiful Hikes Near Nashville for Your Outdoor Adventures
Planning a trip to the Country Music Capital of the World? Nashville may be the perfect destination for your bachelorette party or music festival. However, Music City is also a great spot for recreation and
Take a tour through MUSEUMS and HISTORY
Tennessee State Museum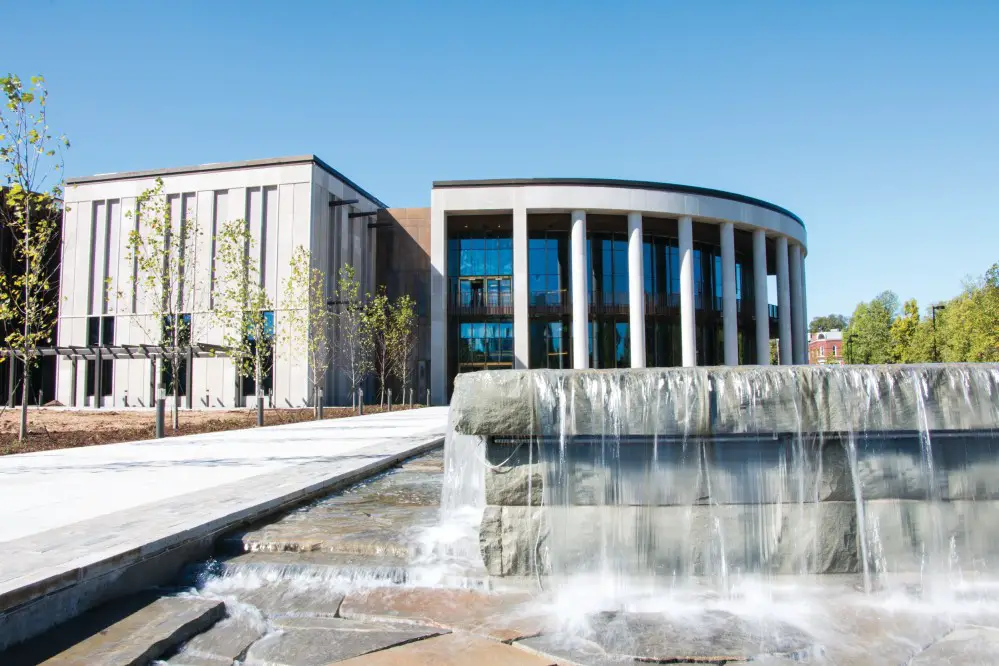 The Tennessee State Museum is located near the Bicentennial Capitol Mall State Park.  It is a large museum that displays the history of Tennessee in the United States.
---
Tennessee Agricultural Museum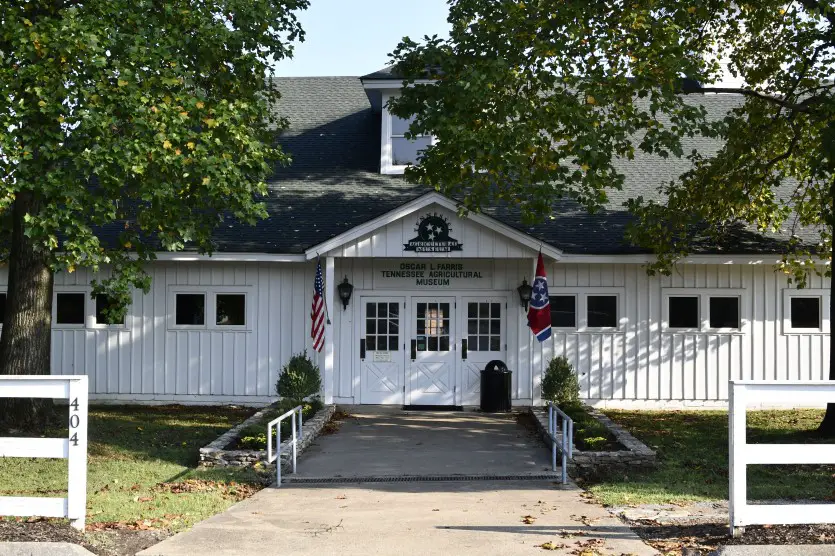 Tennessee's rural past is the subject of the Tennessee Agricultural Museum.  They conduct educational programs, exhibits and special events that explore the rich agricultural history of the state.  The family-friendly museum has free admission and is open during the weekdays.
---
Cooters Place Museum –

MAP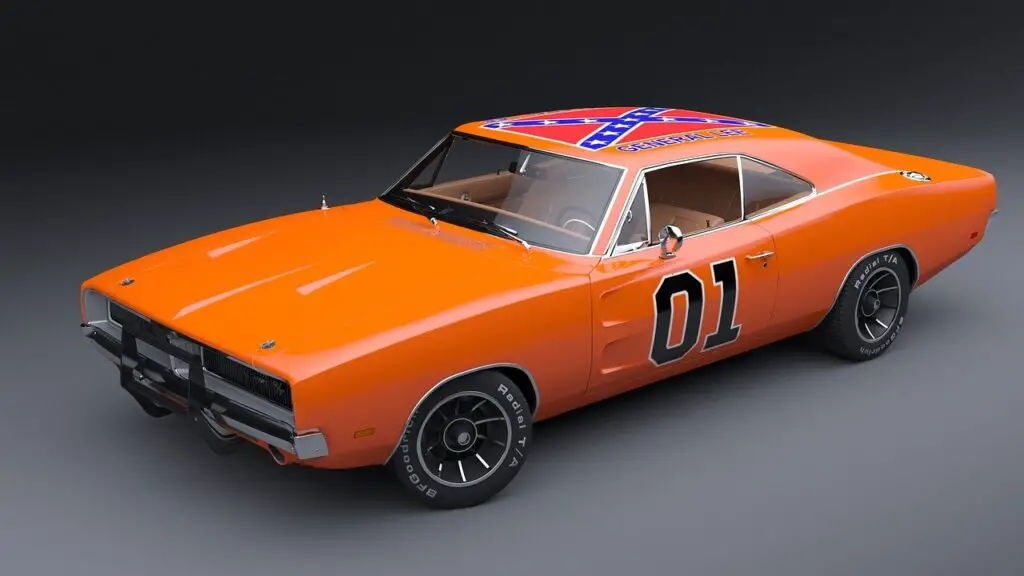 Those that are familiar with American television series The Dukes of Hazzard are sure to enjoy this free museum known simply as Cooter's, operated by Cooter himself!  Ben James played one of the main sidekicks on the show, Cooter, and opened this museum to showcase the pictures, props, and memorabilia from the hit tv show.  Prominently displayed are Cooter's Tow Truck, Daisy's Jeep, Rosco's Patrol Car and the iconic General Lee with the Rebel flag on the top and the '01' on the door.
---
Tennessee State Capitol
The Tennessee State Capitol is located next to the Bicentennial Mall.  It is an architectural delight since it is Greek Revival-style and is one of the oldest working state capitols in the United States.  Inside, it features frescoes and other works of art in addition to the grave of President Polk. Stop in for a FREE TOUR on your weekend trip in Tennessee.
Support the ARTS all around Music City
Murals and Street Art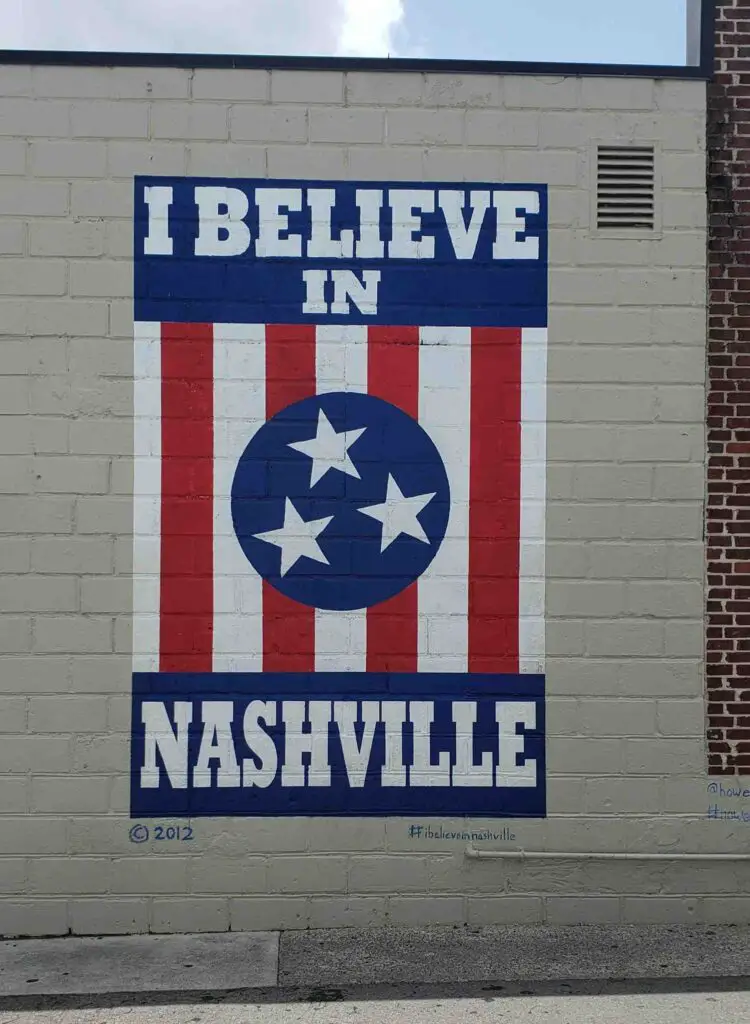 One of the best things about Nashville is the abundance of street art, not to mention how much we all love the selfies that we get to post on social media with the street art!  There is an abundance of wall murals scattered around the city and clustered in certain district and in neighborhoods. 
On our weekend trip to Nashville, we put together our own morning Nashville Street Art Tour and walked along the half-mile-long street on 12 South.  It is a quaint little neighborhood full of unique shops…and MURALS.  You can certainly see more than a handful of wall murals just in this one area and some of them are very notable –aka popular on Instagram!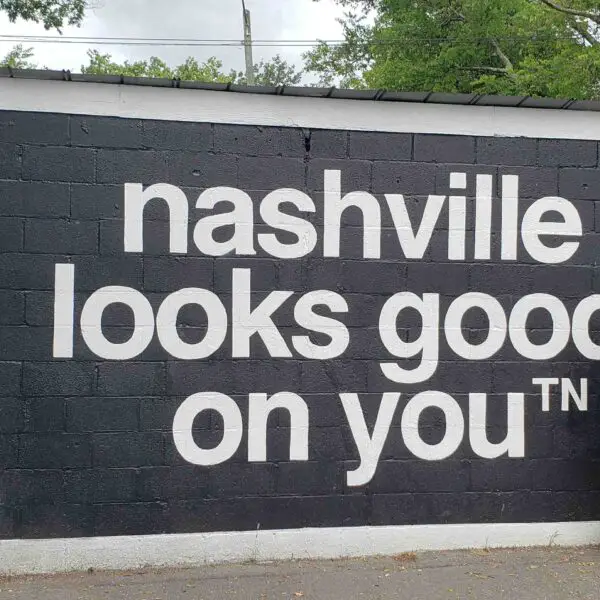 Murals in Nashville for Fun Instagram Photos
The best wall murals in Nashville are found in the 12 South neighborhood which is bursting with colorful street art. Take Instagram photos of the wall art to preserve the memories of your trip to Nashville.
---
First Saturday Art Crawl
Map of galleries on the Art Crawl
The public and the art community come together in the evening on the first Saturday of every month for this free festive event from 6pm until 9pm.  The First Saturday Art Crawl features artwork from Nashville artists as well as artists from around the world to admire (and purchase!) in the galleries.  There is also live music and complimentary cocktails served at some of the galleries in the Arcade and spilling out onto Fifth Avenue of the Arts.
---
Chauvet Arts Nashville-

MAP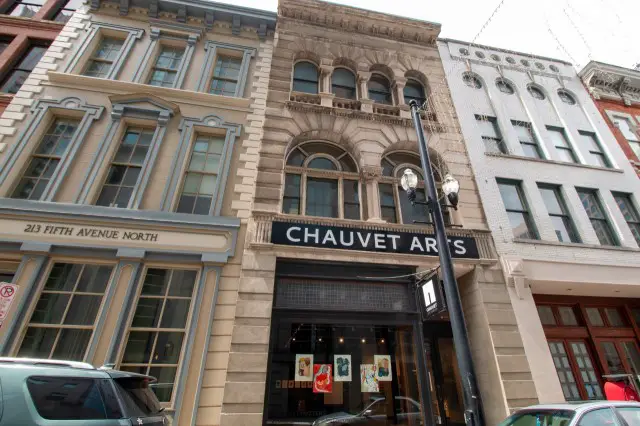 Chauvet Arts is located in a beautiful historic building on 5th Avenue of the Arts in downtown Nashville.  They curate, lease, and sell artwork that "enhances spaces, improves performance and elevates experiences." They are open 10 am until 5 pm from Tuesday through Saturday.
Beginning March 6th, Chauvet Arts will present "Afterimage: Sensations of Color," a group art show celebrating the lasting impact that artists create through the use of color. The show encourages viewers to explore their individual responses to a variety of colorful and vibrant artworks from an array of artists like local Nashville painter Gina Julian, local artist Corinne Cascioppo as well as others from around the world.
---
Hatch Show Print –

MAP
The Hatch Show Print is the oldest working letterpress shop in the US as well as a museum for the history of advertising, graphic design, and letterpress printing.  It is located in the 5th Avenue lobby of the Country Music Hall of Fame and Museum.  You can take the official tour of the print shop or browse through the shop and look at all the video presentations and memorabilia on the walls.  They have been in business since 1879 creating posters and advertising for Elvis Presley, Grand Ole Opry artists, as well as modern stars like the Black Eyed Peas.
Use this TOP ATTRACTIONS PASS for discounted admission to the Hatch Show!
---
Nashville Shakespeare Festival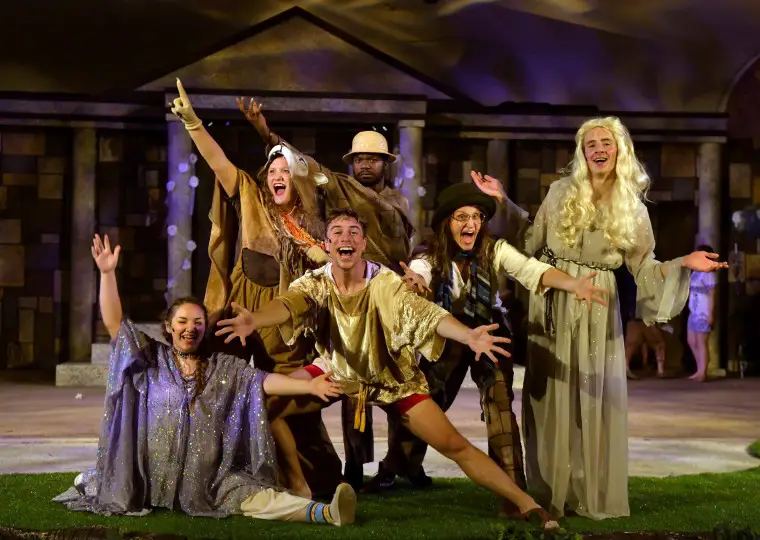 The Nashville Shakespeare Festival celebrates the works of Shakespeare with outdoor performances and educational experiences.  Shakespeare in the Park was previously held in Centennial Park for 30 years but in 2019 it moved to oneC1TY, a new, multi-use development in Nashville.   
---
Window SHOPPING is Free in Music City
Nashville has its share of local shops, fine boutiques, nostalgia, and antiques all over the city.  Window shopping is free and loads of fun, but you still might want to take home a few amazing purchases.  Some of these stores and merchants aren't found anywhere else and you never know what you are going to find. 
Shopping on 12 South Avenue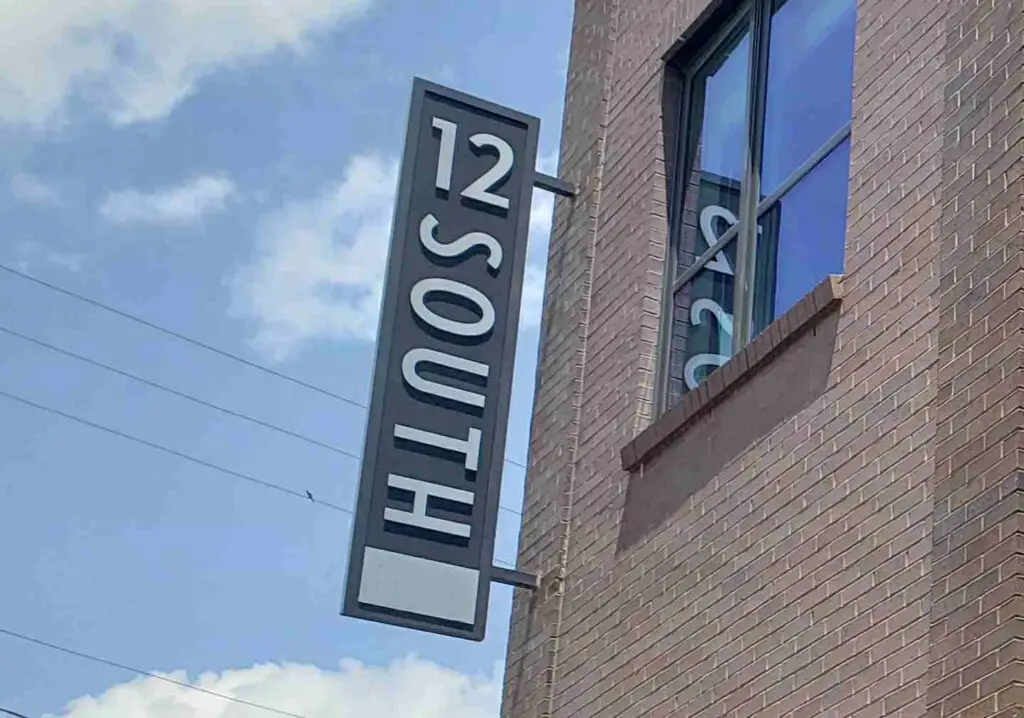 The small neighborhood on 12th Street in Nashville has quite a collection of little shops.  Everything from Reese Witherspoon's Draper James shop to Marine Layer, the store that upcycles used t-shirts, to White's Mercantile, the cute modern-day general store of the neighborhood to top it off.  Wander around from store to store to discover some fabulous one-of-a-kind finds and then find yourself a new trendy wardrobe to take home to revitalize your style after your Nashville weekend trip!
---
Nashville Flea Market
The Nashville Flea Market has been held on the 4th weekend of each month at the Fairgrounds Nashville since 1969.  With over one thousand vendors from around the country and ½ million visitors annually, it is easily considered one of the top 10 flea markets in the country.  The range of items at the flea market is endless from antiques to furniture to knick-knacks and everything in between and all around.  There is something for every collector and shopper.
---
The Arcade
The Arcade is a covered shopping mall that was built in 1902 as Nashville's first shopping center.  THAT alone is probably worth a quick stop to marvel at the architecture.  It was modeled after an Italian arcade and is listed on the National Register of Historic Places.  The Arcade houses 17 art galleries and is a large participant in The Downtown Nashville First Saturday Art Crawl. 
---
Nashville Farmers' Market-

MAP
The centuries-old Nashville Farmers' Market is open all year and is the perfect place to wander around the 16 acres to look at all the vendors.  It is also a great place to pick up some picnic supplies for your picnic in one of the parks that are mentioned above! Sometimes they even have some musical performances at the Market.
Take in some SWEET TREATs while window shopping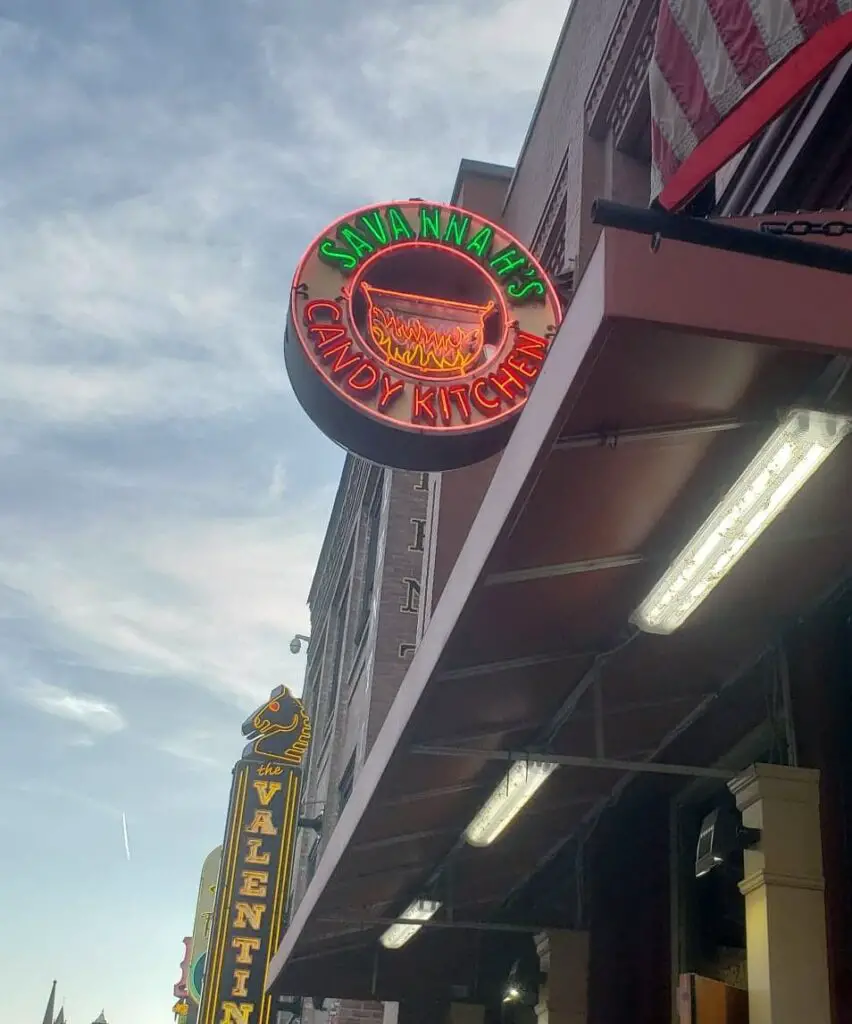 For some great views of colorful candy, and maybe even some free samples, stop in at Savannah's Candy Kitchen.  Some of the other candy stores are Goo Goo Cluster Shop, Dessert Bar, Leon's Candy, and Rocket Fizz.  We were too full from our great meal at Ole Red, so we only window-shopped.
TIP: Make sure to bring some home as souvenirs!
How to get around Music City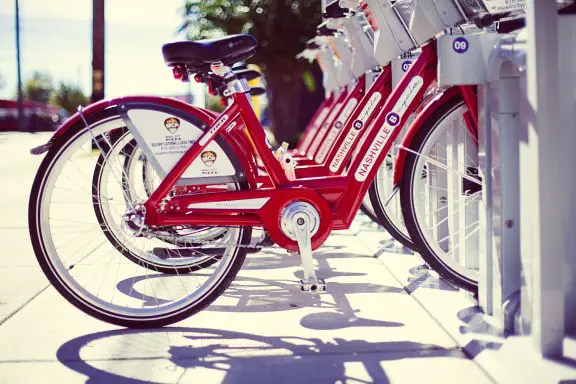 Downtown Nashville is definitely walkable, but there are times when you will need to travel from one end to the other and that can be a haul.  Save some footsteps by renting a bike and your feet will thank you later!
Other ways to get around Nashville on your weekend visit to the city
---
Where to Stay on your Nashville Weekend Trip
Are you a camper? I definitely recommend this campground near Nashville. It is conveniently close. AND they have a shuttle to Broadway for added convenience!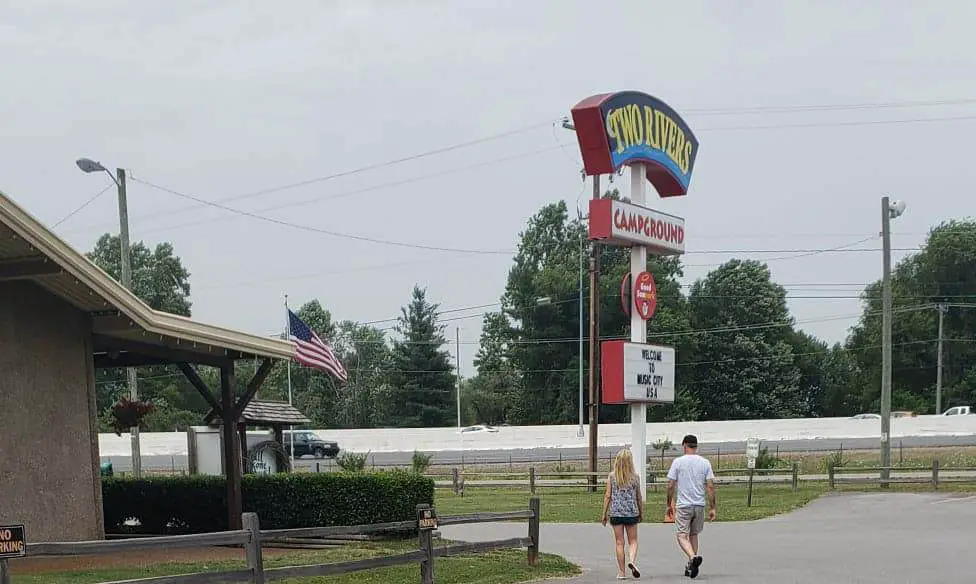 Super Convenient Campground near Nashville Tennessee
Stay close to the City of Music at a convenient campground near Nashville Tennessee. Two Rivers Campground is a very nice family-owned campsite near Nashville.
There are quite a lot of choices near downtown Nashville.
Choose a partner hotel!
There are also numerous hotels around Nashville. Choose your favorite brand and enjoy the luxury of hotel service. There are always new hotels opening too. Try them out!
Free Things to Do on Your Weekend Trip to Nashville
There you have the big long list of free things to do on your Nashville weekend getaway. It is definitely enough to fill up your weekend trip to Nashville and is probably enough to come back a few more weekends to do even more!
This is a great Destination for US Empty-Nest Travel. Find more ideas at my recent post with ideas from across the nation.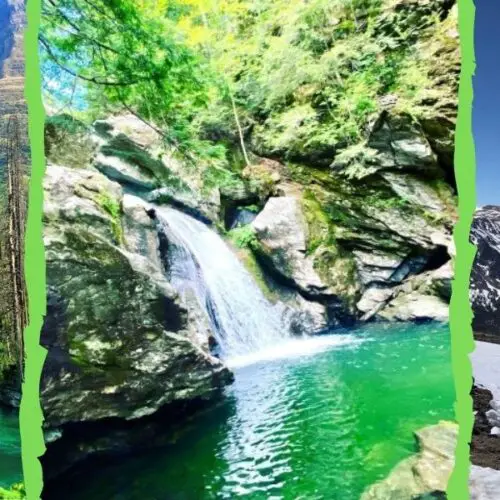 Relaxing US Vacation Ideas for Empty Nesters
Vacations are different after the kids leave & the grownups become empty nesters. Use this list to make your bucket list for US vacation ideas for empty nesters
---
If you have more vacation time on your hands after your weekend in Nashville, spend some extra days visiting 25 beautiful locations in Tennessee. There are more great cities and historical landmarks to put on your Bucket List all around the state.
Have you been to Nashville? What sites were your favorite and which ones do you recommend for a great addition to a Nashville weekend itinerary?
Like this post?
PIN IT for later to plan your Nashville weekend trip