DISCLOSURE: I may link to relevant products, companies or helpful information. Some of these links may be affiliate links, meaning I may earn a small commission. As an Amazon Associate and associate with other affiliates, I earn from qualifying purchases at no extra charge to you. The views and opinions are my own. Please see the disclaimer and privacy policy.
Moyer Memoirs is aware that these uncertain times are limiting many aspects of life including travel. I am continuing to feature travel destinations so that you can dream of future trips and travel virtually for now. I don't expect or encourage you to go check them out immediately. I hope my articles inspire your future adventures!
Last Updated on December 18, 2020 by Michelle Moyer
Wall murals and Street Art in Nashville
Where are the wall murals in Nashville?
I have put together a list of some of the fun wall murals in Nashville.  There are quite a few wall murals located on 12 South and are all easily walkable. See my additional post for details on other sites to see and a MAP about a WALKING TOUR OF NASHVILLE'S 12 SOUTH neighborhood.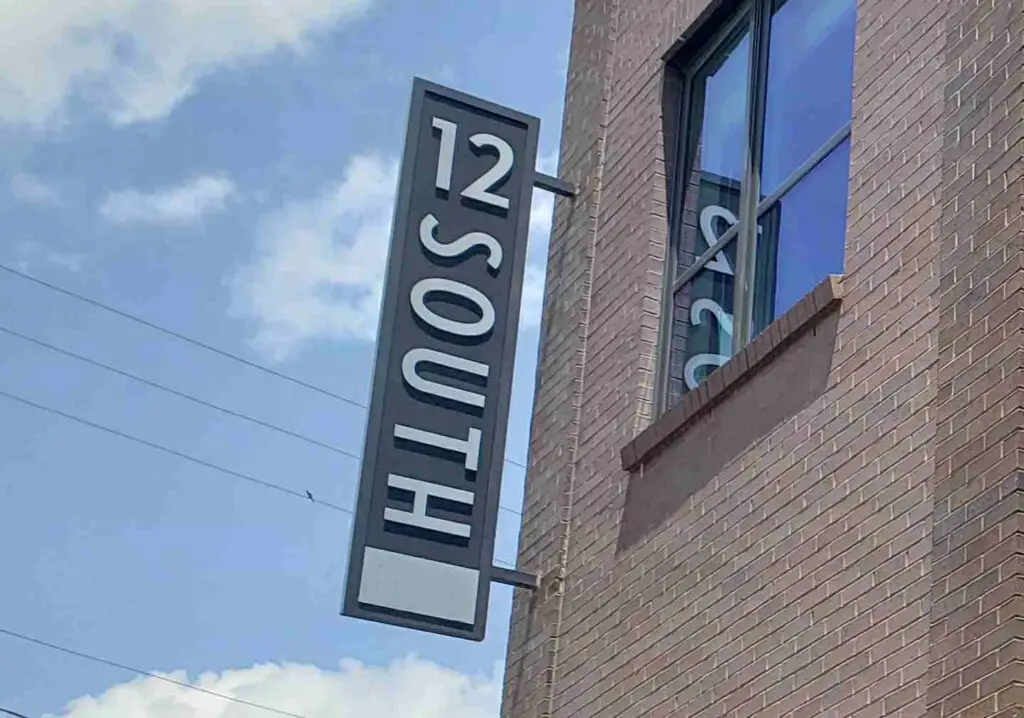 The half-mile on 12 south in Nashville is a quaint little neighborhood with shops and businesses that are unique to Nashville. It is a top destination that should be on your Must-See list in addition to the touristy restaurants and roof-top bars on Broadway. Here on 12 South is where the BEST WALL MURALS are located!
The Best Wall Murals in Nashville on 12 South
Instagrammable Wall Murals in Nashville on 12 South
Nashville Looks Good on You
2509 12th Avenue South: Map to Nashville Looks Good Mural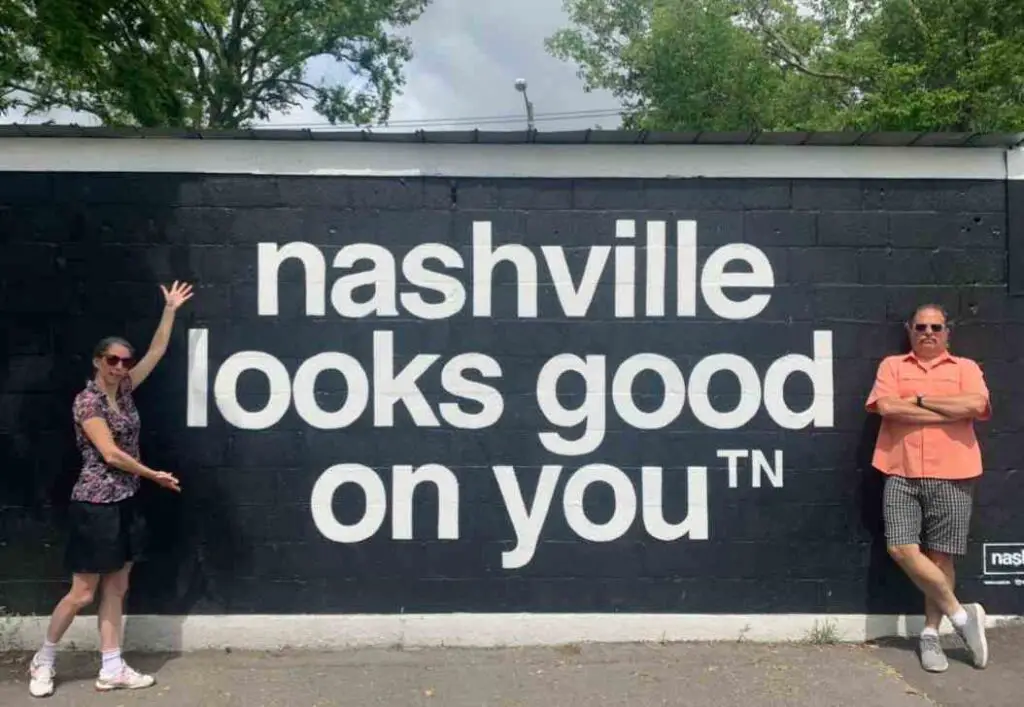 The Nashville Looks Good On You mural was our first stop on our walking wall mural tour in Nashville.  A perfect starting Instagram photo to represent the street art on 12 south in Nashville.  It is hidden behind Moda Boutique and Frothy Monkey.  You will need to turn down a long driveway that leads to a parking lot.  The wall mural is at the back of the lot. Simple black wall, but we love the Nashville reference!
Looking Pretty Music City
2709 12th Avenue South: Map to Looking Pretty Mural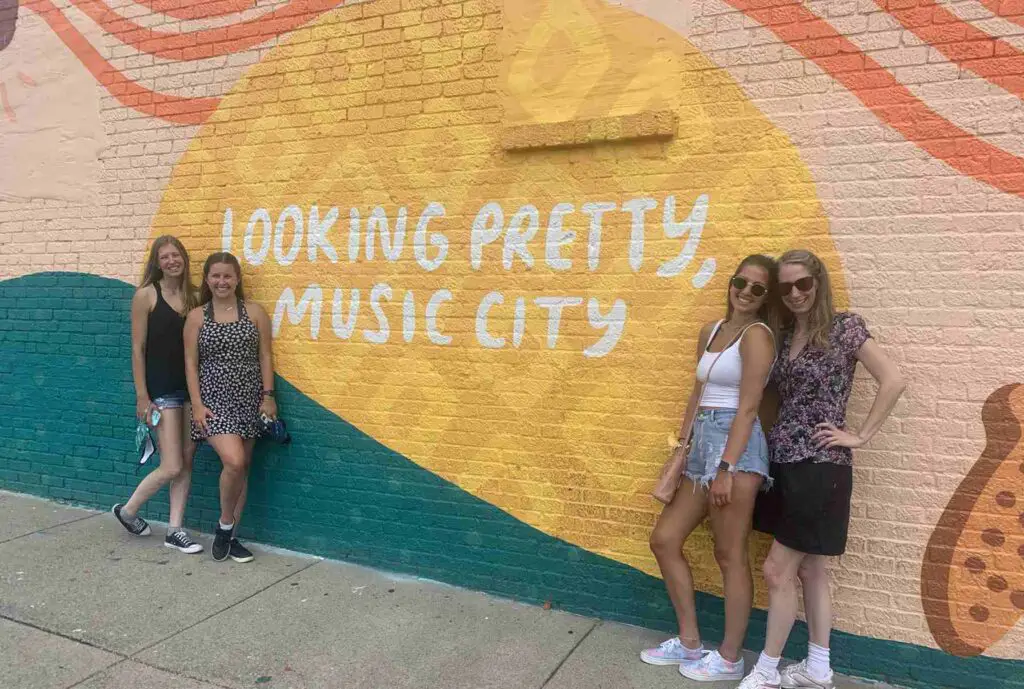 A little further on the same side of the road and around the corner, we found this street art wall mural. 
Make Music Not War
2902 12th Avenue South Map to Make Music Mural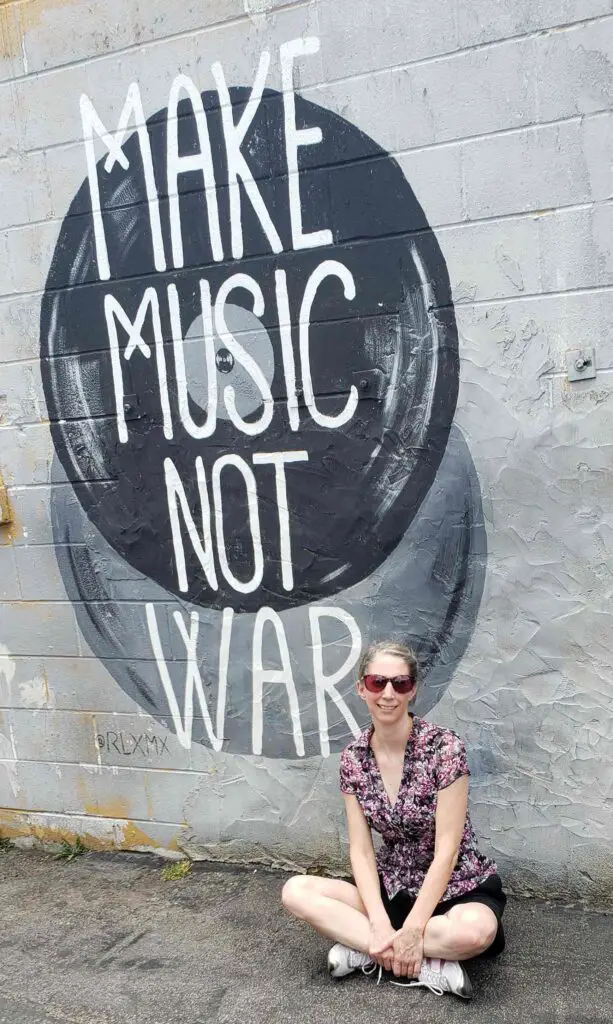 We crossed 12 South and walked along the other side of the 12 South for our next find.  This street art mural features some records to spin in order to make some music.  It is on the side of the EPICE Takeout building.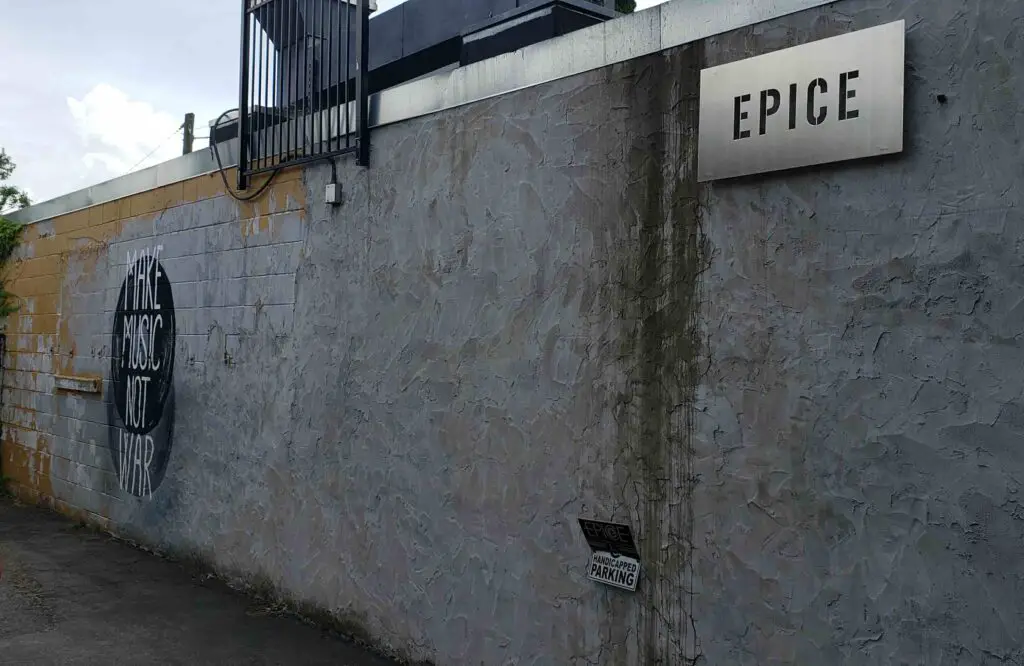 Vintage Flower Mural
2900 12th Avenue South Map to Wild Flower Mural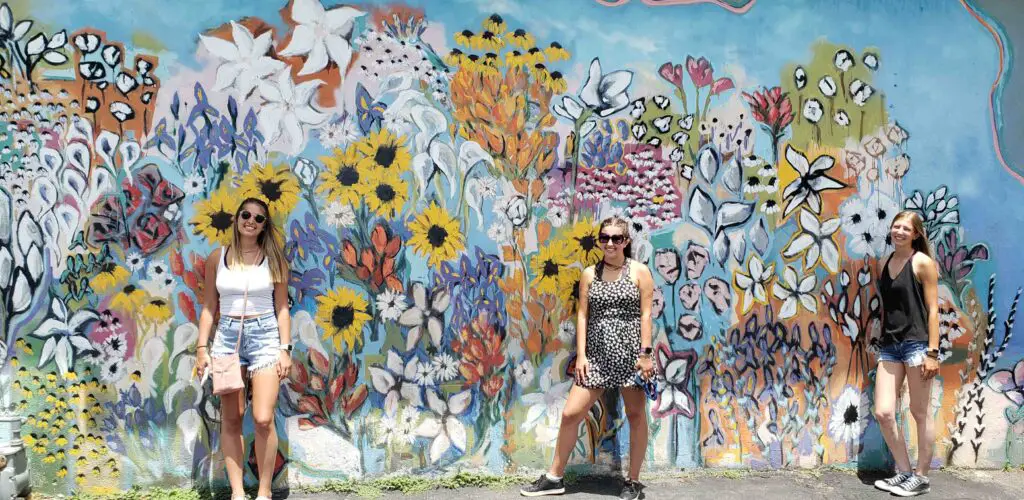 This colorful mural is across from Make Music Not War and on the side of the shop that is located there.  Add a sprinkle of my three daughters and it becomes a Masterpiece of art!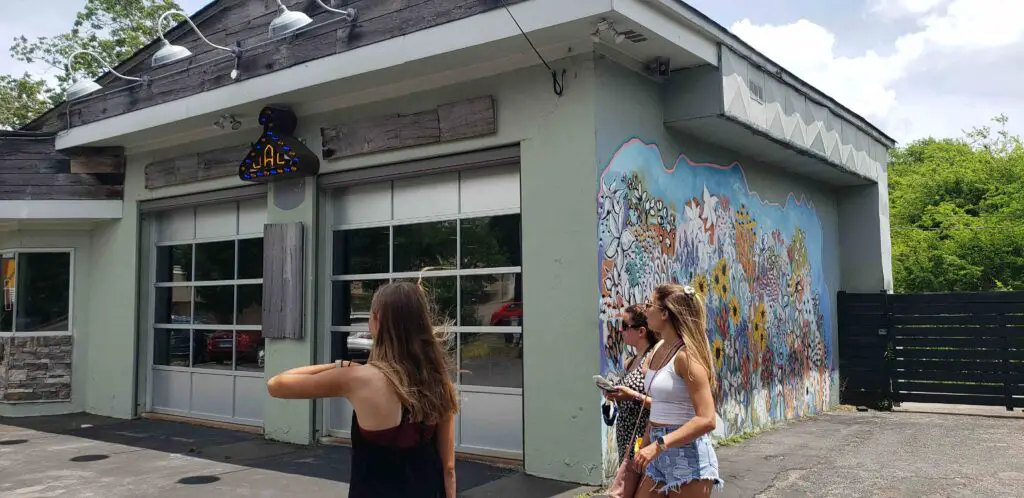 Yellow Fox Wall Mural
2814 12th Avenue South  Map to the Yellow Fox Art Mural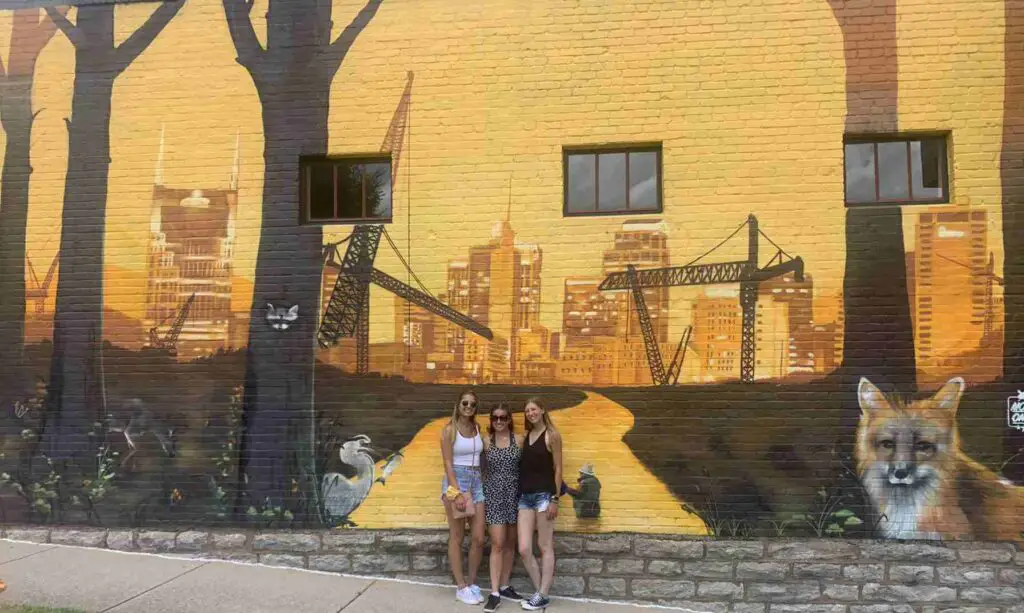 We saw this wild art display from far away as we were approaching it.  It is bright vivid yellow and pops out at you. There are other animals pictured in this Nashville street art, but the fox peaking out at the corner is what caught my attention.
Halcyon Bike Shop
2802 12th Avenue South:  Map to Halcyon Bike Shop Mural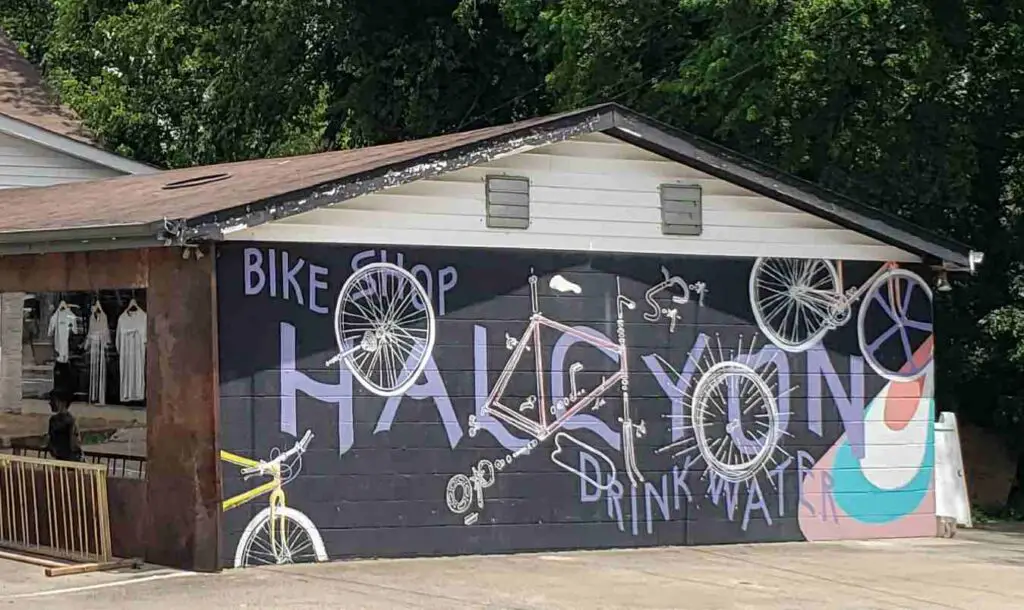 This cyclist shop has gotten into the spirit of wall murals. Their mural artistically decorates the side of the store quite appropriately with bikes and wheels.
I Believe in Nashville
2700 12th Avenue South: Map to I Believe in Nashville wall mural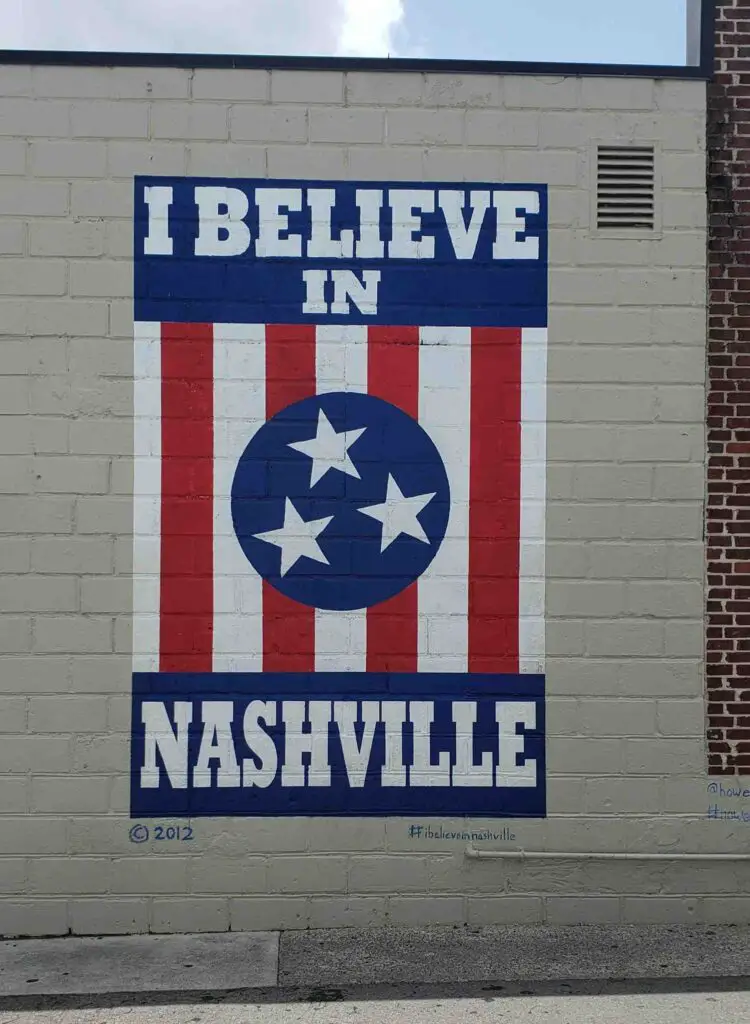 This is one of the most iconic wall murals in Nashville.  There are other replicas around the city, but the original calls 12 South its home.  This street art is so famous that it has its own I Believe in Nashville Mural website.
Draper James Wall
2608 12th Avenue South: Map to Draper James Wall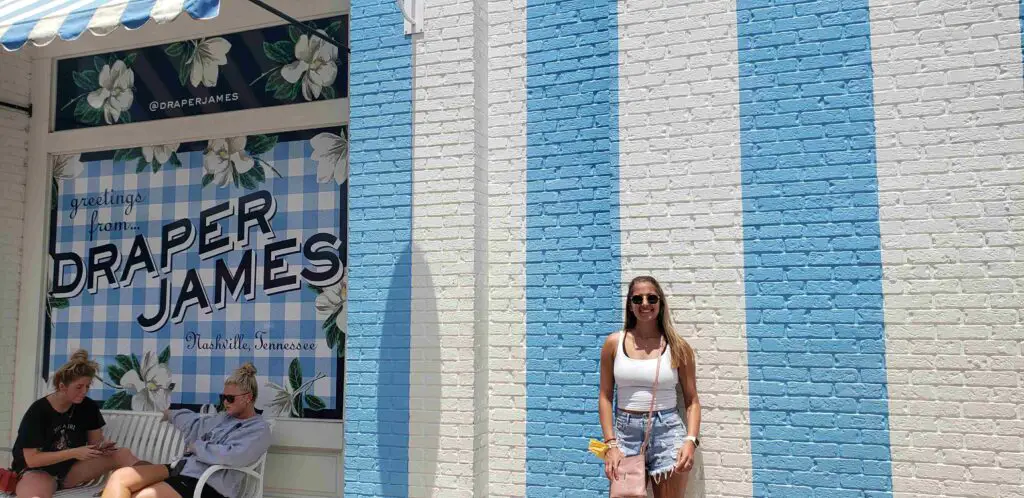 Just a blue and white wall, but still so photogenic.  This wall is located on the side of Draper James, the fashionable clothing store founded by Reese Witherspoon, and is painted in blue and white stripes that are the color palette of the store. There is also a cute little white bench that is perfect for more snapshots. –or for hiding in the shade from the hot Nashville sun!
Cityscape
2316 12th Avenue South:  Map to Cityscape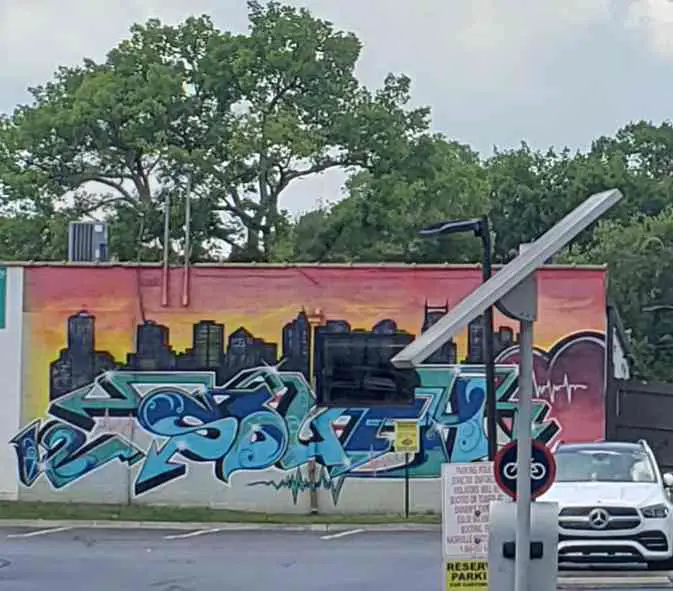 I found this mural while snacking on Jeni's Splendid ice cream. It was across the street on an old abandoned building with a big parking lot in front of it.  Here is the story of CityScape's artist here. 
We could have spent hours on 12 South looking at all the colorful street art and wall murals. The 104-degree heat got the better of us that day and we decided to take a break to go swimming at the campground. We did enjoy our brief walk down 12 South and definitely filled our Instagram feed for quite a few days with many artistic wall murals from Nashville!
Like this post? PIN IT FOR LATER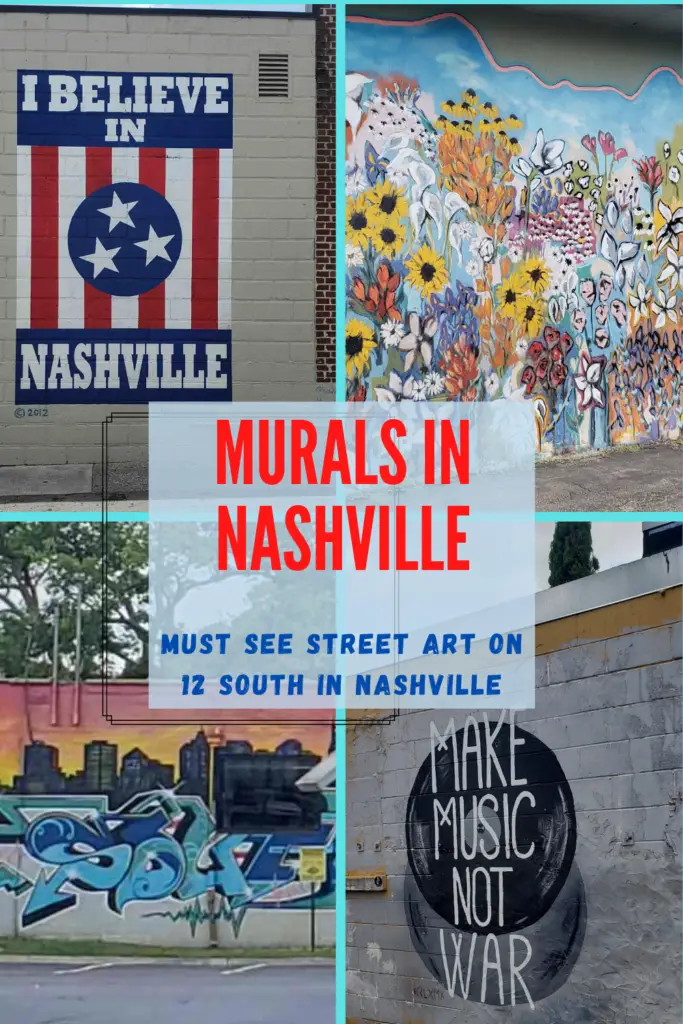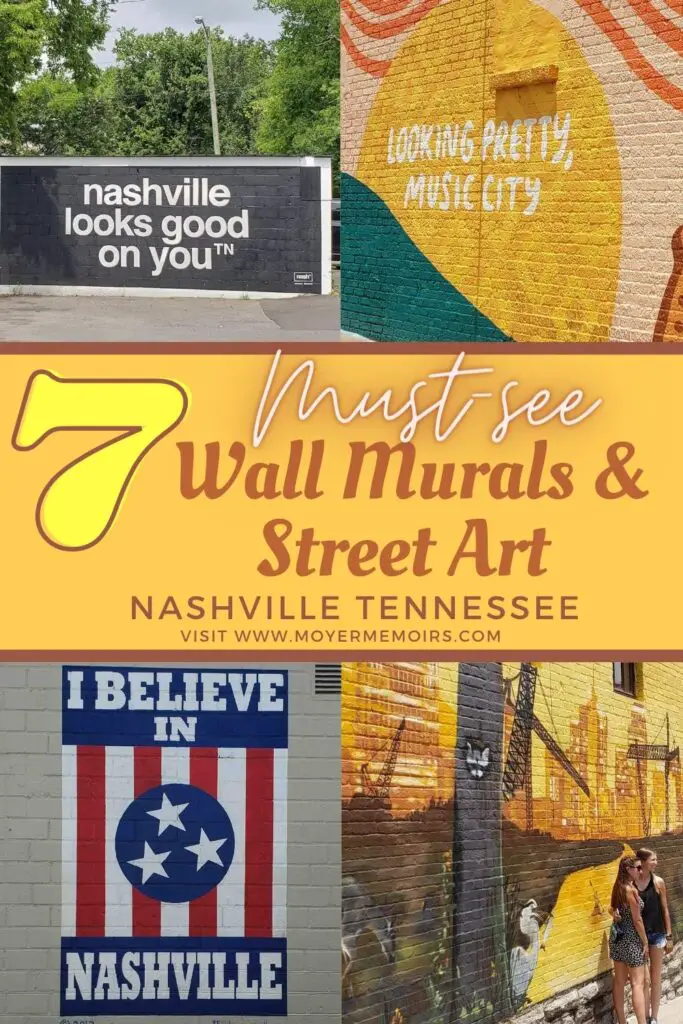 Planning a road trip to Nashville?
I recommend this campground that is close to downtown Nashville.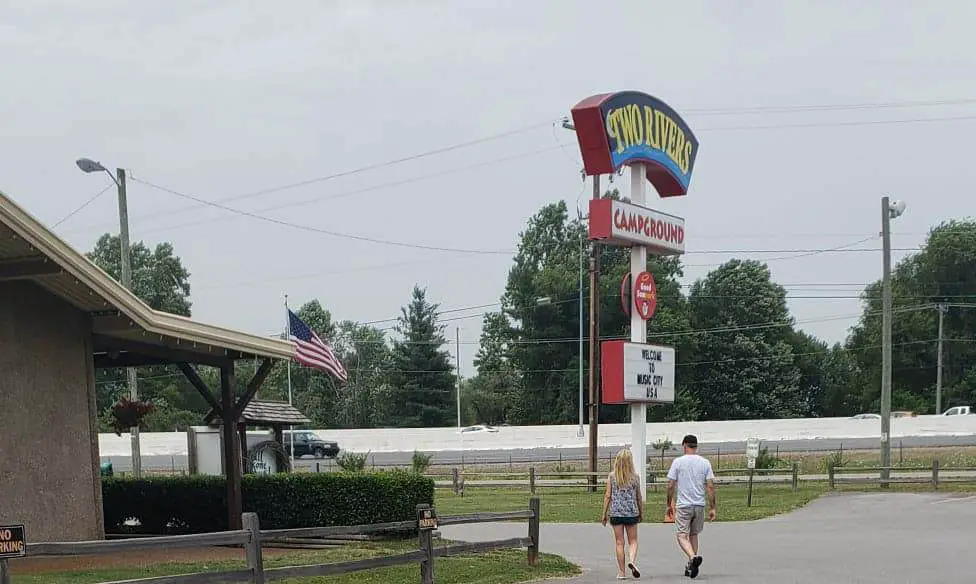 Super Convenient Campground near Nashville Tennessee
Stay close to the City of Music at a convenient campground near Nashville Tennessee. Two Rivers Campground is a very nice family-owned campsite near Nashville.
👉 Don't forget to click through for the important MAP of the 12 South Neighborhood in my additional post on other sites to see in a WALKING TOUR OF NASHVILLE'S 12 SOUTH neighborhood.
Check out another fun FREE activity in Nashville at Opryland Resort Gardens.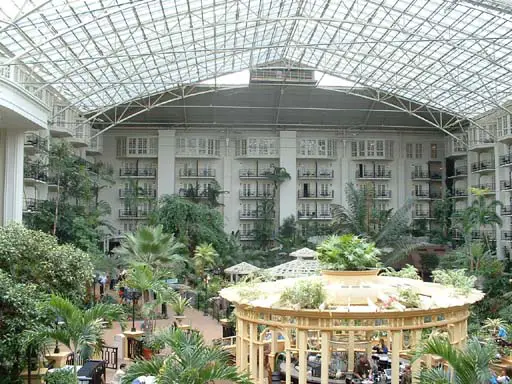 Visiting the Beautiful Opryland Resort Gardens in Nashville
Come inside Opryland Resort Gardens in Nashville for a fun afternoon of FREE activities like the beautiful 9 acres of gardens, waterfalls, gazebos, & waterways.