DISCLOSURE: I may link to relevant products, companies or helpful info which may be affiliate links, meaning I may earn a small commission. As an Amazon Associate & other affiliates, I earn from qualifying purchases at no extra charge to you. The views & opinions are my own. Please see the disclaimer and privacy policy.
Last Updated on January 23, 2023
Things to do on 12 South Nashville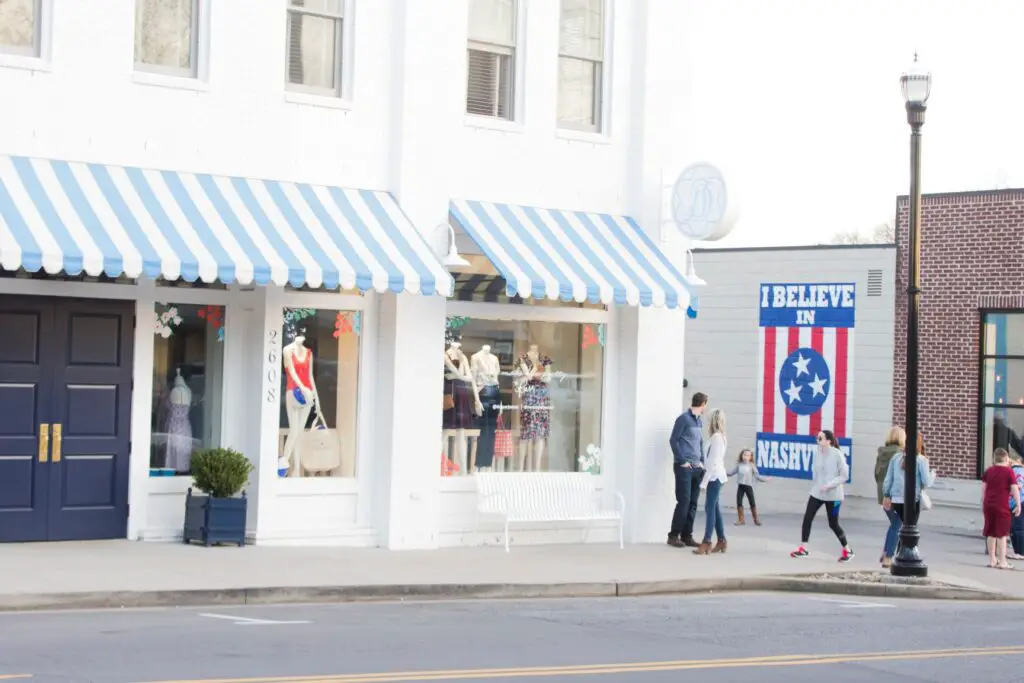 We took a road trip to Nashville to see my daughter who is interning on a farm there.  I found out about this cute little neighborhood on 12 South in Nashville with shops, cafes, bars, and wall murals. 
Spending time walking along 12th avenue south Nashville sounded like a perfect way to spend our first afternoon in Music City before we hit the big lights on Broadway. 
We had a nice lunch at The Flipside Diner (subsequently out-of-business, but keep reading for other suggestions for Restaurants in 12 south) and then went up and down the half-mile street on our walking tour of 12 South Nashville.
We parked for free on a side street, Beechwood Avenue, on a lazy June Sunday.  We started out at this little Farmer's Market at the end of Beechwood.  It was full of fresh vegetables, flowers, and shoppers making purchases for their next meal.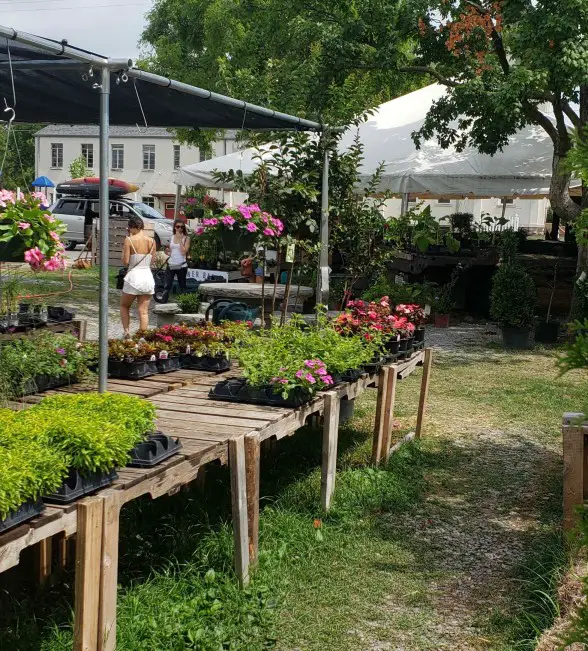 Where is 12 South Nashville?
Get your printable map of 12 South Nashville
Make sure you Subscribe in the box above for your FREE 12 South Nashville Map and for 12 south Nashville directions
Shopping on 12 South Nashville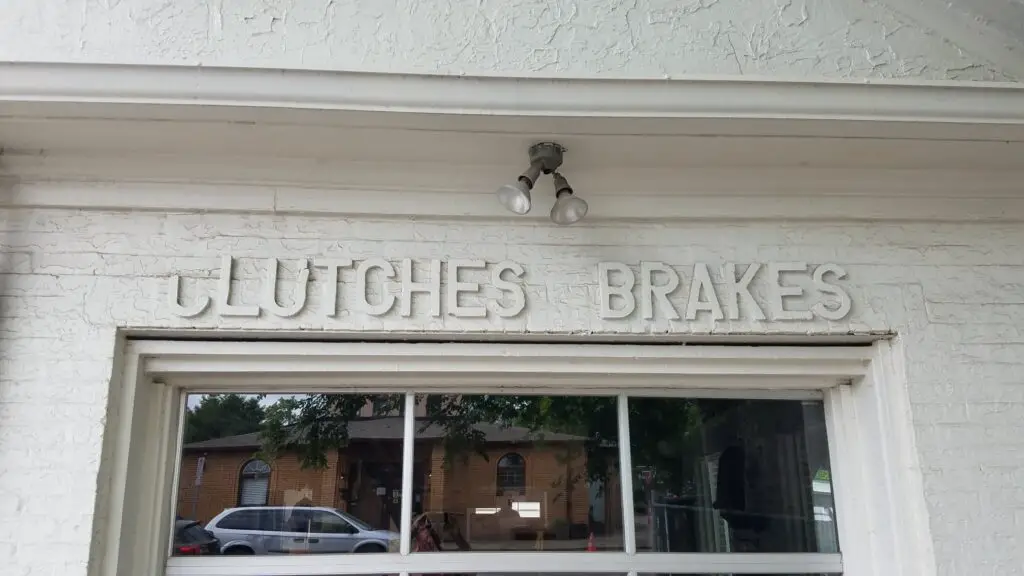 There is a big variety of places to shop on 12 South Nashville.  There are trendy boutiques, clothing stores, jewelry stores, and gift shops that have moved into antique gas stations and old-time general stores.  All of the 12 South Shops are quite an eyeful for window shoppers and those that appreciate a bit of nostalgia! The 12 south shopping is quite diverse and you can discover many unique items while 12 south Nashville shopping!
Our trip was during the heart of the pandemic.  We wore our masks in the stores that were open to the public.  Many other stores were allowing shopping by APPOINTMENT ONLY in order to limit the number of people in their small shops.
Shopping 12 south Nashville is a delightful activity so here is a list of 12 South Nashville shops.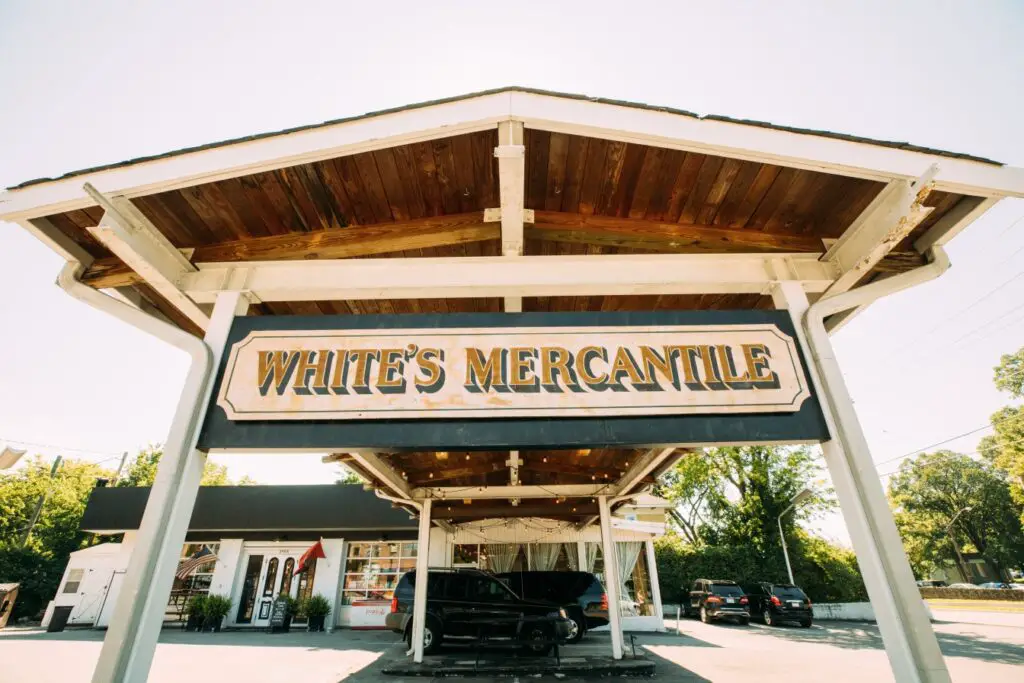 This cute modern-day general store in a former gas station at the south end of 12 South Street is owned by singer Holly Williams, daughter of Hank Williams, Jr.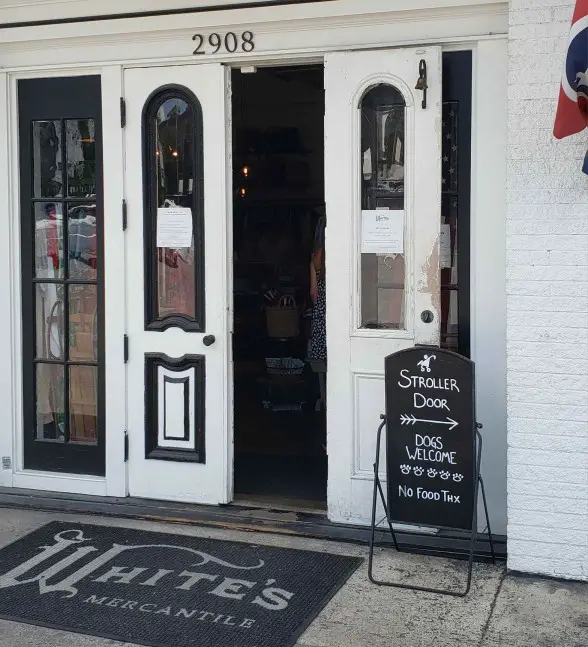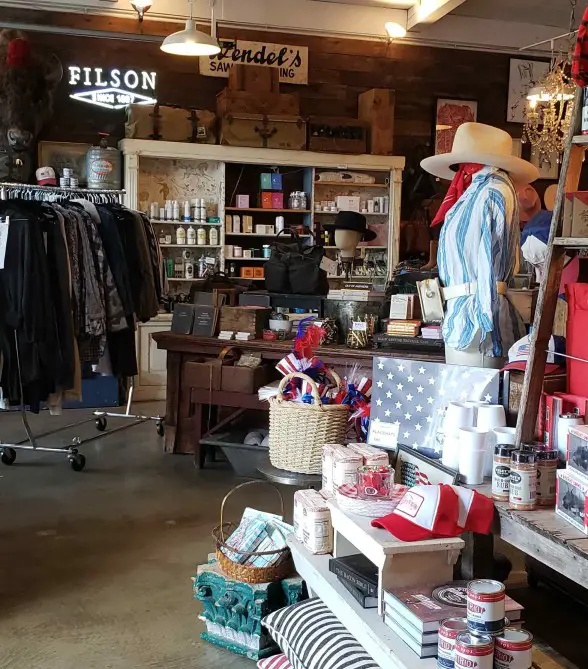 They stock a wide range of locally made merchandise from vintage to trendy and from food to Southern-brand clothing. They are the must-see shop if you are looking for that perfect gift to take home and display on your shelf.
Location: 2908 12th Avenue. South
Imogene & Willie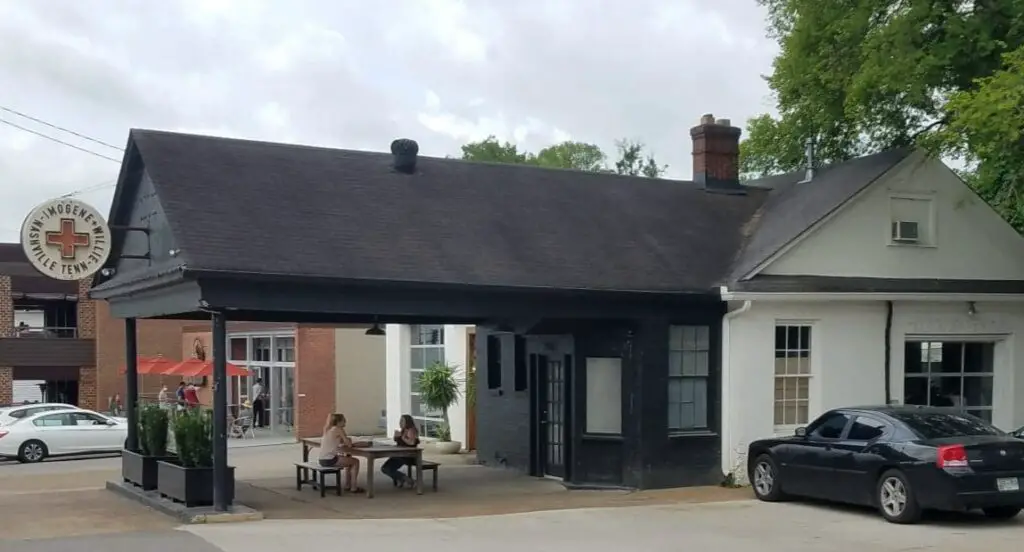 Filling another abandoned old white gas station, this Nashville-based clothing boutique features custom jeans and high-quality denim apparel.  The interior of this Nashville 12 south shop is stylishly decorated in a Southern motif that you will enjoy looking at just as much as the merchandise.
Location: 2601 12th Avenue South
Draper James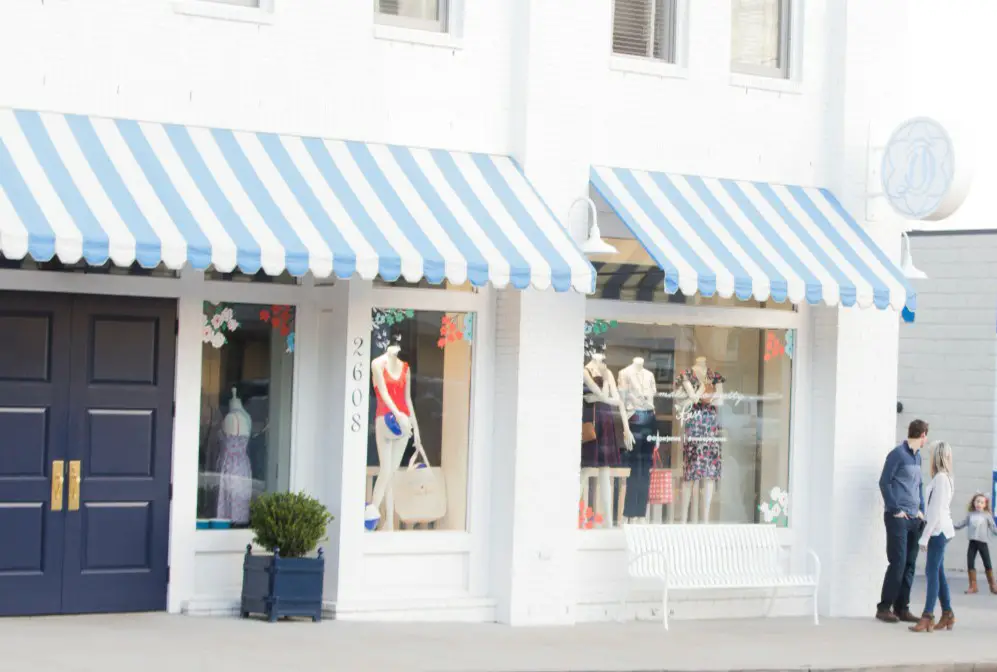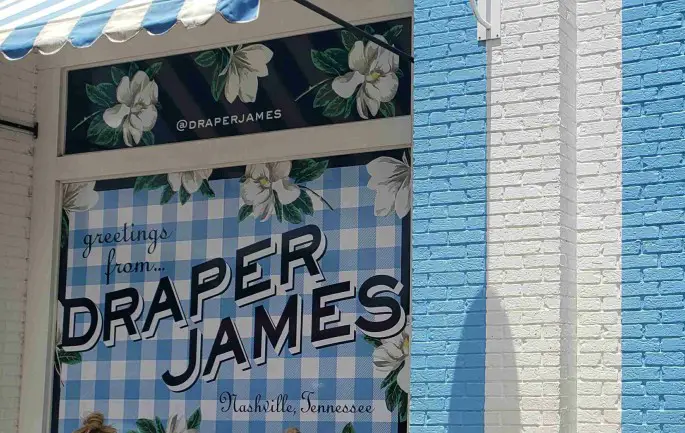 Draper James is a step up to a luxury boutique.  It was founded by Reese Witherspoon and the feminine style of the shop as well as all the clothing and accessories embraces her Southern upbringing.  Bring your high-dollar credit card since the price tags are definitely on the high side here.
Location: 2608 12th Avenue South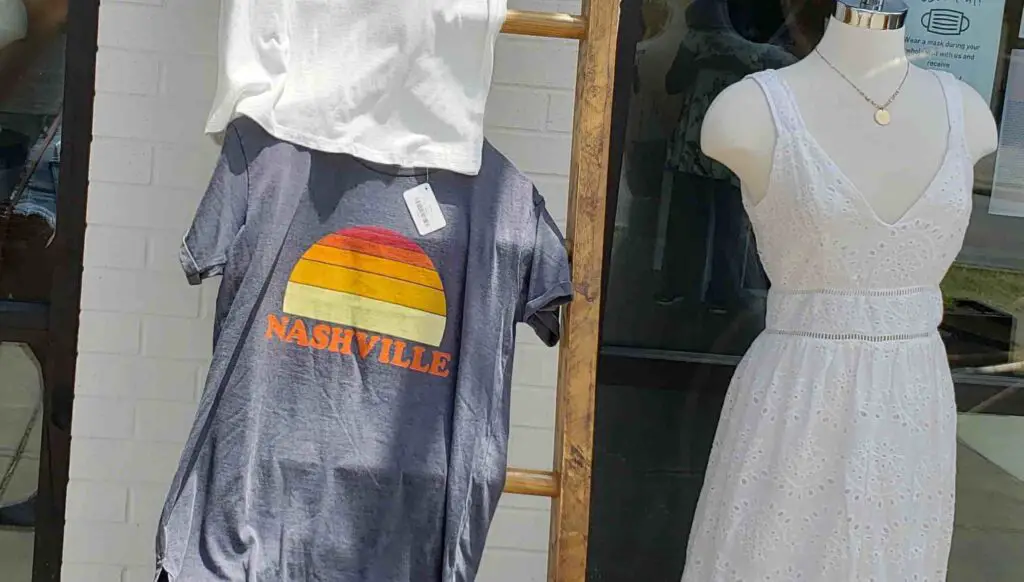 The quintessential t-shirt store gets an upgrade at Finnleys.  They have some expressive tees hanging at the window as well as fashionable apparel in the shop that you can wear on your next luncheon date.
Location: 2516 12th Avenue South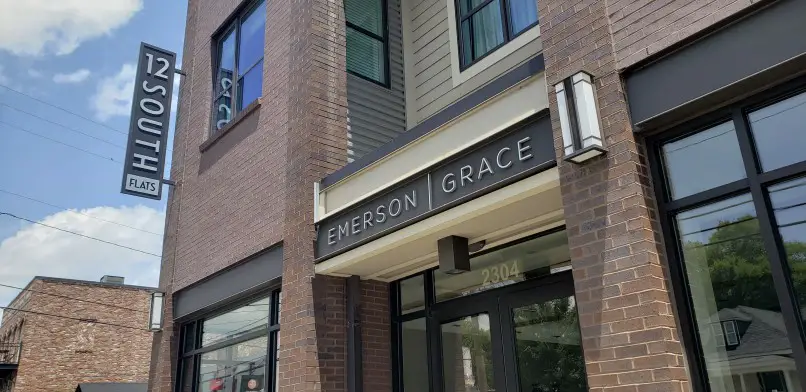 This boutique clothing store, based on 12 South, has a selection of casual clothes for all the fashion-conscious ladies that are looking for shoes, purses, and trendy outfits.
Location: 2304 12th Avenue South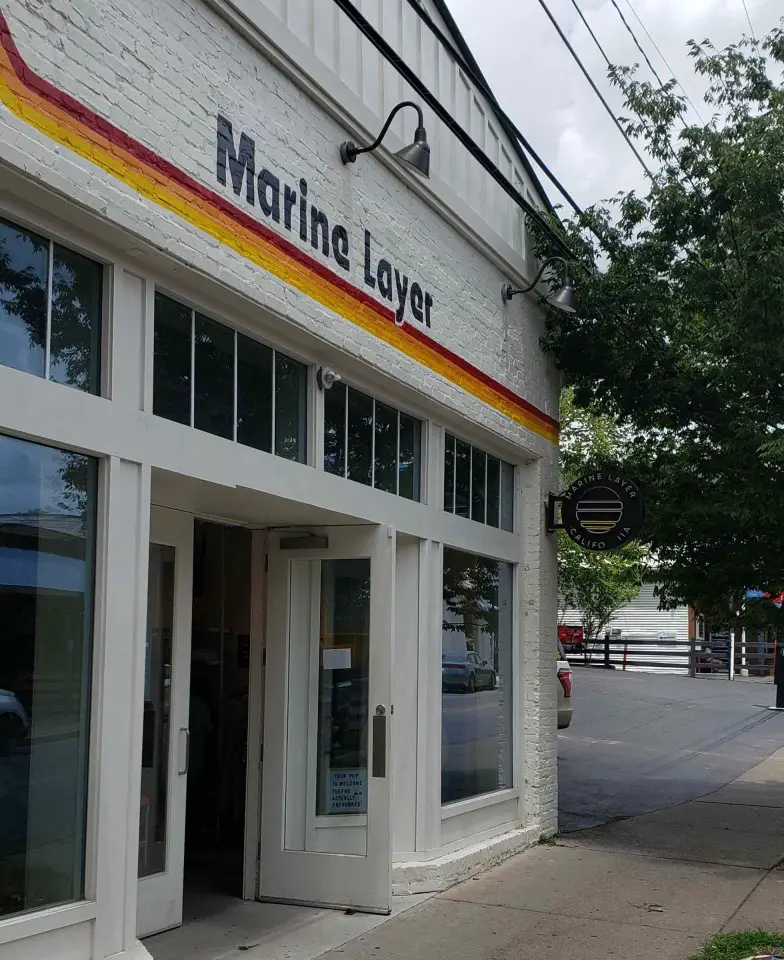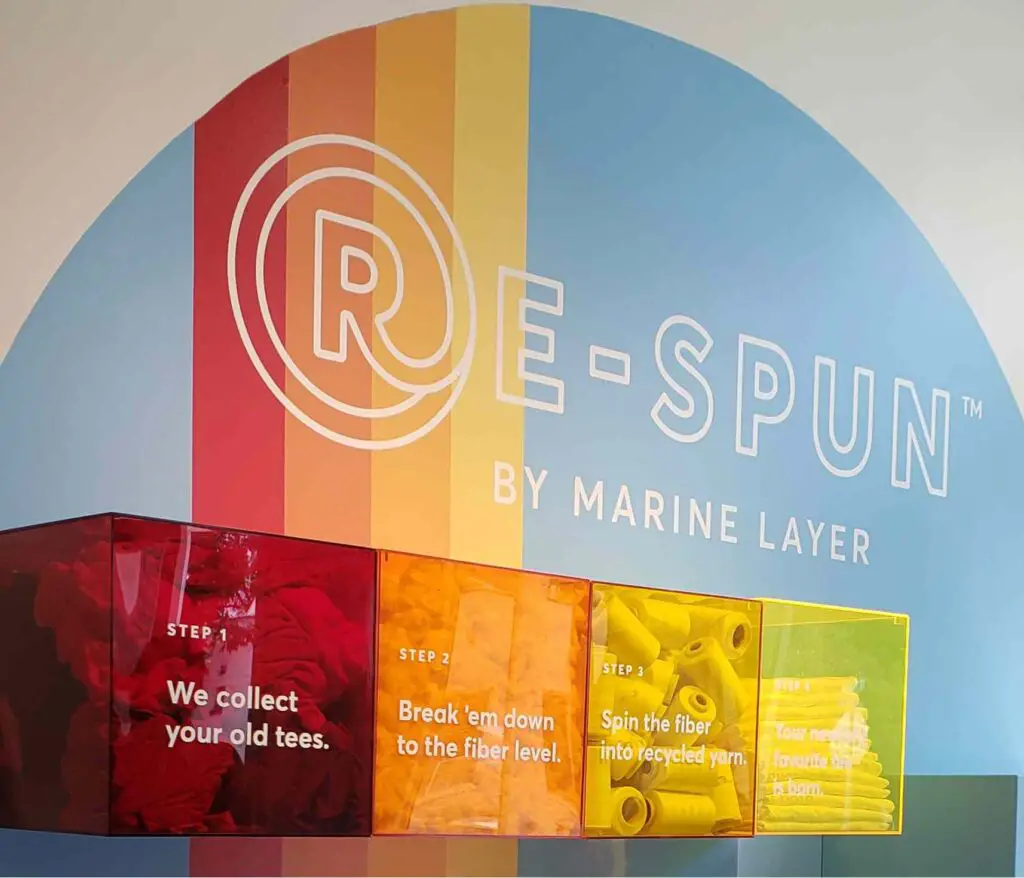 Super soft clothes are sold in this store!  They value comfort above all else and have a commitment to sustainability.  They have a Re-Spun brand that is made from recycled t-shirts.  You can bring in up to 5 t-shirts to donate and they will give you a discount of $5 each for a future purchase.  The Re-Spun brand is expensive, but if you bring in 5 ugly t-shirts that you don't wear anyway, you can get $25 off of one that you actually like!
Location: 2705 12th Avenue South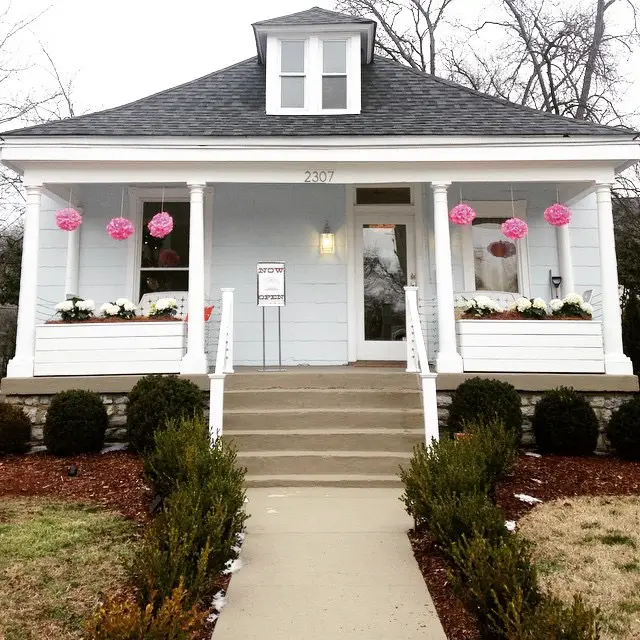 This cute little shop features handmade jewelry.  The boutique is housed in an old recording studio on 12 South in Nashville.  Here, you can find an array of newly designed pieces on display so that you can choose from the collection of available jewelry to make you feel 'beautiful and bright!'
Location: 2307 12th Avenue South
Serendipity
Serendipity is another specialty shop in the 12 South Shopping District Nashville that is full of one-of-a-kind items like gifts, jewelry, and clothing. They support local artisans that strive to make a difference in the world through their programs.
Location: 2301 12th Avenue South
Restaurants on 12 South Nashville
What is there to eat on 12th South Nashville?
12 South area in Nashville has become a great place to hang out, eat, and socialize because of a great many cafes, restaurants, bars, and diners.  There are many different ethnic menus, trendy dishes, and local specialties that you can feast on. Take a break from your walking tour of 12th South Nashville and try one of these out!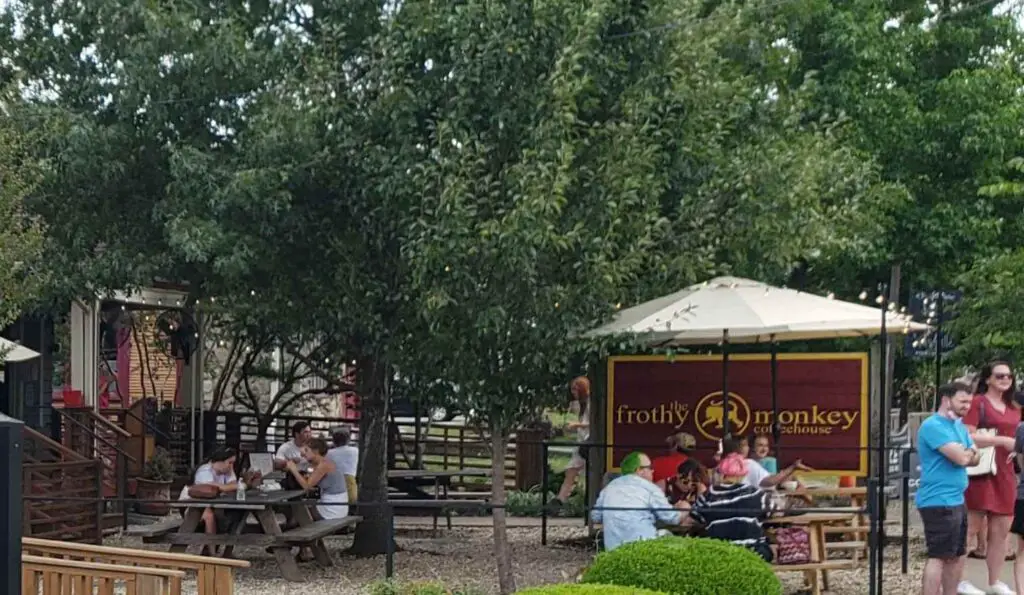 This cute little coffee house has a plethora of outside seating on their patio, making it ideal for pet owners to bring their furry friends with them for a bite to eat.  They have a large selection of international coffees like Ethiopian Yirgacheffe Fair Trade, Sumatran Mandehling, Guatemalan Huehueenango. and many others that I have never heard of.  Stop by, sip some coffee, and grab a quick meal.
Location: 2509 12th Avenue South
Dine on one of the best patios in the 12 South neighborhood at bartaco.  And you guessed it, they are serving up tacos!  They are an upscale and popular eatery that will make you think you have escaped to a beach resort.  Their specialty is coastal vibe street food and they even include specialty cocktails on their menu.
bartaco now available for curbside pick-up and delivery
upscale street tacos, specialty cocktails & beer in a coastal & relaxed environment. your favorite tacos + sides, available for curbside pick-up and delivery.
Location: 2526 12th Avenue South
Epice is a family-owned 12 south neighborhood Nashville bistro serving classic Lebanese dishes full of aromatic spices and fresh herbs. Try this cute little eatery on 12 S Nashville for some different flavors for your dinner tonight!
Epice Nashville
Epice is a neighborhood bistro in the heart of Nashville, TN, serving moderately priced, simple and authentic Lebanese foods reflective of Lebanon's flavorful Mediterranean cuisine.
Location: 2902 12th Avenue South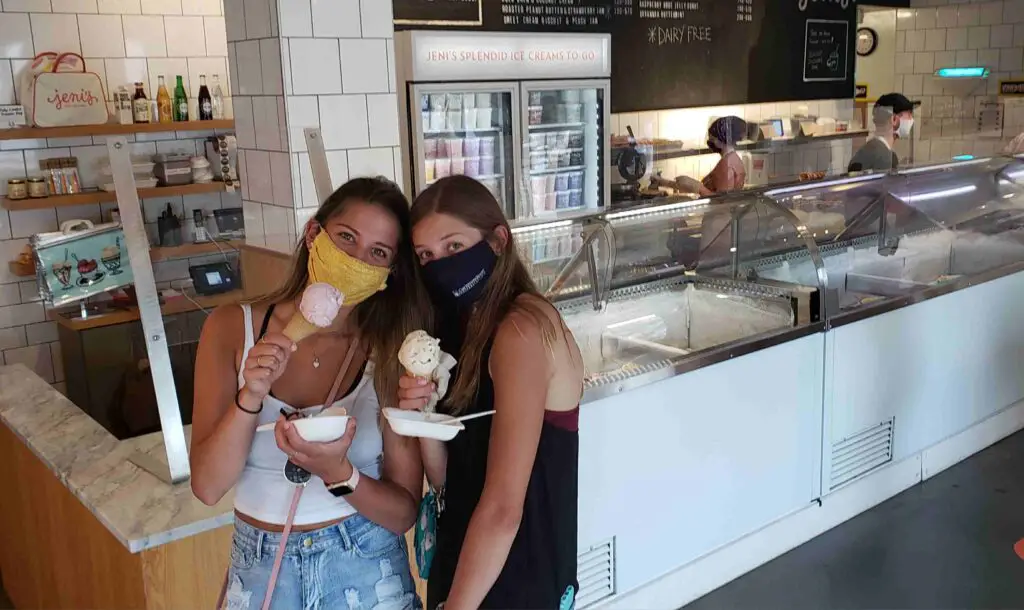 Not a local eatery but still delicious, Jenis has ice cream shops across the nation.  Can't make it to Jenis?  They ship nationwide!  Such a large variety of flavors made it very difficult to choose, but we eventually settled on our 1 scoop and enjoyed them at the little table in front of the shop.
Location: 2312 12th Avenue South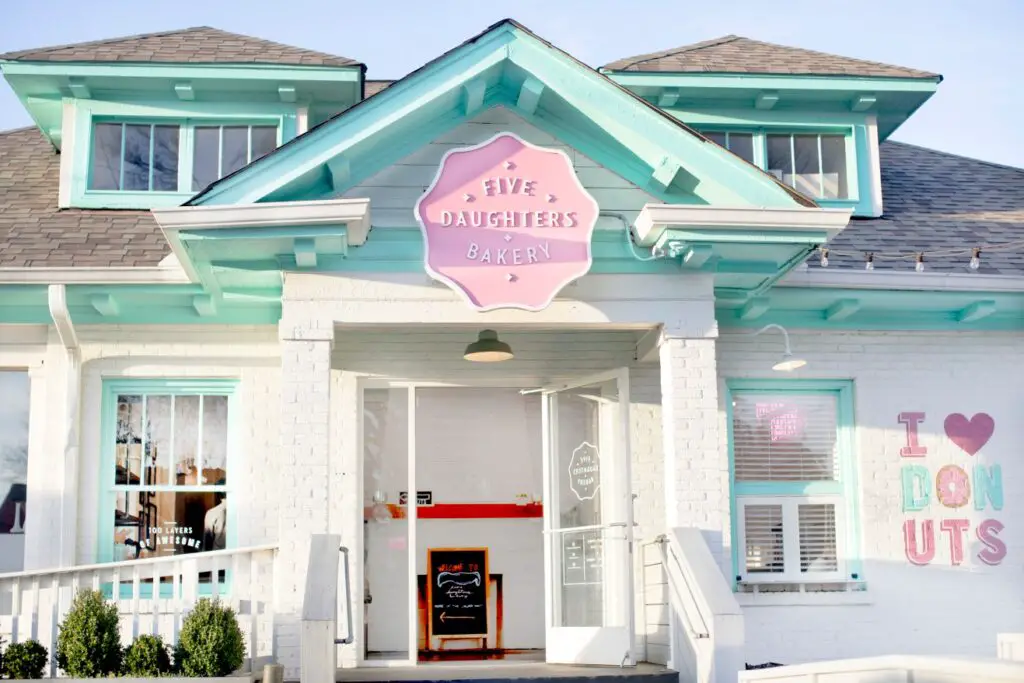 This popular donut shop is one of three locations around Nashville.  It is around the corner from 12 South and right down a side street.  You can see the pink sign coming! 
They are known for their 100-layer donut, which they describe as a cross between a croissant and a donut.  It comes in many flavorful varieties like Cotton Candy, Chocolate Orange, and Graham Lime Pie….and if that wasn't enough, it is then rolled in sugar, filled with cream, and topped with a sweet glaze!
Location: 1110 Caruthers Ave, 12 South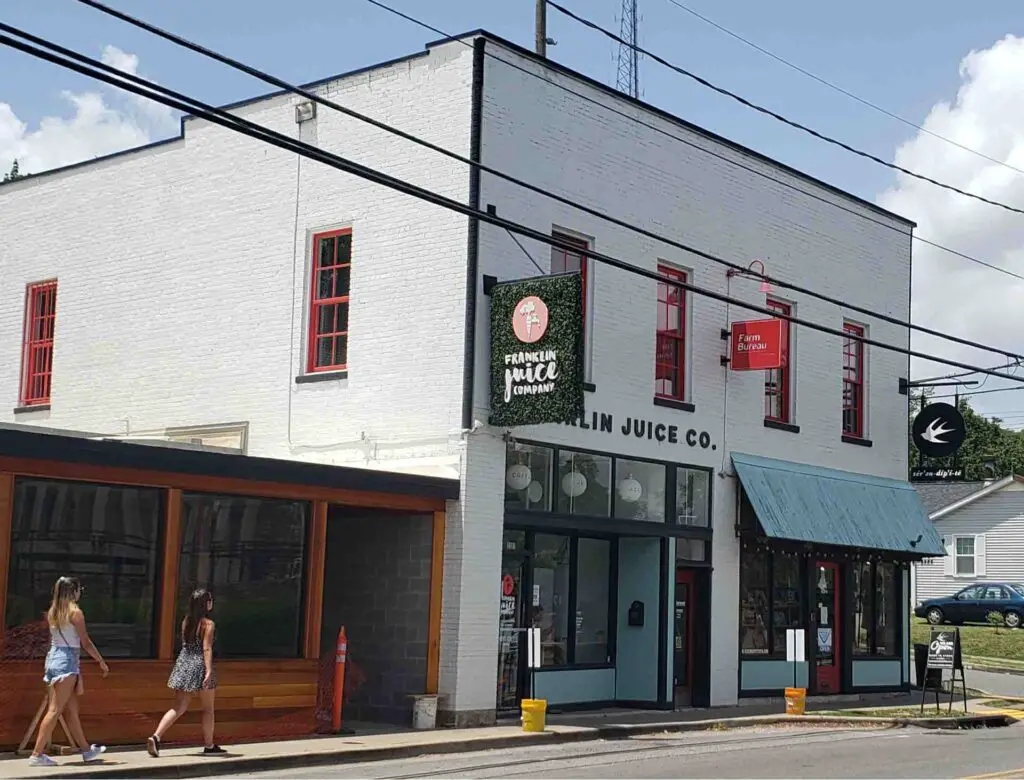 Juice joint –and actually a truck that drives around for on-the-go service too—that serves, you guessed it, JUICE.  Everything is raw, fresh, and organic.  They have smoothies and a large variety of green and organic juices and juice cleanses.  To round things out they offer a nice variety of acai bowls. Pronounced "ah-sigh-EE", this is a frozen fruit sorbet topped with organic granola, fresh fruit, dry superfood toppings, and local raw honey.
Location: 2301 12th Avenue South
For those travelers to Nashville who are vegans, the city has a great selection of vegan restaurants. You definitely won't go hungry in this town. Take a look at these Can't Miss Spots for Vegan Food in Nashville!
Other things to do in 12 South Nashville
---
Wall Murals at 12 South Nashville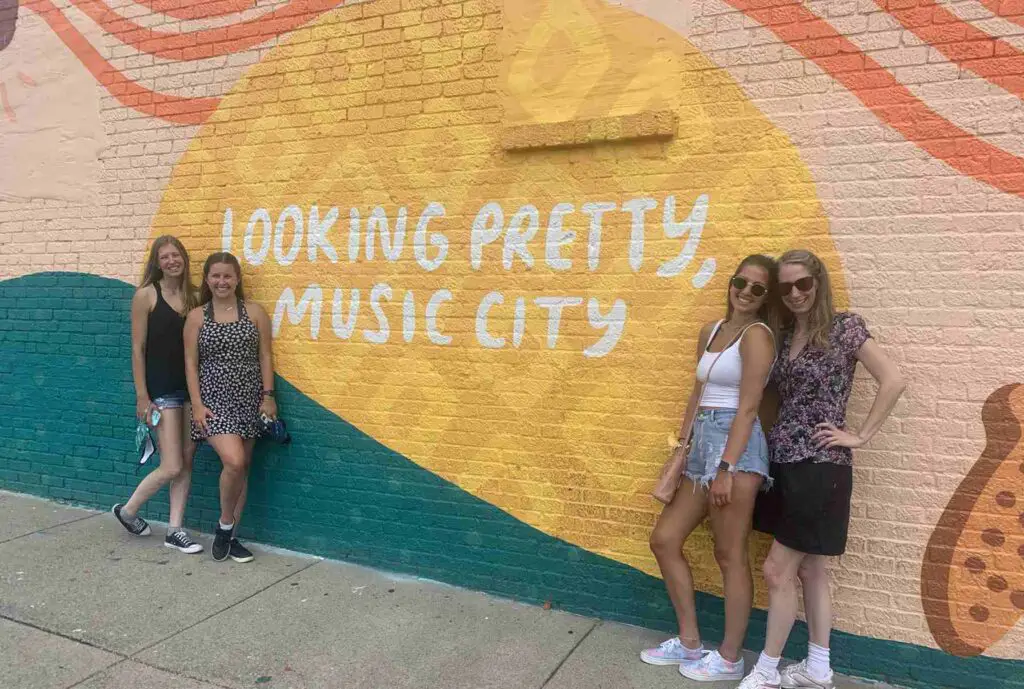 Nashville is famous for its wall murals and there are a good many of them located right here on 12 South.  Make sure that you take some selfies in front of the amazing street art and post them on Instagram to make all your friends jealous of your time spent in Music City.
If you want to take a guided tour of all the Instagram wall murals in Nashville try out THIS fun tour:
If you want to do-it-yourself, take note of this Ultimate Guide to all the Fun Wall Murals on 12 South Nashville TN that includes a list of the street art in the 12 South neighborhood as well as a map, so that you don't miss any artworks that might be hidden around a store corner!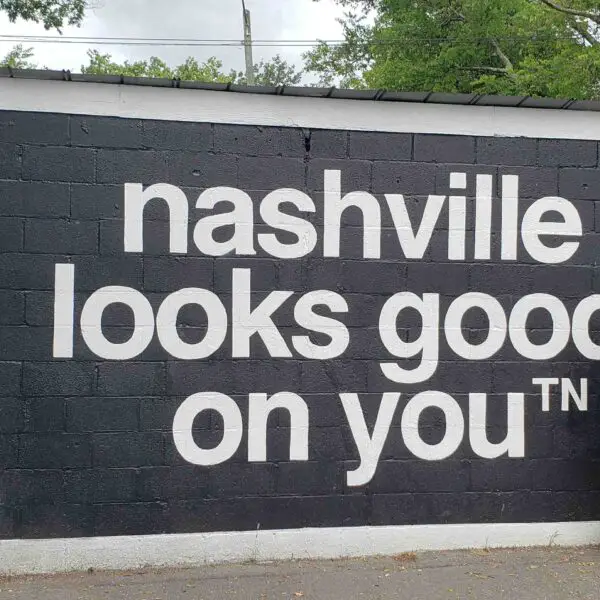 Murals in Nashville for Fun Instagram Photos
The best wall murals in Nashville are found in the 12 South neighborhood which is bursting with colorful street art. Take Instagram photos of the wall art to preserve the memories of your trip to Nashville.
Sevier Park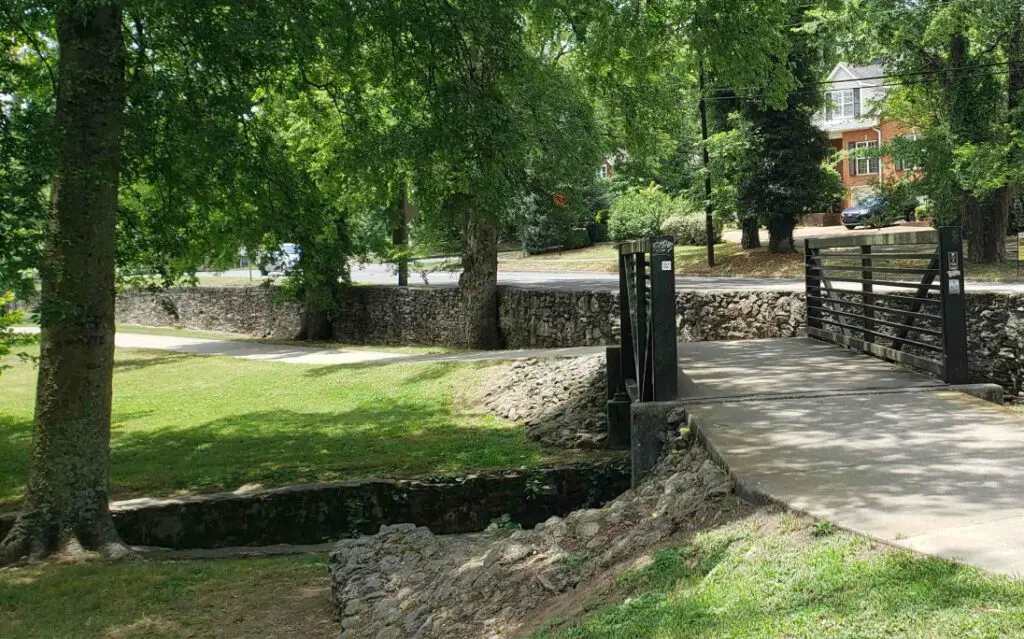 A nice surprise for me was discovering this park at the southern end of 12 South with an entrance walkway right at the intersection of 12 South and Kirkwood Avenue. Servier Park opened in 1948.  It is quite large and surrounded by walking paths, gentle hills to rest on, and lots of beautiful nature scenery. There are a lot of picnic shelters so it is a great place to have a picnic or plop down with your delicious take-out from one of the local 12 South eateries.  There is a playground with plenty of space to run and exercise so kids and pups will be quite pleased.
On Tuesday evenings in the summer, the 12 South Farmer's Market is held in Sevier Park. It is a community market featuring locally grown produce, meats, and bakery.  The fun is completed with food trucks, live music, and a family atmosphere.
Location: 3021 Lealand Lane
Here is a MAP FOR SEVIER PARK.
Sunnyside Mansion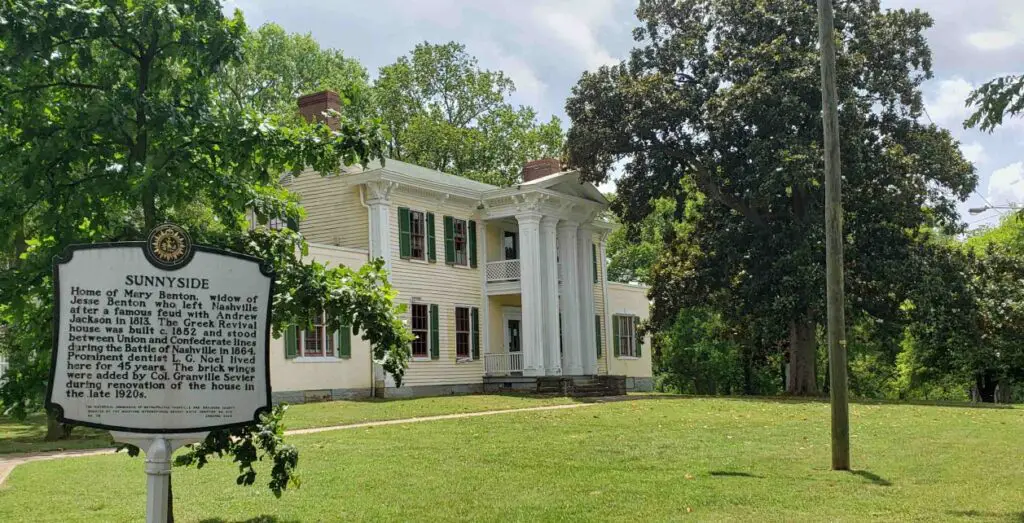 The old historic Sunnyside mansion, the previous home of Mary Benton, is located on the edge of the park.  It was built in 1852 and stood between the Union and Confederate lines during the Battle of Nashville in 1864, still displaying its battle wounds on its porch.  Many wounded Union soldiers were treated inside.
Today it houses the Metropolitan Nashville Historical Commission as it stands in the spotlight in the middle of the park. Mostly restored, only a few buildings are still in need of funding for refurbishment.
Location:  3000 Granny White Pike (in Servier Park)
Our walking tour of 12 south Nashville
Including lunch, we spent 2 hours walking around this cute neighborhood.  It was quite a hot Nashville day, so we were cooked by that time and decided to go back to our campground to take a dip in the pool.
We mostly window shopped since the prices were out of our range, but definitely indulged in all the food and snacks along the way.  Can't pass up a good ice cream cone!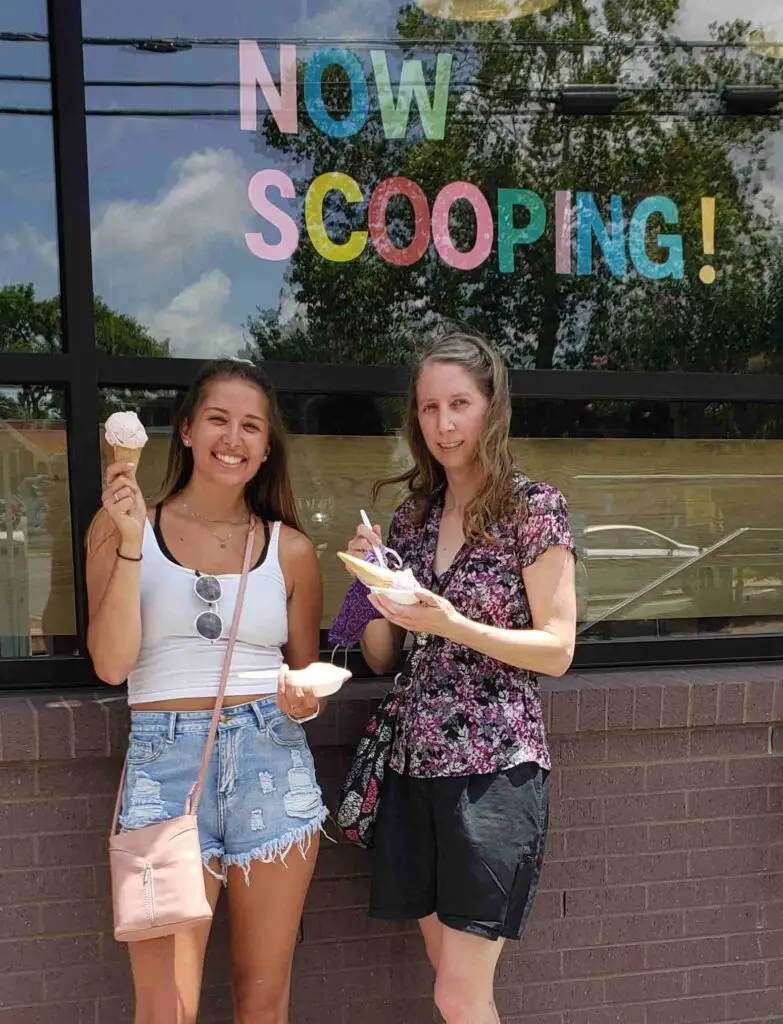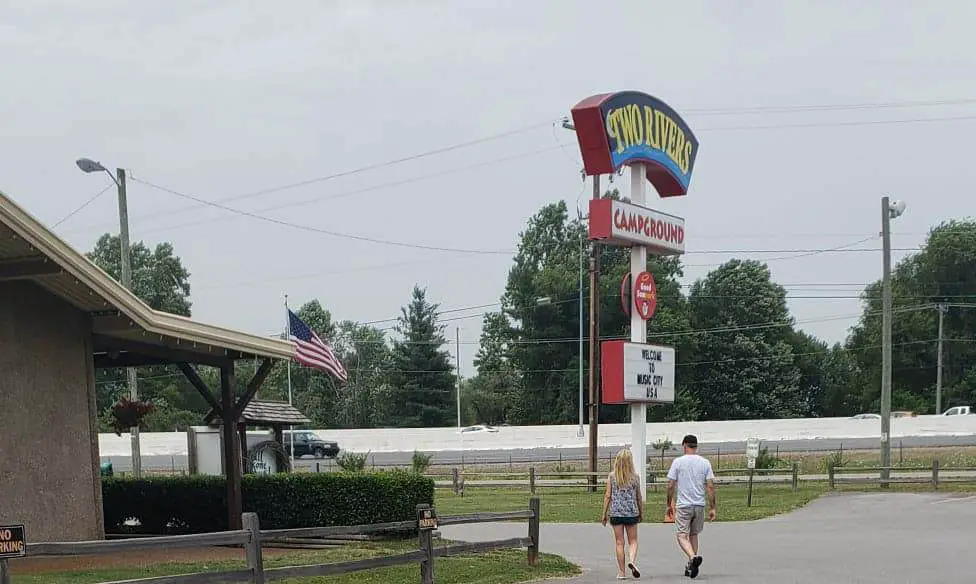 Super Convenient Campground near Nashville Tennessee
Stay close to the City of Music at a convenient campground near Nashville Tennessee. Two Rivers Campground is a very nice family-owned campsite near Nashville.
After we refreshed ourselves we were ready to go back out on the Nashville town.  Broadway was next on our list for the evening!  Yes, this old empty-nester went and hit a couple of honky-tonk bars.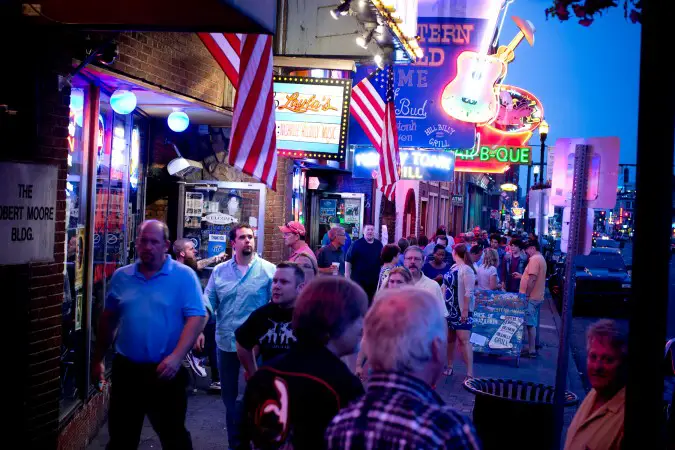 Looking for other FUN ACTIVITIES IN NASHVILLE? Add these to your itinerary.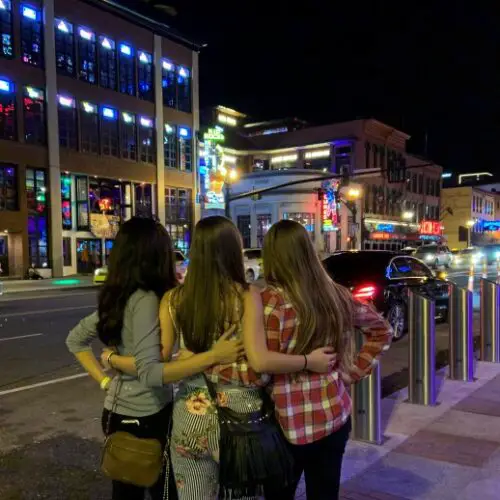 Fun Free Activities for a Nashville Weekend Trip in Tennessee
There are so many fun free activities for a Nashville weekend trip in Tennessee that you will be able to fill your itinerary for 2 days in Nashville on a budget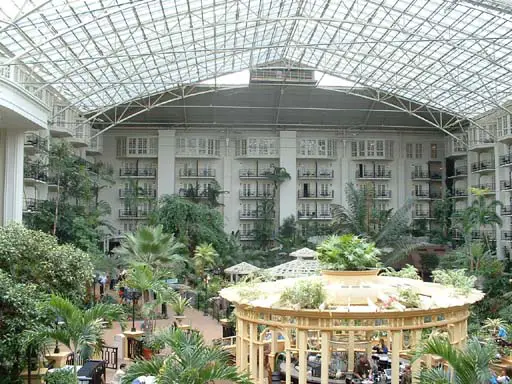 Visiting the Gaylord Opryland Resort Gardens in Nashville
Come inside Opryland Resort Gardens in Nashville for a fun afternoon of FREE activities like the beautiful 9 acres of gardens, waterfalls, gazebos, & waterways.
Subscribe to stay up-to-date with all my empty-nest adventures and DON'T MISS A THING!
Subscribe
I will keep subscribers up to date with any new posts. Add your email to the information in the pop-up and you will be on the notification list or fill out the FORM below . Currently, I only send out notifications for new blog posts as well as an occasional emailed newsletter. Join and be kept up to date.
Like this post? PIN IT for later.