DISCLOSURE: I may link to relevant products, companies or helpful info which may be affiliate links, meaning I may earn a small commission. As an Amazon Associate & other affiliates, I earn from qualifying purchases at no extra charge to you. The views & opinions are my own. Please see the disclaimer and privacy policy.
Last Updated on July 6, 2023
Gaylord Opryland Resort Gardens in Nashville
Can you visit Gaylord Opryland without staying there?
Yes, you can!!
Come inside Opryland Resort Gardens in Nashville for a fun-filled afternoon of FREE touring activities.  You don't need a room and you don't need to spend the night, you can wander around the beautiful 9 acres of gardens, waterfalls, gazebos, and little waterways for hours without spending a cent. 
Follow along for all the Tips for Visiting the Gaylord Opryland in Nashville!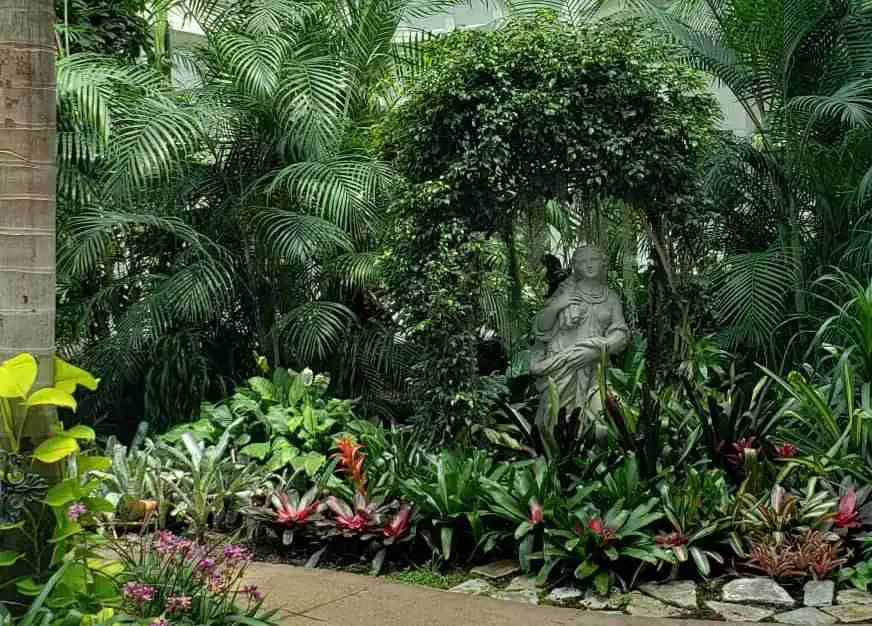 The Gaylord Opryland Resort Gardens are such a delight as you stroll through this nature-filled, temperature-controlled lush environment as a day visitor to the Opryland hotel.  It will definitely take you on a virtual vacation to the outdoors.  Take lots of pictures and make your friends jealous!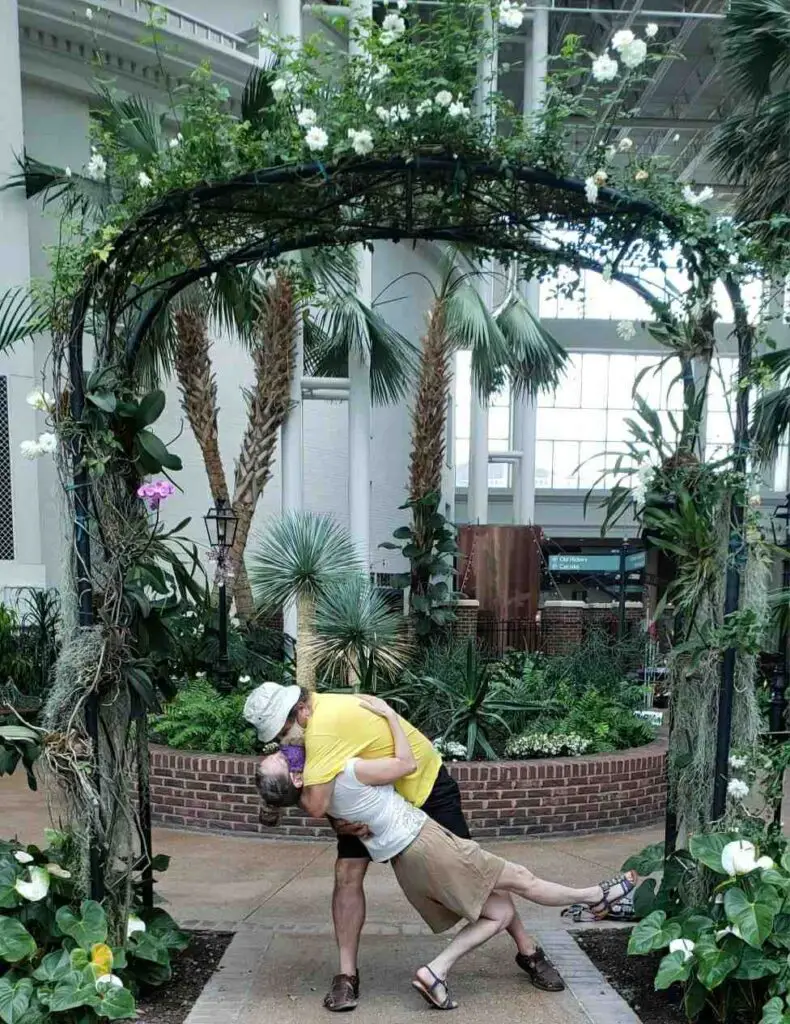 ---
Can you go inside Gaylord Opryland without staying there?
Follow along and take note of all the cool Instagram photos you can get INSIDE OPRYLAND HOTEL!
---
While you are at Opryland Hotel, make sure to stop next door in order to take in a country music show at the Grand Ole Opry!
For Booking info for the Grand Ole Opry and other fun things to do in Nashville:
Booking at Gaylord Opryland Gardens
Want to get a room at Gaylord Opryland in order to spend more time at the GARDENS????
Gaylord Opryland Resort & Convention Center, Nashville – Updated 2022 Prices
Featuring a glass atrium and surrounded by 9 acres of indoor gardens, winding rivers and waterfalls, Gaylord Opryland Resort & Convention Center offers…
And now the important information for visiting the Opryland Hotel:
Where is the garden conservatory at Gaylord Opryland Hotel in Nashville
2800 Opryland Dr, Nashville, TN 37214, 615-889-1000

---
Take advantage of DISCOUNTS for accommodations in Nashville! BOOK NOW!
Parking at Opryland Hotel when you don't have a reservation
Opryland hotel parking is $35 for a visit.  That's a hefty price to walk around the free gardens.  I recommend parking your car FOR FREE at Opry Mills Mall shopping center near the movie complex and walking a short distance to the hotel entrance. The lot was so empty when we visited!  We were able to easily park our large motorhome near the walkway to the Opryland hotel.
Side note:  After you are done taking photos at Opryland Resort Gardens, walk over to Opry Mills Mall and get some shopping done!  There are a lot of good stores that will satisfy the shopaholic.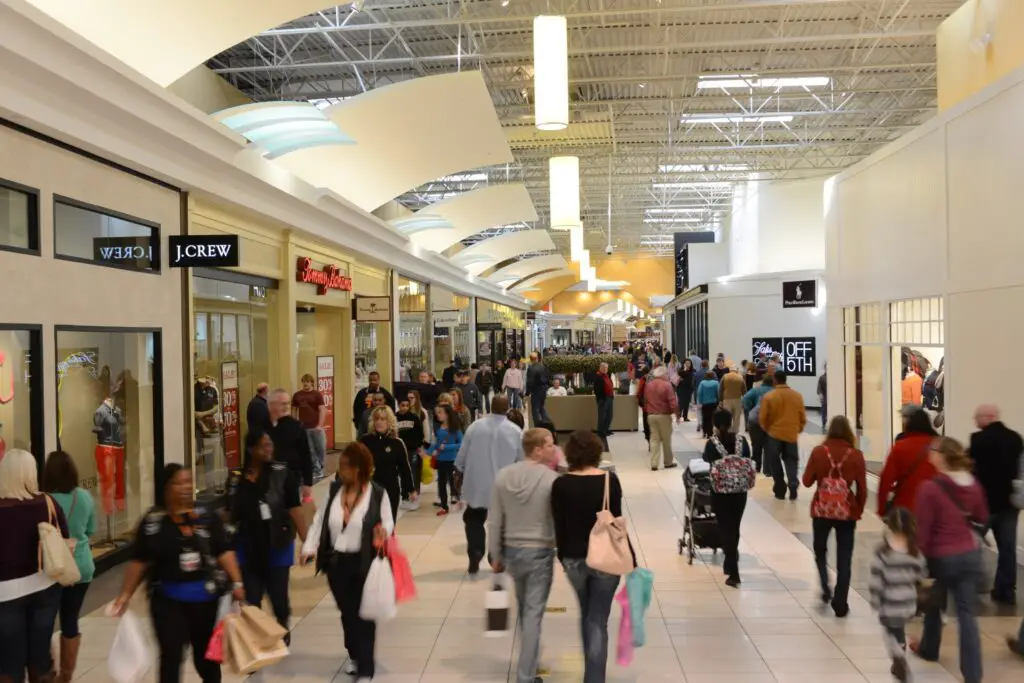 After parking for free at Opry Mills Mall, walk between the white fence and follow the signs toward the Gaylord Opryland Events Center, continuing past the Center and under the green awning. Following this walkway will lead you to the Delta entrance to the Opryland Hotel Resort Gardens!
Now you can go inside to enjoy this unique Nashville garden hotel!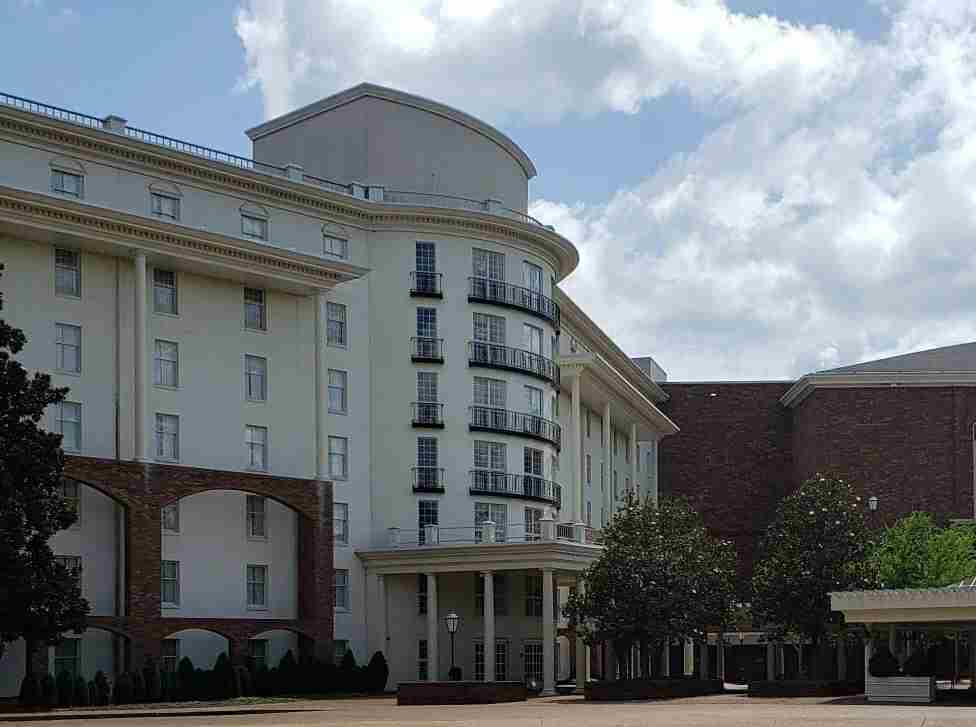 Other fun activities to do in Nashville
Gaylord Opryland Hotel Map
Can you walk around Opryland Hotel?
Yes, you can, but I recommend looking at a map. We got lost a couple of times.  …and since we also didn't stay together we ended up wandering off in different directions.  After all, Gaylord Opryland is the largest non-gaming hotel in the continental US!! Use the handy map to plan your time at Gaylord Opryland Botanical Gardens. It's bigger than you think! Think "Las Vegas resort" size!
Use this map for the Gaylord Opryland map to navigate around the different sections of the garden displays.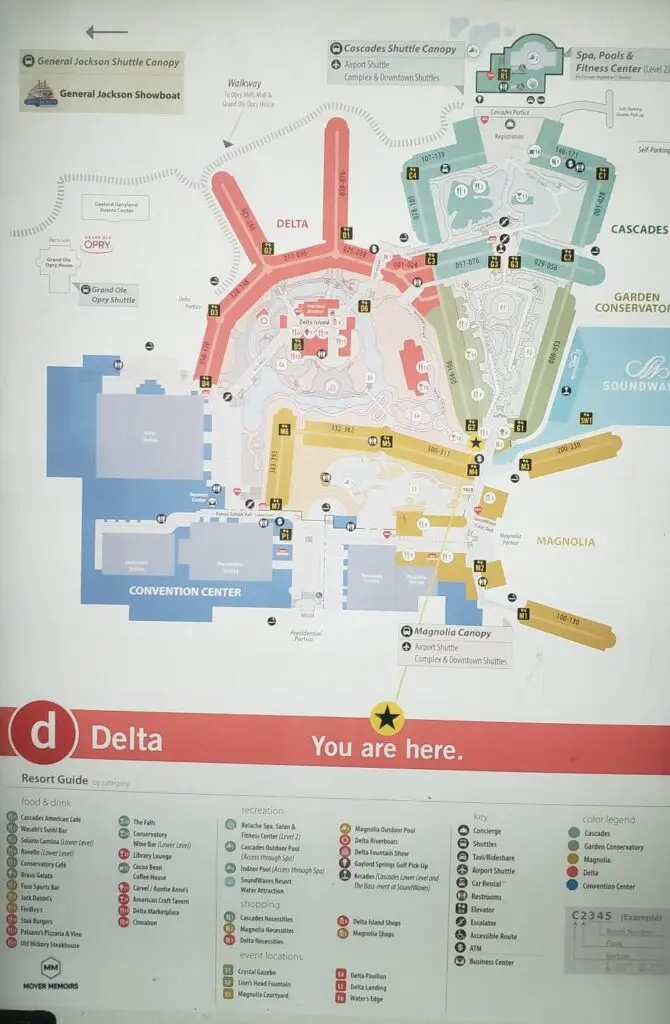 It is worth it to plan a route through this very large garden conservatory so that you don't miss anything. 
They have maps posted at most of the entrances. Yes, you will need it!  I sometimes felt like I was walking around a jungle on the winding paths.
Areas to visit inside Opryland Hotel
Delta is the first and largest area that you will come to if you walk from the Opry Mills Mall parking lot.  The other areas are Cascades, Magnolia, and the Garden Conservatory.  Perhaps you should even visit the main lobby of this grand hotel!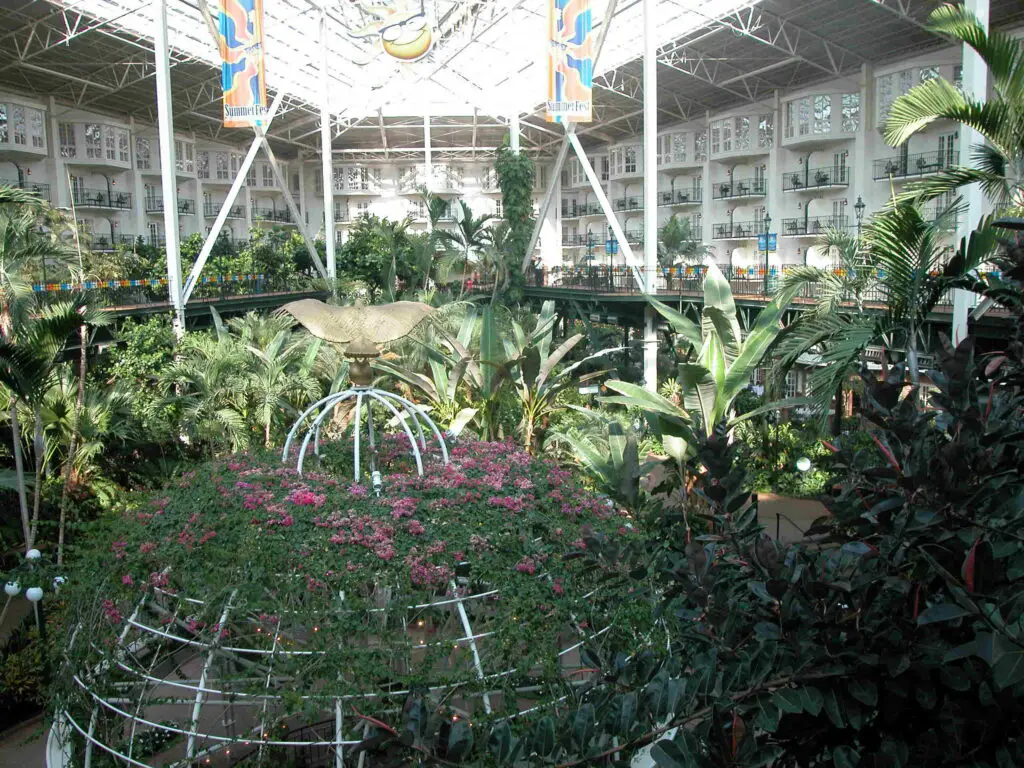 Delta Area of Opryland Resort Gardens
If you follow my advice and walk from the Opry Mills Mall parking lot, you will end up in the Delta area first.  This is the largest of the indoor gardens and houses many different attractions like the Delta River, the Fountain with water shows, and the Riverboat for your cruising enjoyment.  Plan to spend most of your time in Delta, but don't forget to see the other sections of the Opryland Resort Gardens because there is still half of the hotel yet to discover!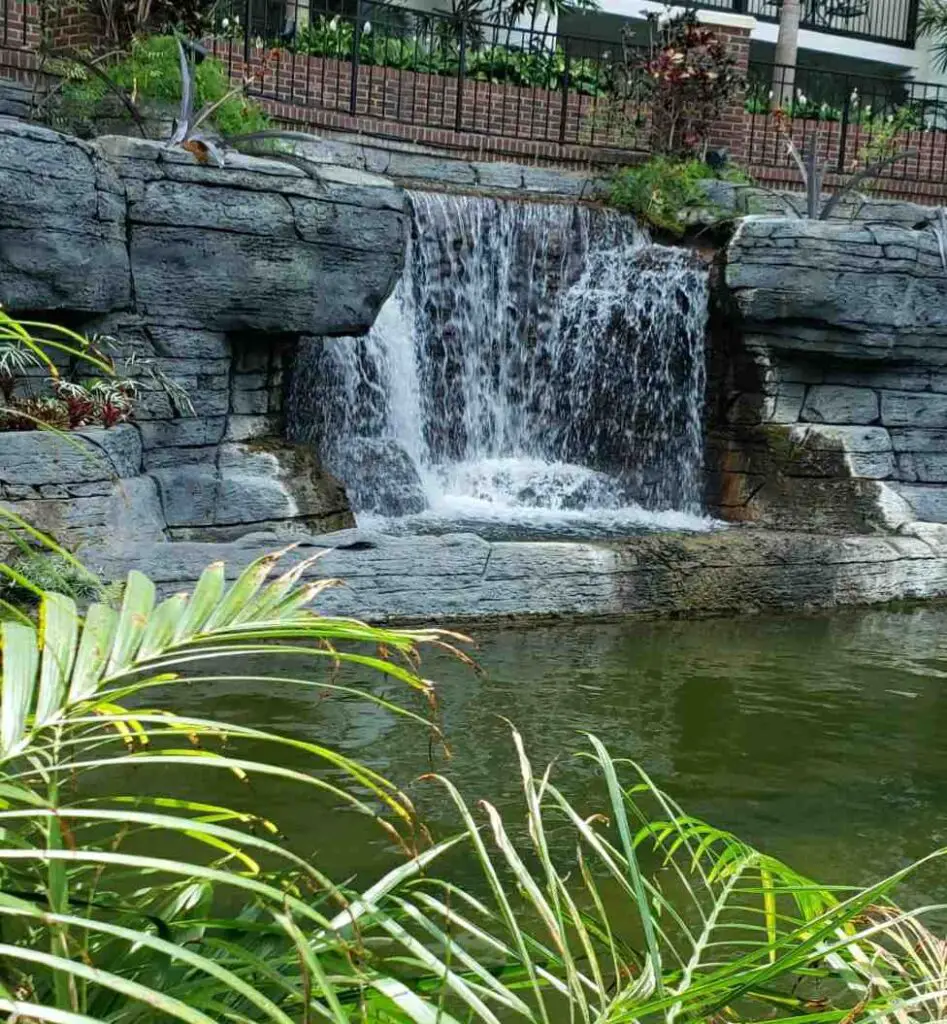 Main Island in the Delta Area
If you are hungry, there are plenty of counter service and snack shop places to eat.  If you are eager for souvenirs, there are plenty of little shops.  The main island is like a mini-city that you can walk around and admire.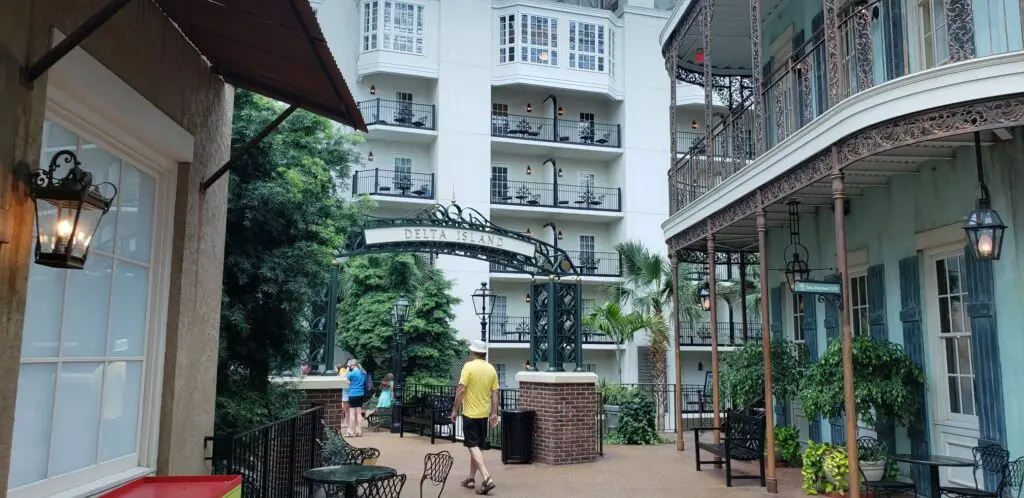 Want an even better idea?  When you are visiting Opryland Hotel, grab some sandwiches and have a picnic in this fabulous natural setting.  There are plenty of tables near the foliage to gather around and munch on your goodies.
Delta River in Opryland Resort Gardens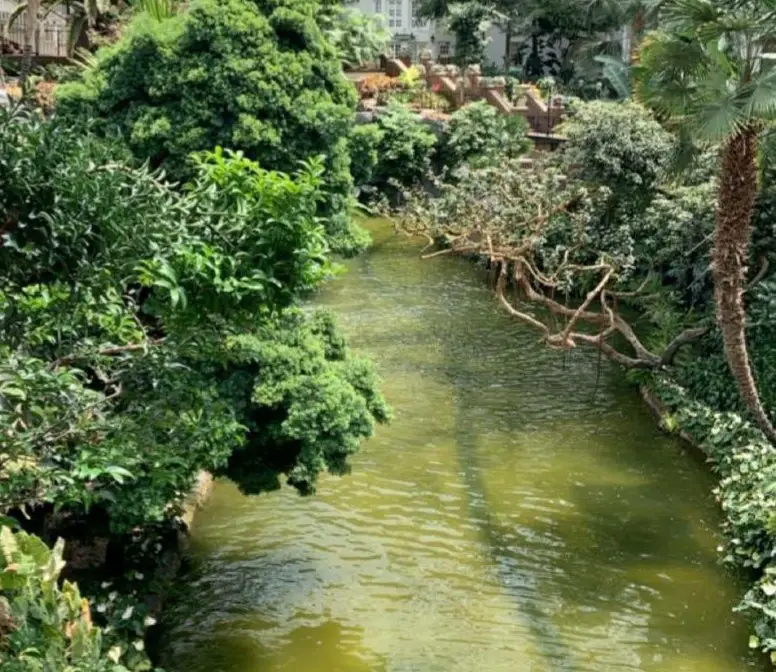 You will notice a scenic quarter–mile long winding river gently flowing through the Delta area.  Somehow this river was made from 1,700 water samples from rivers around the world, including every single river in the USA!
The list of donating rivers is quite long and there are many plaques lining the river bank to document the donors.
Delta Riverboat Cruise
As a highlight on the Delta River, believe-it-or-not, they actually have a Southern-style flatbed river boat taking guests on tours through the Delta area.  The tours are priced at $11 for adults and last about 15 minutes with the riverboat guides sharing their knowledge about the plants and animal life spread throughout the Delta riverbanks in the Opryland resort.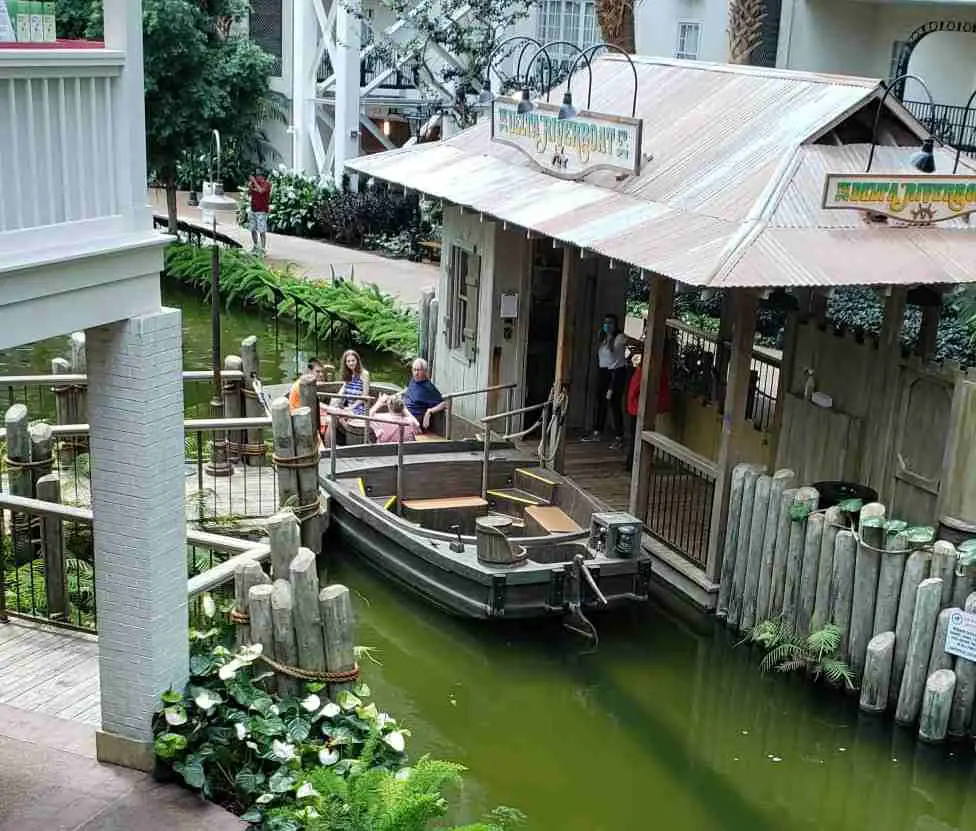 If you are touring Opryland Resort Gardens as a happy couple, you can opt for the Romantic Cruise around the Delta Atrium.  This $65 option gives you two trips around the river for 2 people with music and romance.  Reservations are required for this special cruise.
Summer at Gaylord Opryland
Filled with a variety of family-friendly events, Soundwaves at Gaylord Opryland, lush atrium gardens, poolside fun, and live music and entertainment, our resort is the perfect place to experience a never-ending childhood vacation.
Atrium Glass Ceiling
The Atrium roof is a beautiful architectural wonder that is displayed above your head, stretching across the wide expanse of the Delta area as glowing glass that allows the sun to spread its rays upon all its green recipients below.  According to guides, the glass also provides a safe haven during storms since it is incredibly durable and indestructible!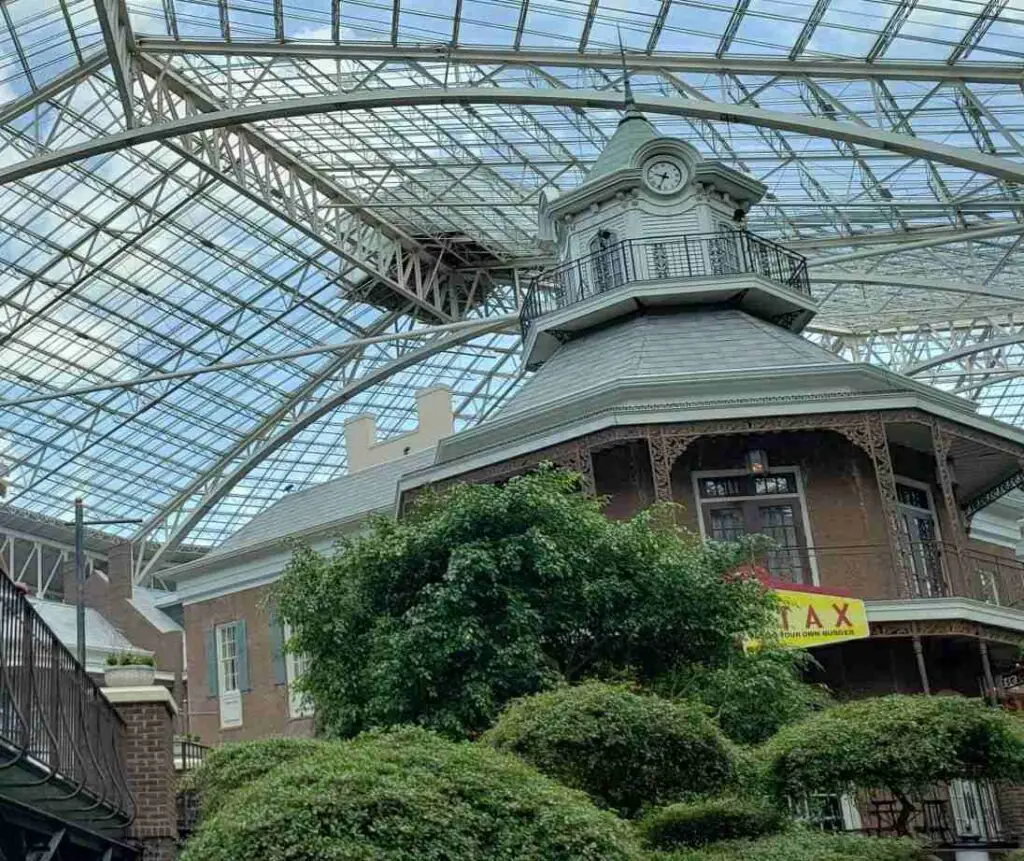 Opryland Fountains in Delta Area
The Opryland water fountains operate all day so you can sit and enjoy the water as it changes to different heights and angles while you sit among the garden scenery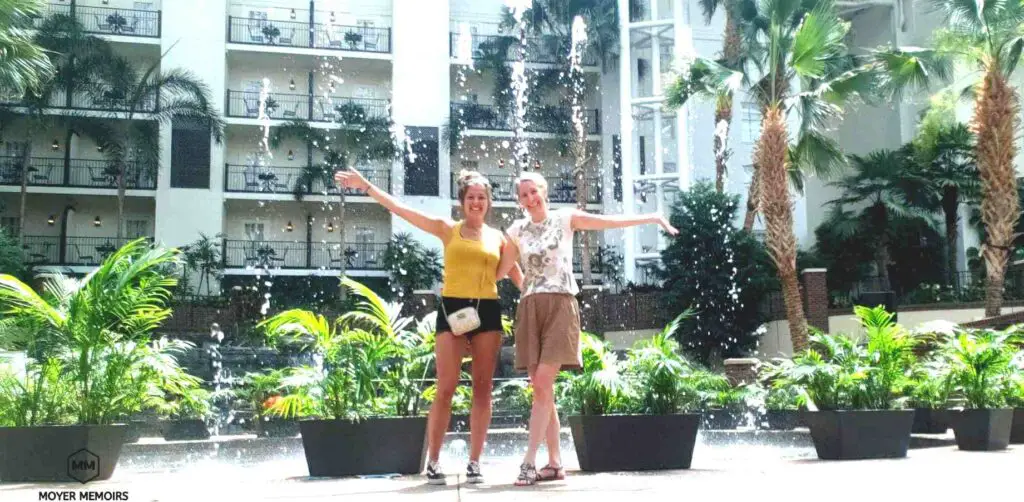 However, the spectacle is at night when the music and light shows are displayed at the fountain. There is a show each hour that is a choreographed display of water and lights which is set to music. Can you imagine having one of those Opryland hotel rooms with a view of the fountain?
Where to stand for the Opryland Water Fountain Show 
First of all, watch out for the railing.  Don't ruin your melodic water video by having that big railing in the middle of your picture.  Perhaps find a spot where you can stand slightly further back because the fountain sprays the water high into the air and you don't want to have to keep panning up and down to get it all in your video frame.
Opryland Fountain Show Times
The Opryland Fountain Water Shows are every hour from 6 pm – 10 pm at the Delta Foundtain.  The shows alternate but there really isn't an official list of Opryland Fountain Shows.  However, if you see the one at 7pm and you are still there at 8pm, you can see a new show that is just as entertaining.  There is also a special Christmas-themed show during the holidays.

Other fun happenings in the Delta Area at Opryland Resort Gardens
The Falls Bar has live music on weekend afternoons so that you can sit and relax with your mimosa while surrounded by beautiful gardens.
There are also Animal Encounters in the afternoon on Fridays and Saturdays.  Staff provide an educational opportunity to interact with and learn about the inhabitants of the garden conservatory
The Learning Log is another educational opportunity for the little ones to crawl in to see the exhibits.  My little ones that aren't so little still enjoyed peeking into the log!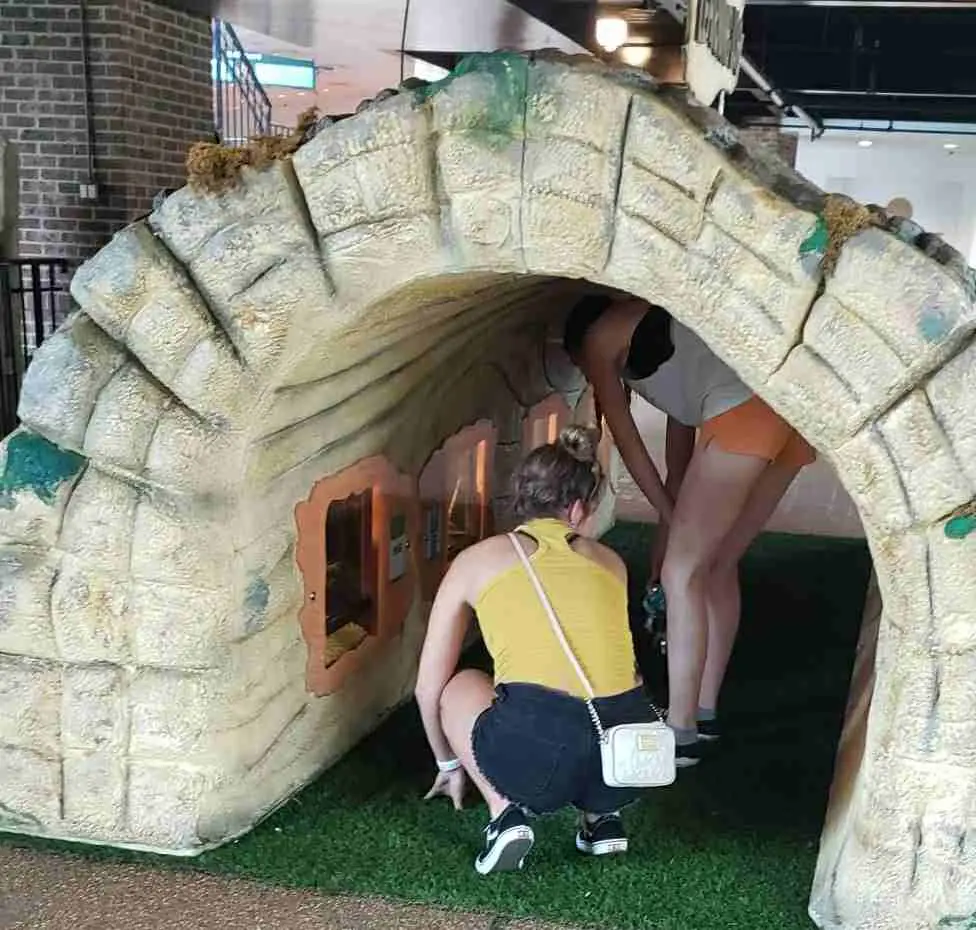 Other areas to visit on a day trip to Opryland Resort Gardens in Nashville
After you have completely walked through the Delta Area—and that should take you an hour or two—there are still other areas in the Opryland Resort Gardens that you can check out.
Magnolia Area in Opryland Resort Gardens
The Magnolia Area is home to several restaurants as well as the Opryland Water Park, Soundwaves.  The big photo spot for Magnolia is the grand white staircase.
Another important note for the Magnolia area is the location of a good set of restrooms in the hallway at the top of the staircase.  Since we spent several hours walking through the gardens and looking at fountains, this was definitely a necessary stop.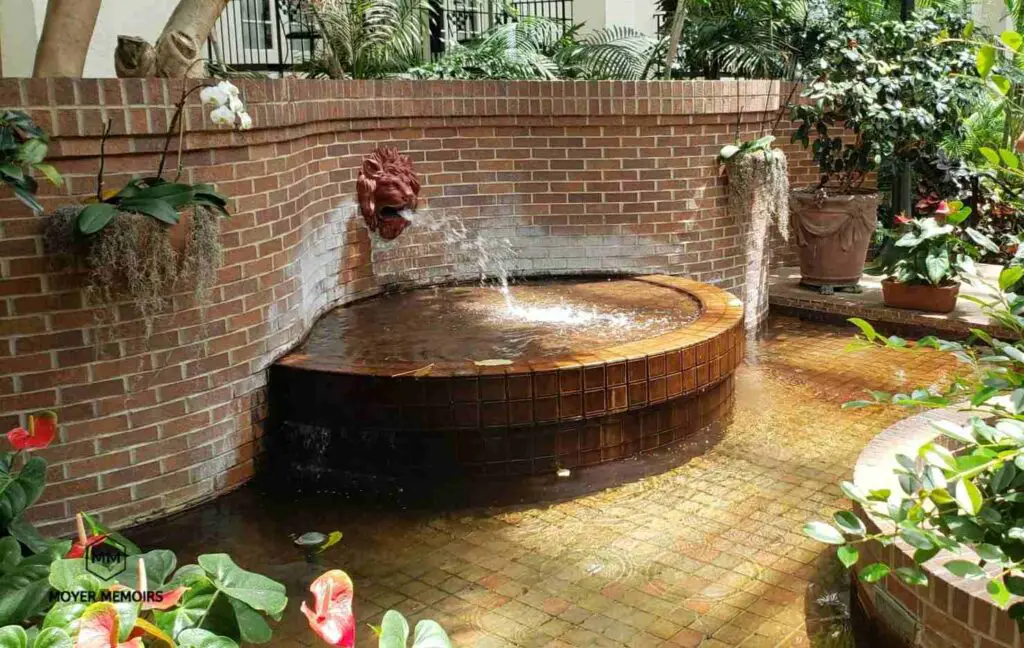 Opryland Hotel Water Park
This mega hotel even has its own water park, Nashville's only resort water experience!  There are exhilarating slides that pump out music as you hurl to the bottom, as well as a lazy river –for those that want a little more relaxation.
SoundWaves is reserved only for hotel guests.  Normally day passes are not available unless you are a guest at a party that was booked at Soundwaves.
The water park looks like a lot of fun with lots of water attractions.  The whole SoundWaves Experience package includes a hotel room, wristband for daily admission to SoundWaves, and baggage storage for early arrivals.
Garden Conservatory at Gaylord Opryland Resort Gardens
The Garden Conservatory Area is home to many more beautiful gardens as well as a flower-covered gazebo.  We were there when it wasn't in full bloom, but it was still photo-worthy.  My titan hubby decided to strike a godly pose under the gazebo!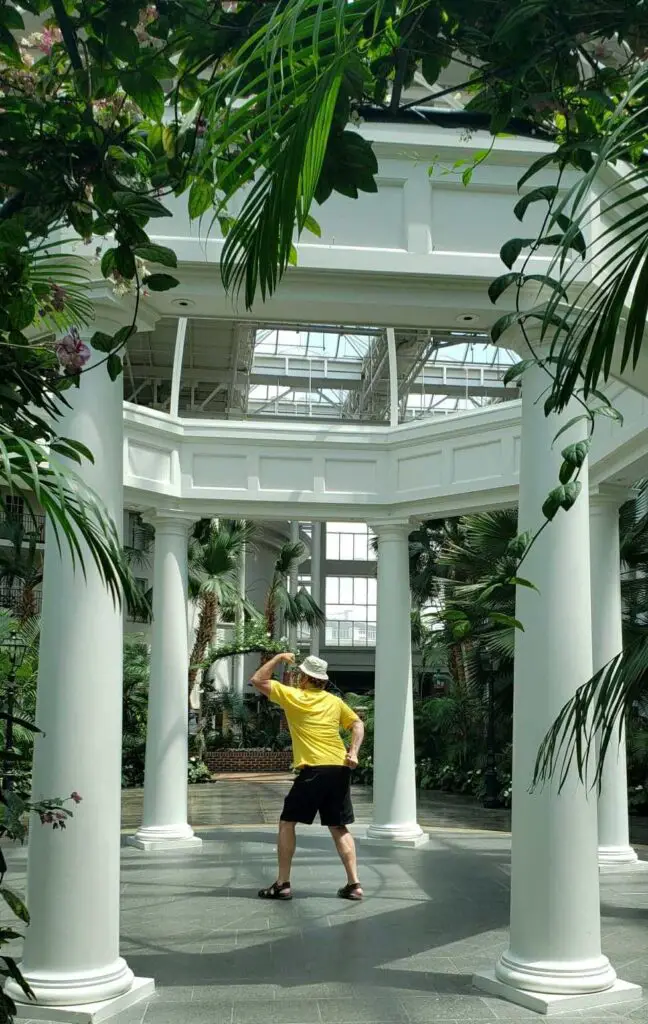 The paths wander and wind through more greenery and take you past several sit-down fancy restaurants that will serve you al fresco style and validate your parking if you didn't opt for the Opry Mills lot.
Cascades
The Cascade area is nearest to the lobby.  In this area, you can find more greenery, more water fountains, fish in ponds, and waterfalls.
After your walking tour of Opryland Resort Gardens
Do you have more time to spend in Music City? Once you have walked through and enjoyed the beautiful gardens, there are many other free things to do in Nashville.
Click through my other articles to find more Things to do in Nashville and build your itinerary into a great trip!
Like this post? PIN IT for later!