DISCLOSURE: I may link to relevant products, companies or helpful info which may be affiliate links, meaning I may earn a small commission. As an Amazon Associate & other affiliates, I earn from qualifying purchases at no extra charge to you. The views & opinions are my own. Please see the disclaimer and privacy policy.
Last Updated on July 7, 2023
Beautiful & Bright Cleveland Ohio Sunflower Fields
The bright yellow sunflowers are reaching for the sky bringing in a cheery and happy atmosphere in the sunflower fields in Ohio.  They are shaped like the sun, orient themselves toward the sun's warm glow, are tinted the color of sunshine, and provide energy in the form of nourishment and vibrancy.
Sunflowers exhibit many of the sun's positive characteristics, all contributing to their appropriate namesake.  Their charm is highly recognized as a favorite among Instagrammers, newlyweds, and those just wanting to brighten their day.  No one can deny the sweet splendor of these huge yellow beauties that bring joy to everyone who sees them extending their petals toward our glowing orb in the sky.
What are Sunflowers?
Sunflowers are one of the fastest-growing plants and can reach a height of 3 – 15 feet tall.  They are mainly grown in North and South America, admired for their beauty resembling the sun, and harvested for their healthy sunflower seeds.  
When do the sunflowers bloom in Ohio?
The Ohio sunflowers bloom for about 3 weeks in the fall, usually in August. They come in many varieties and colors, having yellow to red petals arranged in a large circle to resemble the sun's rays.  The young sunflowers exhibit a characteristic known as heliotropism, which means that they will seek out the sun's rays and face the sun.
The beauty of sunflowers has long been admired and was a great inspiration for many Impressionist painters, including the Dutch painter Vincent Van Gogh, who painted two series of paintings dedicated to these magnificent flowers. They are such a popular subject for artwork.
Add to your art collection by designing your own sunflower art piece so that they can bloom on your walls throughout the year! Check out these tips for painting your own realistic sunflower. Perhaps I can try my hand at creating some of these beauties!
These sun-loving flowers are also human life-savers that soak up heavy metals and toxins from the ground, effectively cleaning the soil around them.  Millions of these flowers were planted and used to reduce the nuclear pollution after Chernobyl!
Where are the best sunflower fields in Ohio
There are massive mazes of sunflower fields in Ohio on farms throughout the state.  They are planted in the spring and these warm glowing beauties bloom in the fall.  Some of the Ohio sunflower fields offer photography opportunities while some of them offer the opportunity to cut your own sunflowers. 
Choose your favorite sunflower field to visit this fall!
Sunflower Field Near Me
Find the closest sunflower field near you and click on the link for the details for the sunflower farm in Ohio
---
Here is a list of some of the best sunflower fields in Ohio, as well as popular events being held this year in some of the sunflower fields.  Take note of some of these fun events that offer visitors a beautiful and fun space to enjoy the loveliness of Ohio's sunflower fields for the 3 weeks that they are in bloom.
MARIA'S FIELD OF HOPE SUNFLOWER FIELDS IN OHIO
There are two very special sunflower fields near Cleveland, Ohio called Maria's Field of Hope Sunflower Fields. They are inspired by the memory and spirit of Maria McNamara and planted as a way to love and honor the courageous children battling cancer and those lost too soon. They flourish in the fall and the blooms remain for childhood cancer awareness month in September.
In 2006, a courageous 6-year-old, Maria McNamara was diagnosed with glioma, a rare brain cancer.  Maria McNamara died on July 14, 2007, at the age of seven from this deadly disease.  Her parents wanted to help fund research into the prevention, diagnosis, and treatment of childhood brain cancer, so they started the Prayers from Maria Children's Glioma Cancer Foundation
Sunflower Fields have been planted at the Avon location Sunflower Field!!!!
Follow the Prayers from Maria Instagram Account for up-to-date info on the sunflower bloom at both locations!
Choose the Perfect Sunflower Outfit HERE
In 2013 the first sunflower field was planted by the foundation in Avon and the second one in Sandusky was started after that.  These two fields were planted in order to draw attention to under-funded brain cancer research.  While the fields are free to visit, DONATIONS are encouraged, gladly accepted, and targeted toward progressing the important research into deadly childhood cancers and developing life-saving treatments.
The Foundation has initiated numerous seed grants that have gone on to receive funding from the National Institute of Health and other organizations.  Their efforts are on track for nearly $8 million for the fight against pediatric brain cancer.  Read about the different research projects and grants here.
---
If you are interested in donating to this great cause, follow the link below for donations that will go straight to childhood brain cancer research.
---
The Foundation holds many fun, family events at the sunflower fields.  Once the sunflowers' bloom season has ended, the Foundation harvests the sunflower fields for the seeds and bags them as birdseed to sell at Maria's Shop and at their online store.  All proceeds from the sunflower seed sales go toward the Foundation's fight to end childhood cancer.
The "Dedicate a Sunflower" program is a way to honor loved ones and friends. Visitors to the sunflower fields are able to dedicate a sunflower in memory of a special someone. The Prayers for Maria Foundation will attach every prayer card to the sunflowers all around the fields to increase awareness and show support.
In Memory of a lost loved one or someone who has passed away
In Honor of a special occasion like a birthday, graduation, or anniversary
In Support of a first responder
In Honor of someone battling an illness
Create your own special prayer card to be placed on a flower
---
The Prayers from Maria Sunflower Fields are happy to welcome professional photographers. Please first obtain a Sunflower Shutterbug Pass to support Maria's Field of Hope. Sunflower Shutterbug Passes can be ordered online and picked up or purchased at Maria's Shop at either sunflower field.
Sunflower Shutterbug One-Day Pass = $50 donation
Sunflower Shutterbug Season Pass = $100 donation
Perfect Sunflower Photoshoot Outfits HERE
---
Prayers From Maria Sunflower Field – Avon

MAP
Maria's Field of Hope, located in Avon at the corner of Jaycox and Chester Roads, is the larger of the Prayers from Maria Foundation Sunflower fields.  Free parking is in the grassy area next to the field.  It is not paved and has a LOT of dips and potholes all around it, so drive slowly.
At a WHOPPING 23 acres, there is sure to be a beautiful, secluded section somewhere that is calling out your name for a private photography session.  Follow one of the pathways and see where it takes you.  Pets are welcome in Maria's sunflower field, so feel free to bring your furry loved ones too.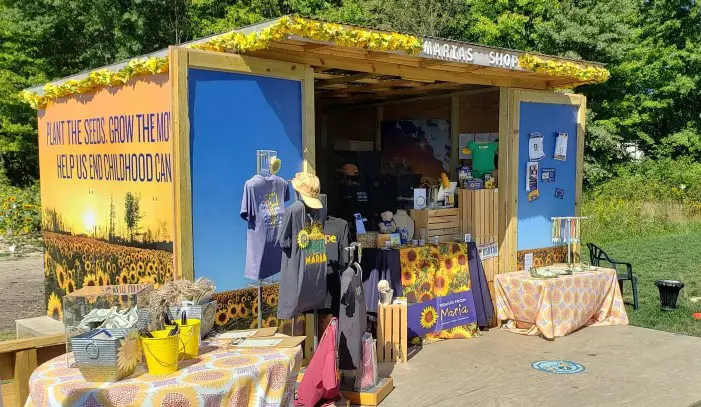 Maria's shop is located at the front of the field where you can purchase merchandise that benefits the foundation or dedicate a flower to a special someone.
When we went on the weekend, there was even an ice cream truck parked at the entrance.  We were able to purchase some refreshing snacks after our walk in the field.
Prayers From Maria Sunflower Field – Sandusky

MAP
Maria's Field of Hope in Sandusky is the Foundation's second sunflower field.  It is a smaller sunflower field but still has 8 acres of blooming sunflowers.
Free parking is at Cedar Point's Express Hotel. 
As a reminder, entrance to this field is free, but donations to the foundation are suggested and always appreciated.  Make sure to bring some cash to slip into the donation box.
What to wear to a Sunflower Photoshoot HERE
---
While you are in that area admiring the sunflowers in Ohio, be sure to stop by some of the BEST BEACHES NEAR CLEVELAND AND LAKE ERIE!
22 ACRES FARM
MAP 5455 Davis Dr, Newark, OH 43056
BLOOMS will be ready: July 31-August 12, 2023 
22 Acres Farm is busy planning for the 2023 season so that you can enjoy their 5 acres of beautiful Sunflower Gardens with over 15 varietals of sunflowers, lavender, and white daisies This farm is packed full of activities for a fun-filled day outdoors with the family or your special someone.
The sunflower fields will have a rolling start date this year from late July through August on Mondays through Saturdays.  There are many special events on Saturdays like Yoga in the Sunflower Field, so make sure to check the calendar's special event hours before you head out.
22 Acres Farm has many paths to wander through the sunflower fields, benches to sit and enjoy the buzzing of the bees, and photo opportunities EVERYWHERE.  They have many cute photo stations staggered throughout the sunflower field so make sure you stop at them to snap some cool themed shots.
The farm animals are located next to the sunflower field and guests are able to purchase food to feed them for 25 cents (bring change for the vending machine).  There are alpacas, goats, young steer, baby turkeys, and sheep at the petting zoo at this amazing Ohio sunflower field.
General admission to the 22 Acres Farm sunflower field is $5!  You can purchase a ticket online ahead of time.  Tickets are also sold at the field with cash or credit.
Admission includes your choice of one sunflower to take home.  Bring your own cutter and something to keep the stem moist on your drive home. If you fall in love with more than one blooming sunflower, no worries, additional sunflowers can be purchased at the farm.
22 Acres Farm works in conjunction with Visual Story Telling & Co to enable you to have absolutely beautiful professional photographs in the sunflower field.  You can sign up for a photoshoot before you arrive at the sunflower field or wing it and have a free spontaneous shoot.  If you are planning a wedding proposal, THIS is the perfect spot!
Sunflower Photoshoot Outfit Ideas HERE
Amateur photographer?  No problem!  Take as many family photos and selfies as you want! Tag 22 Acres Farm on Facebook or Instagram!  You can also send your photo to sunflowers22acresfarm@gmail.com to be included in the end-of-season review video.  Enjoy the video from 2020.
GREENFIELD BERRY FARM
MAP 2485 Major Rd, Peninsula, OH 44264
Fresh Cut Sunflowers near Cleveland Ohio at Greenfield Berry Farm
CUT YOUR OWN SUNFLOWERS
Greenfield Berry Farm staggers small patches of sunflowers so that there are some beautiful blooms available for a longer period and extended season.  This is the perfect place to come to cut sunflowers for yourself to make an arrangement of happiness to display in a vase on your kitchen table.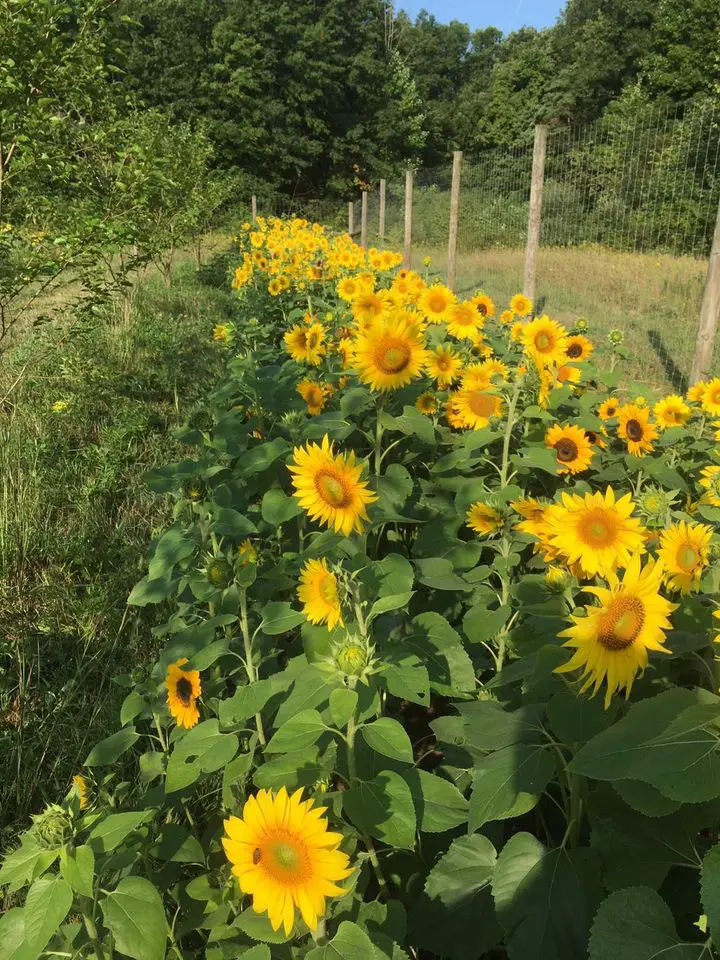 Be prepared to walk in their large fields to search for your perfect flowers and supply your own cutter and flower bucket.  The sunflowers are $1 per stem with a minimum of $10.  If you don't want to cut your own sunflowers, they occasionally have a table of self-serve pre-cut flowers on the roadside in front of the farm. 
Check out the Greenfield Berry Farm Facebook Page for the announcement of their first bloom, their seasonal hours, and the current COVID policies —or sign up for updates for email announcements of SUNFLOWER EVENTS.
---
While you are in the area, do some hiking along the Cuyahoga Valley National Park Trails which begin right up the road, 7 minutes away from Greenfield Berry Farm. It is a little-known Ohio treasure and filled with many hiking trails and gorgeous waterfalls. Take a look at my tips article to find out all that this National Park has to offer.
MAP 9600 Columbiana Canfield Rd. Canfield, Ohio
This sunflower field in Ohio allows cutting the blooms for $2 per stem.  They are open every day during the season from 9 – 5pm.  Amateur photography is allowed, but no pets.
How to dress for a Sunflower Photoshoot HERE
We were the only ones in the fields during our visit to Angiuli's Farm Market, so this one might be a great sunflower field to visit if you don't want other people in your photos.
WHITE HOUSE FRUIT FARM
MAP 9249 State Rt 62, Canfield, OH
The White House Fruit Farm is not a sunflower field, but I wanted to add it to this list so that you made sure to include it on your itinerary if you stop at Agiuli's Farm.  The White House Fruit Farm is nearby –just a short 5-minute drive and it is a must-see —or rather must-taste! 
They have a large selection of farm fruits and vegetables.  BUT their claim to ultimate FAME is their 30 varieties of donuts!  Stop here and try one, perhaps a blueberry donut since they are the most popular.  You won't be disappointed.
The property is a nice backdrop that is very conducive to photography and those Instagram selfies.  They have even developed a Farm Map so that you can make sure to hit all the good photograph hot spots located around the farm.
ROGISH FARM 
MAP 8637 Mulberry Road, Chesterland, Ohio
Cut Your Own Sunflowers at Rogish Farm! They are only open on certain days and times and you must have a reservation to visit these sunflower fields. To get all the details and make a reservation, visit their website rogishfarm.com, go to the Sunflower Page, and click on the reservations and info button.
Sessions sell out, so plan ahead! They stagger their planting so that the sunflower bloom season goes on for a whole month.
Admission is $15 per carload and you will receive 1-quart mason jar to fill with sunflowers, additional jars are $10 each.
MOLNAR FARMS 
MAP 3115 E Western Reserve Rd., Poland, Ohio
Pick your own sunflowers at this Ohio sunflower field in Poland, Ohio.  The sunflowers are $2 per stem while they are blooming.
Events at Sunflower Fields in Ohio
COSHOCTON SUNFLOWER FESTIVAL
MAP 24688 County Road 10, Coshocton, Ohio
The tagline of the Coshocton Sunflower Festival is "Experience the Joy of Living Sunshine!" and they are all about creating experiences for visitors to spend time with family and friends surrounded by cheery sunflowers on all sides. They grow many varieties of sunflowers in their fields and have many paths to wander and take photos of. They have already planned most of this year's events, so mark your calendar!!
August 5th, 2023
SIPPIN ON SUNSHINE: 21 and older event. Wander through the sunflower fields and sip on samples of Ohio's wines and beers. Grab a bite to eat at the food truck and sit back to enjoy the views of the field and it transforms into its spectacular yellow splendor.
---
August 6th, 7th, 8th, 2023
EARLY BLOOMERS DAY & EARLY WEEKDAYS: These non-festival days are for early birds who are eager to get a peek at the sunflowers before the field is in full bloom. There are tractor rides, food (weekend only), and sunflower picking, but no live music. Each ticket includes admission and one sunflower.
NOTE: Not all varieties may be blooming yet
---
August 11 – 13th, 2023
COSHOCTON SUNFLOWER FESTIVAL DAYS: This is the big festival with the sunflower field in full bloom. There are wagon rides (weekend only) to the field of over 30 varieties of flowers, food, a beer garden, craft vendors, live music, and daily activities.
Each ticket includes admission, a wagon ride (on the weekend) to the field, and a sunflower.
Note: Flowers of most varieties are in peak bloom in this time period – growing conditions permitting.
GET SUNFLOWER FESTIVAL TICKETS HERE
NOTE: in addition to pre-purchasing Sunflower Festival tickets, you can also pre-purchase some flower arrangments, like a BUNDLE of SUNSHINE sunflower bouquet!!
YOGA IN THE SUNFLOWERS AT 22 ACRES FARM
Dates to be announced
Live yoga music and yoga led by an instructor in the sunflower fields.  Come relax and get close to nature during these morning sessions. Yoga in the Sunflowers at 22 Acres Farm is $20.
Preregistration is required, more info coming soon!
---
Stay in touch with the button below to be kept up-to-date with the news for
Yoga in the Sunflowers when it is released.
---
Why do Outdoor Yoga in the Sunflower Fields?
The sunflower fields are a great place to take your yoga practice outdoors under the big blue sky with the warm sun massaging you against the cool morning breeze.  Just being outside in the natural sunlight will increase your production of Vitamin D and improve your mood. The fresh air outdoors deepens your breathing, providing more oxygen to stimulate your brain so that you can think more clearly.
You will be more grounded by being immediately in touch with the ground, and the earth, thus releasing tension and enjoying a sense of calm and well-being. The live yoga music will be calming and relaxing as you gaze at the beautiful sunflowers.
Subscribe for updates on Sunflower Field Events in Ohio
Tips for Visiting Sunflower Fields in Ohio
When is the best time to visit the sunflower fields in Ohio?
Anytime during the bloom! They bloom for 3 – 4 weeks during August and September depending on when the field was planted in the spring. For more tips on the best time to capture great photos in a sunflower field, visit my SUNFLOWER PHOTOSHOOT TIPS page.
Be prepared for nature.
There will be plenty of bugs in the sunflower fields. If you are allergic to bee stings, come prepared. The bees are more interested in the flowers than you, though accidents can still occur. There may also be mosquitos, so you can also grab some bug spray for protection.
Bring some cash.
Several of the sunflower fields in Ohio are non-profits and collect donations for a good cause. Bring some money to contribute to their cause so that they can continue to plant the beautiful sunflowers year after year. You can always donate online if you forget your cash, but it is also nice to stuff some bills in the donation jar while you are there in the fields.
Weather affects the sunflower fields.
Rainy weather will make the sunflower fields muddy, so wear appropriate shoes. They may also be wet in the morning before all the dew is burned off in the hot sunshine. The best practice is not to wear good shoes to go walking around in sunflower fields.
What should you wear to the sunflower fields?
For more details about what to wear, including the best colors and the best shoes, take a look at my Sunflower Clothing article for special tips about what to wear to a sunflower field! Let me know what you decide to wear for your photoshoot with the sunflowers!
Reasons for Visiting the Ohio Sunflower Fields
Support a good cause
Maria's Fields of Hope are sunflower fields in Ohio that support research into childhood cancers.  Every dollar spent at this amazing sunflower field will go toward a good cause.  Not only can you walk around the fields, but you can do so knowing that you have contributed toward helping children everywhere with recovery.
Enjoy the beauty
Yellow flowers extending to the sky for as far as you can see, swaying in the breeze with the sunlight falling delicately on their outstretched petals - so much beauty will surround you as you wander through the sunflower fields in Ohio! Take it all in and breathe the fresh air. Nature has so much to offer.
For more beautiful flower fields around the world, check out this post!
Meet nature's creatures
Nature has a lot of creatures that exist in the sunflower fields.  The bumblebees are plentiful and you can spend hours watching them do their business as they buzz from one yellow flower to the next.  Take precautions if you are allergic, but the bees are more concerned about their flower duties than bothering all the humans in the fields.
Surround yourself with happiness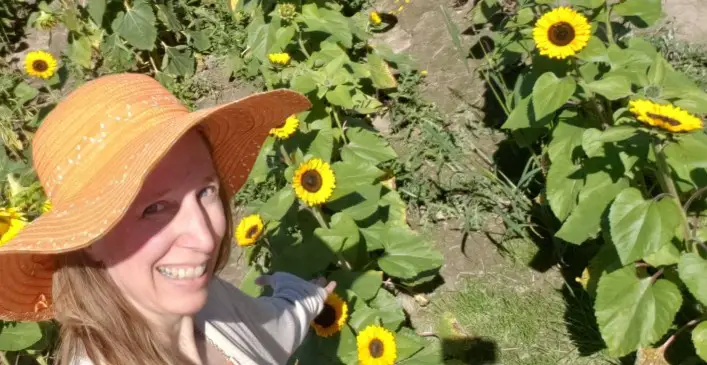 Sunflowers seem to transmit happiness!  You can't help but smile as you approach the sunflower field.  There is nothing like being in the middle of the field and looking at the 6-foot-tall yellow beauties surrounding you.
If you choose a sunflower field that allows cutting, like Greenfield Berry Farm, you will be able to take that happiness home and display it on your kitchen table so that it can be a ray of light each morning when you have your breakfast with your loved ones.
Social distance with ease
Most of the Ohio Sunflower Fields are huge.  For example, Maria's Field of Hope in Avon is 28 acres!  There is plenty of room to social distance from others and wander in your own private area of the sunflower field safe, away from others, and in your own space where you can appreciate the sunflowers and capture great photos.
Take photos with friends and family
Social media and selfies are a perfect match for the Ohio sunflower fields. Snap one of yourself in front of these beauties or pose in a group with the whole sunflower field as your backdrop. 
Professional photographers must purchase a license at the fields, but amateurs are welcome to take dozens of photos in different poses.  Come up with that perfect sunflower field shot from a different angle to post on your Instagram. 
Sunflower seeds are healthy!  There are numerous studies that link the consumption of sunflower seeds with health benefits like a lower risk of high blood pressure, high cholesterol, chronic inflammation, diabetes, and heart disease.  Those little seeds are packed with nutrients that support your immune system and boost your energy level, which is especially important during pandemic times.
Of course, you can't eat the sunflower seeds off of these beautiful Ohio sunflowers, but you can grab a seed pack from the store and bring it to munch on while you walk through the fields.  The seeds are harvested from the blooming flowers on the sunflower plant and then removed from their hard black and white striped shell to reveal a soft white seed.  They can be eaten raw or roasted, have a nutty flavor, and are packed full of nutritional value.
Using sunflower oil is a great alternative to peanut butter for those with allergies.  Use a creamy sunflower butter on your next lunch sandwich and bask in the health benefits of sunflower seeds!
Order some healthy sunflower seeds or sunflower oil spread!!
---
Like this post? Pin it for later!