DISCLOSURE: I may link to relevant products, companies or helpful info which may be affiliate links, meaning I may earn a small commission. As an Amazon Associate & other affiliates, I earn from qualifying purchases at no extra charge to you. The views & opinions are my own. Please see the disclaimer and privacy policy.
Last Updated on July 6, 2023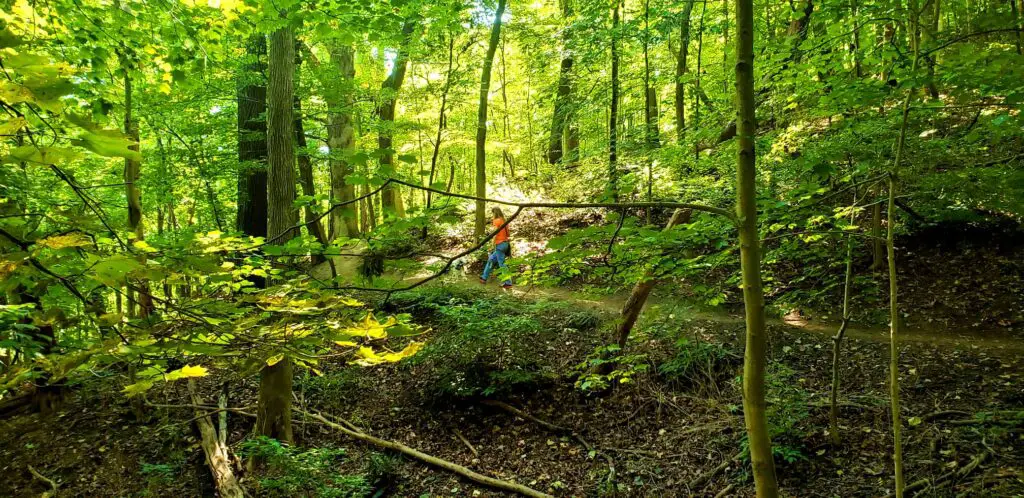 First time visit to Cuyahoga Valley National Park
I have lived here near Cleveland, Ohio all of my life and I am ashamed to admit that this was my first hike on the Cuyahoga Valley National Park trails.  It is a sprawling national park that follows the Cuyahoga River between areas of Cleveland to Akron in the Buckeye State of Ohio. Perhaps they need to get the word out more about their excellent park system, trails, and wildlife… or maybe they don't and they can keep it as pristine as it is for the few of us that now know about it!
Hiking Cuyahoga Valley National Park Trails
My friend and I went to hike the Cuyahoga Valley National Park trails on a beautiful sunny weekend at the end of September.  I took my pup because this is a very pet-friendly park.  We saw a lot of beautiful fall foliage and nature.  We tested out the hikes and trails, saw the main sites, and…. used the Ranger Emergency Response to call an ambulance.  All in a day's trek.  But the emergency was not the fault of the park.  The emergency response was actually perfect, so let's take a look at all the sites and I will get to the catastrophe when it happened.
Top Sites to See at Cuyahoga Valley National Park
History of Cuyahoga Valley National Park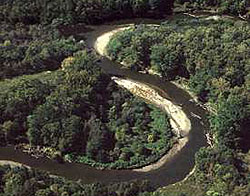 The great Cuyahoga River twists and turns its way through a valley from Akron to Cleveland toward Lake Erie.  The Cuyahoga Valley National Park was established in 1974 in the valley to protect the waterway and provide a natural area of fields, green valleys, and forests for the river to run through and thrive. Nowadays, visitors travel to this National Park for all the plentiful outdoor activities and nature that it has to offer.
How Many Days do you Need in Cuyahoga Valley National Park?
It is often referred to as a park for locals, however, in our brief visit, we were definitely the minority car in each parking lot with our Ohio plates.  You can spend a day touring this park, or even a week and you will not run out of hiking trails in Cuyahoga Valley National Park. There are miles and miles of paths with beautiful scenery for you to admire on the way.  Not a hiker?  There are still other great activities for you to choose from including biking, kayaking, and riding the rails…. the list is very long!
---
This park is a great break from touring all the historical sites in downtown Cleveland!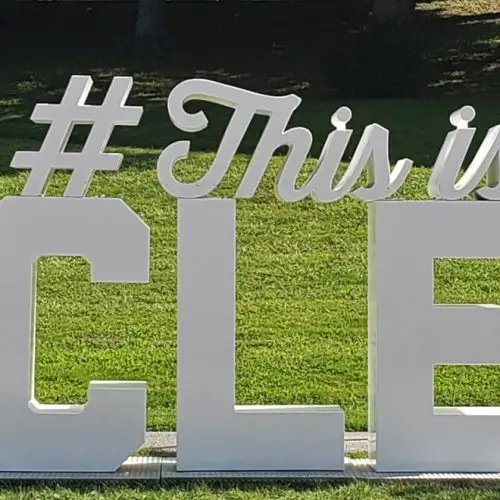 Best Cleveland Historical Sites and Museums
The best Cleveland historical sites and museums are mainly located right downtown or in University Circle, while a few are scattered within driving distance. Keep reading for a list of what museums to put on your Cleveland Itinerary.
What to See at Cuyahoga Valley National Park
BOSTON MILL VISITOR CENTER
6947 Riverview Road, Peninsula 44264  MAP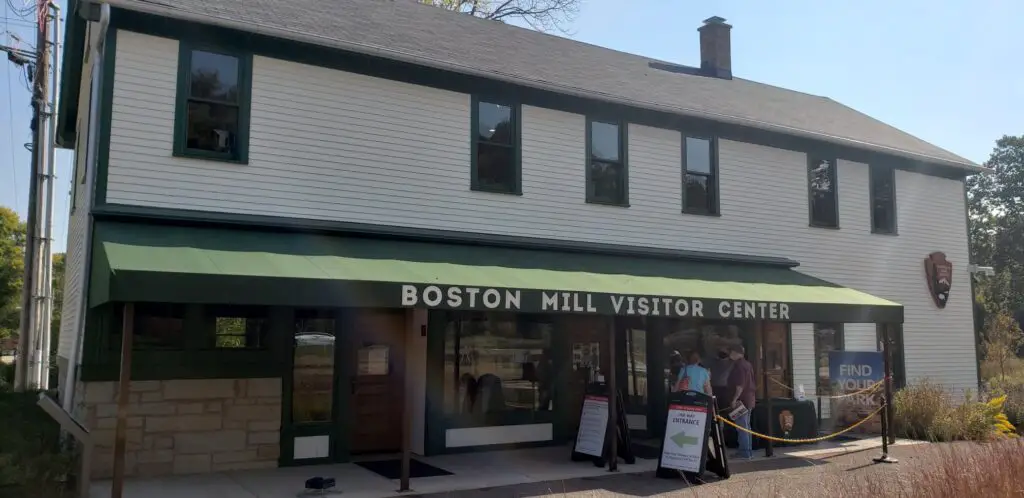 Start your visit to Cuyahoga Valley National Park with a stop at the new Boston Mill Visitor Center.  There is ample parking, restroom facilities, a gift shop, and rangers on staff to help you plan your hikes and visit through Cuyahoga Valley National Park.  The gift shop sells plenty of informational books, guides, and souvenirs. There are also many displays set up in the Visitor's Center to educate you about the wildlife and nature in the park.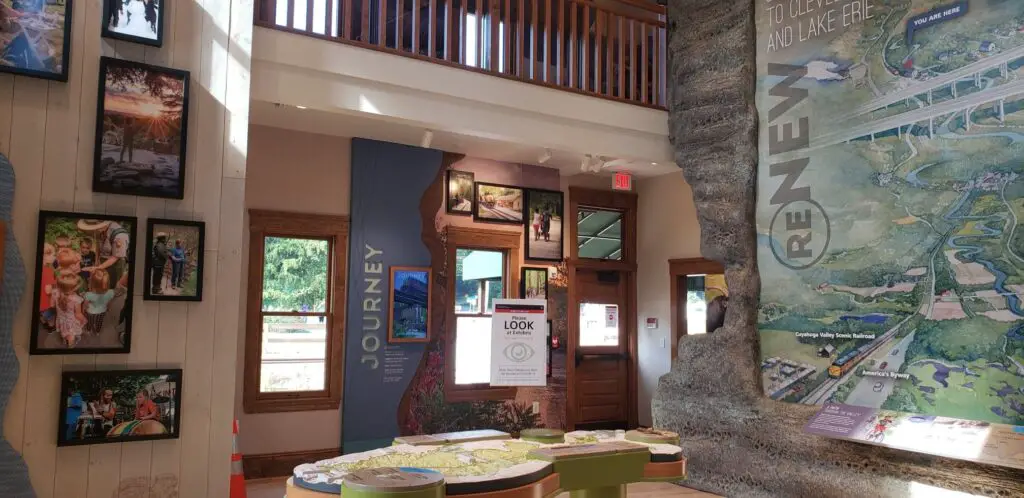 The Visitor Center has some indoor exhibits to familiarize visitors with the heart of Cuyahoga Valley National Park: the canal.  The Ohio & Erie Canal was a 19th-century transportation creation that connected the Ohio River to Lake Erie and therefore essentially connected Ohio to the rest of the nation.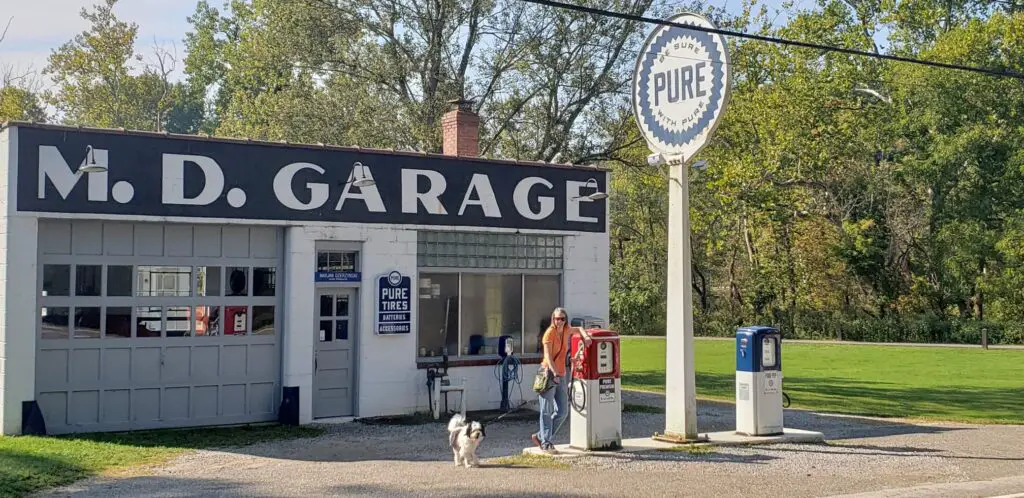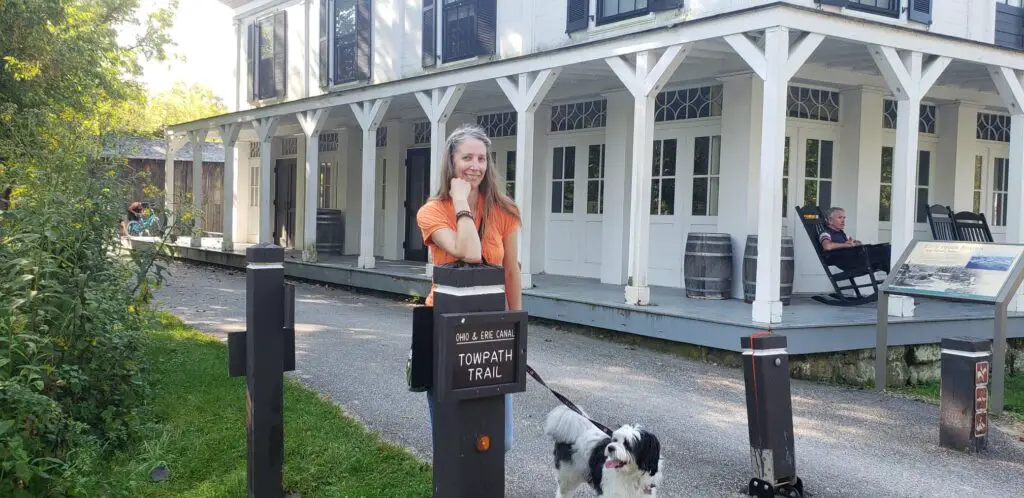 Behind the Visitor Center is Boston Village.  There are a few historic buildings and an old-time gas station that are worth some Instagram pics.  Behind THAT is the old Visitor Center, a beautiful old home that grew to be too small to house the visitor center, so it was relocated.
This whole area is a great place to walk around.  There are a lot of very scenic walks, bridges, and overlooks. It can take you a good hour or longer to walk around and see everything here… and that's before you hit any of the trails.
There is also a trailhead to the Towpath trail located right behind the Visitor Center.  
TOWPATH TRAIL
If you mention Cuyahoga Valley National Park to someone that has been there, they will undoubtedly refer to the Ohio & Erie Canal Towpath Trail.  This is what Cuyahoga Valley National Park is known for.
The trail was formed centuries ago in the 1800s when mules pulled boats filled with goods and passengers along this path for the Ohio and Erie Canal that ran alongside it.  The historic trail was born and loved immediately.  The 19.5-mile Towpath Trail winds around the park and is very popular with hikers, cyclists, strollers, joggers, and in some sections horse riders.  In the winter, the trail is not plowed, to allow cross-country skiing.  It is a very flat and hard-packed trail, so a smooth ride for all.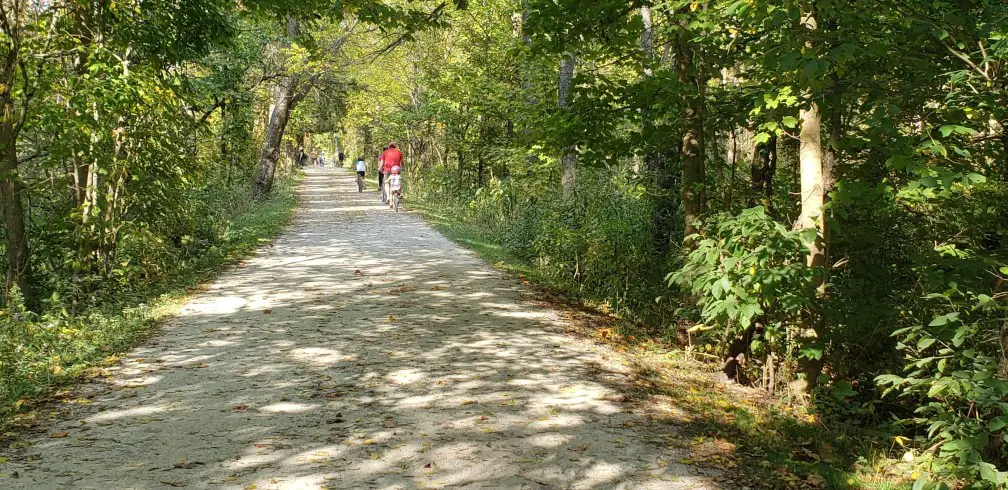 Along the trail, you will find nature, forests, wetlands, and wildlife.  The old locks that raised and lowered the boats to different levels in the canal are still there, as well as the mile markers that measured those historic miles.  You will also have views of the epic Cuyahoga River itself, the main waterway winding through the national park.
BRANDYWINE FALLS
8176 Brandywine Road, Sagamore Hills 44067  MAP
Brandywine Falls is the park's main attraction, leading to large crowds at peak hours.  Get there early or late and avoid mid-day since the limited parking lot is jam-packed from 10 – 3 pm on nice days.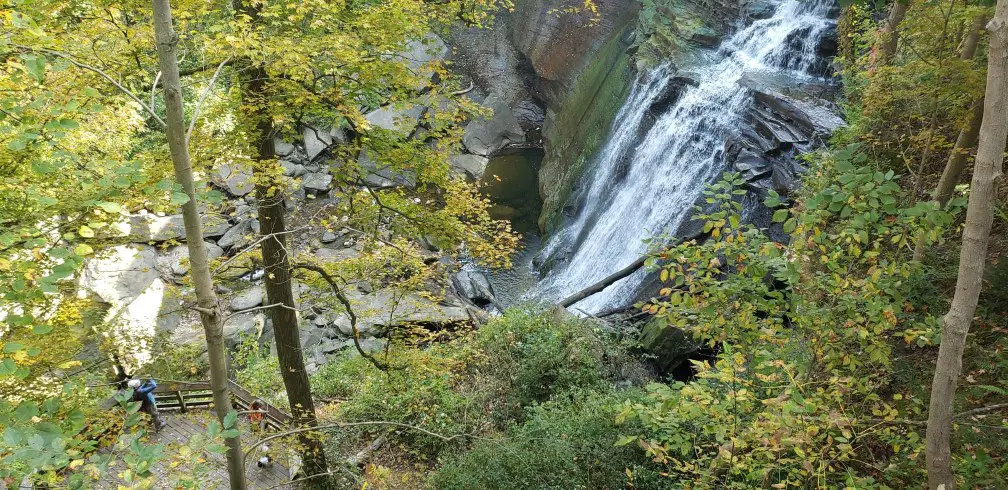 Brandywine Falls is a 60-foot waterfall that is reached by a short boardwalk that enters the woods from the parking lot and follows along the gorge with an upper and lower viewing platform.  The upper platform is wheelchair and stroller accessible and takes you to an overlook above the falls.  It is sometimes difficult to get good photos of the falls from here when there is still a lot of foliage in the trees.
There is a set of stairs to descend to the lower platform which takes you to a closer view of the falls and provides a better location for capturing the beauty.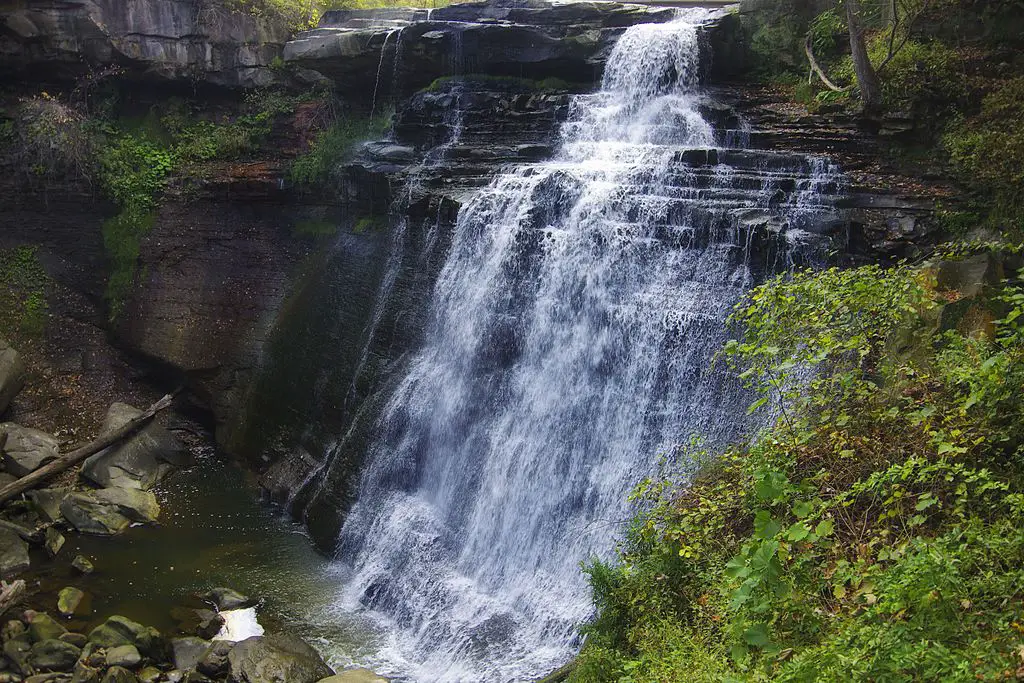 Forgotten village of Brandywine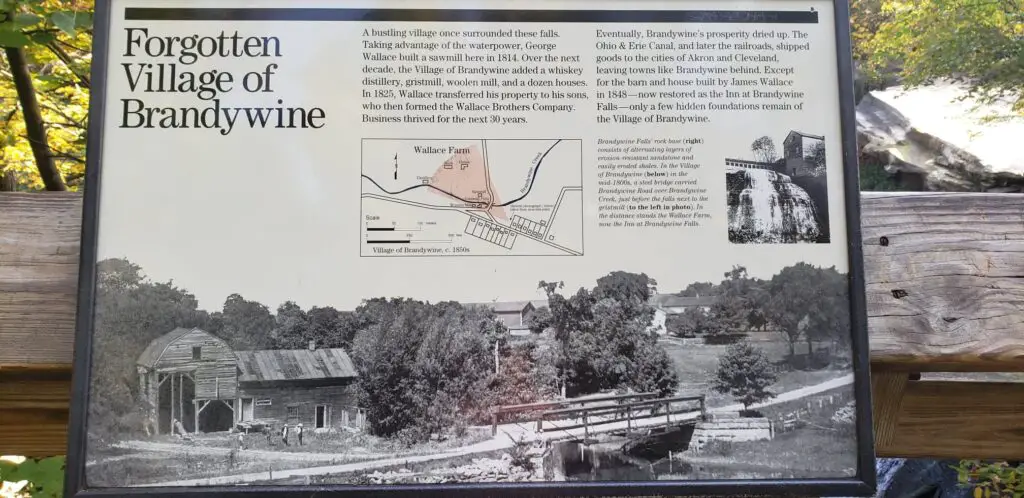 There was once a village of Brandywine located here, providing a namesake for the falls.  The city took advantage of the water power of the Cuyahoga River by building a productive sawmill.  The thriving community eventually took a hit with the creation of the Ohio and Erie Canals and railroad for shipping goods and became deserted.  One of the original mills has been restored and now serves guests as the Inn at Brandywine Falls.
The Inn at Brandywine Falls |
The Inn at Brandywine Falls, overlooking Brandywine Waterfall (a 67-foot natural wonder) in the Cuyahoga Valley National Park, between Cleveland and Akron,was built in 1848 and is on the National Register of Historic Places. It has been luxuriously renovated and made modern; all without changing its…
BUTTERMILK FALLS
I saw some posts about Buttermilk Falls, so we were anxious to try to find it.  After parking our car, we questioned one of the rangers.  He told us that Buttermilk Falls sits on private property and is not accessible to visitors in Cuyahoga Valley National Park. So, we struck out on seeing that.
BLUE HEN FALLS
6947 Riverview Road, Peninsula 44264  MAP
Our visit to Cuyahoga Valley National Park was after a long dry-spell.  It hadn't rained for a few weeks and the Blue Hen Waterfall was down to a few little tinkles. How many waterfalls are in Cuyahoga Valley National Park? Quite a few! For this waterfall, you need to hike to Blue Hen Falls along the Cuyahoga Valley National Park trails.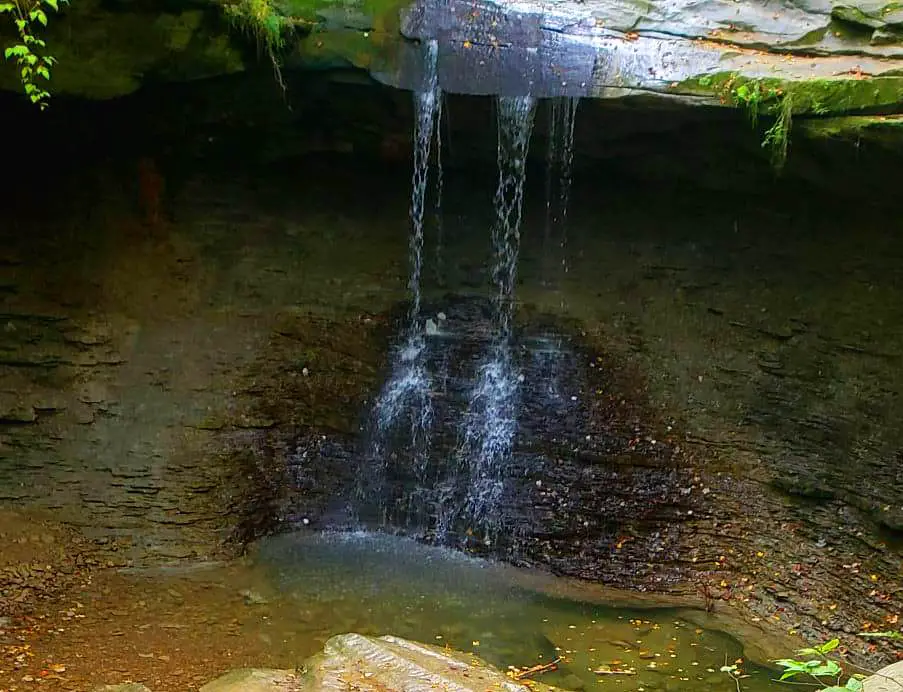 There is no longer any close parking to Blue Hen Falls.  You will need to hike 3 miles roundtrip to see this one.  The trail is winding and hilly. I imagine it could also be muddy after a rain-spell, but it was quite dusty and rocky during our drought.  In fact, the friend that I was hiking with lost her footing on some of the loose rocks at the end of the hike and took a tumble, breaking 3 bones in her ankle in that gymnastic maneuver.  The Rangers were right on top of things and got her taken care of and transported to emergency care in no time.  Thank you for your help guys!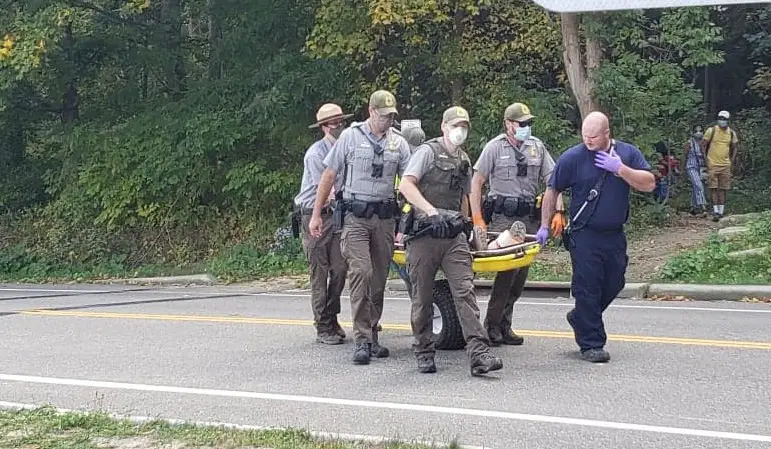 Now, here are photos of what Blue Hen Falls looks like in all its rain-fed glory.  Perhaps we need to go back after a few rainstorms for a revisit of this hike and the falls, ending with a better finale that doesn't include the emergency room.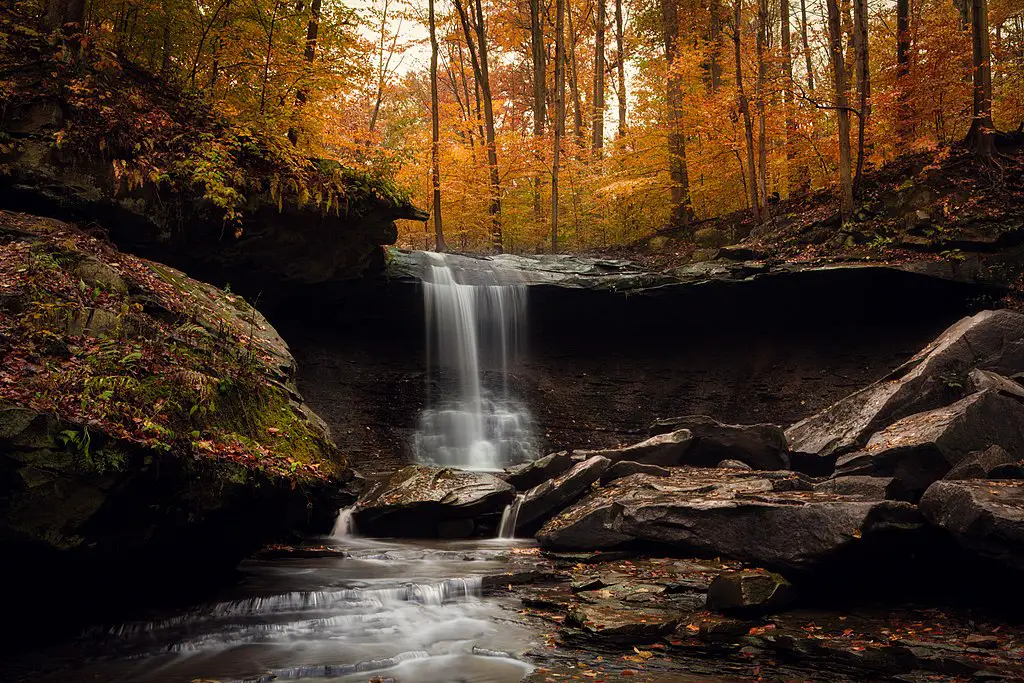 THE LEDGES
405 Truxell Road, Peninsula 44264 MAP
The Ritchie Ledges is a site that is one of the park's absolute MUST-Dos.  The spectacular ledges and crevices were formed millions of years ago by the glaciers that once covered this area.  The rocky terrain and towering cliffs are an artwork worth seeing.  There is a 1.8-mile trail around the Ledges which winds around the sandstone cliff views of the rocky terrain.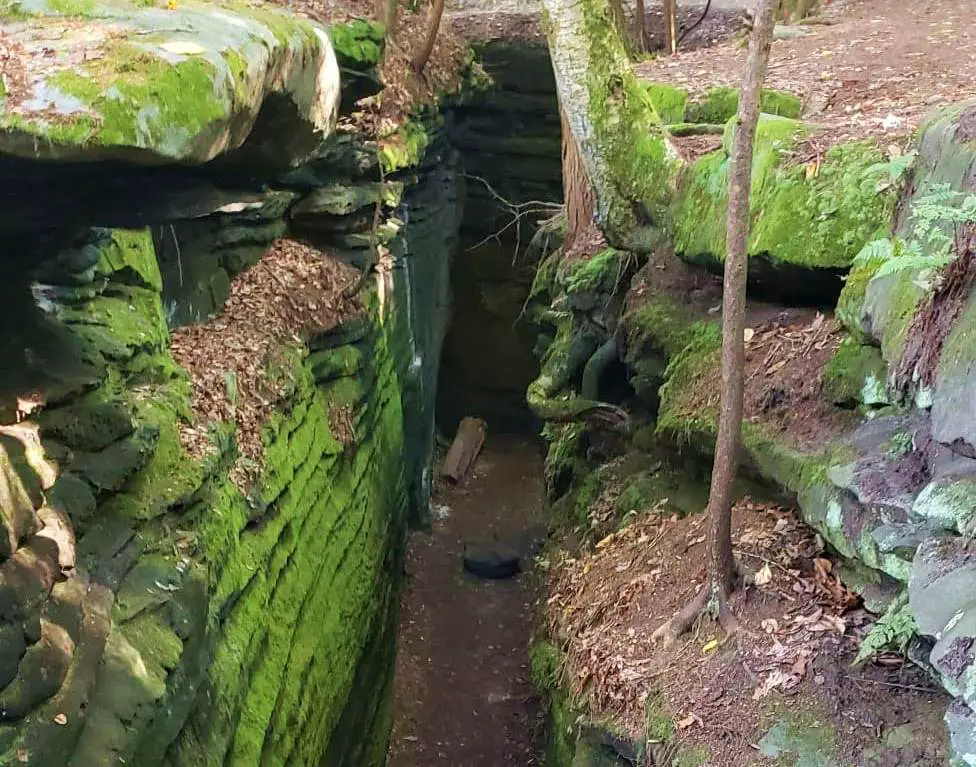 Ice Box Cave, on the far end of the Ledges, houses a roost for bats and is closed for their protection.  The Ledges are a very popular site, so it is typically crowded with hikers, dog walkers, and site-seers snapping selfies.  There are many picnic areas at the Ledges as well as a large grassy area adjacent to the parking lot that is great for throwing down a picnic blanket and relaxing with your sweetie after your long hike while you look up at the blue sky.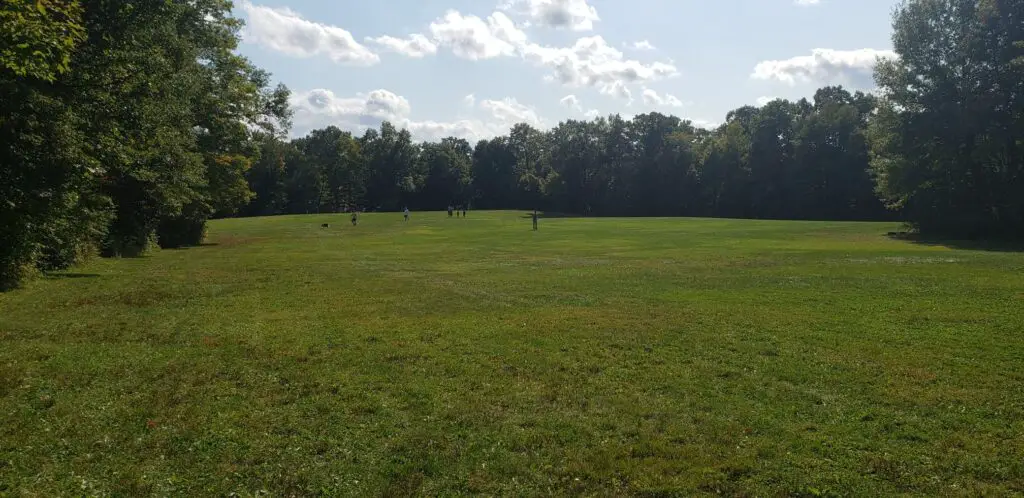 BEAVER MARSH
3801 Riverview Road, Peninsula 44264  MAP
Access at: Ira Trailhead
The Beaver Marsh is filled with diverse wildlife.  The wildlife population not only includes beavers, but also muskrats, frogs, turtles, water snakes, and many others.  This is the best place in the park for bird-watching with over 50 species of birds in the marsh in various seasons.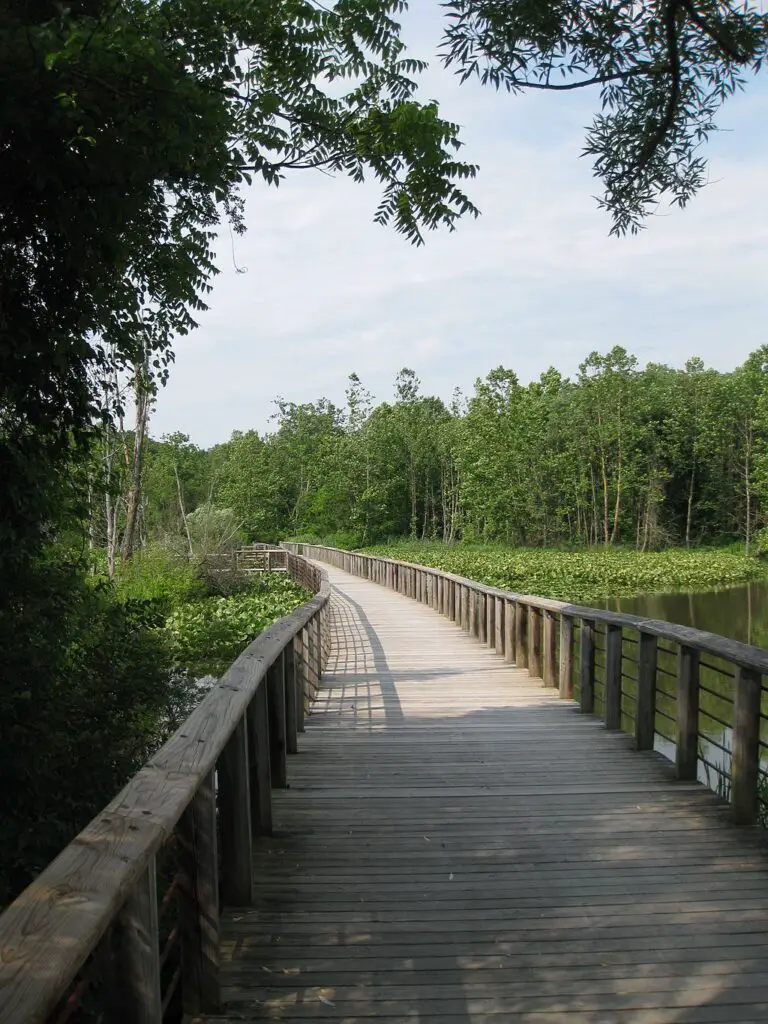 Beavers Marsh Rebuilding
When the development in the 19th century began, the original wetlands were drained and an auto repair shop was located on this site.  In 1983 there was an organized cleanup that removed all the old car parts, bed springs, and trash.  It was during this time that the heroes of the marsh, the beavers, started returning.  Excessive beaver trapping for their fur had vanquished the animal from the area for over a century.  The returning beavers built a system of dams that restored the natural water levels and brought back the wetlands and the accompanying wildlife that makes this now such a diverse area.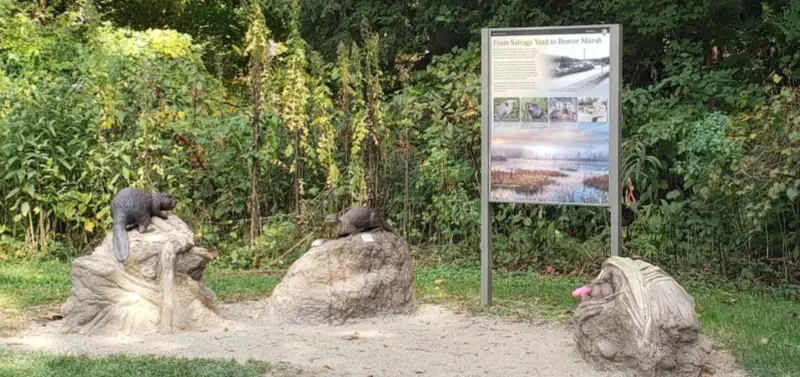 EVERETT COVERED BRIDGE
2370 Everett Road, Peninsula 44264  MAP
Everett Bridge crosses Furnace Run and is the only covered bridge left in Summit County, in a state that has over 150 wooden covered bridges.  The Everett Bridge had an important role in history as the access to crossing over the Cuyahoga River when the water levels rose, thus enabling more merchants entry to the Ohio & Erie Canal system.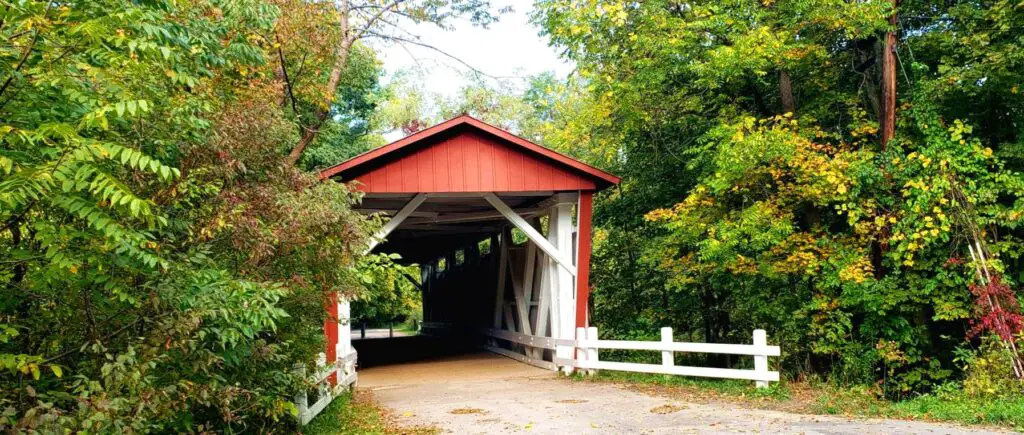 SZALAY'S FARM AND MARKET
4563 Riverview Road, Peninsula 44264  MAP
Szalay's Farm and Market began in the 1930s as a vegetable farm and has been passed down through four generations.  Nowadays you can stroll through this market for fresh fruits and vegetables picked straight from their fields and local home-made goodies that make your mouth water.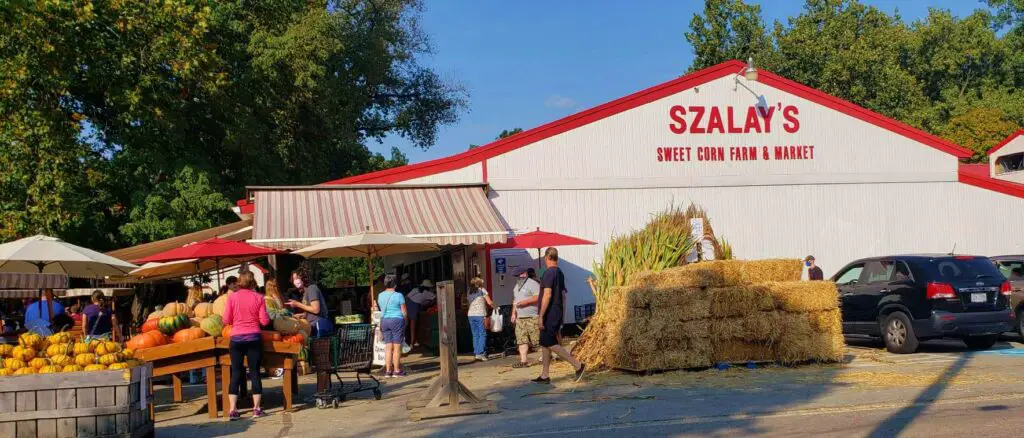 The Szalay's sweet corn market is open every day to provide fresh farm-grown produce to park visitors.  This market is especially full of activity in the fall, when in addition to the normal market, pumpkins, corn mazes, and hayrides are added.
They run an eatery on the busy weekends.  Make this your lunch stop at one of their three outdoor huts for grilled sandwiches, roasted corn on the cob, fresh-squeezed lemonade, and ice cream desserts.
HALE FARM AND VILLAGE
2686 Oak Hill Rd, Peninsula   MAP
Hale Farm is located on the southern edge of Cuyahoga Valley National Park.  Its signature building is a small brick house, surrounded by 90 acres of fields and farmland and in the 1930s the property was donated to the Western Reserve Historical Society.  The Village is now a living history museum with 32 historic buildings, farm animals, and historical interpreters depicting life in the 19th century and demonstrating the early American crafts of glassblowing, spinning, blacksmithing, weaving, candle making, broom making, and pottery.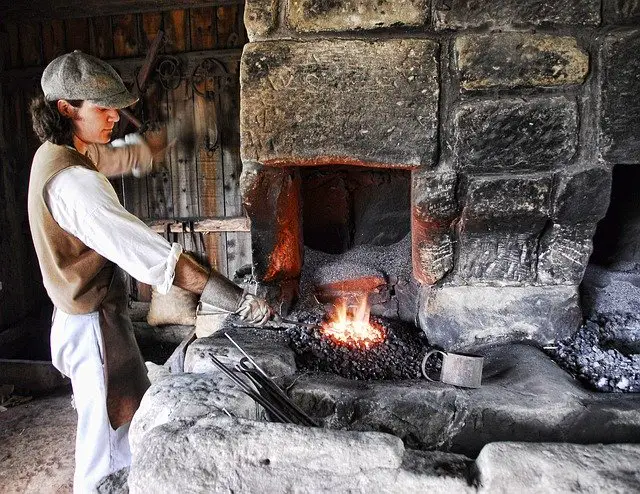 HOW TO SEE CUYAHOGA VALLEY NATIONAL PARK
SCENIC RAILROAD
Rockside Station: 7900 Old Rockside Road, Independence 44131
Peninsula Depot: 1630 Mill Street, Peninsula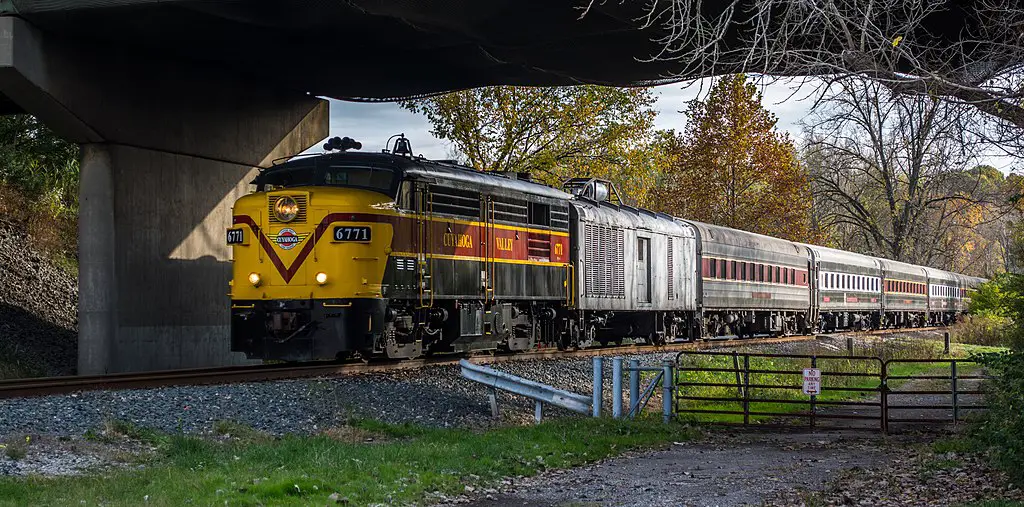 Cuyahoga Valley National Park is the only national park with a non-profit heritage railroad providing transportation throughout the park to thousands of visitors each year.  They also operate many educational programs that inform railway visitors about its history and natural environment that it contains through the park system.
The Cuyahoga Valley Scenic Railroad is a tourist excursion railway with many boarding stations throughout the park.  I left it off of the list of sites until now because not only is it an attraction, but it is also a great way to get around the park.  Hikers and bikers can purchase a cheap one-way ticket, ride the rails to a distant boarding station, and then take the park trails back to the original starting point.  Using the railroad's BIKE ABOARD! program, the train staff can load bikes into the specialized storage train car to transport to the designated stops along the route.
PRO TIP: Ride the Polar Express train ride in Ohio to experience the winter wonderland in Cuyahoga Valley National Park on the way to visit Santa at the North Pole!
TRAILS and HIKING
There are over 90 miles of trails throughout Cuyahoga Valley National Park.  There are some with varying elevations and some with flat level footpaths.  The Ohio & Erie Canal Towpath is the most popular, most crowded, as well as the longest pathway.  It is a flat trail, pounded firm from years of mules transporting boats down the canal waterways.  Try some out!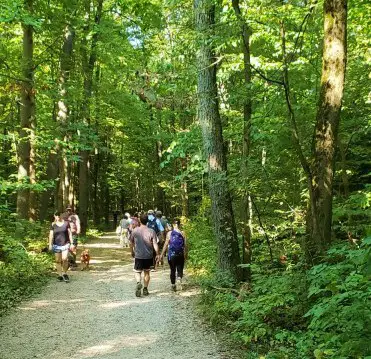 How Many Trails are there in Cuyahoga Valley National Park?
| | | |
| --- | --- | --- |
| TRAIL NAME | Mileage | Trail Description |
| Beaver Marsh Boardwalk | 0.25 | crushed limestone, wood |
| Forest Point Trail | 0.5 | flat, unpaved |
| Furnace Run Loop | 1 | hilly, unpaved |
| Lake Trail | 1 | flat, unpaved |
| Oak Hill Trail | 1.5 | flat, unpaved |
| Pine Grove Trail | 2.2 | hilly, unpaved |
| Cross Country Trail | 2.5 | hilly, grass, unpaved |
| Tree Farm Trail | 2.75 | flat, unpaved |
| Stanford Trail | 3 | steep hills, unpaved |
| Salt Run Trail | 3.25 | hilly, unpaved |
| Boston Run Trail | 3.4 | hilly, unpaved |
| Plateau Trail | 4.5 | flat, unpaved |
| Wetmore Trail | 4.5 | hilly, unpaved |
| Towpath Trail | 19.5 | flat, crushed limestone |
SHELTERS FOR SPECIAL EVENTS
While there are picnic areas located throughout the park, Cuyahoga Valley National Park has two shelters that can be reserved for large get-togethers like a reunion or birthday party.  They are both next to the Ledges, hiking trails, and a large field for activities.
Ledge Shelter
701 Truxell Road Peninusula
The Ledges Shelter has 8 picnic tables inside, 8 picnic tables outside, and can accommodate up to 75 people.  It has a large outdoor grill for cooking your meals and two fireplaces for warmth.
Octagon Shelter
801 Truxell Road Peninusula
The Octagon Shelter is also located by the Ledges and can accommodate up to 50 people.  It has 7 indoor picnic tables and an outdoor grill.
---
Be sure to also find some of the BEST BEACHES IN OHIO while you are traveling in northeast Ohio!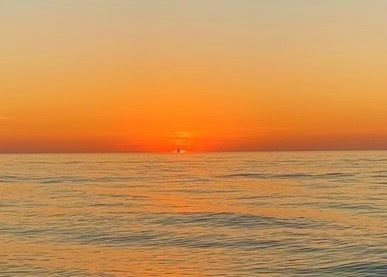 The Best 10 Beaches in Cleveland Ohio That You MUST Visit!
Find a great place to soak up the sun at one of the best beaches in Cleveland Ohio. They all have so many options and activities to do; including kayaking, watching sunsets, picnicking, hiking, swimming, and sunbathing. So many things to do at so many of the beaches near Cleveland!!
---
PETS AT CUYAHOGA VALLEY NATIONAL PARK
Along the pet-friendly Cuyahoga Valley National Park trails, you must keep your pet restrained on a maximum 6-foot leash at all times.  Pets are allowed on all walking trails and must remain on marked trails.  Please clean up after pets at all times.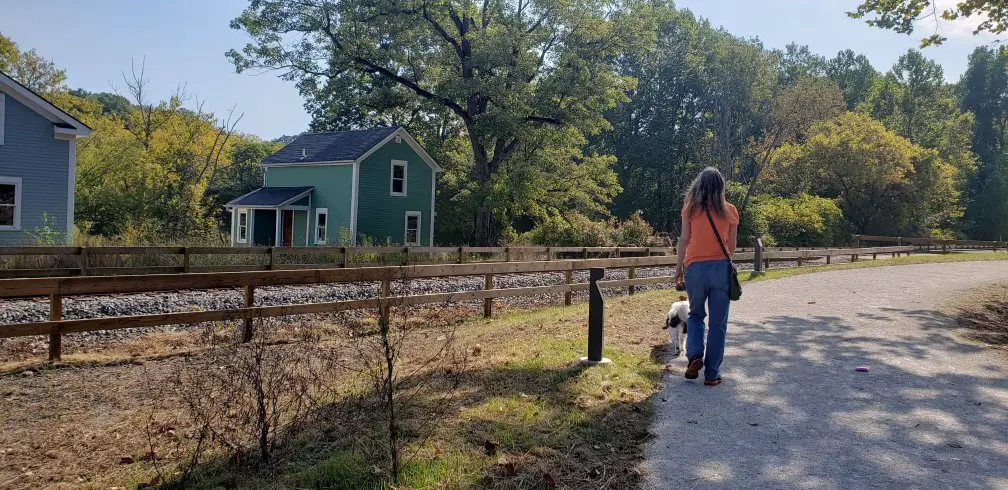 WHERE TO EAT AT CUYAHOGA VALLEY NATIONAL PARK
The best place to eat at Cuyahoga Valley National Park is at The Ledges.  There are plenty of picnic tables and a large grassy lawn to enjoy.  Pack your lunch and relax in this beautiful setting before you head out on your next hike.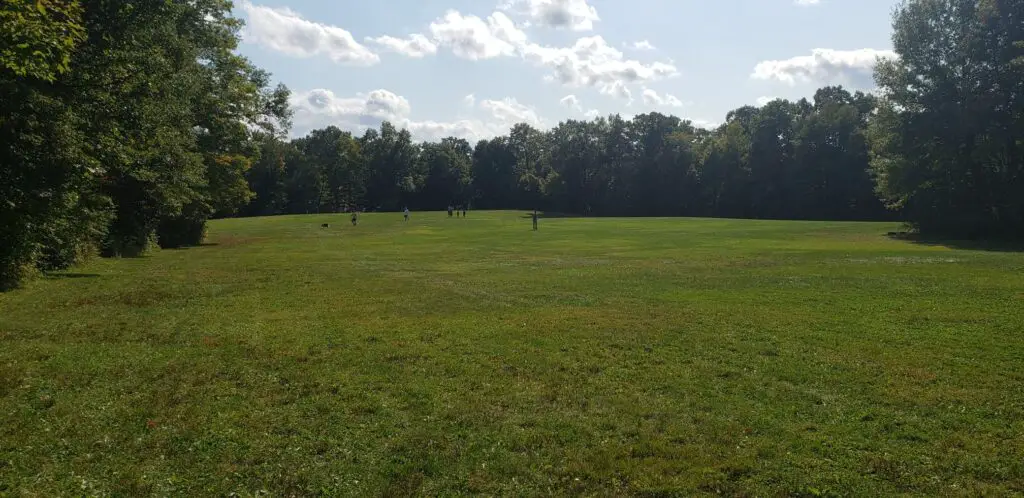 Szalays Farm and Market runs an eatery on the weekends, so you can grab a grilled sandwich and roasted corn there.
If you aren't a picnic-type person and you want to eat out, I can recommend Dilly's Drive-In.  You pull right in and flash your lights for service.  Like the old-days of car-hops, they come to your car for your order, deliver your food, and attach it to your window.  They have burgers, hot dogs, and fries galore.  They also have milkshakes which I REALLY wanted to order, but was absolutely too full from my cheeseburger.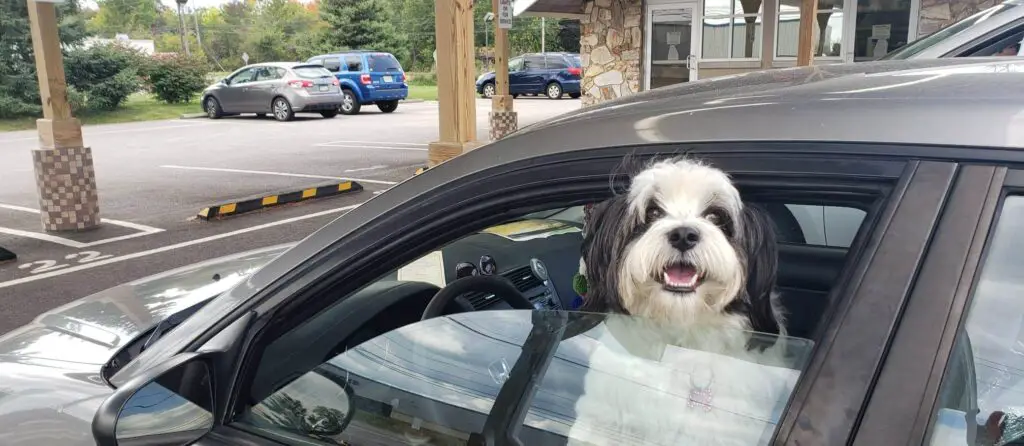 4280 State Road, Peninsula 44264
WHERE TO STAY AFTER HIKING THE CUYAHOGA VALLEY NATIONAL PARK TRAILS
The National Park is located between Cleveland and Akron. A great base for park visits would be areas of Cleveland. If you are looking for some nice Airbnb rentals for your visit to Cuyahoga Valley National Park, check out my post for HOW TO FIND THE BEST AIRBNB CLEVELAND OHIO for some great rentals.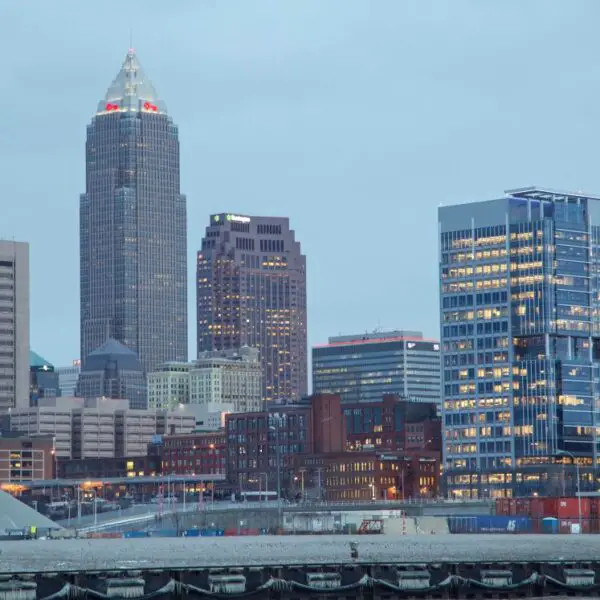 How to find the Best Airbnbs in Cleveland Ohio
How to find the best Airbnbs in Cleveland Ohio near Lake Erie and surrounding neighborhoods. You can relax while you visit the downtown Cleveland tourist sites.
Visit Cuyahoga Valley National Park soon for a great hiking, biking, and all-around nature-loving experience.
The Cuyahoga Valley National Park trails are plentiful with many sites worth visiting for a day, a weekend, or even a longer vacation. I hope you were able to plan your activities and hikes with this helpful guide. Let me know which sites were your favorites.
Like this post? PIN IT for later