DISCLOSURE: I may link to relevant products, companies or helpful info which may be affiliate links, meaning I may earn a small commission. As an Amazon Associate & other affiliates, I earn from qualifying purchases at no extra charge to you. The views & opinions are my own. Please see the disclaimer and privacy policy.
Last Updated on July 11, 2022
Whether you are taking a day-trip or spending even more days in Cleveland, you want to make sure that you find the best Airbnbs in Cleveland Ohio so that your stay is the most relaxing and affordable. Use this list for finding some of the best airbnb Cleveland Ohio and let me know which one you like!
Airbnb offers more options than standard hotels. It offers privacy as well as all of the amenities of staying at your own house. The Airbnb is usually rented to one family so there are no other guests around, allowing for full relaxation. One of the perks of home is a money-saving tip because you can occasionally make your own meals and save a few bucks that way.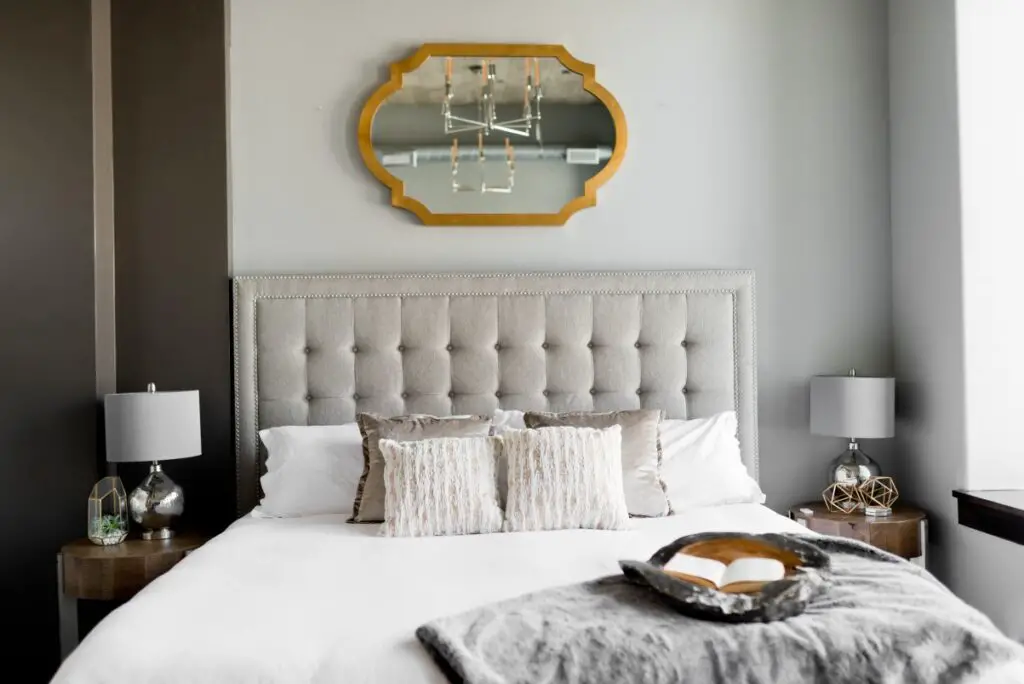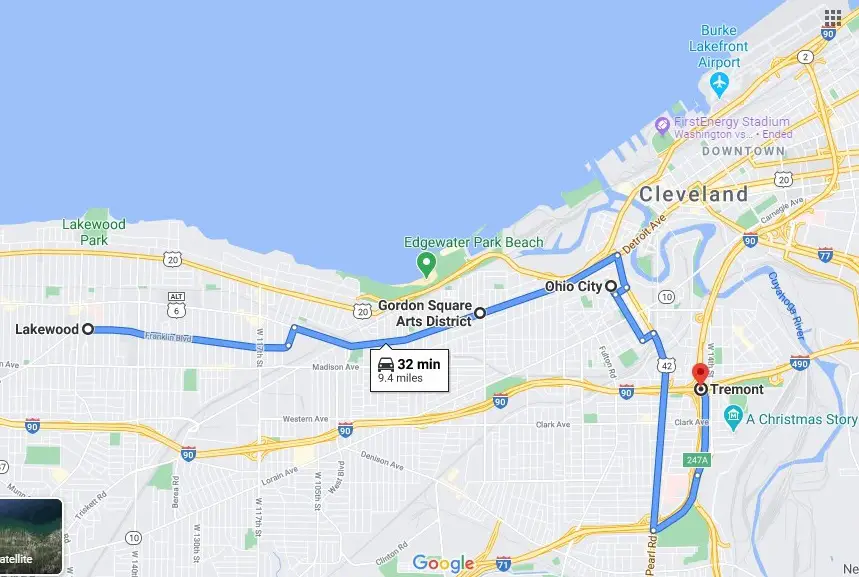 Airbnbs in Cleveland Ohio for Empty Nesters and small groups
Empty-nesters and couples traveling alone, your choices for airbnbs in Cleveland Ohio are listed first. These choices are perfect for the 2 of you and vary from lofts to apartments to whole guest houses, depending on the exact amount of privacy you are looking for. Take a look at these top picks for Airbnb Cleveland Ohio.
Even if you are traveling in a small party, stick around for the list of options for larger families, the kitchen for Choice 8 will astound you and you might just want to find more people to travel with you, or rent that big bad apartment anyway!
Airbnb Downtown Cleveland Choice #1
Details: 2 guests · 1 bedroom · 1 bed · 1 bath – starts at $89 / night
Stay on the private third-floor suite of this Downtown Cleveland Airbnb home and you will be just a 5-minute drive from downtown, Edgewater State Park and Beach. There is a small functional kitchen here, but if you don't feel like cooking, there are restaurants nearby.
---
This Cleveland accommodation is perfect for those that are spending time at the historical sites and museums in downtown Cleveland.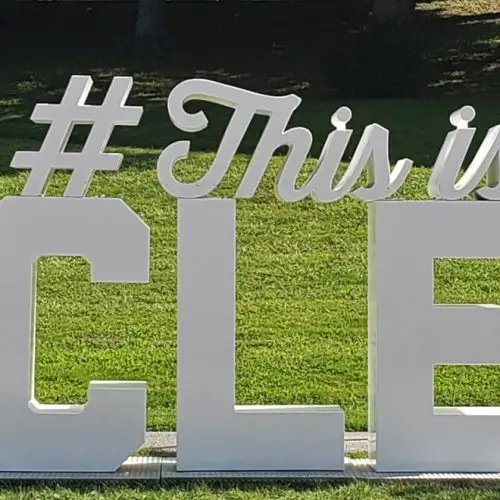 Best Cleveland Historical Sites and Museums
The best Cleveland historical sites and museums are mainly located right downtown or in University Circle, while a few are scattered within driving distance. Keep reading for a list of what museums to put on your Cleveland Itinerary.
Airbnb Cleveland Choice #2
Details: 3 guests · 1 bedroom · 1 bed · 1 bath – Starts at $64 / night
On the west side of downtown Cleveland, there is this cute 1920's vintage home that you will have all to yourself.  It is located 10 minutes from downtown and 10 minutes from the airport on a quiet street in the west side historical district.
They take pride in providing extras for example in prepared breakfast staples like pancake mix and granola bars as well as a smart tv connected to the internet for all your Netflix adventures!
Airbnbs in Gordon Square Arts District in Cleveland
Gordon Square is a district in Cleveland that is known for the arts due to the numerous fancy murals and art galleries sprinkled around the neighborhood. The area has many special event venues throughout the year as well as numerous dining, retail, and trendy nightlife destinations to keep the foodies and active vacationers entertained and well-fed. 
Choosing the Gordon Square Arts District as your home base when you are looking for an Airbnb in Cleveland Ohio will keep you in a central location so that you are still enough close to all the action, yet situated in a relaxing walkable community.
Airbnbs in Cleveland Ohio Choice #3
Details: 2 guests · 1 bedroom · 1 bed · 1 bath – Starts at $45 / night
This cute little efficiency apartment has everything you need for a relaxing stay from complimentary coffee to bathrobes!  There is a kitchenette to prepare quick meals while you are on the go.  In this Gordon Square apartment, you are a quick 5-minute walk from Edgewater beach for kayaking, sun, and sand.  For those wanting the city-life, you are very close to downtown and also a 5-minute walk to some of the top restaurants in Cleveland.
Airbnbs in Ohio City in Cleveland
Ohio City is another old nostalgic neighborhood you can stay in when you are looking for Airbnbs and a good place to stay in Cleveland Ohio. Interestingly, Ohio City contains the largest number of craft breweries in Cleveland. 
Ohio City contains the first and only hostel in Cleveland, The Cleveland Hostel, which opened in 2012 and is located conveniently on the city's public transportation line.
Booking.com: The Cleveland Hostel and Guesthouse , Cleveland, USA – 140 Guest reviews . Book your hotel now!
Featuring a rooftop deck with iconic city views, The Cleveland Hostel and Guesthouse is located in Cleveland.
The West Side Market is located in Ohio City and has been a central part of the neighborhood for over one hundred years.  This market is the local selling avenue for hundreds of locally-owned small businesses that hock their wares and foods at the market daily.
West Side Market (Cleveland) – 2020 All You Need to Know BEFORE You Go (with Photos) – Tripadvisor
Overview
Pet-Friendly Airbnb Cleveland Ohio Choice #4
Details: 2 guests · 1 bedroom · 1 bed · 1 bath – Starts at $65 / night
The cute apartment has a courtyard to relax in after your day touring the sites.  Inside, there is a well-stocked kitchen and a comfy bed for the empty-nesters.
This one is PET FRIENDLY, so your furry friend can come along too.
Ohio City is centrally located with easy access to the freeway and a fast route to downtown, so it is a great choice for either business or pleasure trips.
Airbnbs in Tremont in Cleveland
Tremont, located west of downtown, is one of Cleveland's oldest and most historic neighborhoods.  It is known by foodies for its award-winning eateries.  It is also home to many art galleries, as well as its boutiques, a lively art scene, historic churches, and restored Victorian houses.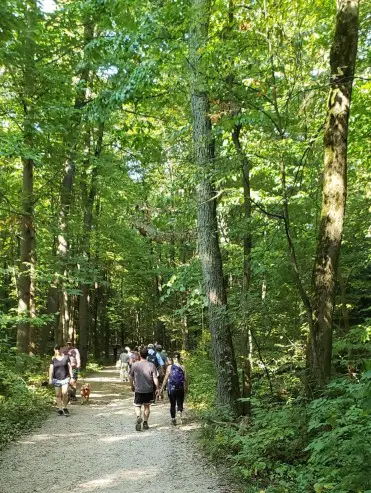 The Towpath Trail is a part of the Cuyahoga Valley National Park Trails that cut through Tremont, leading to beautiful scenery and pathways.  Many joggers, bikers, and dog walkers frequent this trail to admire nature.
For helpful tips about visiting the Cuyahoga Valley National Park, take a look at this article: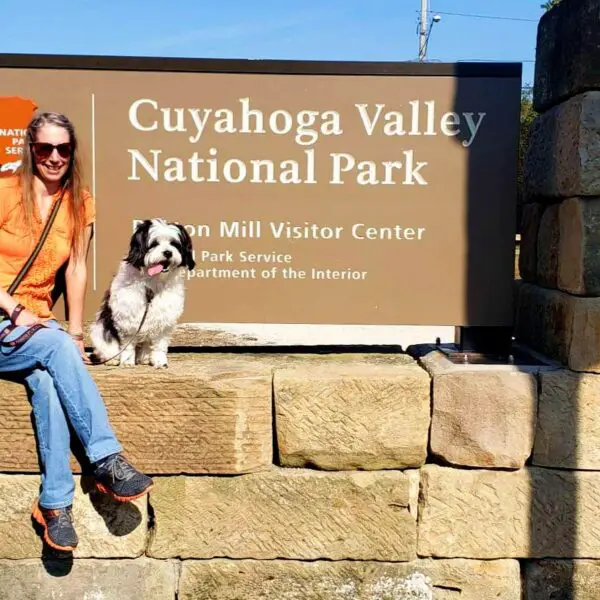 Tips for Visiting Cuyahoga Valley National Park Trails
All the tips and hints you need to know about visiting and hiking the Cuyahoga Valley National Park trails to admire the Ledges, waterfalls, and so much more.
The Christmas Story House, an attraction and museum showcasing the original house from the Christmas Story Movie, is one of the must-sees in Cleveland and is located in Tremont.
Airbnb Cleveland Choice #5
Details: 3 guests · 1 bedroom · 1 bath – Starts at $65 / night
This second-story loft apartment has a huge private deck with views of the Cleveland skyline and the natural surrounding trees.  Relax and enjoy the atmosphere!  The Tremont neighborhood is a cozy, ethnic, and very friendly neighborhood that you will be glad to become a part of for your short stay.
Airbnb Cleveland Choice #6
Details: 2 guests · 1 bedroom · 1 bed · 1 bath – Starts at $84 / night
The owner of this Airbnb in Cleveland describes Fairview Park as 'Mayberry!' so that should give you an idea of what the area is like.  It is west of Cleveland with easy access to the main interstates, minutes from the airport, and a short drive to downtown. This is a single-family home that you will have all to yourself, including a washer, dryer, and a secure driveway for your car all on a very natural lot that seems like a park.
Airbnb Cleveland Choice #7
Brookpark is where you want to stay if you want to be close to the airport since it is minutes away.  It is a short drive to downtown Cleveland and all the sites the big city has to offer.
In this adorable little house, there is a small kitchen area to prepare your daily breakfast before going on to the city, but there are also many restaurants nearby. The back porch is a great place to relax and unwind after a long day touring the city. If the weather in Cleveland is not cooperating, the family room is also nice and cozy.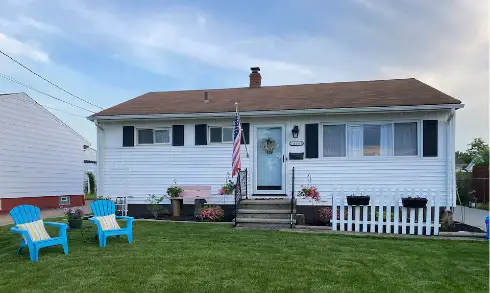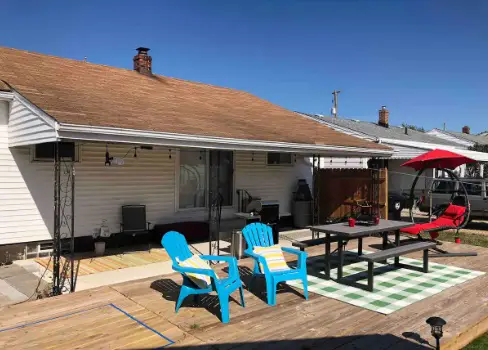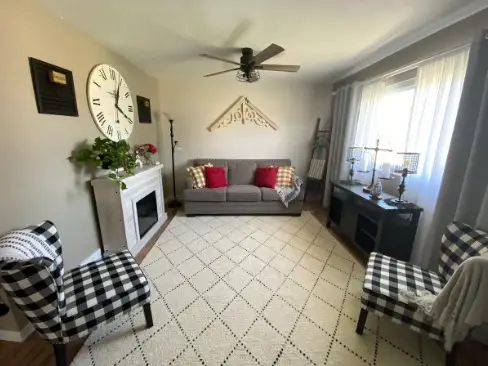 Are you traveling in a larger group or with your family and in need of a whole house with more space for your family and friends? The next few choices of Airbnbs in Cleveland Ohio are bigger. They have more rooms and more beds to rest all the weary heads that are worn out from touring Cleveland Ohio. Take a close look at choice # 8. It is my absolute favorite because of that kitchen!
Airbnb Cleveland Choice #8
Details: 6 guests · 2 bedrooms · 2 beds · 1 bath – Starts at $89 / night
The entire upstairs of this duplex home will be yours, which includes the large and beautiful industrial-style kitchen and a huge private balcony.  Take your whole family of 6 to Cleveland, and you can all relax in the spacious 2nd floor. 
It is close enough to walk to restaurants and bars – but do you really want to with that kitchen!  It is also close to Edgewater Beach on the shore of Lake Erie and a short ride to downtown Cleveland and all the sites.
Airbnb Cleveland Choice #9
Details: 4 guests · 2 bedrooms · 3 beds · 1 bath – Starts at $96 / night
You can reserve this entire home for your family of 4 in Lakewood, near to Cleveland, and all the sites. This is a really cute vintage 1920 home that was newly remodeled while keeping the centuries-old charm. It finds itself a good spot on the list for best Airbnbs in Cleveland Ohio with its comfortable amenities and great location.
---
If you are in need of some time in the sun, check out the BEST BEACHES NEAR CLEVELAND!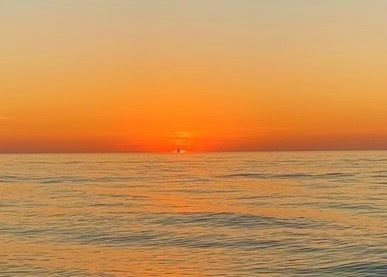 The Best 10 Beaches in Cleveland Ohio That You MUST Visit!
Find a great place to soak up the sun at one of the best beaches in Cleveland Ohio. They all have so many options and activities to do; including kayaking, watching sunsets, picnicking, hiking, swimming, and sunbathing. So many things to do at so many of the beaches near Cleveland!!
---
Planning a trip to Cleveland Ohio?
PIN THIS POST for later so that you can reserve these great Airbnbs in Cleveland Ohio