DISCLOSURE: I may link to relevant products, companies or helpful info which may be affiliate links, meaning I may earn a small commission. As an Amazon Associate & other affiliates, I earn from qualifying purchases at no extra charge to you. The views & opinions are my own. Please see the disclaimer and privacy policy.
Last Updated on March 16, 2023
Bubba Gump Shrimp Review: The Origin of Bubba Gump Shrimp Company
Bubba Gump Shrimp Company is an American Cajun-style seafood restaurant chain created as a spin-off from the 1994 drama Forrest Gump starring Tom Hanks. It is named after fictional Forrest Gump's friend, Benjamin Buford Bubba Blue.  The two army buddies had plans to team up in the shrimp business after they got out of the Vietnam War.  Bubba was killed in action and Forrest pursued their dream on his own.
In real life, there are over 40 Bubba Gump Shrimp restaurants worldwide, created and inspired by the Forrest Gump movie.  As predicted by the movie, Bubba Gump is now a household name!
Bubba Gump Shrimp restaurant locations
Bubba Gump Shrimp Company Restaurant has locations around the world.  The very first one was opened in 1996 in Monterey, California.  Since then they have expanded to popular destinations including Disneyland in Anaheim, California, Baltimore, Chicago, Qatar, Hong Kong, London, Tokyo, and two restaurants in Cancun, to name just a few.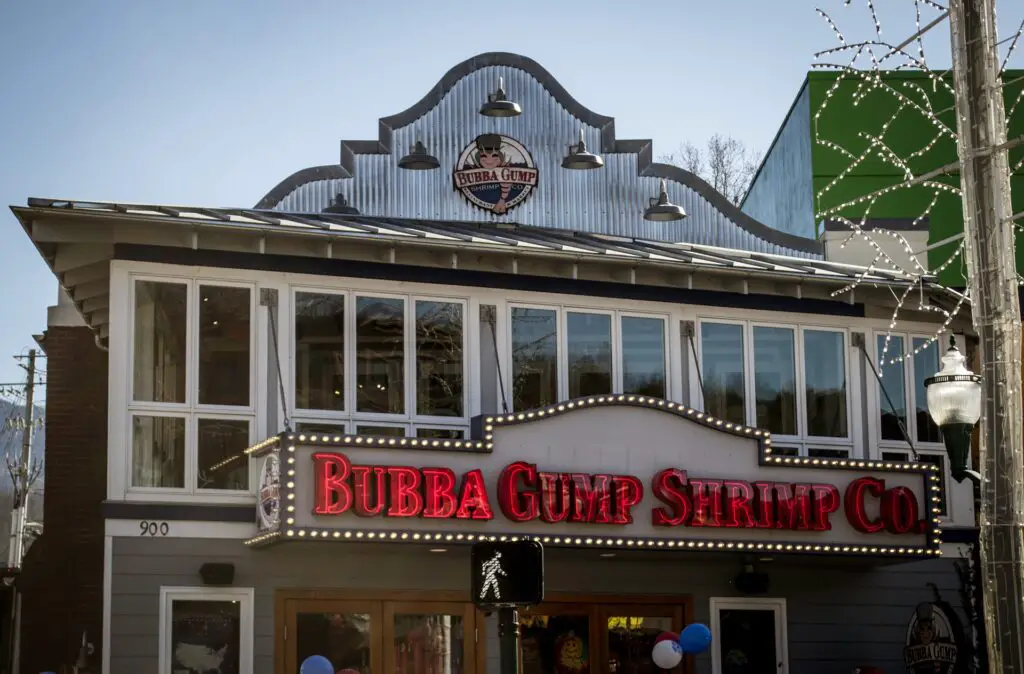 Our visit was to the Bubba Gump Shrimp Restaurant in Universal Citywalk at Universal Studios, Florida. Universal Studios in Orlando has two parks to explore, including Harry Potter World. 
We had never been to a Bubba Gump restaurant and wanted to try something new before attending Universal Studios' Halloween Horror Night on October 31st – Halloween Night!
Bubba Gump Universal Citywalk
Bubba Gump at Universal Studios Orlando is located at the entrance to CityWalk.  As the exciting gateway to the park, CityWalk is the actual entrance plaza to Universal Studios with mega-entertainment and overloaded with live music and dancing, dining, bars, a movie theater, and retail shopping galore.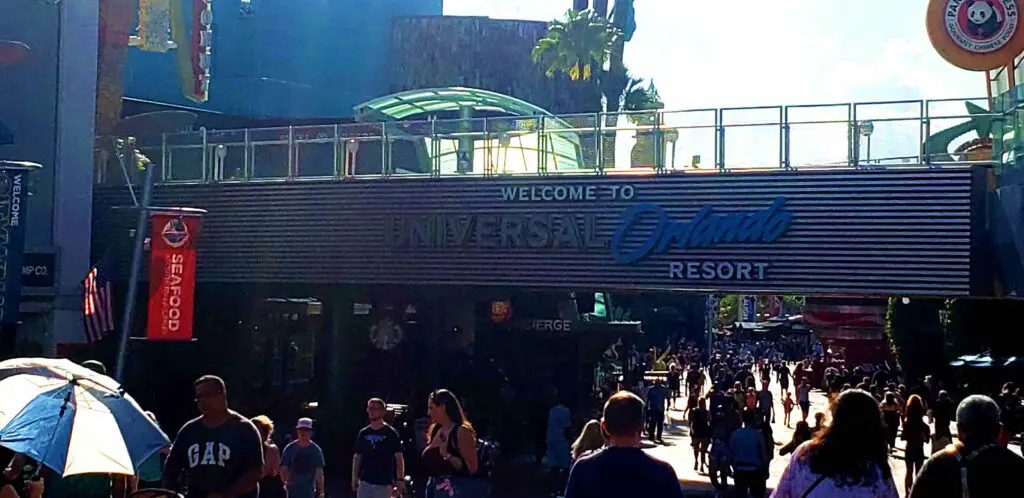 After you cross over from the parking lots (and unfortunately, you will have to pay to park even if you aren't entering the actual park), the Bubba Gump Shrimp Restaurant is located at the entrance of CityWalk and is super easy to get to.  No park ticket is required to visit the Bubba Gump Shrimp Company since it is located before the Universal Studios park entrance.
After you are done eating at Bubba Gump, make sure you leave time to visit the Universal Parks. There are two different parks with different rides and theming. Comparing Universal Islands of Adventure vs Universal Studios is tough because there are so many great attractions in each park that you should visit each one!
Bubba Gump Orlando: Bubba Gump Review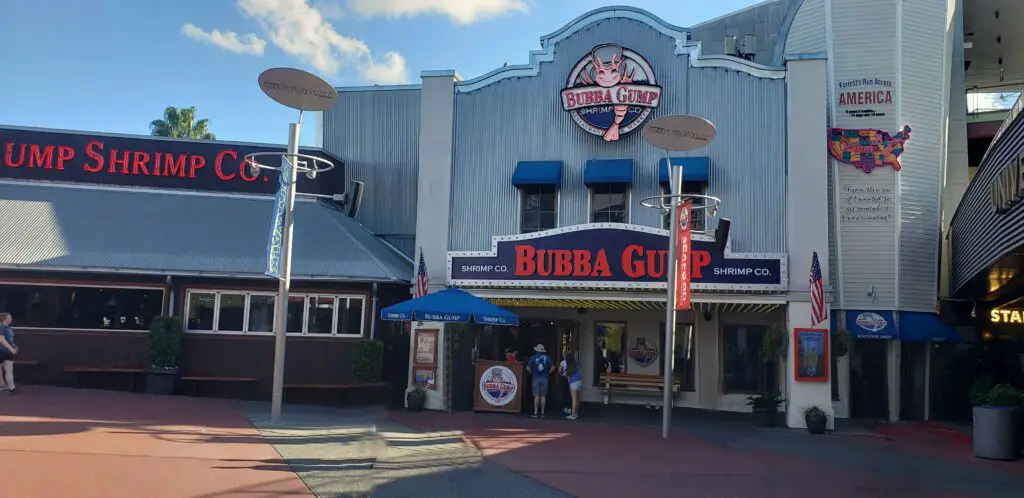 We discovered it was a great place to go before Halloween Horror Nights because of its easy access and quick service!
Bubba Gump Reservations
We made reservations for Bubba Gump Orlando for our large party for dinner on Halloween Night.  Believe it or not – it was not super busy when dined before Halloween Horror Night.
When we arrived, we followed the SMILES, watched some Forrest Gump on the large-screen TV, answered some Gump trivia questions, and were quickly seated.  Our talented server brought us our drinks in an impressively tall stack and sadly I only photographed him when they were two-high so I can't show you exactly how impressive it was.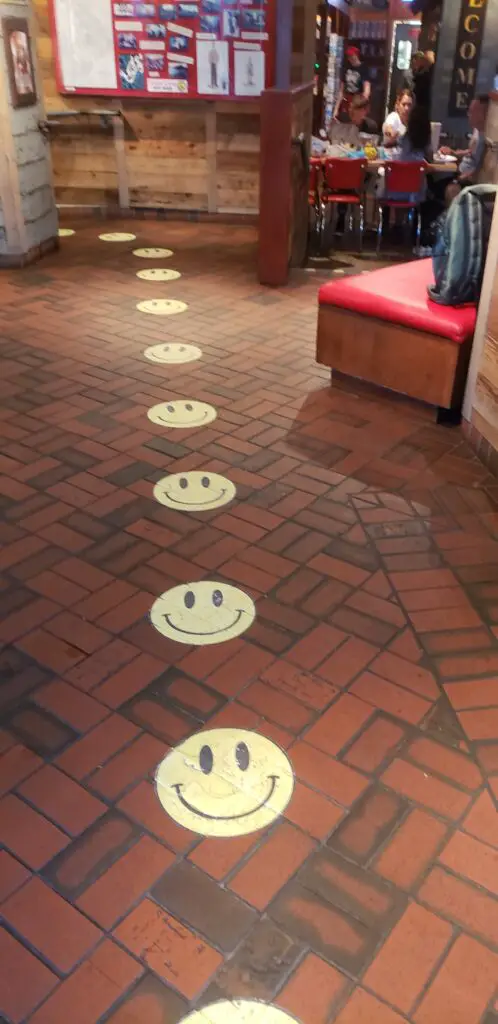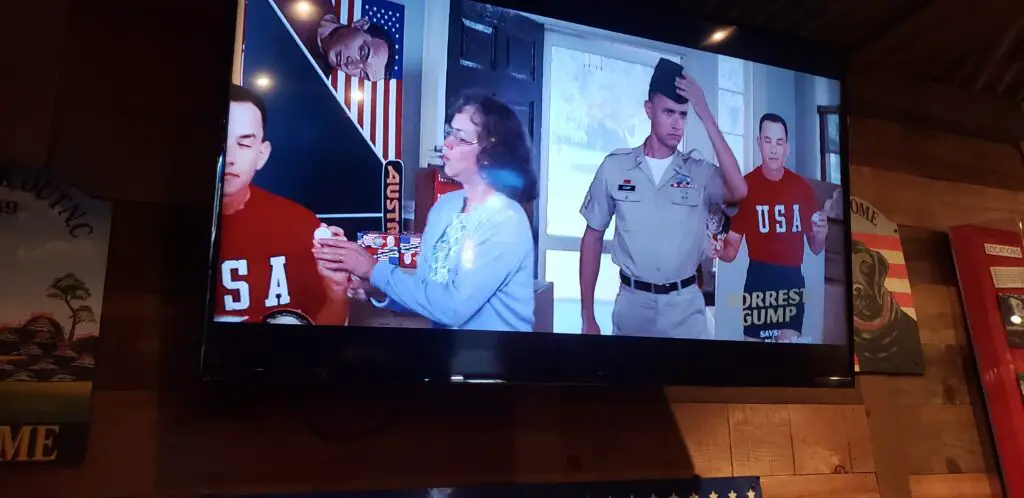 Bubba Gump Shrimp Menu
If you guessed that they served SHRIMP at Bubba Gump Shrimp, you are correct!  They have many different shrimp dishes on the Bubba Gump Shrimp menu–just listen to Bubba list them all in the first video of this post!! — as well as other sorts of seafood often with Forest Gump-inspired character names.  The appetizers are huge and the fries come in an enormous bucket.  So, I hope you come to Bubba Gump Shrimp when you are hungry!  I think you will leave very satisfied!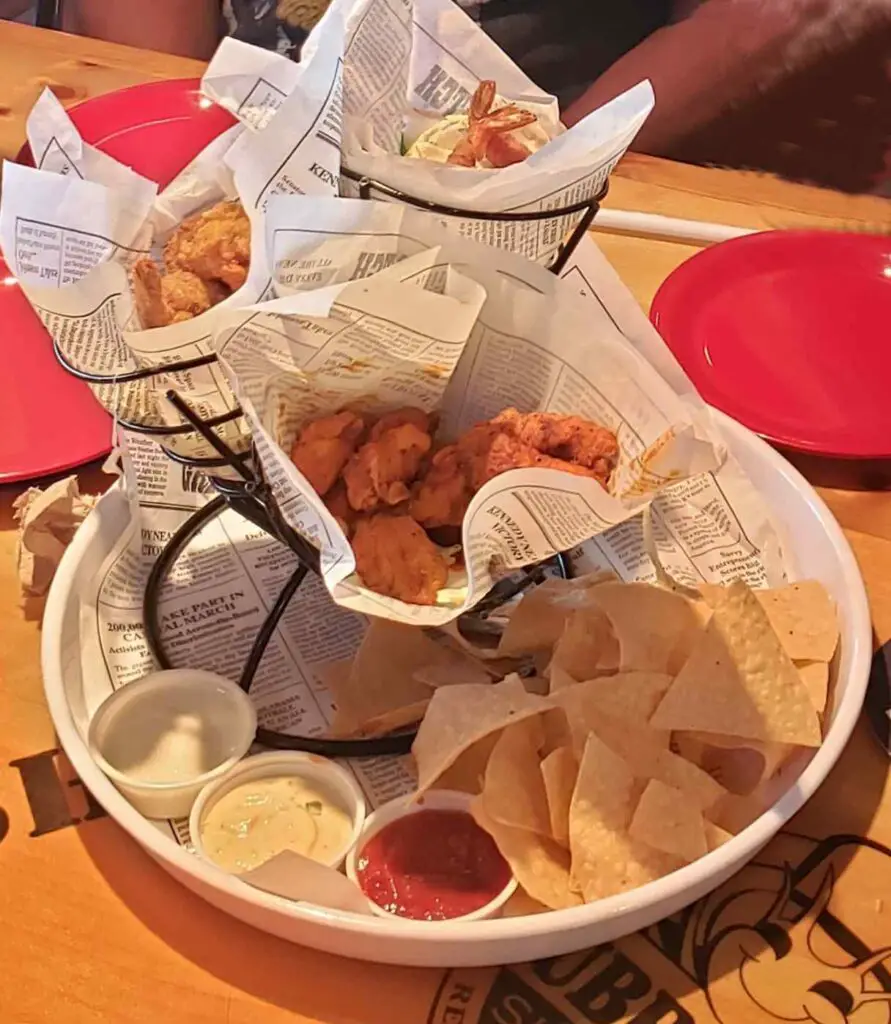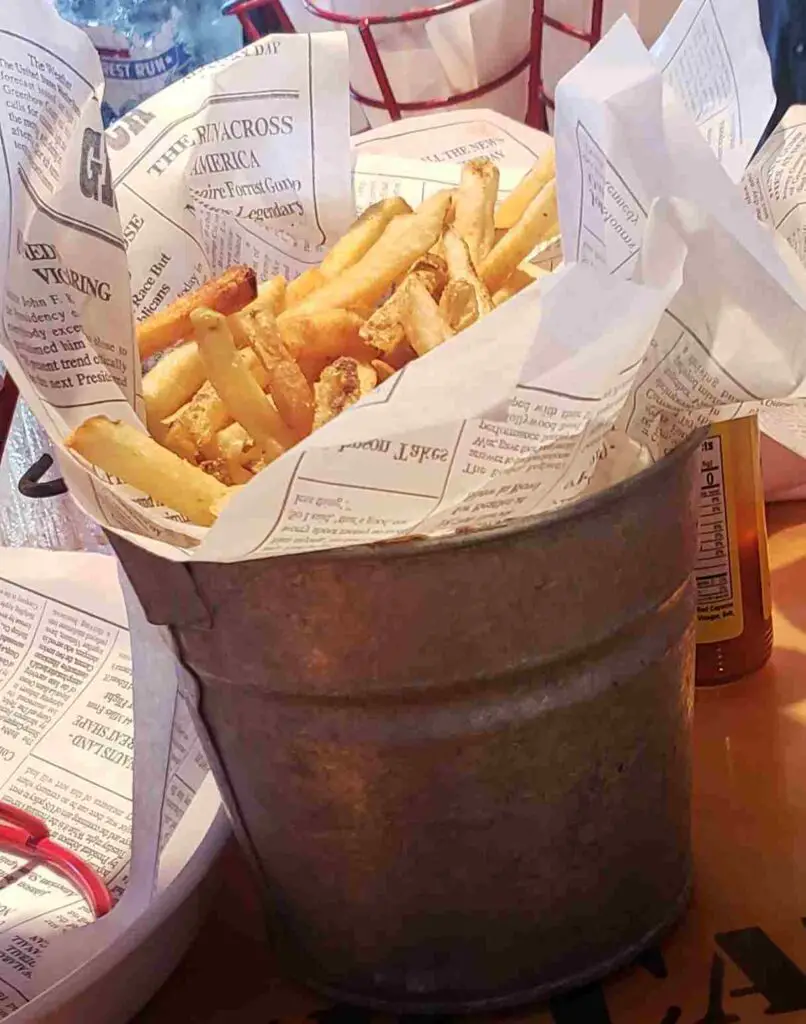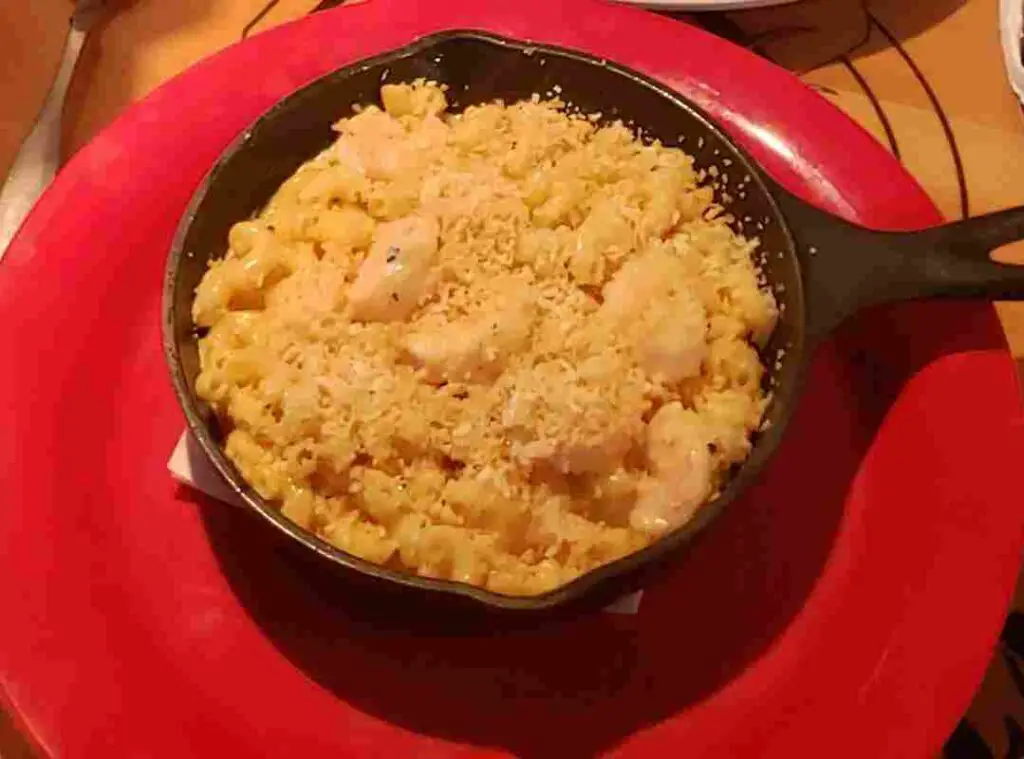 Dining at Bubba Gump Universal Studios Orlando
Don't go raising your hand to signal for the server.  They don't do that at Bubba Gump!  There is a STOP FORREST STOP sign that you flip up to get their attention and they will promptly run to assist your table.  If all is well and you are enjoying your meal, leave the sign flipped to RUN FORREST RUN.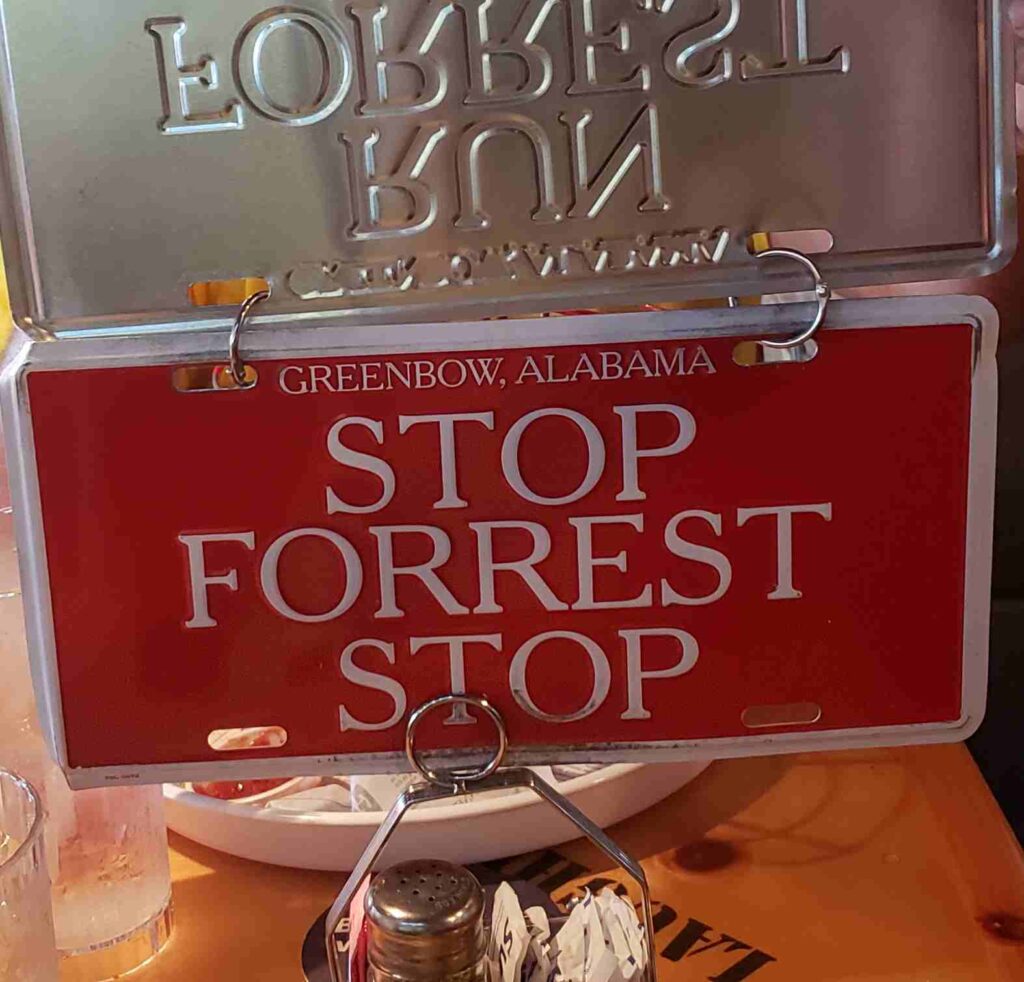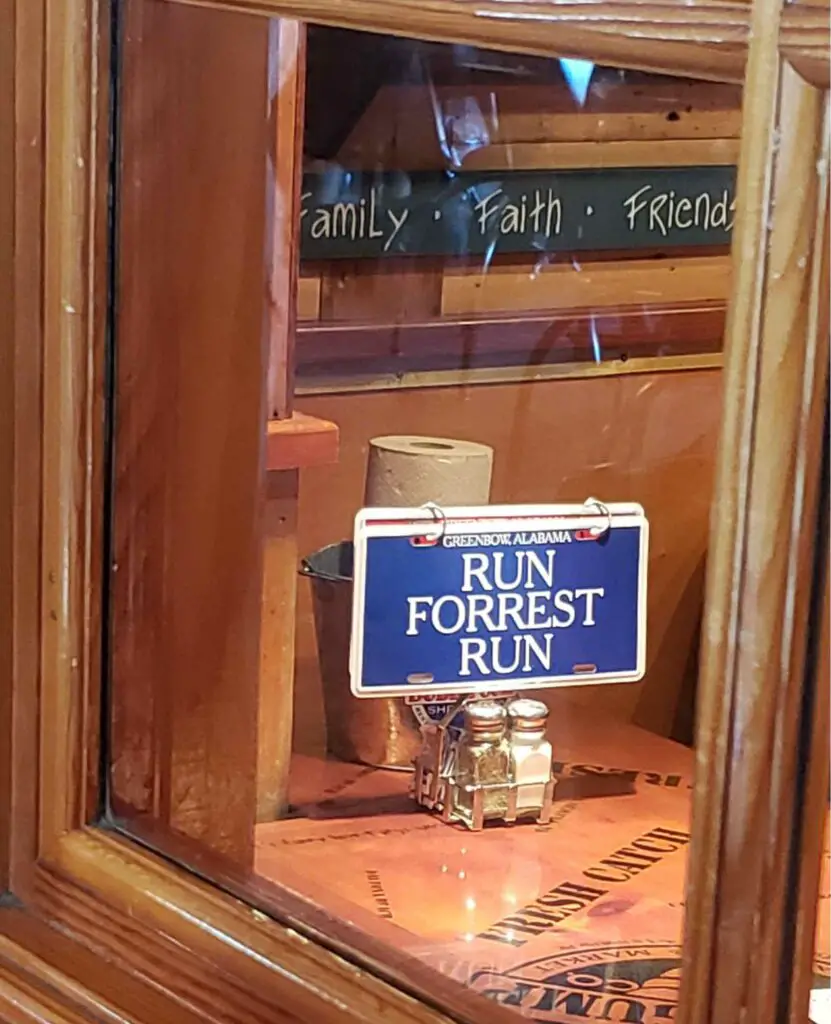 Shopping at Bubba Gump Universal
There is a small Bubba Gump store at the entrance to the restaurant.  You can find every trade-marked item imaginable here. And don't forget all those catch-phrases! Which one is your favorite?  There are tons of souvenirs for your visit to the Bubba Gump Shrimp at Universal Orlando and a whole wardrobe to go with them!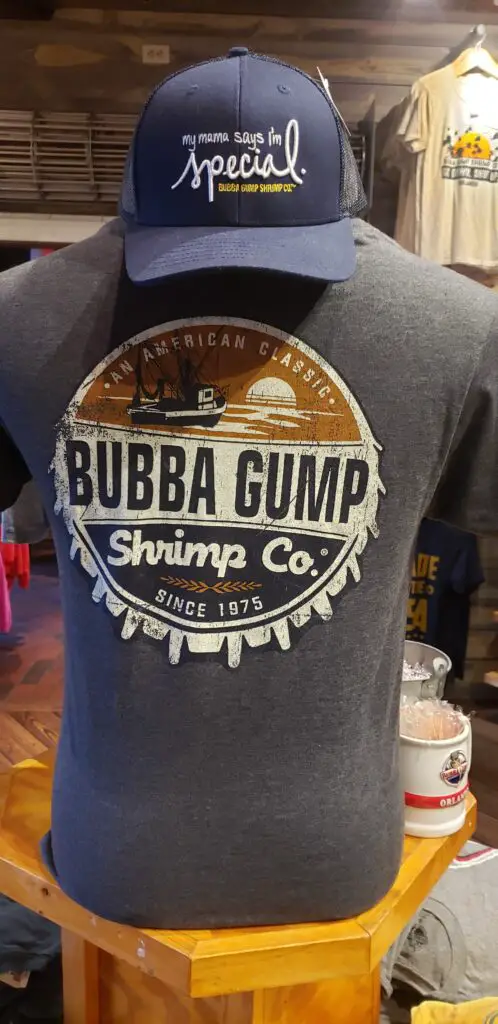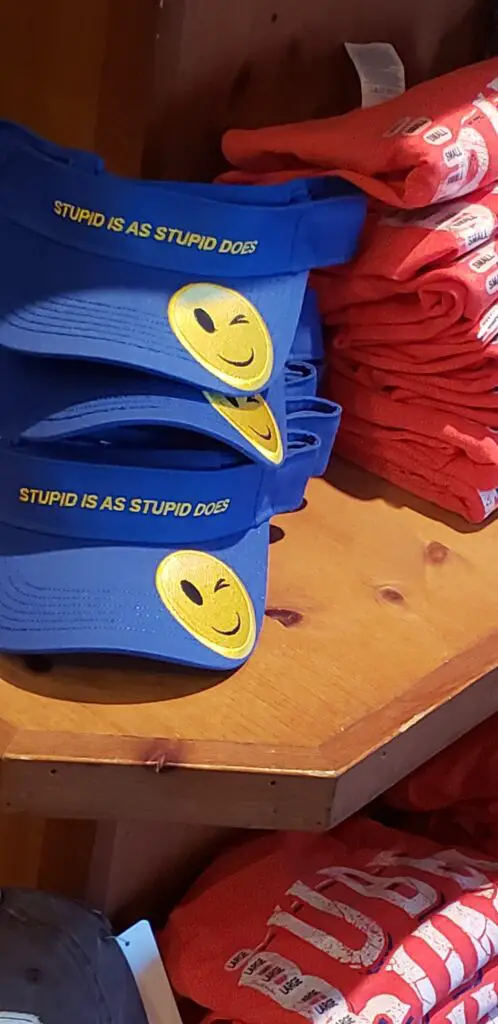 And now a side note of particular interest!
Discovery of Chris Pratt at Bubba Gump
My family has just watched a Marvel Movie Marathon.  I never knew there were quite so many of them and it really did take a LONG time!  All those movies are fresh in my mind, so when I read about Chris Pratt, it caught my attention.
Chris Pratt –of Guardians of the Galaxy fame to me–  was working at Bubba Gump Shrimp Company a good number of years ago in 2000.  As a waiter, he served a famous director, Rae Dawn Chong, who offered him a role in the current short movie she was directing at the time.  AND that was the start of all his success!  Discovered at Bubba Gump!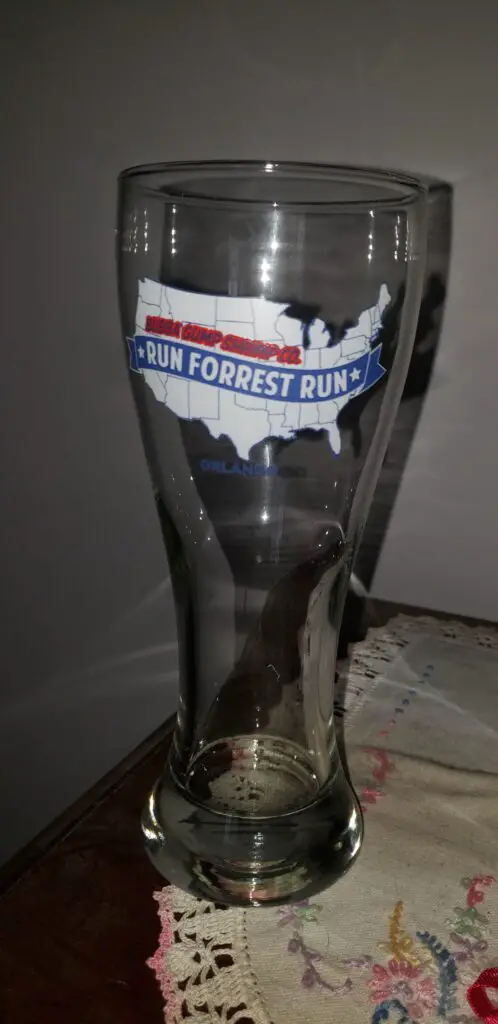 How does that happen?!?!  The waiters at Bubba Gump are very entertaining, so go see for yourself and do your own Bubba Gump Shrimp Review!
And on that note, perhaps this is the perfect time to say:
"Life is like a box of chocolates, you never know what you're gonna get."
Like this Post? PIN IT for Later!