DISCLOSURE: I may link to relevant products, companies or helpful info which may be affiliate links, meaning I may earn a small commission. As an Amazon Associate & other affiliates, I earn from qualifying purchases at no extra charge to you. The views & opinions are my own. Please see the disclaimer and privacy policy.
Last Updated on July 23, 2022
Bright Suns! 
There is a lot to see and do at the new Star Wars Galaxy's Edge land in Disneyworld's Hollywood Studios.  The new part of the park has been open for quite a few months and the guests are still flocking to see it.  IT'S THAT GOOD.  If you brave the crowds to join in on the experience, there are several things that you won't want to miss.
HOW TO GET TO DISNEYWORLD STAR WARS GALAXY'S EDGE
At Disneyworld in Orlando, Florida, Black Spire Outpost is located on Batuu, which is a planet on the outer rim of the galaxy near the wild space.  To get there, you will need to enter Disney's Hollywood studios and follow the crowds to the back end of the park.  You will pass through a magical underpass that will transport you to this galaxy far, far away.  While here you will encounter many villagers and smugglers that are hiding from the First Order, as well as the First Order armies and militants that will try to recruit you to their side. 

UPDATES: Changes in Disney Park policies due to Coronavirus
There are a lot of changes in the Disney parks due to the pandemic, so make sure you know the latest news. Disney parks now require a reservation for entry. With a valid Disney park admission, you can make your reservation with the Disney Park Pass System.
Rise of the Resistance has a new Virtual Queue system. Beginning at 7 am, if you have a Disney Park Pass and a valid admission ticket you will be able to reserve your boarding group –even before you leave your hotel room! This makes the process a little more relaxing since you will no longer have to wait until you enter the park for your first boarding queue opportunity.
There will be a second virtual queue opening for Rise of the Resistance at 2 pm for those guests inside the park that were not able to get into the first queue. Also, for the safety of all guests and to maximize boarding groups, Disney added some clear barriers between the rows in the Transport Vehicles.
Face coverings are required to be worn throughout the park. Make sure that you bring your face covering to the park so that you will be able to be admitted.
DON'T MISS THIS at Star Wars Galaxy's Edge
As a child in the 1970's, I grew up appreciating the rise of the Star Wars legacy.  I lived and breathed the original movies and had all the action figures.  I watched and re-watched "A New Hope," cried at the loss of Solo in "Empire Strikes Back," and cheered during "Return of the Jedi." 
The newer set of films is still a little foreign to me since I have not watched them a million times.  However, I was still able to appreciate the theming in Star Wars land fully.  If you are not a fan or haven't even seen any of the movies (the friends we were traveling with had not seen a single minute of the Star Wars movies), you will still be able to immerse yourself in the incredible interactive theming.  —and it might just get you to tune in to the Mandalorian when you return to Earth!  Whether you are a born Star Wars fan or a newbie, take your time walking around Black Spire Outpost so that you can take it all in.
Dont miss a thing!
Sign up for a Disney VIP Tour to save time in expedited lines and expert planning from park to park.
Experience the Rides at Star Wars Galaxy's Edge
Of course, the rides are the main attractions for any area in the Disney parks and in Galaxy's Edge, they went ALL-OUT with the theming and interactive elements in the two rides that are included in the Batuu. 
Millennium Falcon Smuggler's Run
**Note** Smuggler's Run is now a Tier 1 Fast Pass ride at Hollywood Studios.
**Spoiler Alert**  Smuggler's Run is a group interactive simulator ride on the Millennium Falcon ship.  Through the queue, you are led through the Batuu spaceport, filled with detail and authenticity.  You wind your way above the docked Falcon and through the flight decks that convince you that you have actually entered this port and are about to board the ship. 
There are 3 job assignments that are handed out randomly in the queue: pilot, gunner, and engineer.  You receive your job position colored 'ticket', proceed to the briefing station, board the ship and enter the cockpit of the Millennium Falcon.  I neglected to read my ticket which gave clear instructions on my job duties.  I guess I was just overwhelmed by the fact that I was in the millennium falcon that I didn't care to read the card—that would have helped me out a lot as I was the pilot and it took me a few minutes to realize what I had to do to control the ship and we did crash just a little bit! –they do give verbal instructions too, but by then you are already flying!
Your ship quickly jumps to light speed and you are given instructions on what to do to destroy the enemy (gunners need to be efficient here) and succeed on your mission.  We did end up crashing into things and causing a lot of damage to the ship.  There is a little bit of autopilot going on as I was sure that we were going to crash at the end, but ended up landing safely so that we could continue our day at the park, alive and able to spend money on Star Wars memorabilia.
Rise of the Resistance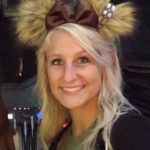 There is no stand-by line for this ride!  There are no fast passes for this ride!  What?  Then how do I ride the new Star Wars Galaxy's Edge Rise of the Resistance Ride?
Tips, review, and photos were done by special invitation MoyerMemoirs Guest Post Writer:  Rebecca Walker
HOW DO I RIDE RISE OF THE RESISTANCE?
The best way to ride Rise of the Resistance is to log onto the My Disney App and join a boarding group.  Do this as soon as you arrive at the park since groups are full within minutes.  You can check the status of your boarding group throughout the day and receive a push notification when your group is being taken.  This notification will give you two hours to get to the ride.  After you join a boarding group, you can wander through the rest of Galaxy's Edge at your leisure, go ride Tower of Terror, or even leave to explore a different park!  It's up to you! You just need to make sure that you can get back to the ride entrance within two hours of your boarding group being called.
What to do while you are waiting for your boarding time?
Tour the rest of the Hollywood Studios Park. Make sure that you sign up for FAST PASSES for Hollywood Studios. This park has a Tier system for fast passes. You can sign up to reserve Fast Pass spots for 3 more rides. Read the details and the explanation of the Hollywood Studios Fast Pass and Tier system here so that you can be prepared during your Rise of the Resistance wait time. There are many more fun rides at this park!
RISE OF THE RESISTANCE:  THE RIDE
Disney called the Rise of the Resistance "the most immersive and advanced attraction ever imagined in a Disney Park."  According to the Disney Parks Blog, Star Wars: Rise of the Resistance blurs the lines between fantasy and reality and puts guests in the middle of a climactic battle between the First Order and the Resistance.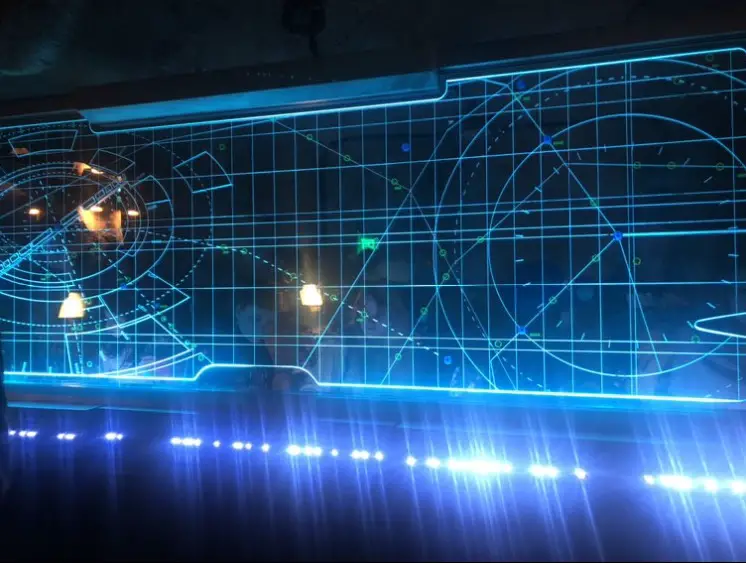 RISE OF THE RESISTANCE:  THE RIDE DETAILS
**Spoiler Alert** Travelers enter the ride through a cavern hidden behind a waterfall and enter a hidden base on Batuu built by the Resistance. Inside throughout the queue, there are supplies, cables, and crates along the halls. There are even conveniently placed benches built into the walls out of stone that fit right into the theming. You pass an elaborate light-up board of the Resistance plans, cages with blaster models and flight suits. Walking through the line is really cool, and everything is extremely detailed (there's simply no way to see everything the first time).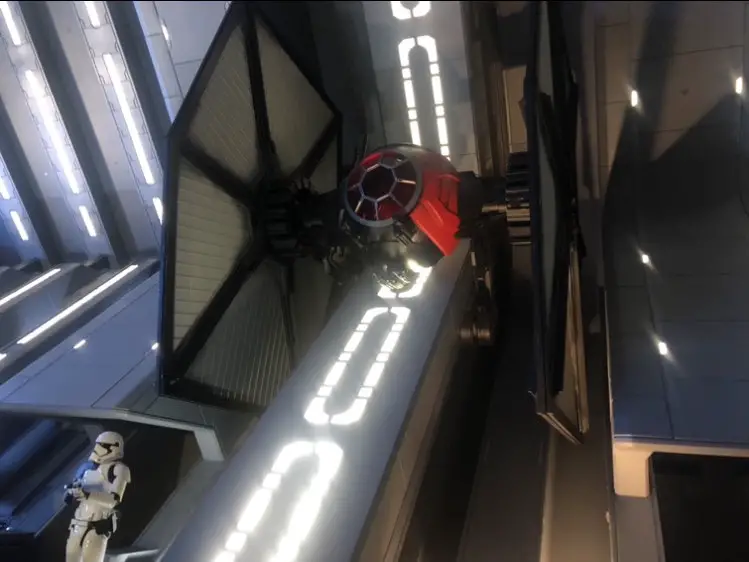 The pre-shows begin this 18-minute 3-part ride.  The first show is a briefing with BB-8 and a hologram of Rey Skywalker, asking everyone to join them in the fight. Arms dealer Nien Nunb and Communications Officer Lieutenant Bek hold another briefing and assist in the secret mission, while Resistance General Poe escorts the group in his X-wing. Once you leave the room you head outside to board a transport shuttle.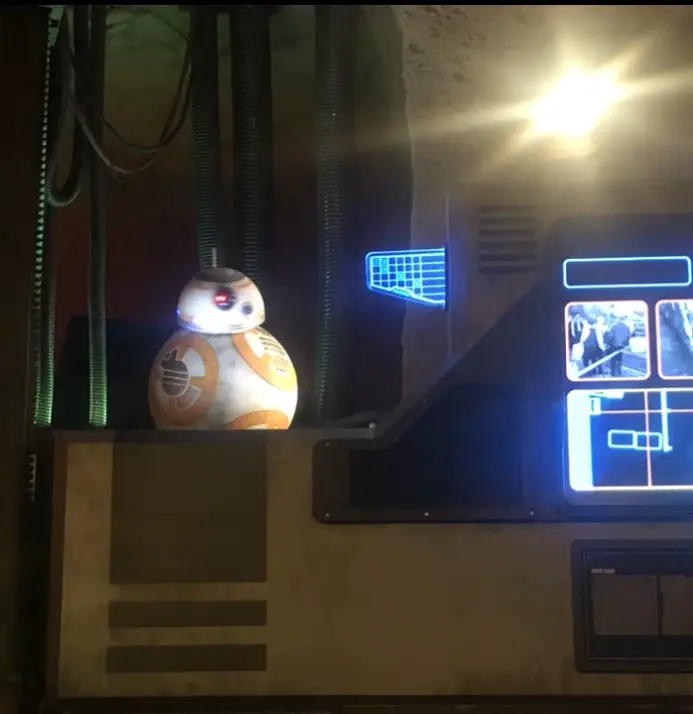 Part one of this immersive ride begins inside the transport shuttle.  Inside you go through a simulation through space, and although you stand the entire time it is not too intense to handle.  A First Order Star Destroyer sucks your transport ship in with a tractor beam as General Hux comes on the screen telling you to lower all your shields.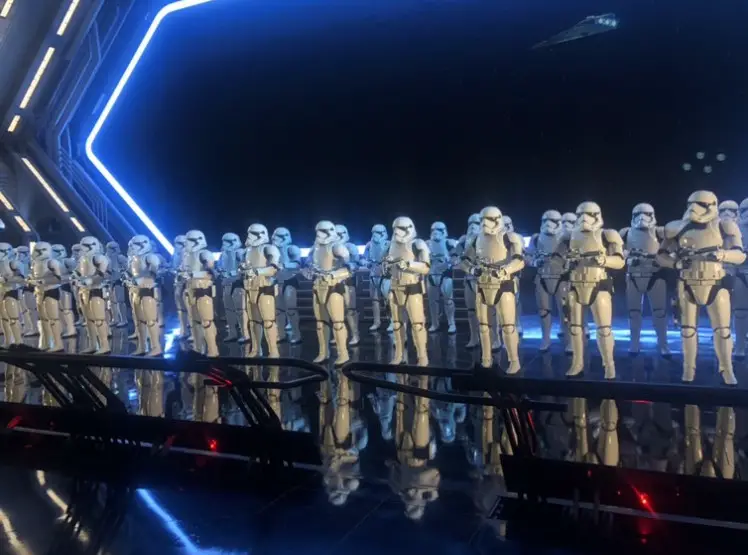 When the doors open, part two begins as you are now inside the Star Destroyer.  You enter a huge room and there are at least 50 stormtroopers standing there silent. Some watch you as you leave giving you an eerie feeling as you go. Are they real or animatronic?  It's difficult to tell which ones are real!!
There is even a Tie Fighter on the wall ready for when needed. As you go through the next set of doors you go through a hallway to the detention block to be interrogated by First Order Troop members, who play the part very well — very rude and making you feel a tad uneasy.  Everyone is separated into smaller groups and sent to cells where more stormtroopers watch over you.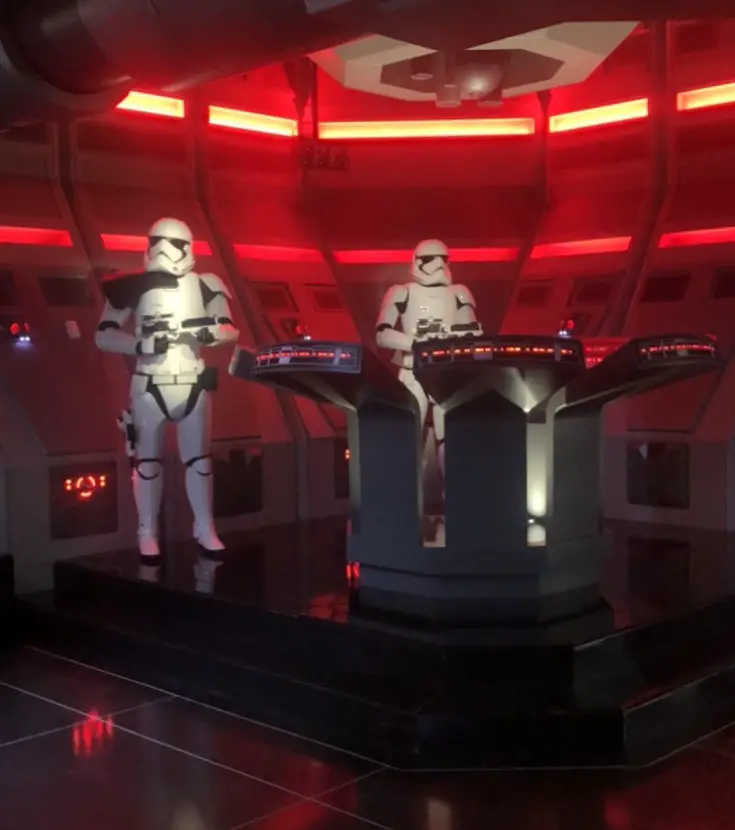 Part three of the ride begins when resistance troops eventually blast the wall away to help everyone escape. About 8 people get into a trackless vehicle with droids guiding the way through the halls finding an escape route. One of the coolest parts was entering a room with two HUGE, life-size AT-AT walkers that your vehicle must dodge.
Throughout the entire escape, you are being chased by Kylo Ren and will have several interactions with him. Once your vehicle drives to the loading bay and back to an escape pod you "drop" down to Batuu once more. By drop, there is a 10-20 foot drop that was unexpected by me, but it felt like more. It was such a thrill and added to the excitement of running away from the First Order. Be safe travelers and outrun the First Order!
Enjoy the Theming at Star Wars Galaxy's Edge
Photo ops are everywhere –from views of the Millennium Falcon and a Tie Fighter to droids and other galactic rubble parked along the Outpost.  Wander through Batuu and you will only walk a few feet before you want to snap another selfie or catch a shot of the Outpost from another angle.  Look up at the buildings and look down at the droid track in the dirt. Over your head in surround sound, you will hear the jets flying in from other planets, above the clouds and ready to land at the Outpost. This land is a multi-sensory experience!
On our walk past the Light Saber Workshop, we came across a Sabacc card game.  I guess it is a mix of poker and blackjack.  Must be a really long game because they were still there when we walked past again after we finished our lunch 4 hours later.
Watch out for the locals at Black Spire Outpost
The villagers are Batuuan who speak Batuuese, which is very similar to English.  Here is a quick Batuuese reference chart so that you are up-to-speed with appropriate references. Greet the villagers with their custom saying "Bright Suns" or "Rising Moons" when you arrive at Black Spire Outpost.  You are a traveler and will soon be asked to declare your allegiance to the First Order who have arrived at Black Spire Outpost in order to win over the villagers and pursue the Resistance.
There is a sector of Black Spire Outpost at Docking Bay 9, controlled by the First Order and patrolled regularly by Stormtroopers.  You will recognize it clearly by the red First Order banners hanging high above the Tie Fighter that is also parked there.  It is located near the First Order Gift Shop –where you can buy First Order gear from a complete Stormtrooper suit for nearly $7000 –or just the helmet for $400 and other gadgets and gear to show your support. 
Make sure that you keep your mouth shut in this sector and refrain from any Jedi-talk or mention of the Resistance unless you want a stern talking to by one of the troopers while they question you about your allegiance.  There are also regular demonstrations by the First Order in front of this sector.
Pose for a Photograph Souvenir with Baby Yoda
All fans of the Mandalorian and Baby Yoda: You can get a photo with the new star at this Photopass shot that is across from the Droid Depot. He is the most adorable TV star since the Gizmo, the Mogwai in Gremlins! Baby Yoda doesn't speak but somehow we seem to know his thoughts.
Baby Yoda Magic Shot now Available at Disney's Hollywood Studios
This is definitely the way! There is a new Baby Yoda (The Child) PhotoPass Magic Shot opportunity in Star Wars: Galaxy's Edge at Disney's Hollywood
Window-Shop and Browse through merchandise only available on Batuu
Dok-Ondar's Den of Antiquities
Dok Ondar has a rare collection of items from all around the galaxy.  He oversees his retail grounds from his desk elevated high above on a caged platform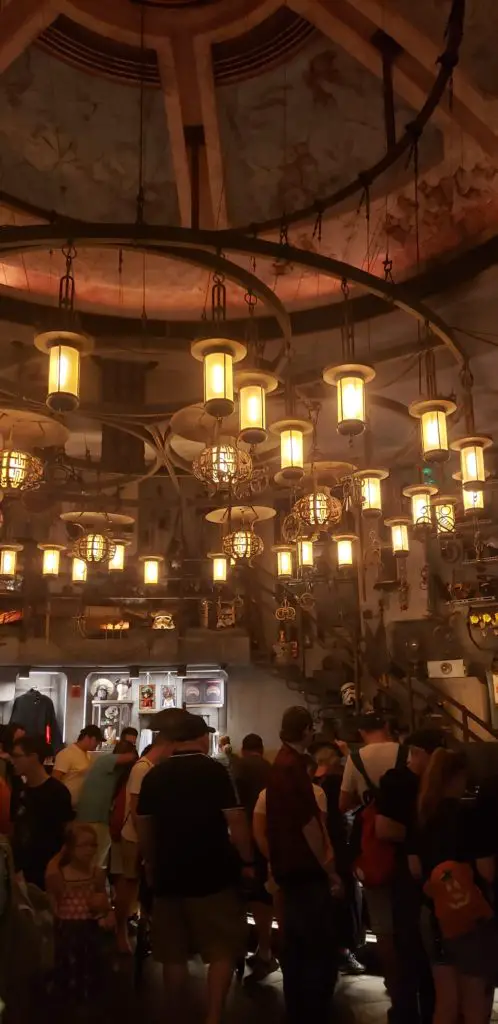 You can spend a long time in this circular shop admiring the artifacts and the theming.  There is a selection of antique jewelry, lightsabers and a whole wall of Kyber crystals and Holocrons.  The more valuable pieces are kept high on shelves for your admiration.  This is a must-see just to set your eyes on all the beautiful busts, masks and artwork on the walls! 
If you are set on a particular lightsaber, rather than building your own custom-made one, this is the place that you can find it.  With price tags from $100 – $130, you can purchase Obi-wan, Darth Maul or Luke Skywalker's lightsaber!  Even the doors on this shop are exciting!
The Market
The Black Spire Outpost market is modeled after Moroccan open-air markets.  There are four main stalls located in the market: Creature Stall, Jewels of Bith, Black Spire Outfitters and Toydarian Toymaker.  Each of these little shops has unique merchandise that is only available in Batuu. 
The Creature Stall was my favorite since it houses unique creatures that were created by Star Wars.  You can adopt a plastic Puffer-pig or a furry Tauntaun to accompany you back to your home on Earth. 
Jewels of Bith hocks the typical Black Spire Outpost merchandise that one must obtain when traveling to a new land.  At the Toymaker's shop, you can find unique toys and games, unlike anything that you have seen before, perfect as a gift for the little Star Wars lover that you were not able to take with you on your journey to Disney.  Black Spire Outfitters is the local tailor's shop that features attire that any Batuuan would be searching for, including Jedi robes in all colors and armbands, vests and robes that are properly themed.
Participate in Unique Batuuan Activities
Build a droid at Droid Depot
Reservations are required for this extra fee activity ($100).  For that price tag, you can build your own BB-series or R-series droid by assembling all the parts and chips from a blueprint.  The parts station is a conveyor belt full of all the parts, so you will need to identify which parts you need from your blueprint as they pass by on the belt.  From there, you proceed to the assembly station to put together your droid.  It is a quick activity that should take about 15 minutes, including installing the optional personality chip and finally activating your new droid.
If you don't want to pay the heft price tag for assembling your own droid, you can still enter the Droid Depot since it is a merchandise store on one side.  You will be able to see everything as you walk through and the view of the droid assembly line is FREE.
Disney has built interactivity into the land so that your droid can come alive.  You can purchase a backpack for your new buddy so that it is easier for him to interact and beep with other droids and the interactive elements and moan in despair when you get too close to the First Order.  There is also a droid playground of sorts, where you can let him roam free!
Build a Light Saber at Savi's Workshop
Savi's Workshop is another reservation-only pay-to-play activity and the price tag on this one is $200.  Note that you are not only paying for the lightsaber merchandise, you are paying for the experience, but only one other person can accompany the builder inside the workshop. There is no free viewing of this activity.
Lightsaber building is considered a secret operation, so the workshop is camouflaged and difficult to find.  Signs will not help you since they are written in Aurebesh, the written language of the Star Wars galaxy, throughout Black Spire Outpost, so consult a Disney map or ask a cast member for help, just make sure you don't alert the First Order of your intentions.
The building experience is very well themed and ends with the builder forging a bond with the new lightsaber.  Each builder is reminded that they can change the galaxy.
Replenish your Energy at Black Spire Outpost
There are many places to eat and drink around Galaxy's Edge. Here are the most notable if you have enough time and room in your belly to fit all of this food.  It might be a good idea to eat some snacks and then come back later to try a meal!
Oga's Cantina
This is a well-themed bar that you will need to make reservations for.  Definitely make plans to visit this watering hole because this is the best theming of the land.
Reservations for Oga's Cantina
Do you want to make sure that you reserve your seat at Oga's? Enter the information below for a downloadable checklist for making reservations at this popular Disney Cantina.
They serve non-alcoholic drinks as well as those tainted with spirits.  I do not know how on earth they came up with these concoctions that have been deemed suitable for human consumption, but there are quite a few that are very unique.  There is one that comes with a warning if you are from earth.  We got that Fuzzy Tauntaun drink and it definitely made our earthling mouths numb!  [I heard that they were no longer offering this one due to the outrageous price of one of the flower ingredients though] This drink was a hefty $16, compared to the non-alcohol Jabba Juice that was only $6.50.
There is a medium-size helping of little chips and dip called Batuu Bites if you need something to go with your drink.  The chip dish was also not ordinary and was $8.
The entertainment is fit for the establishment.  The servers are attentive and there is an occasional outbreak of celebratory song.  We were lucky enough to obtain a booth since the sitting room is only 10% available and the remainder is standing room at high tables and the bar.
I highly recommend getting reservations to experience Oga's Cantina.  I was not able to get a reservation for 3 people together during our travel dates, but over a period of 4 weeks prior to our vacation and with lots of help from Disney cast members, I managed to get 3 single-person reservations spaced 15 minutes apart. 
Once we checked in at the time of the first person's reservation, within 5 minutes, they whisked us past the long line, took us inside and seated us all together.  It felt like some red carpet treatment but was only because we thought ahead and made the reservations unlike all the rest of the people in line for standby.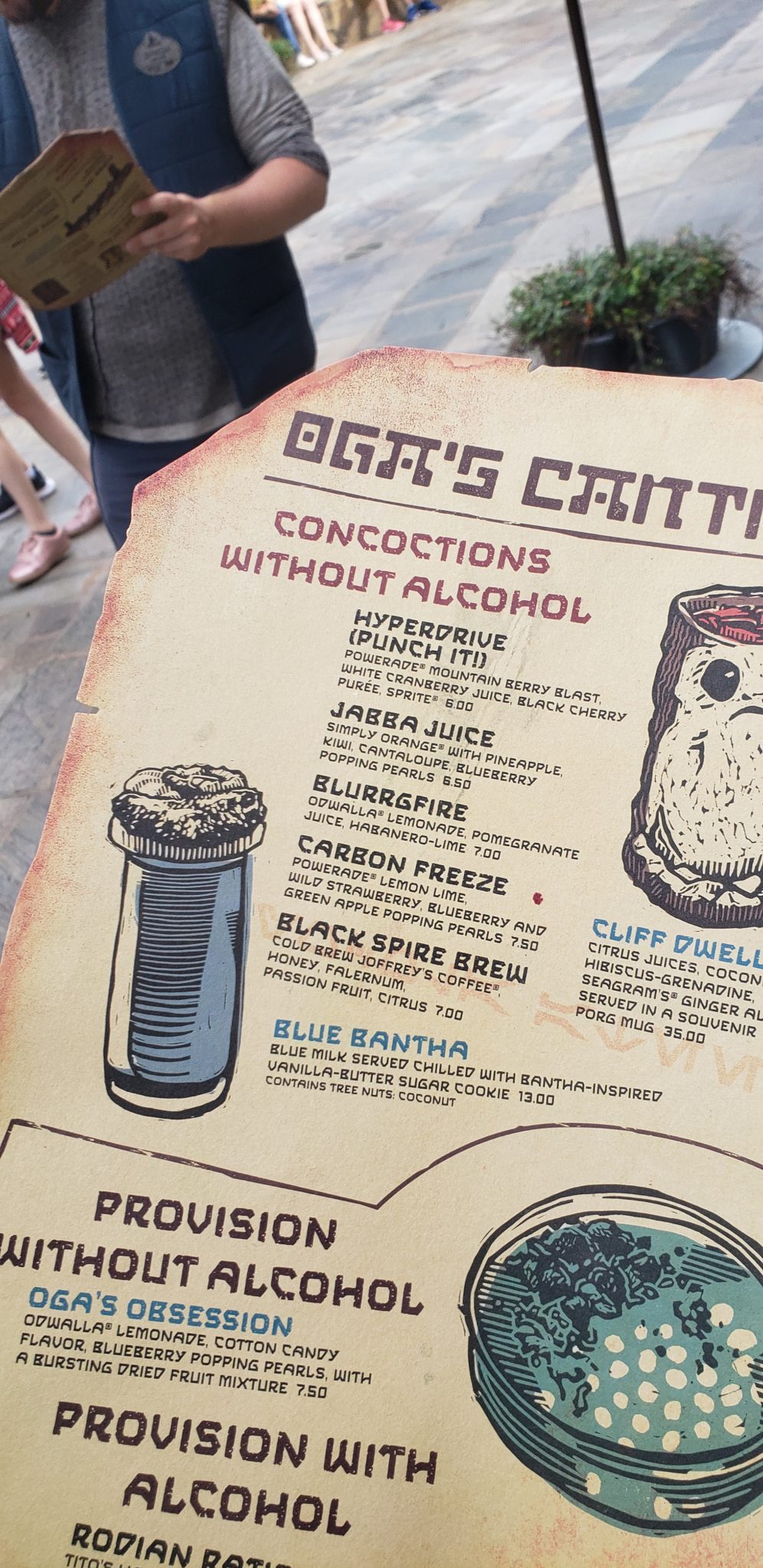 Docking Bay 7 Food and Cargo
The theming of this counter-service restaurant is, of course, a docking bay in space.  This is the only place that you will be able to get a complete meal in Black Spire Outpost.  With no shortage of theming and props, there is plenty to look at during your short wait in line to order.  It has a lot of indoor and outdoor seating so you can rest your weary feet.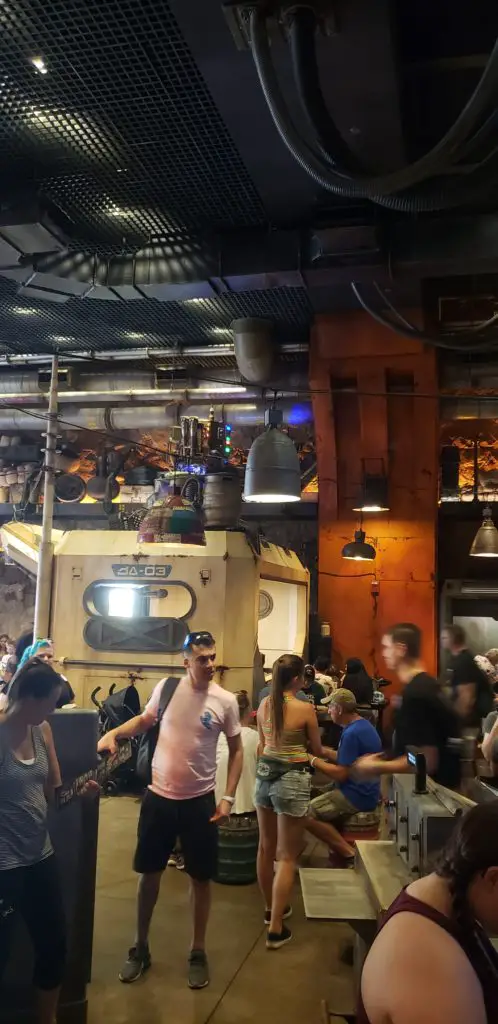 The prices are not overly inflated for Disney.  We sampled the Surabat shrimp noodle salad ($16), the Peka pasta rings youngling meal ($9) and the Batuuan beef pot roast ($19) for our lunch and were not disappointed.  We would have loved to try the desserts, but all the other snacking that we did made our stomachs filled to capacity.
Milk Stand
Blue milk, also known as Bantha milk is sold at the Milkstand and many other eateries around Batuu.  It is rich-blue in color, has some sort of a berry taste to it and surprisingly contains no dairy products -just a blend of coconut and rice milk with added fruit flavors. 
Luke Skywalker has been drinking it since the early days of Star Wars.  The actor that portrays Luke Skywalker, Mark Hamill, said the prop liquid he had to drink was a "gross, oily, sickly sweet milk dyed blue," quite the contrary to the delicious glasses sold in Galaxy's Edge.  Once you try the blue milk for $8, they have also concocted a green milk, that Luke drinks in The Last Jedi.
Kat Saka's Kettle
One of the stalls in the market is Kat Saka's Kettle.  This merchant sells an outpost popcorn mix which is a colorful blend of sweet and spicy flavors, popped in coconut oil for about $7 and if you want it in a droid replica bucket, it is $20.  This is a unique flavor of snack if you are still hungry when you are traveling through the market.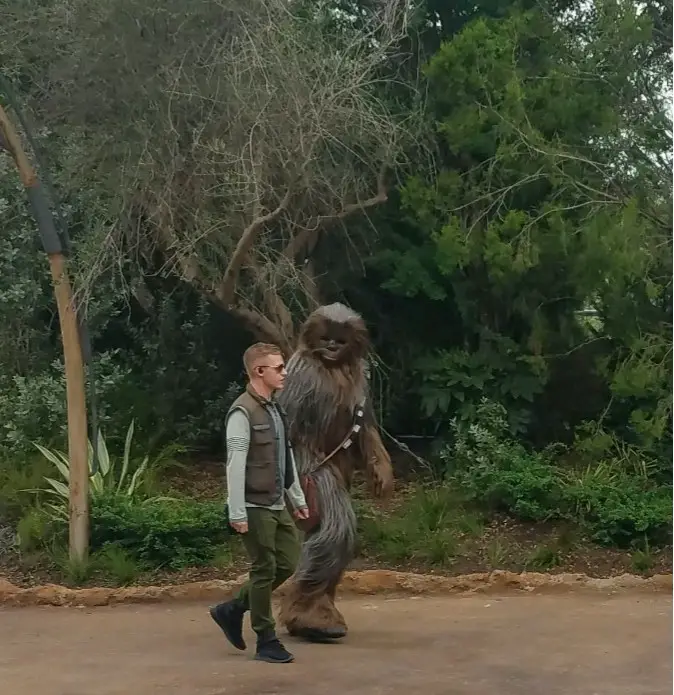 Water fountain
Even the water fountain –or hydrator- is nicely themed and seems to fit into the Batuu environment.  There is even a handy water bottle filler.  –And when you need to make a pit-stop after all this food and drink intake, the bathrooms are a hit also.  These are called Refreshers and were not spared from the theming since they also make you feel like you have traveled to Black Spire Outpost.
Revisit Disneyworld's Star Wars Galaxy's Edge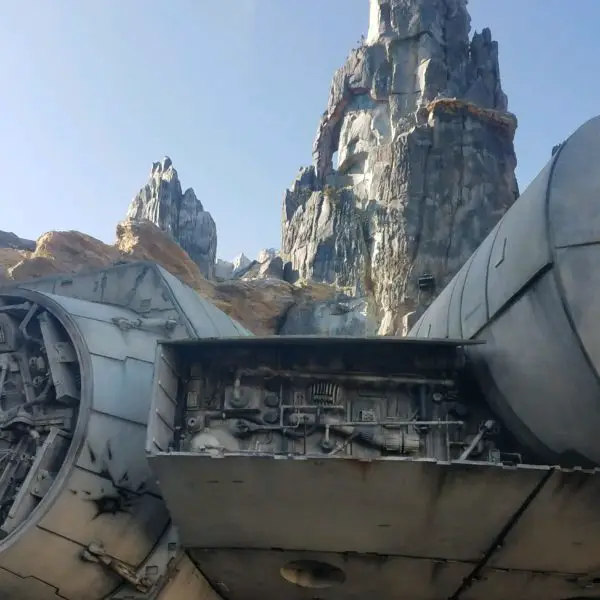 Now that you have done all the Must-Sees around Black Spire Outpost, go back through the village and experience them again.  Since it is all very interactive, you will encounter something new each time you visit.  I can't wait for my return visit!
Like this Post? PIN IT for later!