DISCLOSURE: I may link to relevant products, companies or helpful information. Some of these links may be affiliate links, meaning I may earn a small commission. As an Amazon Associate and associate with other affiliates, I earn from qualifying purchases at no extra charge to you. The views and opinions are my own. Please see the disclaimer and privacy policy.
Moyer Memoirs is aware that these uncertain times are limiting many aspects of life including travel. I am continuing to feature travel destinations so that you can dream of future trips and travel virtually for now. I don't expect or encourage you to go check them out immediately. I hope my articles inspire your future adventures!
Last Updated on January 15, 2021 by Michelle Moyer
Coming from a suburb of Cleveland, I grew up taking lots of trips to Niagara Falls, Canada, since it is so close.  It is 3 ½ hrs from Cleveland, 1 ½ hrs away from Toronto and just a drive across the bridge from Buffalo, New York, so it is reachable from many directions and makes for a quick and easy day or weekend trip.  
There are lots of tourists and lots of tourist activities surrounding Niagara Falls, one of the seven natural wonders of the world.  Even in the winter, when the snow blankets everything and there is a chill in the air, there are many things for you to do while also enjoying a smaller crowd since it is not tourist season. Niagara Falls in the winter is a great vacation destination!
Awesome things to do in Niagara Falls in the winter to plan your trip!
The Falls
Niagara Falls were formed over 12,000 years ago from melting glacier waters that wore away at the embankment and then plunged over the side to eventually form the rivers below.  There is now a maintenance plan to preserve the falls by diverting some of the water to the hydroelectric plants on the American and Canadian side, which generate 5 million kilowatts of electricity.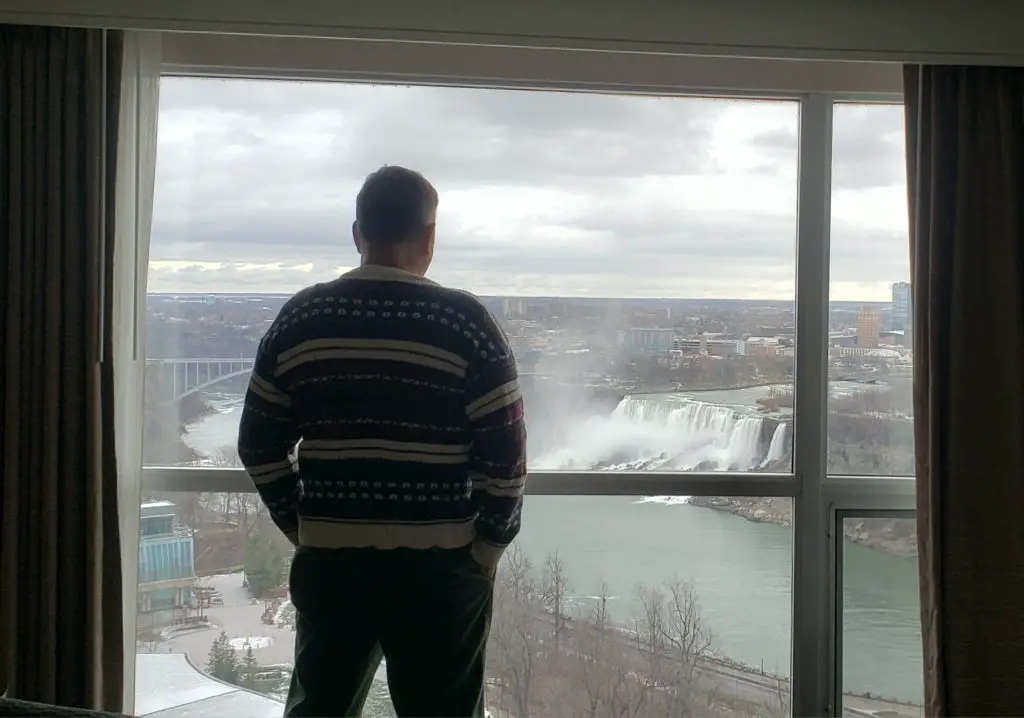 Hotel Overlooking the Falls – Embassy Suites by Hilton Niagara Falls – Fallsview
Still need a place to stay? This hotel has awesome rooms overlooking the falls. Our room was on the lucky 13th floor and we had a wonderful view! Click on the link below to get your own Fallsview Room and if you use this promotion, you will get a percentage off!
They also have a PRICE MATCH GUARANTEE, so that you are reassured that you will get the best price.
The water still flows in the wintertime but results in dazzling displays of ice sculptures when the temperatures start to dip below freezing.  The powerful rush of the waterfall and the mountainous piles of snow and ice down below are a beautiful winter scene that should not be missed.
The mist that continuously creeps off of the falls blankets everything in layers of crystals and ice in the winter.  Some of the walkways nearest to the falls are closed due to slippery conditions.
Don't forget to dress warm!! That cold winter wind will blow through you and give you a chill. Wear comfortable boots for walking throughout the sites. There will be snow and ice around so make sure you have good footwear.

Need help planning your trip and crossing the border into Canada?
Illumination of the Falls began in 1907 with white lights.  Nowadays, every evening at dusk the falls are illuminated with a rainbow of beautiful colored lights to create a multi-colored masterpiece for your viewing pleasure.  To mark significant dates and holidays, there are also custom color displays.  The illumination schedule lasts from dusk until late at night, so you have plenty of time to view from the walkway and also from indoors while you dine for dinner.
Opens November 2021 – Plan Now!
Since 1982, the city annually puts on a holiday light festival that stretches along the edge of Niagara Falls Parkway on the Canadian side and has grown into Canada's largest light displays.  The festival lasts from November until January.
There are bus tours that leave from several of the larger hotels, but I suggest walking so that you can enjoy the displays at your own pace.  The main area is a span of about 3 miles in front of the Falls, but there are also displays on Dufferin island and as far as Clifton Hill, so if you feel energetic you can walk a long way, or drive if you have your own car.  There are different themed areas and even a kid-friendly play park where the little ones can let off some steam.
For more details about all the light art surrounding the Falls at the Niagara Falls Winter Festival of Lights, please see my post describing all the displays.
Annual Poinsettia Show in Niagara Falls
Opens November 2021
The Annual Floral Show is located at the Floral Showhouse on the Niagara Parkway and has a brilliant display of holiday lights illuminating its exterior. Inside, the holidays bloom in beautiful colors, with a festive floral display of poinsettias, cyclamen, azaleas, Christmas cactus and paperwhite narcissus, and many other surprises. The spectacular outside lights are free to enjoy, but the inside floral show has an admission charge.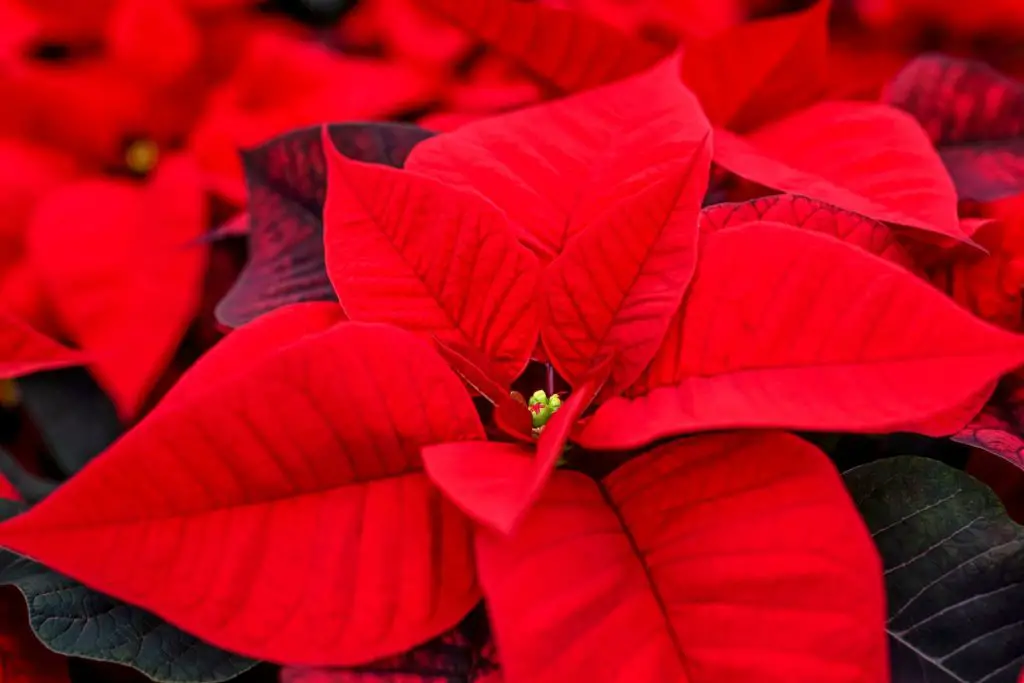 Who doesn't love a nice fireworks show?  With the Falls as a backdrop, the fireworks become even more special.   They are lit on the Canadian side and can be seen anywhere along the banks on either side.  There is a good view at the area at the end of Clifton Hill.  From here, you can get pictures of the fireworks with both the American and Horseshoe Falls in the background. 
The show is about 7 minutes, just long enough so that you don't get too cold while you are standing there in admiration.  The fireworks are every Friday during the winter season until mid-January –more often during the holidays and subject to weather, of course. It resumes again in the summer season.
For those that want to brave more of the coldness, you can take a trip to the other side of the Horseshoe (Canadian) Falls on a viewing platform.  Yes, you will get a little bit wet from the mist, but it is a very unique experience to get a close view of the backside of this powerful waterfall.  They give you a poncho to wear, but make sure to bring water protection for any camera or phone equipment that you want to bring to snap pictures to preserve these memories.
Note:  The Cave of the Winds Experience on the American side is closed in the winter due to icy conditions on the bridges, so if you want to get close to the Falls in the winter, this is the activity for you.
TEMPORARILY CLOSED DUE TO COVID
There are a few casinos in Niagara Falls like Fallsview Casino and Casino Niagara where you can warm up, play the slots and bet on your lucky card hand.  The gambling age in Canada is 19 and they check IDs at the door.  The casinos are not only a gambling extravaganza, but they take up an entire building with shops, restaurants and entertainment venues –There was a Christmas ice skating show in the theater while we were there.
Tourism is in full swing on the Clifton Hill in front of the Falls.  There are millions of tourist traps to suck your money and provide hours of entertainment –away from the cold.  Wax museums, laser tag, putt-putt, Ripley's Believe it or not, Haunted attractions, mini rides are all located on the jam-packed street alive with flashing neon.
For those that do not want to brave the cold and go Behind the Falls, Niagara's Fury is a 4D experience that could satisfy your desire to get close to falls while staying warm and cozy.  This attraction has a multi-sensory theater with a moving platform that takes guests over the falls with snow, wind, and rain special effects. They give you cute blue ponchos to wear, but anything not under the poncho will get wet!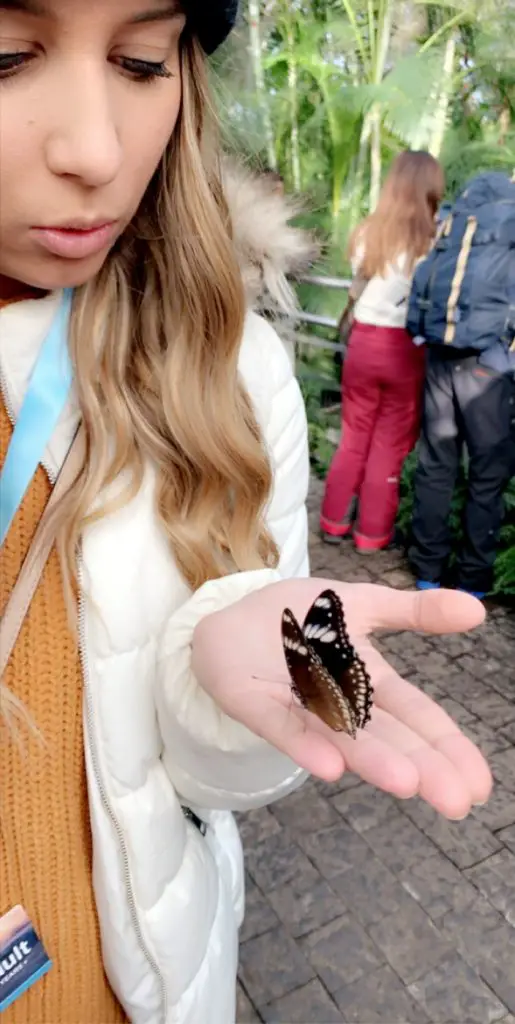 This warm greenhouse is a nice break from the Canadian cold.  The Conservatory is filled with beautiful butterflies, flowers, and foliage all year round.  Be ready to snap a selfie picture when one of the butterflies lands on your head.

If you don't have a Falls-view hotel room, take a trip in the little yellow bug elevators up the Skylon Tower for a nice view 775 feet above the ground.  While up there snapping photos on the observation deck, you can see great views of the Falls, the Great Gorge and maybe on a clear day, Toronto and Buffalo.  If you dine in the Skylon Restaurants, your trip up the elevator and the view will be included with your dinner.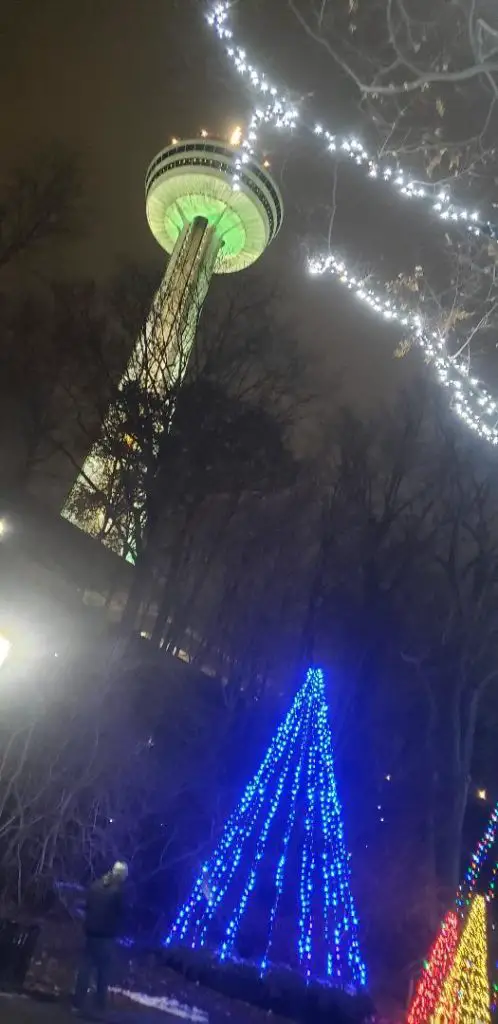 The Imax movie is a history lesson in the myths and legends behind Niagara Falls.  It was filmed years ago, so don't expect a modern film.  Also included are a few of the stories of daredevil survivors to wet your whistle so that you want to learn more about these insane people that went over the falls.  The Daredevil Museum is also located in this building and houses the actual barrels that those wacky people used.
Lover's Locks
Lastly, declare your undying love by attaching a lock on the Lovers Lock Bridge. It will be permanently locked just like your love for your sweetie! Lover's Lock Bridge is located between the Embassy Suites and the Inclined Railway.
Visit some of the best wineries all -around and take a winery throughout the Niagara Falls Region. Some of the best wineries in the world are located here, so make sure you put some of these on your Niagara Falls wintertime things to do list!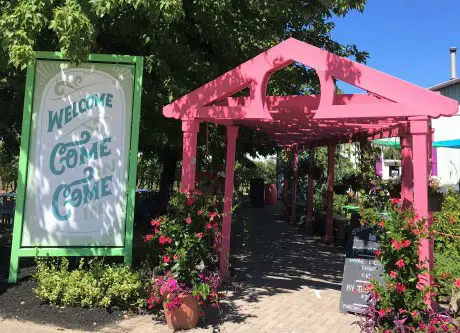 Top 5 All-Around Niagara Falls Canada Wineries
Here is a collaborative list and Niagara Falls winery guide for the top Niagara Falls Canada wineries to visit on your next trip to the Falls.
Niagara Falls Tourism – for free booklets and visitor's guides
For more free information visit NiagaraFallsTourism and either download the visitor's guides or enter your information and they will mail you a packet of travel information. These are nice handy resources to take with you on your trip to see the falls.
Souvenirs, in case you run out of time to shop…
Like this post and the detailed itinerary for Niagara Falls in Winter? Pin it for later!