DISCLOSURE: I may link to relevant products, companies or helpful information. Some of these links may be affiliate links, meaning I may earn a small commission. As an Amazon Associate and associate with other affiliates, I earn from qualifying purchases at no extra charge to you. The views and opinions are my own. Please see the disclaimer and privacy policy.
Moyer Memoirs is aware that these uncertain times are limiting many aspects of life including travel. I am continuing to feature travel destinations so that you can dream of future trips and travel virtually for now. I don't expect or encourage you to go check them out immediately. I hope my articles inspire your future adventures!
Last Updated on January 15, 2021 by Michelle Moyer
Light Art Displays at the Winter Festival of Lights at Niagara Falls Canada
OPENS November 2021! – Plan now!!
The Winter Festival of Lights is now Canada's biggest and brightest lighting display and is estimated to attract nearly 1 million visits a year. This FREE event celebrates the holiday season from November until the middle of January and is sponsored by the Ontario Power Generation.
There are many light art pieces that showcase the work of international artists. Their interpretations are explained in my notes below and also in the festival guide. The displays are scattered among the beautiful Niagara Falls landscapes for 8 km. You can drive or take a bus tour, but I suggest walking so that you can see the lights at your own pace. Dress warm though, Ontario is quite chilly in the winter months. The map shows the location of each of the main pieces of art, but there are also many lights sprinkled between the main ones, so keep your camera ready.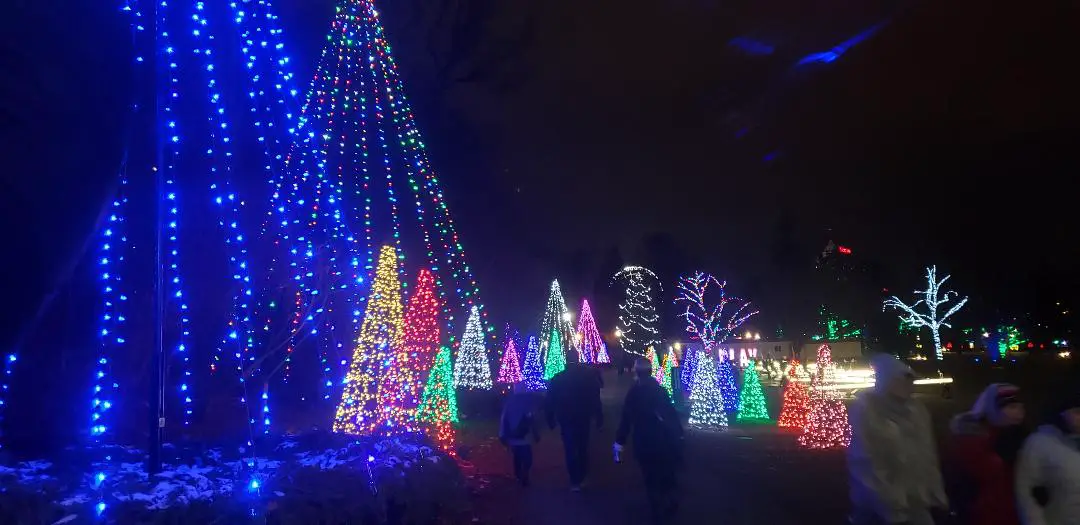 Clifton Hill, Fallsview and Niagara Parkway Light Art Displays
Zimmerman Fountain
The two-story-tall little blue spider fountain and is located in Queen Victoria Park where Falls Avenue intersects with the Niagara Parkway.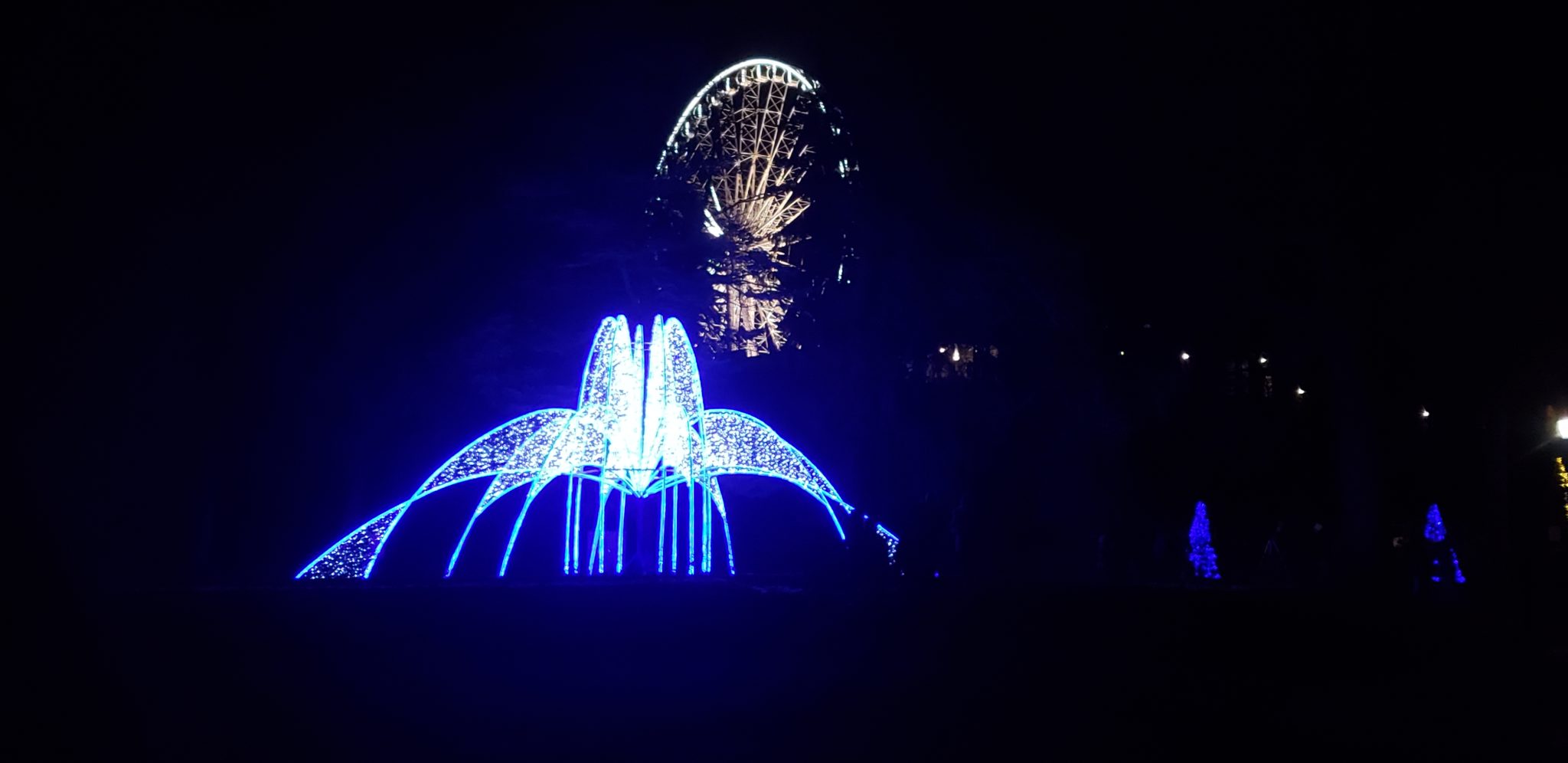 Deer Pond
Located within Queen Victoria Park, the Duck Pond features beautifully lit trees with deer wandering about on the island.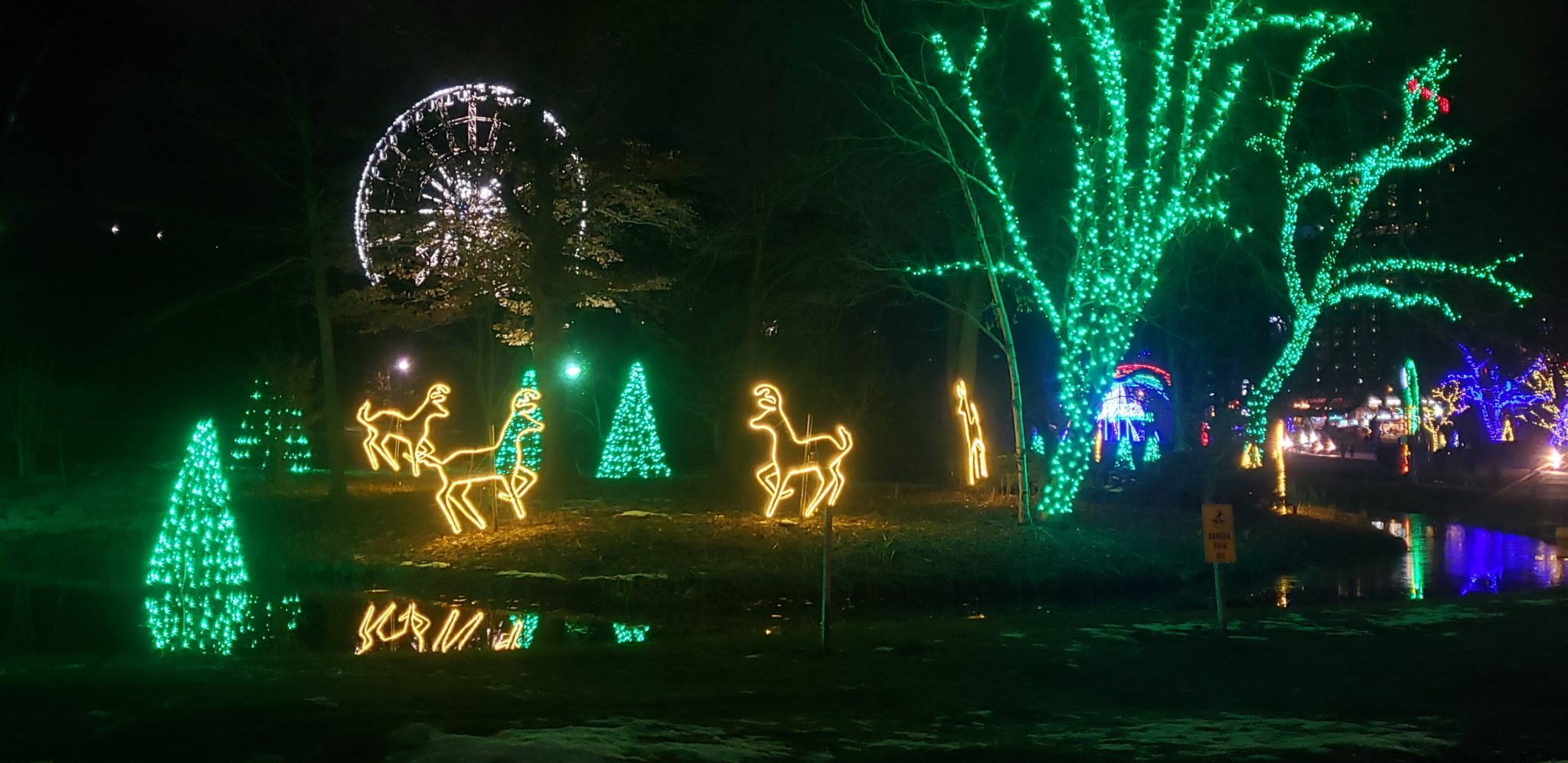 Passage
Passage is a tunnel made of twenty multi-colored circle lights that you can walk through as the light changes colors. It is located in Queen Victoria Park near Clifton Hill. This lighted artwork combines light and sound and represents the passage from one temporal state to another.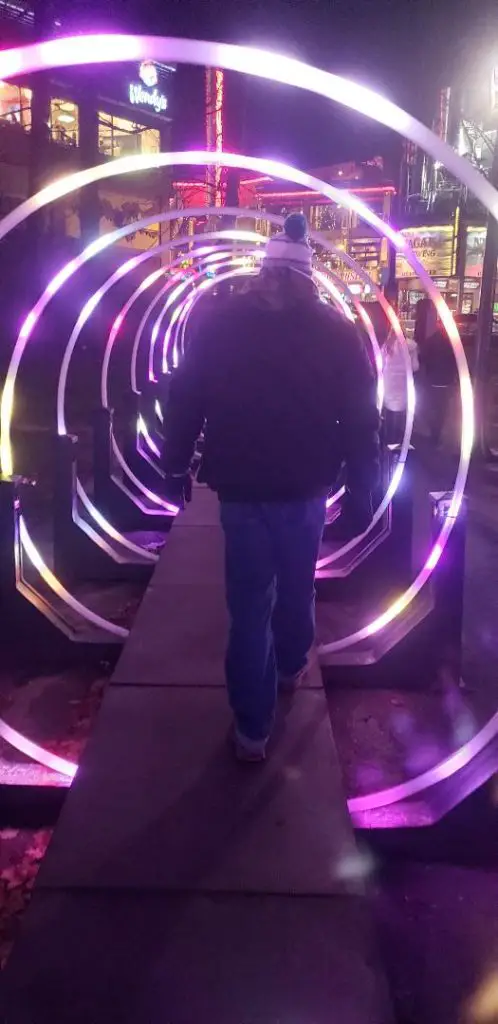 Loop
Loop was inspired by a 19th-century toy called a zoetrope and is a cross between a music box, a zoetrope, and a railway handcar. Visitors operate levers and then watch as the images light up and create the illusion of motion in the drawings causing beautiful fairy tales to come to life. It is located at Grandview Marketplace near the base of Clifton Hill.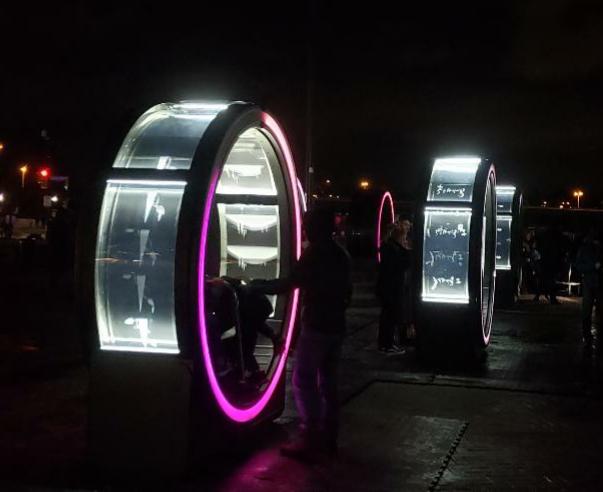 Lorraine and Susan
These displays have a 12-foot wingspan. I thought that they were butterflies, but the artist has called them angels. They are made of reflective material, so they are equally impressive in the daylight.
Play
PLAY is proudly displayed in bright lights alongside some fun illuminated swings the kids can play on.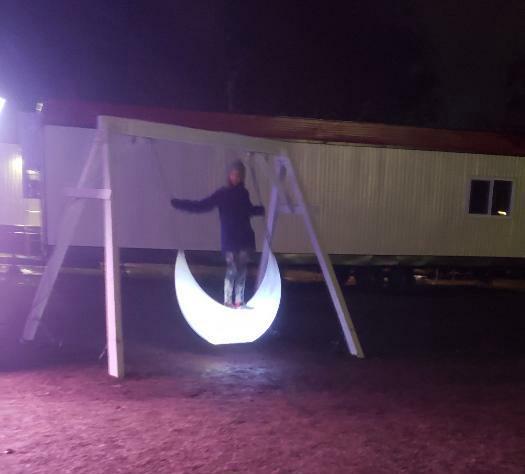 Impulse
Fifteen illuminated teeter-totters in Queen Victoria Park play musical notes when in motion. The artist behind this display created it so that the visitors can create an ever-changing display of light and sound as they are active on the teeter-totters.
Absorbed By Light
These figures sit on a bench in front of the Falls, heads bent over their phones and oblivious to their beautiful surroundings. Visitors can have a seat between the displays and join in on the draw to the cell phone lights. But don't let that last too long and be sure to snap out of it soon so that you can enjoy the other light displays that are all around you.
Music to Light
This display is a musical dance floor that lights up and plays the melodic sounds as you run and dance across the keyboard. Actually, I think this photo is the beginning of a snowball fight since the child on the left has her ammunition ready while the other runs across the notes!
Run Beyond
This is a display along Niagara Parkway shows a guy running and leaping to freedom! The artist says it is a leap to Freedom, but freedom from what??? Run Beyond first lights up each segment of his feat and then the whole thing lights up together.
Two Hearts
Express your love for your sweetie on the seat inside a beautifully lit up 7-foot tall heart in the Honeymoon Capital of the World. There are 2 hearts displayed across from each other near the inclined railway entrance along the Niagara Falls Parkway.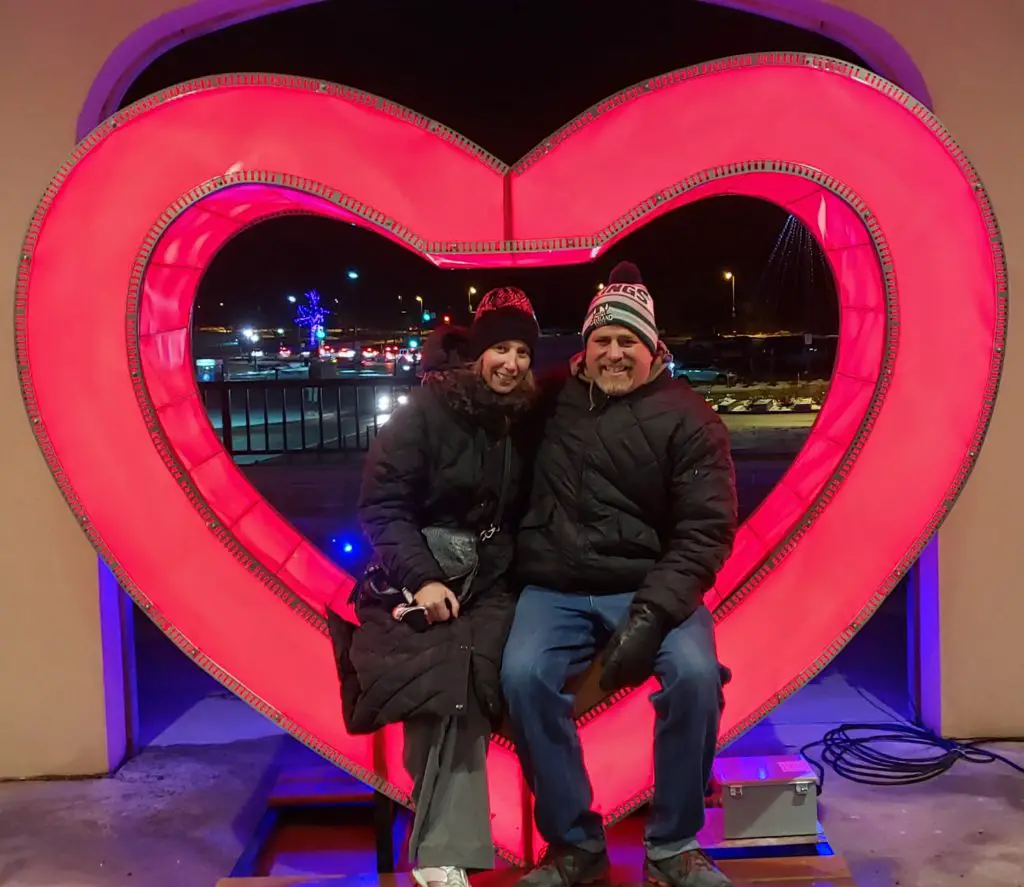 Fallsview Casino Ornament
Located in front of the Fallsview Casino and Casino Niagara are two different ornaments. You can have a seat on the bench inside the ornament for a great selfie and photo opportunity. The blue hue will turn you into a smurf!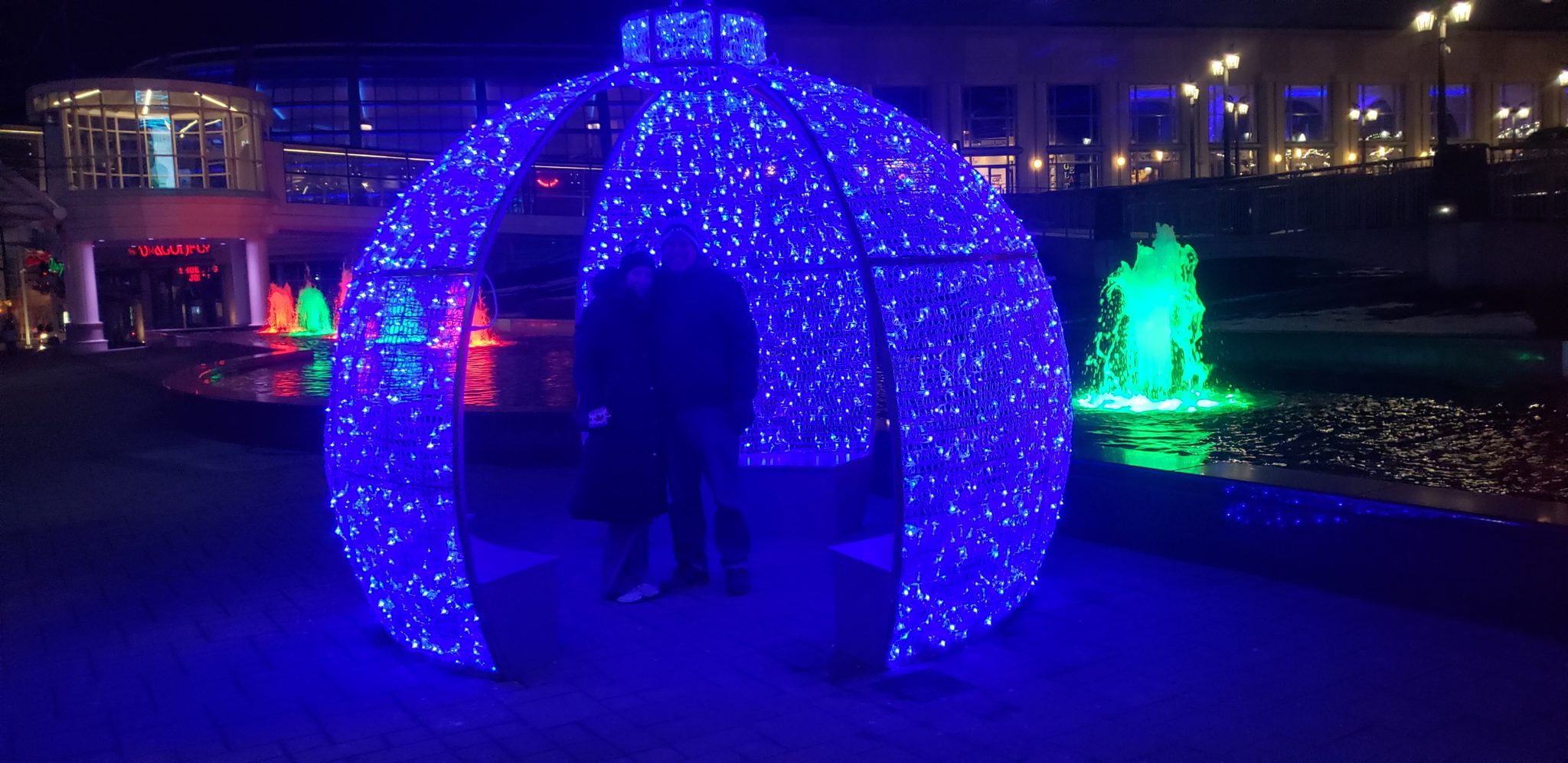 Fallsview Casino Crosswalks
There are two elevated crosswalks that provide convenient access to the Fallsview Casino Resort. The crosswalk over Fallsview Boulevard is enclosed and connects the Casino to the Hilton Niagara Falls. There is a second pedestrian crosswalk across Murray Street that provides access to the Casino from the Skylon Tower area.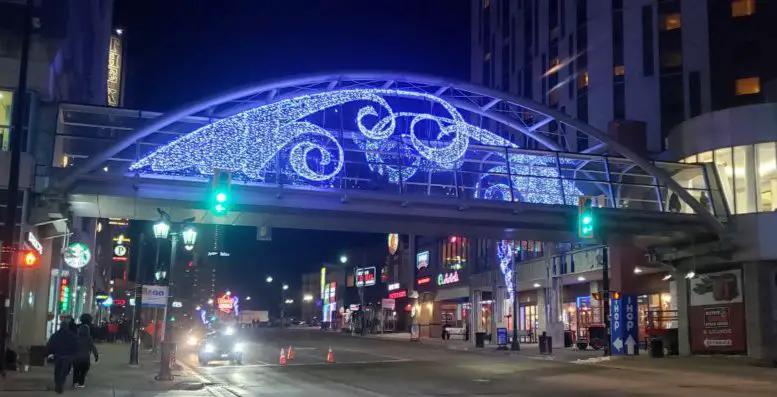 Big Horned Sheep
Two Big Horned Sheep are displayed on Murray Hill. 
Most people drive to the Dufferin Island Displays but you can also walk. The walkways are not maintained in winter, so pass with care. These light art pieces feature Canadian wildlife with lots of three-dimensional light-up animals including polar bear, moose, mammoth and deer -even a Noah's Ark! Wander around the fifty trees wrapped in lights, take a peek at the beautiful fountain and cross the multi-color illuminated bridge.
Other Holiday Activities and Sites to See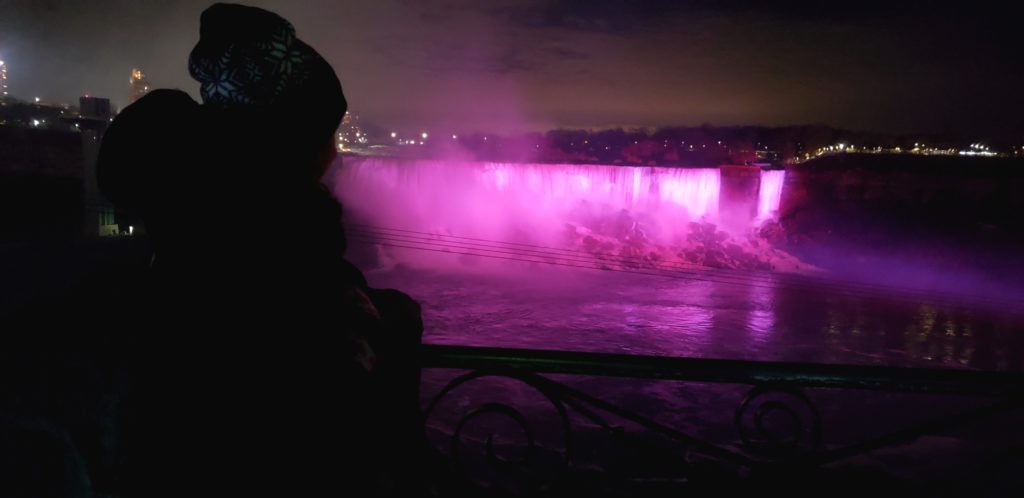 The Niagara Falls Illumination Board recently upgraded the lighting system for the falls so it is now using LED technology which means brighter colors that are more energy efficient. The colors just pop off of the falls now and rotate often, so that you can get your selfie done in various shades for a background. The lights come on every evening as soon as darkness hits and stay on until the wee hours of the night.
Toronto Power Sound and Light
The Toronto Power Generating Station, located across from the American Falls provided much of Ontario's energy during the first half of this century. Trans-Siberian Orchestra music is broadcast on the local 100.5 FM station while a sound and light show entertains you with a dancing spectacle that moves in time to the holiday music with 72 programmable DMX lights.
Floral Showhouse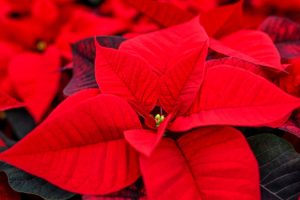 The Annual Floral Show is located at the Floral Showhouse on the Niagara Parkway and has a brilliant display of holiday lights illuminating its exterior. Inside, the holidays bloom even brighter with a festive floral display of poinsettias, cyclamen, azaleas, Christmas cactus and paperwhite narcissus, and many other Christmas surprises. The spectacular outside lights are free to enjoy, but the inside floral show has an admission charge.
With the Falls as a backdrop, the fireworks become even more special.   They are lit on the Canadian side and can be seen anywhere along Niagara Falls Parkway.  There is a good view at the area at the end of Clifton Hill.  From here, you can get pictures of the fireworks with both the American and Horseshoe Falls in the background.  The show is about 7 minutes, just long enough so that you don't get too cold while you are standing there in admiration. The fireworks show is scheduled every Friday and then every day during the holidays.
PARKING
There is plenty of parking just off of Clifton Hill that extends to the Skylon Tower. These paid parking spots have easy accessibility to all attractions and events. There is even a short-cut available to access Queen Victoria Park easily and efficiently.
Looking for more activities?
For more things to do in the wintertime, check out my post on NIAGARA FALLS WINTERTIME ACTIVITIES.
Like this Post? Pin it for Later!