DISCLOSURE: I may link to relevant products, companies or helpful info which may be affiliate links, meaning I may earn a small commission. As an Amazon Associate & other affiliates, I earn from qualifying purchases at no extra charge to you. The views & opinions are my own. Please see the disclaimer and privacy policy.
Last Updated on February 5, 2022
The best place to enjoy the surf is a vacation in Flagler Beach Campground Florida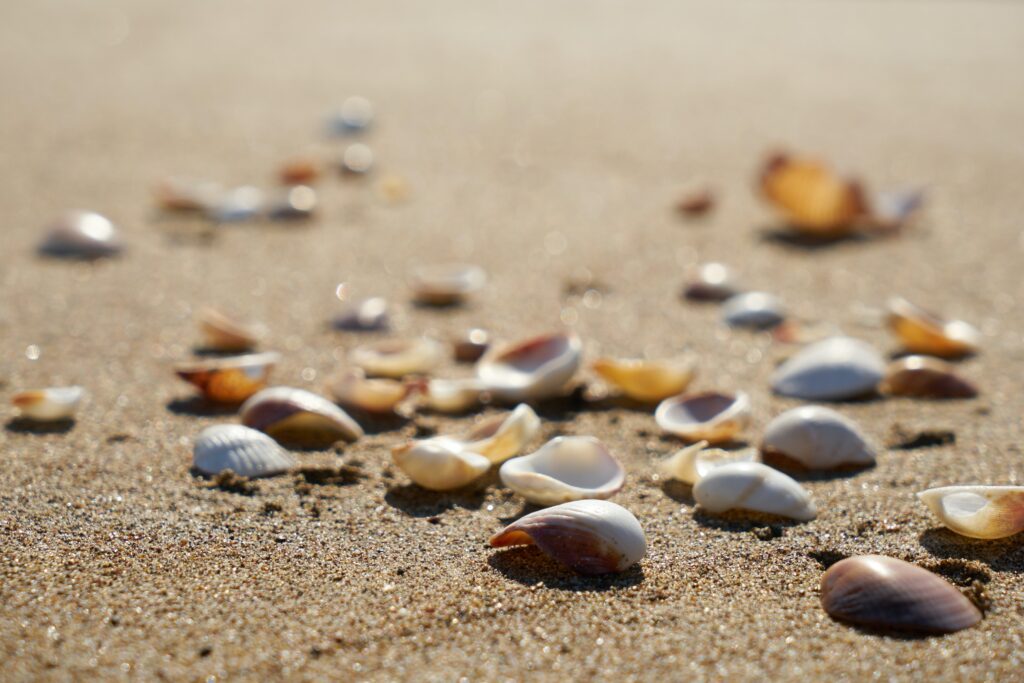 Where on earth is Flagler Beach, Florida?
Flagler Beach Florida is a four-square-mile city located on Florida's Atlantic Coast twenty miles north of Daytona Beach and smack in between Daytona Beach and St. Augustine. It rates right up there with all the top family beaches in Florida while offering miles of orange sparkling beaches along the popular A1A scenic travel route.
It is a popular nesting spot for sea turtles, but not yet spring breakers. If you are looking for a smaller crowd than Daytona Beach where you can enjoy peace and quiet as well as the calm sounds of the surf then check out Flagler Beach.

Beverly Beach Camptown is the best Flagler Beach campground!
This cute little campground is located right on Flagler beach and is run by the friendliest staff I've ever encountered during check-in. They operate like the small town that they are located in and reservations are only available via phone call. –but the phone call will be quick and friendly and you will hang up a happy customer, satisfied with your future camping destination and plans.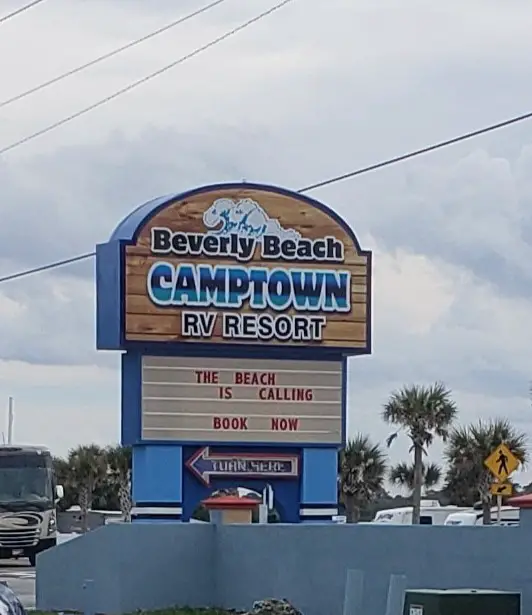 Beach front camping on Florida's coastline
Beverly Beach Camptown offers premium campsites for a slightly higher price. Choose the premium spot! It's worth the extra couple bucks to wake up and have a view of the beach out your front window when the sun comes up!
Nice facilities at this beachfront Flagler Beach Florida campground
They have 4 beach walkways. The boardwalk runs right along the front of the premium campsites. You are never far from beach access since there will always be a stairway close by to access the beach. From there, you will have miles of oceanfront for your enjoyment.
They have laundry facilities if you desire to do some actual chores during your vacation. There are 3 full-service bath houses that were kept very clean for the 3 days that were we camping out. They have free wifi and cable, but I must admit that we were so busy enjoying the beach that we didn't use either!
Don't forget to bring your swimsuit!!!
Friendly people at Beverly Beach Camptown
The campground is very well staffed. You will find friendly and smiling people in the lobby who will be able to help you with your troubles or give you advice about Flagler Beach. There isn't much within walking distance of the campground, but they were quick to recommend the closest restaurant.
Well-stocked store
Did you forget to bring something important on your trip? Do you want to buy the perfect souvenir? Beverly Beach Camptown has a well-stocked store in its office building. We bought a power adapter for our old motor home and I bought a souvenir magnet of the campground. There was also a large supply of food ingredients to prepare dinner if you never made it to the grocery store. They are even well-stocked with leisure items like boogie boards!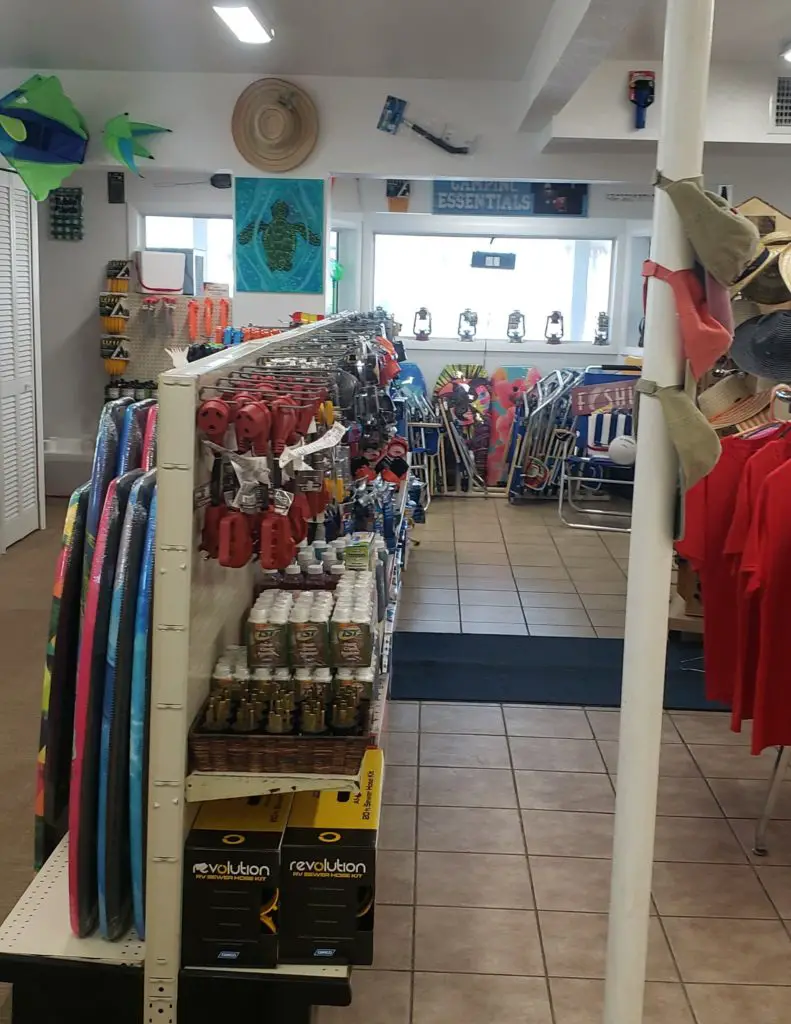 Pet-Friendly Campground in Florida
Your furry friend is welcome to camp with you at the pet-friendly campground in Flagler Beach Florida. Many campers walk back and forth with their leashed dogs, so if you left your best friend at home, you can fraternize with the neighbors and give their pup some love instead.
Activities at the best Campground in Florida
Relaxing by the surf
The beach is right in front of this campground and it couldn't be any more convenient. Grab your chair and towel and claim your piece of sand. There won't be much of a crowd, so you will have a relaxing siesta in the sun as you listen to the waves on the shore. –So peaceful that even the little crabs scurry around
Enjoying the boardwalk at Flagler Beach Florida
Whether you enjoy a nice walk along the boardwalk at dawn or dusk or even a competitive game of cornhole, there is a beautiful boardwalk that runs the length of the campground.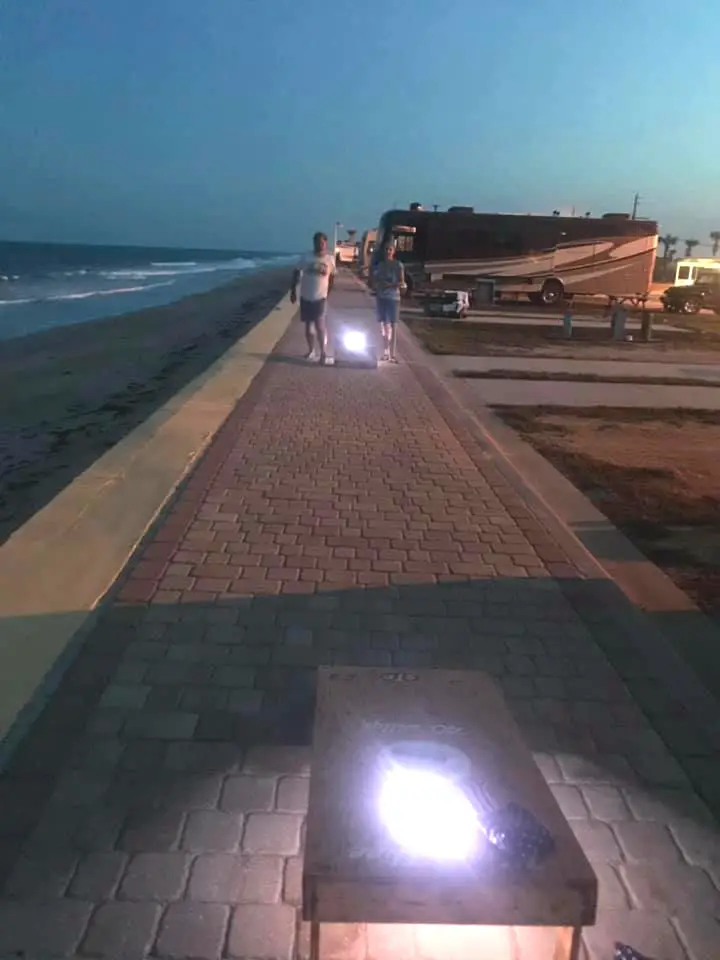 There is even enough room on the boardwalk to have a picnic feast for dinner. –just be aware of the biting no-see-ums and wear protection. Their bites are nasty and extremely itchy.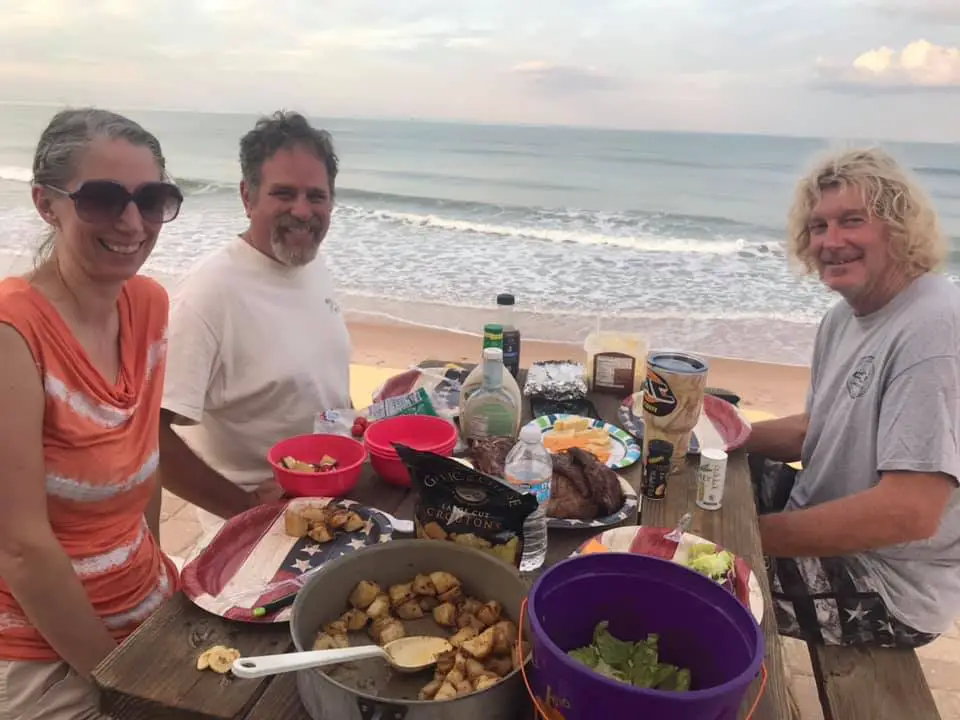 Hunting for Shells at the east-coast Florida beach campground
Seashells are a nice souvenir from a beach trip. The tide goes out and you can stroll along the beach hunting for these treasures. I collected a handful in order to make a decorative souvenir shell frame out of them.
See my seashell frame and other awesome Ideas to Display Seashells in my shell craft collaboration post. This will give you MANY ideas for what to do with those seashells when you get home.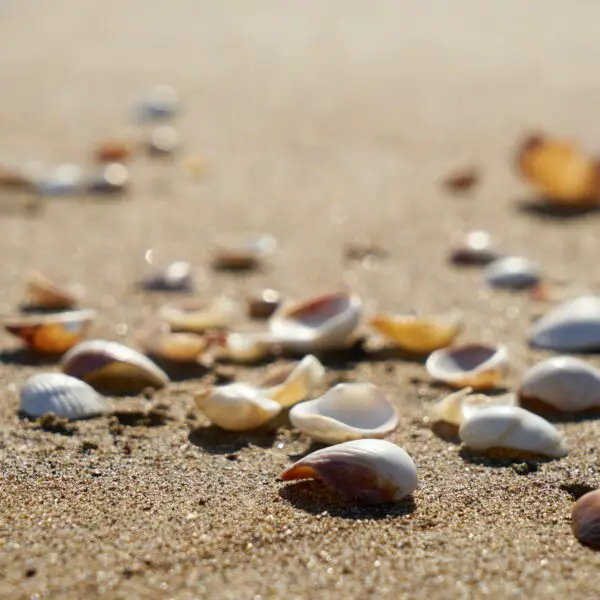 Creative Seashell Crafts to Display Souvenir Shells from Beaches Around the World
Collecting seashells is a popular hobby for many tourists. What do we do with all these seashell souvenirs that we have collected? –Make some seashell crafts to decorate the house!!
Enjoying the sunrise
Peak out your window at the beach in the morning and you just might see a beautiful sunrise. This beachfront Florida campground is positioned to catch this spectacular artwork in the sky!
Riding the waves
It doesn't look like much until you are fighting the waves and trying to stand up. Grab a boogie board and ride the surf to shore. It will carry you quite a long way!
Fishing on Flagler Beach Florida
There is one fishing pier at Flagler beach. OR —like this guy, you can catch a whiting right there on the beachfront. He had about 5 rods cast from the shore and when we walked by he reeled one in. There was already a cooler filled with his prizes.
Do you like a secluded beach like Flagler Beach or would you miss the thrill of Daytona? We enjoyed the solitude and pup was sad to go! Follow the adventures of the PandaPuppy on Instagram, @the_pandapuppy.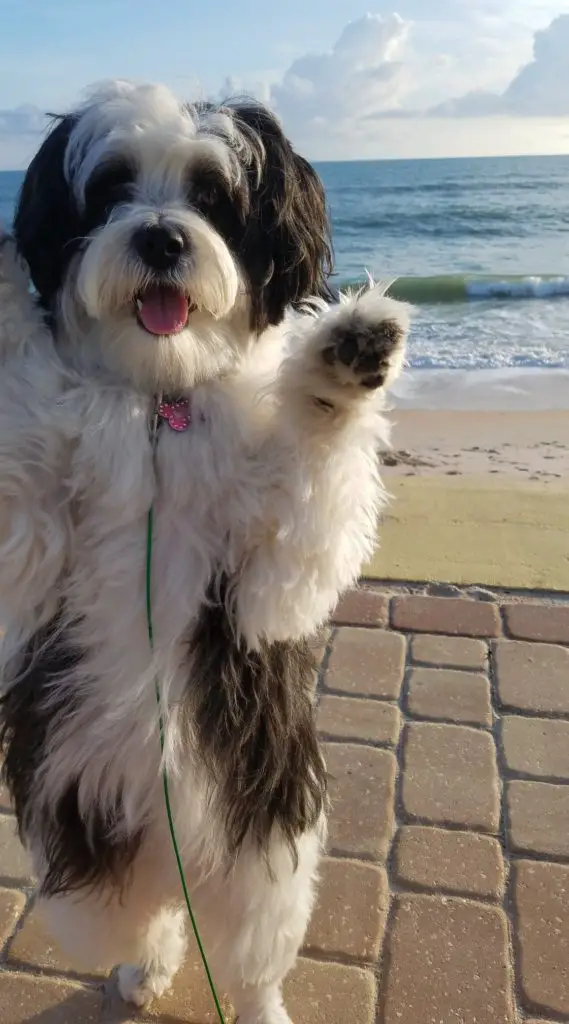 Interested in a vacation at FLAGLER BEACH Florida? PIN IT for later!