DISCLOSURE: I may link to relevant products, companies or helpful info which may be affiliate links, meaning I may earn a small commission. As an Amazon Associate & other affiliates, I earn from qualifying purchases at no extra charge to you. The views & opinions are my own. Please see the disclaimer and privacy policy.
Last Updated on April 27, 2023
Things to do in La Paz Bolivia
skip to Things to Do in La Paz Table of Contents
There are many things to do in La Paz and you could spend quite a few days seeing all the sites.  This guide will not only tell you some stories about our trip there, but it will also introduce you and give you an idea of what not to miss when you visit La Paz Bolivia.
What is it like in La Paz?
Let me first introduce you to La Paz, the very-colorful, very-populated city in Bolivia where everyone seems to be a vendor.  The streets are crammed with people; people selling, people buying and people just trying to get through the crowded madness on their way to….the market? … and people dining on street food so close to the road, that they would be able to pass the salt shaker to the passenger in the taxi!
There are shops in each of the stalls… and then vendors set up on temporary boxes in front of the shops! The streets are gridlocked with traffic going every which way in a fend-for-yourself aggressive fashion, yet somehow, this wonderful city goes about its daily activities with a carefree attitude.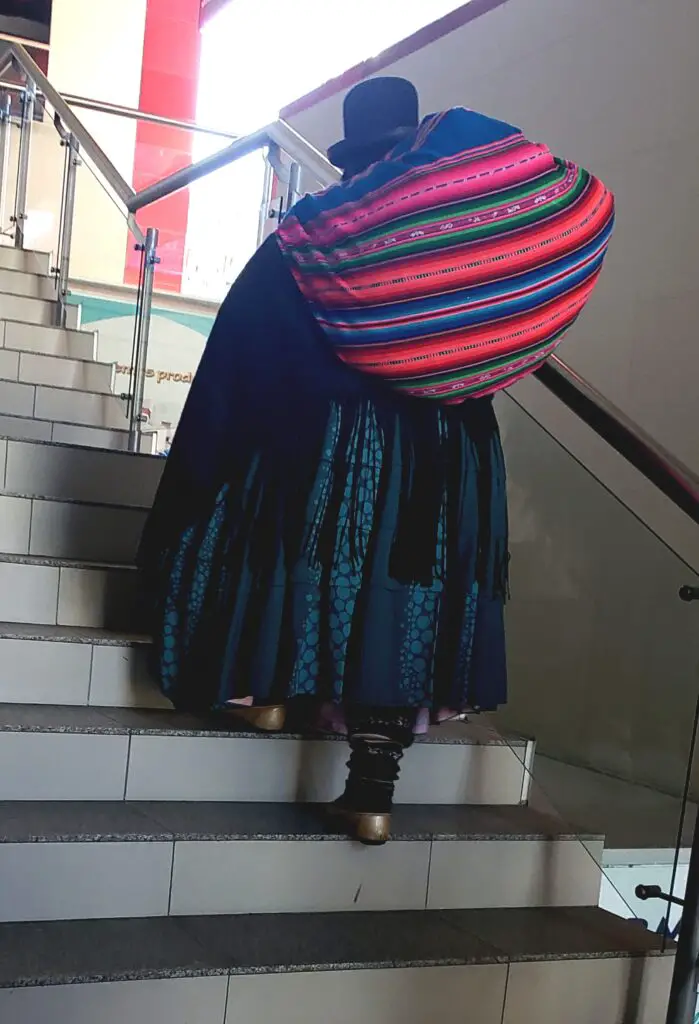 Is La Paz Bolivia Safe?
If you are wondering about the safety in La Paz and is La Paz Bolivia safe to walk around, I can tell you our experience. Hubby and I walked around for two days… in the middle of town….in the middle of the street…  right through the middle of the markets when they were selling everything from vegetables to live chickens to dead cow heads.  Yes, the cow was dead, since it didn't have its head.  Redundant, I know.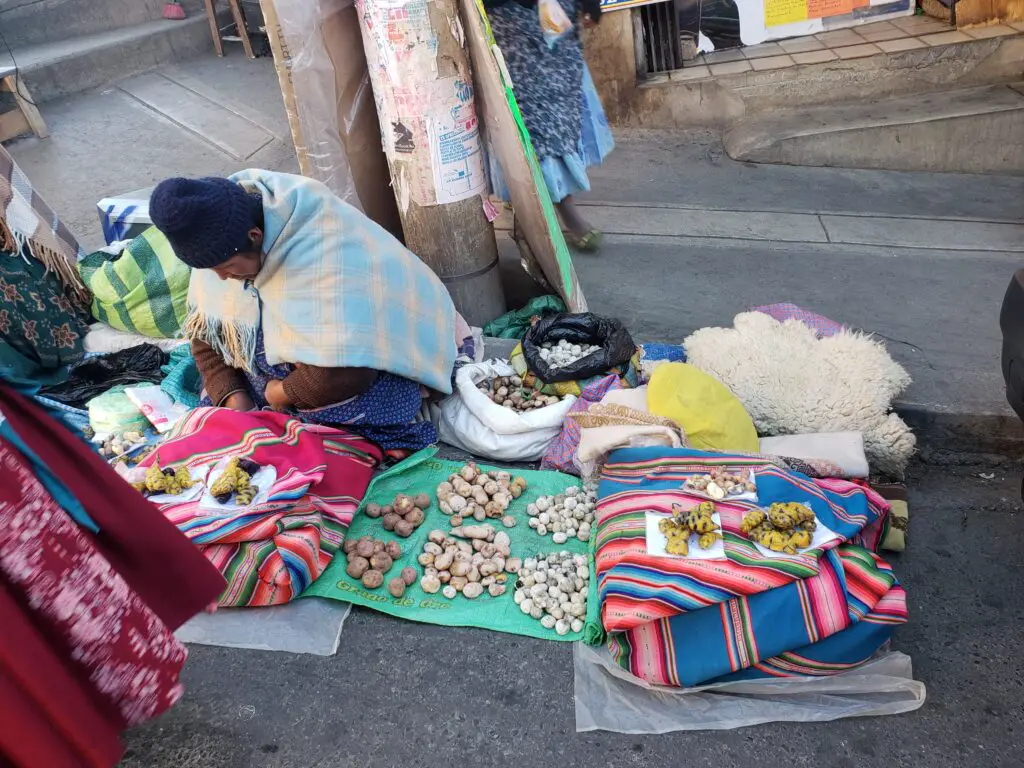 We continued on to another street where they were selling dance costumes to school children for the local celebration that was going to happen next month.  The teenagers were oogling the flashy costumes and holding up money to purchase one of their own.  Dance is such a part of the Bolivian culture that it is integrated into the school systems.  I'm jealous!  I wish I had taken some dance classes.  I appreciate the good dancers, I just can't imitate them at all.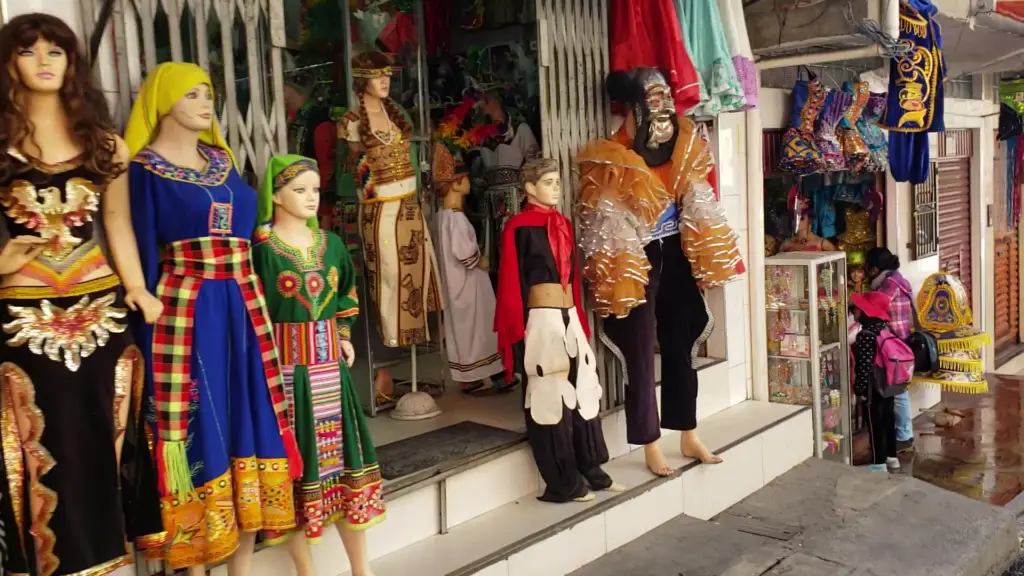 We were with our trusty tour guide, but we still felt safe.  We didn't flash any amount of money around and kept it safely hidden like we would do in any big city.  We don't speak any Spanish, so that is another reason that we needed a guide.
Facts about La Paz Bolivia
The next time you watch a game show, look out for this trick question:  What is the capital of Bolivia.  There are technically two national capitals!  The 3 branches of government are divided between La Paz and Sucre.  La Paz, Bolivia is the administrative capital of Bolivia and is the home of the executive and legislative branches.  It is where the official residences of the President and Congress are located.
Flights to La Paz Bolivia
The El Alto International airport is located in La Paz and close enough to drive into the heart of the city. It is easy to get a flight to La Paz Bolivia from most international destinations.  As well as providing all the incoming international flights for the surrounding areas of La Paz, the Amazon and many other Bolivian destinations it holds the title for the highest international airport in the world.   I certainly felt it as soon as we de-boarded our plane and I lost my breath!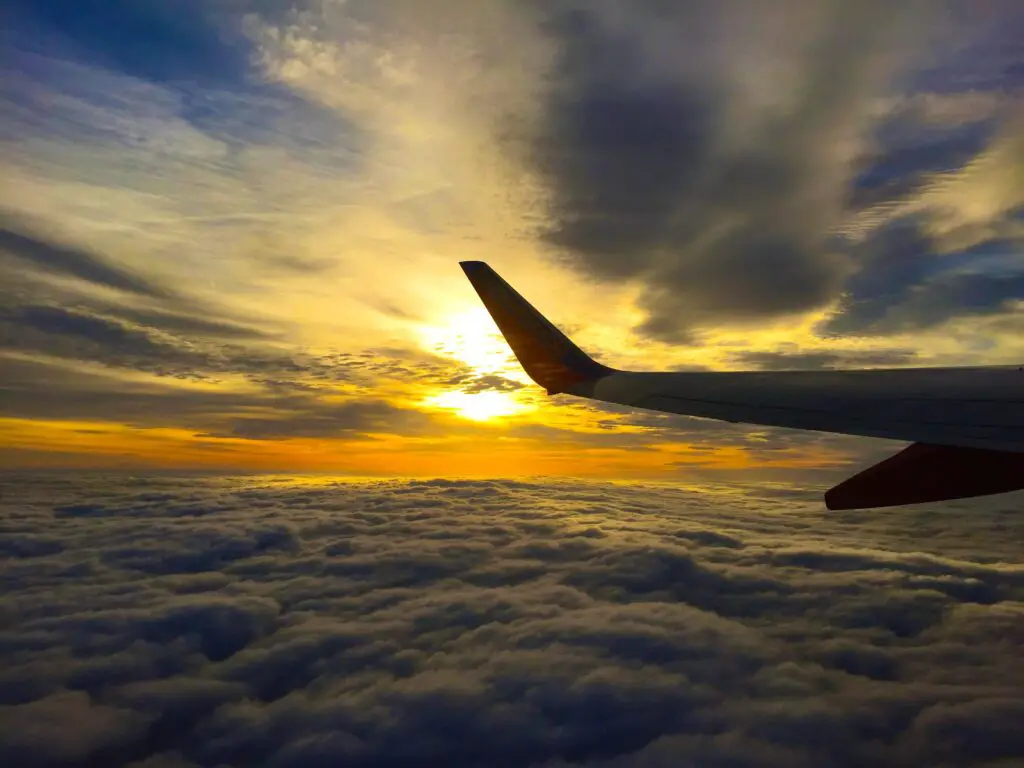 A trip to La Paz Bolivia can be done on a tight budget since accommodations, hotels, and restaurants are super cheap and you will be able to get a large quantity for your bucks.
If you are driving to La Paz from Peru be sure to check out the Floating Islands in Lake Titicaca and visit Uros Island near Puno. It is a unique experience that will introduce you to the construction of the Uros Island and the culture of the Uros.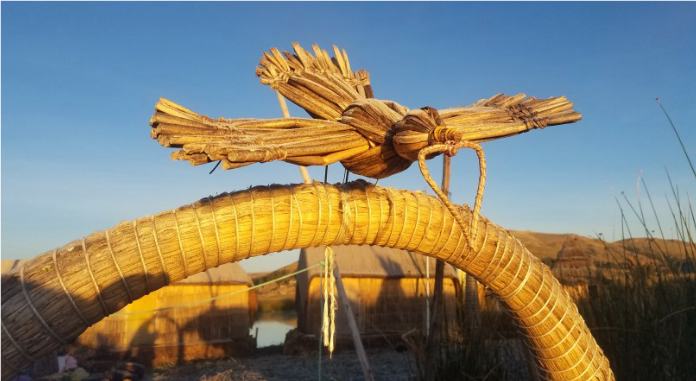 Visiting Uros: The Floating Island on Lake Titicaca in Peru near Puno
Uros is a floating island on Lake Titicaca created from layers of thatched-together reeds. It is an interesting cultural day-trip from Puno Peru.
La Paz Bolivia Altitude
La Paz is the highest capital in the world and dealing with the altitude by acclimatizing for at least a day needs to be in your vacation planning.  There is a lot less oxygen in the thin air at such high altitudes. Altitude sickness is a real thing that can lead to hospitalization and even death so do not take it lightly.
How high is La Paz Bolivia
When I arrived in La Paz for our day-trip we had already spent a little time at a high elevation in Cusco, but I still felt the extreme altitude of this capital city.  I was light-headed and out-of-breath all the time, so I monitored my oxygen level closely.  By the second morning in La Paz it had developed into a mild headache but we were leaving the city that evening and descending to a lower altitude, so relief was coming soon. 
Elevation in La Paz Bolivia
La Paz is high in the Andes mountains and almost 12,000 feet (3,650 m) above sea level.  This is already half the height of Mount Everest.  To compare, the mile-high city of Denver, Colorado is only 5,280 ft (1,600 m).  Cusco, Peru is a little over 11,000 ft (3,400 m) and Quito, Ecuador, the second-highest capital in the world is 9,300 ft (2,900 m).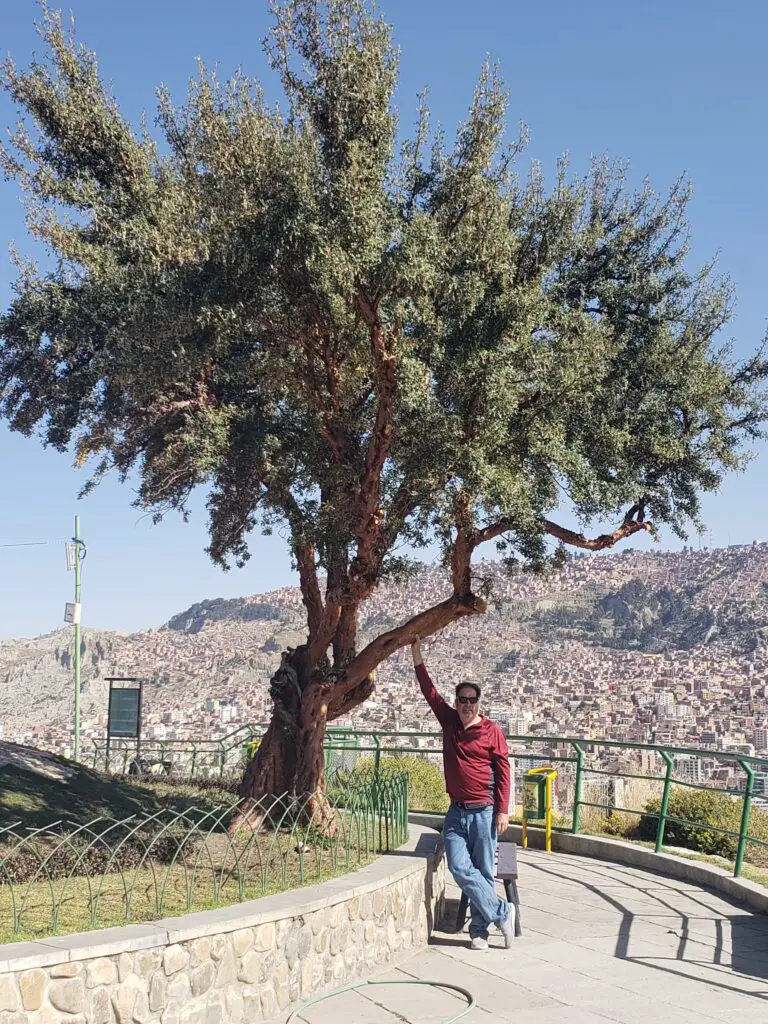 La Paz stands above them all! 
Take note for below, when I mention visiting El Alto in my list of things to do in La Paz, Bolivia, it is over 13,000 ft (4,200 m)!
Preventing Altitude Sickness
We went all all-out in natural supplements for the prevention of altitude sickness because I didn't want THAT to spoil our vacation (note, consult your doc before you take any sort of supplements and ask how much you should take. I am not in the medical field, I am just relaying what I did for prevention. My doc gave me a personal thumbs up for my list). This included Cordyceps and Reishi mushrooms extracts (that had a very peculiar smell), CoQ10 heart supplements since your heart works harder at higher altitudes, Maca Root, and chlorophyll –which resulted in a really fun color for our urine! I chose the pill form of all the supplements because I was afraid of the resulting concoction if we tried to put ALL of that into some sort of drink.
Don't drink the water.
As in most of South American travel, it is not advisable to drink the tap water. We had a Grayl water purifier system that we used every morning to make our water supply and filled our reusable bottles for the day. We also took the purifier bottle on our day-trips in case we needed to make some more. In the event of an upset stomach —which is very likely given the water and new variety of foods– we also had a supply of Hydralyte to pop into our clean water to keep us extra-hydrated.
One Day Tour in La Paz Bolivia
If you only have a small amount of time in this city, you should definitely go on a city tour.  You can do a walking tour for most of it and hit a significant amount of sites.  We used Discover Andes Tours for our Day Tour and absolutely enjoyed it.  Joel showed us around his city and drove us to some of the sites on the outskirts.  Our tour lasted about 5 hours with a nice stop at a cute Bolivian restaurant for lunch in the middle of it. 
There are a few options for night activities or day trips, so if you have more time on your itinerary, be sure to include a few of those listed below.
Things to do in La Paz Bolivia:  Top La Paz Attractions
Witches Market (Mercado de las Bruja)
Once a center for medicinal plants and traditional healing remedies, the Witches' Market is now more of a small tourist section of open-air stalls among the busy market streets.  It is located between Calles Jimenez and Linares.  Nowadays, the booths are filled with locally handcrafted items to barter for much to the delight of the tourists that are seeking that extra special souvenir.  However, you can still find dried llama fetuses hanging in the stalls, bottled aphrodisiacs, a variety of potion mixtures made for beauty or for any sort of spell you can wish for, and spiritual advice from the Aymara locals, witch doctors called yatiri, ready to predict your impending future.  I am not sure about the cauldrons and wands.  Perhaps those magical items might be reserved for those shopping in Diagon Alley.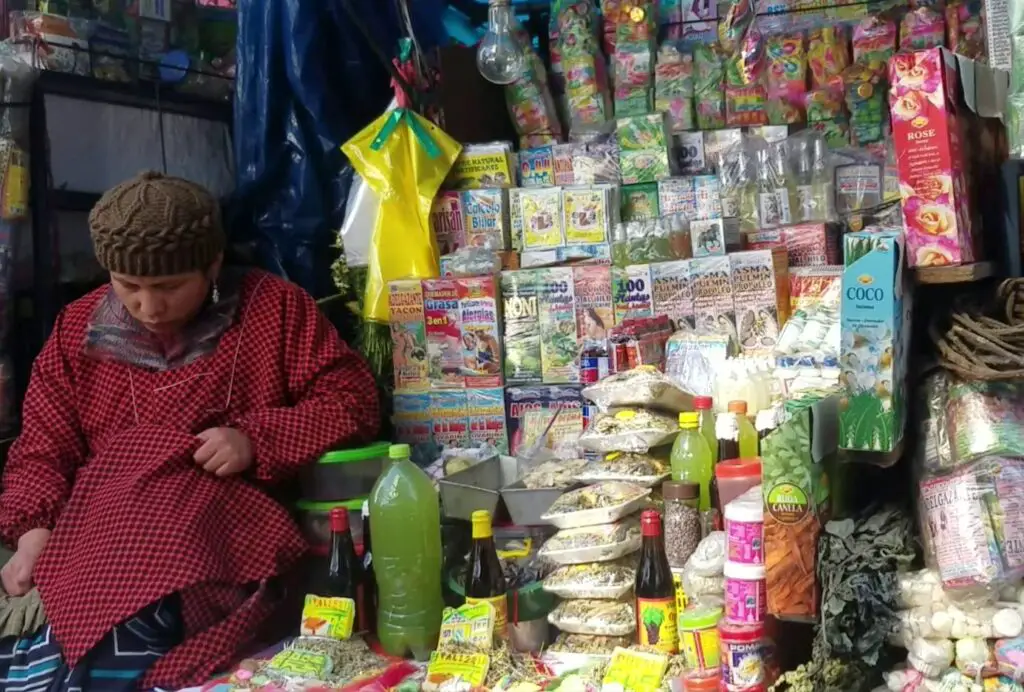 Many Bolivian families believe that the llama fetus brings good luck and health.  They make this offering to Pachamama, Mother Earth and the fertility goddess, by burying the fetus under the doorstep of their new homes to provide protection and health for the resident family living there.  Animal lovers, do not despair.  The animal fetuses are from miscarriages.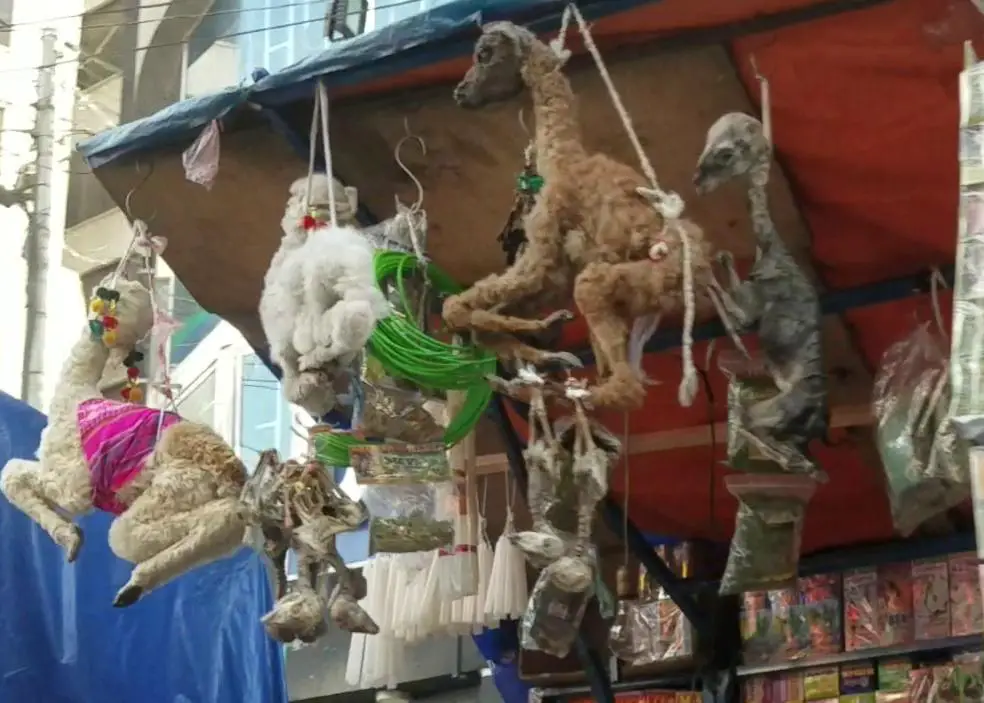 La Plaza Murillo
This gathering place for locals, visitors and pigeons is surrounded by old historic and important political buildings including the National Congress and the Presidential Palace, the home to the President of Bolivia.  The Palace is always manned with guards dressed in their 19th-century regalia uniforms showing off the prestige and honor of Bolivia.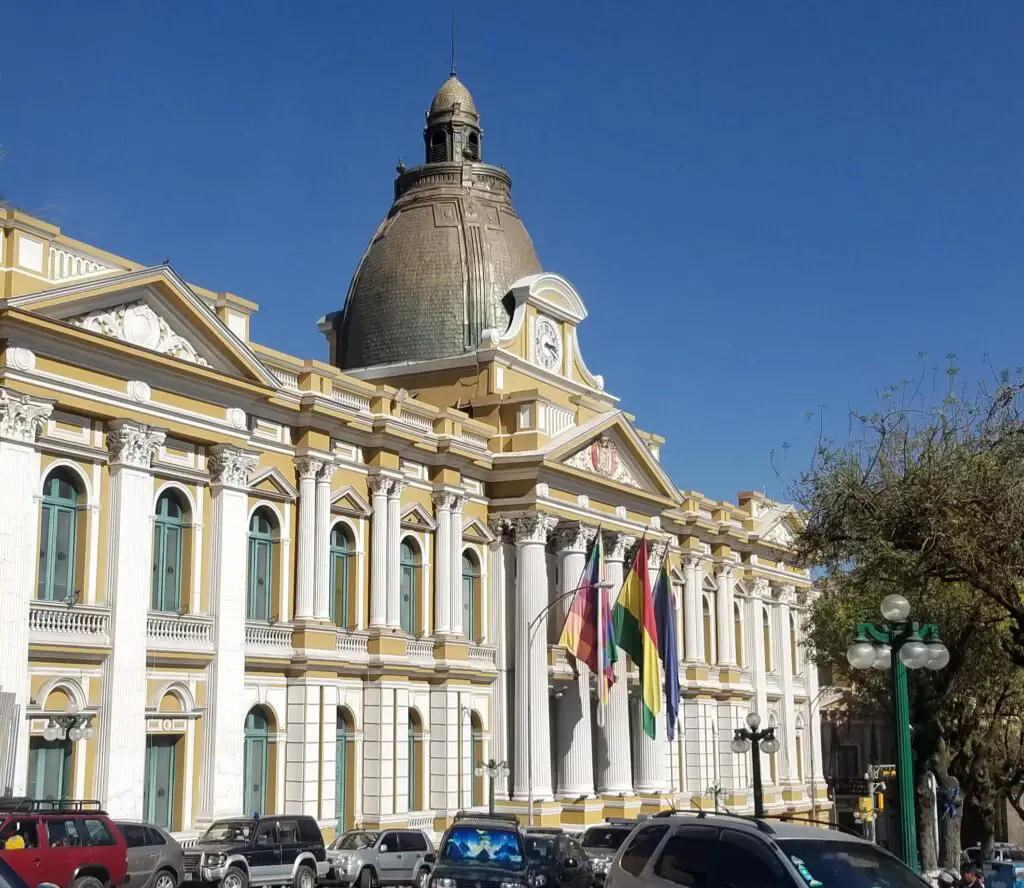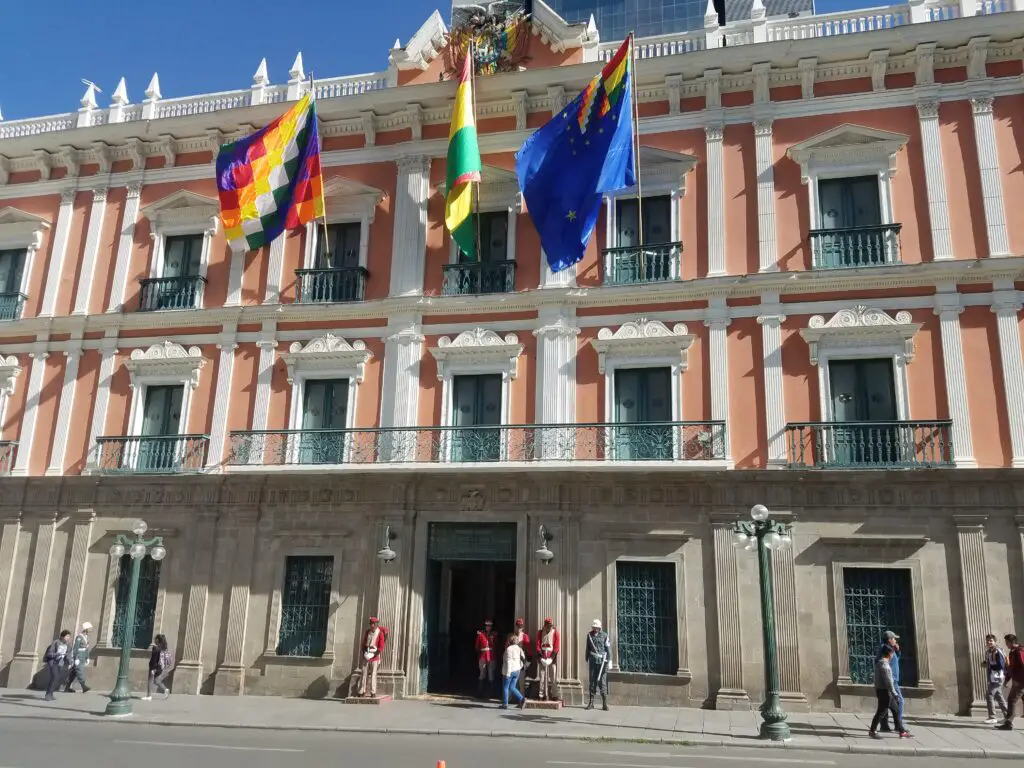 Quite appropriately the Plaza Murillo is named after a Bolivian hero in its fight for independence.  The plaza is always full of people, gathered for people watching, with an equal number of vendors selling food for all those people as well as food for all those pigeons.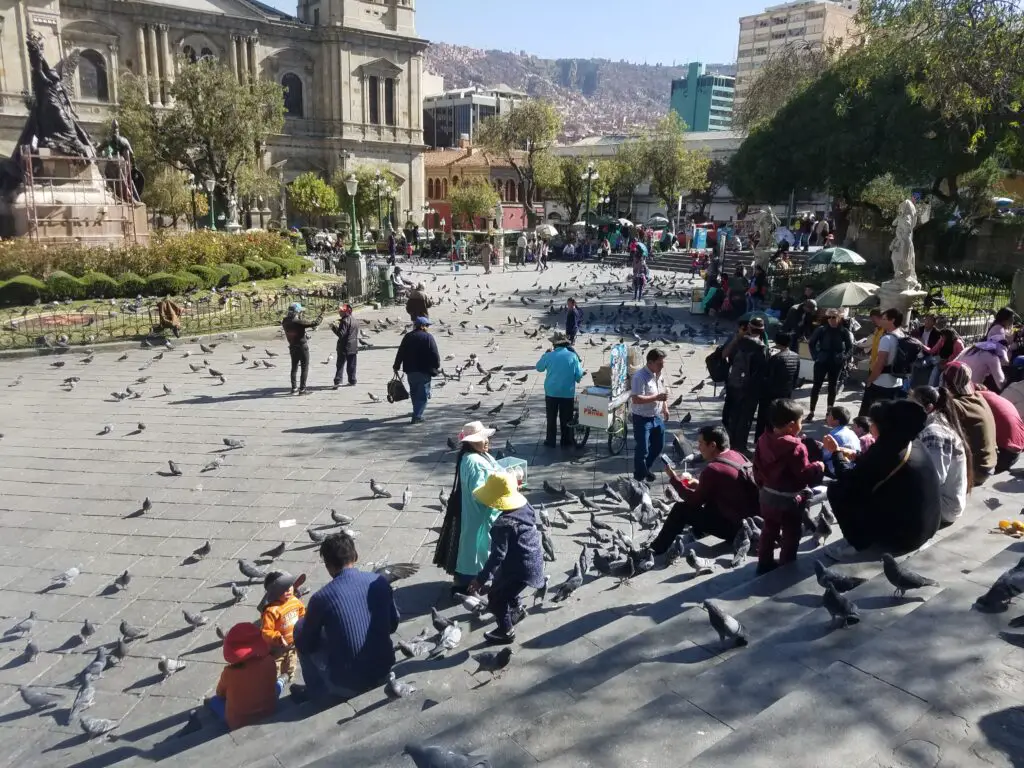 La Paz Cathedral
The La Paz Cathedral has occupied the corner of the Plaza Murillo since 1835.  It is impressive in size with its large columns in front and its massive dome on top.  Tourists are welcomed inside to admire the beautiful stained glass, but photography is prohibited.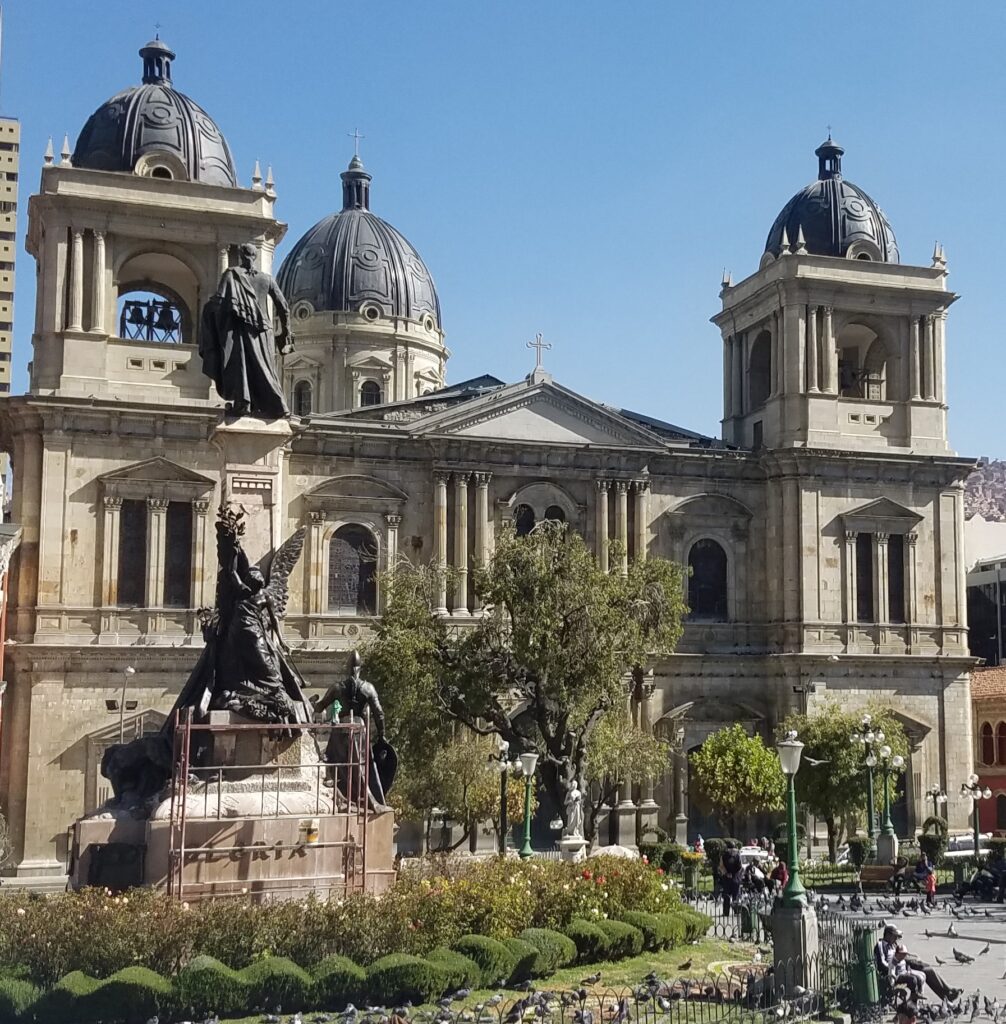 Mirador Killi Killi
Head to the high hill, Mirador Killi Killi, for the best bird's eye views of the city of La Paz.  In the distance, the Illimani mountains sweep around the buildings to provide some beautiful photographic scenery.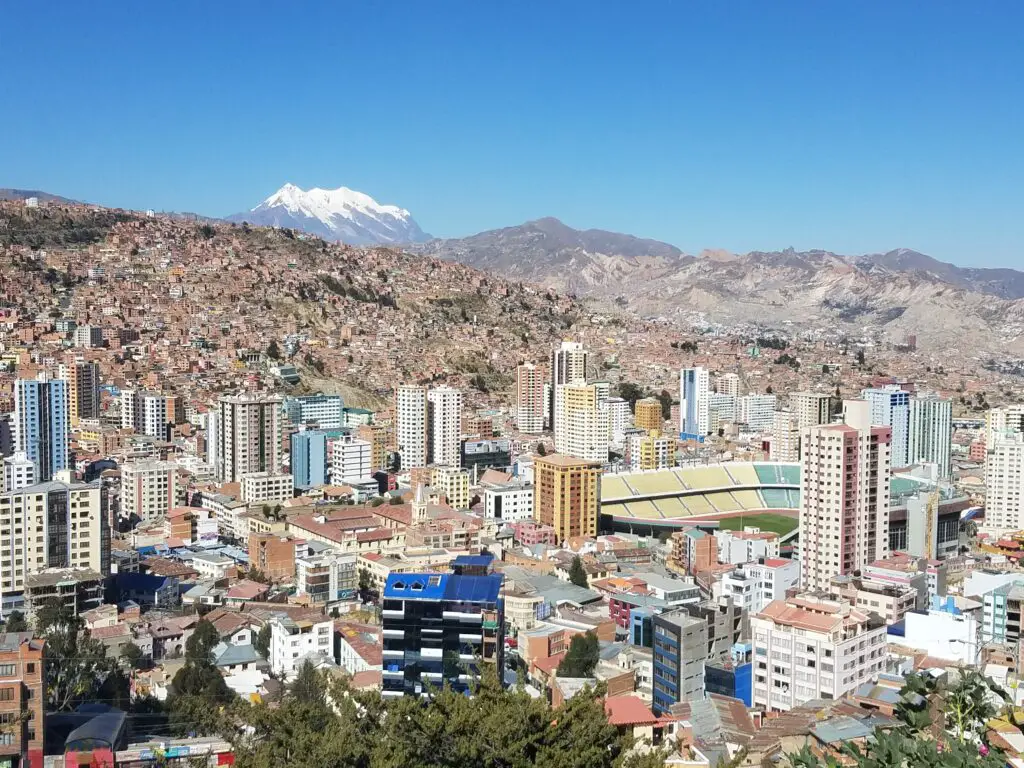 There are luscious, green gardens and a kids' playground located on this high hill, so after you are out of breath from the steep walk up the stairs in this high altitude, you can relax and enjoy the panoramic sights of the city while you watch the kids play.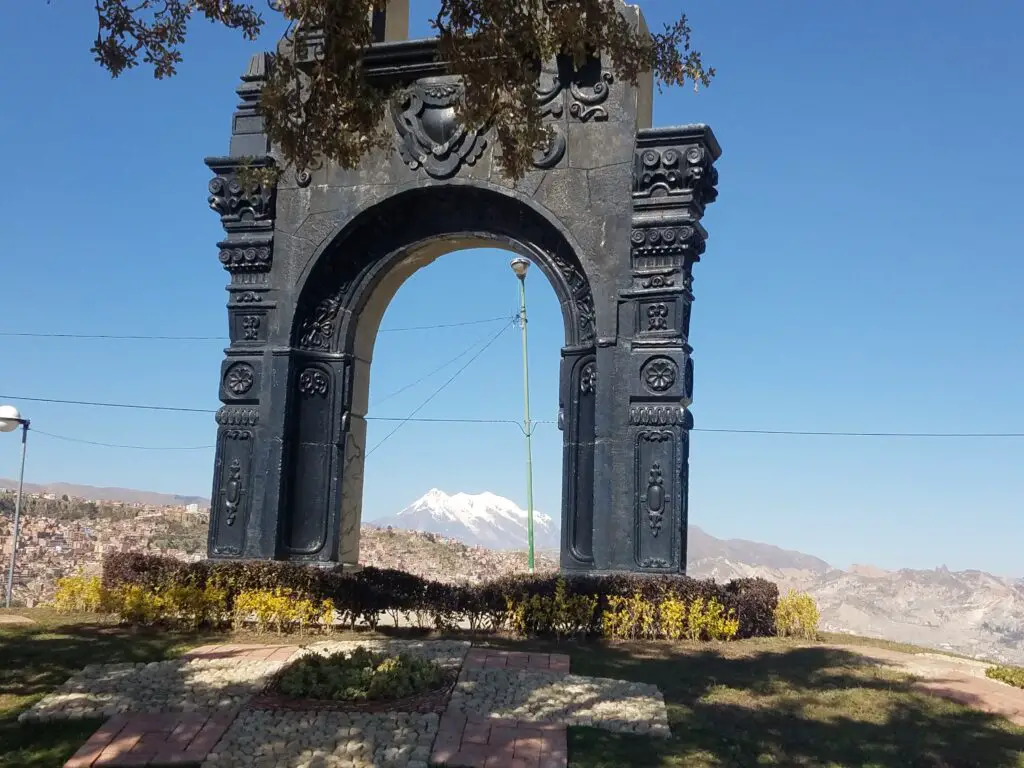 Jaen Street (Calle Jaen) – Museo del Oro
This historic cobble-stone street in La Paz is home to many museums in addition to a tourists' supply of restaurants, bars, and shops.   The street is near Plaza Murillo and lined with colorful 18th-century Bolivian houses.  One of the 5 museums located on this street is the Gold Museum (Museo del Oro) which displays Bolivian's history in jewels and golden trinkets.  The museums are all small and can be visited within one well-planned day.
San Francisco Church (Iglesia de San Francisco)
The religious icon was built in 1750 in San Fransisco Square and still stands as one of La Paz's most important landmarks.  The beautiful architecture, a unique mix of indigenous Aymara and catholic artwork, can be admired for free. The tour to the bell tower and grand views will require a small fee of around $3 USD for the guide.
Sagarnaga Street
Located near the witch's market and San Francisco Church, this popular street is lined with all the things that a tourist will need.  There are plenty of souvenir shops bursting with alpaca sweaters, hostels, cafés, and tour agencies ready to plan your La Paz walking tour. A shopping paradise for travelers who are eager to get their souvenirs and experience shopping in La Paz Bolivia
Coca Museum (Museo de la Coca)
Coca is chewed regularly or put into a tea by the locals to battle the side-effects of the high altitude.  You can learn about the history and tradition of coca leaves in Bolivia at the Coca Museum.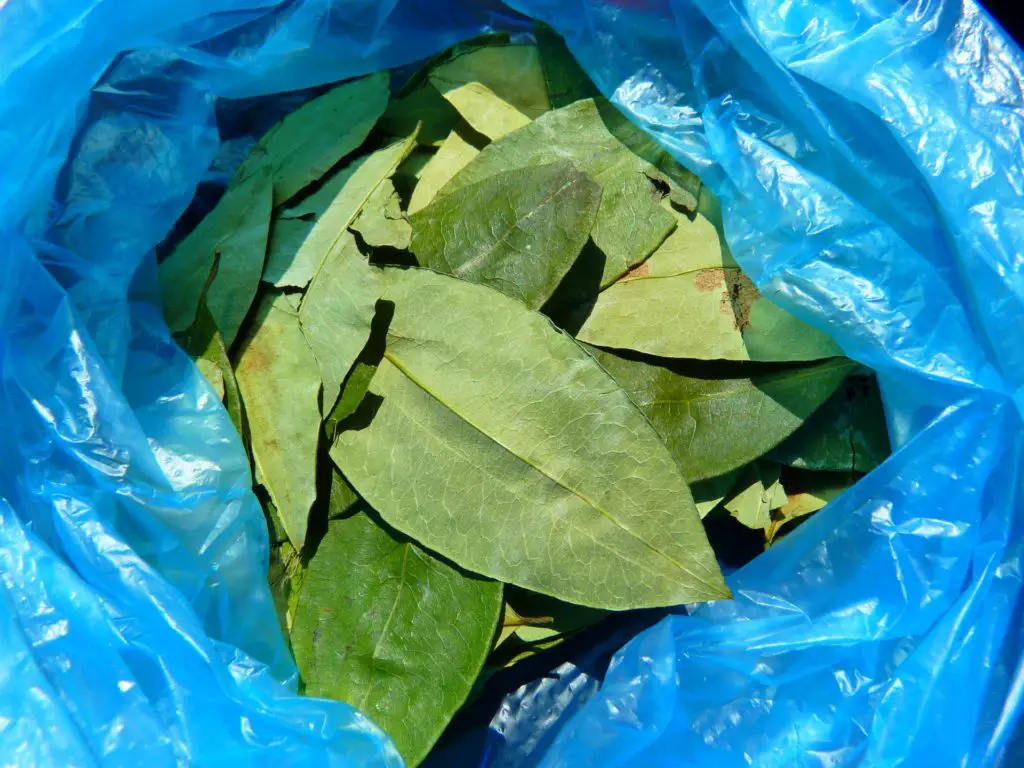 Mercado Lanza
Food galore is found at La Paz's main food market between Plaza Perez Velasco and Calle Figueroa.  Of course, there are potatoes as well as everything else under the sun.  Stop here for a cheap lunch and see how many new and unusual foods and juices you can try.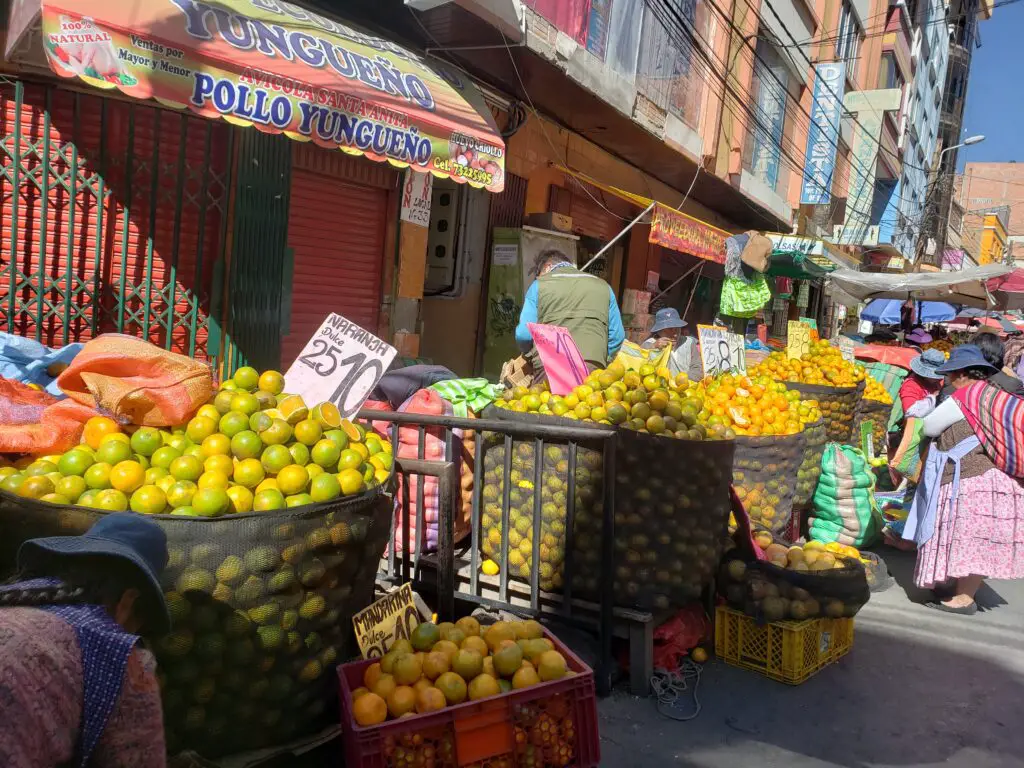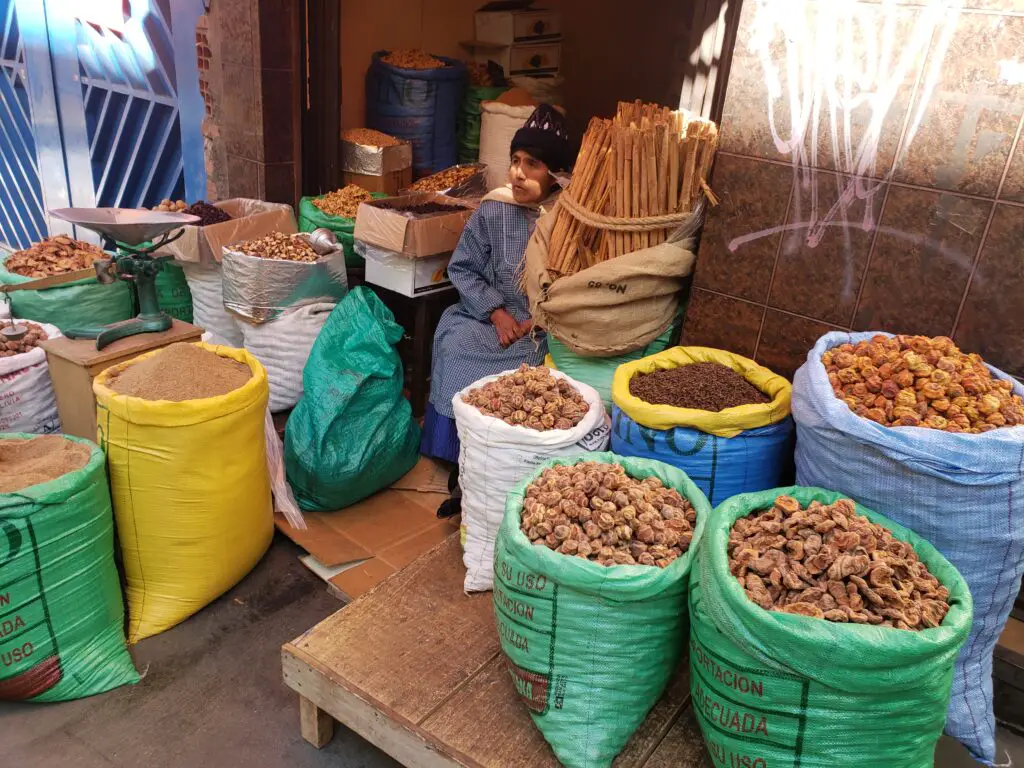 What to eat in Bolivia: Street food
Saltena
A saltena is a Bolivian pastry that is baked and filled with a stew of meat and vegetables.
Anticucho
Grilled cow or lamb's heart
Tripa
Fried cow intestine
Api
A breakfast food made from purple corn, cinnamon, water and sugar
Saice
Miced meat with rice and peas
Llauchas
Pizza dough pastries filled with cheese sauce
Mercado 16 de Julio
This market is not only food, but electronics, furniture, animals, and vehicles.  It is heavily attended so be prepared for a crowd and watch out for pickpocketers.  The prices here are reasonable, but be prepared to barter.  It seems the rows of stalls selling their wares are endless and go on and on but it really is a true Bolivian experience at this market!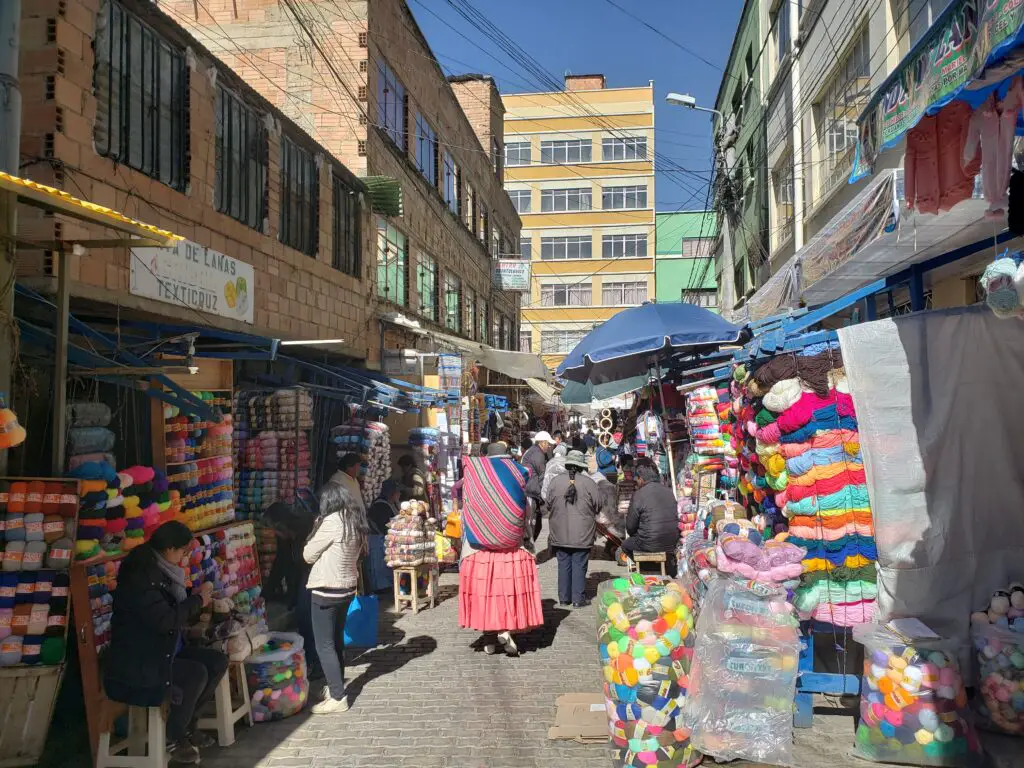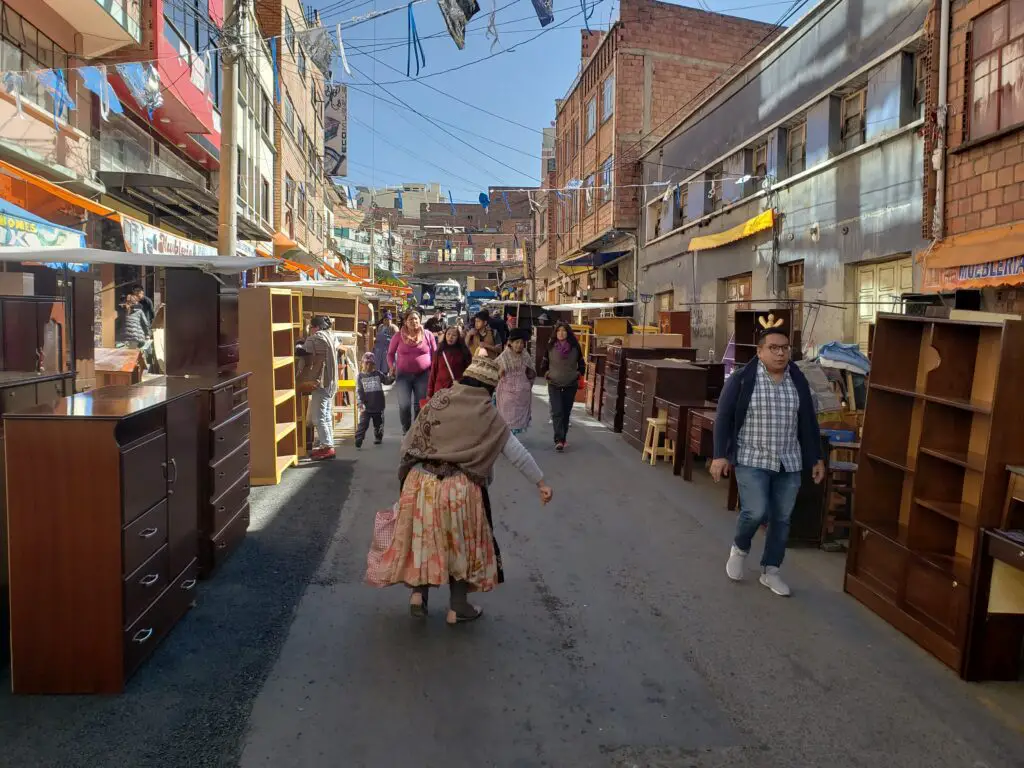 San Pedro Prison
This is perhaps the world's most notorious prison and is located in the heart of the San Pedro neighborhood in La Paz, Bolivia. The guards watch the outside of this prison only and the inside of the prison is run by the inmates. Of course, those with more money are better off. There are different areas of the prison based on the status level of the inmate. There are elected inmates that run for office to keep an 'orderly' society.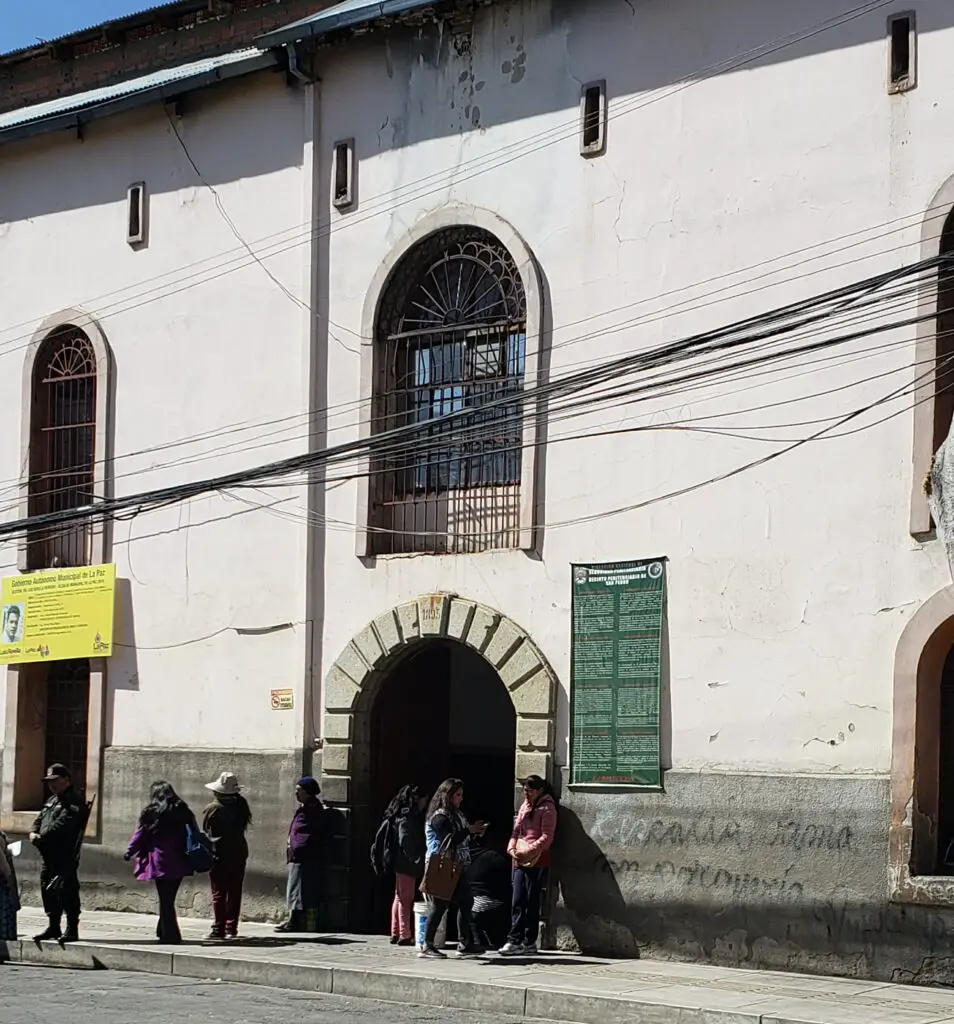 Cocaine production in the prison labs is the biggest of income. Therefore addiction and drug violence run rampant throughout the community. There was a time where the prisoners were conducting illegal tours for visitors on the sly, but this has been halted after the publication of an all-telling book about life on the inside of the San Pedro Prison.
La Paz Cemetery (La Paz Cementerio General La Paz Bolivia)
We often visit cemeteries when we are on vacation.  The old gravestones of the past fill us with intrigue and wonder.  The cemetery in La Paz filled us with amazement.  It was incredibly colorful and large….and full.  It is Bolivia's largest cemetery and filled to a 95% capacity.  Because they are running out of space, the graves are only rented out for 10 years.  After the rent expires, the bodies are cremated and the ashes are given to the family, or an extension is purchased for rental of a small glass window for the ashes in the cemetery wall.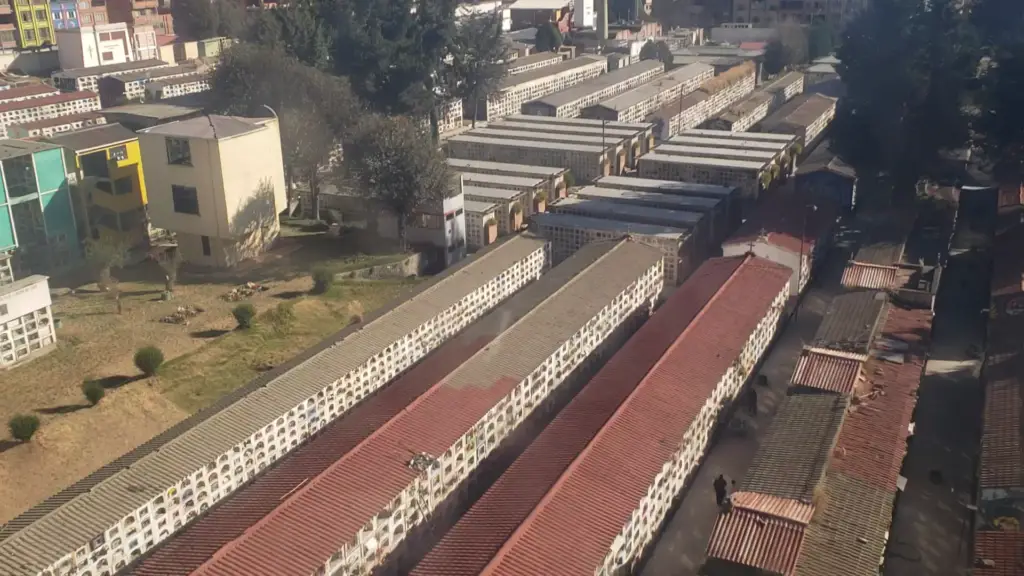 The cemetery is huge and always bustling with many visitors paying respects to the graves of family and friends while bringing colorful flowers to display on the gravesite.  The busiest time of the year is November 1st and 2nd, the Day of the Dead, when the whole city celebrates at the cemetery in remembrance of those that are no longer living.   Dead of the Dead, Día de Los Muertos, or All Souls Day, is the day that all the souls return to earth and is commemorated by decorating their graves with offerings of flowers and food. Make sure to witness this intimate holiday if you are traveling in Bolivia during that day.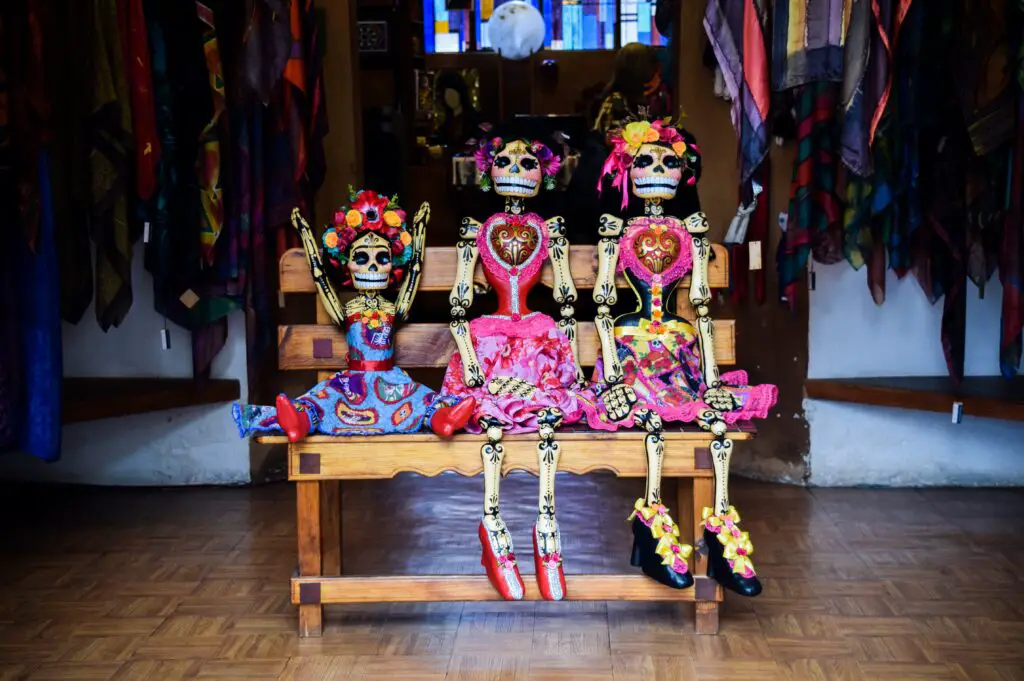 Valley of the Moon (Valle De La Luna)
Located less than 10 miles from downtown La Paz, this stunning Valley of the Moon resembles just that:  the moon!  The sandstone has been worn away by erosion and wind and is now a surreal canyon landscape that looks like moon craters and spires.  Locals will tell you that the name was created by a visit from Neil Armstrong!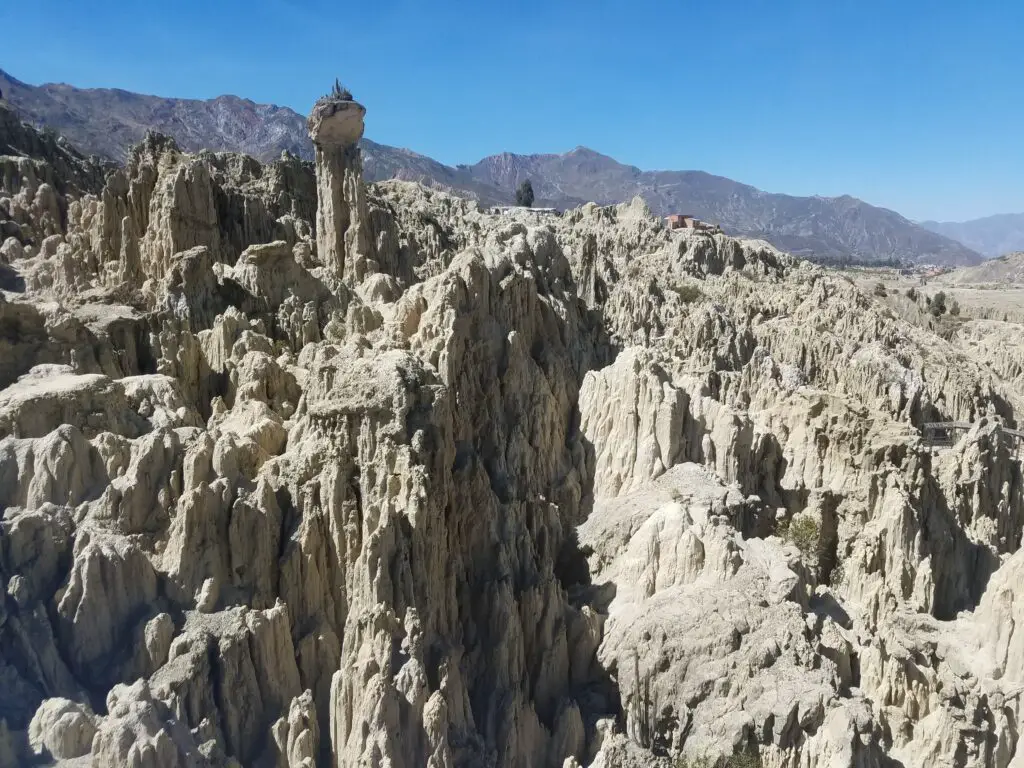 There are 2 hiking trails among the maze of clay and sandstone formations, so you could potentially spend hours wondering over the peaks and valleys examining every crevasse.  It is difficult to imagine how this other-worldly scenery could be right near such a populated city of man-made buildings and houses.
There is a visitor's center with maps and a handy toilet. The entrance fee for the Valley of the Moon is about $2 USD.  It is a truly amazing sight to see and probably shouldn't be missed if you can squeeze it into your itinerary.
La Paz Cable Car: Mi Teleferico
The cable car system in La Paz is the highest and longest in the world.  This "Subway in the Sky" has proved to be a worthwhile solution to the crowded, busy, gridlocked city streets below even though it was a very expensive investment for the city.  For the low price of about 40 cents USD the cable car will give you a bird's eye view of La Paz as you ride through the hilly landscape, seemingly gliding in the sky.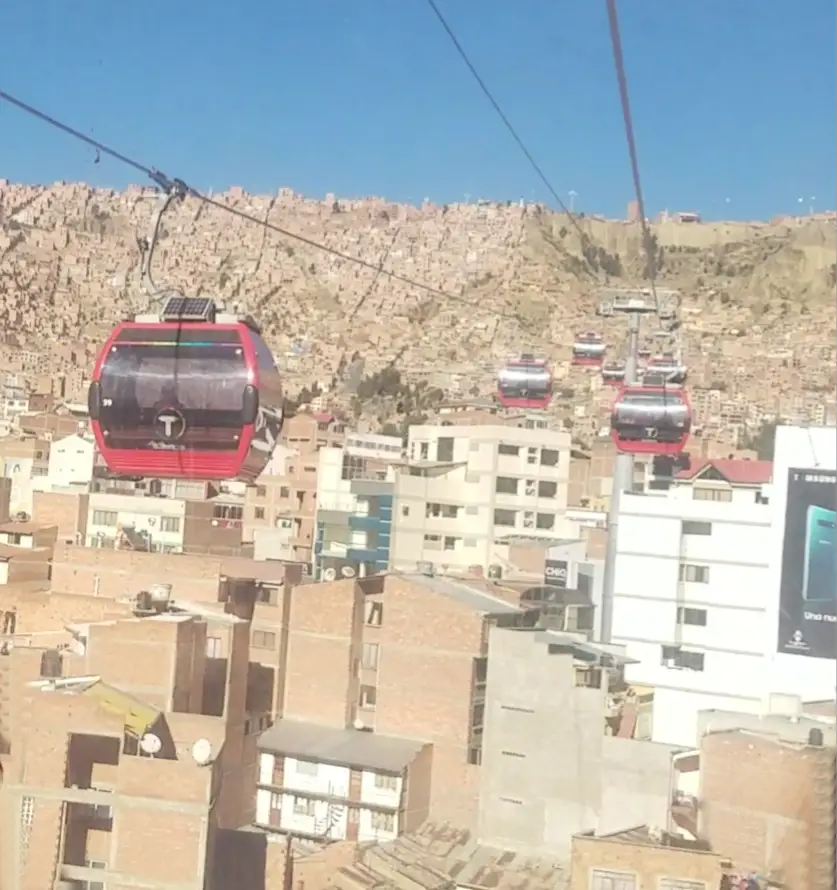 The aerial system is new and safe.  Opening in 2014, there are 11 total lines planned which connect all parts of the city and make commuting a lot easier.  You can easily use the Mi Teleferico as a public transportation system to tour the cities of La Paz and El Alto.  One of the lines will take you up the huge mountain to El Alto as you marvel at the spectacular view.  Perhaps other crowded cities should look into this solution to aid public transportation woes.  It's like an amusement park ride put to good use! 
Chaulluma
Chaulluma isn't the safest neighborhood to walk around, but you can get a glimpse of it while riding the cable cars overhead.  The houses line the cliffs with bursts of color and are plastered with murals.  Street art is on overload here and will be appreciated.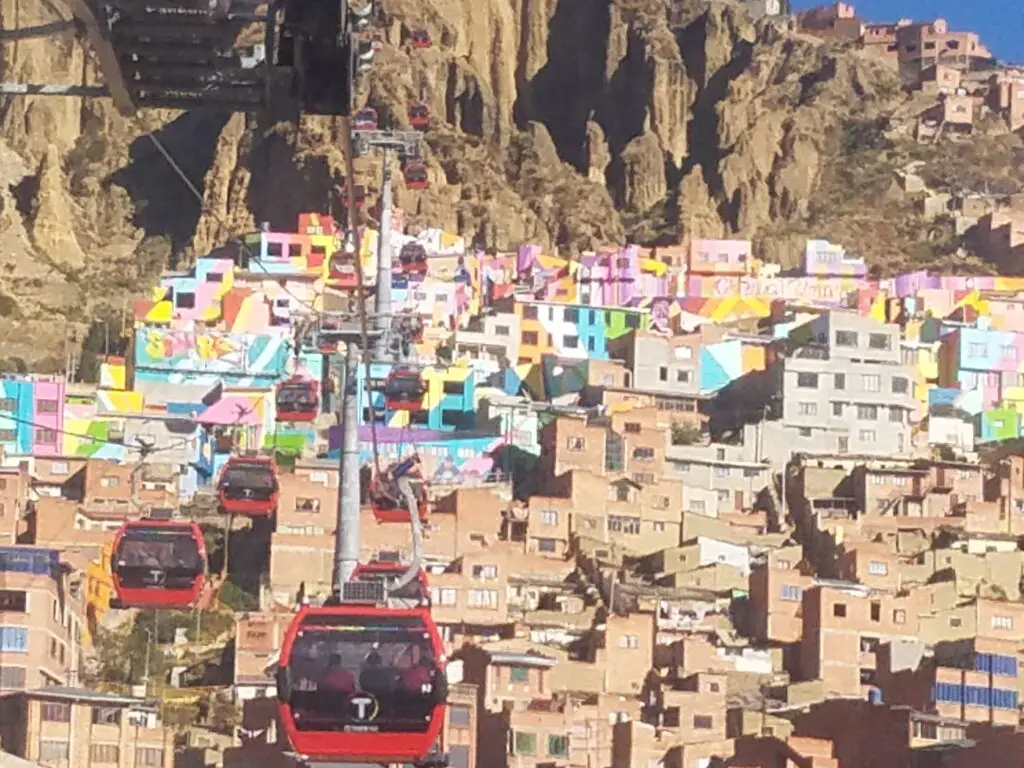 El Alto
El Alto is located high on a cliff so take care of yourself in this higher than high altitude.  Not only the altitude, but the views will take your breath away.  You can see the whole city laid out below you. To get there, you can take the Mi Teleferico cable car up the high mountain, traveling up and over street after street.  Once you arrive at the top of the hill, you are rewarded with a spectacular view!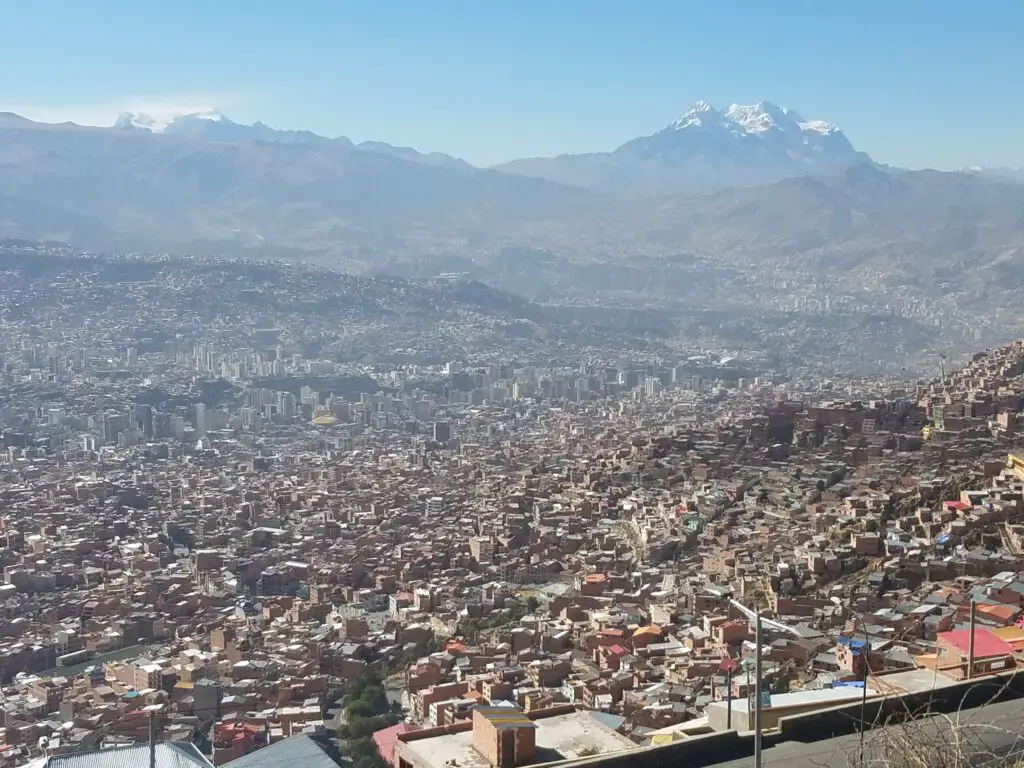 El Alto is not a well-known tourist city, but a place to experience local Bolivian life in the busy streets.  It is near the Peru-Bolivia border so it has always been a trading hub.  Nowadays it hosts the largest open-air market in South America.  The streets are lined with stalls selling everything from food to clothes to car parts to stuff that I couldn't even recognize.  Some guy was even in the aisle trying to sell Chilean money!  Bring some cash to this market, be prepared to haggle, but protect yourself against pick-pockets.  Be prepared to walk for hours to see it all because around each turn, there is another stall.  The locals get there before the sunrise in order to set up in their spot. 
Witch Doctors at El alto
There is are dozens of enclosed stalls in a line set apart from the main market area.  They are located on the cliff-side and contain the dwellings of the El Alto witch doctors.  Locals frequently visit these stalls to make offerings in hopes of luck or love or to recognize the spirits and banish unlucky curses bestowed upon them.  It is within these witch doctor stalls that more dried llama fetuses hang as offerings while perhaps a spell is cast to cure ailments.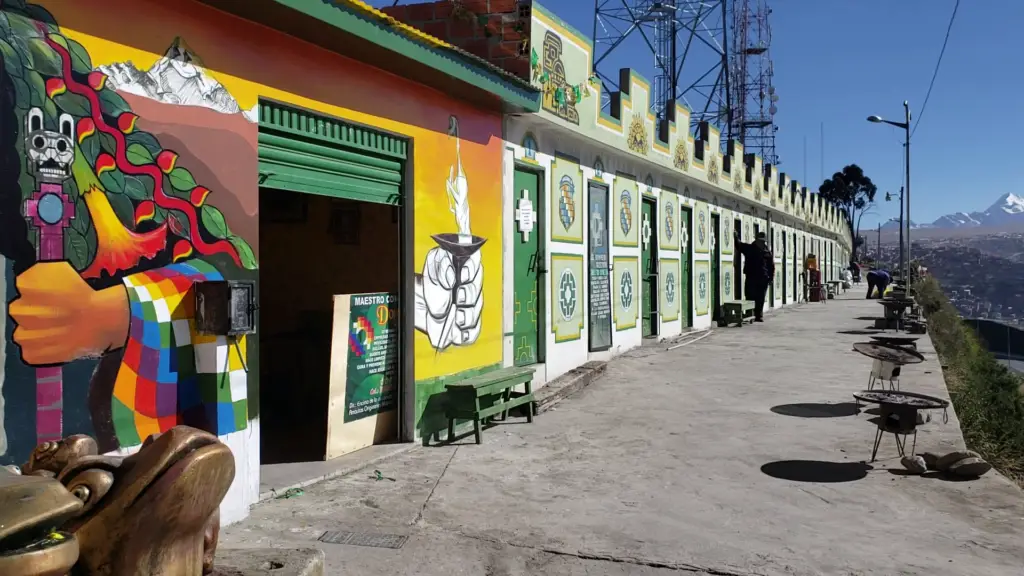 Cholita Wrestling
Located in El Alto and very popular on the list of things to do when you visit La Paz, Bolivia, this is one of the wackiest tourist attractions that I ever participated in.  It is a mesh of tradition and women empowerment performed in World Wrestling Federation style rings –and lots of audience participation in the form of yelling, cheering and BOO-ING the bad guy.
In the 2000's, women victims of domestic violence and oppression in a male-dominant society began participating in wrestling as a way out of their situation.  They gained the respect of hundreds of cheering fans as they consistently and triumphantly battled evil in the wrestling ring.
The Fighting Cholitas display their strength in the El Alto ring twice a week.  Loud Andean music plays as they are introduced.  They enter and dance in their large colorful pollera skirts, long braids, and Bolivian bowler hats. They do not wear skimpy, tight-fitting attire as a statement of Bolivian modesty.
Their fighting style, not only known for the dramatic flair and storyline, is also an exhibition of aerial acrobatic moves and brute strength as they lift each other high above their head during the free-for-all wrestling fight.  Good cholitas always win over evil and the audience cheers loudly.
DAY TRIPS from La Paz Bolivia
After you have spent your day touring the City and have seen all the sites in La Paz, you can plan some day trips!  La Paz is centrally located for many day trips, which makes it a good hub for a Bolivian vacation.  You can find many tour guides ready to show you the top attractions in Bolivia and a lot of them are a short ride from La Paz.
Uyuni Salt Flats (Salar de Uyuni)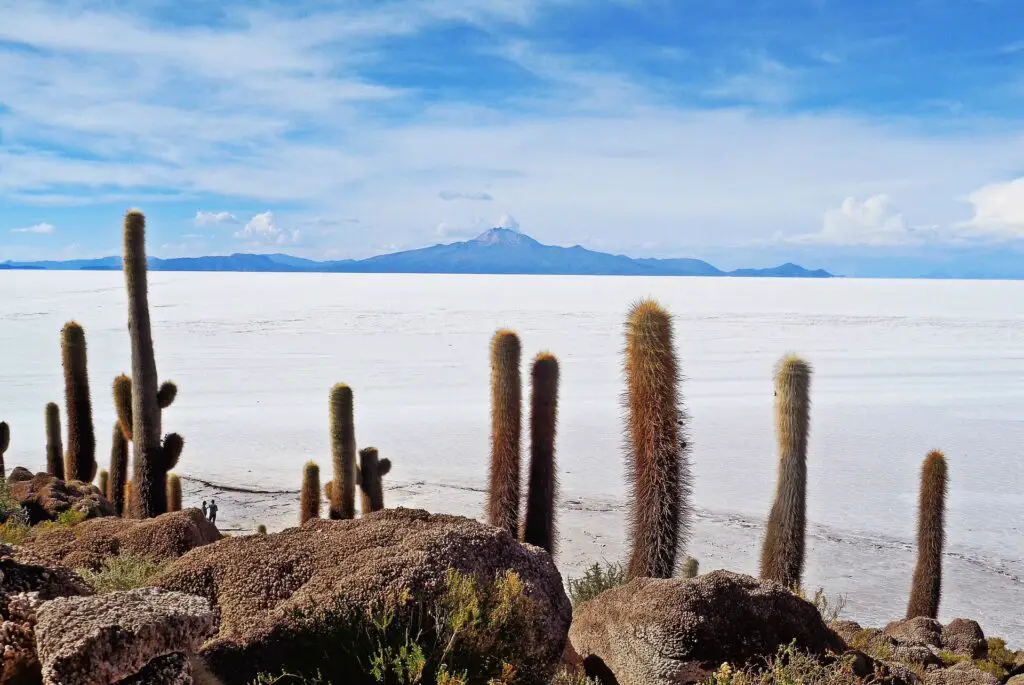 The salt flats in Bolivia, Salar de Uyuni, are the largest in the world at nearly 4,000 square miles and 11 layers of salt.  This is 100 times larger than the Bonneville Salt Flats in the U.S.A.
It was formed thousands of years ago by the evaporation of a prehistoric Lake Machin.  The water from the surrounding mountains drained into this lake without an outlet.  Hot temperature changes caused the lake to dry up, leaving a thick salt layer, sometimes 30 feet thick in places.  The water from precipitation evaporates much faster than it accumulates, which leaves behind a continuous replenishment of the salt.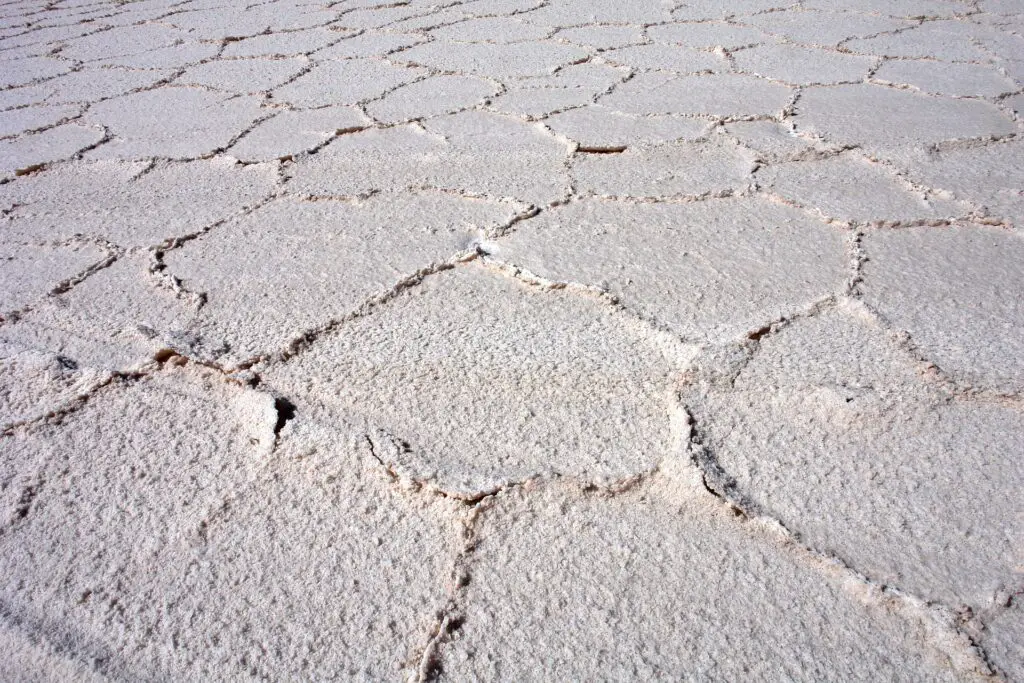 It is estimated that there are 10 billion tons of salt in the flats.  Bolivia has only just begun manually harvesting it.  However, the real value of the salt flats lies beneath the salt layer, where a rich lithium reserve is located.  Lithium is valuable in powering smartcars, smartphones and laptops
Tourists in 4×4's flock to the salt flats to see it to believe it.  Tourism keeps the little salt flats town alive!  Your tour isn't complete until you have taken at least a dozen cool perspective photos on this flat landscape!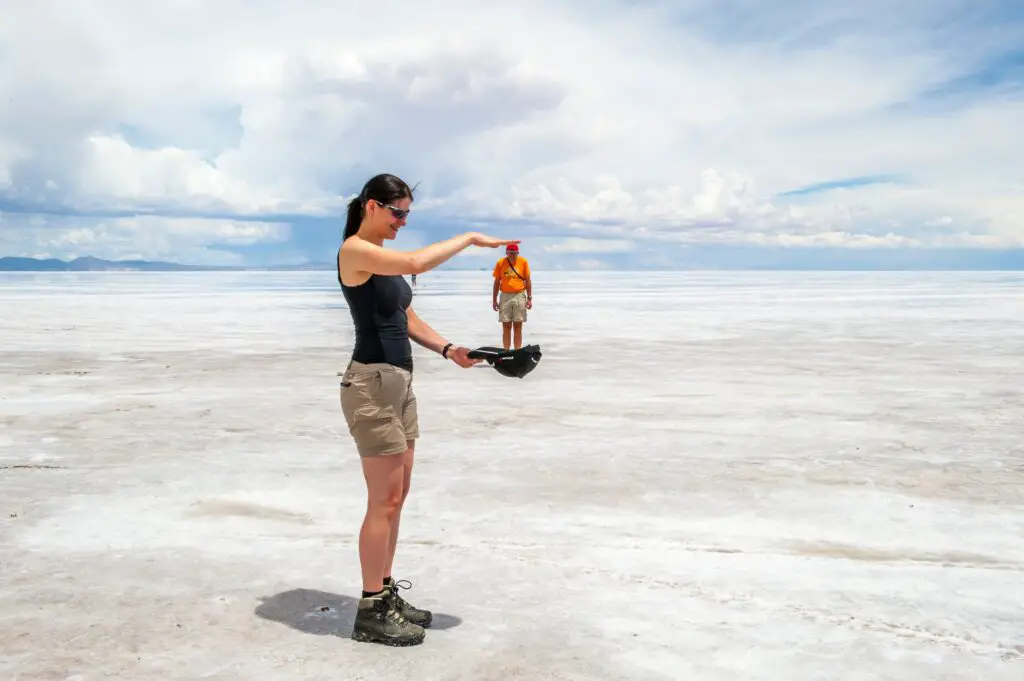 In rainy season (December to April), the salt flats transforms into the world's largest mirror.  A thin layer of rainwater collects on top of the vast expanse of salt and reflects the images above so that on the horizon it is difficult to tell where the water-covered land ends and the sky begins.  This is a photographers dream!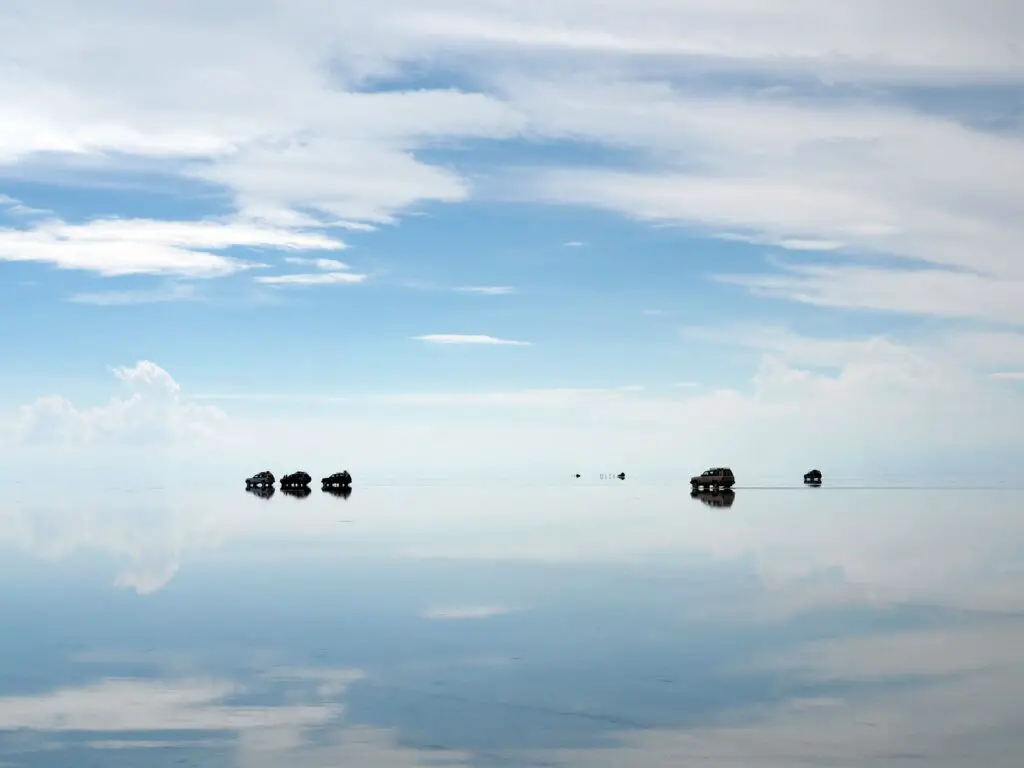 Do you recognize the Uyuni Salt Flats?  It was used as a filming location for Star Wars: the Last Jedi!
Lake Titicaca
Lake Titicaca is located on the border of Bolivia and Peru and is the highest lake in the world.  It is accessible in the town of Copacabana in Bolivia.  Copacabana has a few sites to see and can occupy a day-trip from La Paz.  For a list of the top 5 things to do in Copacabana, CLICK HERE.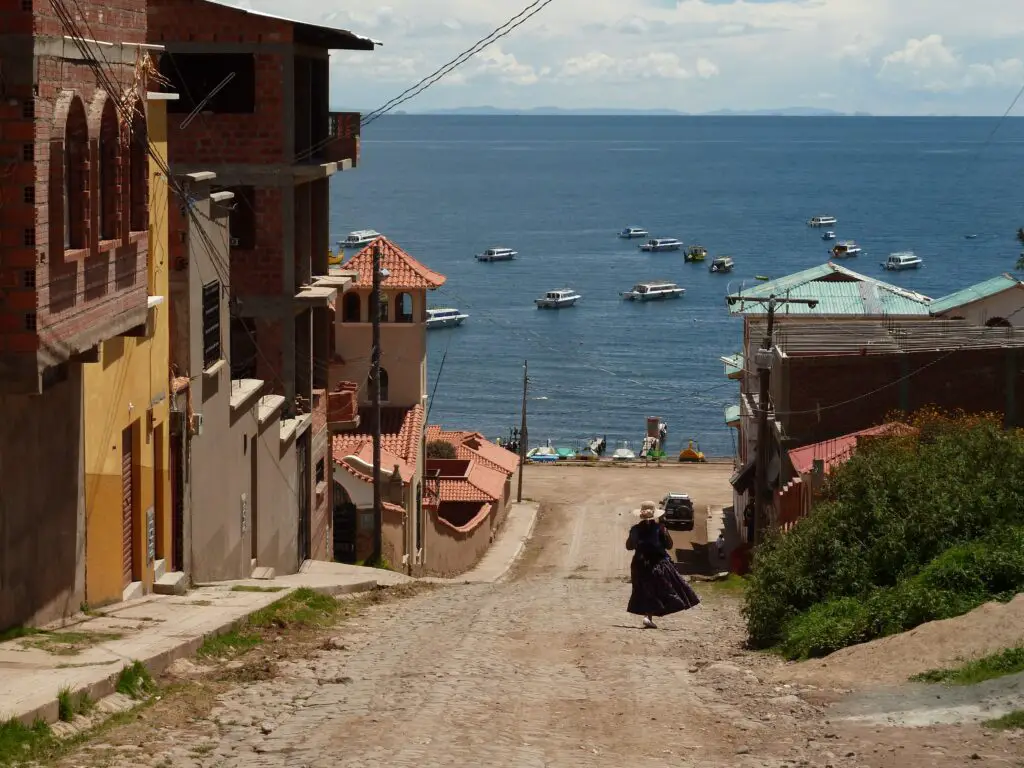 Copacabana is where you can take a boat ride to the Isla Del Sol.  This is a beautiful island and a sacred place with many Incan ruins to visit.  If you have more time in your itinerary, you can also stay overnight on the island in a quaint little hotel so that you have more time to wander around.
Huayna Potosi Mountain
Huayna Potosi, located near El Alto, is the most popular mountain to climb in Bolivia. It is a very basic three-day climb up this mountain to reach its 6,000m peak.  The basic level means that it is open to tourists and beginner climbers with not much experience.  It is strenuous though and you need to be well acclimatized before you even think of starting this trek.  Once you reach the top, there are beautiful views of La Paz and Lake Titicaca.  If you are feeling adventurous, this trip is for you!
Watch these guys in their video.  It only takes 2 minutes, but I held my breath and then tears of joy when they finally reached the summit.  
Death Road (El Camino de la Muerte)
Another adventurous trip awaits you on Death Road in La Paz Bolivia! 
Ok, so this is the world's most dangerous road for a good reason. 
Death Road is another appropriate name for Yungas Road, a twisty-turny roadway carved into the side of the mountain with falling rocks and almost no guardrails. In the summer, it is dusty with no visibility and in rainy season, the mud limits your maneuverability!  Up until recently, the death toll on the road was 300 people per year. 
What is the adventure?  Peddling down this dangerous road on a bike tour toward the Amazonian rainforest! 
Choose your tour operator wisely for this adventure, get plenty of rest before you attempt it, and go slower on the return trip down the mountain! Make sure you read up on this great list of top biking tips before your trip
Here are some options for you for this adventure CLICK HERE.
Tiwanaku
Tiwanaku is a UNESCO World Heritage Site and one of the largest pre-Colombian archaeological sites in South America.  It is 75 km from La Paz toward Lake Titicaca, so you can plan these both in a day trip from La Paz.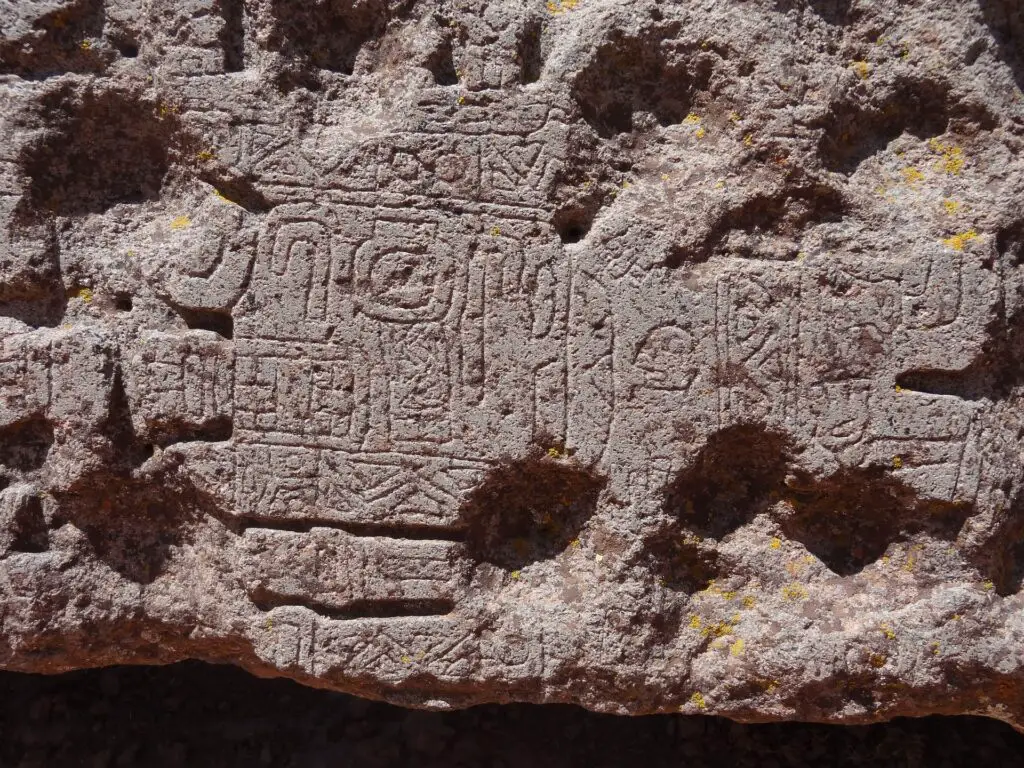 The ruins cover 4 km and include stone sculptures and preserved buildings.  They are thought to have been abandoned in 1,000 AD. Before that, nearly 50,000 inhabitants occupied Tiwanaku.
You can take a guided tour to Tiwanaku, or visit on your own.
Where to Stay in La Paz
We stayed in a cute and safe hotel in La Paz Bolivia. It felt like a quiet sanctuary away from the hustle and bustle of the city outside its walls. Hotel Rosario provided a full, delicious breakfast buffet and a heater in our room for those cold nights. There was a fancy restaurant on site too, so when we were too tired from hiking around in the altitude, all we had to do was walk to the lobby for dinner.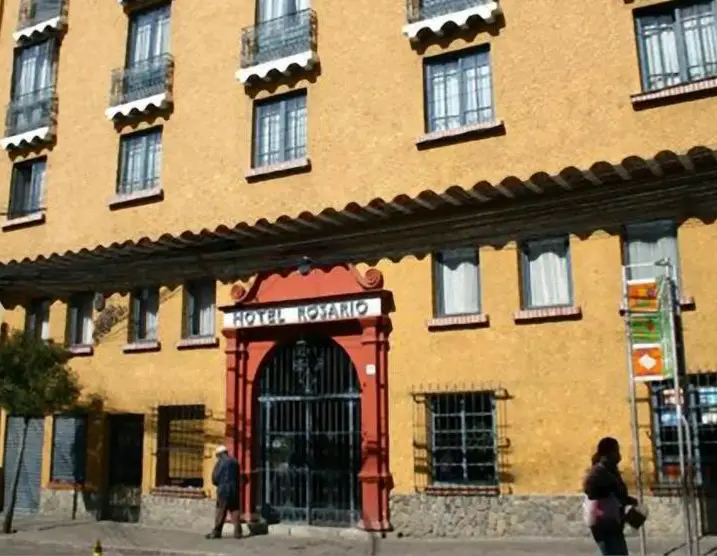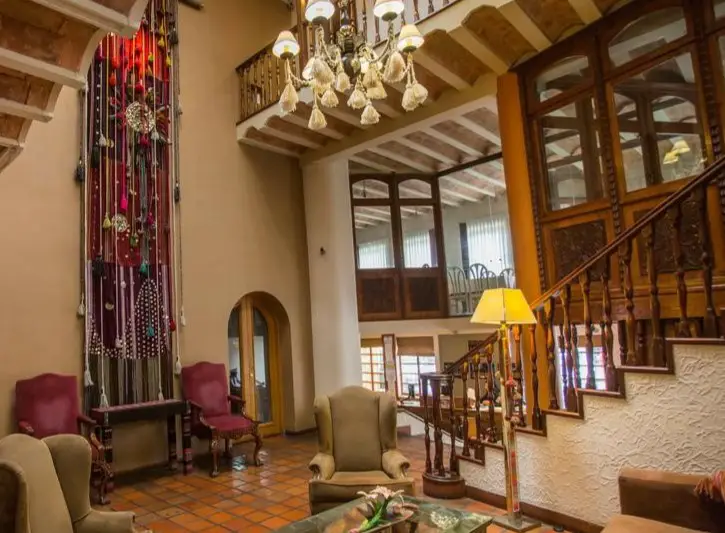 Worth a quick mention is the famous backpacker chain, Wild Rover, in La Paz.  This hostel is known for its wild parties at night.  So if you are interested in a raucous party with dancing, loud music and who knows what else, THIS is your place!  Check it out and let me know what you think since I am too old in my head to go there. Probably just for the youngins! There are many party destinations in South America where you can enjoy the nightlife.
How to get to La Paz Bolivia
If you are wondering how to get to Bolivia from Peru, Bolivia Hop is a common mode of transportation in Bolivia for tourists. They plan routes from Peru to La Paz and aid vacationers traveling this common path. If you are coming from Peru, be sure to check out all of my advice for traveling in Peru so that you make sure to hit all the must-see sites.
When to go to La Paz Bolivia:  Weather for La Paz Bolivia
The weather in La Paz Bolivia is quite like the rest of South America. The dry season in Bolivia is June through October. The remainder of the year is winter, and a lot colder. It's still beautiful, no matter what time of the year you schedule your vacation! Be sure to take a lot of pictures and enjoy it!!
Like this article? PIN IT for later
For more reading material to plan your trip to Bolivia: