DISCLOSURE: I may link to relevant products, companies or helpful info which may be affiliate links, meaning I may earn a small commission. As an Amazon Associate & other affiliates, I earn from qualifying purchases at no extra charge to you. The views & opinions are my own. Please see the disclaimer and privacy policy.
Last Updated on May 26, 2022
Did I fit everything into 1 backpack for my Amazon jungle tour in Bolivia? Yes!!!
In this ultimate guide, I have included an Amazon Jungle Packing List with all of my travel tips so that you can also plan for a trip through the Amazon jungle. Packing for the Amazon jungle and planning a trip to the Amazon Rainforest can be difficult, especially because you will often be limited to one backpack. I discovered that one of my bucket-list trips was quite possible!
Time to start preparing those DETAILS and making your packing list for amazon rainforest trip!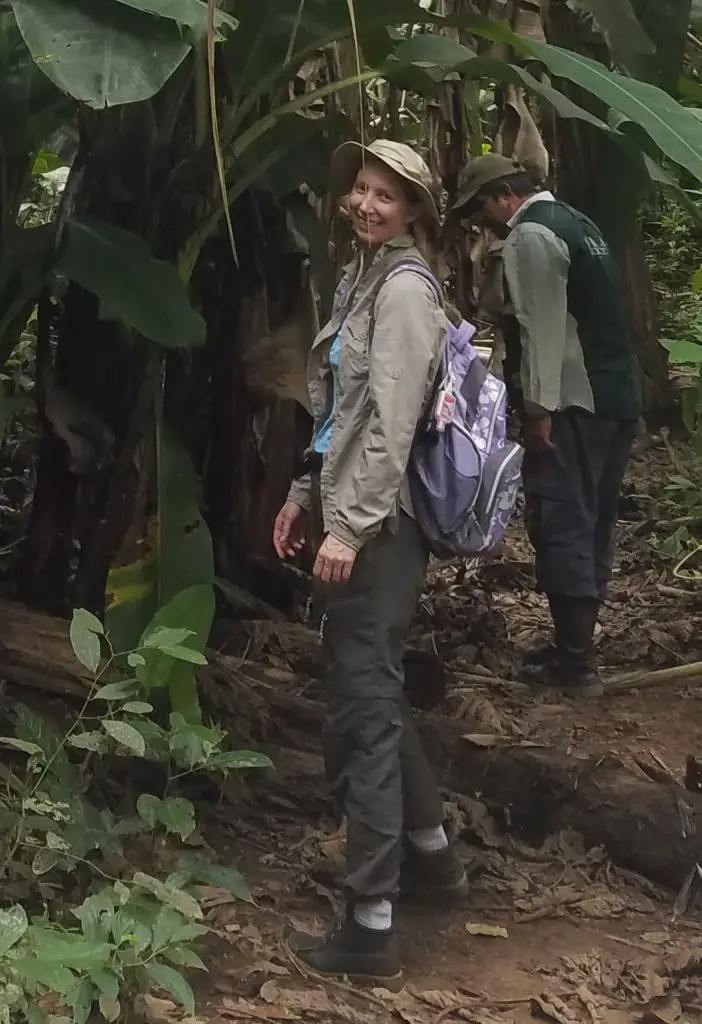 BUCKET LIST TRIP – DECISIONS
Why Bolivia?
When you think of the Amazon rainforest, you think of the lush greenery in Brazil, yet the Amazon covers many different countries in South America – including Peru and Bolivia.  I had already decided to tour the Amazon in Bolivia for numerous reasons, including proximity to Peru (since we were already planning a trip there), price, and the fact that it is less crowded with tourists, yet just as biologically diverse. 
Jungle vs Pampas
After the Amazon location was chosen there were many options to narrow down.  The major decision that I need to make was jungle vs pampas.  Each choice would involve a long-haul trip to that destination.  The classic jungle excursion was typical of what you see and know of the Amazon from TV, with the dense rainforest and plentiful jungle vines to hike through.  To reach the jungle eco-lodges, there would be at least a 2-hour canoe ride to delve deep into the rainforest. 
I had never heard of the pampas, but tours there were quite common in Bolivia and slightly cheaper.  The pampas is a wetland savanna on the edge of the Amazon, rather than deep in the jungle.  To reach the pampas, involved a long 3-hour drive down a long bumpy road, followed by a canoe ride to reach the riverside camp.  The lack of dense vegetation in the pampas is thought to be ideal for better wildlife viewing, mostly done in a canoe rather than long walks.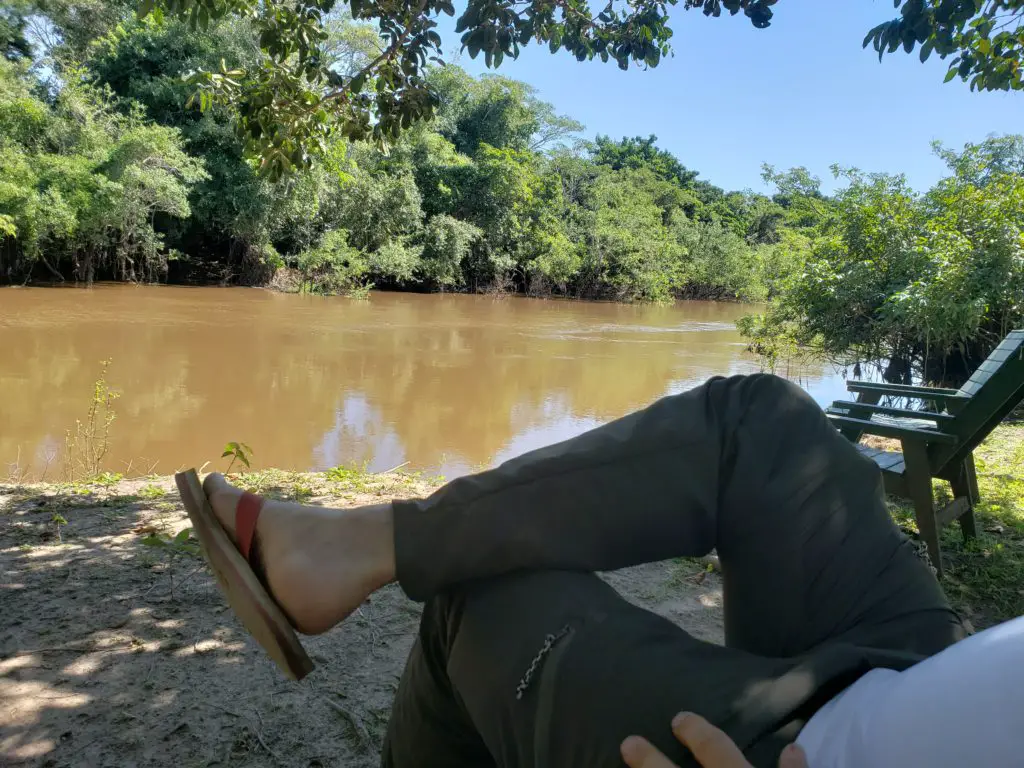 Which Amazon Activities?
As I was doing my research and reading trip reviews I made a list of the things that I wanted to do:  night walk through the jungle, look for anaconda, piranha fishing, swim with pink dolphins, see the macaws on the clay hill and my list went on. I realized that I had definitely picked activities from both the jungle and pampas areas of the Amazon. 
I stared at my list and decided that I would not be happy if I had to do eliminations, so I decided we would do the combined jungle/pampas tour that several companies offered.  Problem:  We only had 4 free days for this Amazon tour and there were not many companies that wanted to tackle that combination on such a short timeframe.  Most of the vacation time, they reasoned, would be spent traveling to the locations.  I came to one conclusion (that did prove a little faulty in the pampas, but stay tuned for that): if we are traveling through the jungle and pampas, wouldn't the journey there also be part of the tour and fun?
       RELATED POST: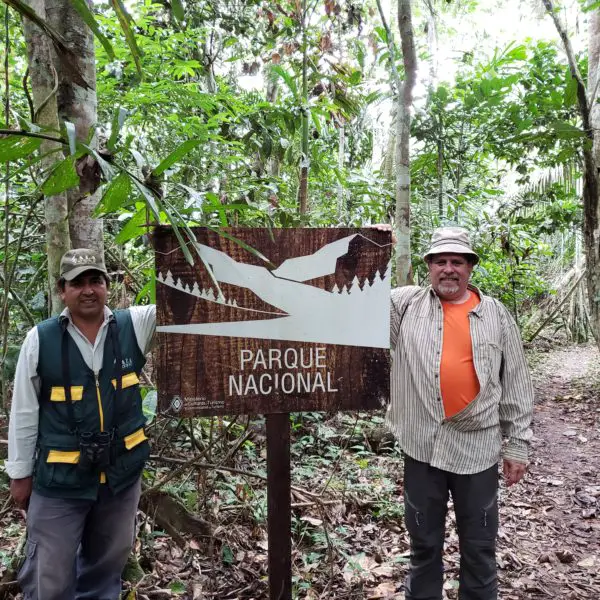 Monkeys, Macaws… and ANTS! oh my! – Amazon Jungle Rainforest Review
Amazon Jungle/Pampas Tour in Bolivia – Bala Tours The Jungle in Madidi National Park Today was the beginning of our Amazon tour in Bolivia with Bala Tours. We stayed overnight in Rurrenabaque at El Lobo Hostal. It was a decent place to rest our heads in a town that didn't have much in the way
Bala Tours
In the end, we ended up selecting our Amazon tour company with little criteria and were pleasantly surprised with an excellent reward of a vacation!  There were only two possible tour company choices that would actually offer this combined jungle/pampas 4-day tour, so having it narrowed down quickly in one step, I received quotes from both of them.  I contacted the one that was priced higher and asked them what they thought that they offered over the other company and what 'extras' we would be receiving for that higher price.  That prompted them to immediately discount the price.  That's not what I was looking for in terms of an explanation, but who doesn't love a discount? 
I decided that their quick answer deserved a booking, so I booked a 4D/3N Jungle/ Pampas shared tour for two with Bala Tours at $$$$ for 2 people! (Send me a message and I will give you the pricing details that I received for my tour so that you can compare to other quotes that you receive). I didn't mind booking a shared tour because I figured it would be a fun experience to share with others. It turned out not to matter, since we were the only ones on the tours the entire time.

Preparations for our Amazon jungle tour:
Bala Tours didn't send us a very detailed list of what we needed to bring as far as clothes or supplies. I read MORE trip reviews and hoped that I was prepared enough.  I was!  There wasn't anything more that I needed or anything that I didn't wear (maybe one pair of extra socks was leftover).
Backpack for Amazon Jungle Trip
We each packed our belongings for the Amazon in a carry-on size backpack. I have a very old Eastsport backpack that I used for this trip. They don't sell the exact same pack, but I found a similar one on Amazon. I thought the roller backpacks would be too and bulky. I didn't see myself being able to put one of those heavy roller packs on, so I found something lighter.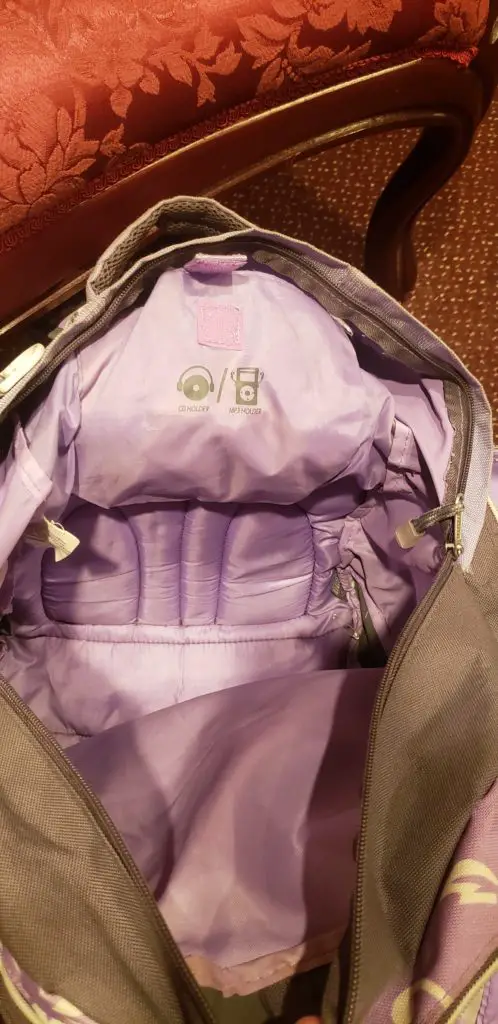 I love this Eastsport pack because it has multiple, deep compartments, a tech holder to keep my electronics safe, lots of side pockets, and this wonderful front pocket to organize all the 'littles'. The back of the pack is insulated and kept my back a little bit cooler. The coolest perks were the latches on the top. I hooked a carabiner on to those babies and attached water bottles, dirty old shoes, and anything else I didn't want to cram into the backpack.
Essential Jungle Clothing and Gear to include on your Amazon jungle packing list
Tops to wear in the jungle
I had a breathable short-sleeve shirt for each day and two long-sleeve button-up shirts that I re-wore. One of the long sleeve shirts was a Craghoppers shirt with Insect-shield in it and the other I sprayed with a bug-guard fabric spray that is supposed to last a while (even after a few washings). All shirts were neutral colors so as to not attract the bugs.
Jungle pants to wear in the Amazon jungle
I took 2 pair of jungle pants that I also sprayed with Repel Permethrin Clothing & Gear Insect Repellent, Aerosol.  One of the pair of pants had zipper pockets – I recommend lots of pockets. 
Extra jungle clothing to take to the Amazon Rainforest
Mornings and evenings were sometimes cold so I had another extra layer –which was actually a raincoat, that I put on top for warmth. I had a jungle hat – used for warmth and to protect my head from creepy crawlies.  I took LOTS of socks. They got sweaty and sometimes wet (yes, I fell in the river a little bit) so I changed them often. It was really nice to be able to put on a fresh pair of socks in the middle of the day!  I had hiking boots for walking around the jungle and slides to wear around the lodge and to the dining hall. I still wanted to wear my socks for protection, so flip-flops wouldn't have worked. The pampas tour was just a lot of riding around in the canoe. Hubby wore flip flops, but I still wore my hiking boots.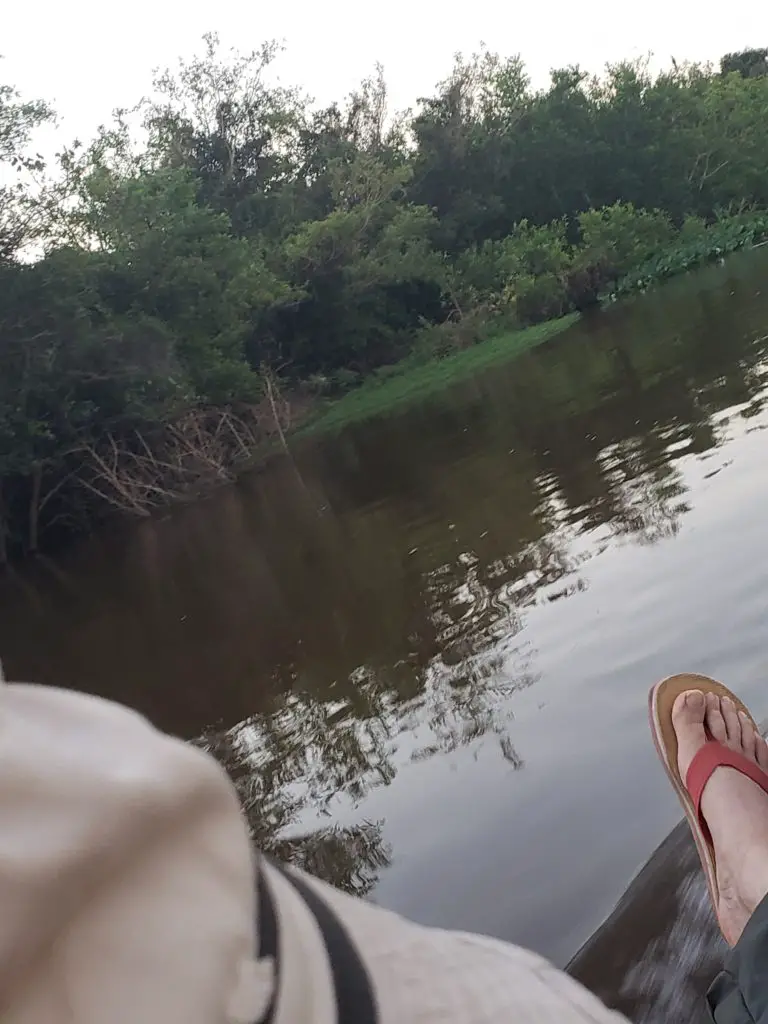 DO YOU WANT A DOWNLOADABLE AMAZON JUNGLE PACKING LIST?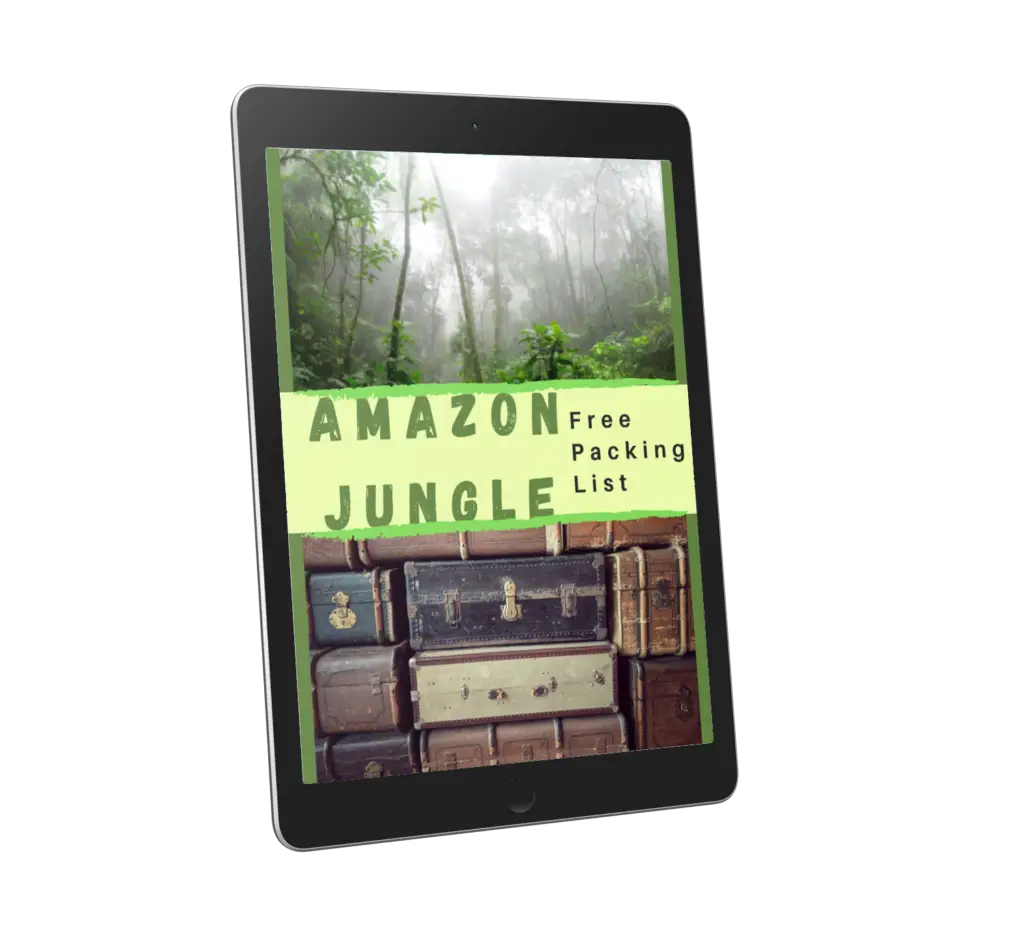 PACKING LIST for Amazon Rainforest Trip
Totals for clothing for one person (4D/3N):
breathable short-sleeve shirts
2 button-up long sleeve blouses – sprayed with bug protection or built-in
2 jungle pants – sprayed with bug protection
Socks –  I think I took around 10 pairs!
1 raincoat
1 pair of rain pants (rain was predicted every day so I wanted protection. It never rained, so these were never worn)
Shoes – 1 pair hiking boots, 1 pair slides (to walk around the lodge with a pair of comfy, dry socks)
Pajamas – I reserved my sleeping clothes and only wore them at night after I was cleaned up from showering. I took something with long sleeves and legs to cover my skin. They have mosquito nets, but I didn't take any chances.  We ended up not even needing the nets.
Other important gear worth mentioning to include on your amazon packing list
Battery operated fan – to keep mosquitos away from face and for providing white noise since we needed to preserve phone battery and couldn't use a white noise app. I never ended up getting a fan that worked. I bought one from the Dollar Store and put batteries in it to test it, then flipped them upside-down for travel. When we arrived, the fan didn't work.
Bug Protection – Yes, I was a fanatic about bug protection, but I am very allergic and swell a good bit, so I wanted to take every precaution that I could think of. I took mosquito repellent sticker patches but did not use them in the Amazon. They are so cute though, so I definitely still recommend them!!
Side note: I did not get a single bite in the Amazon!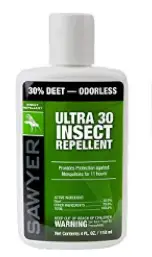 Repel Permethrin Clothing & Gear Insect Repellent, Aerosol – Before we left for South America, I used a spray-on my button-up blouses and pants with bug guard fabric spray. I sprayed my husband's too and used the whole can.  You need to spray your clothes ahead of time in a well-ventilated area because they need approximately 2 hours to dry.  Also, wear some rubber gloves so you don't get any on your skin –it's nasty stuff.
High Powered Flashlight – something high powered to use on walks around camp at night and on night walks.  The small flashlights were nice because they don't take up much room, but make sure it lights up a good distance because you are going to want to be able to see the way ahead of you.  I would have liked to have had a stronger flashlight. A flashlight headlamp is fun if you don't want to carry anything.
Battery-powered small light – to use at night when the power is off. I took a reading light that I just hooked to the towel bar.  That was strong enough in the pitch black to illuminate the room during midnight potty breaks.
Binoculars – our guide had a pair that we could use after he spotted an animal, but it was nice having an extra pair for ourselves so that we didn't have to wait for him to hand them over.
Reusable water bottle – You will need something to carry around water on hikes.  Room temperature water is provided at the lodge in big jugs that you could refill once you returned to camp, so just take a reusable water bottle and fill it at every meal when you go to the dining hall. We also took a filter water bottle because we didn't know that we would have an unlimited supply available to us at the lodge.
Phone, charger and portable charger – there is a generator at the campsite, but it is only turned on during certain hours. You can charge your phone and portable charger during those hours (usually only a couple of hours right after dinner (8-10pm) so that you can get ready for bed with the lights on).  We only had a problem one day when we had a dead phone because it wasn't plugged in correctly during charging hours.  Since we had been keeping our portable chargers fully charged, we were able to use that as an emergency and charged the phone back up.
Sidenote:  Our campsite had no hot water.  All of our showers were freezing cold.  Our guide told us that we needed to shower in the hot afternoon when the water tank was heated from the hot sun (during the siesta), but we really didn't think that it would be much warmer for us without the technology of a water heater.  We took a package of wet wipes to supplement the quick showers. I had dry shampoo to use on the nights when I just couldn't manage to submerge my head under the running ice water.
Arrival in Rurrenabaque, Bolivia:
We took the late flight from La Paz Bolivia.  There are two flights to Rurrenabaque, one in the morning and one in the late afternoon.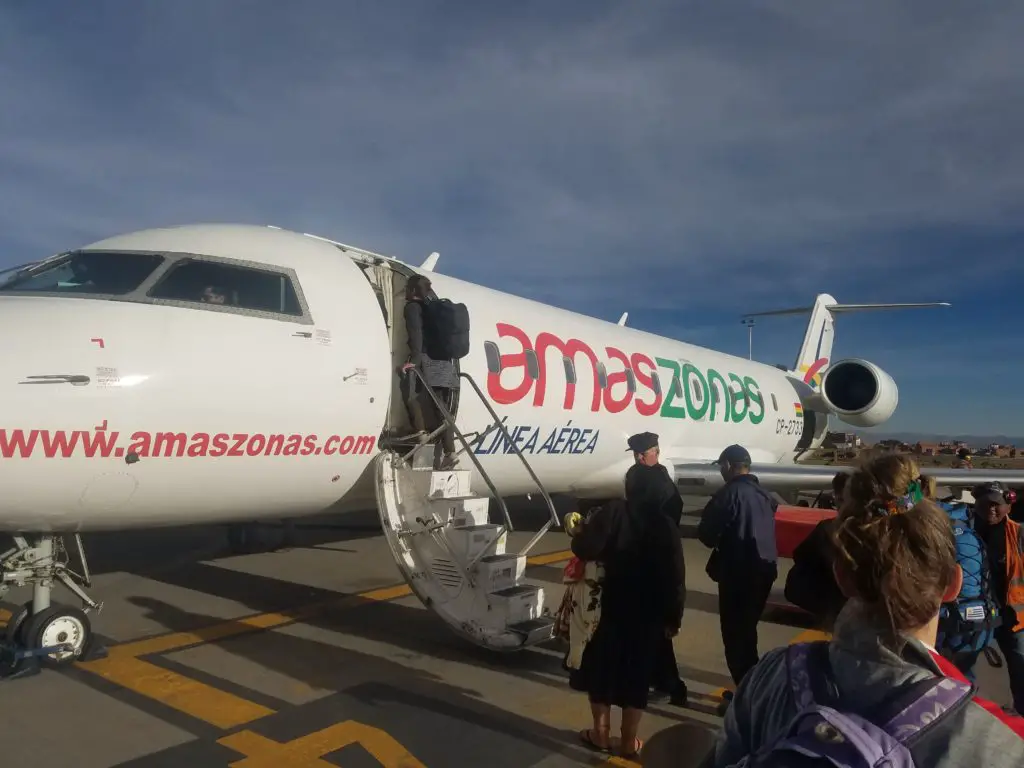 We landed on a small runway in Rurrenabaque on time at 5:30 pm and exited our little plane.  The heat hit us like an open oven door!  There was no breeze and no air, only heat! We were shuttled to the minuscule airport in 2 vans as we drove through a long path that seemed to cut into and through the jungle. 
Ah, what should I say about the Rurrenabaque airport?  To say that it is small is an understatement.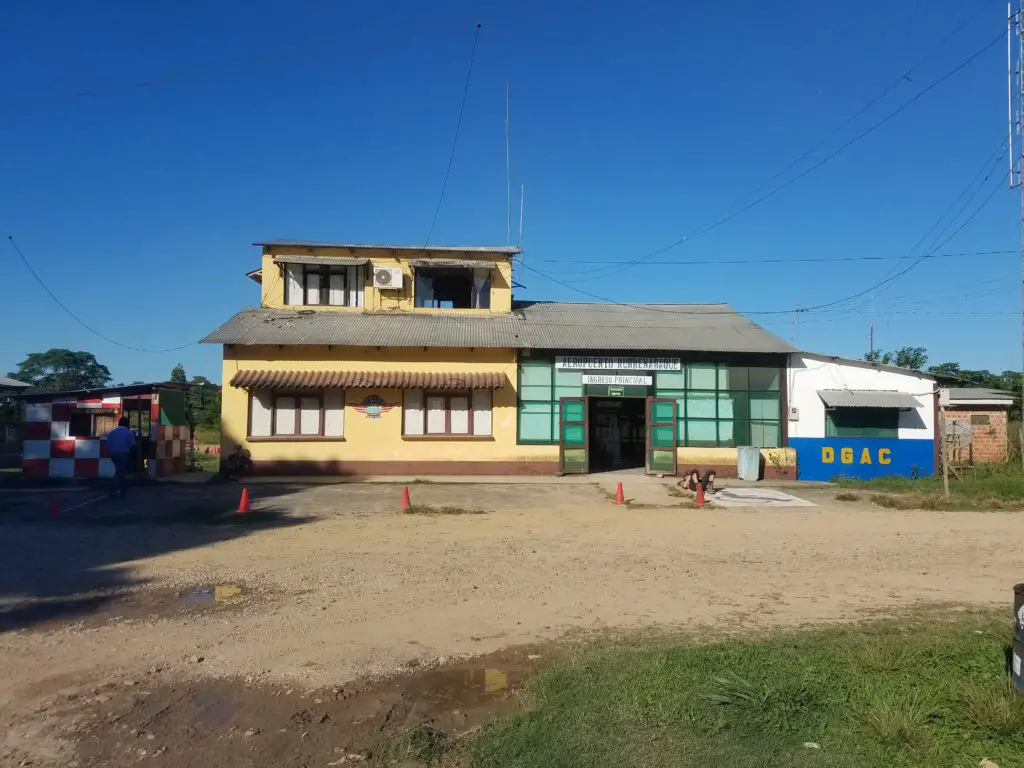 Actually, I think calling it an airport is an overstatement. It was more like an oversized mom-and-pop convenience store with a small area where you could stack luggage.  Three small windows with workers were in the front of the building, with some benches in front of that.  The small arrival area was fenced in outside in the back, covered in some places with plastic sheeting to shield from the wind, yet make it like a hot box.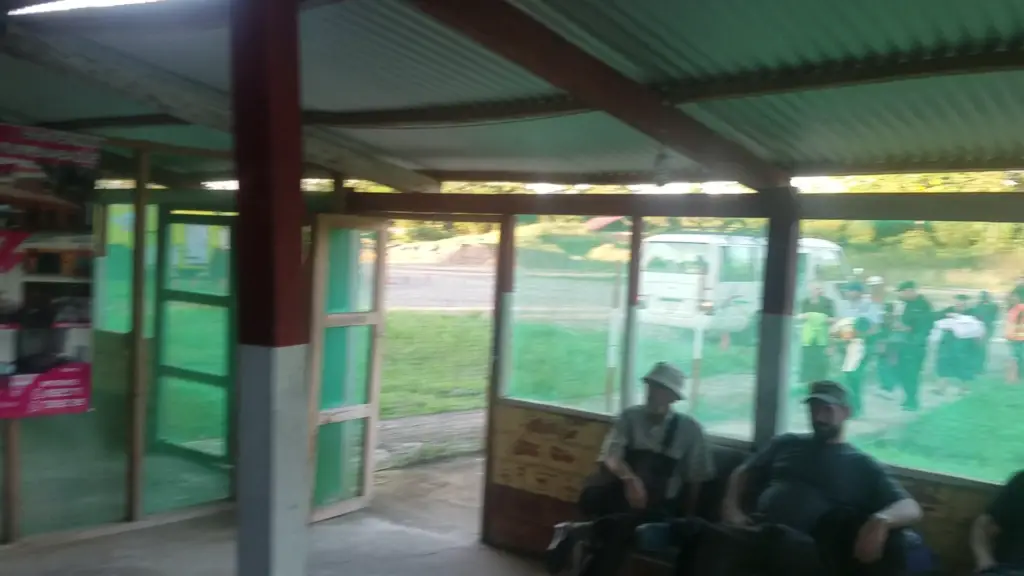 We waited for the arrival of our luggage that was being slowly transported to the airport on the back of a trailer pulled by a big tractor.  The luggage was unloaded into a square area and they really tried to make sure to check your luggage tag before they released a bag to you.
There was a guy at the airport exit holding a sign with our name on it.  We followed him to a van that was parked in front of the airport entrance door.  There was another large group going on the ride with us, so we were crammed inside with more people than seats. No one spoke English, including the driver, so we sweated in silence.  We drove for 15 or so minutes over dirt and bumpy roads and arrived at the Bala Tour office where we exited, but left our luggage in the van.  To our surprise, the other party stayed in the vehicle. Perhaps they were already paid and were just being transported to their hotel?
SIGNING UP FOR OUR AMAZON JUNGLE TOUR
We met with one of the company reps who gave us the same spiel that is posted on their website, so we didn't learn anything new.  He also went over the trip itinerary and Amazon packing list tips—but really wasn't it too late?  If I didn't pack it, where did he expect me to obtain it?  There wasn't a Walmart around!  He then asked for payment….the wrong amount… I quickly dug through my paperwork to show him the agreed-upon total for the two of us and he shrugged his shoulders and said ok. 
SIDE NOTE: When we were at the La Paz, Bolivia airport, en route to Rurrenabaque, we tried to use our debit card at the ATM to withdraw some Bolivianos. No Luck!  It wouldn't read the card and give us anything.  We tried a couple more cards that also did not work.  We knew we needed at least a little bit of cash in that currency because the Madidi National Park fees needed to be in cash.  We had leftover soles from our trip through Peru, but those were limited.  We exchanged a small number of soles and USD (while receiving hefty currency exchange fees) and tried to limit our cash spending of our Bolivianos
We handed our (now with correct total) payment to the tour rep. There was no pre-payment via credit card for this tour.  They only accepted cash payments. USD were accepted, so I had prepared an envelope with the total and brought it with me. 
He took my stack of US twenty-dollar bills and held up each one of the bills to inspect it.  He looked at each side, each corner and ran his fingers over the edges.  I knew that the country was a stickler for high-quality bills so I had prepared an envelope in advance and stuffed it each time my husband and I received a good bill from the bank at home.  Luckily, he accepted them all with no complaints because I had already spent my 'good' USD bills at the previous stops in Bolivia (and for sure we didn't have enough Bolivianos in cash). 
We were given instructions to be picked up at 9am the following morning from our hotel.  We could leave our big luggage suitcases in the Bala Tour office, but we hadn't yet sorted through and packed our backpacks yet, so we headed to our hotel with all our bags for now.  It was after 6pm and we were getting hungry so we needed to check-in fast and then find dinner. 
ACCOMMODATIONS IN RURRENABAQUE, BOLIVIA
For accommodations, I chose the El Lobo hostel based on its location on the river with great views.  None of the accommodations in Rurrenabaque looked stellar, so I tried to choose something cute and unique.  The check-in line at El Lobo was incredible.  There were about 12 people standing there waiting to check-in and the line was not moving very fast.  They appeared to all be young back-packers, some together in pairs, some solo. 
Forty-five minutes later it was our turn.  Turn in our passport, fill out the hostel form, check-in on the computer. WAIT. There is no listing for U.S. on the computer. The guy couldn't figure out what to put in the pull-down box since we were US citizens, but that was not a choice option.  OTHER AMERICA is what we all decided.  Finally checked in, Let's go, it was still incredibly hot!
El Lobo Hostel Review: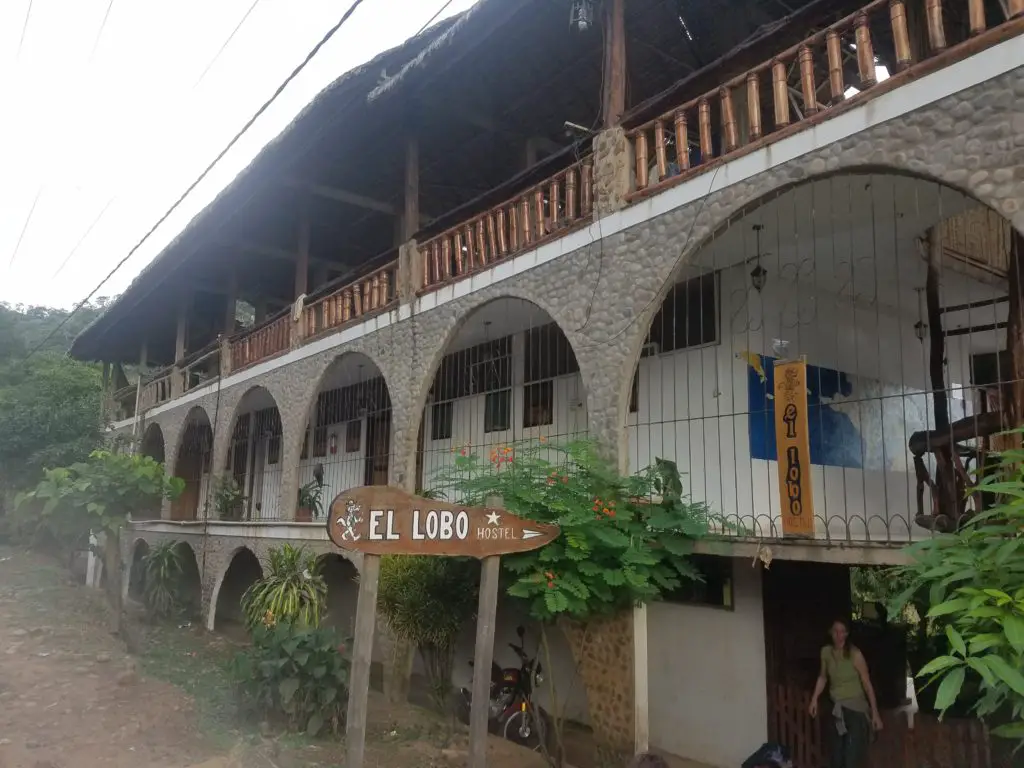 The river views and sounds from El Lobo did not disappoint, complete with clucking chickens walking along the river's edge and the sounds of motors from the little canoes cruising back and forth at all hours.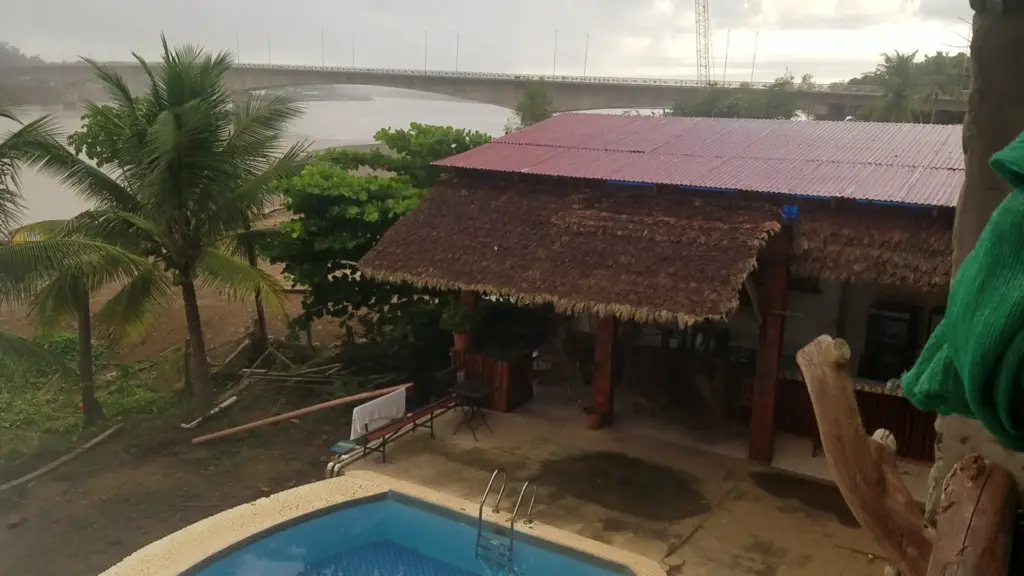 Our room was on the second floor and had a balcony overlooking the pool.  The pool looked clean, but we never saw anyone swimming in it.  The room was connected to the balcony by sliding glass doors.  We were torn whether to keep them open for air circulation since it was really hot and stuffy in the room or closed to keep out the bugs. Halfway was the final decision!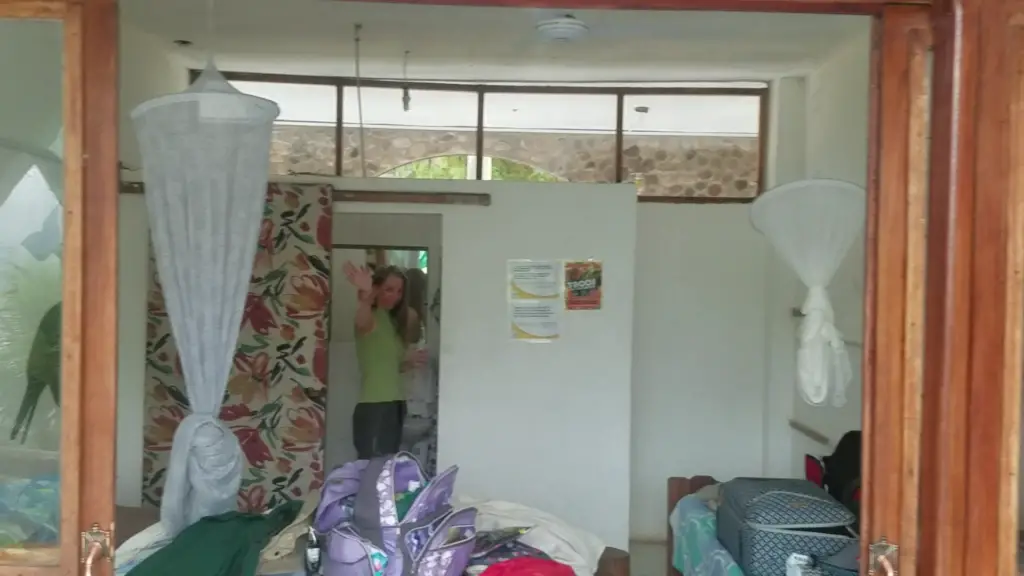 We had a very hard double bed and a single bed in our room.  Both beds were furnished with a mosquito net, but we ended up not using one.  Pillows were practically non-existent!  I had to take some clothes and a beach towel out of my suitcase and stuff them into the pillowcase to create a little bit of cushion.  There were glass windows on the opposite wall that overlooked the front street. 
I am not sure that all the windows were closed because we heard every single noise out there.  There are a ton of barking dogs in that little town!  The bathroom was built out into the room with two walls and had a sliding door.  There was not a ceiling on the bathroom, so not too much privacy there as far as noise.  Enough said? 
Shopping in Rurrenabaque, Bolivia
I brought a small can of aerosol bug spray but I read reviews that said that they sold high-powered stuff in Rurrenabaque and Amazon tourists were advised to buy some, so we walked around town to look at the shops. NOTHING.  We were given a can of bug spray for the house and yard, so that wasn't the right stuff, put that back on the shelf.  No one spoke English of course, so I translated 'large can of bug spray repellant for body' and asked around.  Finally, we found a pharmacy, so we used some of our Bolivian cash and purchased one large can.
SIDENOTE:  On the next day, Sunday, there was a very large market that we walked through on our way to board our Bala Tours canoe. I wish I would have known about that.  Since we weren't going to be picked up until 9am, we could have come early into town to do some shopping before we left for the rainforest!
Dinner in Rurrenabaque, Bolivia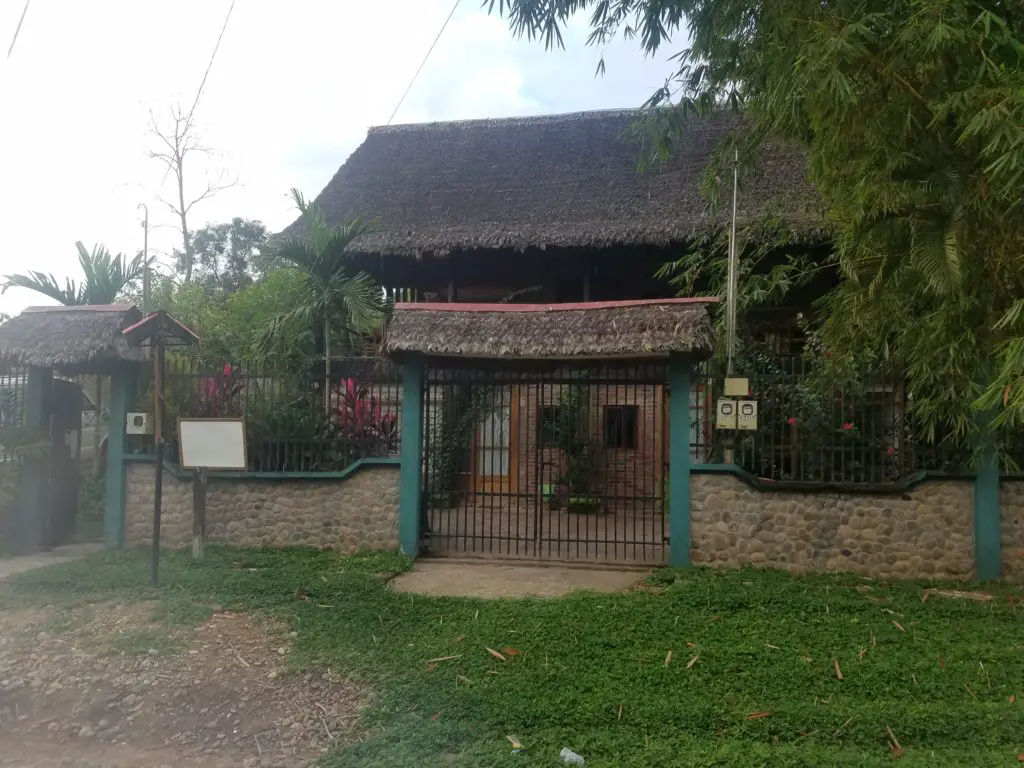 After all that shopping, we remembered we were a little bit hungry.  The hotel had an all-you-can-eat taco bar at 8pm, but we weren't in the mood for tacos.  We decided to try Casa de Campo.  It is a bed and breakfast across the street from our hotel that also had a restaurant.  I found some good reviews of it, so we decided to give it a try.  There was a credit card sign right as we walked in, so we were relieved.  Hubby ordered pasta bolognese and I ordered vegetarian lasagna and a yummy fruit smoothie of some sort.  We were the only customers, but it still took forever for our meals to be served.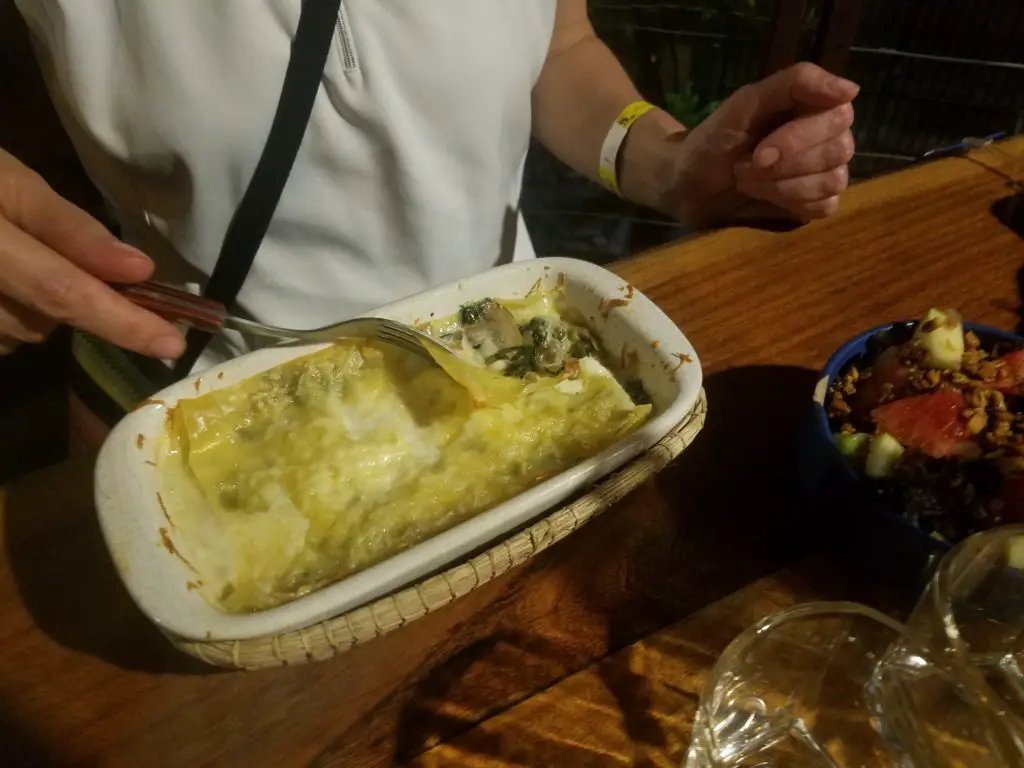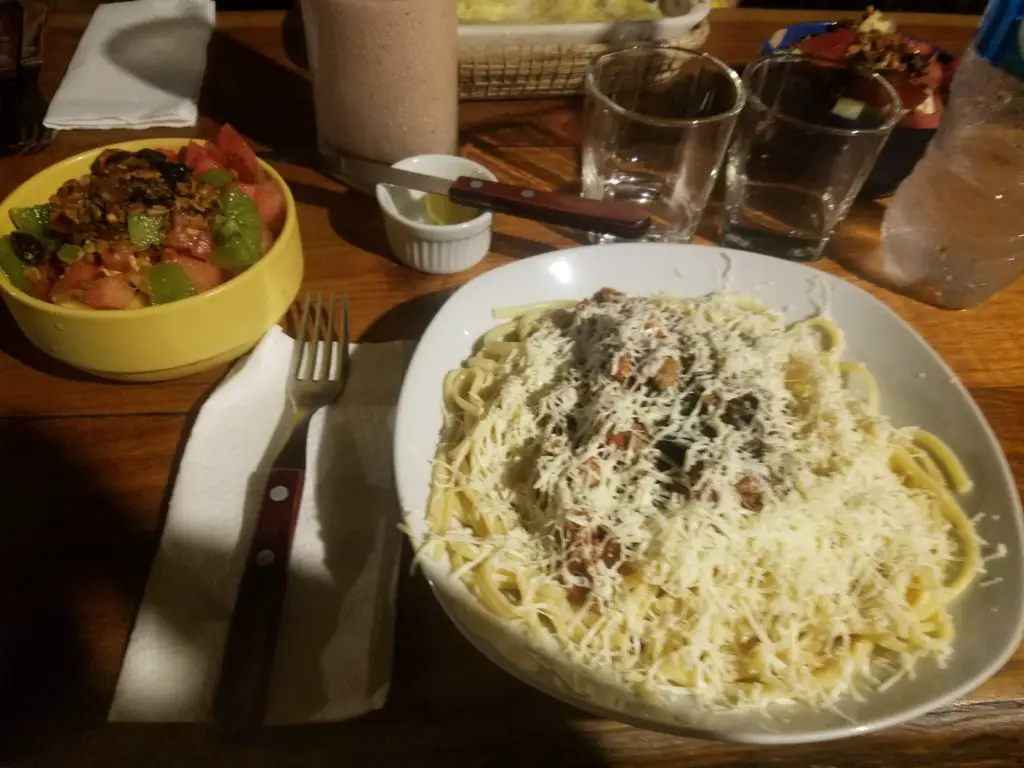 When it came time to pay, we were told that credit card payments were a minimum or else there would be an extra fee.  This part wasn't on the sign at the front.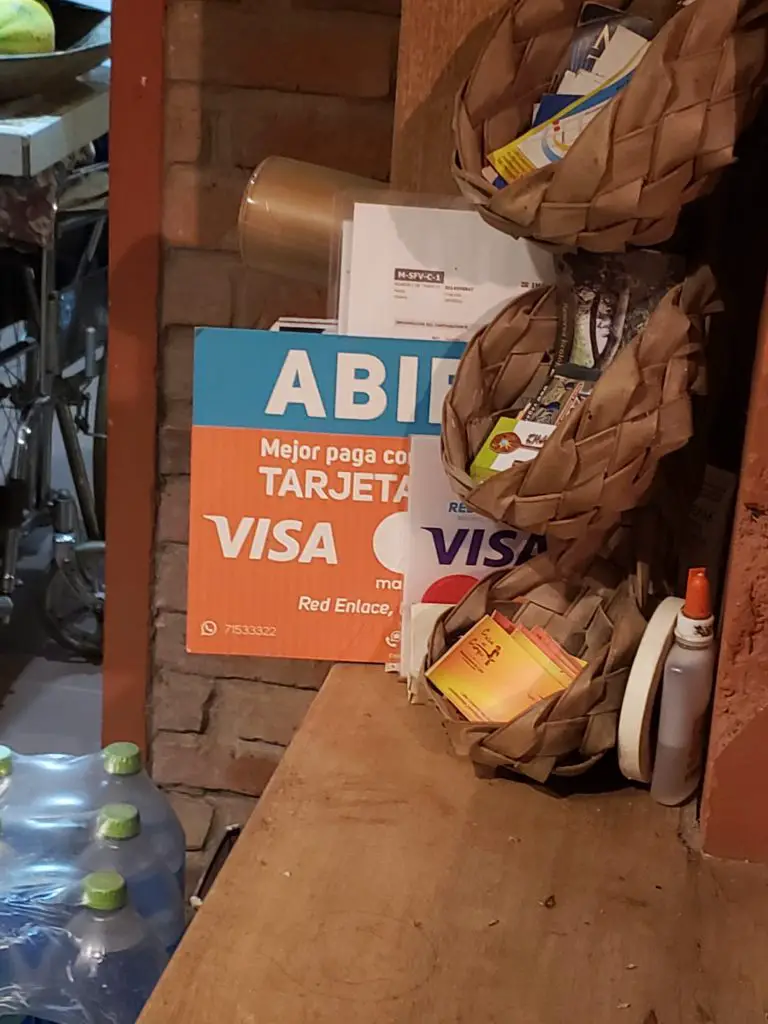 We groaned about the extra fee but gave them our credit card. NO GO. They –including the manager–couldn't get it to work after 3 tries.  SIDENOTE:  Our card worked fine in other areas of Bolivia, so not sure what was wrong with their card reader, and yes, I did check the credit card statement and we were never charged for that dinner.  We had to pay using some of our precious limited cash.
We did enjoy the food here and wanted to come back from breakfast, but didn't think we could afford to wait an hour for them to cook it….plus we wanted to reserve our cash.
Back in the room with full and satisfied bellies, we sorted our luggage into our travel carry-on backpack. The remainder was left in our big suitcases to leave behind at the Bala Tour Office tomorrow. I stuffed as much as I could into my backpack!
Need more inspiration for an Amazon jungle trip? Read more blogs of trips to the Amazon like Nomadic Matt and Accidental Nomads,
Anticipation……
Tomorrow we would be headed on our Amazon Rainforest Trekking Adventure! I couldn't believe it was finally time after all of my planning!
Keep following our AMAZON RAINFOREST ADVENTURES: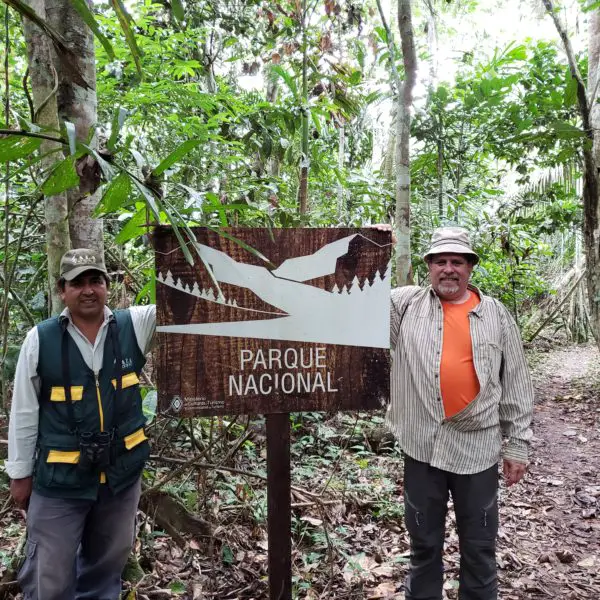 Monkeys, Macaws… and ANTS! oh my! – Amazon Rainforest Trekking Adventures
Learn what to expect on an Amazon Rainforest Trekking Adventure as we hiked deep in the jungle, canoed on the river, and viewed lots of nature & wildlife.
Like this post? PIN IT for later.