DISCLOSURE: I may link to relevant products, companies or helpful info which may be affiliate links, meaning I may earn a small commission. As an Amazon Associate & other affiliates, I earn from qualifying purchases at no extra charge to you. The views & opinions are my own. Please see the disclaimer and privacy policy.
Last Updated on January 21, 2022
A Day Trip to the Floating Island on Lake Titicaca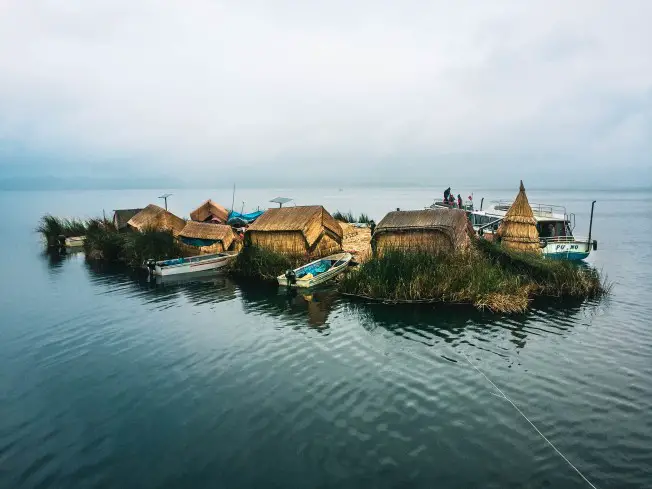 Guide to Uros Island near Puno Peru: Where is Uros Island on Lake Titicaca
Uros Island is a floating island on Lake Titicaca in Peru.  They are actually a group of floating islands that were constructed near the city of Puno, Peru, under 5 miles by boat across Lake Titicaca which stretches across to the Peru and Bolivia border as the highest, deepest, and largest lake in South America.
Puno is a high-altitude city at 12,500 feet above sea level and a frequent stop for tourists on their way into or out of Peru.  A common stop on the Puno itinerary is a day trip to the Floating Island on Lake Titicaca and usually involves visiting Uros Island.
History of Uros Island and Uros People
Uros is comprised of many artificial islands created from layers of thatched-together reeds.  The Uros people are said to have moved into the deep waters of Lake Titicaca and built the Uros Islands to escape from attacks in order to keep their society safe.  When they suspected danger, they simply unanchored their little island and let it float to safety.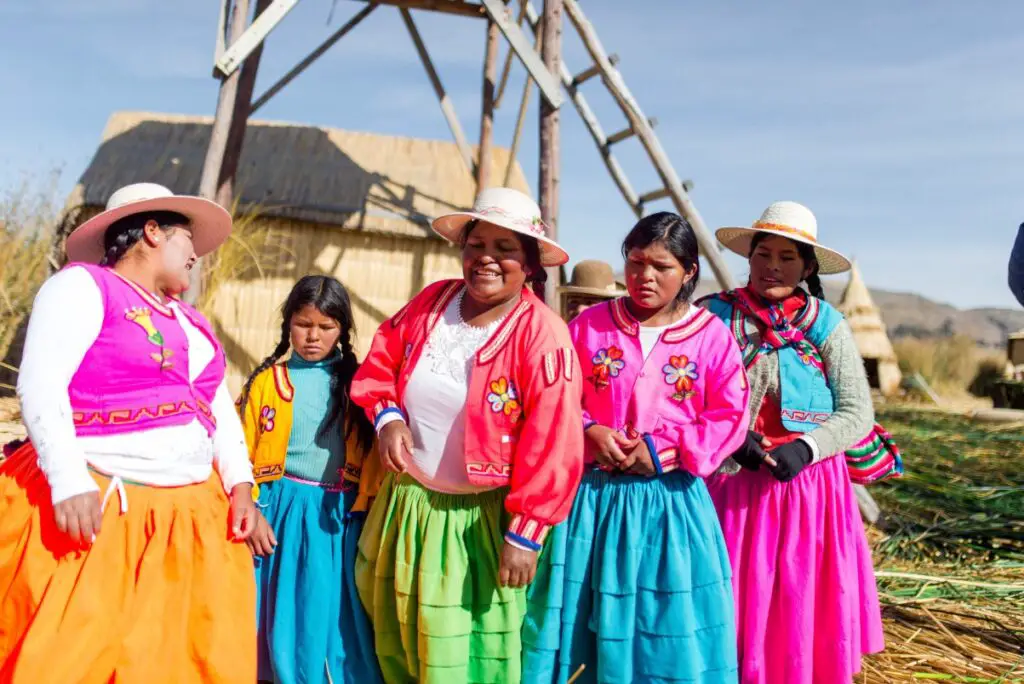 How to visit Uros Islands in Lake Titicaca
Uros can be visited with a guide or without a guide, but the language barrier will be quite steep since they will demonstrate in the Aymara language, so a translator would be a great benefit.  The half-day tour goes by quickly since most of the time is taken on the transport back and forth to the island.  I felt that this was part of the experience though.  We took an early morning tour on our way south out of Peru and toward Bolivia for our trip to the Amazon rainforest.  The boat ride was quite exhilarating (and a bit chilly!) as we zoomed toward the floating islands in Lake Titicaca before the sunrise!  Upon daylight, we approached the tiny islands, each filled with many thatched-roof huts.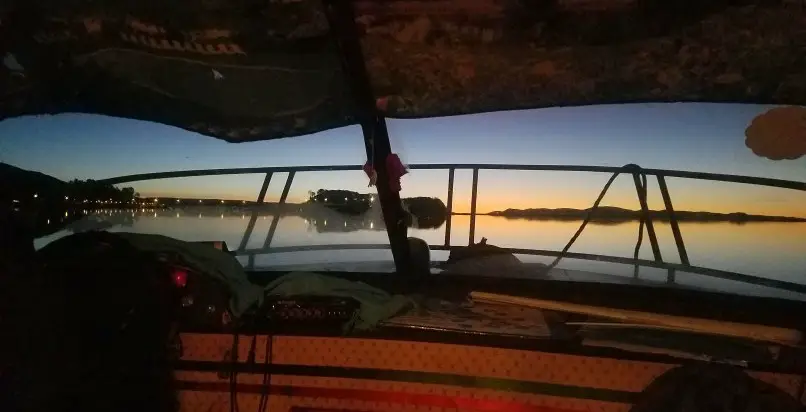 On our way to the Amazon Rainforest, we also spent some time in La Paz, Bolivia. Read about La Paz at the link below.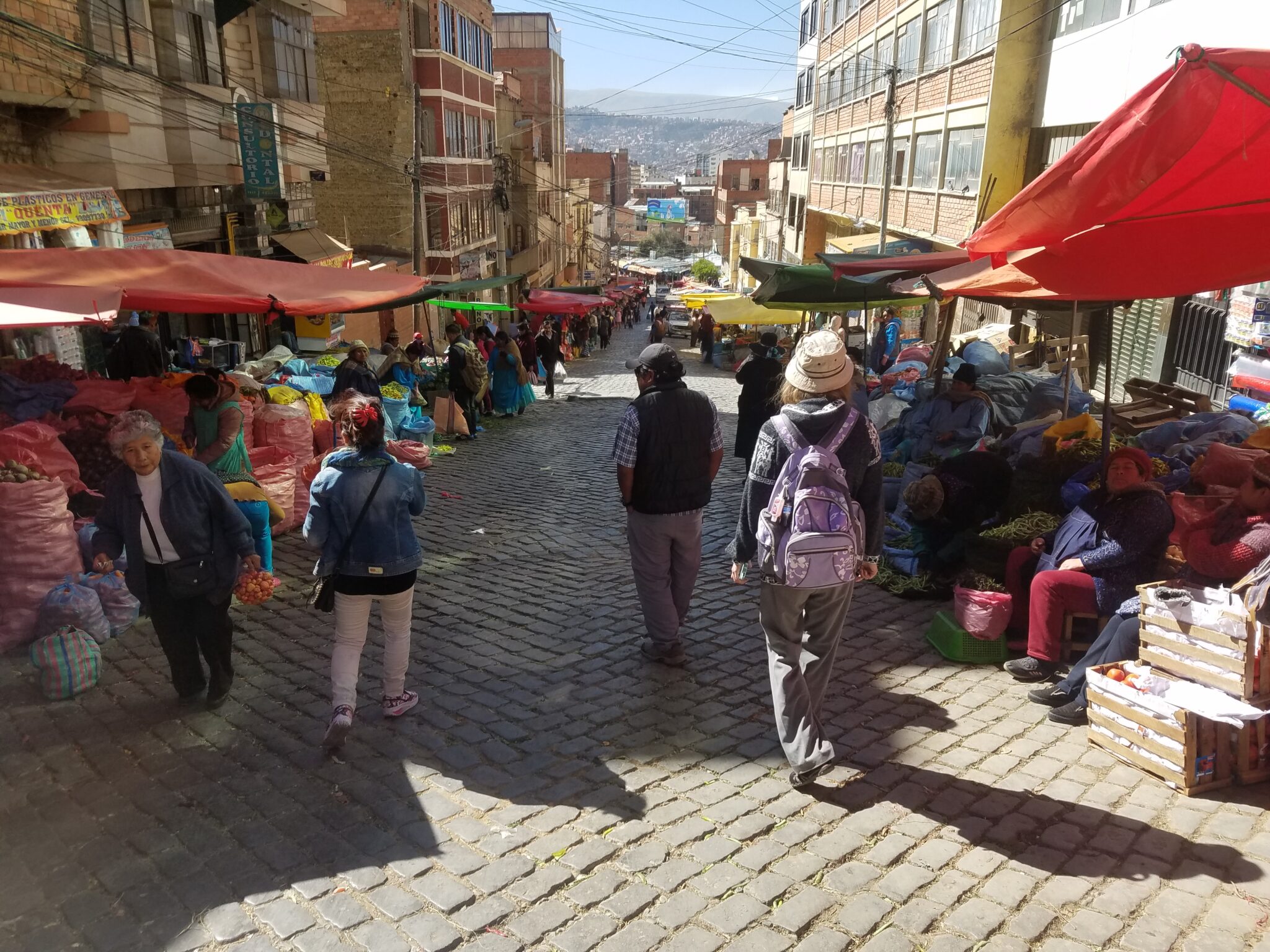 Ultimate Guide to things to do in LA PAZ Bolivia
Awesome and fun things to do in La Paz Bolivia on a walking tour of the city and on day trips around La Paz, the highest capital in the world.
Our Experience on the Floating Island on Lake Titicaca
The Uros people have developed a tourism trade by allowing travelers onto their islands in order to teach them the history of their people.  It felt like a stage-show as we were shuttled from the boat to the floating island to watch the presentation and reenactment done by the Uros families of how their little island was formed.  They brought out the reeds that they had pulled from their lake environment and showed us how layer upon layer is interwoven and stacked to form the 2-meter thick island foundation.  The leader showed how they continuously add top layers to the island as the bottom layers rot out and fall to the bottom of the deep lake.  The whole island is secured into place by giant ropes anchored to the bottom of the lake.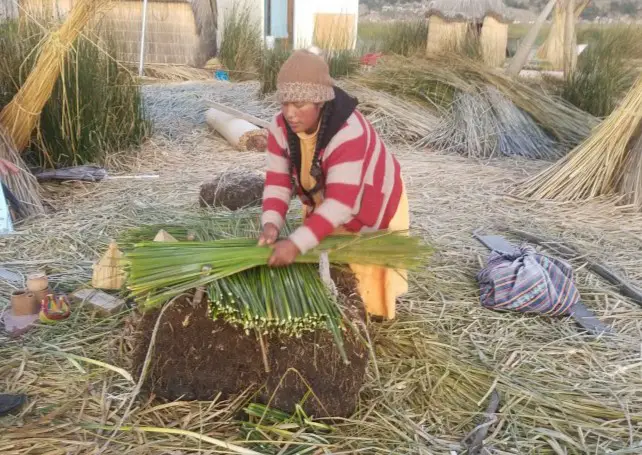 The Uros people are small, especially compared to us.  Each giant footstep we took left an indentation in the reeds as we walked among the reed-formed buildings that serve as basic huts for each family.  We ducked our heads and walked into one tiny hut to be shown the weaving on the walls.  We were shocked to also find a tiny sleeping boy, buried in colorful blankets and immune to the noise and commotion his parents were making right next to him.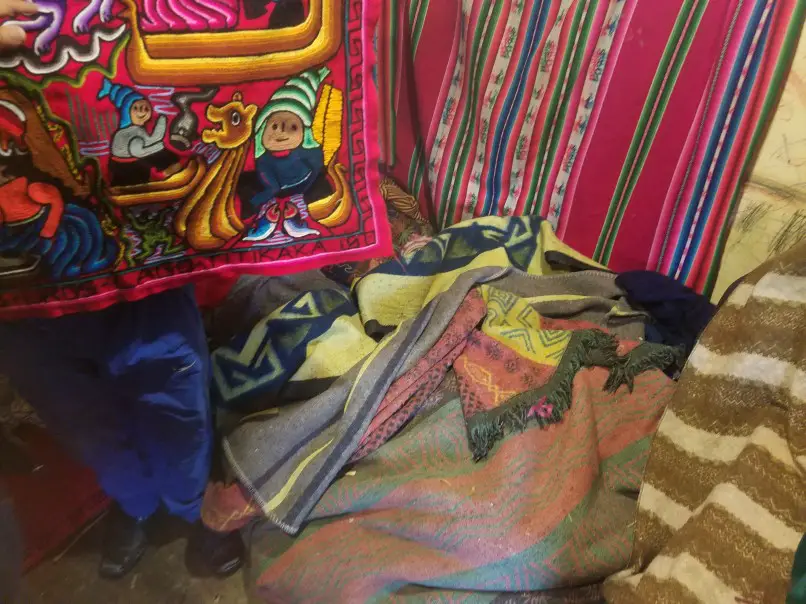 After the formal presentation by the leader there was the obligatory visit to the 'souvenir shop' where handmade goods were presented for sale.  A lot of these goods and weavings we saw in all the Peru markets, but there were also some delicate handmade reed mobiles.  I would call them wind-chimes, but there was no chiming since it was all made of reeds.  I was afraid it would be smashed in my luggage so I chose to purchase some textiles, hoping that the money I spent would go directly to the family that entertained us.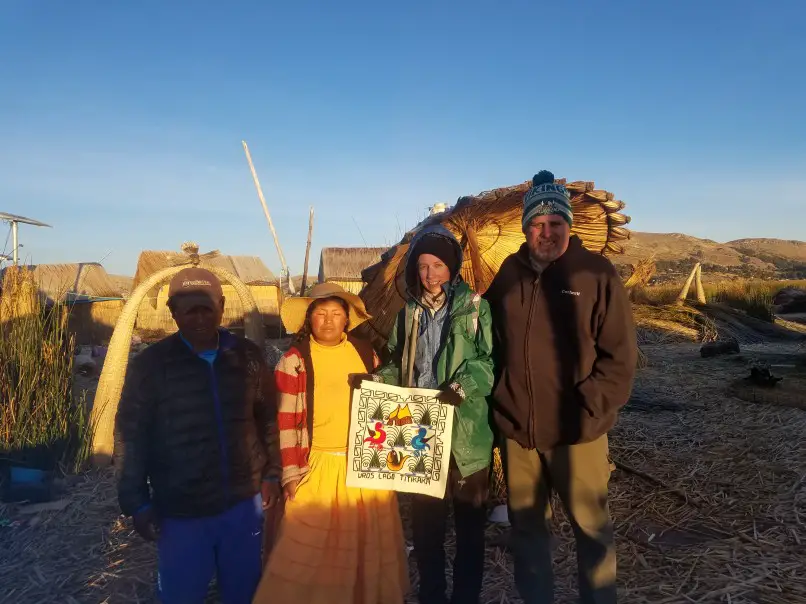 Most visitors to Uros Island are offered a ride in the beautiful and enormous Reed Boat.  Perhaps we were short of time, or maybe they were short-staffed that day, or maybe they didn't want to go through the effort for just a party of two people, but that wasn't on the itinerary.  We were also very cold, so I am not sure we would have taken them up on it anyway.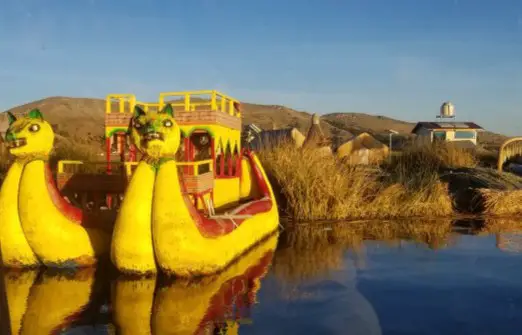 We were, however, serenaded before we left the island.  Good-bye to Uros Island.  It was a unique experience!
Is a visit to Uros Island worth it?
We enjoyed our short stay.  It was difficult to tell how much was 'real.'  I am sure that a lot of it was staged for tourists and that is sometimes acceptable.  The purpose of the 'show' was to entertain, teach the history of the Uros people, and present their culture and society.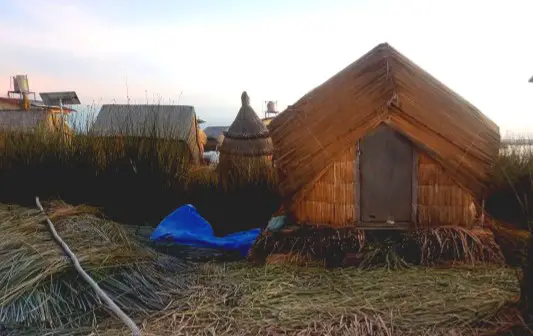 If you are in the area and have time for a quick stop to the Floating Island on Lake Titicaca, put Uros Island on your itinerary!
Like this post? PIN IT for later
For more exciting things to do in PERU Visit the posts below: