DISCLOSURE: I may link to relevant products, companies or helpful info which may be affiliate links, meaning I may earn a small commission. As an Amazon Associate & other affiliates, I earn from qualifying purchases at no extra charge to you. The views & opinions are my own. Please see the disclaimer and privacy policy.
Last Updated on July 7, 2023
MOST BEAUTIFUL FLOWER FIELDS IN THE WORLD
Lavender, Sunflowers, Tulips, oh my!!
So many beautiful flowers all around the world. You can definitely plan a visit to one of the most beautiful flower fields in the world using this ULTIMATE list. Countries all around the globe hold some of the best flower festivals in the world so that you can see all the blooms, smell all the floral fragrances, and enjoy the many varieties all at one grand festival.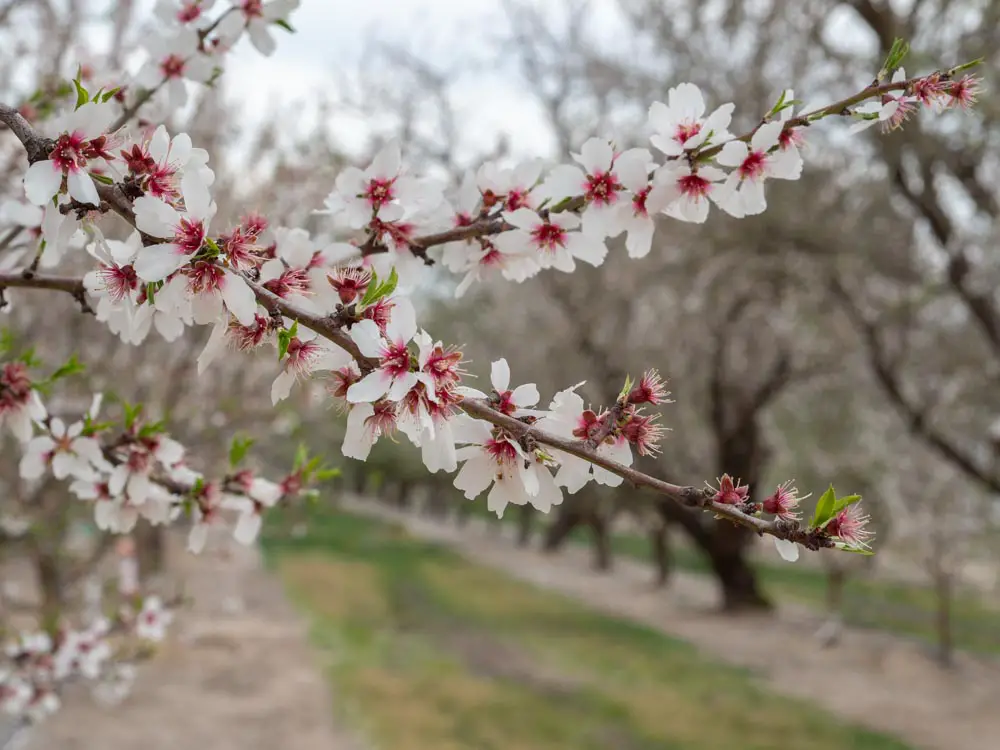 Where are these top flower festivals?
Read on in this GUIDE TO THE BEST FLOWER FIELDS IN THE WORLD to find out which destinations offer flower gardens for your enjoyment during each month of the year. There are flower festivals, flower parades, flower gardens, and flower fields all offering views of the blooms –and sometimes souvenirs and sometimes flower pickings —-BUT ALWAYS breath-taking flower photographs! They are the most instagrammable flower fields in the world!
Best Flower Festivals in the World & Best Flower Fields in the World
When to go to the Flower Fields?
These beautiful blooms happen all throughout the year. Plan your vacations to destinations around the world so that you can see the best flower festivals and the best flower fields at any time of the year at these beautiful flower field locations!
FEBRUARY: Best Flower Fields in the World
---
Almond Blossoms in California's Central Valley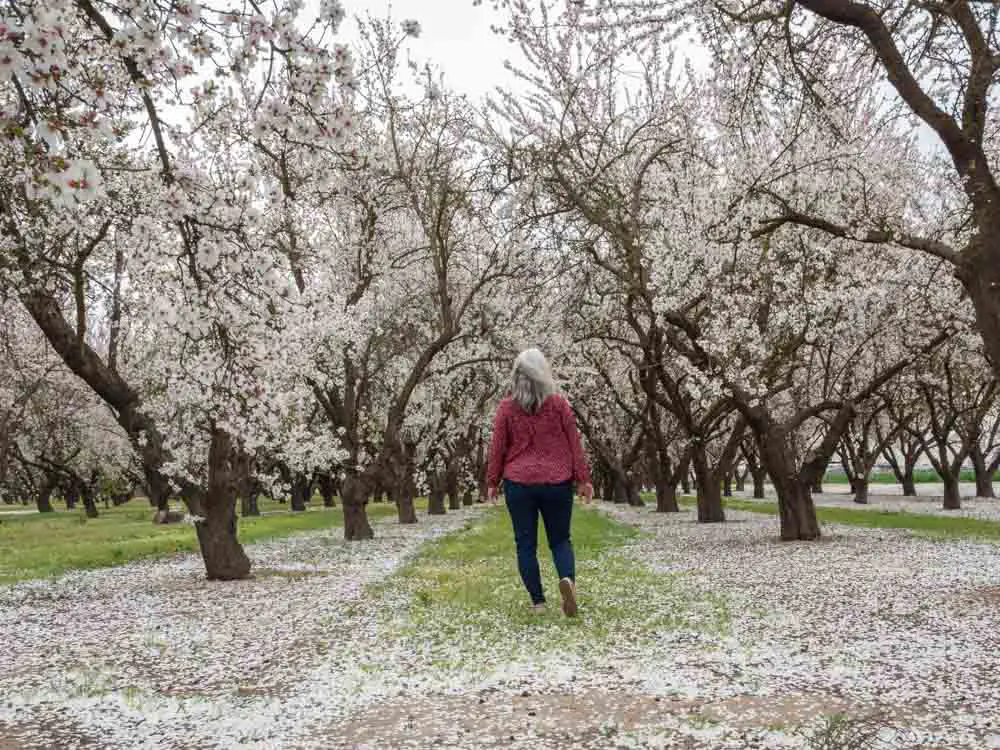 Contributed by Carol Guttery from California Crossings
During the spring, California's Central Valley is positively snowing with almond blossoms and is one of the most gorgeous displays of flowers in the world.
California is the world's largest producer of almonds, with over 1.5 million acres of almond trees in production. During February and March, all of those trees explode into spring with fragrant, delicate pink and white blossoms. It's totally worth taking a day trip out to Central Valley, or adding it onto a larger California road trip in order to experience the almond blossoms for yourself.
You can find almond groves growing throughout the Central Valley, including in Fresno, Dixon, and Bakersfield. However, the blooms are particularly easy to find in Modesto. Use this almond blossom guide and take the scenic Highway 132 route, including the Beckwith and North Hart Roads, to find high concentrations of groves. Most of the roads have a wide shoulder for easy pull-outs.
To take in the best flower fields in the USA, be aware that all of the groves are on private property. So, you can pull over and skirt the edges of the groves, but the property owners frown upon full-on trespassing. You should also be mindful of the irrigation equipment and the pollinating bee boxes.
While in Modesto, you can also take their craft food trail, which includes the Sciabica's olive oil producer, Rober's Ferry Country Store, and the Oakdale Cheese Shop. 
Important Tips for Flowers Fields in Central California
Flower Field Location: Modesto, California, USA
Flowers to See:  Almond Blossoms
Flowers In Bloom: Feb – March
Cost: Free
MARCH: Best Flower Festivals in the World
---
Cherry Blossom Festivals in Japan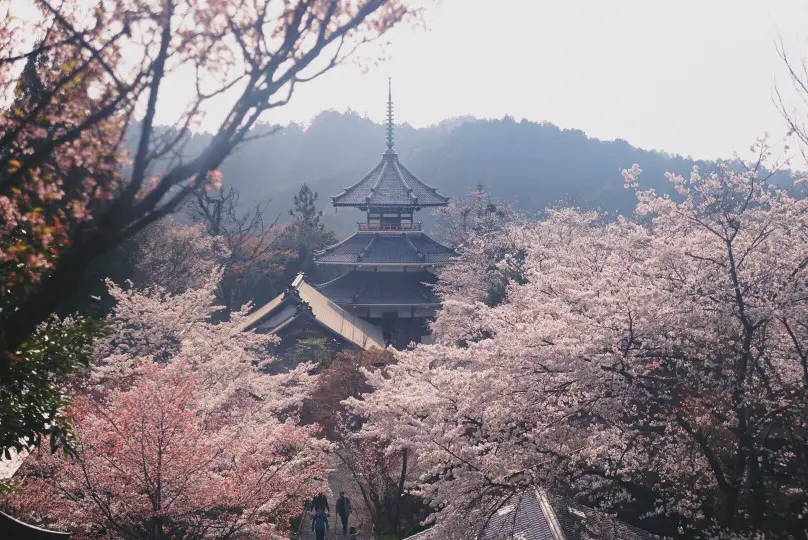 Contributed by Jacqueline from Your Travel Flamingo
Cherry blossom season in Japan is infamously a travel experience on many people's bucket lists. I have been in Japan during no less than 3 cherry blossom seasons, and can honestly report that it never loses its magic. If you are looking for the best flower festival in the world, this is definitely one of the top choices.
What makes this time of year even more special, are the numerous cherry blossom festivals that pop up all over Japan during this season. From major cities, to remote temples in the mountains, there is no place that isn't celebrating this special season.
Some easily accessible places to experience a cherry blossom festival are Osaka Castle in Osaka, Yoshino Mountain in Nara Prefecture, and Himeji Castle in Himeji. My personal favorite spot? Head to Kawaguchi Lake (the nearest train station is Kawaguchiko Station) where you'll have cherry blossoms with a view of Mount Fuji and the lake, and hardly any people.
Usually, one can expect to find food stalls, outdoor beer gardens, and sometimes special ceremonies at cherry blossom festivals. My personal favorite way to partake in the cherry blossom festival is a DIY hanami, which is Japanese for "cherry blossom picnic". All you'll need are some picnic supplies, like beers and snacks, good company, and a spot of your choice under a cherry blossom tree. You'll see all the locals doing it, and it's the best way to soak up both the culture and the natural beauty of this season.
The best time to visit Japan for cherry blossom season is the last week of March to the first week of April. It does vary each year depending on weather conditions. However, in this time frame, it's guaranteed that somewhere in Japan there will be cherry blossoms.
The best places to base yourself for exploring during cherry blossom season are in Tokyo, Osaka, or Kyoto. From these cities, you are well connected by train to most points of interest within Japan easily.
Important Tips for Cherry Blossom Festivals in Japan
Flower Festival Location: all over Japan
Flowers to See:  Cherry Blossoms
Flowers In Bloom: March-April
Cost: Free
Tulip Time: Tulip Festival in Holland Michigan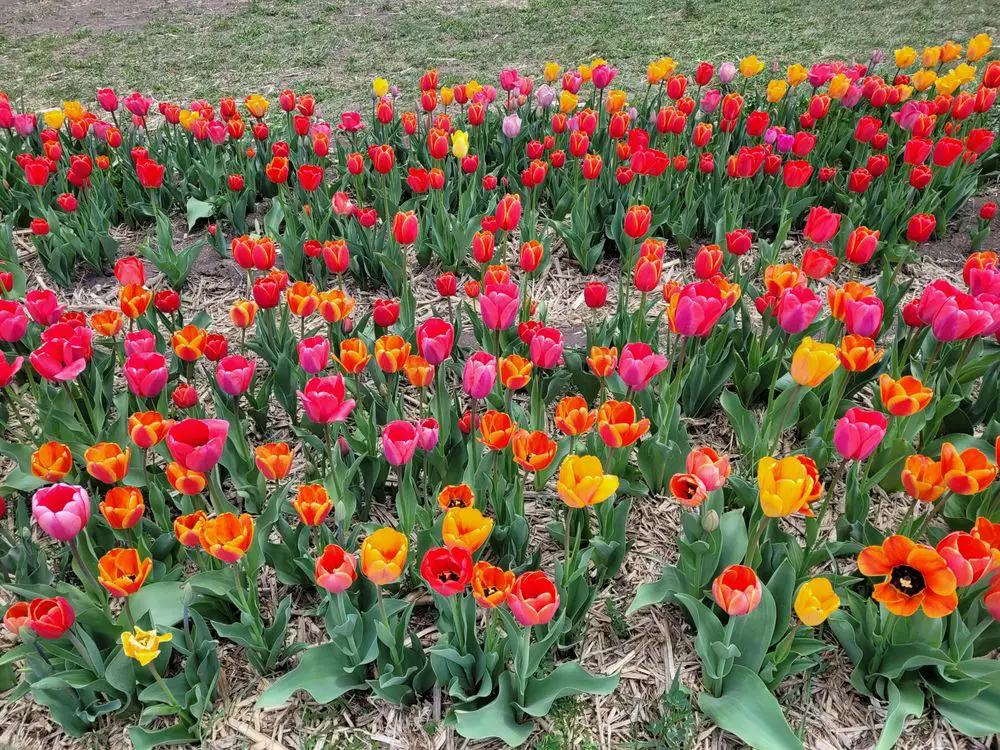 Contributed by Tanya Taylor from Travels & Treasures
It's exciting to see one of the first signs of spring as hyacinth, daffodil, and tulip petals unfold! If you love all the varieties and colors of flower fields or flower festivals, consider a trip to Holland, Michigan. It's best known for its Dutch heritage and Tulip Time, the Holland Tulip Festival. Throughout the parks, along the streets, and near municipal buildings, the city plants more than 6 million tulip bulbs for the celebrations. The parrot tulips are so unique with feathery edges and delicate fringes. The petals range from deep purple hues to kaleidoscope-colored petals. My favorite is the double-flowered tulips because they are fuller and so fragrant.   
The best time to go to this beautiful flower festival is when the tulips are in bloom, from March to April. Tulip Time begins in the first week of May, which makes for a nice Mother's Day getaway. No tickets are required to attend. The festival includes cultural activities and an hour-long parade on 8th Street. If staying in Chicago, Holland is located in the southwest region of the Great Lake State and is less than a 3-hour drive.   
There are family-oriented activities like Nelis' Dutch Village. The wee ones will love the petting zoo, ride, fun activities. The entrance fee is $13 for adults and $11 for children. Visit the Windmill Island Gardens to see beautiful fields of tulips, lovely scenery, and small gardens with sculptures. I loved the street view of beautiful village buildings, just like in the Netherlands. In the buildings, there are gift items, including wooden slippers, tulips, souvenirs, and sweet treats. The entrance fee is $5, and furry friends are allowed. You won't want to miss the Veldheer Tulip Garden, where the fields are an artist's palette board of colors. Florals and bulbs are available to purchase in many species, hues, and shapes.
If you want to be within walking distance of the festival, stay at City Flats Hotel or Courtyard by Marriott. There are more hotel selections along Interstate Highway 196.
Important Tips for the Tulip Time Festival
Flower Festival Location: Holland, Michigan, USA
Flowers to See:  Tulips
Flowers In Bloom: March-April
Cost: Free
Website for more information: Tulip Time
APRIL: Most Beautiful Flower Fields in the World
Madeira Island Flower Festival in Portugal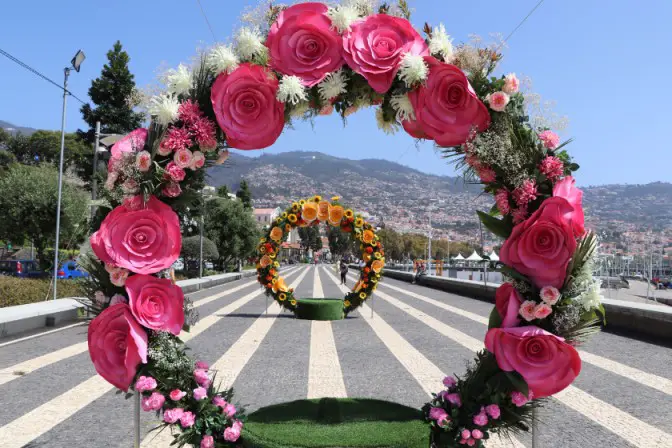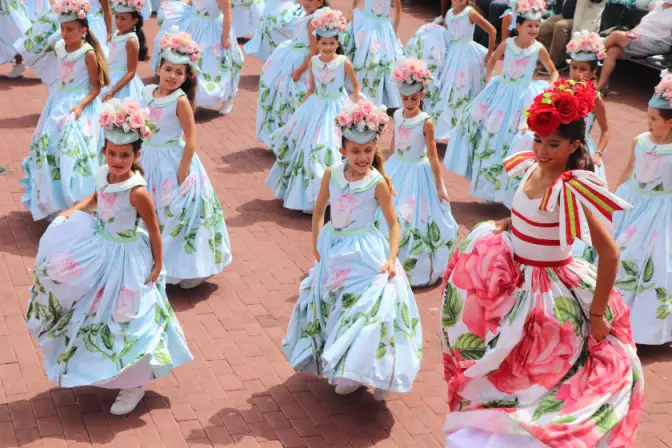 Contributed By Edyta from Say Yes To Madeira
My favorite flower destination around the world is Madeira Island, a small Portuguese Island on the Atlantic Ocean. It is a lovely island with a pleasant climate all year round, but if you love flowers, try visiting it at the turn of April and May. This is usually when the magnificent Madeira Island Flower Festival & Funchal Flower Parade take place.
I visit the Madeira Flower Festival every year and I still cannot get enough. During the festival, there are concerts, dance performances, flower markets, flower exhibitions, fashion shows, and all sorts of flower-related attractions. One of the Funchal avenues changes into a colorful flower market selling bulbs, exotic fruit, and local drinks. Funchal is beautifully decorated and on some avenues you are even able to see flower carpets.
The highlight of the entire festival is, however, the Cortejo Alegórico – the Flower Parade. It usually takes place on a Sunday afternoon. Beautifully dressed performers parade through the main avenues of Funchal, presenting their carefully prepared flower costumes, floats, and dance choreographies.
As some streets are closed and parking spots are very limited, the best place to stay is the center or the Old Town of Funchal, from where you will be within a walking distance from the parade's route.
The vibe is great, and, in my opinion, it definitely deserves the title of one the most beautiful flower festival parades in the world.  If you love flowers & a colorful spring vibe, put Madeira Island Flower Festival on your bucket list.
Important Tips for the Madeira Island Flower Festival
Flower Festival Location: Madeira Island, Portugal
Flowers to See:  So many different flowers during the festival
Festival Time: April-May
NOTE: Due to safety restrictions, in 2020 and 2021, the Flower Festival has been postponed to September and merged with the Madeira Wine Festival.
Flowers In Bloom: Madeira is "Flower Island" with something in bloom each month.
Cost: Free
Bluebells in Halle Forest Belgium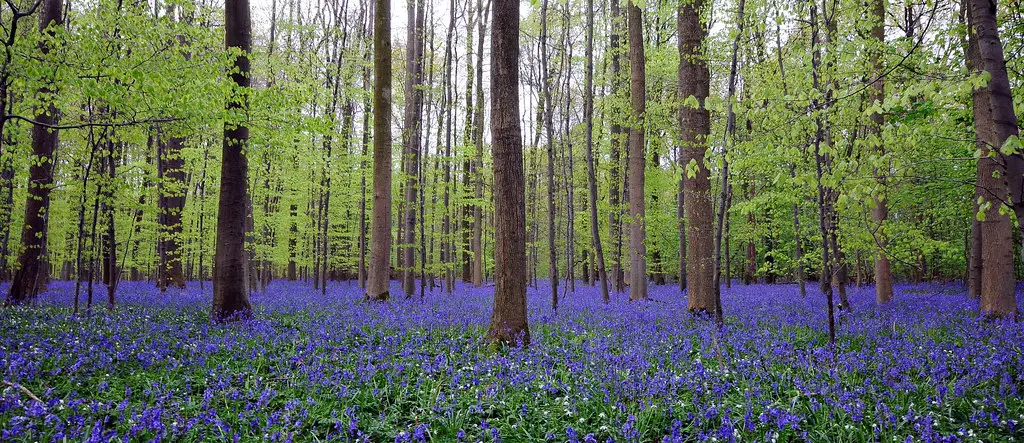 Contributed By Babs from Next Stop Belgium
In Belgium, the bluebell is a spring flower that blossoms in the forest and attracts thousands of international visitors each year to see these natural flower fields. But the Belgians? They are hardly aware of anything. Or should I say, were aware, because post-Covid, we finally managed to catch up and the Blue Sea natural wonder is now being chased by many and considered one of the most beautiful fields in the world.
I have to say that I too only discovered the phenomena in recent years, but visiting the forest and seeing that ocean of blue-ish purple bluebells in between the massive trees is truly a glorious and fairytale-like sight.
The bluebell is a small flower that grows in ancient forests in Western Europe. In Belgium, the most well-known place to see them is in Halle Forest, but you can spot the bluebells in a couple of other less busy places as well. Planning your trip can be quite a pickle because these beautiful fields of flowers only bloom for about 2 weeks a year!
The small flower with a stem full of little purple clocks is a very fragile plant, so you should always stay on the path (even stepping next to it prevents it from blooming the next year). Picking it is illegal, so you'll have to make do with pretty pictures.
In Halle Forest, there are many marked walks, including 2 specifically to see the bluebells. The town of Halle is only 15 minutes by train from Brussels, so you would be best off staying in the capital. A great place to do so is the Pillows Grand Boutique Hotel Brussels.
Important Tips for Halle Forest
Flower Field Location: Halle Forest, Belgium
Flowers to See:  Bluebell
Flowers in Bloom: April-May
Cost: Free
Keukenhof Tulip Festival in the Netherlands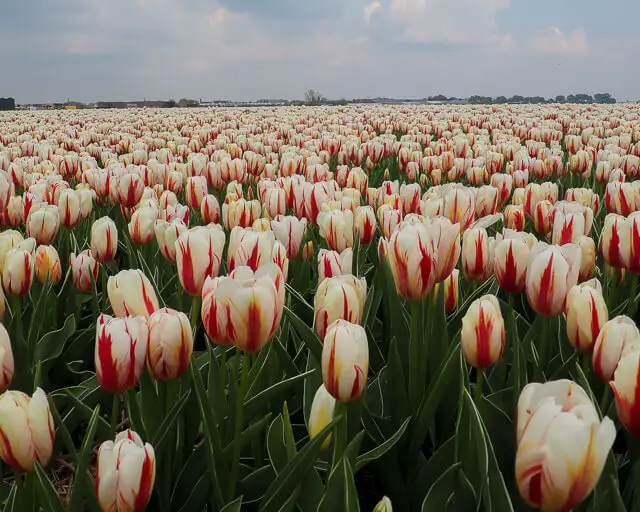 Contributed by Kat from Endless Wonder
The Netherlands is famous for its tulips and the Keukenhof Tulip Festival is one of the best flower festivals I have been to. The tulips here are stunning, with displays of flowers in every color you can imagine, lining the paths throughout the festival. My favorite way to enjoy the Keukenhof was to get lost admiring the flowers while wandering up and down the walkways. As I explored, I would come across different gems the festival has to offer – including a small petting zoo, a gift shop, and indoor displays of flowers as well.
This flower festival runs every Spring and is located just outside the town of Lisse, which is around a 32-minute drive from Amsterdam. The Keukenhof is accessible by car, bike, or public transportation. I purchased the "combi ticket" which combined my admission with a roundtrip ride on the Keukenhof Express bus that leaves from Amsterdam. The price of the combi ticket cost me around 30 €, while the price for regular admission is 19 €.
One of my favorite parts of the festival is the option to explore the famous tulip fields surrounding the festival. I rented a bike from a booth in the festival parking lot, they gave me a map, and I rode around admiring the tulip fields at my own pace and taking pictures along the way. Most of these fields are private, therefore you are not allowed to enter these fields. Instead, you can admire the vast tulips from the road. Either way, I highly recommend getting out and exploring these beautiful fields while at the Keukenhof. 
On my visit I stayed in Amsterdam, seeing as how the festival is so close to the Netherlands capital city. You also have the option to stay in the town of Lisse, which is where the Keukenhof is located. 
I highly recommend visiting this flower festival if you're in the Netherlands during late April – early May. The Netherlands tulip fields & the Keukenhof festival did not disappoint and is still one of my fondest memories of my travels in the Netherlands. 
Be sure to check out these other Don't Miss Sites in the Netherlands!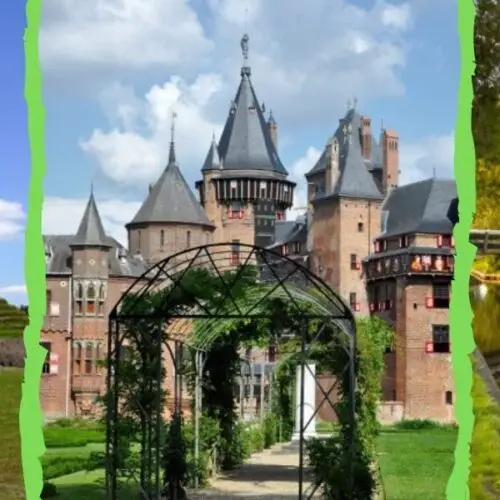 18 Gorgeous Hidden Gems In The Netherlands
Here is a list of gorgeous hidden gems in the Netherlands to visit when in Holland. The Netherlands are more than windmills and tulip fields. Take a look!
Important Tips for Keukenhof Tulip Festival
Flower Festival Location: Lisse, Netherlands (32 minutes from Amsterdam)
Flowers to See:  Festival has many varieties, Tulip Fields surrounding Festival
Flowers in Bloom: April-early May
Cost: Free
Istanbul International Tulip Festival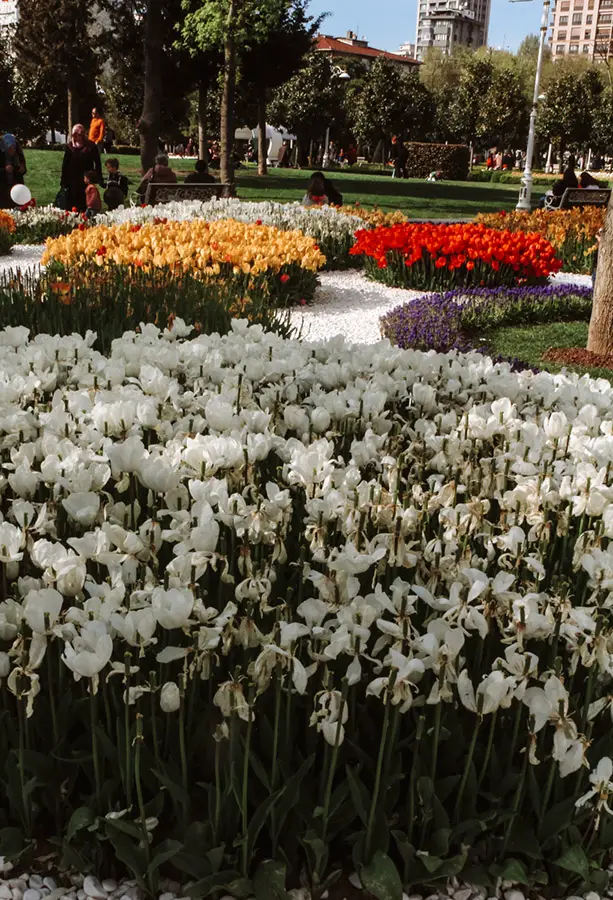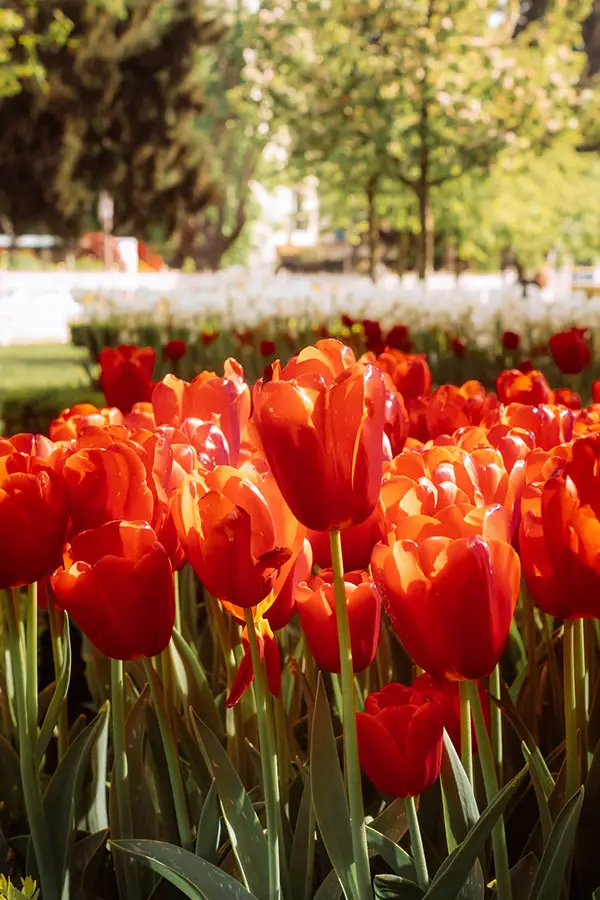 Contributed by Dani Ramos from No Hurry To Get Home
The Ottoman Empire was once a hub for vibrant tulips, so it's no wonder that Istanbul is the host to a centuries-old festival where you'll find millions of tulips adorning the entire city. I honestly think Istanbul is a gorgeous city year-round, but it was absolutely magical to visit it during the spring to see some of the most beautiful places in Istanbul splattered with colors and honey-like aromas while displaying the best flowers of the world.
The International Tulip Festival is held citywide and usually lasts from April 1st until mid-May. With that said, there's no exact date of when you can see the flowers in full bloom as this is dependent on the weather. I'd recommend planning your trip to Istanbul around mid-April for the best chances to see the tulips in their fullest glory.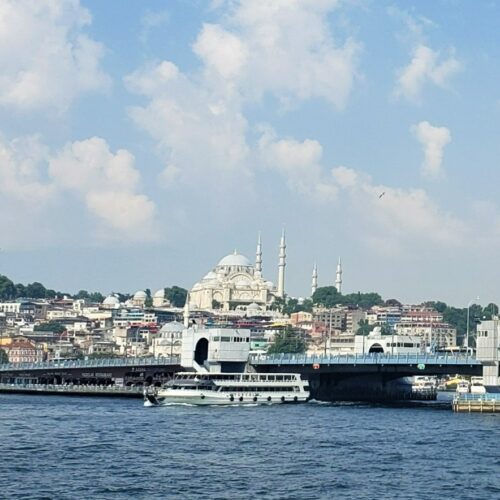 Best Views in Istanbul to Add to Your Itinerary
Hidden photo spots in Istanbul & Instagrammable locations are all around this beautiful city. The best views in Istanbul are often just around the corner and then there will be another one to discover just beside it!
Even though the magic of the festival is the fact that you'll find tulips EVERYWHERE, there are certain spots around the city where you can see them up close (and totally free). These include Emirgan Park (the flower festival's central hub), Sultanahmet Square, and Göztepe Park (this was my favorite spot as it wasn't too crowded and had a very local feel to it!).
If you get the chance, I'd absolutely recommend staying near Göztepe Park. You'll absolutely adore the neighborhood's hipster vibe and cozy coffee shops. There's a DoubleTree by Hilton right in the heart of the neighborhood as well as lots of budget-friendly guesthouses and apart-hotels around.
Important Tips for Istanbul Tulip Festival
Flower Festival Location: Istanbul, Turkey
Flowers to See:  Tulips
Flowers in Bloom: April-May
Cost: Free
Skagit Valley Tulip Festival in Washington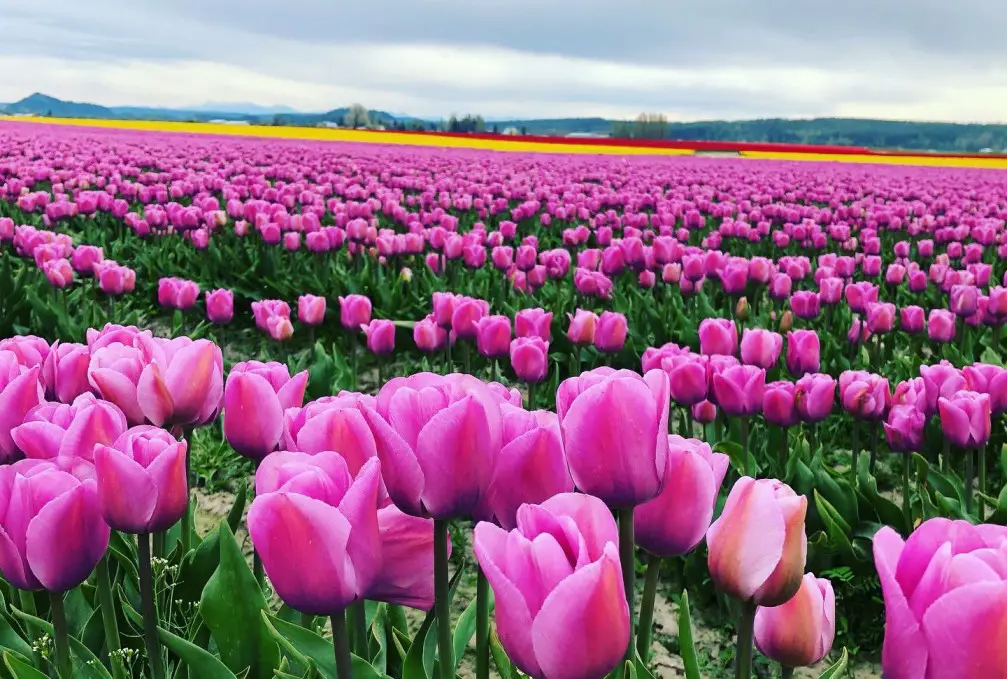 Contributed by Karee from Our Woven Journey
The Skagit Valley Tulip Festival is located in La Conner, Washington, about an hour's drive north of Seattle. The Festival takes place each April with over 400,000 visitors attending. This is home for us, so visiting the fields each year to see the best flowers of the world is a must!
There are two main display gardens, each with upwards of a million bulbs planted, ready to bloom throughout the spring. In addition to the many tulips growing in these display gardens, you'll also find a large variety of irises, daffodils, and other flowers in bloom. It's literally like eye-candy walking through the gardens and seeing so many flowers of every color imaginable. You can also walk past the gardens out to the fields and see row upon row of beautiful tulips.
The Roozengaarde and Tulip Town display gardens are very popular locations for photography. The flowers take center stage, although it's also a great location for formal pictures. One of my favorite pictures of my now-grown daughters was taken by a professional photographer who met us there for a photo session among the tulips. If photos are important to you, I recommend wearing bright, solid colors so your outfit will complement the flowers without being washed out by them.
The Skagit Valley area has many other outdoor attractions that are popular with visitors. Deception Pass State Park is a great place to spend the afternoon after seeing the tulips. Nearby hotels are usually full during April, so you'll want to book early in order to get to see one of the best flower festivals in the world.
Important Tips for Skagit Valley Tulip Festival
Flower Festival Location: La Conner, Washington, USA
Flowers to See:  Tulips, Irises, Daffodils
Flowers in Bloom: April
Cost: Free
Carlsbad Sunflower Field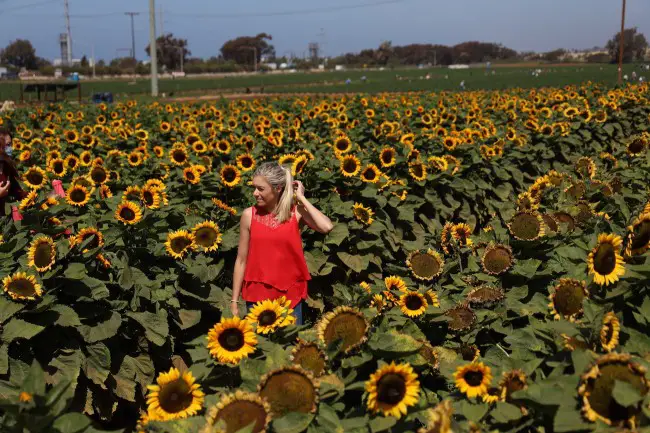 Contributed by Chelsey from Chelsey Explores
San Diego is known for its beautiful weather and gorgeous beaches, but did you know that there are also some pretty amazing Flower Fields nearby too? This past year, the Carlsbad Strawberry Company, decided to add a sunflower field and maze to their strawberry picking experience.
This sunflower field is open during the springtime around March-May. The best time to visit would be mid-April when the sunflowers are in full bloom. But don't worry if you won't be in San Diego in the springtime. In the Fall, the Carlsbad Strawberry Company turns the strawberry fields into a pumpkin patch and will have another sunflower maze for you to explore!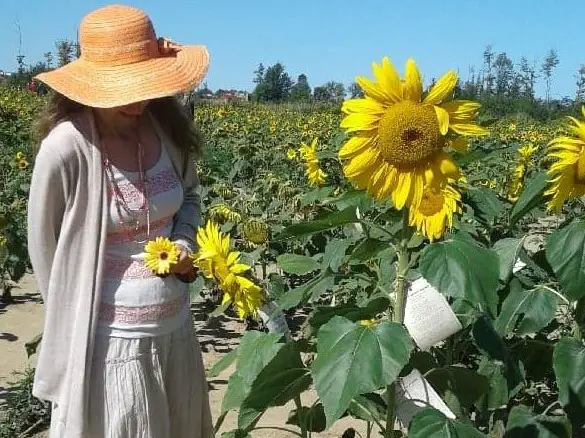 Cute Outfits to Wear in a Sunflower Field
Plan ahead with these outfit ideas for what to wear for sunflower field pictures and a handy list of perfect outfits to wear in a sunflower field for a perfect photoshoot.
The vividness of these sunflowers is just incredible and they make for the best picture opportunities. Admission to these sunflower fields is $5. If you plan to do the other activities hosted here, like strawberry picking, then you will need to pay more. At this time, you are not allowed to pick the sunflowers, so please be respectful and just take in the beautiful scenery and wonderful aromas.
This sunflower field is located in the beautiful town of Carlsbad, CA. If you have additional time while visiting here, then I highly recommend going to Carlsbad beach to watch the sunset. Other must-see places and must-do activities nearby are: Legoland, visiting the beach, heading to downtown Carlsbad, and visiting the premium outlets.
Lastly, after spending some time at one of the best flower fields in the USA, satisfy your appetite. For food, I recommend grabbing a coffee from Vinaka Cafe and eating dinner at Coyote Bar and Grill.
Important Tips for Carlsbad Sunflower Field
Flower Field Location: Carlsbad, California, USA
Flowers to See:  Sunflowers
Flowers in Bloom: Mid-April
Cost: $5.00
MAY: Best Flower Fields in the World
Fields of white daffodils above Lake Geneva in Switzerland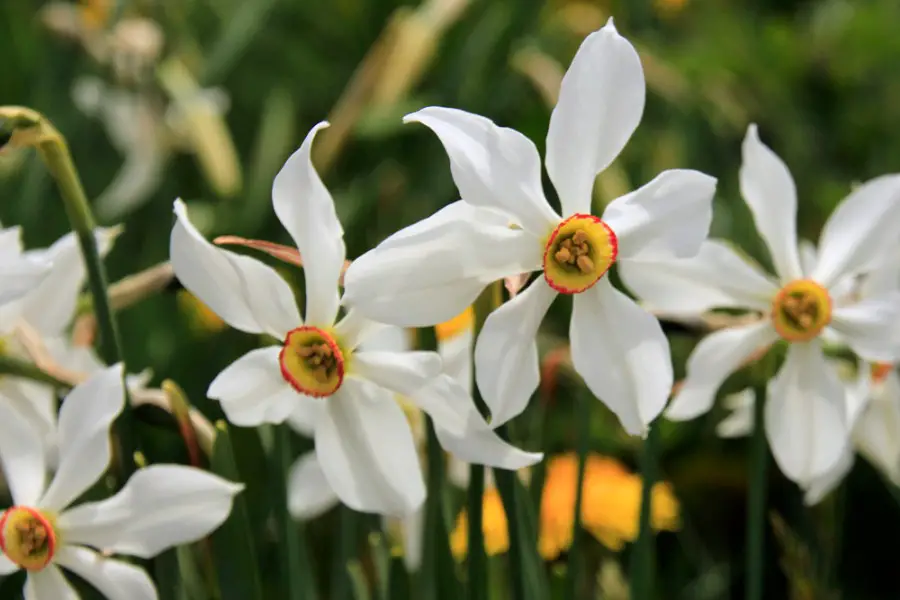 Contributed by Emma from Swiss Mountain Fun
I love Swiss pastures for their wildflowers – bright yellow buttercups, dark purple gentians, pale blue forget-me-nots, hot pink orchids, and many more are among the best flowers in the world. But the annual blooming of white daffodils (narcissus) is something else again. Their delicate white petals and modest yellow trumpets blanket the fields above Montreux in western Switzerland, forming a stunning foreground to the equally stunning background of the Swiss Alps and Lake Geneva. And unlike garden-variety daffodils, these wild cousins have a divine scent: delicate like their petals, adding an extra sensory pleasure as you stroll through the fields and flowers.
Head to the low hills of Les Pléiades in May for the best narcissus flower fields. You don't even need to hike up, although you can if you like. We caught the delightfully named "train of the stars" from Vevey, a small town next to Montreux on the lake shore. The ride is an outing in itself, running through stone-walled vineyards and cow-studded pastures with amazing mountain and lake views along the way. You can also drive up and park near the Les Pléiades train station.
A 5-km loop hike runs through the Les Pléiades flower fields, otherwise, you can simply admire the daffodils near the station. Just be careful not to trample the flowers or disturb their bulbs.
The fresh mountain air is sure to bring on an appetite. Grill your own lunch in a BBQ area near the train station, find a picnic spot, or enjoy a traditional Swiss meal at one of several restaurants in the area. And stay for a few days to enjoy nearby sights like the medieval Chateau de Chillon, the ritzy Swiss riviera, and the hilltop castle town of Gruyères. The Lake Geneva region is a beautiful part of the world, with plenty to enjoy in addition to the narcissus flowering season!
Important Tips for Les Pléiades Flower Fields
Flower Field Location: western Switzerland
Flowers to See:  White Daffodils
Flowers in Bloom: May
Cost: Free
JUNE: Best Flowers Fields in the World
Mayfield Lavender Farm in England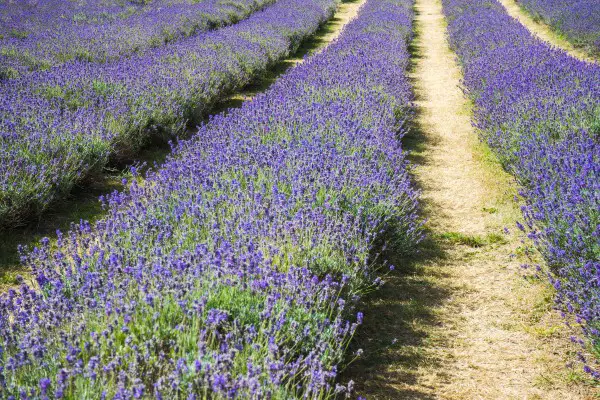 Contributed by Joanna from The World in My Pocket
I have always wanted to visit a lavender field. Seeing those endless fields covered in purple flowers, imagining how beautiful the scent would be, and, of course, thinking of all those photo opportunities. Last summer, after I moved to Sussex, I realized that the beautiful Mayfield Lavender Farm is just 40 minutes away from my new home south of London. So, I made sure to visit this beautiful flower field whilst still in season.
If you aren't from London, be sure to check out all the great boutique hotels in London for your stay while you visit the beautiful lavender field farm.
Mayfield Lavender Field is only open between June and September, depending on when the lavender is in bloom each year. I was happy that a ticket to visit the lavender field was only £4 and included parking as well.
I visited Mayfield on a weekday afternoon, in July, when the lavender was in full bloom. As soon as I got out of my car, I noticed the gentle aroma spread in the air by all the flowers. The entire farm was buzzing with bees and bumblebees as well, flying from flower to flower, ignoring all the people walking among them. The entire field in front of me was purple.
After walking along the rows of lavender, I stopped at the café in the middle of the field, to taste the homemade lavender ice cream and refresh myself with a bottle of lavender lemonade. There is a small shop at the entrance selling all sorts of products made out of lavender but, because of the pandemic restrictions, the queue was too long, and I didn't get a chance to check it out. Picking up flowers from Mayfield is not permitted, but you can buy a bouquet from the shop.
Important Tips for Mayfield Lavender Farm
Flower Field Location: Mayfield Lavender Farm, south of London, England
Flowers to See:  Lavender
Flowers in Bloom: June – September
Cost: £4 (about $6 USD)
Lavender Fields in Provence France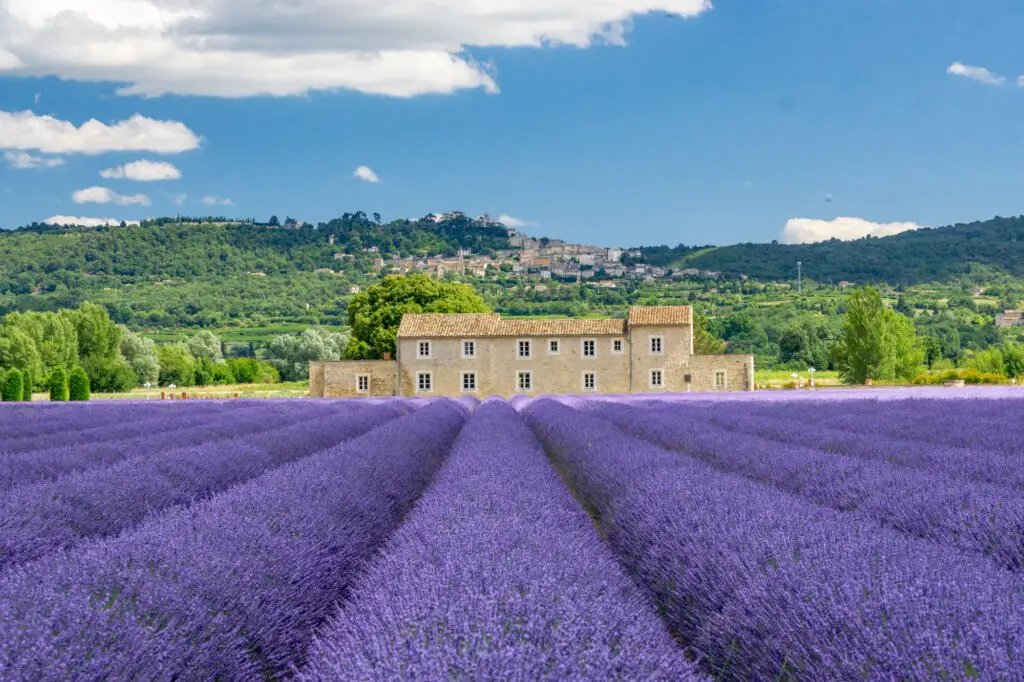 Contributed by Nadine from Le Long Weekend
Visiting the lavender fields in Provence is a once-in-a-lifetime experience for many. Located in the South East of France, there are three main areas to experience the best fields. Valensole, in the Var (inland and roughly midway between Marseille and Nice). The Luberon Valley, east of Avignon, and north of Aix-en-Provence. And Sault, which is above the Luberon in the northern reaches of the Vaucluse.
As a local, I'm lucky enough to visit every year, and the wonder of this extraordinary spectacle never wears thin. The sheer scale, beauty, and aroma of the lavender fields are spellbinding. Walking carefully through the manicured rows, bees buzzing around your ankles, the delicate scent filling the air – it's the quintessential Provence experience. But equally as pleasing, is simply driving through the area and spotting the telltale purple fields as you go. It truly transforms the landscape.
Between the fields of lavender, it's typical to also see flowering sunflowers, or sage, which just adds to the spectacular scenery.
The lavender starts to bloom at the lower altitudes – Valensole and Luberon areas – around late June. It peaks in early July and is typically harvested around the middle of the month. Higher, in the Sault area, the bloom starts later, and inevitably so does the harvest. Sometimes you can be lucky enough to still see beautiful fields in this region well into August.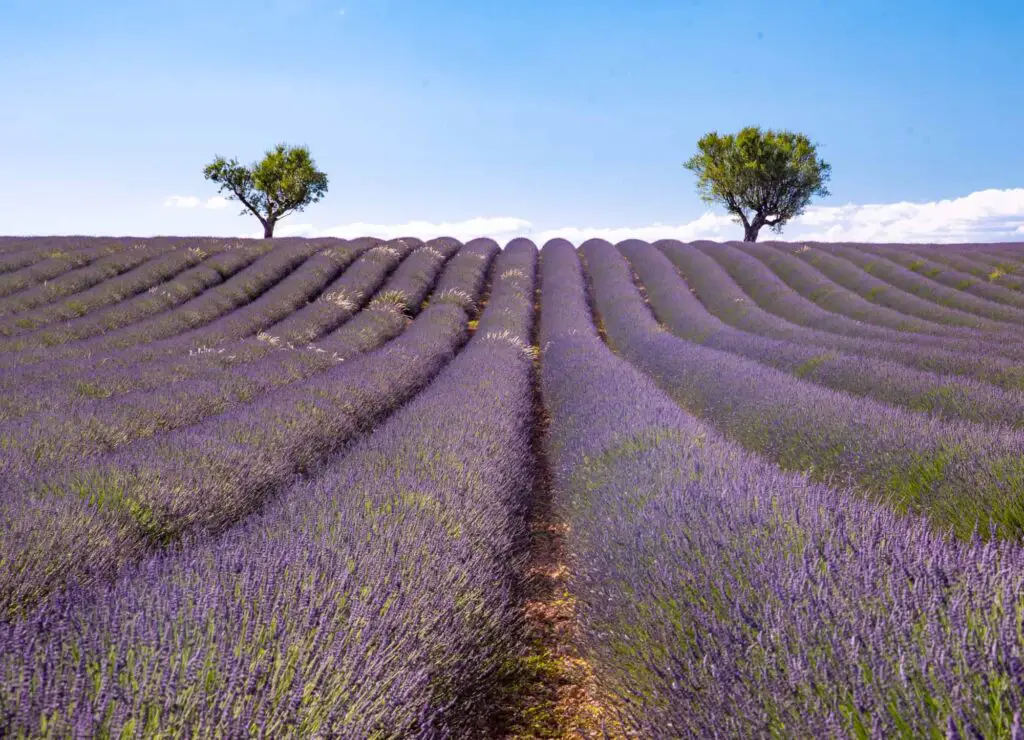 To view the best fields, head along the D6 to Valensole and Riez, then carry on up to Moustiers Sainte Marie which makes an excellent base to stay the night (Monastère de Ségries is a unique and charming place to stay). Alternatively, head into the Luberon, near the villages of Lacoste, Bonnieux, and Goult. The Abbey de Senanque is always a sure spot too.
When visiting the lavender fields of Provence, remember to always respect the farmer's work by not treading on the flowers, not picking them, and supporting the onsite farm shops and distilleries. 
Important Tips for Provence Lavender Fields
Flower Field Location: Provence France
Flowers to See:  Lavender, Sunflowers, and Sage
Flowers in Bloom: June – July
Cost: Free
Lavender Village in Turkey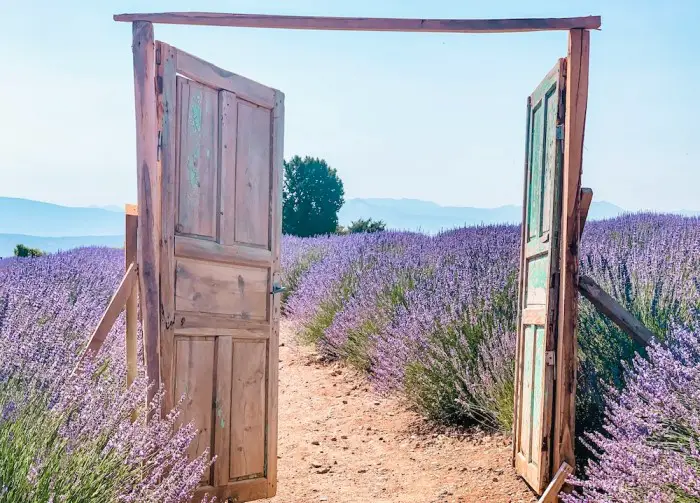 Contributed by Luda from Adventures with Luda
Although most people associate lavender fields with the south of France, there is a beautiful up-and-coming lavender village in Turkey! That's right!  Located in Isparta province in southwest Turkey, the small village called Kuyucak Köyü is home to dozens of plots of lavender. The best way to get here is by car, either on a day trip from Antalya (2.5 hours one way) or from nearby Isparta (45 mins). 
Although there are dozens of reasons to visit this lovely gem, I highly recommend a trip to Turkey's lavender village to support the locals and to try the delicious lavender-flavored goodies (like ice cream and tea!)  The best time to visit is when the lavender fields are in bloom: from late June through late July. We were here during the first week of July and were treated to lush fields and everything in full bloom!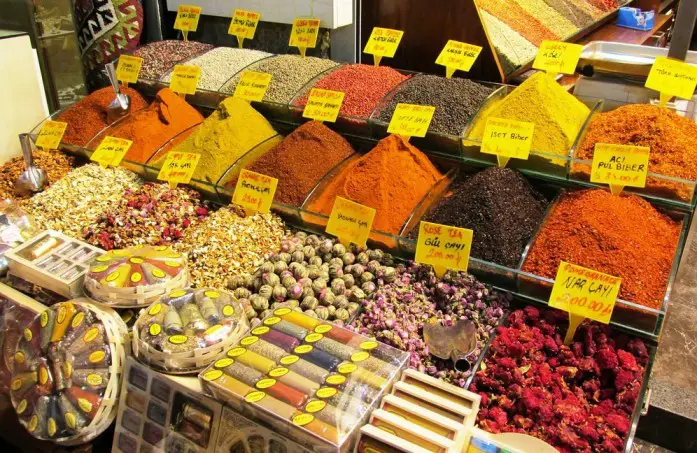 Turkish Souvenirs: Ideas for Turkish Gifts & what to buy in Turkey
Turkey is known for many unique & interesting items. Learn the top 22 Turkish souvenirs & what to buy in Turkey when taking a vacation to this beautiful country.
Speaking of which… the lavender fields give off such a calming and intoxicating aroma from the moment you drive into the village! As you walk through the fields, you're met with shades of periwinkle to deep purple — it's truly a feast for the senses! 
Since there are multiple families running their own plots in the lavender village, there is no admission fee per se. However, visitors are encouraged to purchase something from the family, such as snacks, souvenirs, or even lavender wreaths, to support their efforts. Best of all, there's no need for an itinerary. You can simply pick and choose which field(s) you want to visit or go hopping from one place to the next. 
After a long day of strolling through the lavender fields, we chose to stay in the neighboring city of Isparta at the Hilton Garden Inn Isparta. For those who want to spend more time near the fields, there's also the Lavanta Villa, which is only a 5-minute drive to the fields.
Important Tips for Lavender Village
Flower Field Location: Lavender Village, Kuyucak Koyu, Turkey
Flowers to See:  Lavender
Flowers in Bloom: June – July
Cost: donation (lavender souvenir or snack purchase)
AUGUST: Best Flowers of the World
Pemberton Sunflower Maze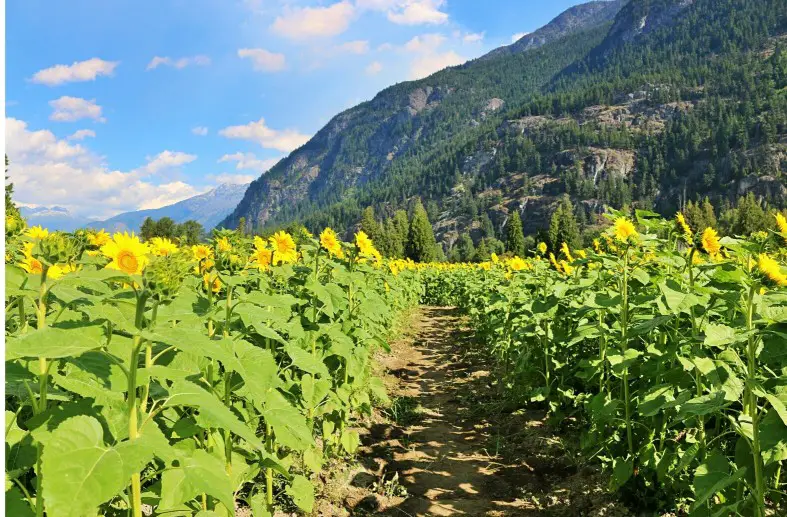 Contributed by Debbie Fettback from WorldAdventurists.com
One of the best flower fields in British Columbia is the Pemberton Sunflower Maze, a short drive from the famous adventure destination of Whistler. Walking through a maze of 100,000 sunflowers against the backdrop of Mt. Currie feels magical.  We almost did not want to find our way out of the maze!
Sunflowers do not have a floral aroma that humans can notice. However, sunflowers are so bold, bright, and beautiful, that they are sure to bring a smile to your face.
The sunflower field is located at the Laughing Crow Organics Farm. The field is in bloom in mid-August. With the out of the way location of the field, the best way to get there is by car.
You are not able to harvest any sunflowers at this sunflower field. Please also remember to leave no trace and stay on designated pathways.
Last season, tickets were $7 per person, children under 4 were admitted for free. Tickets must be bought online.
After the sunflower maze, grab a cold one at the Beer Farmers, with the tasting room and brewery located steps from the sunflower field.
If you love chasing waterfalls, take a short hike to view Nairn Falls. The trailhead is located a short five minutes from Pemberton Town Center.
Also, there is plenty of adventure to be found in nearby Whistler. Hike to a train wreck, relax at a lake, take on some adrenaline adventures, or relax in the pedestrian-only Whistler Village. The options in Whistler are endless! Finish off your day of adventure by spending the night in Whistler at the popular Fairmont Chateau Whistler.
Important Tips for the Pemberton Sunflower Maze
Flower Field Location: Laughing Cow Organics Farm, Pemberton, British Columbia
Flowers to See:  Sunflowers
Flowers in Bloom: mid-August
Cost: $7
Website: Pemberton Sunflower Maze
Araluen Tulip Festival in Australia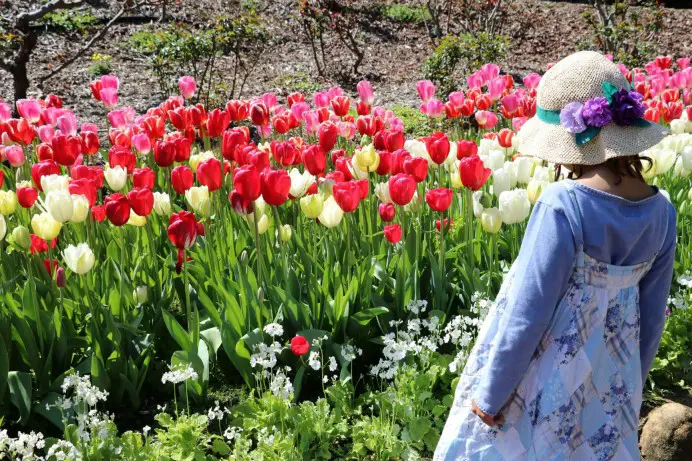 Contributed by Ariana from World of Travels with Kids
Our visits to the Western Australian Araluen Tulip Festival have been a very special experience.  Located just outside of Perth, in the Perth Hills, each year this Australian bush botanic garden is planted with a spectacular display of tulips that thrive in the cool alpine climate that is unlike the hot coastal plains.
The festival is only for one month in the Australian Spring  (dates change each year but about 20 August through 15 September) when about 150,000 tulip bulbs blossom simultaneously providing a riot of colors – reds, yellows, pinks, whites, purples, and more.  In addition to its tranquil bush setting, Araluen has an internationally recognized Camellia Collection with over 270 varieties. A visit to the Araluen Botanic Park (in 2021) is an affordable $10/ $5 adult/child.
We have always arrived early in the morning and have found it pleasantly busy – by the time lunchtime comes you need to line up to get pictures with the tulips.  Alternatively, if you arrive in the late afternoon there will not be so many people.   You are not allowed to pick or touch the flowers, just take photos and wander around the amazing display.  We pack a picnic and wander to the lesser-visited areas and enjoy the colors of spring up there.
I would make a visit to the Araluen tulip festival part of a broader Western Australian native wildflower experience.  Each spring broad expanses of the countryside spring to life with a fantastic display of native wildflowers, which we covered in Where to find the best wildflowers in Western Australia.
The visit to the Araluen Tulip Festival is best visited while based in Perth –speaking of which, make sure you don't miss out on the Kings Park Spring Festival, also held during September. 
Important Tips for the Araluen Tulip Festival
Flower Festival Location: Perth Hills, Australia
Flowers to See:  Tulips
Flowers in Bloom: August – September
Cost: $10 / adult
Maria's Field of Hope Sunflower Field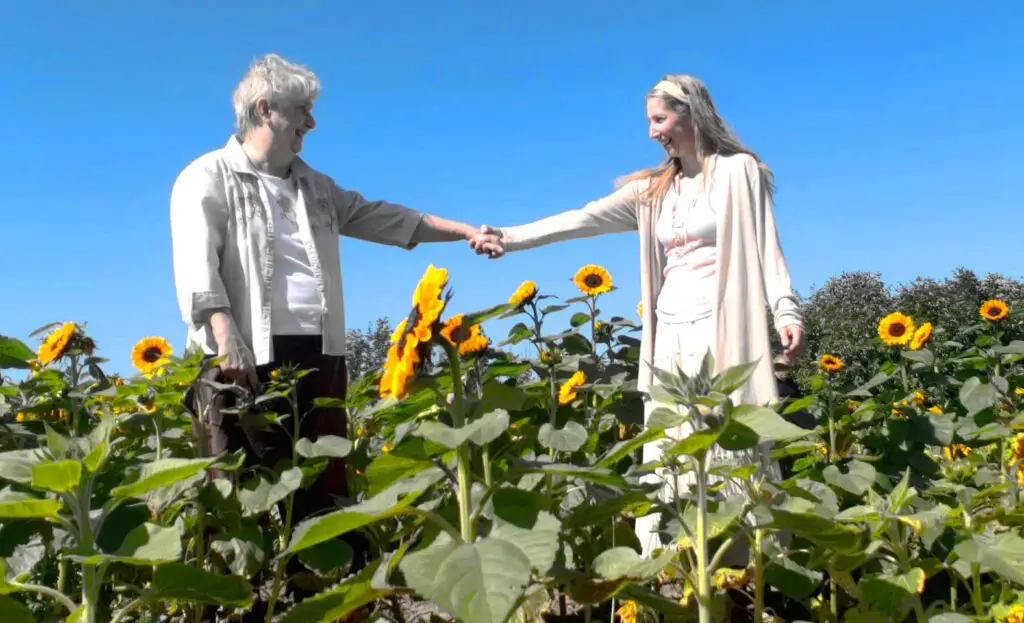 Contributed by Michelle Moyer from Moyer Memoirs
Sunflowers are one of the happiest flowers in the world and the Maria's Field of Hope is a beautiful sunflower field near Cleveland Ohio that is a dedication to the courageous spirit of the children who are battling cancer and to those that have been lost too soon.
There are two sunflower fields that bloom in the fall around August and September, the largest at 23-acres is in Avon and the second one is in Sandusky. Entrance to the sunflowers is free and a donation to the Prayers from Maria Foundation is appreciated in order to fund further research into the deadly childhood cancer diseases.
Photography always turns out great in the fields since the sunflowers are so photogenic and bright yellow. Cutting the flowers is not allowed, but you can dedicate a sunflower to a special loved one and a prayer card will be attached to one of the gorgeous beauties in the most special flower field in the world!
While you are in northeast Ohio, be sure to check out this underrated National Park near Cleveland, Ohio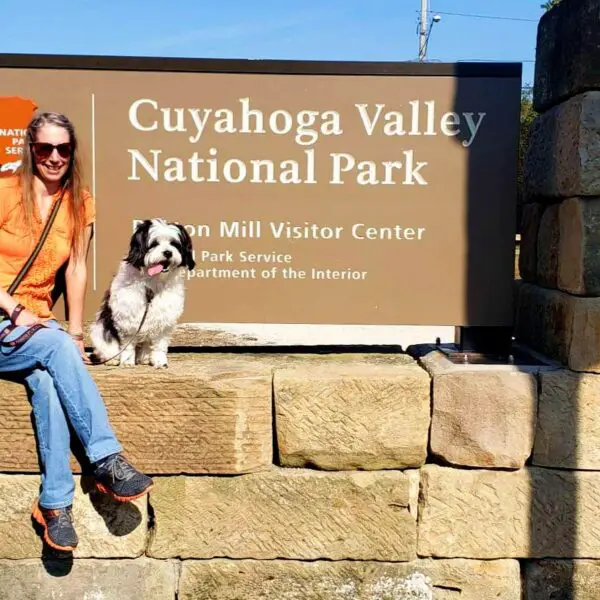 Tips for Visiting Cuyahoga Valley National Park Trails
All the tips and hints you need to know about visiting and hiking the Cuyahoga Valley National Park trails to admire the Ledges, waterfalls, and so much more.
SEPTEMBER: Best Flower Festivals in the World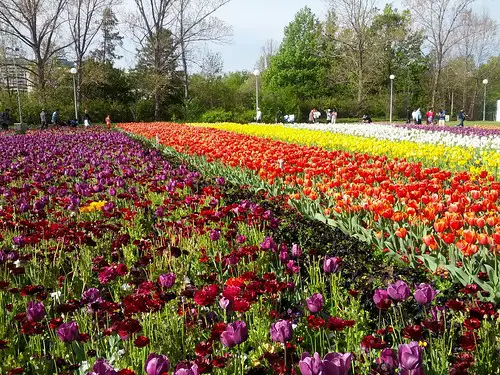 Floriade Festival in Australia
Contributed by Danielle Mathie from Zen Travel Life
Want to experience Australia's biggest celebration of spring? Then you need to visit the Floriade Festival.
Running over 4 weeks from September to October, this free annual flower show in Canberra is an iconic event, showcasing over a million flowers including endless fields of tulip bulbs. The colorful displays of red, yellow, purple, and white tulips will dazzle you, it sure did for me!
Attracting around 400,000 people each year, what makes this event so popular is it has something for all. I found that the kids loved running through the flower fields, going on a gnome hunt, as well as exploring the carnival park, which featured a Ferris wheel, baby farm animals, circus workshops and more.  Meanwhile, the adults like me enjoyed the market stalls, live music, cultural performances, and workshops to help improve our horticulture/ gardening skills and plant-based cooking skills.
A positive outcome from COVID-19 is the event has evolved to become a 'cross city' celebration featuring colorful flower displays in not only Commonwealth Park (main location) but across Canberra's town center and in various suburbs. 
So, you can walk the 'Tulip Trail' and see other nearby attractions including Lake Burley Griffin, the National Museum of Australia, and Australian National Botanic Gardens while you visit Canberra for the Floriade Festival.
Admission is free to Floriade and the best way I found to get there is to drive and park near Commonwealth Park. Although COVID-19 restrictions have eased, it's still recommended to follow Floriade Festival's website for the latest entry details and whether ticketing is required for your visit.
Important Tips for the Floriade Festival
Flower Festival Location: Canberra, Australia
Flowers to See:  Tulips
Flowers in Bloom: September – October
Cost: Free
Website: Floriade Festival
DECEMBER: Best Flowers Around the World
Chiang Rai Flower Festival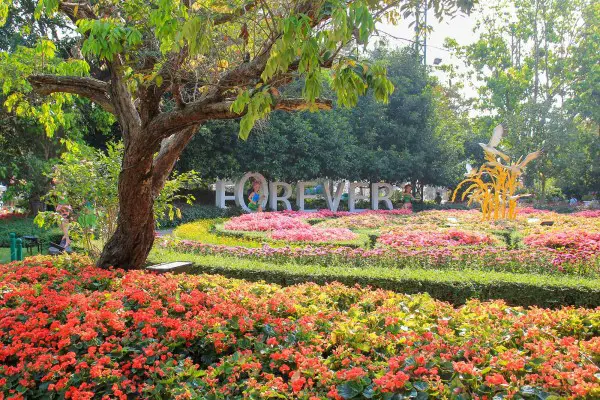 Contributed by Martina from Places of Juma
A real highlight that you should not miss on any trip to Thailand as a flower fan is the Flower Festival in Chiang Rai! I came across this pretty festival rather by chance but would recommend it to anyone traveling to the north of the country at this time..
The Chiang Rai Flower Festival takes place every year for about a month, between the end of December and the end of January. You can find the exhibition right in the historical center, in the Suan Thung & Khom Garden. Admission is completely free, and the gardens can be visited during the day as well as in the evening! Festival visitors will enjoy colorful flowerbeds with tulips, lilies, and other, sometimes very exotic plants, which are in full bloom in this rather cool season in Thailand. For me, it was fantastic that all flowers are also explained in English and so I learned a lot on my visit!
I can especially recommend joining the festival in the evening, then the park is beautifully lit with lanterns, the atmosphere is very romantic and there is a fantastic market with amazing food stalls. Entertainment is also provided: flower painting competition and photo contest, a feast mile, and daily concerts provide a varied program. So if you are planning a trip to Chiang Rai, don`t forget about the wonderful Chiang Rai Flower Festival.
Important Tips for the Chiang Rai Flower Festival
Flower Festival Location: Suan Thung & Khom Garden, Thailand
Flowers to See:  Tulips, lilies, and exotic plants
Flowers in Bloom: December – January
Cost: Free
Alpine Lavender Farm in New Zealand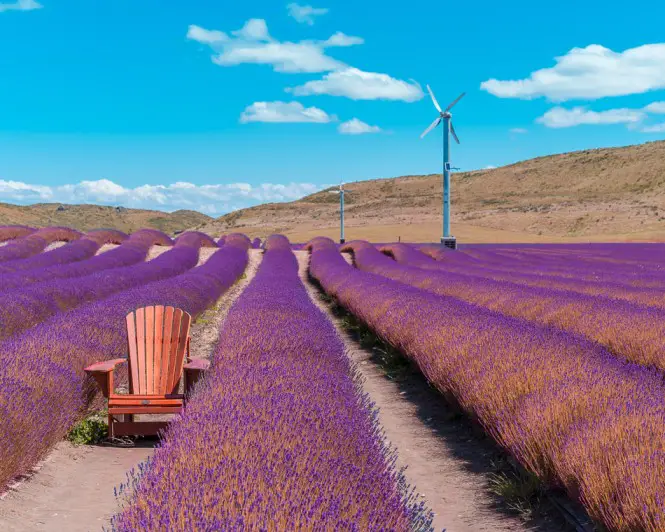 Contributed by Sunetra Biswas from Globetrotting Su
Nestled in a sheltered valley on the Aoraki/Mount Cook Highway lies the beautiful New Zealand Alpine Lavender. Situated along the lake Pukaki, it is the largest organic lavender farm in the southern hemisphere and definitely one of the best flower fields in the world with all the scenic mountains surrounding it. The stunning aroma of lavender and the beautiful vivid purple color against the alpine region make this spot a perfect stopover during the road trip in South Island of New Zealand.
The only lavender farm at 600 meters altitude, this place is hard to miss with all its vivid colors. The lavender blossoms in summer with the peak blooming season being from late December to late February, with variations due to weather and growing conditions. The entrance fee to this farm is $5 NZD and is open from 9 am-5 pm from December to March. The vibrant lavender field offers a few photo-op installations which are perfect for family or fun captures. Visit the onsite shop to buy pure lavender oil, soaps, candles, gifts, and lavender chocolates. The farm also houses a small café with an ice cream truck where one can taste the freshly made lavender ice cream.
Some of the highlights of this region include Aoraki/Mount Cook National Park, hiking near Lake Tekapo, Lake Pukaki, driving along the Lindis Pass, and the church of the Good Shepherd. While a road trip in a camper van is highly recommended in the South Island, one can stay at Mt Cook Lakeside retreat for an unforgettable mountain escape.
Important Tips for the Alpine Lavender Farm
Flower Field Location: South Island, New Zealand
Flowers to See:  Lavender
Flowers in Bloom: December – February
Cost: $5 NZD
Website: Alpine Lavender Farm
Lupins at Lake Tekapo in New Zealand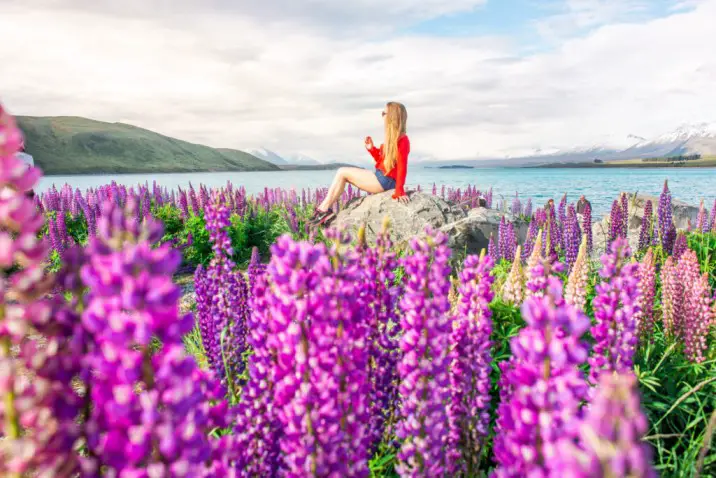 Contributed by Bailey from My Queenstown Diary
On the South Island of New Zealand is a little gem of a town that any flower-lovers likely would've heard of before – Lake Tekapo. Lake Tekapo is full of fun things to do. The Mount John walk near Lake Tekapo is a must-do, but this area is most famous for the lupins that flower all around the town and next to the lakefront.  
Every year, people from all over the world head to this remote location to take in the scenery of thousands of wild lupins. That's right, this flower field is completely natural, and all you have to do is head to the water's edge in town and you will see thousands of brightly colored lupins. Expect yellow, purple, and pink flowers as far as the eye can see in this natural field that is becoming one of the best flower fields in the world! 
Since this flower field is completely wild, it is free to visit. You can also pick the lupins since they are technically a weed in New Zealand. Lupins, although absolutely stunning and a popular tourist attraction, aren't native to New Zealand, and as such, conservation efforts help them from spreading too rapidly. However, in Lake Tekapo, you will see plenty. The colors of the lupins contrasted with the bright blue lake is a photographer's dream.  
One thing to note is that you'll only see lupins during the late spring and early summer months in New Zealand. Usually, December and January are the best months to see the most blooming lupins.  
Important Tips for the Lupins in Lake Tekapo
Flower Field Location: Lake Tekapo, South Island, New Zealand
Flowers to See:  Lupins
Flowers in Bloom: December – January
Cost: Free
What is your favorite Flower Field in the World?
Have we missed any of the best flower fields in the world? Have you been to any of the best flower festivals in the world? There are all varieties of flowers represented in many countries around the world! Which ones are on your Bucket List? Tell me in the comments!
Like this post? PIN IT for later!