DISCLOSURE: I may link to relevant products, companies or helpful info which may be affiliate links, meaning I may earn a small commission. As an Amazon Associate & other affiliates, I earn from qualifying purchases at no extra charge to you. The views & opinions are my own. Please see the disclaimer and privacy policy.
Last Updated on July 18, 2023
WHAT SOUVENIRS TO BUY IN TURKEY
When traveling to new destinations it is helpful to research popular souvenirs beforehand. Turkey is known for many unique and interesting items, some of them are collectible and some of them are edible! You can bring home some of the best Turkish souvenirs to display in your home, evoking fond memories of your trip to Turkey.
Where to buy Turkish souvenirs (in Turkey & online)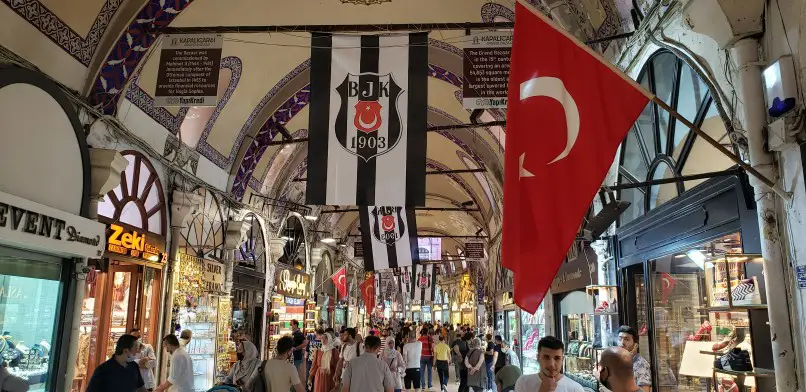 Save room in your suitcase for many wonderful souvenirs of Turkey. We actually bought an extra suitcase while we were in Antalya, Turkey. We filled that sucker up with treasures and the best gifts from Turkey that we found in small shops selling hand-made items in the city markets, and even the Grand Bazaar in Istanbul. Many shops sell souvenirs from Turkey that you can't find anywhere else in the world. Pick them up when you see them and barter for a good price.
Are you wondering WHAT TO BUY IN TURKEY for souvenirs? There are many Turkish souvenirs that are affordable and beautiful.
The country is now officially spelled Turkiye, but I will stick to the original spelling!
There are even great ideas listed below for what to buy in Turkey as a gift.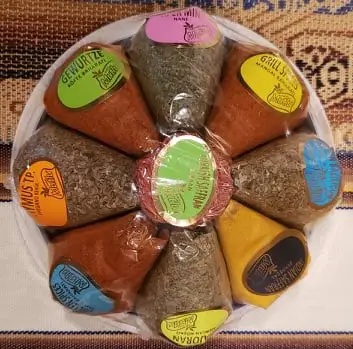 If you can't fit everything into your suitcase, don't worry. I have also included links to where to buy Turkish souvenirs online, so PIN THIS POST so that you can come back later. Even with our extra suitcase we still ran out of room. It is helpful to know that authentic souvenirs from Turkey are available to order online and can be delivered to your doorstep. Most of these ideas are great gift ideas too!
Top 22 Souvenirs from Turkey
Collectibles to add to your MUST-BUY list of Turkish Souvenirs
---
Turkish Rug Souvenirs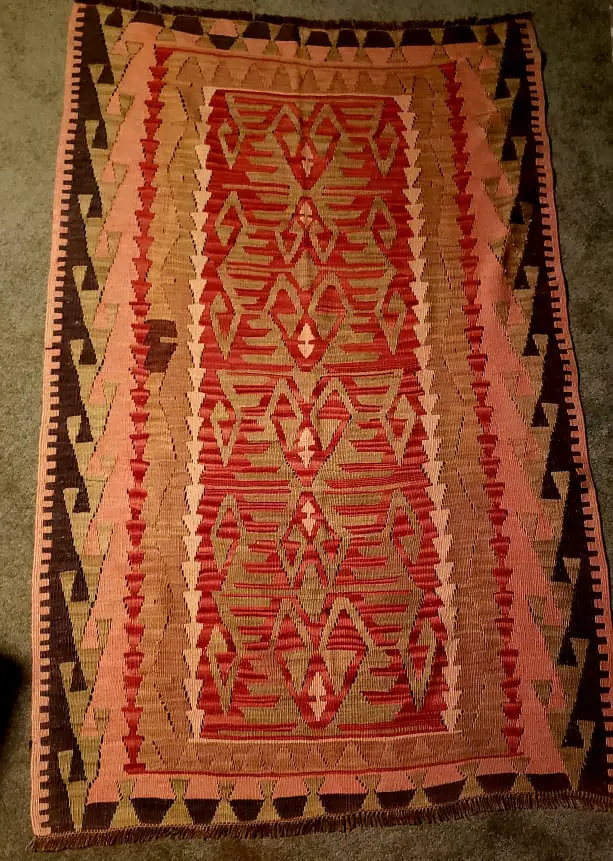 Turkish carpet salesmen are everywhere throughout Turkey.  You will not be able to walk through a market or down a shopping alley without encountering a carpet shop.  A Turkish carpet demonstration was on my must-do list so that I could see how hand-made Turkish rugs are made.  I also had a Turkish rug for my home on my Turkey souvenir list.
Choosing a Turkish carpet is difficult because there are so many beautiful choices in all sizes and colors.  You can choose a rug to be a souvenir from Turkey to hang on your wall or one for your living room floor.
The rugs are big and heavy souvenirs, but many shops will package them for you for easy transport and some even ship them home for free.  Authentic Turkish rugs are excellent investments and a great souvenir of your trip to Turkey since they last for centuries and only increase in value over their years of use.
If you can't make it to a Turkish rug demonstration in Turkey, you can also look for a beautiful Turkish rug online and have it shipped to you for FREE. These rugs are handmade in Turkey and come in all sizes and Turkish designs so they make great Turkish gift ideas.
Where to buy Turkish souvenirs online
Ceramic Souvenirs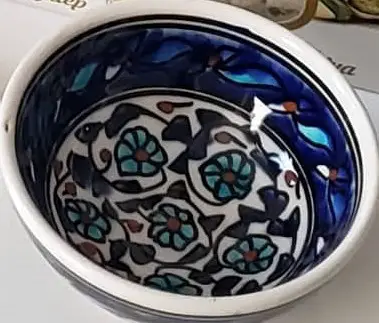 Ceramics are beautiful souvenirs of Turkey.  You can find bowls, plates, and art tiles that are similar to the Ottoman tiles on the ceilings and walls of the Istanbul mosques. This is a great idea to purchase some ceramics if you are wondering what to bring home from Turkey as a souvenir. 
These are very traditional souvenirs and are a great expression of Turkish art and culture.  I chose a small bowl painted with blue designs similar to the ceramic tiles in the Blue Mosque.
I also decided on a ceramic hot air balloon to commemorate the Cappadocia hot air balloon ride that we had taken during sunrise that morning.
Where to buy Turkish gifts online
Pottery Souvenirs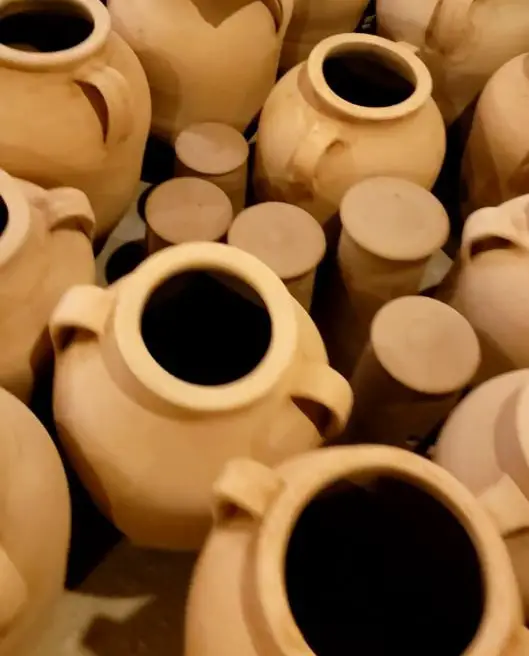 Clay Pottery dates back to 2,000 BC in the Anatolia area of Turkey.  The red clay was taken from the bank of Turkey's longest river and formed into beautiful handmade pottery with a foot-powered pottery wheel.
Renowned for its exquisite craftsmanship and unique designs, Turkish clay pottery showcases the country's cultural heritage and artistic finesse. From the vibrant hues and intricate patterns of Iznik ceramics to the earthy tones and rustic charm of Cappadocian pottery, each piece tells a story. Skilled artisans shape clay into stunning vessels, plates, and decorative objects, often incorporating traditional motifs and symbols. Turkish clay pottery is not only visually captivating but also functional, with its durable nature making it suitable for everyday use. Exploring the world of clay pottery in Turkey is like delving into a treasure trove of history and creativity, where the beauty and craftsmanship of each piece reflect the country's rich artistic legacy. 
Be sure to watch a pottery demonstration in order to witness how the pottery masters form their artistic creations before you choose your clay pottery souvenirs from Turkey.
Where to buy Turkish souvenirs online
To experience some of these Turkish Crafts on your trip to Turkey, sign up for the Anatolian art tour!
Turkish Mosaic Lamps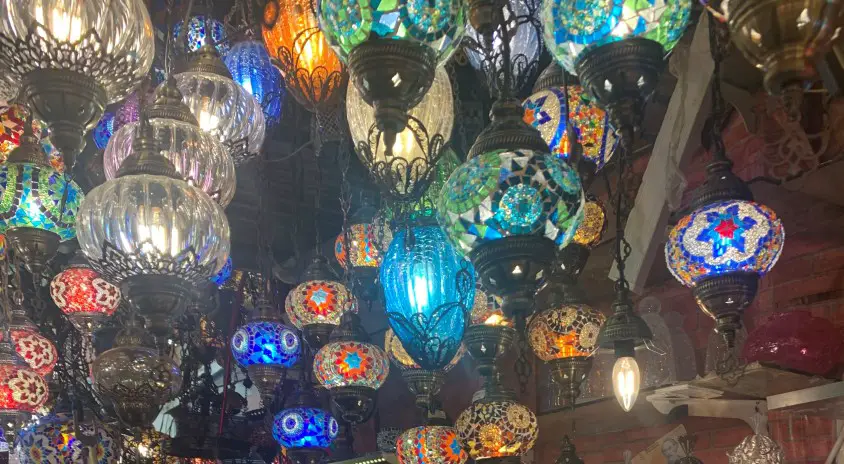 These beautiful mosaic lanterns are found all over the country in different colors and arrangements.  There are single lamps, multi-lamps, desk lamps, ceiling lamps, and even huge lantern displays that go on the floor. 
A word of warning:  have an idea of what you are looking for to bring home as a Turkish souvenir before you walk into the lamp display shop because the sparkling beauty that will surround you in colorful lights will be overwhelming! 
When you find THE ONE (or two—I couldn't get just one!), make sure the shop owner packs it well for transport.  When you bring your unique Turkish souvenir lamp home and light it up, you will be amazed at how all the colors will decorate your home and remind you of your trip to Turkey!
Need a location for your Turkish Lamp Instagram photo from Istanbul? Check out our idea!!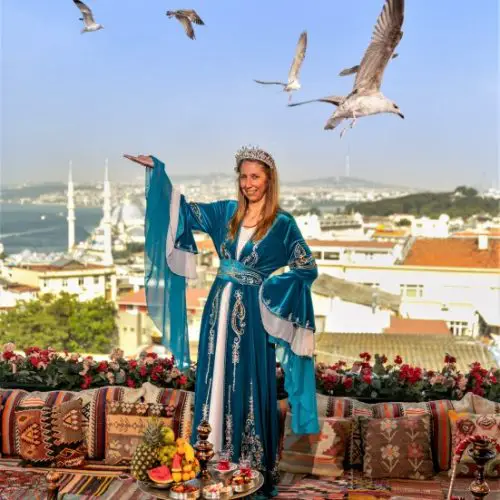 Fun Mother-Daughter Photoshoot in Istanbul for Rooftop Pictures
Let us tell you about the most unique photographic location in Istanbul & where we got our rooftop pictures in Istanbul during our photoshoot in Istanbul Turkey.
Where to buy Turkish souvenirs online
Nargile Pipe Souvenirs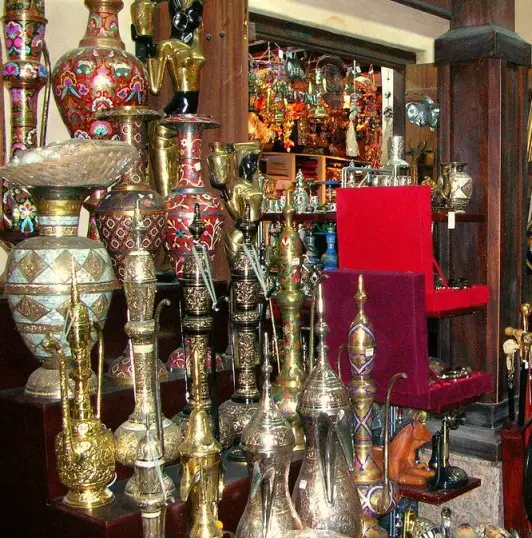 Nargile pipes, also known as hookahs, shisha, or Turkish smoking pipes are art pieces, an important part of Turkish culture, and a collectible that you can buy from Turkey.  They come in all sorts of vibrant colors and make a nice display piece for your home so that you can show off Turkish craftsmanship.
The pipes hold a special place in Turkish culture and social gatherings. These ornate water pipes have been a part of Turkish traditions for centuries, providing a unique and immersive experience. In Turkey, nargile smoking is not just about the flavor; it's a time-honored ritual that fosters relaxation and conviviality. Adorned with intricate designs and often embellished with colorful glass and metalwork, nargile pipes are true works of art. They are enjoyed in traditional tea houses, where friends gather to savor the aromatic tobacco flavors while engaging in lively conversations. Nargile pipes in Turkey are a symbol of community, offering a glimpse into the country's warm hospitality and passion for social connections.
Where to buy Turkish souvenirs online
Turkish Jewelry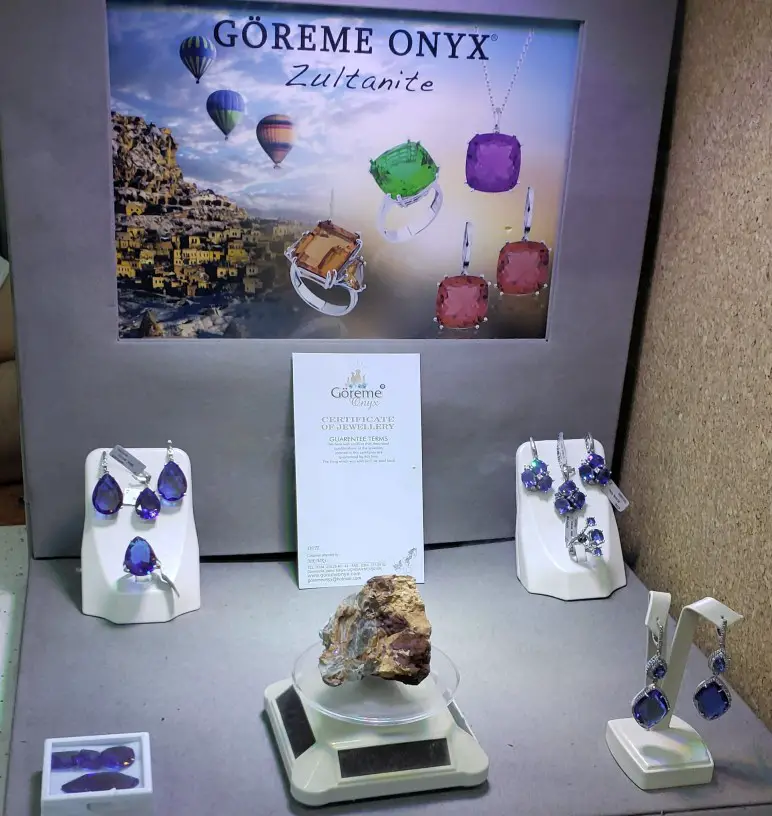 The trade of jewelry making is one of Turkey's oldest crafts, dating back over five thousand years of handmade gemstone masterpieces made by Turkish craftsmen who passed down their traditions to future generations.
Zultanite is a Turkish color-changing gem that is mined deep in the Anatolian mountains.  This expensive and rare diaspore varies between yellow, green, gold, purple, and pink depending on the light source. 
Picking up some zultanite jewelry is an investment since the stones are very rare, but a memory of your trip to Turkey since that is the only place that they are mined.
Other Turkish Souvenirs and Ideas of What to Buy in Turkey
There is no shortage of great ideas for souvenirs from Turkey. Keep reading for more details in the list of things to buy on your trip to Turkey!!!
---
Evil Eye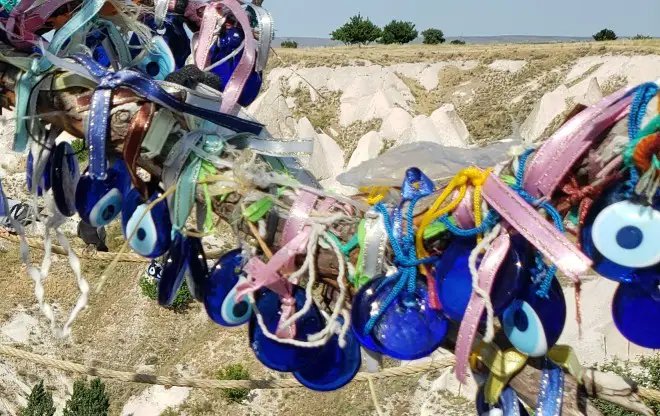 Evil Eyes are everywhere!  These popular stones, also called Nazar Boncugu, seem to be keeping a watch over every single shop in the markets!  They are a blue glass amulet that dates back to ancient Greek and Roman times for protection from negative energy.  They are commonly kept in Turkish households and cars as décor to ward off any evil intentions.
This good-luck Turkish souvenir can be found in the form of keychains, magnets, jewelry, and other small knick-knacks at virtually every shop in Turkey.  They make great souvenir gifts from Turkey because they are so cheap and small. So if you are wondering what to buy from Turkey as a gift, an Evil Eye or two might be what you need to add to your Turkey Souvenir Shopping List1
Where to buy Turkish souvenirs online
Turkish Soap
A Turkish bath, or hammam, is a steam bath dating back to the ancient Greeks and Romans.  It relaxes the body with a thorough cleansing using organic soap that draws out toxins to be washed away. The skin is then exfoliated with super-soft results.
Olive oil is the most popular 'flavor' of soap due to the large number of olive trees in Turkey.  The hammam soaps are hand-made with premium quality olive oil produced in the country.  
One shop we stopped at not only had olive oil soap but also shampoo, conditioner, body spray, and everything else you could imagine.  Of course, we tried the free sample of hand sanitizing spray and it was delightful as we smelled the olive oil fragrance the rest of the day!
Where to buy Turkish souvenirs online
Turkish Bath Towel
In addition to the soaps, another Turkish souvenir that has been made popular by the hammams is the Turkish bath towel, since they are still worn today by those that work in the bathhouses. 
They are a high-quality 100% Turkish-cotton towel that typically has a striped design woven into the flat fabric.  They are lightweight and easily transported to the beach or to your home to be a new accessory for your kitchen or bathroom.
Where to buy Turkish souvenirs online
Handmade Knife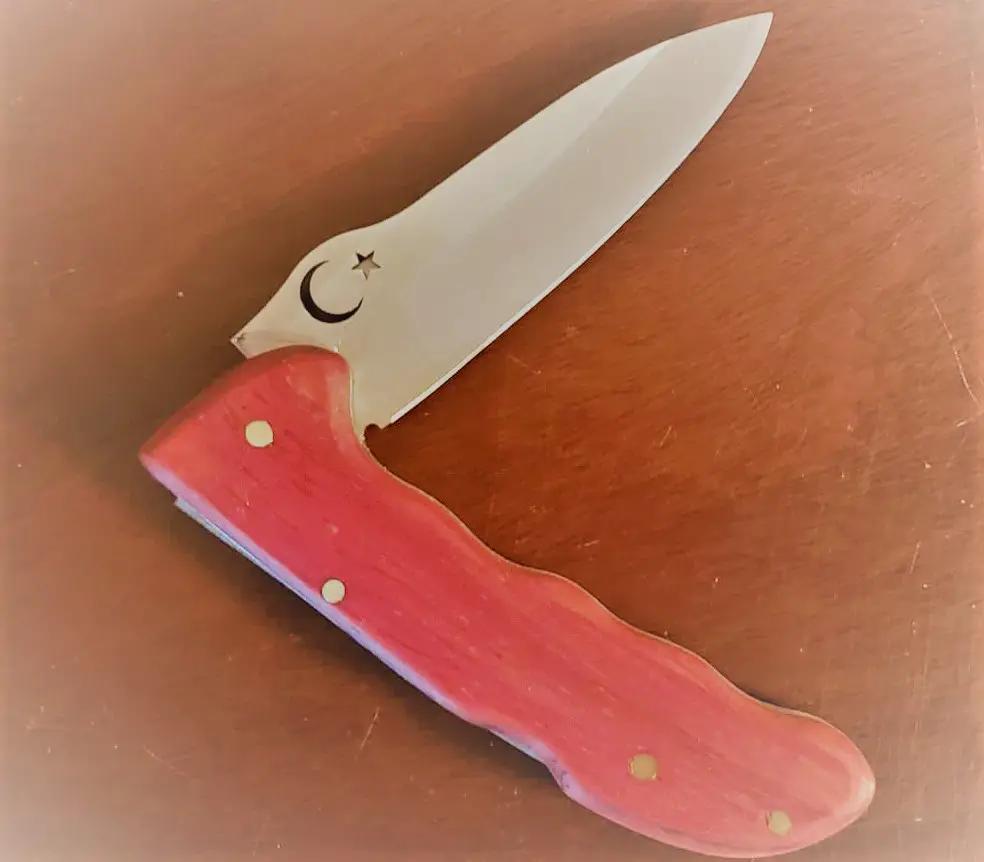 A handmade Turkish knife is a great gift to buy as a souvenir from Turkey.  We stopped at a shop that had some in all sizes from large sword-size to pocket-knives with fancy wooden handles.  The one that I chose even had a Turkey emblem cut into the blade. 
SPECIAL NOTE: Be sure to stash these dangerous souvenirs of Turkey in your checked luggage!
Leather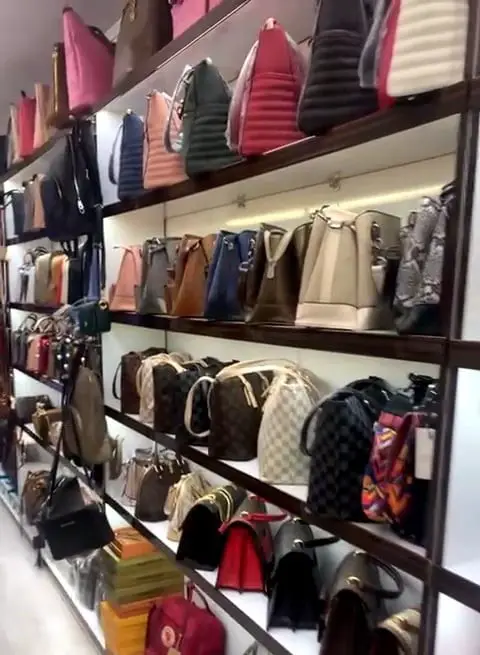 Leather is handmade in Turkey and can be priced at a large discount compared to what you will find at home.  Leather makes a great gift or souvenir from Turkey because you can still find some high-quality products at cheap prices!
You will find purses, belts, wallets, hats, and leather jackets priced to your liking. Because they are handmade, they will be unique pieces and great souvenirs! 
We visited several leather purse shops and ended up being taken to a back room with high-quality leather.  Make sure that you negotiate a good price and do your research ahead of time.
Since backgammon is a very popular game in Turkey, a leather-made backgammon game is a perfect Turkish souvenir!
It is a common sight to see people gathered in cafes and parks, engrossed in intense backgammon matches. From young to old, Turks have a deep appreciation for the strategic gameplay and social camaraderie that backgammon brings, making it a popular pastime across the country.
Pashminas & Head Scarfs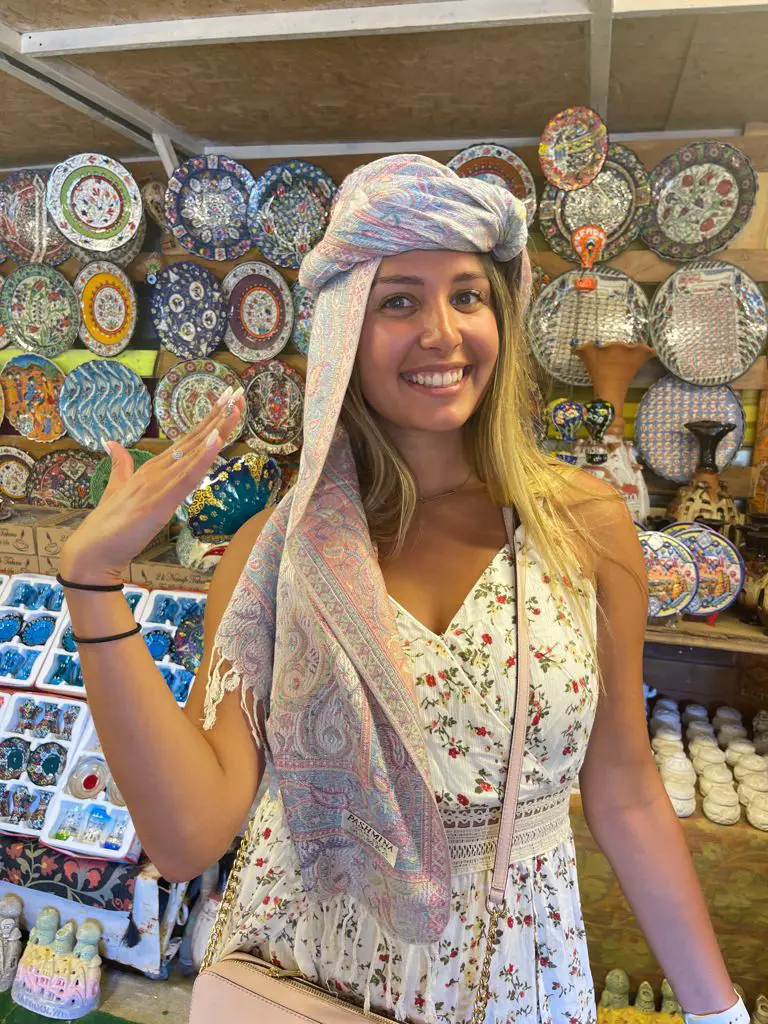 Scarfs are commonly worn in Turkey to keep a woman's head and shoulders covered in sacred places.  This is common practice in the Muslim religion, so headscarfs are readily available at tons of shops throughout Turkey.  Most of the scarves are colorful and all of them will be great Turkish souvenirs. 
Some pashmina headscarfs are made of a cashmere wool and silk combination and are incredibly soft.  These will be more expensive, but are a higher quality and will last longer.
How to Identify if a Pashmina is Real or Fake
How to Check a Pure Cashmere Pashmina? Read this article to learn the simple tests to quickly recognize a real cashmere pashmina shawl/scarf from a fake.
Magnets and keychains

These small mementos are perfect souvenirs of Turkey since they fit nicely into already over-stuffed luggage.  There are magnets and keychains everywhere for a very reasonable price.  I picked up a couple at the tourist site gift shops we went to and also got some at little shops on the street.
Where to buy Turkish souvenirs online
Food as a souvenir of Turkey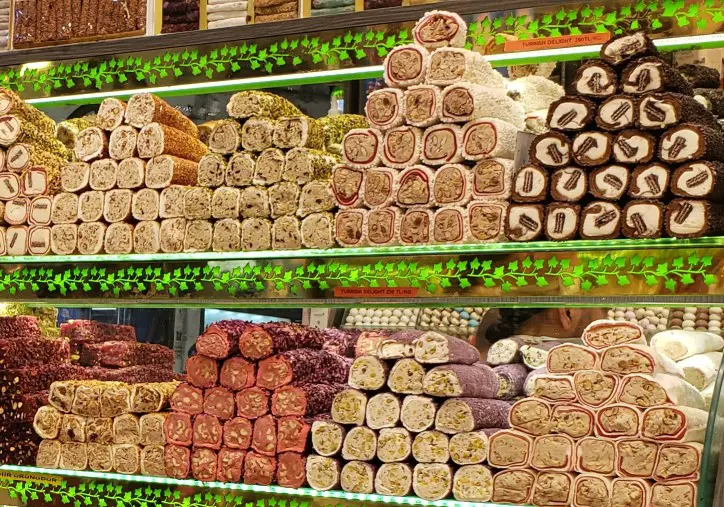 Food is an important part of traveling to a different country and being able to bring home some of that experience is an excellent way to remember your trip.  Food is a part of a country's culture and Turkey is no different. 
Take home some edible Turkish souvenirs to share with family and friends and spices to enrich your home cooking so that memories of your trip to Turkey linger in your home.
Once your Turkey souvenir food supply runs out, no worries, there are still ways to get some of those delicious treats. Take note of all the online Turkish souvenir FOOD purchases you can find!!
---
Turkish Delight (Lokum)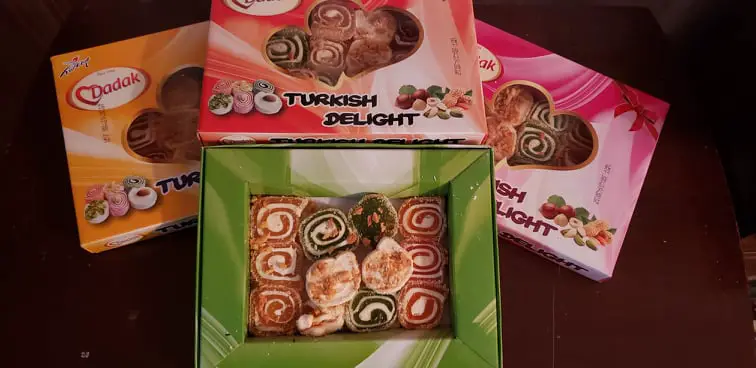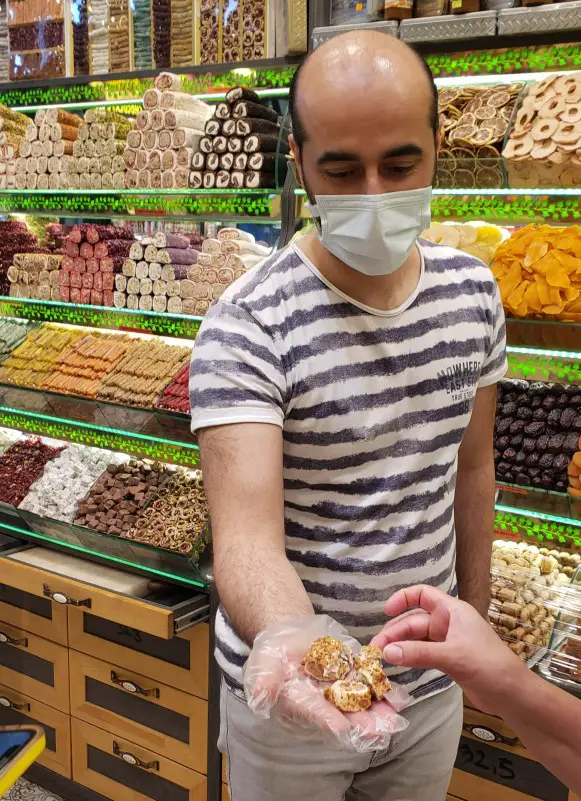 Anyone visiting a shop in Istanbul will undoubtedly have a sample taste of Turkish Delight.  Each shop owner gives out samples of their best dessert.  They are flavored with anything from nuts to spices, surrounded by a gelatin candy, and sprinkled with some sugar to keep them fresh.
They are a great souvenir from Turkey and travel really well.  You can pick up a variety box from any shop, or grab a special box of your favorite flavor from the Spice Bazaar.  Turkish Delights are just the perfect Turkish souvenir gift for family and friends!
Where to buy Turkish souvenirs online
Other Candies to Buy for Turkish Souvenirs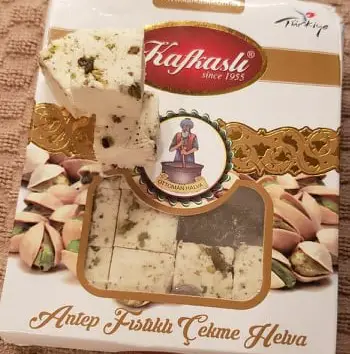 Halva is a popular dessert in Turkey and the Middle East.  It is a delicious high-calcium treat that also promotes virus protection and increases energy.
Pismaniye is another type of halva, fairy floss or string halva, that is compared to cotton candy.  It has more consistency than cotton candy though since it contains flour and butter that is pulled into sugary strands. 
You can find it in many forms like bite-size drops covered in chocolate that we found to be incredibly good after a long hike in Cappadocia! 
"Pisman" means regret in Turkish, so make sure to grab a box of pismaniye for your souvenir of Turkey so that you don't REGRET it later!
Where to buy Turkish souvenirs online
Spice Souvenirs in Turkey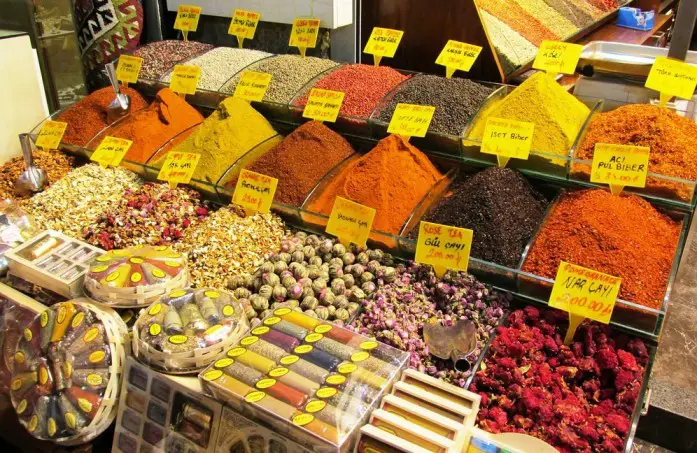 Scents of Turkish spices always drift through the markets and streets of Turkey.  Exotic spices are so prevalent that Istanbul has its own Spice Bazaar where you can find the best shopping in Turkey and almost every spice in existence.  Some of the most popular Turkish spices are aromatic paprika and sumac spices. 
The red pepper in Turkey was especially flavorful compared to what we were used to, so we opted to bring back some of that spice as a souvenir and fragrance of sweet-smelling Turkey!  It was vacuum-sealed by the spice vendor so that we could easily pack it without worries of spilling.
To go along with your many Turkish spices from the Istanbul Spice Bazaar (and the many spice shops on the streets of Turkey!), make sure you purchase a copper spice set to store your seasonings in.  They come in many varieties and are easily transported in a suitcase.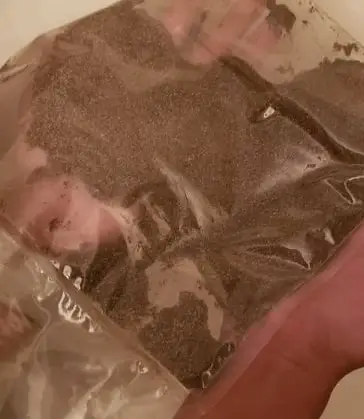 Turkish Tea (chai)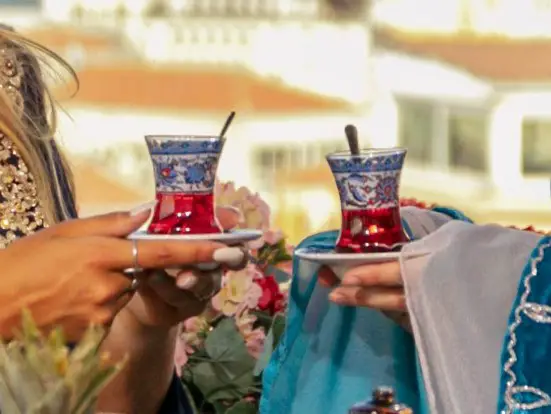 Tea is the number one consumed drink in Turkey.  The Turks consume these little cups of tea numerous times throughout the day and whenever they get together socially.  It is offered whenever you are greeted by a friend and even when you enter a shop so that the shop owner can chat with you while you both sip tea.
It is a bitter red tea that is made in a double-teapot and served in a small tulip-shaped cup.  However, they even have herbal teas, the most popular being apple tea.  You can buy some souvenir Turkish tea in teabag or crystal form from many tea and spice shops throughout Turkey.
Where to buy Turkish souvenirs online
Turkish Tea Set
The popular Turkish tea is always served in a special tulip-shaped glass cup with a saucer underneath.  A traditional double-style teapot is used to make Turkish tea.  
If you are a tea-lover and are bringing home some Turkish tea as a souvenir, consider adding a Turkish tea set to your list.  It would be a shame to sip your Turkish tea at home without the proper Turkish teacup!
Where to buy Turkish souvenirs online
Turkish Coffee (Turk kahvesi)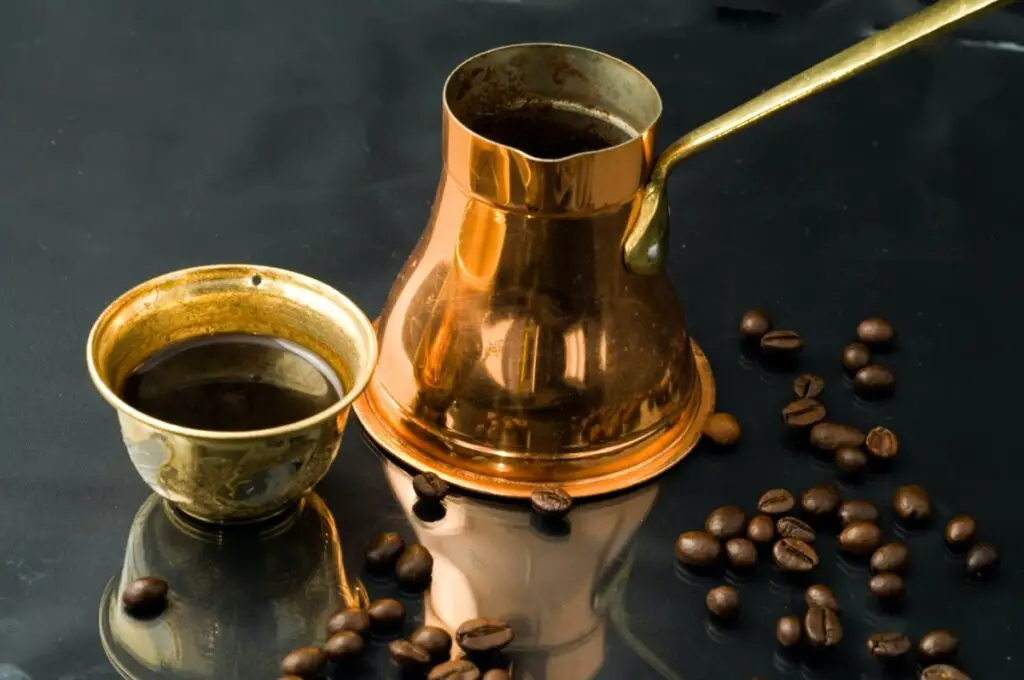 Following Turkish tea, Turkish coffee is also a popular drink.  The Turks brew their coffee in a special pot called a cezve.  After boiling a couple of times to produce a frothy coffee, it is poured into Turkish coffee cups.  The finely ground coffee grounds are left in the coffee when served and are also transferred to the coffee cups.
NOTE:  After the coffee is consumed, the leftover coffee grounds are often used in the art of Turkish fortune telling for the coffee drinker!
Where to buy Turkish souvenirs online
Dried Apricots
I discovered apricots on my trip to Turkey.  Now, as an older adult, I am sure that I might have tried the fruit before, but as I savored it at my morning breakfast in Turkey, I developed a love for the locally-grown Turkish apricot. 
Since I couldn't take fresh apricots home with me for several reasons –and because customs already had their eye on me from a 'scissors incident' in Germany, dried apricots were an excellent idea!
Nuts and dried fruits are popular snacks in Turkey and are also served in social gatherings.  Grabbing a helping as a souvenir from Turkey is easy to do from many shops throughout the country.  Besides apricots, Turkey's local farms produce many figs and raisins.
Where to buy Turkish souvenirs online
Baklava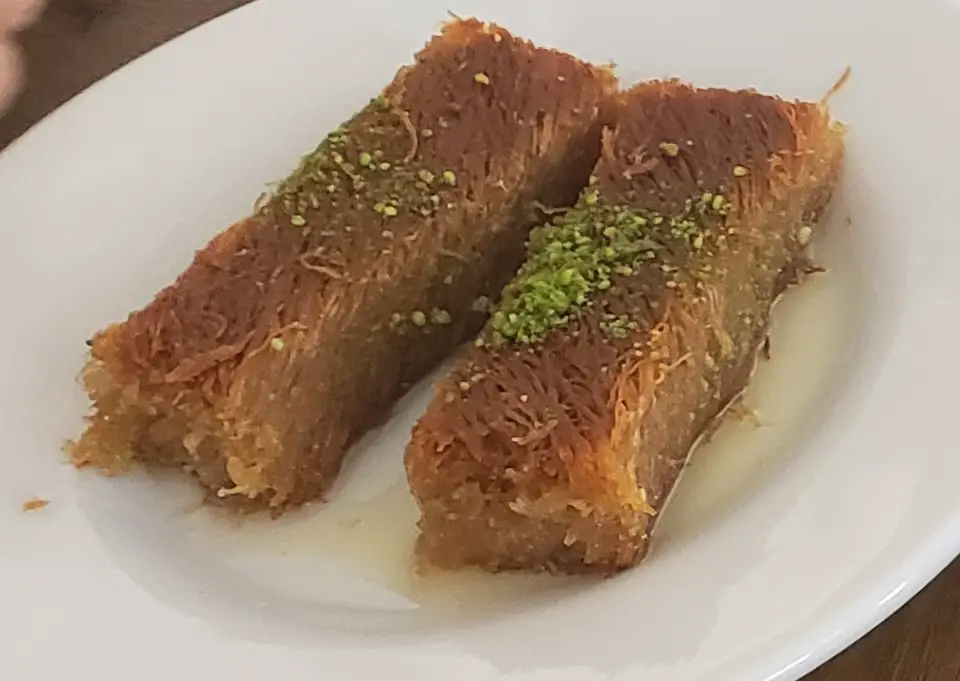 Talk to anyone of Turkish descent and they will certainly claim Baklava as a dessert of their heritage (to the dismay of the Greeks, but that is a different topic!). 
Baklava is definitely the most popular dessert in Turkey.  It was served at every single meal that our guide took us to and was a different variety and flavor each of those times!
In its most famous form, Baklava is a flakey filo pastry dough that is blended with a soft filling of many different nuts and then covered with a sweet syrup. 
It is fragile and difficult to transport, so make sure you take this delicious Turkish souvenir home in your carryon —however, then you run into the danger of eating it all on the plane ride home!
Where to buy Turkish souvenirs online
Turkey Knock-Offs & Fake Name-Brands to buy in Turkey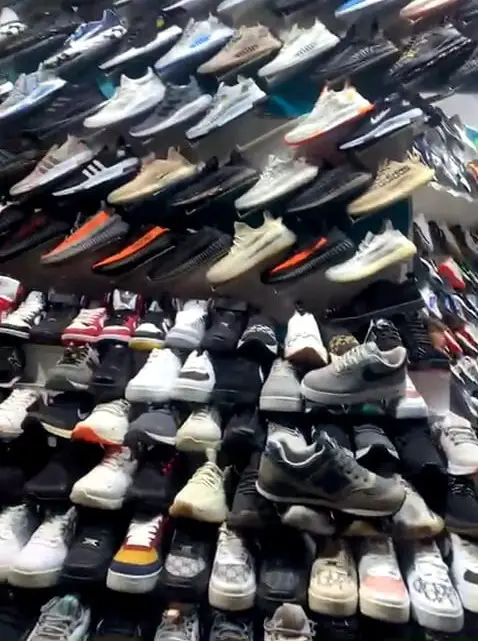 Turkey has some very cheap knock-offs and the Grand Bazaar in Istanbul is well known around the world for its large supply of these designer brand merchandise shops.  If this is something that interests you, you should definitely put Turkey knock offs on your list of things to buy in Turkey because they are very affordable. The knock-offs might just be one of the best buys in Turkey!
Even when we were in other cities like Antalya, there were still a ton of shops advertising their 'name-brands.'  We were often led to a back room for higher-priced and higher-quality items. 
If our size wasn't available in the shop, there was always a young, spry boy that would run to some far-off storage area in order to retrieve it for us in 5 minutes or less, smiling and out-of-breath!
Tommy Hilfiger clothing, Micheal Kors purses, Louis Vuitton luggage, Ray Bans sunglasses, Chanel fragrances & custom Nike shoes are just a small sampling of what is available.  Every brand name seems to be represented in the shops in every form!
---
Is your suitcase filled with Turkish souvenirs yet?
Turkey is a beautiful country. What was your favorite part of your vacation to Turkey?
Take some Turkish souvenirs home with you because they are all so special. The list above is some of the best souvenirs from Turkey. Did I miss a good one? Let me know in the comments.
The souvenirs from Turkey will evoke the memories of your trip time after time! This is a trip-of-a-lifetime. Bring back all the special souvenirs of Turkey to share with your family and friends.
---
Summary of Souvenirs from Turkey!
---
Join the next small group tour to TURKEY!
Make sure you don't miss anything and have it all planned out for you.  CONTACT ME ASAP to get on the list for information about the next Turkey tour group.
---
Make sure you SAVE THIS POST!
In case you miss one of the souvenirs from Turkey, there are handy links for where to get them later!
You can buy Turkish souvenirs online too!! See all the links I included in each entry!!
After returning from a memorable vacation in Turkey, the desire to keep the memories alive through authentic Turkish souvenirs is natural. Thanks to the convenience of online shopping, it's now possible to purchase Turkish souvenirs from the comfort of your own home. With just a few clicks, you can explore a wide range of unique items, from intricately designed carpets and ceramics to traditional textiles and handmade jewelry.
Shopping for Turkish souvenirs online allows you to take your time, compare prices, and choose the perfect pieces that reflect your experiences and memories from the trip. Whether you're looking for a vibrant Turkish rug to adorn your living room or a small trinket to remind you of the bustling markets, online shopping provides an accessible and convenient way to bring a piece of Turkey into your everyday life at home.
---
Like this Turkey Souvenirs post? Pin it for later!