DISCLOSURE: I may link to relevant products, companies or helpful info which may be affiliate links, meaning I may earn a small commission. As an Amazon Associate & other affiliates, I earn from qualifying purchases at no extra charge to you. The views & opinions are my own. Please see the disclaimer and privacy policy.
Last Updated on September 9, 2022
Tourist Attractions in Fethiye Turkey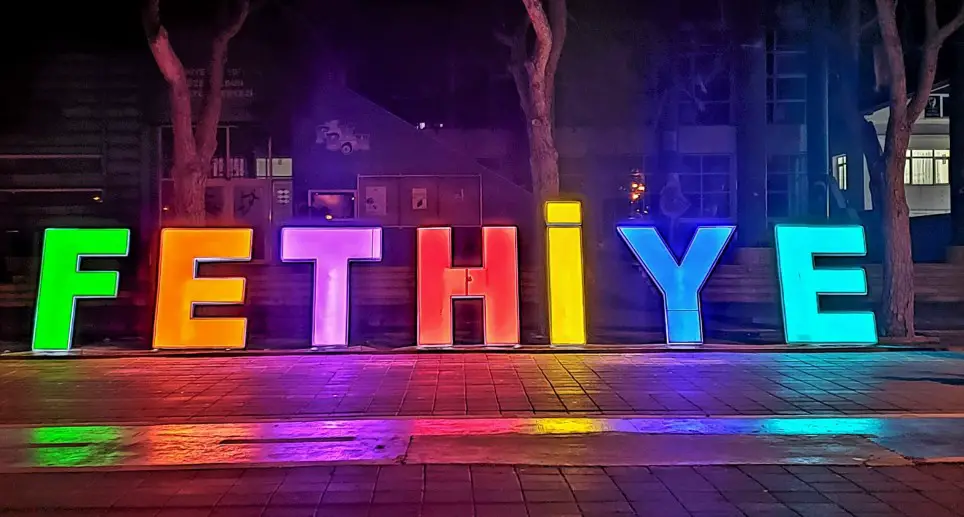 There are many lists of the top 10 things to do in Fethiye Turkey and Oludeniz Beach is on all of them. This beach is the highlight of any Fethiye holiday because of its crystal clear water and beautiful sandy beach.
If Fethiye is on your list as your travel throughout Turkey, keep reading to find out the Top Attractions in Fethiye!
Fethiye was the relaxation destination for our small group tour in Turkey. We spent 2 days relaxing and enjoying the area.
Highlights of the Best Things to do in Fethiye
JUMP to the details of each activity in Fethiye!
---
Keep reading for the best things to do and see in Fethiye Turkey!
Oludeniz Beach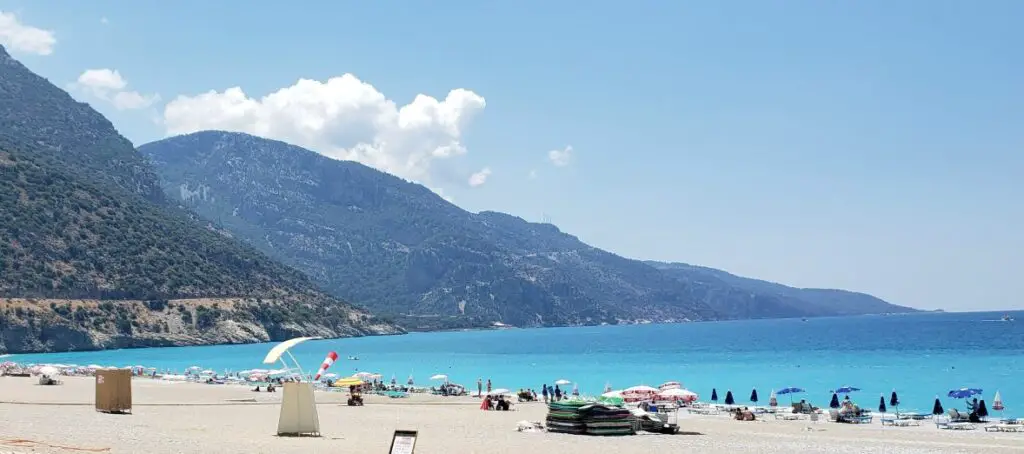 Oludeniz is a popular beach town in southern Turkey and should be at the top of any Fethiye itinerary when traveling in Turkey. It is known for the Blue Lagoon, beautiful boat trips to small beachy islands, and amazing scuba diving in clear water. It should definitely be on your list of fun things to do in Fethiye
Its name translates to 'Dead Sea' because the water is so calm
---
Getting to Oludeniz Beach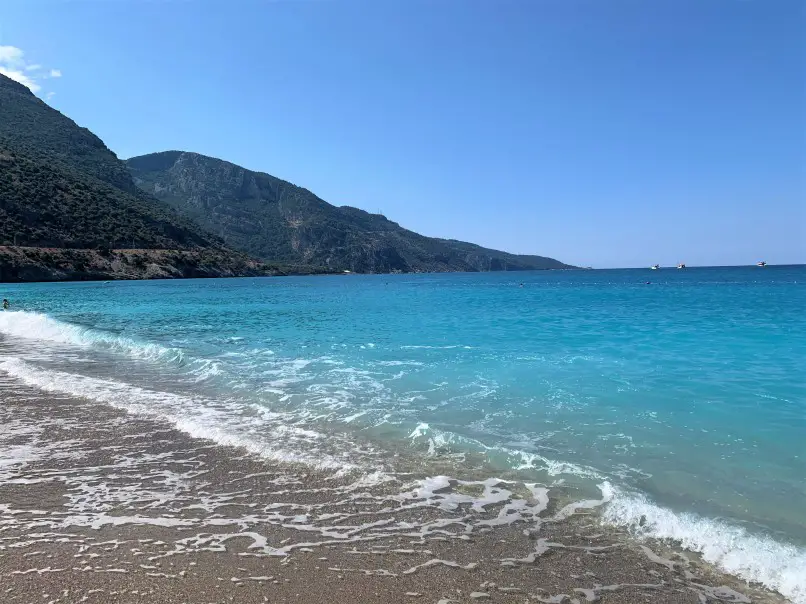 Dalaman International Airport (DLM) is located less than 40 miles away from Ölüdeniz. From there, travelers can rent a car or travel by bus to the small town of Oludeniz, Oludeniz Beach, and Fethiye.
---
What to do at Oludeniz Beach
Enjoy the sun and the sea at Oludeniz Beach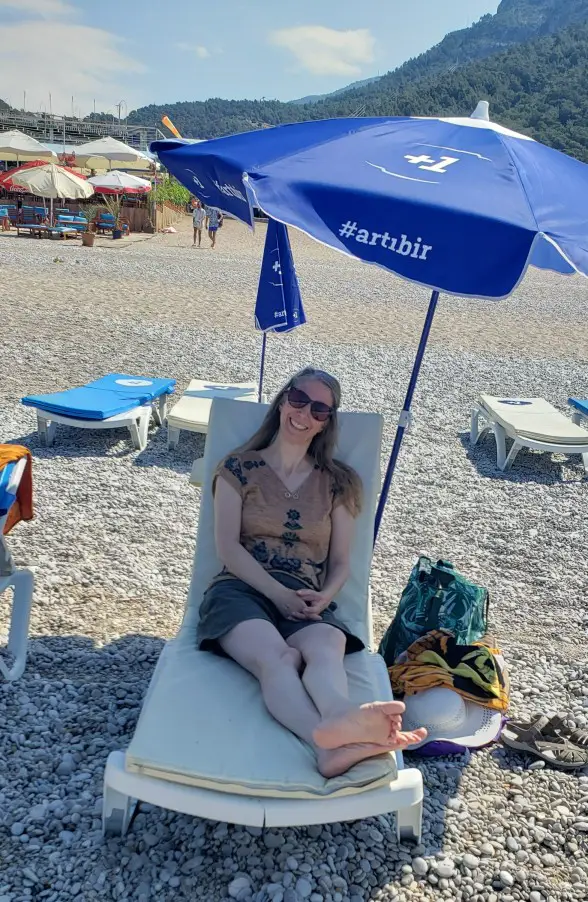 Make the first stop on your trip to Fethiye at Oludeniz Beach.
The Oludeniz Beach is a beautiful paradise with crystal clear water travelers can soak up the sun in lounge chairs while sipping on refreshing cocktails.  The water is nothing short of spectacular!
During our stop at Oludeniz Beach, we watched the waves come in and out and the paragliders sail from the Babadag Mountain to land right on the sandy beach nearby.
It is also a great beach for snorkeling and scuba diving.
Half-day Scuba Diving Experience in Oludeniz
Take the opportunity of scuba diving in the pure waters of Oludeniz to see the amazing coral reef pattern and colorful fish. It's an amazing experience that you must see to believe.
---
Visit the Oludeniz Blue Lagoon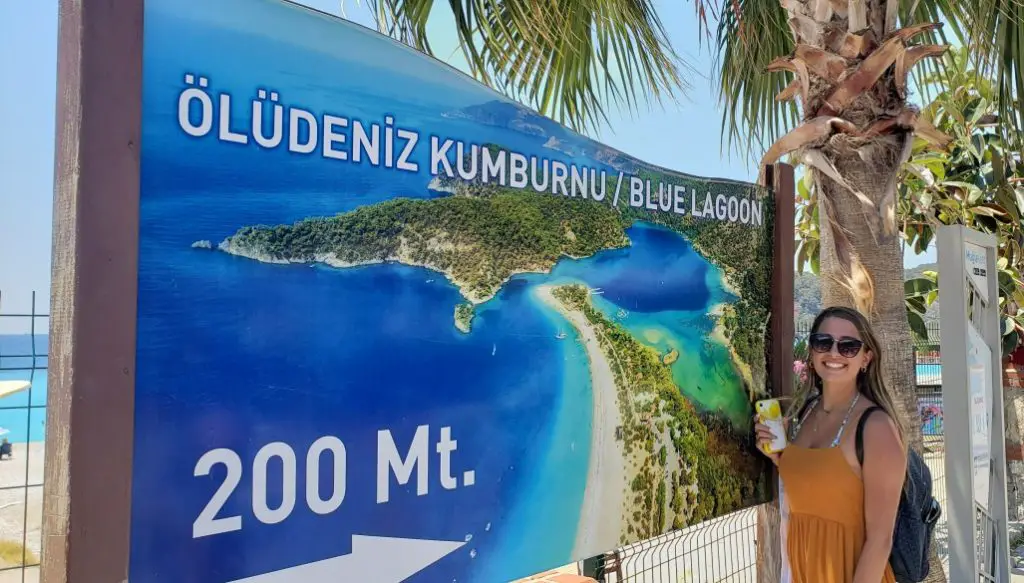 The Blue Lagoon is a separate area at Oludeniz Beach. It is protected by a strip of land that keeps the turquoise water even more calm – and even more BEAUTIFUL! Is that possible? It is one of the most photographed beaches in Turkey since its immeasurable beauty in the turquoise waters and soft, sandy shores can be captured from every angle.
This area is popular for stand-up paddleboards and kayaks since the calm water is perfect for these water activities. There are places to rent the water equipment as well as beach chairs at the Blue Lagoon.
---
Paraglide over Oludeniz Beach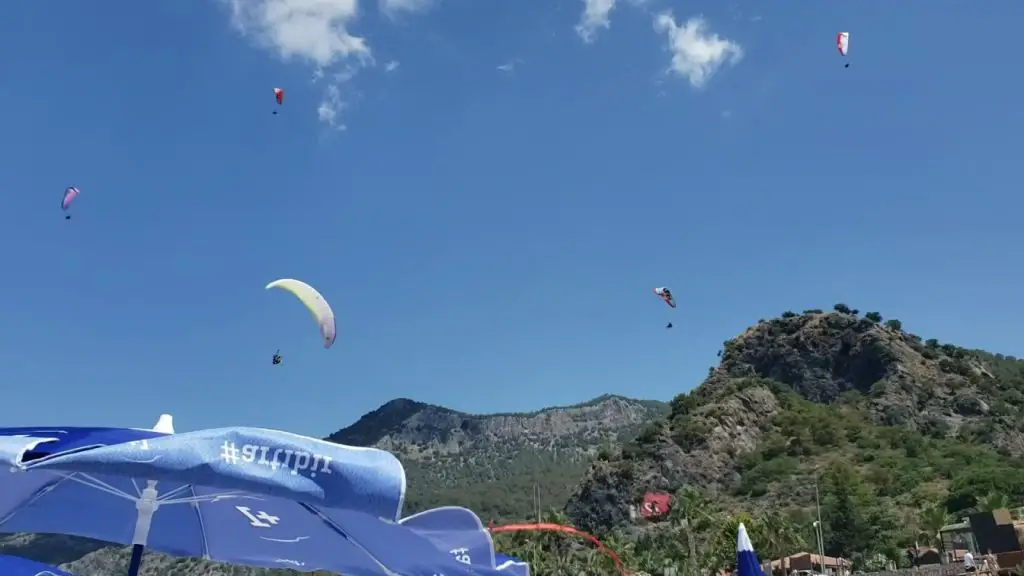 The Babadag Mountain is located right behind the beach and is one of the highest commercial launch sites in the world for paragliding, making Oludeniz the BEST PLACE IN TURKEY FOR PARAGLIDING!
There are dozens of paragliders each day, so even if you aren't in the mood for adventure and a beautiful view of Oludeniz Beach from high above, you can still enjoy all the colorful gliders descending to the sand from the mountain above!
Oludeniz Paragliding Fethiye Turkey, Additional Features
We want you to know that we do not provide an ordinary paragliding service.
We are a boutique business and we are trying to convey the true nature of paragliding to you. For example, while a standard flight lasts 25 minutes we can extend this flight time to 40 minutes by using thermal waves and get…
and here is a larger selection of the paragliding options at Oludeniz Beach in Fethiye Turkey.
THE 10 BEST Oludeniz Parasailing & Paragliding (with Photos)
Top Oludeniz Parasailing & Paragliding Activities: See reviews and photos of parasailing & paragliding in Oludeniz, Turkey on Tripadvisor.
---
Pirate Ship Trip from Oludeniz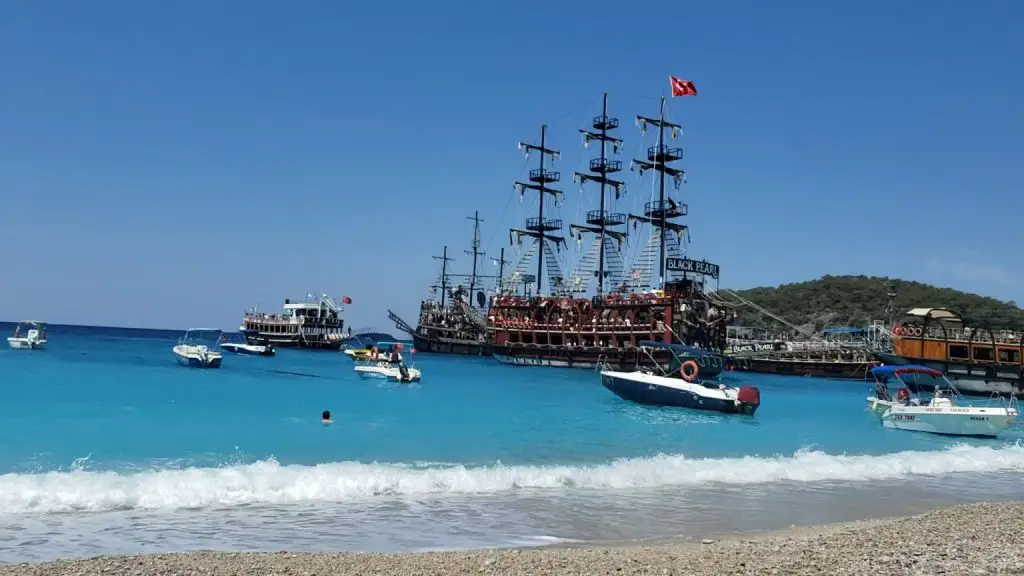 Join these mates for a pirate boat tour from Oludeniz which includes some of the beautiful surrounding islands like Butterfly Island and St Nicholas Island. There is a relaxing deck for sunbathing, —or for the more adventurous, there is a slide that goes into the deep blue sea!
Lunch is included on this party boat —and I say PARTY BOAT because in addition to the music and dancing there is a FOAM PARTY on board!!!!
Pirate Boat Trip from Oludeniz
During the day you will discover turquoise blue water of Oludeniz and also you will enjoy the foam parties in Oludeniz Pirate Boat. Oludeniz Pirate boat trip consists 6 stops in total.
---
Oludeniz Beach Clubs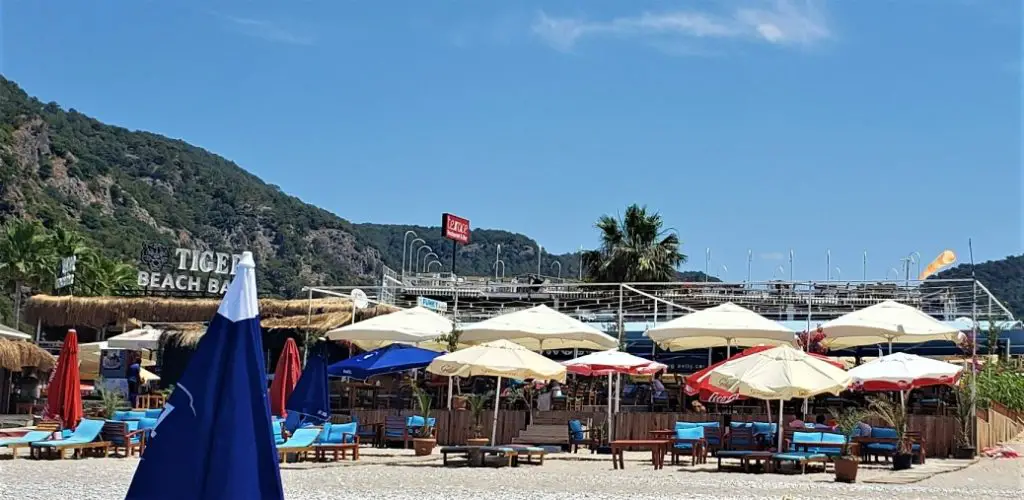 After you are done with your party on the Pirate Boat, head to the Oludeniz beach clubs located up and down the beach strip. This is where you will find the best sunbeds! The beach clubs serve up food and drinks so that you can relax in your beach chair with the beautiful view of the calm turquoise water in front of you and the cool breeze rustling through your hair.
Is there anything more relaxing????
---
Relaxing Boat Cruise to the Islands near Oludeniz Beach
Perhaps THIS is more relaxing!!!
This boat cruise leaves from Oludeniz and goes to all of the surrounding islands for. a scenic day out in the sea. Butterfly Valley and St Nicholas Island are also included on this boat tour, like the pirate ship, but with a more relaxing atmosphere.
Boat trip from Oludeniz Blue Lagoon to Butterfly Valley and Gemiler Island with lunch
Cruise with a 2-deck boat leaving from Blue Lagoon of Oludeniz. Trek in Butterfly Valley and climb up St Nicholas island to see its relics. A day out in the open sea with lunch included the price.
---
Saklikent National Park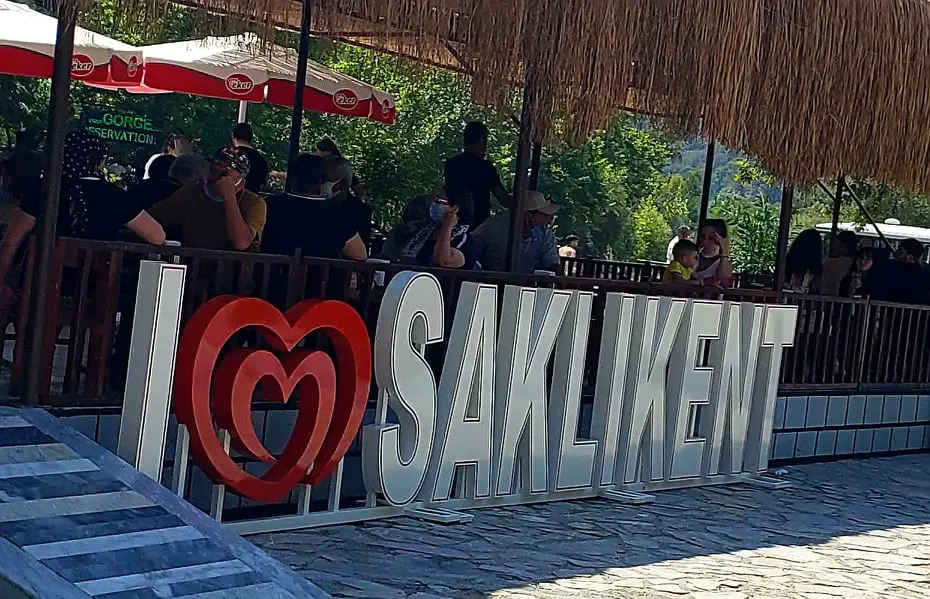 Saklikent National Park was established in 1990's and is about 25 miles from Fethiye Turkey. The gorgeous Saklikent National Park makes a great day-trip from Fethiye since there is so much to explore including all the hiking trails, waterfalls, canyons – all with beautiful flora to admire along the way.
---
Find the best tours to Saklikent National Park from nearby Fethiye and other cities in Turkey:
Best Saklikent National Park (Saklikent Milli Parki) Tours & Tickets – Book Now – Viator
Book tours and tickets to experience Saklikent National Park (Saklikent Milli Parki). Reserve a ticket for your trip to Fethiye today. Free cancellation and payment options – Viator.
Saklikent Canyon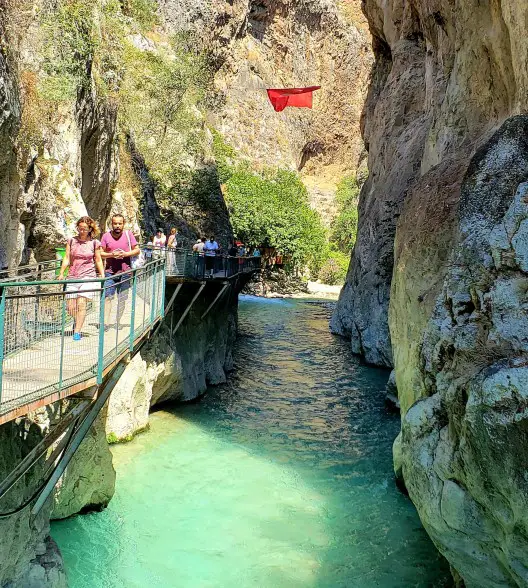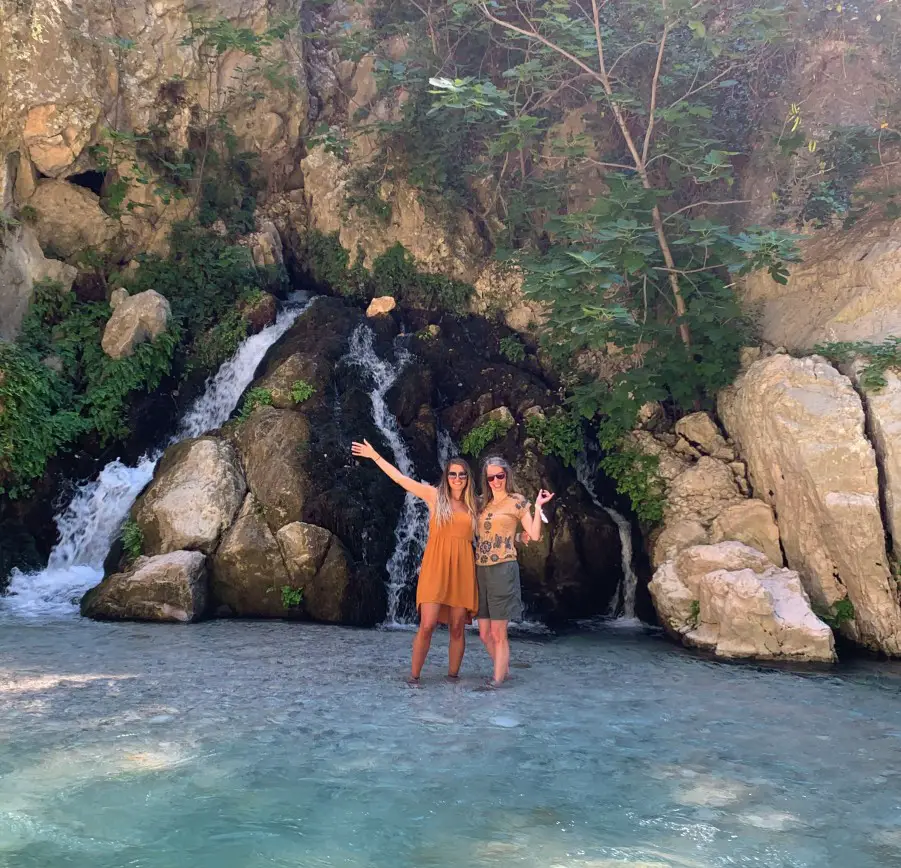 Saklikent Gorge is the longest and deepest canyon in Turkey and one of the largest in Europe. It is a popular tourist attraction with nearly 300 thousand visitors touring the canyon each year. The run-off from the nearby mountains flows through this gorge, filling it with a beautiful and chilly river, flowing rapidly through the canyon.  There are many hiking trails and waterfalls.
We were lucky to be there in the summer and waded into the gorge for pictures in front of the nearby waterfall. 
It was still VERY cold! Our feet were numb after wading through it.
PRO TIP: Be sure to wear or bring water shoes!
---
Dine at a gorgeous river restaurant near Saklikent National Park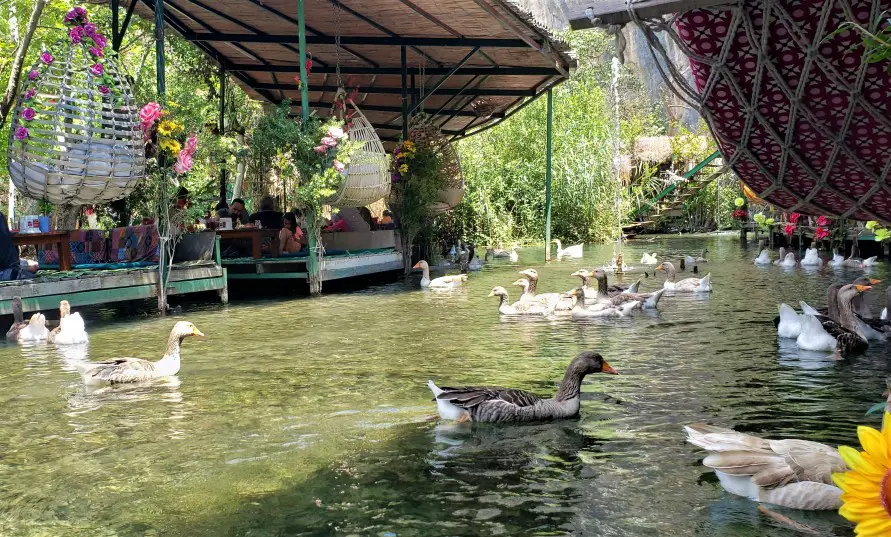 The local lunch venue near Saklikent National Park is definitely a must-see stop.  It is located along the river and is a gorgeous display of colors surrounded by nature and birds. They specialize in seafood and will serve the whole trout on a plate for your enjoyment. —or entertainment since I did not eat one, but thought it was an interesting dinner option.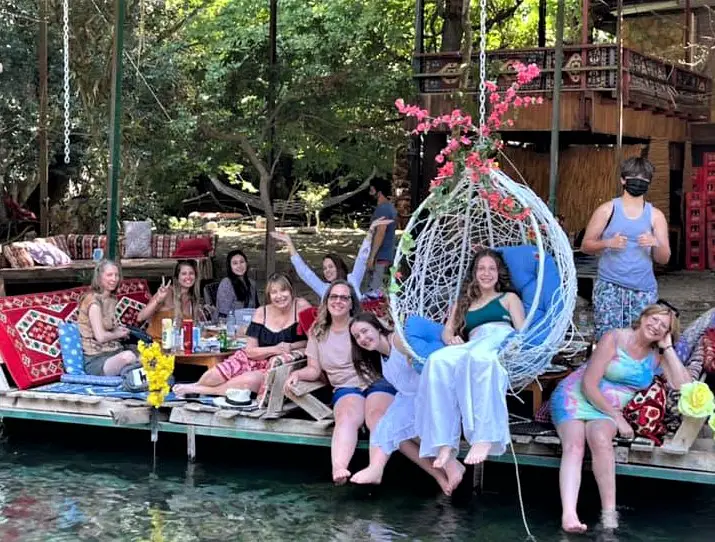 During our stop in Fethiye during our small group tour through Turkey, we stopped at the Saklikent Restaurant after our Saklikent Gorge hike. We enjoyed fresh seafood (or non-seafood in my case) on relaxing chair swings or luxurious padded cushions in the paradise restaurant as the ducks swam by and watched.
Make plans to stop at this restaurant for the BEST DINING in Saklikent National Park!
SAKLIKENT RESTAURANT PARADISE PARK
Restaurant in saklikent, rafting and zipline activities, such as the best way to we are trying to offer lots of local and foreign visitors.
---
Fethiye Orka World Aqua Park
This water park is located in Fethiye and is filled with waterslides, swimming pools, water games, animations, playground, and much more. It is a popular Fethiye tourist attraction and tends to get crowded, so plan your visit during off-peak times.
If you need a boost of exhilaration from an uncontrollable trip down a waterslide, then this is the park for you. 
This tour even includes pickup from some hotels in Fethiye!
Fethiye Orka World Aqua Park with Hotel Transfers
A warm welcome awaits you at Aqua Park and a funfilled day out guaranteed. There are water slides, swimming pools, water games, animations, playground, mini club, restaurant, cafe & bar, special nights and shows.
Hamam in Fethiye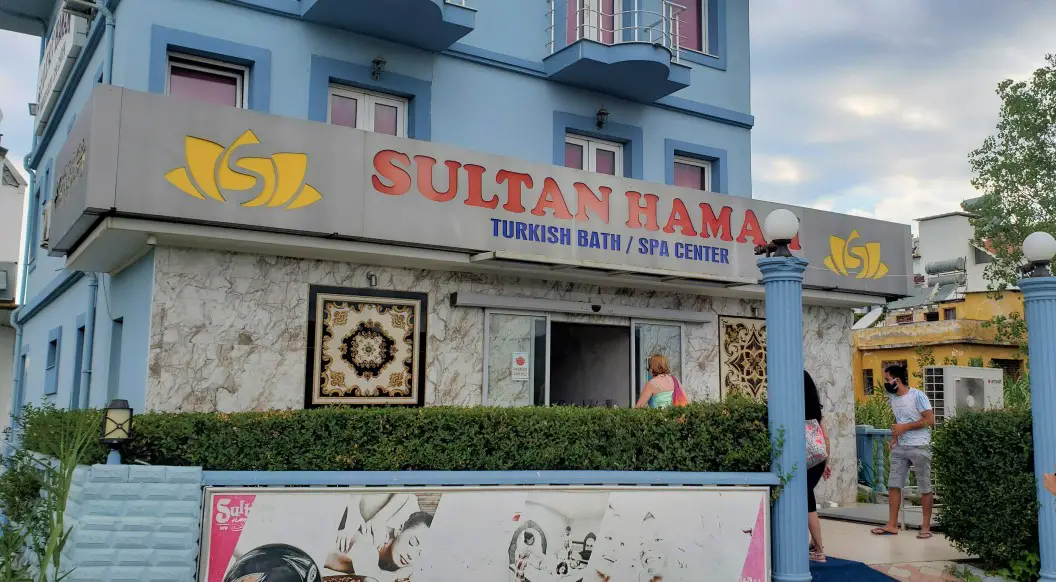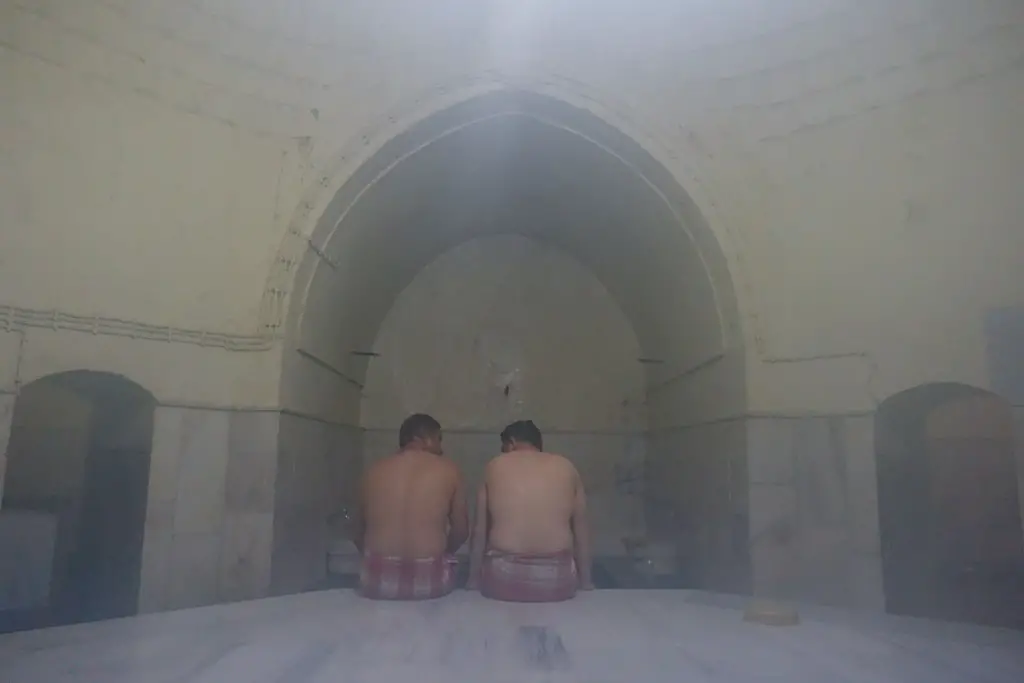 After all the time relaxing in Fethiye, the reward of a Turkish Bath should be overdue. Hamams are not only one of the top things to do in Fethiye, but they are a popular thing to do throughout Turkey.
Typical Turkish Baths, hammams, are done with little clothing, but they usually accommodate those who wish to remain in a bathing suit!  Our Turkish massage in Fethiye included time in a sauna and then dry heat to open up our pores followed by vigorous scrubbing to remove the dead skin. 
I had a young Turkish man in a little Turkish towel scrubbing me down.  We didn't understand a word of each other's language, but we managed.  He ended it with a quick, but deep massage.  The time spent in the ornate Turkish bathhouse relaxed me completely and I was ready for a mid-day nap!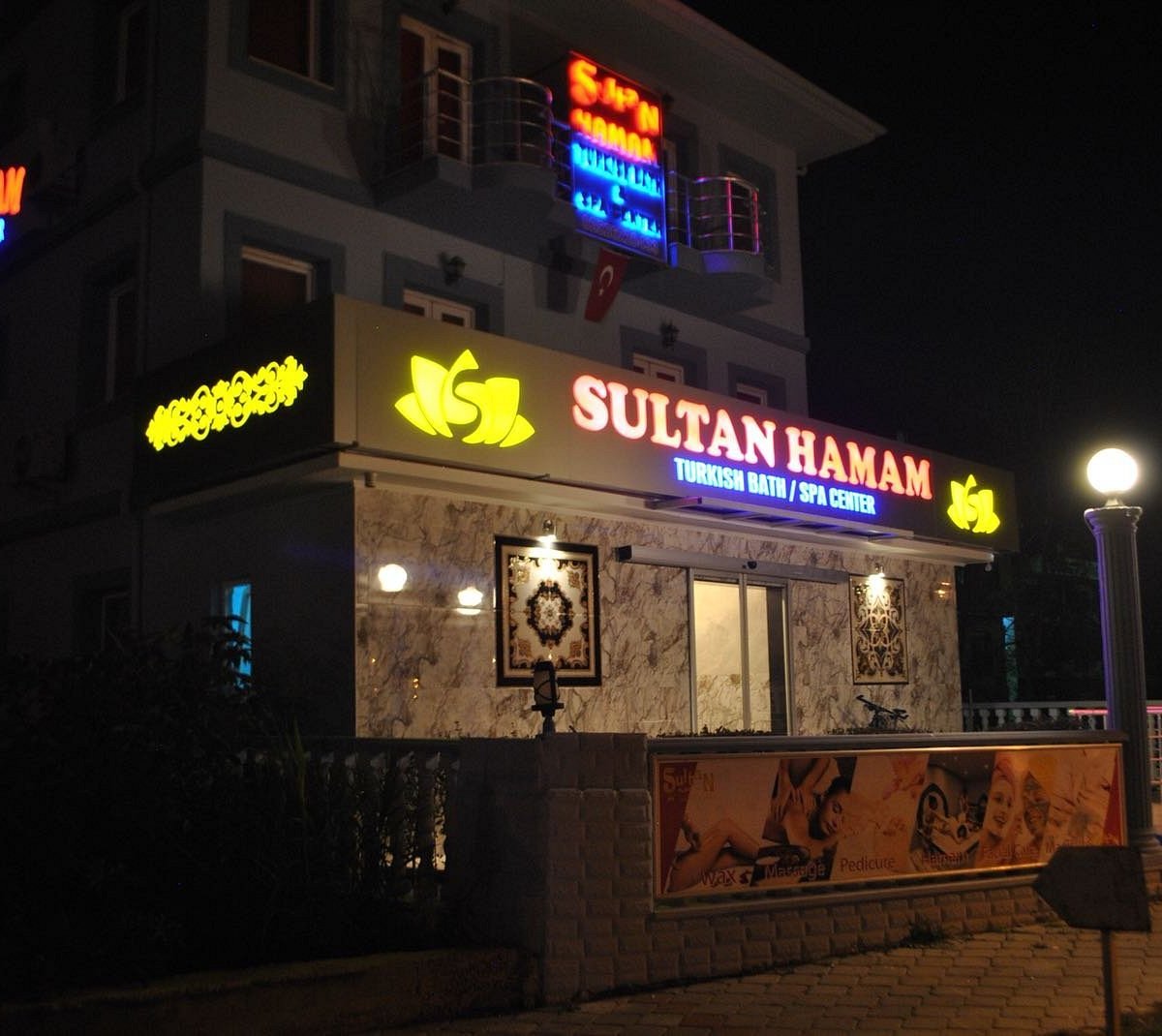 Sultan Hamam and Spa Center (Fethiye) – All You Need to Know BEFORE You Go
Sultan Hamam and Spa Center5Hammams & Turkish Baths • SpasAboutServed for many years in Fethiye, the Sultan Baths and Spa Center as the most important issues of health, hygiene customer satisfaction. Our business is open during summer and winter, serves local and foreign to all customersSuggested du…
First time at a hammam?
It's really not too scary once you understand the processes. Take a look at this Beginner's Guide to Your First Turkish Hammam before you go!
The Beginner's Guide to Your First Turkish Hammam – The BeauTraveler
Turkish hammam, or Turkish bath, is probably one of the must-do activities when you're in Turkey due to its popularity and historical values.
Where to stay in Fethiye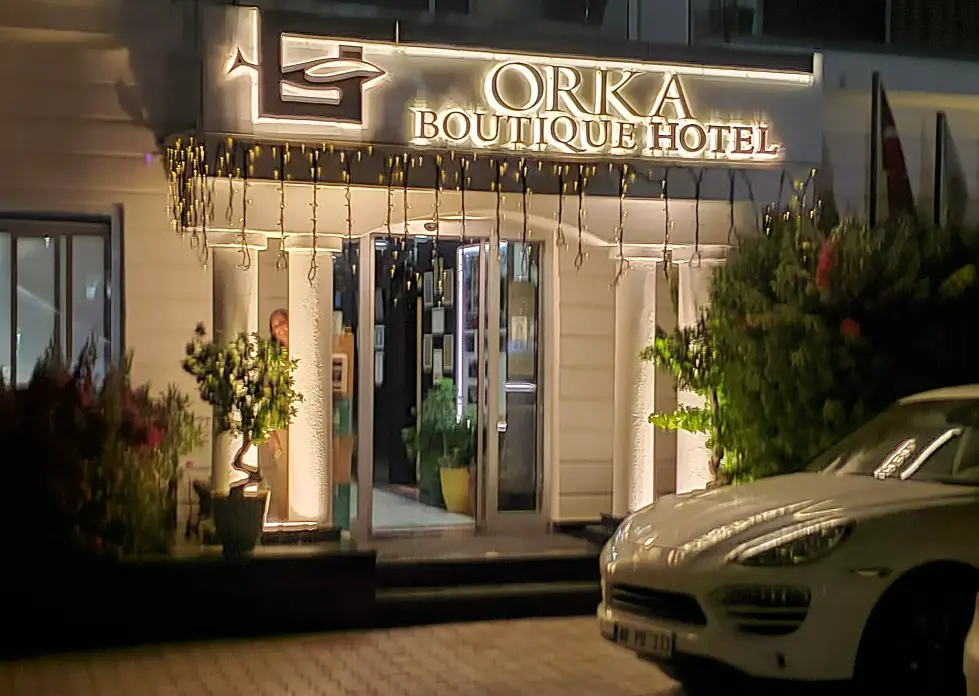 We stayed at the Orka Boutique Hotel and I highly recommend this classy boutique hotel. It has luxurious amenities, a spacious room, an amazing view off of the balcony, and a bountiful breakfast. Our two nights at the Orka Boutique Hotel in Fethiye were definitely relaxing during our trip through Turkey.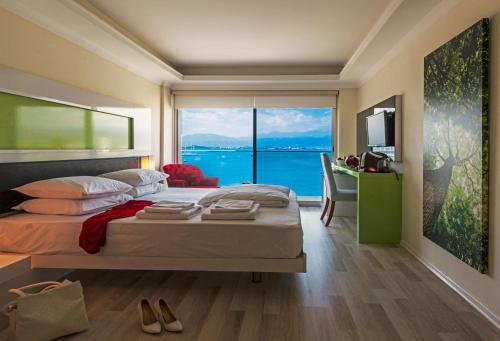 Orka Boutique Hotel, Fethiye – Updated 2022 Prices
Located in the center of Fethiye, Orka Boutique Hotel offers modern rooms with extensive sea views. The hotel is just a few yards from the sea and 3.
---
Use this map to find deals on other accommodations in Fethiye and Oludeniz
LIKE THIS POST? Pin it for Later!!