DISCLOSURE: I may link to relevant products, companies or helpful info which may be affiliate links, meaning I may earn a small commission. As an Amazon Associate & other affiliates, I earn from qualifying purchases at no extra charge to you. The views & opinions are my own. Please see the disclaimer and privacy policy.
Last Updated on July 18, 2023
Taking a small group tour of Turkey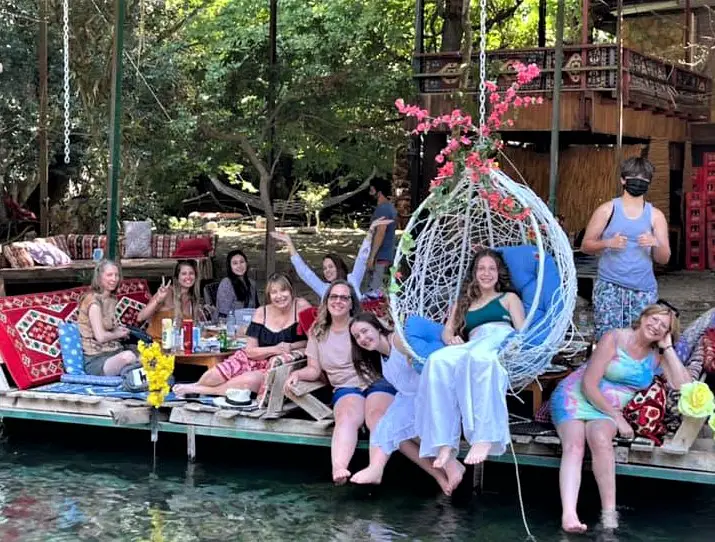 Whether you are taking a last-minute trip like we were, or planning months and months in advance, one of the questions to answer when traveling to Turkey is do-it-yourself or group tour??  Our answer, after much thought, was to join one of the best small group tours of Turkey and we have NOTHING BUT GOOD THINGS to report!  Follow along as we explain what was involved in our group tour from TRAVEL OASIS to the many beautiful sites in Turkey.
We joined this tour on our mother-daughter trip to the Bucket List destination of Turkey.  It was a last-minute decision and a quick flurry of activity to get everything ready, but our travel agent, Connie, made it super easy to get it all organized.  She did a great job planning every detail of the well-organized trip to Turkey, or Turkiye as it is now officially spelled!
Why did I choose one of the best small group tours in Turkey?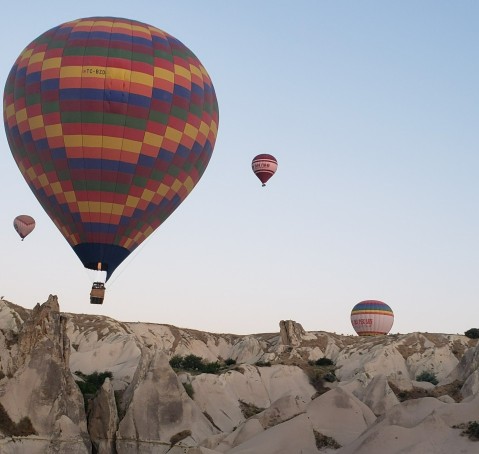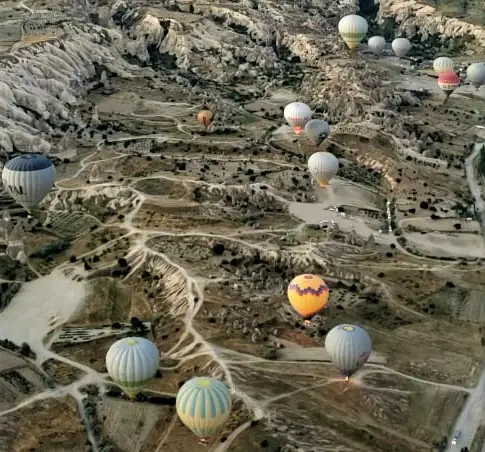 Buckt List Trip to Turkey
A hot air balloon ride in Cappadocia was on my bucket list and I thought it was about time to tick that baby off of the list!  If it isn't on your list, it definitely should be!!! 
Cappadocia is in the middle of Turkey, a country that is mostly in Asia.  However, it still has a little bit of European flair to it since a part of Istanbul, the largest and most populated city in Turkey, is actually in Europe. 
I grew excited about the possibilities of this trip.  A tour through Turkey would provide an introduction to a little bit of Middle Eastern culture and allow me to see a part of the world that I had yet to discover. 
I was a little hesitant at planning this trip on my own since there was only a month to prepare.  It was also going to be a mother-daughter trip and I was even more anxious about going on our own.
….and then I found the perfect solution
Which Turkey tour did I choose?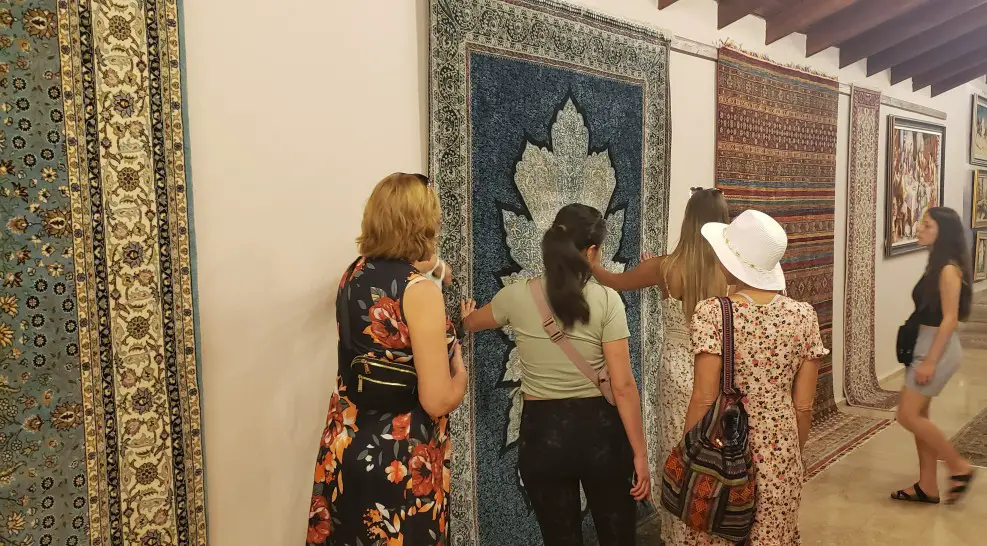 We chose one of the best tours to Turkey from the USA!
I discovered Travel Oasis and Connie Ngu in a Women Travelers Facebook group.  I did a bunch of research on her, the destination, and the agency. She was offering a smoking deal for a small group tour of Turkey and I was immediately intrigued.
Travel Oasis is Connie's independent agency.  She majored in travel and tourism and became a travel agent during the pandemic to fuel her passion for languages, cultures, meeting new people, and traveling.  Leading people in small group tours combined all her loves into one –and it shows.  She puts all her effort into creating ideal itineraries that will appeal to all types of travelers.
The small groups of 14 travelers that Connie leads in Turkey are intimate so that she is able to get to know each person and help introduce them to the beautiful country of Turkey. 
I chose Connie's small group tour to Turkey, and can definitely recommend it to you for a vacation of a lifetime! 
Make sure to CONTACT ME to get on the list for information for the NEXT TRIP!
How to book the small group tour Turkey tours?
Are you interested in this tour of Turkey yet?
Turkey is a must-see destination, but there are so many things to do and places to see?  Do you have the desire to see all the fairy chimneys, cultural rug weavers, and important historical religious sites in Turkey? 
Make sure you don't miss anything and have it all planned out for you.  CONTACT ME ASAP to get on the list for information about the next Turkey tour group.
---
Highlights of Turkey small group tours
Too excited to scroll down?
JUMP to the details of each destination!
Want more details of these sites?  Keep reading!!
Are small group tours of Turkey worth it?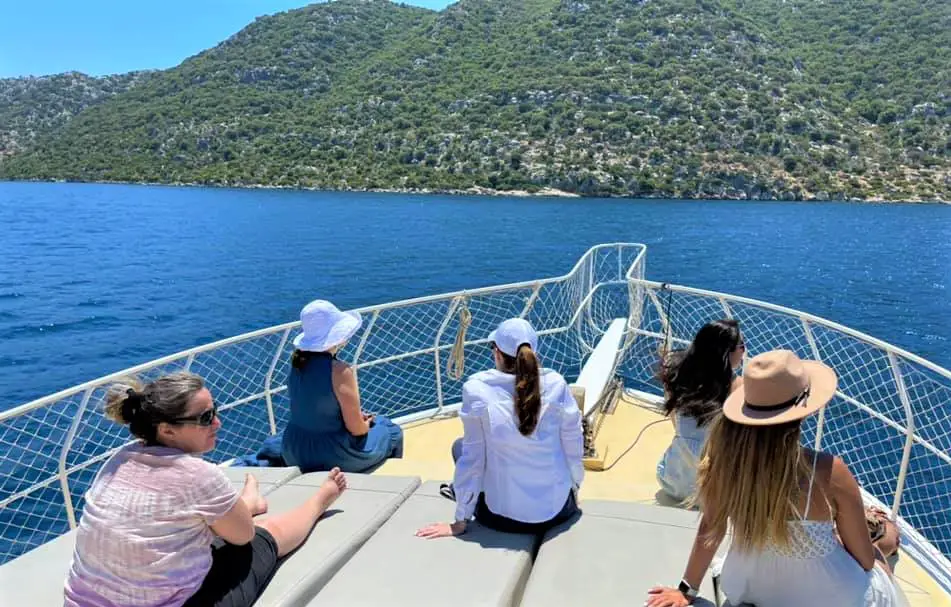 Group tour versus planning it all yourself
I am normally the person in charge of all the vacation plans.  I plan every detail down to each minute, including where we stay, what we eat, and where the bathrooms are.  Some vacations are more relaxing if you let SOMEONE ELSE DO THE PLANNING.  The guide for one of the escorted tours to Turkey will make all the travel arrangements for you so that you don't have to lift a finger to type a single google search term.  There will be no worries about which sites to see on which day because it is all pre-planned for maximum efficiency for your valuable vacation time.
Safety in numbers with a knowledgeable guide
With 14 other travelers of all ages on this Turkey travel tour, there will always be someone by your side if you need help.  Whether it is help in finding coins to pay for the bathroom facilities, someone to help ward off an aggressive shop owner, or just a pair of extra hands to snap your photo in front of the beautiful library at Ephesus, when traveling in a small group, we are one big protective family.
---
Is Turkey Safe?
I received many comments from family and friends when I told them about my plans to vacation in Turkey.  They all had worried expressions and said they feared for my safety. 
However, I felt SAFER in Turkey than I did in several other countries that I have visited.  Everyone in Turkey was helpful and friendly.  I didn't feel unsafe or worried at all at any of the sites.  Now I will admit that our tour group stayed together and we stayed in the tourist destinations, so I can't comment about what it is like to go off the beaten paths in Turkey.  My daughter and I went off on our own on shopping sprees in Antalya and Istanbul and felt totally safe doing that too.
I do know how to travel in big cities so I was prepared for any pick-pocketers or things like that, so I encountered no problems.  The crowded Spice Bazaar in Istanbul was UNLIKE any crowded subway in New York City or busy piazza in Rome or jam-packed street in Paris.  I couldn't believe just how many people were walking through the bazaar, but I still didn't feel unsafe even with so many people bumping into me.  – However, I do recommend heading back before the streets clear out at closing time!!  It felt eerie walking around with everything closed on the deserted streets.
---
Travel Agent Guide wears many hats
You know it is going to be a good tour when the travel agent comes along on the trip!  Connie, the awesome travel agent, accompanies all her Turkey small travel groups throughout their trips through the country. 
Don't know Turkish????
We watched several Youtube videos to learn some common Turkish phrases. THANK YOU was very difficult for us!! However, Connie speaks fluent Turkish so no last-minute language cramming sessions are needed! Taking this small-group tour in Turkey eliminated the worries over not speaking the native language! Connie was very helpful with complicated restaurant menu orders and bartering with shop owners. She is also very handy and knowledgeable for taking Instagram photos!!!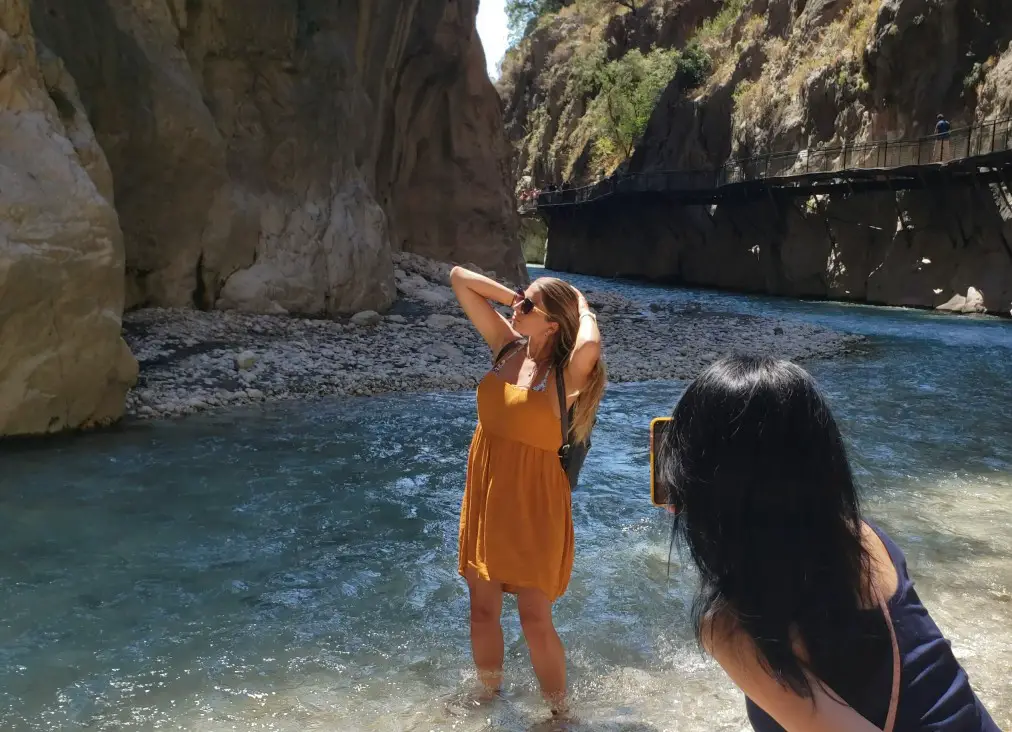 See a lot of the country in a little bit of time
During this small-group tour, we saw quite a bit of Turkey in a small amount of time.  We covered 7 different areas and traveled via a comfortable van between some of the cities or domestic flights when the distance was further.  This is a massive amount of destinations to cover in this timeframe.  However, we didn't feel rushed at all.  Since the transportation and navigation were handled and planned by the travel agent we were able to cover a lot of ground with no hassle.  This isn't something that I could have done if I had planned the trip on my own. This is definitely the best way to tour Turkey!
What you will see on small group tours in Turkey
Are you interested in what exactly you will see and do on your Turkey group tour?   The Travel Oasis small group tour makes a stop in several regions in order to hit all the must-see sites in Turkey. 
Here is a quick description of all of those important destinations in Turkey so that you can get an idea about the kind of trip this will be.  There are historical sites, natural sites, shopping stops, cultural stops, and something for everyone's interest.  It was actually a quite diverse list of stops on our small group tour of Turkey.
I can't tell you EVERYTHING that your Turkey group tour will see and do, because there is just SO MUCH, but here is a little bit to tempt you at each region.
The Best Way to Tour Turkey: Hit all the Sites!
---
Cappadocia
Cappadocia was my favorite stop on our group tour in Turkey.  We spent 2 days in Cappadocia and that was enough to see the highlights of the area, but I could have spent 2 WEEKS exploring it all.  There are so many unique attractions in Cappadocia.  From the fairy chimneys to the underground caves, they are all interesting to see.  Spend some time going over everything our Turkey tour group did in Cappadocia at the link below.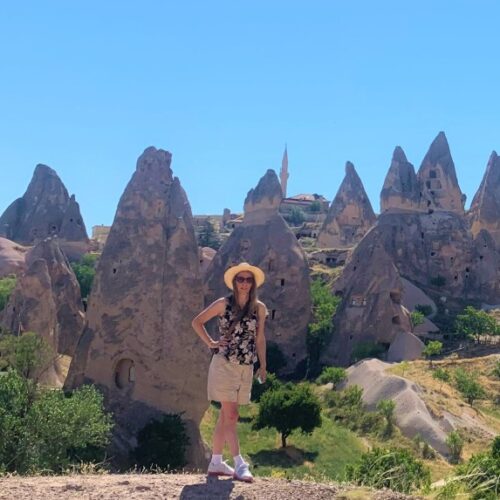 The Best Cappadocia Itinerary: 2 days of Amazing Sites!
Enjoy this Cappadocia Itinerary! 2 Days is enough to get a taste of the wonderful region will & leave you longing for more. 2 days in Cappadocia will be amazing for spectacular landscapes with amazing views, UNESCO historical sites, hiking trails, archeology, and dramatic geological formations.
---
The major activity in the region was a hot air balloon ride over the Cappadocia landscape and THAT was definitely a Bucket List item and the main reason I wanted to go to Turkey!  I could go on and on about how beautiful it was floating over the valleys and fairy chimneys, but actually, I wrote a whole blog post about the experience, so you can see the photos for yourself.  There is no way you should go to Cappadocia without doing that activity for yourself!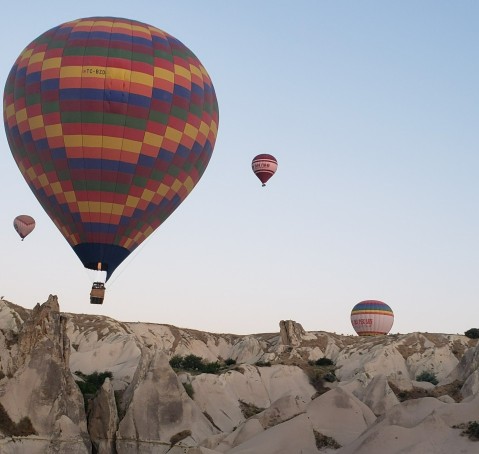 Hot Air Ballooning in Cappadocia Turkey: How to experience a Bucket List Turkish Hot Air Balloon Ride
All you need to know about hot air ballooning in Cappadocia Turkey.  The destination is well-known as the balloon ride capital of the world due to the sheer number of hot air balloons going up to view the beautiful Turkish landscape at sunrise each and every day of the year.
---
We also experienced a lot of culture on our trip to Turkey. In Cappadocia, we were able to see some of the local weavers at work making Turkish rugs. We also participated in a pottery workshop in the nearby town of Avanos. The head potter made a teapot for us out of red clay in a matter of minutes. It was incredible!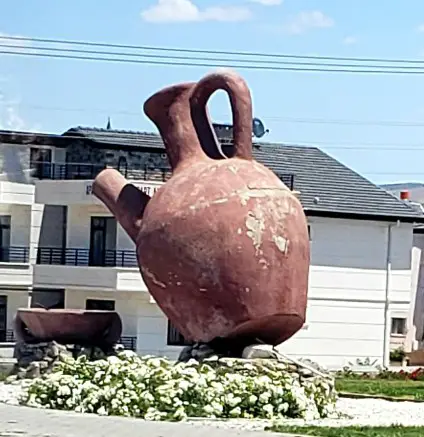 Appreciate Anatolian art in Turkey at an Avanos Pottery Workshop & Other Cultural Activities
Turkey is full of rich artwork. While you travel through the country, appreciate Anatolian artwork by attending an Avanos pottery workshop and a Turkish rug demonstration. As a final stop, include a Turkish jewelry store to admire some of the fine gems that are only found in the deep mines of Turkey.
Istanbul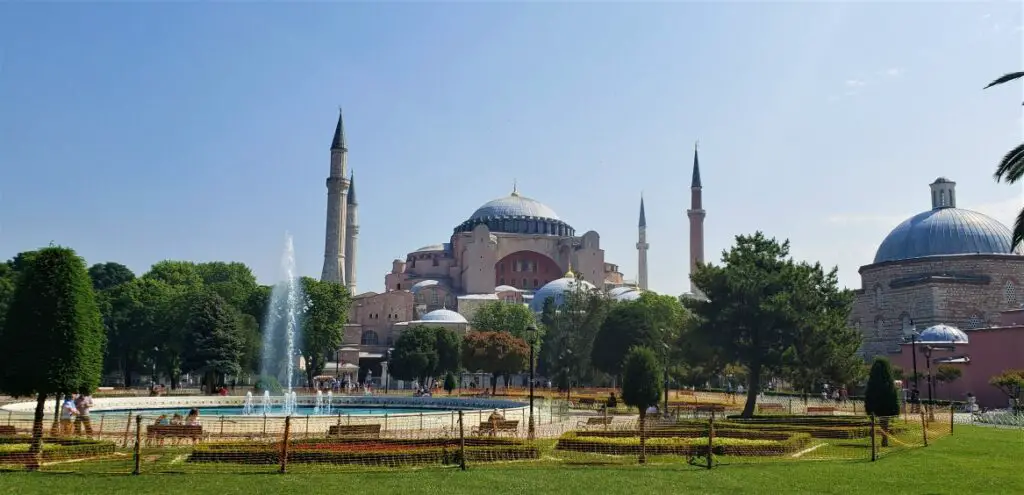 So much HISTORY to learn on your group tour in Istanbul
Istanbul is not only the capital but the largest and most populated city in Turkey.  There was so much to see and learn at this stop that I won't be able to describe it all in this short review.  The city has a lot of beauty and there is a long list of best views in Istanbul!  
We started at the Blue Mosque, known locally as Sultan Ahmed Mosque. It was constructed in the 15th century and has 20,000 hand-painted İznik style blue tiles that depict many tulip designs on its interior walls.  It is currently under renovation and most of it was obstructed from our view.  Hopefully, by the time YOU tour the Blue Mosque, the renovations will be completed.
We followed that beauty with a tour of Hagia Sophia Mosque, or Ayasofya.  It is an enormous architectural wonder in Istanbul that was first built as a Christian church in the 5th century, later to become a mosque, then a museum, and then back to a mosque. 
Hearing the call to worship from Hagia Sophia and then echoed by the Blue Mosque was amazing.  These two buildings are located across the square from each other and it sounded like a duel as we stood in Sultanahmet Park and listened to the two calls being chanted back and forth.
Make sure to hit all the best Instagram spots in Istanbul with my list of BEST PHOTO SPOTS!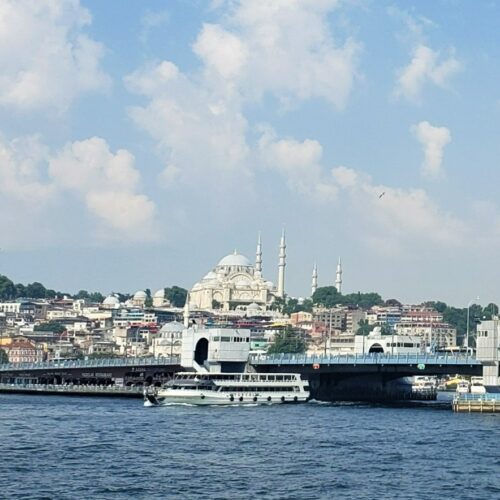 Best Views in Istanbul to Add to Your Itinerary
Hidden photo spots in Istanbul & Instagrammable locations are all around this beautiful city. The best views in Istanbul are often just around the corner and then there will be another one to discover just beside it!
---
---
Istanbul Rooftop Views!
Before you leave this great city, make some time to do a photoshoot in Istanbul. It was one of my Bucket List items for this vacation. We ALMOST missed out, but a local took us to this great rooftop photography studio and we had a great time doing a mother-daughter photoshoot on the rooftop!
Schedule time for a rooftop Photoshoot!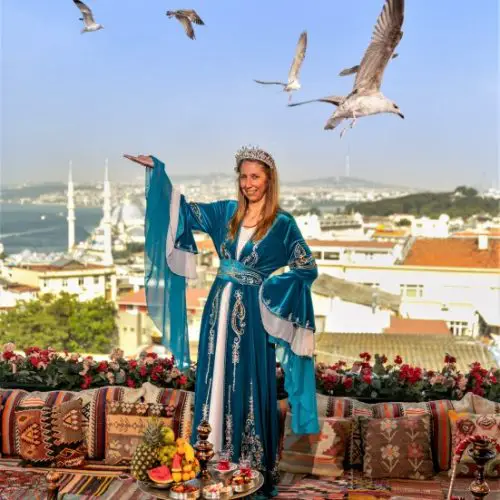 Fun Mother-Daughter Photoshoot in Istanbul for Rooftop Pictures
Let us tell you about the most unique photographic location in Istanbul & where we got our rooftop pictures in Istanbul during our photoshoot in Istanbul Turkey.
---
Shopping in Istanbul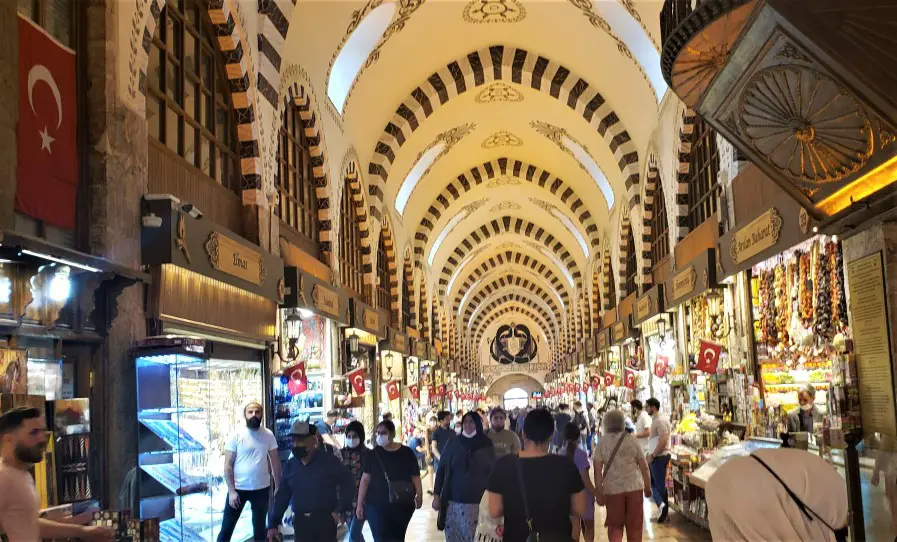 Perhaps the highlight of our group tour in Istanbul was the shopping.  We visited the Grand Bazaar and the Spice Bazaar, both of which are on a mega-market scale. The Grand Bazaar employs 26,000 people and is visited by between 250,000 and 400,000 visitors on each day of the year! It is one of the major tourist sites in Istanbul and is one of the largest and oldest covered markets in the world.  We definitely could have gotten lost among the 4,000 shops!
Make sure you decide which Turkish souvenirs you will bring home.  These two bazaars and the shops around them are a great place to bargain shop and haggle with the vendors.  I ended up purchasing a Turkish rug and Turkish lamps as well as many other fun souvenirs in Istanbul.
Prepare your shopping list with my handy list of what to buy in Turkey!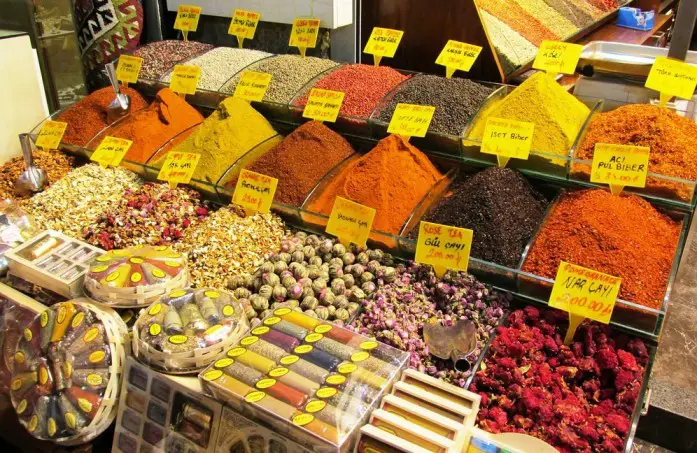 Turkish Souvenirs: Ideas for Turkish Gifts & what to buy in Turkey
Turkey is known for many unique & interesting items. Learn the top 22 Turkish souvenirs & what to buy in Turkey when taking a vacation to this beautiful country.
Fethiye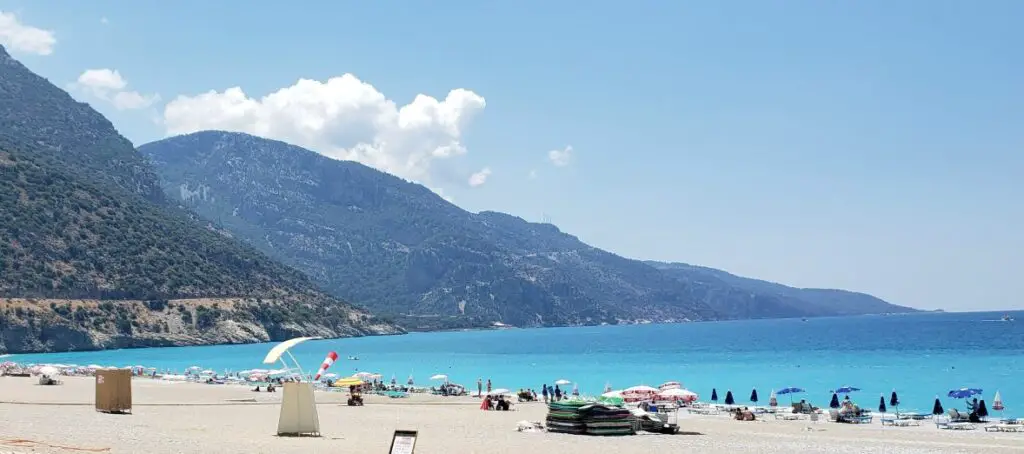 Fethiye was the relaxation destination for our small group tour in Turkey.  The Oludeniz Beach is a beautiful paradise with crystal clear water where we soaked up the sun in lounge chairs while sipping on refreshing cocktails.  We watched the waves come in and out and the paragliders sail from the Babadag Mountain to land right on the sandy beach nearby.
Find out the TOP THINGS TO DO IN FETHIYE in my post about all the best tourist attractions!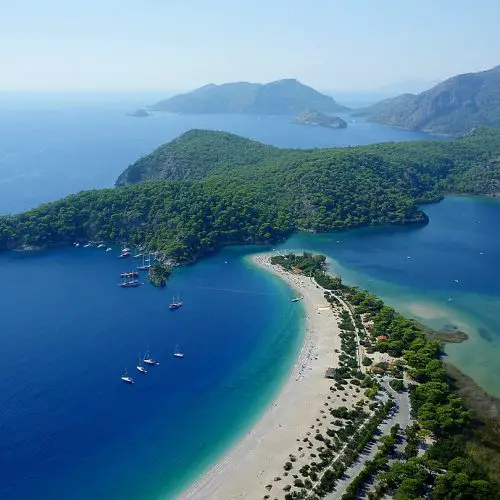 Best Things to do in Fethiye Turkey – including Oludeniz Beach!
On a list of the top things to do in Fethiye Turkey, Oludeniz Beach is number one. This beach is the highlight of any Fethiye holiday because of its beauty!
---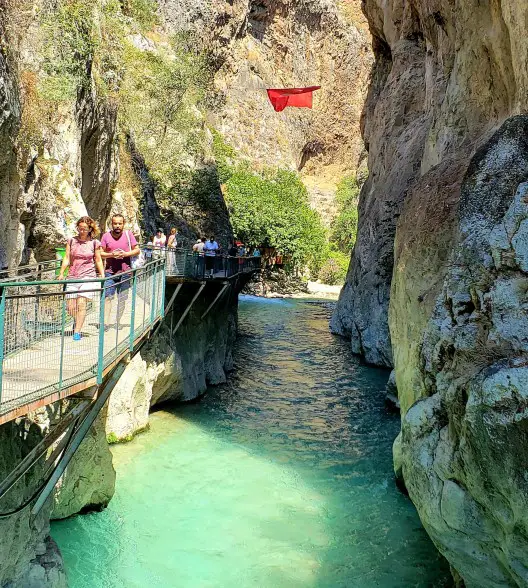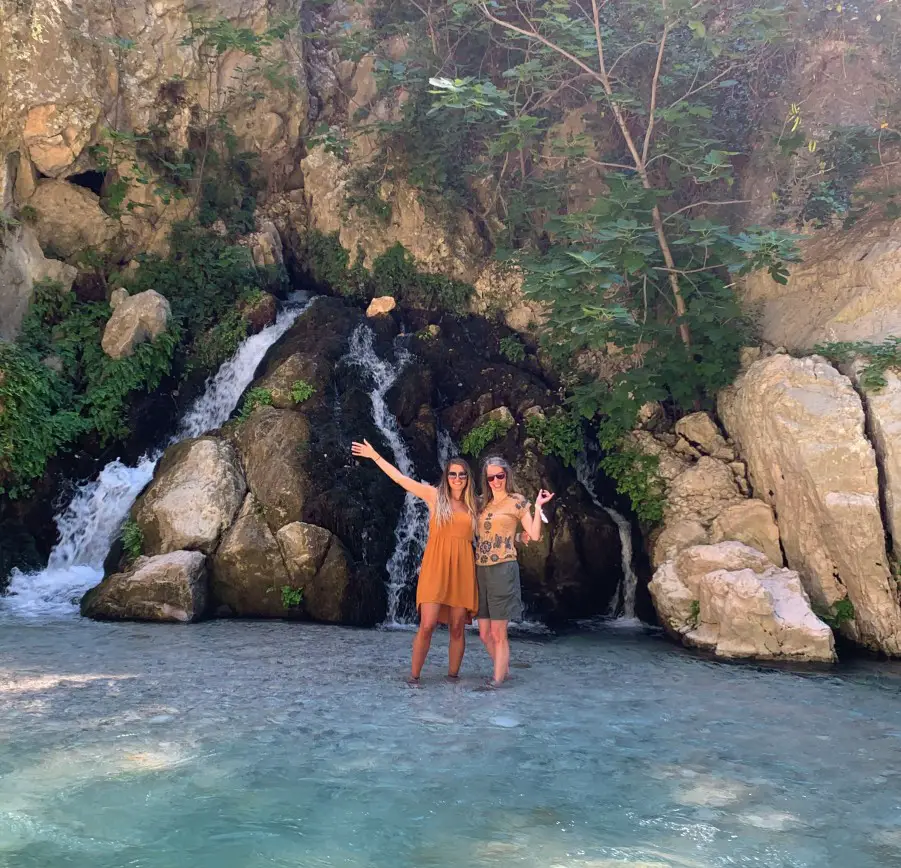 Saklikent Gorge is the longest and deepest canyon in Turkey and a popular tourist attraction. The run-off from the nearby mountains flows through this gorge, filling it with a beautiful and chilly river, flowing rapidly through the canyon.  There are many hiking trails and waterfalls.  We were lucky to be there in the summer and waded into the gorge for pictures in front of the nearby waterfall.  It was VERY cold!
---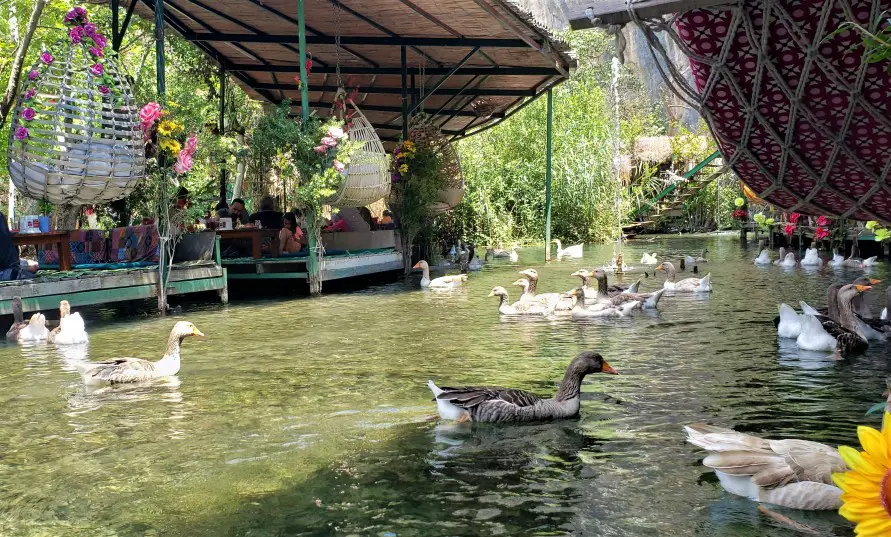 The local lunch venue was definitely a must-see stop.  It is located along the river and we enjoyed our fresh seafood on relaxing chair swings or luxurious padded cushions in the paradise restaurant as the ducks swam by and watched.
---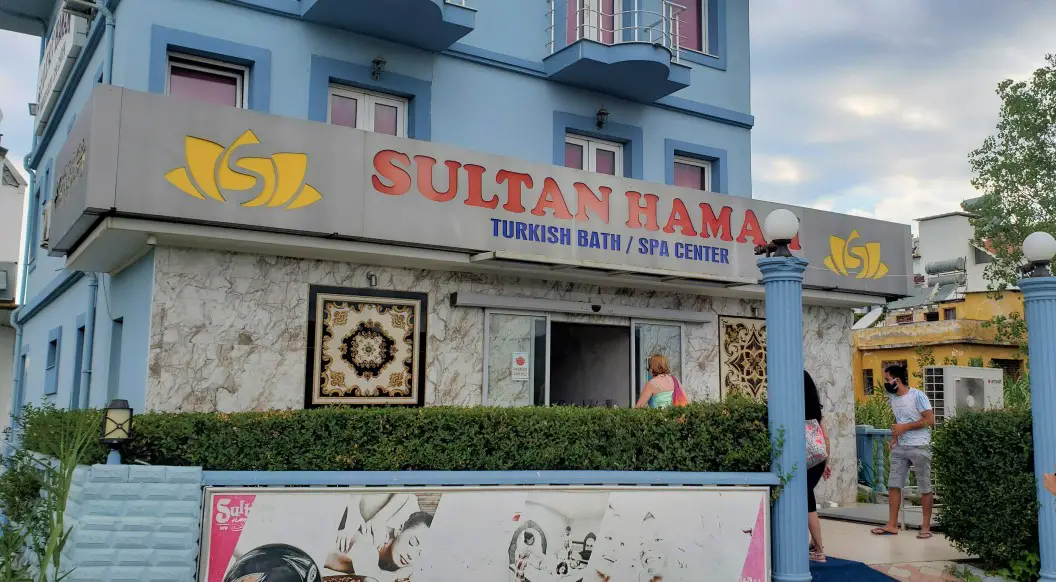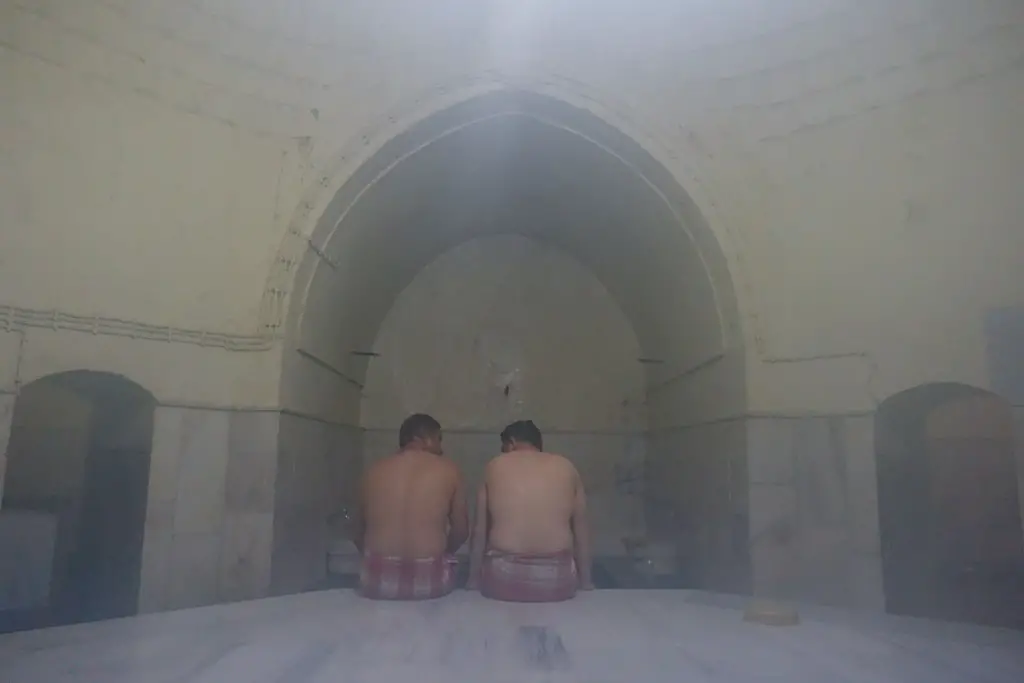 After all the time relaxing in Fethiye, the reward of a Turkish Bath was overdue. 
Read all out our TURKISH BATH EXPERIENCE IN FETHIYE.
Kekova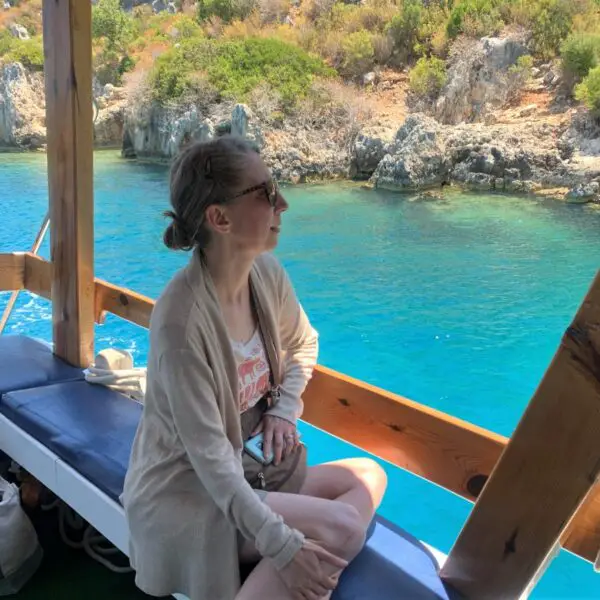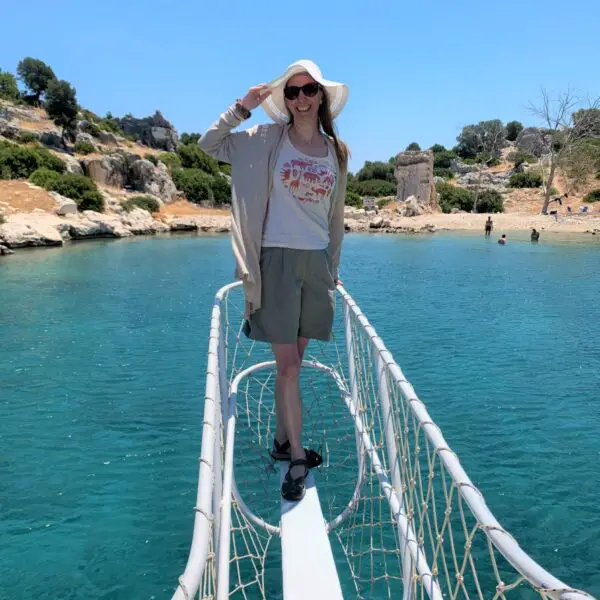 Kekova is a protected island located near the Mediterranean coastline of Turkey where we went on a boat cruise to the sunken city ruins of Simena.  All around the island and only accessible by boat is an ancient Lycian city that was destroyed by a 2nd-century earthquake, rebuilt in the Byzantine era, and then later abandoned.
Swimming is prohibited near the ruins, so we visited in a glass-bottom boat to see the remains of the old city walls under the water.  As we cruised along the coastline of the small island, only a few remnants of the city are still visible on the land.  It was interesting trying to imagine what it must have been like centuries ago.
There are few bays nearby where swimming is allowed, so our private tour boat anchored there.  While we were there, we were allowed to swim and feast on a delicious home-cooked lunch.
Antalya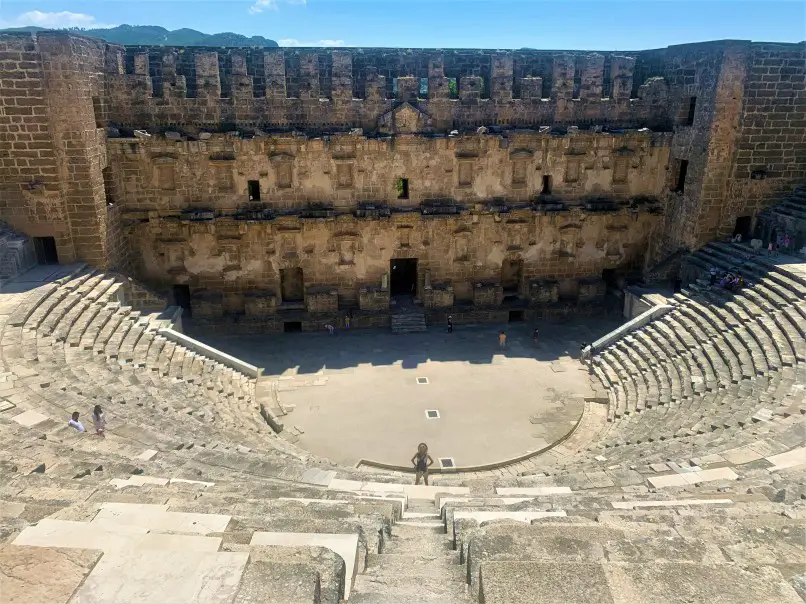 Aspendos, built on a hillside in the 2nd century, is the best-preserved antique theater in the world.   Though it was built in the Roman period, there are many Greek features.  It is now used for many Turkish cultural events such as the International Ballet and Opera Festival.  We tested out the excellent acoustic system.  While I was 'on stage' saying my lines, the spectators were able to hear me perfectly up in the balcony seats!
I had visited the Colosseum in Rome earlier, but this theater seemed to be easier to comprehend.  It was smaller than the Colosseum, but yet the sheer size of the walls towering over me was still huge. We were able to climb all the stairs, sit in all the theater seats and pose on stage –all like we were a part of the action from so long ago.  Because everything was open and accessible, it was tangible and real.  It was easier to imagine what it was like to be sitting there with 9,000 other spectators, shoulder to shoulder watching the performance of a play.
Konya
What is a Whirling Dervish?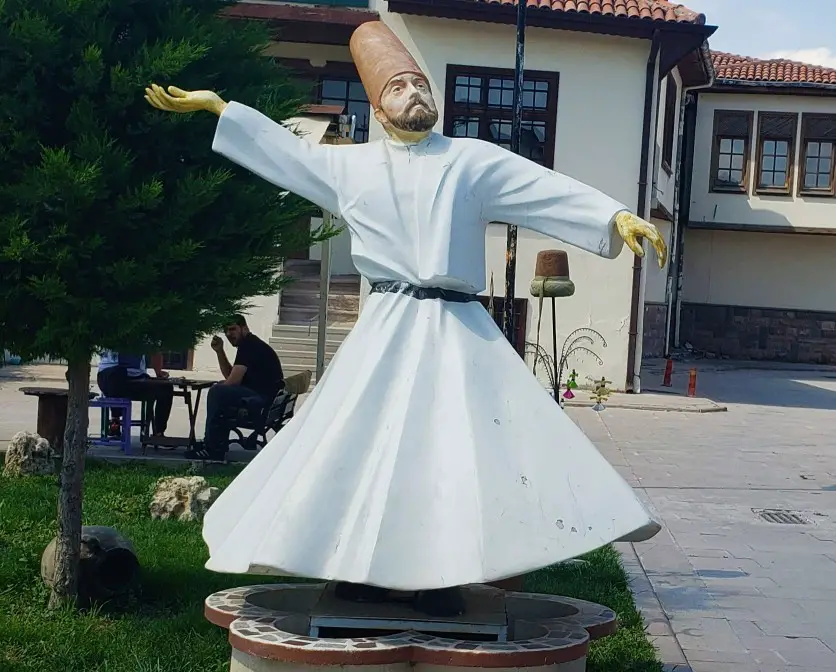 The first stop in Konya was the Mevlana Museum.  Mevlana was a 13th-century philosopher and an Anatolian mystic.  He gave hope to humanity and he taught his beliefs in unlimited tolerance, positive reasoning, goodness, charity, and awareness through love.  He advocated all religions and his teachings have appealed to all sects and creeds.
The Whirling Dervishes were inspired by Mevlana and have adopted a dance called Sema which represents a spiritual journey, whirling toward the 'truth' and are now a part of Turkish custom and culture.  The rituals are known to be the most enduring spiritual practices in the world as the dervishes spin around and around with their palm outstretched for what seems like forever.  Their whirling is a form of remembrance of God, a representation of the planets going around the sun, the reenactment of death and resurrection, and a way of uniting with the cosmic powers of eternity.  All of that in one dizzy, whirling dance, is quite powerful and disorienting!
What is a Caravanserai?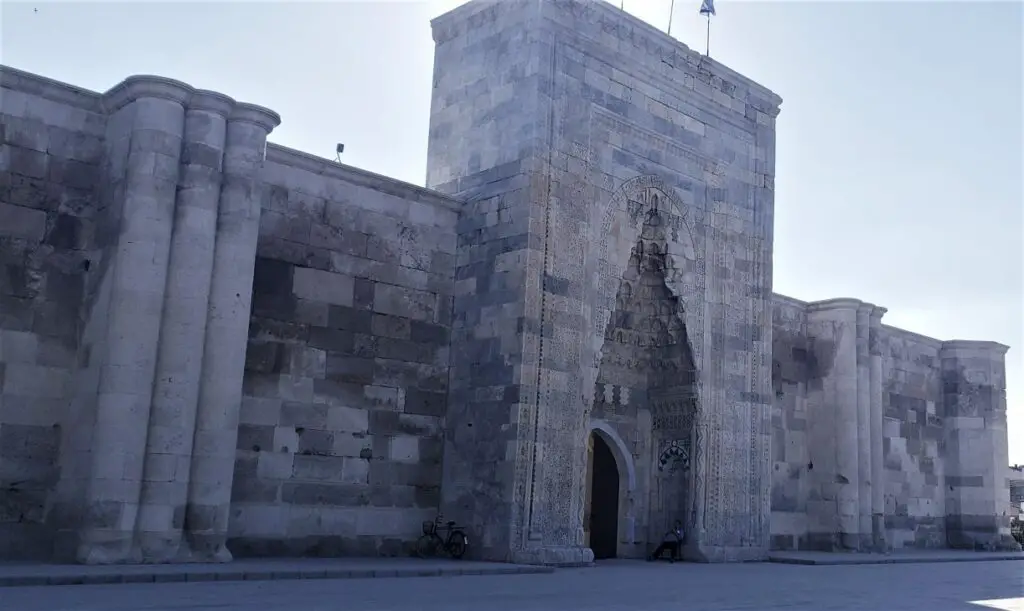 After the museum, we took a quick stop at a nearby Caravanserai.  These were common along the ancient Silk Road, the trade route from the east.  They were like a roadside inn or guest house for the merchants that were traveling along the route.
Caravanserais were numerous and located roughly a day's journey apart from each other.  They served as protection, like a fort, against bandits that wanted to steal the spices and silk goods from the caravans.  Once they entered the front gate, the merchants were safe and secure inside, finding stables for their camels, rest in the empty rooms of the inns and far-fetching stories from far-off lands.  
We walked through the large rooms on our group tour of the caravanserai that was now cold and bare.  As we listened to the echoing sounds of the cooing pigeons we imagined what it was like long ago.  The traders mingled in this hub, while trading more than merchandise and cuisine, but more importantly ideas about culture and faith.
Kusadasi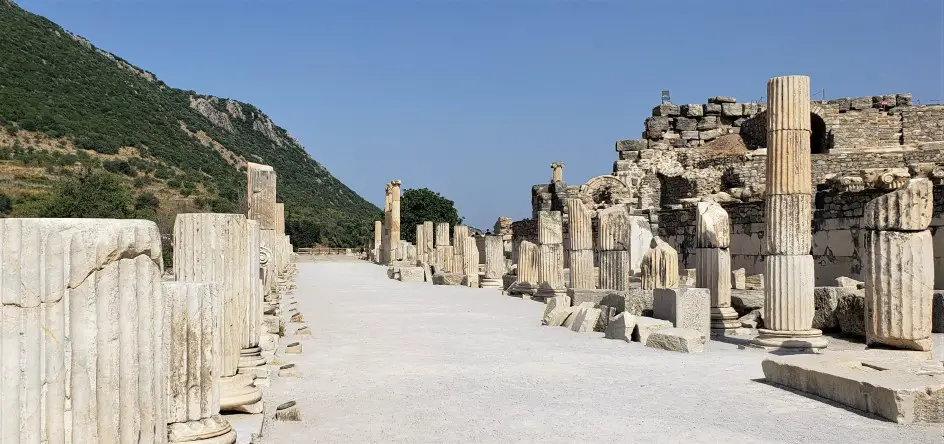 Kusadasi is full of history and archeological sites. We toured the ancient city of Ephesus which was one of the largest cities of the ancient world and Hieropolis, which was an ancient Greek city located on hot springs. The hot springs in Hieropolis have been used as a spa since the 2nd century BC. We took a short swim in the cozy Cleopatra's Pool which is full of fallen Greek pillars from the ancient spa structures.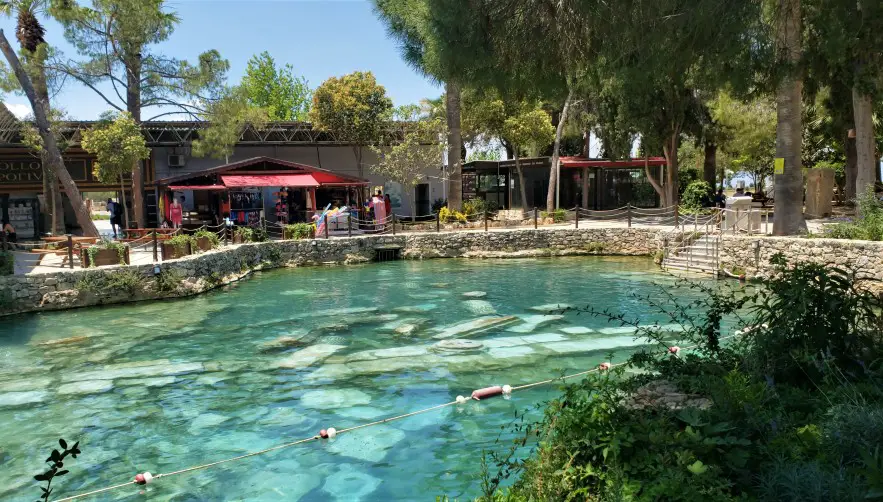 Pamukkale is an amazing natural wonder. The natural thermal spring water has been leaving carbonate deposits on top of the terraces at Pamukkale for centuries. The white 'Cotton Castle' makes for amazing photographs and the warm water that flows through each section makes for a great, relaxing dip! We definitely spent some time here soaking it all in!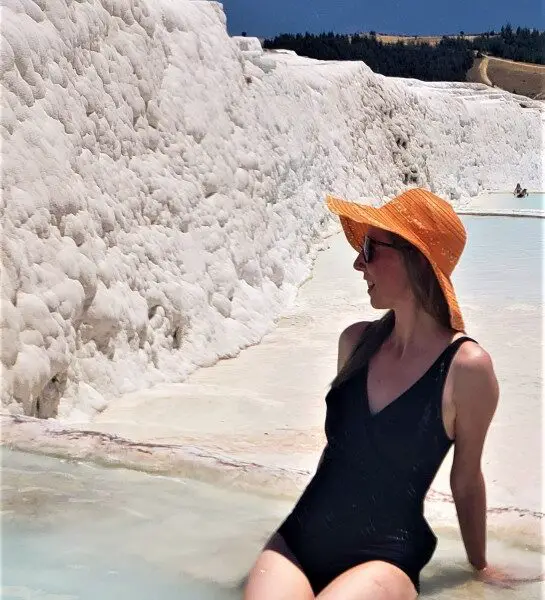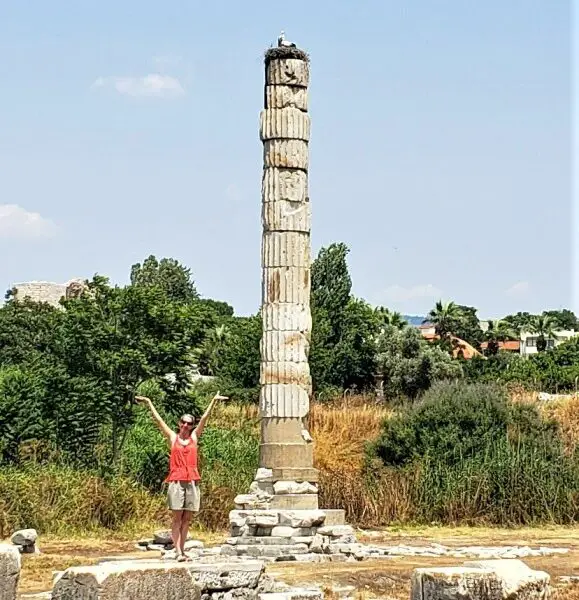 This is definitely not all that you will see in Kusadasi. There is so much history in this location, the small-group tour also visited the Temple of Artemis, one of the seven wonders of the ancient world. This is the first one that I have seen, so it is special on my list.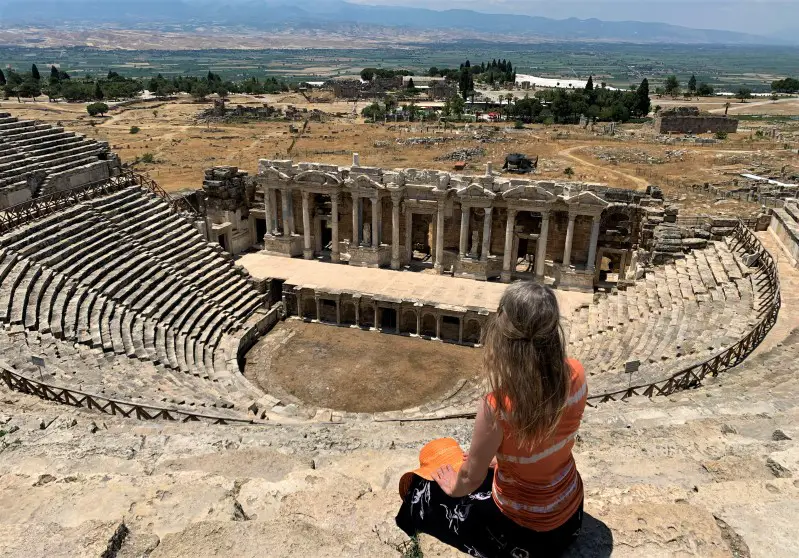 Traveling in Turkey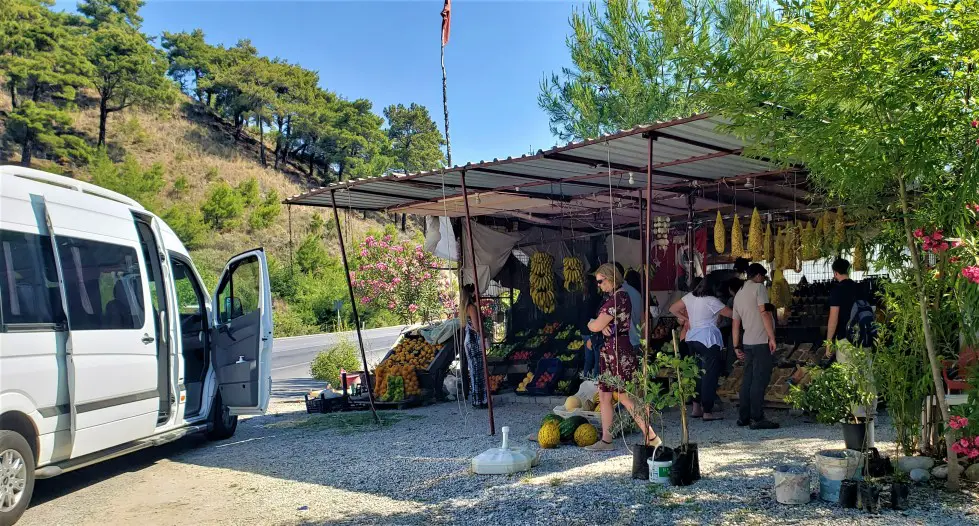 Our Turkey small group travel vehicle
We toured all around Turkey in a nice air-conditioned van with enough seating for our small group. It was much better than taking a big-bus tour. We were able to customize it on-the-go.
In fact, we all wanted a snack during one of the trips, so we asked the driver to pull over at a local fruit stand. Boy was THAT vendor happy to see us since we loaded up on bananas and other fruits!!
Where we stayed on our small group tour in Turkey
Our accommodations were in small, boutique hotels throughout Turkey.  They were unique, often had a great view, had super customer service, and always had an included daily breakfast. 
Our most favorite hotel was in Cappadocia where we stayed in the Exedra Hotel for 2 nights.  This cave hotel felt like we were staying in an exotic castle!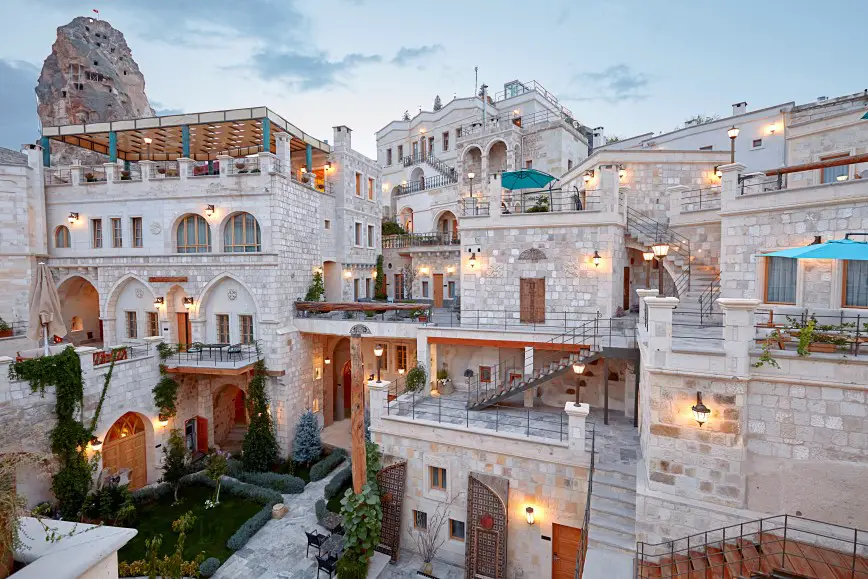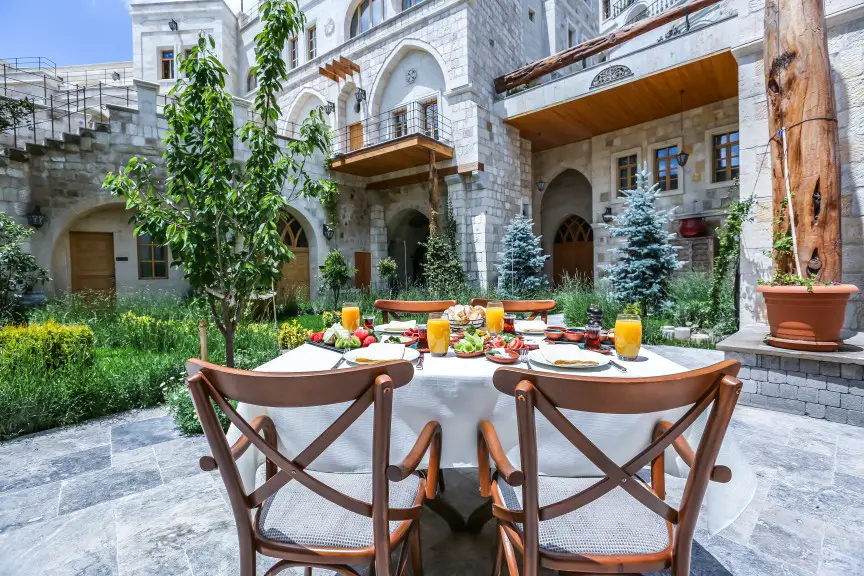 Images Courtesy of Exedra Hotel
Exedra Cappadocia, Ortahisar – Updated 2021 Prices
Featuring free WiFi and a terrace, Exedra Cappadocia is listed in 2016 Condè Nast Traveler Hot List and offers accommodations in Ortahisar.
We really enjoyed our time in Turkey and I feel like we got to see quite a bit of the country in such a short time.  It was very well-organized and I didn't feel like we were rushing around at all. 
If you are thinking of traveling to this country, make sure you CONTACT ME right away to sign up for information on one of the BEST SMALL GROUP TOURS OF TURKEY!
LIKE THIS POST? Pin it for Later!!