DISCLOSURE: I may link to relevant products, companies or helpful info which may be affiliate links, meaning I may earn a small commission. As an Amazon Associate & other affiliates, I earn from qualifying purchases at no extra charge to you. The views & opinions are my own. Please see the disclaimer and privacy policy.
Last Updated on June 16, 2022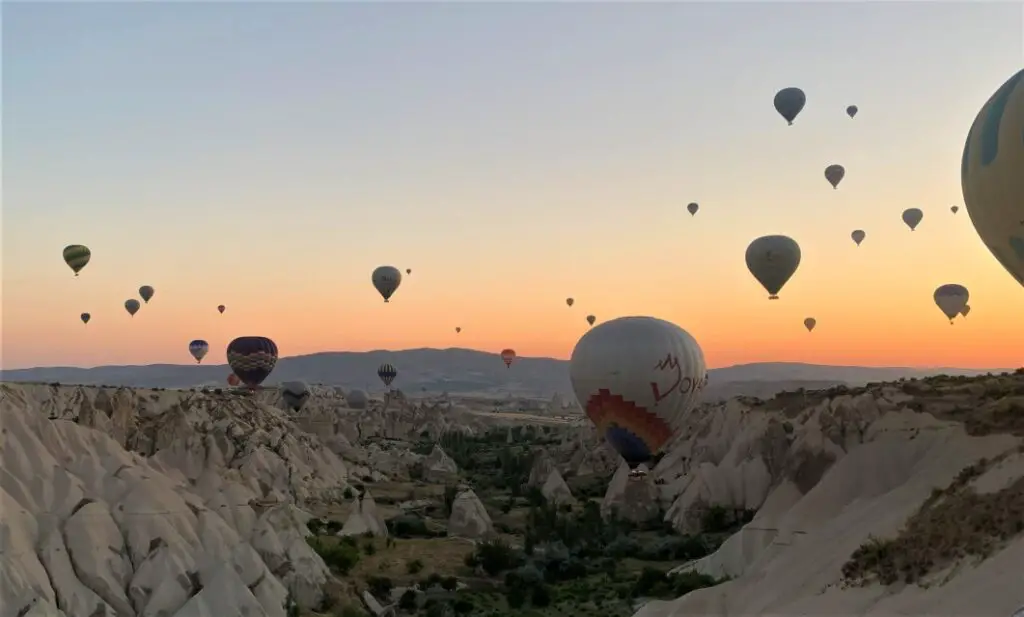 Hot air ballooning in Cappadocia Turkey is a must-do activity.  The destination is well-known as the balloon ride capital of the world due to the sheer number of hot air balloons going up to view the beautiful Turkish landscape at sunrise each and every day of the year.  Viewing those colorful balloons in the sky against the backdrop of the unique fairy chimneys and red valleys in Turkey is an absolute Bucket List Item!  This is the most popular activity in Cappadocia, so keep reading for all you need to know about a Turkey hot air balloon ride.
Cappadocia is the best place to ride in a hot air balloon in Turkey and it is actually the best place to experience a hot air balloon ride in the whole world!
Nowhere else in the world has such dramatic scenery like Cappadocia.  The best way to see it is from the sky with a bird's eye view, so grabbing a hot air balloon ride in Cappadocia gives you the absolute best view of the Cappadocia landscape with its unique formations.
Find other fun things to do after your Cappadocia Balloon Ride has finished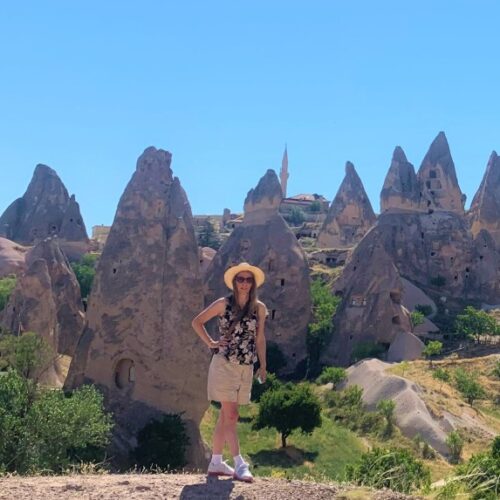 The Best Cappadocia Itinerary: 2 days of Amazing Sites!
Enjoy this Cappadocia Itinerary! 2 Days is enough to get a taste of the wonderful region will & leave you longing for more. 2 days in Cappadocia will be amazing for spectacular landscapes with amazing views, UNESCO historical sites, hiking trails, archeology, and dramatic geological formations.
---
Best Tours in a Hot Air Balloon: Cappadocia
Be a part of the hundreds of beautiful hot air balloons in Cappadocia.
---
Even if you aren't in Cappadocia yet, you can still schedule a hot air balloon ride.
There are even Cappadocia hot air balloon tours available from Istanbul!
---
What to see from a hot air balloon at Cappadocia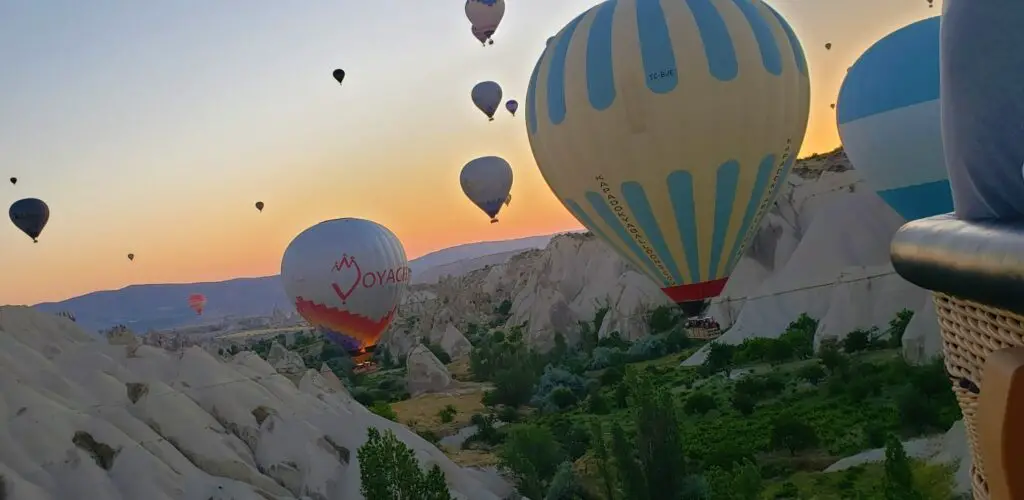 Depending on the weather there are a few starting locations for the Cappadocia hot air balloons.  After sunrise, the hot air balloons drift over Love Valley and the town of Goreme so that you can see all the fairy chimneys, caves, unique rock formations, cave hotels, and spectators!  Yes, there are always a lot of spectators!  Hot air ballooning in Turkey is quite a spectacle, so there are companies that provide hot air balloon watching tours so that vacationers can gather each morning to watch and take photos.  Make sure you wave as they record your colorful hot air balloon ride.
You will also see tons of other balloons in the air with you.  Sometimes they will float closer to you and you can chat with the fellow hot air balloon travelers!  We seemed to follow one balloon the whole trip, so I have a lot of photos of them.  Maybe they will google Cappadocia hot air ballooning and find their pictures on this post!
What is the ride like in a Cappadocia hot air balloon?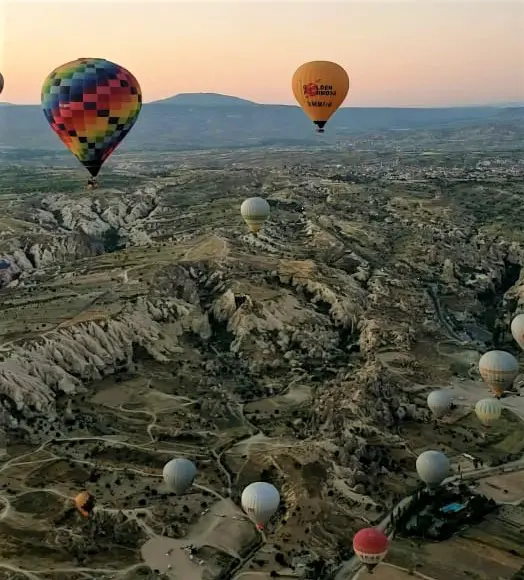 I am petrified of heights and I get dizzy on observation towers looking out over the edge.  When our small group tour in Turkey offered an optional hot air balloon ride, I was nervous about how I would feel going up off of the ground in a basket floating on hot air.  HOWEVER, it was a very smooth ride and I would not even have known we were in the air if I didn't look out at the horizon.  The basket sides come up very far, so I felt safe and secure and wasn't afraid of falling out.
Our pilot took us really high for the sunrise and then took us low to the ground as we traveled through the valleys.  We came close to formations, fell into the low valleys, and then rose up the hill to the crest of the next valley to get a breathtaking view of the landscape spread out now below us.
Is Cappadocia hot air ballooning dangerous?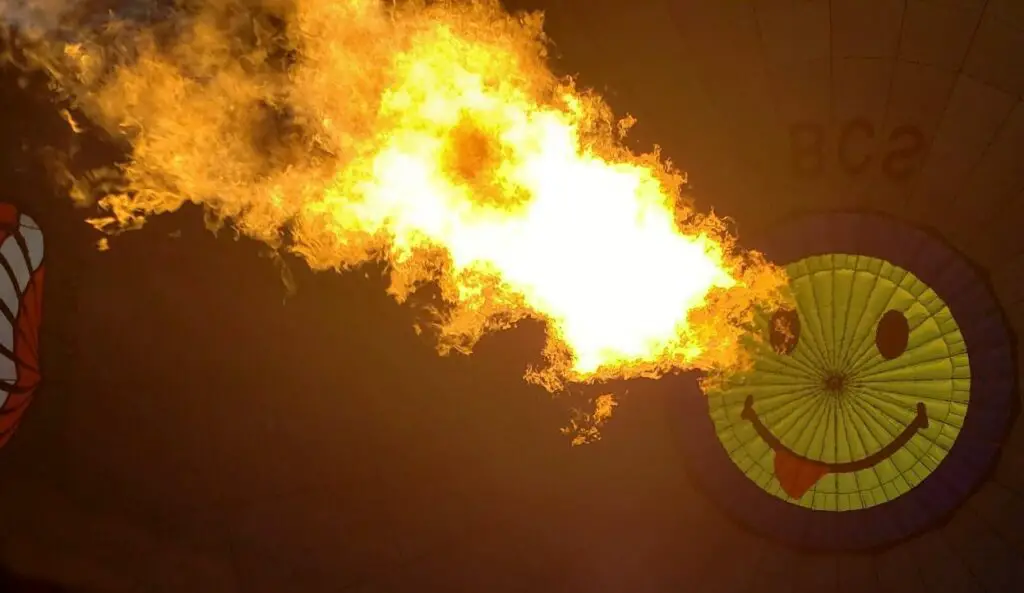 And then there is that fire that is shooting up every few minutes into that 'flimsy' balloon!  Modern technology has made hot air ballooning very safe since there have been major improvements in the nylon balloon versus the early balloon sacks of yesteryear, and nowadays the propane fuel tanks are a safe alternative to heat the air inside the balloon.
We chatted about balloon training with our hot air balloon pilots who kept welcoming us to their first flight!  Is hot air ballooning safe?  Actually, they told us that it takes nearly 1 year and a half and 200 flying hours before they become a certified commercial hot air balloon pilot.  Following that, they are taken on as an intern by the hot air balloon company before taking on a flight of their own.  Sounds like Turkey, or Turkiye as it is now officially spelled, has instituted a solid training plan and I was reassured that this was actually not their first flight!!
Since the hot air balloons are controlled by the whim of the weather and the wind rather than manual steering, the balloon pilots have GPS on board so that the balloon can be tracked.  There is constant communication with the ground crew who follow the balloon's progress from below with the pickup truck and trailer.  From our cozy hot air balloon basket, we looked on the ground below us and saw all the tiny trucks zig-zagging across the landscape and following their balloon as it drifted in each direction due to the wind.
A sky-full of Cappadocia balloons each day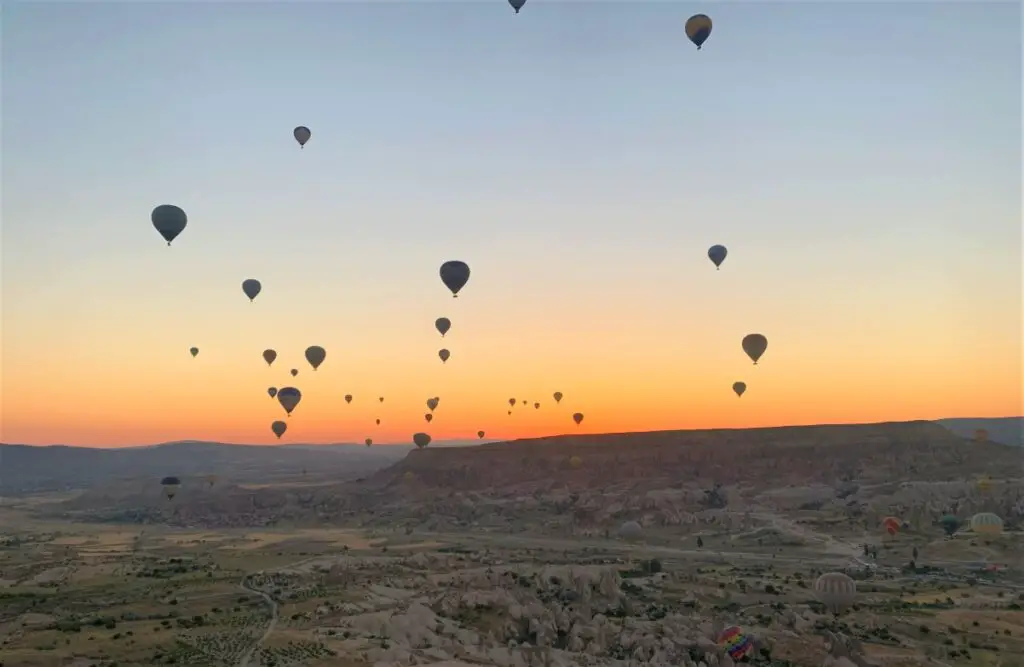 Hundreds of hot air balloons in Cappadocia fill the skies for the sunrise each morning.  It is an amazing experience that should be on your bucket list.  Experience it from the sky AND from the ground!
Watching the Cappadocia hot air balloons from the ground is a spectacular sight that can be seen from many of the valleys of Cappadocia.  Even if you take a ride in the sky, make sure you do not miss seeing them all from the ground!  Many companies offer Cappadocia hot air balloon viewing tours and will take you to the best areas to see them all magically populate the horizon and float their way toward you in the early morning.
Enjoy the Hundreds of Cappadocia Balloons & Capture the Beautiful Memories
What is the price of hot air ballooning in Cappadocia Turkey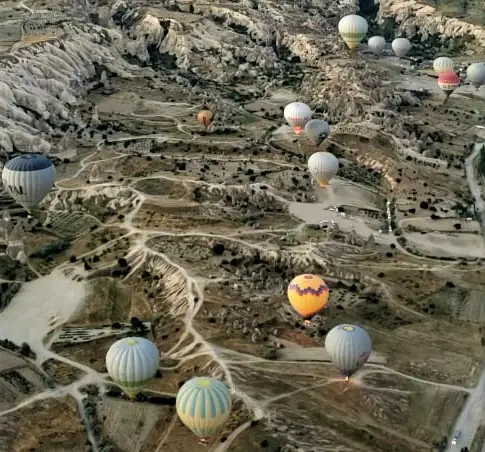 Cappadocia hot air balloon prices are high compared to the rest of the guided tours in Turkey.  Even the souvenirs in Turkey are cheap, but not the balloon rides. Trust me, IT IS WORTH IT. The rides vary from 1 to 2 hours and the number of guests in each basket.  Larger hot air balloon baskets can accommodate more travelers during the ride so that the overall hot air balloon ride price is lower. 
The typical hot air balloon Cappadocia price can be anywhere from $100 – $200 per person.  This is typical of a hot air balloon in Turkey price.  The small balloons for 10 – 15 people will be more expensive than the larger balloons for 20 – 30 people.  For places like Pamukkale, where hot air balloon rides are just getting started and are newer, prices might be a little cheaper because it is not as well known yet.
---
What to know before hot air ballooning in Cappadocia Turkey
1. Plan Ahead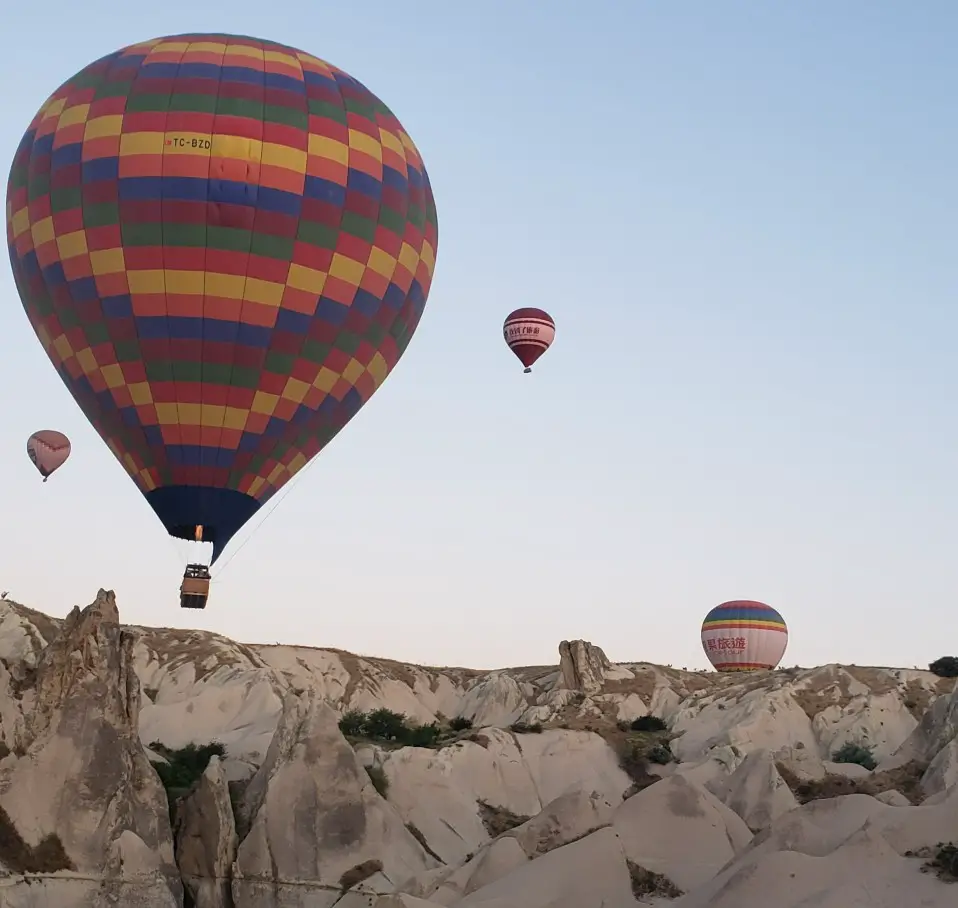 Book your balloon ride months ahead of your arrival date so that you will be assured a reservation.  Choose one of the first few days during your vacation so that if there is bad weather, you still have alternate vacation days to reschedule your hot air balloon ride.  We chose the first morning of our 2-day Cappadocia itinerary to try the hot air balloon sunrise ride.  We DID have good weather but would have had the second day as a backup.
2. Early Morning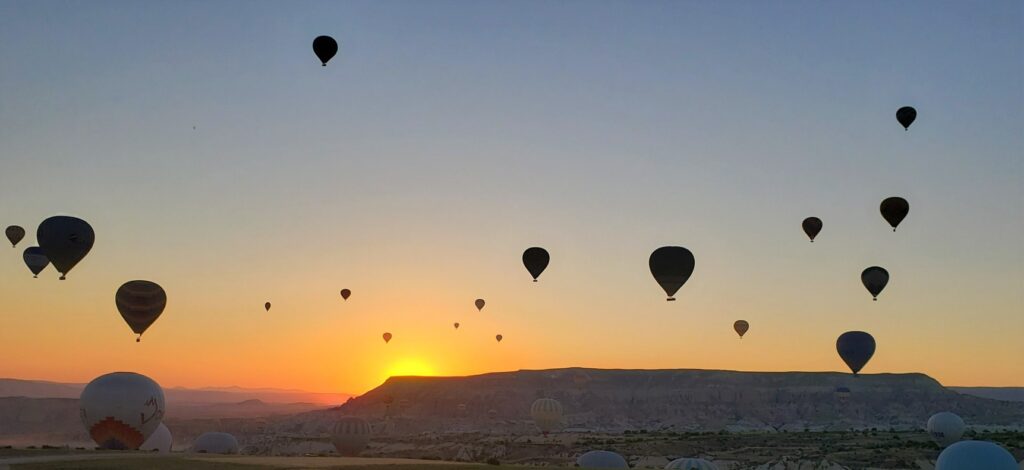 The Cappadocia hot air balloon tours are SUNRISE tours.  That means that the balloons are in the sky BEFORE the sun rises.  The morning pickup can sometimes be as early as 3:30 am depending on the sunrise time and how far your hotel is.  Prepare ahead of time by laying out your outfit and some morning snacks so that all you have to do is roll out of bed and into the pickup vehicle! Some tours offer morning breakfast snacks and drinks. 
3. Balloon Inflation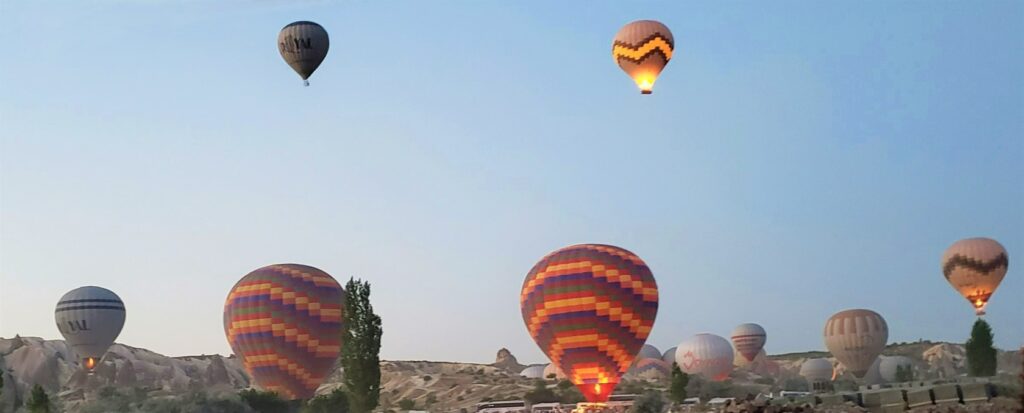 It takes a while to fill the balloon with hot air after you arrive at your departure site.  I thought it was part of the amazing experience to be able to watch all the balloons appear and pop up like they were flowers blooming as dawn approached.
4. Cold Temps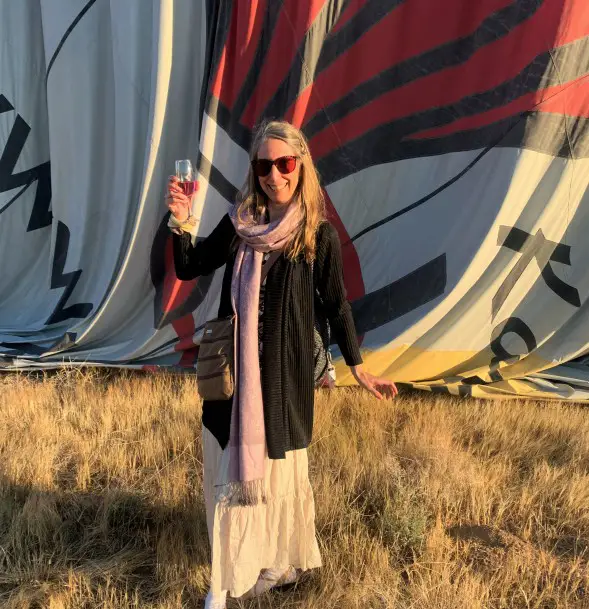 Remember that you will be going up to a higher altitude where it will be colder and that it will also be colder in the morning before the sun rises.  I was prepared with several layers since our guide told us it would be 50°F.  I even brought my headscarf that I had packed in my bag for visiting the mosques. However, my spot in the basket was right next to the propane fire, so it was cozy warm and I didn't need my extra layers.
5. What to wear on your hot air balloon ride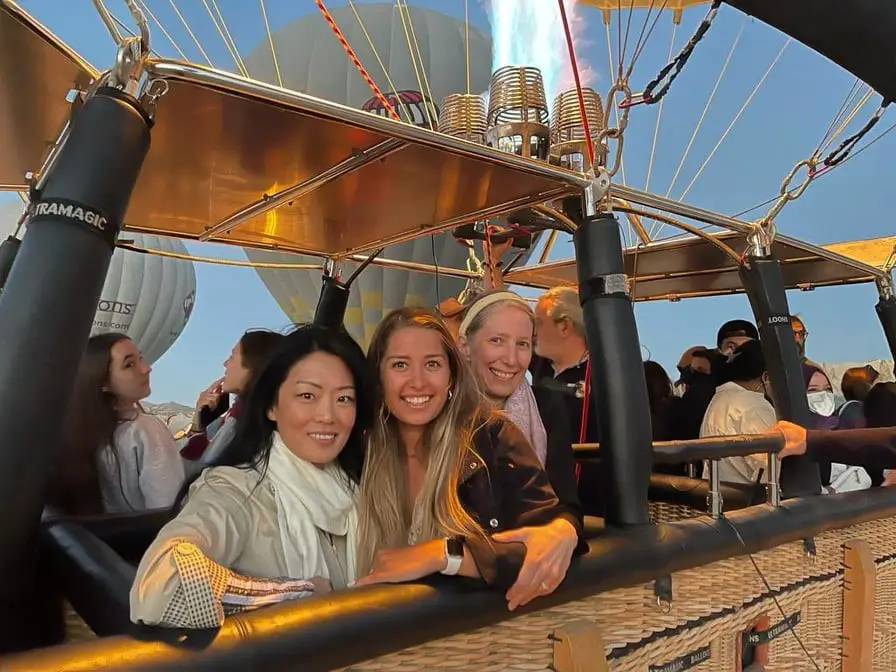 Speaking of the basket, ours had high sides that we had to hurdle over in order to get inside to our viewing spots.  The best way I found to do this was to throw one leg over and then balance my body on the railing while I brought over the second leg.  Well, I wore a skirt that morning!  Never fear, all was concealed and I didn't end up mooning anyone as my daughter helped me get inside!  Perhaps pants are a better choice of attire.
6. Take tons of Photos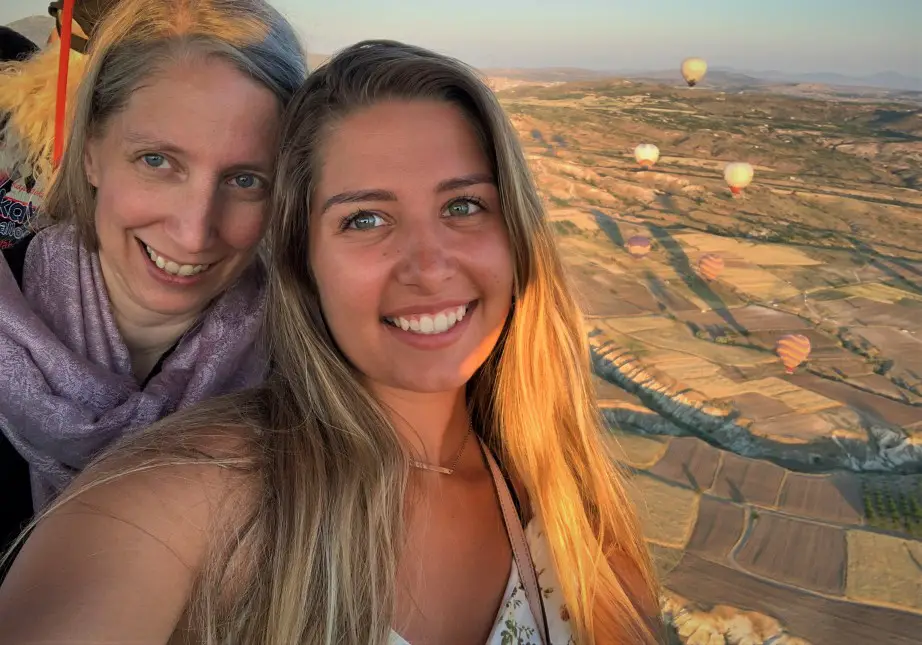 Make sure that you have lots of storage space on your picture-taking device!  I couldn't believe how much beauty was up there.  I just wanted to capture it all so that I could share it with everyone!  The Cappadocia balloon ride was definitely the largest file of pictures during my whole 12 days in Turkey.
It is difficult to take selfies in the balloon, so bring one of those annoying selfie sticks, or ask your fellow balloon travelers to snap some photos of you. I brought my selfie stick, but I was so afraid of dropping my phone on the ground WAY below, I did NOT put it over the edge of the balloon basket!
7. Landing a Hot Air Balloon in Cappadocia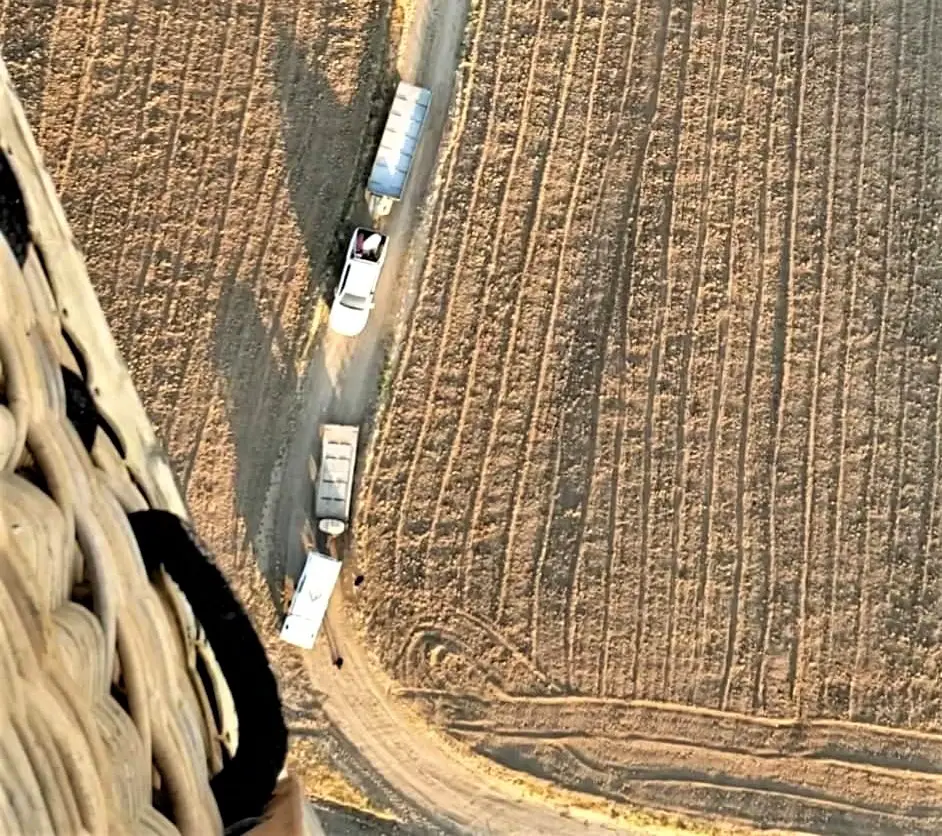 Our Turkey hot air balloon pilot instructed us on the proper landing procedure at the beginning of the flight.  We were told to squat down to one side and brace ourselves and we practiced this a couple of times.  However, when it came time to land, he gently put it down in a field and there wasn't even a thump or a thud!  The ground crew was already there with the truck and trailer, so the pilot then floated the balloon and the crew guided it onto the trailer where they secured it. It seemed so easy for our experienced pilot and I was thankful that there was no turbulence to knock us over.
8. Celebrating a Hot Air Balloon Flight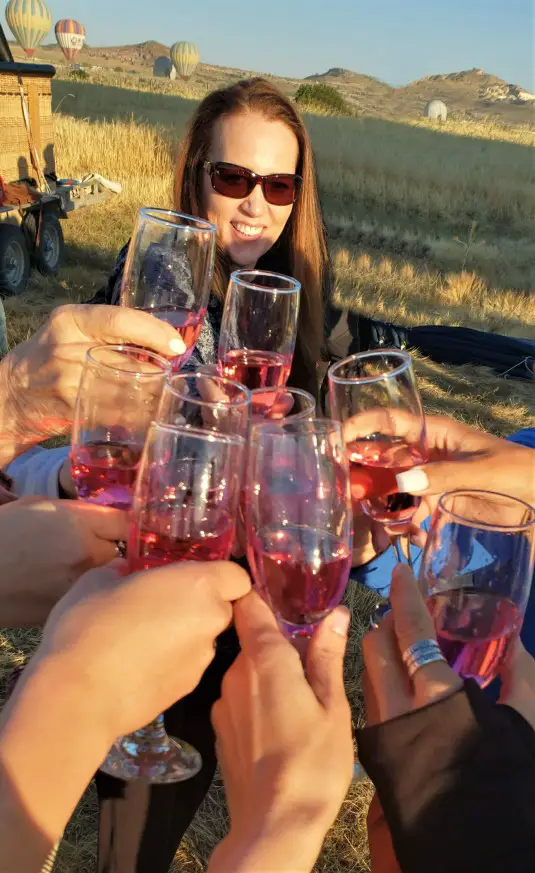 The common celebration after a successful hot air balloon landing is a champagne toast.  Ours was non-alcoholic, but that was just fine for me at that early hour of the morning.  We all toasted and took group photos in front of our slowly deflating balloon.  We each received a certificate from the company to commemorate our Bucket List Cappadocia Hot Air Balloon Ride!
---
When is a good time to go hot air ballooning in Cappadocia Turkey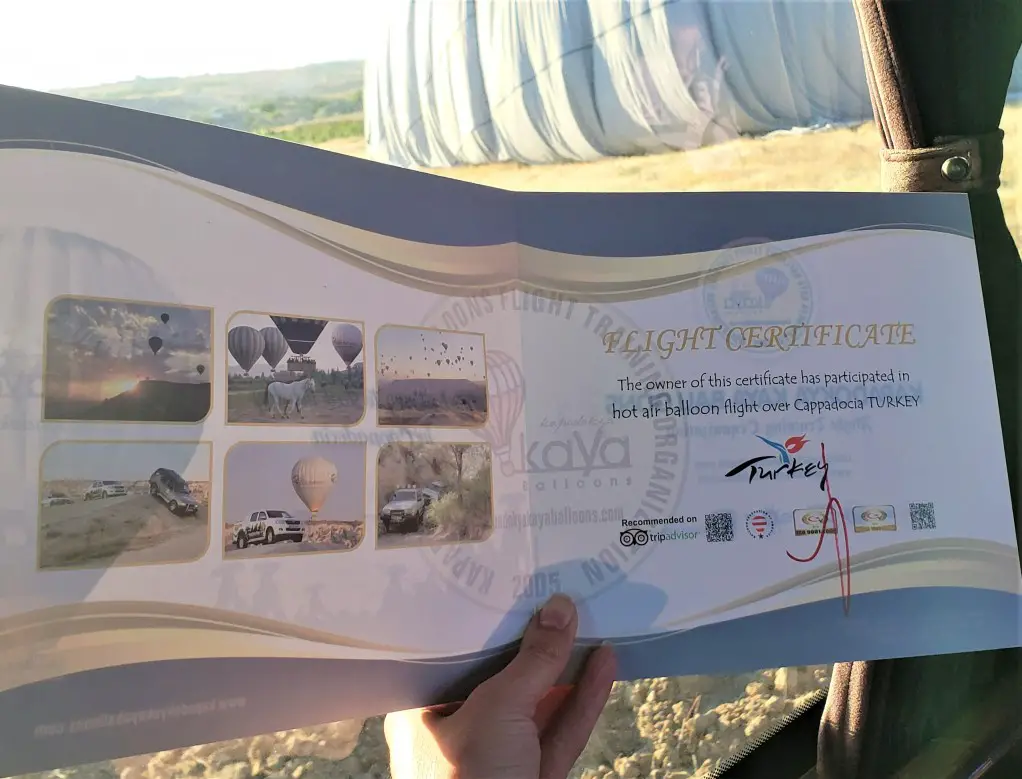 Cappadocia hot air balloon season is all year long. Anytime the weather is decent, the hot air balloons will be able to go up at sunrise.  They do not fly on windy, hazy, or rainy days.  The summer months of April until October are a busy tourist season when the weather is usually nicer.  The balloons take flight nearly 280 days out of the year!
Make sure to make your Cappadocia hot air balloon reservation early in your trip so that if it is canceled on the first day due to weather, you can make arrangements to go the next day.
---
How to get to Cappadocia for hot air ballooning in Turkey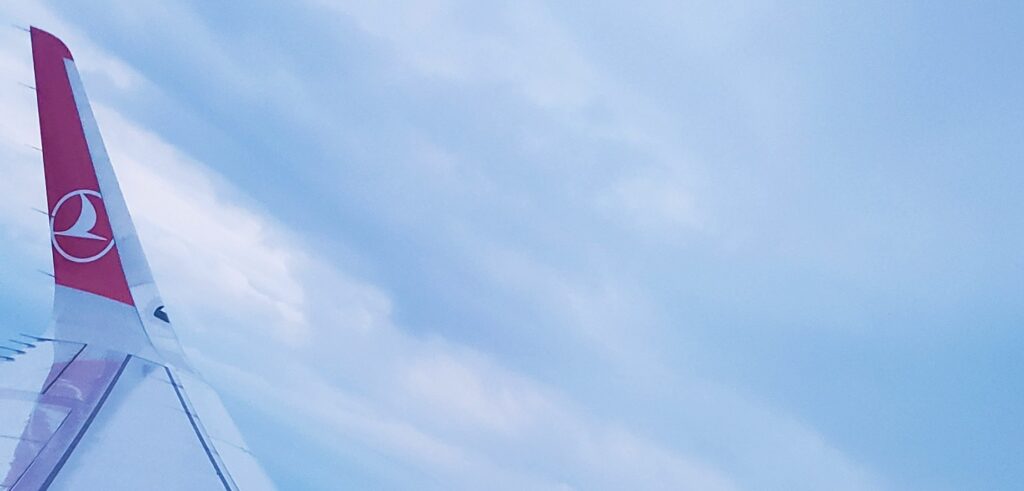 Cappadocia, or Kappdokya, is a very large region in central Turkey. Nevsehir or Kayseri are the closest airports and 1 hour away.  If you fly in from Istanbul, it will be a short ride and a fairly cheap ticket.
---
Where to see hot air balloons in Cappadocia
Goreme is the center of the Cappadocia region and where most of the action and attractions are located.  It is near the valleys where the Cappadocia hot air balloons begin their flight and sometimes they float toward the city providing a dramatic balloon-scaped backdrop.
Other places to see the hot air balloons in flight include Love Valley and Pigeon Valley.  These valleys provide great views of the hundreds of hot air balloons floating among the caves and fairy chimneys.
---
Best hotels in Cappadocia to see hot air balloons
---
The best hotels to see the Cappadocia hot air balloons will be the cave hotels in Goreme.  These hotels are near the valleys that the balloons take off and land in, so there will be great views of all the balloons at sunrise and for a couple of hours after that. They have rooftop terraces with lounge chairs so that you can relax in the early hours of the morning while you gaze at the multi-colored balloons floating in the sunrise.
---
---
When planning a trip to Turkey, you MUST include a Bucket List hot air balloon ride.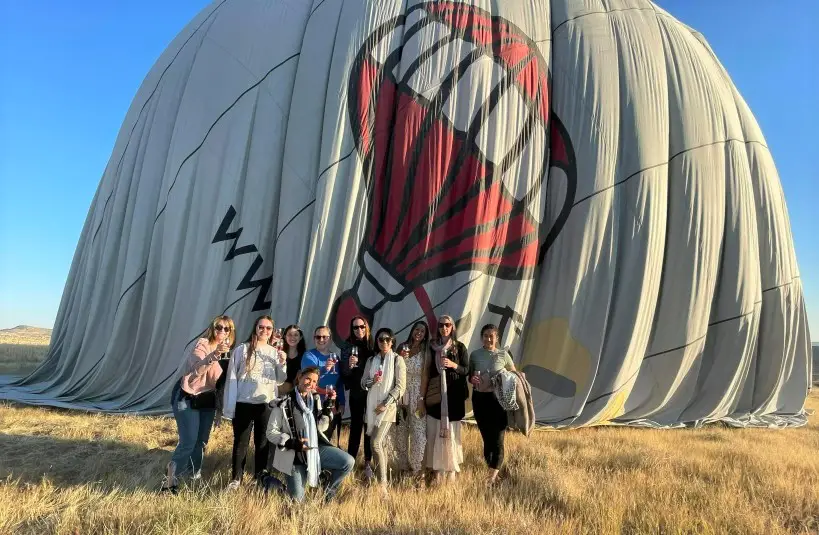 The hot air ballooning in Cappadocia Turkey is so famous and popular –for a good reason. It might be the major expense of your Turkey vacation, but it is very much worth it to be able to experience the beauty of the Cappadocia landscape from high above and among all the other hot air balloons in Turkey. Put it on your MUST – DO list!
---
What to do after your Cappadocia Turkey hot air balloon ride?
Use this helpful list from our group tour: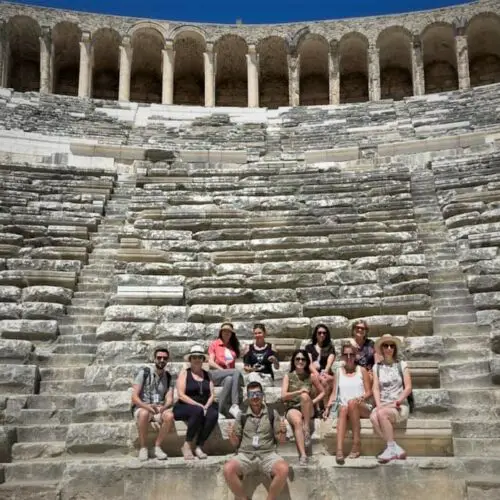 One of the Best Small Group Tours of Turkey: Group Tours are the way to go!
DON'T MISS SITES IN TURKEY!! Learn the best stops to experience in Turkey. Join one of the best small group tours of Turkey. One of the questions to answer when traveling to Turkey is do-it-yourself or group tour?? 
---
Like this Post? Pin it for later!