DISCLOSURE: I may link to relevant products, companies or helpful information. Some of these links may be affiliate links, meaning I may earn a small commission. As an Amazon Associate and associate with other affiliates, I earn from qualifying purchases at no extra charge to you. The views and opinions are my own. Please see the disclaimer and privacy policy.
Last Updated on September 27, 2021 by Michelle Moyer
What to do in Cappadocia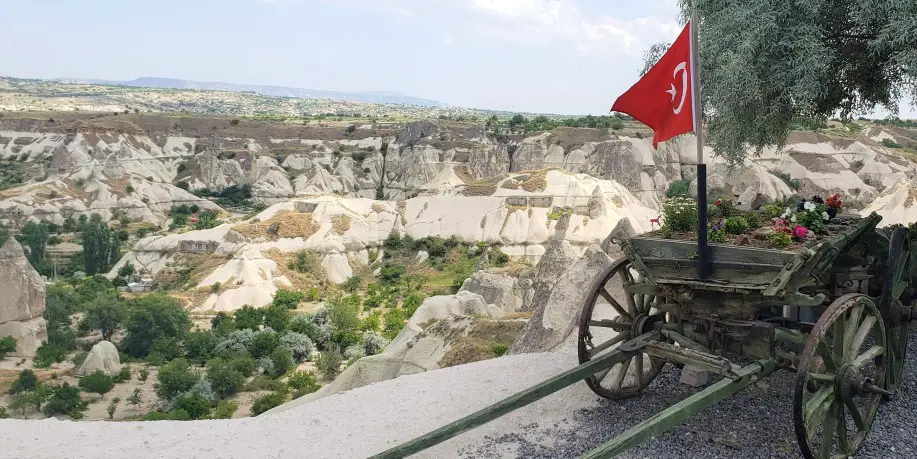 Cappadocia is like another planet in Turkey.  It truly has some other-worldly landscapes that will make you wonder if you have left earth.  Whether you like spectacular landscapes with amazing views, UNESCO historical sites, hiking trails, archeology, or dramatic geological formations, there will be something here for you on this two day Cappadocia Itinerary. 
How many days in Cappadocia?
If you are wondering how long to spend in Cappadocia, two Days is enough to get a taste of this wonderful region and will leave you longing for more.  Your 2 days in Cappadocia will be spent seeing sites like nowhere else in the world. If you have more time, you can certainly spend a week or two in the region and NOT run out of exciting things to do.
The Best Things to do in Cappadocia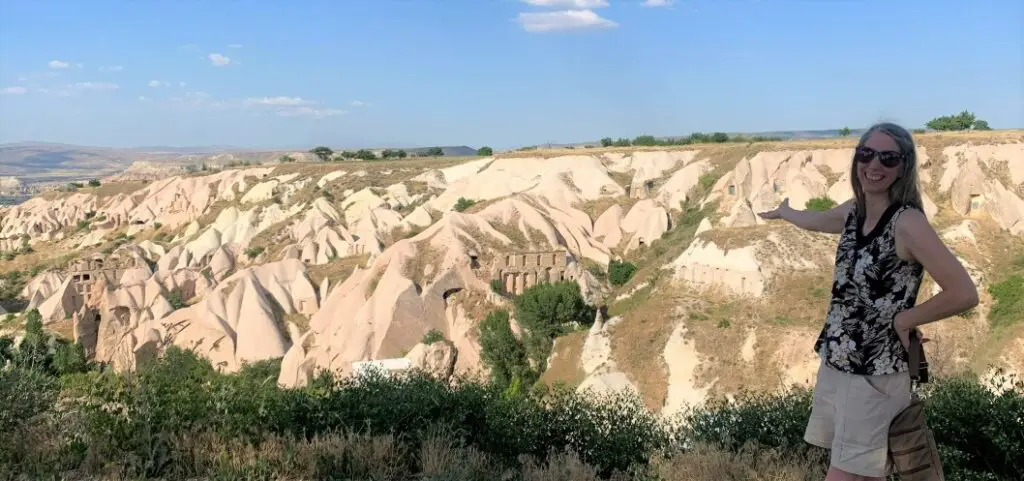 HOT AIR BALLOON RIDE: Perfect start to a 2-day Cappadocia Itinerary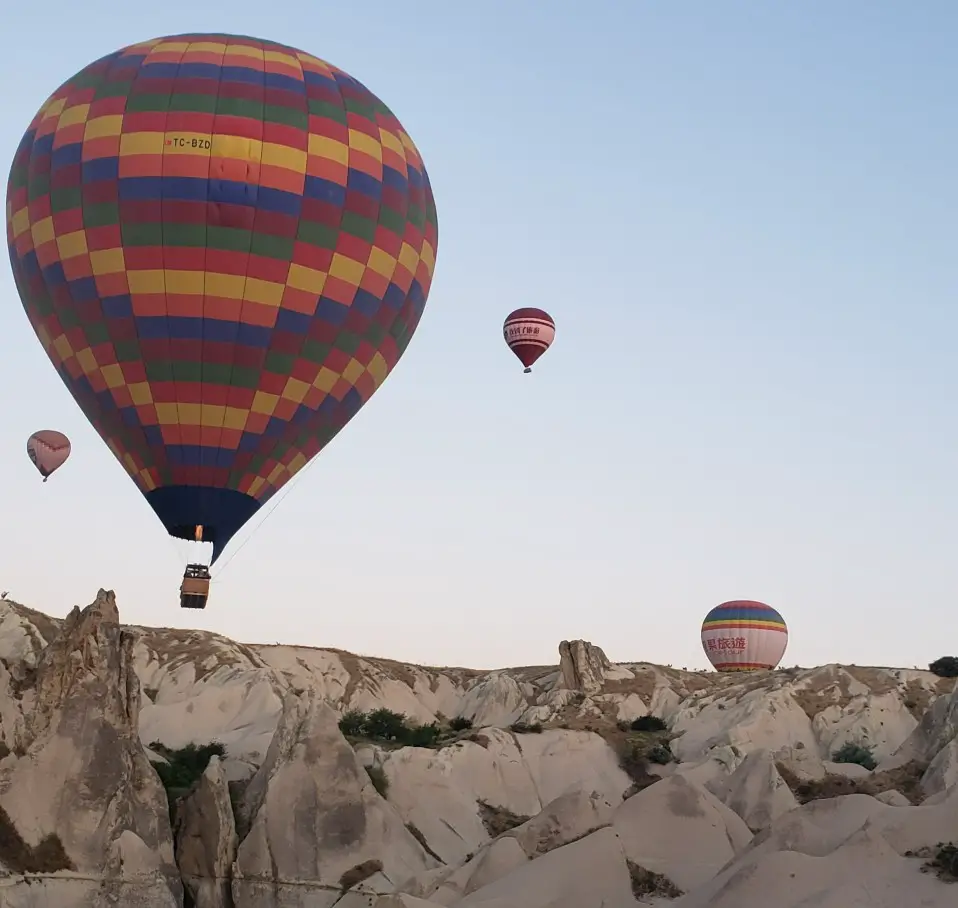 The BEST way to see the beautiful landscape of Cappadocia is to take a hot air balloon ride, so I recommend doing this on the first morning of your Cappadocia trip.  Introduce yourself to all the valleys and formations of the region while your balloon floats high in the sky –or sometimes drifts low and glides right next to those fairy chimneys! 
Hundreds of balloons take to the skies every morning in Cappadocia, pending safe and clear weather of course.   On our trip to Turkey, we only spent two days in Cappadocia, so I was worried that it would be too windy for a hot air balloon trip.  We scheduled our tour on the first day so that we had a plan B second chance for the following morning, but we lucked out.  It was a little windy for us, but we were able to go up on the first morning to witness our Cappadocia sunrise from high in the sky!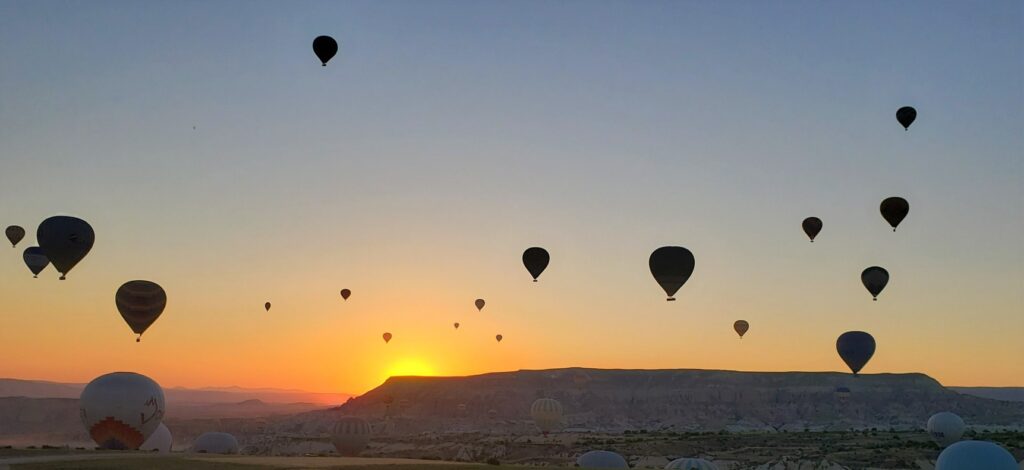 This is easily the world's most famous and most popular hot air ballooning destination.  There are dozens of companies that offer sunrise hot air balloon rides in Cappadocia in various group sizes that last from 45 minutes to 2 hours.  It should be easy to find a tour to fit your budget and expectations.  They are quite expensive for Turkey price standards at $100 – $200 USD, but it truly is an experience of a lifetime and should be on your Cappadocia Itinerary!
Enjoy a Cappadocia Tour from a Hot Air Balloon in the sky
Watch the hot air balloons
Watching all the Cappadocia hot air balloons from the ground is also a spectacular sight that can be seen from many of the valleys around Cappadocia.  If you can't take a ride in the sky, make sure you don't miss seeing them all from the ground!  Many companies also offer Cappadocia hot air balloon viewing tours and will take you to the best areas to see them all magically populate the horizon and float their way toward you.
Enjoy the hundreds of Cappadocia Balloons and Capture the Memories
DAY 1 of the Best 2 days in Cappadocia
MAP of CAPPADOCIA: Cappadocia Itinerary for Day 1
Red and Rose Valley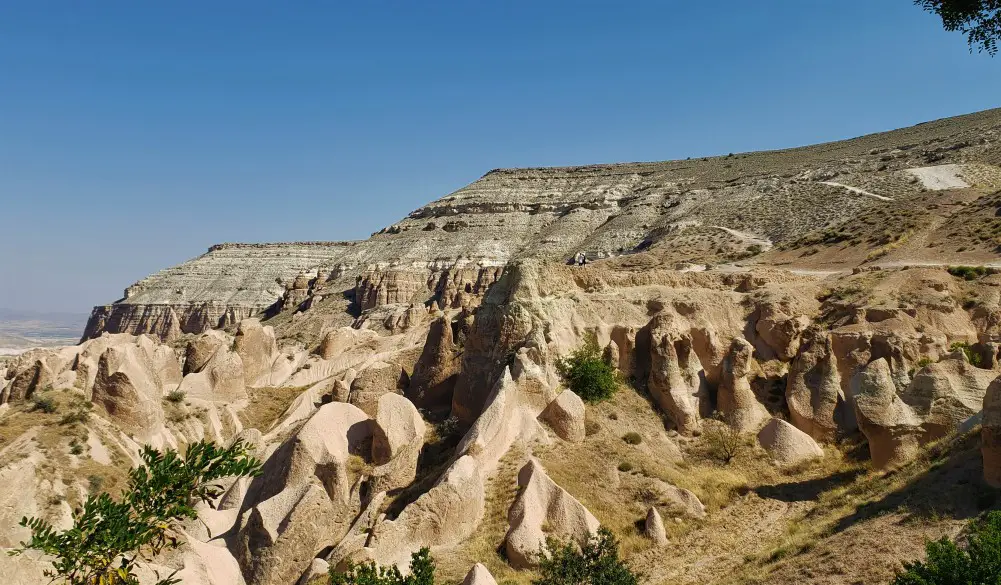 Starting your two days in Cappadocia with the Red Valley, located right outside of the town of Goreme, is a great idea and an even better idea if you begin at sunrise.  The sun's rays reflect off of the valley and the entire valley seems to turn a beautiful red.  However, you can still appreciate this valley if you would like to sleep in a bit and arrive later in the day since there will still be quite a lot of red-rose colored rocks.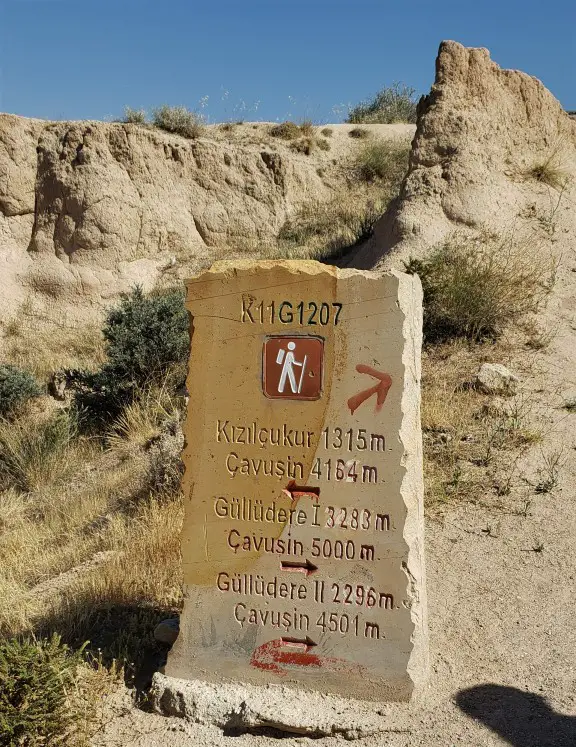 This area is known for some pretty good hiking trails.  The Red Valley loop takes about an hour.  If you are more adventurous, you can add the Rose Valley loop for an additional two hours.  The start of the trails at the Red Valley panoramic viewpoint is also a great place to watch the sunset.  There is a restaurant and seating area to enjoy the view.
If you aren't a hiker, you can also opt for a Red Valley ATV, bike, or Cappadocia horseback tours to get to the popular viewpoints but the best experience will be on foot. 
Both valleys are gorgeous with red rocks cut into the cliffs where you can stand to overlook the various formations, fairy chimneys, and caves spread out below.  Several Christian churches have been cut into the rocks and still exist today and are named for the images that are in the paintings.  Grape Church, Crusader Church, and Cross Church are all fairy chimney churches that are open in the Red Valley and have frescoes still in good condition. 
Add some hiking in the Red Valley to your two-day Cappadocia Itinerary: 2 days of fun!
Goreme Open Air Museum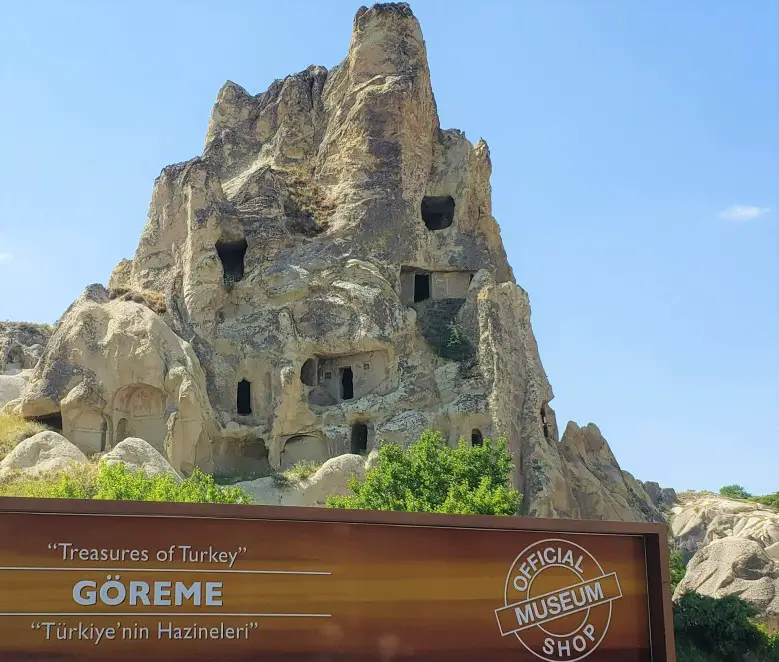 The Goreme Open-Air Museum is a great stop on day 1 of your Cappadocia Itinerary because it gives a great sense of the history and background of the Cappadocia region.  It is located just a mile from the Goreme village center.  This amazing architectural wonder has been a member of the Unesco World Heritage List since 1984 and one of the first two Unesco sites in all of Turkey.
In 133 BC the Cappadocia area was controlled by the Roman Empire and was an important stop along the Silk Road, a network of trade routes from China to Europe.  There were many battles for power in Cappadocia because control of the Silk Road was so essential.  This led many inhabitants to build underground cities and caves to escape persecution.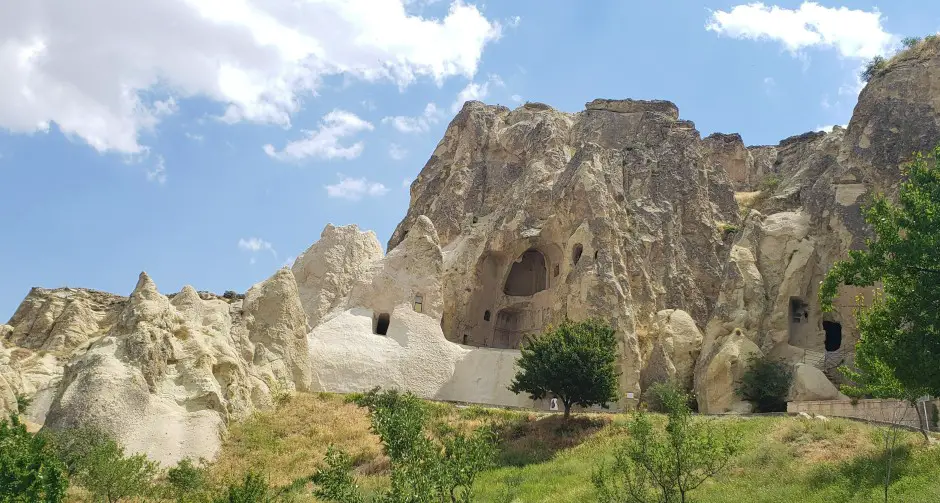 Christians, in particular, took refuge in Cappadocia and Goreme.  Their religion was forbidden by the pagan Romans who believed in worshipping many gods, so Goreme became a living space for clergy and monks that was formed by cutting and carving into the region's rocks.  It has many formations of rock-cut cave churches from this time with colorful and symbolic ancient paintings and frescoes on the walls and ceilings.  Most of them are in great shape, being preserved in their cool cave environment for hundreds of years.
They have a gift shop at the entrance with a café.  We needed refreshments after our tour in the hot Cappadocia sun.  The ice cream bowl served in your favorite 3 different flavors was a big hit with the whole group!  For 25 lira, it was a little more expensive than in the non-tourist sites, but still worth it and a great Cappadocia travel site to add to your list.
Goreme Overlook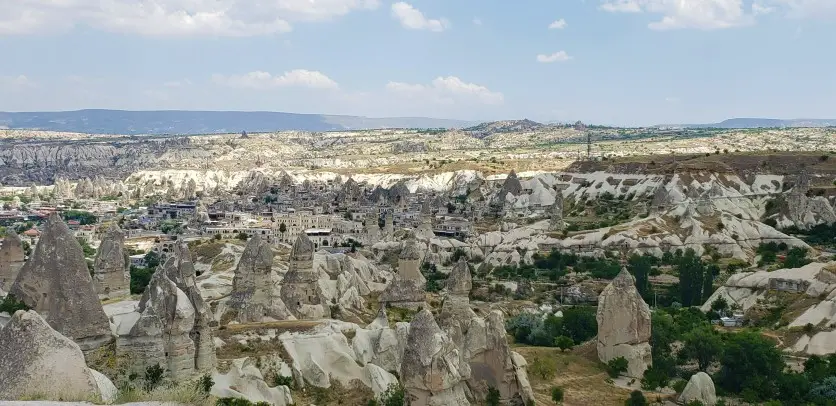 The Goreme Panorama is on the Goreme and Uchisar Roads. It is a great spot to stop for photos with a nice overview of the city of Goreme. There are several cafes located here too.
Monks Valley (Pashabag)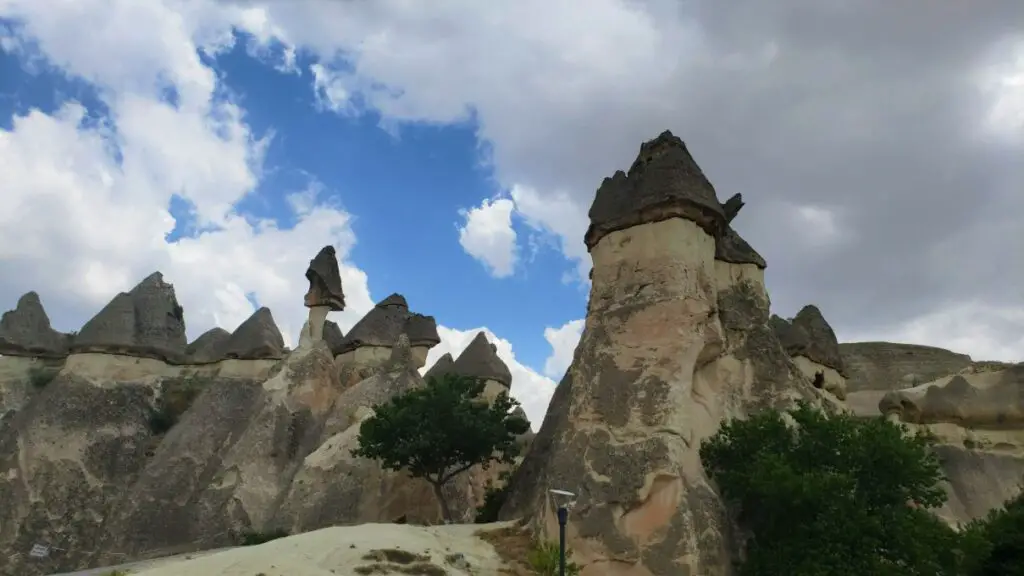 Monks Valley is on Zelve Road between the two towns of Goreme and Avanos.  The valley features mushroom-shaped fairy chimneys that are one of the unique formations in Cappadocia.  We saw the impressive fairy chimney geological wonders first from the sky in our hot-air balloon but then took a short ride to Pasabag Cappadocia. We were able to get closer to them in order to appreciate their unbelievable size.  The cone-shaped rock formations are sometimes 50 feet high, some splitting into two or three chimneys.  Perhaps they were really a house for the fairies of long ago since they DO look make-believe!
Really, how are the Fairy Chimneys Formed?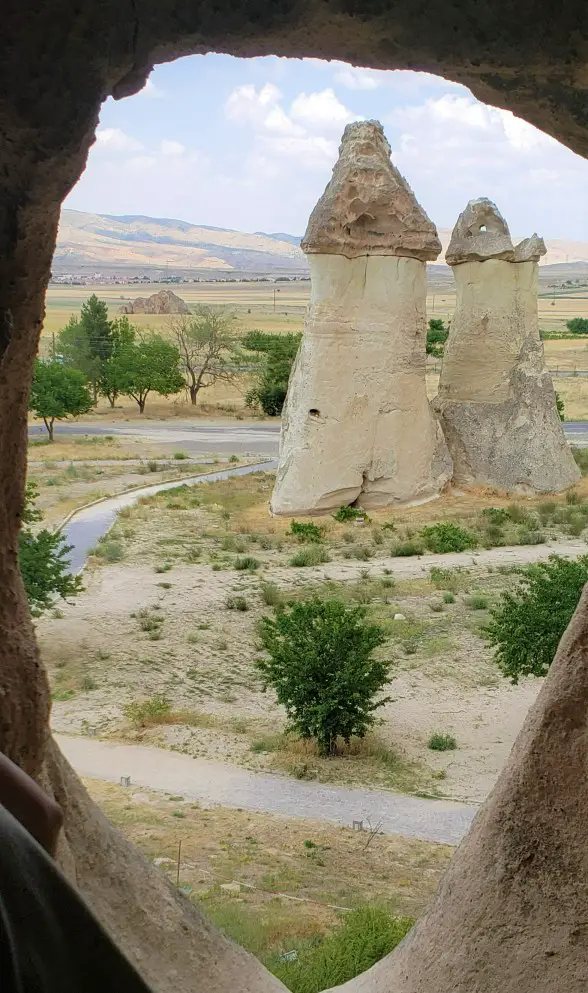 Fairy Chimney Facts!
Actually, geologists have a better theory about how they were formed millions of years ago. The ash from a nearby volcanic eruption piled up and became the soft and porous tuff layer which was then covered by a hard layer of basalt.  Erosion from weather slowly worked its magic to form the fairy chimneys from these two layers.  The top hard layers cracked but didn't erode away, thus forming the mushroom caps.  The softer tuff layer was taken away by wind and rain beating against it in many directions to form all the earth pillars under the caps. The soft tuff layer was easily carved and throughout the years many caves have easily been made into hollowed-out tuff stone. 
The name of the valley reflects the legend of the monks that found their way into the carved rocks.  It was there that they found solitude as they looked out of the cone-shaped dome windows onto the lunar-like landscape of the region of Cappadocia.
Visit Goreme and Pashabag to see all the best the fairy chimneys on your two-day trip to Cappadocia.
Zelve Open Air Museum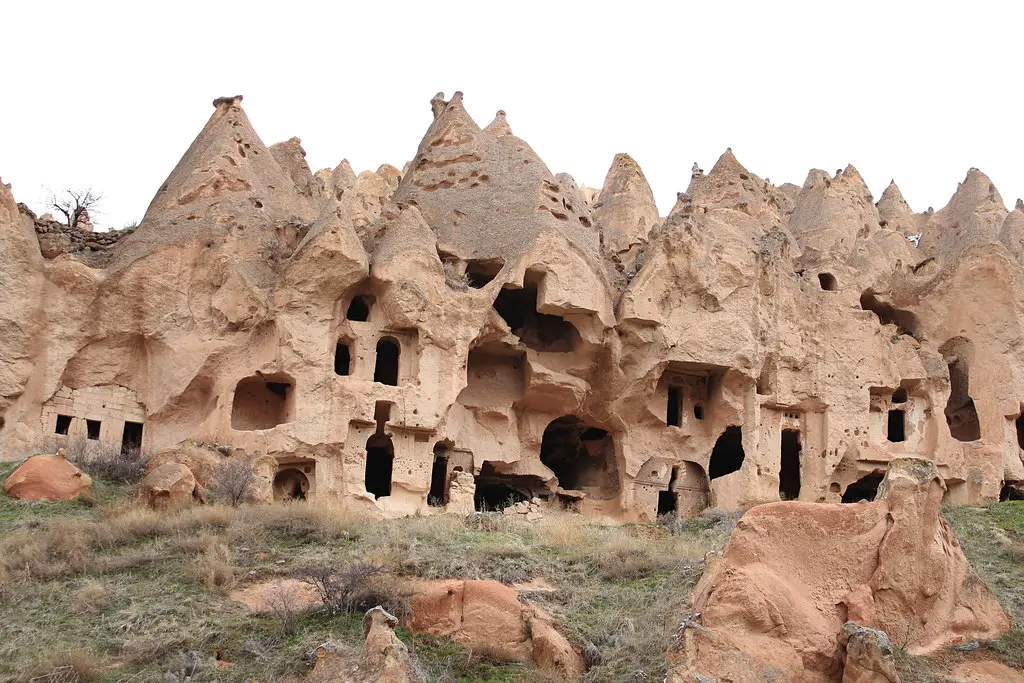 Zelve is another open-air museum featuring cave dwellings and churches sprinkled among 3 valleys that are landscaped with Cappadocia formations.  It is really close to Pasabag, but if you only have time for one, Goreme is more manageable. Zelve is about four times its size with a lot of exploring around the cave rooms that are on different levels and tunnels that are spread throughout the valleys.  There is a lot of hiking on the different trails, which sometimes are unpaved.  This open-air museum is the best choice for adventurous travelers!
The cave churches are better preserved in Goreme, so fewer tourists visit Zelve.  This sometimes makes it even more attractive if you are interested in fewer crowds.  It may be possible to be the only one wandering around the caves in the early morning. If you have more time on your trip, book a tour to Zelve to discover one of the best sites on your 3-day Cappadocia itinerary.
NOTE:  If you recognize this location from the big screen, Ghost Rider 2 was partially filmed here.
Filming Locations for Ghost Rider: Spirit Of Vengeance (2011), in Romania and Turkey.
Travel guide to filming locations for Ghost Rider: Spirit Of Vengeance (2011), in Romania and Turkey.
Devrent  (Imaginary Valley)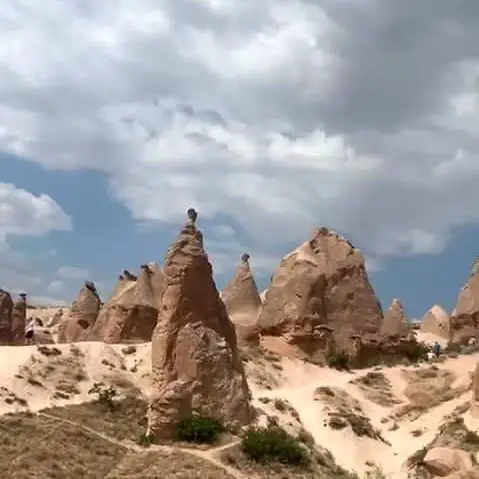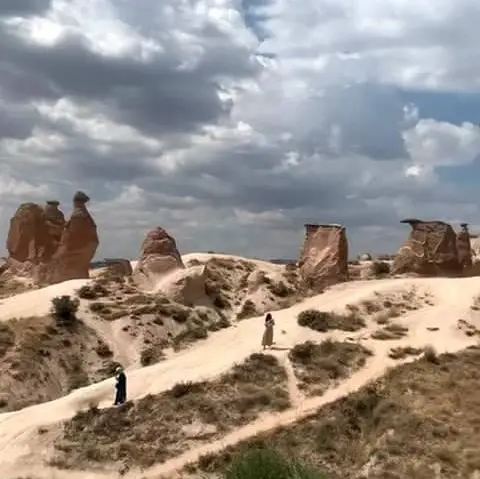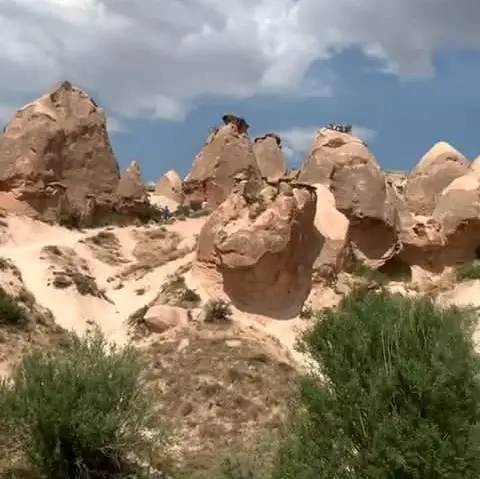 Devrant is also known as Imaginary Valley, or sometimes Pink Valley due to the pink hue of the rocks, and is another great location to see the fairy chimneys in a lunar-like landscape. This valley was not inhabited and has no caves or churches. It is more like a sculpture garden since the rock formations are said to resemble animals like a camel or seal.  Take several moments to let your eyes wander around this valley, use your imagination, and who knows what interesting rock art you will discover in nature's museum.  Some say there is even a Virgin Mary holding the baby Jesus rock formation!
DAY 2 of the best 2 day itinerary for Cappadocia
CAPPADOCIA MAP : Cappadocia Itinerary for Day 2
Pigeon Valley (Guvercinlik Vadisi)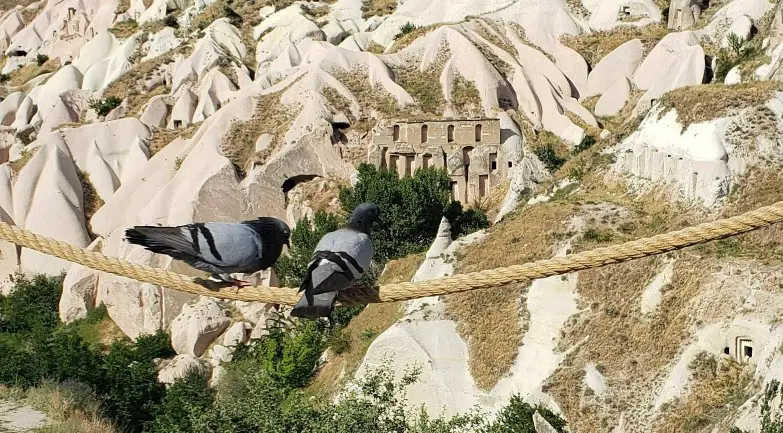 Pigeon Valley, located between Goreme and Uchisar, is named for the numerous pigeon houses that have been cut into the sides of the cliffs of the valley.  Since wine was frequently used in ancient religious festivals, grape production was an important part of agricultural activities from centuries ago.  The pigeon droppings were collected from all the man-made nests that were carved in the stones on the cliffs and used as fertilizer for the soil for all the agriculture that was done in the area. 
The viewing area and outlook are very nice.  There are several photo spots with even a gift shop and food available.  For the adventurous, there is a hiking trail into the valley where you can find some fairy chimneys, ancient houses and churches, and a waterfall.  Uchisar Castle, which we visited next, is really close with a nice hiking trail connecting the two sites!
Uchisar Natural Rock Castle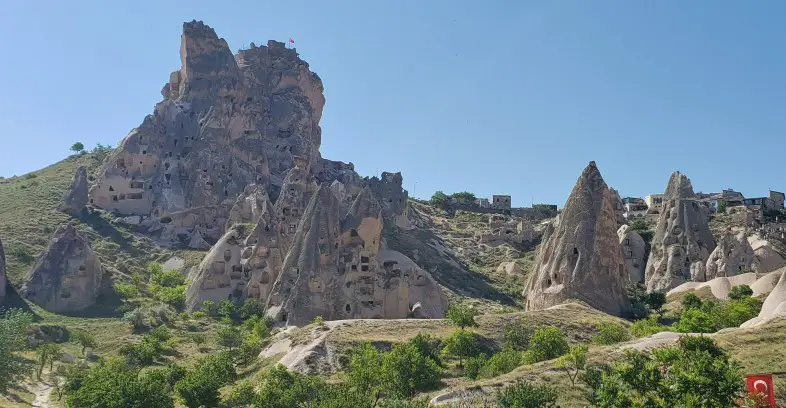 Located a few miles from Goreme in the town of Uchisar, the Uchisar Castle sits at the highest point in Cappadocia.  At almost 200 feet high itself, the castle mountain is visible from all over town.  It was used as a fortress to defend the town and keep a lookout for approaching enemies.
We toured Uchisar Castle from the backside in order to appreciate just exactly how massive it is!  There is a good amount of hiking paths, gift shops, and panoramic photo spots with impressive views of the fortress and the surrounding lands and caves.
If you have more time, you can visit Uchisar Castle by accessing the entrance from the front and paying to go to the top for a bird's eye view of all of Cappadocia, including all the valleys and towns.  Inside the castle, most of the rooms, tunnels, and passageways have collapsed and cannot be entered, but there is still enough remaining to allow some access to visitors.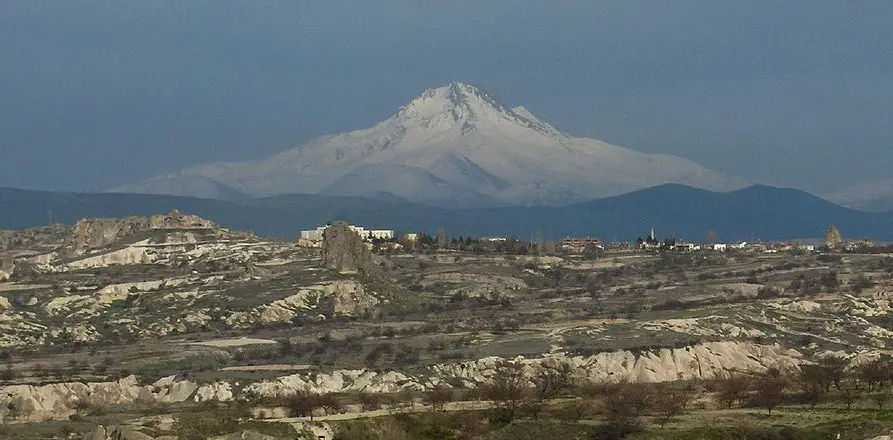 From the top of the castle, you will have a great view of Mount Erciyes, one of the best mountaineering and winter sports mountains in Turkey.  It is a dormant volcano in the city of Kayseri that reaches a height of over 12,000 feet.  It was formed 900,000 years ago and hasn't been active for many millennia.  It is now a major winter sports site and boasts its own popular ski resort.
Love Valley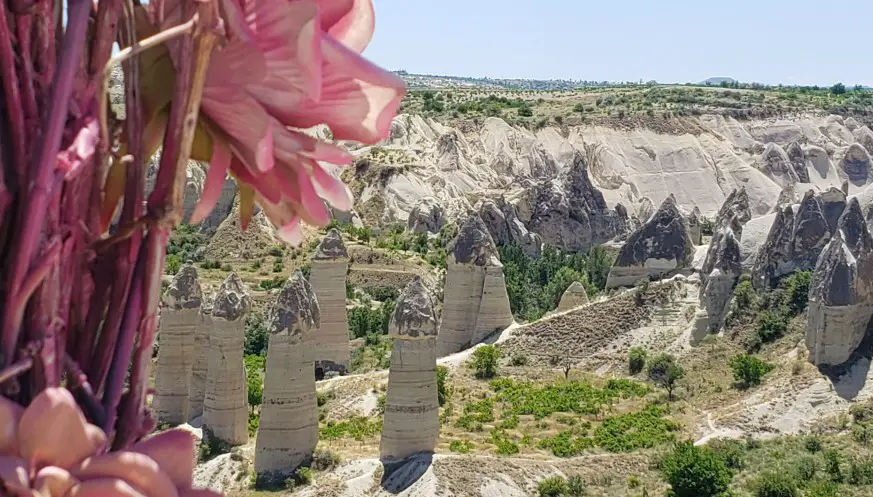 Love Valley is an outlandish site near Goreme in Cappadocia, almost other-worldly since the landscape looks like it is located on a different planet.  It has a lot of interesting rock formations that have a unique resemblance to a male appendage which then gives purpose to the name of the valley.  Those gigantic phallic formations have a pink tinge to them and seem to pop out of the ground and reach straight for the sky in excitement.
It is a popular starting location for hot air balloon tours in Cappadocia.  Just imagine this valley populated with hundreds of colorful floating balloons as the sun rises in the distance. If you can't fit in a hot air balloon ride during your 2 days in Cappadocia, make sure you visit Love Valley at sunrise just to see them all. It is a breath-taking sight.
The valley is 3 miles long with many hiking trails that could last a half-day of trekking if you have enough free time.  Otherwise, there is a nice overlook for capturing photos of these unforgettable formations!
Avanos Pottery Town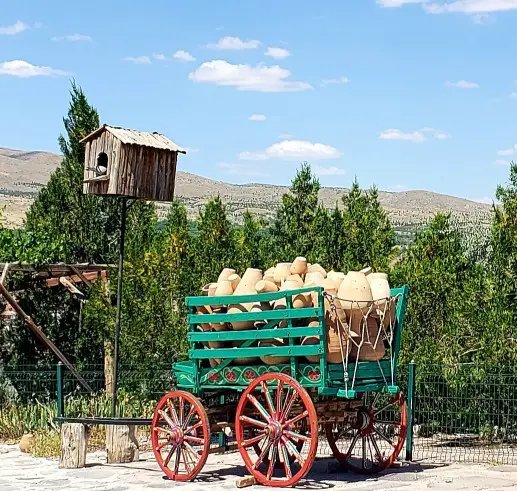 The pottery town of Avanos is located on the Red River, 5 miles from Goreme, and is a great addition to your 2-day itinerary for Cappadocia.  It is known for its production of red clay pottery products, so it is an excellent place to attend a pottery workshop and purchase some souvenirs from Turkey.
Our small group tour of Turkey stopped at Chez Galip and met the master potter, Turkish Einstein, who demonstrated his skills by making us a teapot in under 5 minutes on the foot-powered pottery wheel.  I was very impressed and was happy to look around their shop at all the pottery and ceramic pieces that were for sale.
Pick up your red clay pottery at home if you don't have room in your suitcase to bring home any of these treasures!
Underground City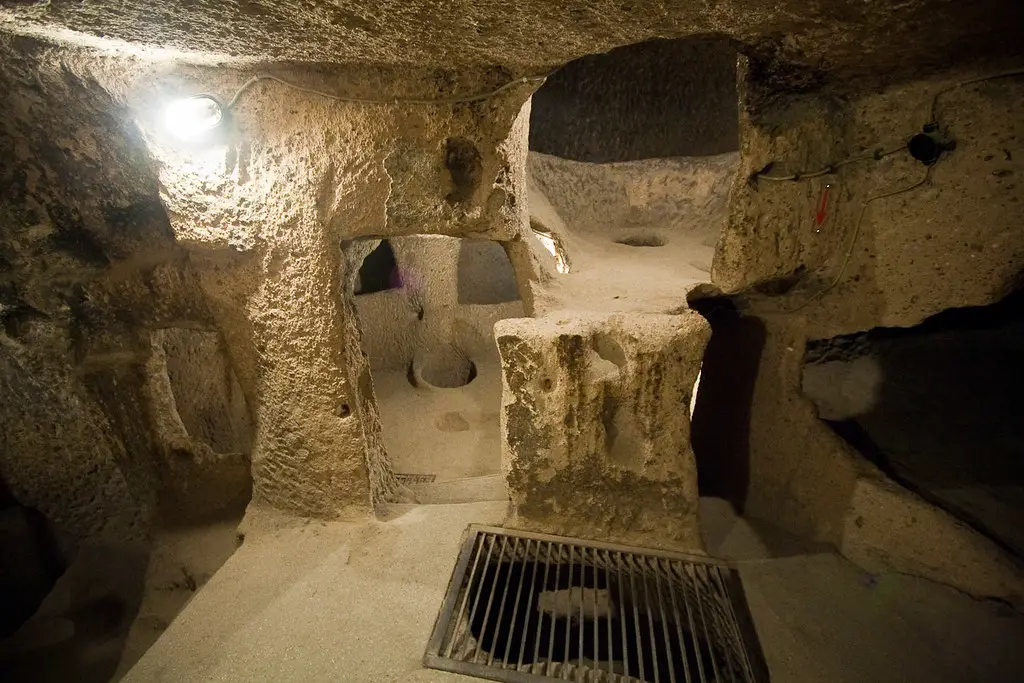 After lunch, it is time for a longer drive to the next site.  While there are 36 underground cities in Cappadocia that have been properly identified, there are two that are popular tourist sites, and some say that there are nearly 200 more of these hidden complexes yet to be excavated.
These interconnecting cities were built long ago, estimated at 3000 BC. Many civilizations hid in them in order to avoid conflicts throughout the years. They were used by the Christians to avoid religious persecution by the Roman Empire and later the complex tunnels were used by soldiers for defense strategies in battles. 
The cities are intricate dwellings comprised of multiple floors, kitchens, churches, and stables, all organized around ventilation shafts.  In fact, the shafts were built so that the smoke produced from cooking, went down into the ground, rather than up into the above-ground landscape where enemies could see it.  They thought of everything a secret population could need to function.
Derinkuyu is the deepest underground city, while Kaymakli is the largest and closest to Cappadocia.  Our tour group visited Kaymakli, which is only 25 km south of Goreme, and explored its many floors beneath the surface of the earth.  It had a total of 8 floors, but only the top 4 are open today since the collapse of the lower floors.  In the time of the Christians, nearly 5,000 citizens lived in this city that is spread over a large area.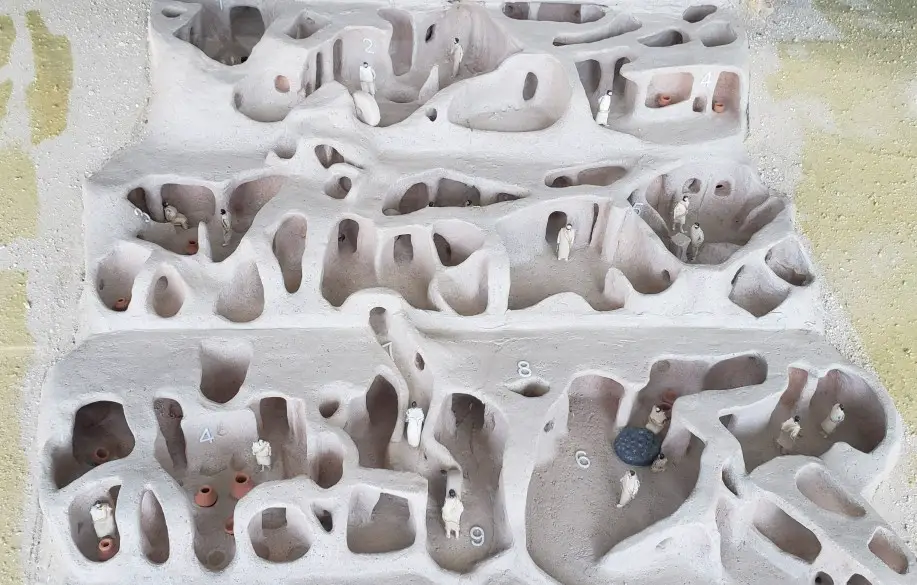 Kaykakli Underground City was opened to the public in 1964 and has a very complex network of passageways.  When touring, follow the red arrows into the depths of the city and then follow the blue arrows to emerge back up top so that you do not get lost in the maze of tunnels.  There aren't many signs around to help understand the city, so I recommend hiring a guide to help navigate and explain everything.
The often sloping tunnels are narrow and short since they were designed for the size of the smaller ancient people.  It was not possible for me to stand up straight most of the time or to walk upright through the tunnels.  I kept my hat on to protect my head while I frequently hit it on low ceilings.  I don't recommend visiting if you have mobility problems and can't climb through small passageways, although we never had to crawl. 
Add the Underground Cities to your 2-day Cappadocia-Itinerary
---
Other Underground Cities to explore
If you have more time to spend in the region, you can explore more underground cities in your 3-day itinerary for Cappadocia. Plan a tour of these interesting underground cities: Derinkuyu, Ozkonak, and Gaziemir.
Shopping during your two days in Cappadocia Turkey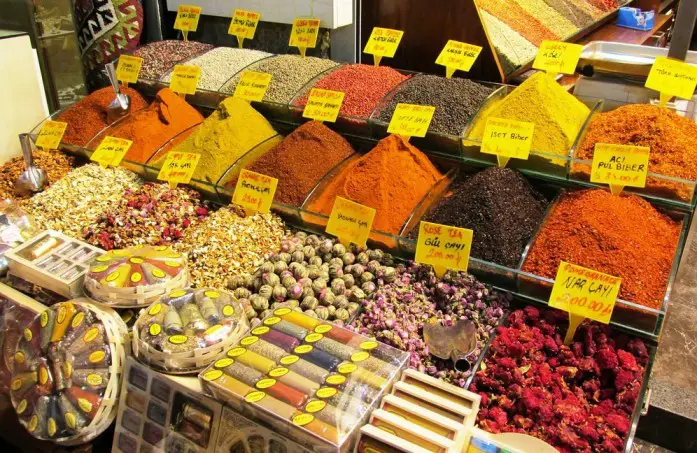 Turkish Souvenirs: Ideas for Turkish Gifts & what to buy in Turkey
Turkey is known for many unique & interesting items. Learn the top 22 Turkish souvenirs & what to buy in Turkey when taking a vacation to this beautiful country.
Turkish Show and Entertainment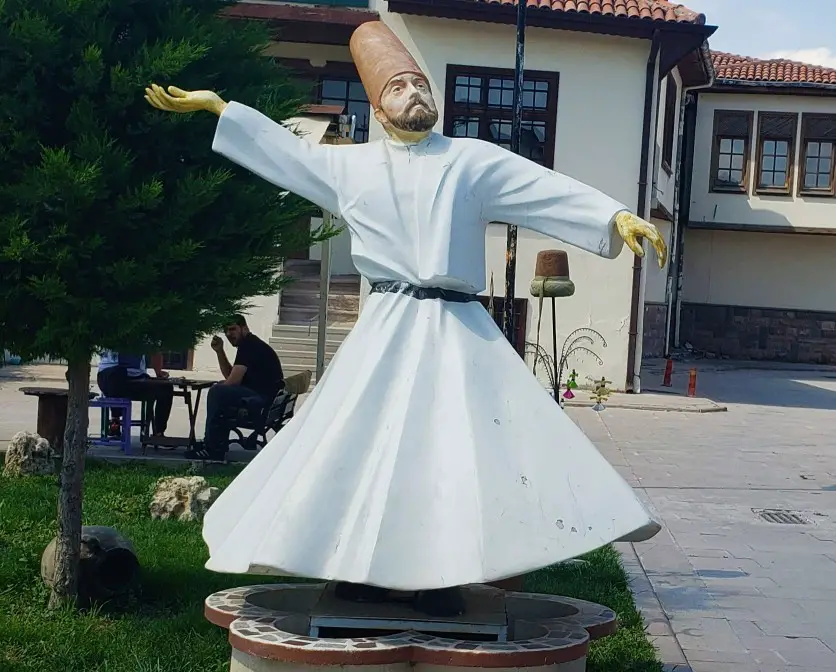 The summary of your Cappadocia itinerary: 2 days of beautiful landscapes, history, and geological formations, so now we add some TURKISH CULTURE!!!
There are many shows that you can see that feature belly dancing, Turkish folk dancing, or the Whirling Dervishes.  Some of these shows even include a delicious dinner at a reasonable Turkish price or even unlimited alcohol!  What more could you ask for in order to end your 2 day Cappadocia trip on such a good note!
Where to stay when visiting Cappadocia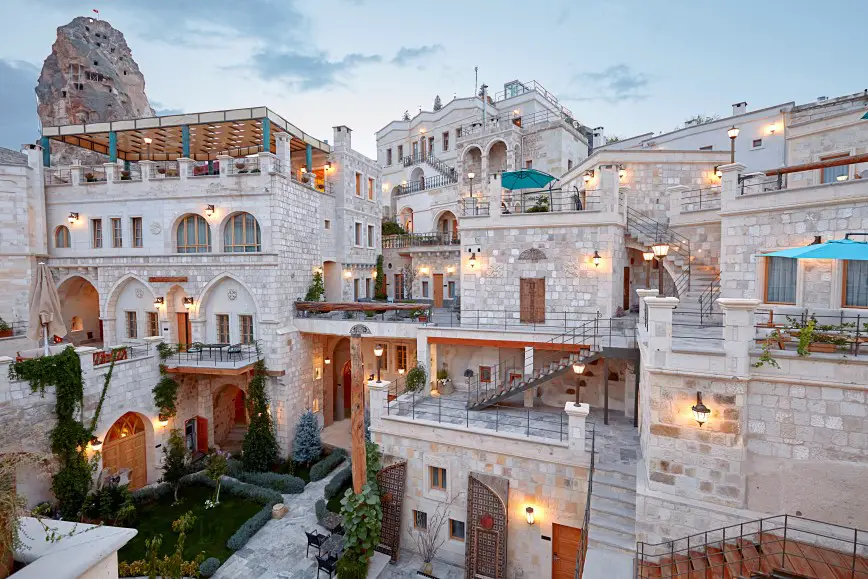 Most of the hotels in Cappadocia are cave hotels. They are small boutique hotels built right into the caves and formations that are so famous in the area. The one that our Cappadocia tour group stayed in was the Exedra Hotel. It was an absolutely beautiful cave hotel that made us feel like we were staying in a castle. While most of the other cave hotels were small, this one was sprawled among numerous formations. There was a restaurant in the center that was convenient after a long day of touring. There was also a refreshing pool. During our 12 days of traveling in Turkey, THIS was our favorite hotel by far!
Exedra Cappadocia, Ortahisar – Updated 2021 Prices
Featuring free WiFi and a terrace, Exedra Cappadocia is listed in 2016 Condè Nast Traveler Hot List and offers accommodations in Ortahisar.
---
Don't want to stay in this beautiful castle? Here are some other great choices!
Where to eat in Cappadocia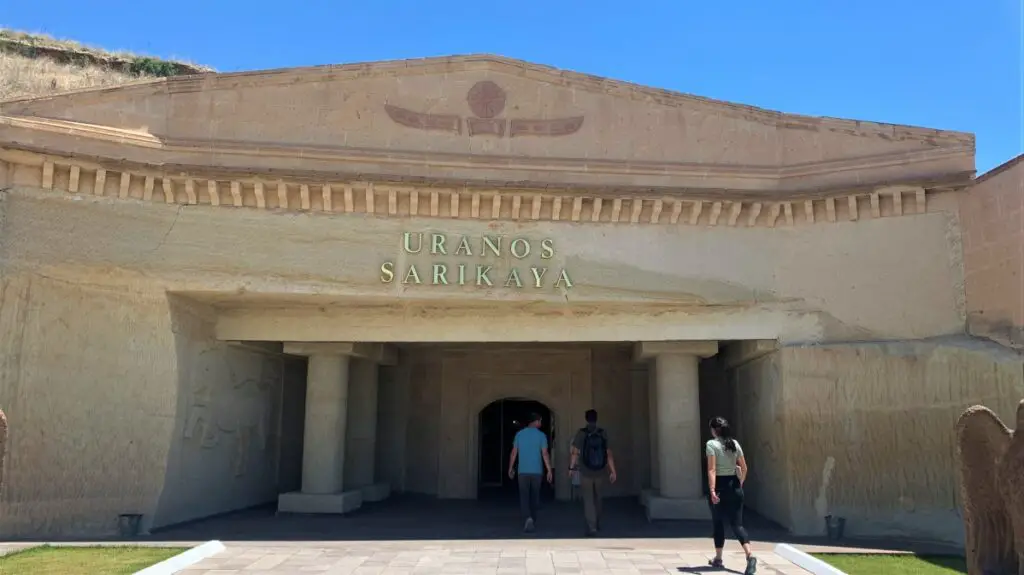 There are many cafes and restaurants located in fairy chimneys and caves in Cappadocia, but our tour guide took us to Uranos Sarikaya, a large cave restaurant in Avanos, so that we could try pottery kebap. To prepare the pottery kebap, the meat and vegetables were cooked in a sealed red clay pot. In order to serve it, the top of the pot was broken and the steaming meal was poured out into the serving dish so that we could enjoy our delicious lunch.
In addition to the pottery kebap, we were served a 3-course meal in this large cave hall that had stone tables and benches. There is enough room in the restaurant to serve many tour groups and individuals. Make sure you try some pottery kebap before you leave Avanos on your 2-day trip in Cappadocia.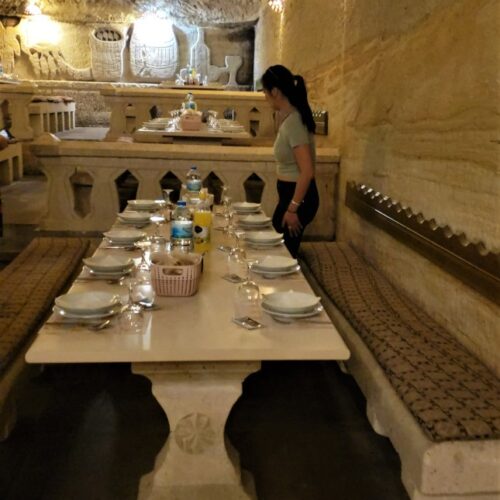 URANOS, Sarikaya – Restaurant Reviews & Photos – Tripadvisor
Uranos, Sarikaya: See 12 unbiased reviews of Uranos, rated 4.5 of 5 on Tripadvisor and ranked #1 of 10 restaurants in Sarikaya.
Planning a Cappadocia Itinerary – 2 days full of unique activities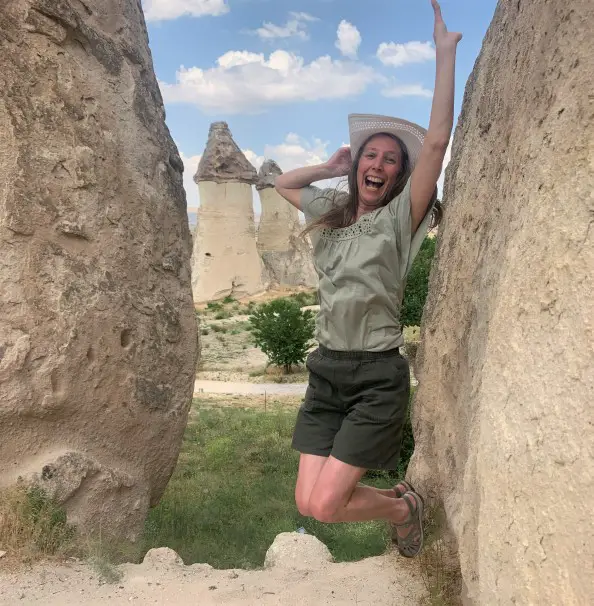 Now that you have prepared yourself with this two-day Cappadocia itinerary list, what are the items on your Bucket List? It is nearly impossible to see all of Cappadocia in two days, but you have a better chance if you prepare ahead of time. I would highly suggest making sure that most of the sites on this list make it onto your Cappadocia Itinerary. 2 days of sightseeing in this beautiful region will introduce you to some of the most amazing sites that Turkey has to offer! Let me know your favorite Cappadocia attraction!
Like this post? Pin it for later!