DISCLOSURE: I may link to relevant products, companies or helpful info which may be affiliate links, meaning I may earn a small commission. As an Amazon Associate & other affiliates, I earn from qualifying purchases at no extra charge to you. The views & opinions are my own. Please see the disclaimer and privacy policy.
Last Updated on February 21, 2023
Experience Beautiful Anatolian art in Turkey
Appreciation of Anatolian aesthetics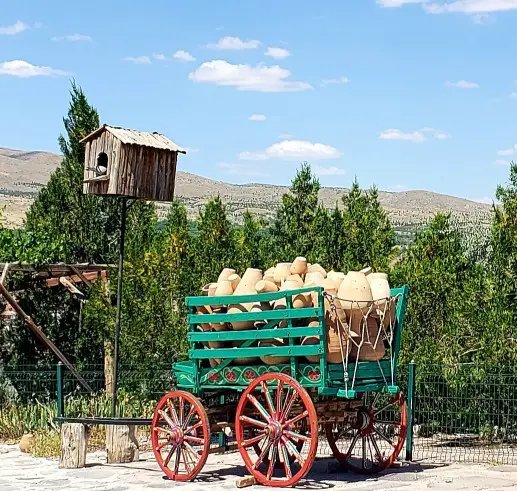 Turkey is full of rich artwork and artisans that have refined their craft generation upon generation while still preserving ancient traditions and artistic techniques.  While you travel throughout the country, be sure to appreciate the Anatolian artwork by attending an Avanos pottery workshop and a Turkish rug demonstration.  As a final stop, include a Turkish jewelry store to admire some of the fine gems that are only found in the deep mines of Turkey.
What is Anatolia?
First off, what is Anatolia?  It is a location in what is now the peninsula of present-day Turkey.  It was called Asia Minor back in the day and is southwestern Asia.  Its borders are the Black Sea to the north and the Aegean Sea to the west, with the Taurus Mountains and the Mediterranean Sea framing the rest of Anatolia.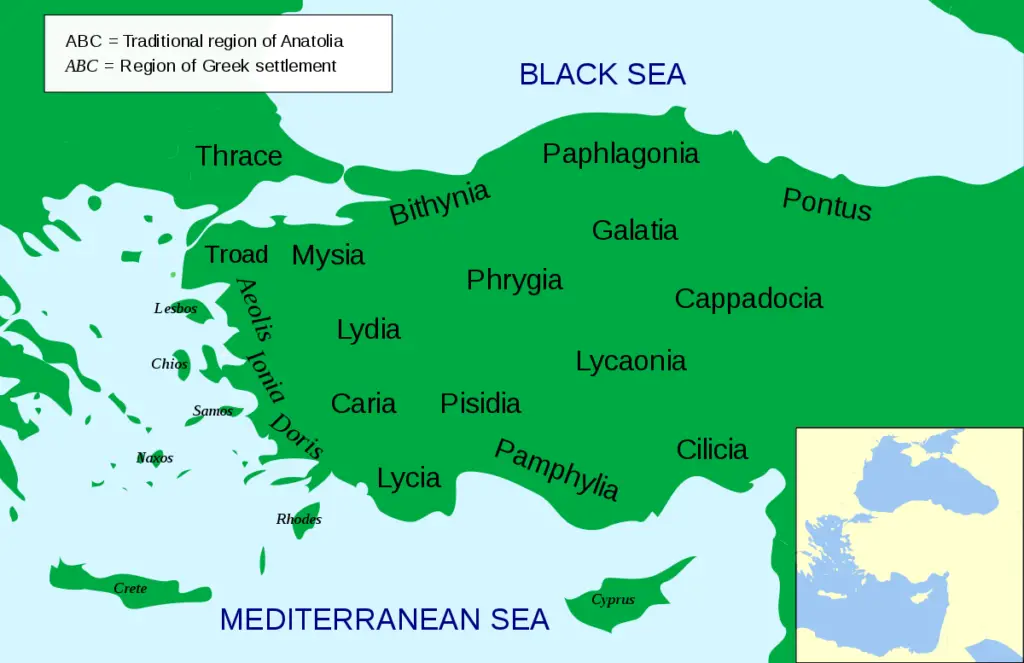 Its location and cities were populated by numerous civilizations throughout its extended history.  This enabled Anatolia to become a connection between the east and the west, serving as an important trade route between Asia and Europe.  The Hittites were the oldest occupants, followed by ancient Greeks and Romans.  The art and Anatolian crafts were a blending of cultures from the different civilizations as well as trades going on throughout the area.
---
Art and Turkish Craft Skills
When one thinks of crafts in Turkey, one typically thinks of carpet weaving and tapestry-making in the form of Turkish rugs.  However beautiful ceramics are just as historical and forming clay pottery is a local art skill that was very common in Anatolia.  There are many pottery-making villages in Turkey (or now spelled Turkiye!).
When planning your vacation in Turkey, make sure to stop by to witness how clay pottery and ceramics are still made today. Our small group tour of Turkey included a pottery demo in Avanos Turkey.
To experience Turkish Crafts on your trip to Avanos Turkey, sign up for the Anatolian art tour!
For ideas on where to get these souvenirs and other Souvenirs from Turkey, check out my TURKISH SOUVENIRS post!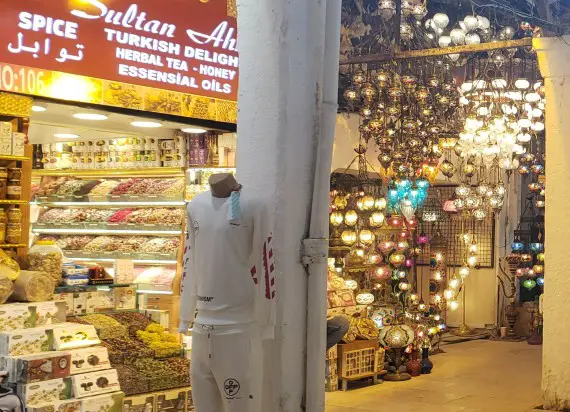 Turkish Souvenirs: Ideas for Turkish Gifts & what to buy in Turkey
Turkey is known for many unique & interesting items. Learn the top 22 Turkish souvenirs & what to buy in Turkey when taking a vacation to this beautiful country.
Avanos Pottery Village
The cute little Avanos Pottery village is located a quick drive from Cappadocia, the historical center of Goreme in central Turkey.  The Red River, also known as Kizilirmak, Turkey's longest river, runs through the town.  It is the banks of the Red River that have provided the source of the red clay used for pottery throughout the years.  Some say traditional clay pottery in the area dates as far back as 2,000 BC to the time of the Hittites.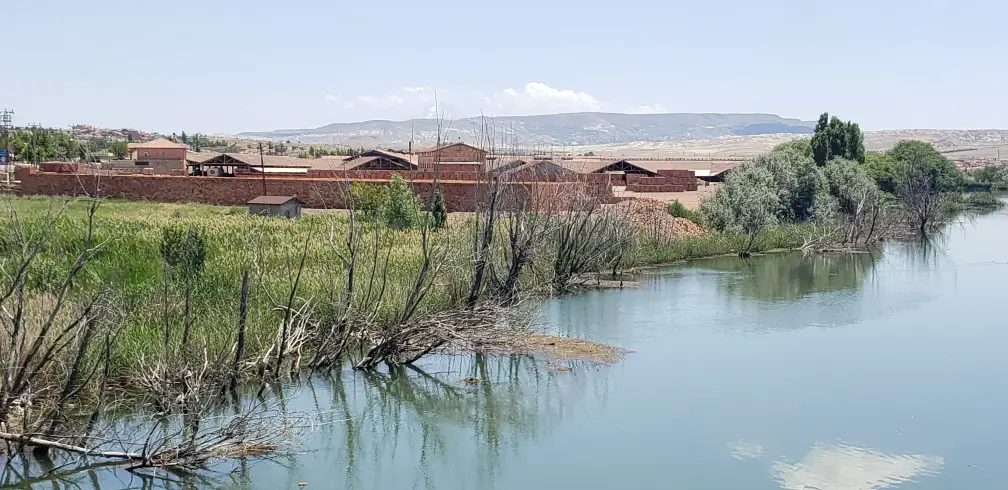 Avanos Pottery Workshop
A stop at an Avanos Pottery workshop will introduce you to how the pottery is made from the mineral-rich clay that is taken from the banks of the river. It is an art form as the potter creates the masterpiece with just a vision in his head.  The clay is spun on a man-powered-foot-driven wheel that the potter uses to make the pottery creation.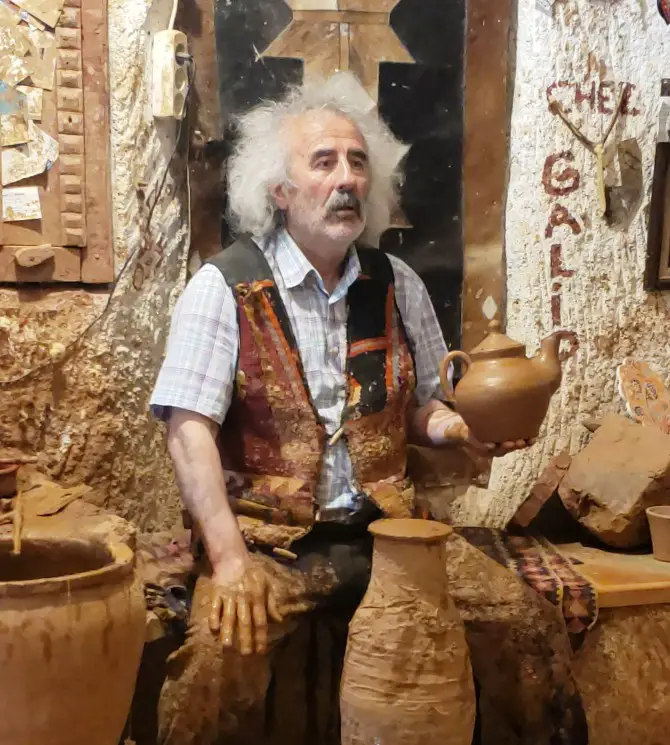 We attended our workshop in Avanos at Chez Galip.  The master potter is nicknamed "Turkish Einstein."  Perhaps you see the resemblance?  The expert will take you through all the steps in the creation of clay artwork.  He created a pitcher in 5 minutes while we watched and listened.
Don't forget the Turkish hospitality!  We all shared a bit of wine while Turkish Einstein went to work.  The wine was poured from a traditional Hittite pitcher.  The ceremonial pitcher was set out in ancient times to be blessed by the sun.  Ours was just regular wine, kept cool by the circular design.
Following his demonstration, a volunteer was taken through the pottery steps to create a clay piece.  Not sure that this pottery-making experience was rated 'G!' —but we were all above the age limit and it was a lot of fun!!!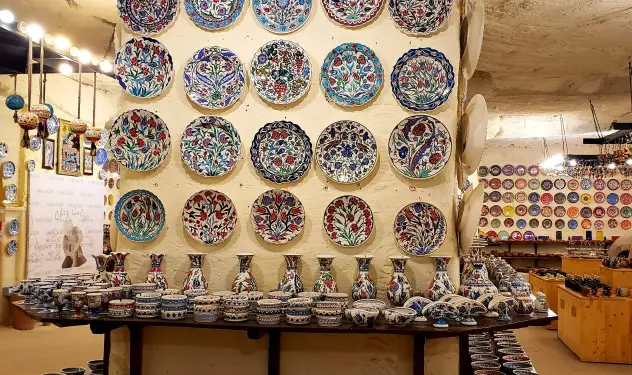 Following our 'training', we were led into the cool cave display room where all the hand-painted ceramics were stored and sold.  There were SO MANY in different colors and patterns.  It was difficult choosing only one to commemorate my time attending the Avanos pottery workshop. I finally decided on a nice ceramic balloon since we had just spent the morning on a Cappadocia hot air balloon ride. 
Martha Stewart has also visited Chez Galip.  She witnessed the making of a Hittite Vessel by the master himself, and then tried her hand at making her own pottery.  She was definitely not as good as the experts!
Chez Galip is also famous for one of the weirdest museums in the world.  The Hair Museum of Avanos contains the samples of over 16,000 locks of hair from different women that have visited from around the world.  The museum has free admission and is always accepting donations for locks of hair.
---
Twice a year, 10 locks of hair are chosen from the museum's collection and these winners are given a week-long vacation in Cappadocia with access to master pottery classes.  Not a bad prize for such a simple donation!
---
---
For more ideas about things to do in Cappadocia, visit my post in order to see all the DON'T MISS sites!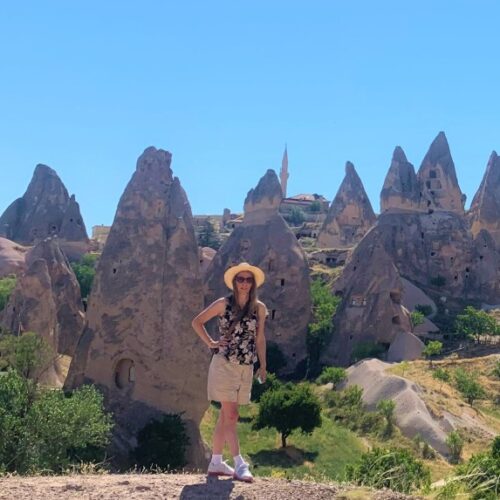 The Best Cappadocia Itinerary: 2 days of Amazing Sites!
Enjoy this Cappadocia Itinerary! 2 Days is enough to get a taste of the wonderful region will & leave you longing for more. 2 days in Cappadocia will be amazing for spectacular landscapes with amazing views, UNESCO historical sites, hiking trails, archeology, and dramatic geological formations.
---
Other Anatolian art activities
Turkish Carpet Weaving & Rug Demonstration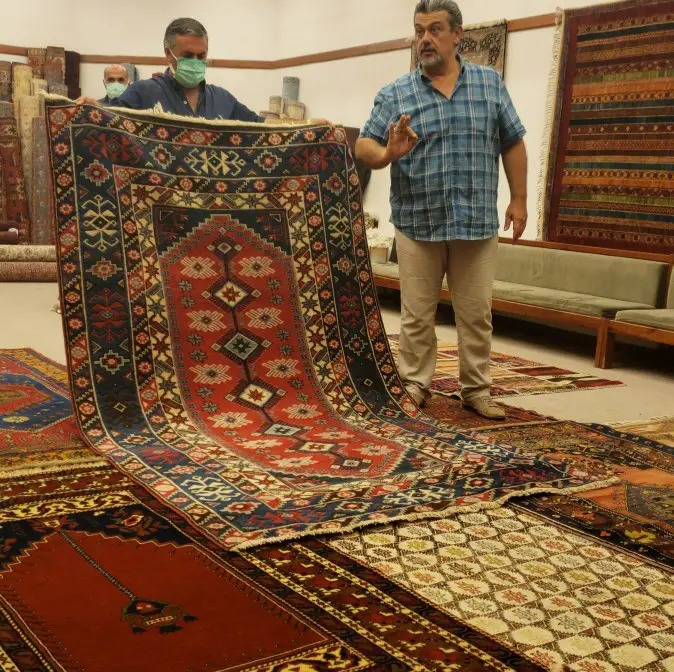 Turkish Carpet weaving is an impressive art that has been passed down for thousands of generations.  You should definitely witness a rug demonstration while you spend time in Turkey.  Before showing you their impressive collection of beautiful rugs, the artisans will demonstrate carpet weaving techniques, show how silk is obtained from cocoons, and explain the differences between carpets and kilims. Silk carpets are definitely the cream of the crop but are also the most expensive.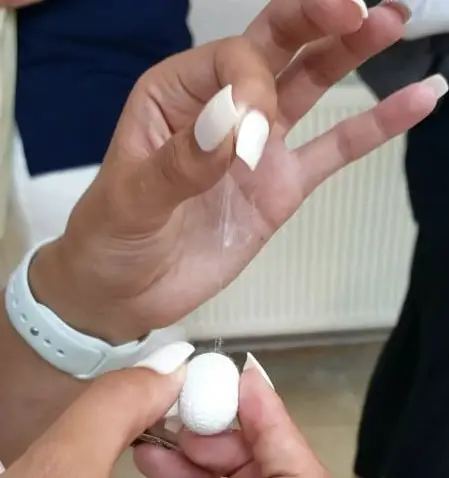 Handmade Turkish rugs are made using a double-knot technique compared to a single knot commonly used in Persian rugs.  The weave is wrapped around two symmetrical lines and pulled from the middle to form this double knot.  This makes the Turkish double knot incredibly solid.  While taking a lot longer to make, the Turkish rugs simply last for hundreds of years due to the way that they are weaved.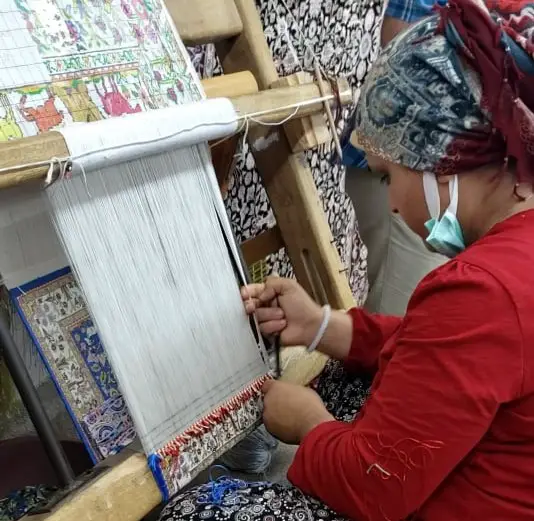 The plain weave technique, rather than knotting, is used to create kilim tapestries.  They are still made on looms, but woven rather than knotted, so they do not have a pile.  They are created in geometric or natural designs and are very rich in color and tradition.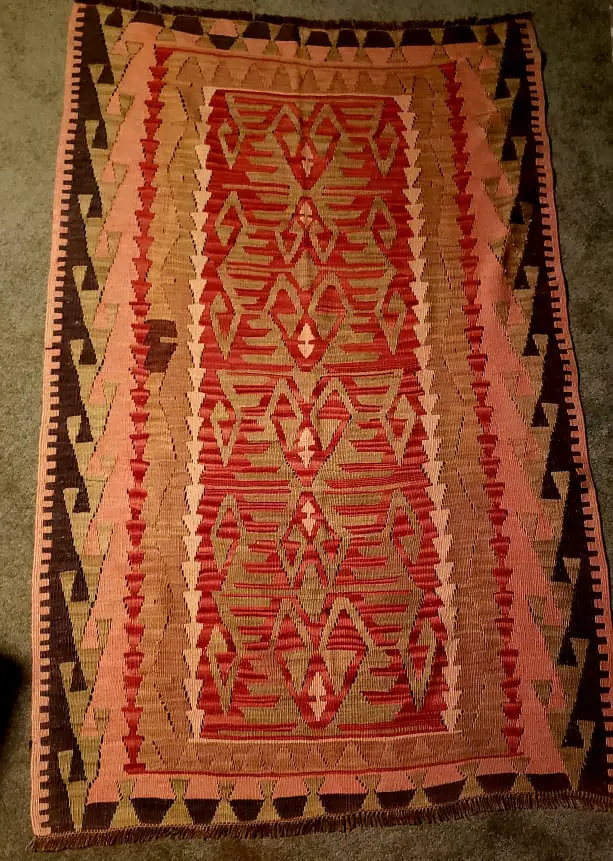 ---
Not going to Turkey anytime soon but interested in carpet weaving?
Buy a Turkish Rug ONLINE and have it delivered to your doorstep.
---
How to Buy a Turkish rug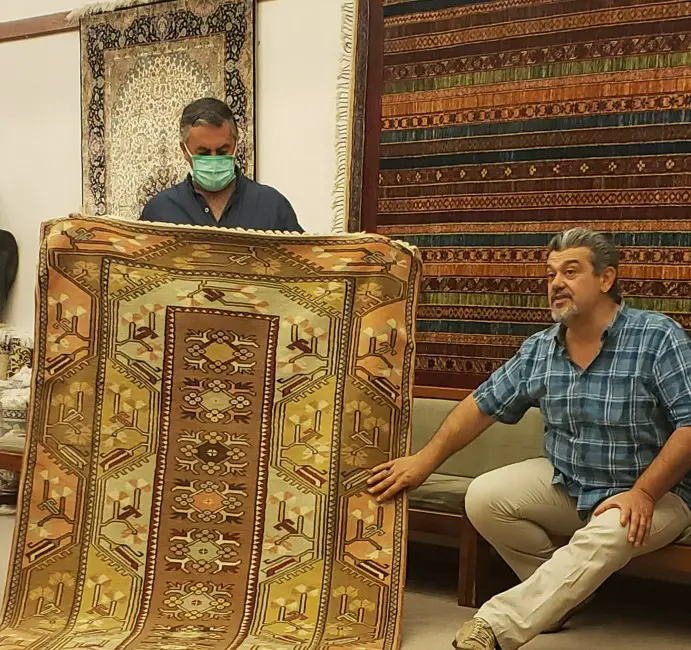 A good Turkish rug will last for hundreds of years.  It will become an heirloom that will be passed down from generation to generation.
You can find one of these masterpieces at a Turkish rug demonstration particularly in Cappadocia.
The rugs will be unrolled before you, displaying their beauty, one after another.  There will surely be one that has a special calling to you.
If you can't make it to a Turkish rug demonstration in Turkey, you can also look for a beautiful Turkish rug online and have it shipped to you for FREE. These rugs are handmade in Turkey and come in all sizes and Turkish designs.
Haggling for a Turkish Rug
Haggling is a part of the Turkish buying ritual whether you are purchasing it on the street or in a rug warehouse. Merchants have a starting price, a 'just for today' price, a 'just for you' price, and a rock-bottom price. –and quite possibly many more in between all of those. The final price should definitely be about 40% of the starting price.
Quite often, shipping is included for free, especially at the larger rug warehouses, so find out about that ahead of time. Another option is small packaging. If you have an extra weight allowance in your suitcase, the carpet can often be packaged into a very small parcel. -Small but heavy!! They are experienced at this!
Cleaning a Turkish Rug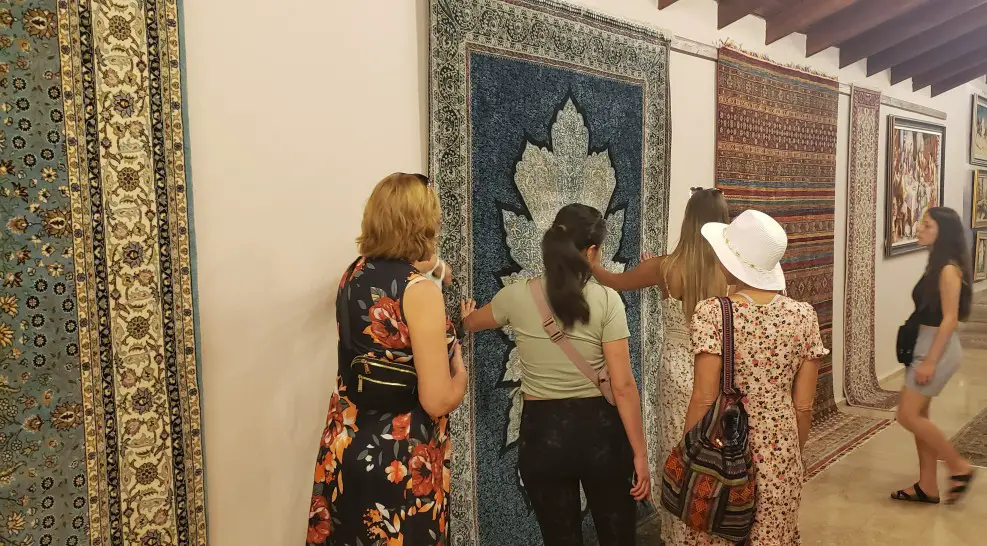 Turkish rugs are made from soft natural fibers and not artificial materials. Spills are often absorbed by artificial glues and fibers and are difficult to remove without harsh chemicals and soaking. HOWEVER, consider your Turkish rug like your baby. The materials used are all-natural, like silk or wool, and should be treated gently without using chemicals.
Consider what happens when you spill grape juice into your freshly-styled hair. What happens and how do you get it out? You simply need to use shampoo to remove the grape juice from your hair! Most carpet-sellers recommend similar treatment for their rugs. Baby shampoo is a great idea for spills and spots and daily vacuuming is great for maintenance.
---
Turkish Jewelry
Jewelry making is one of Turkey's oldest crafts, dating back over five thousand years of handmade gemstone masterpieces made by Turkish artisans who pass down their traditions to future generations.
Zultanite is a Turkish color-changing stone that is only mined deep in the Anatolian mountains.  Because there it is only mined in one place in Turkey, this is an expensive gem. It is a rare diaspore that varies between yellow, green, gold, purple, and pink depending on the light source.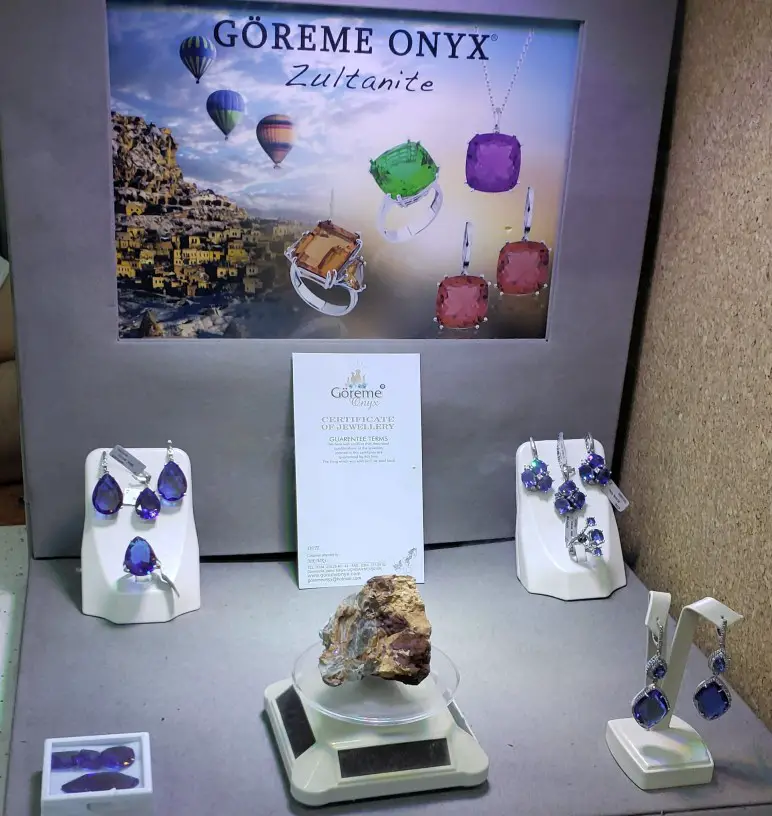 The Evil Eye is another one of the more popular jewelry stones in Turkey.  The blue 'eye' is an amulet that is worn on jewelry or hung at a household to ward off bad vibes and evil spirits.  It is used as a protection from negative energy.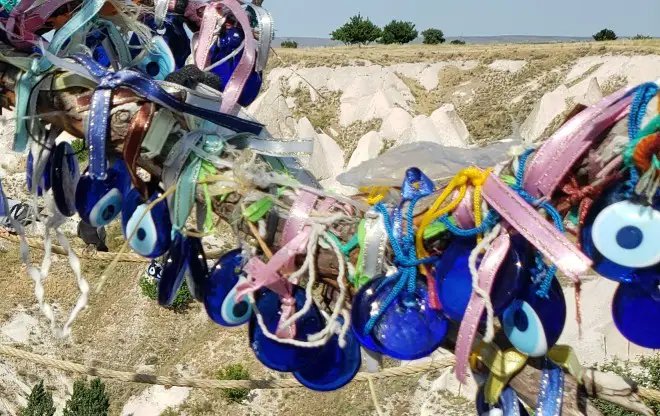 ---
Other Fun Cappadocia activities to try on your vacation to Turkey!
---
Like this post? Pin it for later!